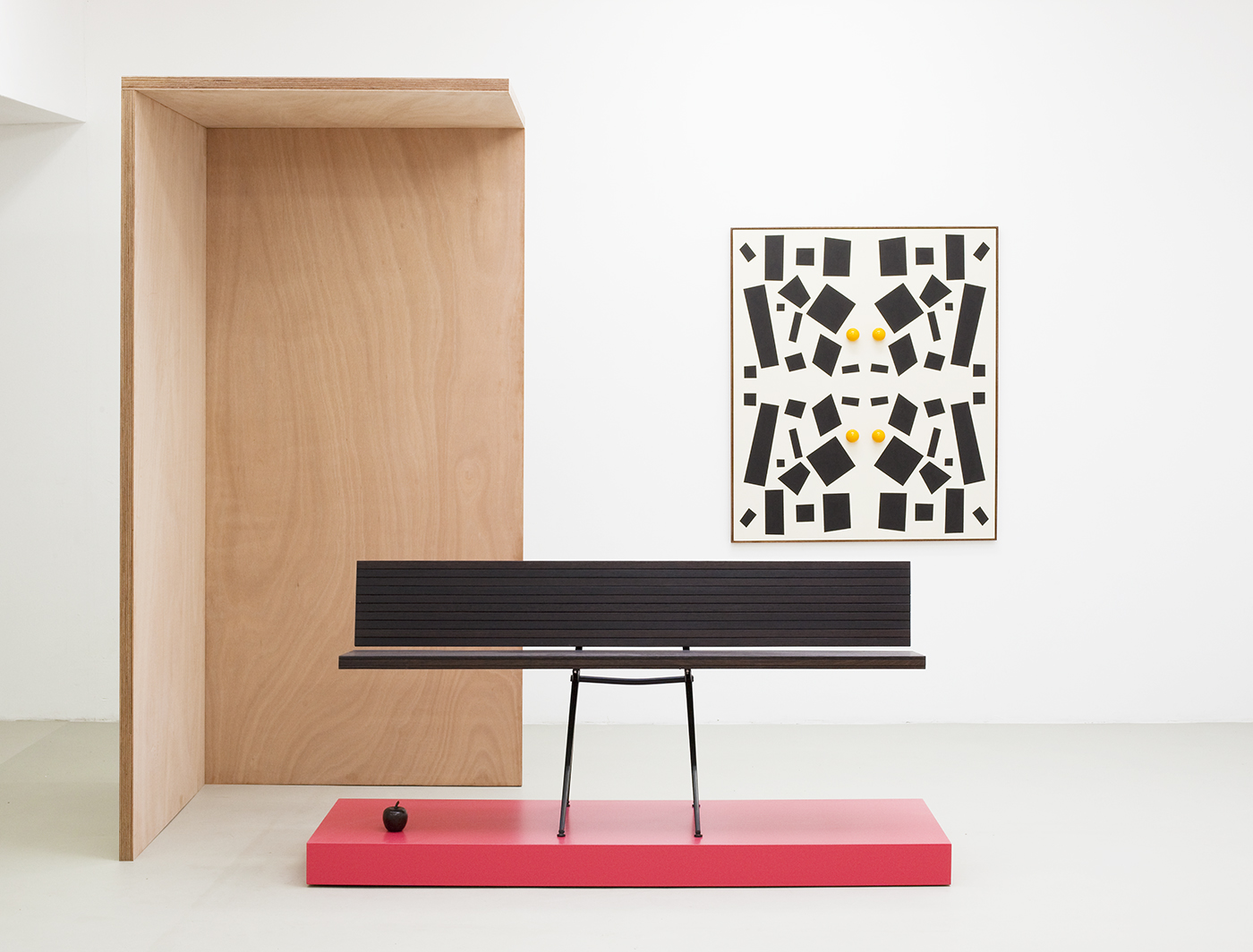 Unlike most of his contemporaries, Dutch artist Thomas Raat — whose colorful and intricate compositions recall the great European modernist graphic design tradition — isn't particularly concerned with the emotional aspects of art but instead focuses on the visual techniques and functionality of the medium. Referencing a deep and thorough understanding of modernist philosophy and analytical thinking, Raat creates large-scale paintings and sculptures that employ the use of symmetry, repetition, and other basic principles of design to create pleasing and visually stimulating compositions. Rather than obsessively creating works that are revolutionary in their representational form, Raat's more interested in unraveling the mystery behind why we make art, and why we want to live and interact with it. He says, "There's this relationship with art that you're supposed to have. I don't feel like a creative individual making art. I see myself more as an observer, as a journalist. Instead of writing an essay, I make something visual." We asked him to elaborate.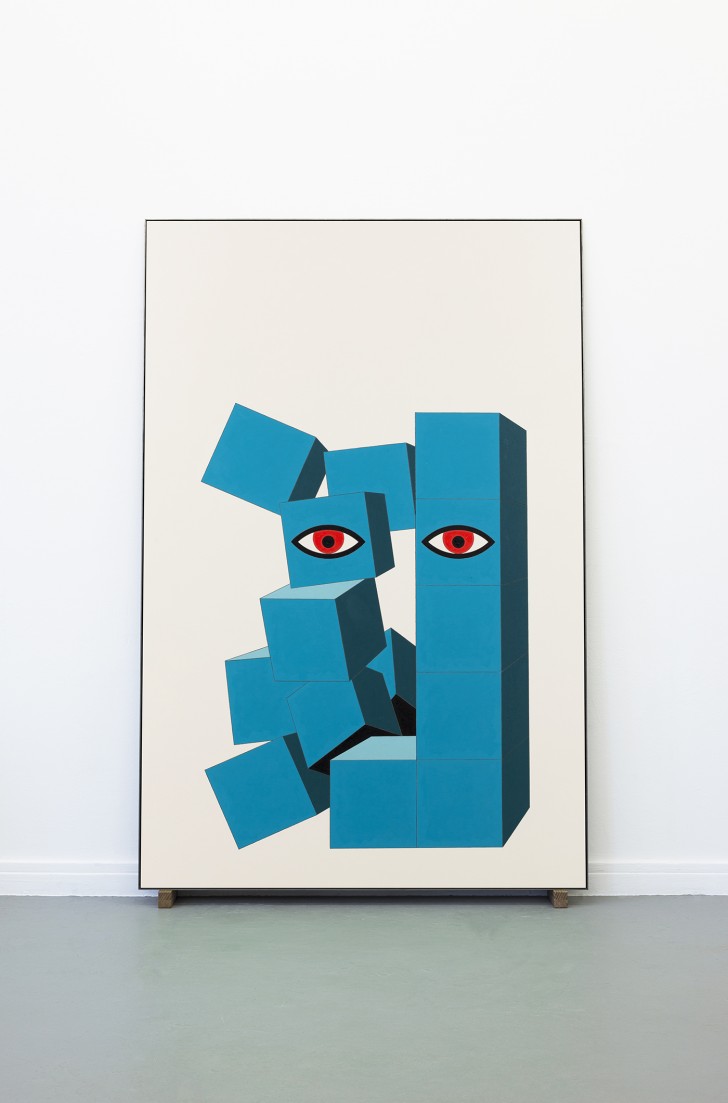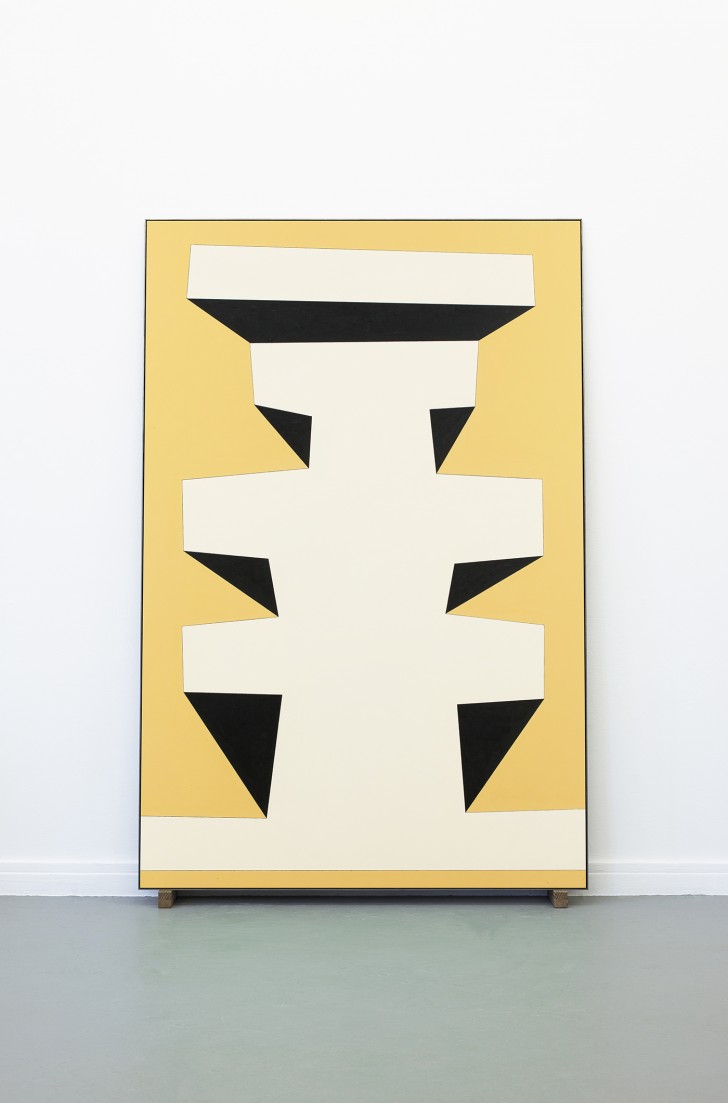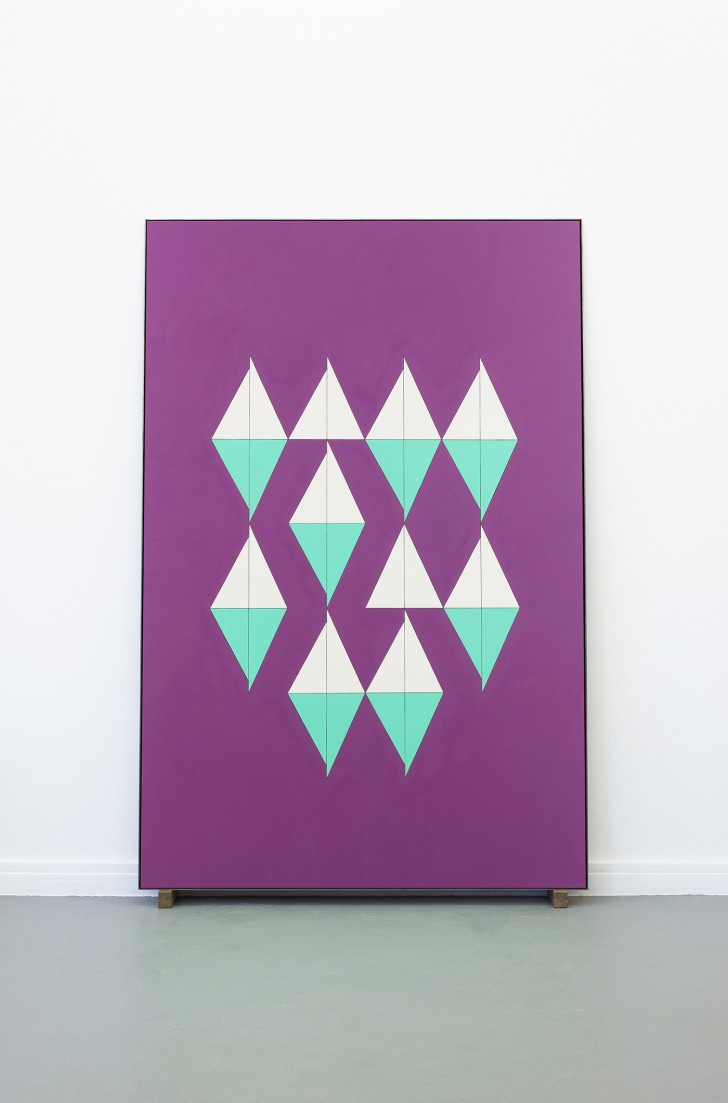 Describe your most recent project and how it was made.
Most of my recent projects are based on what I'd like to call "slipstream modernism." The point of focus is the moment when the avant-garde and its aesthetics turn into something far more conventional than their original context. I'd like to position my works at this specific turning point, the moment when the experimental becomes conventional. An example of this can be seen in the series of paintings An Inquiry into Meaning and Truth and More… (above) that draws from the cover designs of popular "egghead" paperbacks published from the late 1940s until the early '70s. The repurposing of the predominantly abstract imagery of the jackets mediates an abstruse range of synthetic epistemologies (from "freedom and responsibility" to "the law of civilization and decay") as well as the needs or demands of various book series and the branding orientations of the publishing houses that commissioned them. The work operates at the technical interface between abstract painting and visual construction and on the generic borderlines between art, design, and the history of ideas; and how this intervention precipitates a salient crisis in the signifying assumptions delivered to non-figurative compositionality in the mid-twentieth century — and its later reassessments.
A more recent project at Juliette Jongma Gallery in Amsterdam is based on a similar concept and continues my exploration into the influence of Modernism into everyday life. In this show functional objects become formal forms; doors become paintings and door handles become their gestural motifs; a wallpaper piece based on a work by infamous Dutch artist Hans van Meegeren (whose kitsch, 1960s reproductions of animals hung in almost a third of Dutch households). Through different forms of reproduction, doubling, and inversion, in a painterly fashion I play with the power and significance of cultural transition and change.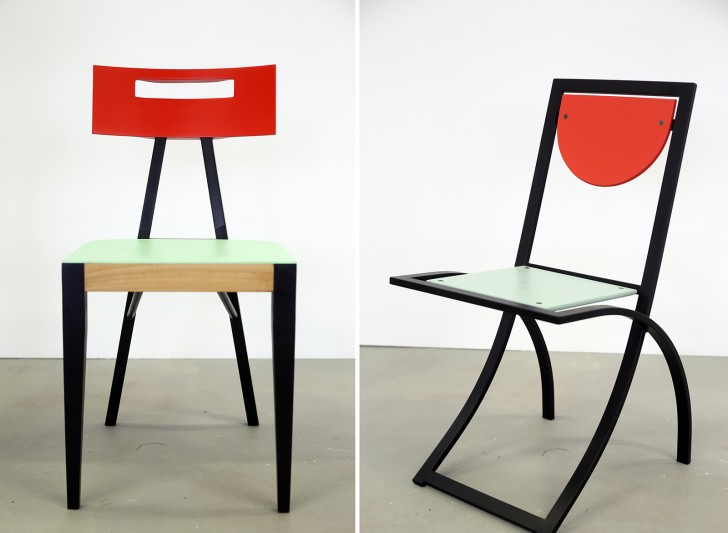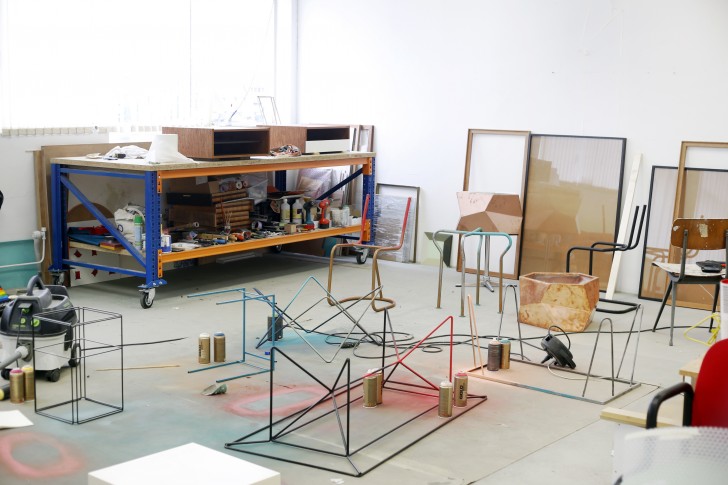 Describe your next project and how you're currently making it.
At the moment I'm working on a show for the SCHUNCK Museum in Heerlen, the Netherlands. It's an amazing building and its architectural style is in the Netherlands known as het Nieuwe Bouwen — the Dutch equivalent of Bauhaus. It used to be a department store in the 1930s and I'd like to play with its former function as a store and the way commercial goods were displayed opposed to its current function as a museum that deals with displaying artworks. I'm working on several large-scale installations built up by deconstructed, mass-produced salon tables that will be transformed into sculptural forms. I'm also collecting simple, run-down, secondhand chairs that mimic modernist furniture designs (above). I'm stripping the chairs from all their old layers of paint and from there they will be reconstructed and repainted. Every chair will have a specific color pattern so all these chairs will become individual and unique (in contrast to their mass produced background), yet functioning in the installation as one family of sculptures that plays with the archetype of a modern chair.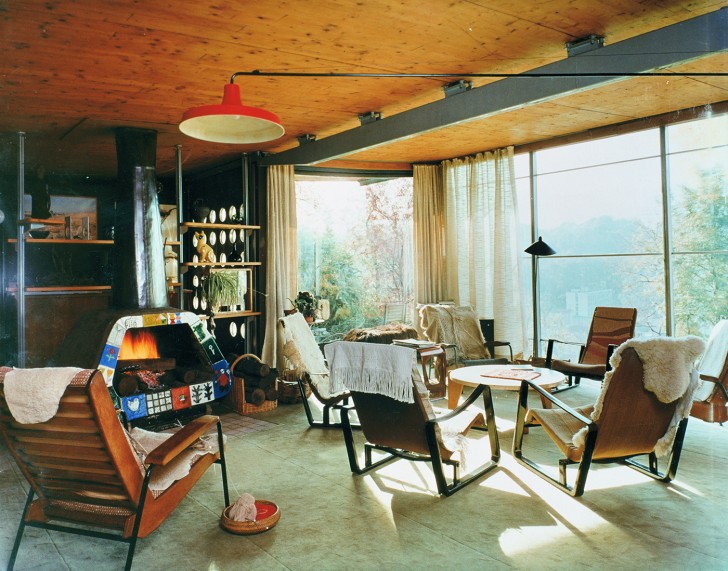 Tell us one thing that's been inspiring you lately and why.
In my off time, I visit odd and small local museums where time and the lack of money has clearly paid its toll. Recently I did a small European tour and visited the Etrusk Museum in Tuscany, the Prouvé house in Nancy (above), L'Aubette in Strassbourg, and the Vitra House in Weil am Rhein. These places bring a variety of things together which inspire me — be it a pattern on the floor, a doorknob, or visiting one of many French brocantes (secondhand shops) we find along the way. Driving in the car going from one place to another, when I have time to think, ideas pop up which I can potentially use for new works. At least, this has been the case in most of my recent trips.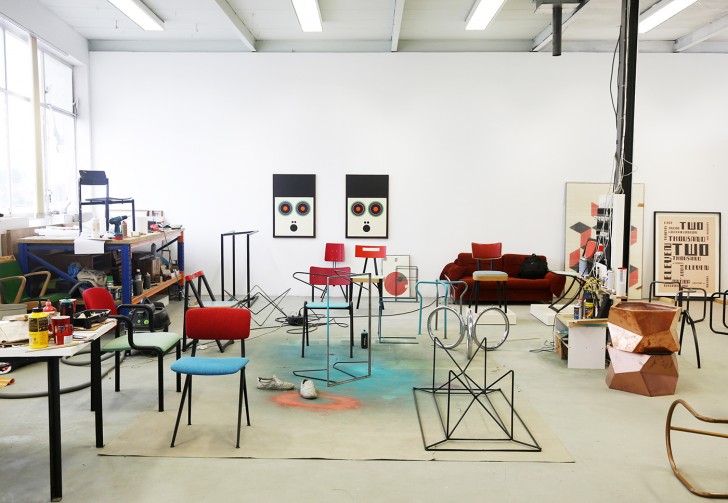 Show us your studio and tell us what you like about it.
I recently moved to a new studio in Zaandam, which is located just outside of Amsterdam. It has become very difficult to find decent studio spaces in Amsterdam that are still affordable so I started looking a bit further and found a great studio located in an old paint factory. It's not that far from where I live in Amsterdam, so if the weather is good I take my bike and cycle over. Although the building is a bit worn down, it's absolutely perfect in terms of size and creative possibilities. The studio overlooks the water and there is beautiful light all day and its industrial charm makes it a fantastic spot. The building is shared with furniture makers, designers, and artist all working in private studios but we also run shared workshop facilities which is a big bonus. The dynamics of all the people working there is great and hopefully we're able to stay here for a long time.