08.23.16
A Brooklyn Furniture Studio Goes Minimal in Geometric Steel
When we first featured the Brooklyn design-build studio Uhuru, back in 2010, they were known for creating imaginative furniture collections out of salvaged materials — chairs fashioned from Kentucky bourbon barrels, or loungers from the wood planks of a demolished Coney Island boardwalk. One of their best-known designs was a series of stools made from motley bunches of local scrap wood that they pressed into clean shapes. Uhuru essentially took the rough-hewn up-cycling vibe that was popular in the late '90s and early 2000s and elevated it with a layer of sophistication and storytelling. But along with the recent evolution of the 11-year-old company — bigger clients, bigger workshop, a new fancy showroom in Tribeca — has come an evolution in that aesthetic, first with small changes, like an aluminum version of the scrap stool, and now with a collection that feels like a leap in a whole new direction. After finding success last year with a geometric blackened-steel console called Tack, Uhuru have expanded the series to include stools and end tables that would make Donald Judd proud. We asked Uhuru co-founder Bill Hilgendorf to tell us more about their new Tack Collection below.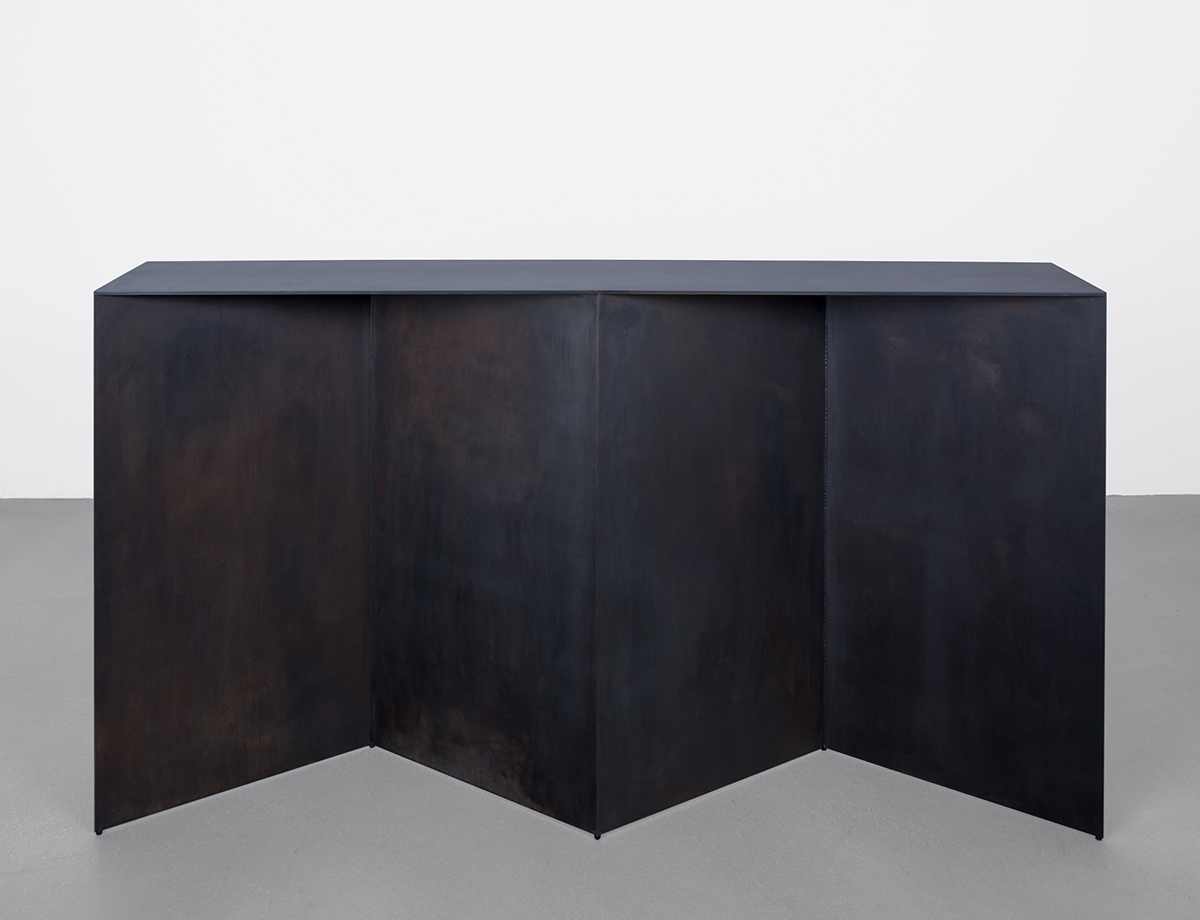 Can you tell us the story behind the Tack Console (above)? Did it come from wanting to work in a new material or aesthetic? It feels like a new direction for you.
The Tack Console was designed at the same time I was designing the Franklin collection that we launched last year, along with the Truss collection, for the opening of our showroom. We have done a ton of work in plate steel and specifically with a hand-blackened finish, but the bulk of it has been for custom projects. It's a material and finish we love to work with, and it has been part of almost all of our collections over the years. We even developed a proprietary custom powder coat to resemble the hand-blackened finish for contract environments that require a more durable finish; it's called Uhuru black, and it's a key element of our new workplace collection.
It was named the Tack Console because of the tack welding technique applied when you're putting the pieces of steel together, but also because of the line of movement it creates, almost like a sailboat changing tack across the water.
Why did you decide to expand the Tack into an entire collection?
Last year, when we were presenting the pillars of Uhuru's design aesthetic, we talked a lot about our love for simplicity in design — and specifically minimal geometric forms — but realized we didn't have a lot of examples of that in its purest form in our current collections, other than the Tack Console and maybe the Batten Console we did years ago. Many of our designs have simple forms, but often involve multiple materials and at least one with a lot of texture. So in a way, this is pushing into new territory for us, in stripping away that texture down to just the one material and focusing on the depth of just the hand-blackened finish. Plus, Jason and I have always wanted to do a collection solely out of steel plate, so in a way this was a long time coming.
We had a really great response to the Tack Console and it quickly became one of our best sellers, and that gave us the momentum to take the piece further by imagining a small collection around the same aesthetic. We wanted to keep the 1/4" steel plate and blackened finish as the core, and the simple geometric forms of tacking, converging, and diverging to define the look of the line. The focus is on the different planes and the thickness of the plate as it reflects light, revealing nuances in finish and edge quality. The pieces are constructed in a way that there are no visible welds or hardware, so they look as if they seamlessly flow into each other as they change direction or sit perpendicular.
How did you develop the new shapes?
It's interesting because the way the collection came about was from thinking about what functional pieces we could create, and then sketching forms that would work with the material and angles and plane changes represented in the original console. We came up with a huge number of ideas and selected the ones we really wanted to see in come to life. We even did a version of the Rietveld Z chair in 1/2" steel that we plan to display with the collection as a sort of designers' inside joke.
Any purposeful connections to Judd here? Or is it just an unavoidable reference when working with sheet metal and minimal shapes?
Donald Judd has definitely been a huge influence on us over the years and is someone we always look up to as a pioneer of minimal forms crossing over from art to furniture, though Jonas Bohlin and Tadao Ando would also be in that category.