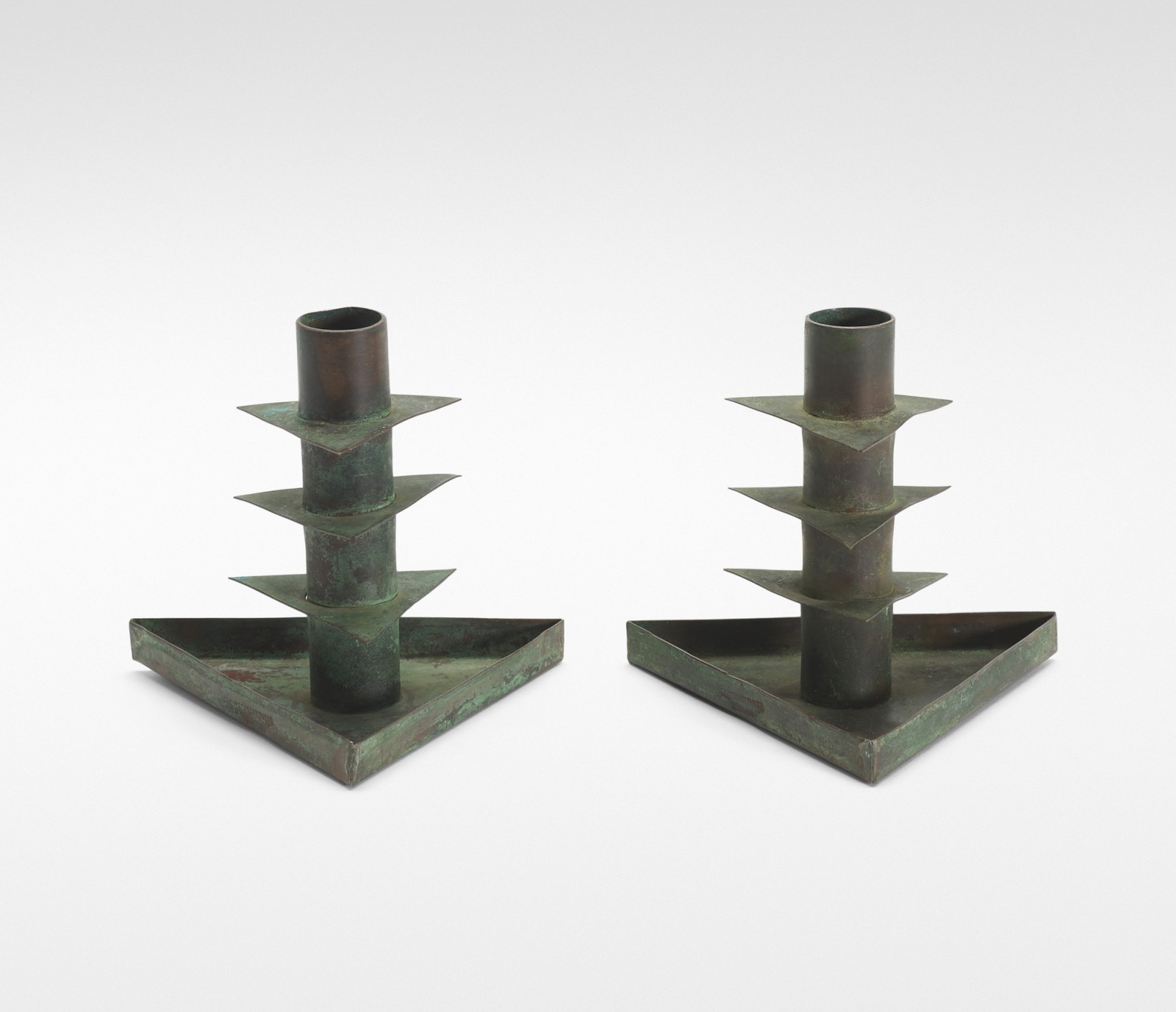 A weekly Saturday recap to share with you our favorite links, discoveries, exhibitions, and more from the past seven days. This week: While the international design community (including Jill and Monica) convened in Milan for the Salone del Mobile, we put Ryland on the case to round up a few of his favorite finds, ranging from the dark, moody objects of Blackman Cruz at Wright (pictured above) to a Technicolor Instagram account involving pool noodles and sneakers.
Discoveries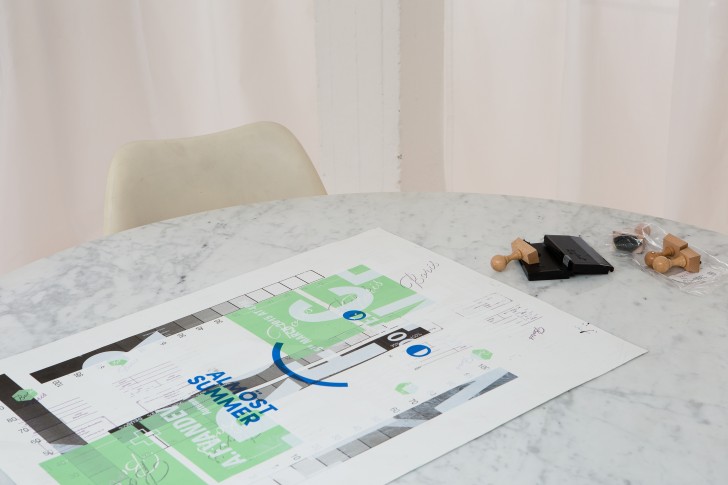 Opening its doors for the first time last Sunday, Specht Studio is a new working and exhibition space located in the heart of Antwerp. Founded by Belgian graphic designer Stephanie Specht — who counts online design retailer Bezar and New York's Picture Room among some of her clients — the new space is meant to be a haven in which print lovers can admire and purchase works by Belgian and foreign talent. The image above showcases the new space and was taken by Frederik Vercruysse, whose artfully arranged still lifes were the subject of an Eye Candy post last month.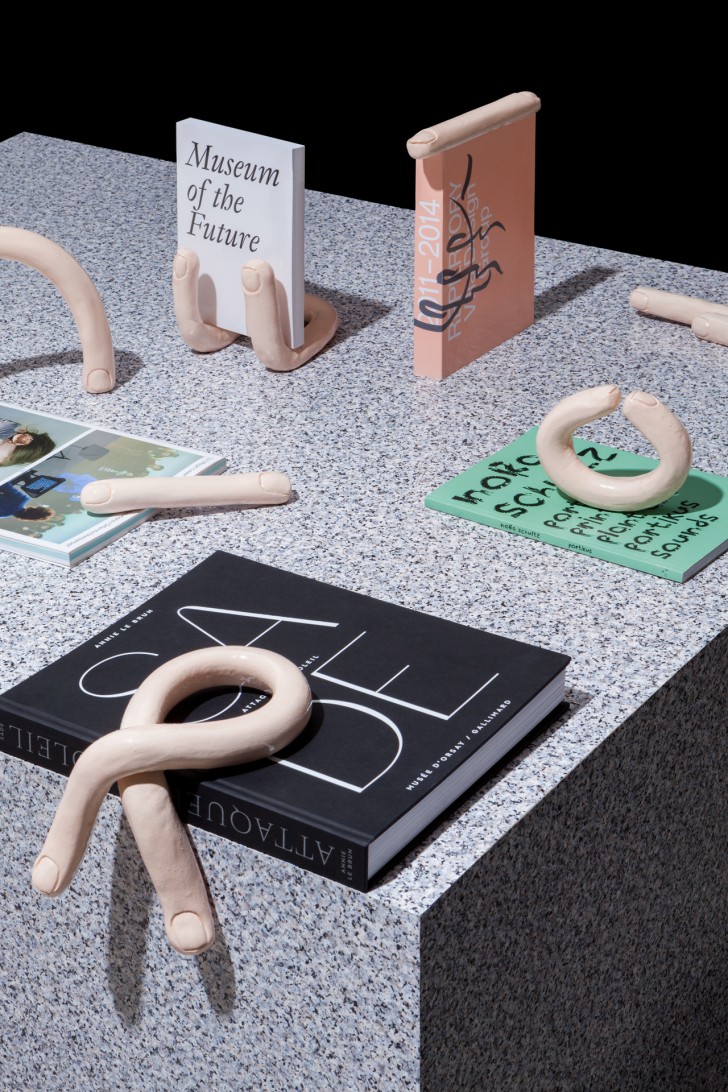 Mousse Magazine recently commissioned Milan-based multidisciplinary design studio Rio Grande to design and manufacture these finger-shaped book accessories for their booth at Milan's contemporary art fair, MiArt.  Delightfully strange and unapologetically surreal, these fingers are perfect for the book lover who values a little humor in their home decor. The fingers are rumored to be sold on Mousse's website soon, and we can't wait to snag one for ourselves.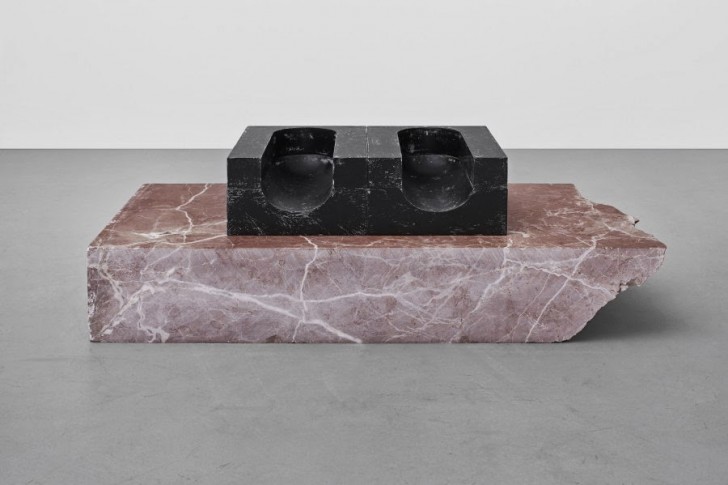 The Italian-born, New York-based Davide Balliano holds degrees in graphic design and photography and was an early participant in the Benetton group's residency program, Fabrica — our favorite incubator for young talent. Through what he calls an "unemotional and minimal" use of different media (painting, drawing, sculpture, and performance), his works explore the deepest aspects of the human mind. We were especially drawn to the monolithic marble sculpture above.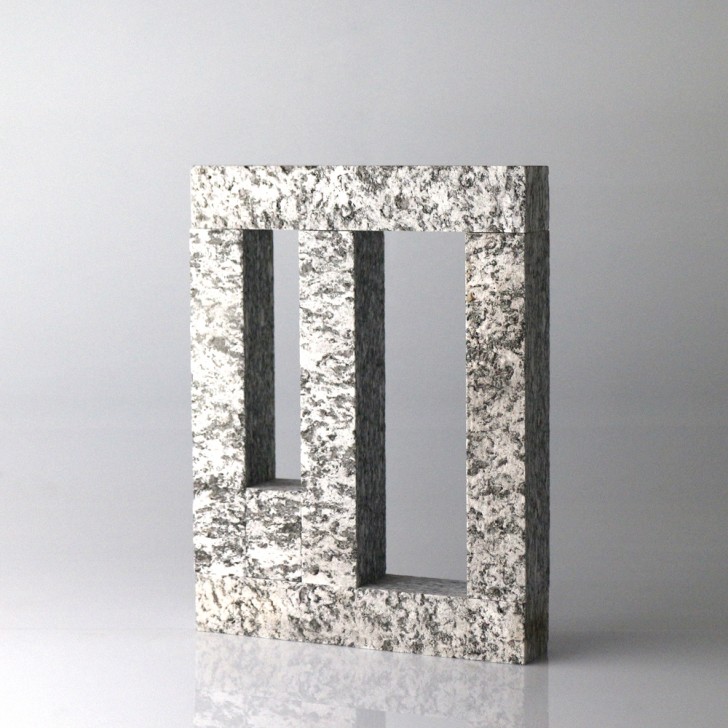 We couldn't find much information on Italian artist Alberto Bellotti as his website is still under construction, but we just can't take our eyes off his series of marble assemblages entitled "Millenaria."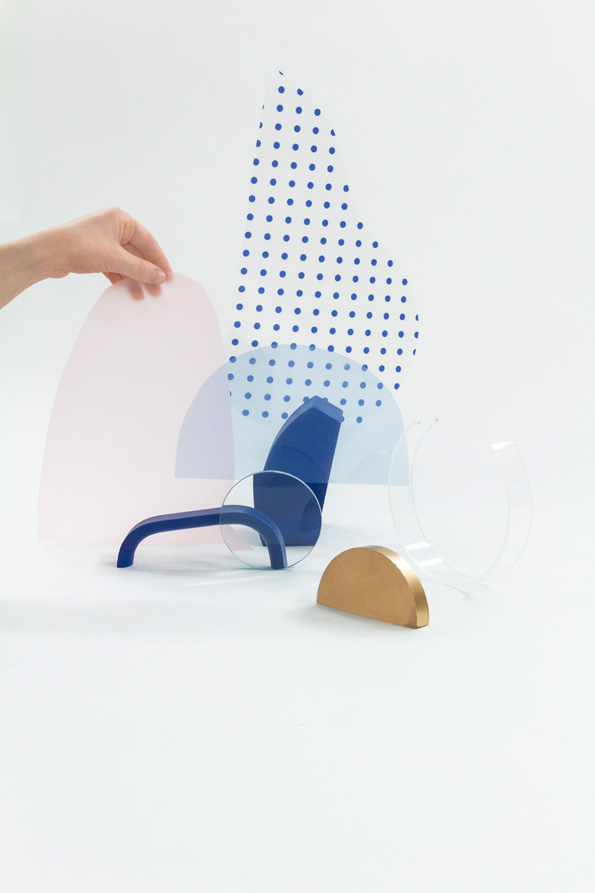 A cute submission in our inboxes this week from French graphic designer Maxime Francout, who is a student at Montreal's UQAM. He says of his project, "My approach is to play with textures and materials to give them a certain nobility." We'll be keeping our eye on Francout as he's certainly one to watch.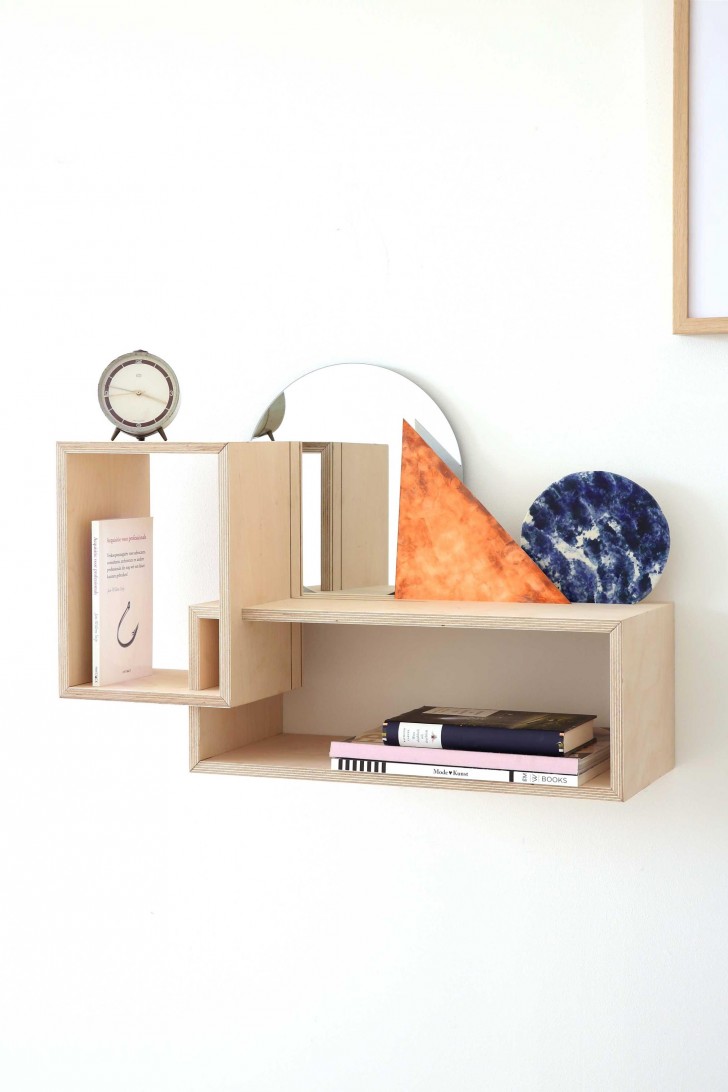 Dutch duo Siebring & Zoetmulder recently collaborated with Studio LileSadi to create this plywood shelving unit with an incorporated material collage. The materials — which include a screen-printed mirror, a perforated metal square, a brass triangle, and a ceramic blue circle — are meant to be touched and rearranged, creating a unique tactile experience for the user. With the ability to be installed in a 360 degree fashion, this shelving unit is the definition of modular, allowing the owner to fix and arrange however they see fit.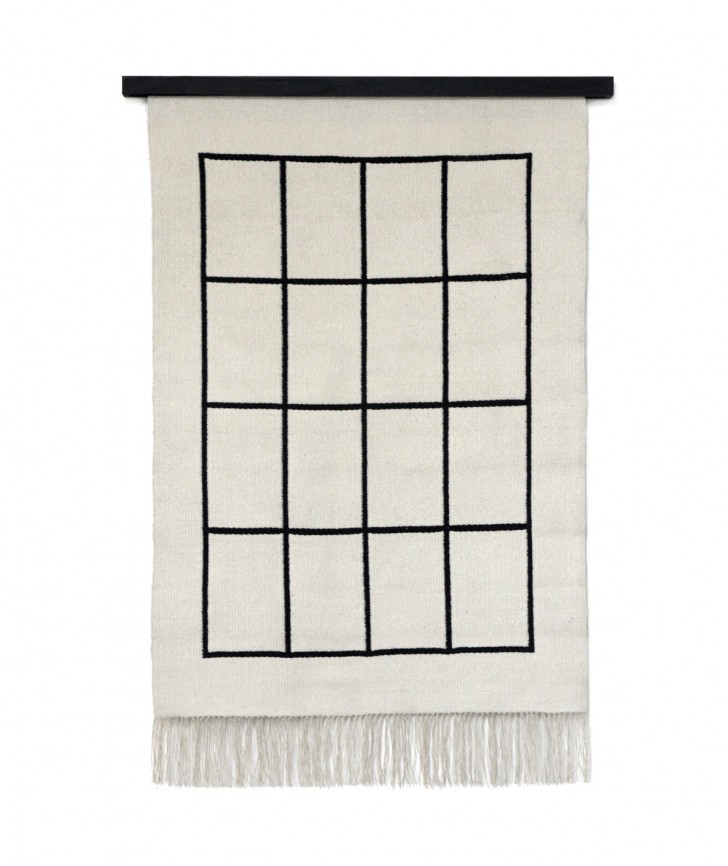 We've been keeping an eye on LA fiber artist Rachel Duvall on Instagram for some time now: Her tapestries are clean and simple, exploring the inherent natural grid that's created with the crossing of warp and weft. Using naturally dyed yarns, the black and white grid pictured above is held away from the wall on an ebonized wood hanger.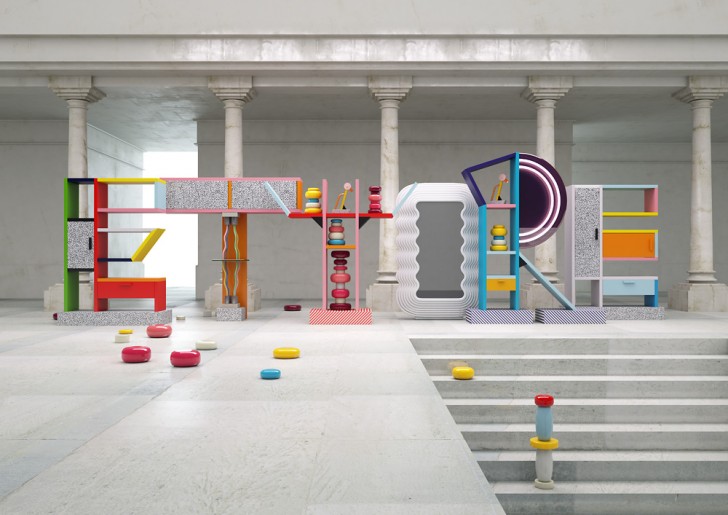 If you're like, I don't know, the rest of the design world and you can't get enough of Memphis, you'll absolutely love this project by graphic artist Chris Labrooy, with its 3D letter forms inspired by some of Sottsass's most famous pieces. Says Labrooy, "this work is an attempt to revisit the past, get inspired, and share with people new and interesting interpretations on familiar historical works."
Instagrams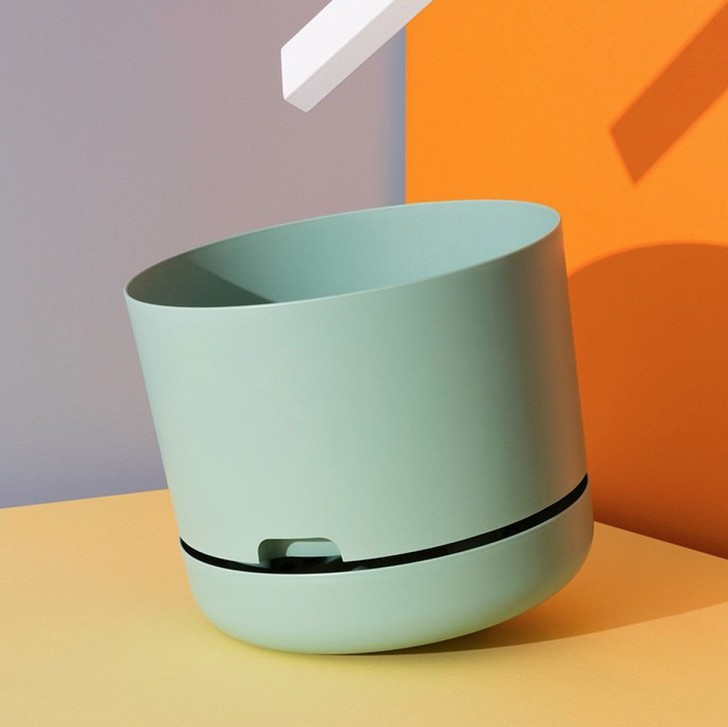 Looking for something to brighten up your Instagram feed? Known for work that blurs the line between work and play, design and art, Australian creative duo Tin & Ed live by the motto "practice makes imperfection." Pictured here is a shoot the two art directed for Mr Kitly, for David Carlson's re-released self-watering pots. We also love their campaign for Adidas + Pharrell involving pool noodles (very on trend) and limited-edition sneakers available in 50 colors.
Exhibitions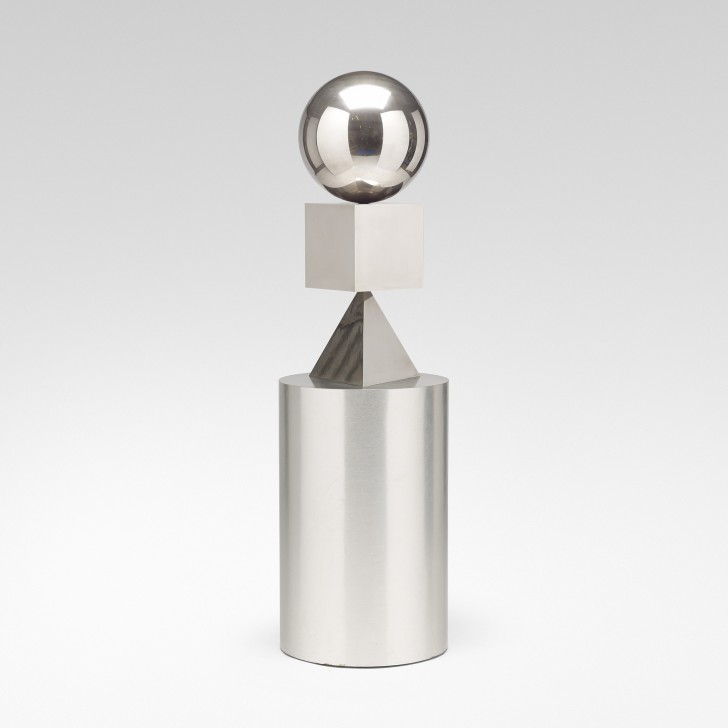 For those not familiar with LA's Blackman Cruz, we suggest doing a bit of research in time for their auction at Wright on April 21st. Known for their masculine, dark, memento mori style, owners Adam Blackman and David Cruz scour the world looking for rare antiques with some of the strangest provenances we've ever come across. In the market for a pair of chairs from Al Capone's Wisconsin retreat The Hideout? Blackman Cruz have you covered. With lots ranging from a pair of Warren MacArthur candlesticks from the Arizona Biltmore hotel (pictured at the top of this post) to the James Prestini sculpture pictured above — mark your calendars.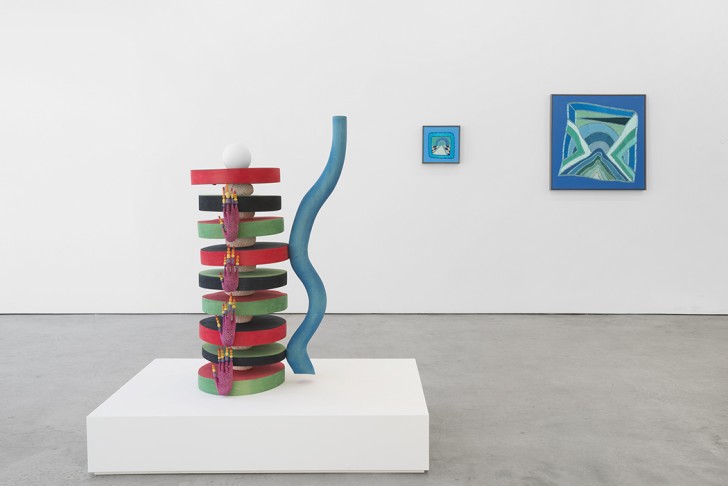 Currently on view at the Marlborough Chelsea, "Outer Loop" is a collaborative show by artists Tony Cox and Matthew Ronay who titled their show after the Beltway that surrounds their hometown of  Louisville, Kentucky. Referencing Appalachian folk art, sci-fi, and a self-defined spirituality, Cox and Ronay create works that are colorful and abstract.  Cox's bold, hand embroidered paintings perfectly complement Ronay's carved basswood sculptures. Together, Cox and Ronay's works create commonalities in the bold and expressive use of color, but also showcase their time consuming processes and the focus required to execute such meditative works.
Links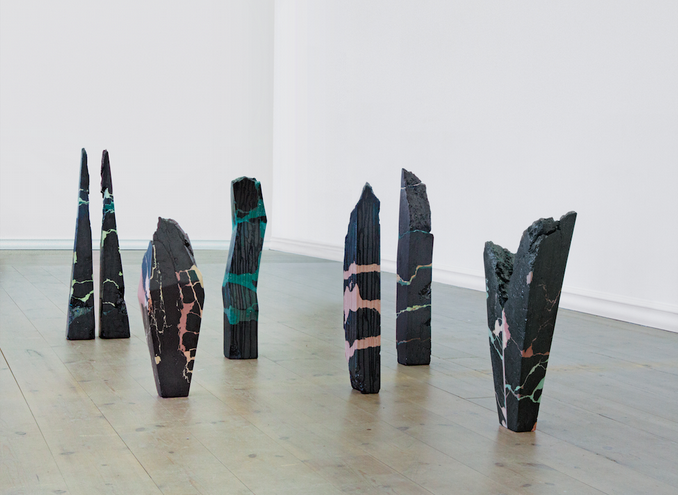 We last featured the work of SU favorite Hilda Hellström last January, introducing her sculptural arches made of stacked anthracite, a form of dense, highly lustrous coal. Her latest experiments with the material involve taking chunks of anthracite and filling their cracks with colored Jesmonite, the result being totem-like crags that can be seen in the group show Radical Friendship at the Gustavsberg Kunsthall in Sweden. To learn more about anthracite and Hellström's process, we suggest heading over to our wonderful friends at Disegno to read an in-depth interview with the designer.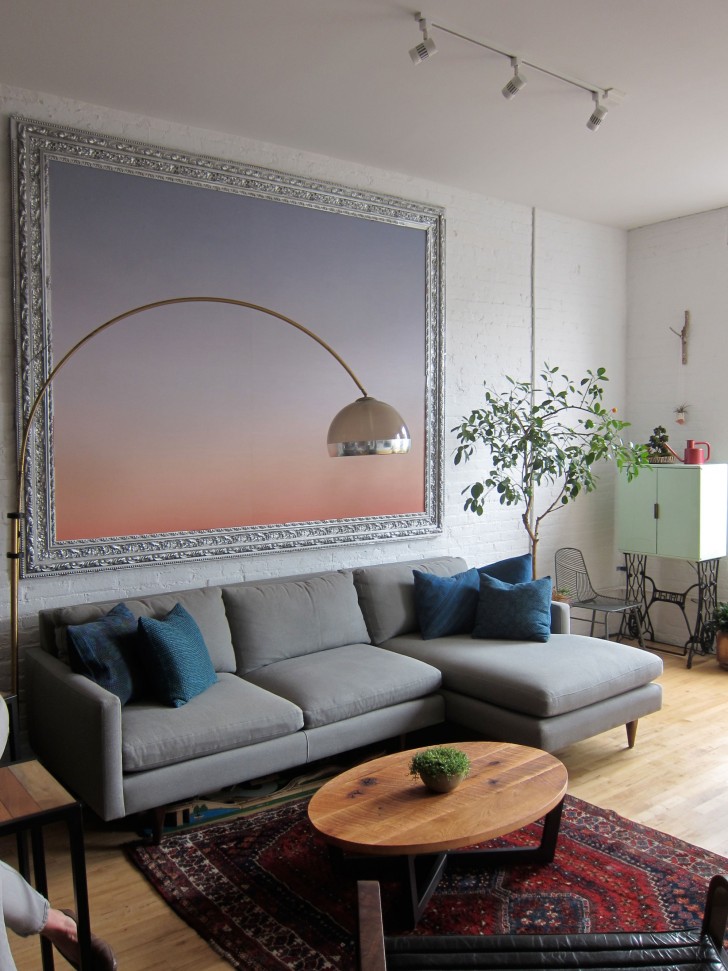 Celebrating Uhuru's new showroom in Tribeca, New York Magazine recently went behind the scenes to feature founder Bill Hilgendorf's cozy apartment in Red Hook. Converting a Brooklyn factory into a family home seems like a pretty daunting task, but judging from the photos we couldn't be more in love with the results. We especially like the idea of framing Calico's gradient wallpaper and using it as wall art.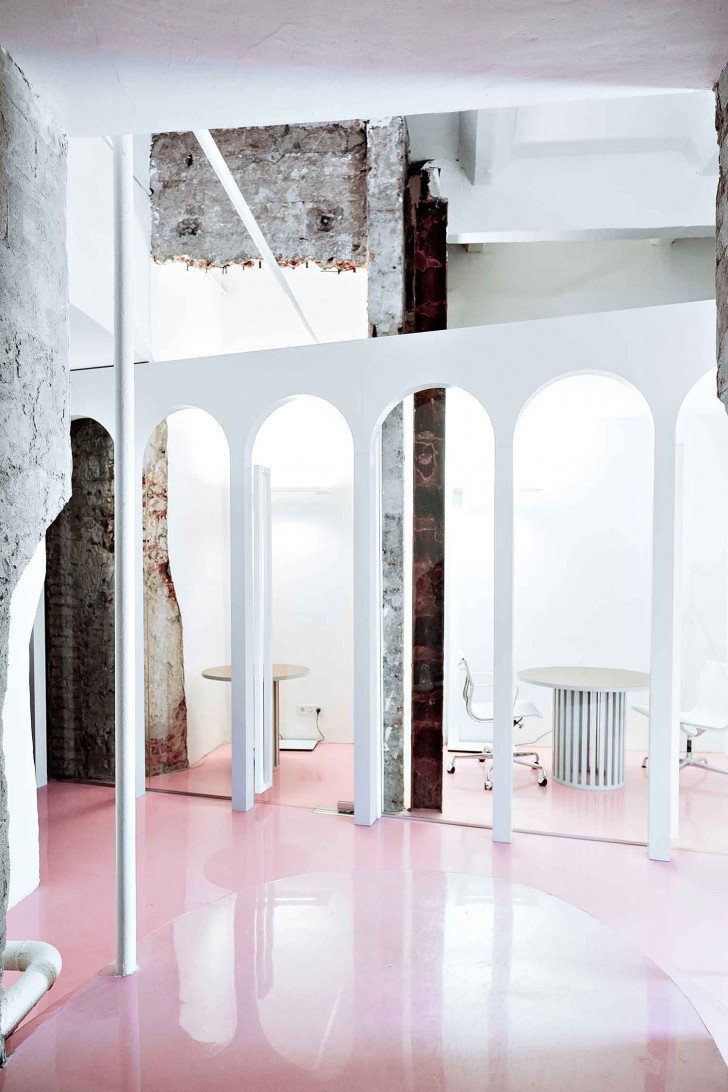 Australian design blog Yellowtrace consistently kill it with their coverage of intriguing interior spaces. This time around they take us inside NGRS Recruiting Company's new headquarters in Moscow. Designed by the talented Crosby Studios, the office interior features shiny pink floors and a postmodern white arched wall bisecting the office. The space was converted from an old factory once owned by Russian entrepreneur Savva Mamontov, with sections of the crumbling facade left intact to convey a sense of progress from a time long gone.