12.21.12
Archivo Diario by Melinda Santillan and Marco Rountree Cruz
If you're the kind of person who pays attention to Pinterest, you may have spotted the playful image above making the rounds there as of late. But we can pretty much guarantee you don't know the story of the two Mexican artists who created it — and the blog it's pulled from, Archivo Diario — which turns out to be one of the more amusing tales we've heard in awhile. We were lucky enough to meet Marco Rountree Cruz and Melinda Santillan at a party thrown this fall by Jennilee Marigomen of 01 Magazine, and we decided to keep in touch with the Mexico City–based couple, who launched Archivo Diario three months ago both as a way to force themselves to create something new every day and to try their hand at working together (Cruz being a successful installation artist and Santillan more of an art director). But when we dug a little deeper, we found out that the endeavor was technically their second collaboration, and was in many ways a direct reaction to the failure of first: an elaborate script for a stylized telenovela that they dreamed of actually producing, but that has since languished in their desk drawer. We were so impressed by the couple's boundless creative ambitions — just wait until you hear about the crazy project Cruz is working on now — that we begged them to tell us everything, about themselves and about Archivo Diario. Here it is, in their own words.
Melinda Santillan: We started Archivo Diario because were interested in working on an editorial project — something like a magazine or blog — but of course it's a lot of work. So we thought we could start by doing just a small visual gesture a day, kind of like an exercise or a collaborative sketchbook.
Marco Rountree Cruz: Usually the things we see on the internet are just people putting together images and photographs they've found elsewhere on the internet. So we also had the idea that it would be fun to do the opposite, and create our own pictures instead.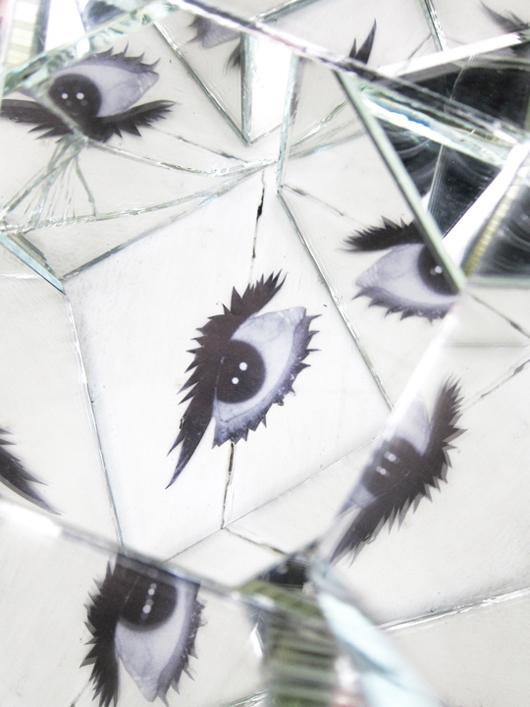 Eyes and Mirrors: Making an eye cutout reflect in mirror cubes.
MS: I thought it would be nice to have our own archive with our own work that we could use later. If you come up with a pattern or a print or a method of doing something, it can always be incorporated into a future design or artwork. If you were doing a collage, for example, you could go back and use your own images as source material. The idea was just to play with ideas. For me, I'm more of a perfectionist, so this was a good exercise in just getting it out — you don't have as much time to think about a project when there's only a day to do it. It's the gesture of putting it out there right away that for me is helpful.
MRC: Working on the site is a really open process. In my art practice, too, I'm always thinking of millions of things, so I tend to just start by asking myself questions like, what can I do with whatever I have around me? For Archivo Diario, sometimes it's hard, but sometimes we just see something that we realize we can transform into an exercise.
MS: Sometimes we have an idea in our minds that we want to try out, so we make a model for it. Or we just try to style some objects. Or if we're out, we may notice something and think, I want a record of this for myself for later. Some posts we create when we have time in the studio and we're feeling extra creative, versus being on an airplane and needing to make it work. This weekend we were at a wedding and they had fireworks, so there you go, you take pictures of it and there it is.
I like the days when you have to force yourself to make something. We went to New York this fall and we came up with some creative ones, like the sweaters we styled in Central Park (below) — we didn't have anything with us, so what were we doing to do? We had to force ourselves to do something. Then there was the candy wallpaper we made in our hotel (main story image), which was just, let's get some snacks and make a pattern. We had to push through that uncomfortable moment, that creative block. And I think the results came out great.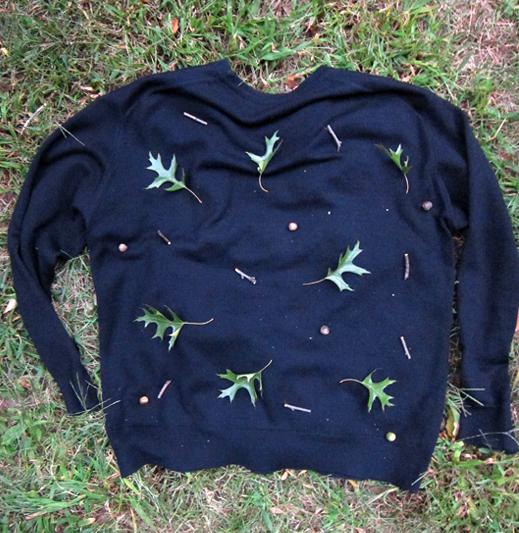 Fall Sweaters: Making a collection of fall sweaters in the park.
MRC: A few of the posts are projects we've already made and are just documenting, for example the cat ramp. It took me two or three days to carve the wood and make those ramps. The post is the photograph. The thing I've found amazing is that I realized I was never documenting my work before this. I'm not good at that. I've had an art career for 7 years and most of the work I've made I have no pictures of.
MS: I'm the opposite. I do more design, and I'm interested in styling and art directing, so for me if you don't have a project happening, you just make one yourself and take a picture. The more stylized stuff on the site is more my input, or taking something Marco does and making it look good in a photo. The Pretend Palm (below) is very Marco — taking copper tubing, which is something he's used in his work before, and adding leaves we cut off a Bird of Paradise plant because they were dying. Marco was the one who was like, we can do something with the leaves. So the assembling of the object will be his job, and I'm more into taking or doing a nice layout. And yet from working together so often, now we're starting to get mixed up; he's taking more pictures now, and I'm getting creative with random projects. We're rubbing off on each other.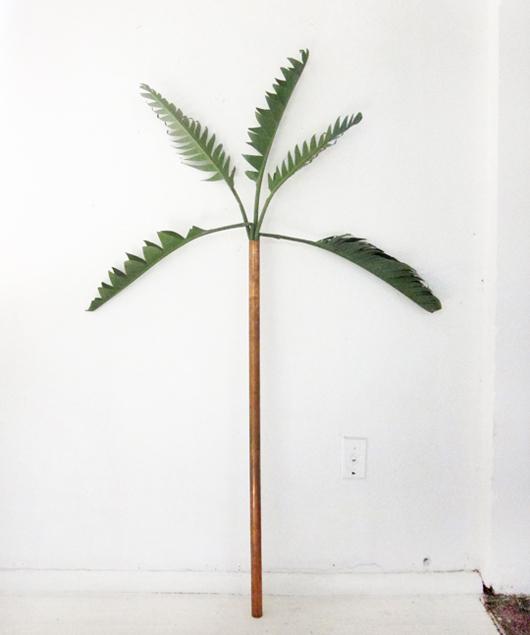 Pretend Palms: Making palm trees out of cut-out bird of paradise leaves.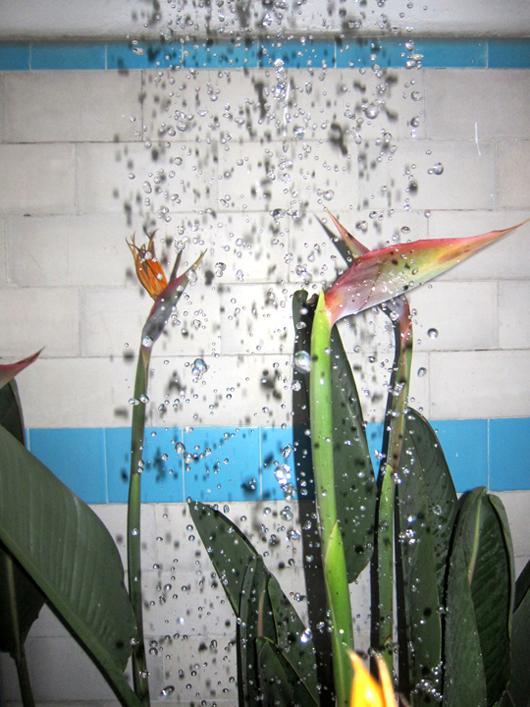 Shower Plant
MRC: Actually Archivo Diario isn't our first time collaborating. After we started dating in 2010, we started trying to make a soap opera together. Melinda and I really like telenovelas, so we came up with our own — the name, the characters, the storyline, the script. But we never did anything with it, we just sat around and said let's do this, let's do that.
MS: I was always fascinated with telenovelas, especially the ones from the '70s and '80s. They're so cliché, and the outfits, with the shoulder pads and all that stuff, they're so good. So Marco and I started hanging out and we wrote all these scripts, but actually making a TV show felt like such a huge commitment, and neither of us in that moment were ready to commit, or would even know where to start. He'd come up with all these ideas but I'd get stuck in the details of, How are you going to produce that? How would you film that? That's really why we decided to do Archivo Diario — it was like, you don't come up with some grandiose idea and then sit around worrying about it, you just do it.
MRC: That's how I usually work though — I just do stuff. I'm not a conceptual artist. I like to work, and I spend all my time in my studio doing whatever I want, and then when there's a chance to make a show in a gallery or an installation in a museum, I love to adapt to the space at hand. I really love working in context. I'll get there and start to do the project from zero with whatever resources are available. Obviously I use a lot of found objects, but just because it's easier for me to get them. I also do a lot of collaborations with architects, creating installations for the lobby of a building, for instance.
Right now I'm with the gallery Travesia Cuatro in Madrid, where I'll have a solo show in November of 2013, but meanwhile I'm working on a crazy music project: I'm trying to produce a pop star. Trying to make the next Madonna. I've already found someone, and I'm recording the music now. I'm doing it in a real way, but everyone tries to tell me it's art! 'Your project is going to be terrible for the music charts,' they say, 'but great for the gallery, so don't worry.'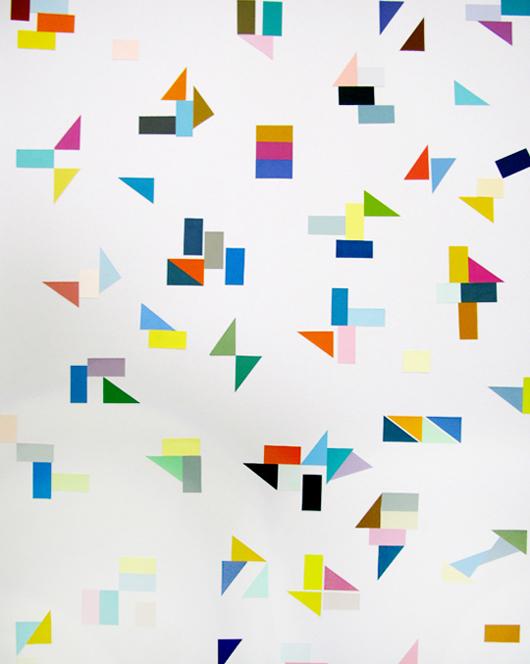 Comex Cutouts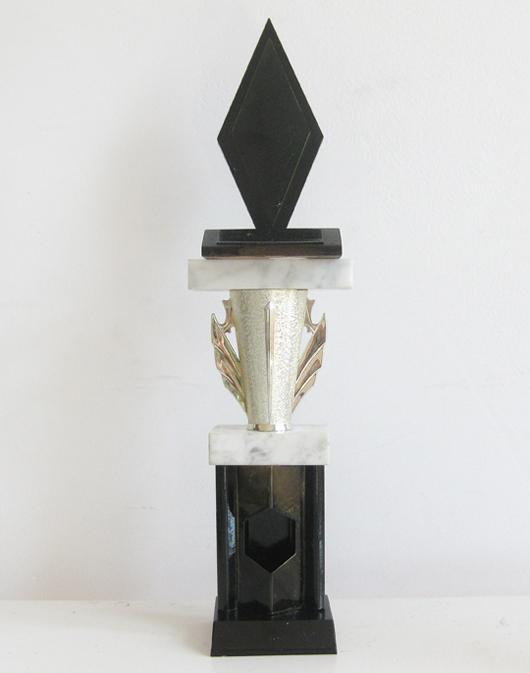 Reconstructed Trophies
MS: I'm still working on my t-shirt brand, Adieu, which I started four years ago. Originally it was all screen printing, but when I moved back to Mexico three years ago from Canada, where I grew up, I started working with a digital printer. Now I'm going back to basics, to more handiwork; my new collection was done with potato prints. I do a bit of design work here and there, too, and contribute to 01 Magazine. But I've also fallen into doing castings. When Urban Outfitters was shooting their catalog here, they hired my friend's company to produce it, so casting became my side project.
Part of doing the soap opera, for me, was going to be the fun of doing the casting. Even if it didn't get made, I'd just enjoy finding the characters. For me those things — plus coming up with the outfits, and the set — always seemed more exciting than actually making the show. Maybe a pattern from Archivo Diario could be used as a wallpaper in the background, or some of the other ideas could be stage props.
MRC: We also love the idea of making a window display, the sets for a shop. So Archivo Diario is also our way of pretending we're making a window display for objects as if we were selling them.
MS: If you want to do something like make an actual window display or an actual movie, you need to invest yourself in it and start from the bottom. But sometimes I'm too impatient, I just want to do it, and I don't care if it makes money or if it's real. What we enjoy is playing around with objects or layotus or setups, and we don't always want to wait for the right opportunity. To get to do a really cool window, you have to start by doing a bunch of lame ones, and sometimes I want to bypass all that. This is not about doing a real job, but having fun.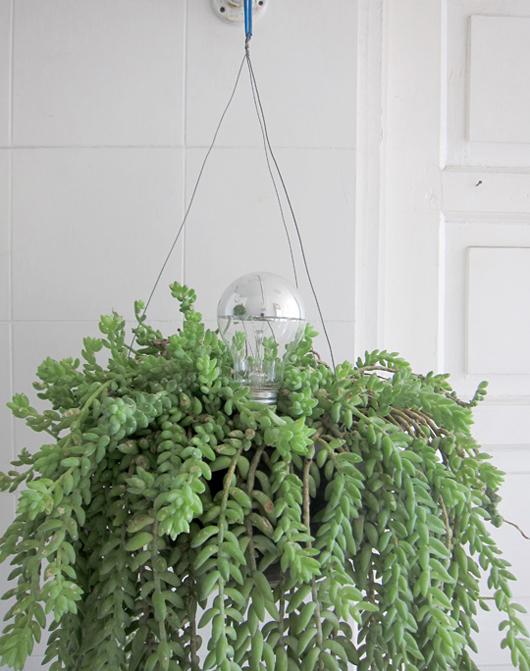 Lamps: Making lamps from household items.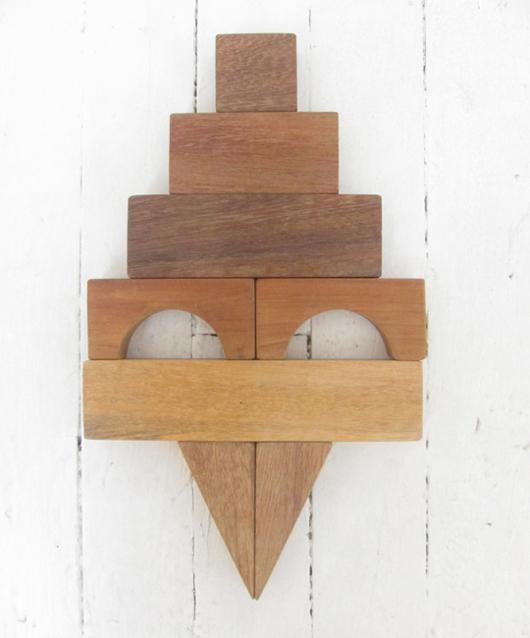 Blocks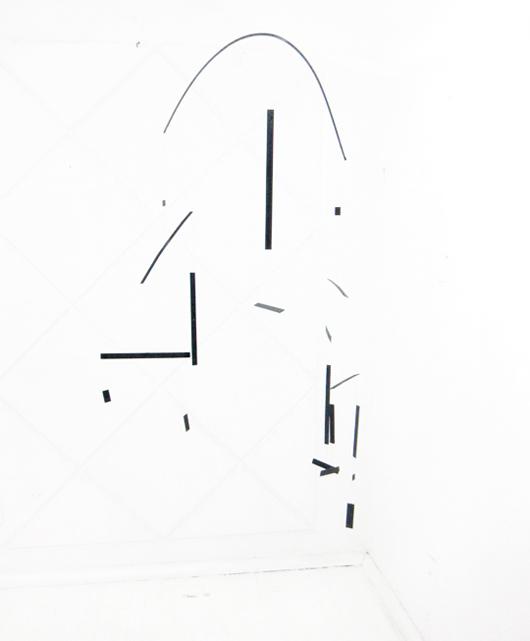 Black Mobile: Making a mobile with black rectangles.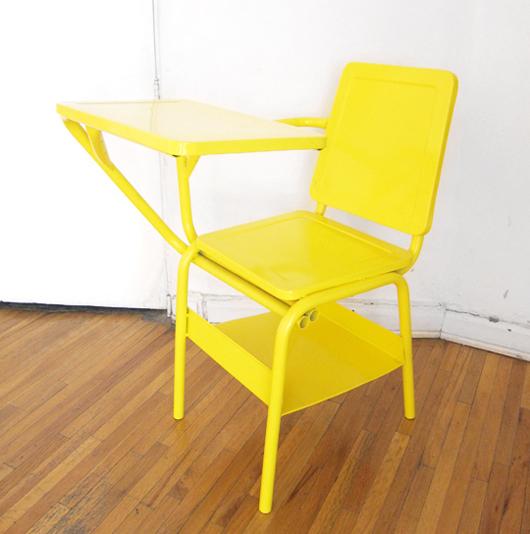 Four Chairs: Four refurbished chairs.