08.25.16
Everything is Illuminated: Anthony Bianco's Cool, Contemporary Glass Lights
When it comes to working with glass, says designer Anthony Bianco, the journey, so to speak — intense, immersive, rarely improvised — is just as notable as the destination. "The material is so physically demanding," he says. "I've come to appreciate the involvement and the many steps it requires, from understanding the chemistry to creating the colors." Having discovered a passion for glass nearly two decades ago, it's a process with which the artist is more than well acquainted. "I used to work with clay," he reveals. "But after a false start as a ceramics major in college, I made the decision to devote my entire practice to glass."
A smart move, as it turns out. Years later, following stints assisting artists Jeff Zimmerman and Maestro Silvano Signoretto, he now runs Bianco Light & Space, a glass studio based in upstate New York. His work — which encompasses sculpture, lighting, and functional art — takes shape under the influence of a range of sources, from Italian Futurism to the beauty of the Berkshires and beyond. "I'm inspired both by my physical surroundings and the interplay between architecture, space, and the natural world," he says.
Here, Bianco fills us in on what's new, from fine-tuning his new large-scale work to the gratifying beauty of a hand-built furnace.
Describe your most recent project and how it was made.
My most recent project was a series of table lamps created exclusively for Sight Unseen OFFSITE. Half of them have a more formal aesthetic; the other half are much more sculptural. The Totem Lamps, for instance, are made from blown glass, while the Illuminated Series was created with blown and cast glass parts. I used a variety of methods to produce this body of work including Venetian-style glass blowing, lapidary carving, and sculpting. The glass colors I use are proprietary formulas that I mix and melt from scratch—this process allows me to control a color's transparency, opacity, value, and saturation.
At this point in my career, the majority of the products I've designed have come at a higher price point; now, I'm trying to tackle products like these that bring that price point down while still allowing for creativity within the field of glass.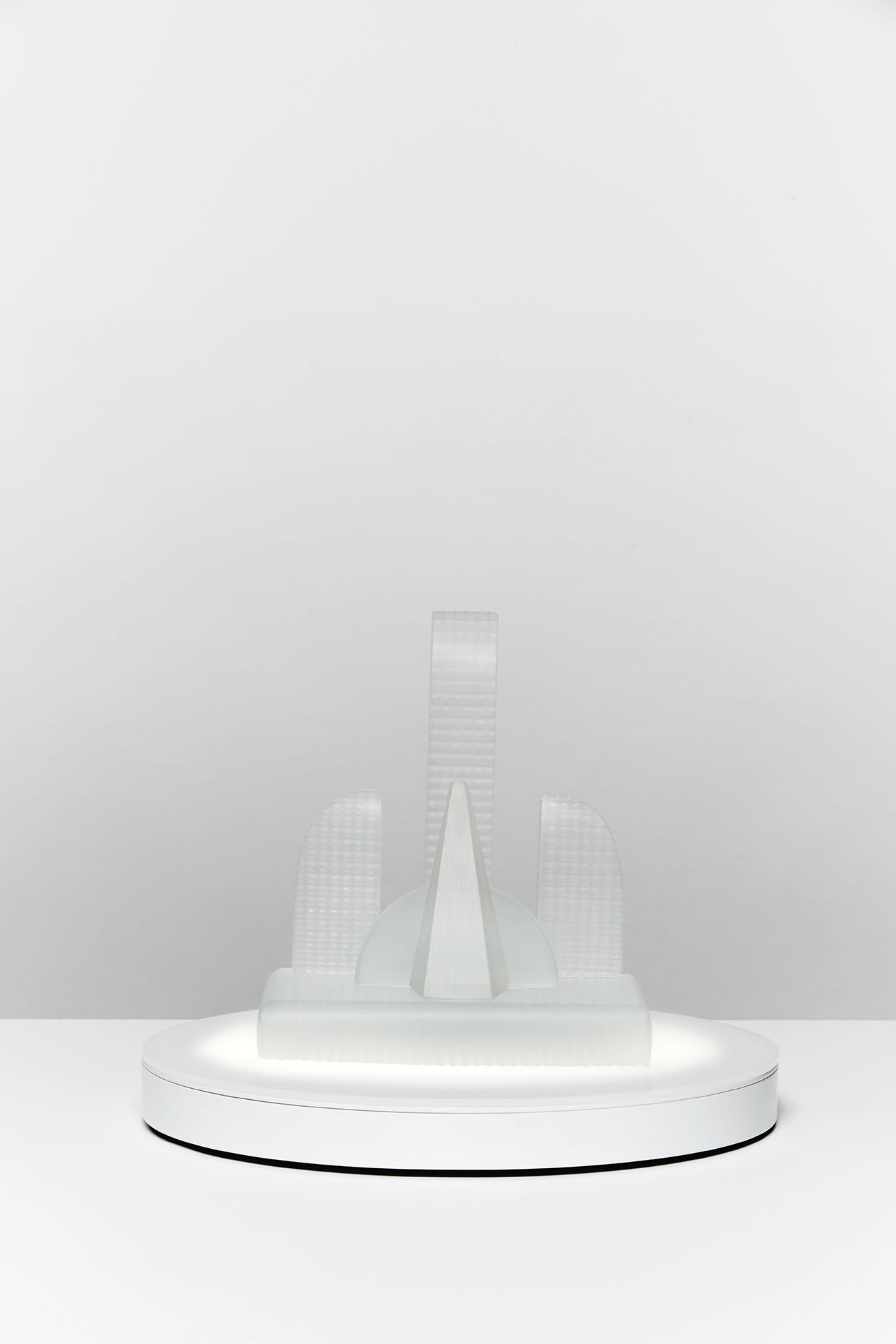 Describe your next project and how you're currently making it.
I'm currently setting up a new studio space, which has been a project in itself. Additionally, I'm working on something that's a slight departure from my last project. Taking inspiration from the Illuminated Series, I'm creating works on a much larger scale: life-size, or five-feet plus. These new works will be made in a similar fashion to the Illuminated Series, using blown and cast glass components, but I'm also developing a more diverse color palette for this particular series.
Several different methodologies have been applied to these pieces, too. The majority of the components are made in cast glass, a process that involves the use of graphite and steel molds. The studio I run has an inventory of cast iron molds for glass blowing and casting that are over 100 years old, and for this project, I've repurposed a lot of them. I'm essentially creating a toolbox or an alphabet of sorts, and absorbing them into my repertoire of shapes.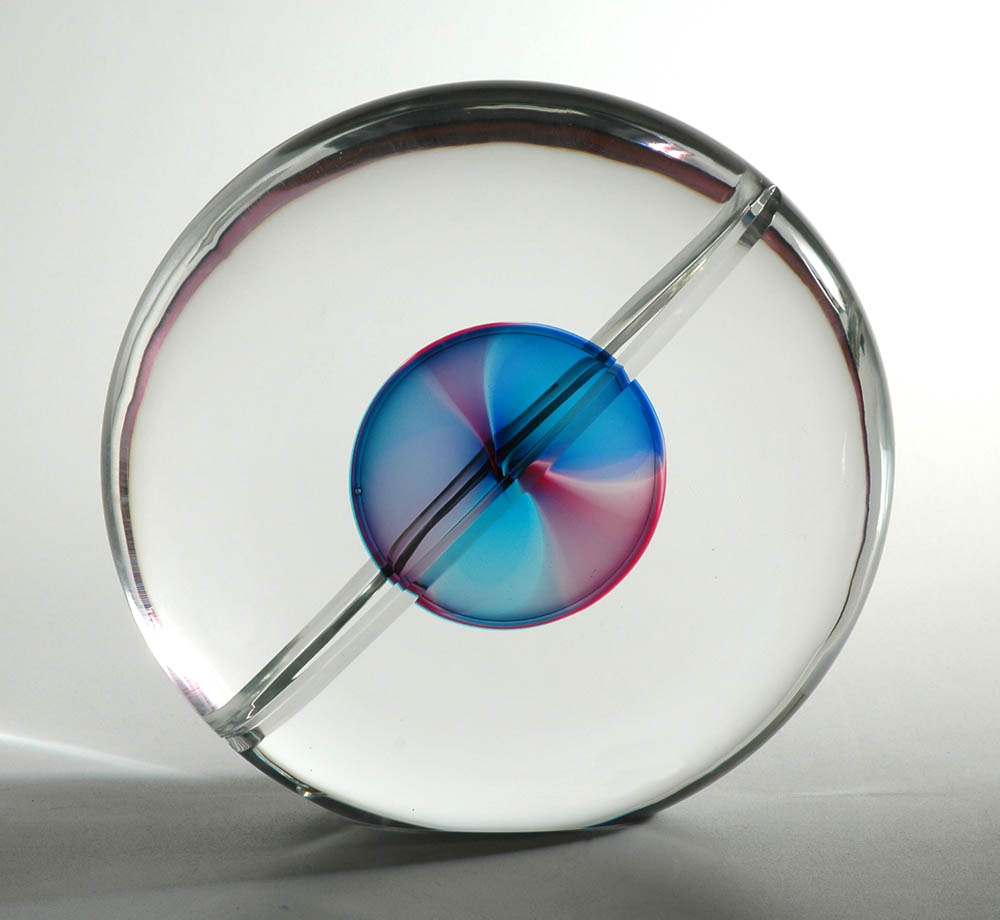 Tell us one thing that's been inspiring you lately and why.
I've always been inspired by the Italian glass master Livio Seguso, but I've been particularly drawn to his work lately (above). He can pretty much make anything, but much of his later work — which centers around mixed media and a cross-disciplinary approach — has a special place in my heart. His use of materials is extremely impressive, and his use of glass underscores the notion that it's much more than something used to to make products. It's a material that can express endless concepts, ideas, feelings, and emotions. I love the simplicity in his form, the tactile nature he's able to achieve, the lightness, the warmth. He's a total hero of mine.
Show us your studio and tell us what you like about it.
My studio is currently located in upstate New York. It's a special place with a lot of history and charm. My favorite element is something you can't see from the inside: it's a 5,000 square-foot solar array that powers, on average, 70-80% of the usage for our furnace, which I built myself. Most glass studios use propane and burn it endlessly, but ours runs on electricity and is very ecologically friendly. Since our furnace needs to stay on 24 hours per day, year-round, the energy consumption is pretty outrageous — we're doing everything we can to reduce our carbon footprint as much as possible while still creating what we want to create. The furnace is the lifeblood of the studio, and to have the opportunity to build something so unique from scratch — I literally laid every brick — was a dream.