12.19.11
The Bouroullec Brothers in Disegno #1
Designers around the world owe Johanna Agerman Ross a drink, or perhaps even a hug: Her new project, the biannual magazine Disegno, is devoted to letting their work breathe. "I always found it frustrating working for a monthly, because I couldn't give a subject enough time or space to make it worthwhile," says the former Icon editor. "For a project that took 10 or 15 years to make, it felt bizarre to represent it in one image, or four pages." Founded by her and produced with the help of creative director Daren Ellis, Disegno takes some of the visual tropes of fashion magazines — long pictorial features, single-photo spreads, conceptual photography — and marries them with the format of a textbook* and the investigative-reporting ambitions of The New Yorker.
The story about Ronan and Erwan Bouroullec which we've excerpted here, for example, fills 22 pages of the new issue and runs to nearly 3,000 words; it's accompanied by images captured over two full days the photographer spent with the brothers, one in their studio and one at the Centre Pompidou-Metz, where they were installing their latest retrospective, "Bivouac." And articles on Martin Szekely, Azzedine Alaïa, and Issey Miyake's Yoshiyuki Miyamae are set either over lunch, or in the subject's living room. The focus, says Agerman Ross, is on proper storytelling. "The people behind the project, the process of making something, even the process of the writer finding out about the story — that's all part of it," she says. "It's the new journalism." Obviously, we couldn't agree more. Read the excerpt below, then follow the link at the bottom to purchase your own copy of Disegno #1.
*Most of the magazine's features include footnotes explicating, for example, what a CAD monkey is, or offering further reading on the subject at hand.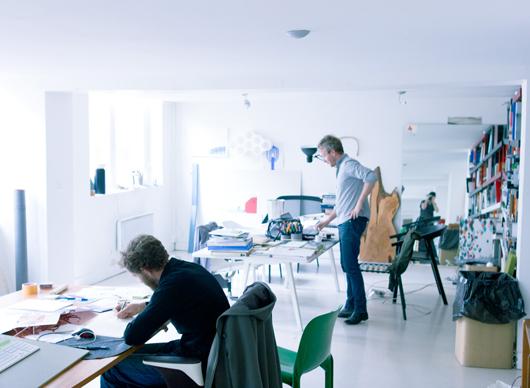 By Johanna Agerman Ross
Photos by Linus Ricard
When Ronan and Erwan Bouroullec were young they used to visit their mother's great uncle in the countryside. To pass the time while the grown-ups were talking, they kicked a football on the gravelled drive in front of the house. It was built for two families and it was neatly cut down the middle, but they never knew who lived on the other side.
"To my surprise mum told me not so long ago that it was her great uncle's brother, but we never met him as far as I can remember," says Erwan Bouroullec, tucking into a spicy beef dish at his favourite Thai restaurant in Belleville, north-east Paris. He likes telling stories. The two uncles had run a carpentry business together, but had fallen out and were no longer on speaking terms. They had, however, remained physically close in this Jacques Tati-esque, symmetrical existence. "That's what mum has always been nervous about – what working together does to mine and Ronan's relationship as brothers."
Erwan tells the story in such a matter-of-fact way that the sad undertones are lost, but the nature of his and his brother's collaboration is obviously something he has considered many times. Ronan, five years older and quieter than his brother, is back at the studio, eating a sandwich while keeping an eye on the office. It's late July, a week until France goes on annual summer leave. Five days from now the studio will be empty, and there is a lot to wrap up before then. A sense of taking stock is hanging in the air.
Over the past decade, French designers Ronan and Erwan Bouroullec have built a steady reputation as one of contemporary design's most important names. They have longstanding relationships with furniture manufacturers Vitra, Magis, Cappellini, and Kartell, and have designed interiors for such fashion brands as A-POC and Camper. Their signature is a sensual, poetic design style that doesn't reveal the dual authorship. They create intriguing and complex furniture that often addresses the living conditions of the postmodern age – small, flexible and constantly changing spaces.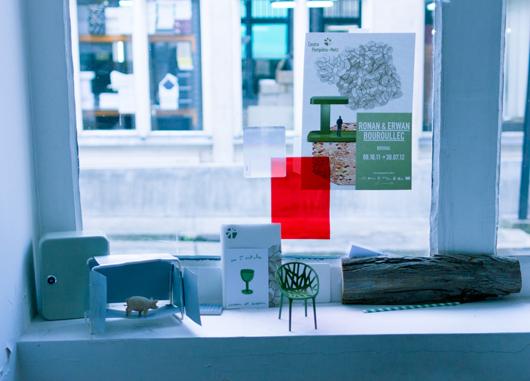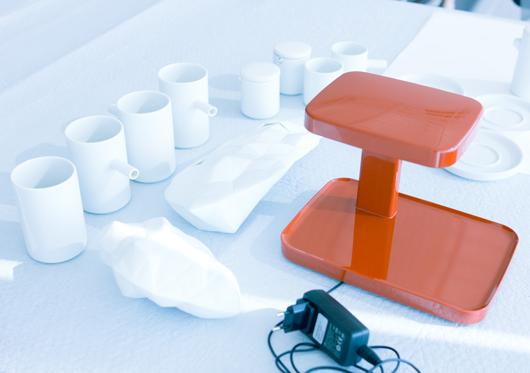 In the month that I meet them, the Bouroullecs' Steelwood chair for Magis has won the prestigious Compasso d'Oro award (the news is met with a gentle shrug by both brothers) and it is two months until their biggest exhibition to date, Bivouac, will open at the Centre Pompidou-Metz (7 October to 30 July, 2012), followed by the release of a monograph by Phaidon, their second with the publisher. A mock-up of the cover is lying on the desk of their long-term employee Felipe; it is grey and tombstone-like, with the title Complete Works. Are the Bouroullecs trying to say something?
"We're only playing around with names at the moment," says Ronan, brushing off a remark on the finality of the title. He is fiddling with a scale model of the Bivouac exhibition – a long and narrow space filled with their pieces from the past ten years. The title of the exhibition reveals their preoccupation with temporary set-ups, a bivouac being an impermanent shelter or camp. There are several pieces in the exhibition that serve as this type of shelter – Twigs and Algues for Vitra (2004) are made from injected plastic pieces that snap together to create partitions, and Clouds (2009) for Kvadrat are flat, irregular shapes covered in felt, assembled with the help of elastic bands to create three-dimensional cloud-like textures. These hangings bring to mind German architect and writer Gottfried Semper's text on the use of carpets as definers of space in early civilisations: Carpets hung from a frame fulfilled the structural and practical needs of sheltering, he wrote. It's as if the Bouroullecs are addressing this first and very basic need of architecture through their design.
Compared to many of their contemporaries, the Bouroullecs offer an extraordinary sense of space through their work, with their furniture forming a landscape, a world of its own. Sometimes it even forms whole rooms, such as Lit Clos, a cage-like bed on stilts for Galerie Kreo in 2000; the sofa made for the same gallery in 2008 that is placed in a 2m-by-3m box standing on its side; or the Alcove sofa for Vitra in 2007 with such a high back and sides that it cuts out any sensory experiences of one's surroundings. "I would like to be a good architect," says Ronan, moving the miniatures of the exhibition around in an oblong box. "But I know I will never be." False modesty or not, he and his brother are good manipulators of space. It is no surprise that they are drawn to creating such free-flowing environments given Ronan's admission to claustrophobia. "I have always been, for as long as I can remember," he says. He regularly needs to escape Paris, renting a cottage on the river an hour outside of the city or visiting his house on the coast of his native Brittany, 500km away. "I must go there every so often, just to breathe the air," he says.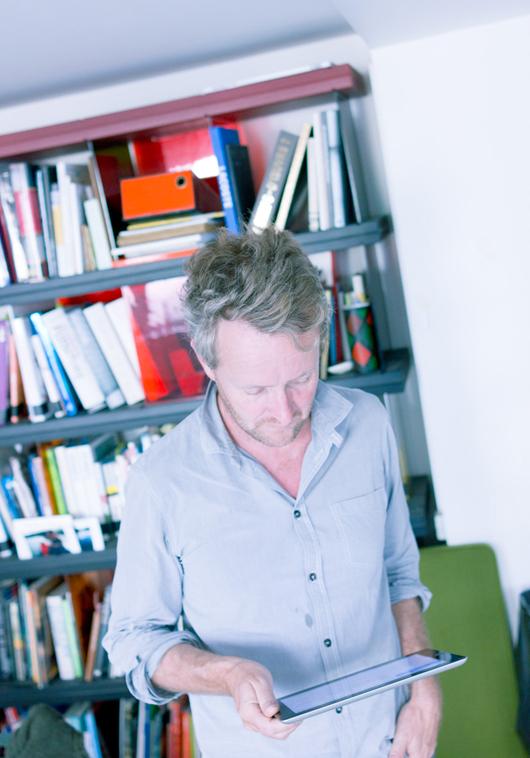 The Bouroullec headquarters are housed in a former clothing warehouse in Belleville. Here the brothers share the same office, closed off from the rest of the studio by a partitioning wall with a big glass window. Their desks stand side by side, overlooking the courtyard with north-facing light. It is pleasantly unruly. Paper models of furniture are scattered about and behind Ronan's desk is the Self shelf for Vitra. It is full of books and magazines, showing off the shelves' full potential. "Erwan says he doesn't read," says Ronan. "I buy a lot of books, but I don't read so much either. I like books about objects, not necessarily about design." Next to him is a floor-to-ceiling mirror leaning against the wall, giving the illusion of more space, while behind Erwan's desk is a blackboard of the same size, sketches of a chair taking shape on it.
The stand-out piece in the room is the Steelwood chair for Magis that launched in 2007. Normally seen in red, white or black, this version is untreated, with bare wood and metal. It reveals a completely different character to the chair, which was an experiment in how to fuse wood with metal to lower the cost of production. "It's the best version, the Steelwood in bare metal," says Ronan. "Magis weren't happy with how it came out – there are small marks on it from the process of making and the colour conceals that. There is always a problem in this industrial world when there is a flaw – is it a problem or is it the charm of something?" The chair standing here has gone through the ultimate test, spending six months outside Ronan's house in Brittany, by his own account a "terrible" house with only the bare necessities – electricity, water and a stunning view of an often stormy Atlantic. "I often take prototypes there to see how the furniture looks in context, and this one I left outside to see how the non-oxidisation treatment worked." The chair looks as good as new, and now he hopes that the Compasso d'Oro award will make Magis consider launching the original version, colourless, as was first intended. The Steelwood process is a reminder of the frustrations of furniture design and the long turnaround time from idea to finished product, often revealing a compromised result not in line with the original idea. It's not difficult to see, then, that the process of staging a retrospective is an honour as well as a burden. "Without the exhibition we are already conscious about where we can be better," says Erwan, revealing the show as an exercise in evaluating the past ten years not only for visitors but also for the brothers themselves. "It's quite interesting to fix work in a certain period," says Ronan. "Afterwards you can forget it."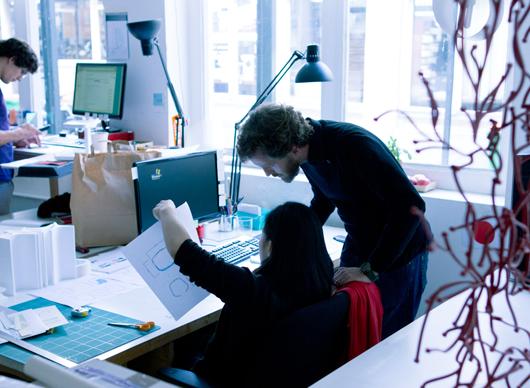 Before the Bouroullecs moved to Belleville they were based above lock-up garages in the rough suburb of San-Dénis, but even in this bigger and more central location, the space reflects their modesty. They are not interested in a sleek design studio with countless CAD monkeys behind computer screens in neat lines. There are only eight people working here (including Erwan and Ronan) and the atmosphere is relaxed and hands-on. Ronan and Erwan are involved every step of the way, and can often be seen leaning over people's screens to give some input or instruction. They are not interested in expanding. "We turn down around 90% of all work that we're offered," says Ronan, highlighting their privileged situation. "That's the benefit with being a popular designer, the freedom." While cosy, the studio still has everything it needs under one roof – there is a mezzanine level with a makeshift photography studio and a kitchen, and a basement containing a workshop and an archive of sorts – boxes with drawings and models.
Erwan often pops out for a cigarette, smoking 20 to 25 a day, and Ronan sometimes joins him at the bottom of the steps, not smoking, for one of their many discussions. That's how I found them earlier in the day, looking comfortable, familiar, brotherly, but for the rest of the day they work separately, even preferring to answer questions by themselves. "Otherwise we argue a lot about the use of words," says Erwan. "We give a lot of time to details that don't make any sense in the real world or to other people." Instead they take to quoting each other. "Erwan said last week" or "Ronan always says" often open their sentences, revealing that it is the power of two that makes the Bouroullec brand so strong. "They are completely different personalities," says their friend Didier Krzentowski, owner of Paris design space Galerie Kreo. "Ronan is really anxious about everything, Erwan is more free, and they know that. It makes them a terrific design couple." And yet their professional life started out entirely by accident.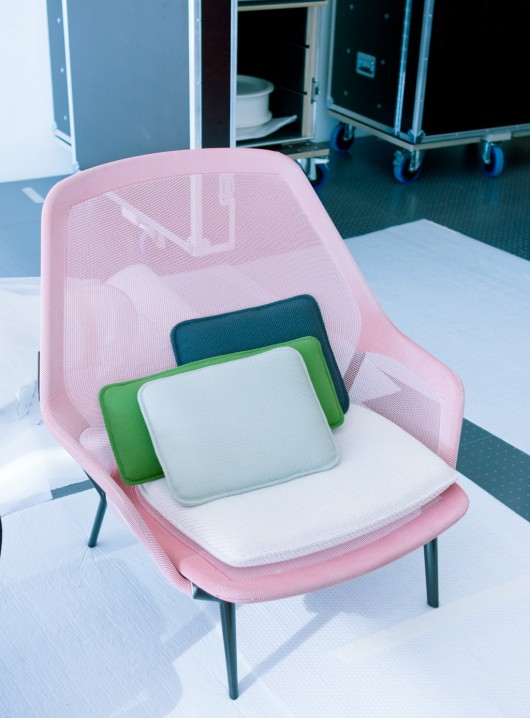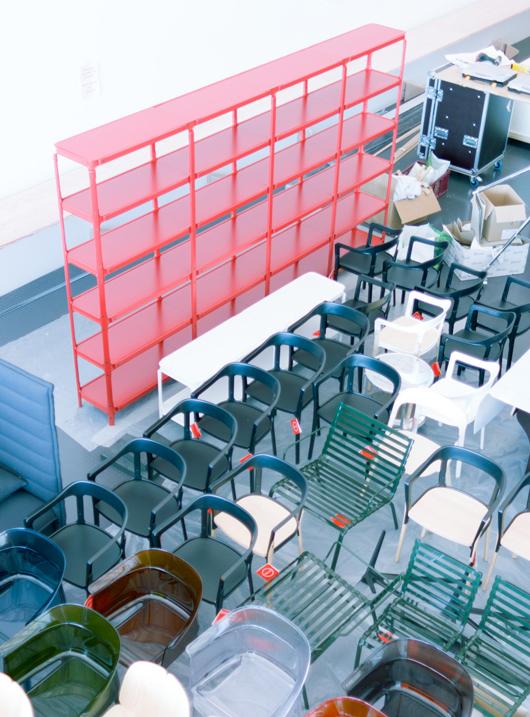 "I don't know why exactly, because it's not in our parents' nature, but when I was seven they started taking me to art school every Wednesday," says Ronan. He was bored by normal school, but art school was different – here he felt at home and at ease. By the time he was 15 he started a vocational college where he could spend much more time on applied arts. "All of a sudden I went from being very mediocre to being brilliant," says Ronan, still happy at the memory. He went straight on to an industrial design school and then to the École Nationale Supérieure des Arts Décoratifs, Paris. Erwan's trajectory was slightly different. For him it was music that was the deciding factor in his career choice. "It began with indie music when I was 14 or 15 – it became obvious that you could really make something on your own. The energy was based on a freedom of creation and its goal was to please, surprise. That's why I went to art school," says Erwan.
Drawing still forms a huge part of the Bouroullecs' work. In the Bivouac exhibition, an 80m-long wall is covered in small drawings in specially designed white Corian frames. The drawings range from obscure to figurative and are instantly attractive. Emotional, sinuous, quirky and humorous, they are extremely personal. "If I couldn't design any more I think I would be alright," says Ronan. "But if I couldn't draw I wouldn't survive. I think Erwan expressed it perfectly the other day when he said that the discipline of drawing is very positivist and it's a quick outcome, very different from the long process of creating a product." The brother's drawings were the subject of another exhibition, Album, shown in Bordeaux earlier this year. It was an exhibition of ideas where the Bouroullecs decided to present their work in its most raw state, free from the imprint that production and marketing often leave on a finished product. "There is a misunderstanding in the general public concerning the process of design as an idea, a sketch and then a product," said Ronan when the exhibition opened. "We contradict this, for example, in a room where we show 100 drawings around the Vegetal chair. They all seem to be the same yet are all different." It's an attractively low-fi approach to solving a problem or question around form, and it is this detail of their working process that might be at the core of the sensual and romantic aesthetic of the finished product. However, confides Erwan teasingly, "Ronan can't even work in the most basic 3D modelling program."
The story continues at length — to read the rest of it, plus other features on the likes of Barber Osgerby and Cecil Balmond, purchase a copy of Disegno magazine's first issue by visiting this link.