11.22.11
Foraging for Lunch in the Garden With Martino Gamper
Martino Gamper and I are neighbors. His studio sits just across the road from my flat in east London, and he and his wife garden in the communal plots out the back of my block. Their autumn planting — beets, kohlrabi, winter salads, and the last of some impressive tomatoes — was turning me green with envy, so when Sight Unseen suggested I ask Martino for a tour of the plot to talk about both his working and gardening methods, I was secretly hoping to gain a little insight myself, so as to turn my dirt patch into an edible wonderland.
An easygoing and affable Italian, Martino greets me with a smile at his studio, which he shares with a handful of designers and an architect. This summer, he was traveling regularly for work; now back in London, he tells me he's been concentrating on designing and renovating a new workspace close by, which he'll share with his wife, the artist Frances Upritchard.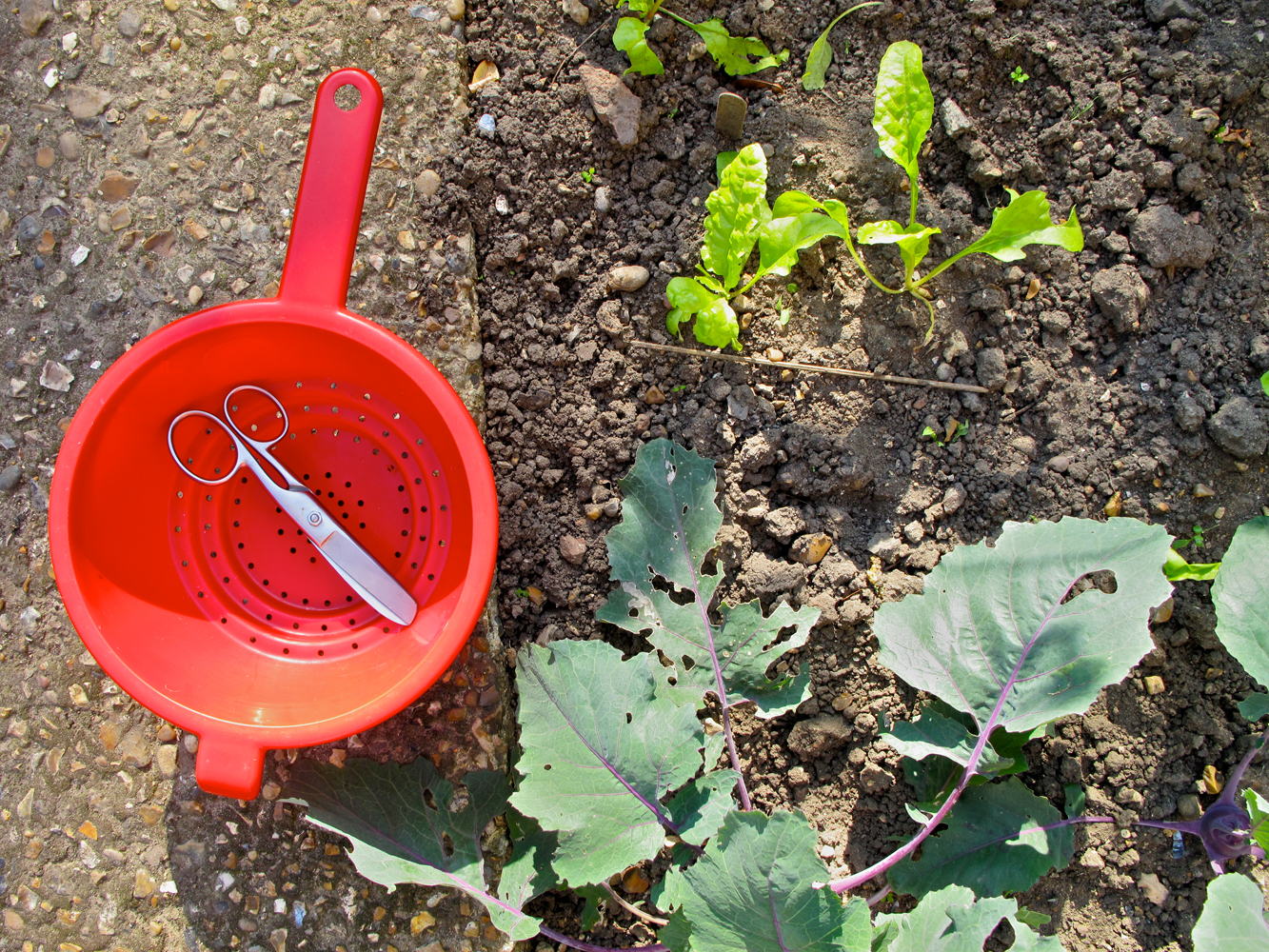 It's 12:30, so we hotfoot it over to the gardens to pick the vegetables that he'll cook for lunch. On the menu today is Martino's signature dish, the intriguing-sounding Ginger Pasta Surprise. He makes the short trip to the garden before lunch every day in the summer, when the season provides heaps of produce. Leaner winter pickings are supplemented with produce from the well-stocked local Turkish shop — an essential stop for a London cook.
"We eat together every lunchtime," he says of his studiomates. Everyone gets involved, whether it's digging up vegetables, cooking, or clearing up. And while to pause in the middle of the day is an important Italian tradition, it's also a staple of design studios for a reason: "It's nice to spend a bit more time with the people you work with, or else you can end up working seven or eight hours straight without speaking a word," he explains. He underplays the gesture, but agrees with me when I say that it is nice to provide for others: "I think that sharing is what we probably need in a big city," he says.
Martino and Frances also spend weekends and more here during the summer, digging, planting, weeding, and doing lots and lots of watering. "For us it's an antidote to work," he explains. "It's somehow more than just the quality of the food, it's the quality of being able to come here and have this space. Growing something is really pleasing and rewarding."
I perch in the autumn sun as Martino darts about with buckets of water. I ask him about the division of labor: Who does what? "Frances and I have very different ways of gardening," he tells me, as he clears scorched leaves from the beds and uproots a few beets. "She's more the person who likes to plant and sow, and I'm the one who likes to beautify." Later, Frances tells me: "He's a tidier and I'm the planter. Oh, and he's in charge of tomatoes." A stereotypical Italian, then. 
The plot is modest in size, and equipped with the basics: compost heap, hose, and a small greenhouse. And yet it lacks any hallmarks of Gamper's design style; it looks anonymous, as if it could belong to anyone. "A garden doesn't need much more than to grow," he tells me with a hippie-ish air.
Frances, a New Zealander, likes to keep growing one thing after another. In the plot, planted salads take root next to wild dandelion and stray nasturtium — which will all be chopped into a salad for lunch later today — and perennial blackberry bushes share space with annuals, like tomatoes. It's a more organic, evolutionary method. When something is picked, you plant something new, not stopping to rest in between. "The New Zealand approach is much more free," Martino says. "I like when new and old grow into one another."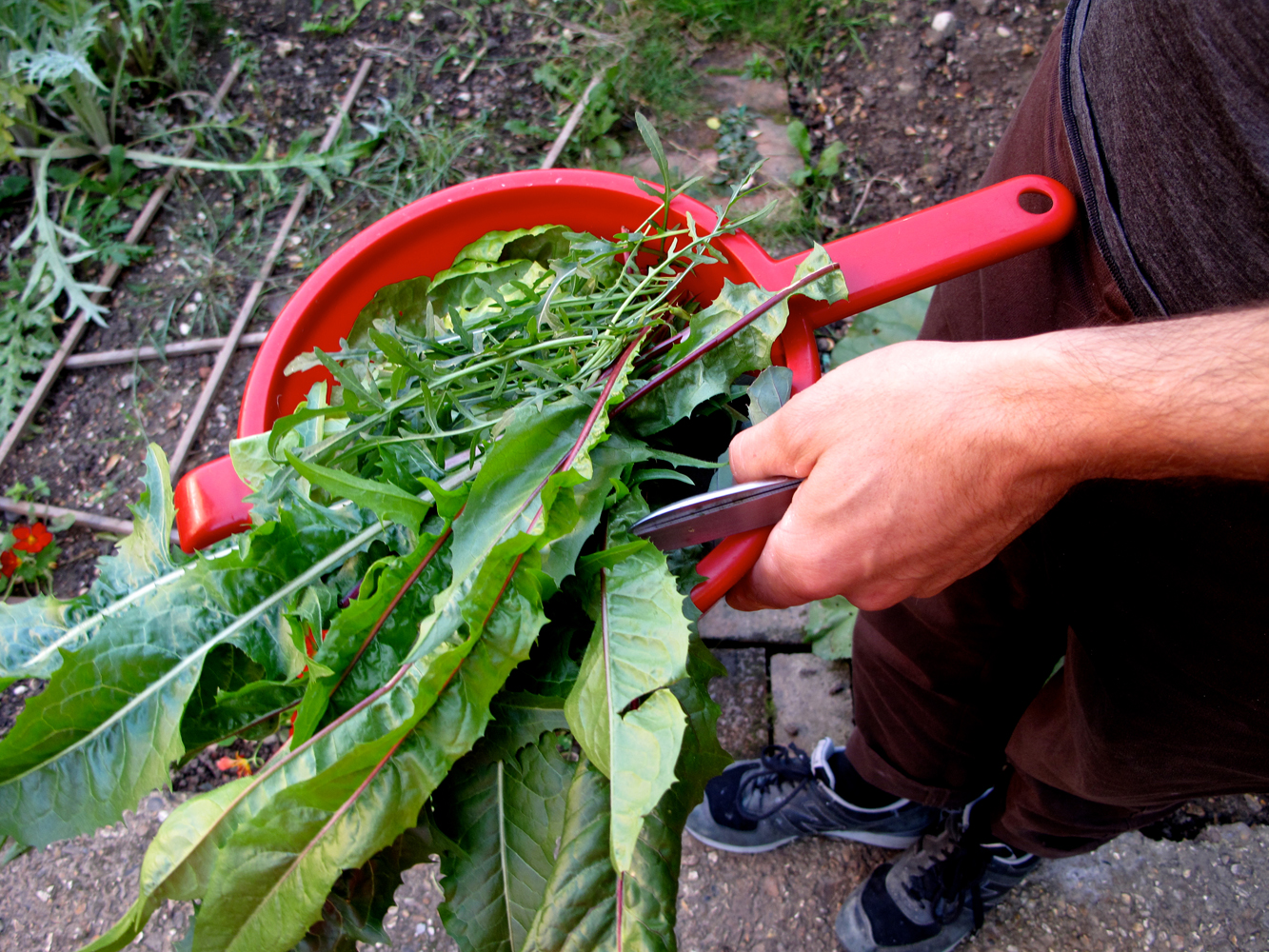 As we chat, I try to find out the secret to growing success, and the more Martino talks, the more it becomes clear that his approach to gardening in many ways mimics his design process, which has always been marked by the spirit of spontaneity and accumulation. The couple tries different things every year. They buy seeds when they travel, sometimes having no idea what they really are. And every year they manage to burn their seedlings in the cold frame, a miniature greenhouse that allows the pair to grow plants that wouldn't normally flourish in London's frigid winter climate. They don't follow a rulebook — it's just trial and error, mistakes and experimentation. "You have to react to what's happening," he says.
Reactive and adaptive — it's how anyone familiar with the designer's style would describe his oeuvre. Projects like 100 Chairs in 100 Days saw Martino collecting old seats and hacking their various parts together, "somehow translating something that existed into something new" he explains. More recently, the designer gathered a bounty of mid-20th-century furniture and camped out in Turin's Gallery Franco Noero for a month, cutting and reconfiguring his found items to create new pieces to fill the five-story, oddly wedge-shaped building. How does he plan for something so impulsive? "I prepare a mental map of what it could be, an outline, and that can take a long time," he says. "And then once I know what I'm doing, it just kicks in."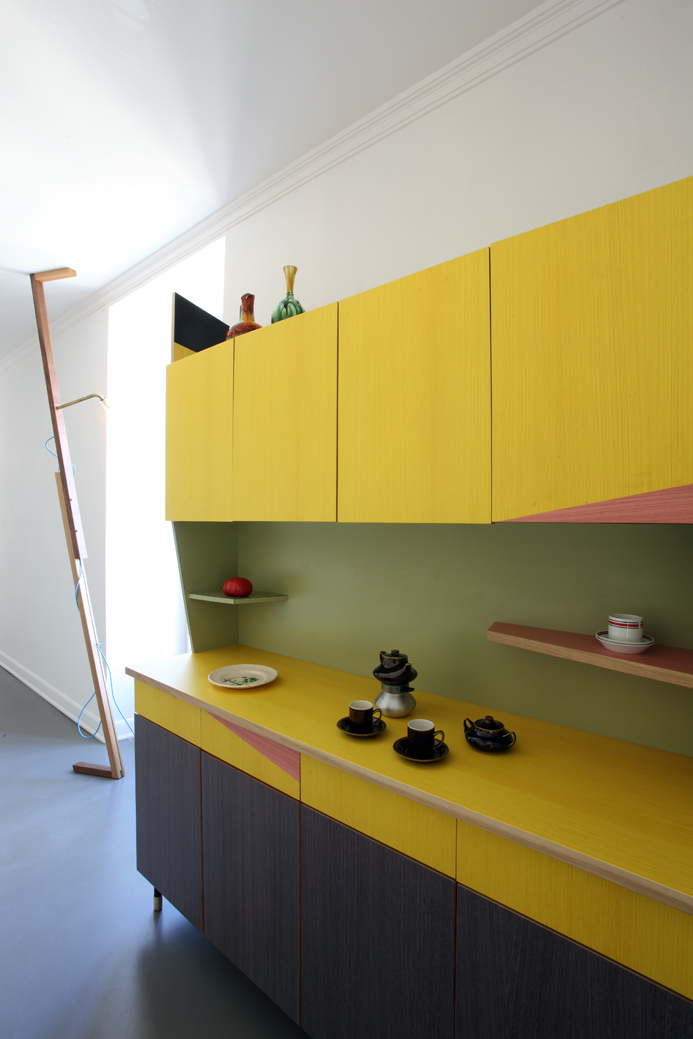 Installation shots from Gamper's Condominium solo exhibition at Galleria Franco Noero in Turin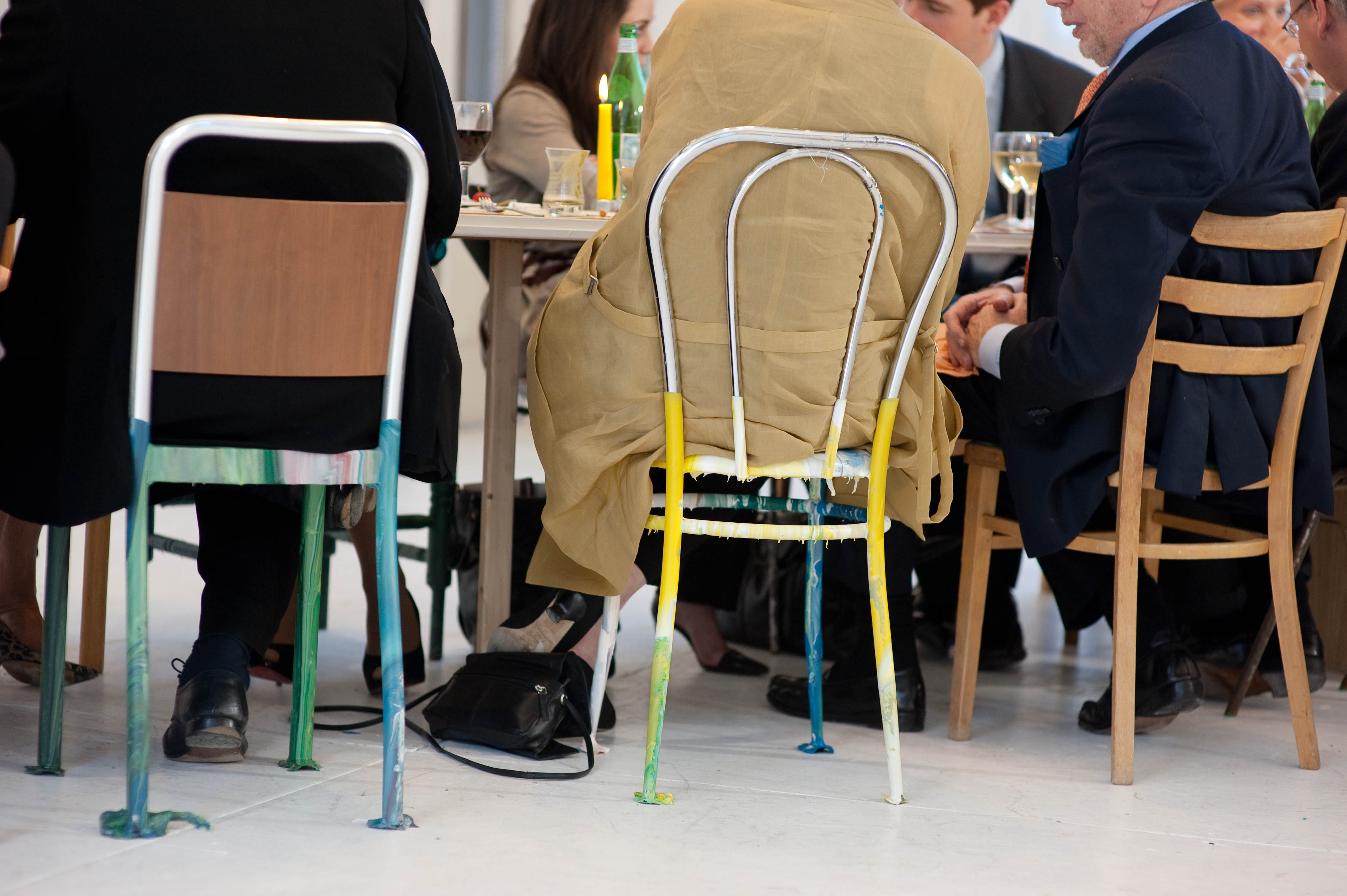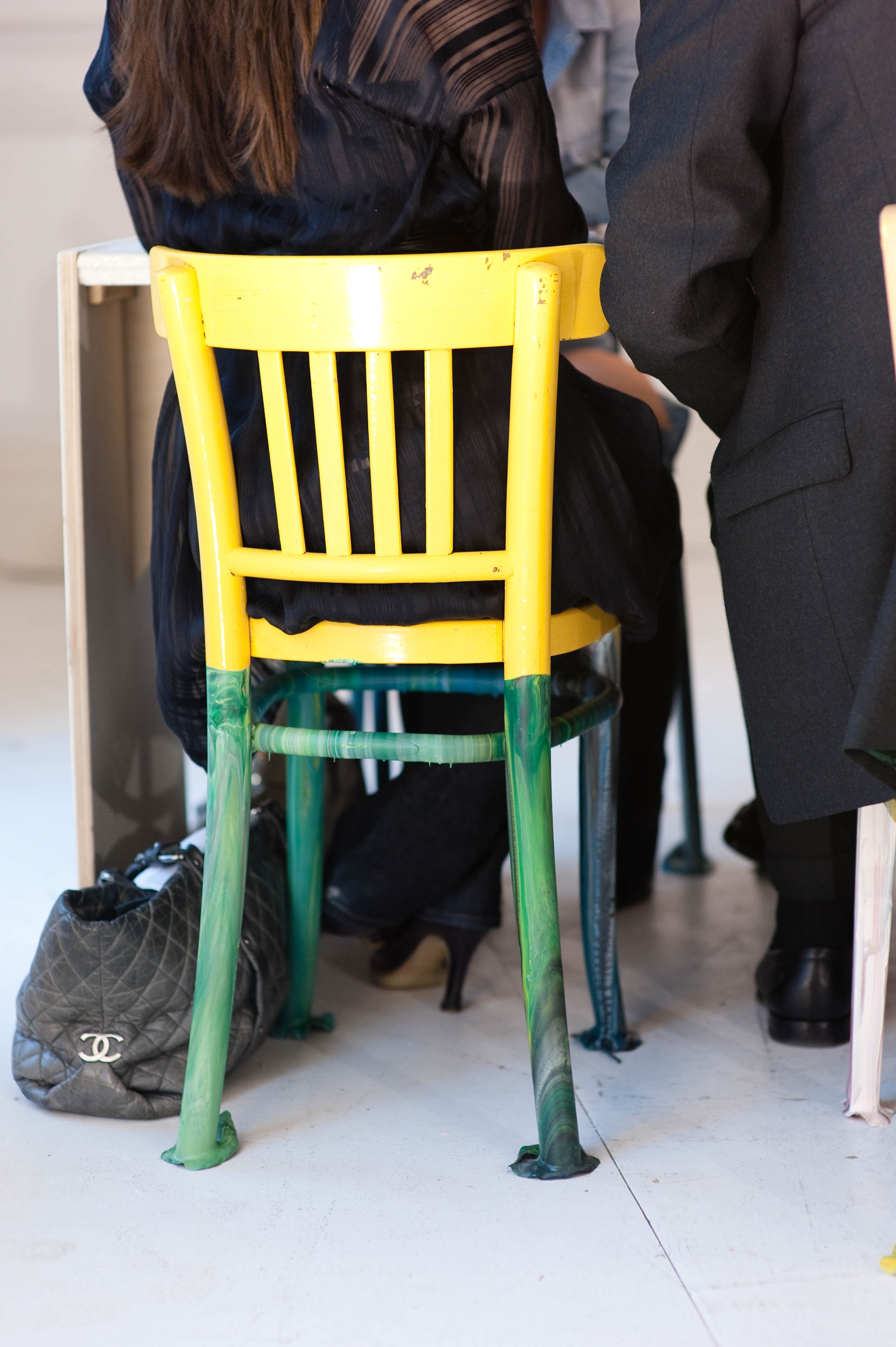 Chairs from Gamper's Trattoria al Capello food-night concept 
This is worlds away from the standardized process that designers adhere to when working with big manufacturers. Gamper is familiar with the process: "You start with a white piece of paper, and then someone gives you a brief and it has to be a very methodological and clear concept," he says. "It gets signed off on, and then you go to the next stage." He's certainly created products within this framework, like his Vigna chair for Magis or his Sessel chair for Established & Sons, but by his own admission, he's more drawn to chaos. "When you don't have a clue as to what something is going to look like, it creates a certain anxiety and that keeps you going," he says. "I've learned how to turn that energy into something creative."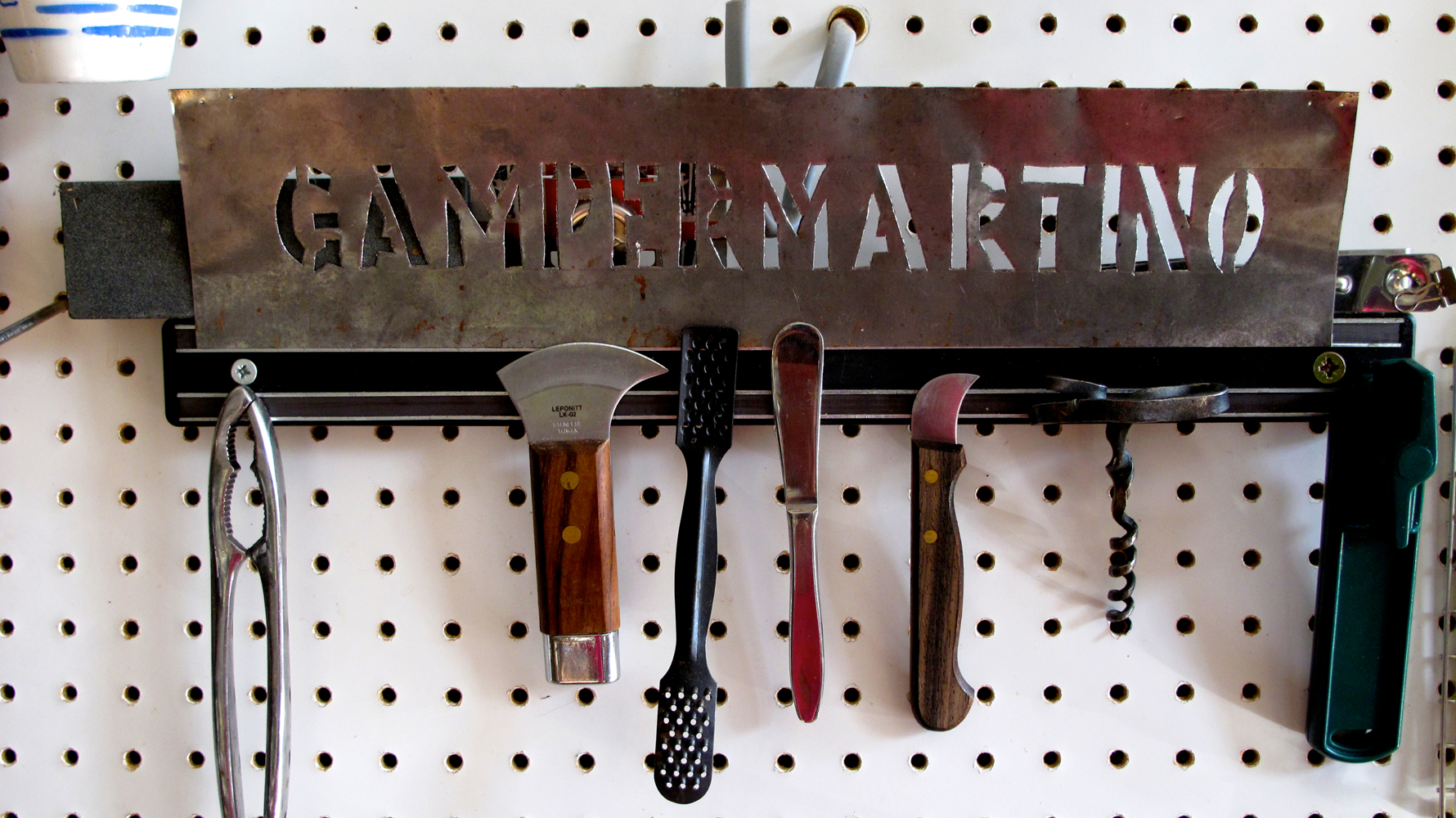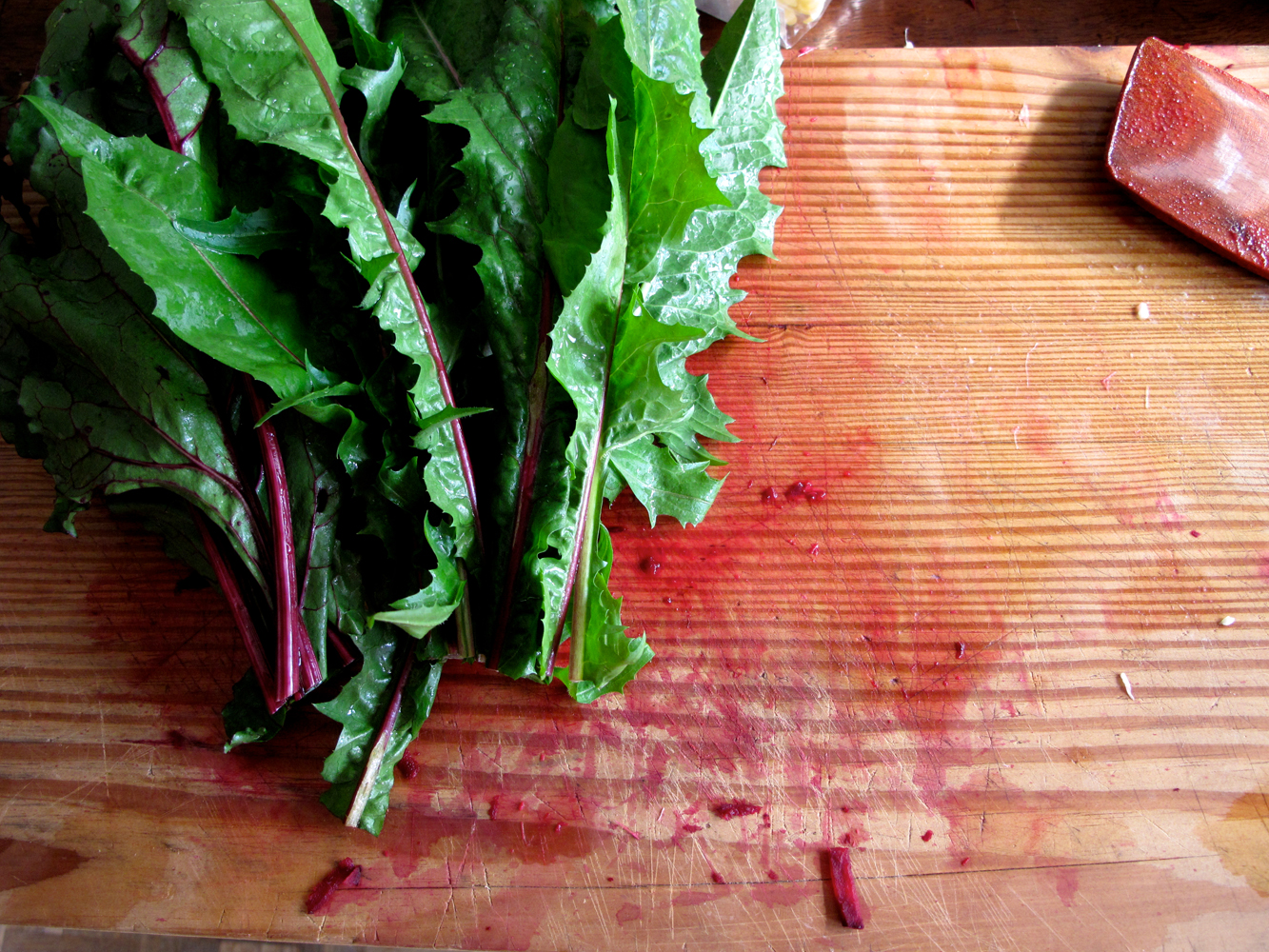 Frances breezes into the garden. She's arrived for lunch, so it's back to the studio to cook we go. I hang around the kitchen as Martino grates an enormous hunk of ginger and a load of beets, just picked from the plot. There's a clattering as he grabs pans off their pegboard hooks, and water is set to boil. He seems comfortable shredding up the salad leaves and he's pretty handy with the knife, from working in kitchens as a teenager. Food has often found its way into his work — for a time, the designer was hosting once-a-month curated dinners with two graphic designer friends, for example — and he approaches the two disciplines with gusto, experimenting with ingredients, materials, or processes until the outcome feels right.
He tells me a condition of his agreeing to design a dinner table on commission is that he gets invited for the meal himself. He likes to "see how people eat and what it's like to sit in that room, what they cook and how the whole family structure works," he notes. "I want to understand how people live. The more I know that, the more interesting it is for me."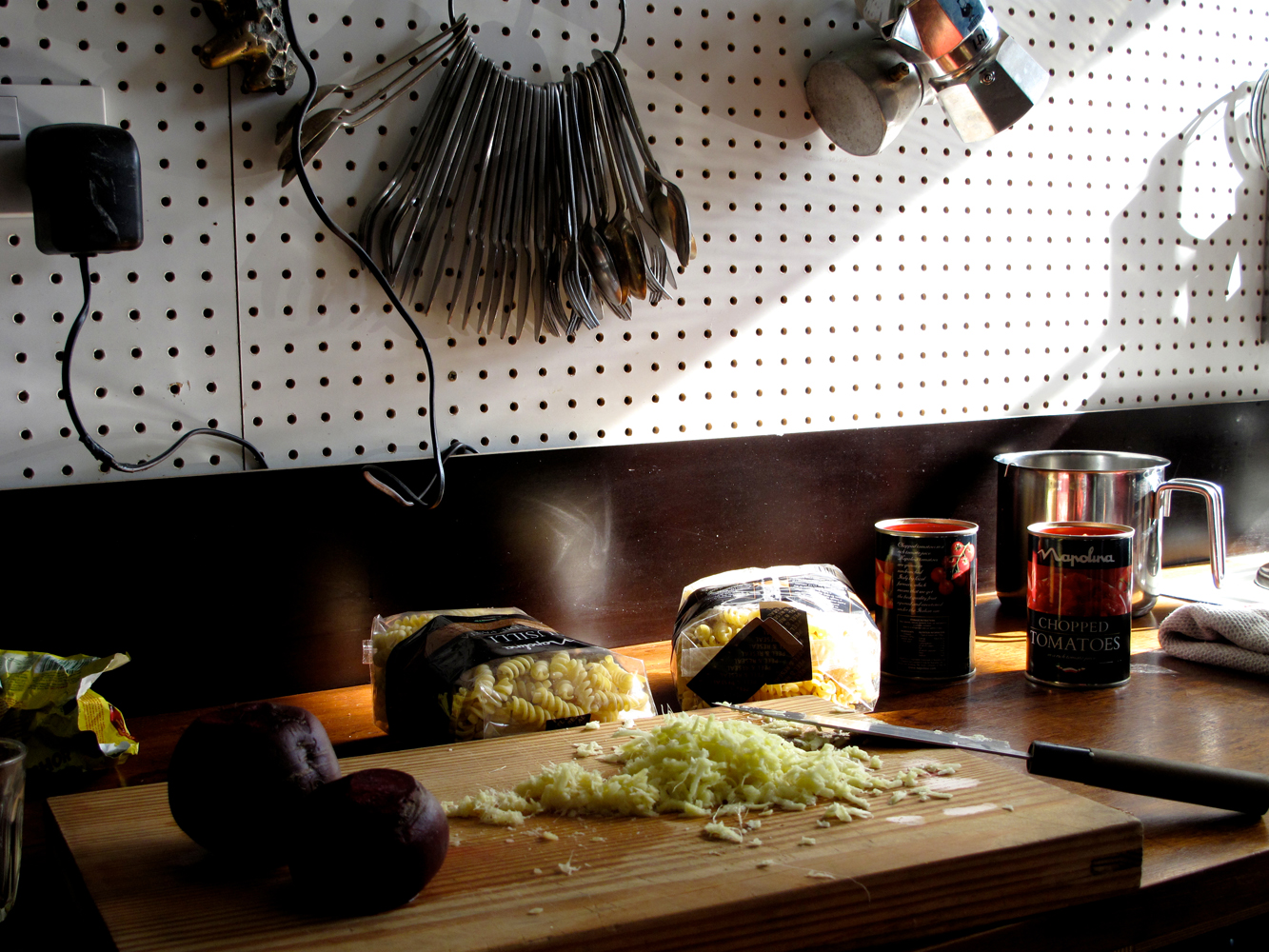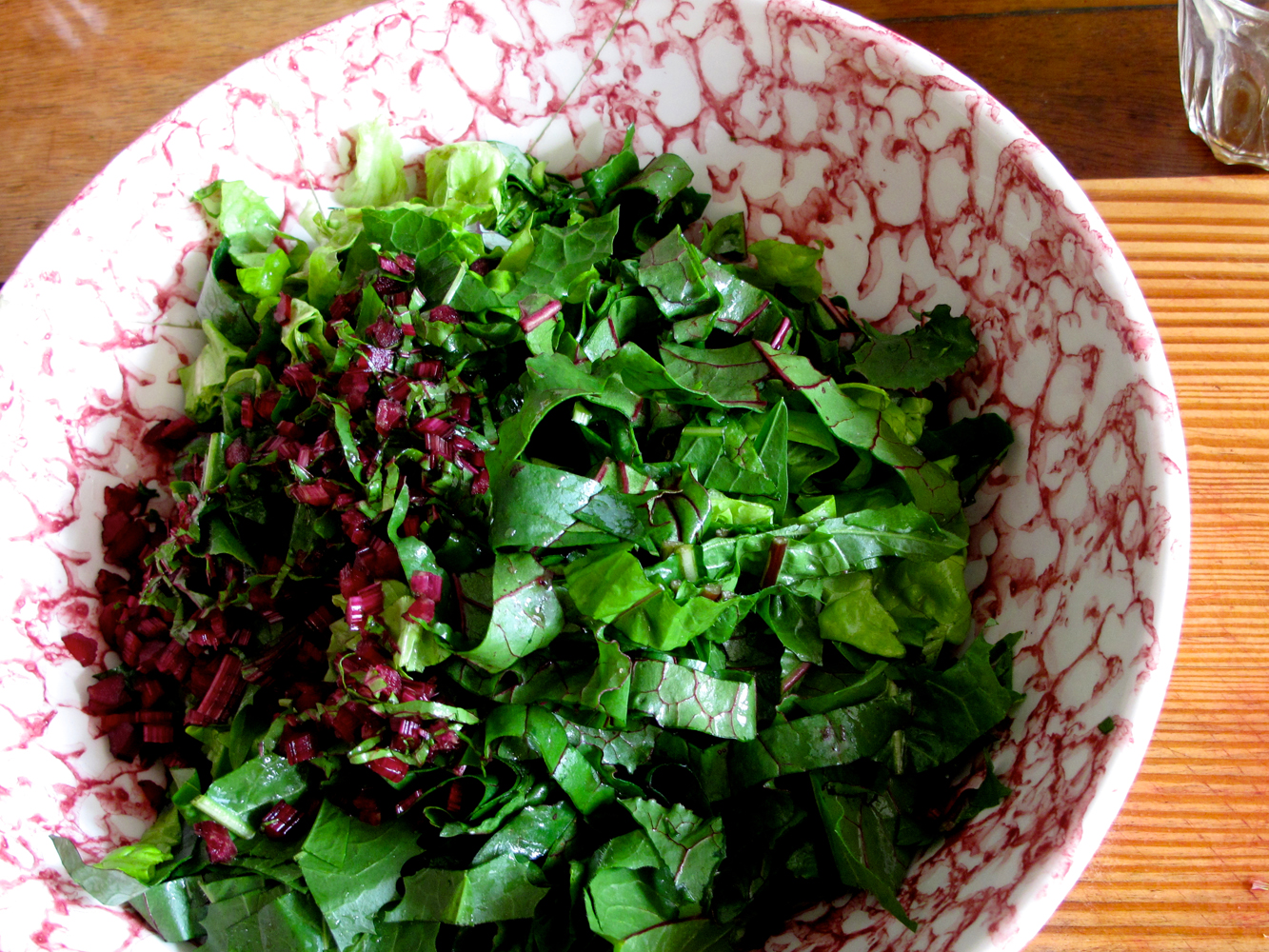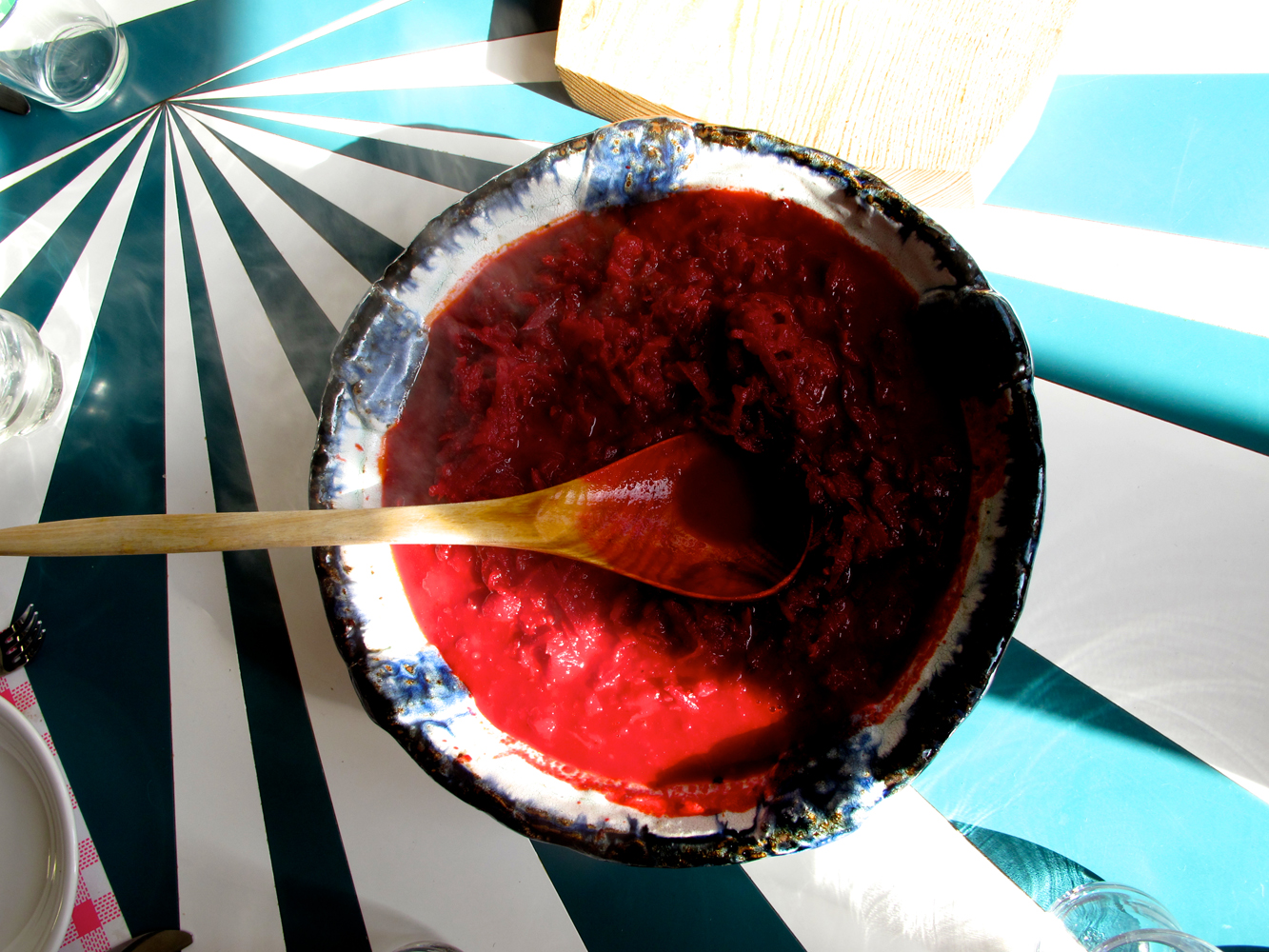 The designers set the studio table – a beautiful striped piece from Martino's Gio Ponti Translated collection, from a previous show at Milan's Nilufar gallery. The photographer and I and are invited to join the studio for lunch. Over the past hour or so, Martino has seamlessly managed to answer all my questions, tidy up the garden, and prepare a meal for eight.
So what have I learned? Garlic potions will deter greenfly, and beer traps are the perfect foil for any slug problem. Earlier, in the garden, I asked: how do you ever know the right thing to do? "I don't know what's the right way around," Martino replies, "It's just growing." So you can only plan so much; the rest is all hard work and experimentation. The lunch is over, plates are cleared, and we leave the studiomates to get on with their afternoon.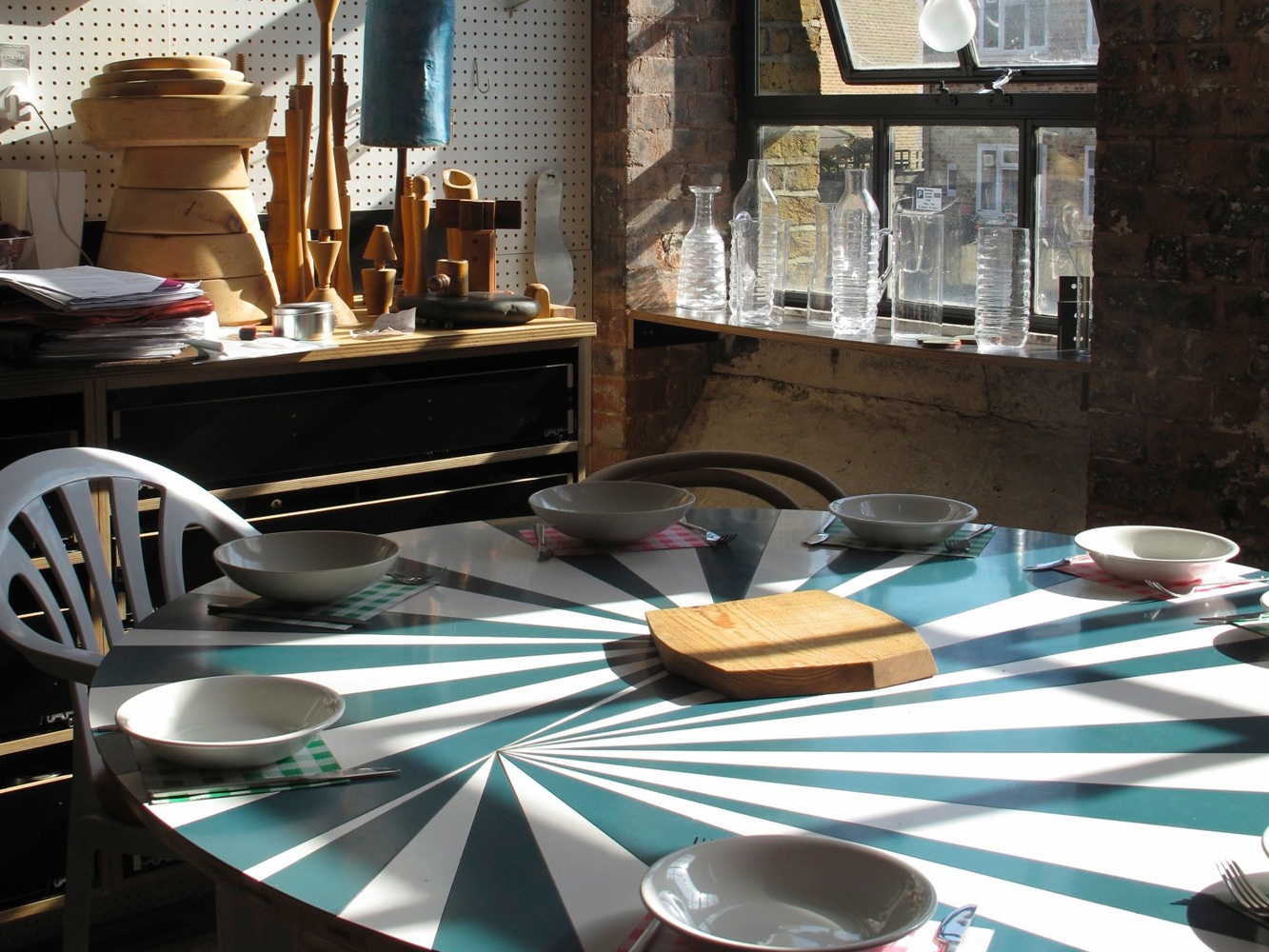 Martino Gamper's Ginger Pasta Surprise
(serves 4-6 people)
2 tbsp extra virgin olive oil
2 tbsp fresh ground ginger
3 x beetroots, peeled and coarsely grated
2 cans of peeled plum tomatoes or 5-6 fresh plum tomatoes (peeled)
salt + pepper
500-600g of dried pasta such as orecchiette, conchiglie, or penne
3-4 bay leaves
1. Preheat a medium-sized pan, add ginger and fry till it turns lightly golden. Add peeled plum tomatoes and some pinches of salt, stirring and breaking the tomatoes apart so that it becomes a smooth sauce without any big lumps.
2. Add grated beetroot. Reduce heat and cook gently for 20-30 minutes.
3, In the meantime, bring a large pot of water to boil and add pasta, salt and bay leaves. Keep the heat as the pasta should boil and not simmer. Add a few dashes of olive oil to prevent over boiling, and cook between 8-10 minutes.
4. Drain pasta and fold it with the tomato sauce.
5. Serve with some olive oil and parmesan (or pecorino) cheese. On a very hot summer day, add a small peperoncino (chili pepper to cool down a hot day!)
Claire Walsh is an editor at Stylus. She writes about design and travel and occasionally works as a stylist. She is the author of the Wallpaper* City Guide to Helsinki and the book Interior of London Style.