01.29.18
At Home in Hudson, With A Designer Embracing the DIY Culture of Upstate New York
It's a common journalistic parlor game at this point to wonder aloud, "Is _____ (insert creatively flourishing community here) the new Brooklyn?" But over the past few years, as designers from Bushwick to Red Hook began moving farther and farther up the Hudson River, we really did start to wonder: Is upstate New York the new Brooklyn? In some ways, we hesitate to frame the question in those terms lest we contribute to the gentrification of a community already in flux; on the other hand, it's hard to deny that places like Hudson, New York, provide more space and a better quality of life for designers who feel pinched or unfulfilled by their New York existence.
Five years ago, one of those such designers was Elise McMahon of LikeMindedObjects, a RISD grad who works within a kind of freeform, collaborative, ad hoc aesthetic. McMahon flies relatively under the radar — you might know her from the solo presentation she launched at Sight Unseen OFFSITE two years ago, from the one-night-only lemonade stand she curated at Patrick Parrish Gallery, or from the décor she contributed to the arty Hudson eatery Lil' Deb's Oasis — but she's actually become more well-known, and certainly more creative, the farther she's gotten from the New York design scene. McMahon was drawn to Hudson by the promise of a more involved, DIY community and by the potential for collaboration, which she's fulfilled in spades. Her art-filled home in Hudson acts as a creative lab for furniture experiments and as a repository for the nostalgic objects she's acquired from creative friends, family and collaborators. We visited her late last summer to find out more.
PHOTOS BY PIPPA DRUMMOND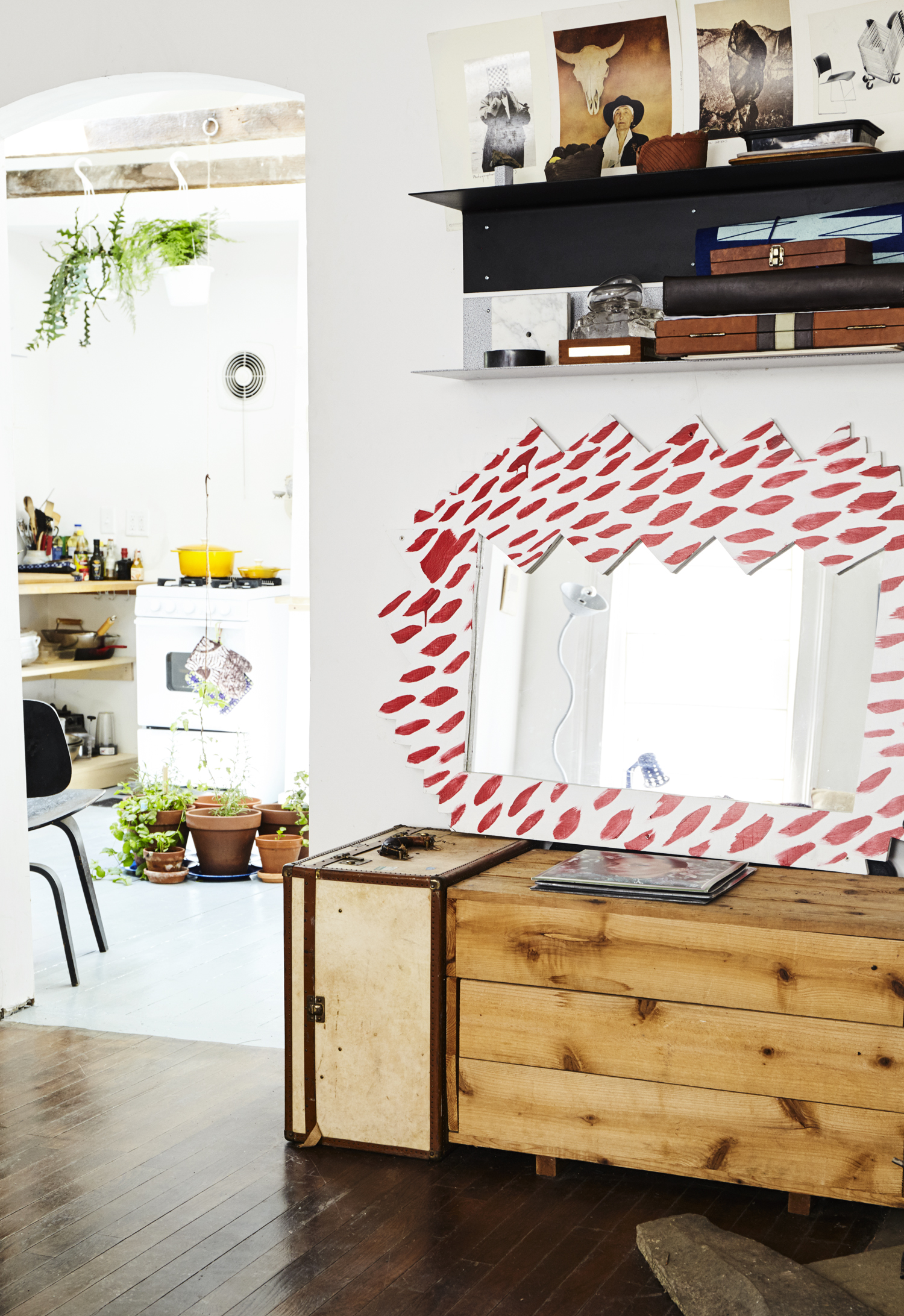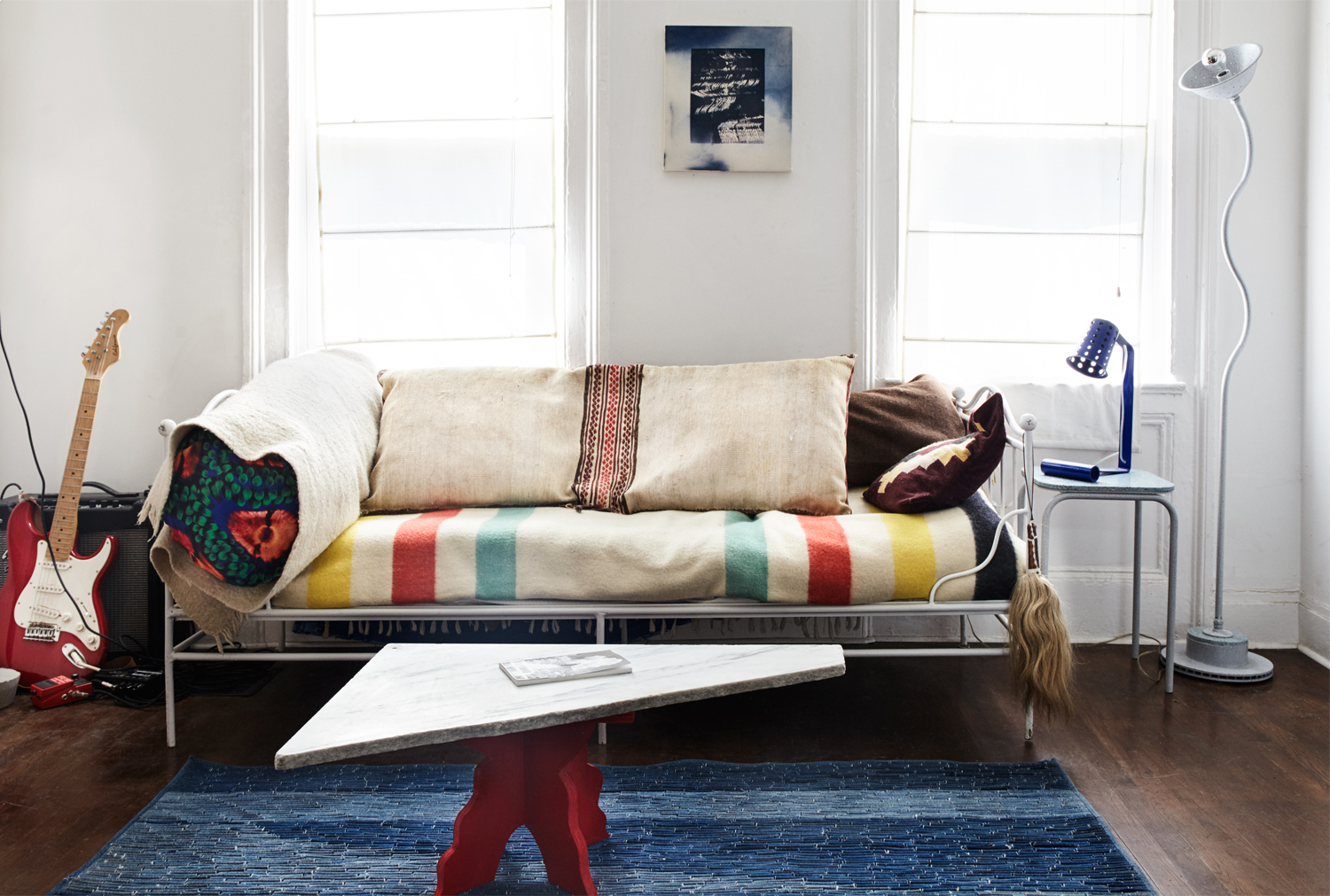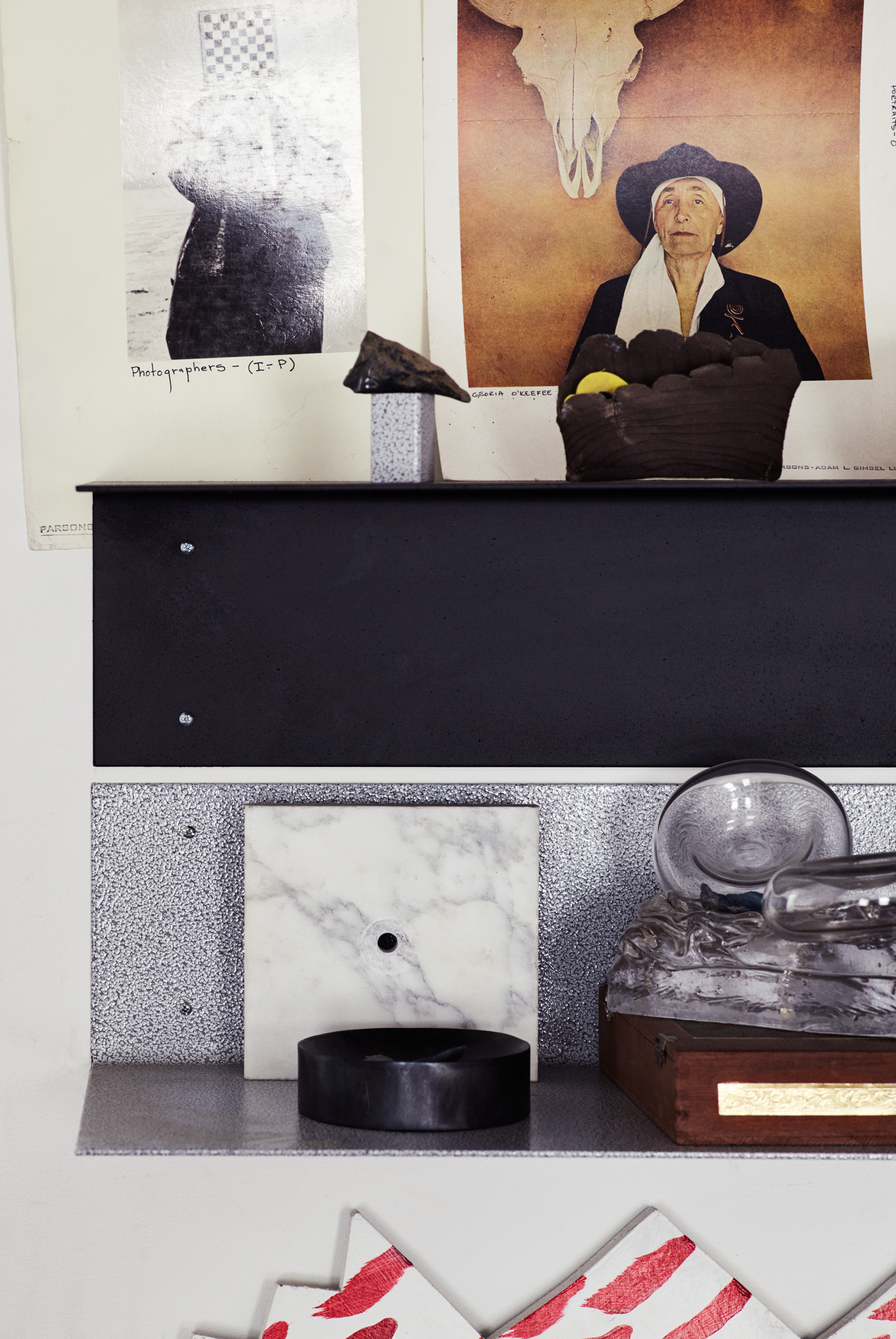 You've been in Hudson for almost five years now, so you've been a witness to the town's most recent evolution. How did you end up here?
It was kind of serendipitous. After I graduated from RISD, I was in New York City for four years, teaching and doing furniture work. My uncle is a pumpkin carver in the city, and he had been trying to get me to be his apprentice, but I would just do it during the Halloween season to give him a hand.
Then, one day, I went with him to this farm event at the Guggenheim, and I met a woman who had a nonprofit and a farm upstate. And she was like, "You look strong enough to be a farmer." And I was like, "Well, I do build furniture." She said, "Do you want to come and be a carpenter on my farm and design all of our farm equipment and do collaborative agriculture projects?" That seemed very interesting to me from a design perspective, and also in terms of being engaged with a more political community and with people who are a bit more DIY.
I started living part-time at her farm. I feel like a lot of people do this kind of, "We're in the city, but we're going to have a summer upstate" type of thing. But I ended up being so amazed by the community here; everyone was working so hard and doing really interesting things. People were building boats and doing biodiesel projects and building their music careers on the side, and I was like, "Oh, you can have both."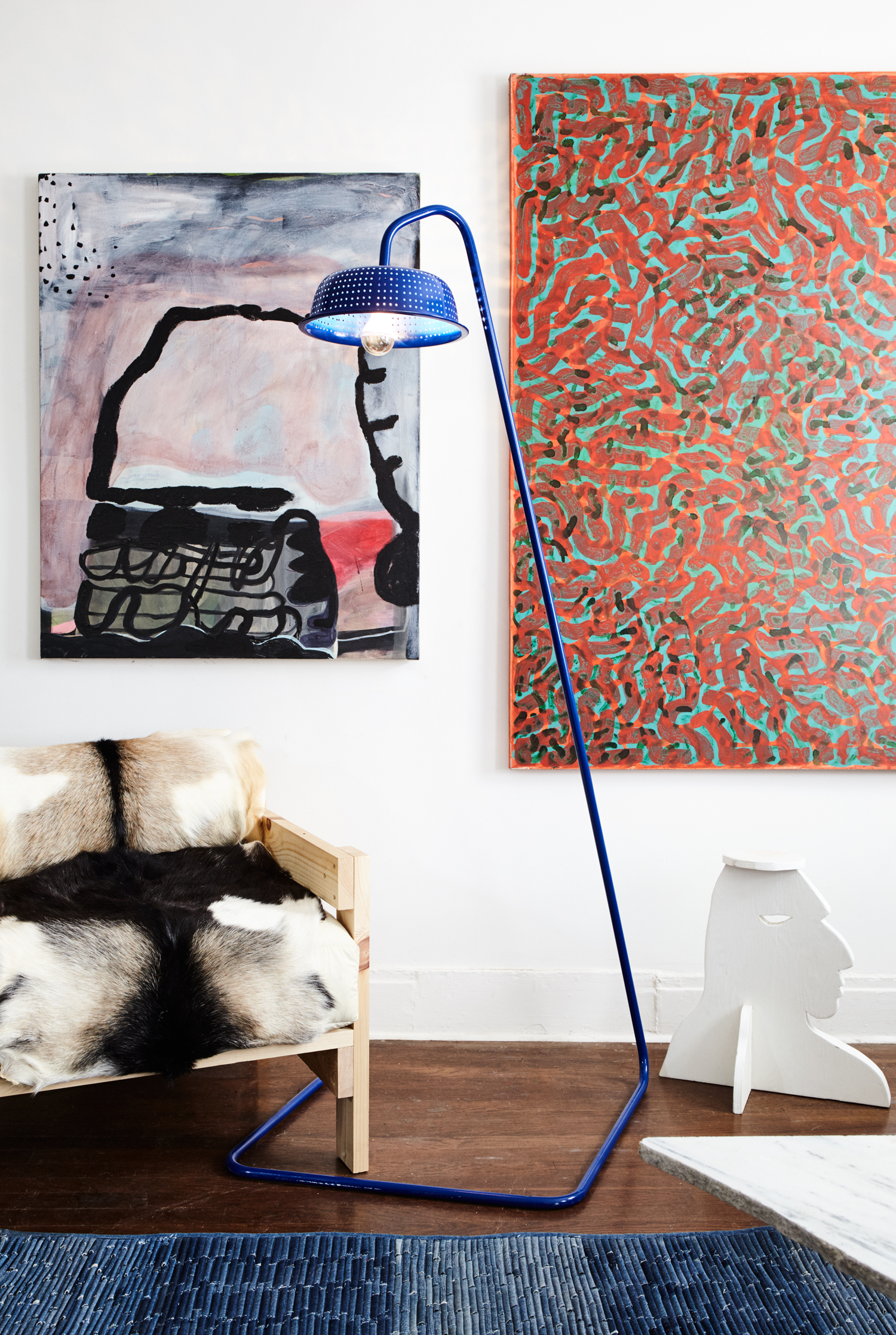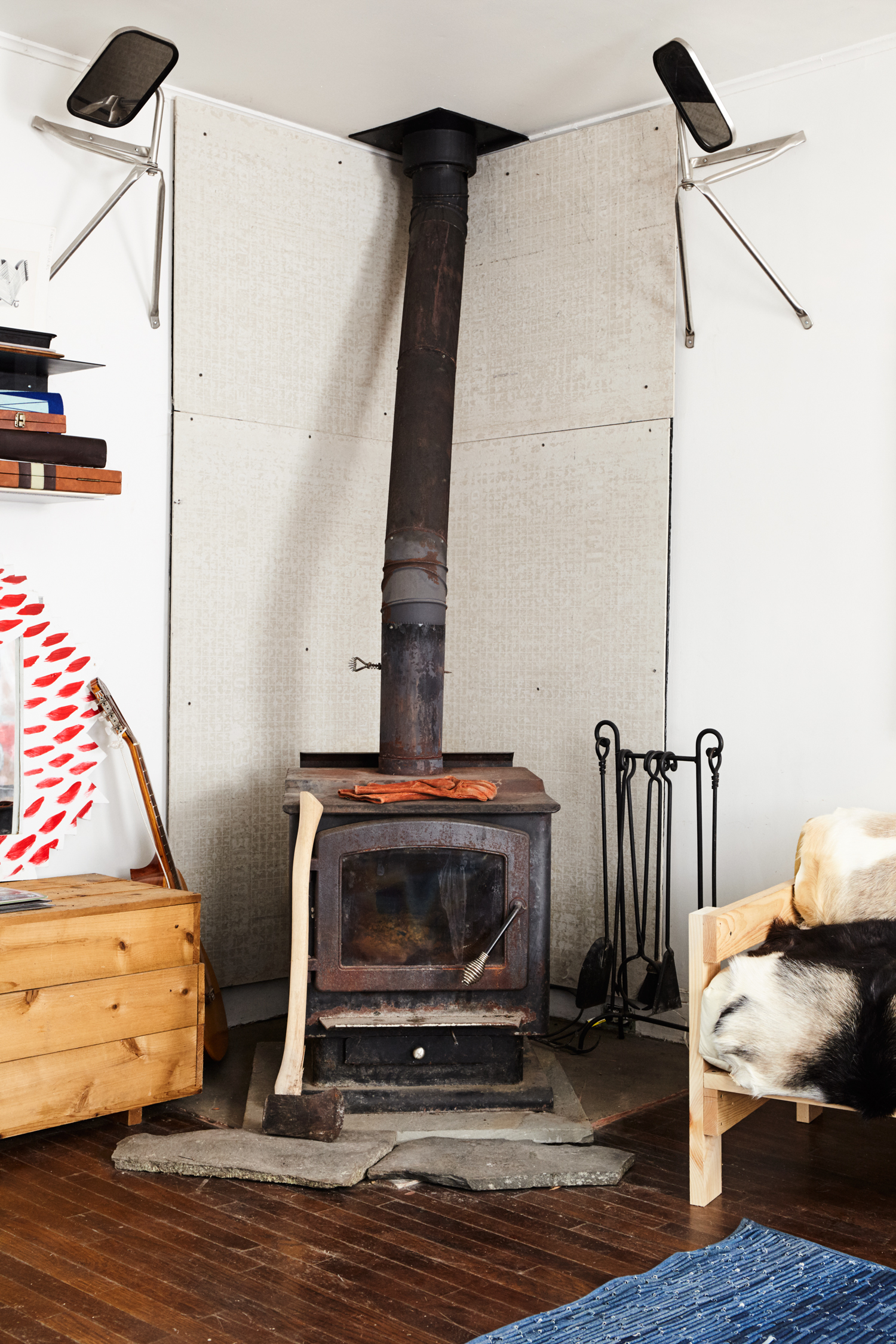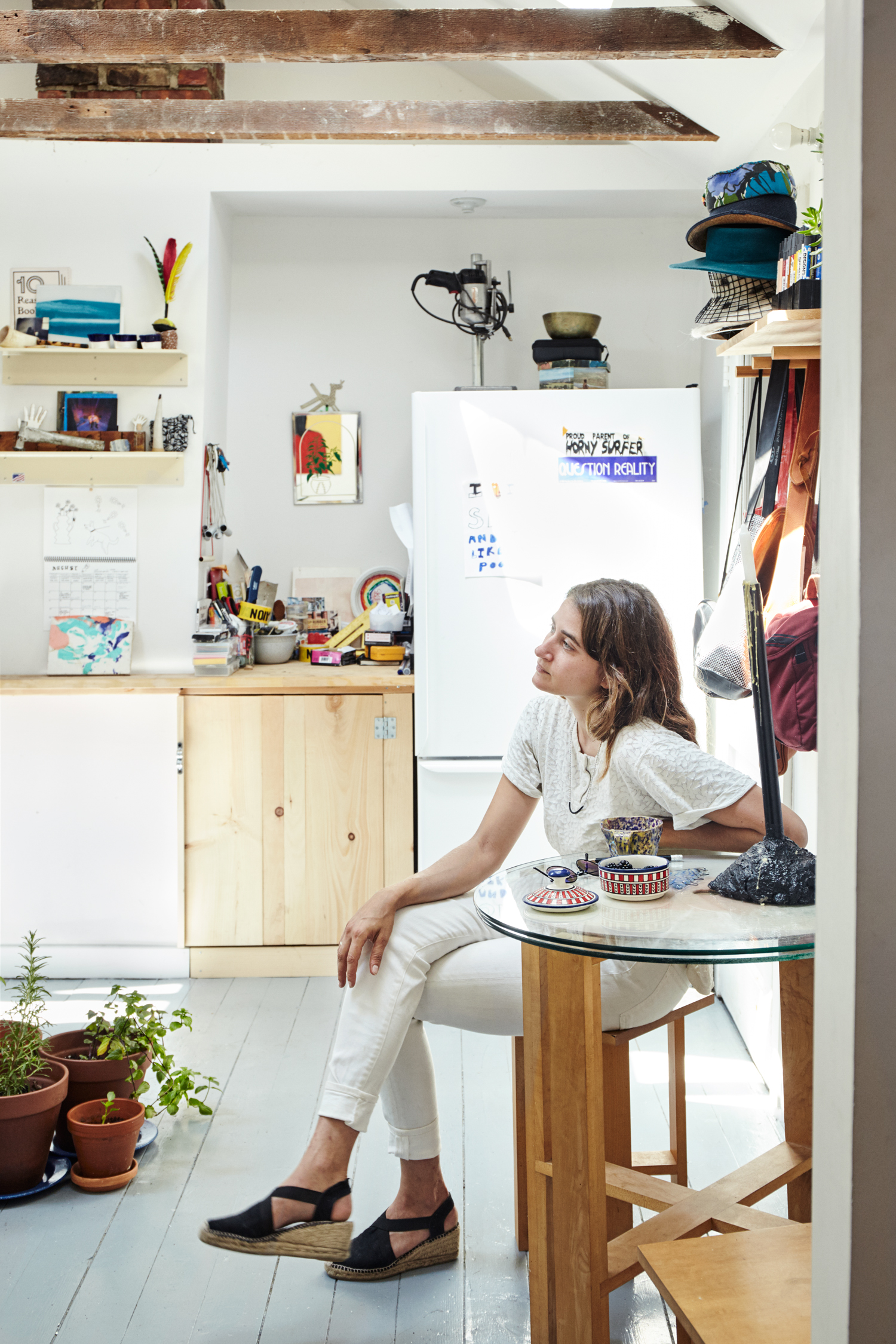 And when did you buy this house?
About three years ago. What's interesting about the house is that it was here before any of the other houses around it. It was built in 1850, and it's called an eyebrow colonial, which is just a typical kind of farmhouse design. But that's why it faces an alley; everything else just came up around it.
I think I was 27 at the time I bought the house, so that was kind of a weird age. I didn't really know how to commit to this town, and buying something is so intense. But then I started having dreams about the house. It had been in foreclosure, and I just felt like I really needed to do it, especially because renting is such a scary, precarious thing in a place that's developing as fast as Hudson.
Yeah, I saw a Face Stockholm in town, which seemed like potentially a new addition.
Yes, there's a total bougie factor here, especially on Warren Street, which is the main drag. And it's funny, because most of the tourism happens on Warren Street and people who are just visiting often only see that. But there are actually a lot of interesting projects and political people and artists here. Hudson is super-diverse, because there's been this coming together of a bunch of different communities.
In the '80s and '90s, there was a heavy industrial presence. Then there was the queer community that came up from the city and started buying up buildings for really cheap, and storing their antiques up here. That's when it became an antiques destination, in the '90s. Then, the artists came. And now, the money is here, which seems to be basically what gentrification is.
It's been very interesting seeing the development of Hudson. Governor Cuomo just announced that we're getting $10 million to go towards our town's development. It's kind of scary, because there's already been so much development on the tourism side of things, which is screwing over housing. Basically, everyone is buying up, renovating, and flipping houses — or Airbnbing them for tourists — and anyone who's hovering around the welfare line is getting pushed out. We have an amazing Bangladeshi community. We have an amazing Caribbean community. We have all these amazing communities that make our space. But nobody can pay tourists' prices, so I'm a little afraid for what will happen here over the next ten years. The New York Times is constantly writing articles about Hudson that are like "the top five restaurants" or "the top two clothing stores." But that's just tourist culture. And there's so much more.
Anyway, I'm happy to have this house and to have it not be taken directly out of anyone's hands. In the future, my true dream is to have land and build my own house, but it's been fun to learn about taking apart a house and putting it back together.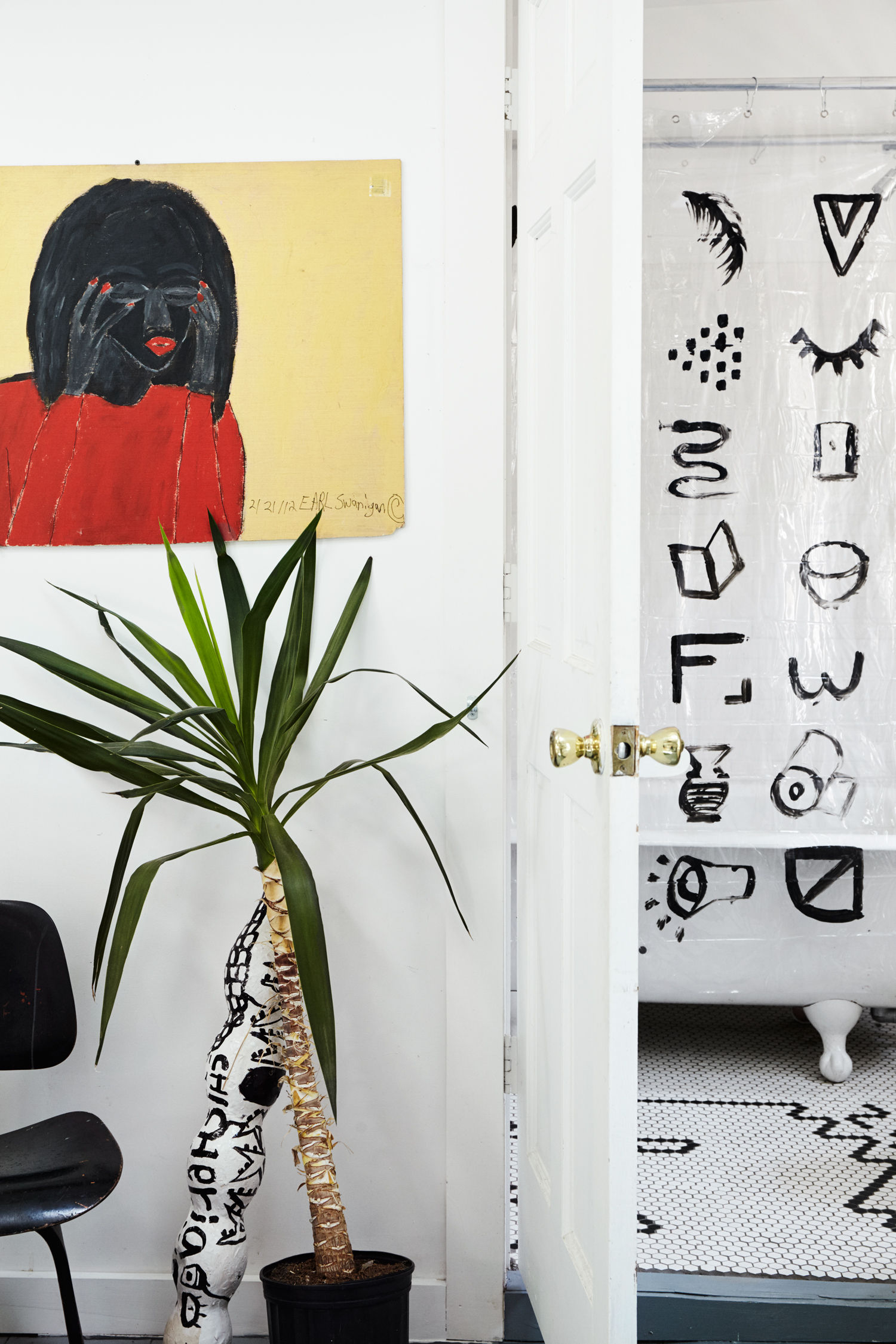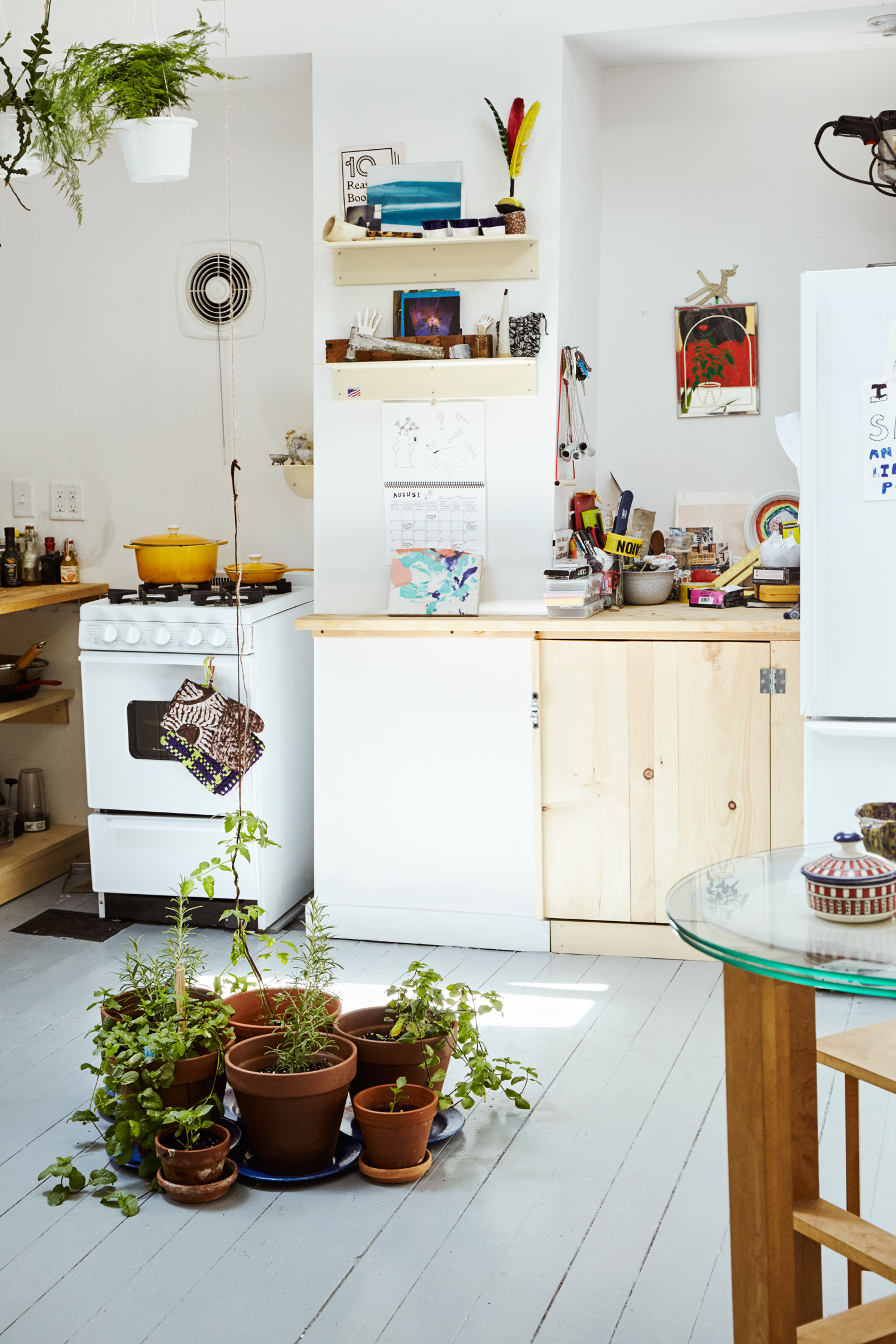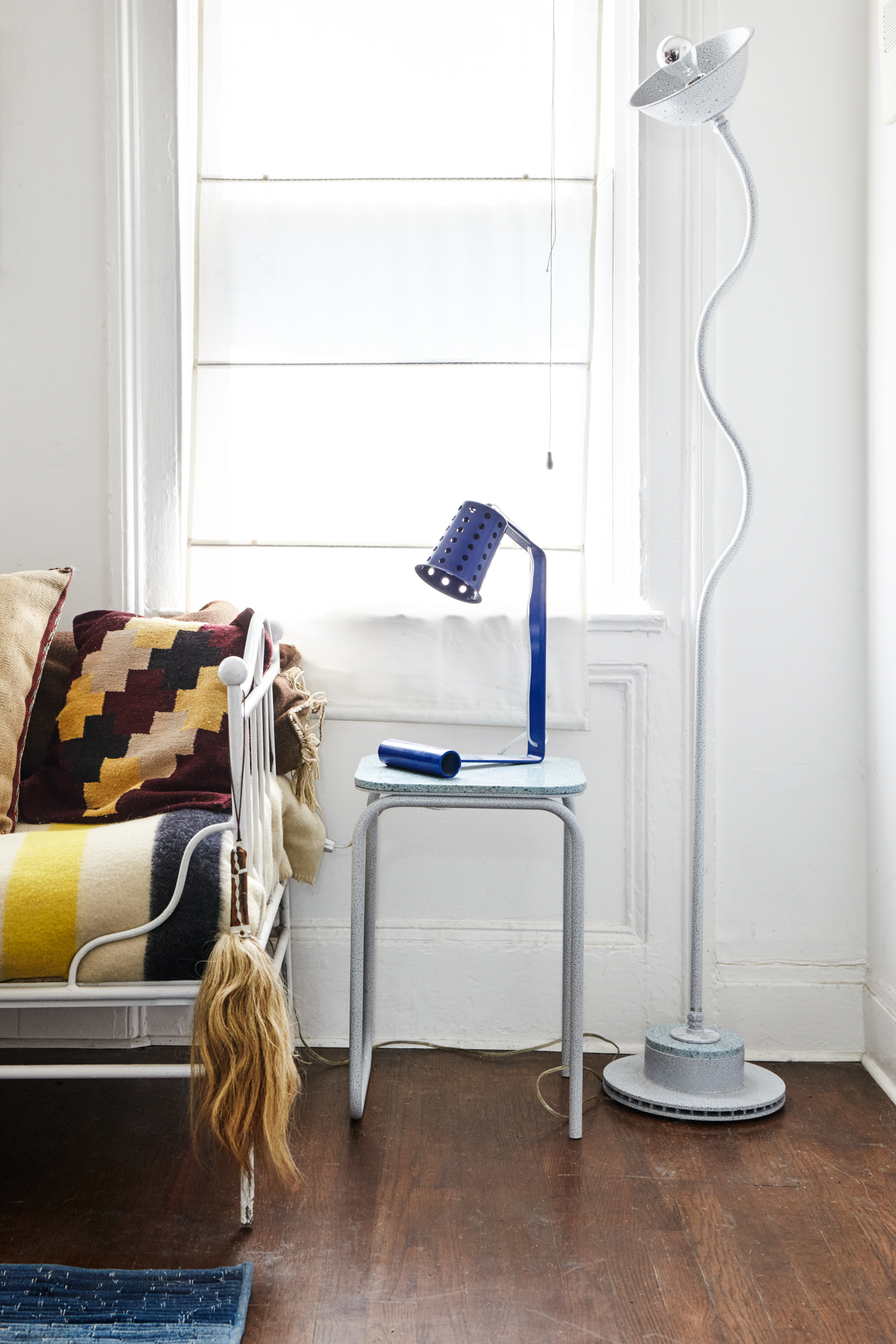 Besides renovating, what are some of the other projects you're working on right now?
I've been maintaining a couple of different trajectories at the same time. On the one hand, I've been operating a kind of word-of-mouth furniture and custom design practice.
And then there are all these little projects: In Hudson, there's this fashion store, KASURI, I designed all their furniture. In the city, I just finished a number of furniture pieces for Artsy's new office — a few table situations, and then their whole eating space and banquettes and café tables and desks. That was fun. Sean Roland, who's their interior design head, is bringing in a lot of designers to try and fill that space with interesting curated things.
Then, last summer I did an installation with Eckhaus Latta at Dover Street Market. That was really fun. I got to bring in a lot of the materials that I often use in a more casual way — corrugated plastic, or I tend to use a lot of recycled materials like car rotors. I use brake rotors as my lamp bases, which are these circular discs.
Where do you source those, an automotive shop?
I literally drive around and go to mechanics' shops when I need some. And they usually have, like, ten. Sometimes, I'll offer them some money, but usually, they don't take it. They're like, "Just show me a picture when you make something." I've been making café tables and lamps. Basically, it's a nice, sturdy base for anything that is centered.
For the lamps, I've been partnering with this ceramicist, who's going to start making all of my lampshades. I've realized one thing that has been a hindrance to people is they'll be like, "Wait, that lampshade is a colander." And I'm like, "Yeah, I know, isn't it fun!" I know that it needs to not be a colander. But there will still be perforations, because it casts a nice speckled light on the ceiling. At night, when I turn on all my lamps, the house is all spotted. It kind of adds to the chill atmosphere.
In addition to your furniture practice, you've also been creating objects in collaboration with West African artisans. Can you tell me about that project?
I've been working with this institute in Ghana that does education and sustainable development projects. They also have a design center, and I've been working with them, heading up their design wing, because they're interested in partnering with more contemporary designers. There's so much development in West Africa, but they've been importing all of these design objects from the West. So the institute really wants to encourage local designers, or people who are interested in actually developing things in that space, who can come there and manufacture or experiment with design.
For instance, we made the blue rug in my living room in Ghana; it's made out of recycled denim from jeans that were shipped over from the U.S. A lot of the West has a weird relationship with West Africa — we're just, like, shipping trash. We're sending over all of our old clothes post–Salvation Army, post-Goodwill. It makes it a little bit obvious that our manufacturing culture is totally screwed up if we keep all of our trash, so we're just trying to get it out, so we can still psychologically think that we need to buy new things or something. Whatever.
So this rug is made from castaway jeans sewn into little squares folded in half. Then, we make these fringe shag rugs in different designs using blue and black denim. I'm just starting to put the word out about marketing these things. They're amazingly substantial, and they're sewn into billboard vinyl, so it's all recycled materials.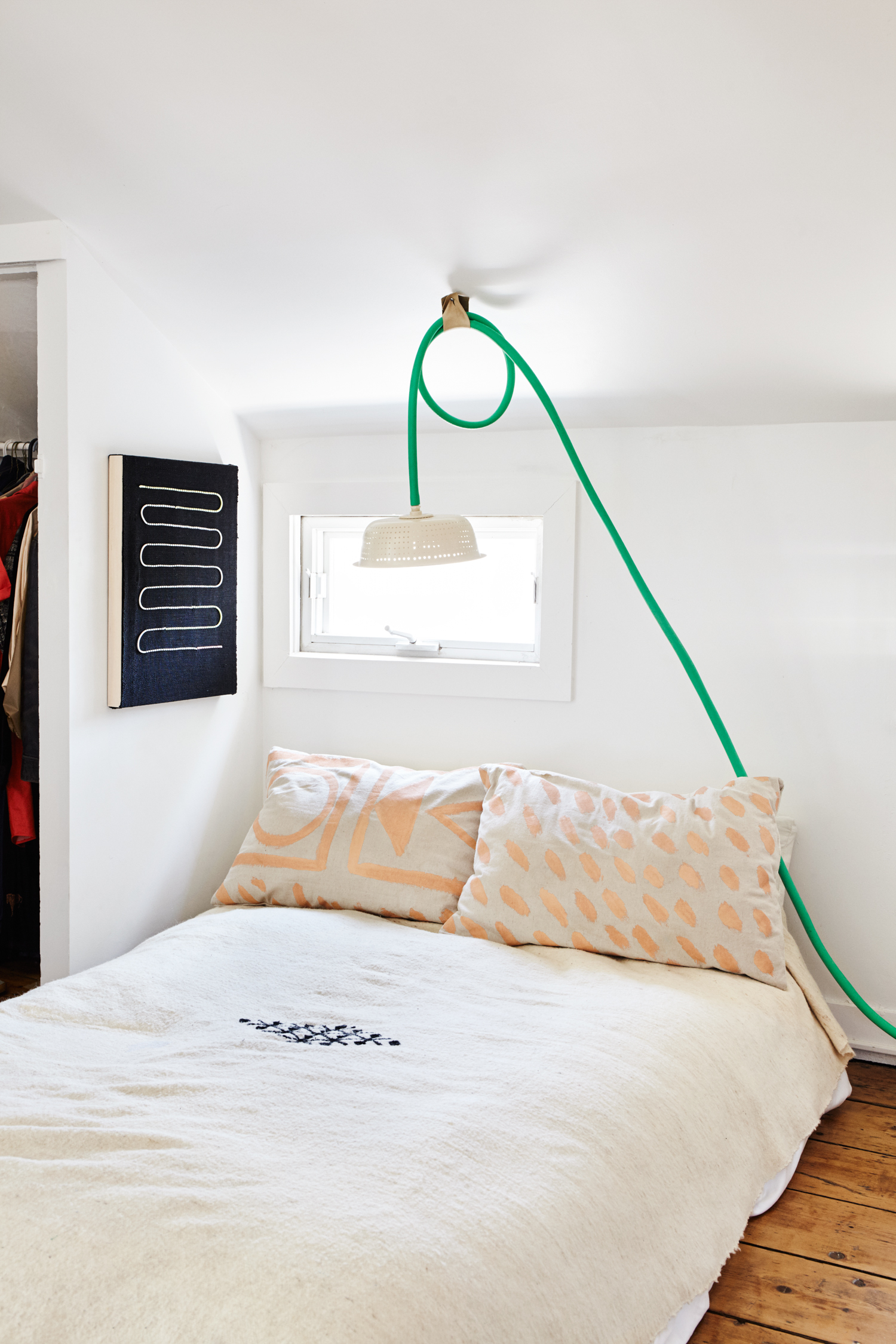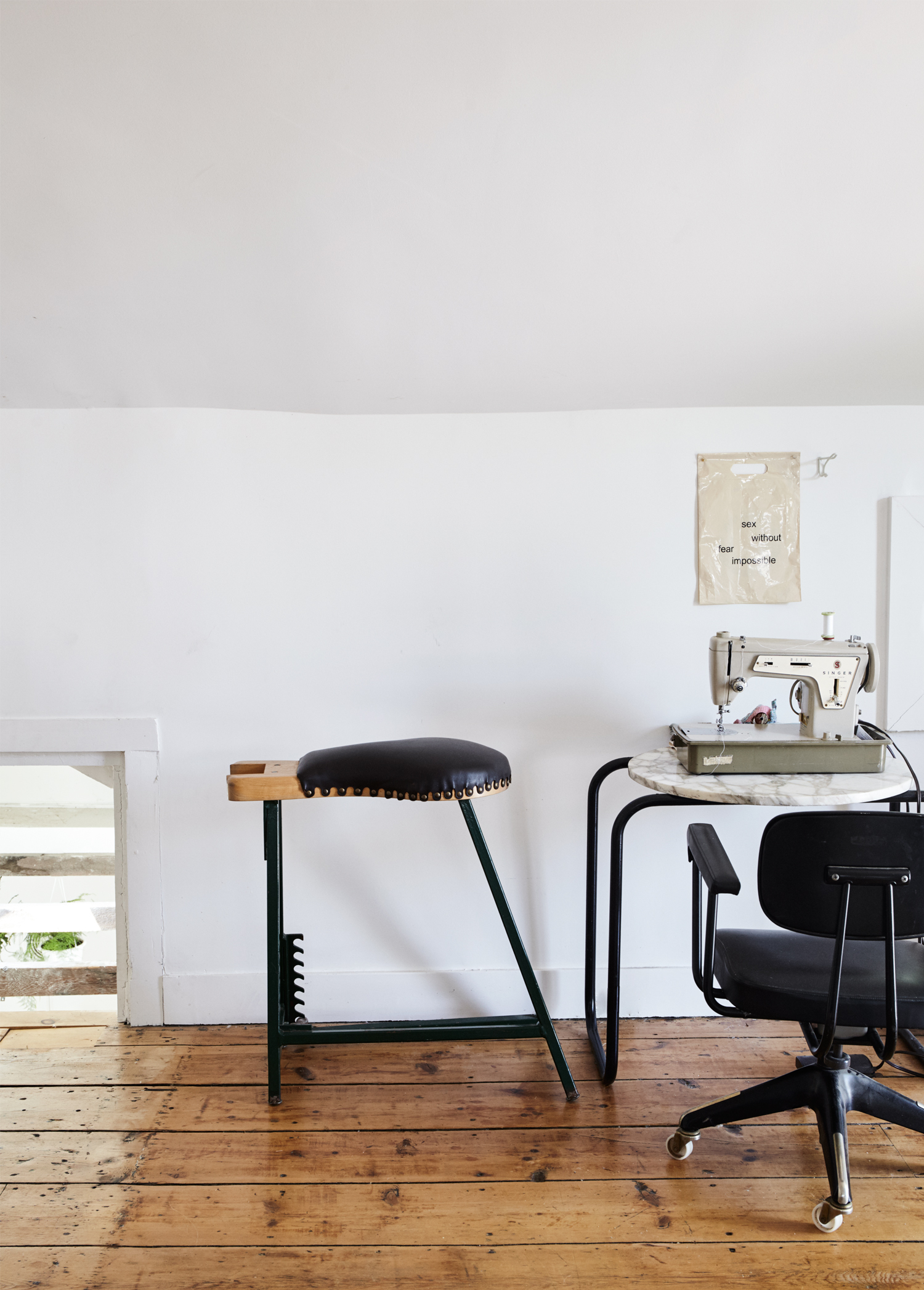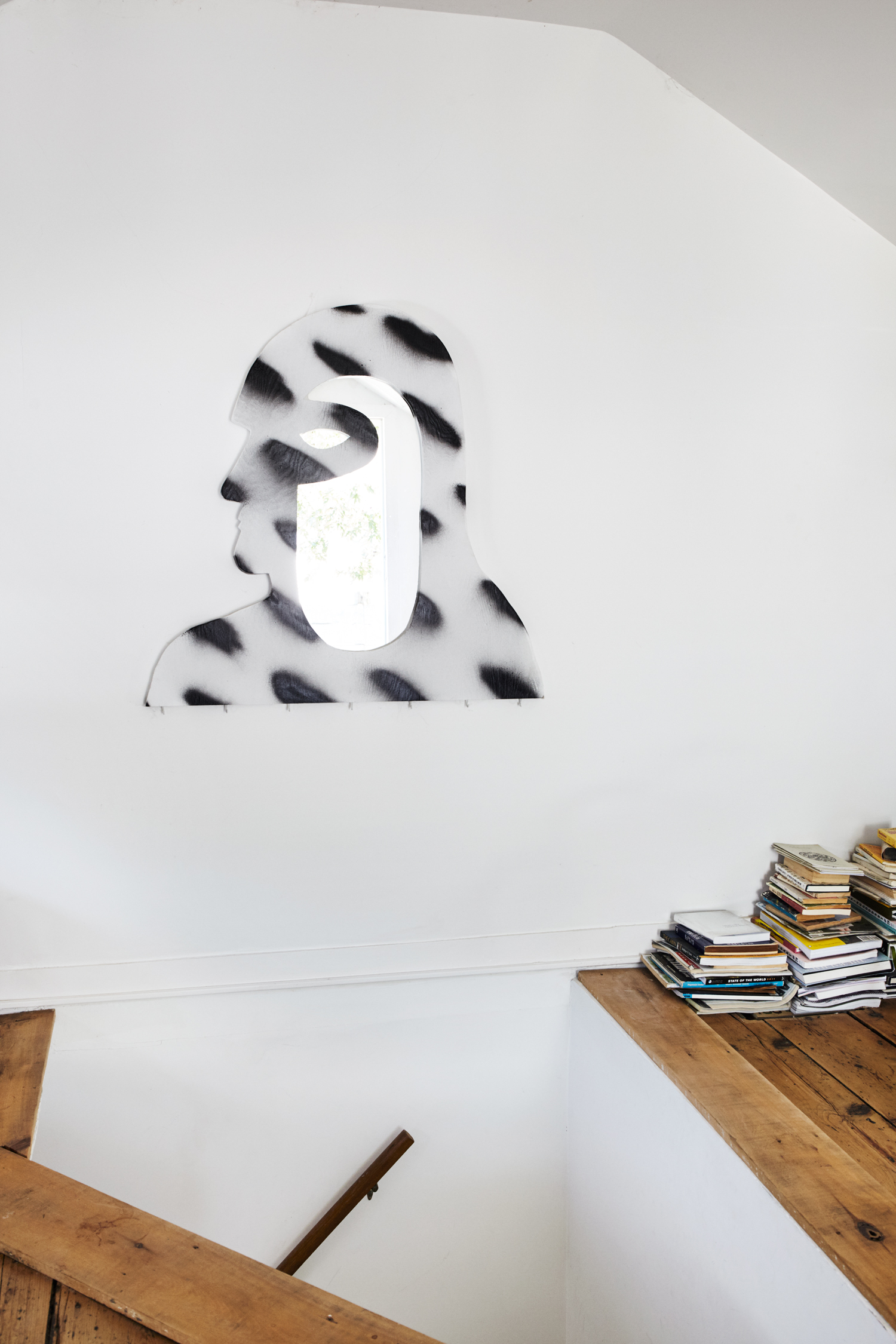 Do you do most of your other manufacturing here in Hudson?
Pretty much. I do all my manufacturing either by myself or with friends who are craftspeople in different mediums. For instance, the kitchen shelves I made here with my metal worker. All of the bent-tube stuff that I've been making, I partner with a biofuel mechanic who converts cars from diesel to biofuel. We went in on buying a tube bender together.
I just got these goat hides from a farmer friend, and I'm planning on upholstering a chair with them. I've been working on this chair design — I'll change the wood from plywood to walnut, and obviously it won't have exposed screws, I'll do real joinery. At RISD, we had such a hardcore woodworking experience, and when I left, I started teaching woodworking. After that phase, I was kind of anti-woodworking, so I went the metal route. But now, I'm feeling a homecoming to woodworking coming on which will be fun.
How did you get into design in the first place?
When I was a teenager, I was always making my own clothes, and I was super into expressing myself through whatever I was making at the time. I thought I was going to do fashion design when I went to RISD, but then I realized I didn't want to engage with that community very much. So then there was sculpture or industrial design. But I realized that furniture was that perfect in-between, where I could learn all of the skills but still not have any boundaries in terms of what I could make.
Now, looking back, I realize that I was totally meant to be excited about furniture. The way that my parents live is very similar to how I live now. They were always working from home; my mom is a sculptor, and my dad's a painter. My mom had a glass kiln and a ceramic kiln and a metal-welding situation. It was very a materials-heavy household. She was always doing bronze casting. And my grandparents had a grandfather-clock business and made these insane grandfather clocks and collected cars.
My parents' house and my grandparents' house were by the same architect — this Frank Lloyd Wright follower named Edward Humrich, in Chicago. Chicago was this epic modern architecture center, as you know, so all my grandparent's friends were graphic designers and artists and architects. In my parents' house and my grandparents' house — all of the rooms are either trapezoids or hexagons. It was my job at Thanksgiving to move the table, because we had a hexagonal table and two parallelogram tables that needed to somehow fit together, so that we could have 30 people eat. It was always this idea of how do we accommodate socializing with our family in these alternative spaces.
I didn't even realize how weird and special these spaces were when I was living in them. Now, I've been making parallelogram tables and hexagonal tables for the last ten years, and I'm like "Oh, of course I have, because that's normal for me."
My parents also never had a 9 to 5 situation. It was working all the time, but also getting to take breaks and do the lifestyle stuff that you wanted to do. That also seems normal to me. It's definitely a hustle, always, but I relate to that. You can feel when other people are used to that hustle; I think that's why I relate to small business owners and that kind of vibe.
It all comes back to this collaborative practice that's happened very naturally. For instance, all of the paintings in here are by different people that I work with all the time. Annie Bielski, who did one of the paintings in my living room, is also a poet and comedian. The shower curtain in my bathroom is by Hannah Black, who studied painting at RISD, but now she's a chef at Lil' Deb's Oasis in town, where I did some of the furniture. Annie and Hannah and I have collaborated a thousand times, where Annie will do standup comedy and curate other poet/comedians into these performance nights. Then, Hannah and her partner will do amazing food. Then, I do a furniture space. That's kind of our system.
Education has been a good part of my life, too; it basically provides me with another form of making money and also makes me feel like I'm doing something powerful…ish. Sometimes design can feel like you're just accommodating luxury culture, but I do feel like proposing alternatives of how you can live and how you can improve your own life is important. So, design for me is the most fun thing to do, but education makes me feel good.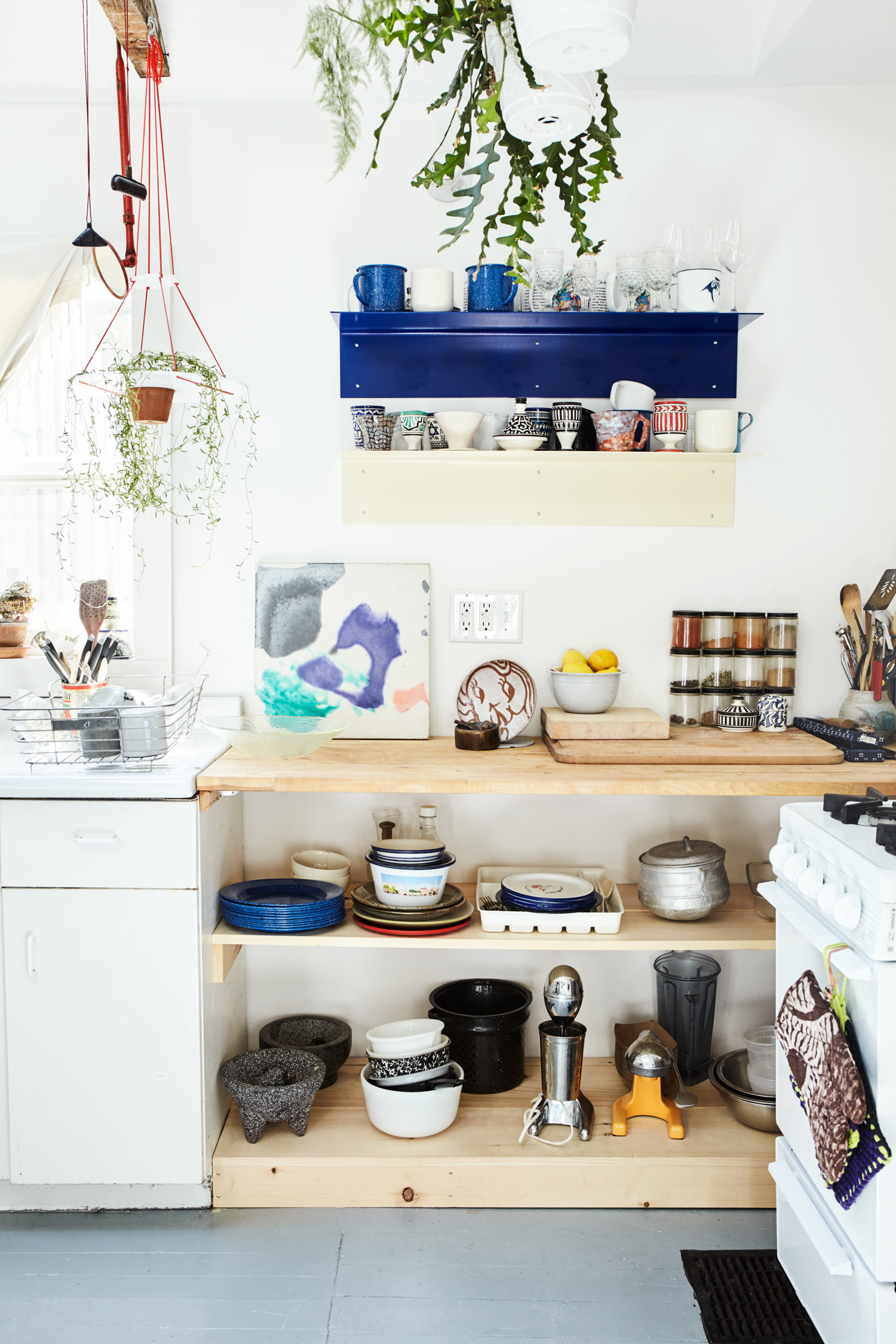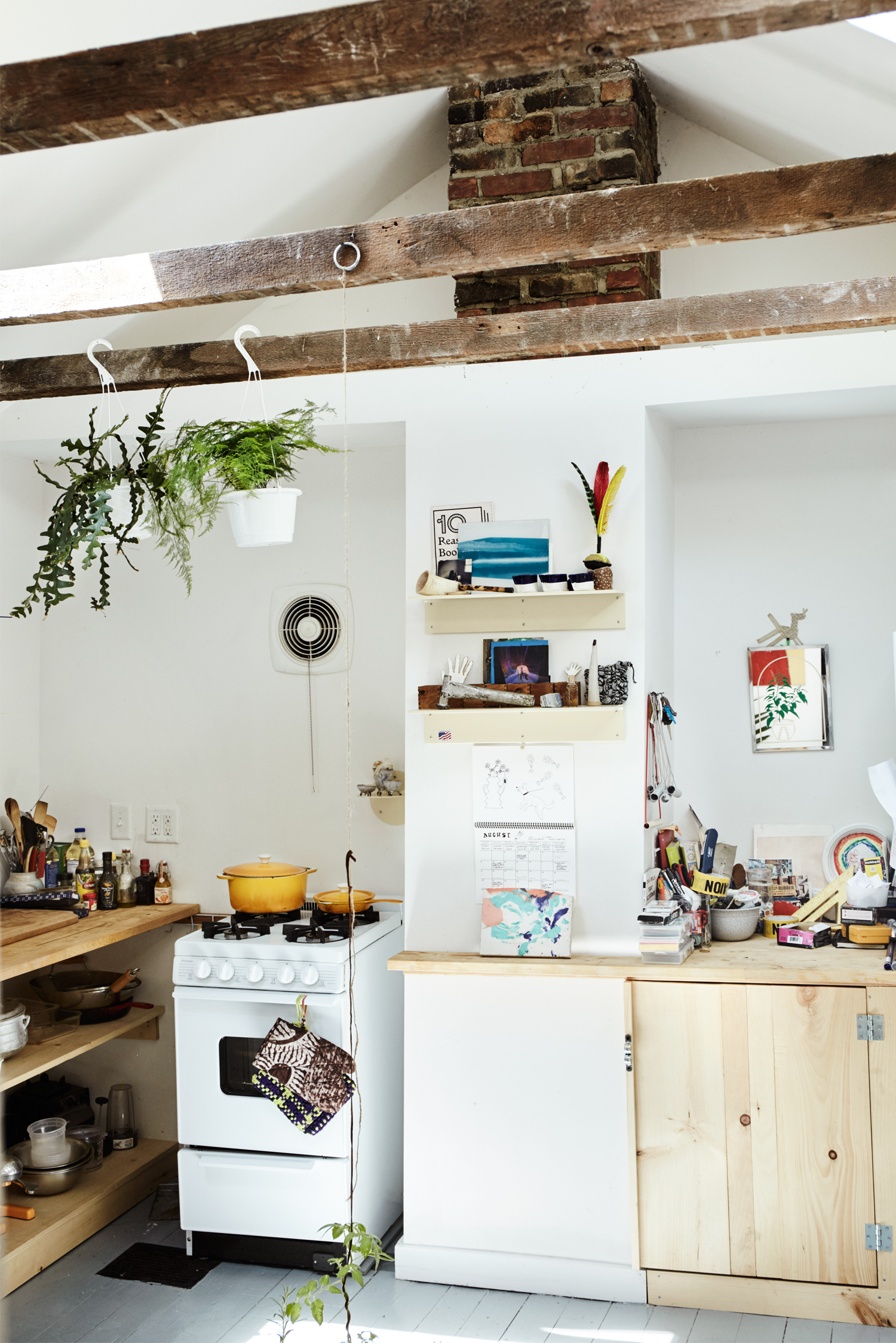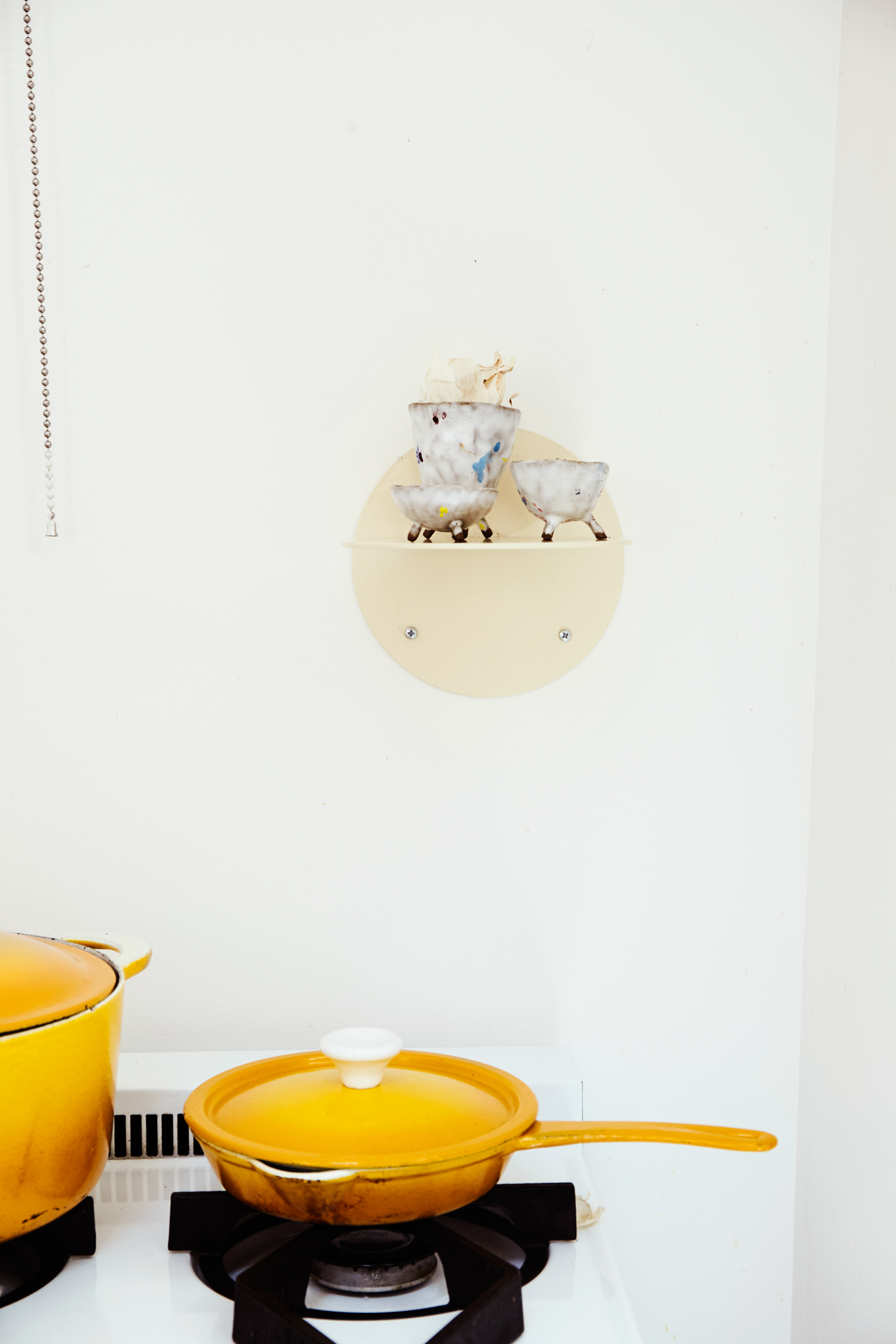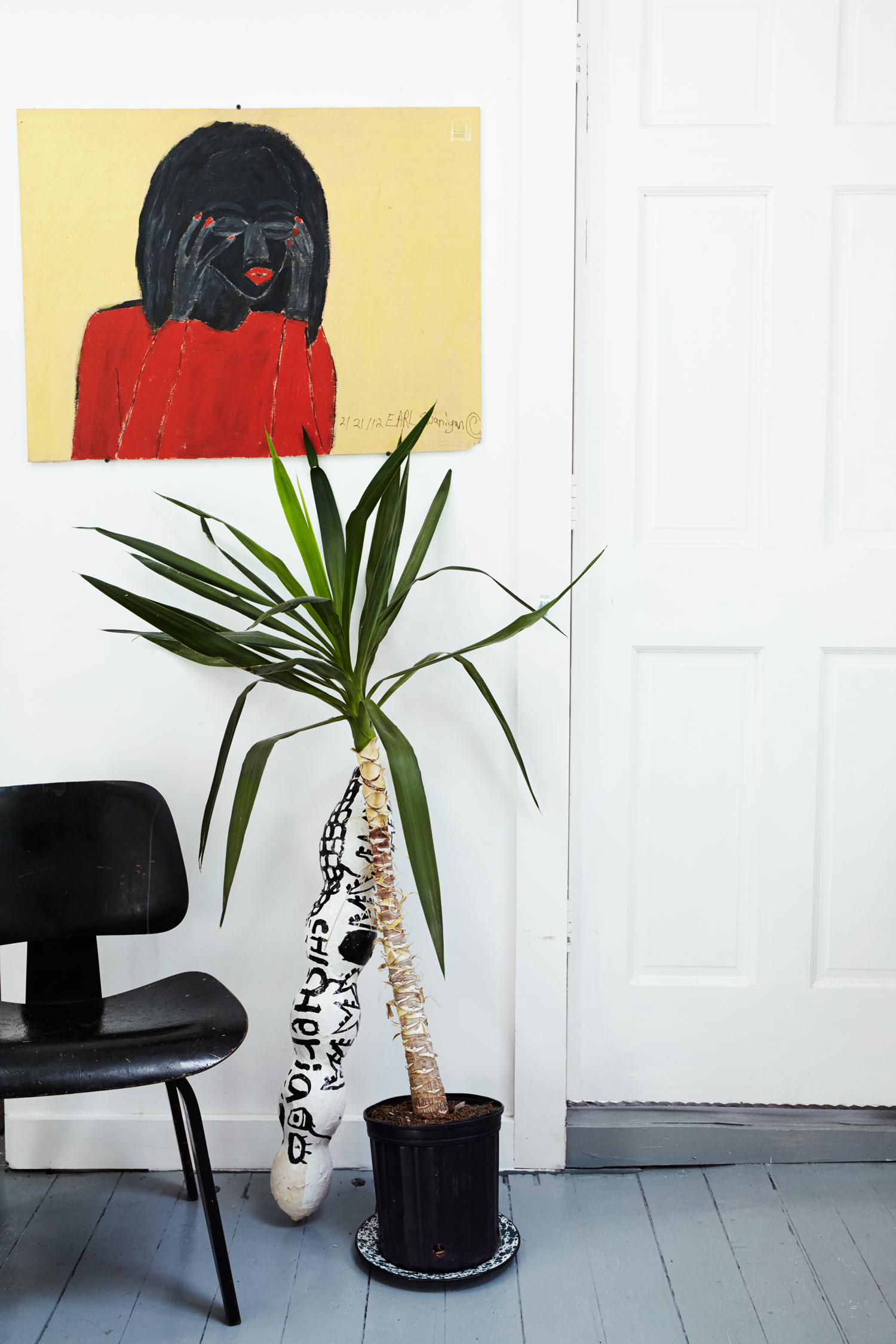 Tell me about some of the other pieces in here. The kitchen is probably my favorite room in the house.
It's funny, because I hang out with a lot of alpha female chefs, so I never really end up cooking any dinner parties, because they just take care of it. So I'll often end up bringing my tools in from the mudroom and end up working on my kitchen counter on some wiring project or something. So, often, you'll see a drill on my stove or something.
A lot of these things were collected over the years from friends from RISD. Francesca Capone did a little piece in the corner, as well as the wavy woven black piece that's by my bed. The red painting in the living room is by Isabel Wilson, who is a textile designer and fashion designer. The yellow painting near the bathroom is by Earl Swanigan; he also did this really funny one in the bathroom that has a dog with a squiggly penis. Earl is very much like the Hudson folk artist. When you drive down Warren Street, you'll see hundreds of paintings by him. Everybody sells Earl's paintings, and everybody has at least two or three.
I love all these little accessories everywhere, too.
Oh yeah. Whenever I go to the powder coater I bring so many objects. The little resin dolphin and the tiles are by Misha. I have one of Chris Wolston's glass experiments from RISD. And these are some bowls that my mom actually made by slumping glass. I really like how when you use special objects, it kind of changes your life. We have a big hand-me-down culture in my family. We don't throw away any of the heirloom stuff, so I have three grandfather clocks that I'm going to have to find a place for someday.