02.22.18
Tufted Beds and Treadmills: Sam Stewart's Obsessive World-Making
Sam Stewart is walking me through his first solo exhibition at Fort Gansevoort, trying not to over-analyze his own influences. As we gaze upon the eerie tableau he's constructed in the residentially-zoned, second-floor space atop a former Ports 1961 store, he cites prison reform, psych wards, cat castles, and exercise equipment as inspirations. Did you know that the cause of Oscar Wilde's death was, at least partially, a treadmill? I didn't, either.
Two ghostly chairs, like corporeal thrones, flank the room. A tufted leather and burled maple wood bed-cum-table that looks like it may have been specifically created to carry Hugh Hefner to the pearly gates stands in front of us. And shrunken clay heads line the mantel above the fireplace. The monotonous creaking of a treadmill, stashed away behind scented vinyl curtains, haunts the space. The press release for the show calls it "obsessive world making." You could say that.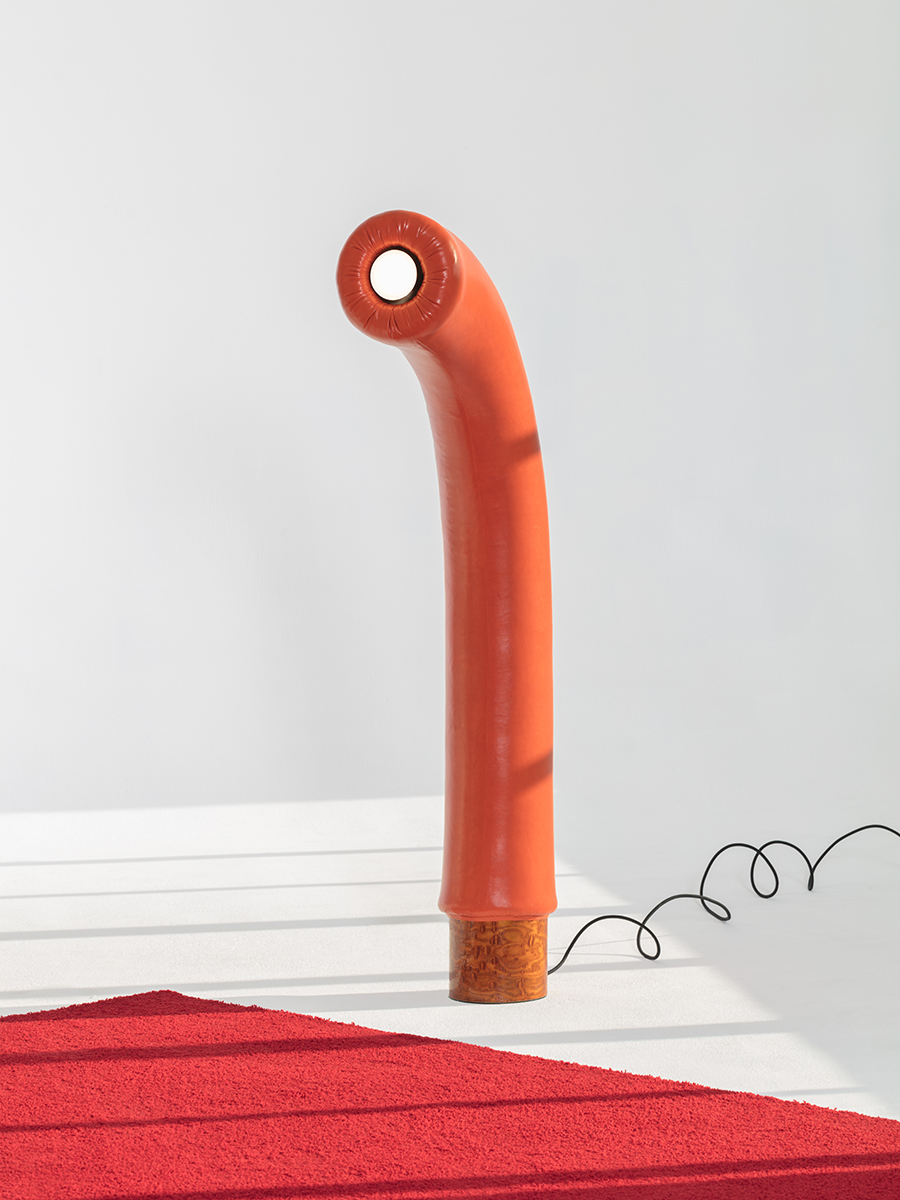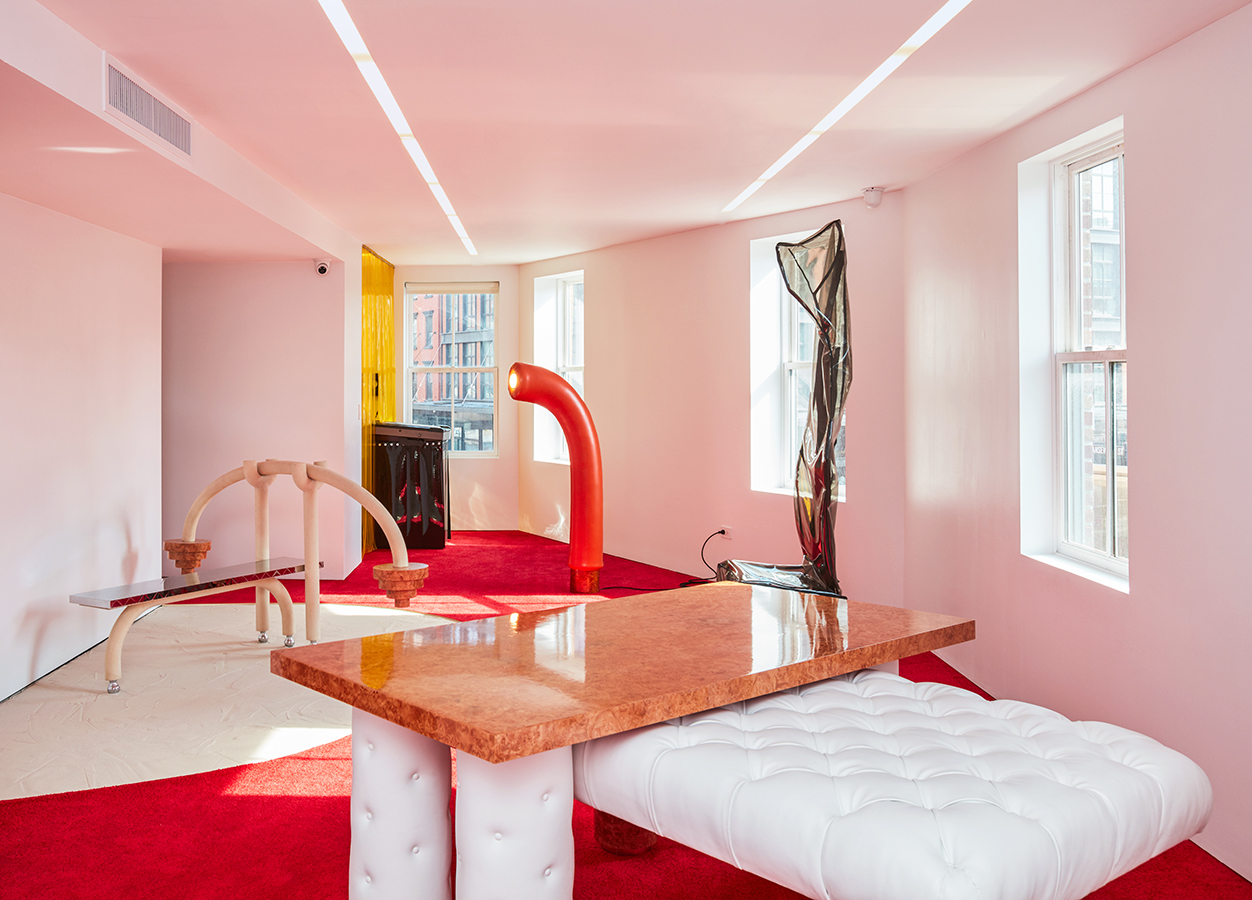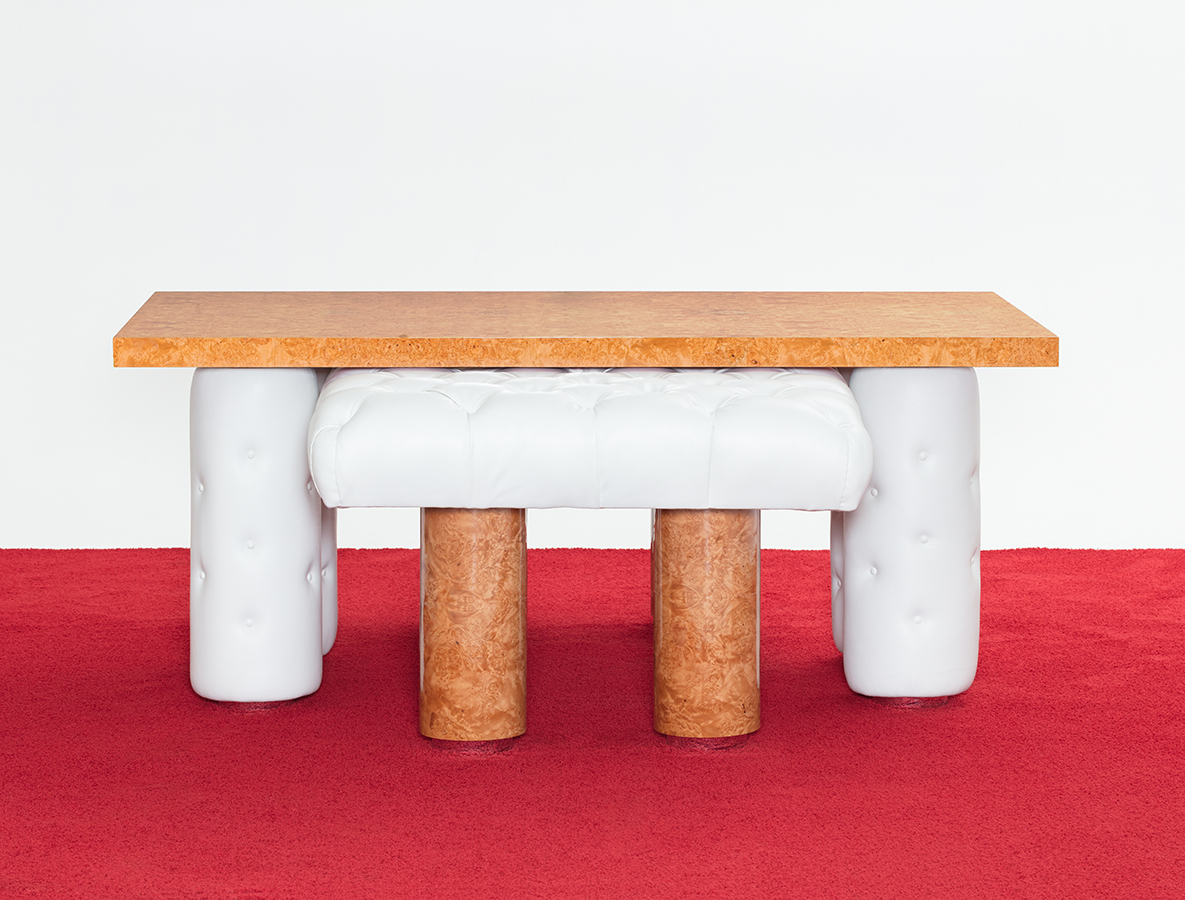 "It really started with the space, imagining a domestic space for a fictional client," says Stewart. "When I design something for someone's home I don't come in with a formula, I just work off of a conversation and then it evolves from there." As a designer used to taking directives, the quandary became how to create a framework within which to create these pieces — how to satisfy an imaginary someone and their imagined wants and needs. "Here, there's no client, there's no context, just a white room. And so I had to kind of mine information from myself and my past and kind of find some place to start."
Maybe best known for designing the tables at New York's chic all-day eatery Dimes, Stewart is not necessarily the person I'd immediately peg to manifest some sort of American Horror Story Fuck Palace in the Meatpacking District. But there I stood. The vinyl-clad appendage of a lamp was the first piece Stewart designed for the show and the work progressed from there, with formal decisions regarding scale and proportion made based on intuition rather than any set criteria. "There's very little spontaneity in the formal aspects of the work, but materially things change."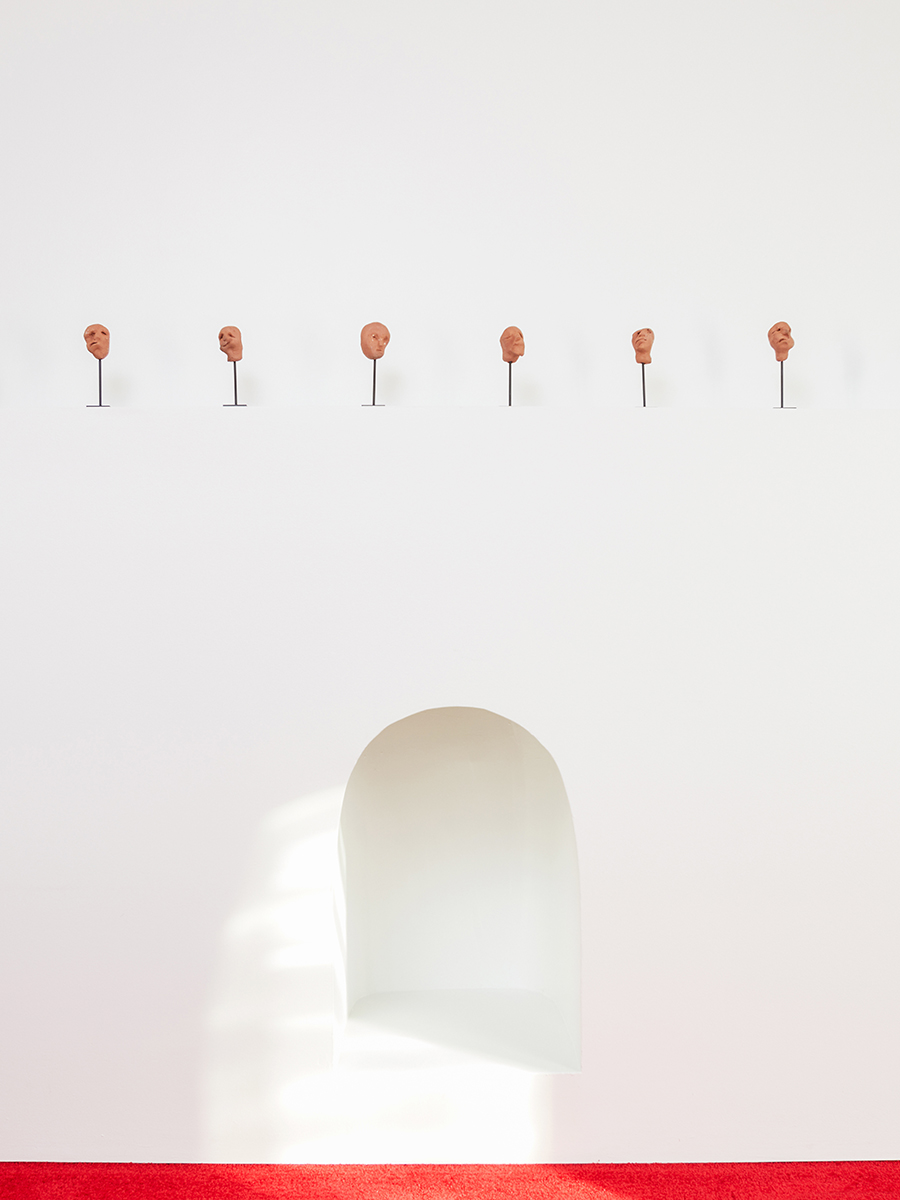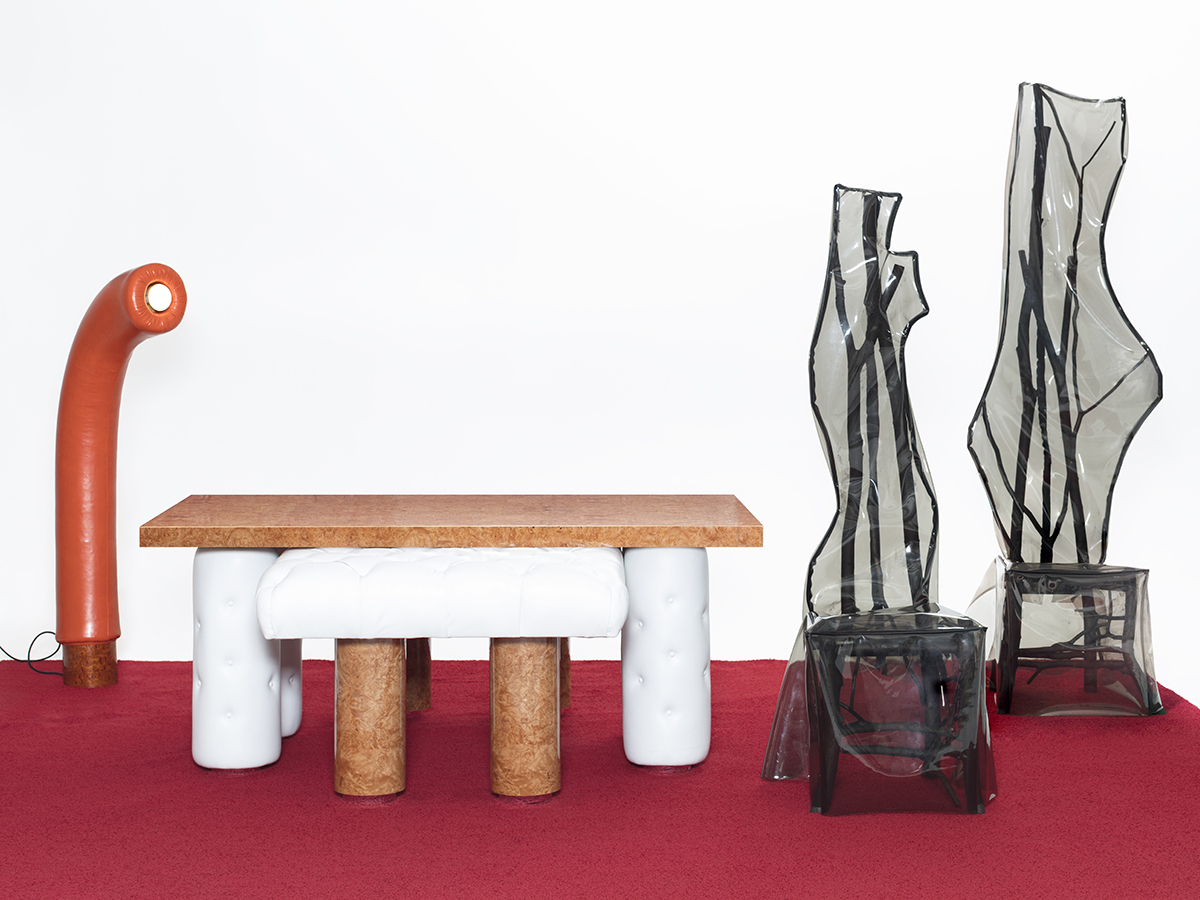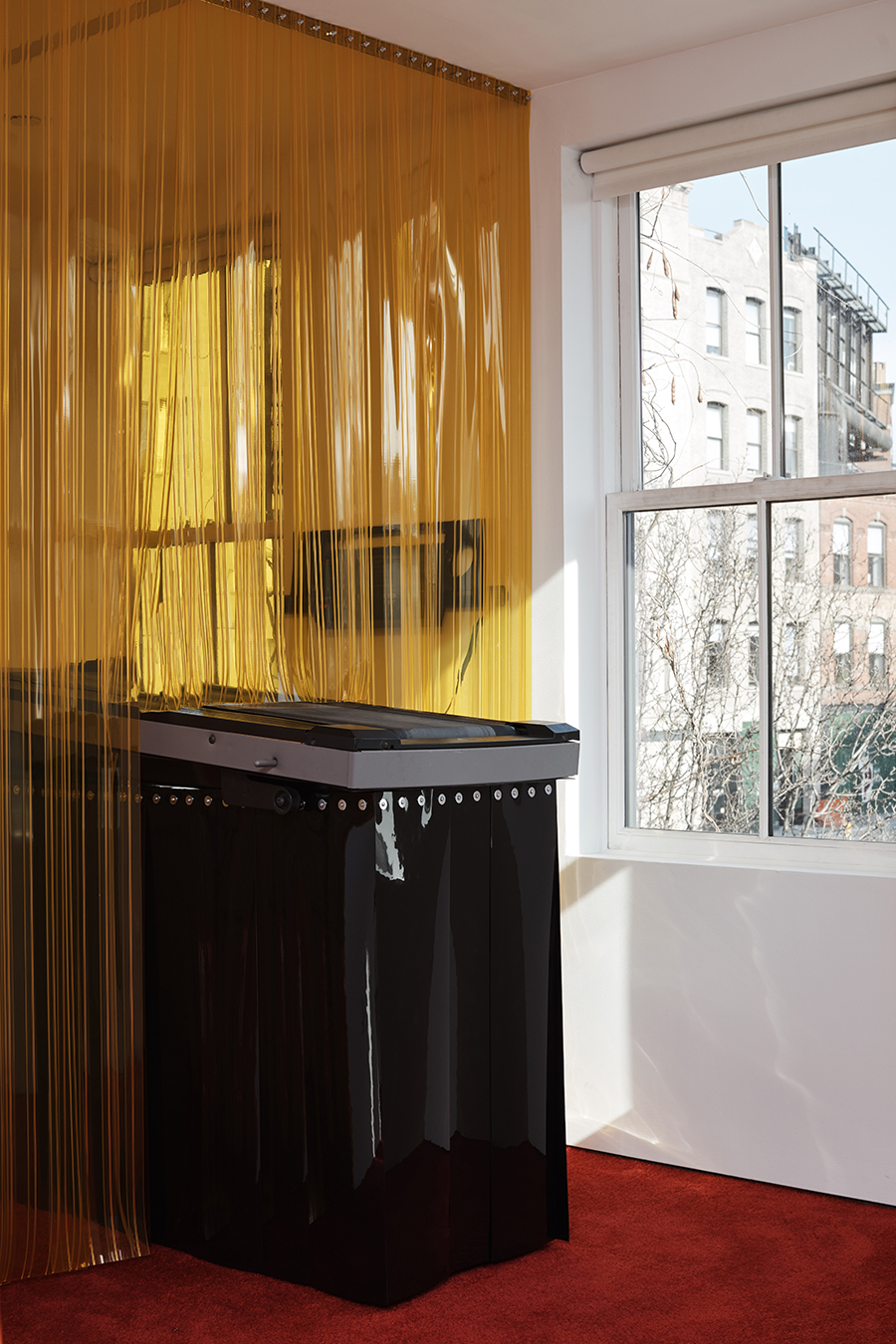 The chairs, which Stewart originally imagined upholstered in "growths," reiterate the myth narrative underpinning the show, referencing both folk craft and S&M, covered as they are in a skin-like vinyl inspired by a pair of similarly piped pants he'd seen on Instagram. "This is a type of furniture that I grew up around people making in North Carolina," says Stewart. "I always liked it but I wanted to do it a different way." The carbonized sticks speak simultaneously to a tradition of craft and explore the "sexualized formal qualities of furniture" while addressing the role of wealth in built domestic environments: while primitive, they are also meticulously custom and accordingly pricey. As Dolly Parton once said, "It takes a lot of money to look this cheap."
The show is dark, yes, but wry. The doll heads were fired in Stewart's home state of North Carolina and culled from a plot of earth known as the "Devil's Tramping Ground;" the feet of his perversely statuesque barbells are bedpost finials he found on the street. But the average viewer doesn't know all this; these twisted takes on familiar furnishings are executed in a resolutely Brooklyn way, which is to say artisanally, but also just really chill. As dark as the imaginary influences that birthed these shapes might be, Stewart presents them matter-of-factly and without much ceremony. It's kind of a perfect metaphor for the world we live in now — painful, hellish and only as bearable as it's always been.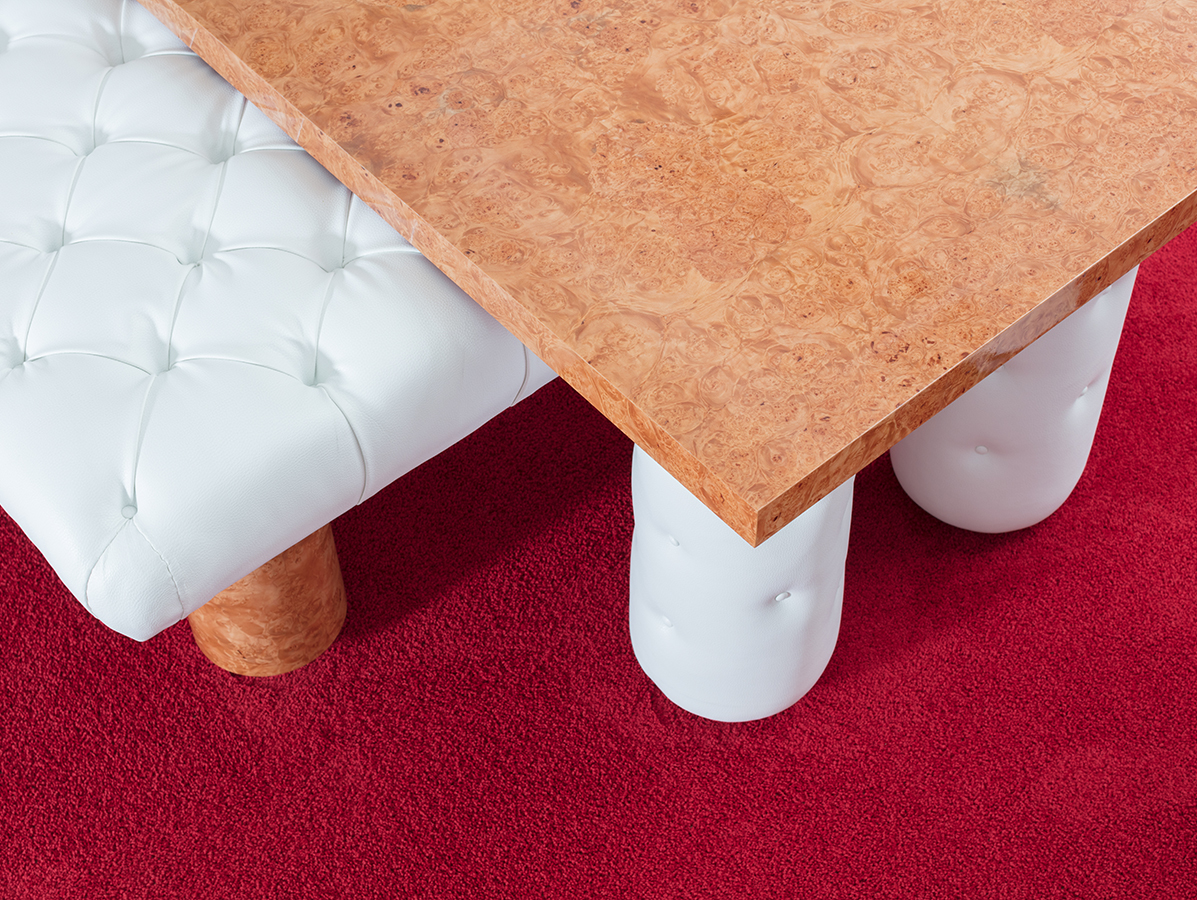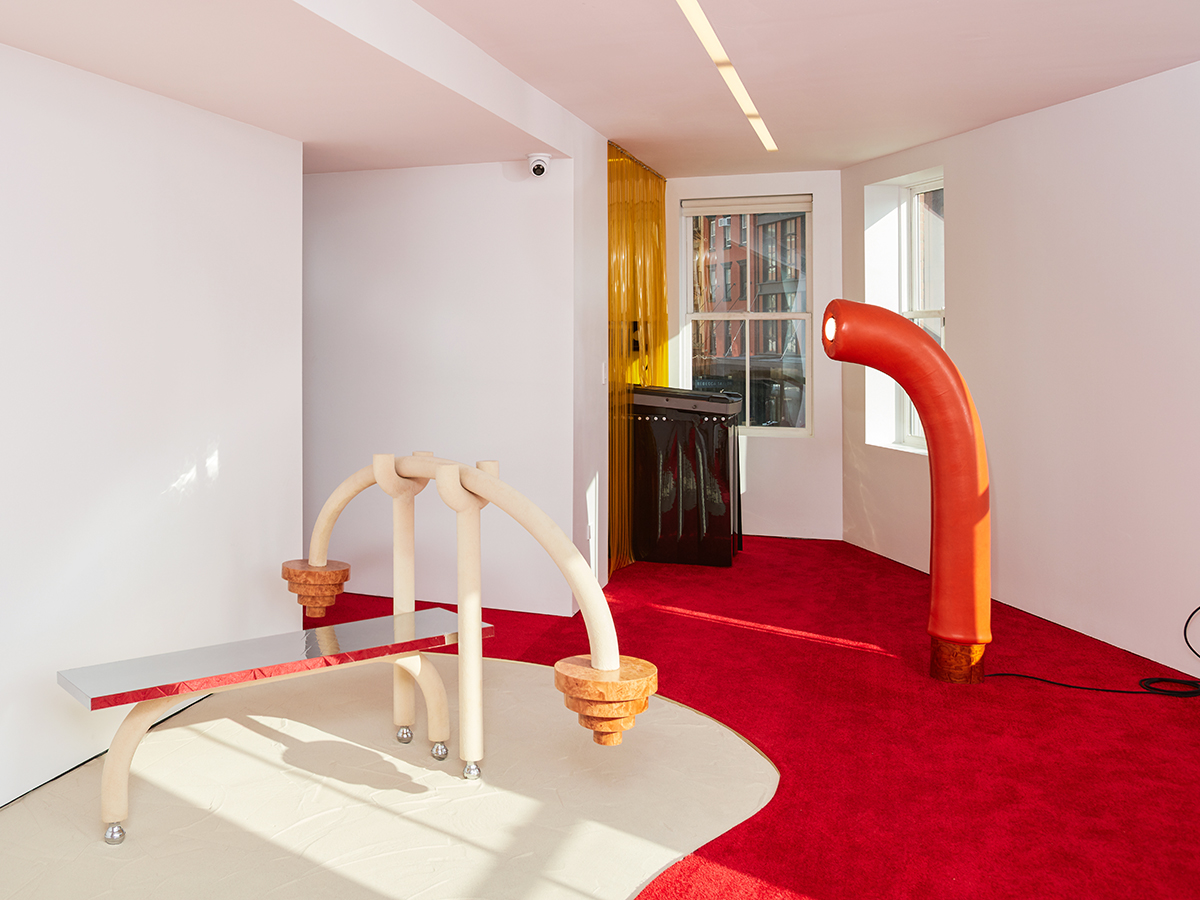 "Sam Stewart: Cryptid" is on view through March 24 at 3 Ninth Avenue, in a second-floor townhouse space next to Fort Gansevoort. Photos by Lauren Coleman.