06.12.18
Kwangho Lee On Using a 15th-Century Technique To Make Today's Coolest Furniture
At Design Miami/Basel this week, Korean designer Kwangho Lee is presenting his latest work with the New York gallery Salon 94 Design — a 25-piece offering, spanning seating, side tables, cabinets, lamps, and planters, that continues Lee's career-long quest to resuscitate enamel's old-fashioned image. "Korean people aren't very interested in it as a traditional material," he explains of his longtime technique, chilbo, which dates back to the 15th century. "They think it's something boring and old-fashioned."
To create the enamel's rich surface, Lee melts colored glass on copper sheets in an enormous kiln until they bubble kaleidoscopically; his blocky furniture forms, sharp-cornered and slightly stout, allow the material to sit center stage. "I didn't want anything to look well-made or polished," he explains of the new pieces, which pair slats of deeply pigmented enamel with cherry wood frames or copper panels welded together with shaky, homespun seams. "I wanted it to look raw and unfinished." The result is hand-hewn and dreamy, washed with a rich patina that recalls the reflective surface of water, an effect that inspired the collection's title, Shape of A River. We recently spoke to Lee about the evolution of his practice, his experiments with enamel, and the Seoul materials mecca where he finds his inspiration.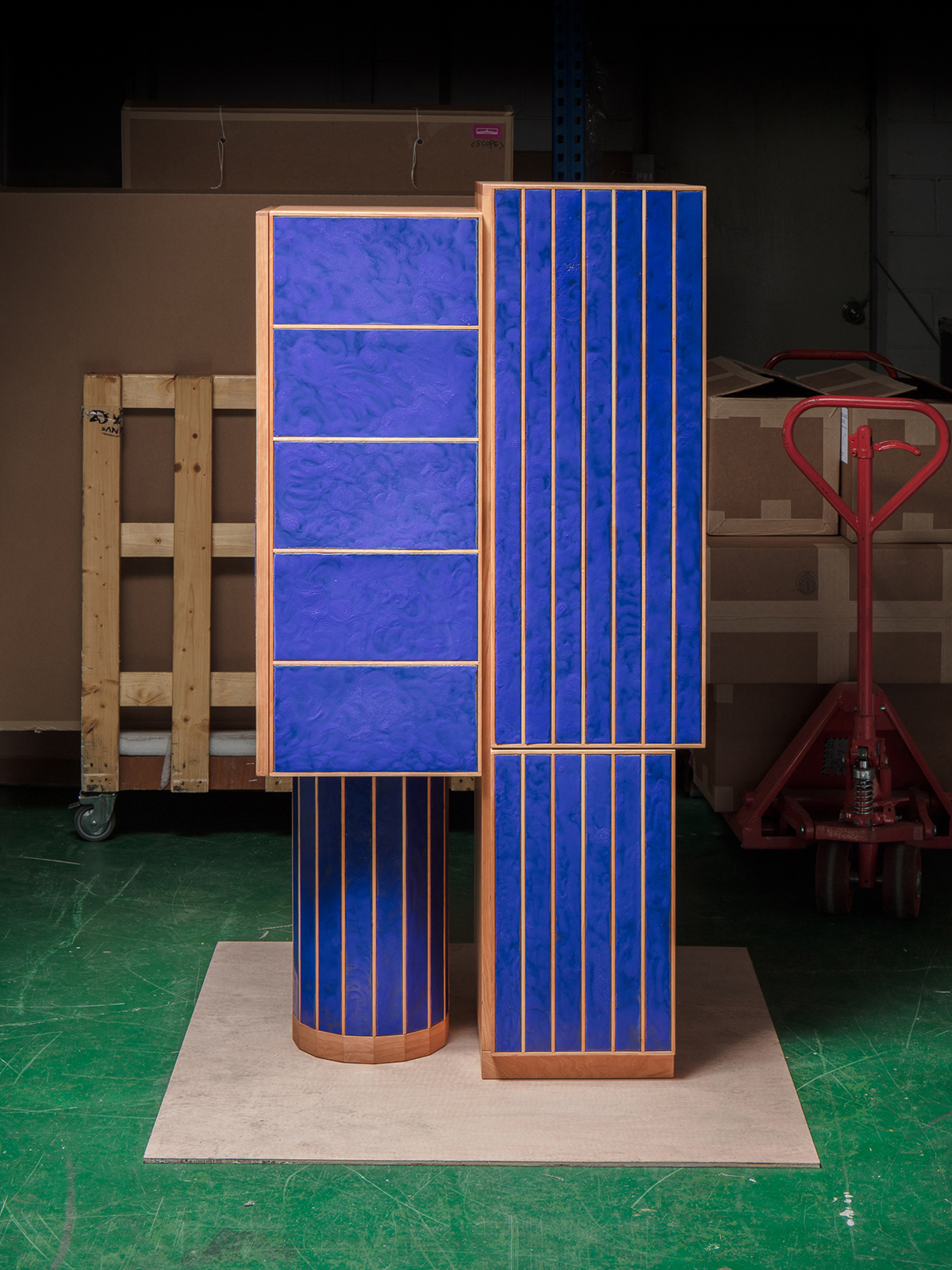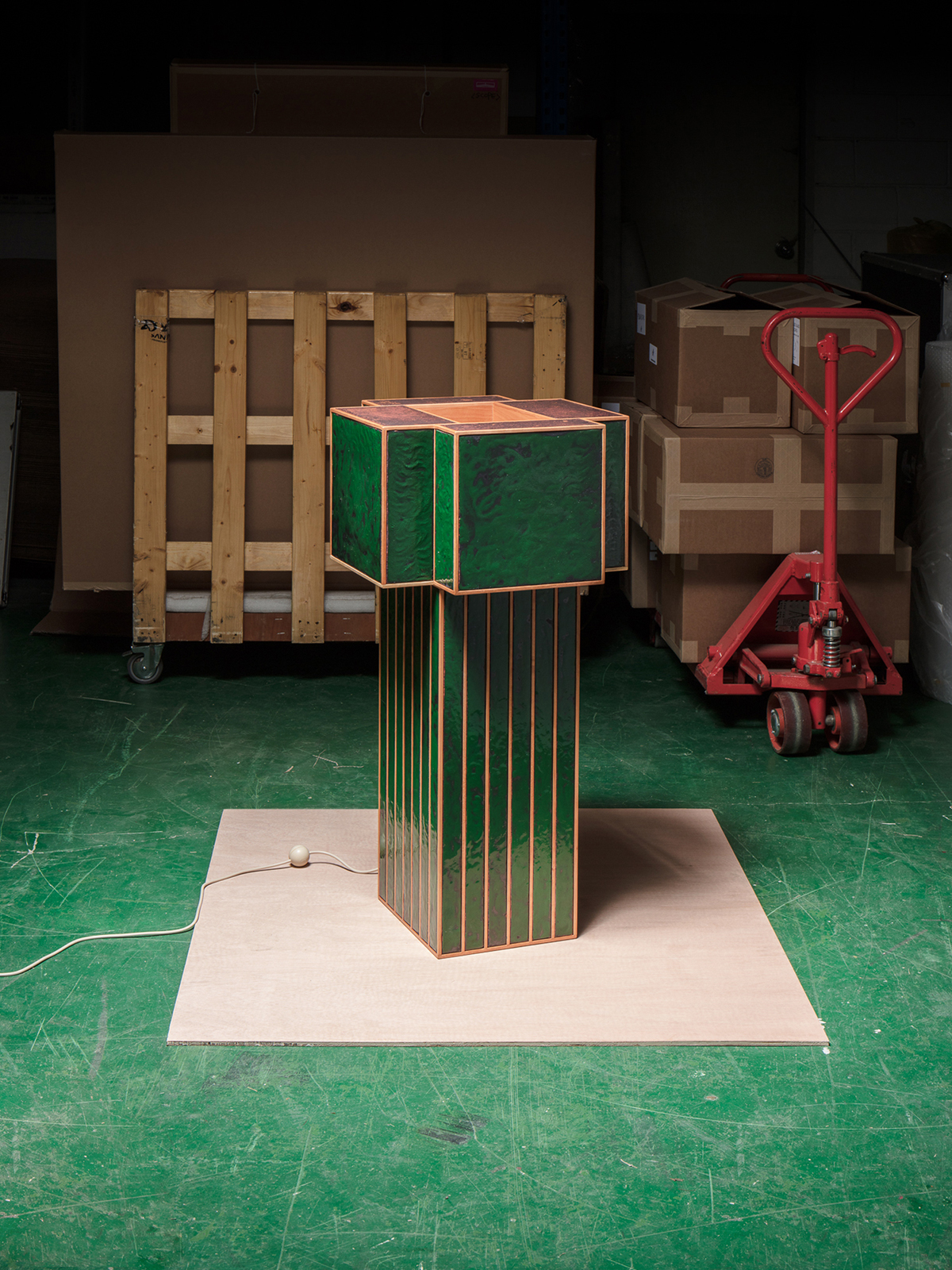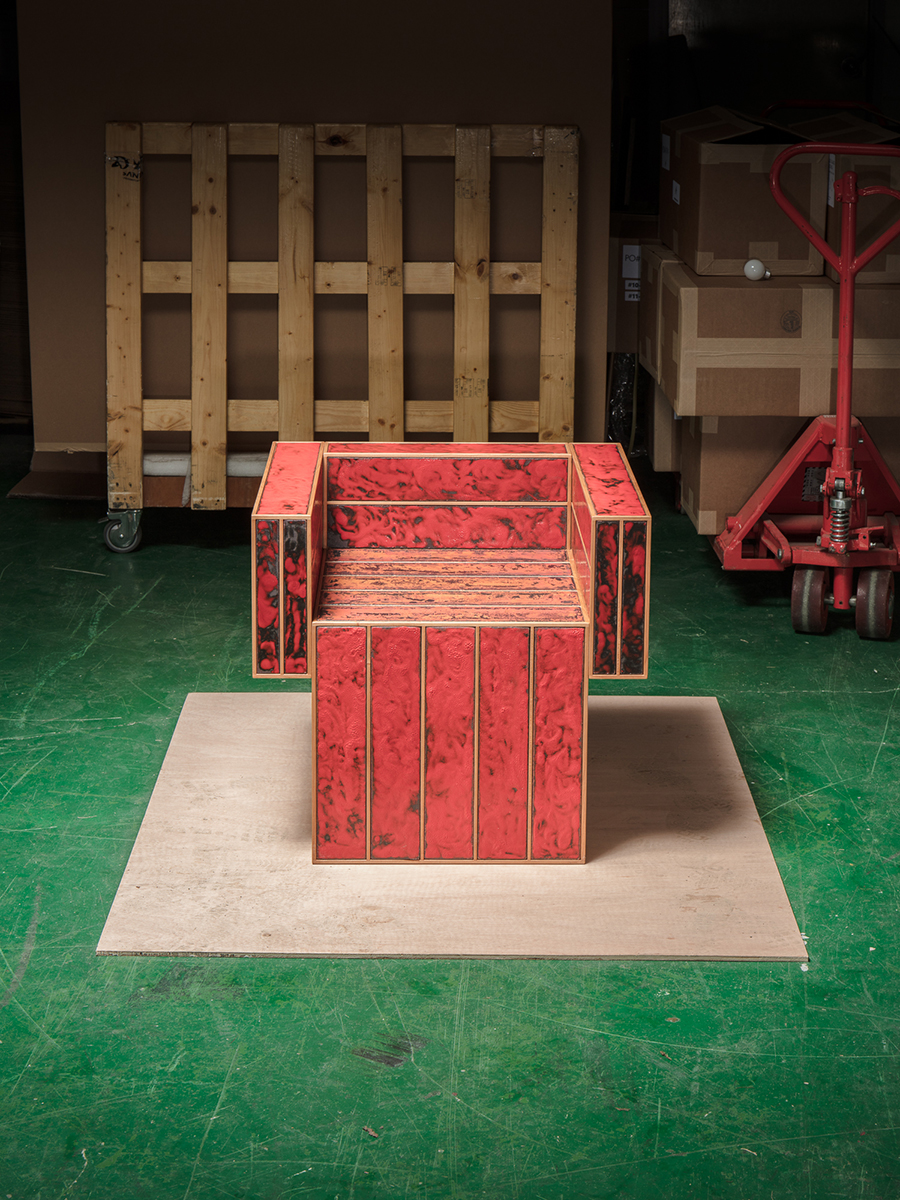 Your furniture forms are quite geometric and rigid. Why did you name the collection Shape of A River?
A river has so many reflecting points; it's constantly changing its colors and shapes. I'm using enamel and copper, which for me are very familiar because my previous series also used them. This collection is a more developed use of those materials. Before, I used to just call it Enamel Copper Series. But now, with the new name, I feel as though it represents it better: It shows all of the possibilities of this material, like a river, always changing and flowing.
You've been using this enameling technique for a while — can you walk us through the process of working with these materials?
I wanted to try to use traditional materials in a contemporary way. When you work with them in the traditional way, that process has a very specific technique with a specific outcome. I didn't want to do that. Over the years, I've been experimenting: firing at different temperatures, creating different textures. It's been a lot of trial and error. The results have been very interesting. I've been able to get different colors, details, and textures from these trials. That's why I named it after a river — there are so many different colors both inside and outside, reflected from nature and the sky.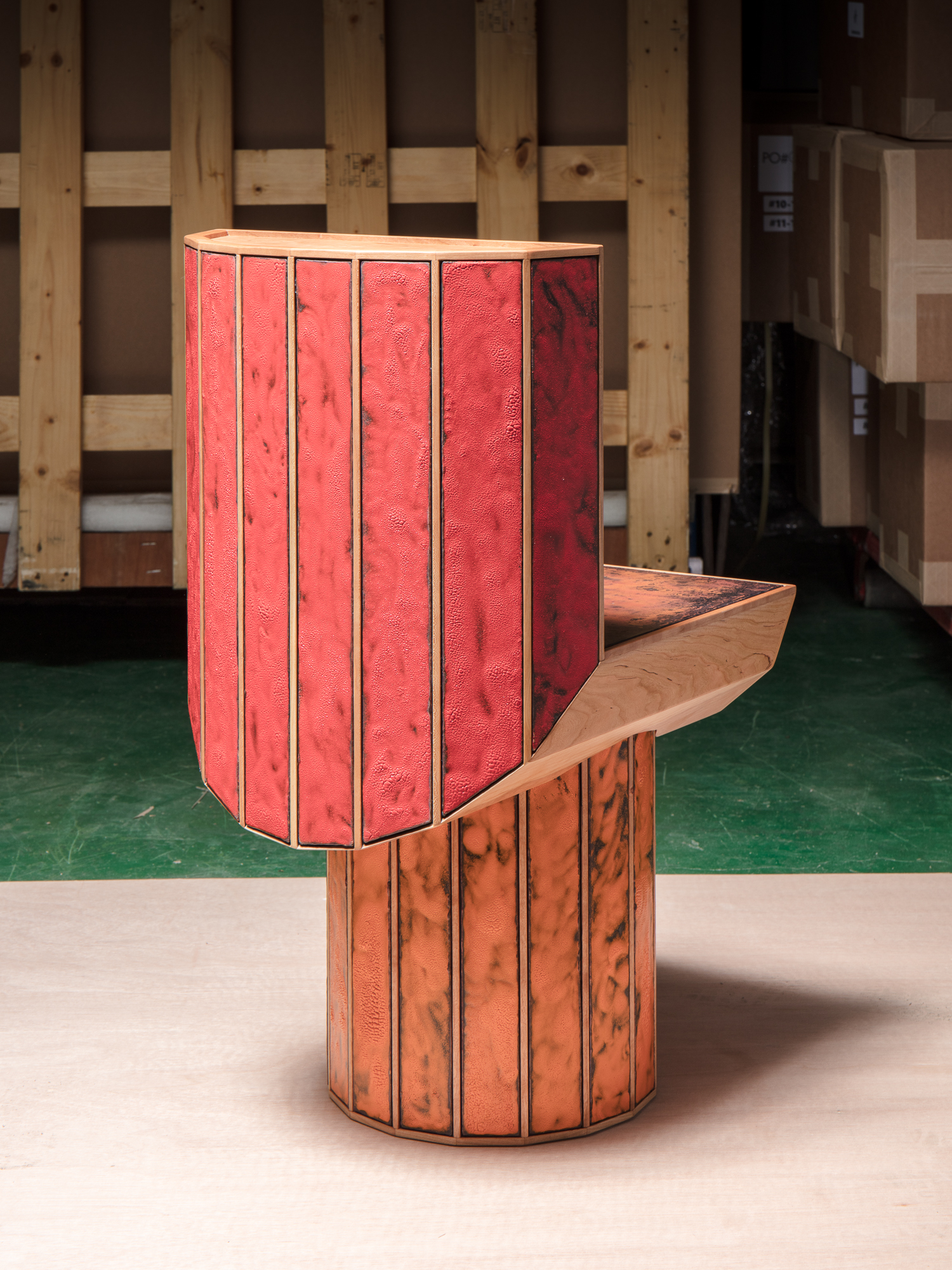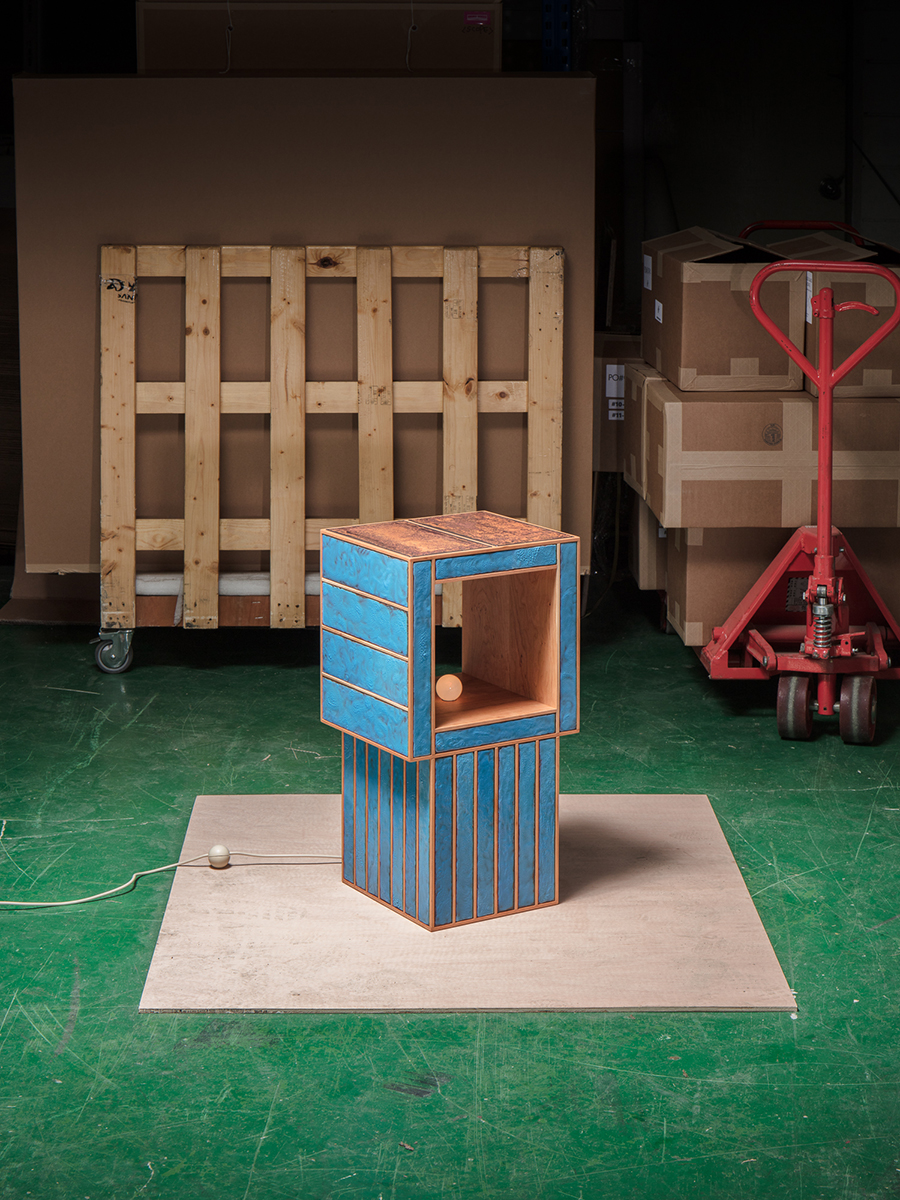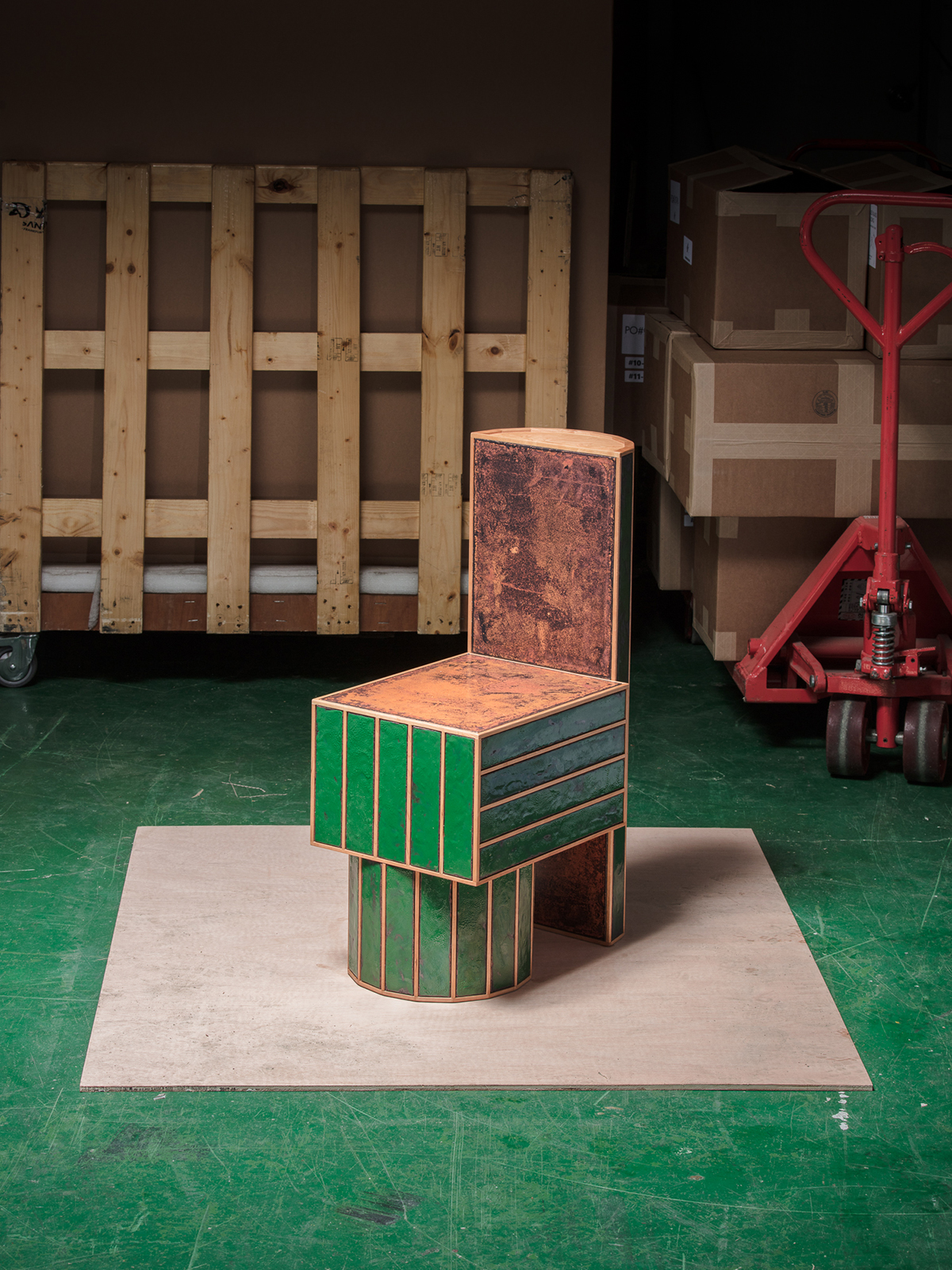 When you're creating the pieces in the kiln, how much control do you have over the outcome now? Is it still a surprise when it comes out of the oven?
Yes, definitely. The traditional way is really controlled, in regards to temperature and finish. I've been experimenting with these materials since 2009, trying to figure out the best way to create a specific feeling. It became more of a random, natural process, dependent on things like the weather that day.
How did you make that happen?
I just started leaving the pieces in the kiln for longer periods of time to see how they would turn out. I wanted it to look as natural as possible — or at least that's how I interpret it, I'm not sure how others would.
Let's talk about the shape of the pieces, they're quite chunky and block-like. What was the inspiration behind the form?
Sometimes a river is very narrow, sometimes it's very wide. Sometimes the shape can be quite weird, but that's natural. I wanted to take this approach — I wanted the shapes to be wider and weirder this time. I didn't want it to be too pretty. Also, I think these proportions are the best way to show the materials, their texture and lines.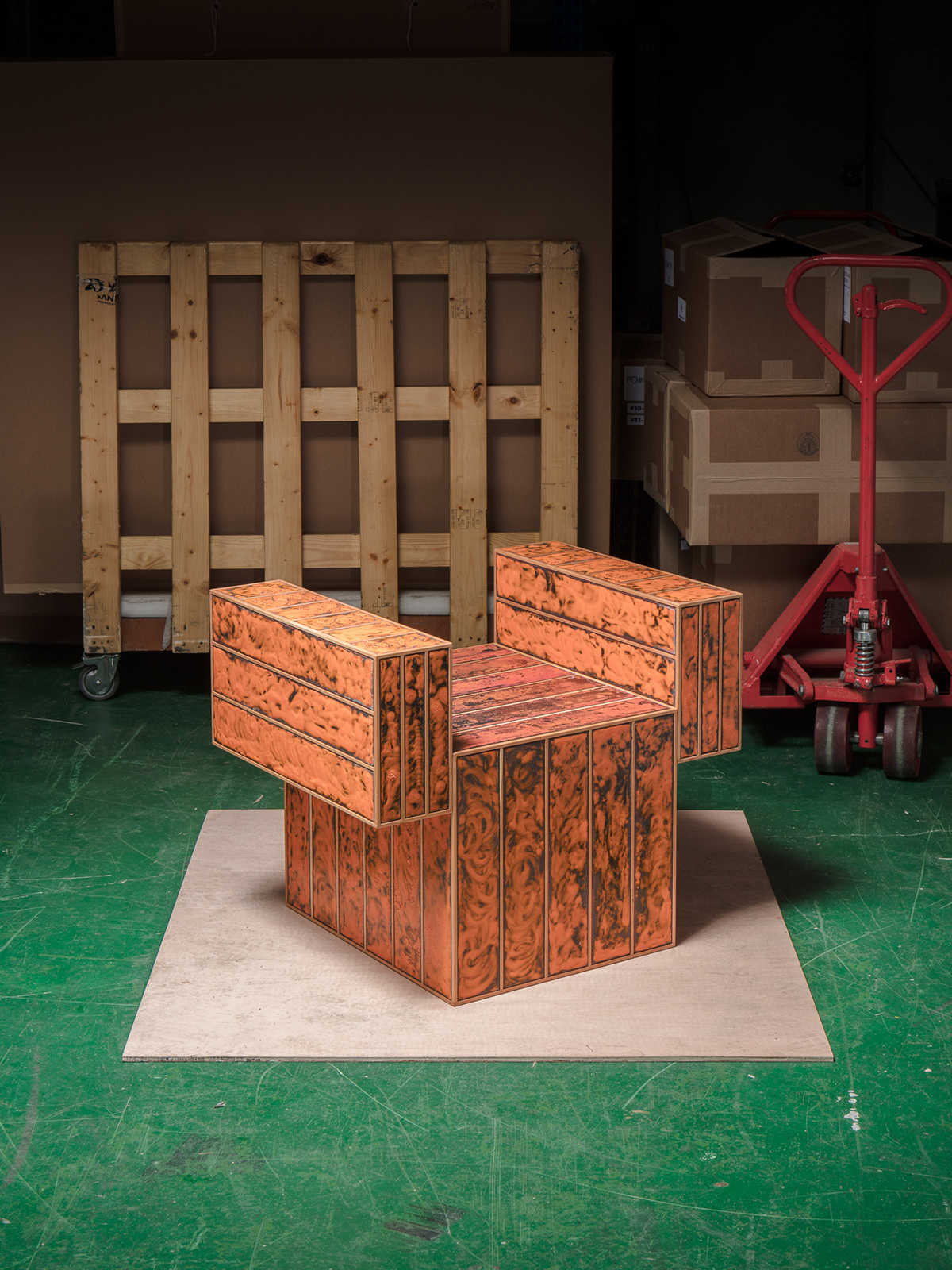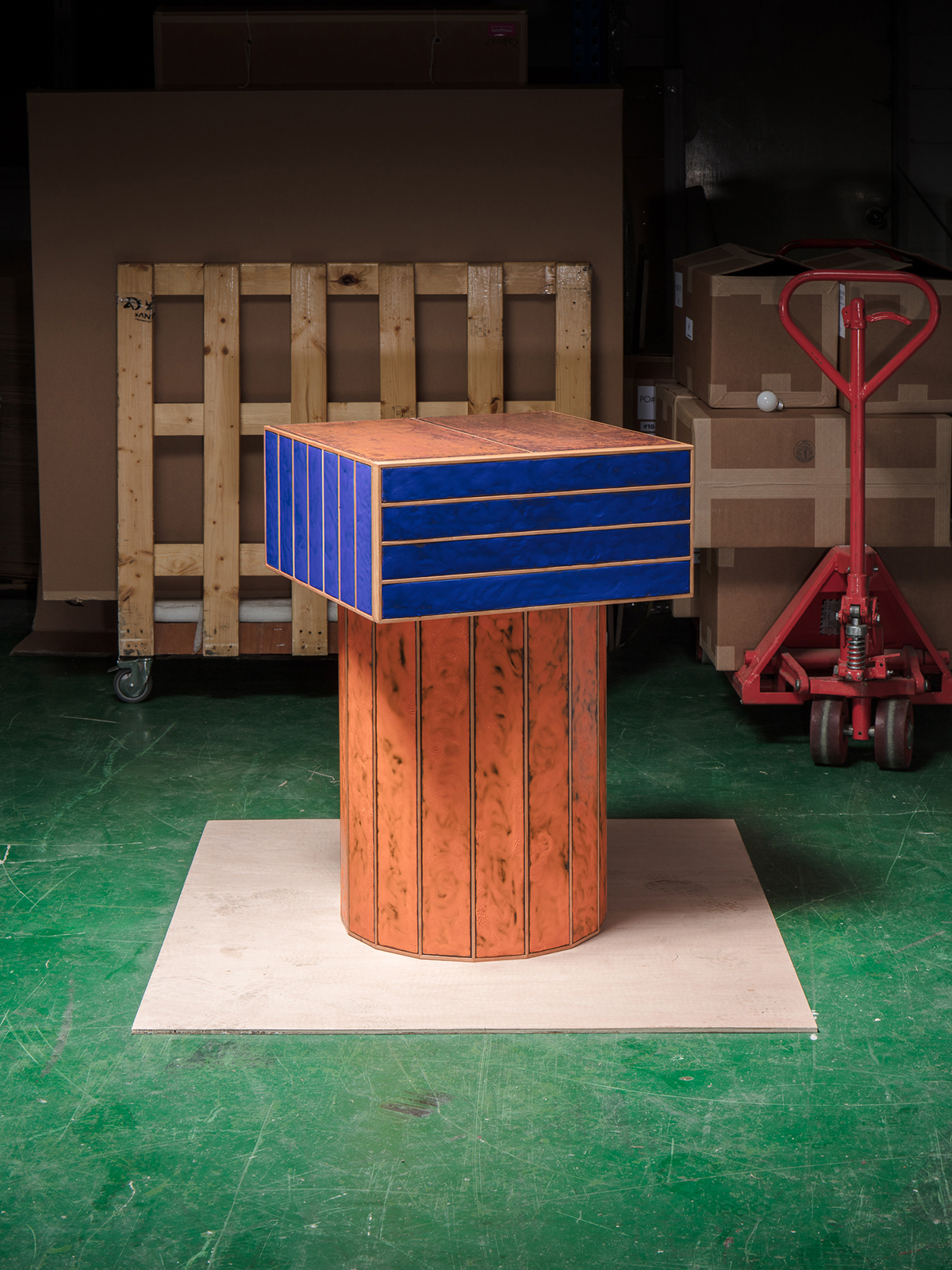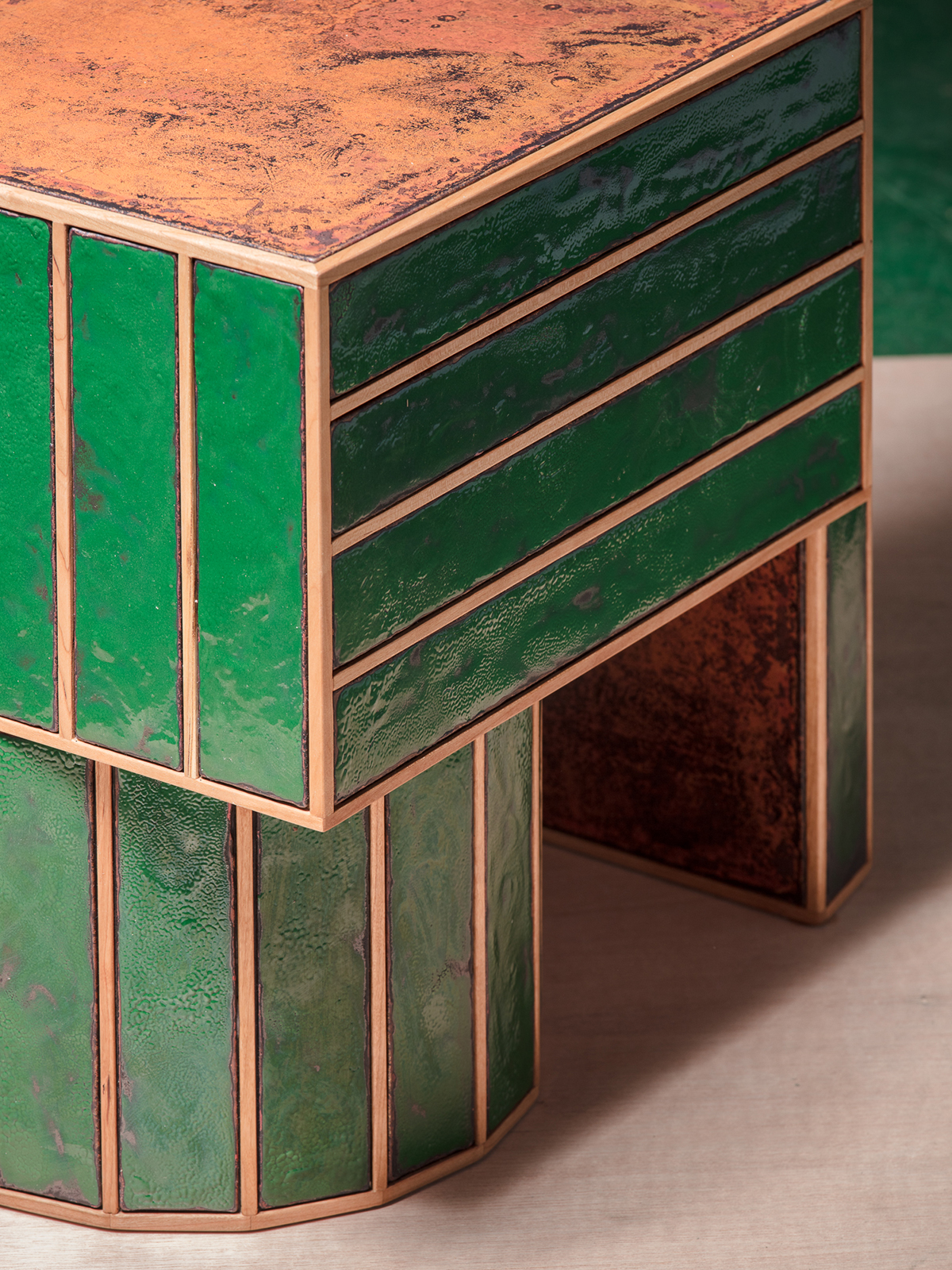 How do you see this project evolving?
I'd love the chance to develop it more. To make paintings, for example, or a mirror with more textures.
I really like that you publish your process sketches on your website — why do choose to do that?
I consider it part of my work. I like to show how I draw and develop ideas. It's interesting to me to see how the ideas differ from the final result. I like to look at my drawings from, say, five years ago and remember what my thought process was like then, to see the evolution.
I read in a previous interview about the massive materials market in Seoul that you frequent — what is that place?
The Euljiro material market. It has everything: tools, materials, anything you can think of. It's huge! I think it's one of the largest under one roof. I always bring designer friends from abroad there. When I go there, it gives me inspiration for the next work. One day it might be boring wooden boards, but the next it could be something amazing. I always just walk around and grab something that looks interesting and try from there. In 2009, I found PVC and nylon there that would eventually become my woven pieces, a material I still use today.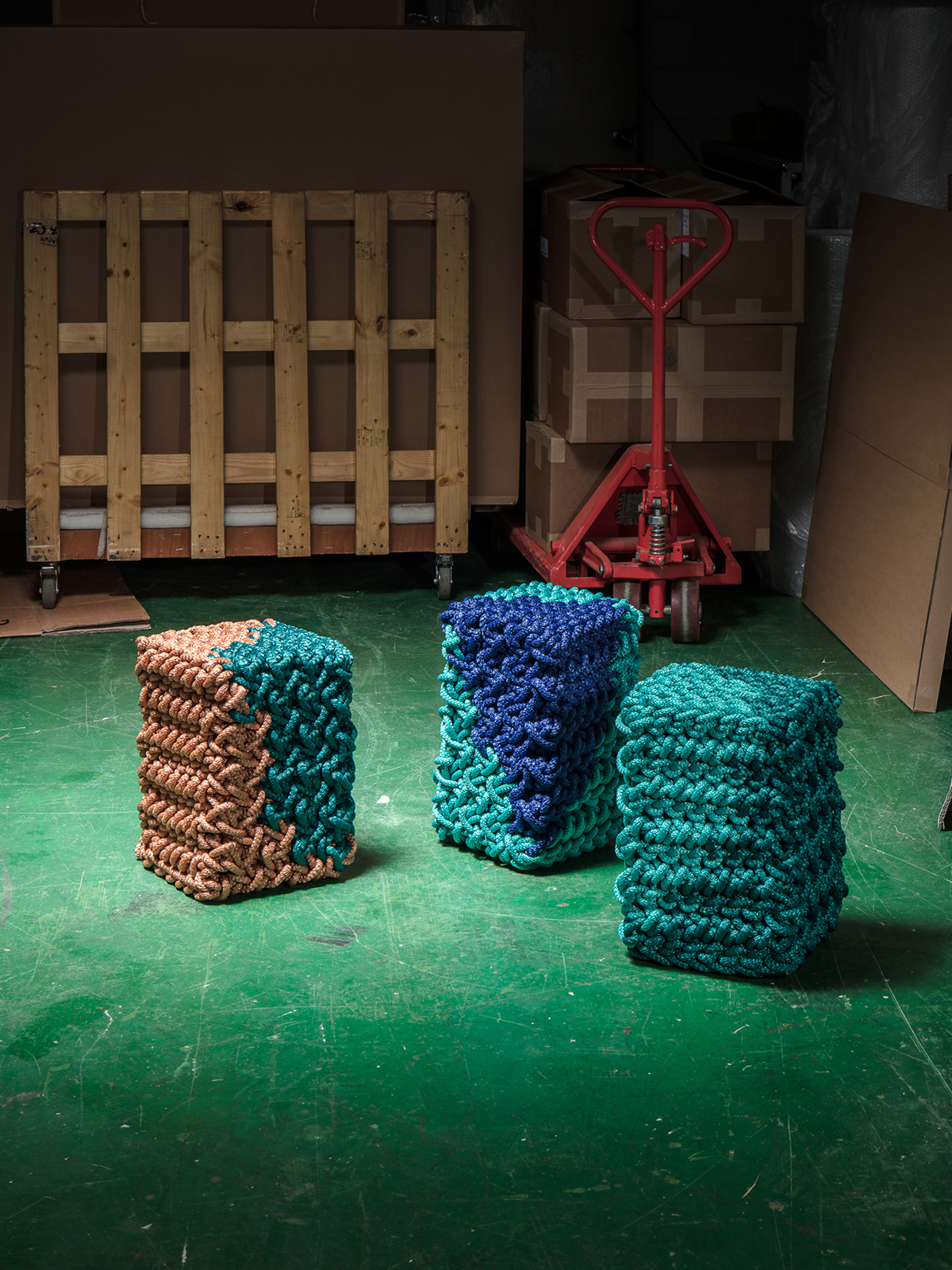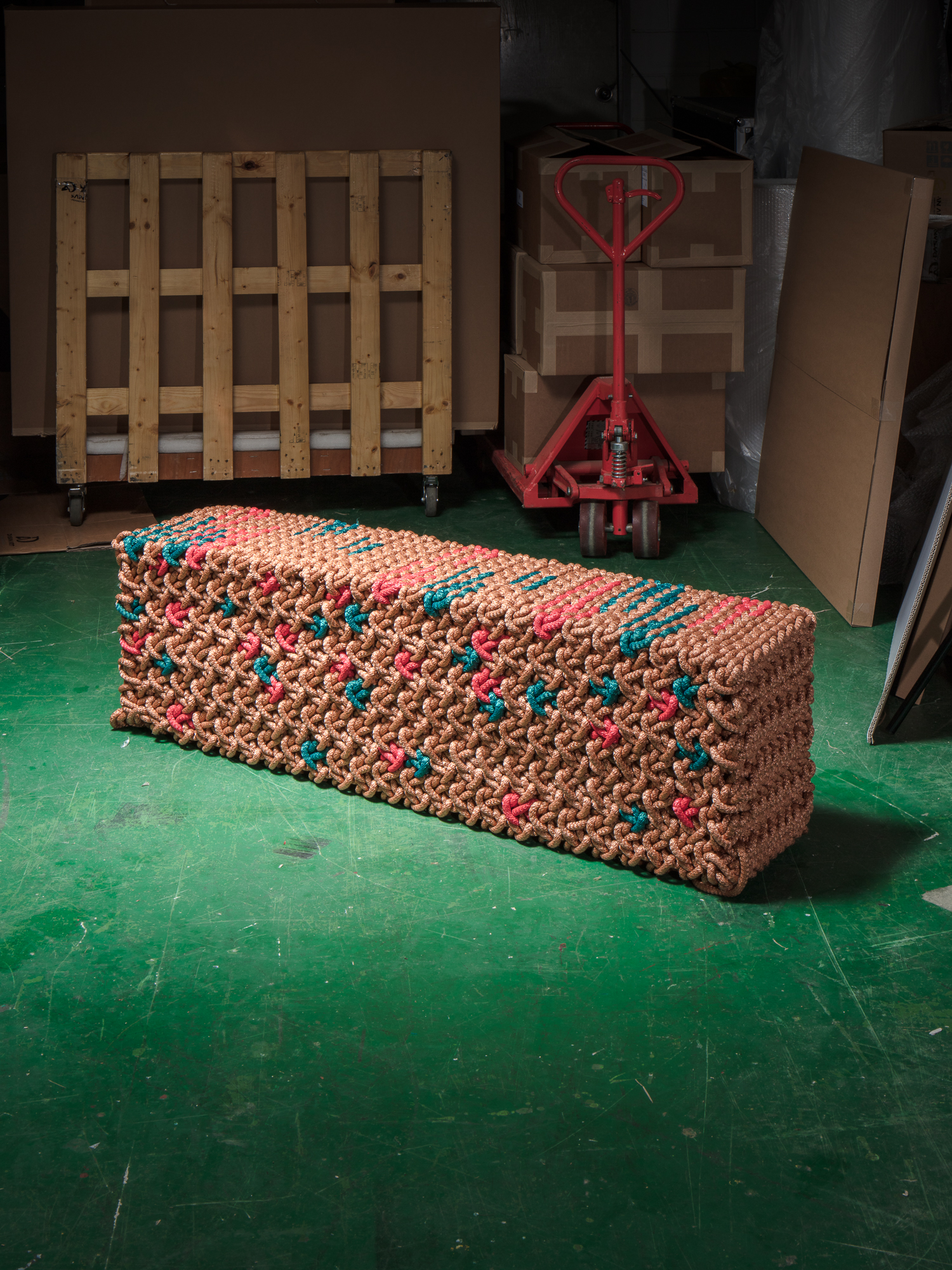 The woven pieces are great, they remind me of friendship bracelets you used to make at summer camp. Where did you learn that technique of braiding?
Actually, I originally learned that technique in university. My major was metal crafting, and we used to make bracelets out of knotted silver thread. I started with that technique and developed further it to mix colors and make shapes.
On your Instagram you always post pictures of your children. Do they try to help out in the studio?
My three children really enjoy coming to the studio and making a mess. They come in and break plants and all my collections. They're too young to help out just yet — but they want to.