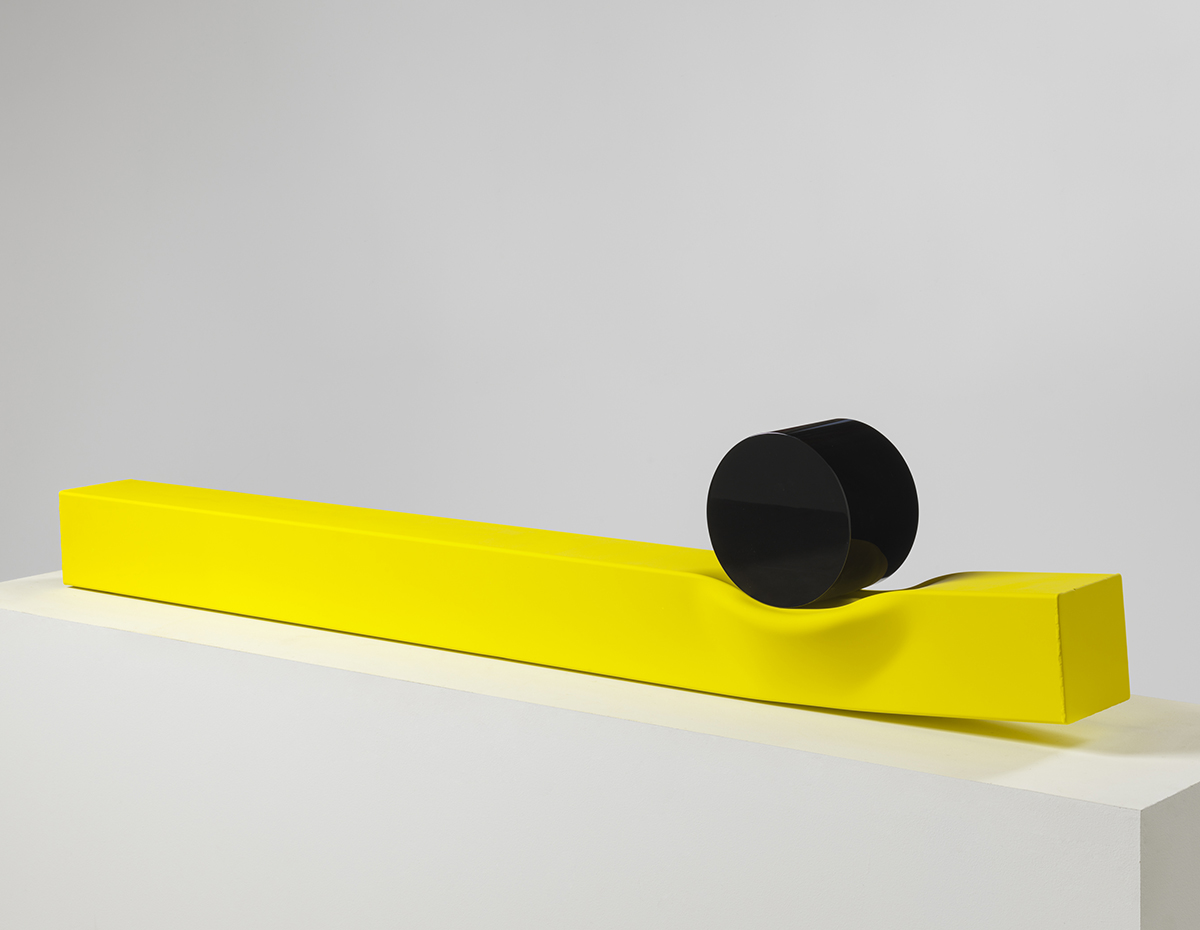 A weekly Saturday recap to share with you our favorite links, discoveries, exhibitions, and more from the past seven days. This week: limited-edition prints by one of our favorite up-and-coming painters, a new line of large-scale planters inspired by Julius Schulman's Case Study House photos, and a solo show of sculptures by Carol Bove (above).
Discoveries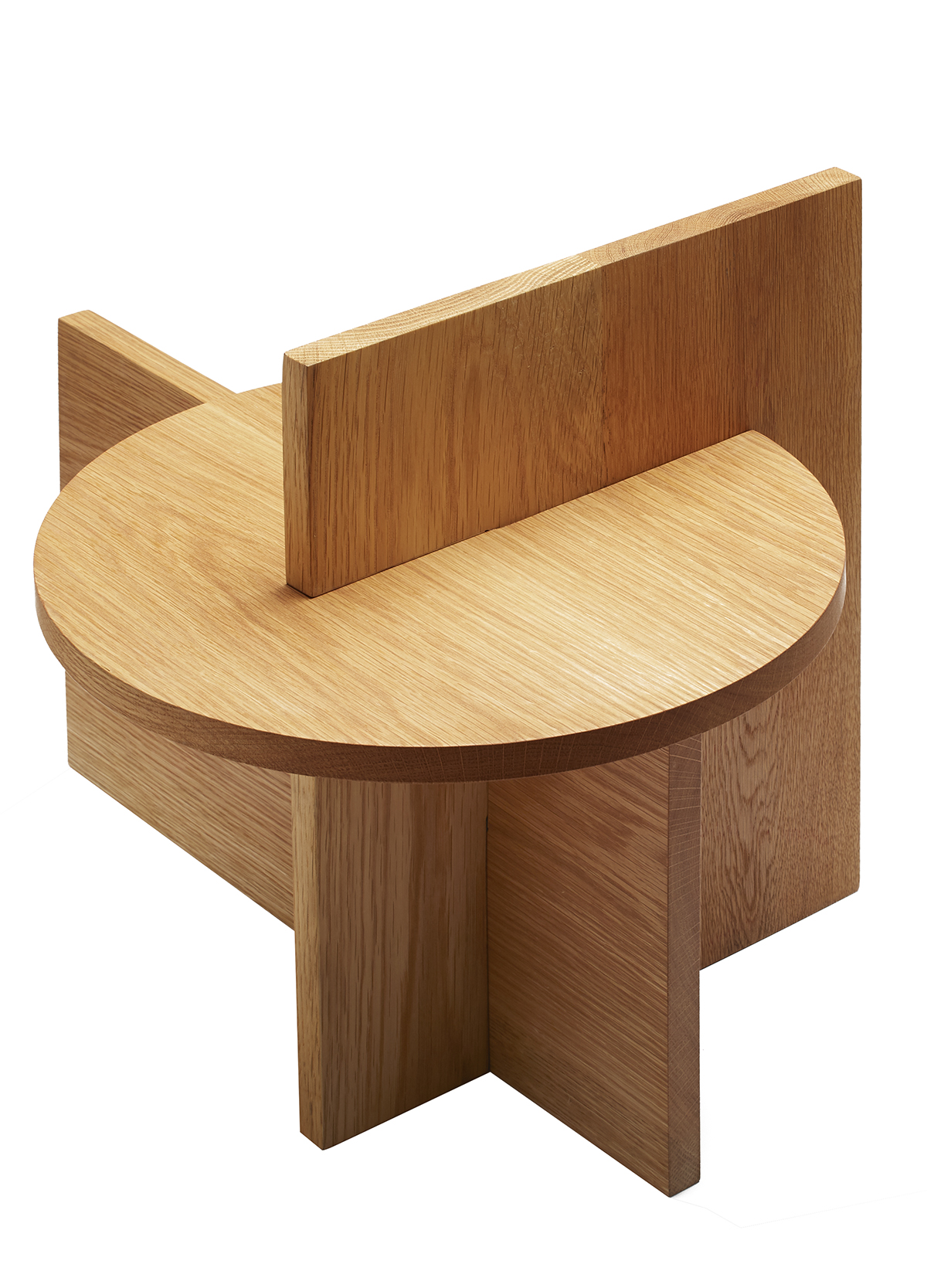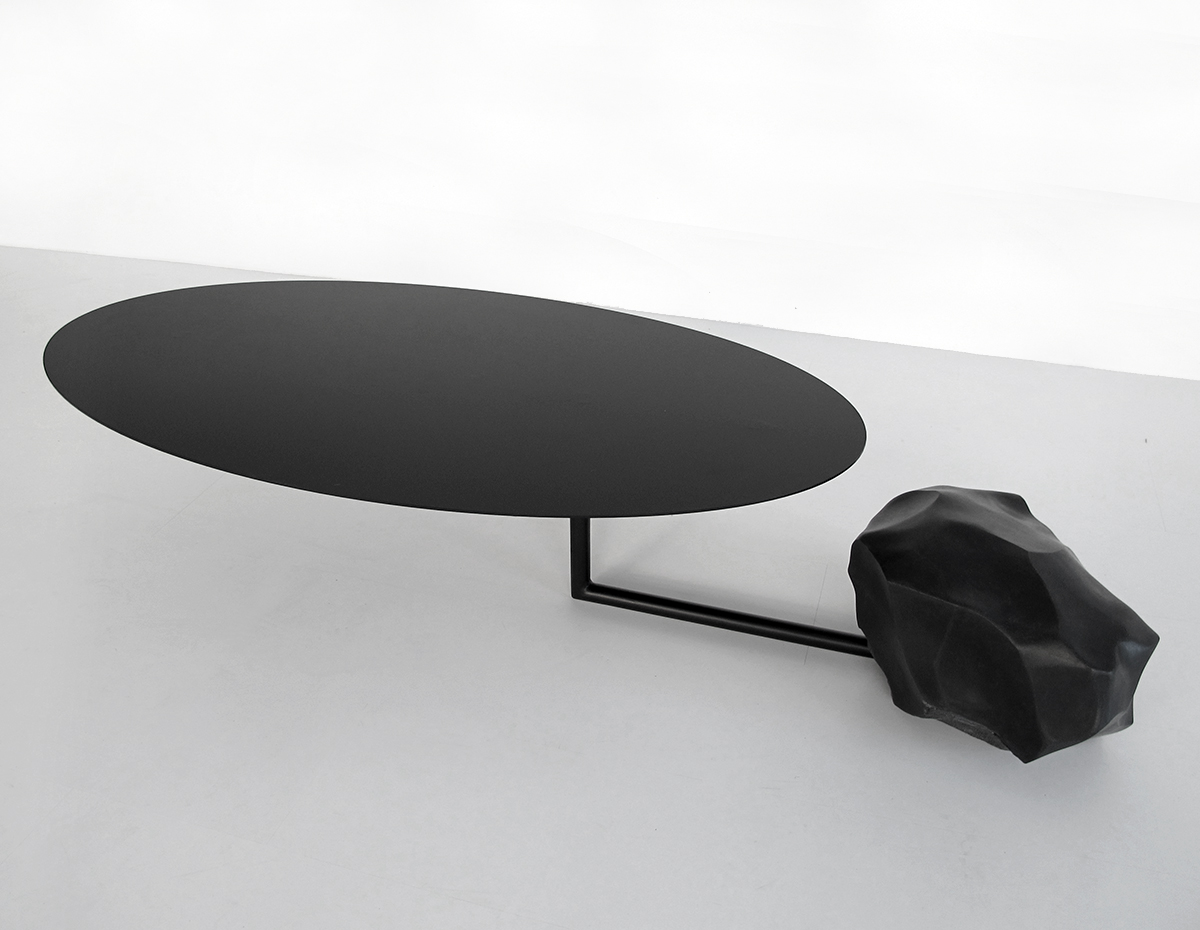 We're kicking off this week's post with two submissions from the Spanish designer Max Enrich, one he sent a few days ago (above top, a table made from geometric pieces of wood that slot together) and one he sent a few months ago that — oops — we accidentally overlooked (above bottom, a super-thin iron table held aloft by a 250-pound chunk of black granite parked on top of its singular leg).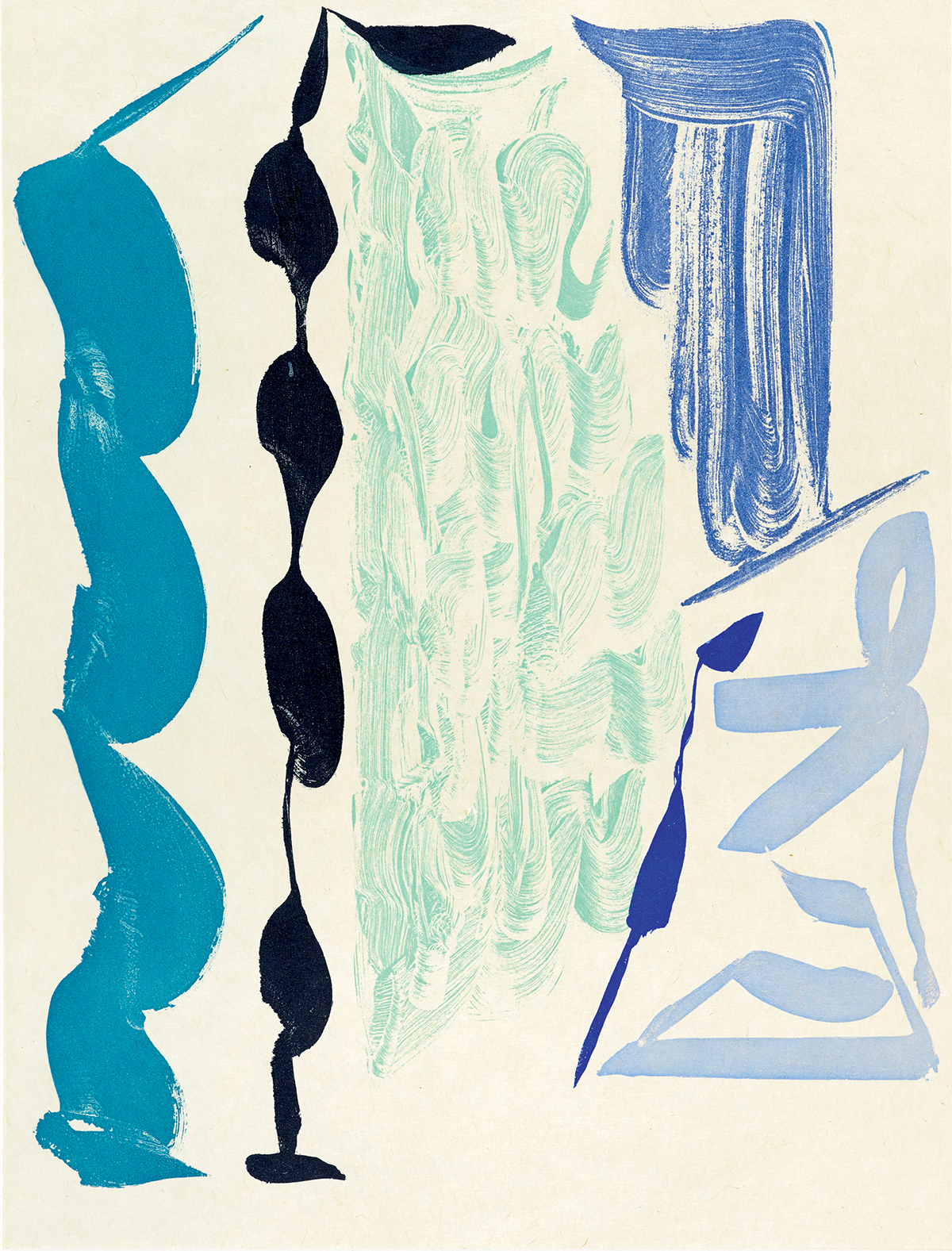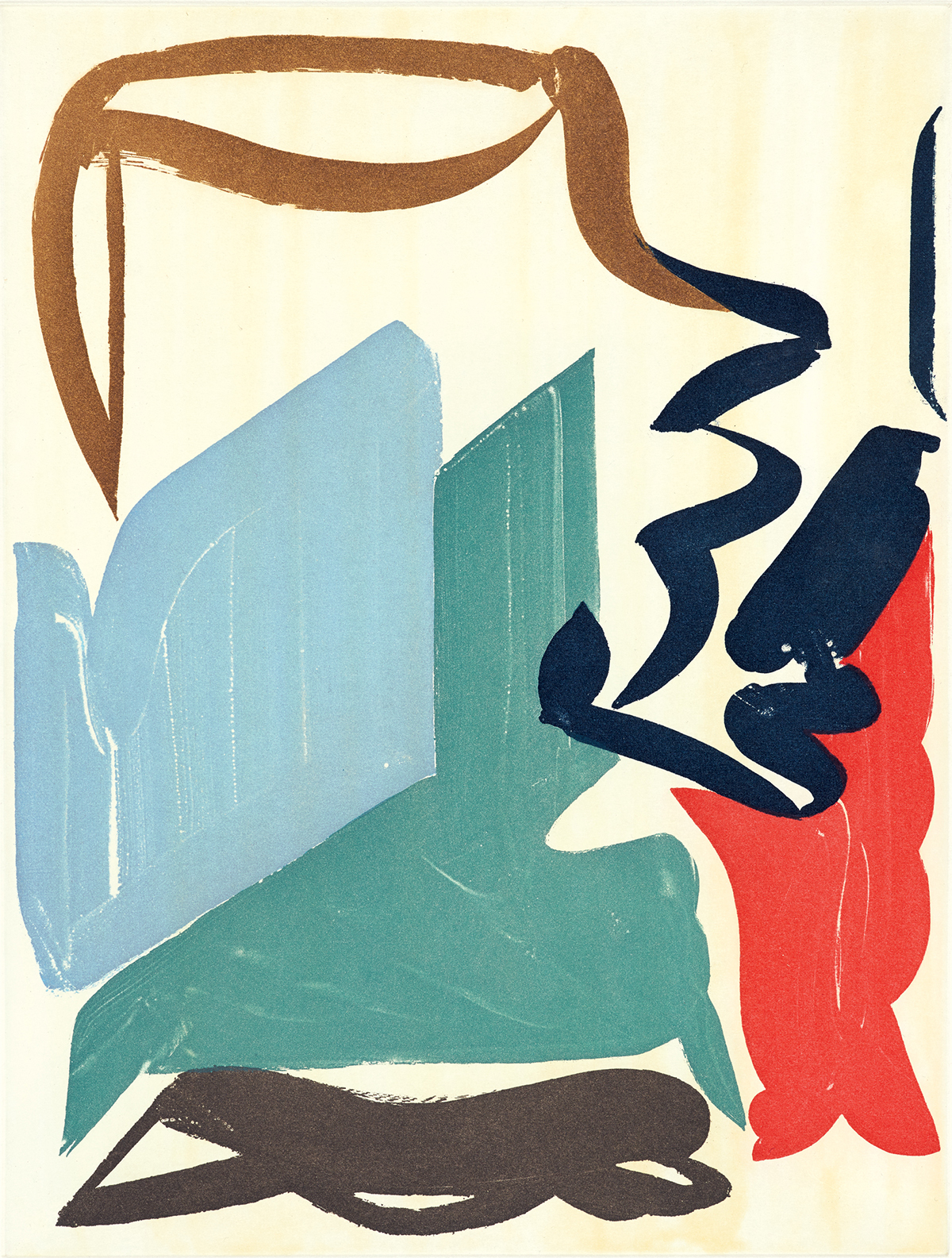 We just discovered that the San Francisco art-print workshop Crown Point Press has created five editions with one of our favorite artists, Patricia Treib, and even more amazingly, they are all currently available, for $2,200 each.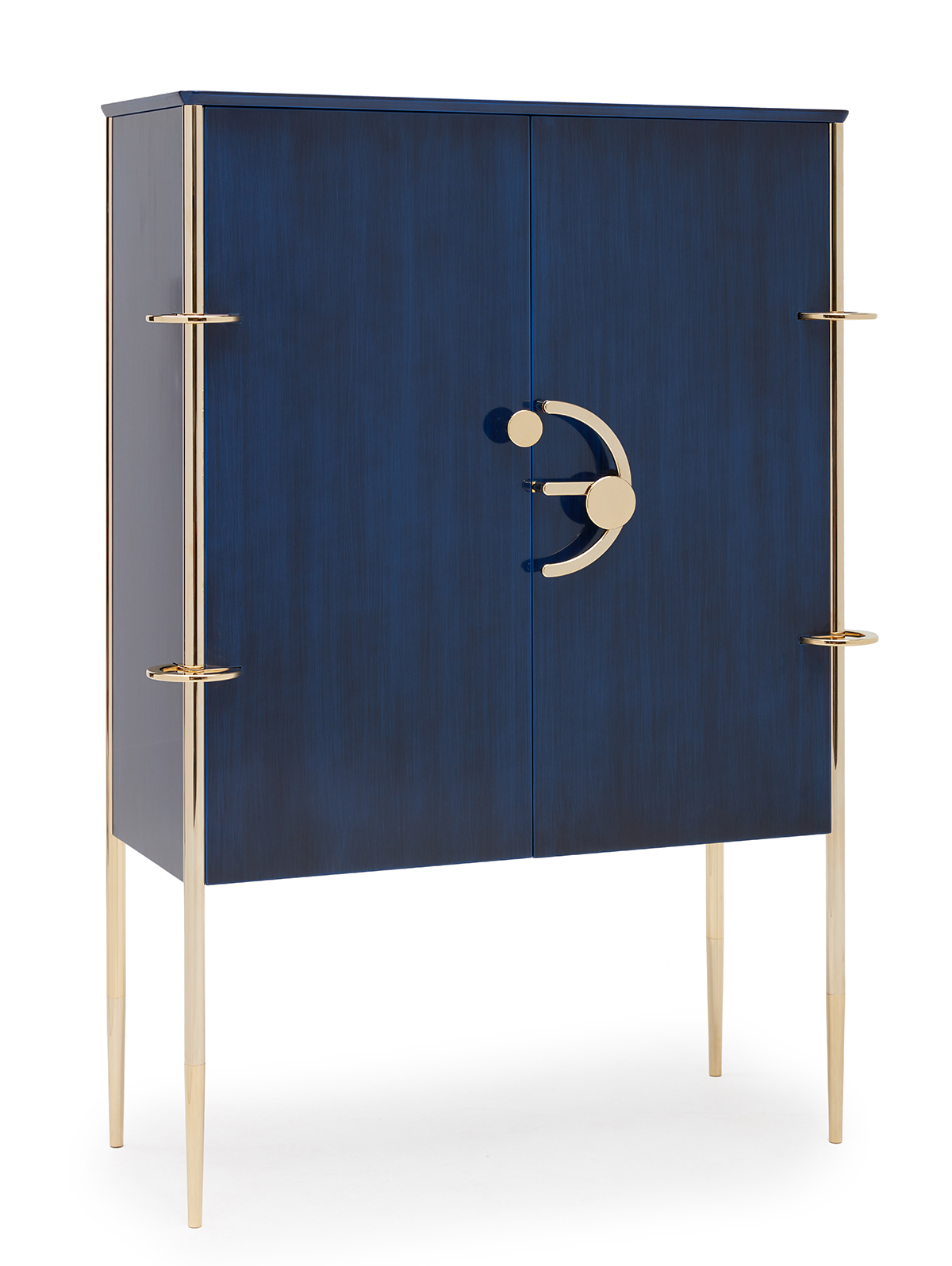 Our "hardware of the month" award goes to Lanzavecchia + Wai, whose Clockwork sideboard for Exto has a gorgeous arc-shaped lock that swivels open and closed around two mismatched circular knobs. Click here to see more photos of how it works.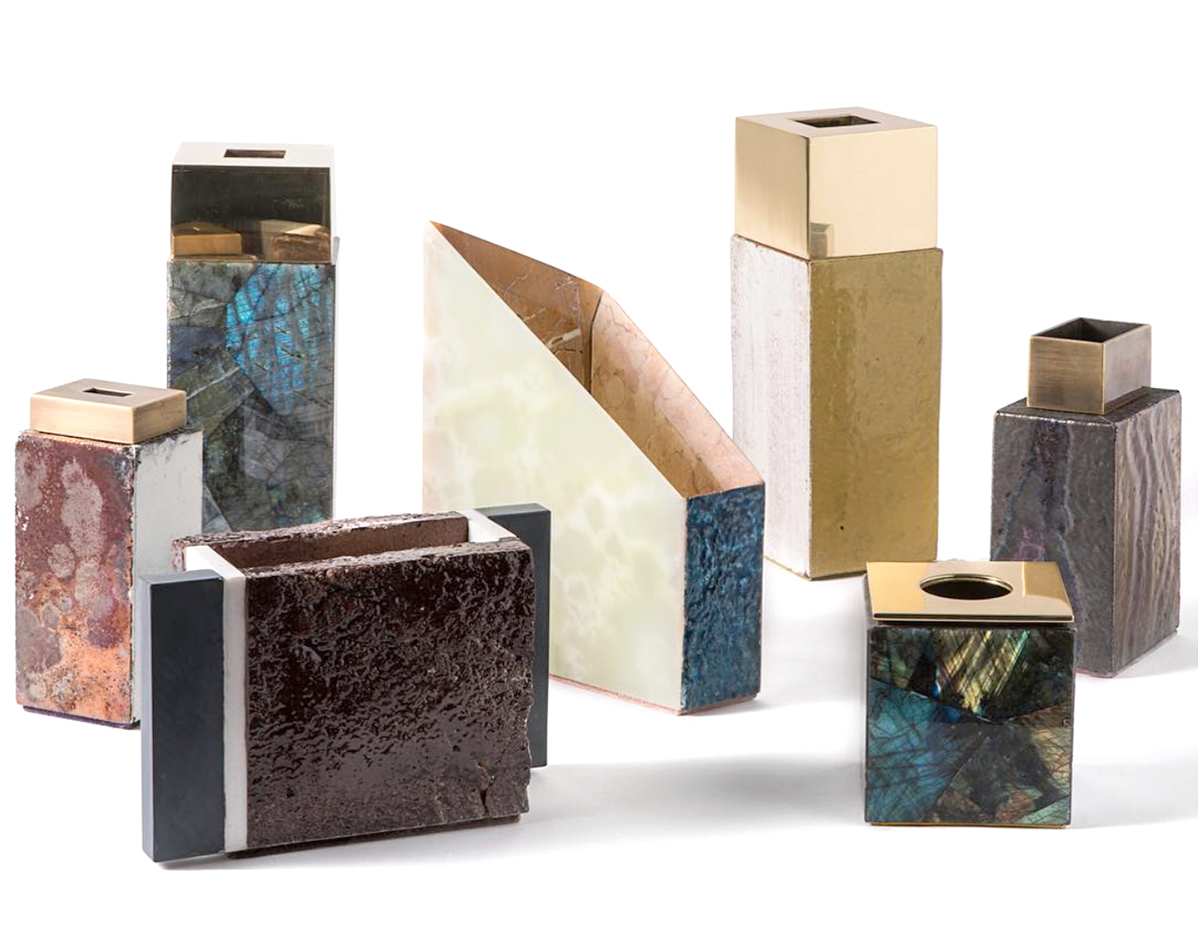 Snagged this pic off the Instagram of Baciocchi Associates — appears to be a new line of mixed-material vases by the Italian studio, who are behind one of our favorite contemporary cutlery sets on the planet.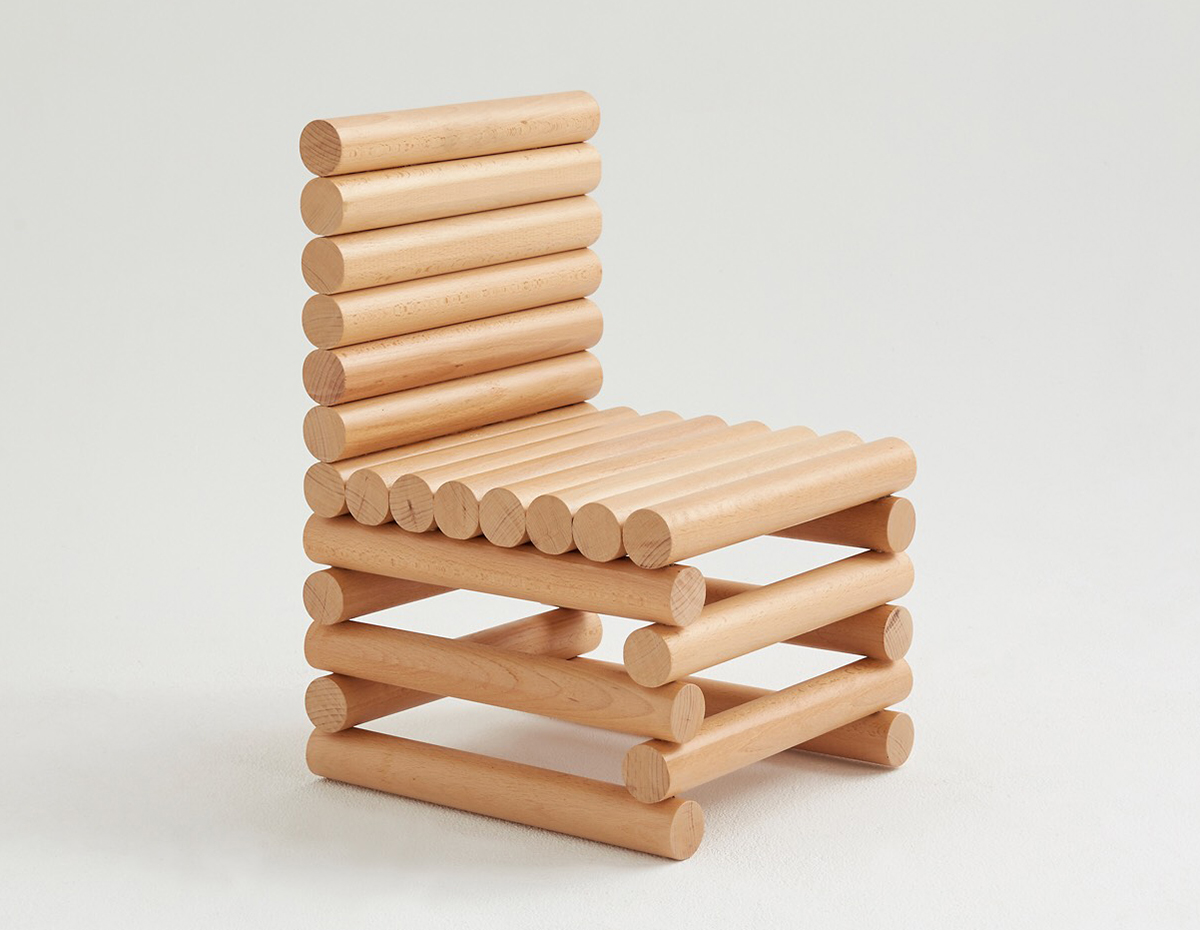 Marios Karystios is primarily a graphic designer, but at this month's Good Design Greece exhibition at the Athens National Museum of Contemporary Art, he's debuting a small wooden chair that's straight out of a Lincoln Logs instruction booklet — in a good way.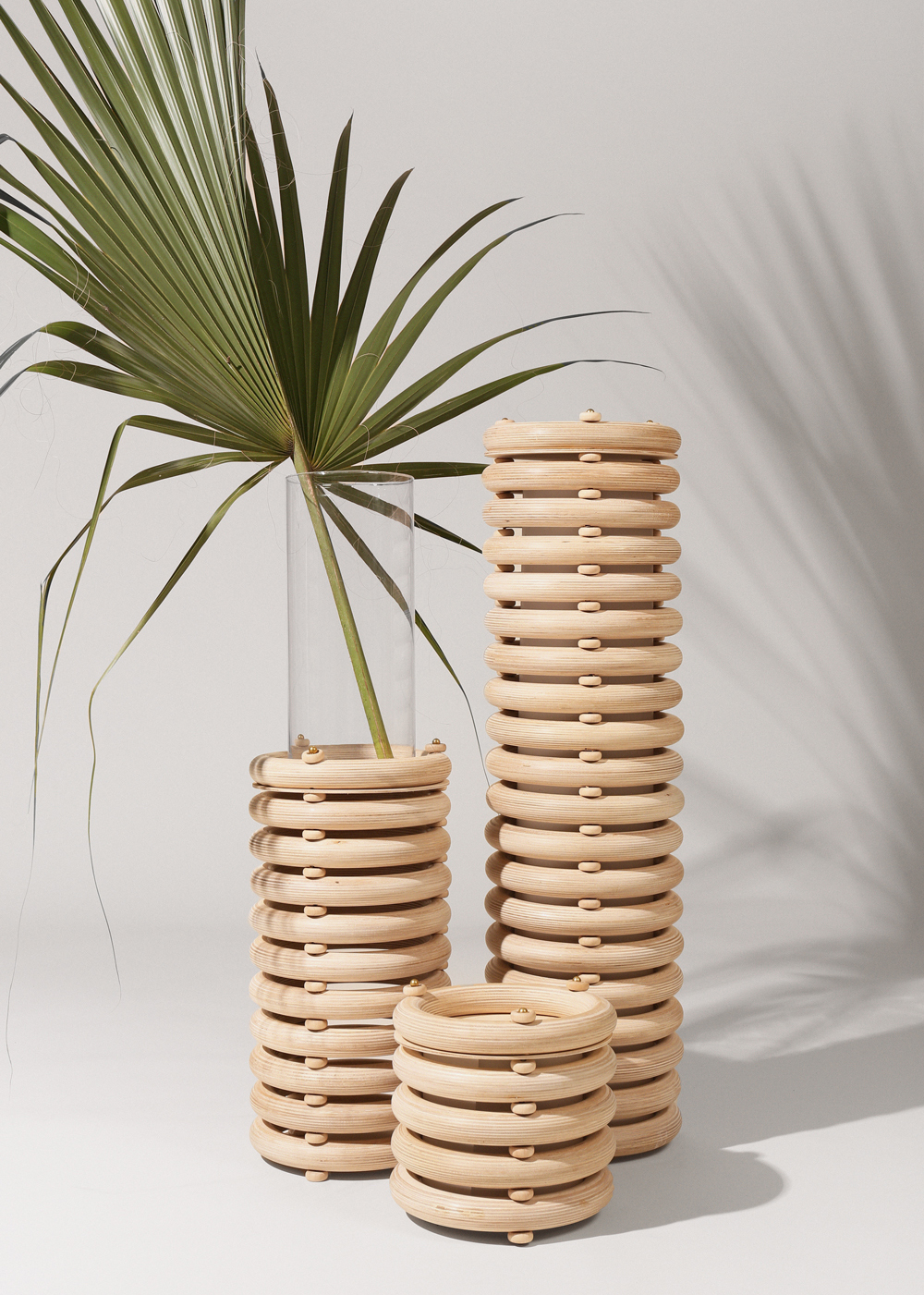 Florida studio Yield introduced their Aurora table at this year's Sight Unseen OFFSITE, but at ICFF, they showed other new works, including their new series of Echo Totems, above. They're made from stacked birch rings and can be used as plant platforms, drink holders, or side tables, that — when purchased with a special bulb and screen to place inside — can do double duty as lamps.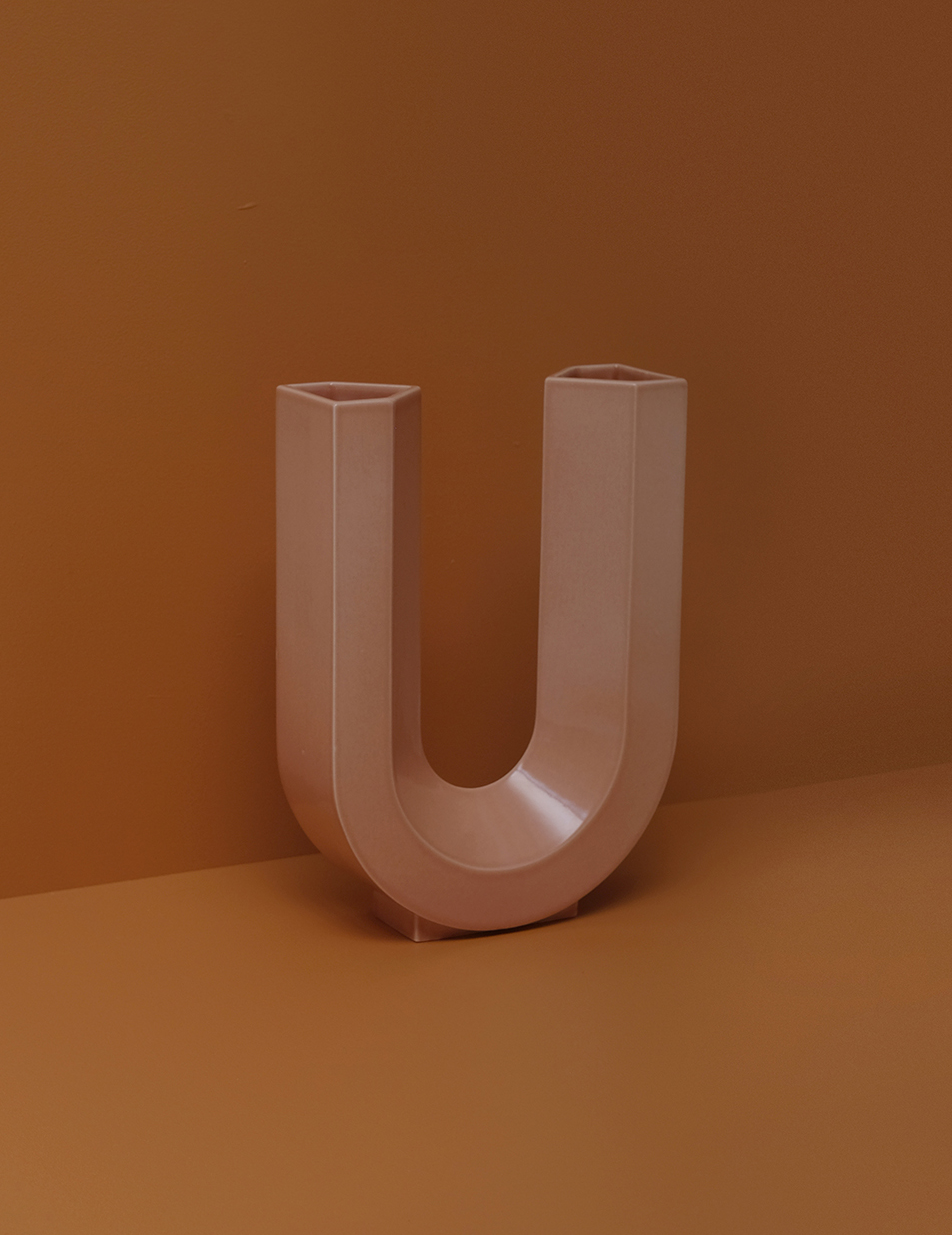 Australia's largest contemporary design fair — Denfair — opens in Melbourne June 14, and we're calling an early favorite: A U-shaped vase by Aussie designer Rhys Cooper that comes in several extremely on-trend colors.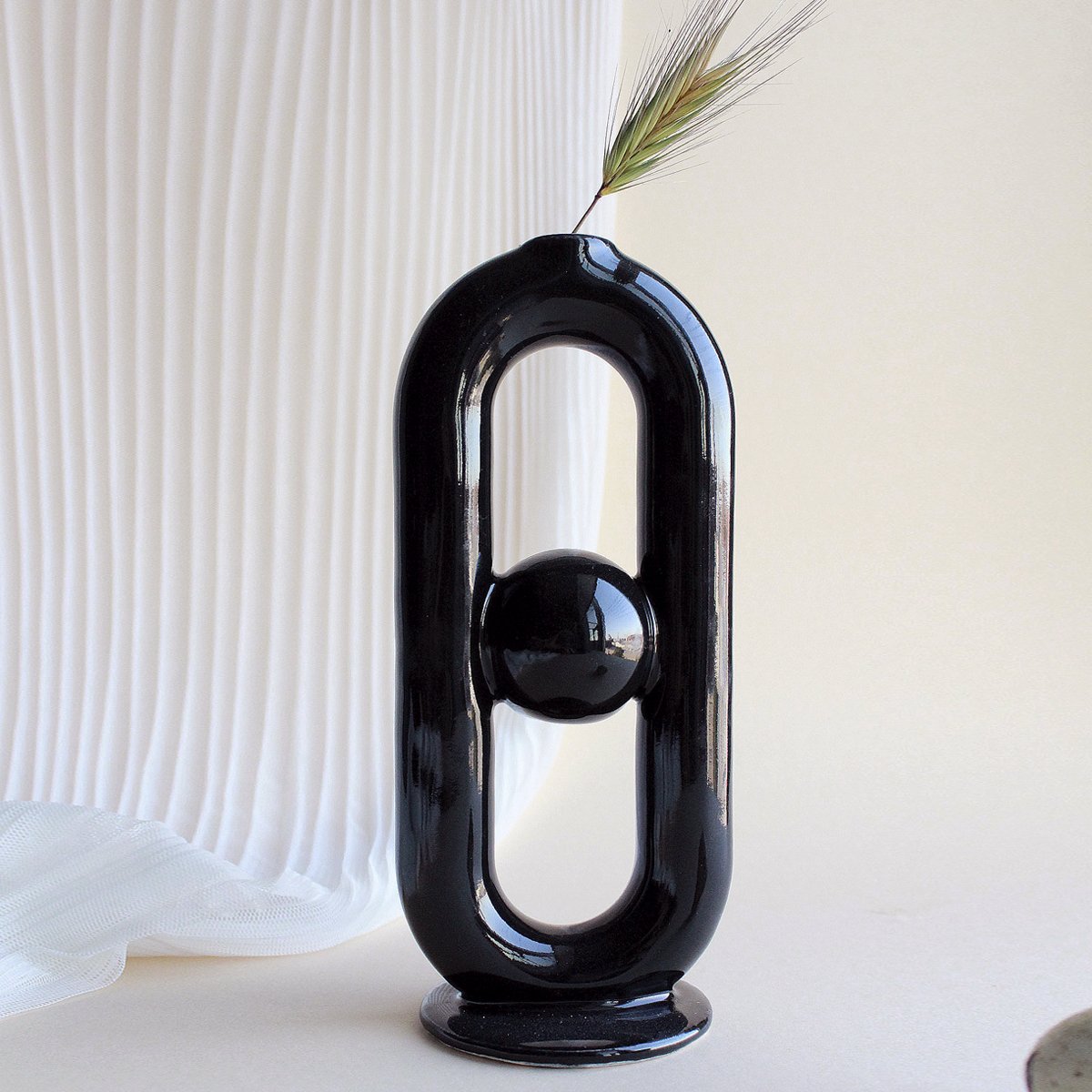 Related (ish): Los Angeles jewelry studio Metalepsis just released a collection of ceramic vases that's full of U-shapes and arches. If you've never managed to get your hands on one of those vintage three-ring Toyo ikebana vases, or prefer to support emerging designers with your housewares purchases, these are a good bet.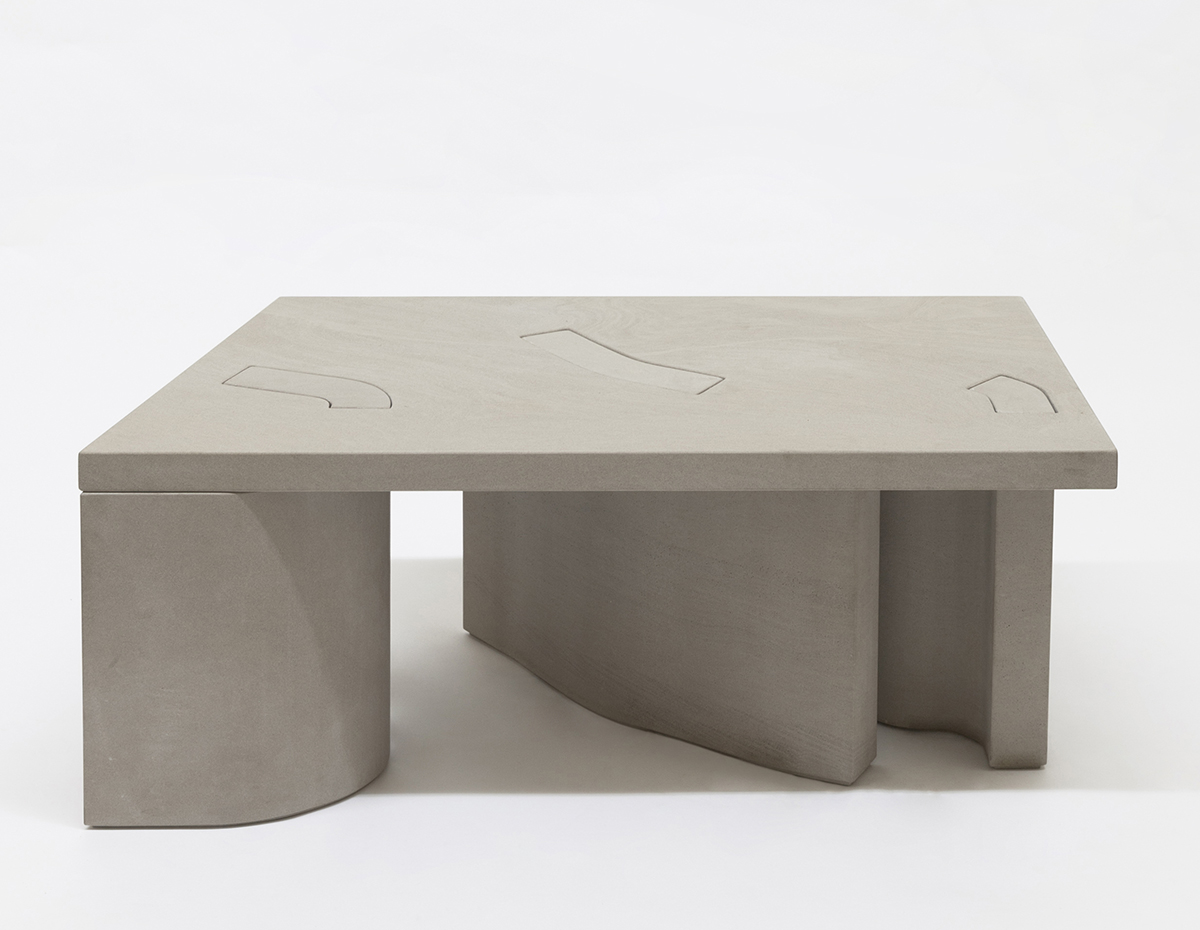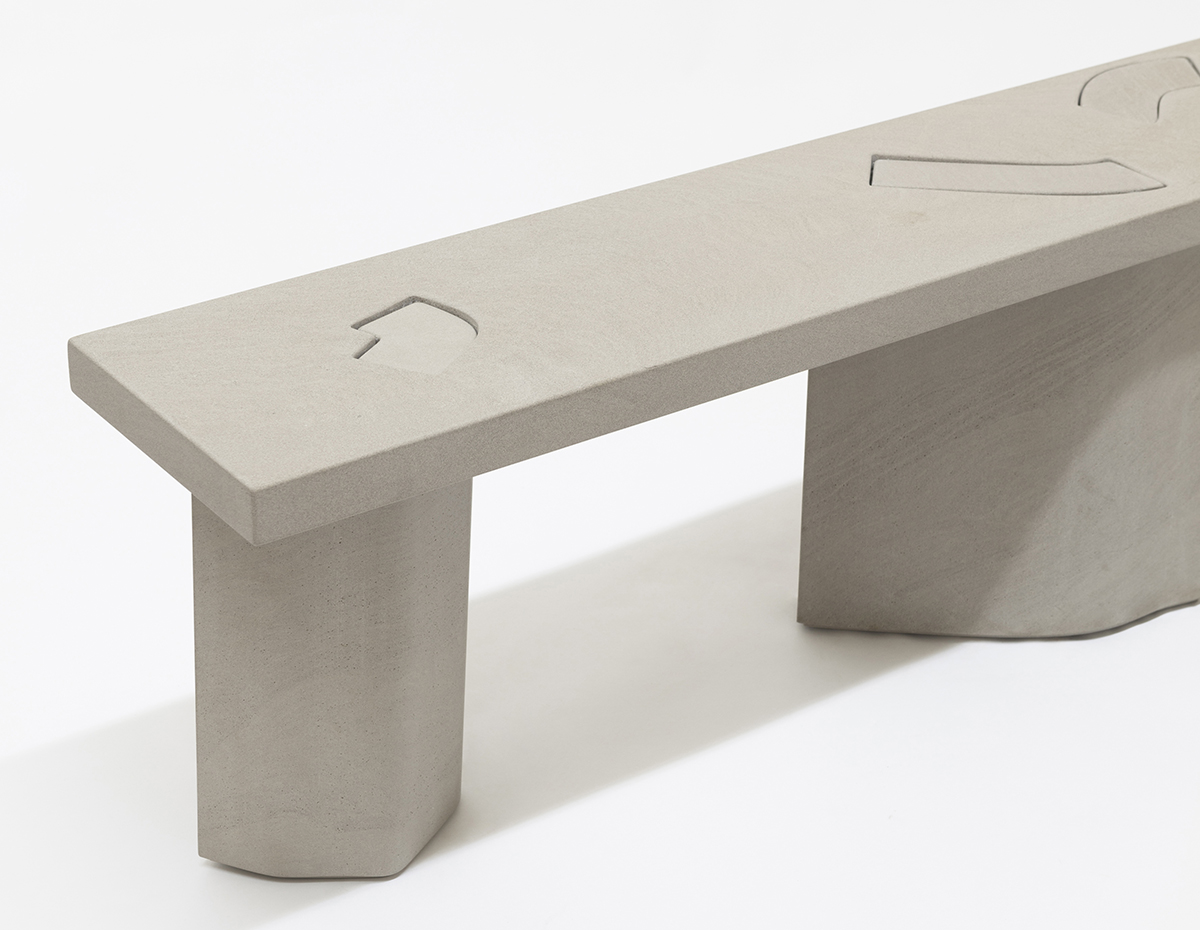 Sad / not sad that we unintentionally failed to visit the outdoor area of Nicolas Bellavance-Lecompte's Unsighted show during the Milan fair in April, because we got a little surprise in our inboxes this week when we saw belated photos of architecture firm Bahraini Danish's smooth marble benches/tables, which feature lovely arc shapes where their legs slot into their tops.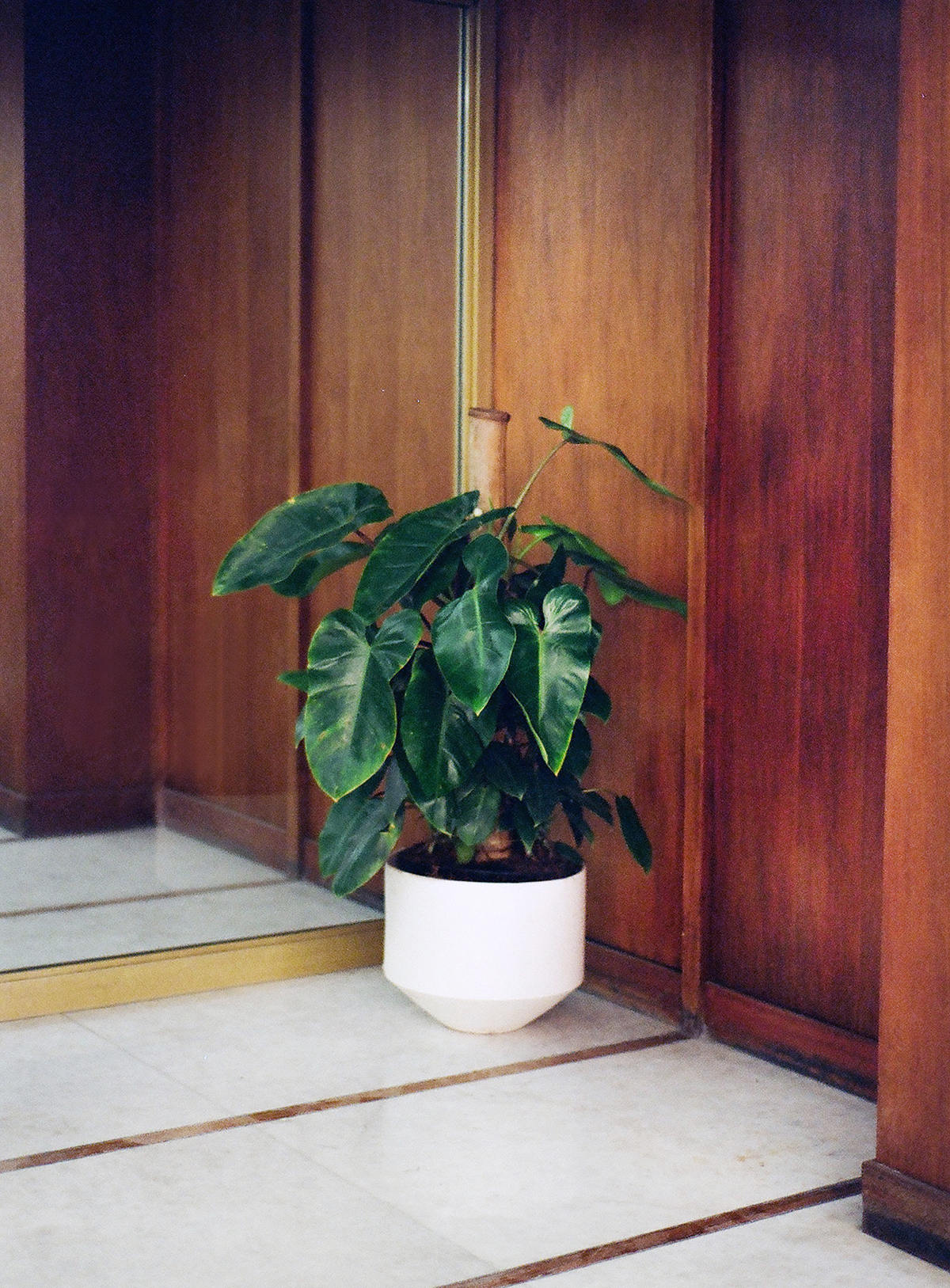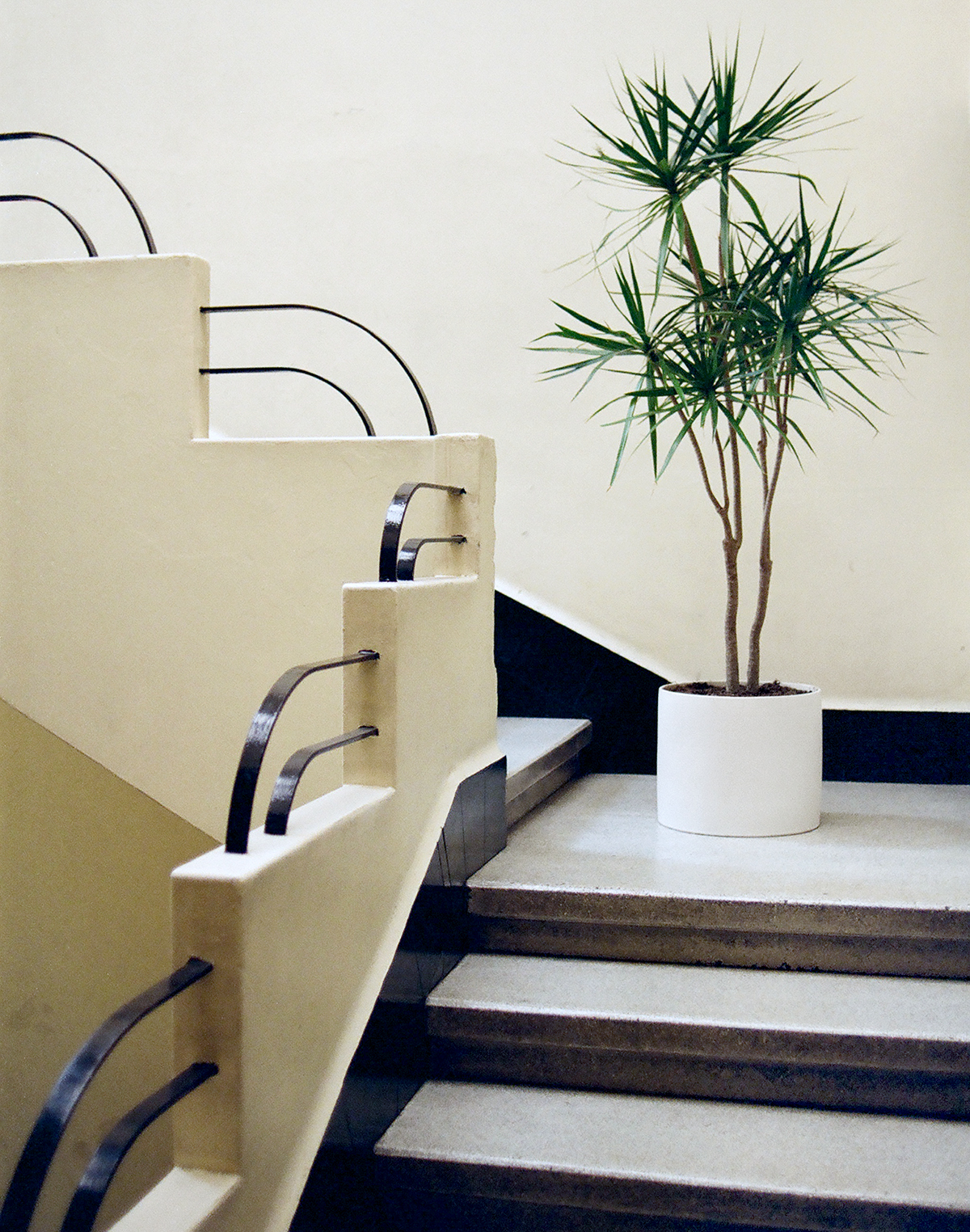 As a (former) styling manager for Herman Miller, Sam Bigio had trouble finding planters he loved for the brand's New York City showroom, so he started a brand to make his own; Monstruosus's three very simple (but very useful) styles are inspired by the interiors of L.A.'s Case Study Houses, and are cast by hand in Portland.
Exhibitions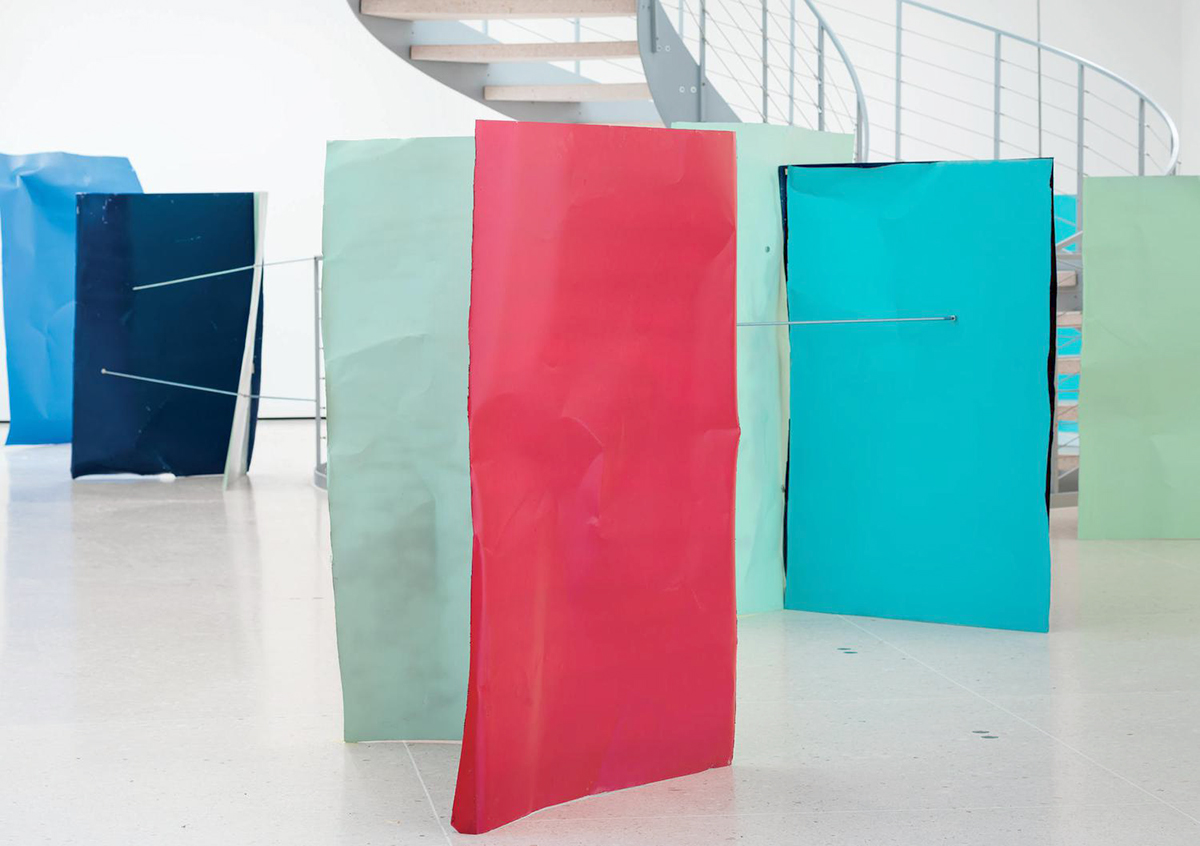 We couldn't really find any information online about the new Michael Kienzer exhibition that opened this week at Galerie Elisabeth & Klaus Thoman in Vienna, but we spotted it advertised on Daily Art Fair (our favorite place to troll for cool exhibitions) via this piece from 2017, which appears to be made from Chamberlain-esque pieces of rumpled colored metal. We assume there will be more details soon on the gallery's website.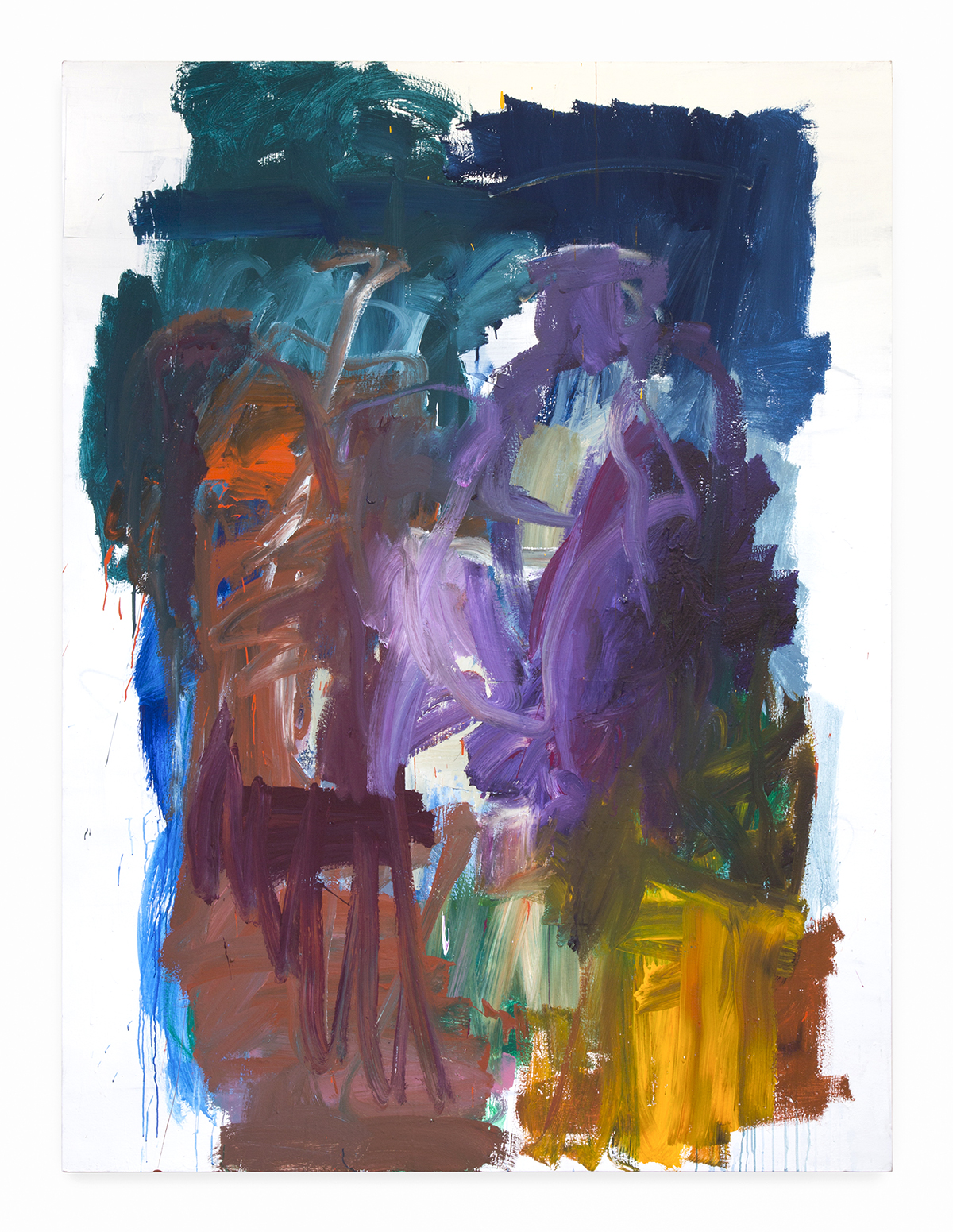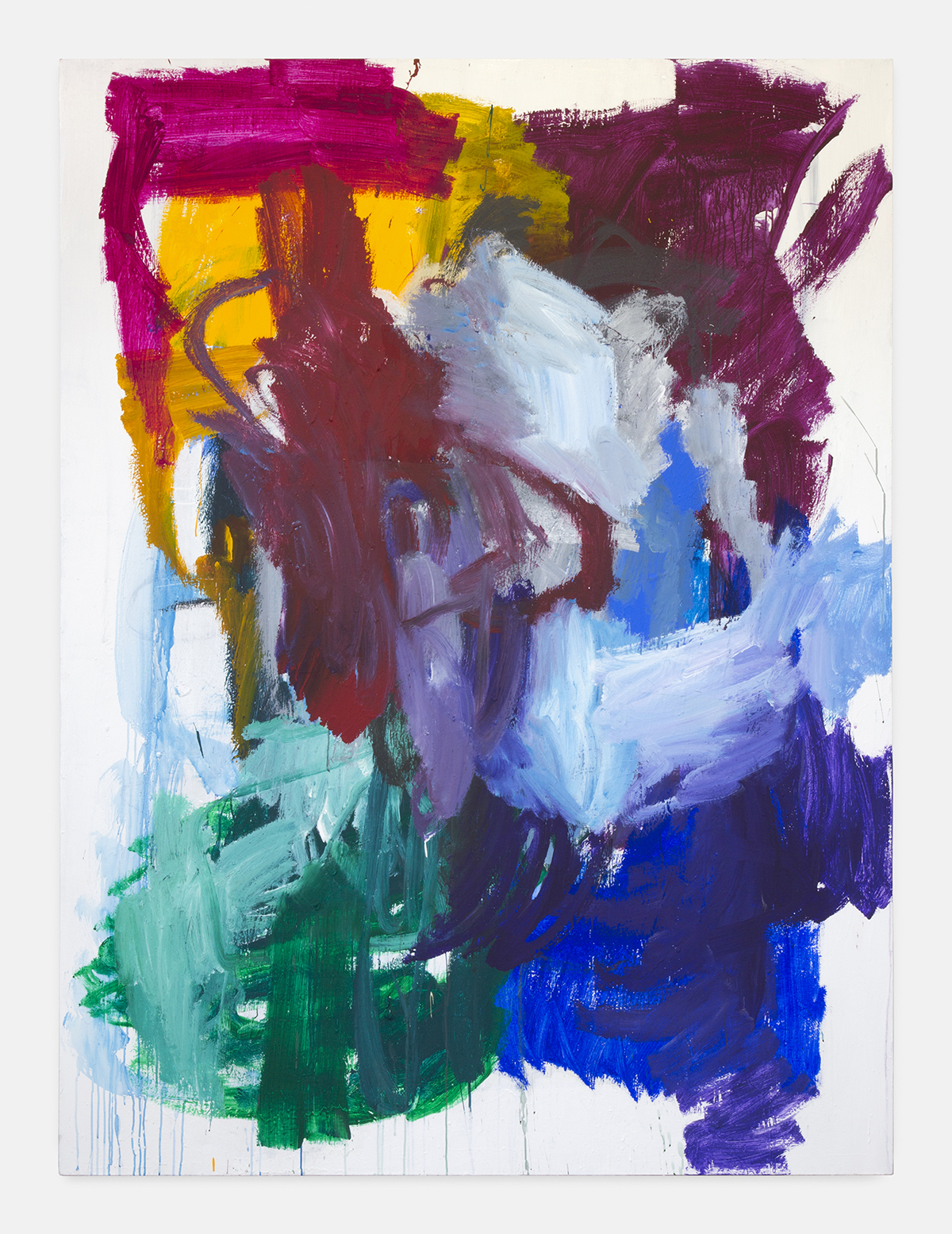 Also feeling these large-scale rainbow-y paintings by Andrea Marie Breiling, two of four that are currently on view at Night Gallery in L.A.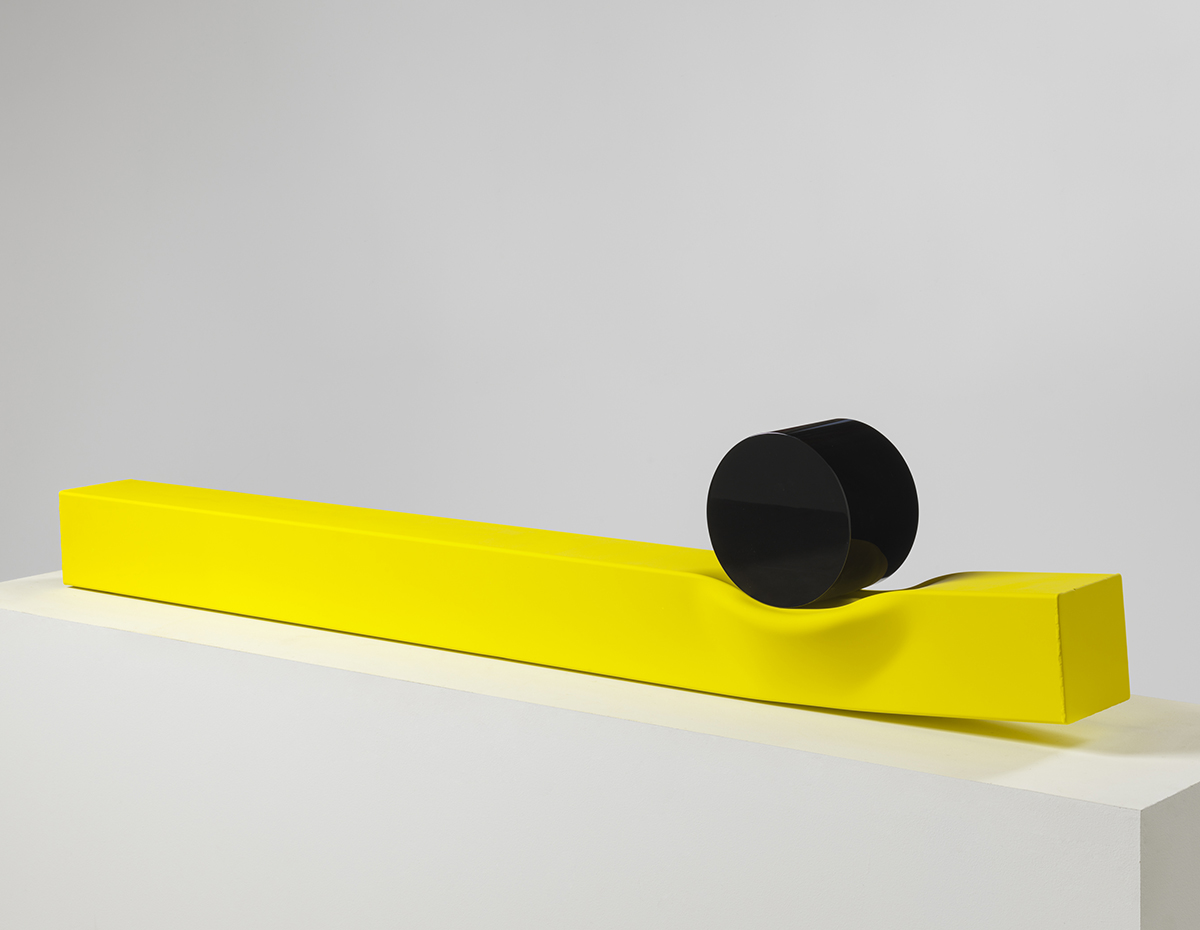 Yesterday marked the opening of a solo show of one of our favorite contemporary artists (obvi) at David Zwirner London — Carol Bove — whose  newest "Collage Sculptures" combine "geometric tubing that has been crushed and shaped at the studio, found metal scraps, and a single highly polished disk," the release states. "Luminous color is applied to parts of the composition, transforming the steel — more commonly associated with inflexibility and heft — into something that appears malleable and lightweight, like clay, fabric, or crinkled paper." On view through August 4.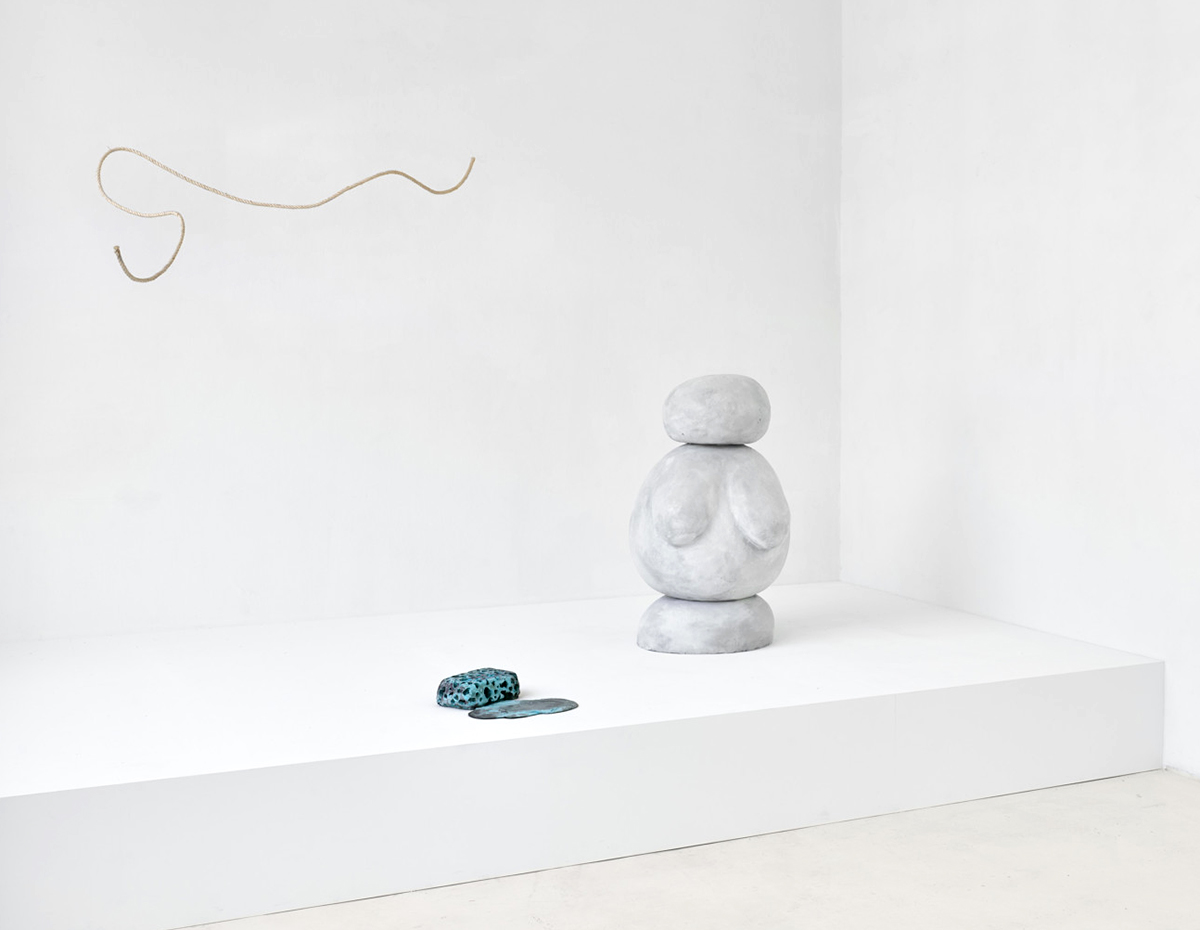 We love this moment in João Maria Gusmão and Pedro Paiva's "Green Orange" show at Sies + Höke gallery in Düsseldorf, which pairs a fertility sculpture with a patinated bronze "sponge" and a piece of rope hanging from motors that wiggle it around in mid-air.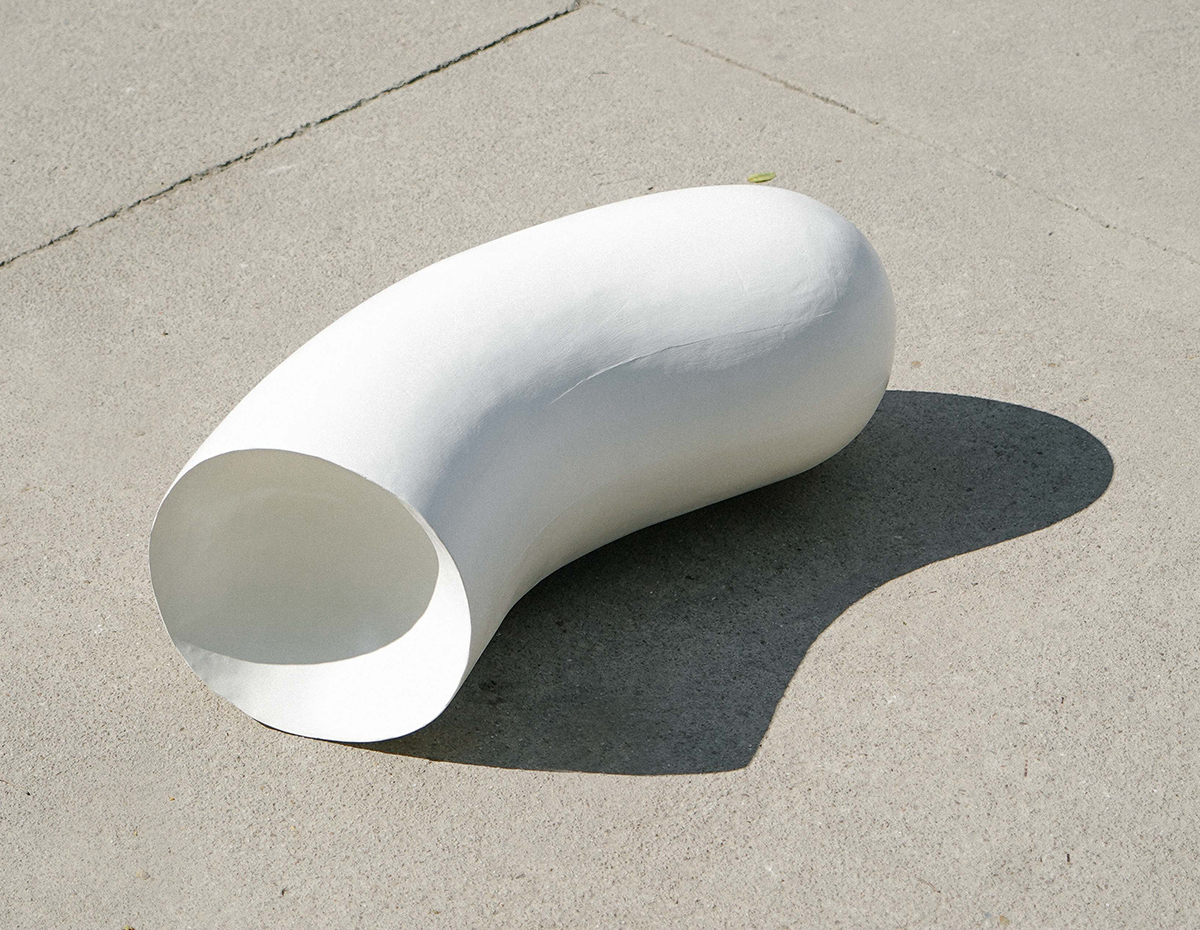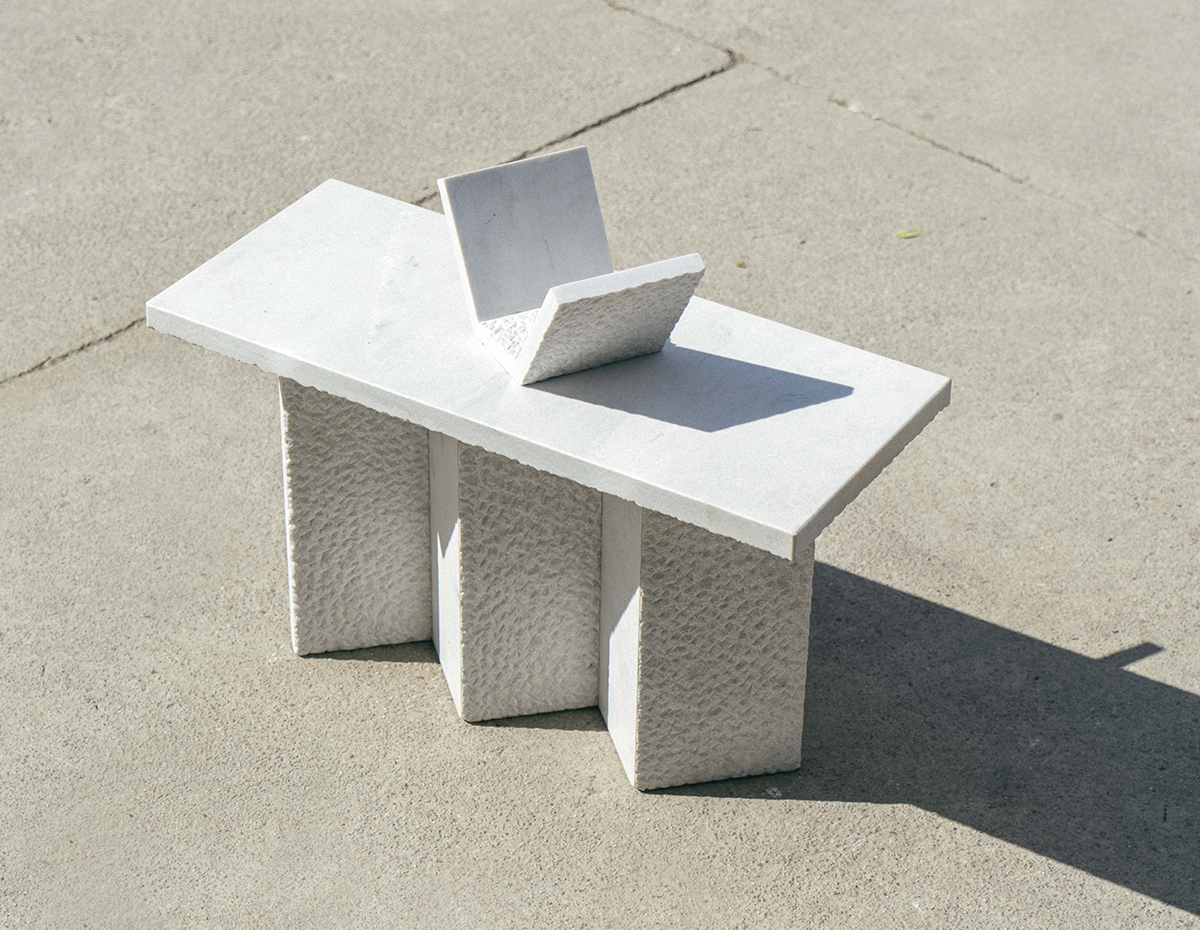 The first exhibition by the Molto Molto Project, this past April, invited a crew of Spanish designers to create works for a show in Madrid that ran at the same time as the Salone del Mobile and was a kind of conceptual response to its own distance from that fair (it was called Molto Molto Fuori, as in Fuorisalone, and you can see images of the works here). The curators' latest project is a show for Barcelona design week of all-white objects by Julen Ussia, Max Enrich, Duccio Maria Gambi, and other international talents — pictured above are works by Andres Izquierdo (above top) and Zaven (above bottom).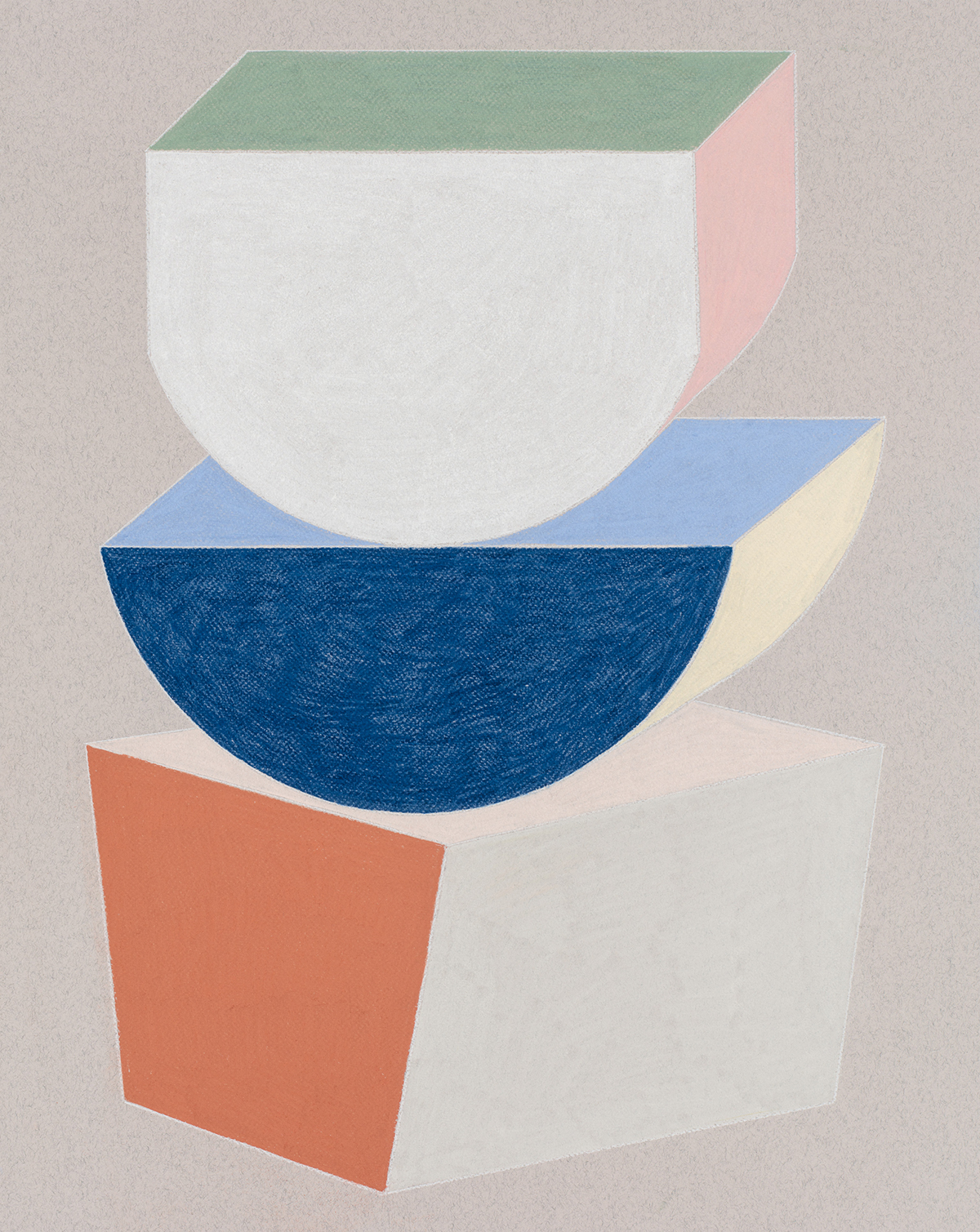 A bit closer to home, the Williamsburg outpost of fashion mecca Bird is opening a show this coming Wednesday of totemic sculptures and pastel drawings by New York artist Karin Haas.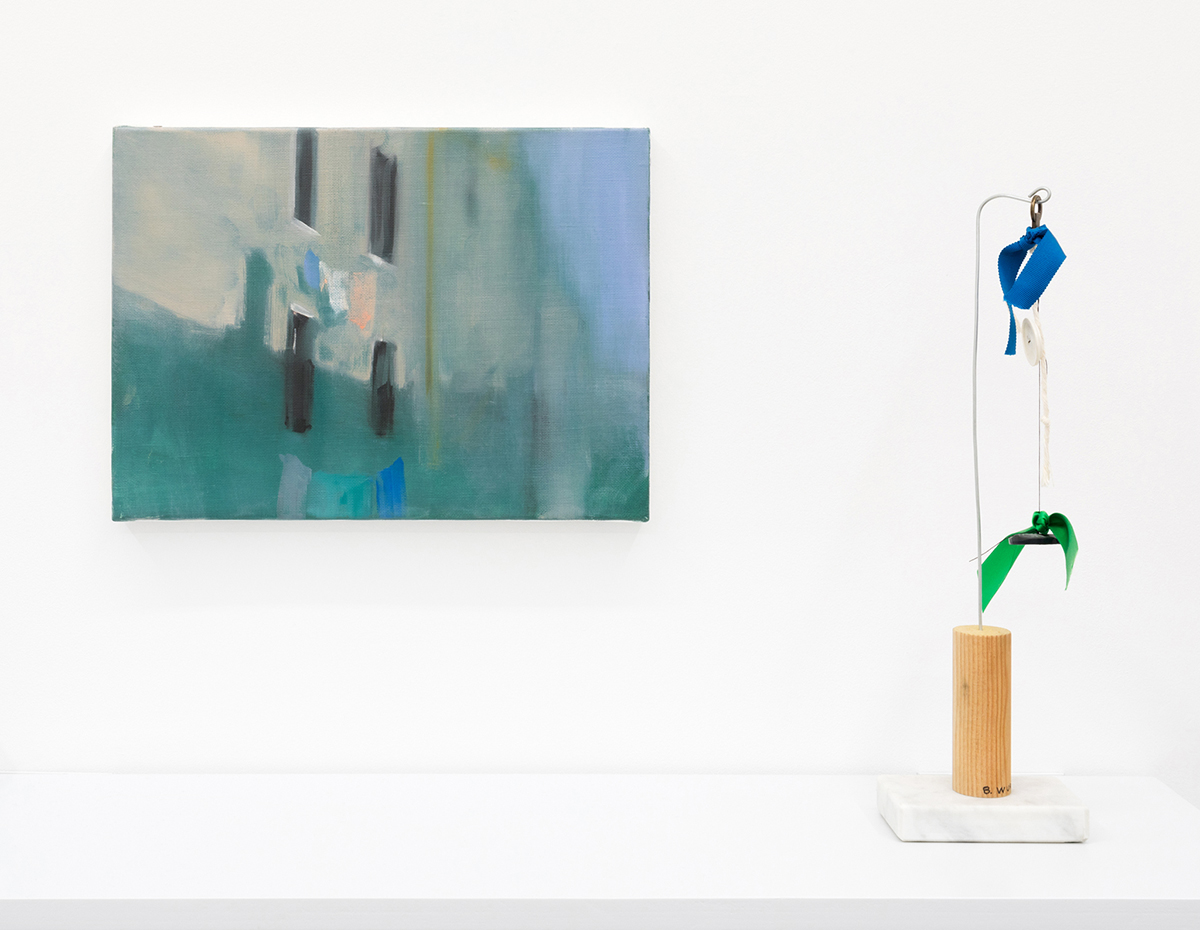 We didn't ask the staff at Cooper Cole gallery if they chose to pair the paintings and furniture of Toronto-based Paul P. with the sculptures of New York-based B. Wurtz for their latest show because of or in spite of the participants' similarly abbreviated monikers, but we sort of hope it was the former.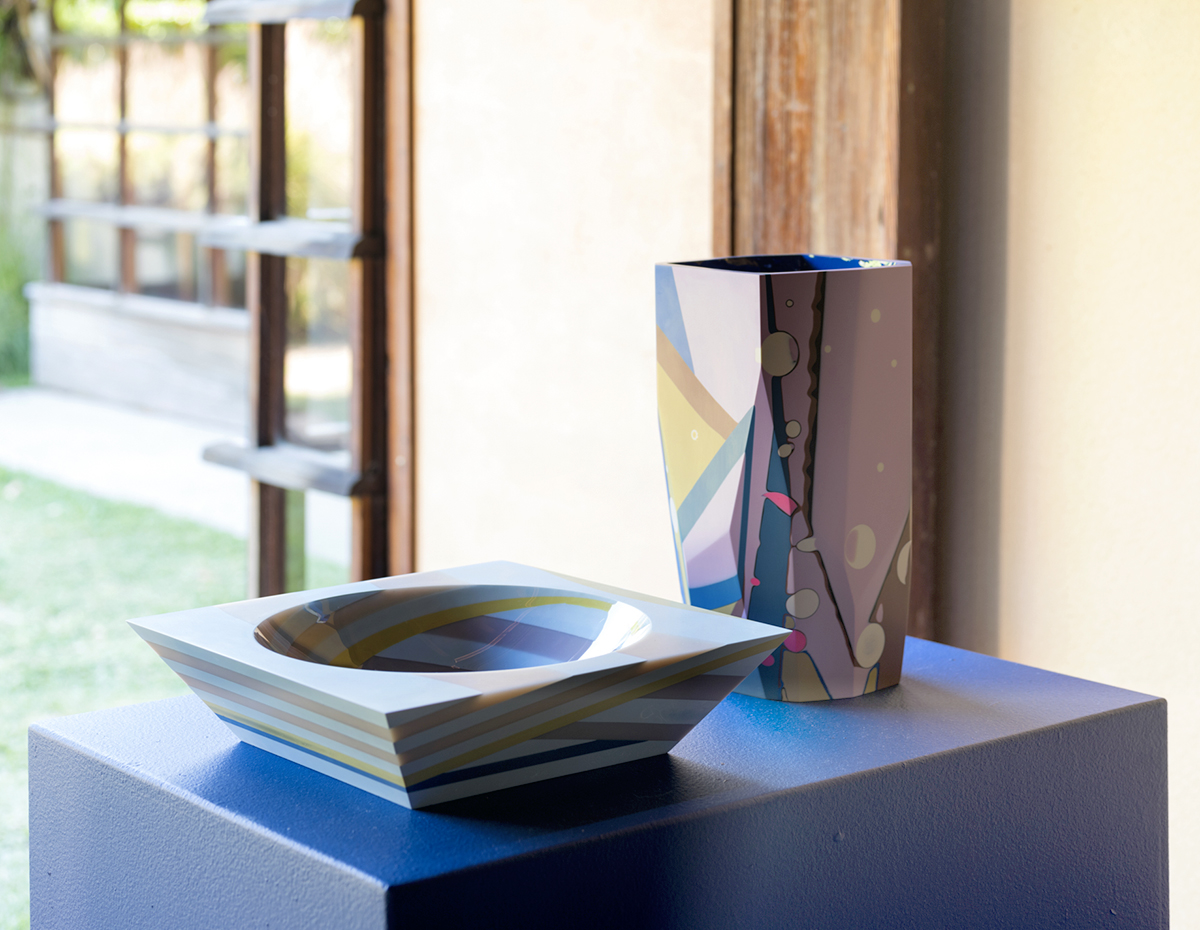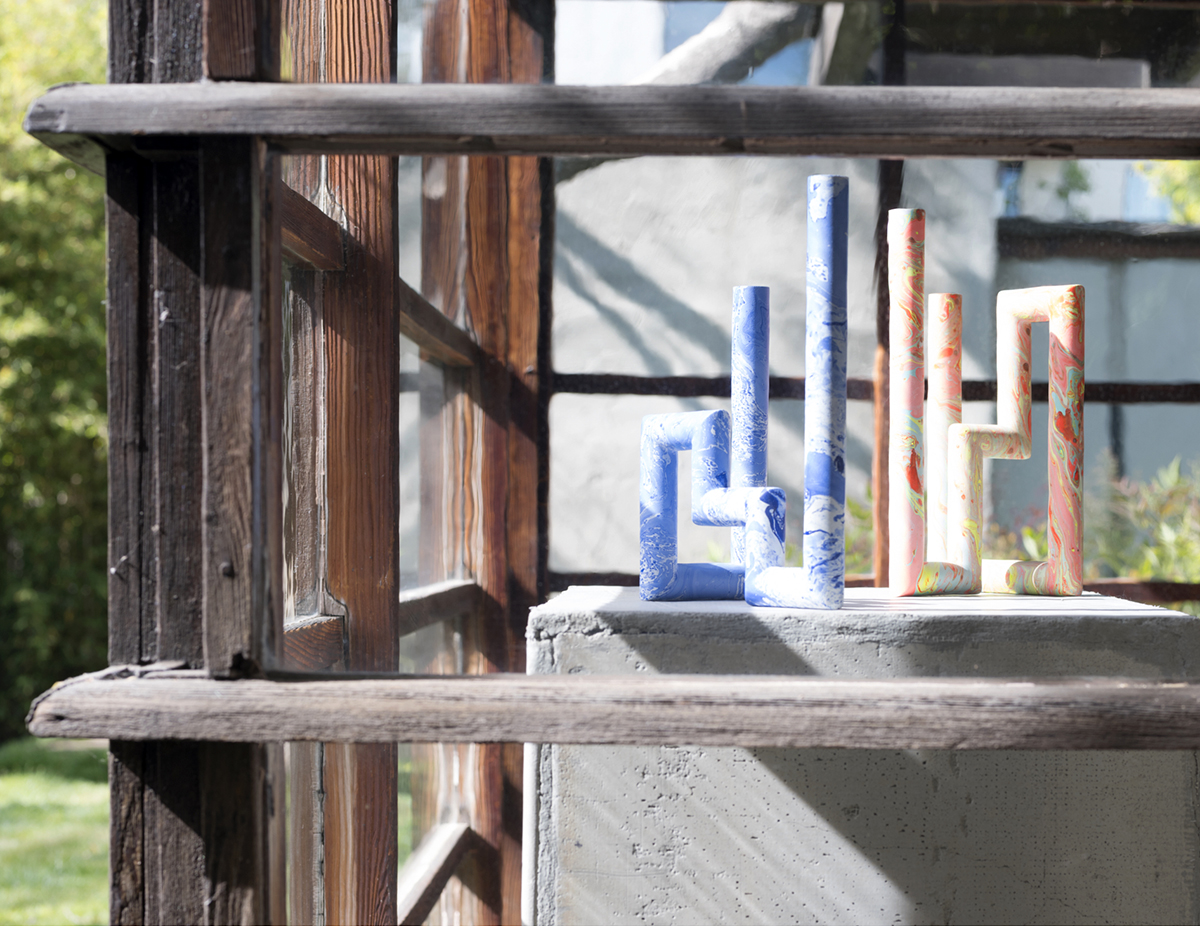 Having devoted the entire month of May to coverage of our OFFSITE show and other New York design week concerns, we missed the boat on the latest project by roving L.A. gallery Furth & Yashar, but better late than never — Open House placed works by Elyse Graham, Alex Hagentorn, Alex J.Reed, and Jonathan Zawada into the famed Schindler House, and while it closed May 27, you can see more images here.