10.03.18
The Antwerp-Based Artist Making Sculptures in an Abandoned Ceramics Factory
Ceramic artist Harvey Bouterse had never touched a lump of clay before he walked through the doors of the Antwerp-based porcelain company, Perignem. "I had been collecting their pieces for a number of years," the Surinam-born, Dutch-trained designer explains, "and wanted to have a piece signed, so I looked up their office and stopped by." What he found was a ceramics factory — almost entirely out of use — with an atelier and workshop stocked to the brim with glazes and clay dating back to the 1950s. "I asked the woman working there if I could experiment in the studio," he explains of the serendipitous discovery, "and I've been working there ever since." That was eight years ago. He still has the run of the industrial-sized studio, where he crafts one-off sculptures, vases and tabletop objects entirely by hand. "I'm like Willy Wonka," he says, "and this is my chocolate factory."
Whether it was pure good luck or his genuinely sweet demeanor that opened those doors remains to be seen. But it's not the first time Bouterse has struck gold. Prior to his career in ceramics, he was a successful fashion designer, creating under his own label, HrVi. He also worked for a number of years with Antwerp-based designer Veronique Branquinho and spent a season at Jean Paul Gaultier before turning down a permanent gig in favor of remaining in his adopted city of Antwerp to focus on ceramics. "It was like an ocean of creativity with all of these things happening at once," he describes of that moment. "And sometimes you have to decide, okay, what am I going to pursue? And I chose ceramics."
He clearly made the right call. Currently, Bouterse is gearing up to show at this month's Biennale Interieur — the bi-yearly interiors show which this year is set in an abandoned hospital in the center of Kortrijk, Belgium — alongside Sabine Marcelis and Wouter Hoste. We recently called him up to chat about changing careers, starting as a product designer from scratch, and working with materials from half a century ago.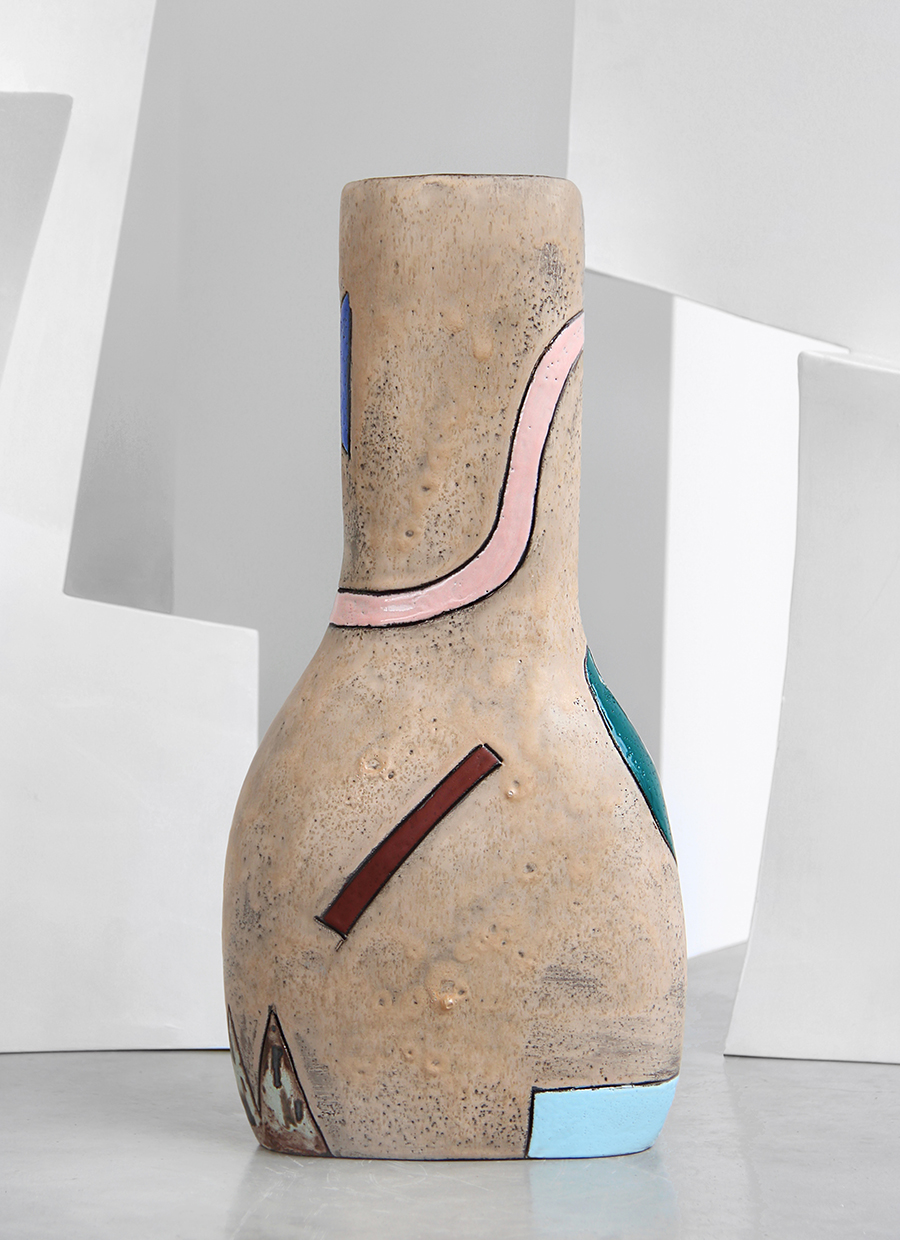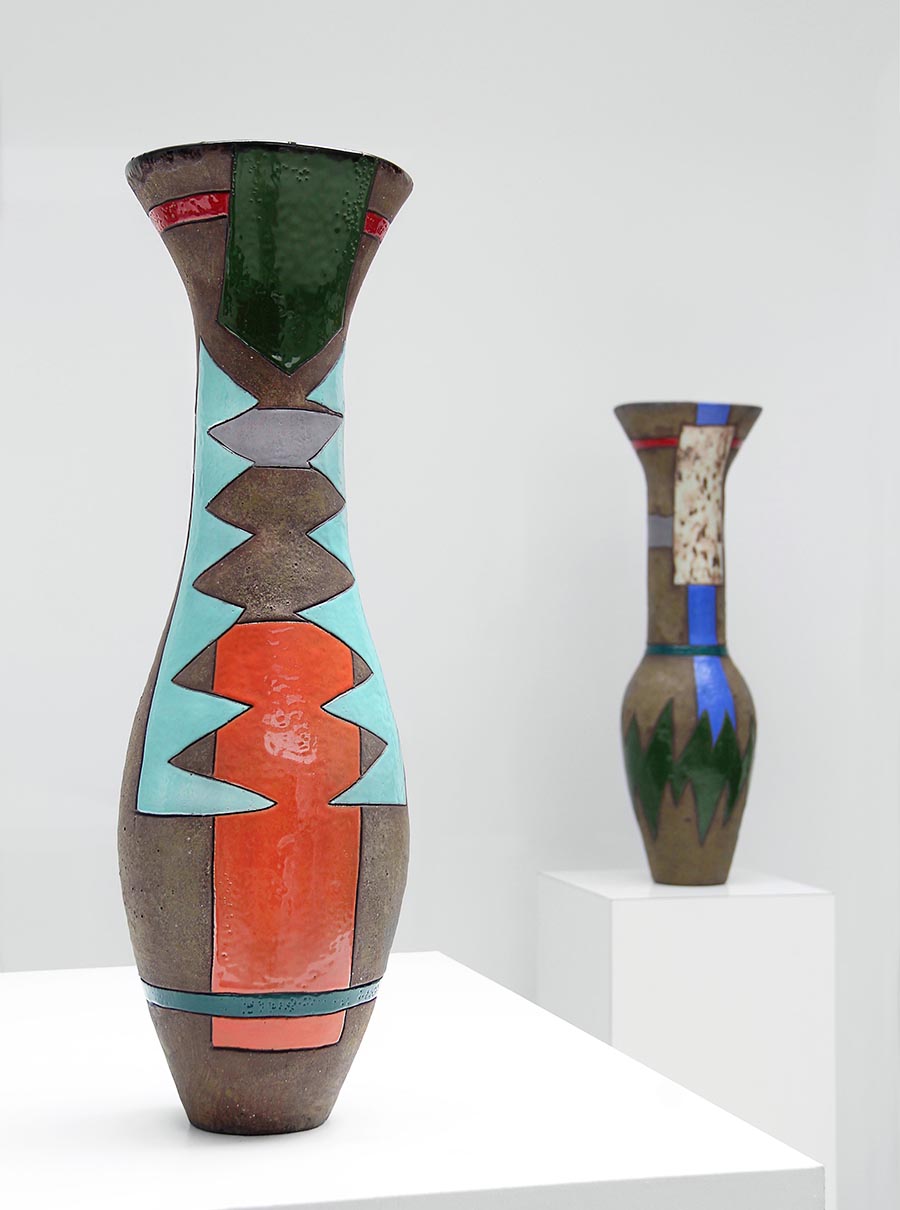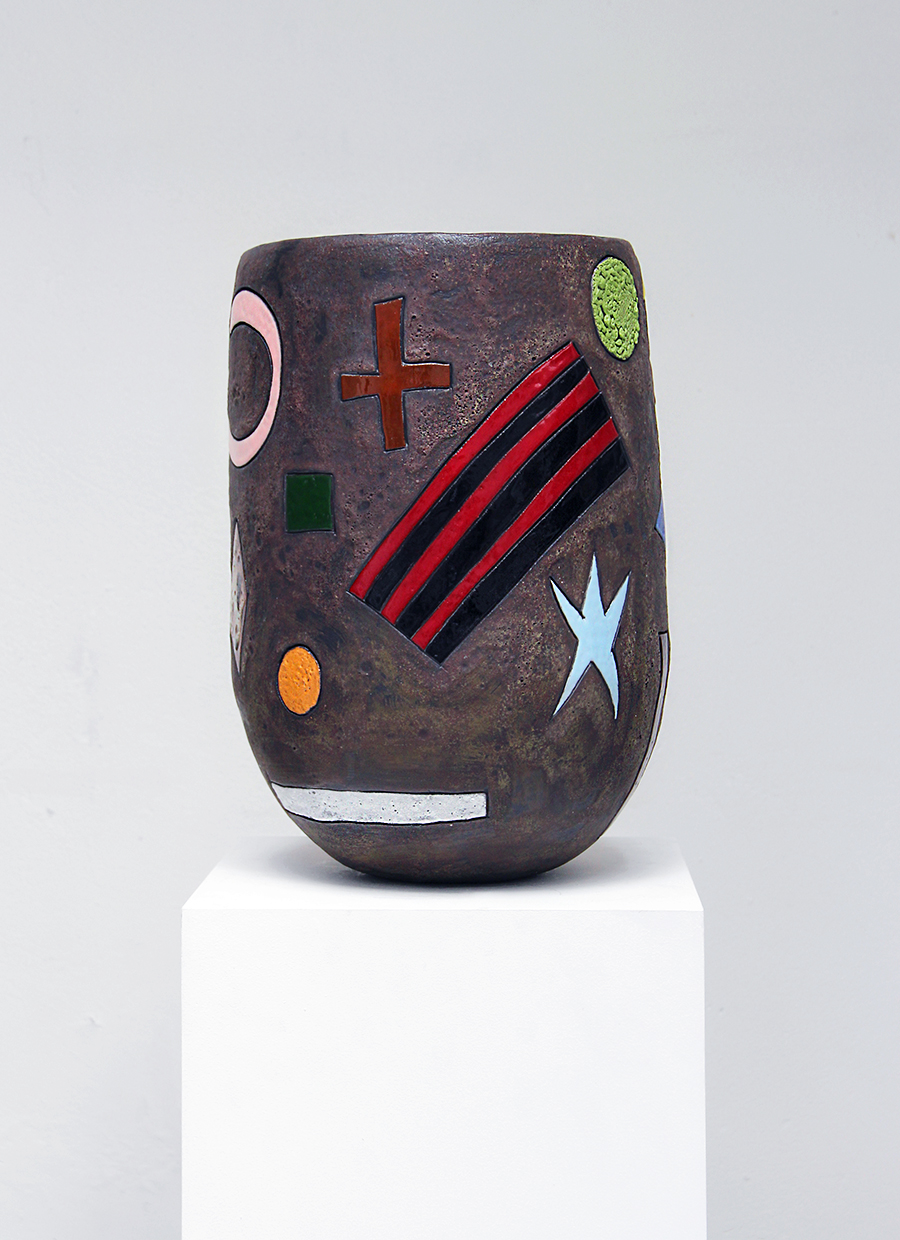 How did you make the transition from being a fashion designer to working in ceramics full time?
I had been collecting these Perignem objects made in the '50s, '60s and '70s, when they did such beautiful ceramic sculptures and vases. When you see those pieces, they have so much life in them. Clay is such a thankful material to work with as a sculptor. I really wanted to be able to make pieces like that myself — to have something that lasts long and was made out of the earth and made with my hands. It's really personal when you make ceramics: it's an earthly product, the clay.
It started with small objects and the process went really, really fast and I started making bigger and bigger items and really creating this world and this vision. I think in five or six years I had developed a signature style and people started picking it up, but it was also in a period that ceramics became really popular again after a period of being out of fashion.
What was it like starting out in an industrial size studio with no training?
I think it's why my learning process was so fast, because I had this chance to work with these products. Usually when starting out, you have to buy glaze in small amounts and it's really difficult. But I had tons and tons of these amazing glazes from the '50s, '60s and '70s from the start. I'm really, really lucky to be able to work there in quietness with all this space to myself.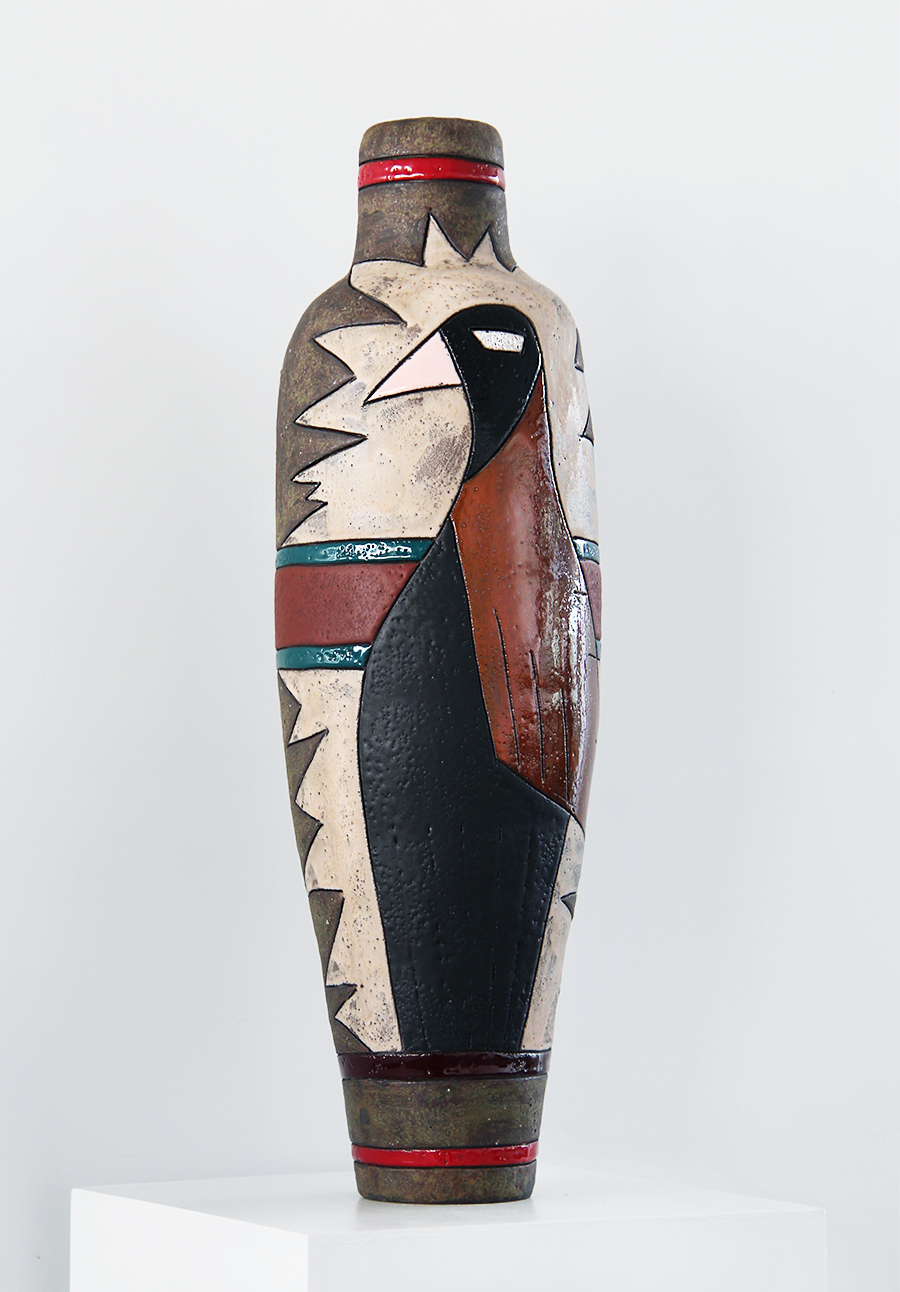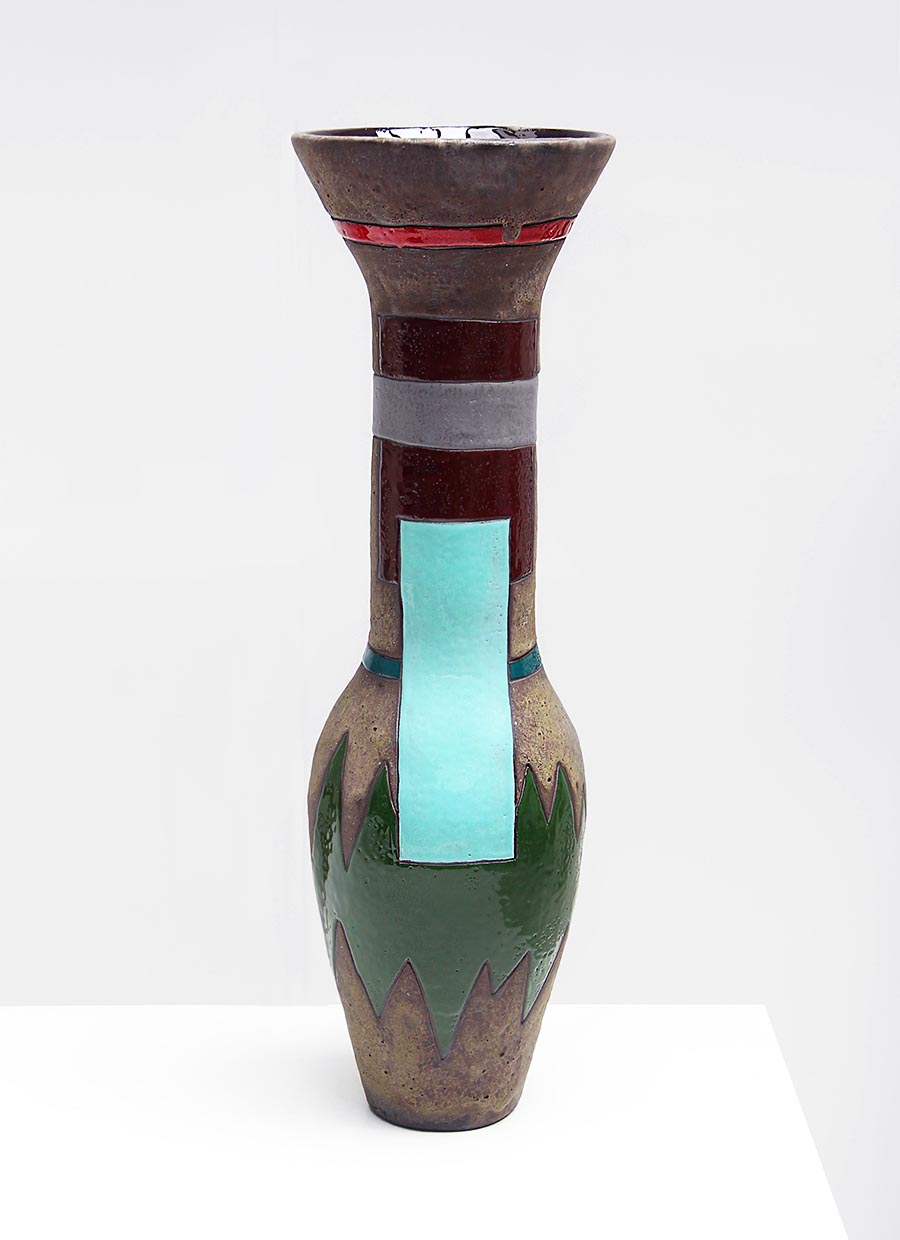 Can you tell me about those beautiful vases decorated with color block images? What's the inspiration behind those?
The images on the vases never have a meaning or a subject. It's just when I work, I work really with my gut feeling. When I make a piece, I don't know where it's going to end. I just make a beautiful drawing with no meaning or baggage or anything. It really comes from my spirit. I just start drawing on the face and it comes out this way! Everybody asks me what these symbols mean and about the forms and shape. But I don't do any research and I don't make any sketches beforehand. So it really comes from inside.
How do you achieve those contrasting color fields?
I use mixed glazes on the vases. I start with the old glazes from the factory, from Perignem; they're really, really old so I mix them with a bright color from a new glaze. I like the pairing — I love to mix really strong contemporary colors with the old glaze. That's why I choose to use them together: when you see the old and new coming together it really creates a nice atmosphere.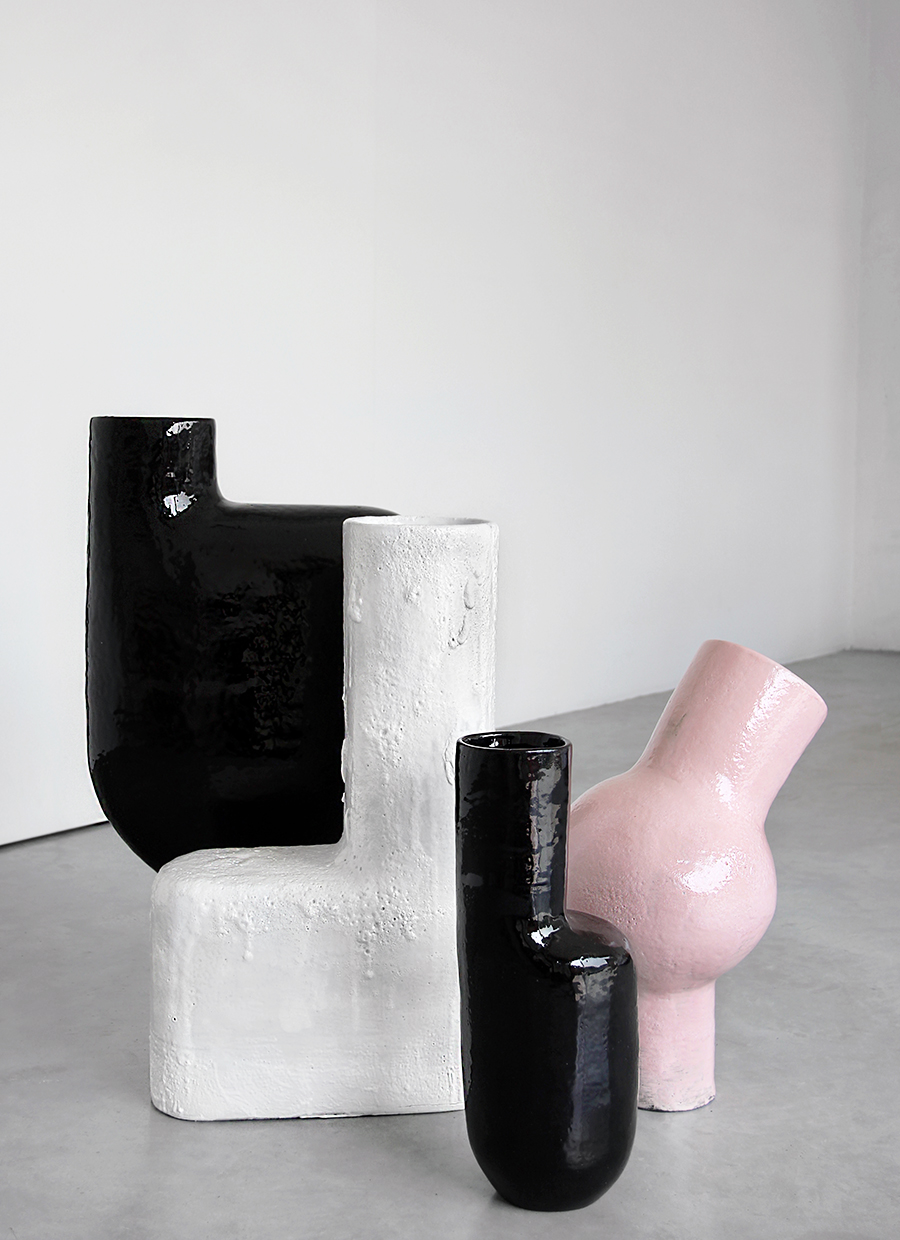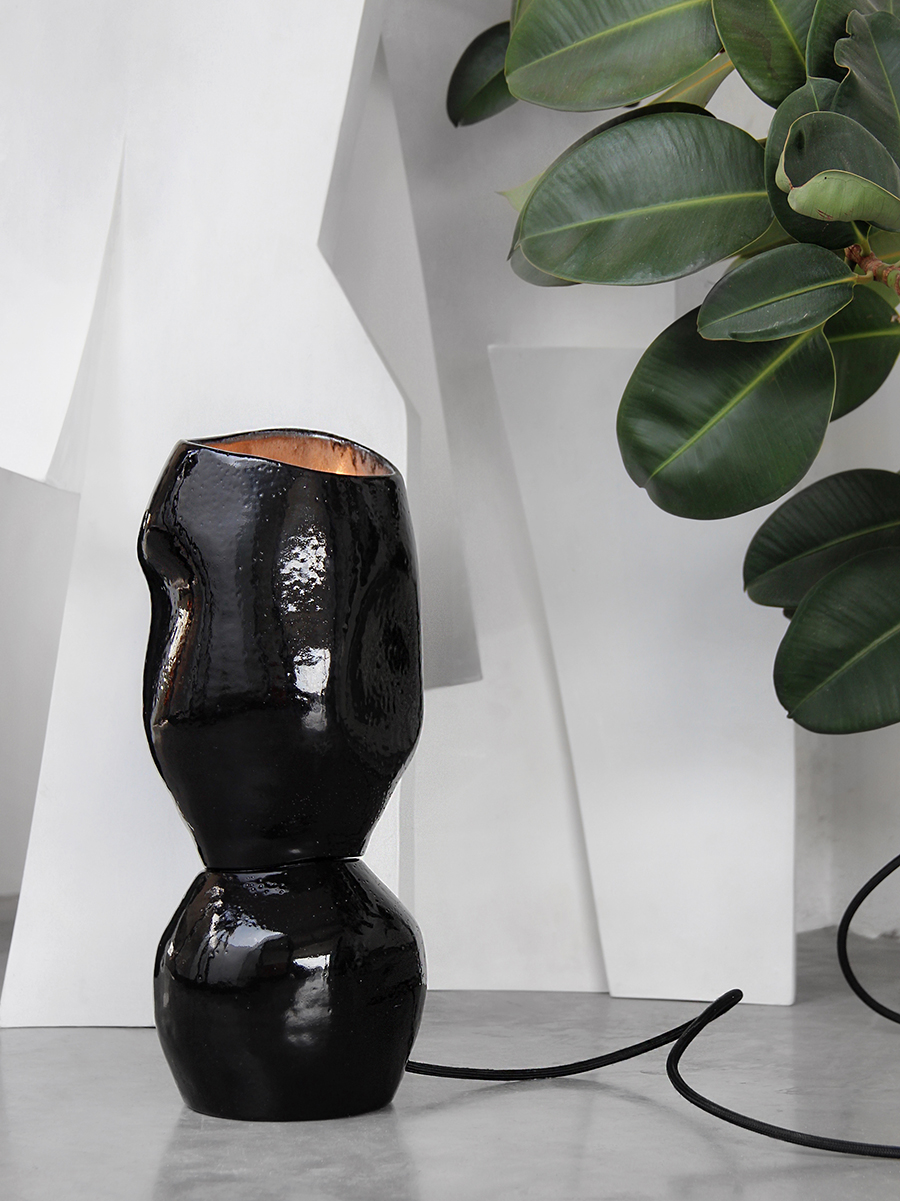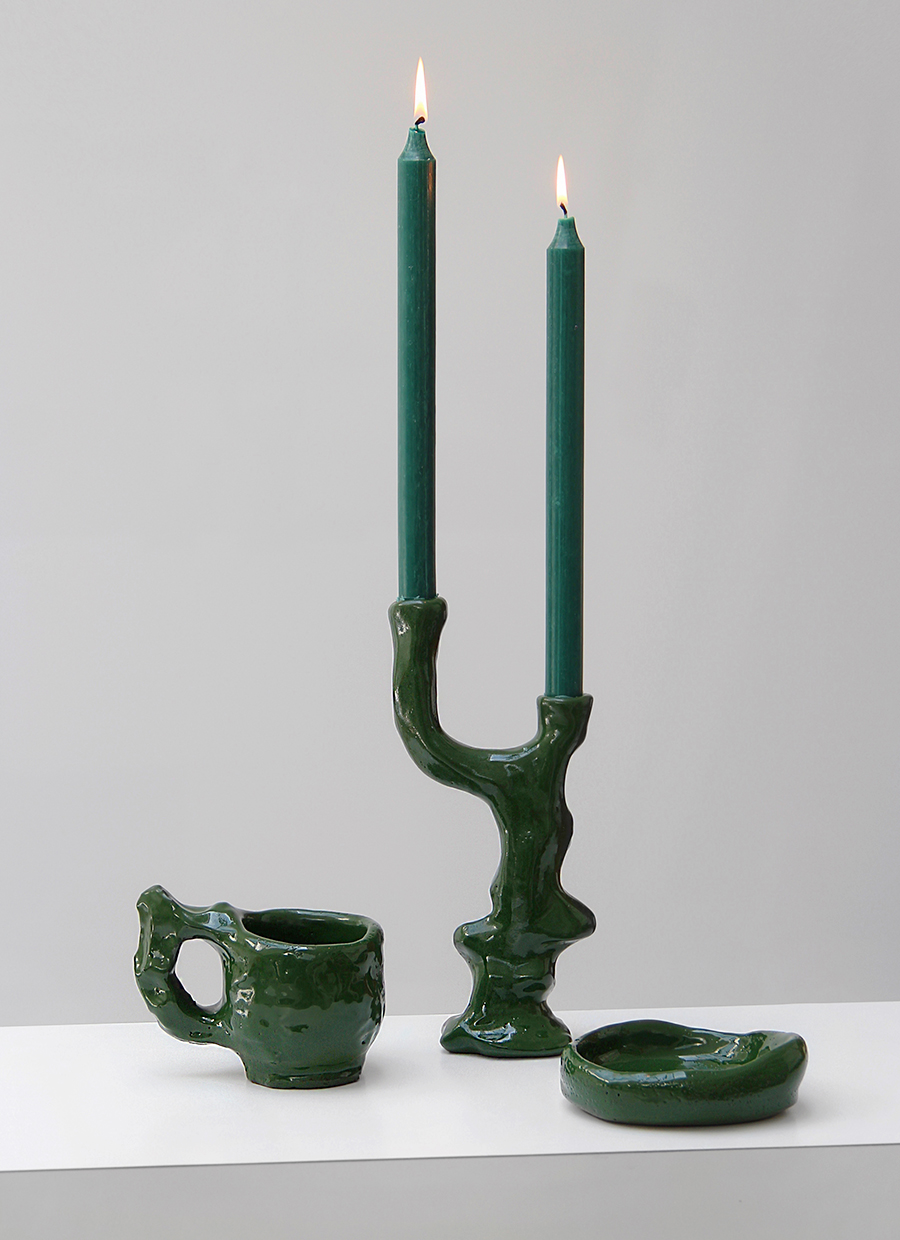 How do you create the shape? Do you ever use a wheel?
They're all hand built. I haven't learned to throw on the wheel yet. I build them up piece by piece and then they're fired once just to make them hard. And then I glaze with a color and fire it again and it's finished.  I don't do any series or mass production. I really like to make one piece and then move on.
Did you have anyone teaching you how to do this or is this all self-taught?
It's all self-taught. I just started making the smaller objects and then went bigger and bigger, experimenting with different shapes.
You weren't looking at YouTube tutorials of ceramic-making?
No, not even that! I think it's really just logical thinking. It's such an old form of art, in the ancient days people didn't have any books. They just started making some things out of clay. Ceramics guide you and show you what is possible and how you can make sense of them. So it's really just logic and a lot of experimenting and a lot of mistakes. It took me six, seven years to really make the big pieces.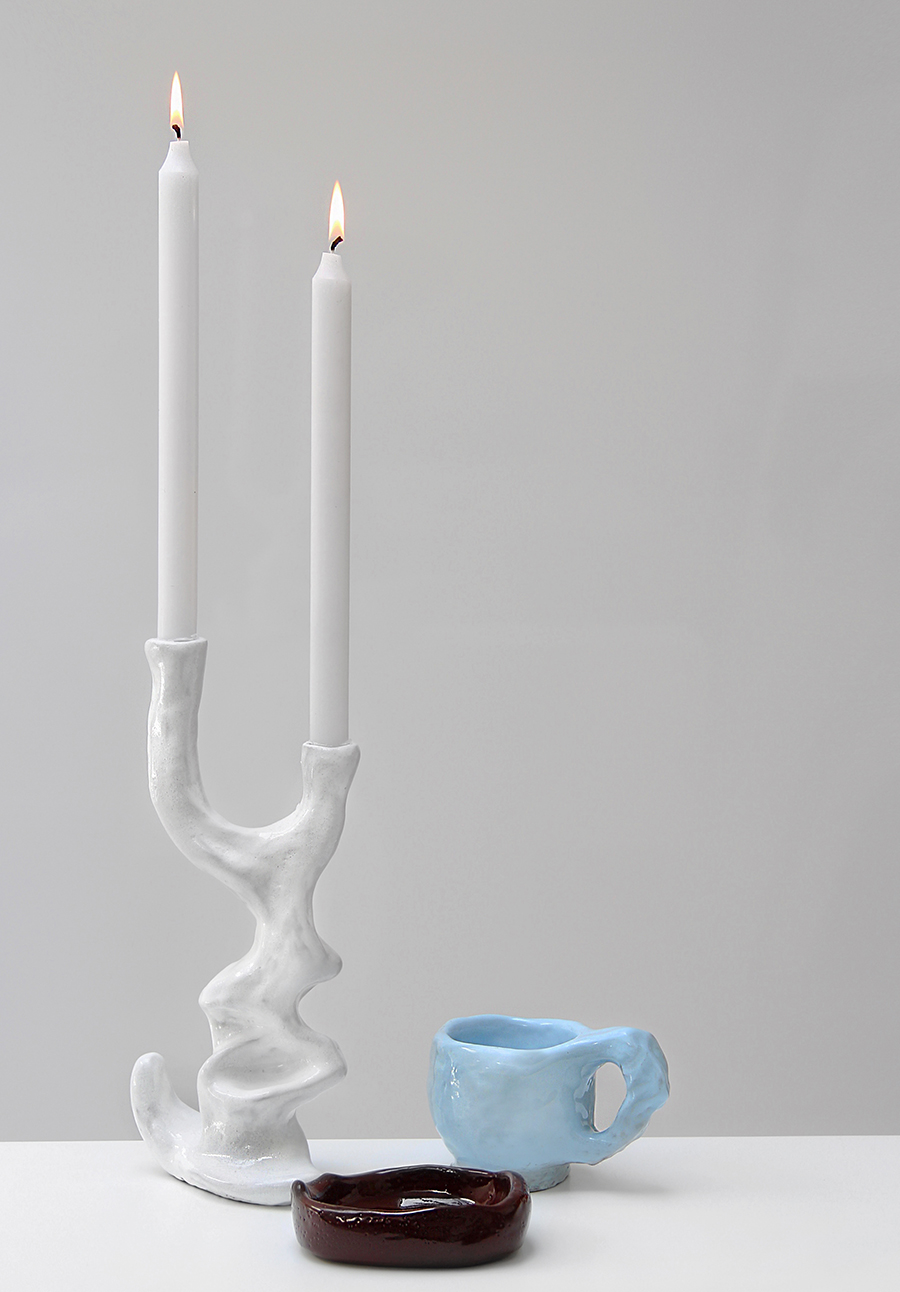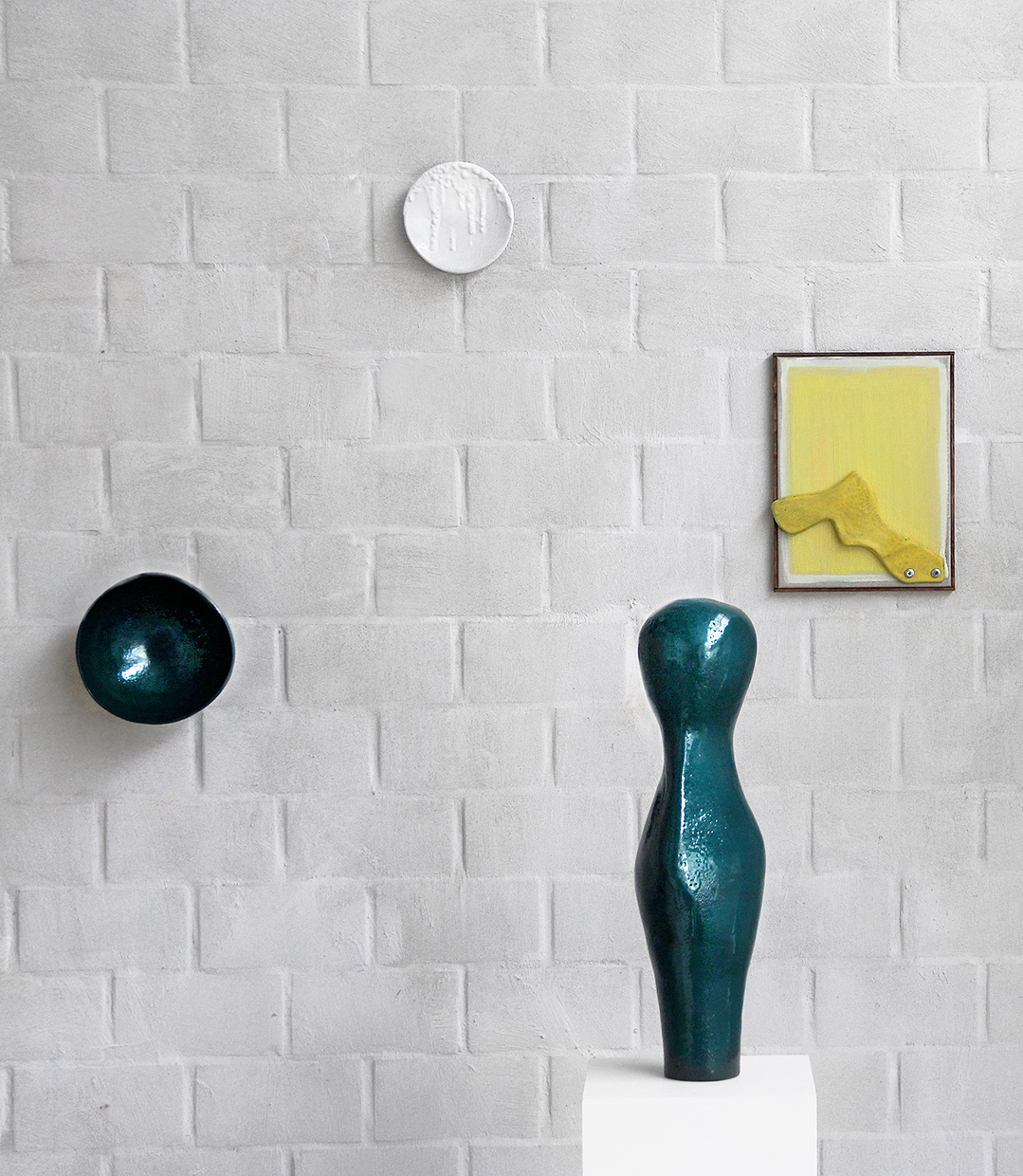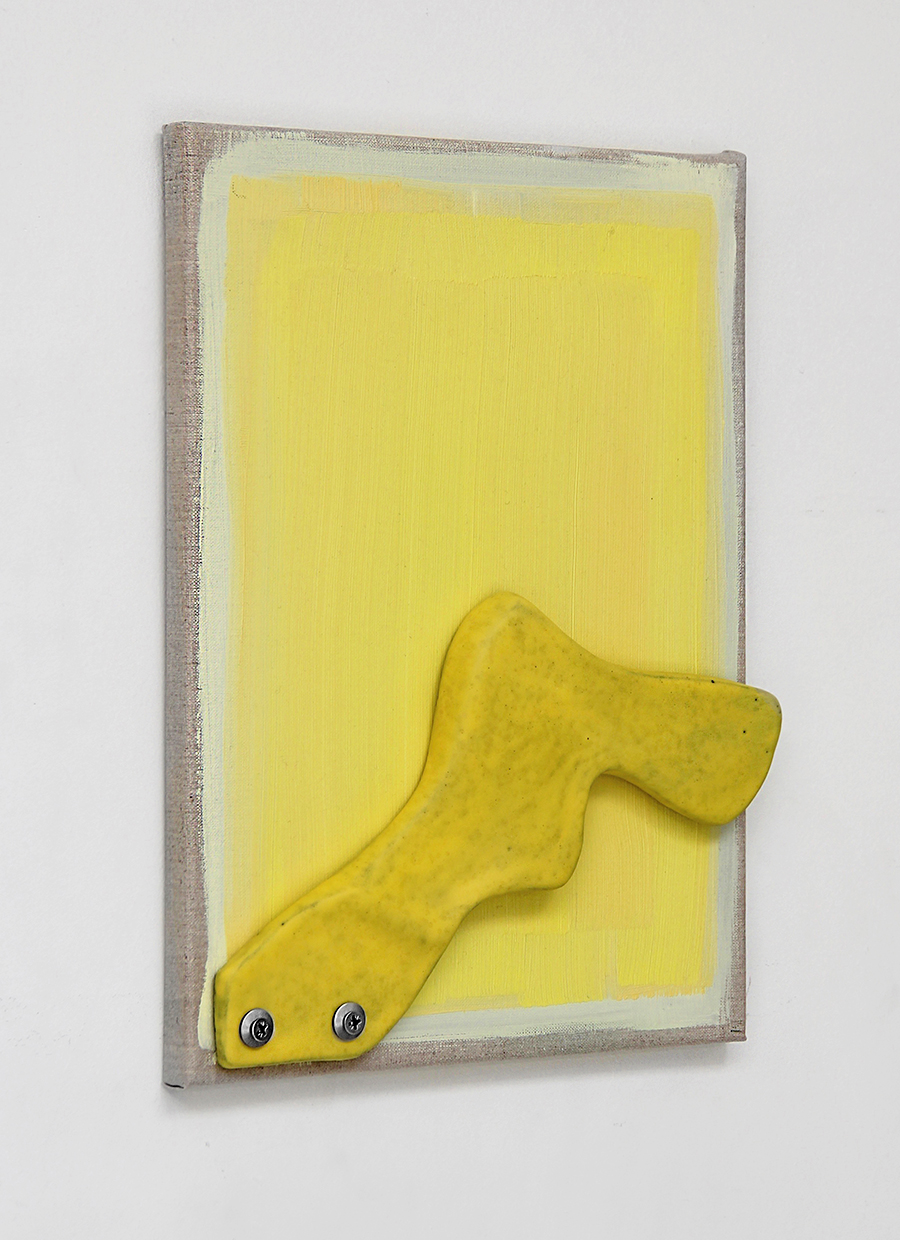 The treatment of your surfaces is really beautiful. I love the single color pieces that look as though they're dripping and bubbling. How do you create those color gradients and textural effects?
I like to experiment with mixing different glazes on top of each other. Mixing color and structure to see what happens. Sometimes it's beautiful, sometimes it's not. But most of the time it takes me to new places when you see two glazes on top of each other that have this chemistry and it flows really nicely.
Having started in fashion, do you feel the need to have multiple creative outlets or will you eventually go back to fashion?
I need to have multiple things going on. I'm still in fashion, actually, even though now I work in ceramics in the atelier all day. I thought a few years ago: Why not make workwear for the atelier? So I started this small brand, it's called Artist Workwear, but I only make custom workwear for artists. That's the only thing I do now in fashion. Artists come to me and say: I need overalls to paint, or I need a nice shirt and a nice suit for that vernissage. But I only do it for artists. But primarily my work ceramics. I mean, in a few years I might want to make furniture or, I don't know, architecture. I'm always wanting to explore new mediums. Ceramics is now and it's not going to go because I love it so much, but something is definitely going to intervene again.