11.15.19
Get to Know Sao Paulo's Newest Breakout Talents, From Their Youth in Brasilia to Their Latest Collection
For a long time, young designers paid a price for living in a country with a rich design history — always having to work in the shadow of some great movement that came before them, like Italy's rationalist and post-modernist eras, the U.S.'s mid-century heyday, or Brazil's Rodrigues-fueled obsession with wood. If you wanted to sell your work, you had to somehow fit in. But as Instagram and design fairs have helped collectors and buyers appreciate contemporary work on its own terms, all that's changed, paving the way for designers like Ricardo Innecco and Mariana Ramos to depart drastically from any homegrown aesthetic expectations. With barely a woodgrain in sight, the São Paulo duo's work doesn't look all that Brazilian — and yet even in just the four years since they began working together as Estudio Rain, they've seen a surge in the Brazilian market's interest in their brand of conceptual minimalism, allowing them to push their practice in an even more experimental direction.
We recently spoke with Innecco and Ramos about that shift, as well as about their formative years in Brasilia, and what inspired their latest collection.
PHOTOS BY ALEX BATTISTA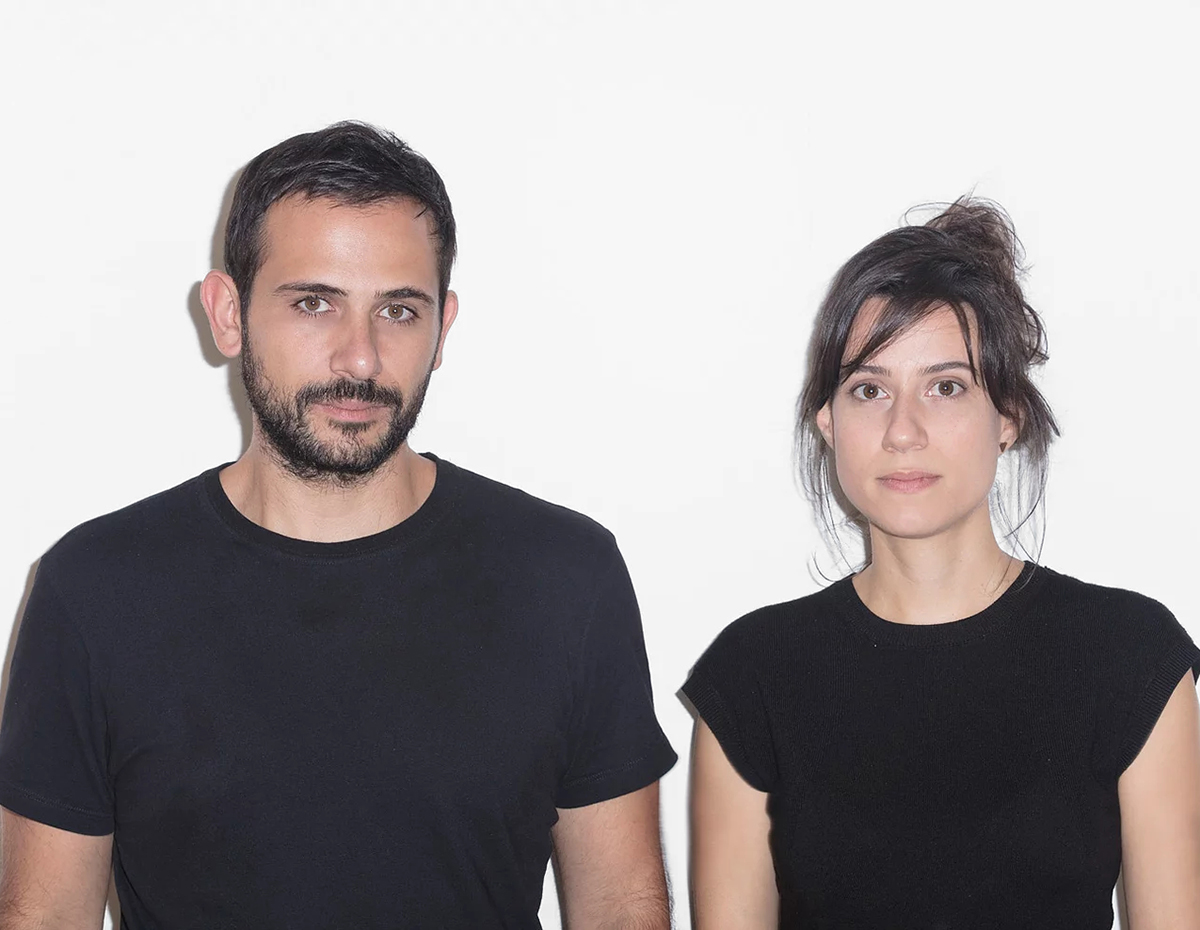 Can you fill in some details of your background a bit? How did you meet? How did you reconcile your two practices?
"Mariana graduated in product design and Ricardo is an architect. We were both born and studied in Brasilia, and we already knew each other from there. In 2012 we moved to São Paulo, bumped into each other, and discovered we shared many similar interests. Ricardo was working on public building projects in a French architecture office, and Mariana was working in a product design studio. We were both thinking about starting personal projects and wondered about doing it together. One year later we attended a workshop with Maarten Baas at Domaine de Boisbuchet, and that's when we started to collaborate. In 2015, we officially launched the studio with the title RAIN, which is the beginning of our last names (RAmos and INnecco).
"In the beginning we were interested in making conceptual projects, designing without it necessarily being functional. Space was also an important agent in our first works, while we were merging both backgrounds. Ricardo had the ability to deal with a larger scale, while Mariana was able to go deeper into the details. Our projects Babel and Broken Table are very representative of that first phase."
What inspired you both about growing up in Brasilia?
"Being raised in Brasília, we were surrounded by modernist urbanism, architecture, design, and a very particular atmosphere. It's an uncommon city and, when you study architecture and design there, you have the opportunity to realize its singularity and the uniqueness of the way you get to experience daily life there. For sure it's had a great influence on us. We feel inspired by its geometric shapes, pure forms, and silent environments, and the monumental scale of its spaces and sculptural buildings.
"When we work now, we have in our minds a utopian place that we're always thinking of and talking about. This place has the same silence and emptiness of Brasilia, and we imagine it housing our pieces, letting them act as agents to exercise their presence in a remarkable way. We've been trying to achieve the representation of this place in our scenography and photos."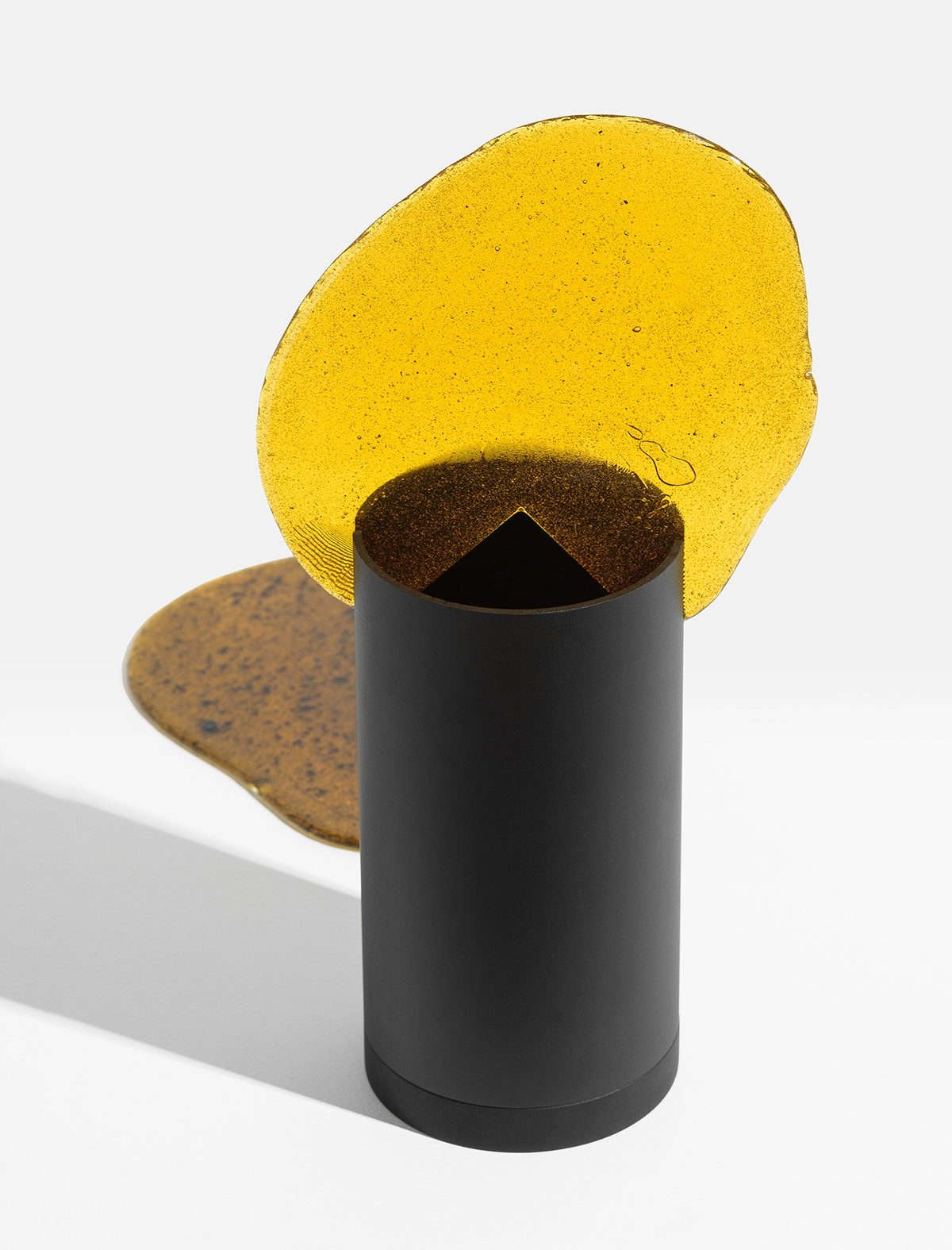 Besides the new work we're featuring today, what was your most exciting recent project?
"Recently we developed an experimental project that we presented in Milan this past April, called Totem Censer (above). The project was based on research into Brazilian odors and natural resins. We discovered breu, a natural resin extracted from the Almécega tree, which has aromatic properties and was used as incense by Amazon natives. When heated, the sap melts and forms a resin that retains the characteristic smell of the tree. We developed a way of making freeform breu-resin plates in our studio, by spilling the material in liquid state onto a cold surface. Although Ricardo got a severe finger burn, we really enjoyed working on the project. We've being thinking a lot about sustainable materials and techniques, and this was a first step down that path.
"Our next project is moving from our current studio to an old metal workshop from the '40s, a really interesting space that we're trying to reimagine partly as a place where we can experiment, and partly as a showroom where we can present our pieces and have exhibitions."
How is the Brazilian market for the type of work that you do? Is there receptiveness to it? Are people there still focused on mid-century and wood, or is there a hip young contemporary design clientele on the rise?
"Today most of our market is in Brazil. We do have receptiveness towards our work from architects and the design community. However, it hasn't been always like this. When we started, we felt a big resistance to our work. We were published abroad before we were published in Brazil, for example. And even when we started to have some attention in the country, it took some time for us to start selling our pieces.
"Brazilian design has always been known by its Modernist production. After 50 years, we still see the strong influence it has over new creations — designers are still inspired by those modernist masters, especially when it comes to woodwork. The abundance of wood in Brazil keeps on guiding generations of designers, older and newer ones. In some way, the most remarkable period of Brazilian design became kind of a ghost for contemporary production. It's hard to avoid the reinterpretations of the Modernists and also to stay away from the growing demand for this kind of furniture.
"But the market for independent design has considerably increased in the last few years in our country, and we've grown with it. We do believe that there's a hip scenario on the rise in Brazil, mostly in São Paulo. There are plenty of interiors studios which are largely supporting (and consuming) the work of new designers, and the attention for this kind of work is growing. For example, in São Paulo we currently have two relevant design events: MADE, a fair for young designers and new brands and studios, and SP Arte, the main South American Art Fair, which has recently opened a space for contemporary independent designers."
Can you walk us through the inspirations and ideas behind each of your new pieces?
"Sure, see below!"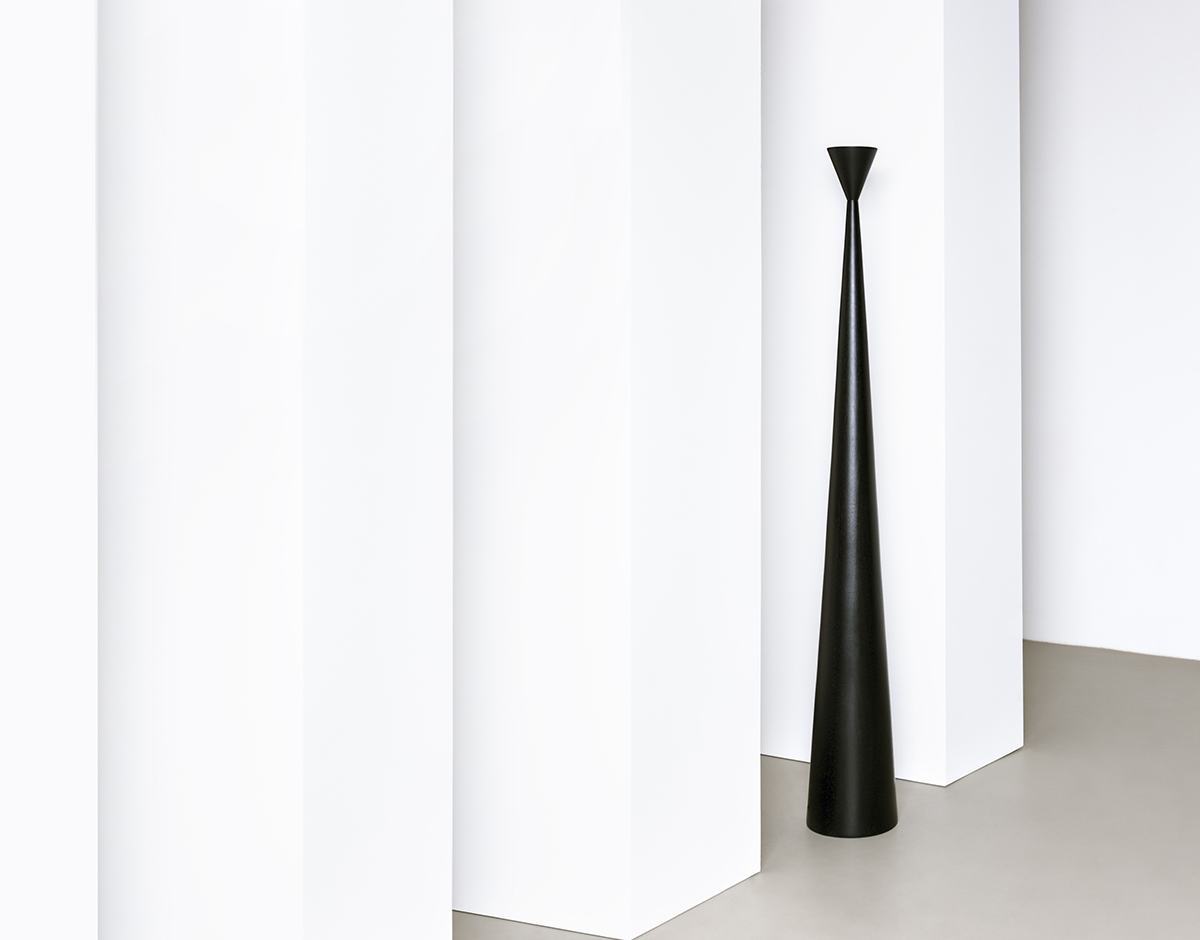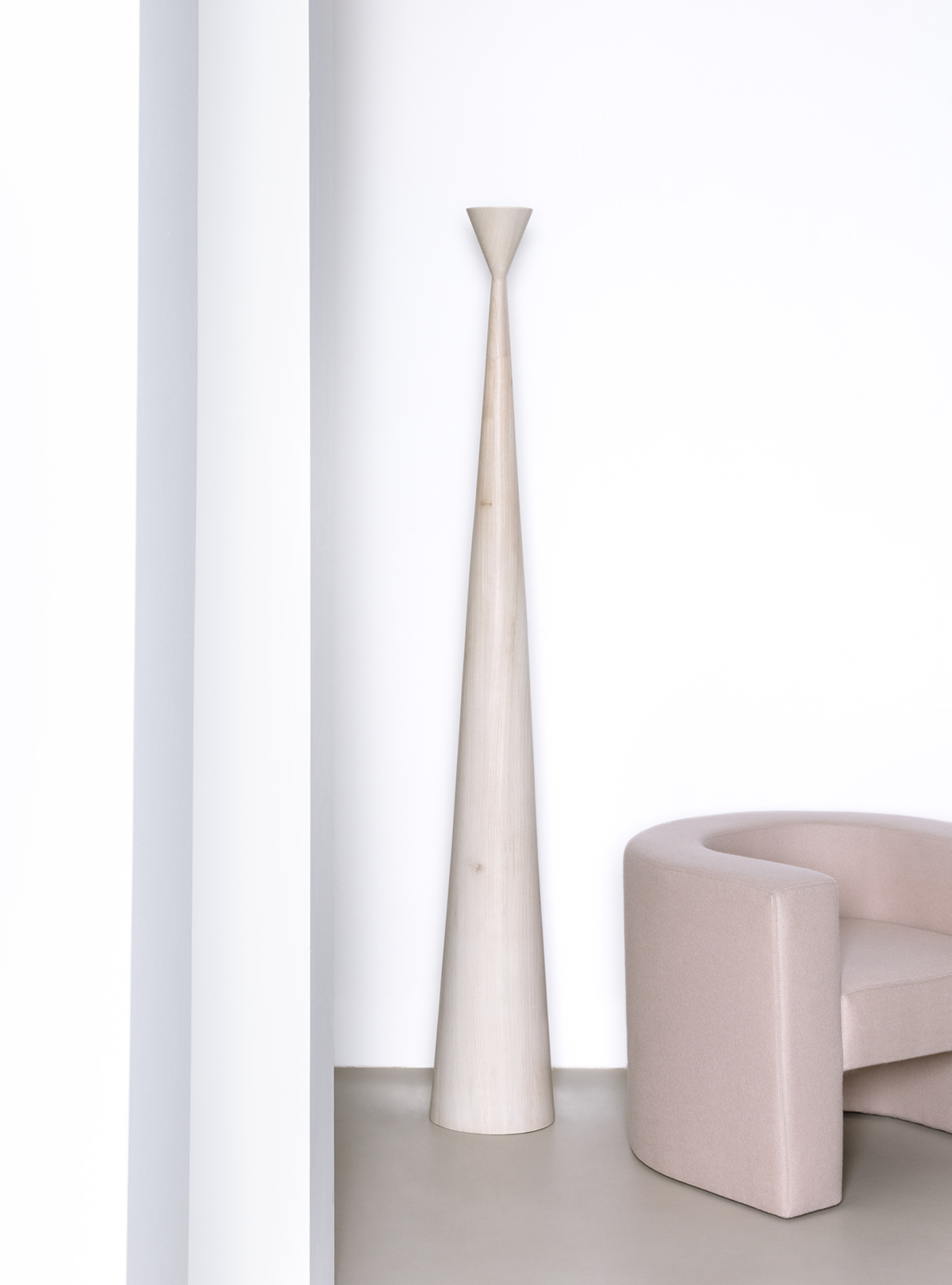 "Usually we start our lamp projects by thinking about a specific typology and atmosphere. In the case of the Alta Lamp, we became obsessed with a typology of floor lamp that we noticed that is disappearing from the market, so we decided to make our own version of it. Alta is a tribute to this vintage model, but with a contemporary character. We really like the illumination that seems to hang over it. The difference in scale between the parts of this piece is something we had already approached in other projects, for example in our Chain series and in Babel installation."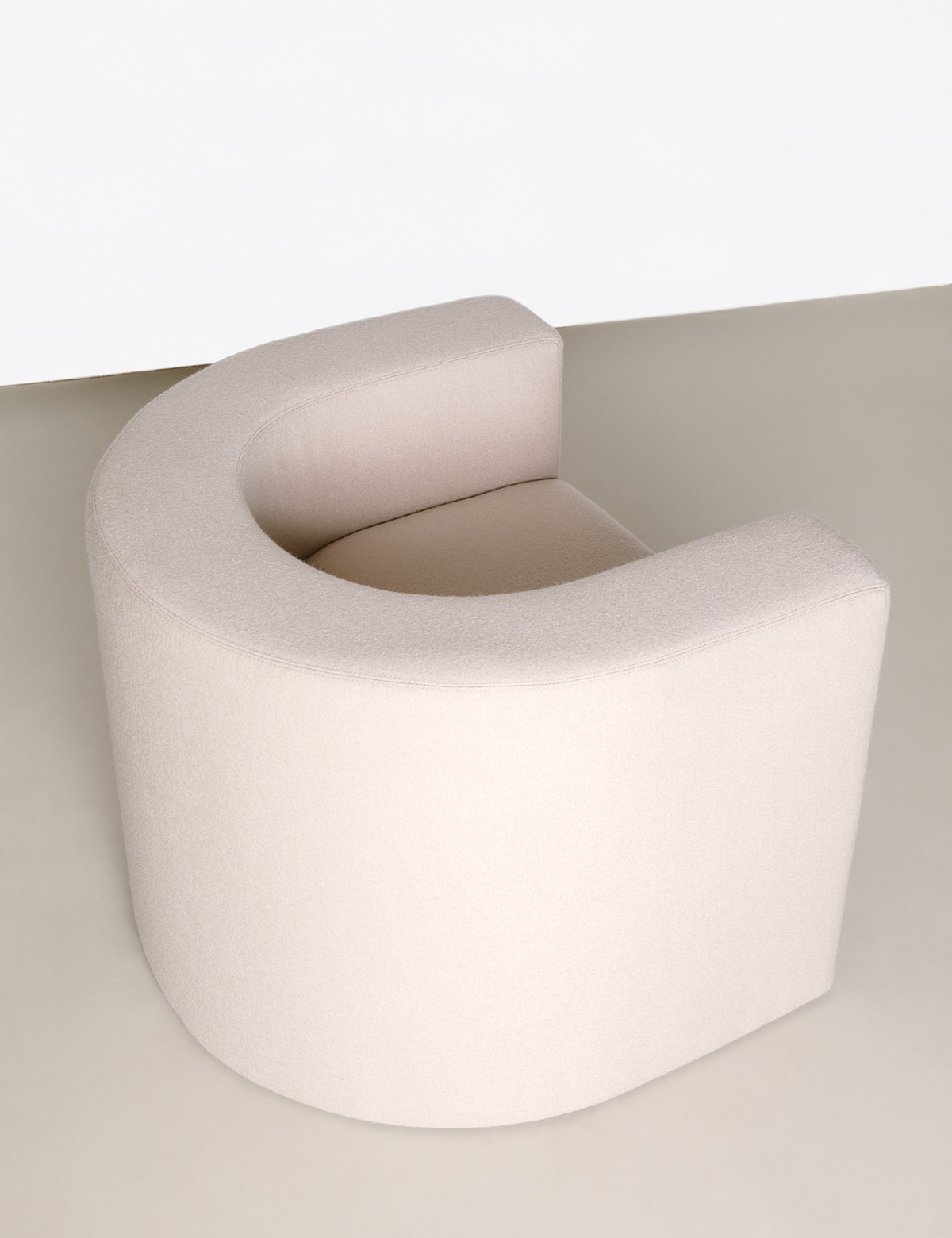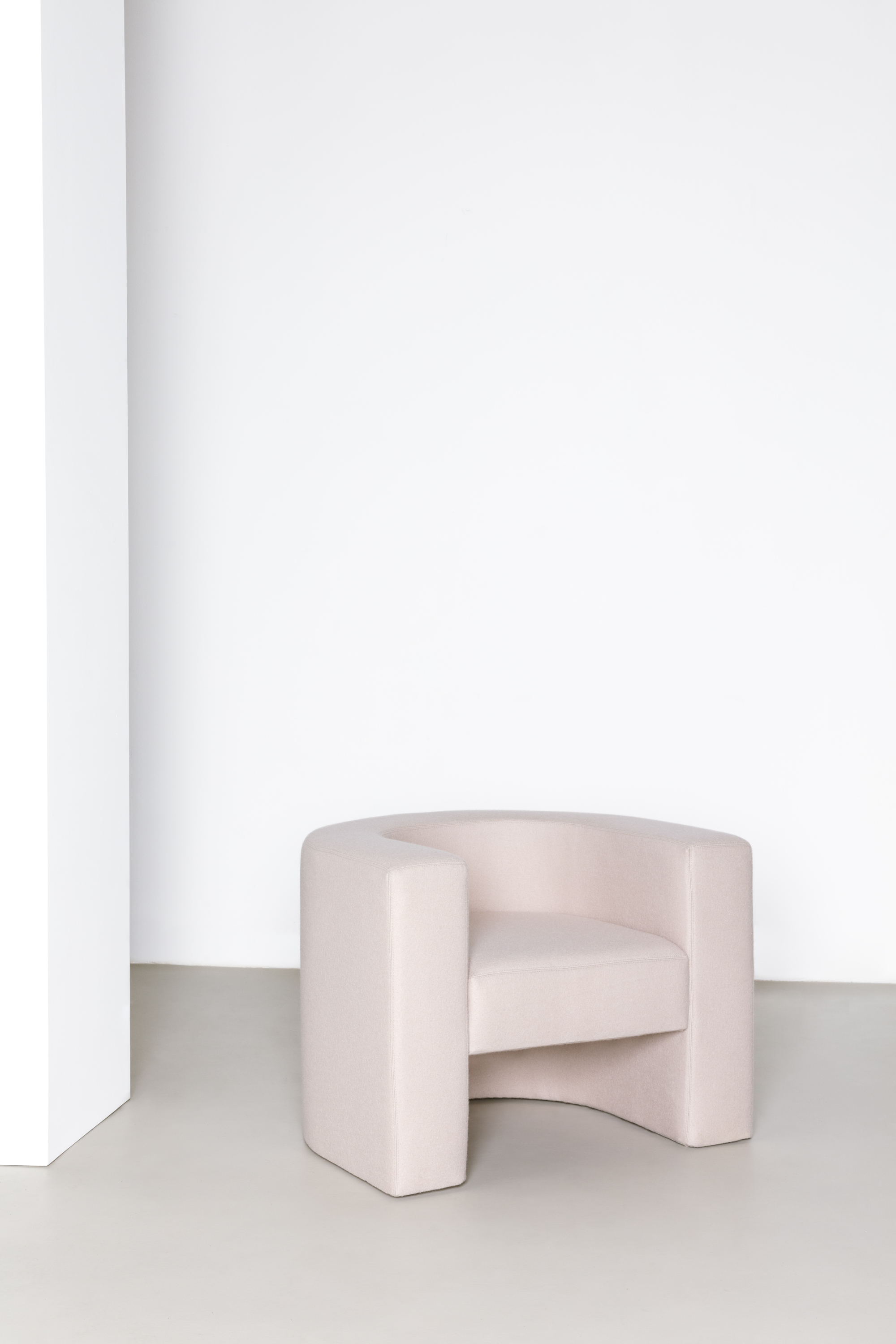 "The Arco Armchair is a very simple project whose shape is that of a welcoming anatomic shell. In this project, we did an interesting research on natural wool, and found out its incredible properties."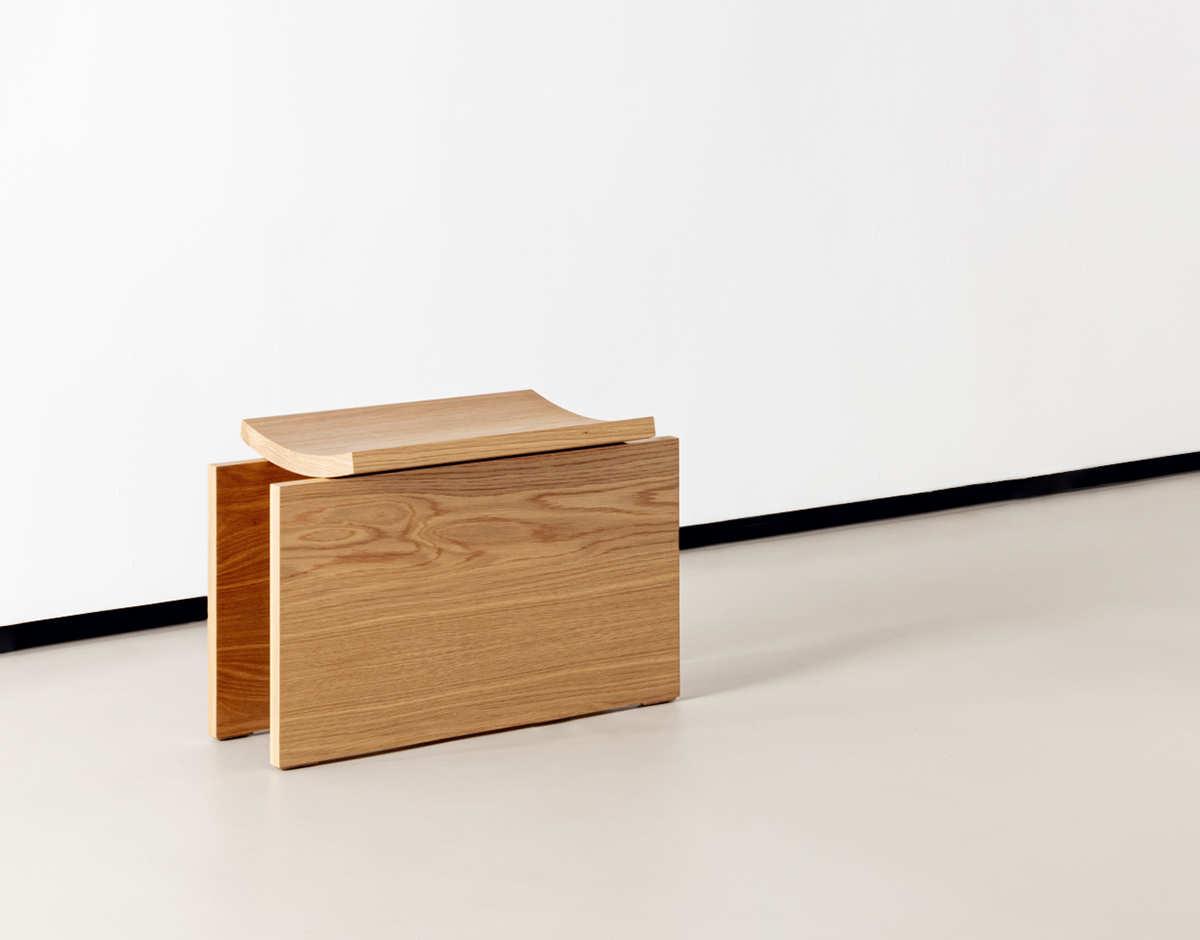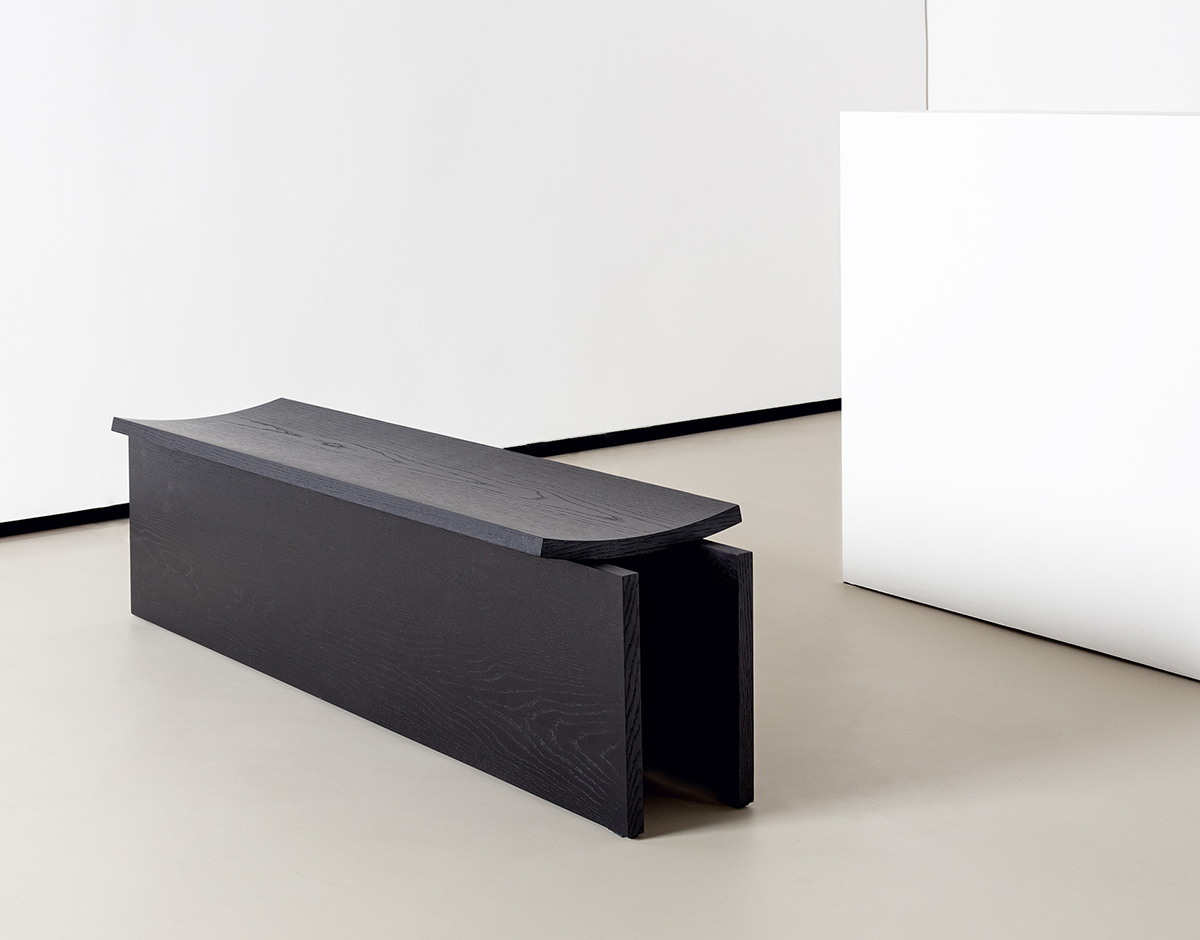 "We started the year doing tests on curving plywood plates, and we noticed a relationship between those elements and our bodies' curves. So we started thinking about using them to develop a piece of furniture. For our Curved Benches, we tried to avoid the thin structures widely used in design and instead created a solid and unexpected visual block. The simplicity of the pieces gives them a sort of Japanese mood, but in the end we see it as a new look into Brazilian carpentry."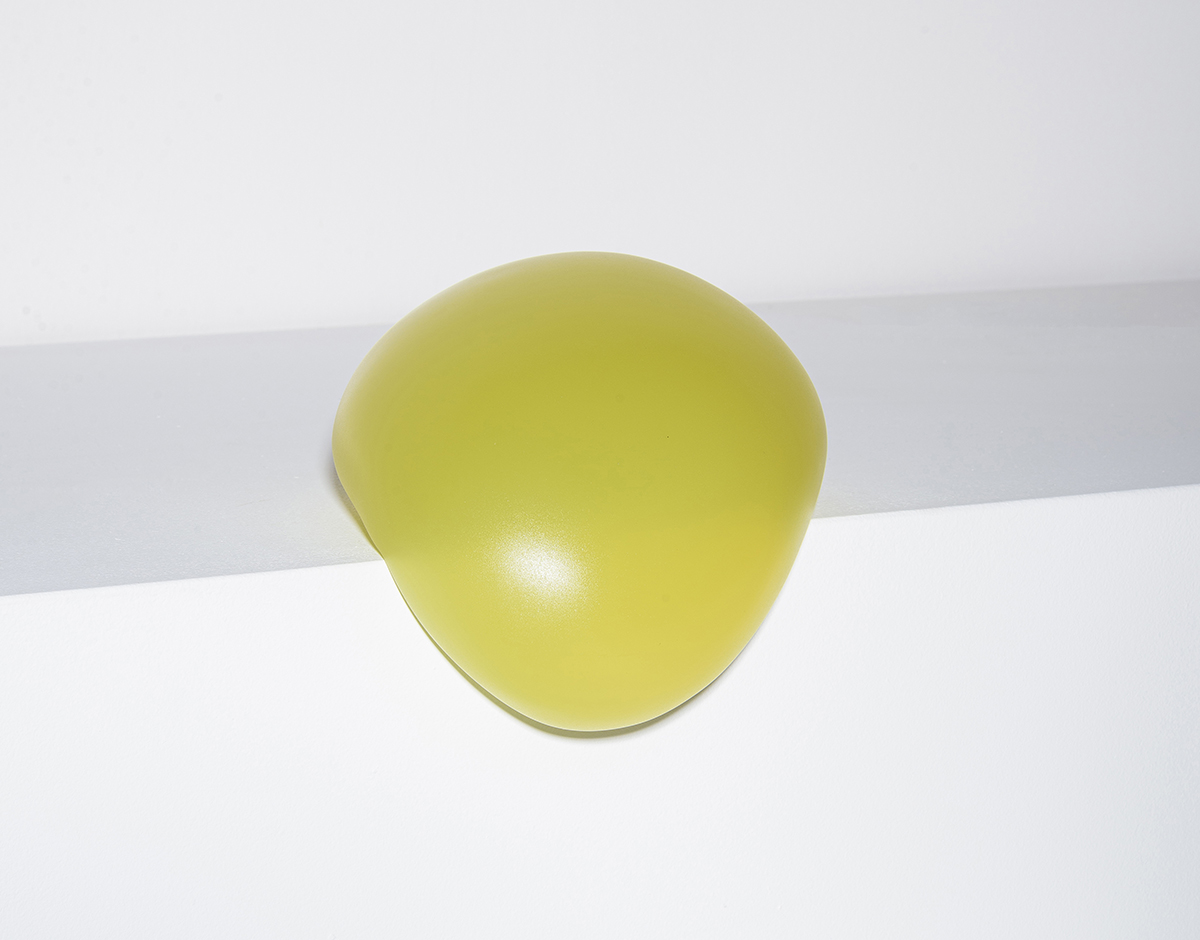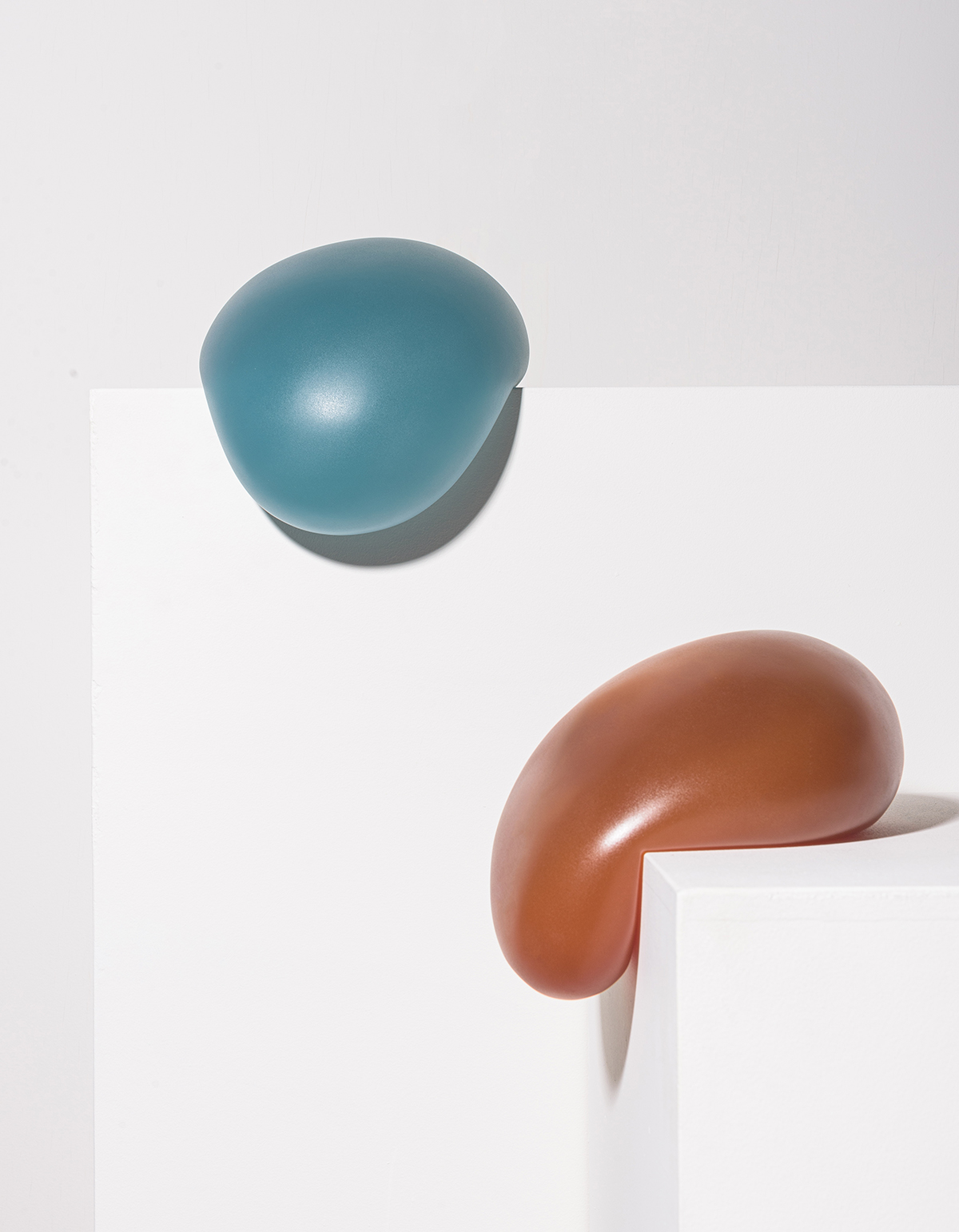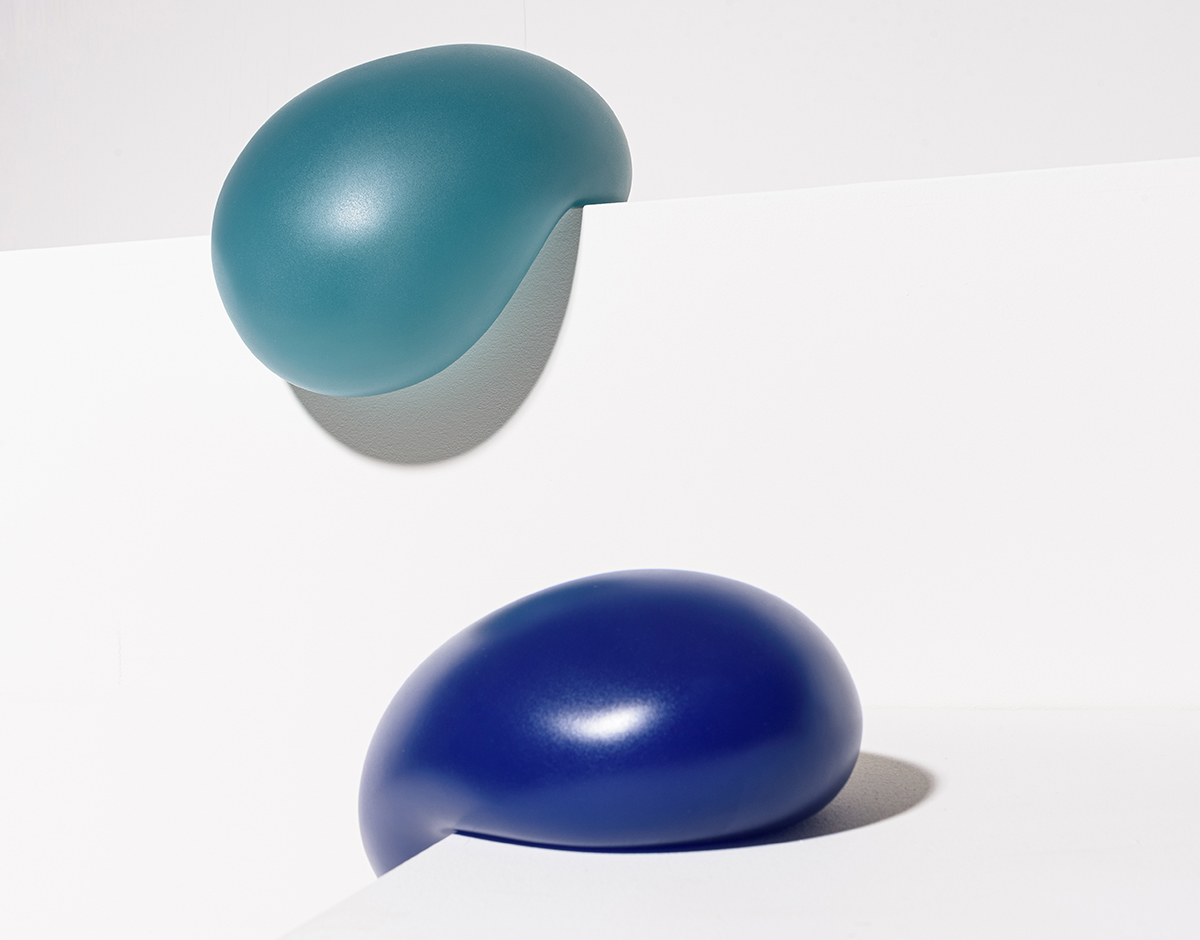 "These matte-resin Bubbles are the continuation of our Drops project, an experiment with plaster molds made in latex bags that we started a few years ago. Our intention was to create tactile objects that evoke a feeling of instability. It's been a very nice experience to see the reaction of people when they see them. We could never imagine how this material test could catch such attention. Also experimenting with the colors and creating different sets keeps our curiosity alive."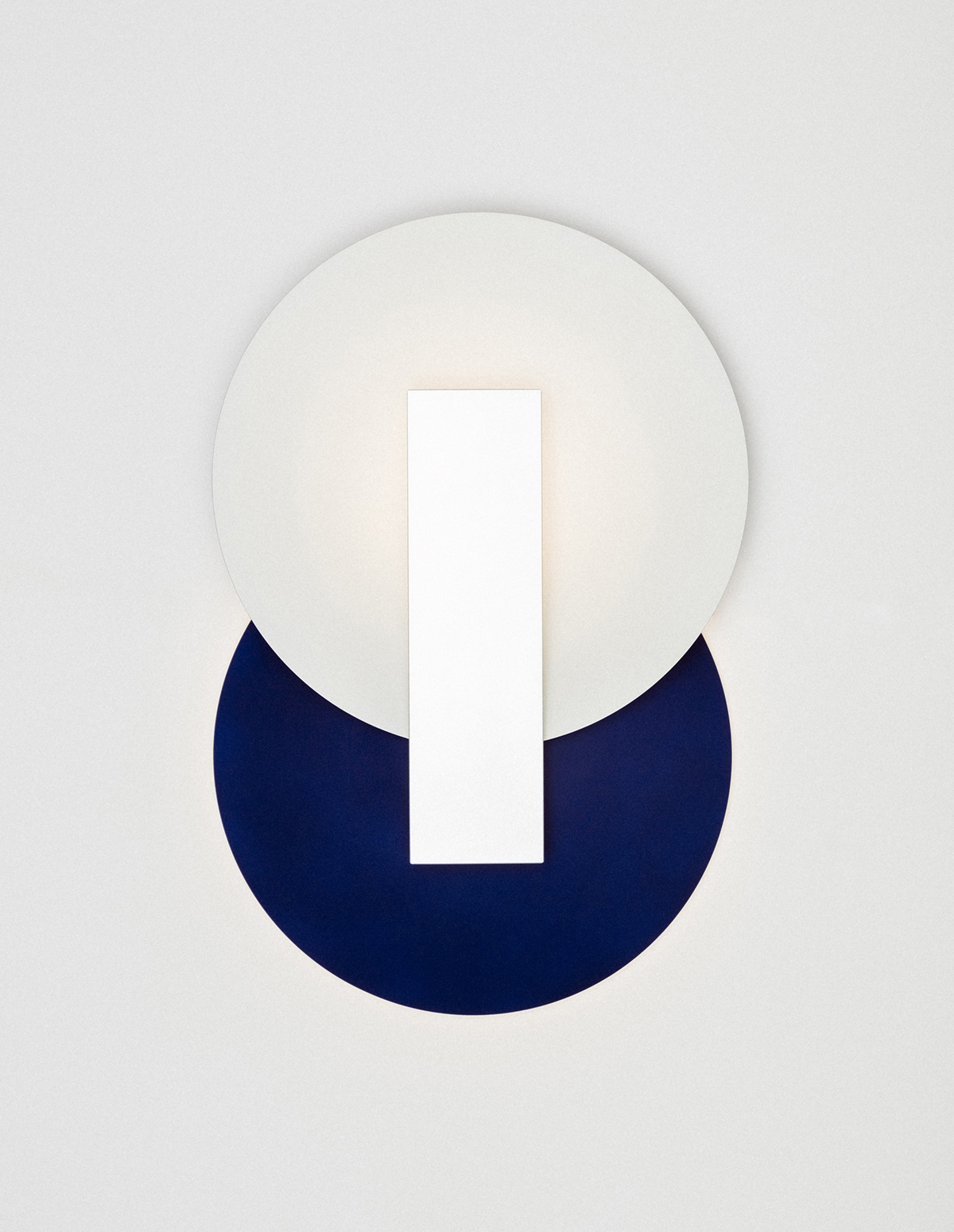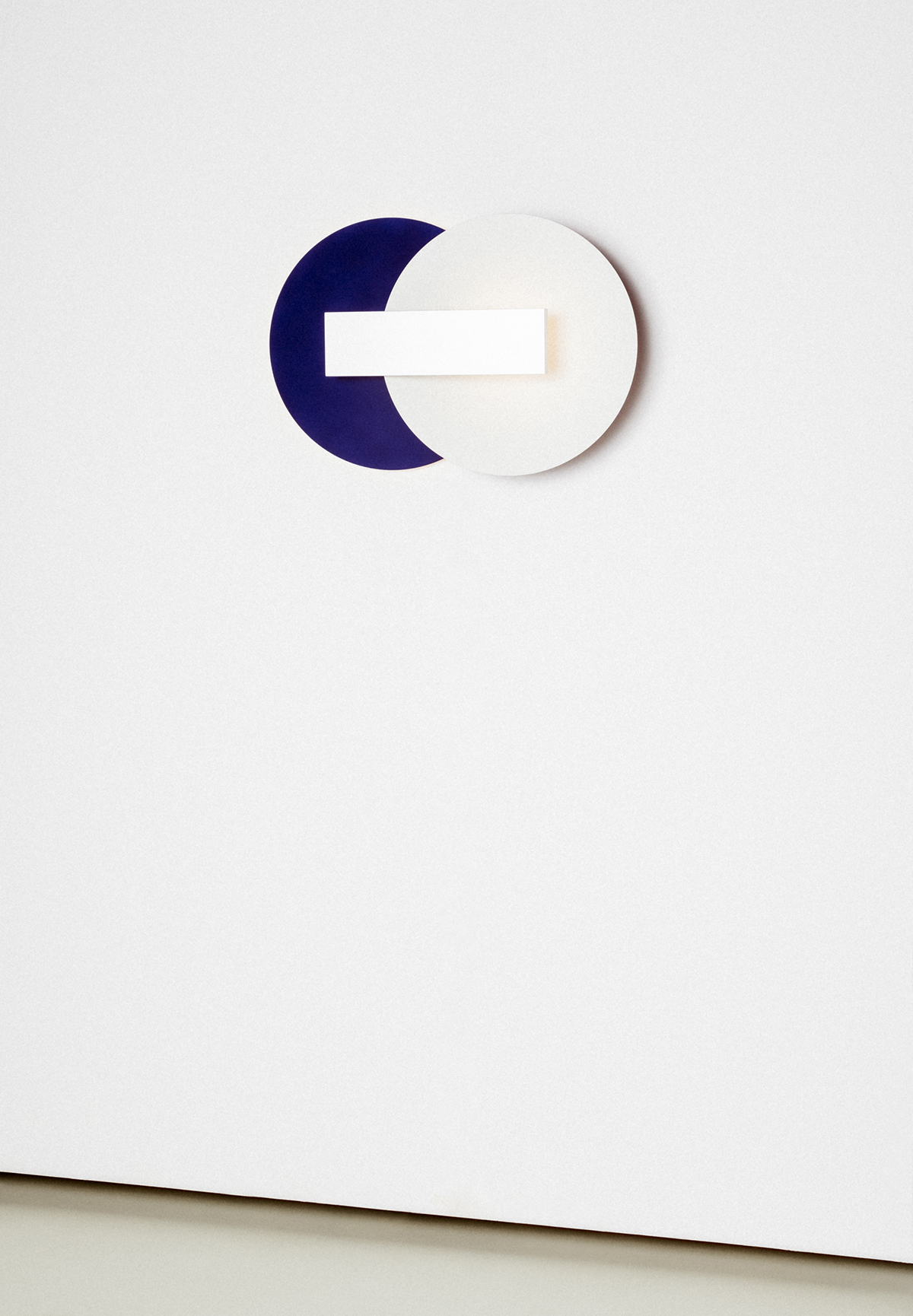 "The Orbe Wall Lamp is a new version of the table lamp that we launched earlier this year. Its structure is composed of a front box that houses the light source and two conical volumes that reflect the light. Its name alludes to the aesthetics of the object, which lay in the interaction of the geometric design with its metallic finishes and matte colors. The circular reflectors set up a kind of aura. It can resemble either a classic piece full of symbolism, or a technological instrument with a futuristic character."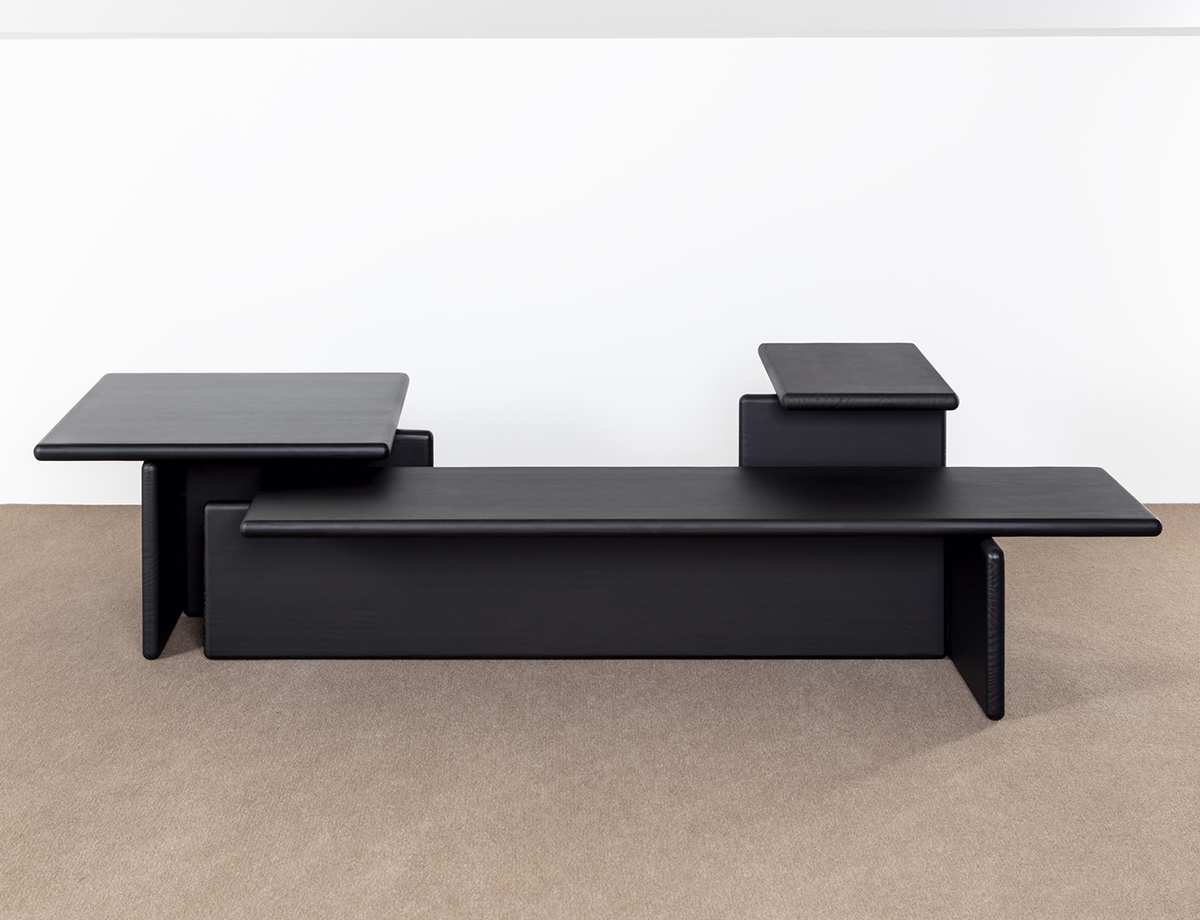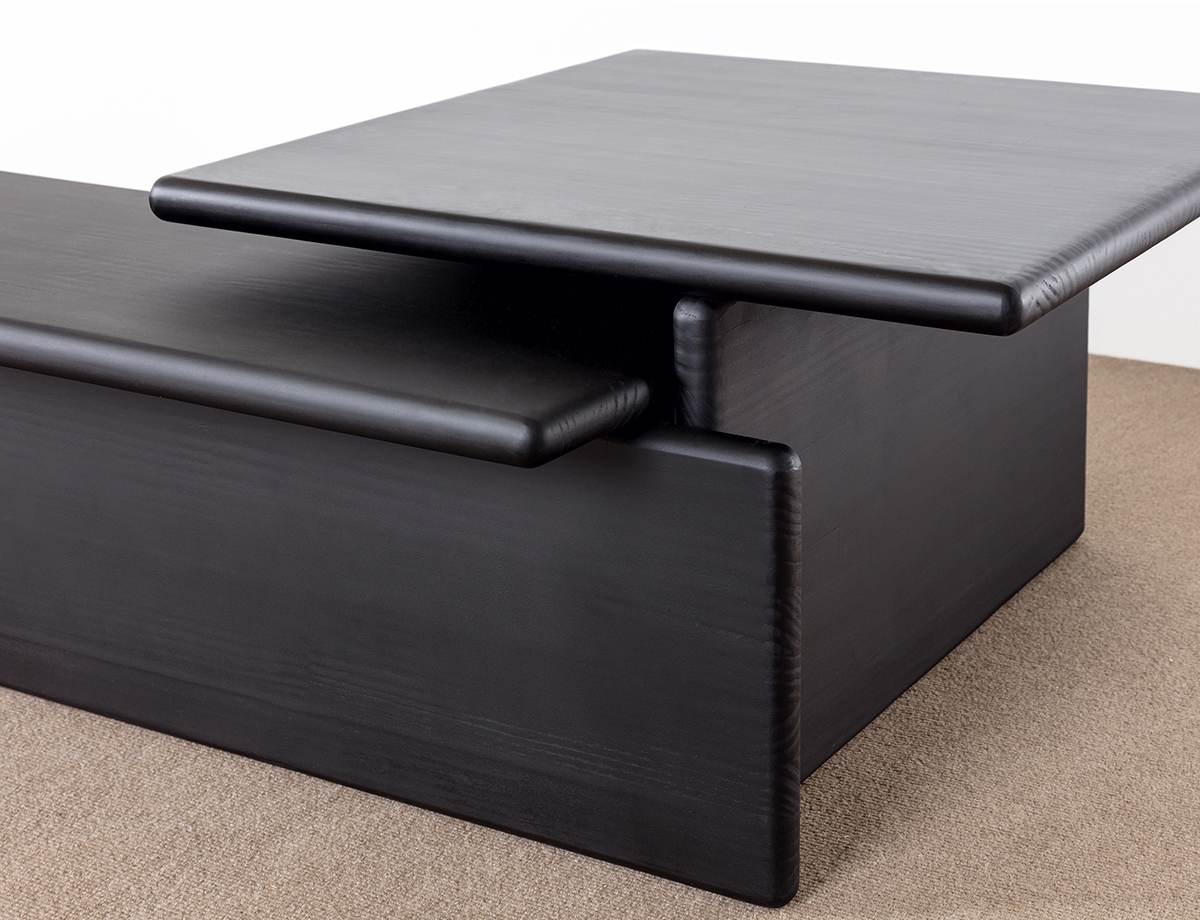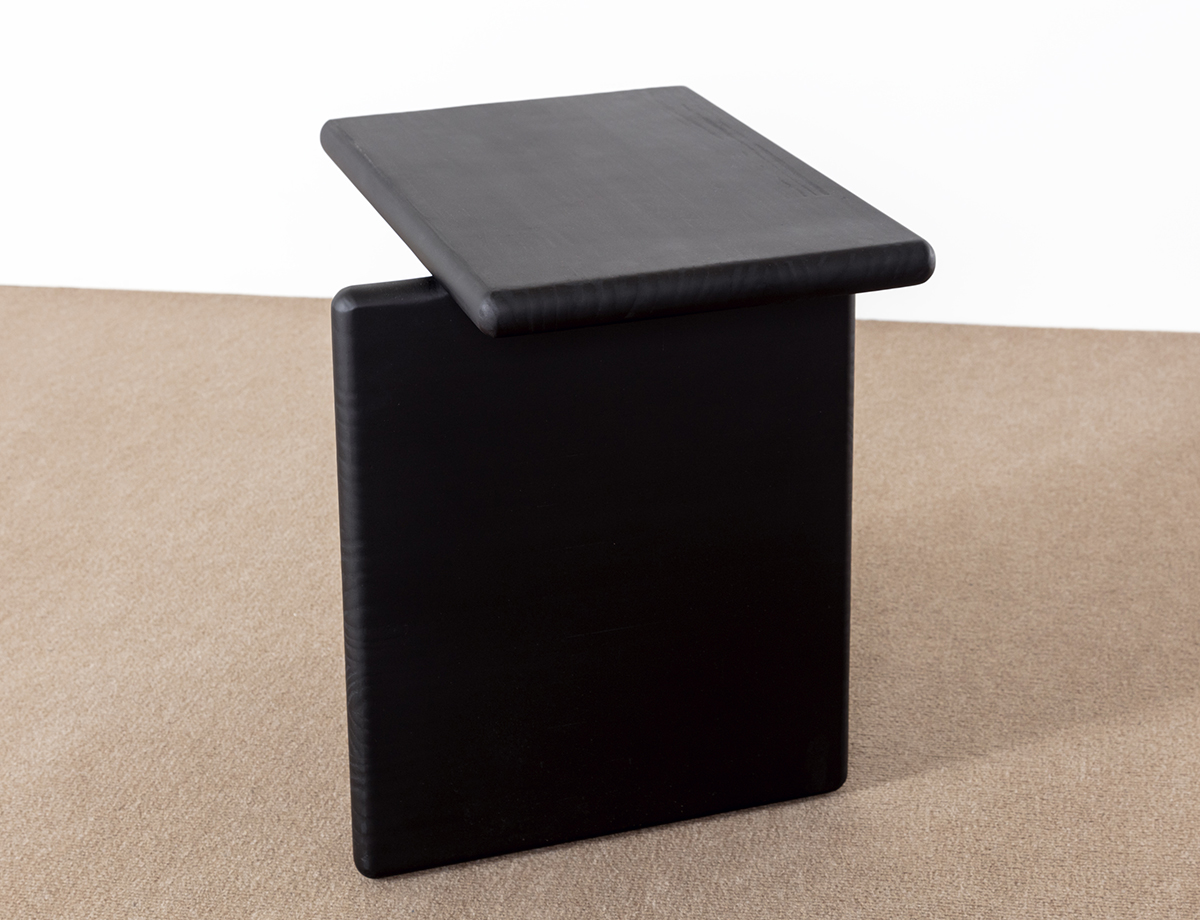 "Our Bao Tables have rounded ends and matte finish that create a velvety appearance, turning the pieces friendly to touch. The tables are made to be used together, in beautiful cross-encounters."