05.26.20
Atelier de Troupe's Latest Collection is the Sun and Sand Infusion We Need Right Now
This piece is part of Sight Unseen's 2020 Offsite Offline coverage. To view Atelier de Troupe's virtual booth on Offsite Online, click here.
Gabriel Abraham is nostalgic: for childhood summers spent between the rocks of Cassis and the beaches of St. Tropez, for glass bottles found washed up on the beach, maybe even for squinting up at a sun that shines a little less harshly. The founder of the LA-based studio Atelier de Troupe, Abraham's background in the film industry — working on French period films like My Father's Glory and later in production design on commercials and music videos in the States — informs his narrative approach to the design process. His reveries are made manifest in Dérive D'Été, Atelier de Troupe's new collection of lighting and furniture, inspired at turns by "drifting tides, the cyclical shades of light, and the long shadows of summer" — not to mention, tellingly, by Swiss director Barbet Schroeder's More, the first film shot in Ibiza. We virtually sat down with Abraham and designer and Atelier de Troupe's project manager Alicia Doroteo to chat about concentric circles, paper patterns, and the application of the feminine mystique.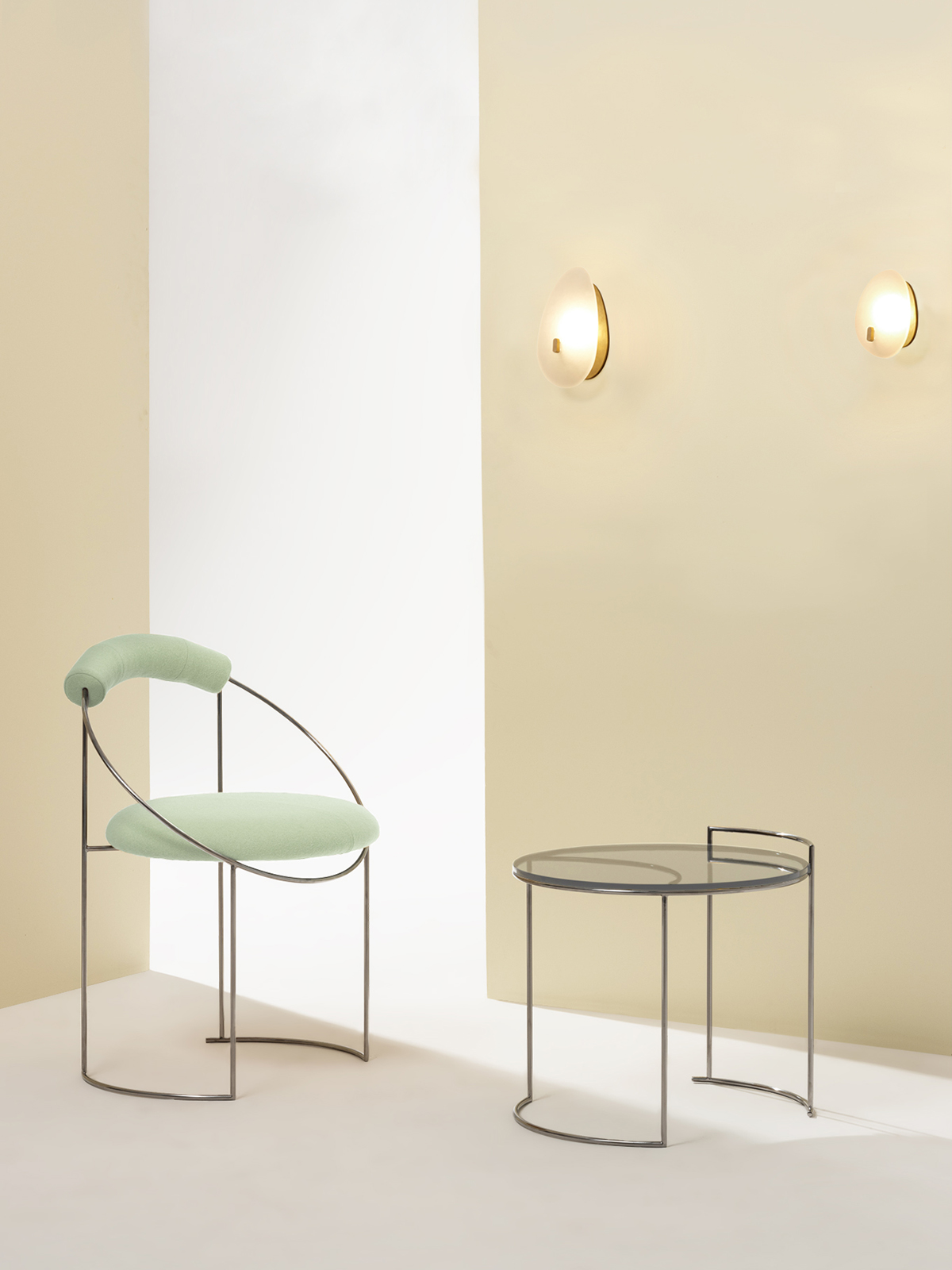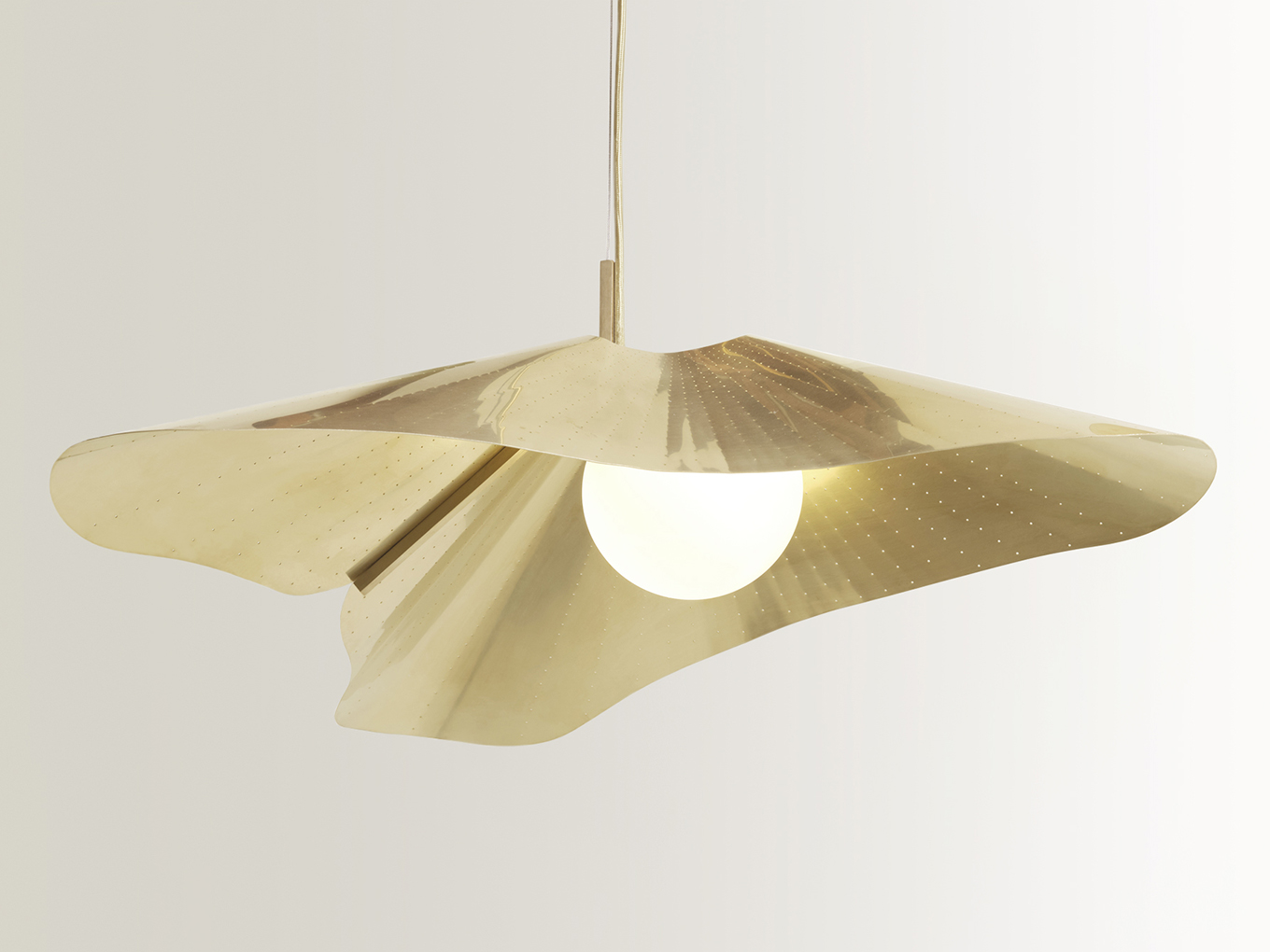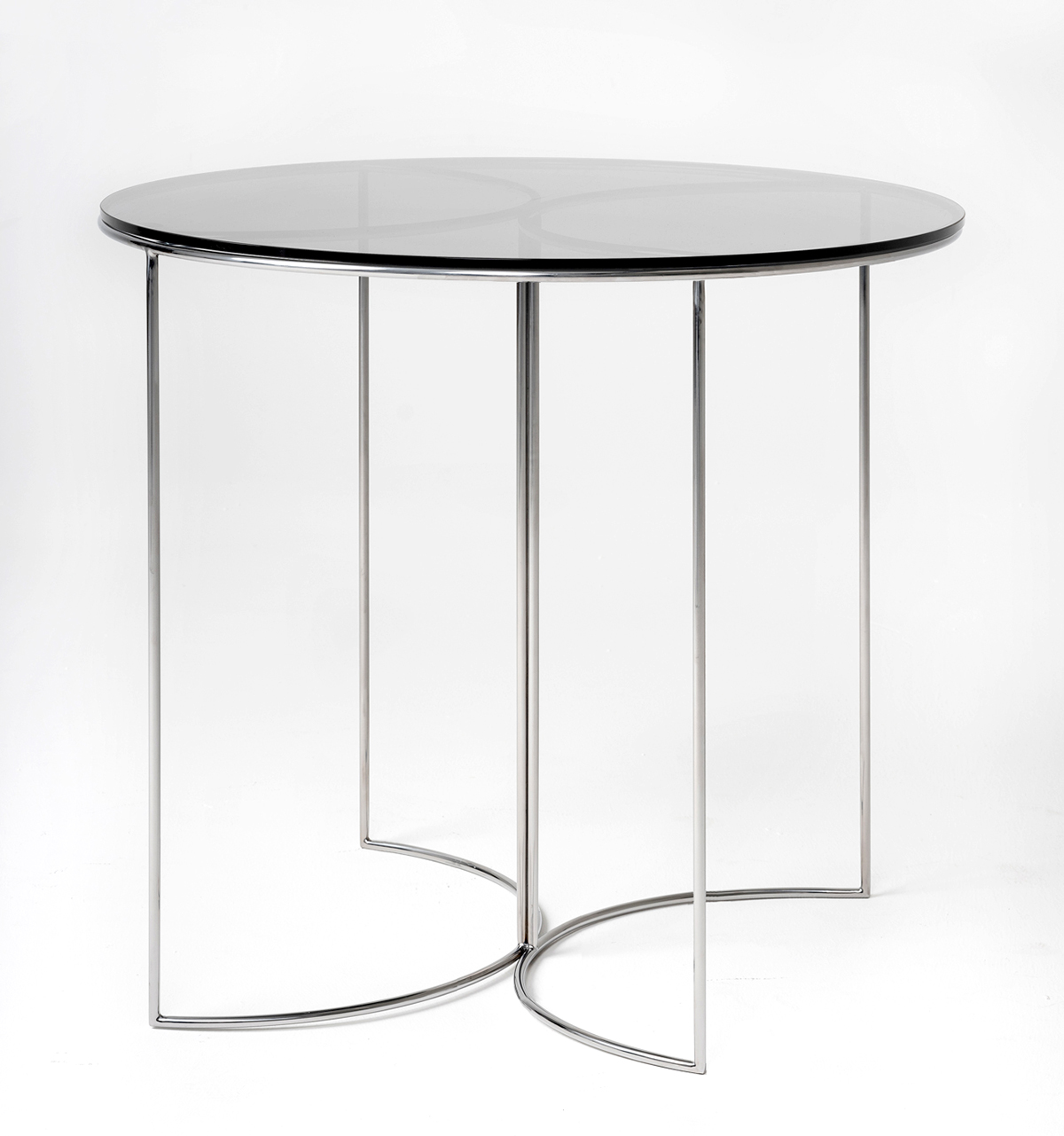 How long has this collection been in development?
Alicia: We started about a year ago, no? We kind of started after Milan.
Gabriel: It's a slow process.
Did you approach Dérive D'Été as a fresh start, or do you see it as an evolution of ideas you put forward in previous collections?
Gabriel: Every time we kind of reinvent. I guess, at least for me, it starts with my background in film. You try and think of a whole set — where are you, what kind of house or space are you in, and then you create an environment around that story. This time we were thinking about endless summers in California, a '70s kind of vibe. It started with this idea of a very communal life and living outside in the world.
Alicia: It does seem like the '70s hold a special place in Gabe's heart. His inspiration board had a lot of grainy shots of beach fossils and landscapes and we took off from there.
Is that a new direction for the brand?
Gabriel: It feels like a more feminine approach. Last year it was more film noir inspired, and kind of masculine. We wanted to soften up and create a feeling of eternity, endless summers — very ethereal.
Alicia: Even our past collections were more dense, it felt like. They were coming from Brutalism whereas this felt more organic, especially the lighting.
Have you had the chance to see everything together?
Gabe: We have. We actually shot this collection in an abandoned house in Malibu. We did it with the prototypes…that's kind of what sparked a lot of edits. Usually it comes together when you do the trade show. You have to create the decor and the concept and build a booth and that's how people see it. But more and more it's the trend in Milan or New York: Instead of doing a booth you create a moment in an apartment or space to present the collection and the ideas behind it.
It's more like a runway show.
Gabe: Right, yes. It's funny how design has become like fashion, and now fashion does these virtual shows.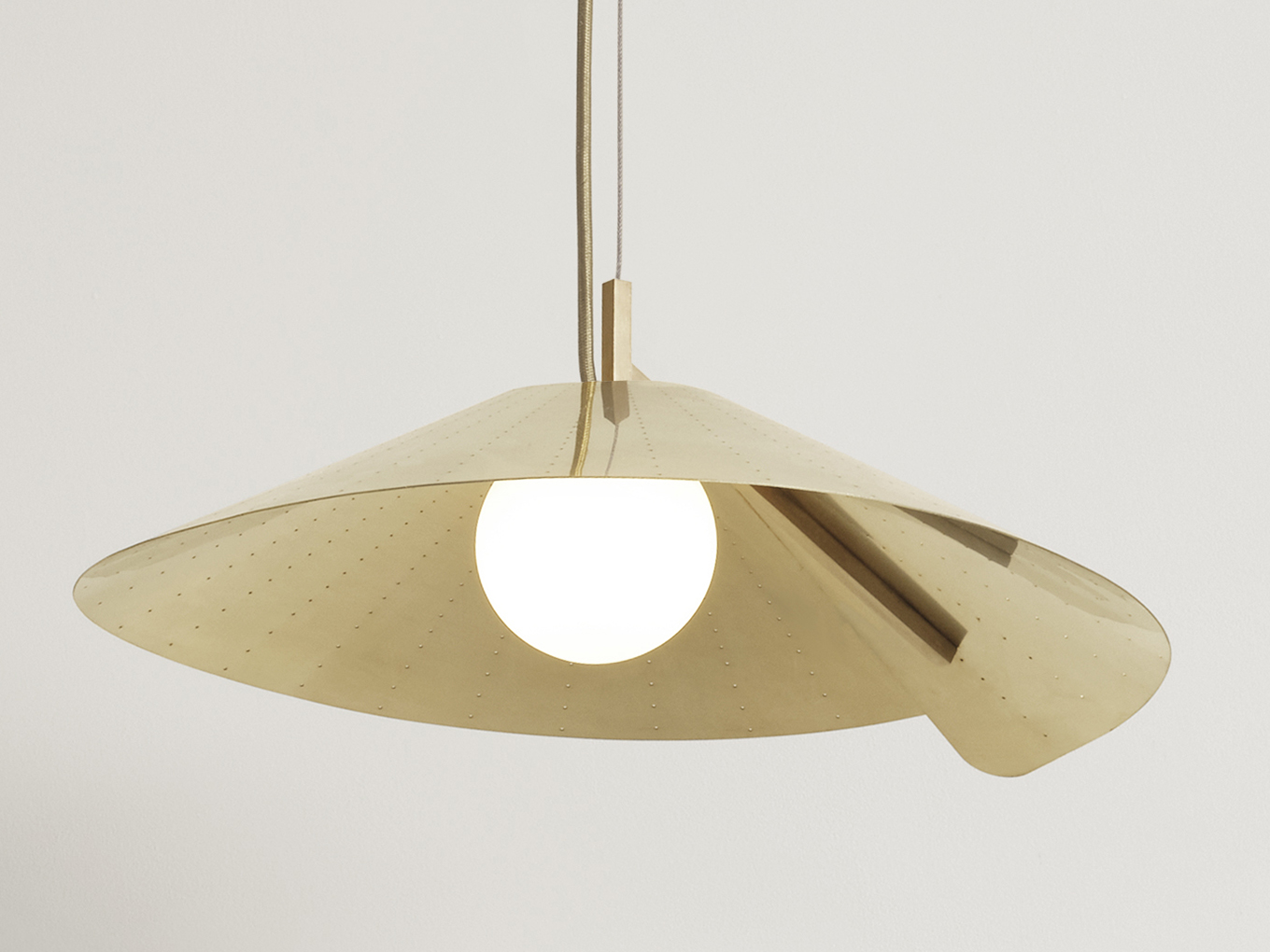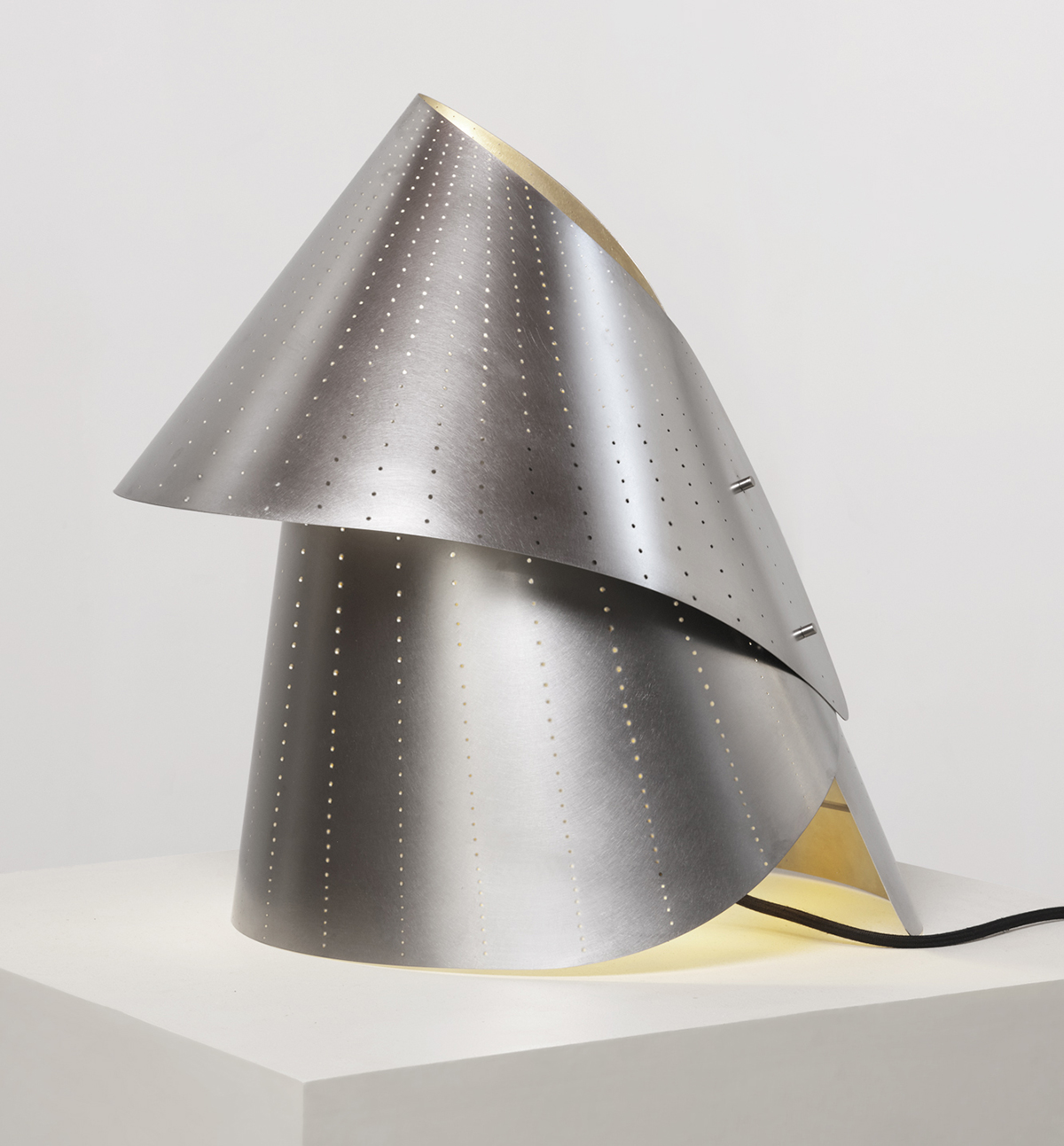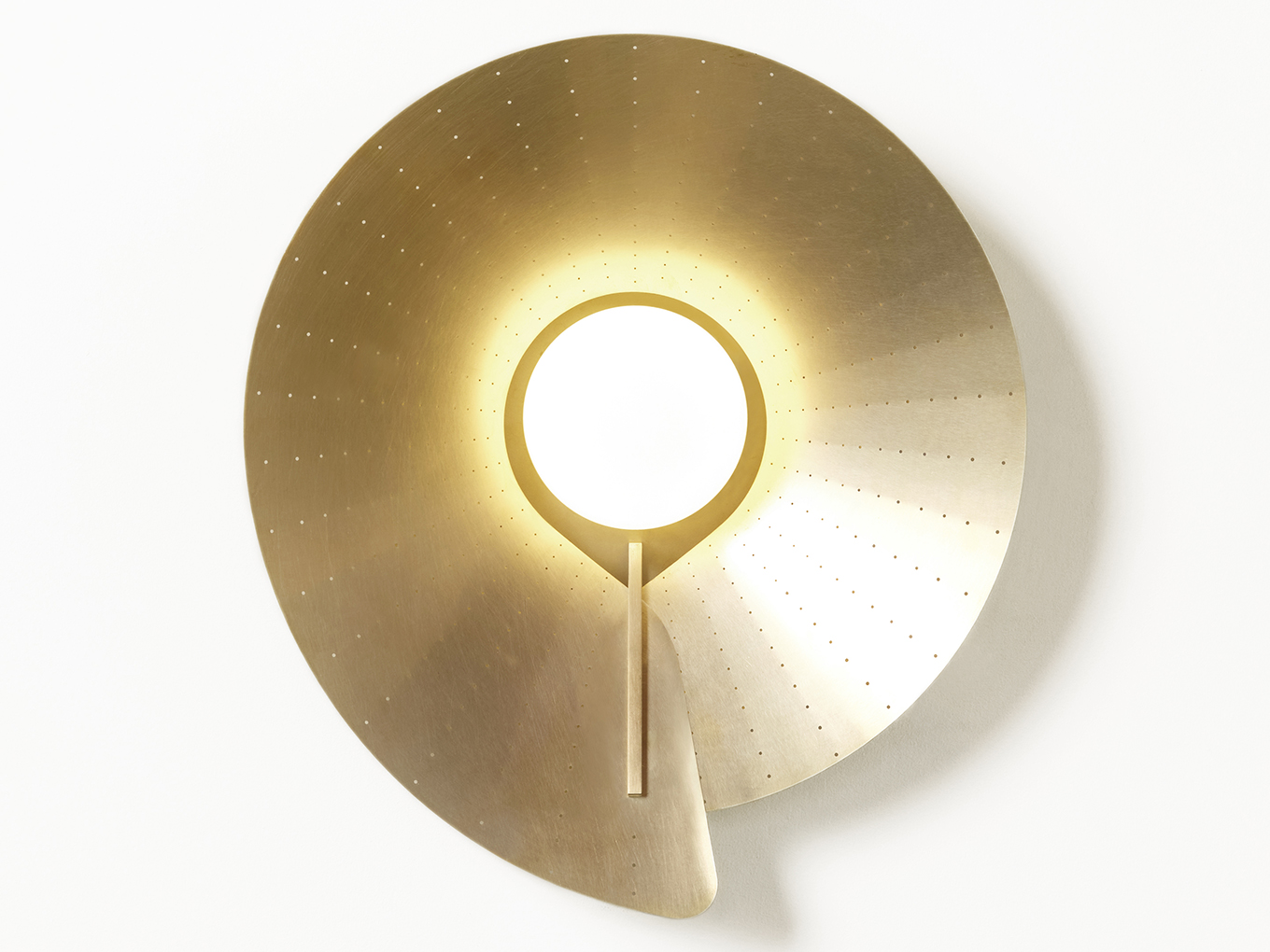 Talk me through the process for fabricating the lighting, because it seems like you were very intentional in that material language.
Alicia: We started doing a lot of iterations of paper patterns before we knew what texture the material would be. In a way, we always knew we would come back to brass, but early on we came in agreement that we didn't want to do spun brass, that there would be this fold or bend and that it would come together in one piece. So we started exploring what shapes we could get with a paper pattern. We had so many iterations of it.
Is that standard practice?
Alicia: This felt a little new. In a way, it's almost hand made. Normally we have a lot of aid from 3D modeling. We have the concept and we do a lot of sketching by hand, but once we get to a point we move on to the computer. In this case it felt almost impossible to move to the computer. We would make patterns and put them together physically, and from there we translated it to the computer. It was sort of backwards.
Gabriel: It's always about the shape, finding that form.
Did you continue that as you approached the furniture?
Alicia: That process was more traditional. It was more form oriented to begin with. We had a lot of iterations of the chair, too, but just because of the geometries of it, the precision with which these things intersected, it felt natural to move onto the computer.
Gabriel: Any chair is a tough proposition because it is like building a house. There are so many constraints. It has to be solid, it has to be comfortable, it has to be sturdy. We were looking at images of all these structures in the '70s that were created — communal domes in California and stuff like that, and we started playing with the idea of having a simple frame and wrapping it with some kind of metal. So the lamp is one derivation of that [interplay] and the chair and upholstery is another.
How did you model the furniture and iterate to get to these final forms?
Alicia: The relationship of the ellipses with the round cushion is something we had in mind from the beginning. The challenge was more how we wanted to proceed, whether we wanted a continuous tube bending or whether we wanted to have these set forms. Ultimately, we liked the intersection of these circular forms, but once we had a prototype — we made maybe four prototypes, ultimately — we were just trying to figure out how to make it sturdier, like distancing the legs a little more. But I think the shape was there from the first prototype.
Gabriel: The first iterations were made with welded steel. It's a simple frame to weld and we tried different heights and shapes.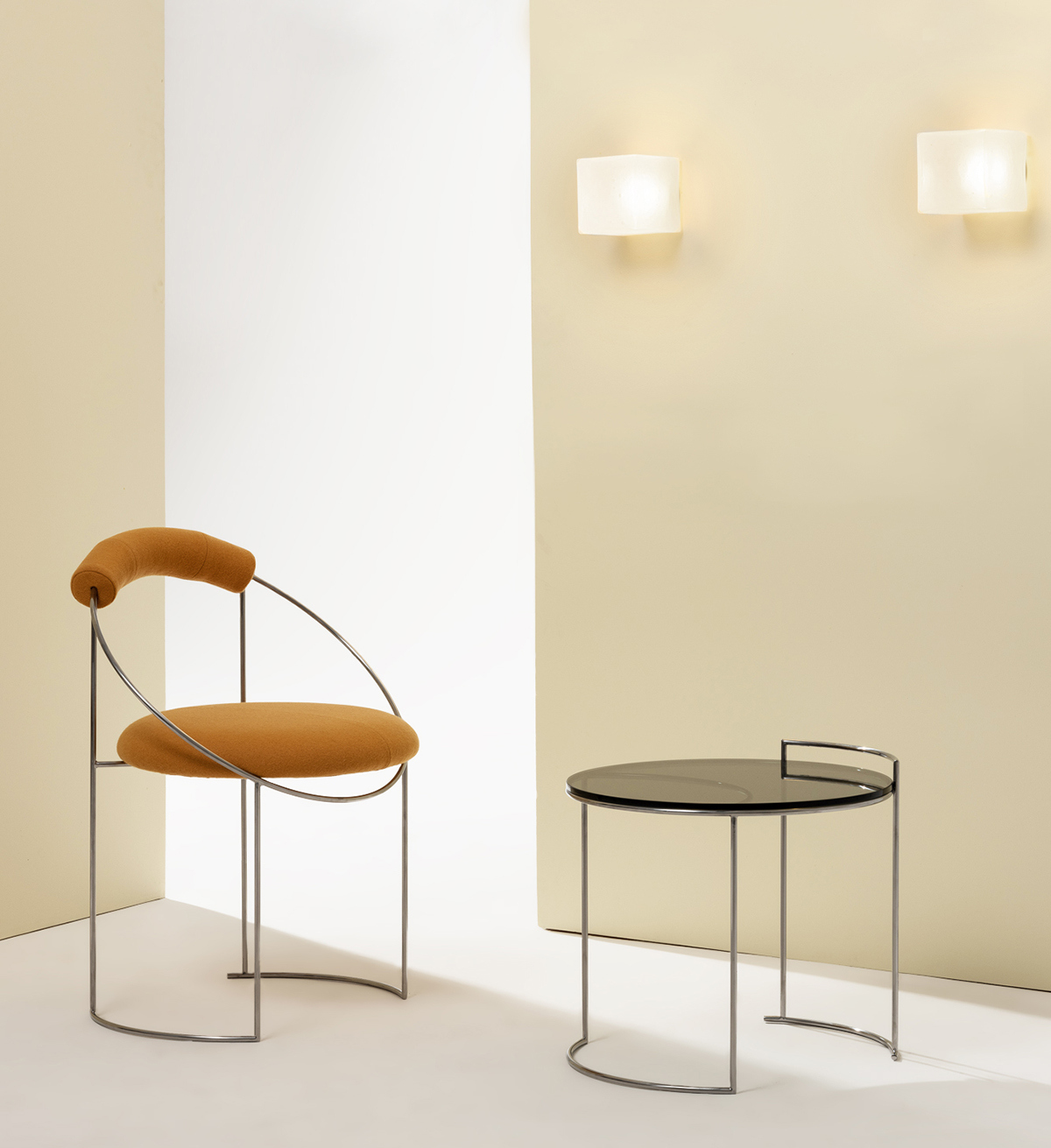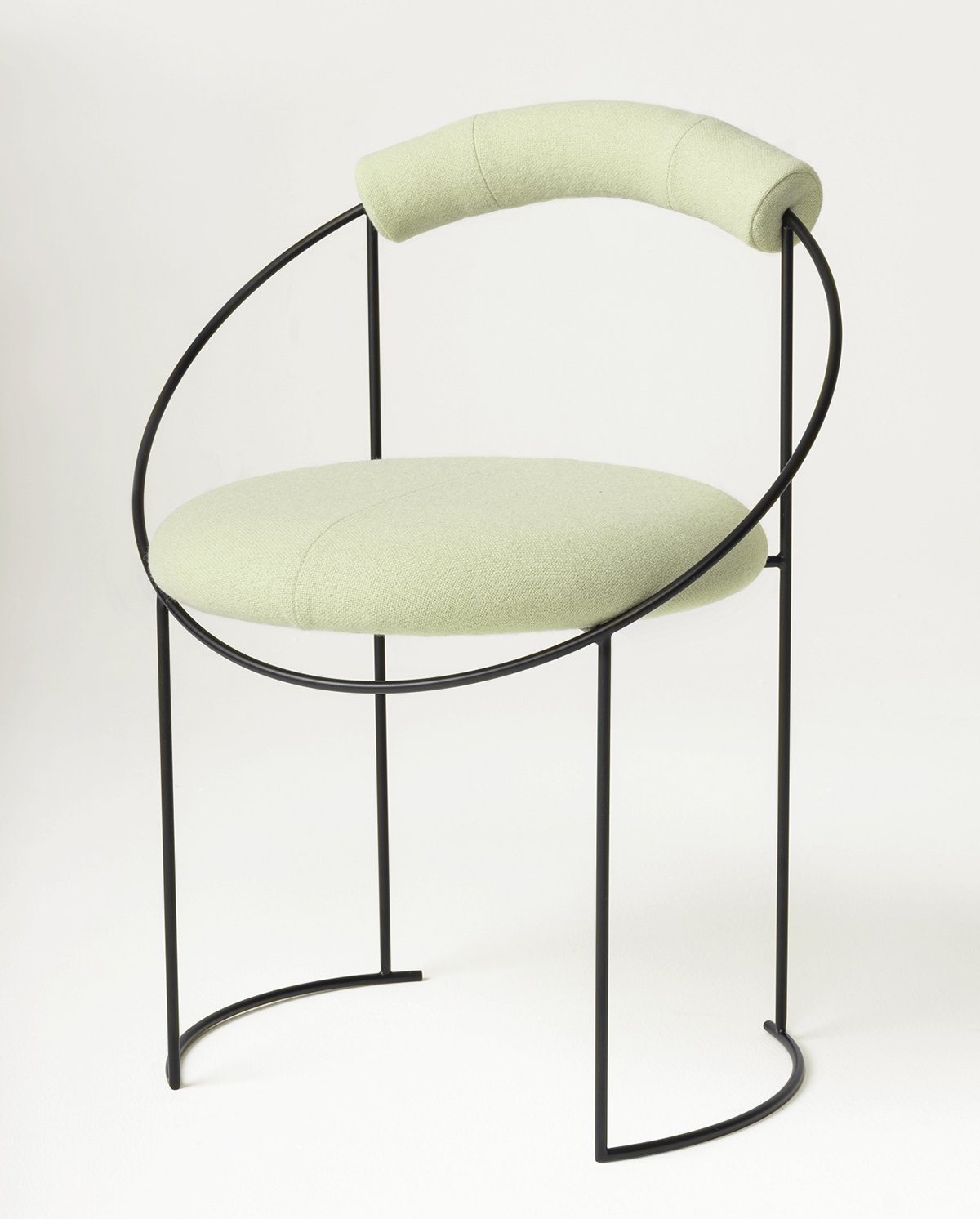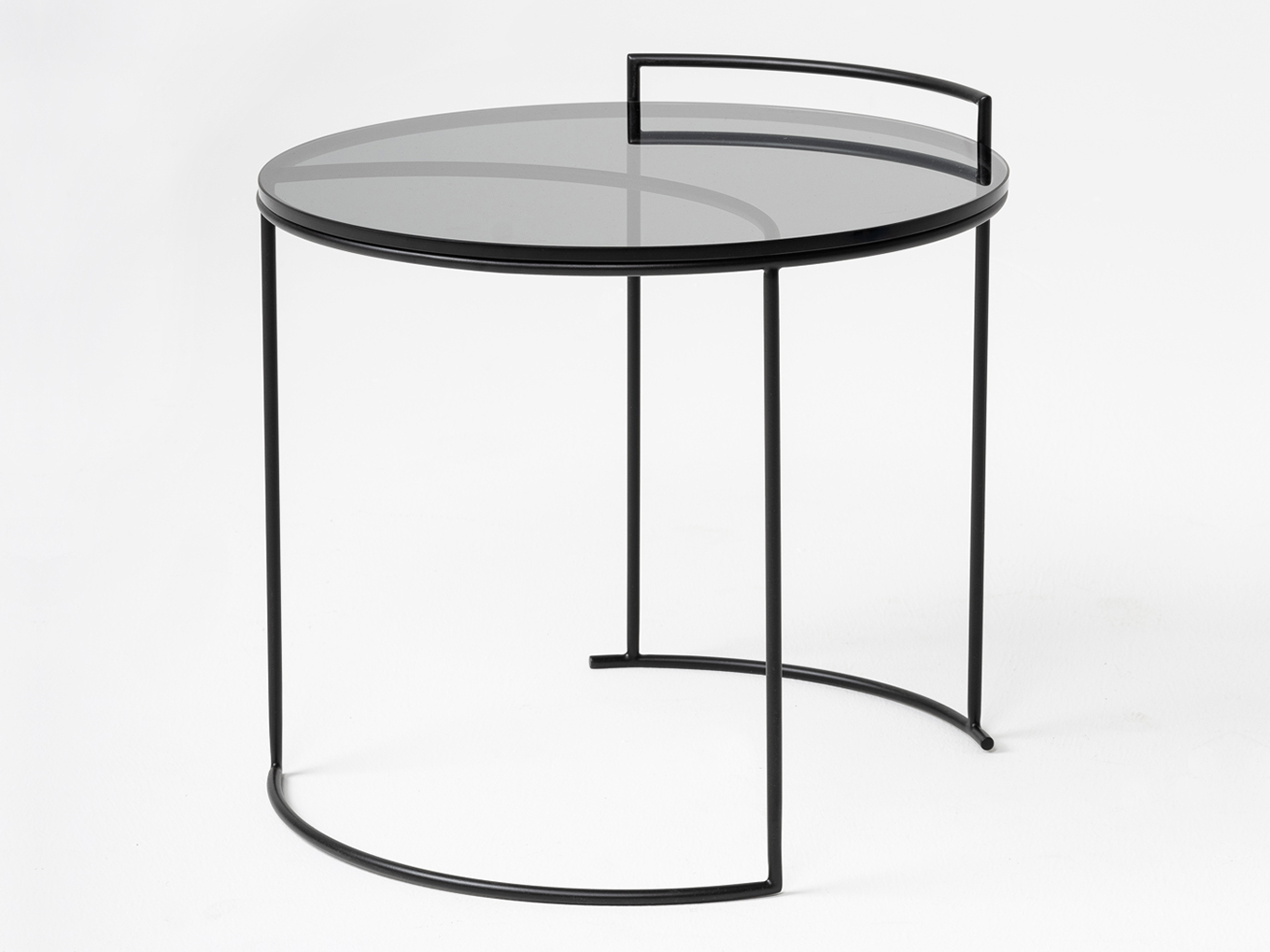 I like the attention to detail, like the handle on the side table. It's just enough of a tweak to give it more presence.
Alicia: The little table handle has been in the back of our minds for some time. We really liked how it fit, it felt justified. These details are something we've liked, but haven't always applied yet. In a way it has a similar attitude to one of our older tables, the Jia. So I think it might have just echoed from older inspiration, too.
Gabriel: Really it's all about the sea, the sun, the shade. The Compas light is almost like a sundial. That idea translated into the side table. It has these shadows it creates — if you did a time-lapse it would make more sense.
Alicia: Especially in the process of drawing these shapes from a top-down view, it's just circles inching into each other. It just felt like it was part of the design process, this eclipse situation that was happening.
Gabriel: Then we continued with the beach, we were thinking about sea glass and how can something you found on the beach like a shell then become the shape of the sconces? The shell-like shape of Coquille has the quality of sea glass. Dérive D'Été was all of this summer drift stuff that comes up from and lands on the beach, related to the celestial and the elements.
And how did you go about introducing color for the upholstery?
Gabriel: We were looking at Pierre Paulin oranges and yellows, but at the same time we wanted to be classy and so we sort of made it a little more modern, more monochrome. It's a very fine line between nostalgic '70s, which was very flashy, and a more modern, high-end kind of fabric.
Is it velvet?
Gabriel: It's wool. But we were thinking it's also a perfect chair for a patterned fabric, which we'll explore later on. So these will be COM. They're sort of a blank canvas.
I like that flexibility.
Alicia: Our clientele sort of ends up circling back to COM.
Gabriel: We do a lot of customization between a New York apartment and a California house. People want choices, so we want to provide options.