05.27.20
Lambert & Fils' New Collection Was Inspired By Airport Floodlights and Vintage French Mopeds
This piece is part of Sight Unseen's 2020 Offsite Offline coverage. To view Lambert & Fils' virtual booth on Offsite Online, click here.
It was meant to be a banner year for the Montreal-based lighting studio Lambert & Fils. Riding high on the buzz from their installation at last year's Salone del Mobile — a pop-up café in the Alcova exhibition space, designed in collaboration with DWA studio, where everyone flocked in the evenings for dinner, drinks, and gossip — they had planned to branch out even further with their first dedicated New York showroom and the launch of a monograph detailing the brand's first 10 years. But, as we are all well aware, the universe had other ideas.
With his grand plans shifted to the back burner, the studio's founder and creative director Samuel Lambert is instead focusing his energy in a new direction: He's expanding the Dorval lighting system, which was first unveiled in 2018 in collaboration with Paris-based SCMP Design Office. A pendant light composed of four swiveling heads that intentionally resemble the kind of floodlights that line airport runways, the Dorval quickly came to be a definitive project for Lambert & Fils, demonstrating perfectly the brand's unconventionally utilitarian style of design. Now, two years later, they're introducing wall, tables and floor lamps, as well as a linear suspension light, in a palette of white, dark gray, and petrol blue inspired by the iconic colors of a French Motobecane moped.
We caught up with Lambert over email to chat all things Dorval, the Montreal design scene, and making the best of it when your plans go up in smoke.
RENDERINGS BY RENDERFOLK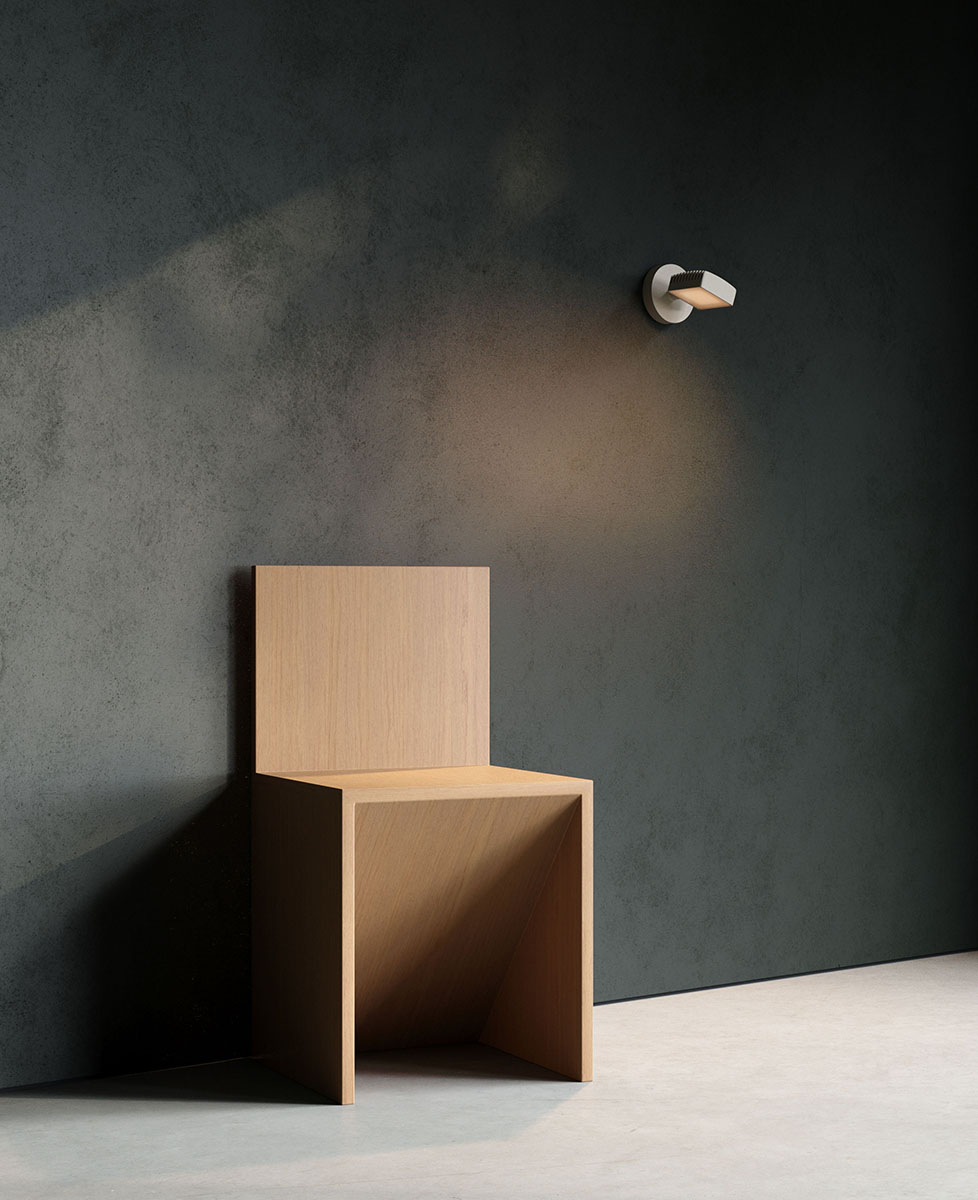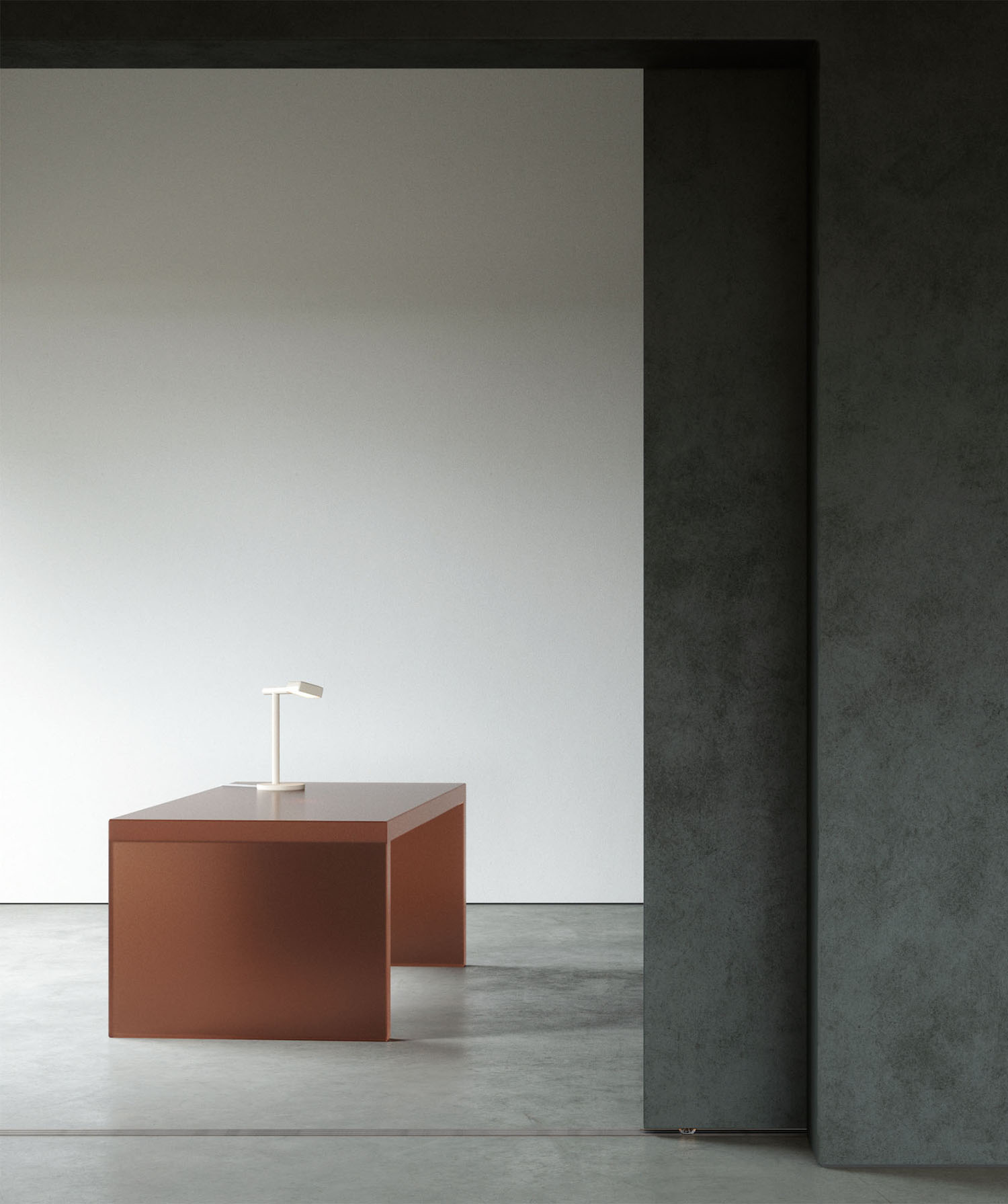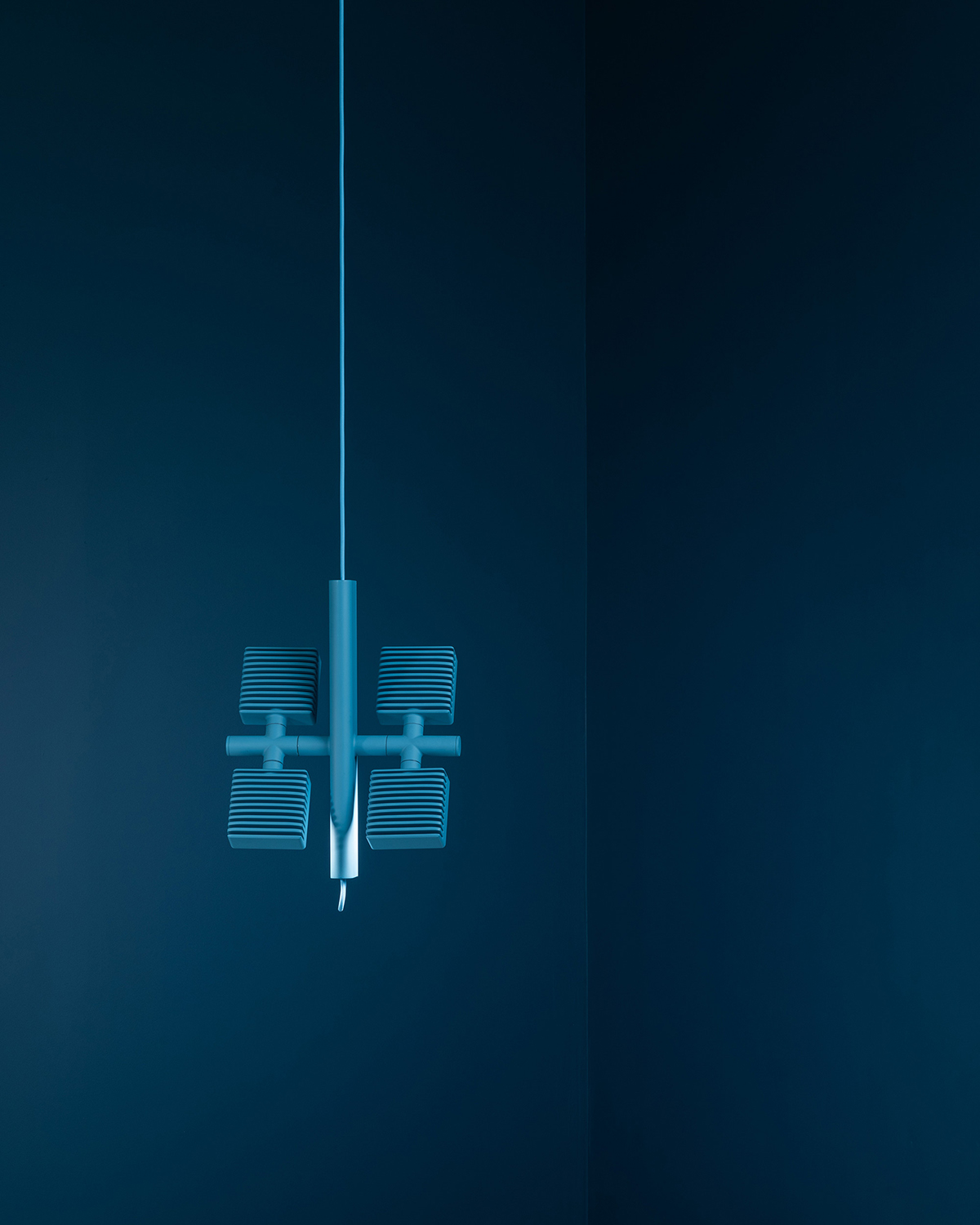 Tell us a little bit about the Lambert & Fils backstory. When was the brand founded and how has it grown?
I founded Lambert & Fils in 2010. It all began when I opened up a small design shop in Montreal on Rue Beaubien. I was putting together vintage lights and a small collection of my own designs. The company grew quickly and so did the demand for our custom lighting and the in-house collections.
Nearly a decade later, Lambert & Fils has grown to become a 50-person team in a 20,000 square foot studio and workshop. We have a design team, a custom projects team, and we also regularly collaborate with international designers on collections. All our lamps are designed and manufactured in house. Working by hand empowers our studio to push boundaries. We dream in materials, we prototype in-house, and we create the technologies and manufacturing approaches to bring our imagined forms to life.
The Dorval started as a single light made in collaboration with SCMP Design Office, first launched in 2018 at the Kortrijk Biennial. Can you explain how you went about expanding that piece into a full collection?
While carrying out a bunch of projects over the past two years, we kept working on possible variations of the Dorval collection. We always imagined it as a family, but there were some technical challenges so we took the time needed to flesh it out. It's one of the most technical lamps we've produced. Also, the Dorval 01 (the first lamp launched) is very loaded from a design perspective; it's iconic yet challenging. That's why we love it. With the family we wanted to keep it simple, so we put in the time and effort to streamline it while still keeping simplicity and the essence, the offbeat spirit, of the first model.
The cornerstone of the collection is the swiveling head with its heat sync pattern. This piece was a real technical challenge to develop but it's really what the collection is based around. Material wise, it consists of cast aluminum with a powder-coated finish (except in the polished aluminum model). In terms of color, the main inspiration was taken from the famous French blue moped, the Motobecane. The rest of the colors are classic colors from all L&F collections.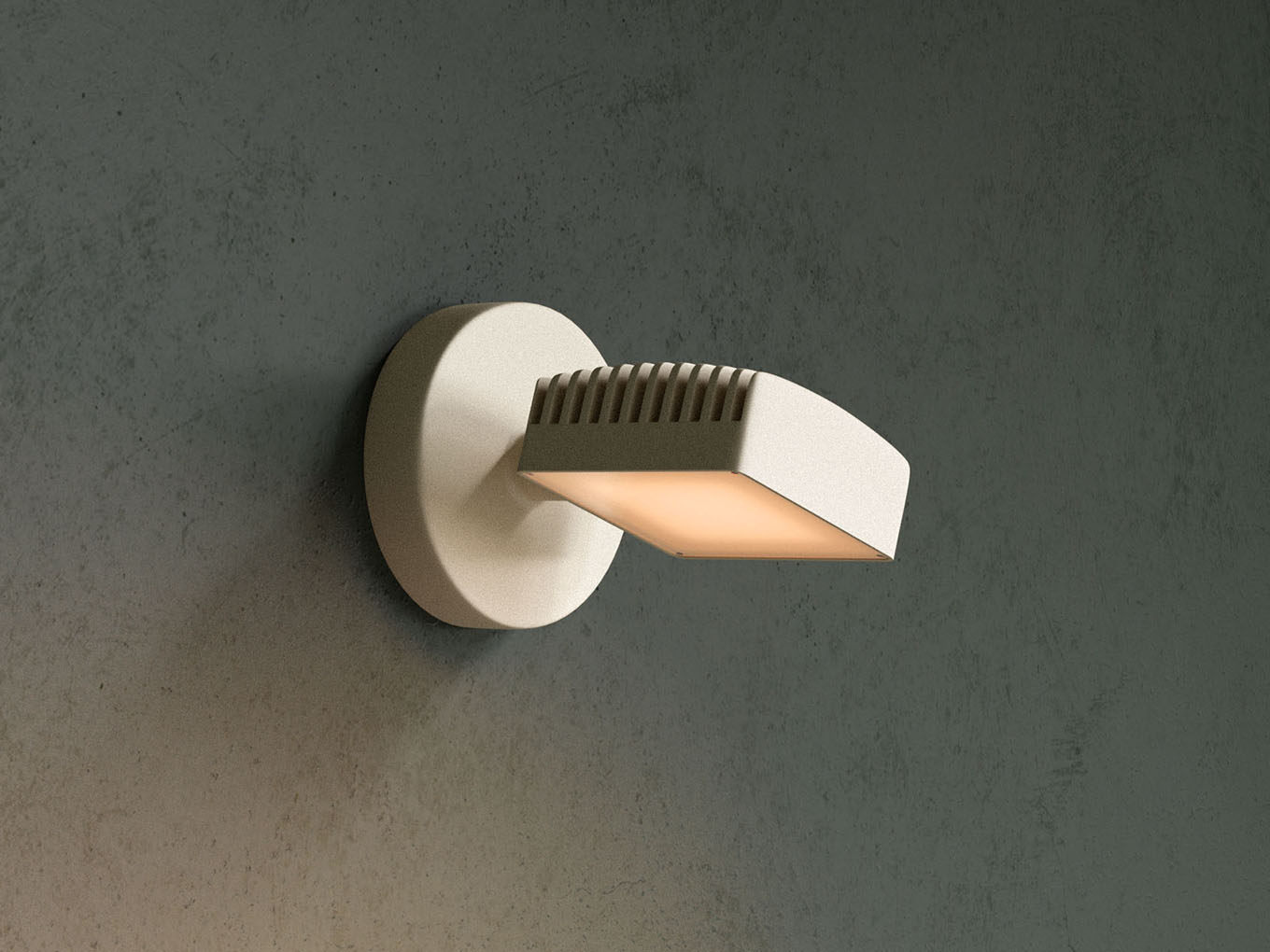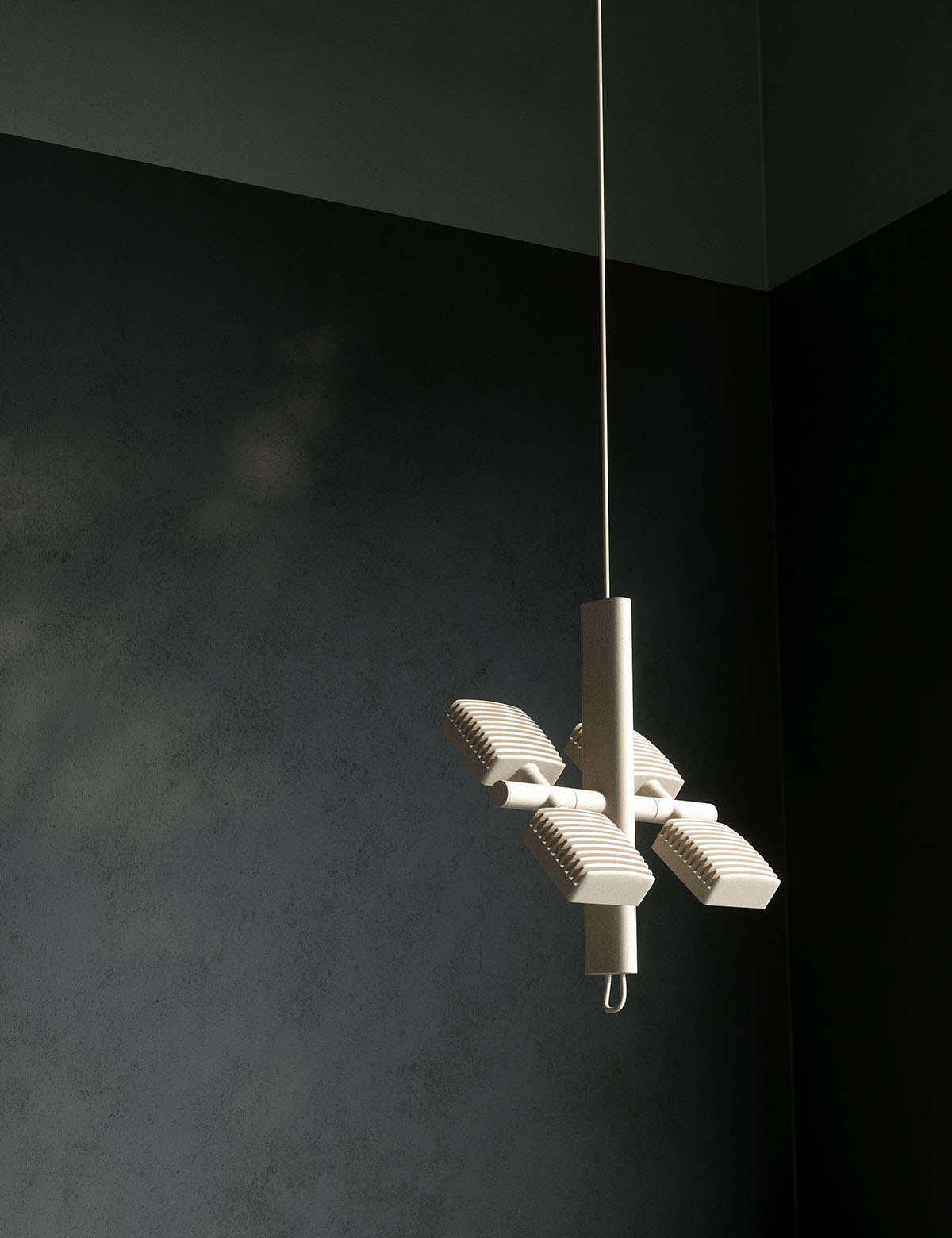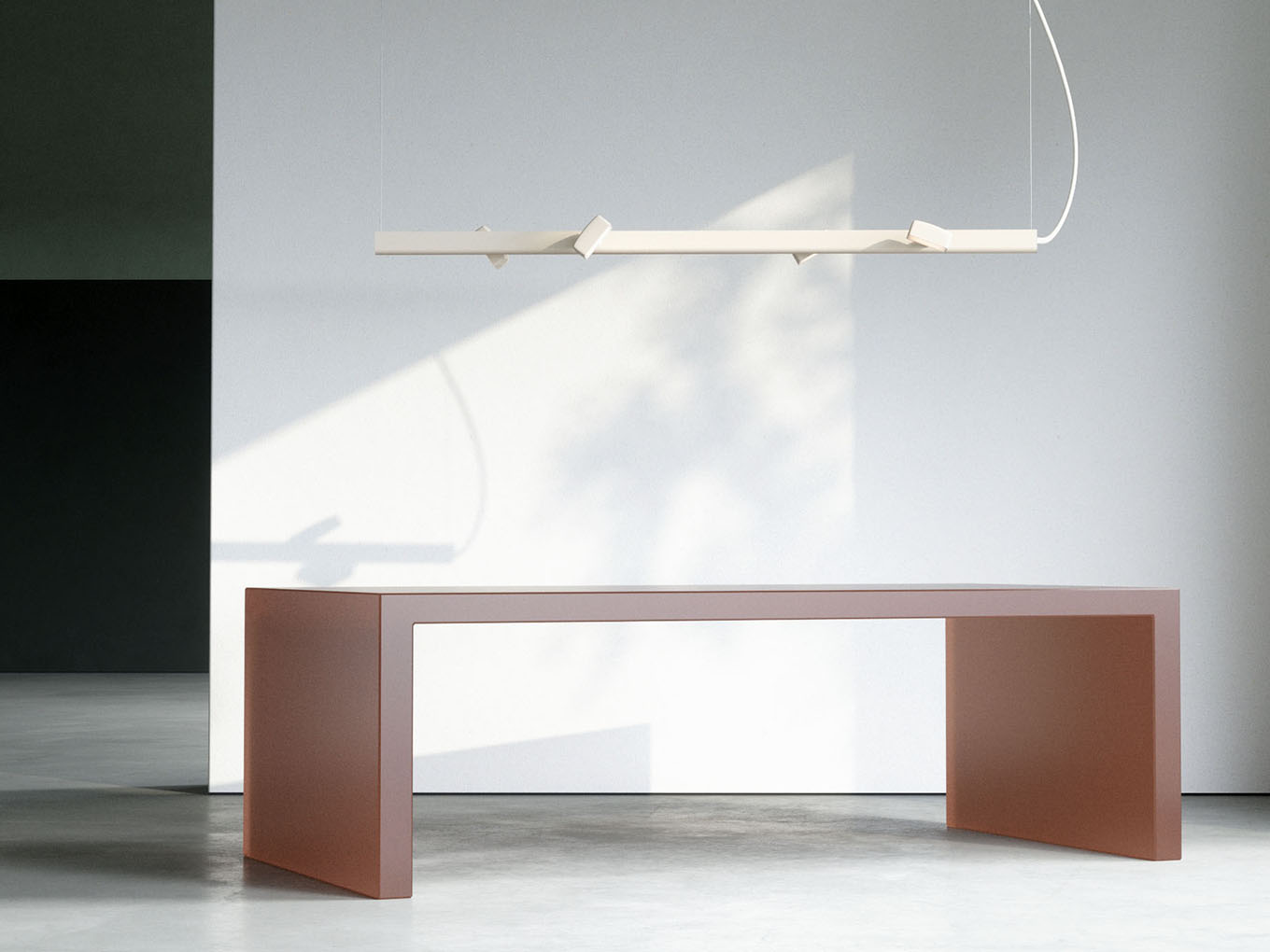 Where did the name Dorval come from?
At first, internally we called it Runway until SCMP DESIGN OFFICE came up with the idea of naming it after the location of Montreal's international airport: Dorval, Québec. Which as a visitor is the first point of contact with Montreal. Let's say it's not the most manicured part of Montreal — but it leaves an impression!
Can you tell us a little bit about what it's like running a design company in Montreal? What's the scene like?
Montreal is interesting because it's symbolically positioned somewhere between Europe and America. Though we are more fortunate than cities like London or New York because rental space is cheap and the government backs small businesses as well as the design industry at large. This flexibility allows us to control design, production, marketing, and sales, all under the same roof.
The Montreal design industry is taking more and more importance; great local talent is starting to get recognition around the world. It's a tightly knit community, and we support each other.
There's a real sense of community and creativity here. It's very spontaneous, a little naive and young. Because it's small, you have to construct your own reality. It's motivating, and it feels like a really ripe time for Montreal. Because Canada is so large though, you are a little isolated, even from other Canadian designers, so the Canadian design scene at large is more scattered. We recently co-founded The CCC (Canadian Collective of Creators) as a way to shine even more light on our scene.
What does the research and experimentation process look like in your studio?
We're always making. We're all about the craft, and the process is as important as the final output. What's amazing about having all the disciplines together (design, manufacturing, photography) is that it creates an amazing dialogue between production, design, and the final visual output.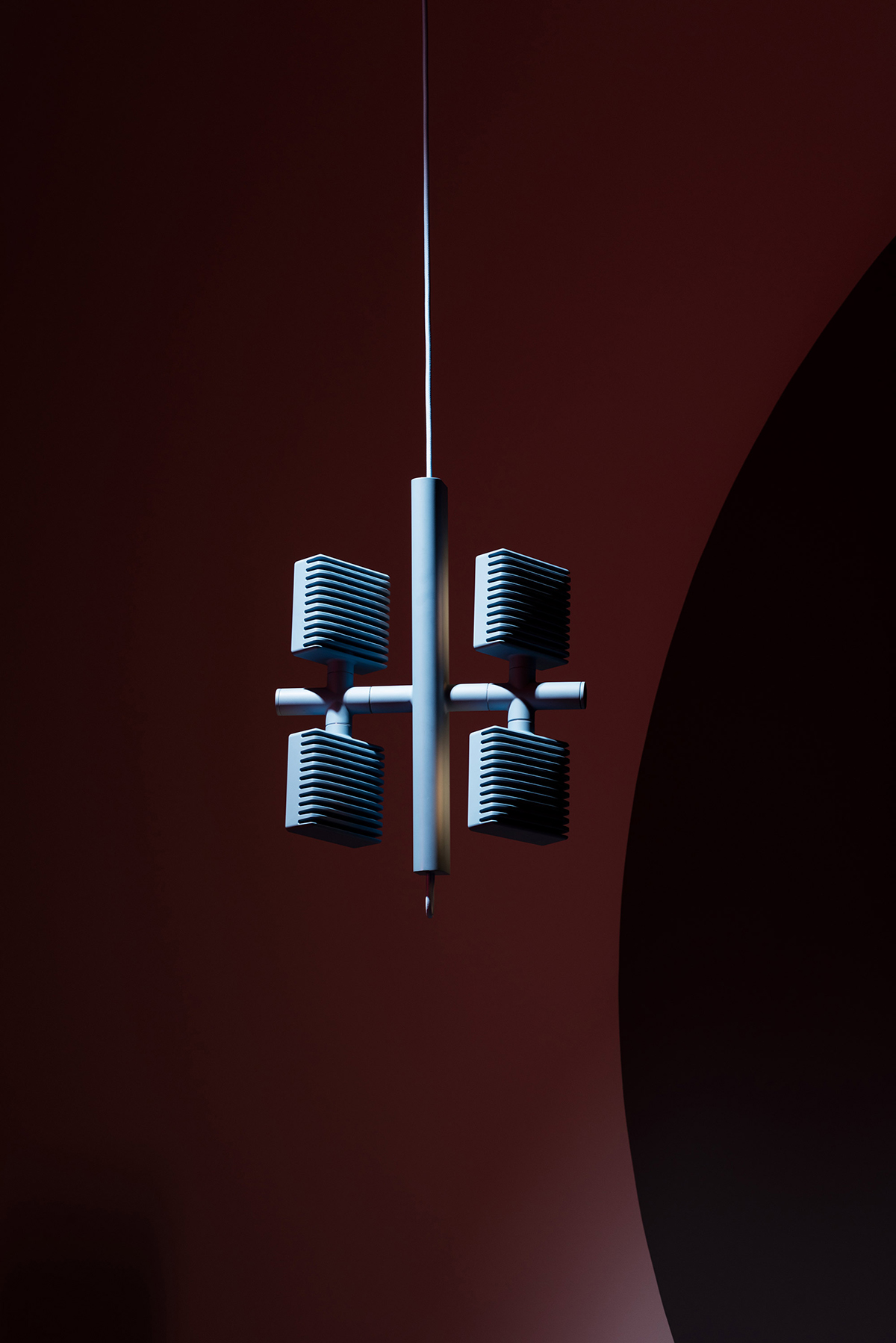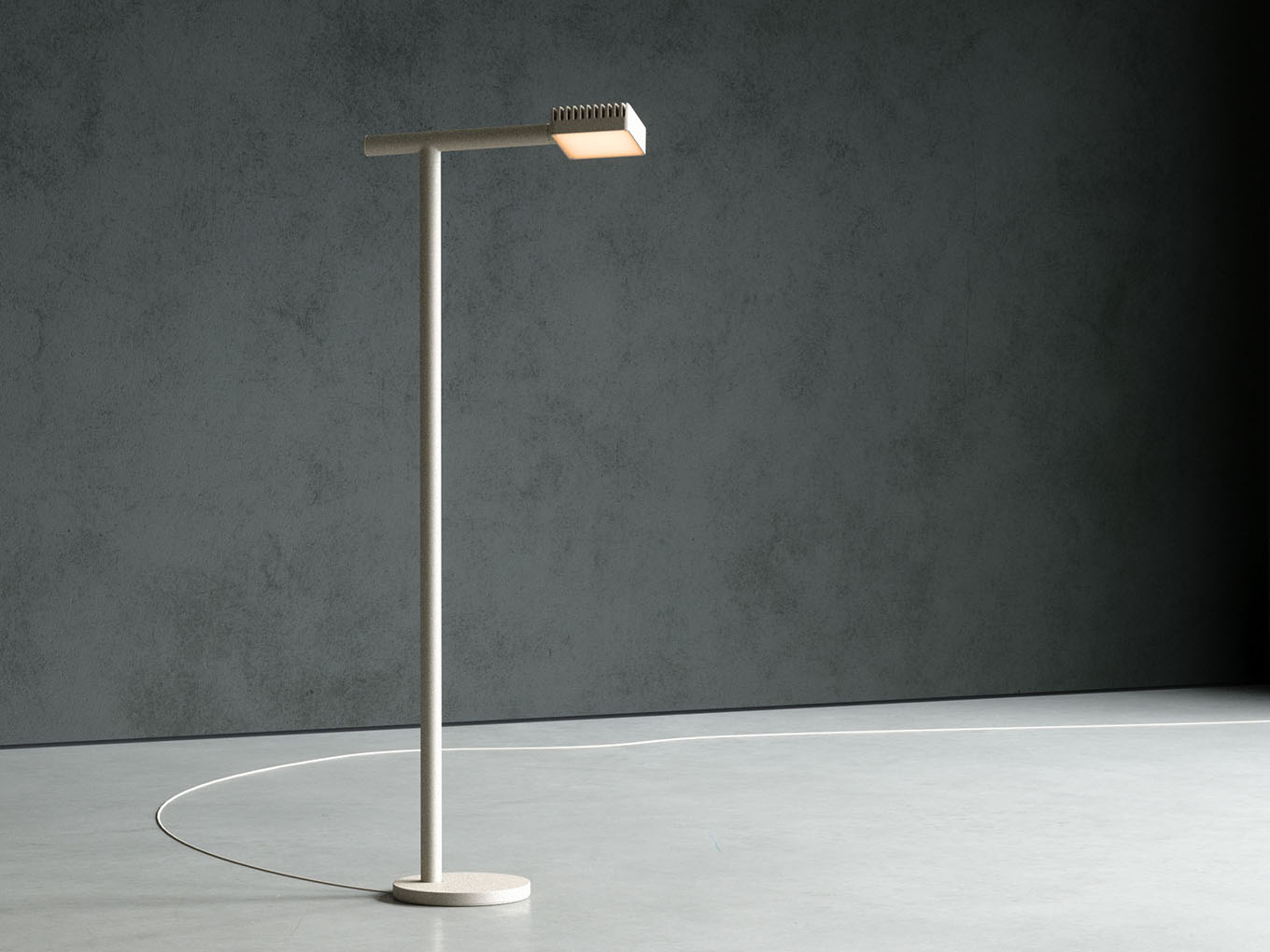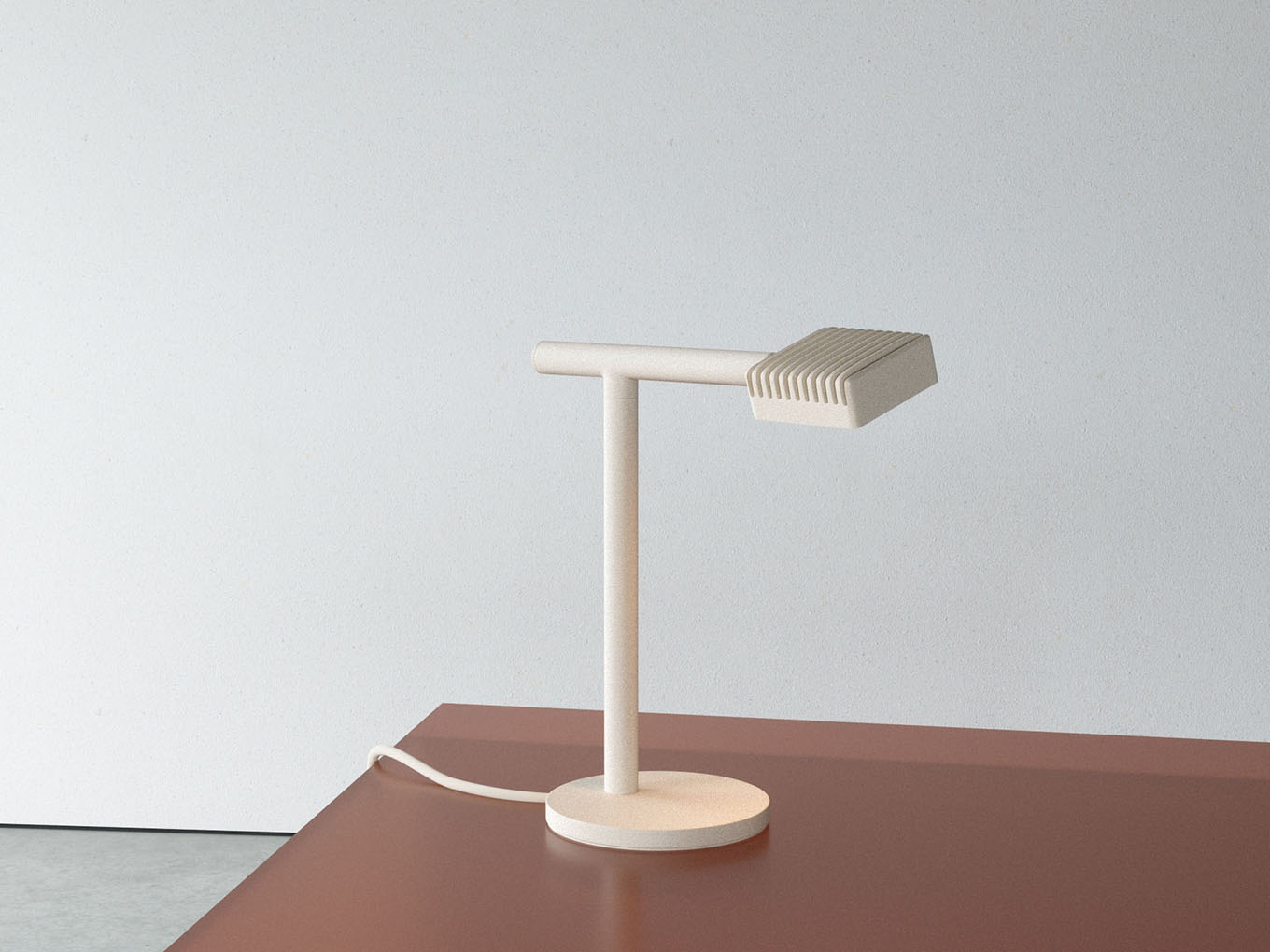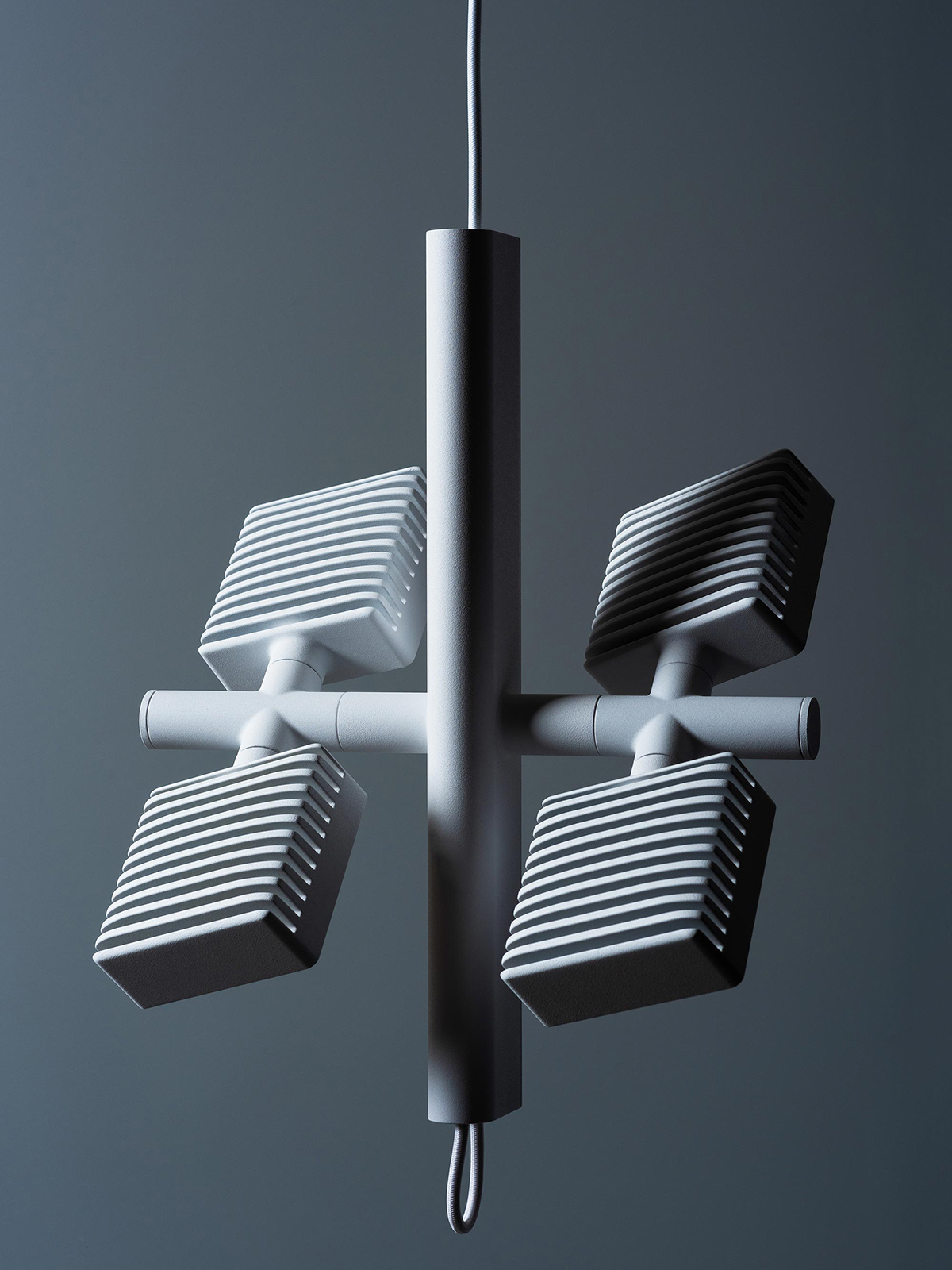 What ideas are you interested in at the moment? What's on your mood board?
Lambert & Fils has been around for almost 10 years. To celebrate, we're launching Matière première (raw material), a photo brand book, made up of photos from our archive. The book is really our manifesto on material; it's a reflection of our philosophy. We're very inspired by raw material and the transformation of material. That and the people: the team, the brains that shape and mold the material in a collaborative spirit. Transforming, shaping, polishing; it's about the dialogue between material and humans.
Lambert & Fils was supposed to launch a new showroom in New York this May. Can you tell us a little bit about what you had planned?
The showroom is part of the 10 years celebration as well. Coming from the same place as Matière première, we wanted to turn the raw material idea into something concrete. We do a lot of ephemeral experiences around the world: This is a way to do something more permanent, to make some roots in a city we've loved and been inspired by our whole lives. (NYC is a mere six-hour drive from Montreal, and is the quintessential place of possibility for us). Obviously COVID-19 has blocked us a bit but we're going with the flow to make it come to life even during this context. We're building toward the idea of a laboratoire — an aquarium to expose objects within.
How has your team adapted to working remotely?
We do our best; it's not ideal. We had people assembling at home and at their farms but now the production team is back at the workshop and things are rolling again. A lot of renders — we're experimenting with this new medium both for internal and external purposes.
What's next for the brand?
We've been quietly working on developing our own technologies for the last two years. We design all our LEDs in-house with the help of a local specialist and we're very proud of the results. It was never a priority to promote it but the quality of the light is actually really exciting! So 2021 will most likely be showrooms, books, and technology. It's always in our nature to release new collections, and there will be collections as well but we feel it's also time to talk about the things surrounding L&F. We're feeling more comfortable in the ether.