06.13.20
Acid Camo, Ombré Glass, and Palm Tree Lights: It's Part III of Our Offsite Selects Round-Up
Ever since we began hosting our Sight Unseen Offsite fair, it has always featured both full collection launches — displayed in individual booths — as well as a more gallery-like section called Selects, the latter meant to highlight only a piece or two each by a large, diverse group of designers. Now that our physical show has become Offsite Online, we've kept the Selects concept intact, and we're presenting those individual works in roundups on our main feed over three Saturdays this month. You can view the third and final group of Selects below, but if you haven't been able to take the time to view the show in full, we highly recommend it — it includes not just information but also audio clips of the designers describing their projects, as well as direct links to purchase some of the pieces on 1stdibs.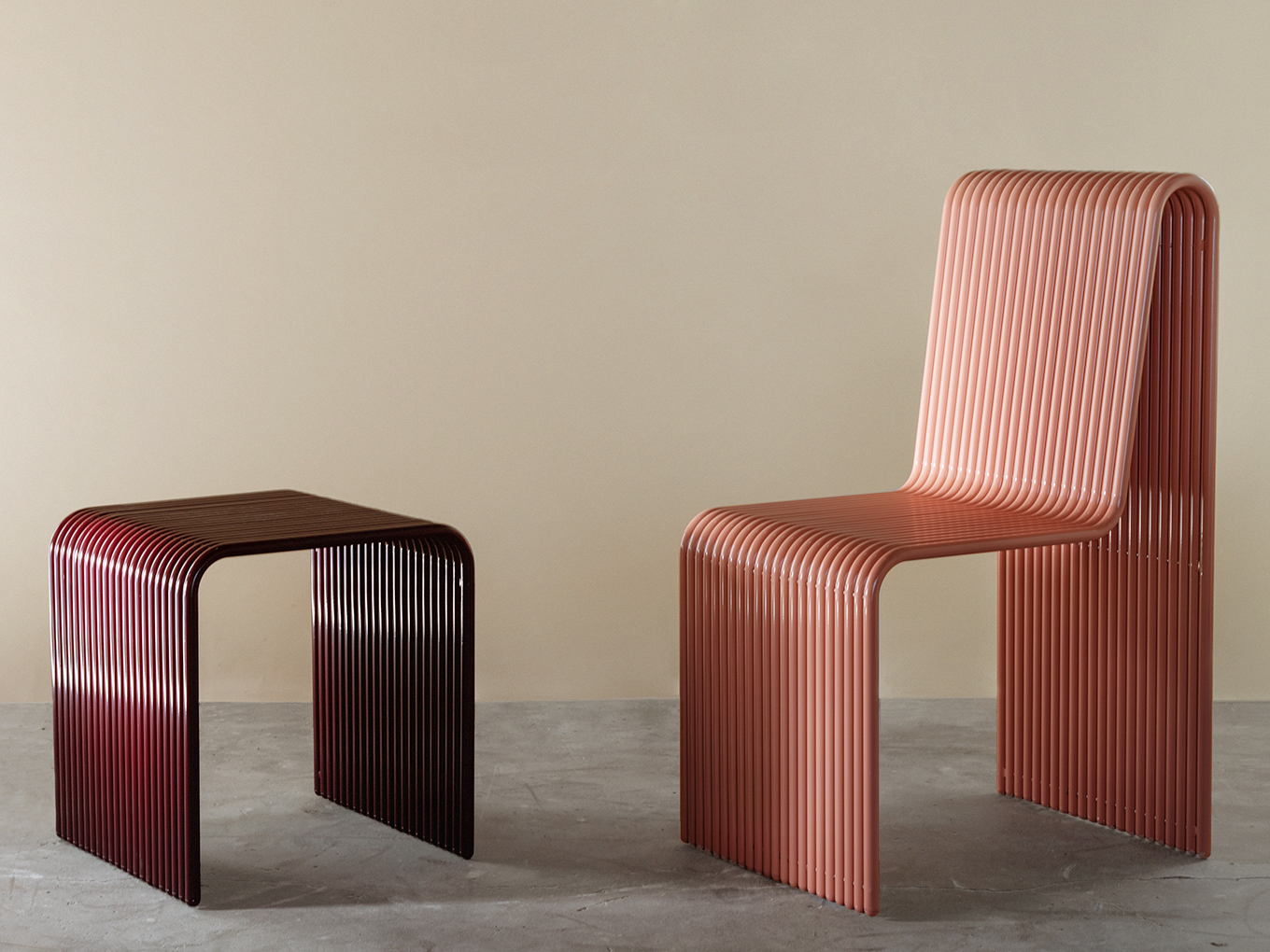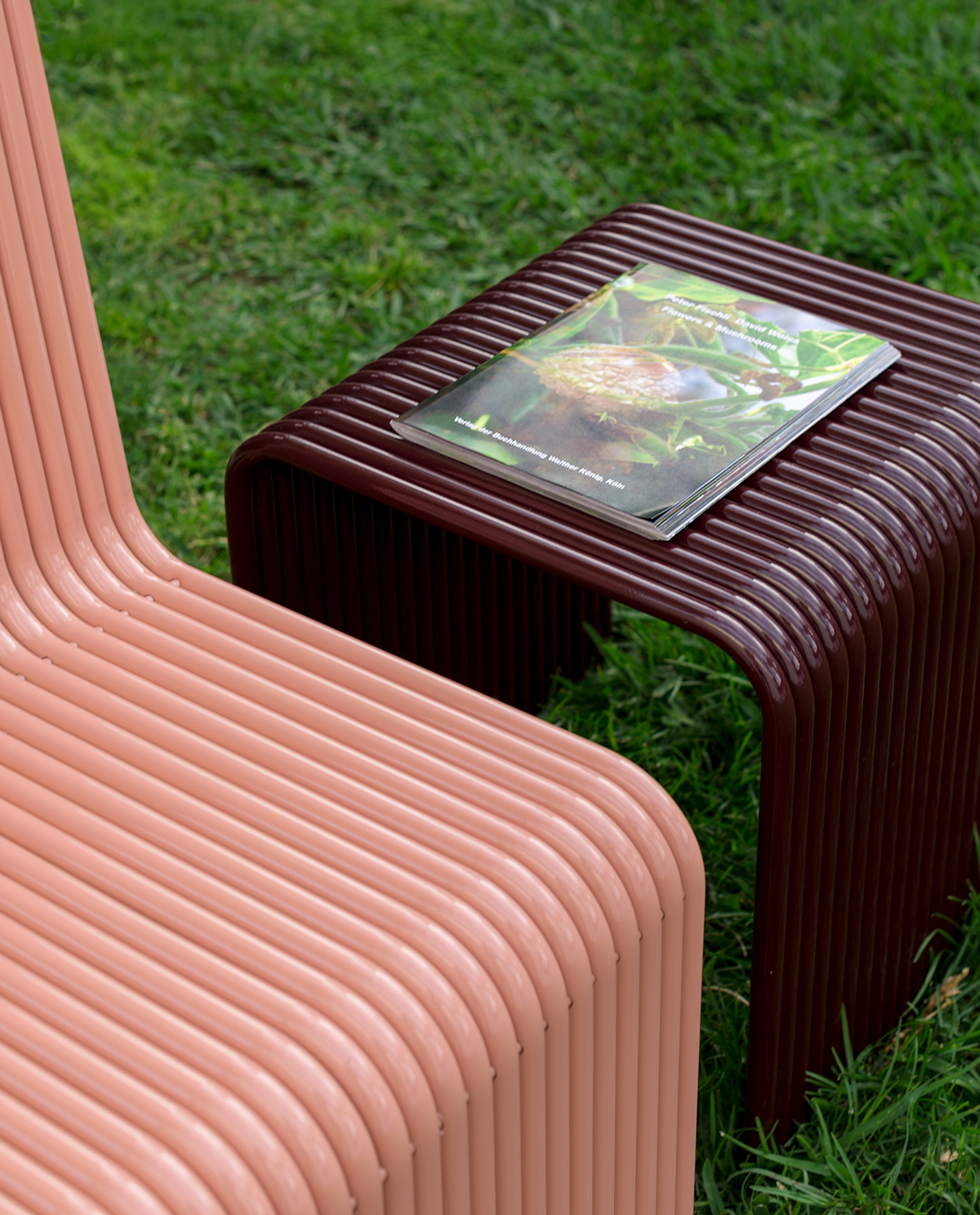 Laun
launlosangeles.com / @launlosangeles
After graduating from architecture school and starting a studio in L.A. devoted to imagining more stylish options for indoor/outdoor furniture, the duo behind Laun taught themselves how to weld. Three years later, their fascination with metal fabrication has yielded the Ribbon series, an Agnes Martin–inspired chair and stool each made from one consecutive tube of extruded aluminum — allowing not only for solid-colored pieces like the ones featured here, but also for all manner of multicolored stripes. Photos by SLH Studio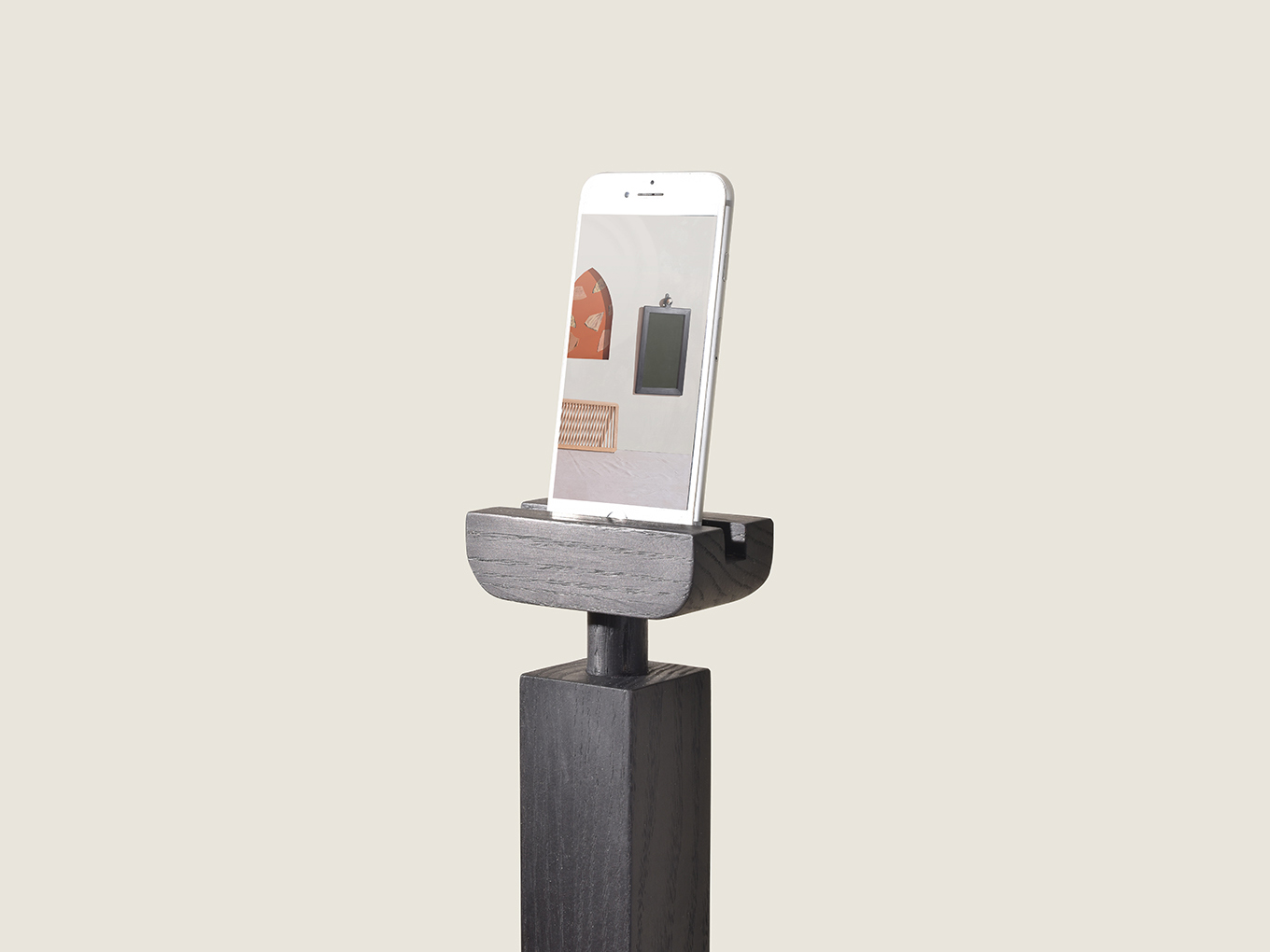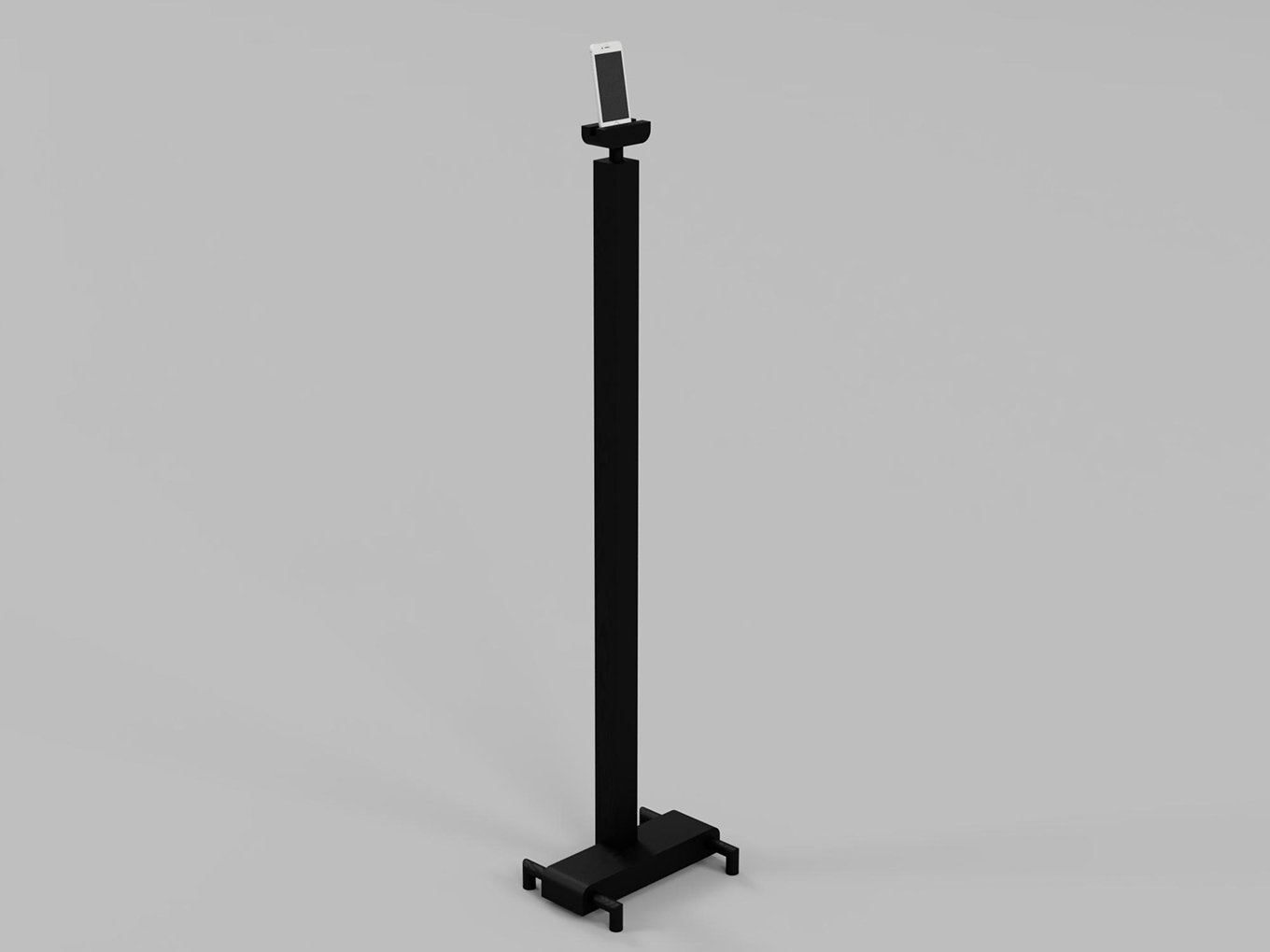 Algierwork
In a previous iteration, Brooklyn designer Andrew Algier's "Butterbody" was a 4-foot-tall tower with a sliver of a mirror perched on top. For Offsite Online, Algier converted the design into a charging stand for mobile phones, rendering the piece somehow doubly functional and even more abstract: Situated at chest height and tilted backwards, one can see their reflection in the front-facing camera of a mounted phone. The piece asks viewers reconsider an object's presence in space, dedicating as it does precious floor space to a task that requires none. The cell tower includes a charging cable that runs internally through the piece and out the bottom, which can be matched to either an Apple or Android product.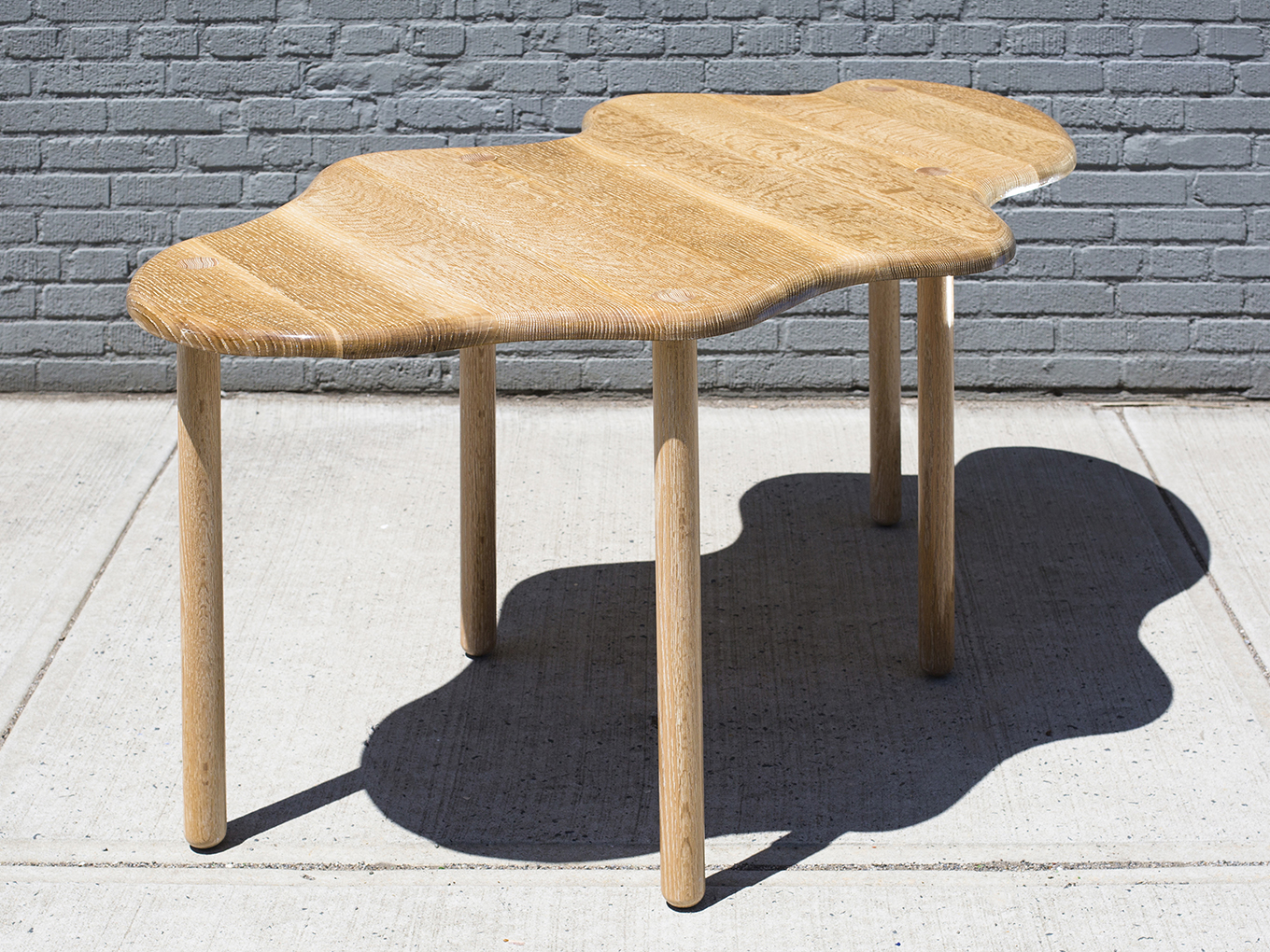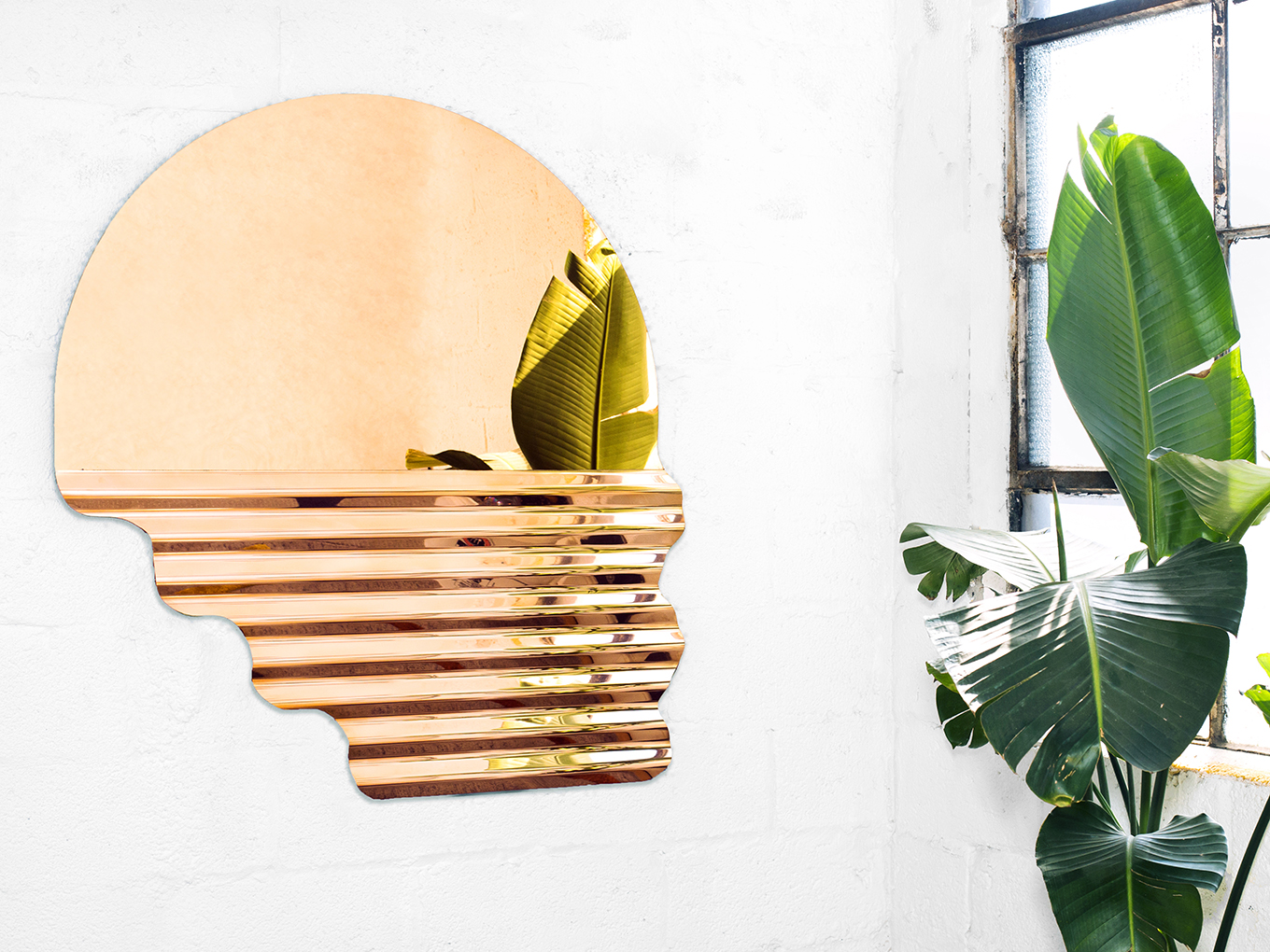 Arcana
Based in Queens, New York, Jack Eriksson and Dustin John of Arcana often pull inspiration from the experimentation and discovery that come from the fabrication process itself. Their new Gloaming Mirror began with a phone call to a local roofing corrugation company to ask if they might use its corrugation dies to create a rippled effect in the mirror's rose-gold surface; their amoeba-shaped Thorb dining table was produced during the recent pandemic lockdown from a leftover piece of quarter-sawn white oak. Pierced by five dowels, the table is then cerused — a centuries-old decorative technique that helps to both raise the grain of the wood and temper the table's modern shape.
Arcana's Thorb Dining Table is part of our #blacklivesmatter fundraiser, with 50% of proceeds going to The Chicago Freedom School. Contact info@arcana.work to purchase.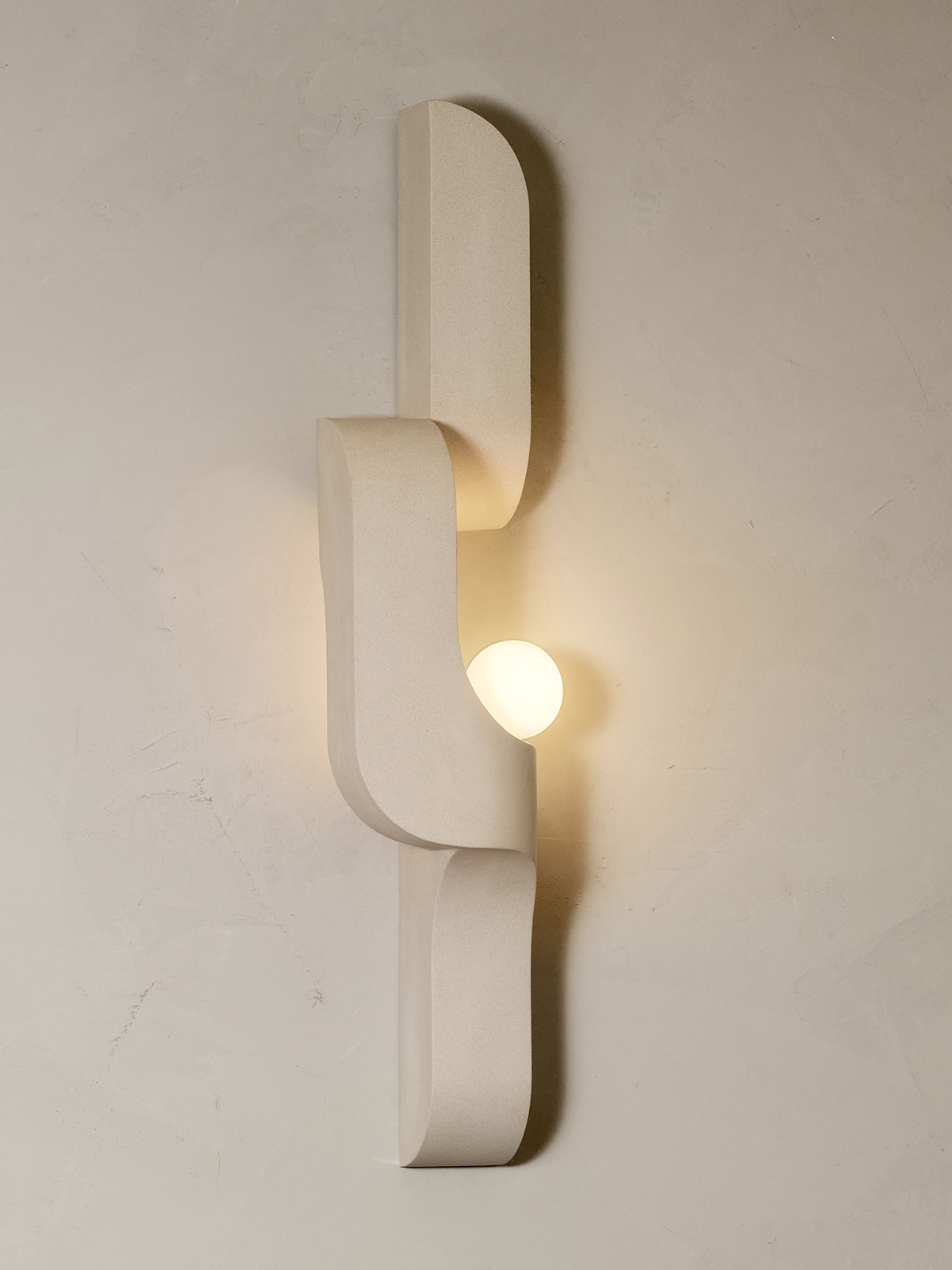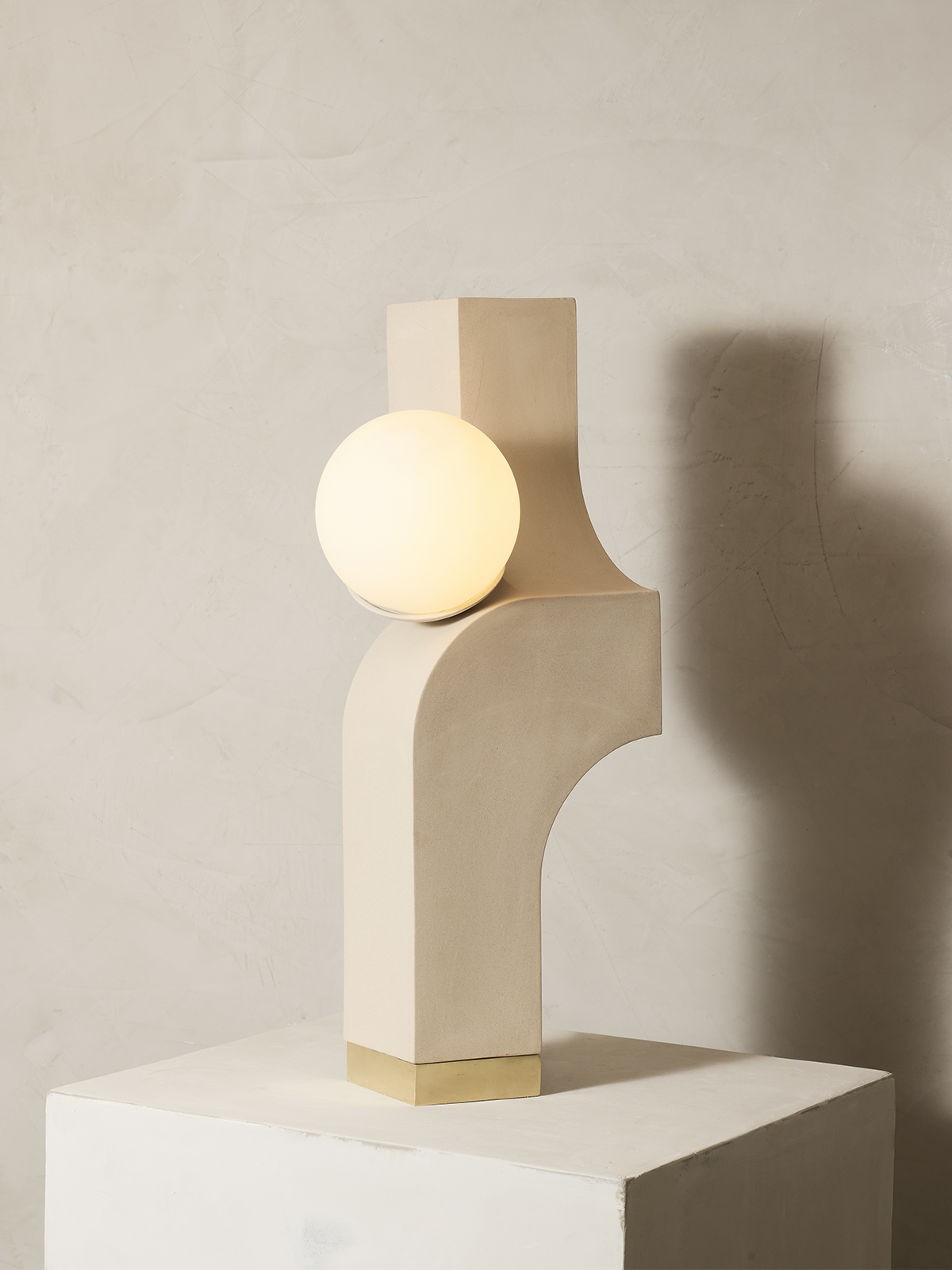 Farrah Sit
Farrah Sit's new slip-cast ceramic lighting collection began, as it almost always does, with a process of material reduction: Working with paper models, the Brooklyn designer began repeating, twisting, and slicing off corners until each piece achieved a compelling view from all sides. Inspired by the female form, the Scorpio table lamp evokes the silhouette of a stiletto without a heel, while the Serpentine sconce resembles something like a body twisted in space, weightless yet grounded — the utkatasana of lighting. Photos by Brooke Holm
Farrah Sit's Scorpio Table Lamp is part of our #blacklivesmatter fundraiser, with 100% of proceeds going to Black Girls CODE. Contact farrah@farrahsit.com to purchase.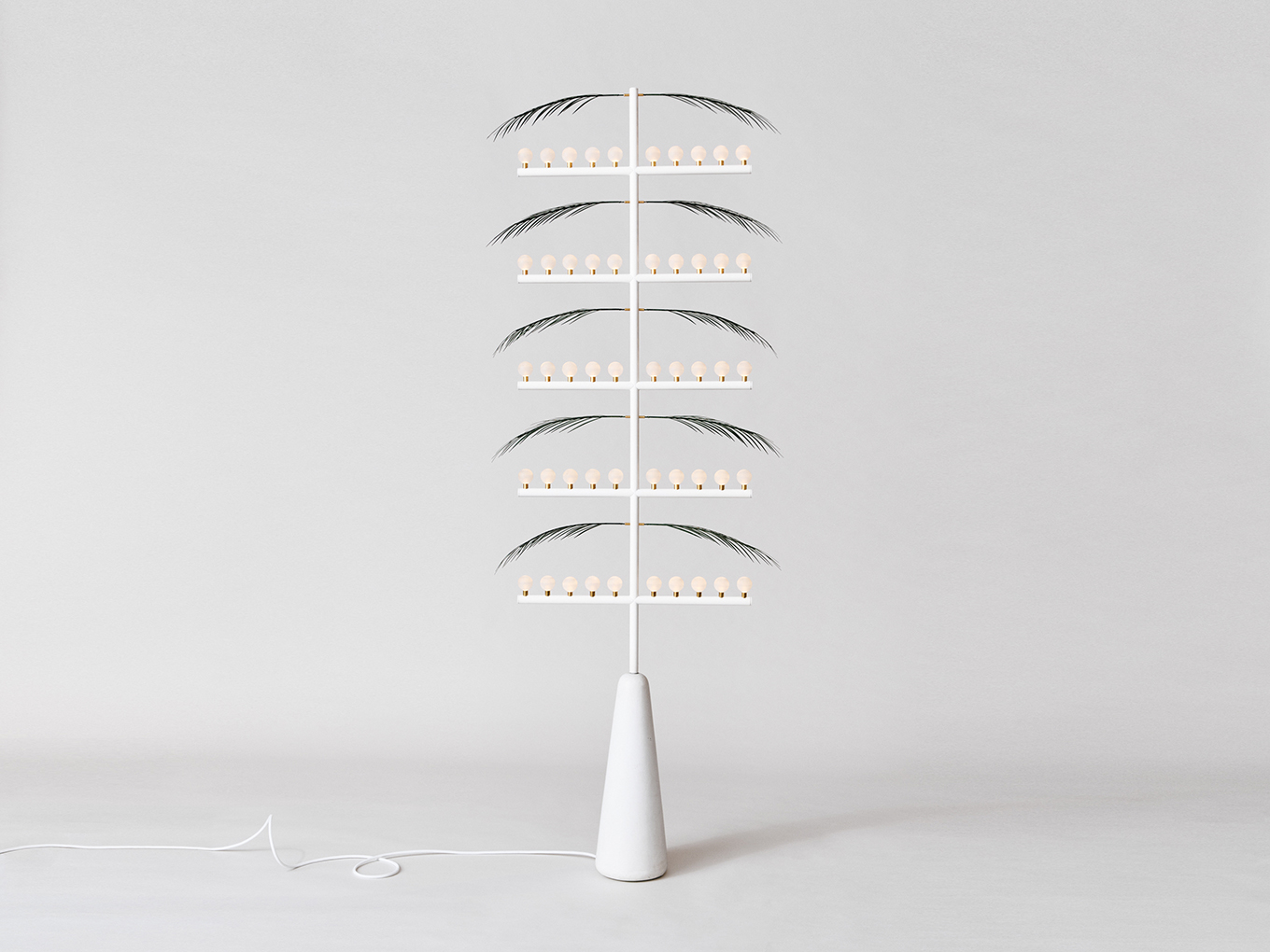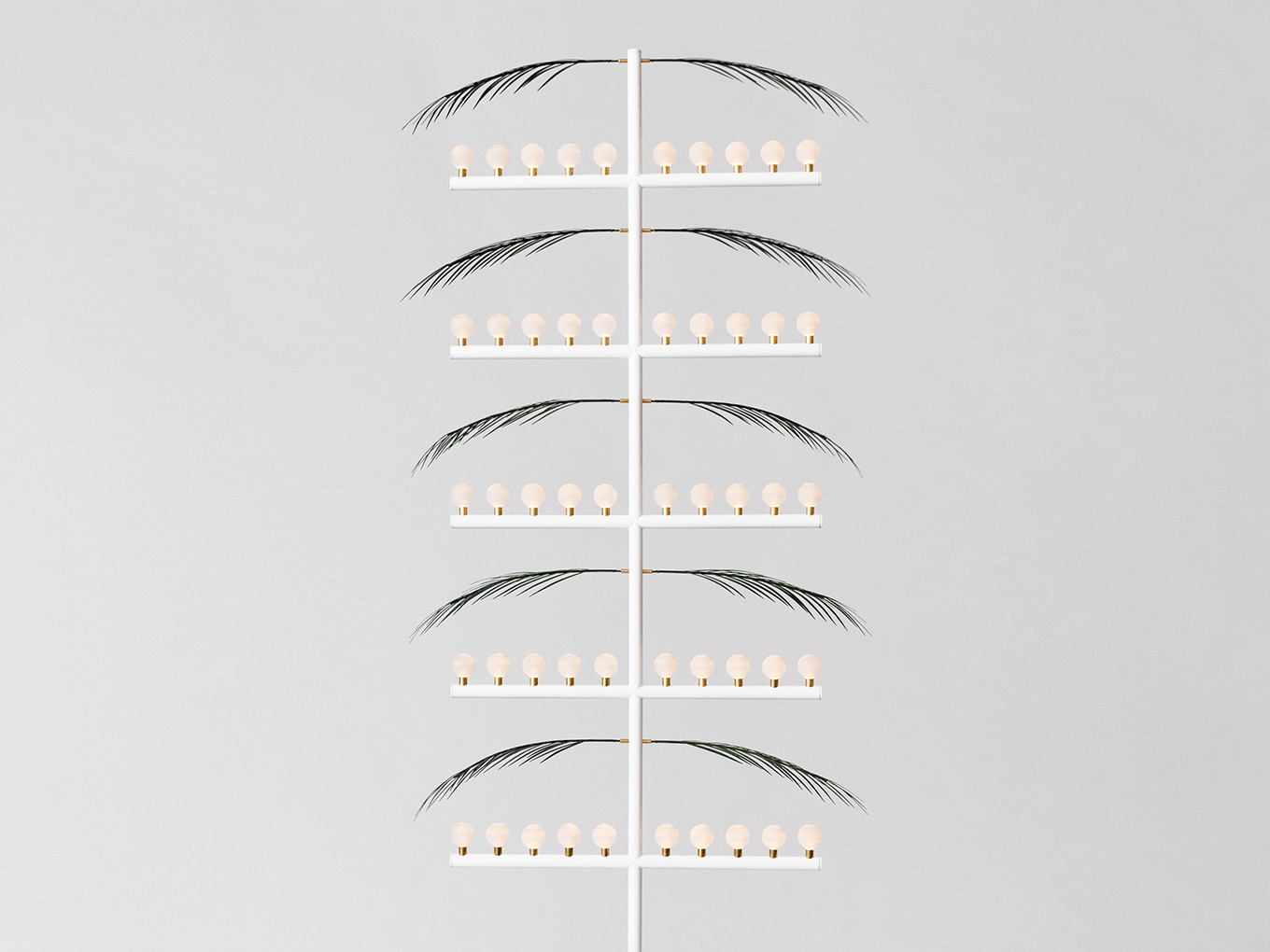 Winston Cuevas
winstoncuevas.com / @winston.cuevas
New York designer Winston Cuevas's Palm Row Light Object is of three pieces in his Natural Allusions collection, which borrows forms from nature that often conjure up stereotypical images of paradise and leisure. Part sculpture and part floor lamp, the Palm Row pairs a concrete base with "fronds" made from green patinated brass, nodding to the Sanremo floor lamp by Archizoom and the Metropolitan Angel lamps of Ugo La Pietra.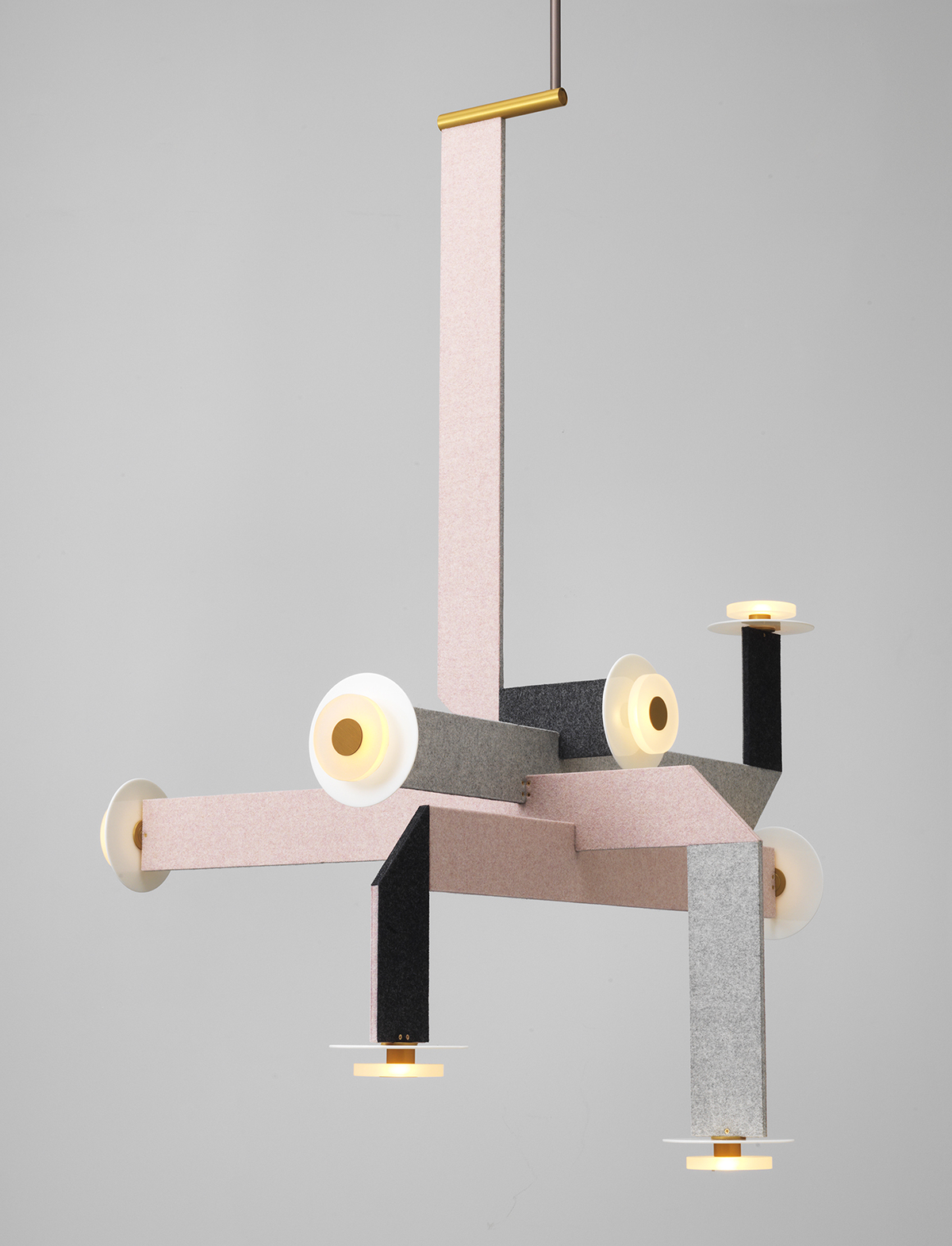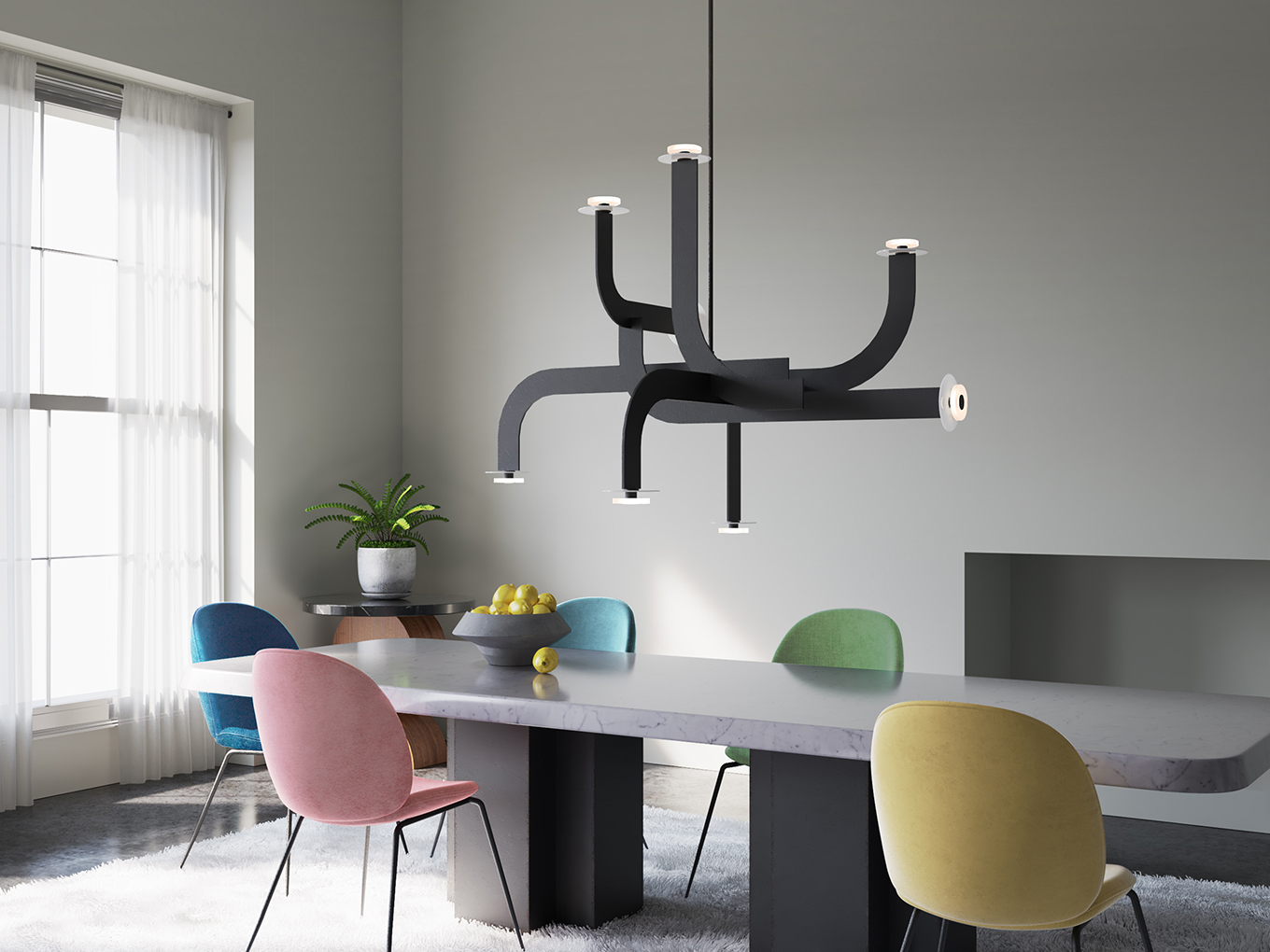 James Dieter
jamesdieter.com / @jamesdieter
As someone who spent his childhood exploring the workshops of an engineer father and an inventor grandfather, it comes as no surprise that James Dieter's lighting pieces originate as puzzles — balanced, flat-arm assemblages that resemble something like mobiles. His Cross and Guston chandeliers, debuting here, began life as a series of line drawings and sketches on an app on his iPhone. Cross was particularly inspired by the 2017 Rei Kawakubo exhibition at The Metropolitan Museum of Art, while Guston derives from a Philip Guston painting of jumbled legs. In both chandeliers, each arm is actually two separate pieces fixed together, with the positive voltage traveling on one side and the negative on the other — eliminating the need for wiring in the assembly. Renderings by Reisinger Studio (pink) and Nonome Studio (black)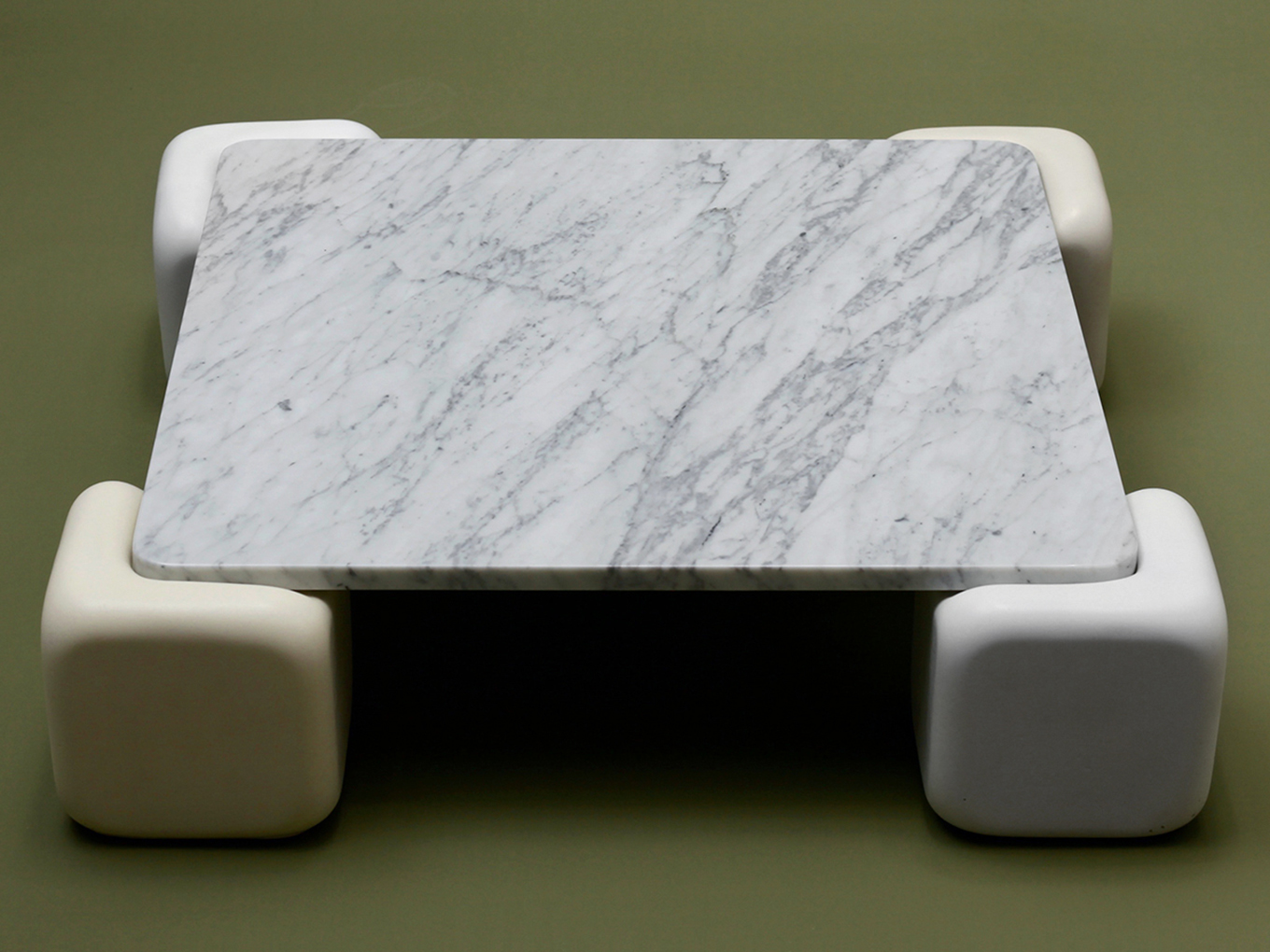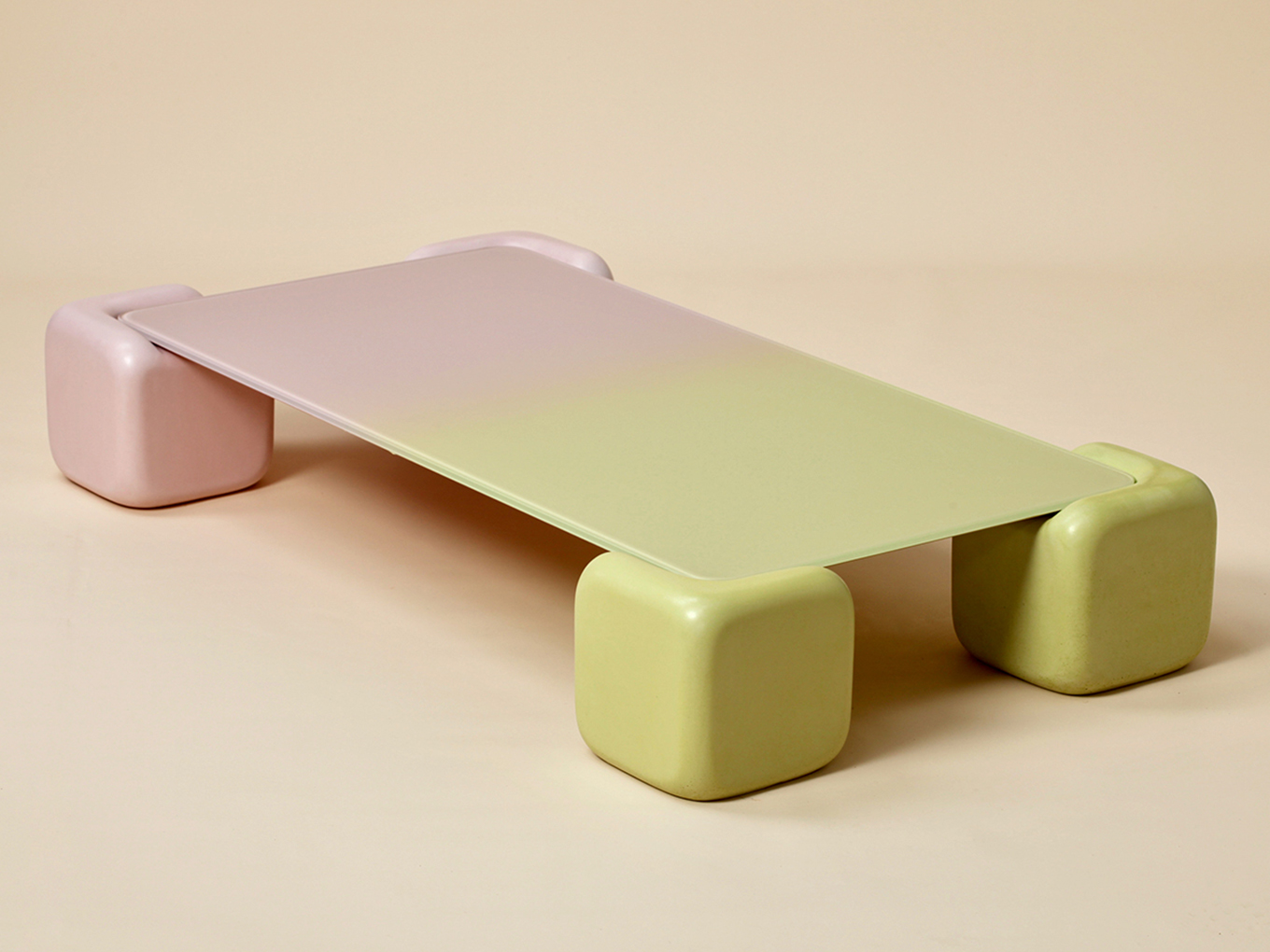 Studio Mignone
studiomignone.com / @studiomignone
The Australian duo behind Studio Mignone balloon-cast dozens of concrete blocks in their small workshop before deciding on "the one" — the piece that would go on to anchor their Tavolo Morbido table throughout a long, ongoing series of iterations in color and material. The newest versions of the design, which is inspired in part by Gae Aulenti's Jumbo table, include one with an ombré color fade and one with legs in various subtly mismatched shades of white.
Studio Mignone's ombré Tavolo Morbido is part of our #blacklivesmatter fundraiser, with 60% of proceeds going to Change the Record. Contact hello@studiomignone.com to purchase.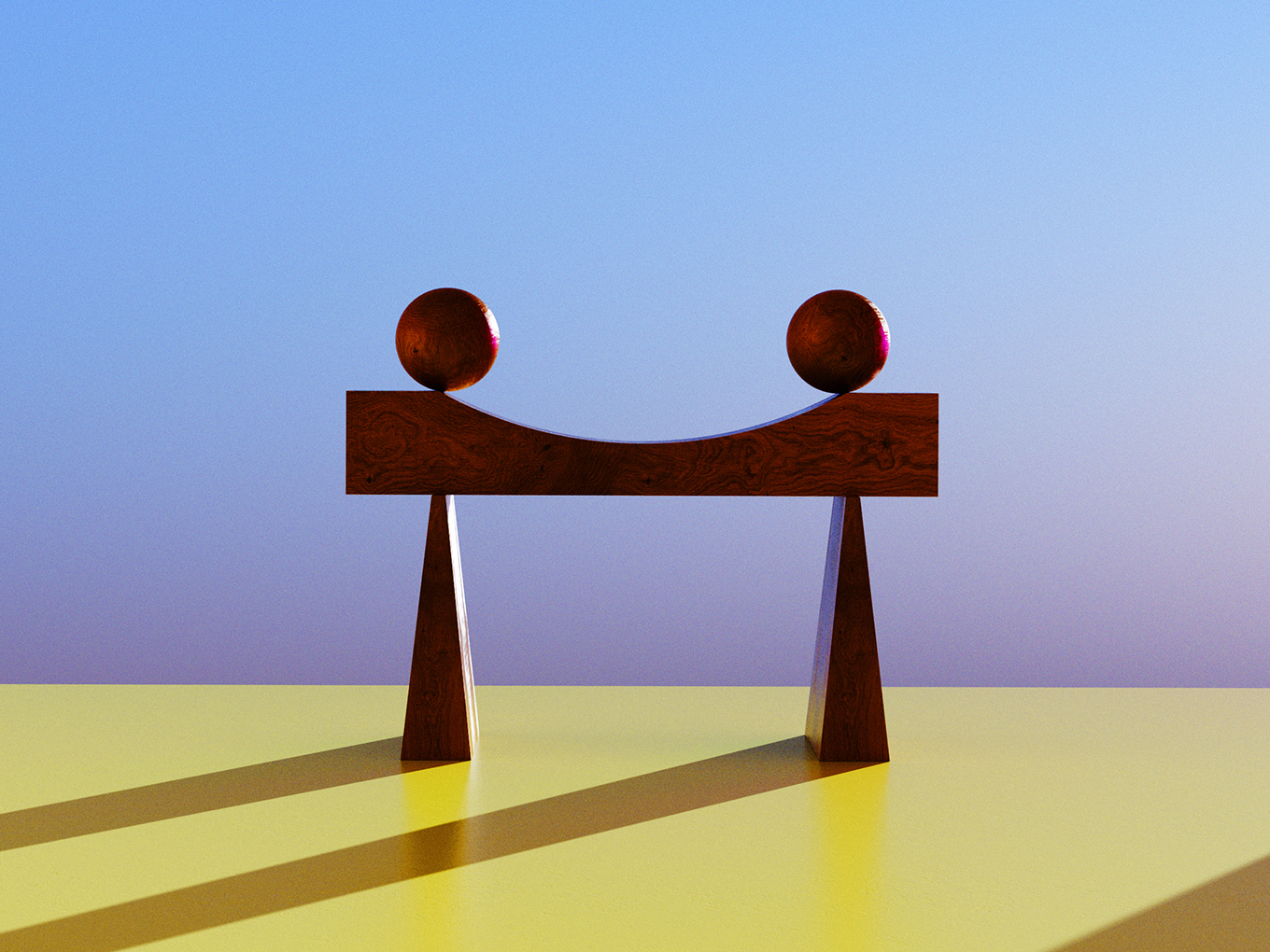 Pedro Paulo Venzon
pedrovenzon.com / @pedropaulovenzon
Pedro Paulo Venzon first made a name for himself with delicate metal chairs and tables that appeared almost weightless, their spindly legs and wafer-thin surfaces concealing a surprising strength and stability. Lately, though, he's been working in wood — immersing himself in the hand-crafting of it as way of reconsidering the intersections between design and sculpture in his practice. The pieces are benches, ostensibly, but the series, called The Liturgical Virtues and meant to explore wood as a metaphor for colonialism, is driven primarily by concept rather than pure form.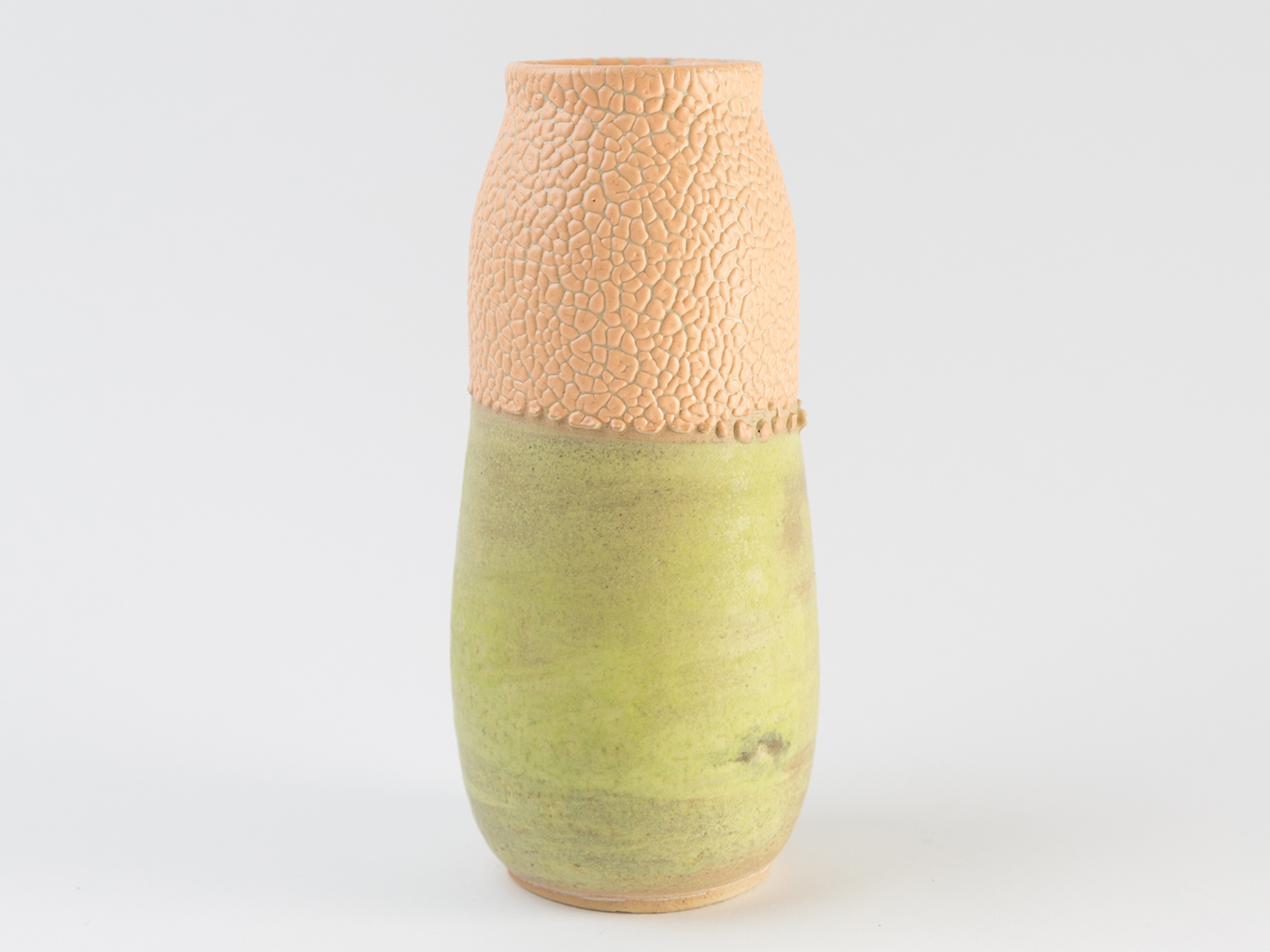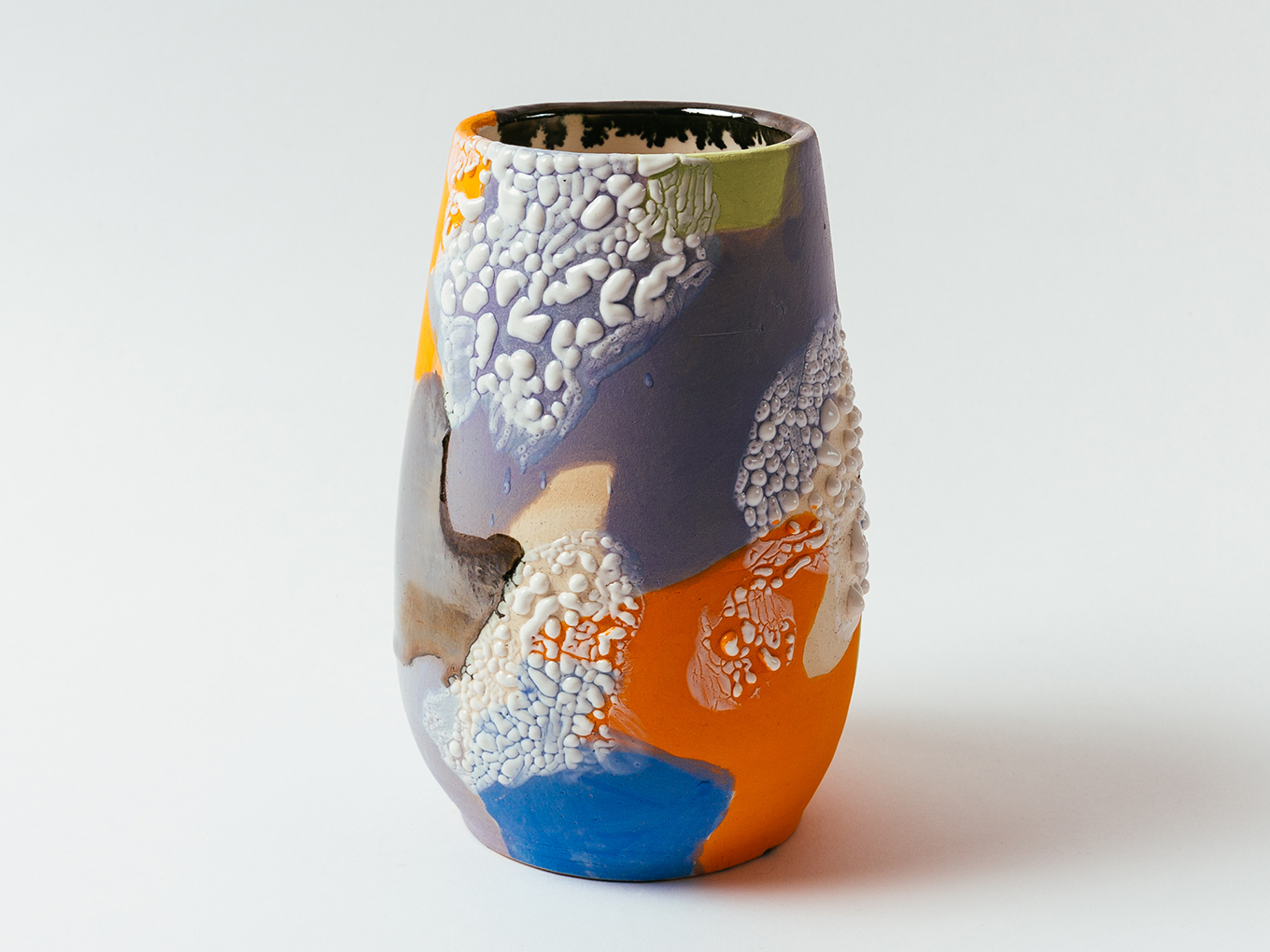 Raina Lee
Raina Lee uses the kinds of volcanic glazes you often see on mid-century ceramics, but not in the way you've seen them — inspired by science fiction and fantasy, she employs unconventional low-fire techniques such as horsehair raku and saggar firing to create super-intense colors and otherworldly textures on the surfaces of her pieces. Case in point: her new large-scale Acid Camo and Calix vessels, which combine bright neon oranges, chartreuses, pinks, and purples with glossy beaded crackle glaze, and which she calls "relics from a Day-Glo jungle." Photos by Lindsey Kusterman
Raina Lee's Acid Camo vase is part of our #blacklivesmatter fundraiser, with 30% of proceeds going to Black Lives Matter LA. Contact rainaleeshop@gmail.com to purchase.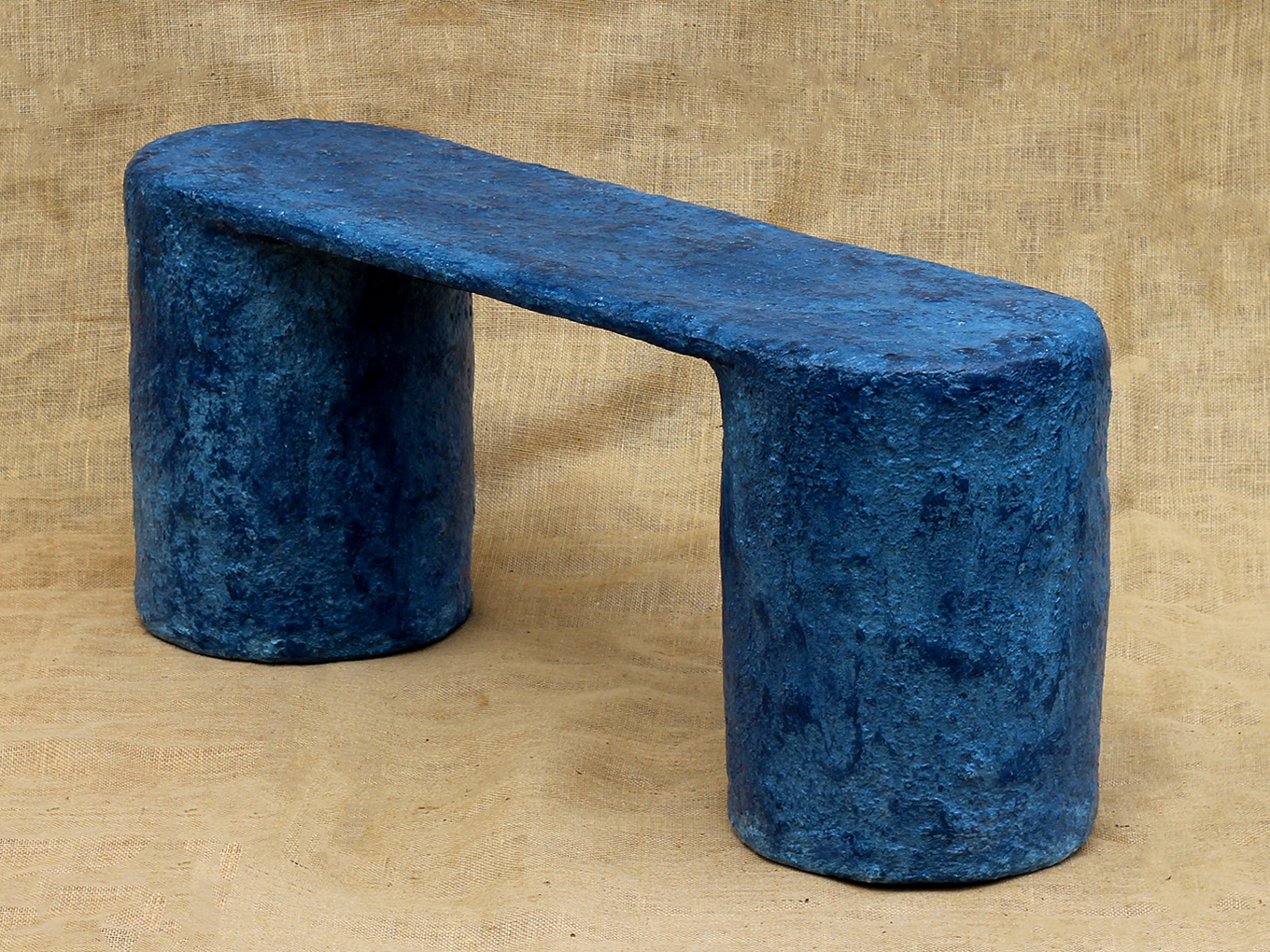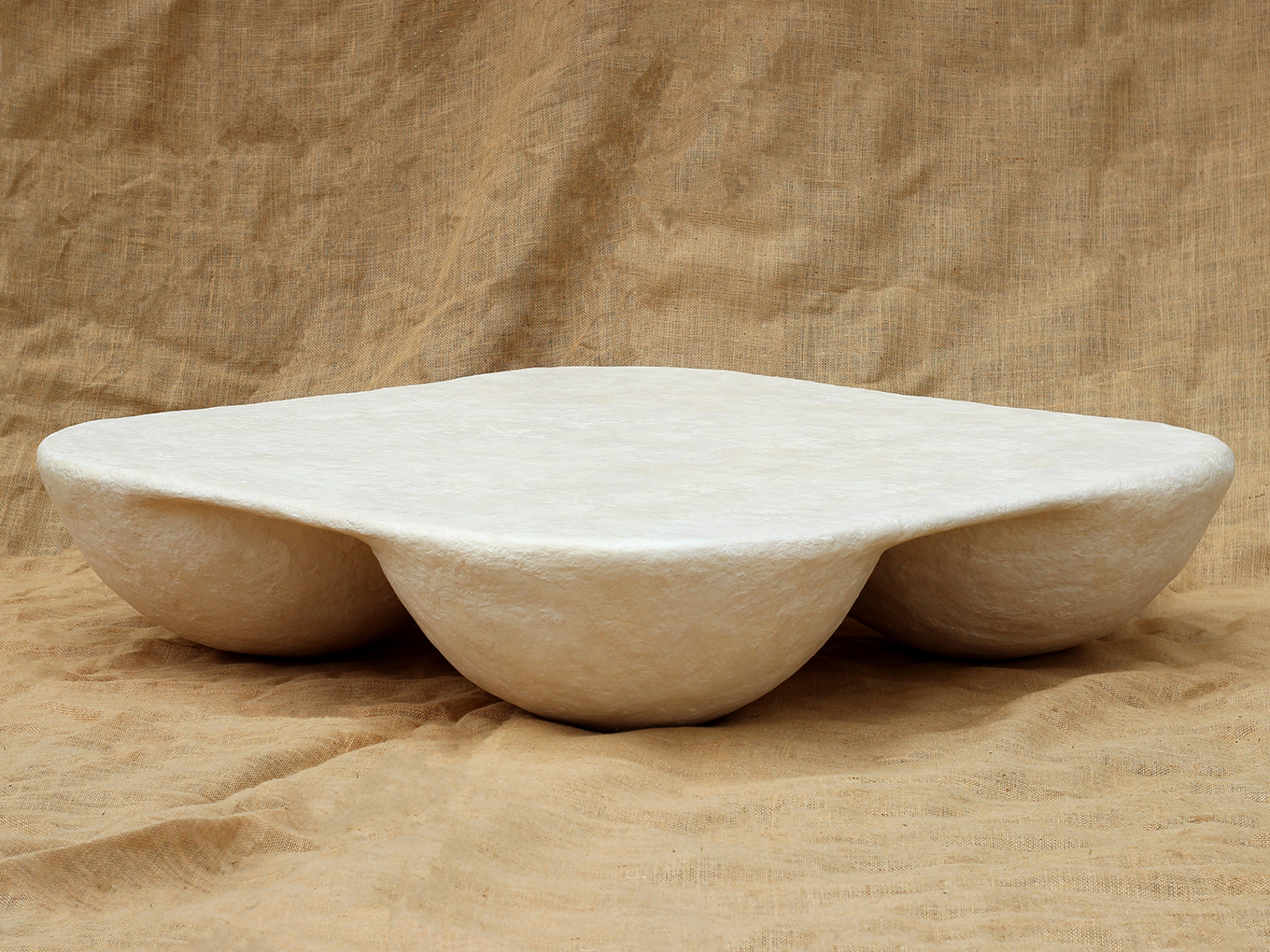 Serra Studio
Mike Ruiz-Serra's Pulp tables are made from plaster and recycled paper pulp, but think of it less as paper maché and more as fiberglass — used throughout history to build structures and boats, the New York designer resurrected the technique and experimented with it until he achieved maximum structural integrity, giving the hollow, monolithic tables a hard, stone-like surface. Colorful dyes make them look less like paper, too.
Serra Studio's Dual Bench is part of our #blacklivesmatter fundraiser, with 60% of proceeds going to The Innocence Project. Contact joserradesign@gmail.com to purchase. SOLD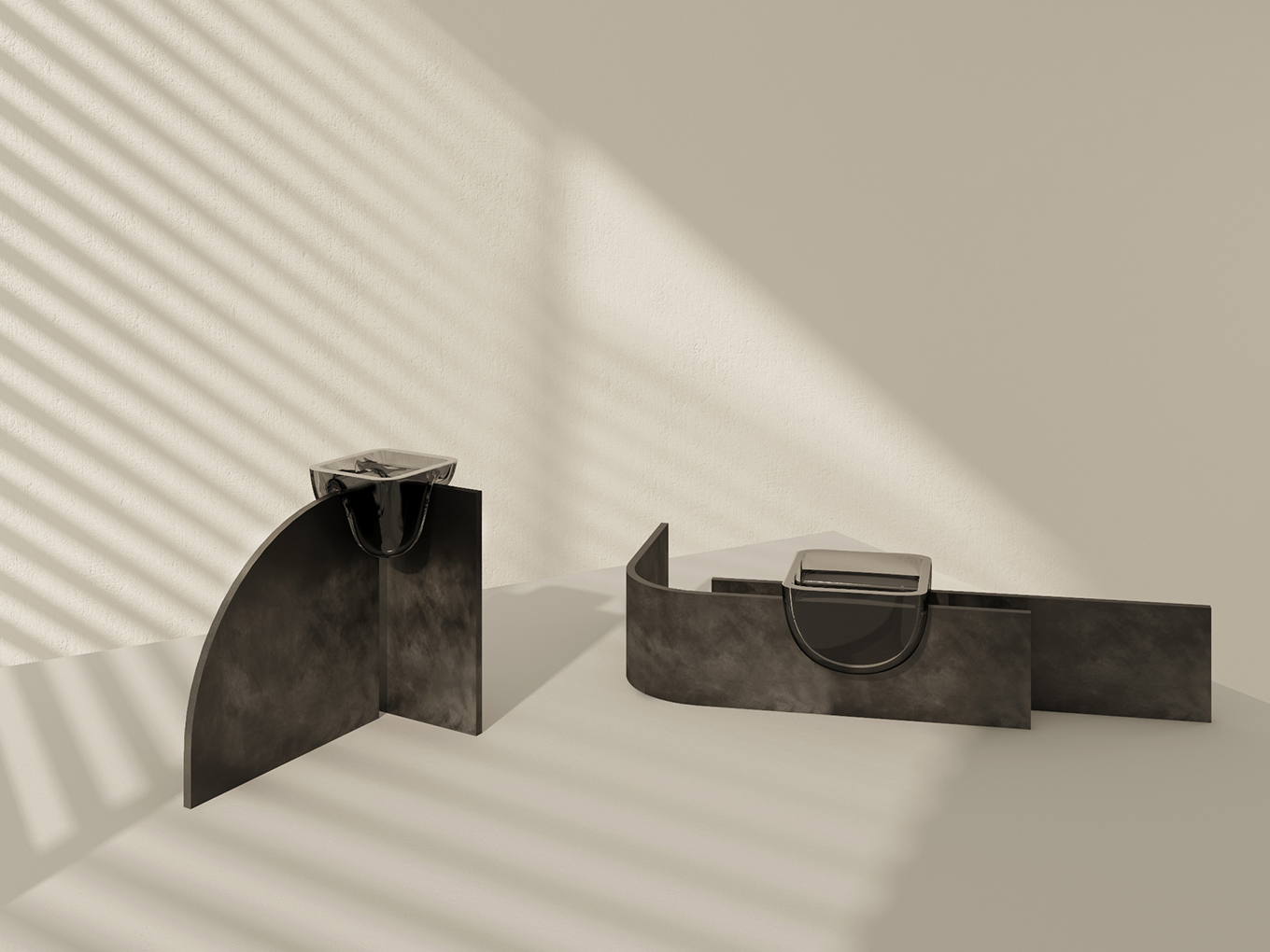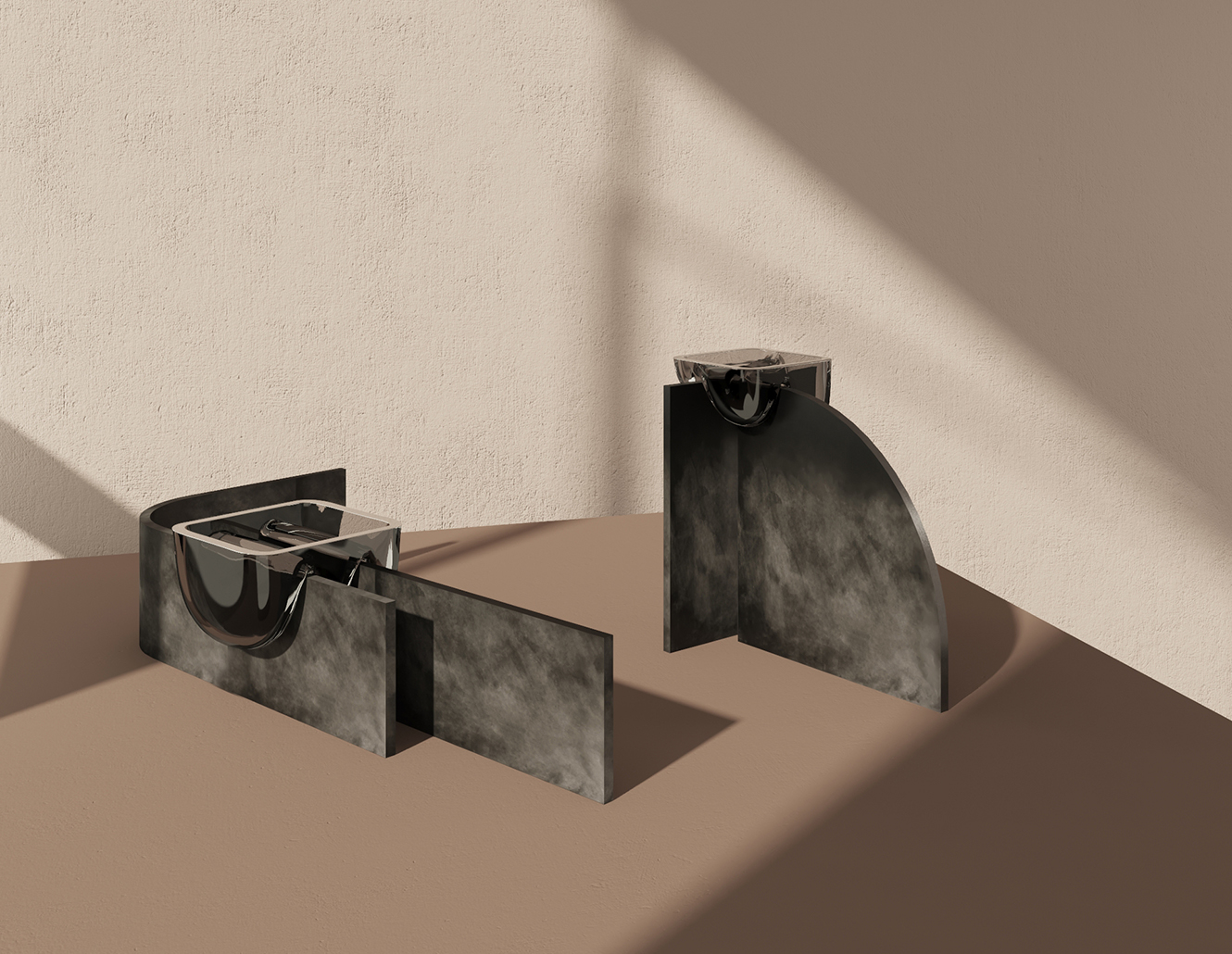 Vissio
vissiovissio.com / @vissiovissio
2B1G is the latest series of limited-edition works from the Mexico City boutique glass brand Vissio, designed by Héctor Esrawe, Emiliano Godoy, and Brian Thoreen and produced with glassmaker Nouvel. Meant to convey the beauty and anxiety of glass balancing precipitously on metal bases, 2BIG explores the formal interplay of rigidity and fragility, contrasting the translucency of the delicate hand-blown glass with the weight of hand-treated steel. Echoing the three designers' collaborative approach, the pieces in the series rely on each other for stability — there are no fasteners or glue holding them together.