06.15.20
A Mohair-Covered Lounge and Modular Shelf Are the Stars of Coil + Drift's New Hone Collection
This piece is part of Sight Unseen's 2020 Offsite Offline coverage. To view Coil + Drift's virtual booth on Offsite Online, click here. And to find out more about Coil + Drift's participation in our Offsite Online fundraiser for organizations fighting racism and improving the lives of Black or indigenous people, click here. 
Brooklyn-based Coil + Drift designer and former dancer John Sorensen-Jolink has become known for his refined eye and sense of proportion, as attuned to the rhythms of his clients as he is to the materials he works with. Relying on a network of local and regional suppliers and finishers Sorensen-Jolink was able to complete production during the pandemic on Hone, a new collection that serves to refine or reinvent some of the brand's nascent design icons. "There's always something to say for creative constraints," says Sorensen-Jolink of working in These Uncertain Times. "Interesting things come out of having limited options." Turning the current moment into a launching pad for seasonal introductions would be a challenge for any designer, but Sorensen-Jolink approached the situation with patience and passion; we caught up with him over the phone to find out how.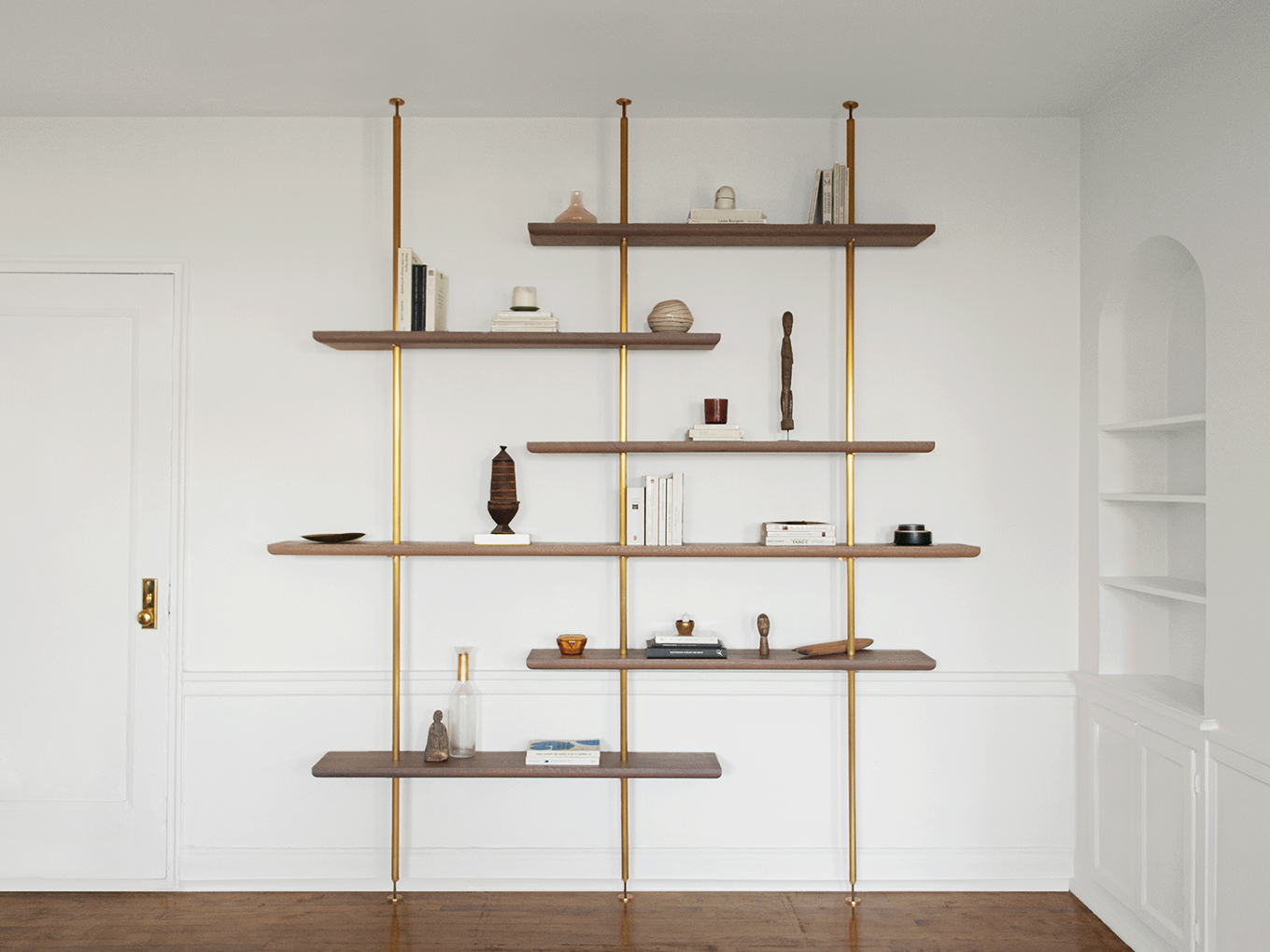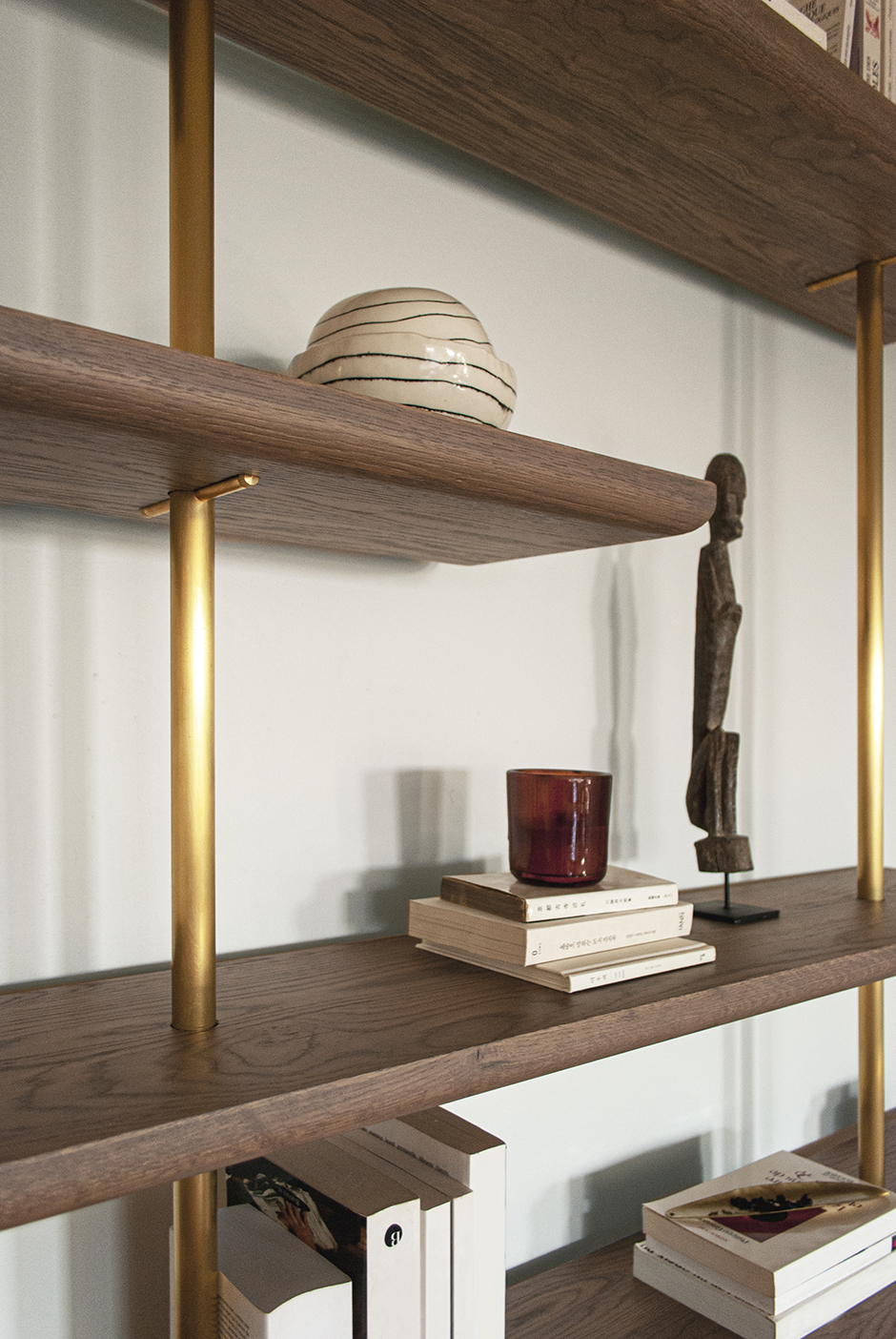 The redesigned shelving in this collection is beautiful. Is it photographed in your apartment?
It is. We had a whole shoot planned and scheduled for April twenty-something, so the moment in March that everything shut down it was like — well, that's not happening. Putting it in my own home was the easy answer, so I did that and just shot it myself.
What was it like, navigating this launch as the world at large stalled? Specifically in terms of producing and fabricating the pieces.
I had to ask myself, "Is it a good idea to be giving the world something new right now?" I talked to friends and colleagues and they all encouraged me to do it. Stuck in our homes, we were all craving joy and expansiveness and the only way we could feel that was by forging ahead. We had the pleasure of no one telling us they were closed. The owners were going to their shops every day to build pieces for their clients; every day they were just chiseling away. Honestly, it's inspired me to try to have that be my modus operandi as well. Just to show up and chisel away, even if it doesn't feel like you're making any progress. Because one day you'll wake up and realize you've accomplished something.
Did you tackle any of the production processes yourself?
Well, the Hover shelving is a very different production process than our other furniture or lighting because it involves so many components. We work with a machinist who makes the metal components, whether they're brass, steel, or aluminum. None of the metal is sourced, it's all made for the piece. Our wood fabricator in Pennsylvania is making the shelves and they're loving it because they're all about precision. They don't get to do this kind of thing very often. Doing the finishing in house was more of a choice I made because I knew exactly what I wanted and I knew how to do it.
And how does that piece fit into your vision for Coil + Drift right now?
Hone is actually a group of five pieces, three of which are launching now. The other two will launch at some point in 2020. This collection is all renders of existing designs — either designs that were in production or designs that were just sketches in a sketch book.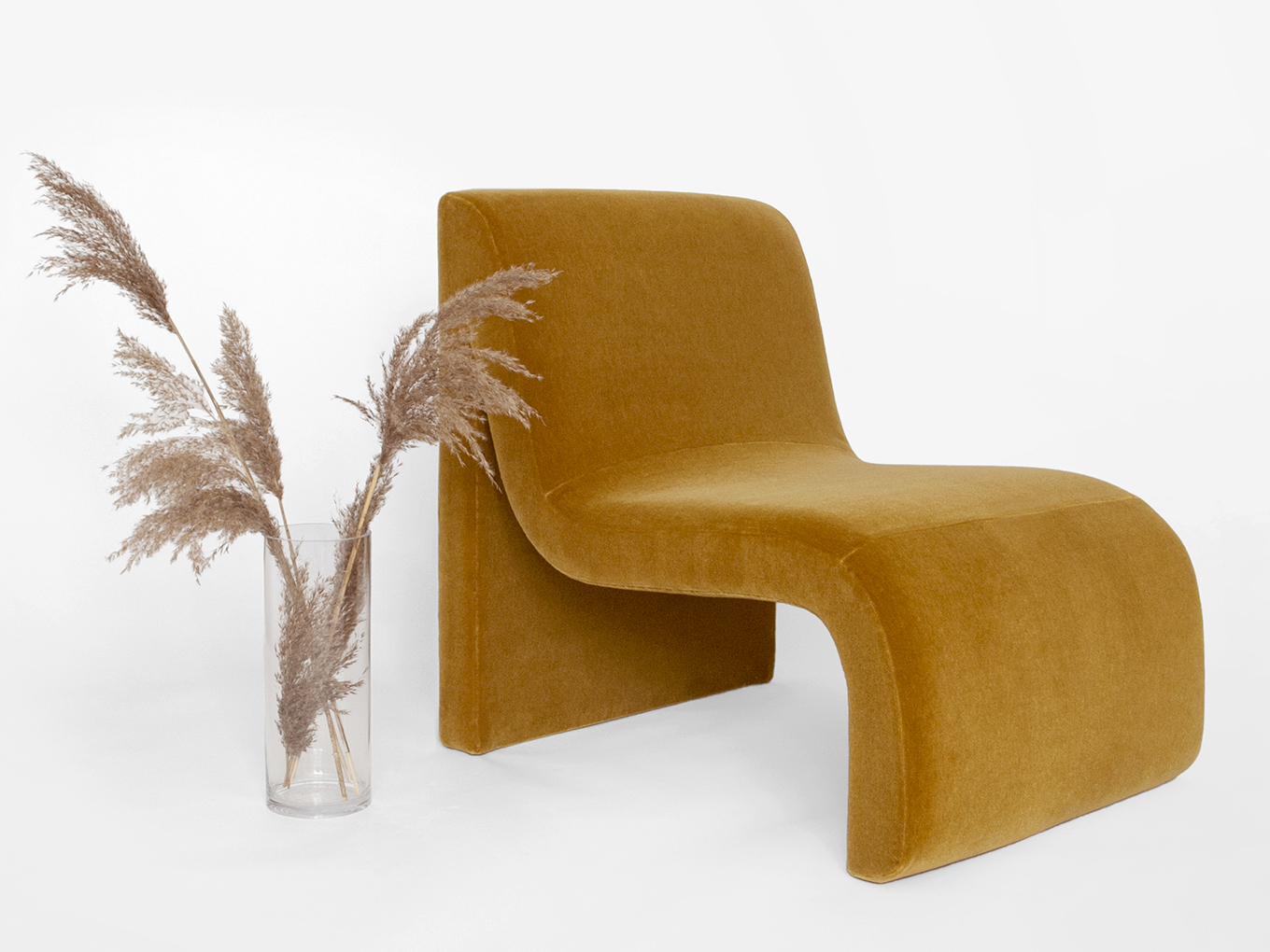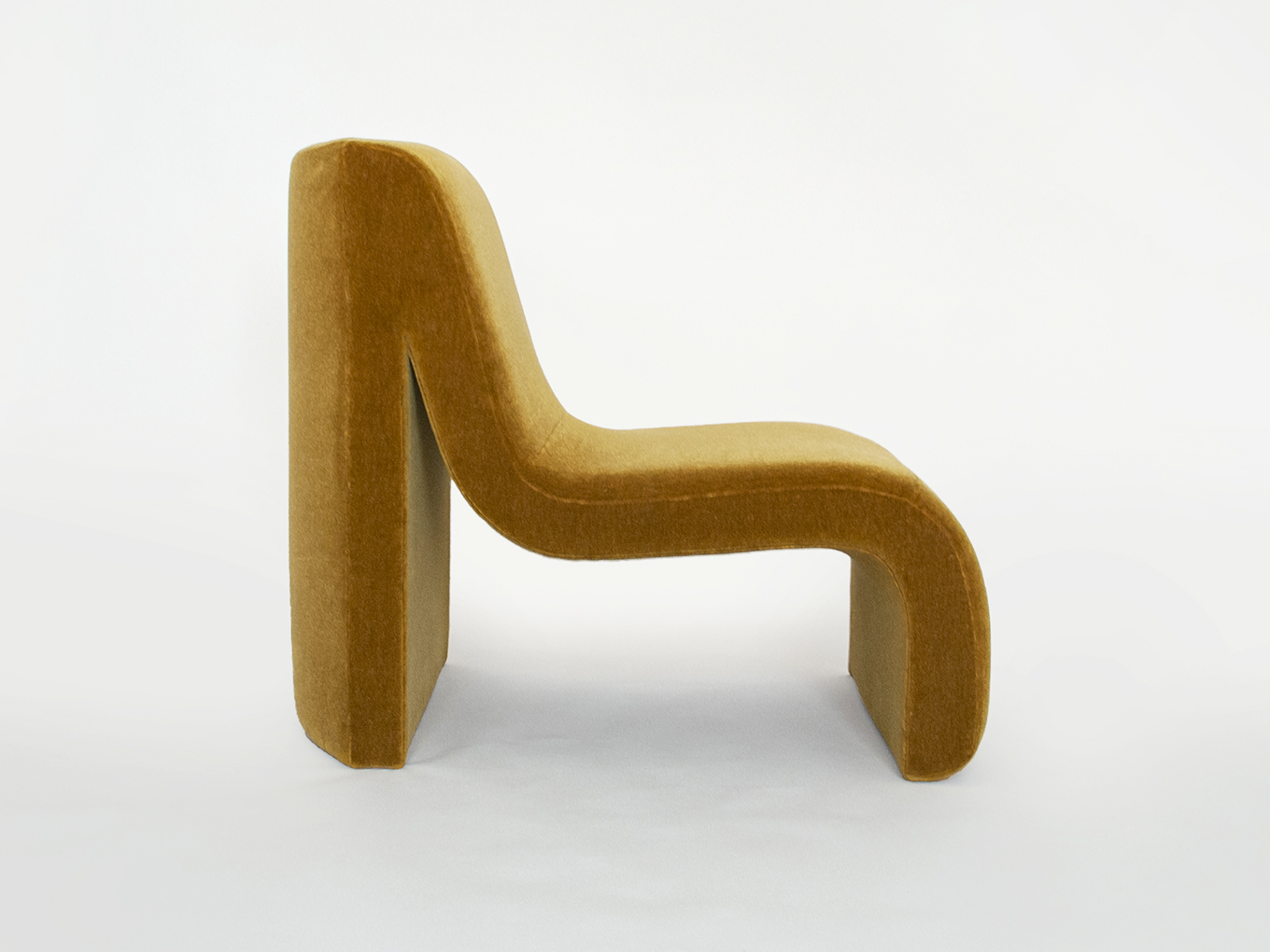 The Talon lounge chair is very lush, with its mohair upholstery and swooping silhouette. I'm guessing it's the biggest tone shift for the brand?
Exactly. I'd actually gone beyond just sketching that piece. I rendered it and had made it as full as I could without actually physically producing it back in 2016. I felt at the time that it just didn't fit — I didn't understand where it was in relation to the rest of my work. The frame was repeated polished chrome tubing and there was a leather cushion that laid over it and gave it that swooping feeling. It was a very different chair with the same profile and same dimensions and everything.  Every year I'd go back to it and be like, is it time? And it's never been time. But this year, part of doing Hone was knowing that I wanted this chair to be a part of the collection. The chair helped me understand what the whole collection would be, in terms of revisiting certain designs and seeing the distilled vision of what Coil + Drift is.
I think when I look at the finished product I see my desires and my intuition going in a different direction as well. I'm more interested in curves and bold shapes. I still am drawn to balance, but I think balance can mean a lot of things. An asymmetrical balance or a counter-balance, if you will. Also, I'm always thinking about how to make the collection the most well-rounded it can be and we didn't have a lounge chair that could live in a living room, that could have an ottoman, that could be a couch — that's the direction it's going in.
It introduces a new material language for you as well.
Absolutely. I immediately saw the Talon as an upholstered piece because I think Coil + Drift is about furniture that brings people together and feels grounded and materials-forward. I realized that the most clear version of that was just one fabric. The elements that I held onto were the stiletto-like profile and then the idea that there's negative space underneath the seat. And the fact that it's actually really comfortable, even though the seat is only about four inches thick. I had to have the mohair and actually went down a mohair rabbit hole. My poor upholsterer — this ended up being the most involved process I've ever had with another fabricator. But now I know everything about mohair, and there is nothing like this Maharam. The color has this incredible way of being both a rust that feels kind of orange and also being a little mossy. There's a little bit of green that comes through. I have not been able to find that color tone in any other company's fabric. It's called Maple but I disagree with the name.
Backing up a little bit, I'm looking at the shelving unit and I'm curious about its evolution, because — and I don't mean this negatively — but it feels a bit more "look-at-me" than the previous Hover shelf. How did that shift come about?
There are a couple of answers. One is a shift in materiality and in what I find interesting. I think the Hover shelving unit is a very clear example of the fact that I used to like reclaimed wood. There was definitely a moment at the beginning of Coil + Drift where I could enjoy designing with black pipe and reclaimed wood. I've moved away from that and am more into a hardwood that's beautifully finished and a machined brass.
But I think that the real answer has more to do with how I define value. When you say it's more flashy or more bold, I am thinking about what my clients want. I did a huge amount of audience research over the last year and I actually reached out to everyone and asked for feedback and learned about my people in a way that I had never done before. What I found is that the Coil + Drift client wants and values something that anchors a room. The things they really love are the designs and materials and shapes that have staying power. It feels less important for my work to kind of blend in. I'm more interested in it standing out, and even more, interested as a designer in interiors that are comprised of pieces that work beautifully together but that each stand out. I think it's the difference between having a collector's eye and being more focused on just, like, a palette. Does that make sense?
It's funny because you can really see it in the introduction of the gold tones throughout.
I wanted to call the brass finish honeyed brass, but I thought nobody would understand that. It's actually slightly darkened. I'm doing the finishing myself — it's brushed brass that's slightly more honey-gold looking than a bright, newly brushed brass. It looks just a little bit aged. It's what it would look like if we just let it sit in the air for a year. It's so glamorous.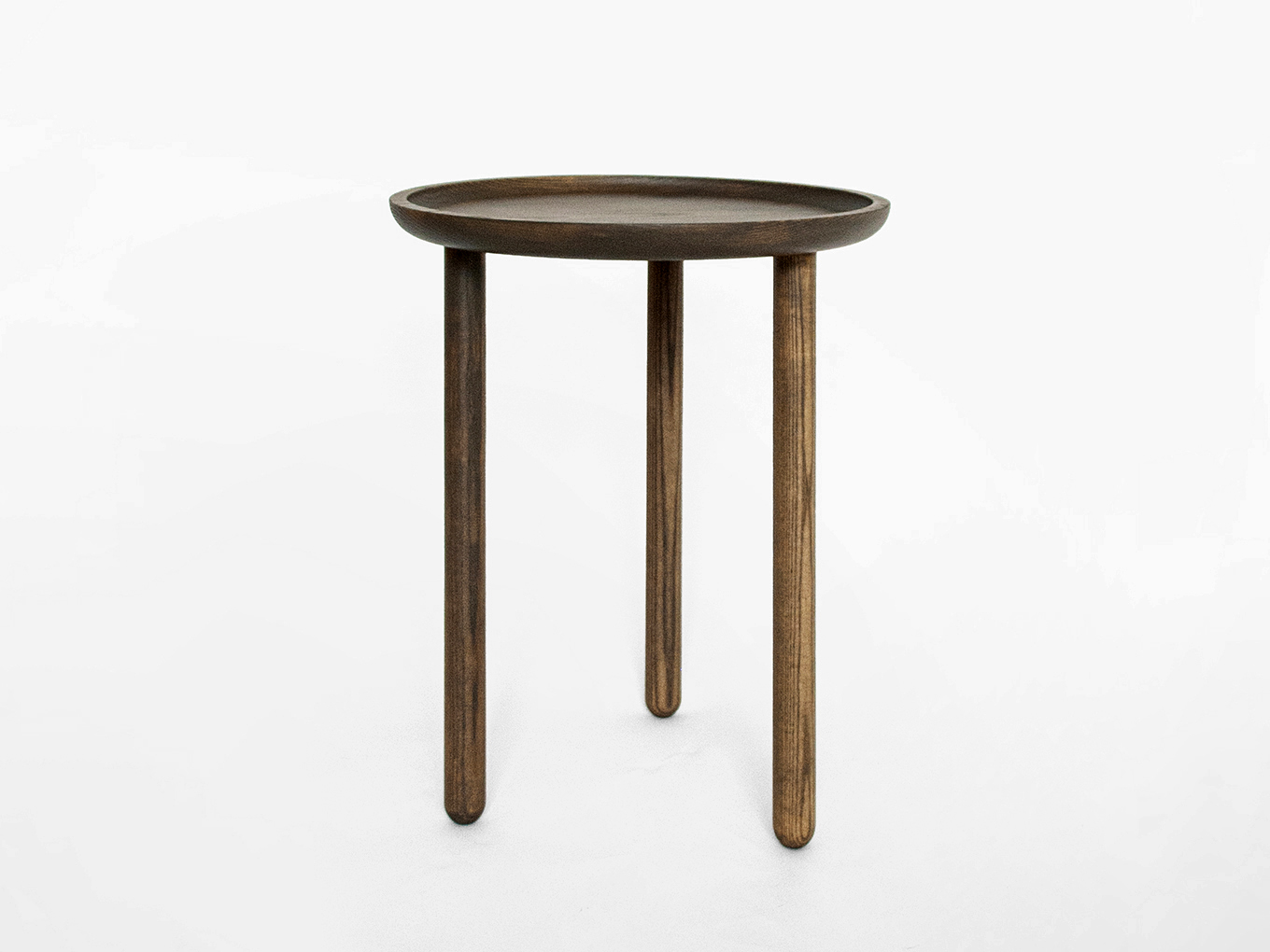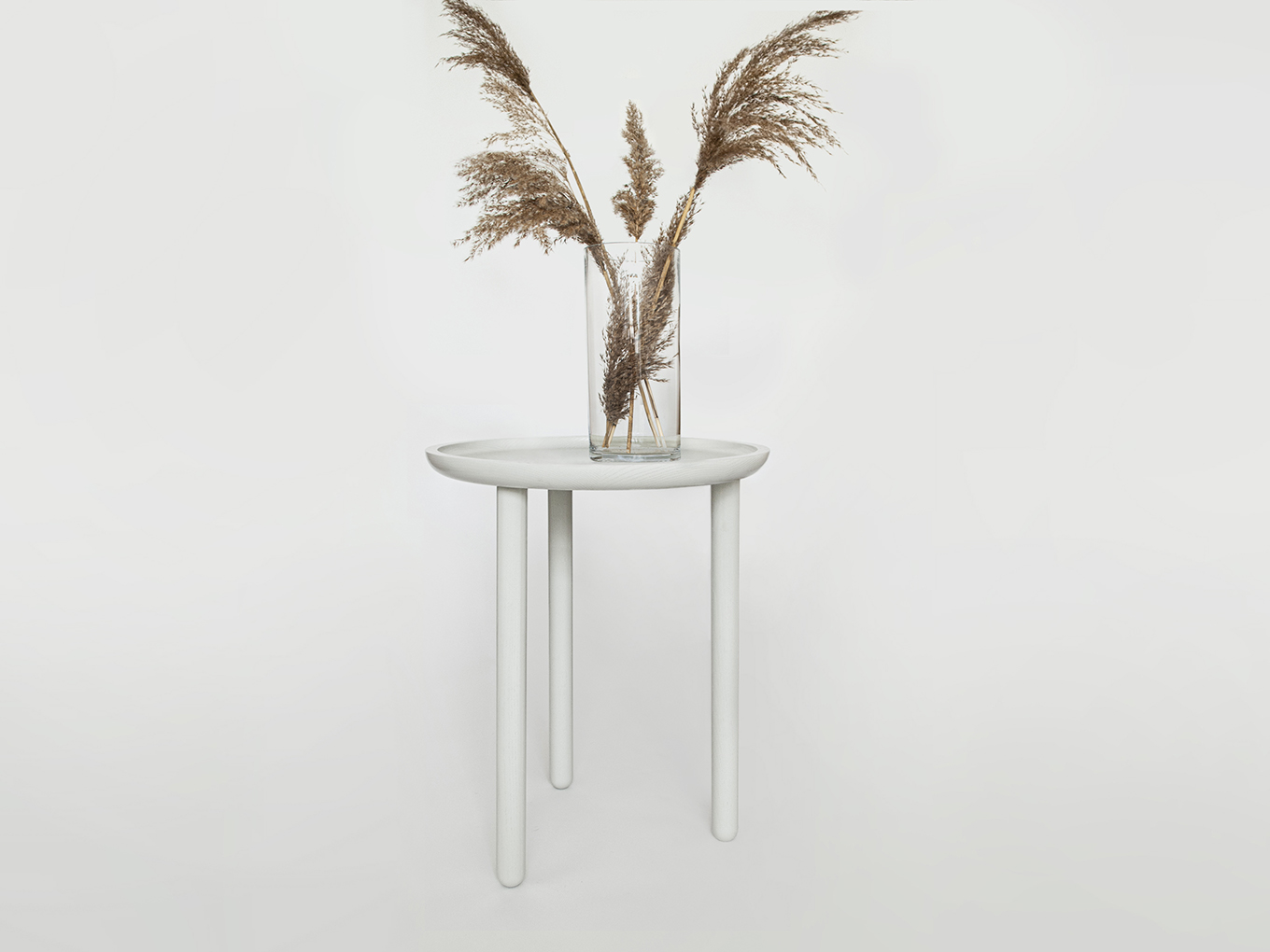 I love that it's a listening practice that is driving your designs right now. And I love to see these different elements of your world meeting in the middle and helping you better articulate yourself. How does that intensity of purpose express itself in the Ren?
The Ren was always kind of curvy and circular, but I never found it to be very interesting looking. It had a skirt and then the legs jutted out on the diagonal instead of going straight down. It looked like every other table. By just getting rid of the skirt and straightening out the legs and pushing them through the top it suddenly became something. Now it's like this table could live in any space and it's cute and fun and doesn't take itself too seriously. My eye is much more pleased with the straight legs — first of all I love straight legs, just look at my Soren table, that's where I go. Plus, these are rounded and there are three of them, so it ties into asymmetry or the counterbalance I'm feeling now. The Ren is an example of how taking some elements of a design away can actually make it stronger — clearer and more distilled.
It's interesting to hear you talking about this idea of evolving what it is that you're known for. 
Absolutely. I firmly believe that who people that will get through this from a business perspective are the ones who know who they are and what they're doing. It's not enough to just have great taste, it's like — tell me who you are. I think part of this moment is a huge weeding out of a lot of noise.
If in five years you write a piece that talks about my work in the context of a shelving company that makes super memorable sculptural lighting and furniture as well, I'll be really happy. I want the Hover shelving system to be a major revenue source. It's always been a top seller, but this is opening up a whole new world. We've been working on this for the last three years and have engineered the system so that it's component based. The pricing is based on the components, not the layout. You get the fully rendered visualization of what it will look like in your space and a price and you go. It feels like no one is doing what this shelving system will do, in the sense that you can install it, disassemble it, reassemble it. It's really flexible but it operates in the high end market that right now is really only serviced by built-ins and custom millwork. That's the world that our client uses for this shelving need and there's nothing right now available that isn't that that would be interesting for our client.
In terms of defining yourself and putting something out there that says this is who we are and why we should exist, that is absolutely what this is and how I see Hone. This is what we do and why we have value. Looking at the whole collection — meaning everything I make — and being like, what does this piece want to be? I think every studio should be looking at everything and saying what does this want to be and how can it be the best?