03.13.18
10 Things We Loved at the 2018 Collective Design Fair
There were, to say the least, a lot of changes at Collective Design this year — the largest, of course, being the week in which it was held. But ironically, the year that Collective broke from NYCxDesign's May calendar and moved to coincide with the Armory, Independent, and NADA, is the year it featured the most instances of contemporary furniture yet. With R & Company moving to the Armory, Volume Gallery defecting to NADA, and Johnson Trading Gallery essentially ceasing to exist in its former state, the Collective fair has lost many of its old stand-bys. But it's strengthened its commitment to a more recent vision, as a platform for contemporary independent design (something that was bolstered by our contribution to the fair two years running).
This year, the strongest entries were by designers like Fernando Mastrangelo, Crosby Studios, Giancarlo Valle, and Objects of Common Interest, who created a VIP Lounge from glass blocks (not to mention Wentrcek Zebulon, whose entrance we featured yesterday). The strongest vintage booth had to have been Peter Blake, whose Vladimir Kagan sofa, reupholstered in pink and metallic fabrics from Dedar Milano, might have been our favorite piece at the whole fair. Then there was a whole contingent of artists, including Sam Stewart (who showed with Fort Gansevoort) and Justin Morin (who created an ombre string installation with textiles by 4Spaces). Oh, and have we even mentioned Collective's move to a brand-new venue, which suited the fair enormously with its natural light and dramatic, freight elevator access–only entrance? Read on for our favorite finds from what we're calling Collective 2.0.
Fernando Mastrangelo Studio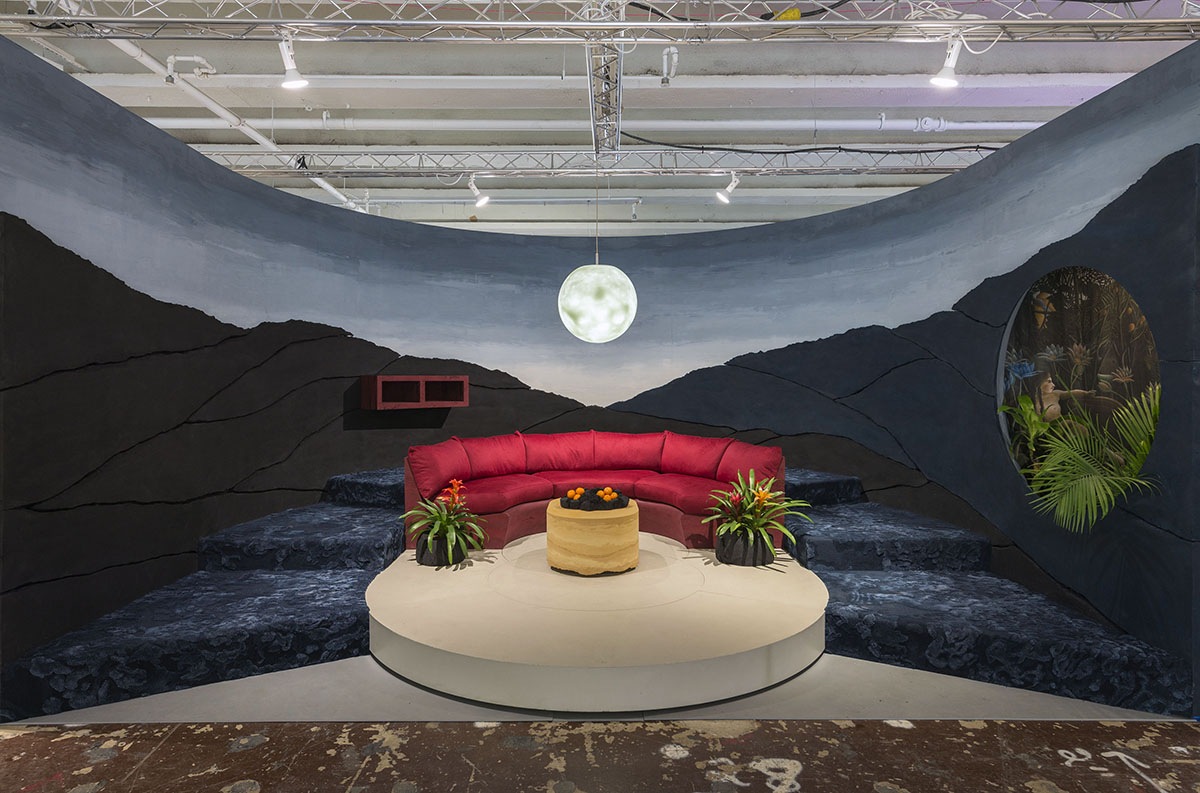 Inspired by a Henri Rousseau painting of the same name, Fernando Mastrangelo's "The Dream" installation evoked a surreal mountain landscape and pushed the limits of the designer's sand-casting technique. At its center was a blood-red cashmere sofa with a hand-dyed, sand-cast base; a moon-like, crushed-glass lamp completed the otherworldly effect.
Crosby Studios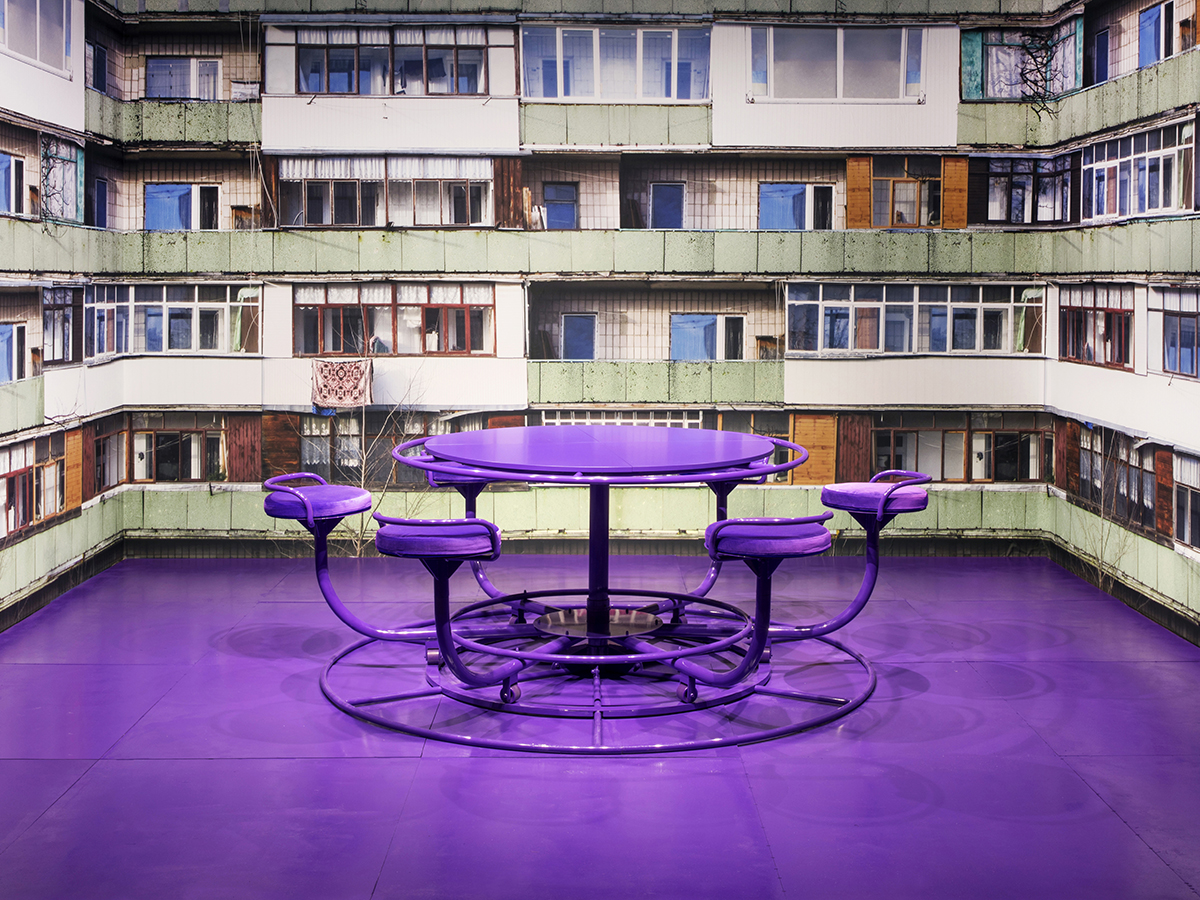 Harry Nuriev of Crosby Studios recreated his childhood with an ultraviolet carousel and a Wallpaper Projects collab, depicting the Brutalist, Soviet-style housing unit he grew up in. (Tune in to our Instagram Stories today for a clip of this thing in action!)
Giancarlo Valle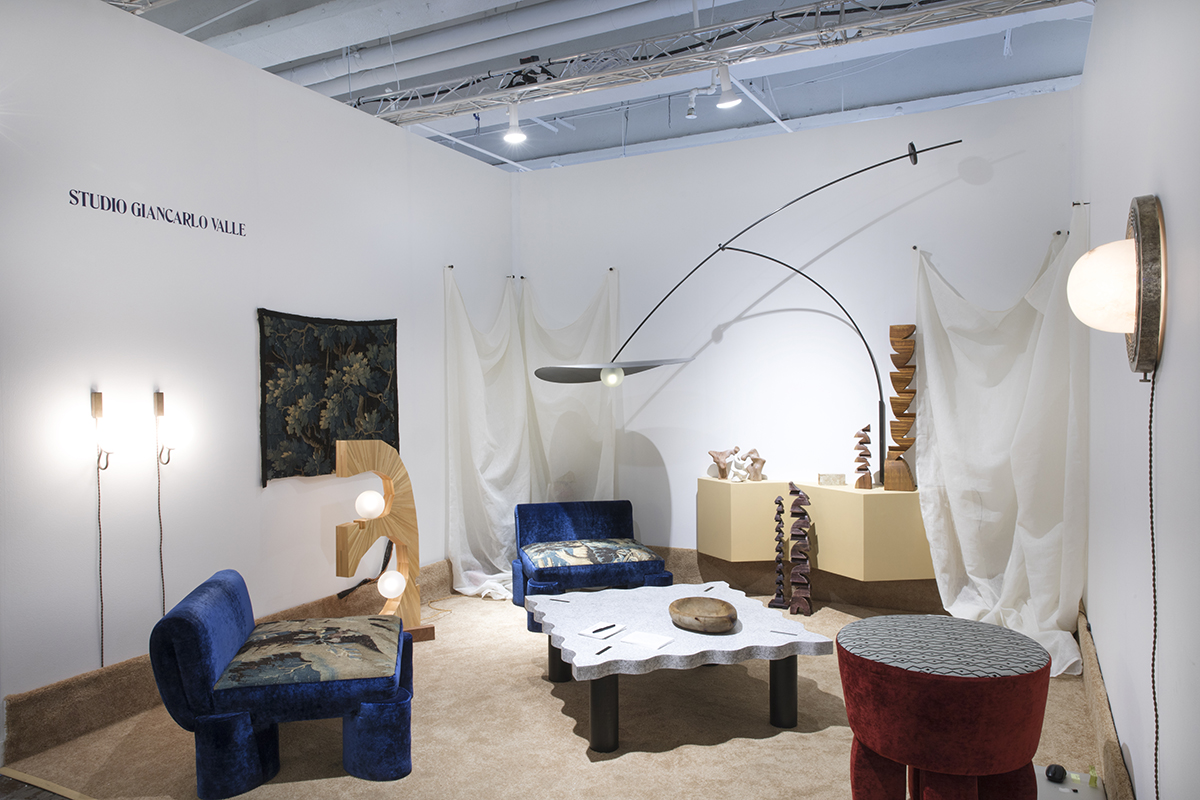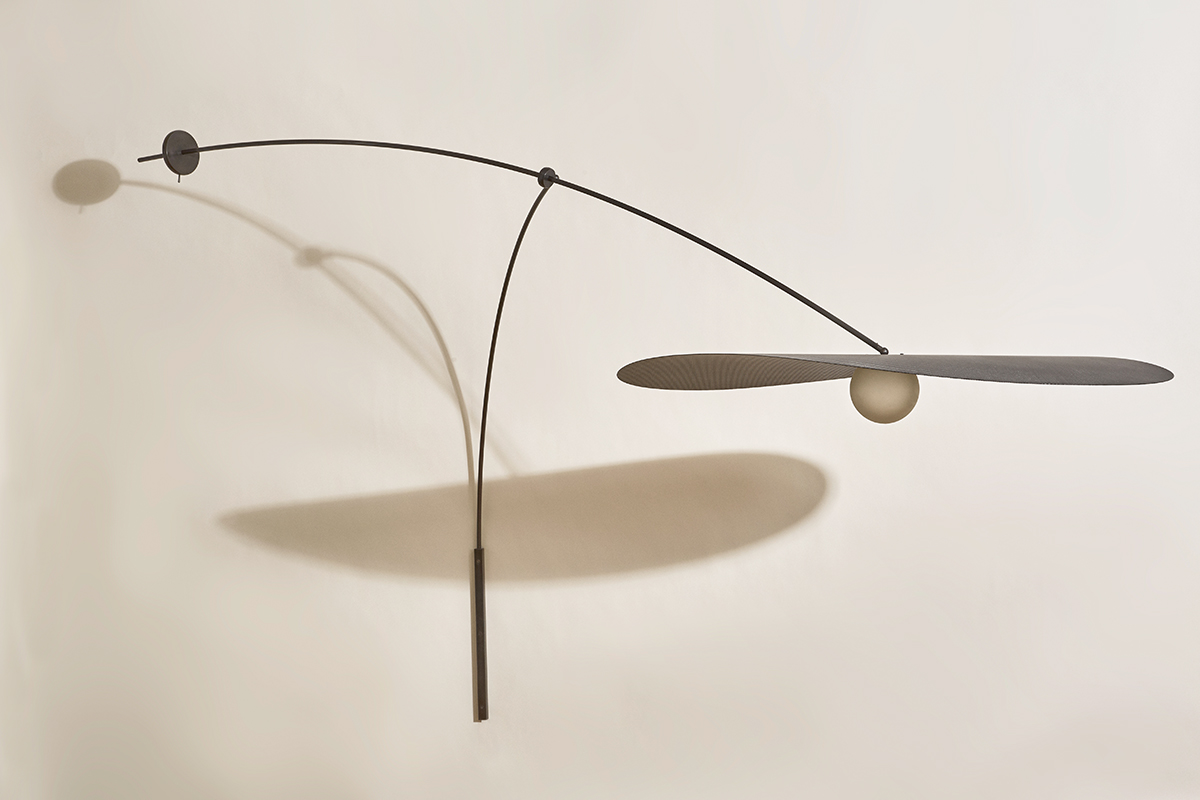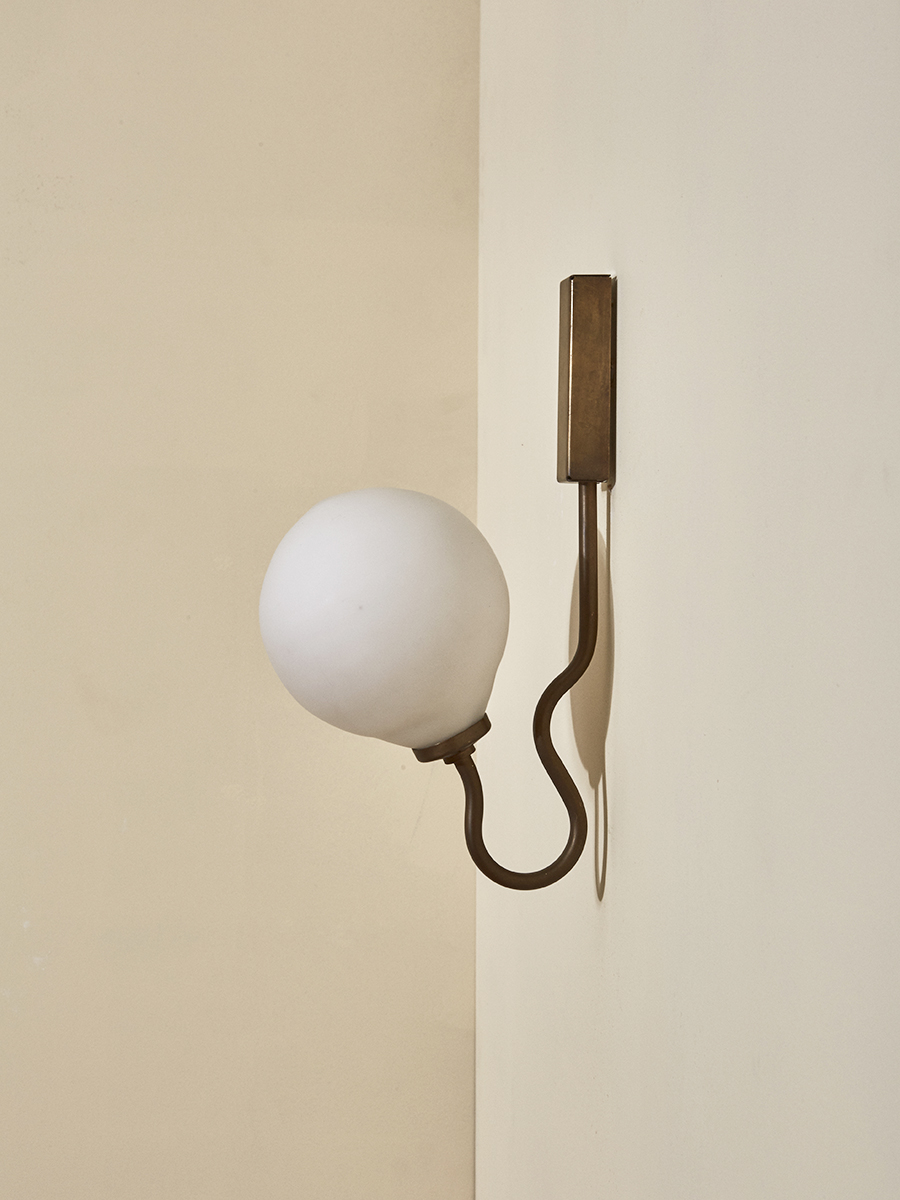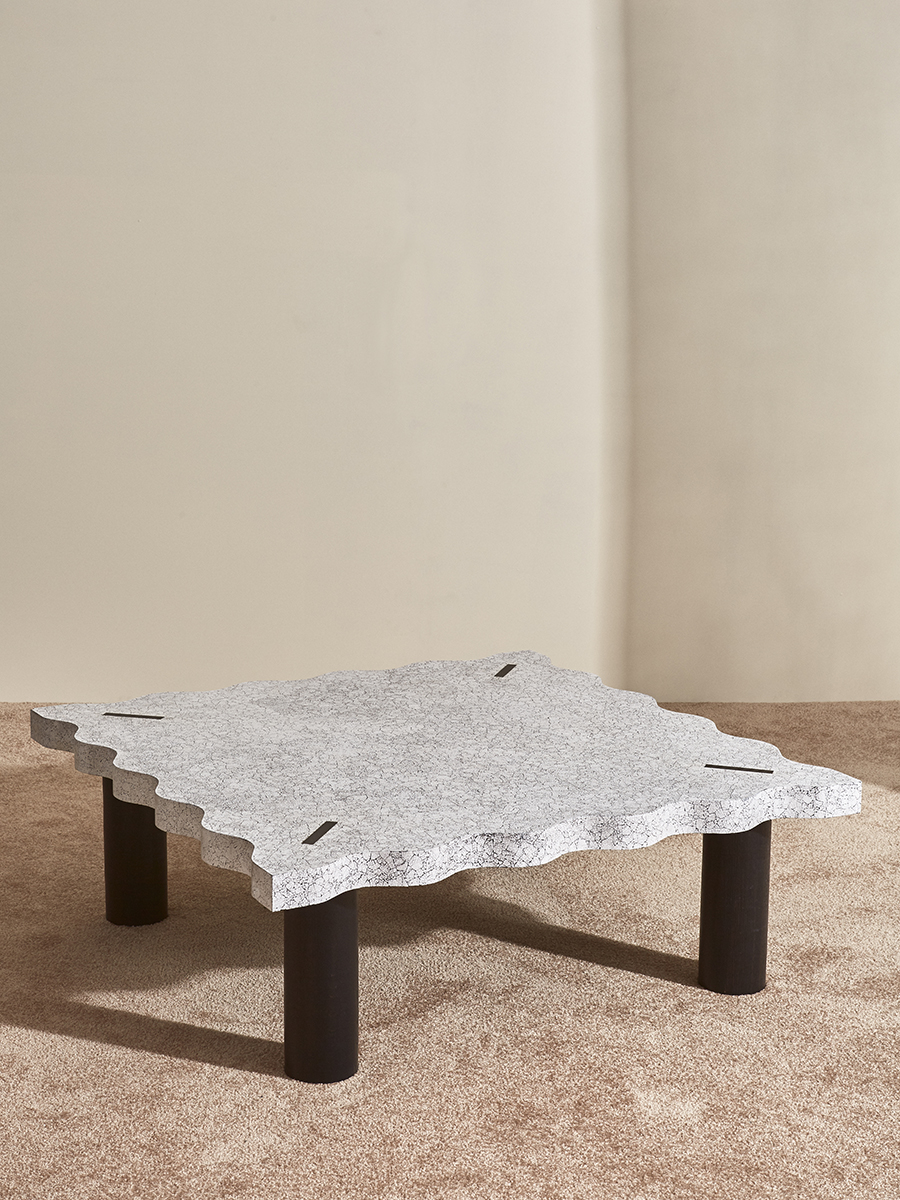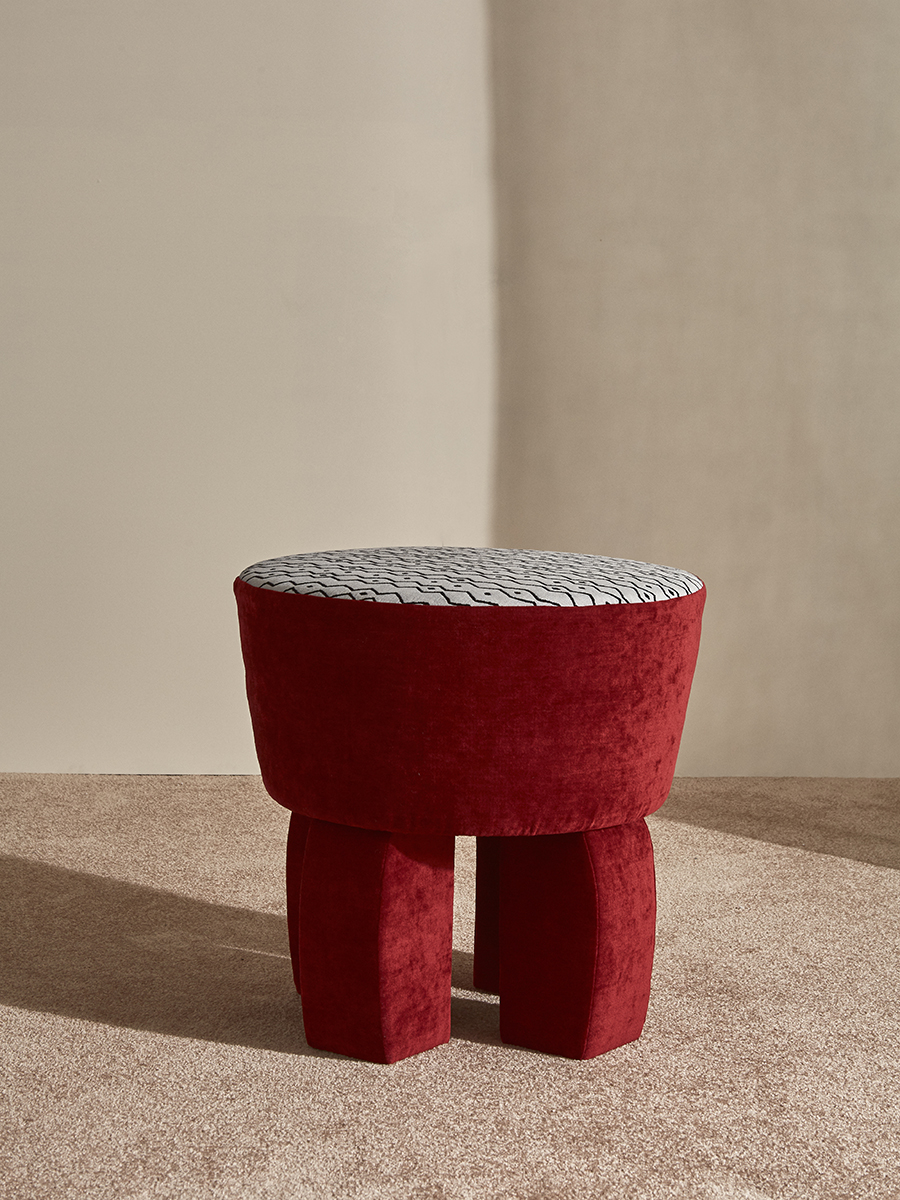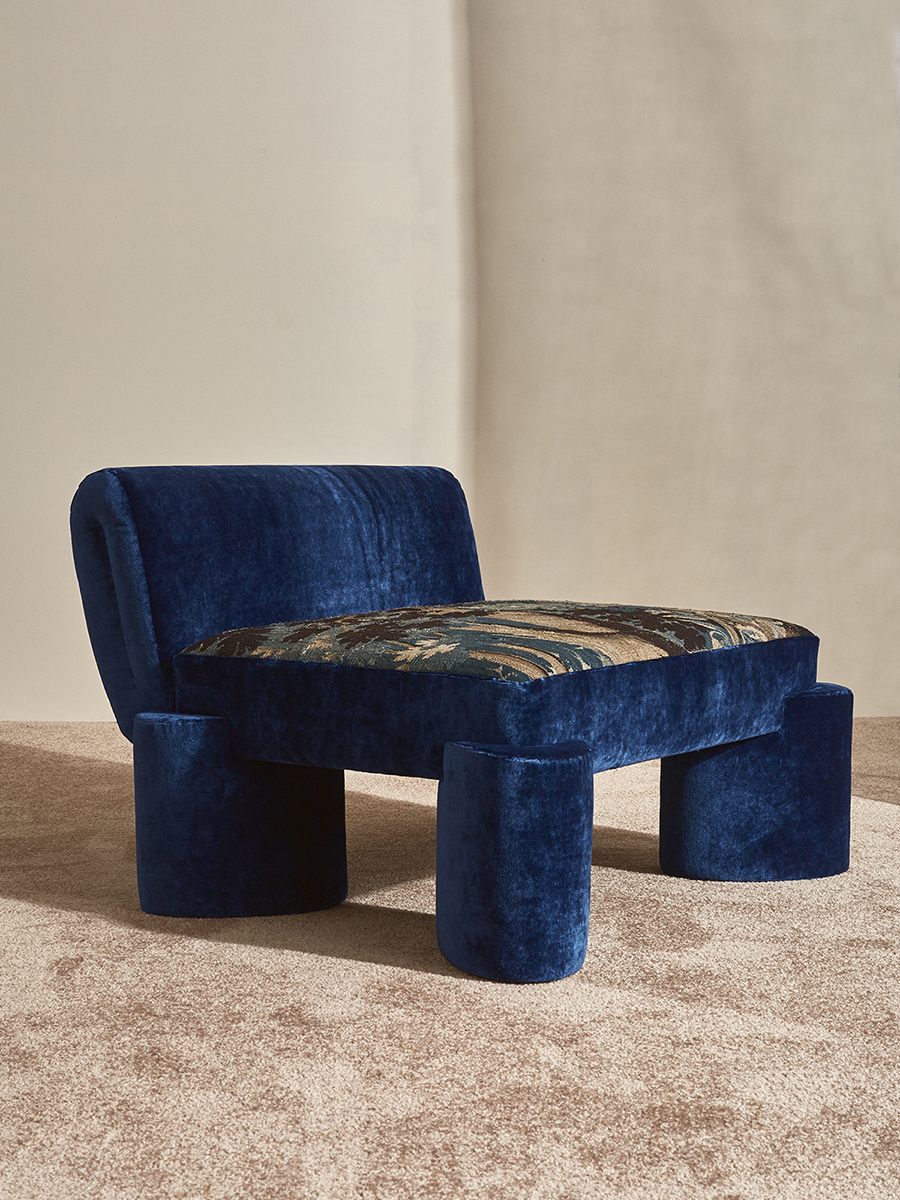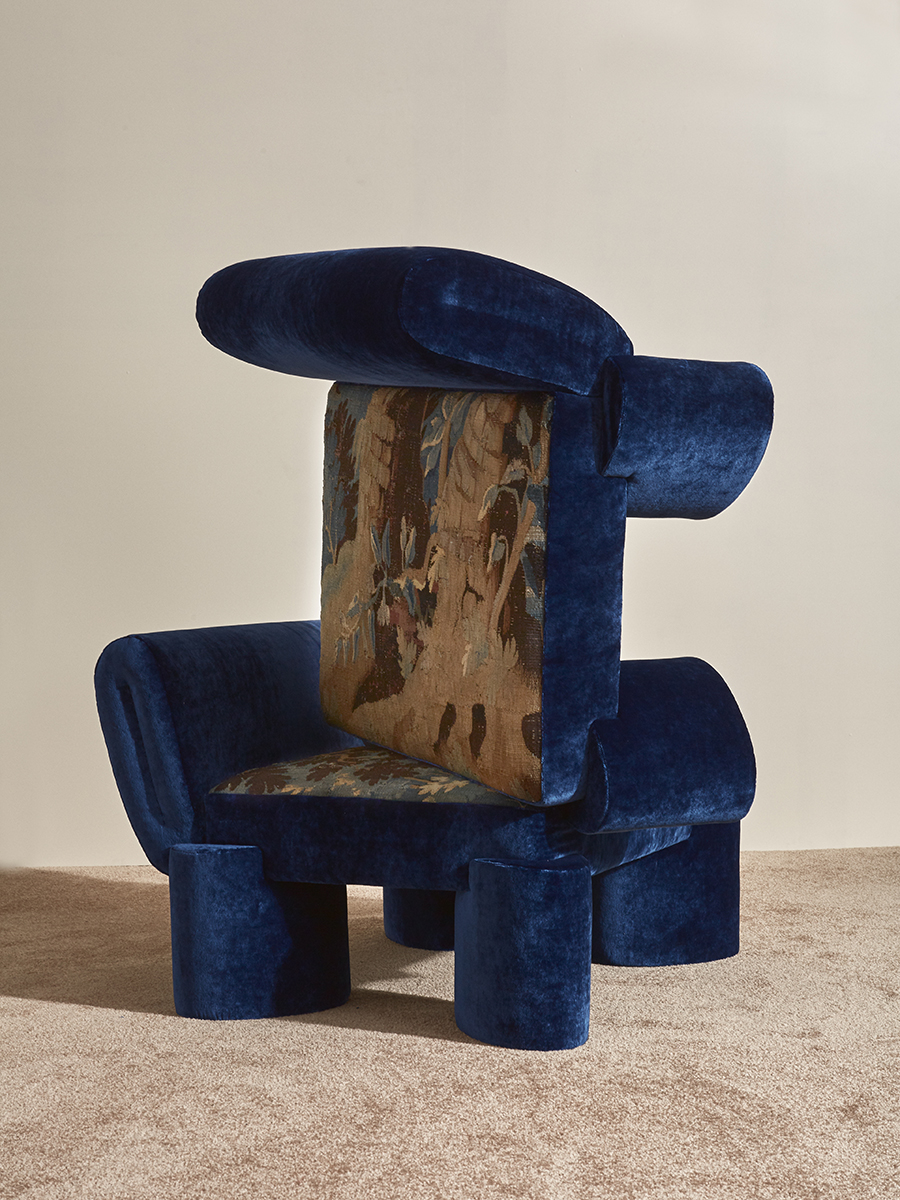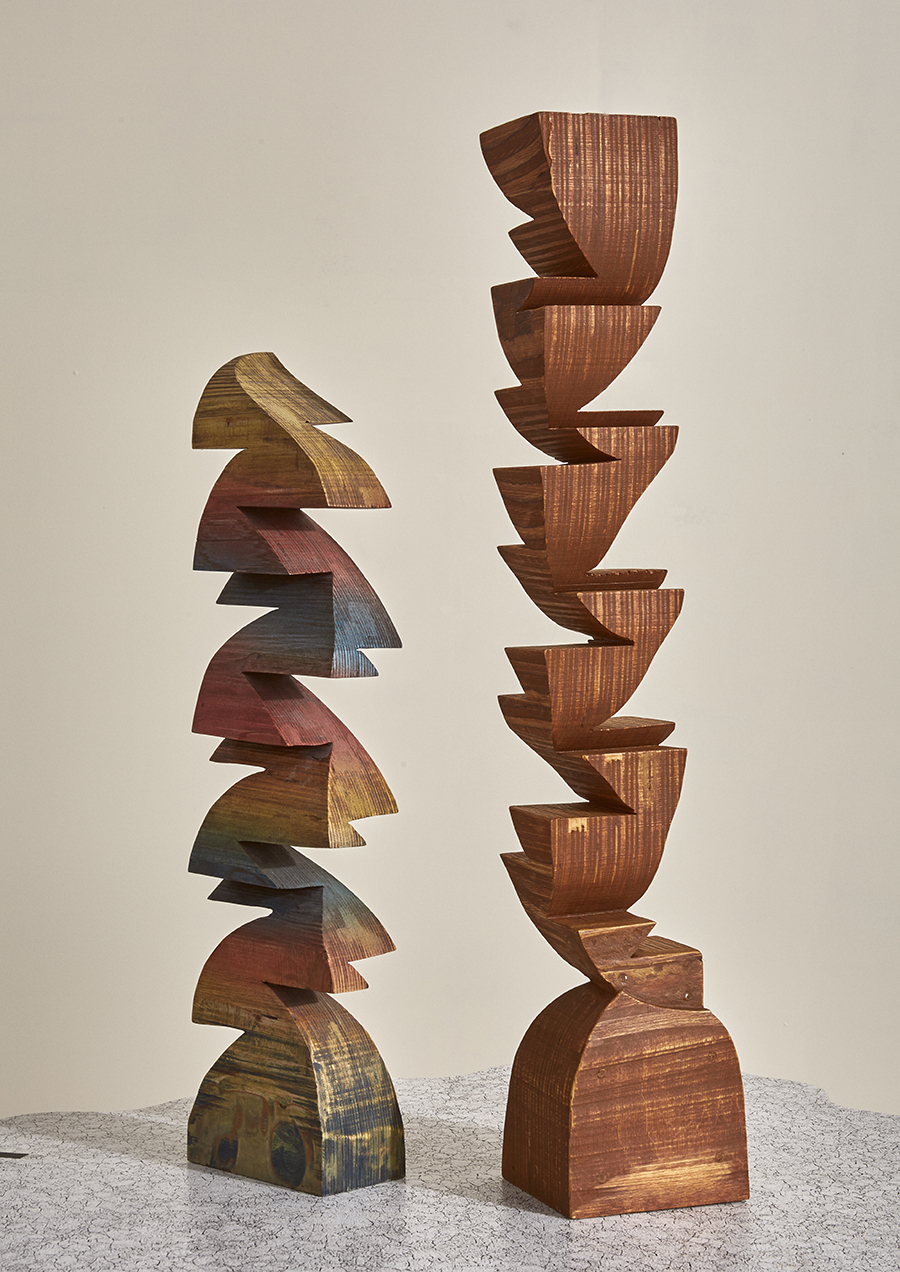 Giancarlo Valle treated his booth almost like a behind-the-scenes peek into his process, with several pieces that are still somewhat in development. He evolved his Smile chair with blue velvet upholstery mixed with the pieces of an 18th-century tapestry, and debuted a wall-mounted light with Ladies & Gentlemen Studio. But his tribal ottoman and eggshell coffee table are still works in progress — to be finished, perhaps, in time for New York Design Week?
Coil + Drift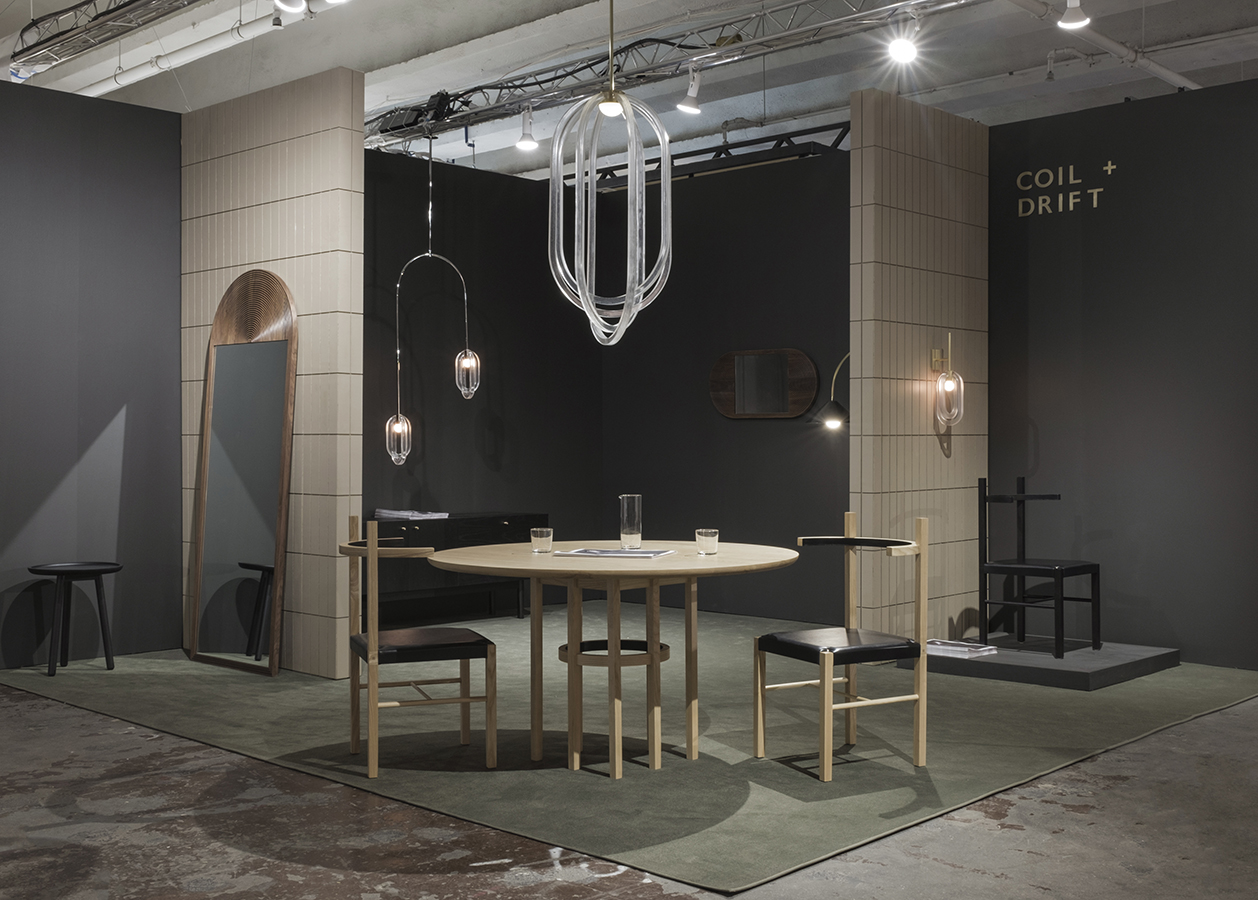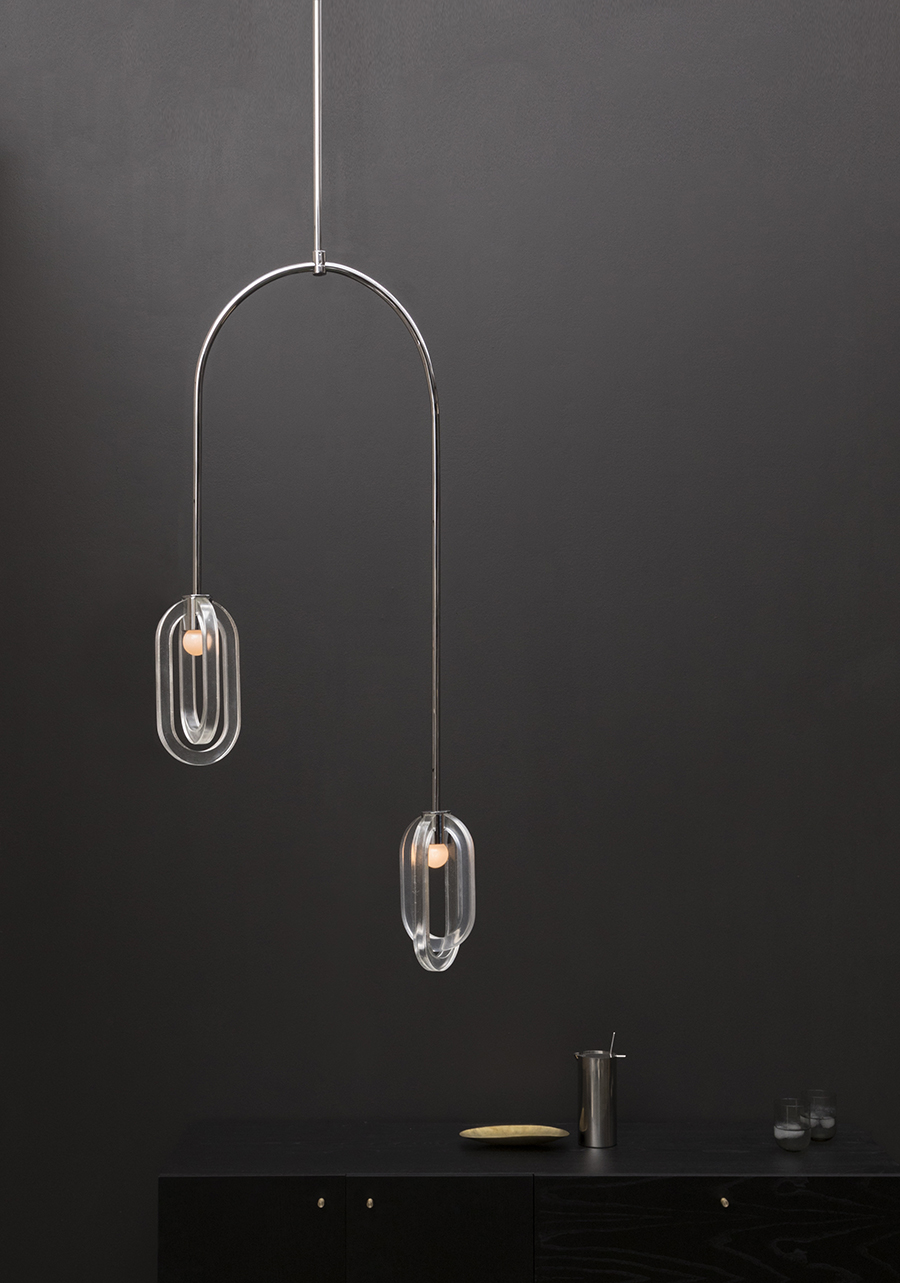 We love Coil + Drift's booth, which featured clear resin lights that founder John Sorensen-Jolink allows to bubble in order to resemble cast-glass; a full-sized version of his June mirror; and pink "bricks" (actually plywood slats) that the designer cut, sanded, and painted by hand in his studio.
Sam Stewart at Fort Gansevoort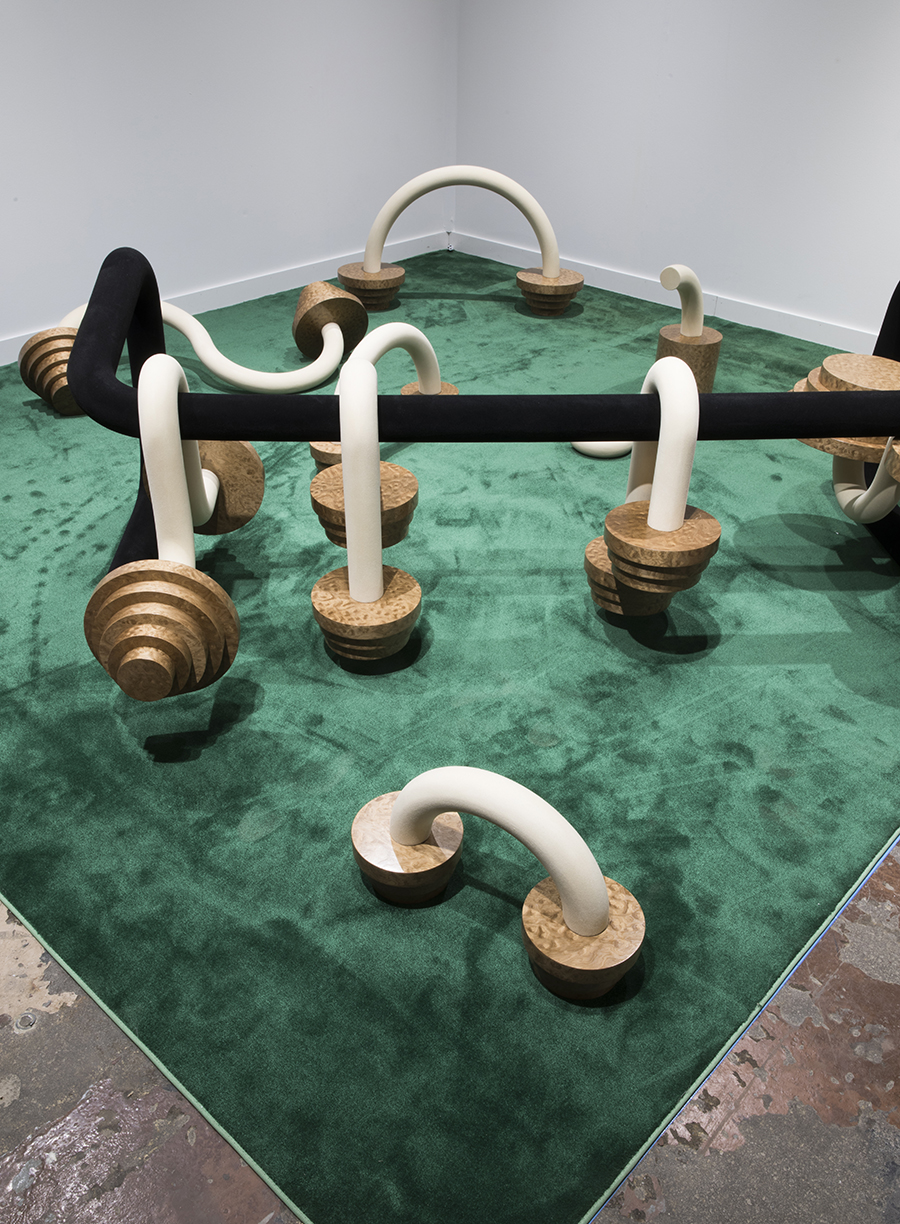 Sam Stewart's neo-Baroque exercise equipment is one of our favorite things in recent memory, so we were happy to see it abstracted into a playful installation at the Fort Gansevoort booth.
Peter Blake Gallery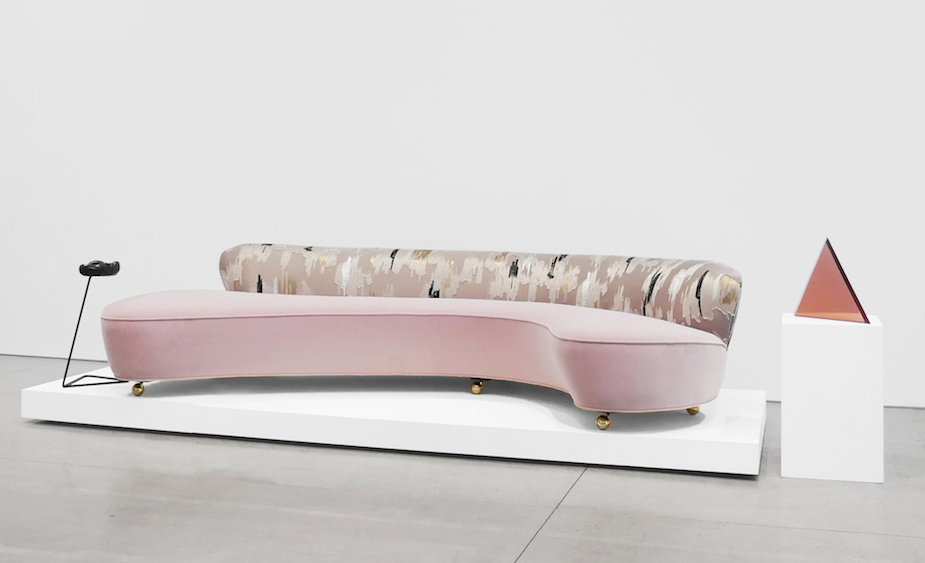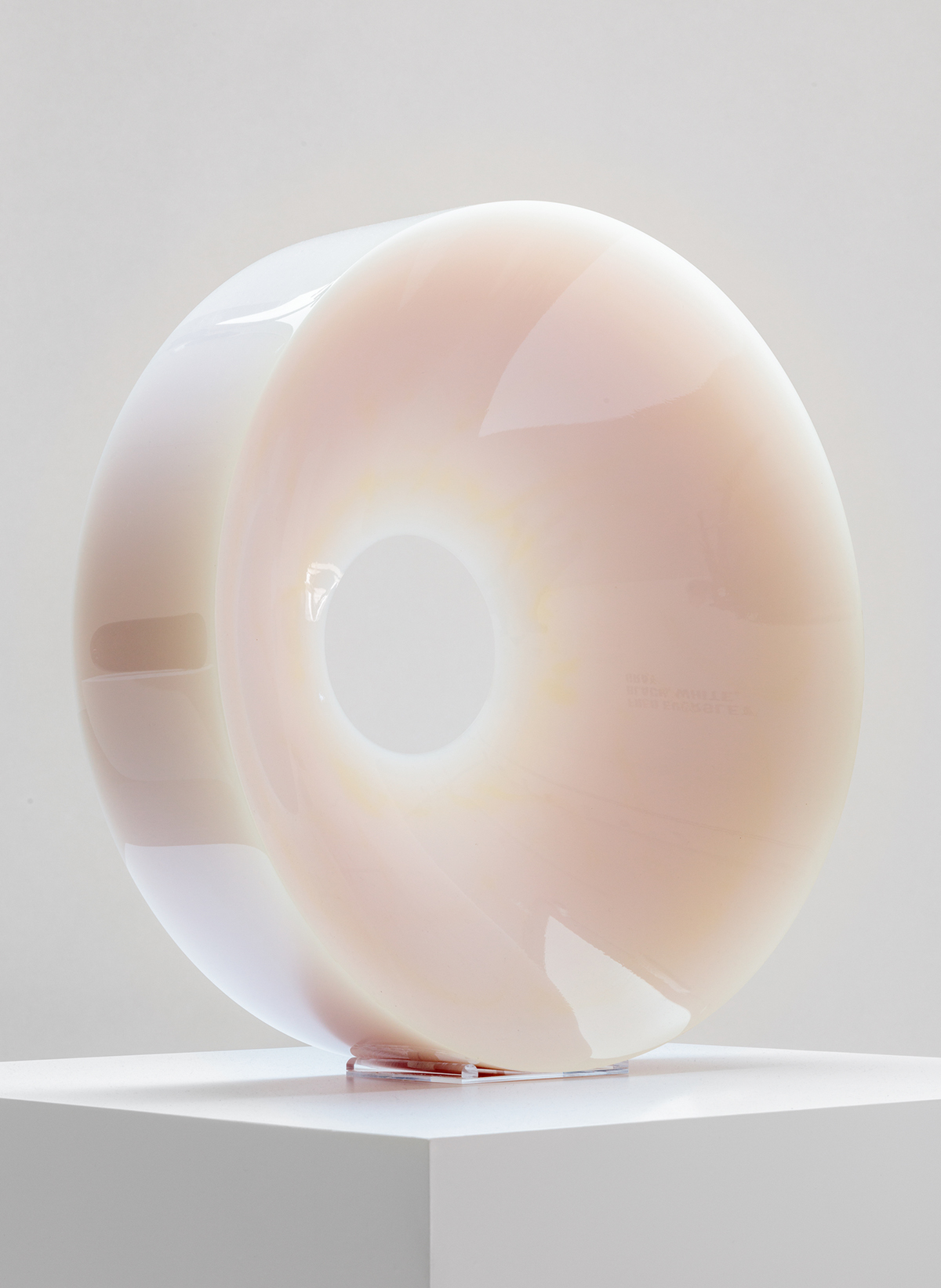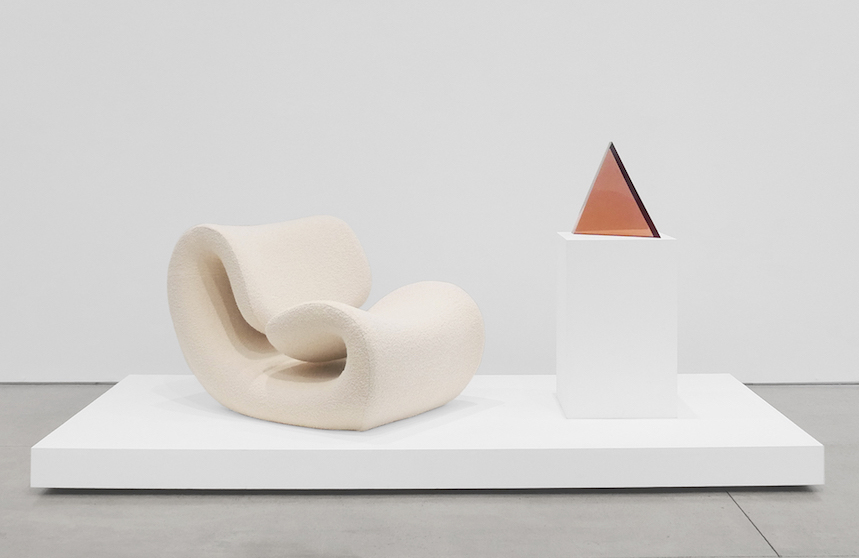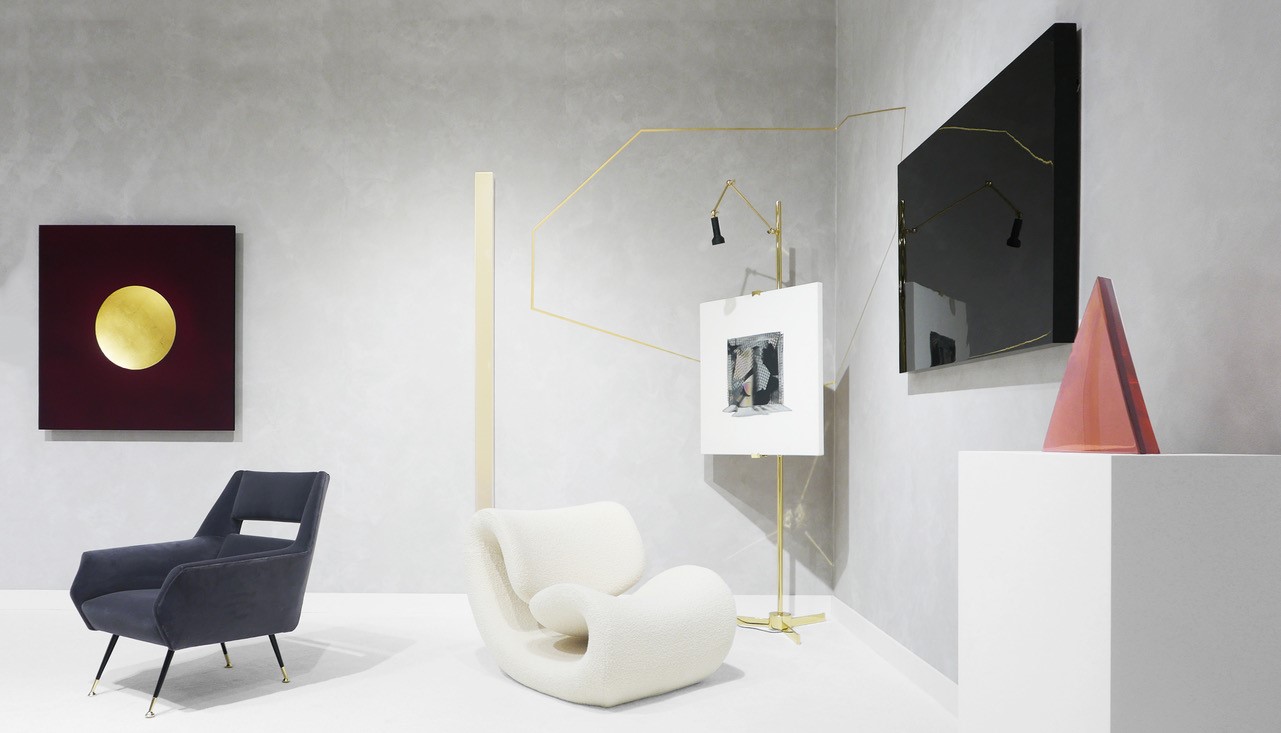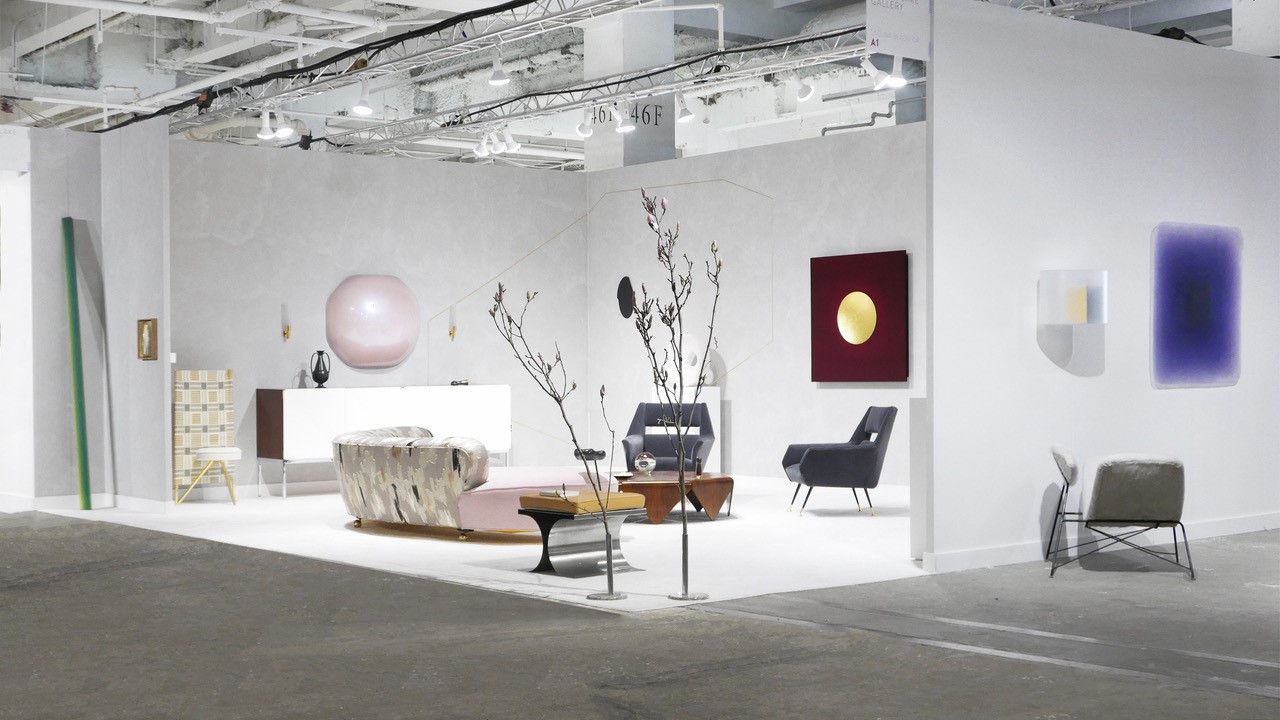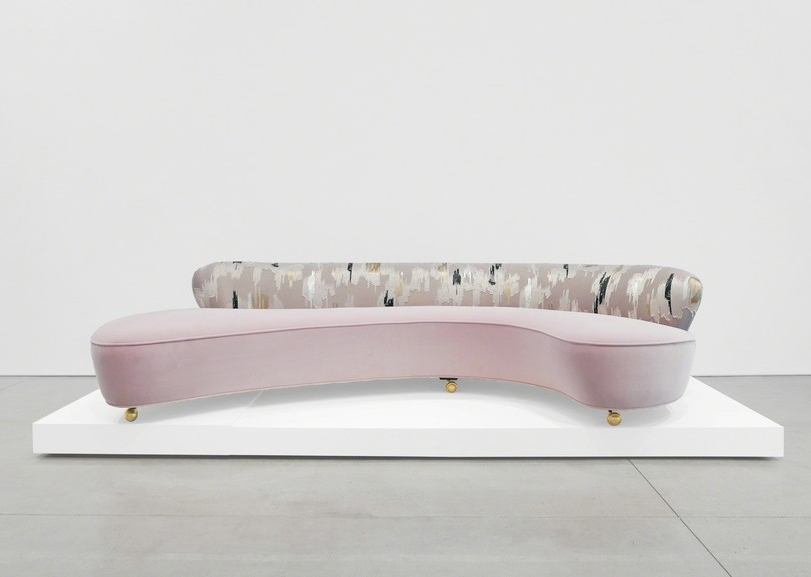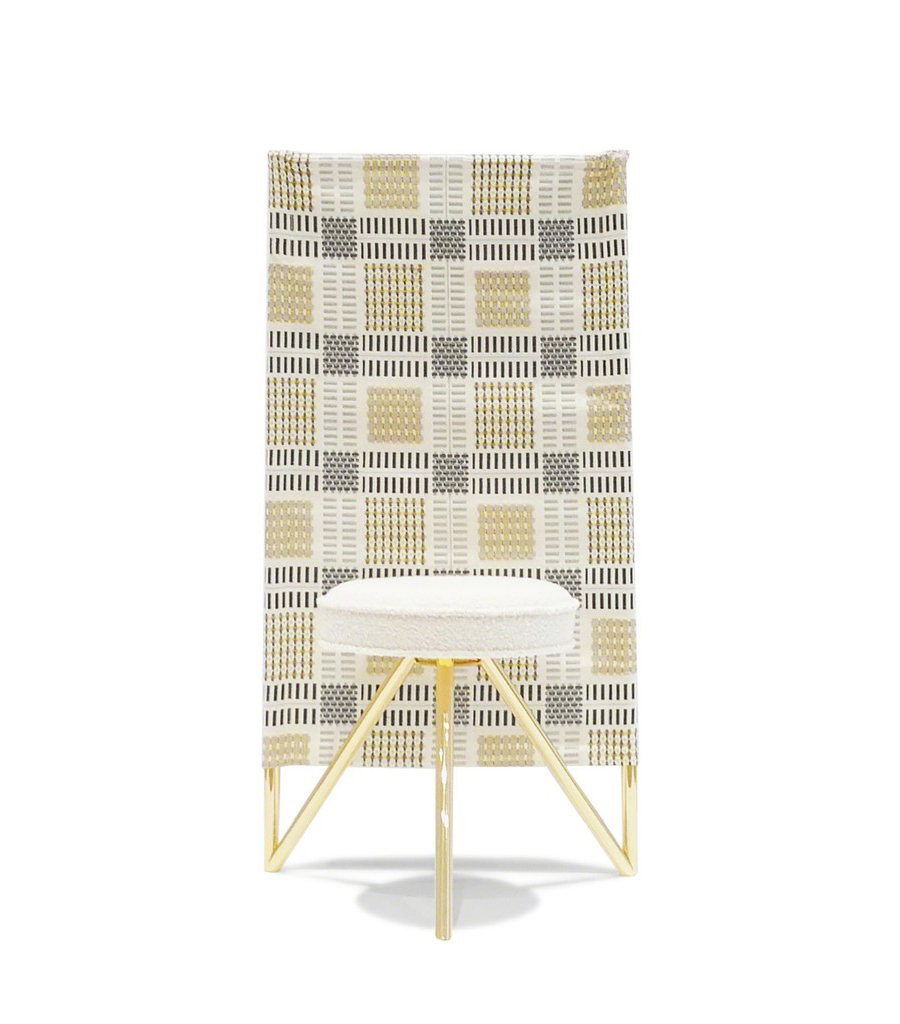 For its Collective debut, the Laguna Beach–based Peter Blake Gallery showed off its vast collection of California Light & Space artists — including a rare, pink pearlescent Craig Kauffman piece in vacuum-formed plastic. Also on view were a pair of 1950s Fontana Arte sconces, a Gio Ponti pitcher, a Vladimir Kagan sofa, and a 1982 Philippe Starck chair that the Blakes had recovered in a Wiener Werkstatte–inspired fabric from Dedar Milano.
Objects of Common Interest VIP Lounge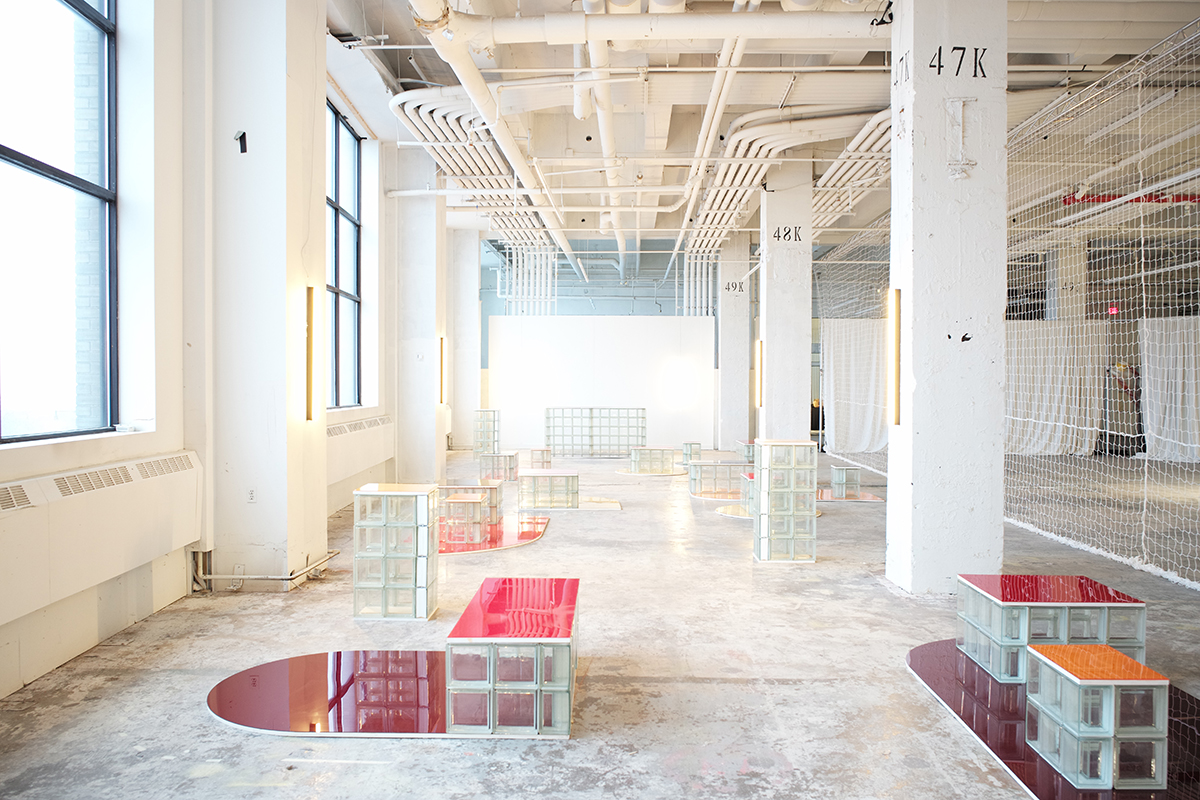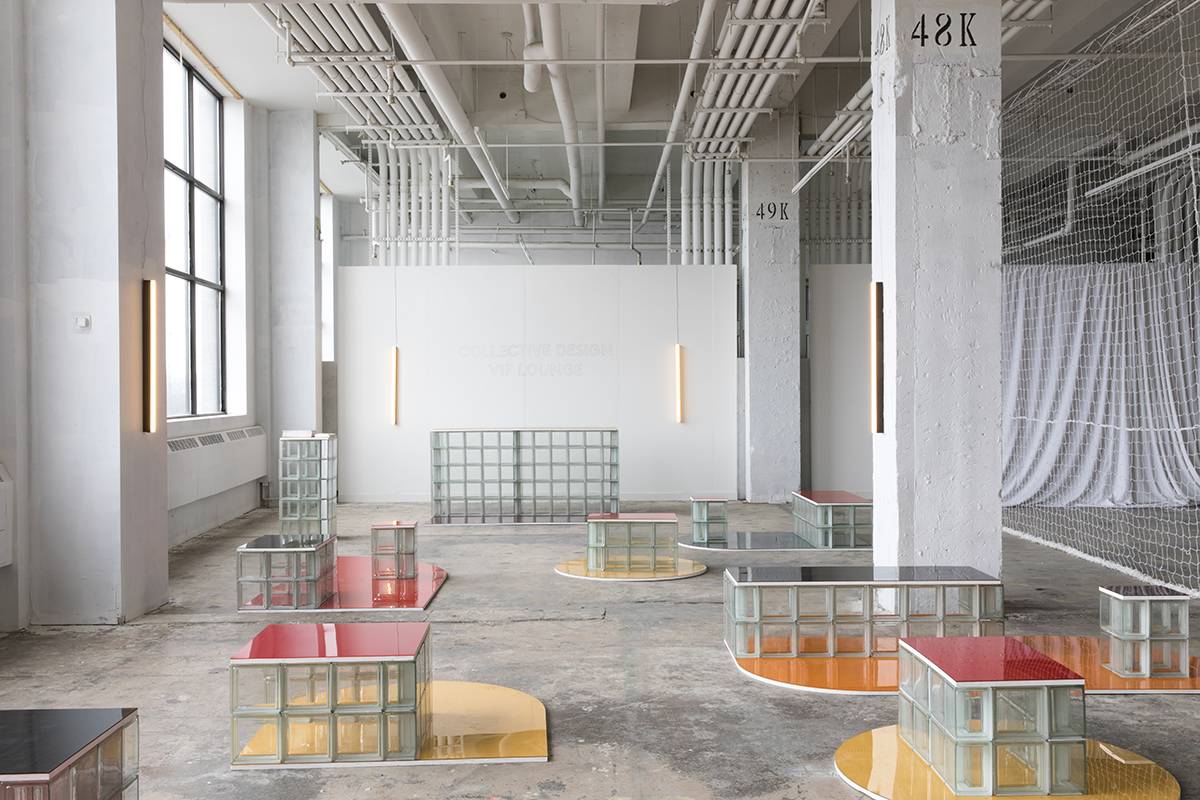 We called it on the glass blocks trend! For the VIP lounge, designers Leonidas Trampoukis and Elena Petaloti of the NYC- and Greece-based duo Objects of Common Interest used 420 glass blocks to construct floating furniture islands, topped and anchored by cut acrylic sheets in warm, earth-hued tones.
Brook Landscape x Jesse Seegers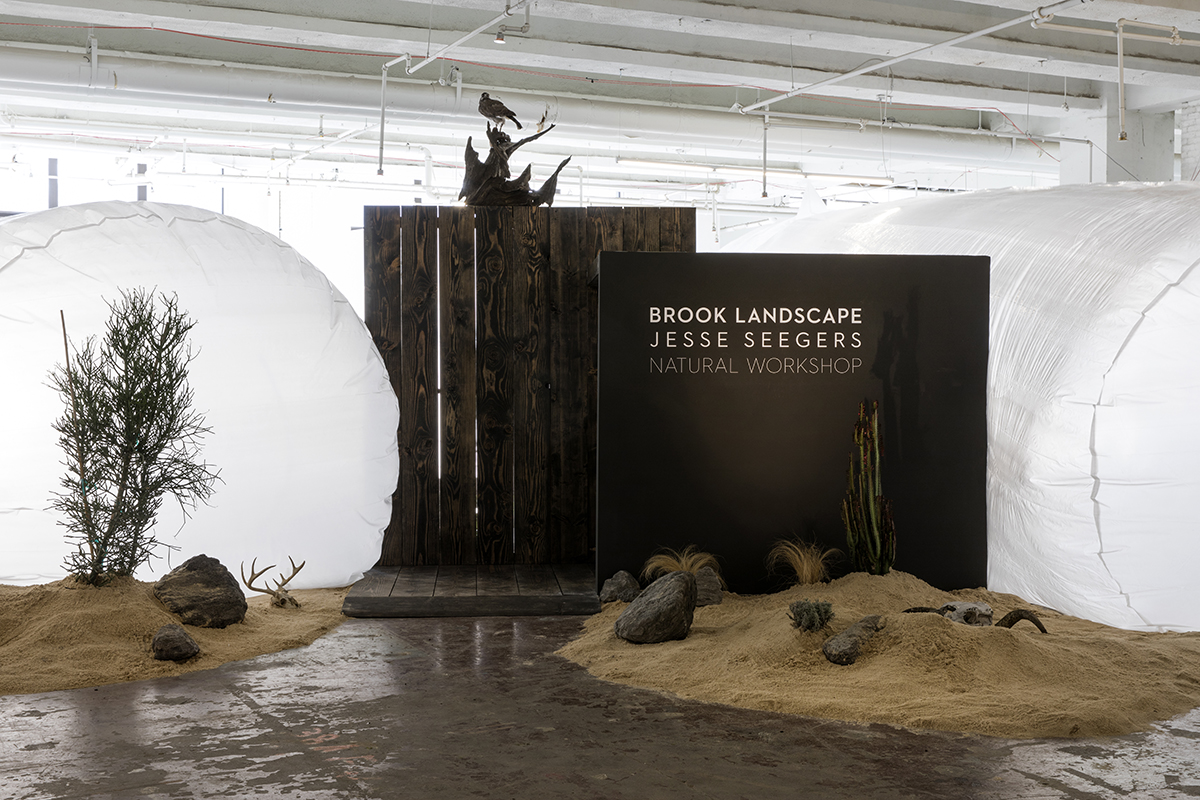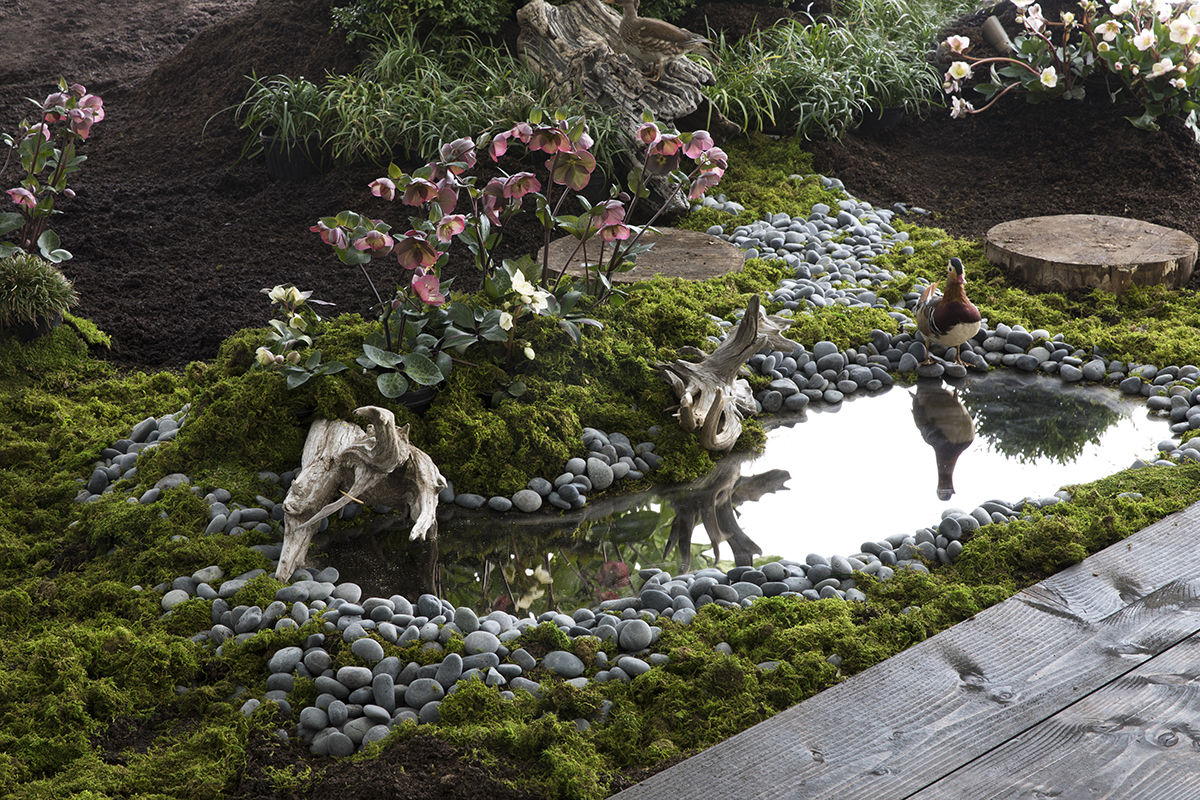 Okay, so we didn't actually realize that you could enter the boy-in-the-bubble structure fabricated by landscape designer Brook Klausing and Jesse Seegers … but from these photos, kind of wish we had?
Johanna Grawunder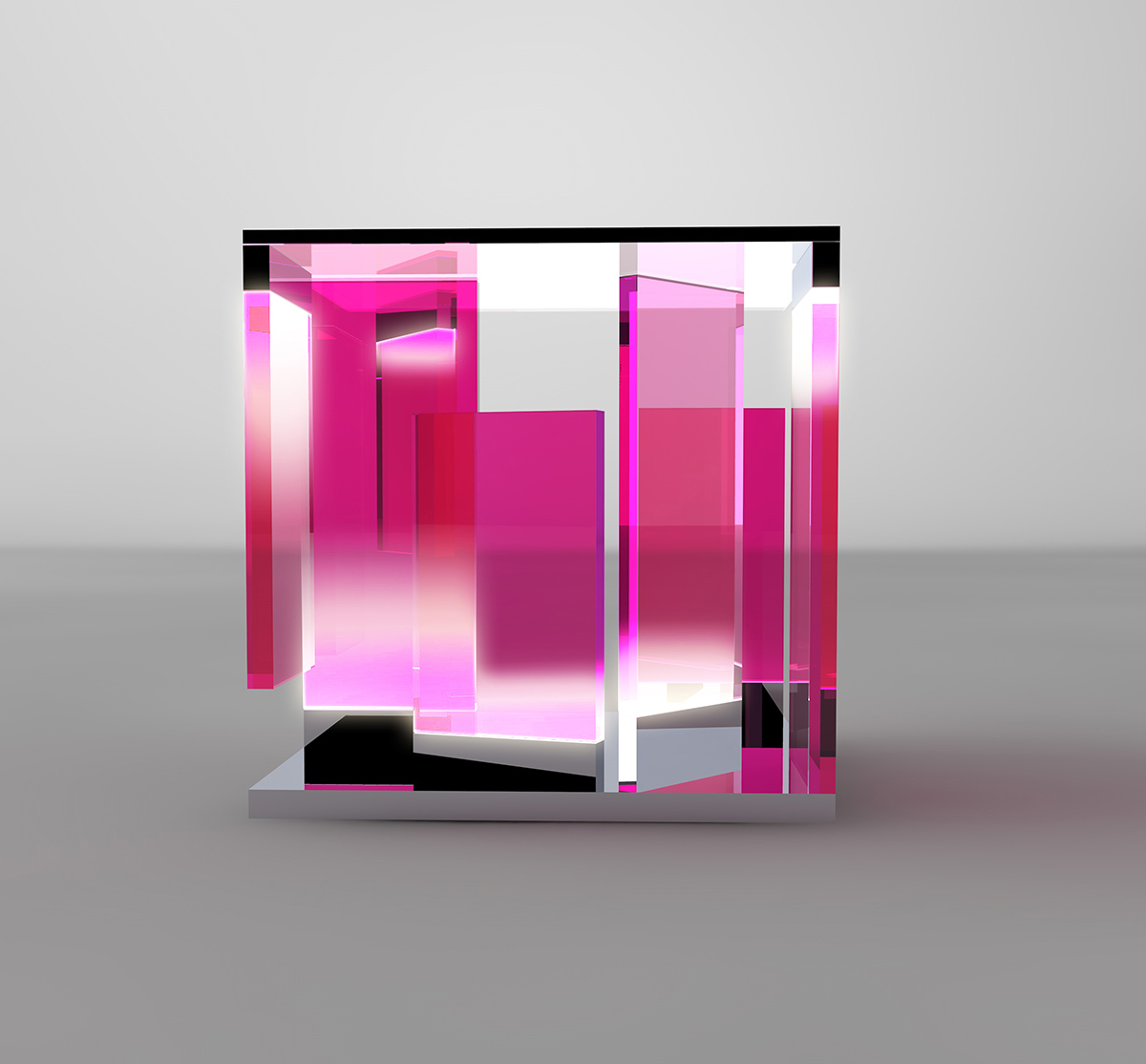 This was another piece that kind of fooled us — in preview photos, Johanna Grawunder's kinetic sculpture appears almost life-sized. In person, it's about the size of a small microwave.
Reunion Goods & Services Café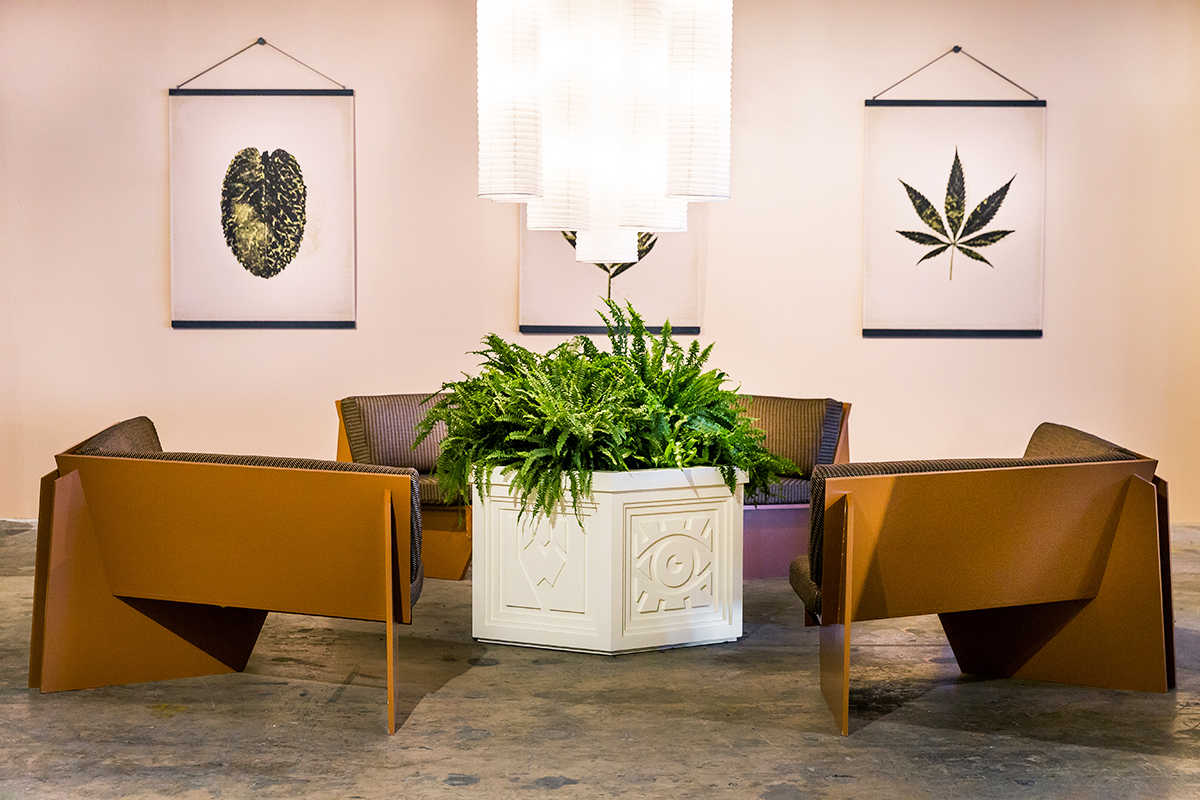 Reunion Goods & Services was in charge of outfitting the café this year, and we loved this pentagonal seating situation for hanging out and heavily Instagramming.