06.17.20
In SAIC's Whatnot Studio — As in Life — Utopia is an Impossible, But Ultimately Worthwhile, Pursuit
This piece is part of Sight Unseen's 2020 Offsite Offline coverage. To view SAIC's virtual booth on Offsite Online, click here.
There's no such thing as utopia. Coined by Thomas Moore in his 1516 book of the same name, the word "utopia" combines the ancient Greek roots for "not" and "place." It's a fiction, a nowhere, or at least a not-here-yet. But its perpetual absence — or deferral — shouldn't leave us discouraged; its inaccessibility is precisely the point.
"Utopia is an impossible ideal," says designer Pete Oyler, "but one that designers continue to pursue. I think it's a testament to the persistence of the imagination and the ongoing quest for something better." It was with this in mind that Oyler, along with designer Jonah Takagi, taught this year's Whatnot Studio within the School of the Art Institute of Chicago's Designed Objects program.
The class took the form of an advanced level studio for undergrads and grad students, who come not only from design backgrounds but also from other disciplines across the school. The inspiration for the course came in part from Oyler's experience researching at the archives of Black Mountain College — the famous cross-disciplinary intellectual and artistic hub in Asheville, North Carolina — as well as his and Takagi's ongoing work with Furnishing Utopia, a collective of designers that produces exhibitions and workshops. "While culling through the BMC archives, I was reminded of the intense political context of Black Mountain College," Oyler recalls, noting especially that many faculty and students were refugees who had fled Nazism. With all this in mind, the premise of the class wasn't a search for utopia but rather a provocation to ask: "What makes utopia impossible, and how do perspective and power filter into that?"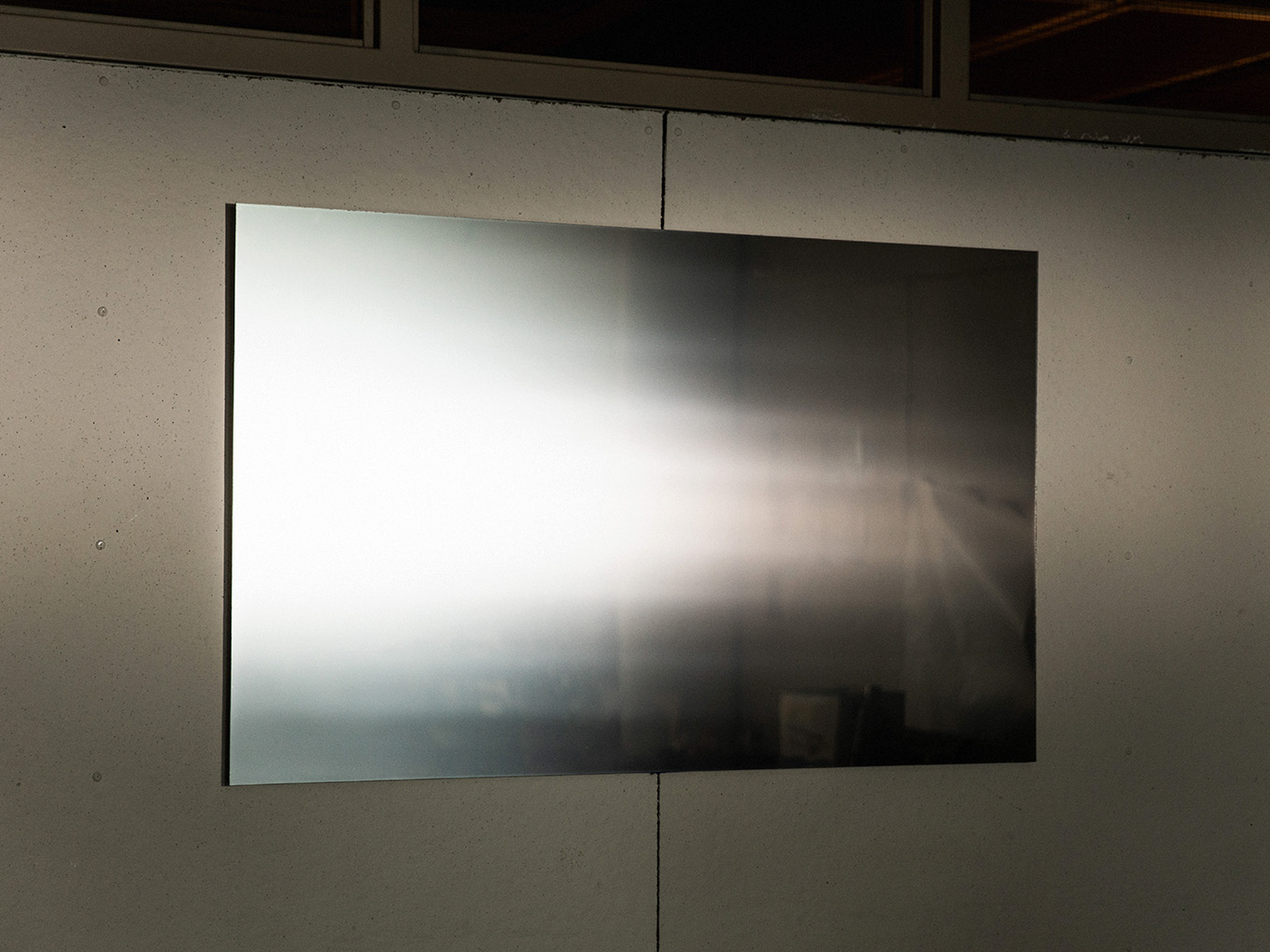 Mirrerror by Nicolas John McDonough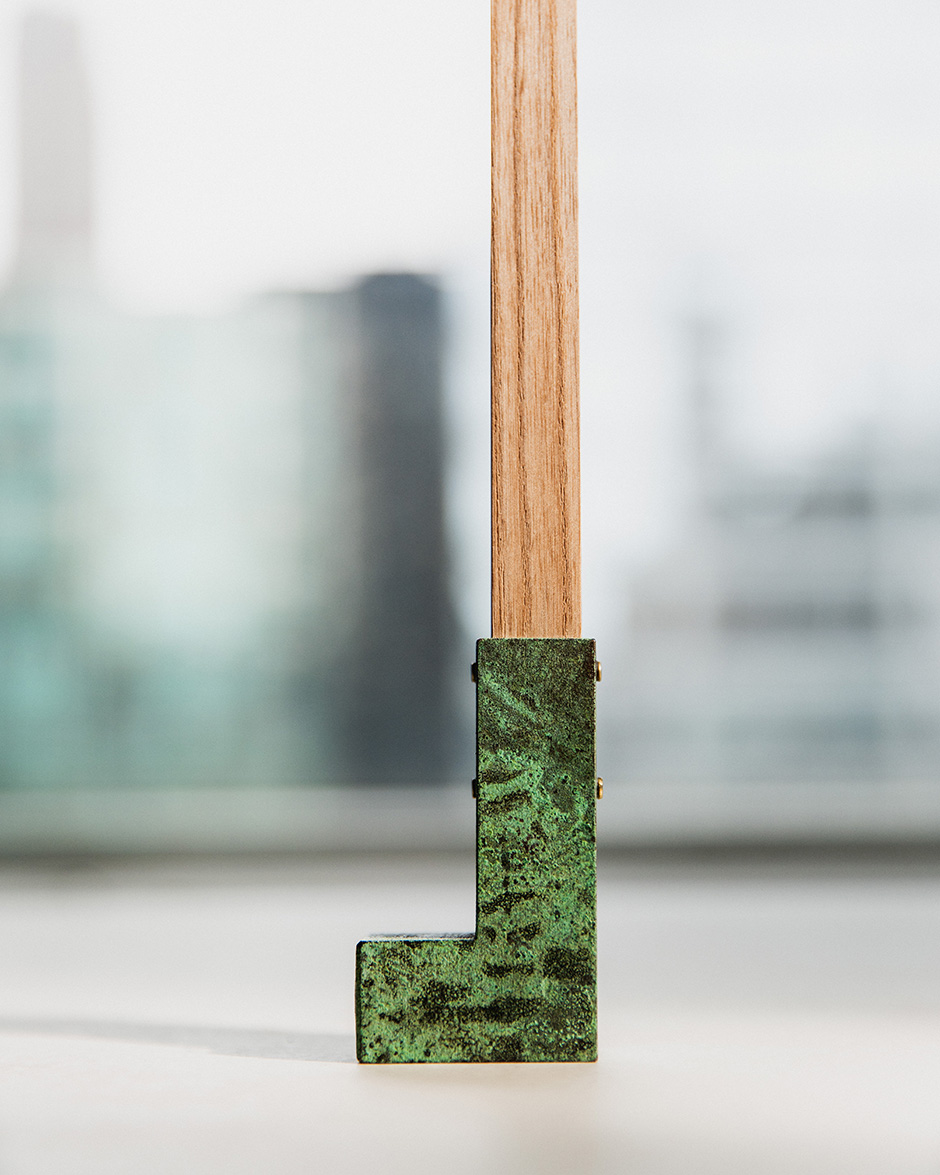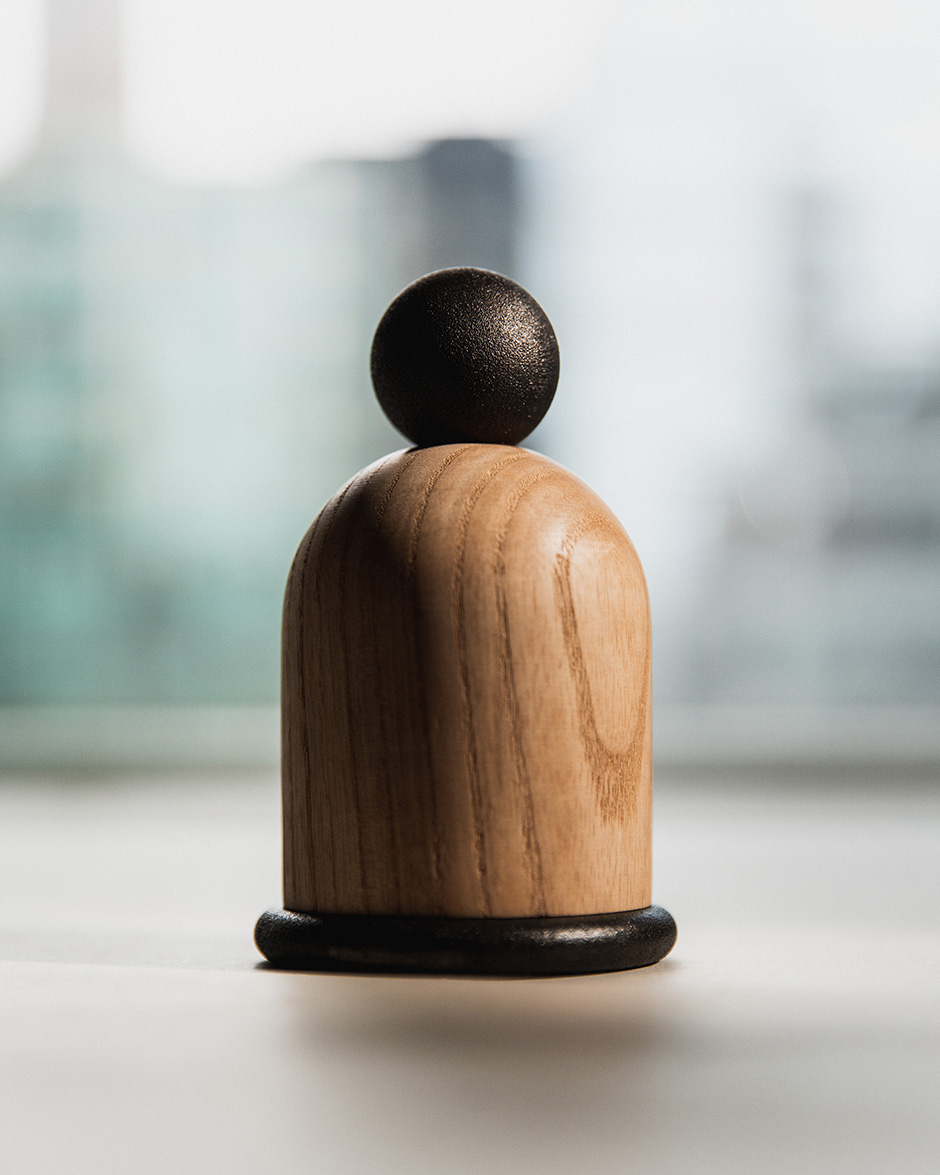 Hammers by Kazuki Guzmán
Titled 18 Perspectives on Utopia, the projects play at the boundary between individual and collectivity, inviting a plurality of ways of (not) designing a perfect world. "I can say with honesty that each of the projects in the class developed in ways I could not have anticipated," says Oyler, noting that many students took interdisciplinary approaches, weaving in their backgrounds in photography, sculpture, ceramics, and the like, as well as object design.
Given this diversity of disciplinary backgrounds, the class's projects span a number of forms. Nicholas John, who just received his BFA with a focus on photography, created Mirrerror, "a mirror that provides peripheral, but not frontal, clarity." Denying a view of one's self head on, Mirrerror is, for Oyler, a "a poetic encapsulation of so many of the conversations we'd been having throughout the semester: the individual versus the collective, the idea of perspective — of who sees what and how that's framed."
Returning to the fundamentals, Kazuki Guzmán created a series of hammers — arguably what are some of the earliest designed objects in human history. The tools, called Kotsu-Kotsu, Kan-Kan, Kon-Kon, Ton-Ton, and Gan-Gan, get at a central tension in contemporary existence: The metal elements are 3D printed, the sort of privatized version of mass-production now increasingly afforded to smaller-scale makers — but master craftspeople in Kyoto, Japan, add the finish, making each unique. "The project asks us to consider the ways in which tools have been taken for granted as the domestic landscape has evolved," Oyler says, but also highlights how "craft-based knowledge has become not less relevant but less significant within our own cultural mores." The hammers also harken back to and complicate the DIY ethos that was popularized in communal and utopian projects of the 1960s and 1970s, as well as the anti-industrial attitudes of the 19th-century Arts and Crafts Movements and its ilk. As Guzmán writes, "In an age when so much is digital and automated, the utopia I envision advocates labor, time, and human qualities and embraces both the digital and the handmade."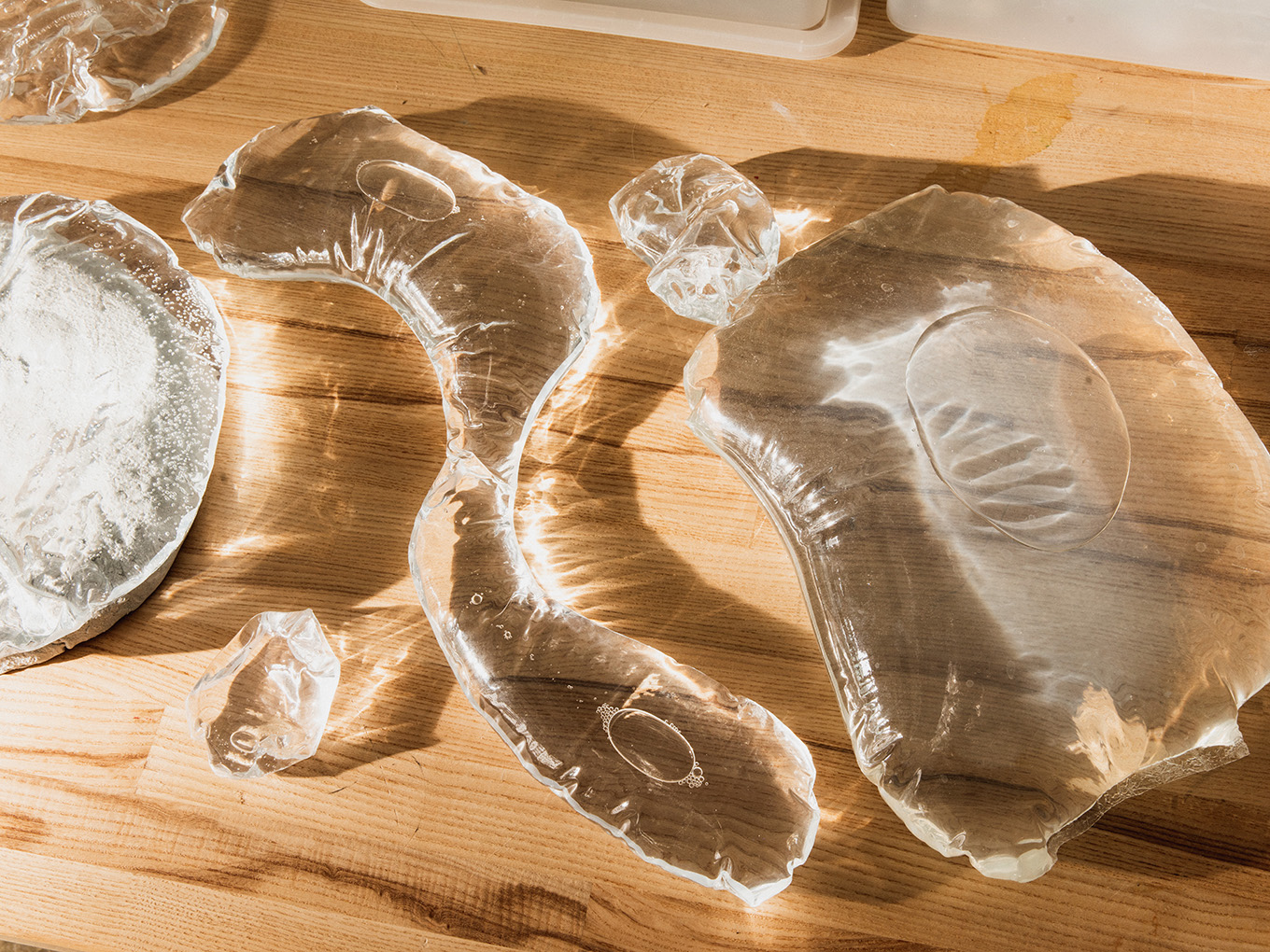 Hard Water by Shengxun Lin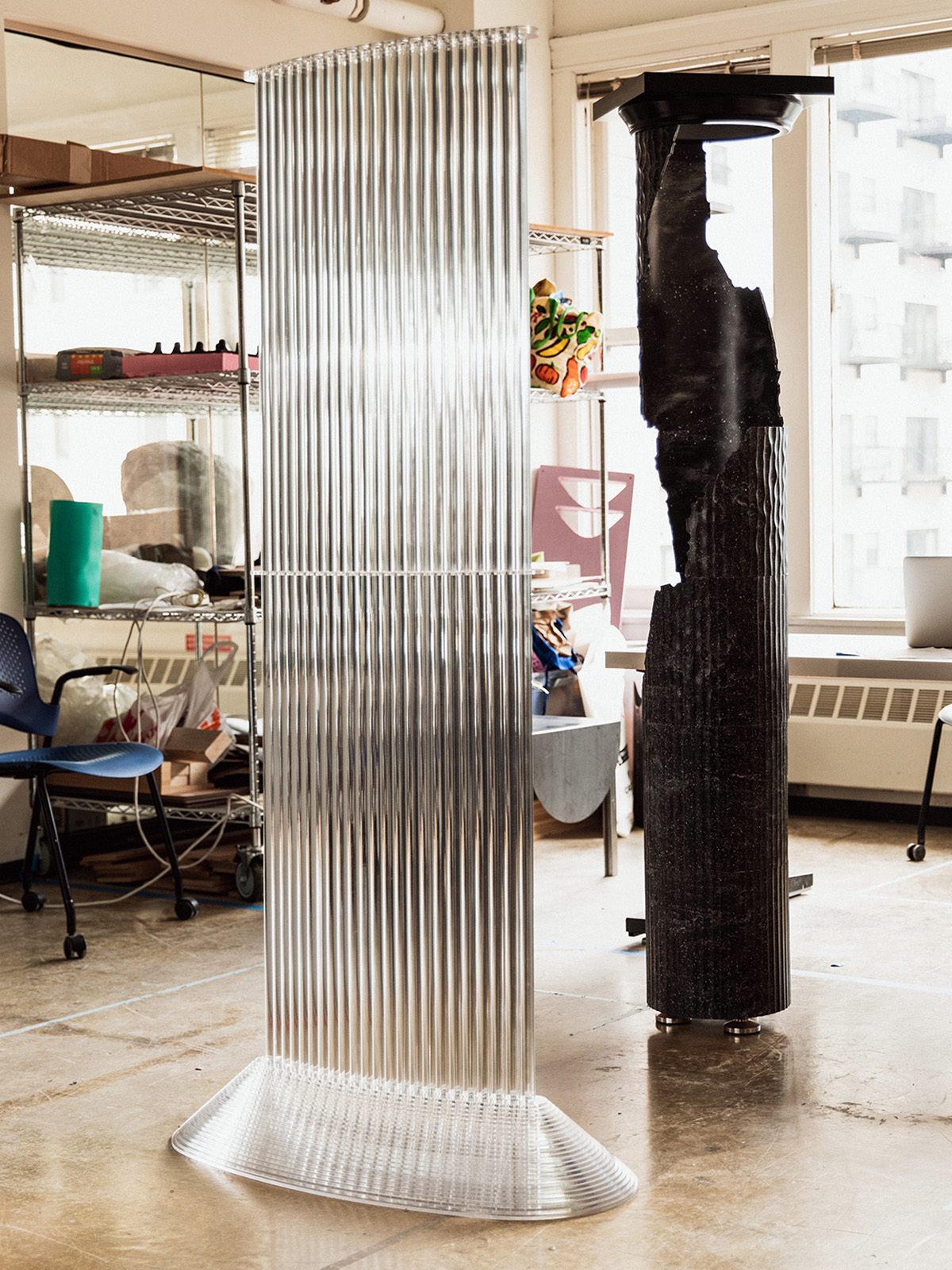 EULA Screen by Sam Link & Tim Karoleff and Post-Column by Sheldon Bess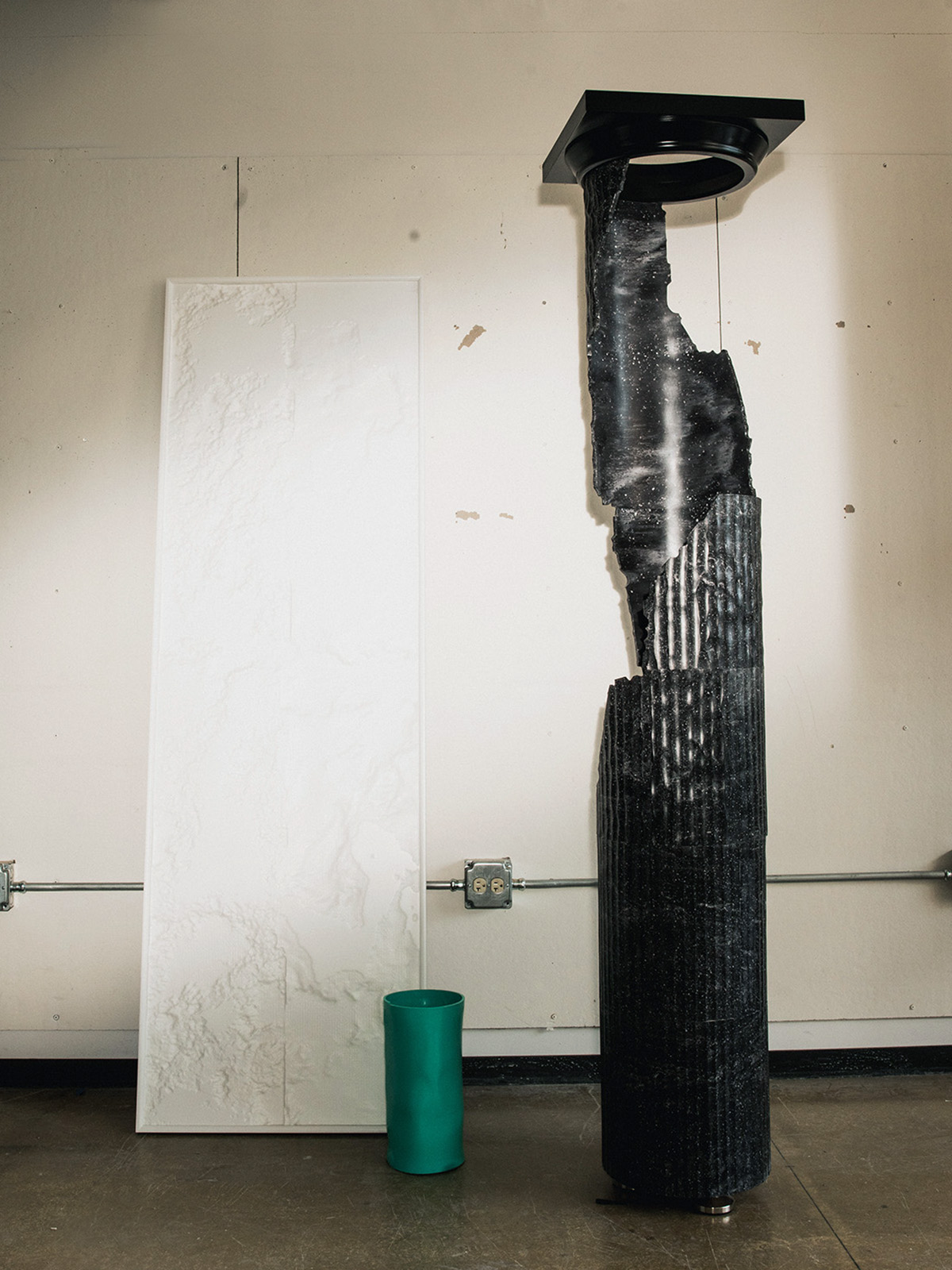 Post-Column by Sheldon Bess
Sometimes utopian thinking requires less a reimagining than an unimagining. For his project, Shelden Bess built a ruin from scratch. Postcolumn is, as its name may suggest, a column — made of Corian, MDF, and steel — that evokes the kind of Neoclassical and Federal-style architecture that often serves as the vernacular of government buildings in the United States. The influence of this architectural language is not just a matter of historical choices echoing into the present. This past winter, it leaked that disturbing and reactionary guidelines to "make federal buildings beautiful again" had been on the Trumpian table. The executive order proposed an aesthetic tyranny that would have mandated that federal buildings use styles inspired by European Classicism, which have been integral to the architectural propaganda of colonialism and racial capitalism. While the order went unsigned, its mere consideration evidences the ongoing role of architecture as a political project, or even weapon.
For Oyler, Bess's Postcolumn "deals directly with the history of white supremacy and the ways in which our built environment reinforces racist narratives in ways that many people are completely unaware of." These everyday architectures serve not just as structures that coerce people to navigate them in certain, inequitable ways, but work on the collective consciousness to reproduce the ideological structures that unevenly shape everyday life.
Using an algorithm to create a surface ornamentation that essentially serves to erode itself, Bess's Postcolumn, with its false stone and whole un-wholeness, seems to barely be holding itself up. It makes obvious the violability of the seemingly stable cover design can give to sinister social, economic, and political systems. Its title a kind of slant rhyme with postcolonial, Postcolumn's strategic iconoclasm is suddenly especially relevant as activists rally to take down Confederate monuments or intervene to destroy statues of slaveholders and colonists in the U.S., U.K., and elsewhere. As Bess puts it, Postcolumn "materializes the inflection point where the decline of the American empire narrative meets the incline of emancipated otherness — a consciousness that exists free for itself." In its construction-as-destruction, it is hardly a dystopian proposal. Rather, Postcolumn is anticipates a much-needed societal disassembling — from the ruins of which the promise of something better might rise.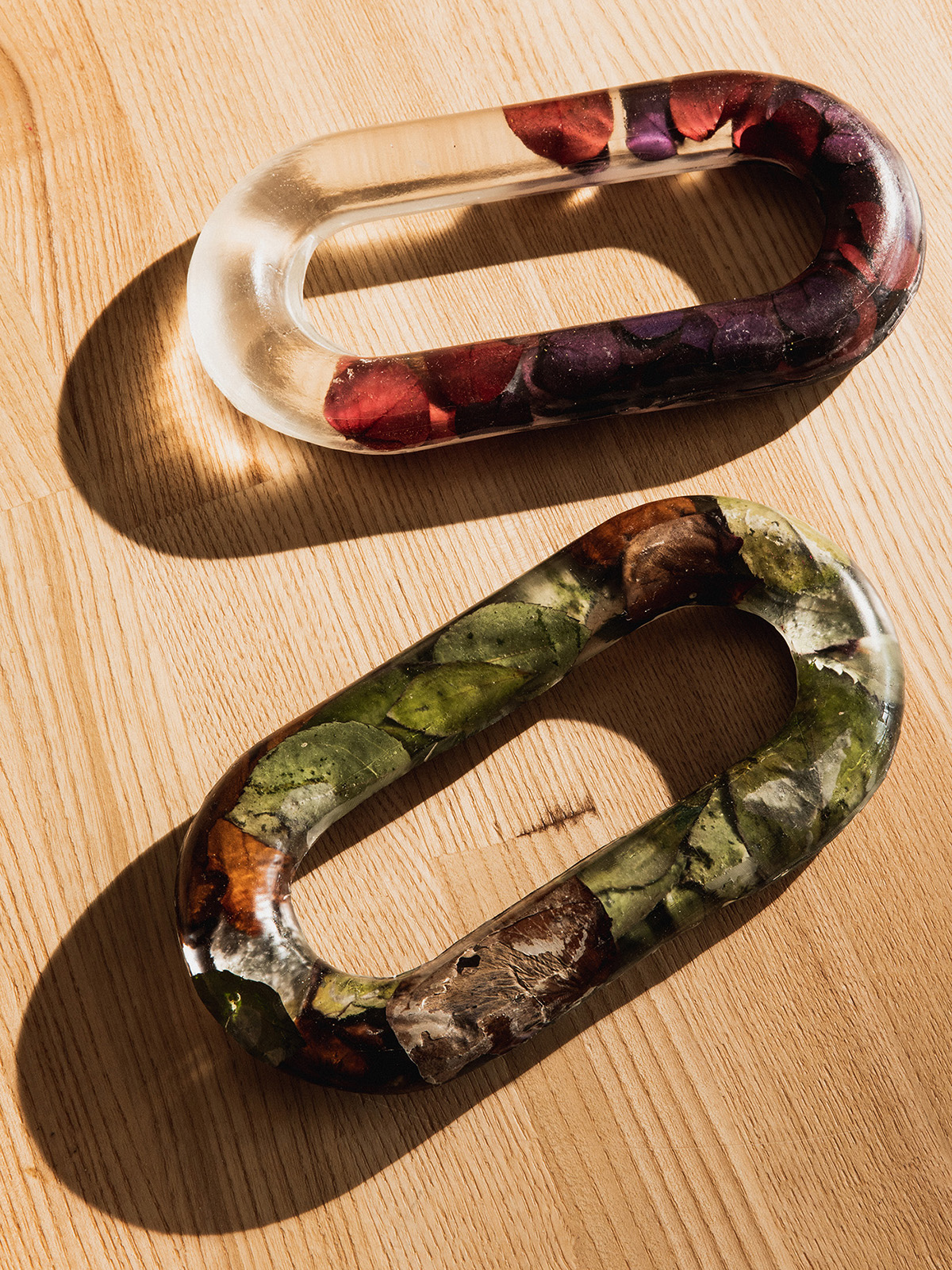 Perennial by Rachel Bergamini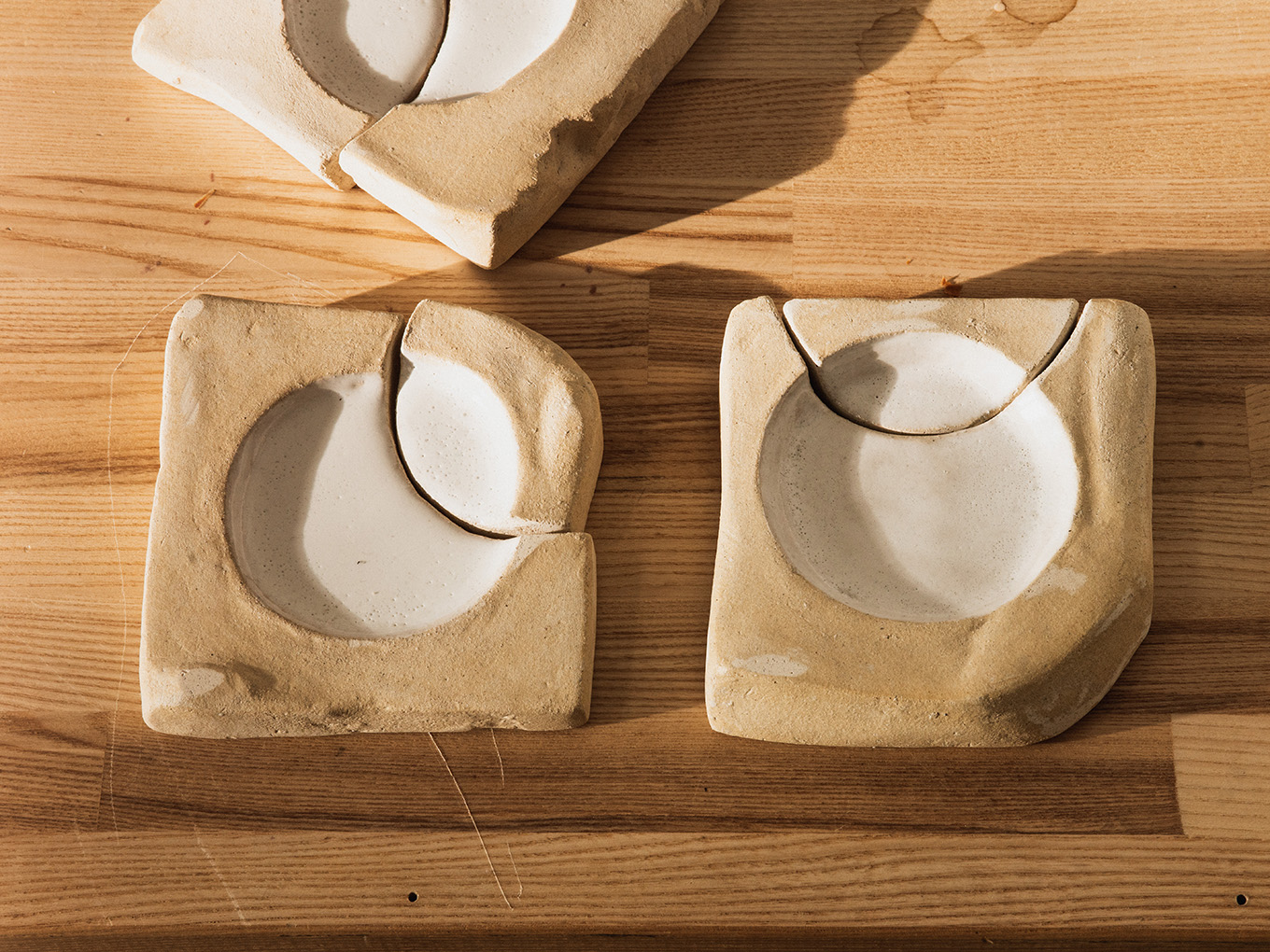 4 Tray Unit by Lola Dement Myers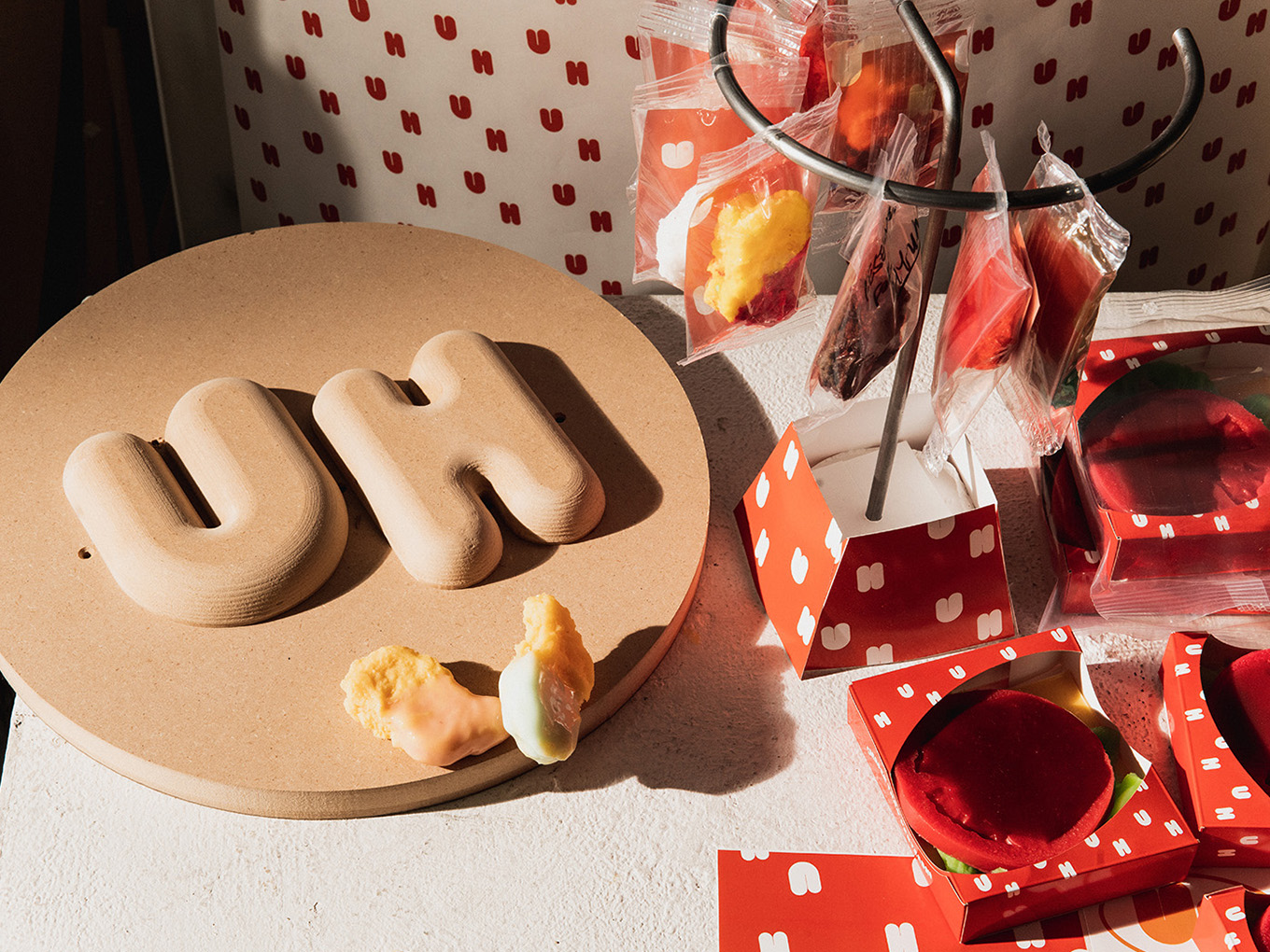 Ultimate Happiness by Rio Chen
While Postcolumn works in architectural dimensions, other student projects engaged with social life at smaller scales. Lola Dement Myers's 4 Tray Unit was inspired by the long spoon parable, Oyler explains, a story in which heaven and hell are differentiated by how one decides to use a very long spoon. "In heaven, everyone feeds each other while in hell everyone starves." Myers went through a number of iterations to arrive at her four ceramic plates that join and separate, begging us to rethink etiquette norms and encouraging sharing of food and personal space. (Perhaps they might be used to serve Rio Chen's inedible Ultimate Happiness — pre-sauced silicone fast foods and their would-be disposable packaging.) In one particularly poignant moment, the convex part of two plates is separable — united they might hold something, but pulled apart they'd let their contents spill out.
Of course, the sharing of personal space has become a bit of a problem in a time when we are all asked to socially distance to prevent the spread of COVID-19. Following an extended spring break, on April 6th classes at SAIC officially went remote and studios shut down. Normally students would not only be hard at work on their projects, but also putting together an exhibition (as well as the digital and print collateral). Obviously, things had to change.
"Jonah and I decided to dive deep into the presentation of the collection," Oyler explains of rethinking how to exhibit work during the pandemic. "We wanted the digital experience of the work to expand the concepts we had been working with over the year." They enlisted New York–based web designer Jon Lucas to create a tag-driven website that showcases the projects and their interrelations. Using the "design-y" — or some might even say utopian — language of the Swiss Grid and Helvetica Neue, the site is meant to both contextualize and complicate the students' work, as well as the projects' relationship to contemporary design's emphasis on commerciality and consumption.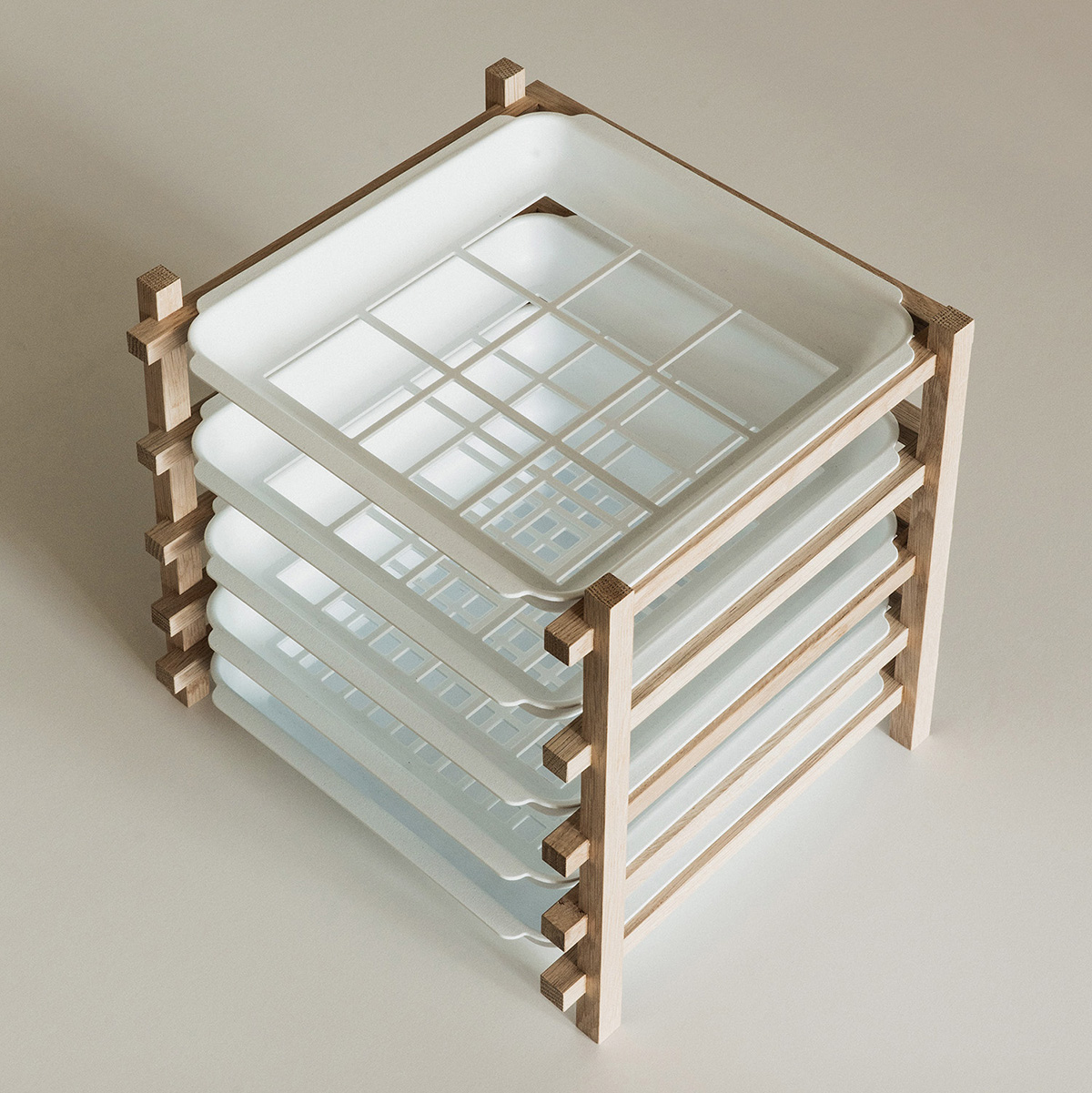 Array Tray by Hanz Hwang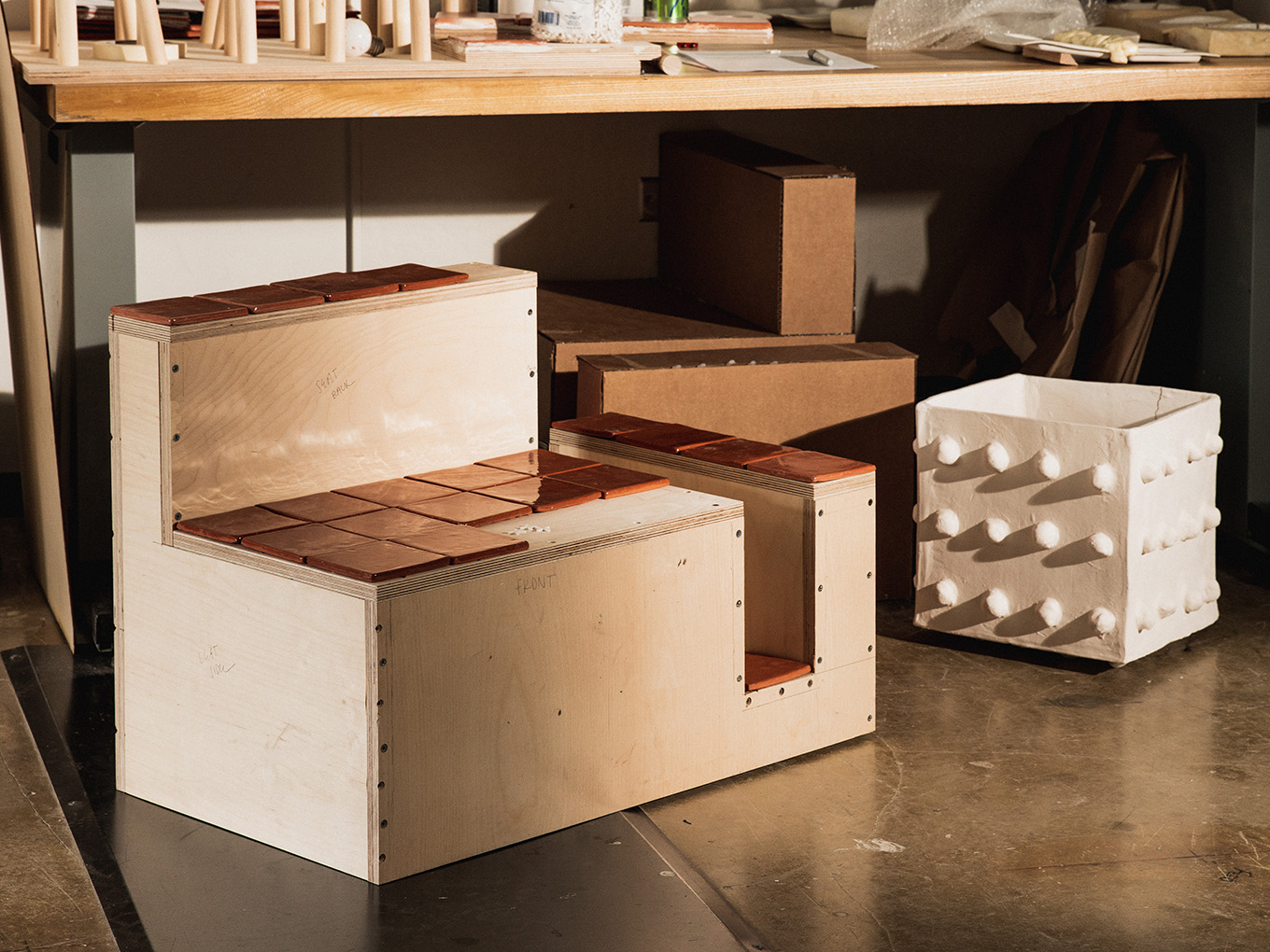 Repeat Seat by Jessica Stone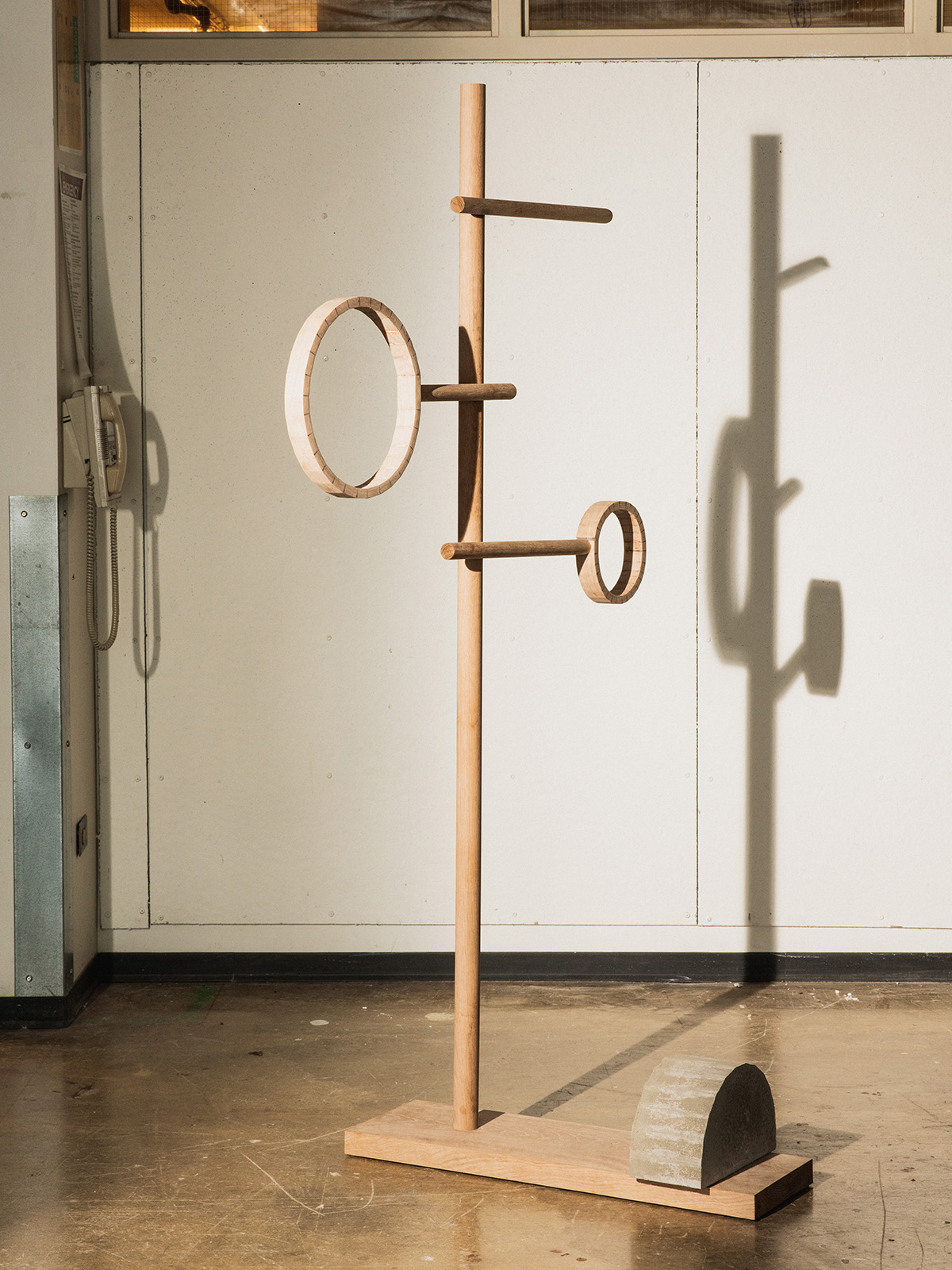 Kerfed Rack by Grace Jeon
Alongside the projects, the Whatnot Studio also chose to present essays by Amy Auscherman on Robert Propst, whose idealistic workplace projects for Herman Miller inadvertently led to the tyranny of corporate cubicles, and Luke T. Baker on Bliss, the serene photo of a gentle, verdant hill that was once the default desktop image for Windows XP. Bliss (in fact a photo taken in 1996 of a landscape in Sonoma County, California) is another sort of impossible utopia, one that much of the world experienced through the decontextualizing frame of their monitors. While the photo is very much of a "real" place, the version we have experienced on screen is a Garden and Eden as unreal and inaccessible as the place of biblical myth. This bifurcation and gap between image and reality, desktop environment and physical space has only been further highlighted by the fact that much of the surrounding countryside has gone up in flames during the West Coast's climate-change-fueled forest fires. (The site of Bliss has thus far been spared.)
When I began my initial conversation with Oyler and Takagi and started writing this text, in the midst of the still ongoing pandemic, massive unemployment, murder hornets, etc., I was tempted to insert a comment about the notion of a "dystopian timeline" — the social media joke that we exist in something like a Twitter feed or TV narrative increasingly, to the point of absurdity, punctuated with a slew of horrors normally saved for Hollywood. Now, however, seeing the massive turnout across the United States and the world in defense of Black lives and against state-sanctioned and state-perpetrated racist violence, there is both the foregrounding of an ongoing, centuries-old horror embedded into the social, political, and economic systems of power that currently configure daily life, but also a renewed hope. While the work of activists, abolitionists, and utopians has never not been going on, there is profundity to this collective agitation for something better, for fundamental changes to the systems, makes palpable the promise of reconfiguring our society and of making a more just world.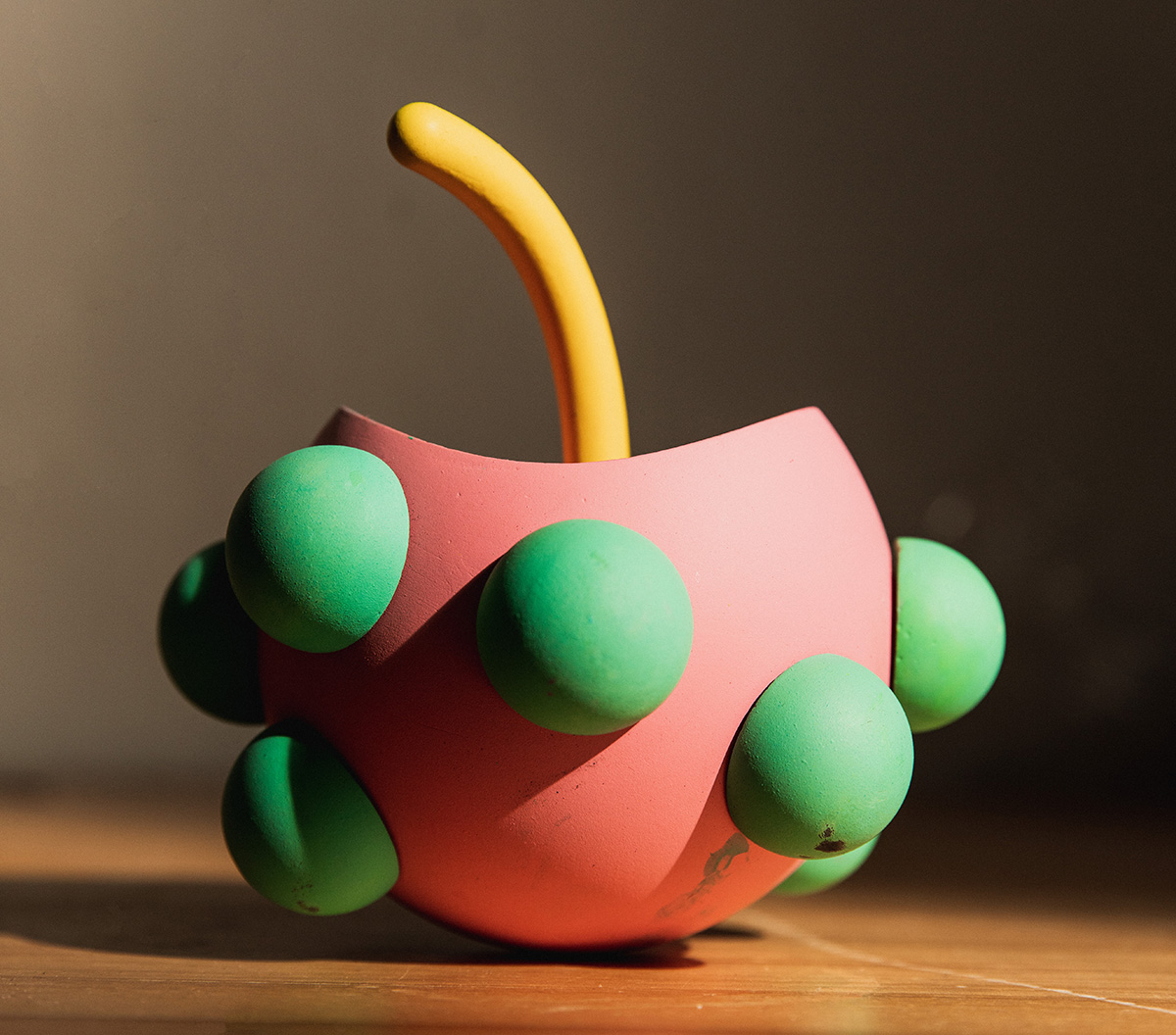 Fantastic Pursuit by Yinxi Jiang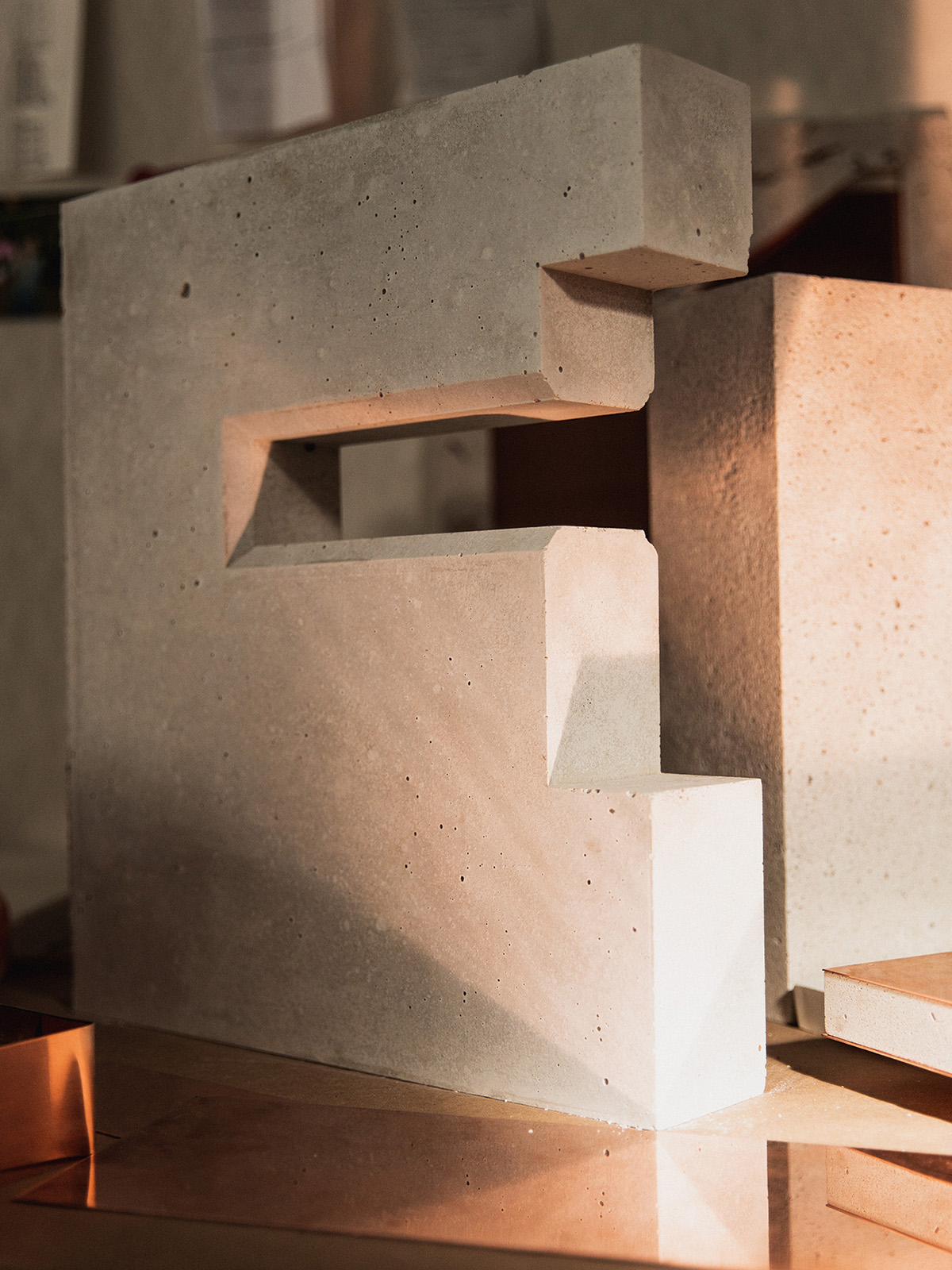 Ephemeral Concrete by Paula Moreno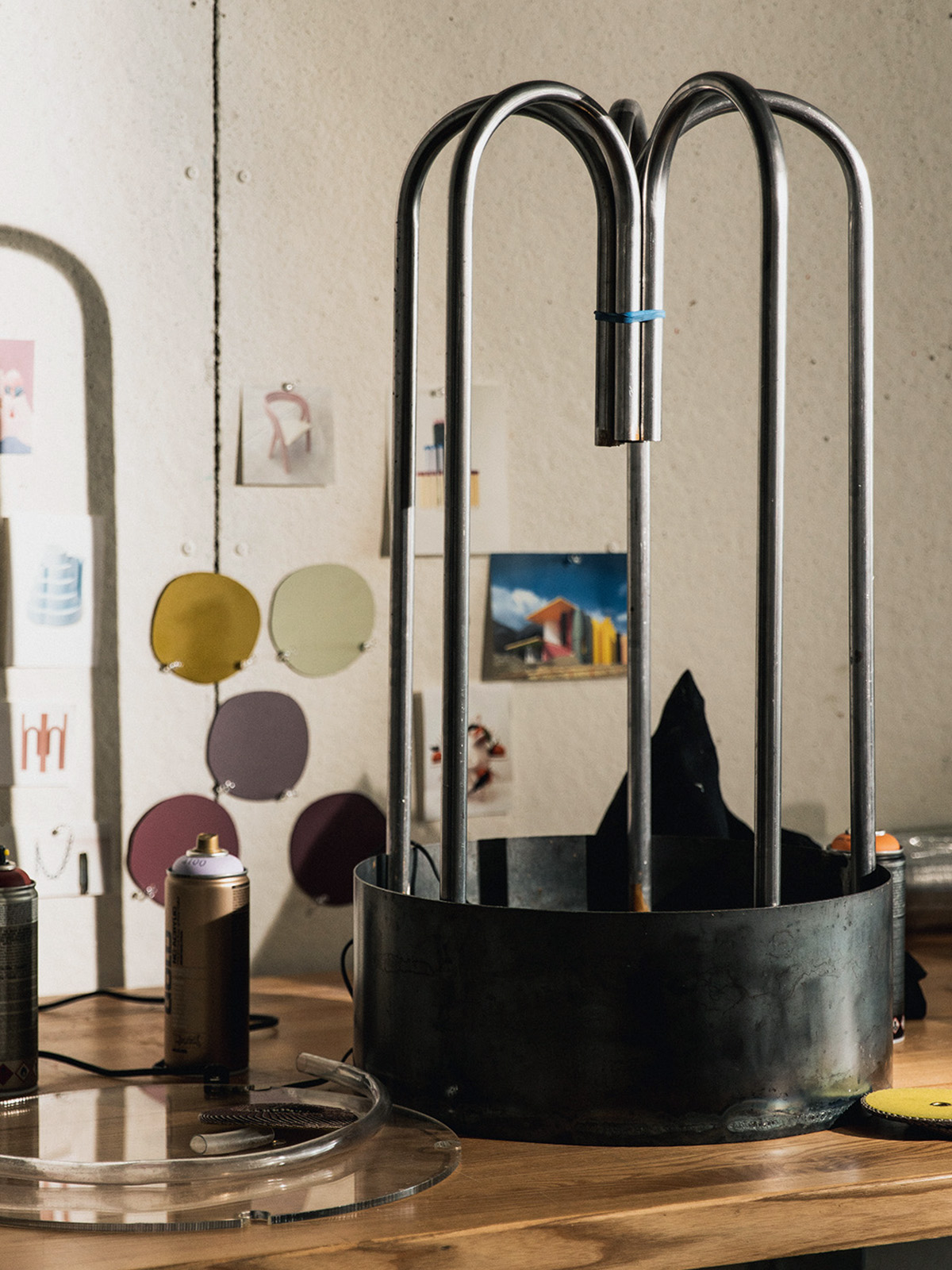 Inverse Fountain by Nadia Kibilsky
"The pandemic has foregrounded so many critical issues of our time — from privacy and access to healthcare to racial injustice and food insecurity," Oyler says, while "massive anti-racist protests against the ways that white supremacist structures permeate every aspect of life in the United States" have risen up. Utopian thinking is urgent. And Oyler and Takagi's 2019–20 Whatnot Studio is also not mere daydreaming, "A key foundation of our class conversations was this idea that utopia is always in relationship to power, access, and a range of intersectional privileges," he points out. "While a perfect place is an impossible place, the pursuit of something better is always important. Imagining and working towards more inclusive, more just, and more humane ways of living is an important and worthwhile pursuit, especially right now."