06.16.20
Cuff Studio's New Collection Explores the Idea of Common Ground
This piece is part of Sight Unseen's 2020 Offsite Offline coverage. To view Cuff Studio's virtual booth on Offsite Online, click here. And to find out more about Cuff's participation in our Offsite Online fundraiser for organizations fighting racism and improving the lives of Black or indigenous people, click here. 
So much of design can be about standing apart from the crowd. But for Cuff Studio, it was commonality that inspired their Offsite collection. For their Common Ground collection Kristi Bender and Wendy Schwartz of the Los Angeles–based studio looked to shared design elements that form not only a foundation within their practice, but in art and design as a whole. What they found was nature, form, shape, negative space, even community. The collection is full of fluid boundaries, both in composition and materiality — thick cord coils around slender powder coated steel, a tuft of upholstery emerges from bleached, beautifully naked ash wood — perhaps nodding to this idea of interconnectedness and dialogue, rather than divergence and opposition. We recently connected with Cuff Studio to discuss what they're debuting and more.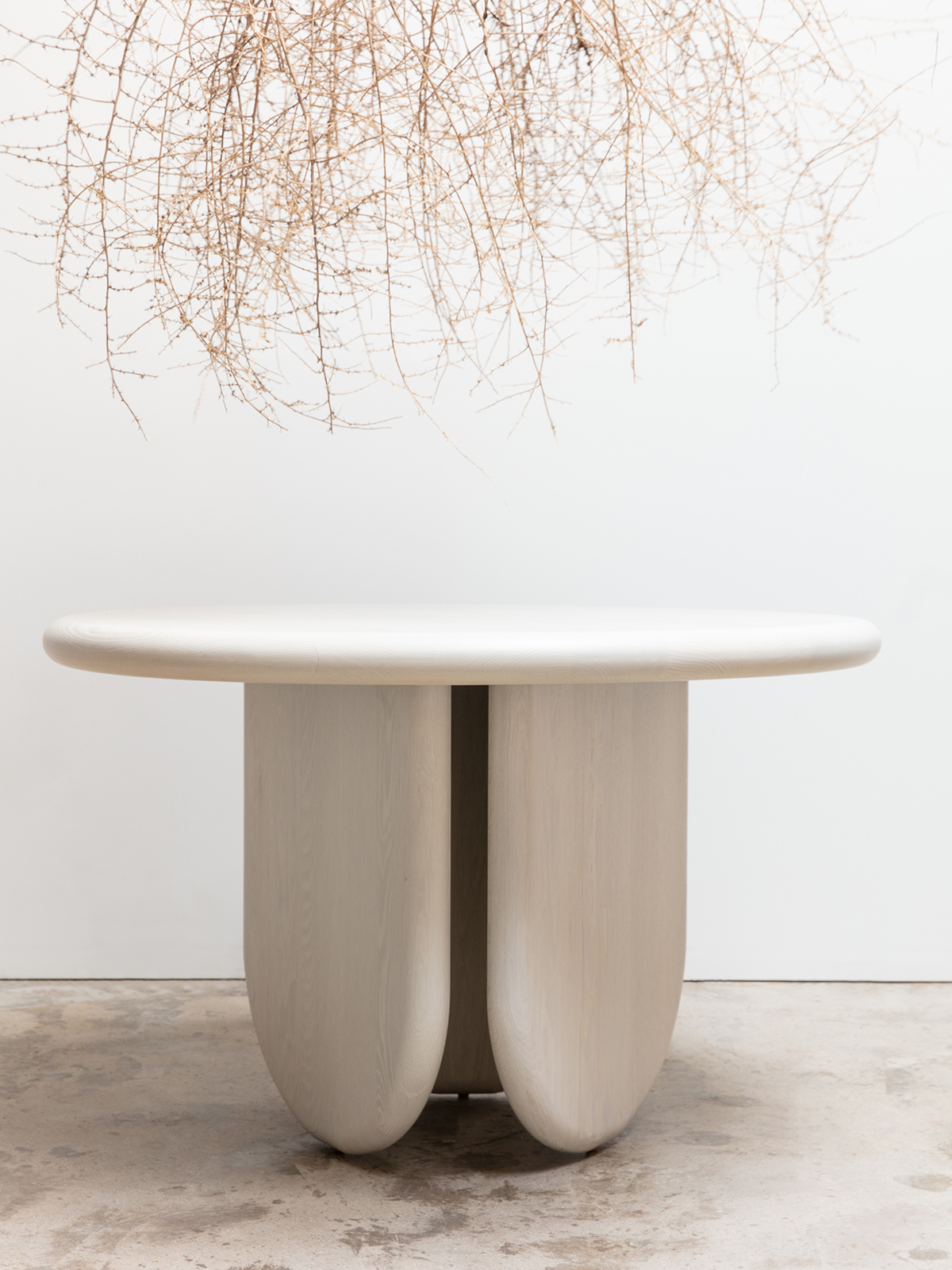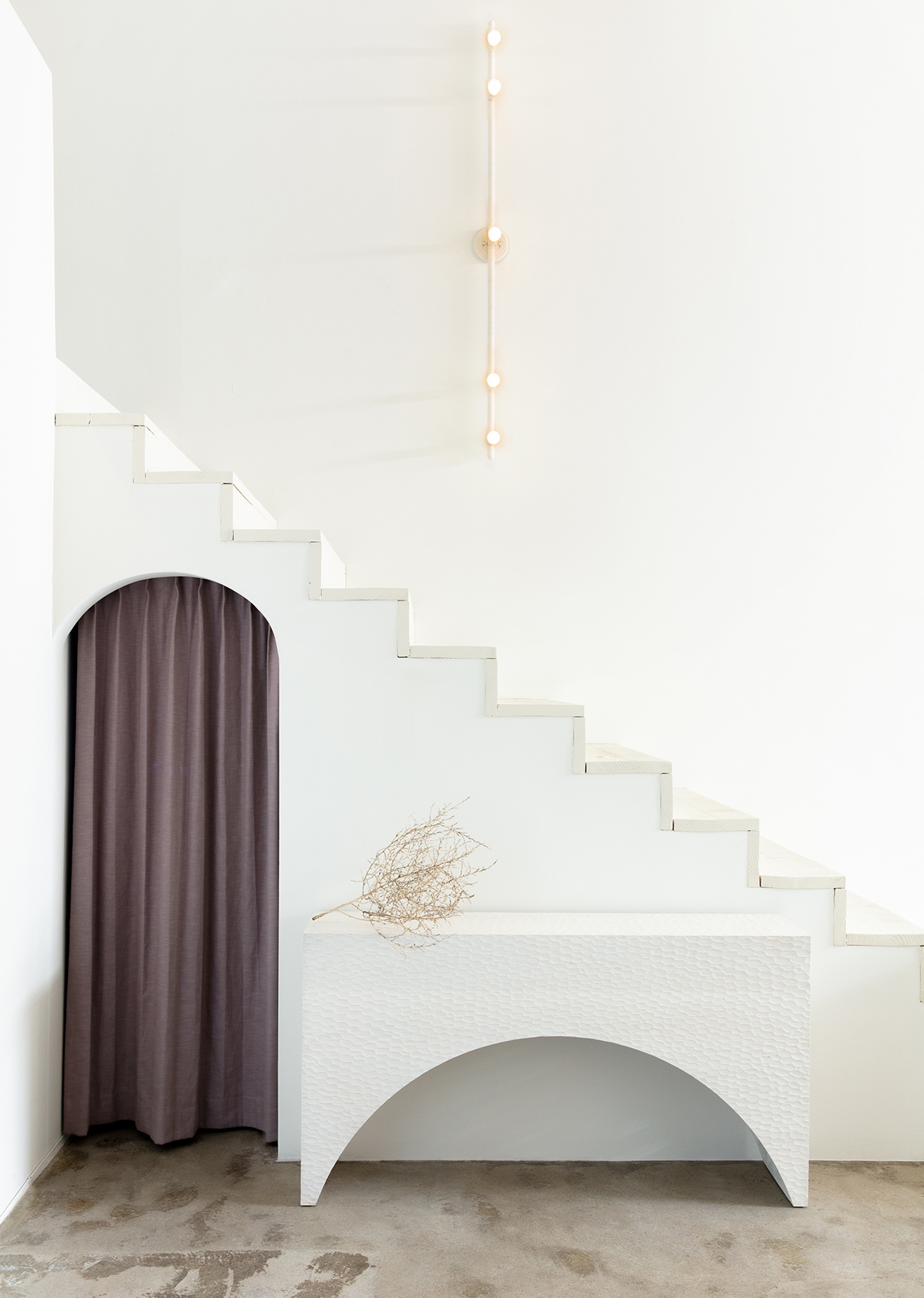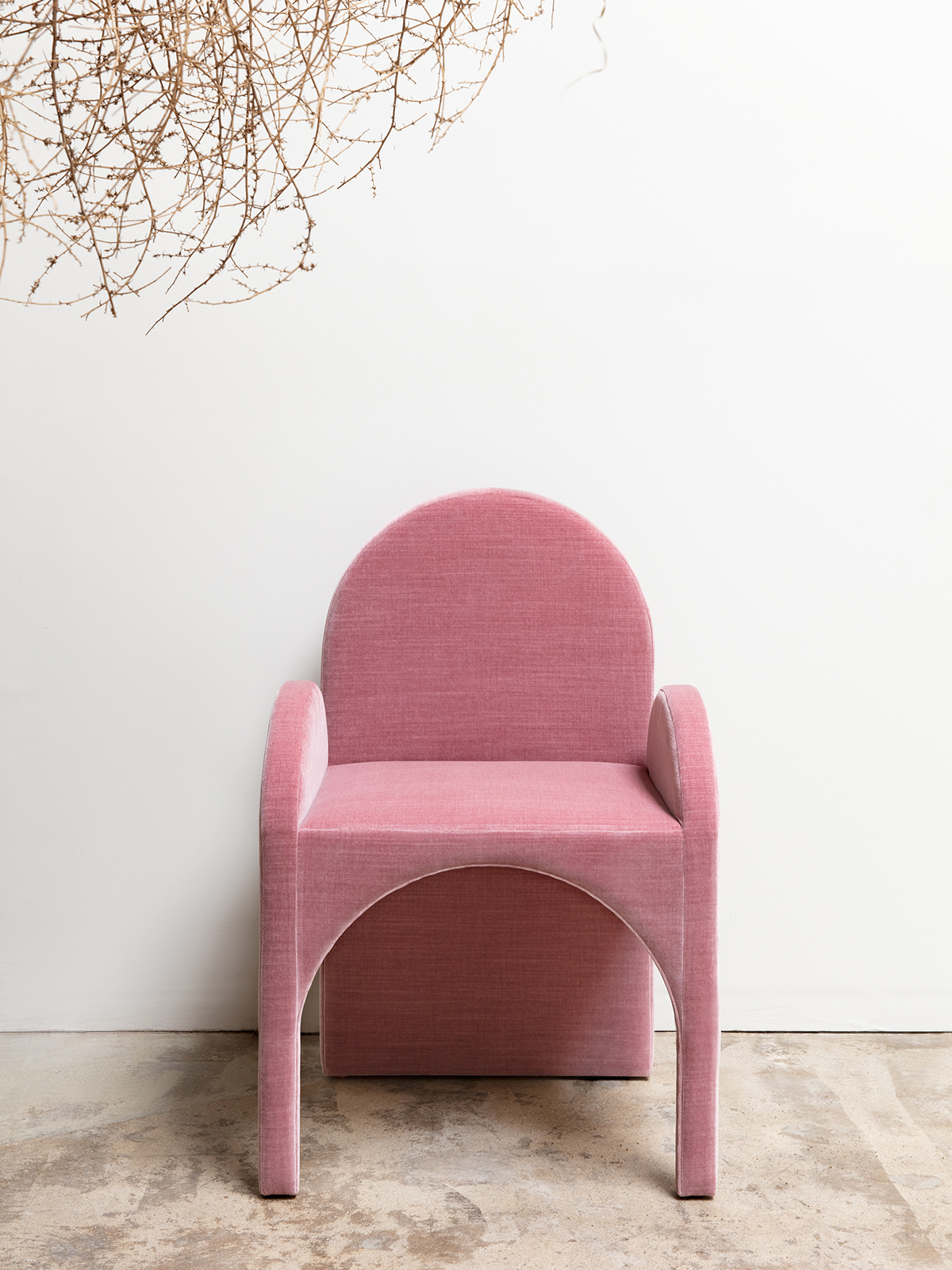 How did you explore the idea of commonality in these pieces?
For the Arc Console, we actually collaborated with a fellow designer, Bradley Duncan, in the design. The texture of the hand-chiseled surface, the reflective element of light as it passes through the brass-lined tunnels, the positive and negative space formed by its architecture — all contribute to a dynamic confluence of design elements. The Arc Bench further explores the same swooping lines, angles and curves, but here layers of softness and texture come from the supple Jerry Pair leather upholstery of the seat cushion.
Then there's the interplay between individual pieces, like the relationship between our Arc Chair and the Paddle Table. The Paddle Table — which is a more voluptuous and softer version of our U Table — was specifically designed to be in conversation with the Arc chair — one arc solid, the other flipped and open. For the Arc Chair, we selected an Amaranth cotton velvet from George Spencer because its sheen and texture can be in conversation with light and movement. As light washes across the chair, the color of the fabric changes ever so slightly, adding more layers of dimension. As you look at the chair from different angles, it transforms, casting different shadows and occupying space more or less densely.
In what ways does this new collection expand upon familiar themes in your work?
Cuff's collections have consistently been about shapes and their relationship with one another — in particular, geometry — and also about reflection, texture, and volume, or lack thereof. Our work is basically a balance of these elements. We're always considering new ways to expand upon existing ideas that have momentum. The softness created by our rope-wrapped lighting has certainly been a constant for us from the beginning.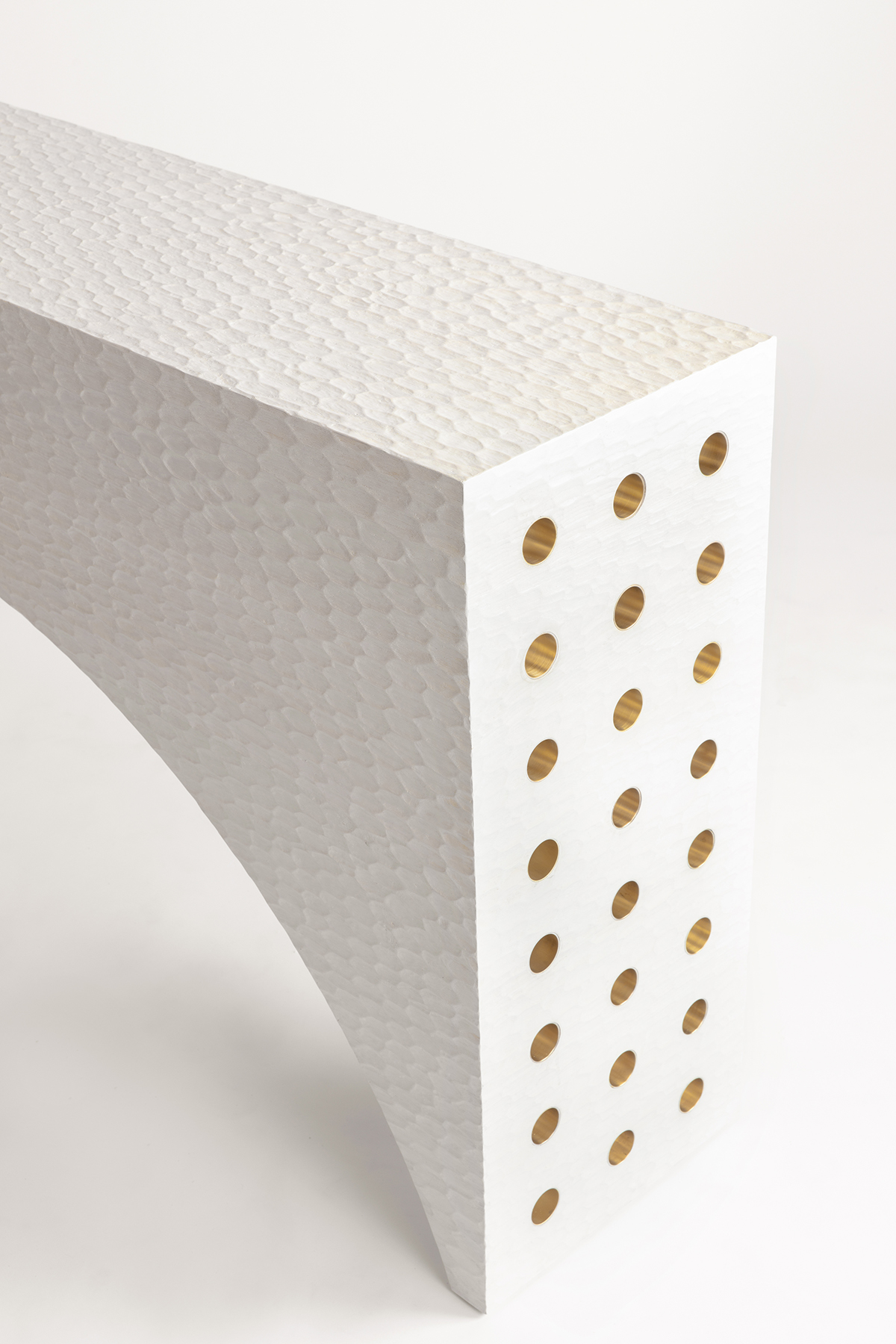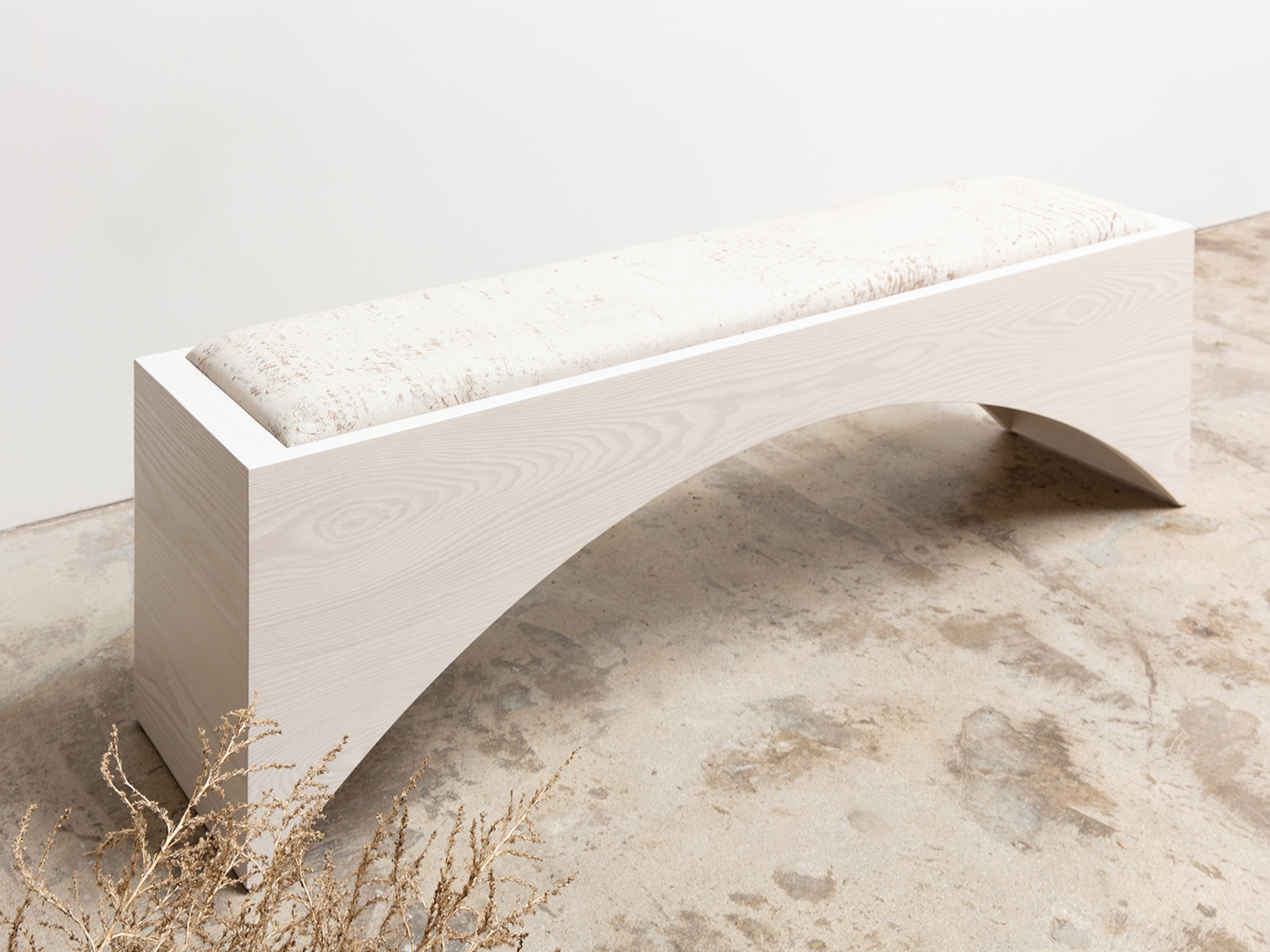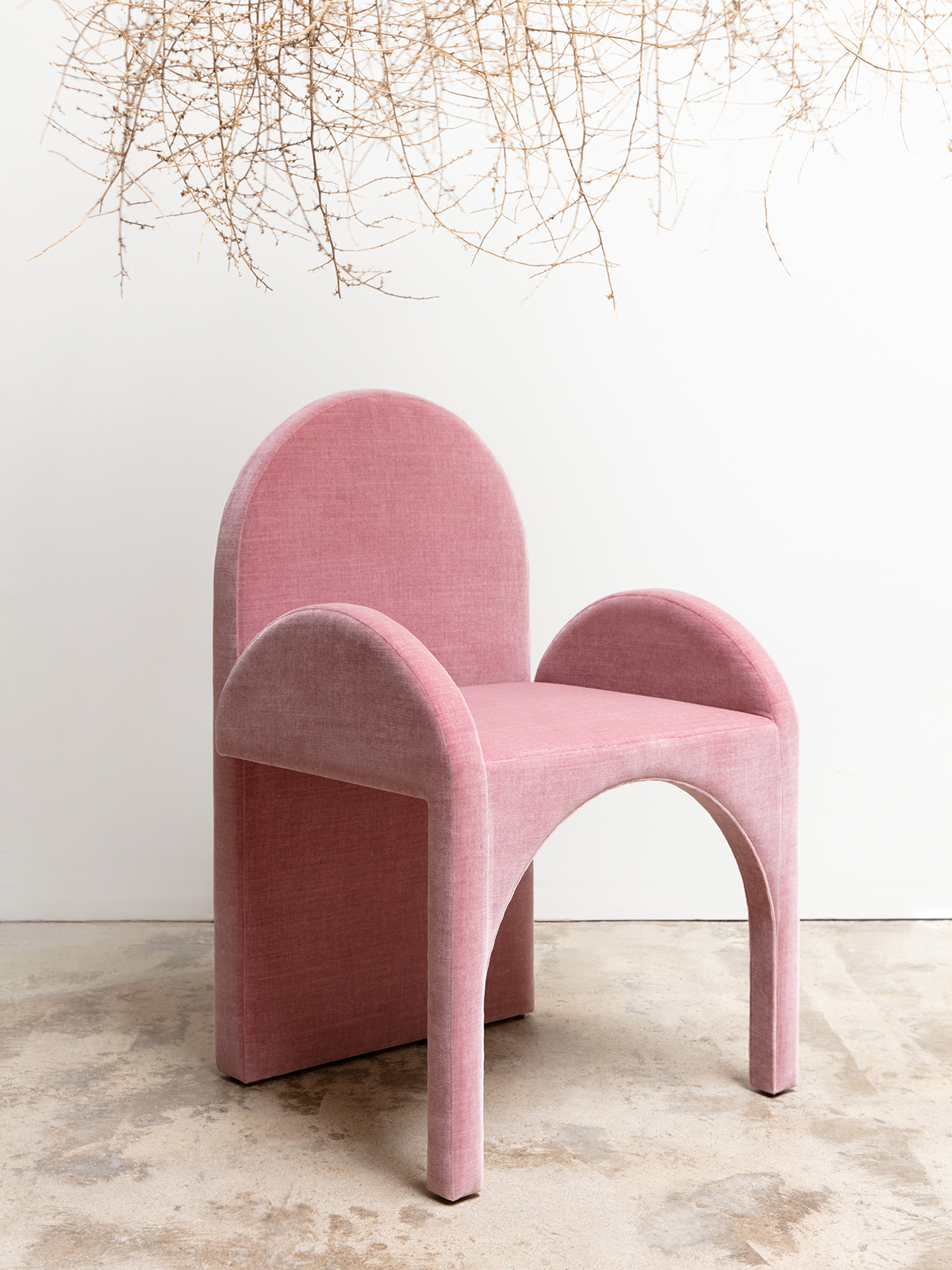 Does your work reflect your California roots?
Our studio is located in a section of LA between Larchmont and Silverlake called HelMel. Besides us and a few other artists and makers (including Estudio Persona), not much is here. But we love it. We enter through an alley behind Melrose Avenue and while you never really know what you might find in the alley — you walk into our studio and poof. It's like being in the clouds. In terms of a California sensibility, we were both born and raised in California so there is certainly an ease and a relaxed California attitude that infuses each of our pieces. But we also have traveled a lot and have both lived outside of California. These travels influence a lot of what we come up with. Elevated ease… is that a sensibility?
Do you have a mission when you're creating work?
Our goal is to be more transitional versus highly stylized, creating offerings that add edge to more traditional spaces or that add texture and softness to more modern environments. Our rope-wrapped lighting leads the way in this mission. 
Cuff Studio also has an interiors practice. How does that influence your process? 
We definitely have a leg up because of the interiors/hospitality side of our business. We tend to work backwards in our process. We ask: What is missing that we want or need? We try to fill that void in a way that is consistent with our aesthetic. We try to create pieces that require a certain level of craftsmanship or artfulness not easily achieved elsewhere.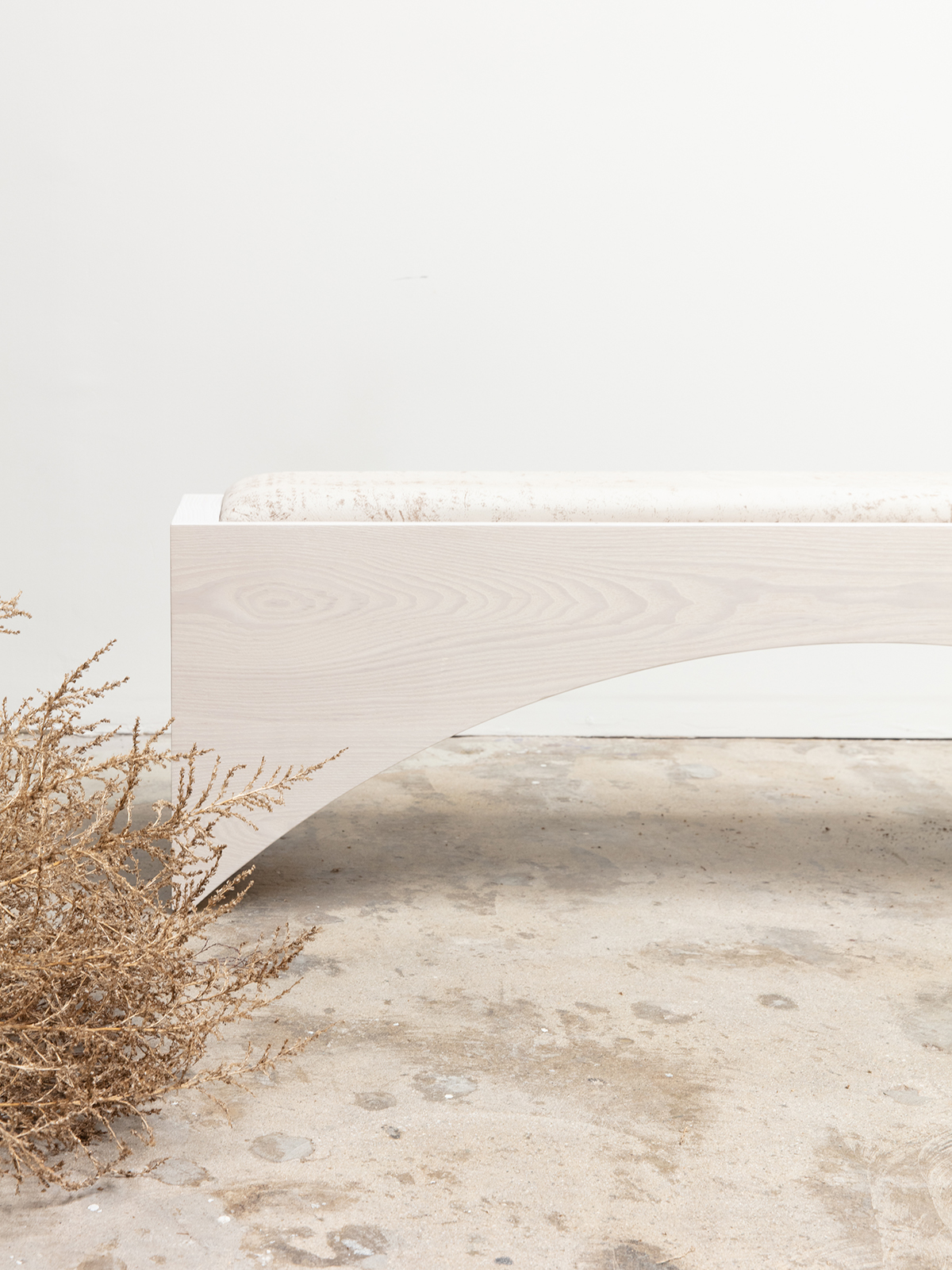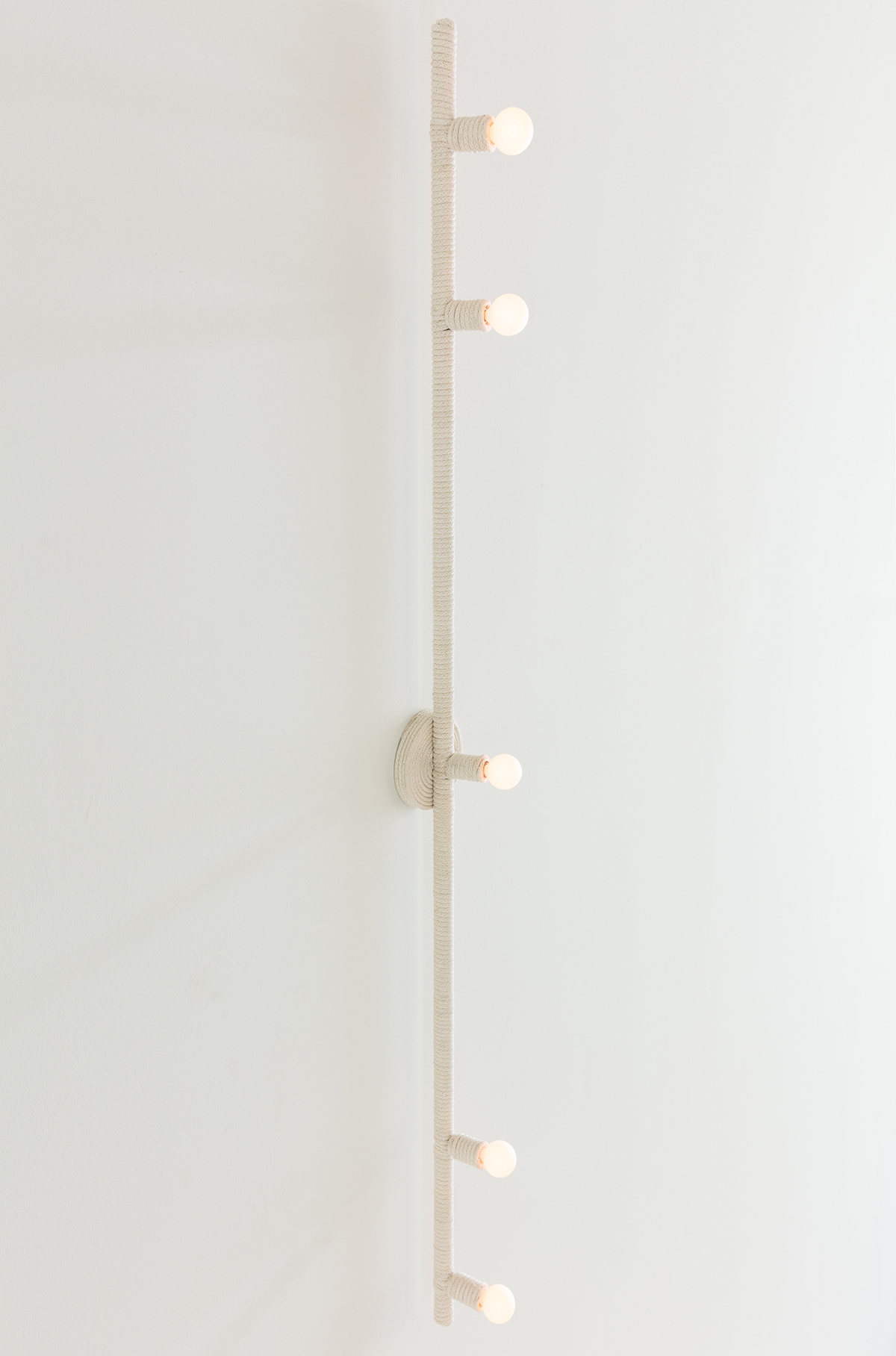 How is your "pandemic practice" different? 
Until 2018, we all mostly worked from home, venturing out to client projects or workrooms as needed. So the "work from home" was an easy pivot for us. We've also had more capacity to dive deeper into creativity. We're expanding our wallpaper collection, designing a rug collection and, of course, more furniture and lighting. On the interiors side, we find ourselves specifying easy-to-install remote renovations, including home offices and gyms. 
With everyone spending so much time at home, people are making the time to pause, reflect, and take a look around. They're also obviously devouring more information, which is leading to lots of discovery, coupled with a reignited interest in refining or rethinking our homes and our surroundings. 
We miss our showroom of course — the run-ins with our artist makers with whom we share a building, the weekend recaps with our team each Monday, the what-are-you-having-for-lunch-todays. And we miss the energy of studio visits. Meeting somebody for the first time in person, walking them through our line or having somebody take a sit test. Even behind a mask, we look forward to sharing the smiles in our eyes!
Any interesting evolutions from this time that you'd like to keep going forward?
Our process has always included a tremendous amount of digital research and communication. This will of course continue, though we may instead opt for more studio/showroom visits and interpersonal exchanges when we're able (and if traffic permits!). But most of what we will keep is a deep appreciation — of our freedom to move about, and of each other.