05.23.18
Five Talents to Watch from SAIC's Ceramics Exhibition at Sight Unseen OFFSITE
As a young, independent designer, how do you present your work to the public? In most cases, it's a skill that's learned by trial and error, but at the School of the Art Institute of Chicago, it's something that's beginning to be taught. This year, two recently famous American designers themselves — Pete Oyler of Assembly Design and Jonah Takagi of Atelier Takagi — launched an intensive studio class in the SAIC Designed Objects program, aimed at taking students on a holistic journey from concept to exhibition, with the ultimate goal being a showcase of ceramic drinkware; the results were on view at this weekend's Sight Unseen OFFSITE.
The participants, a mix of undergrads and graduate students, spent the winter session in intensive technical workshops, learning everything from basic slip-casting to cold-working. Spring was devoted to the more logistical aspects of building a practice, including how to prepare work for a photo shoot, how to create branding elements like an Instagram feed, and how to design and put on an exhibition within the context of New York Design Week. "On the one hand," says Oyler, "the course was about learning the technical skills related to ceramics. But on the other, it's about what it means to work as a team collaboratively within a conceptual framework."
The final exhibition showed 15 interpretations of the drinkware theme, including a multipronged straw that was inspired by the aqueduct system in the designer's hometown of Oaxaca. "We asked them to be very thoughtful about how they were presenting and crafting their narrative about this work," Oyler says. Here are five of our favorites.
Kevin Solis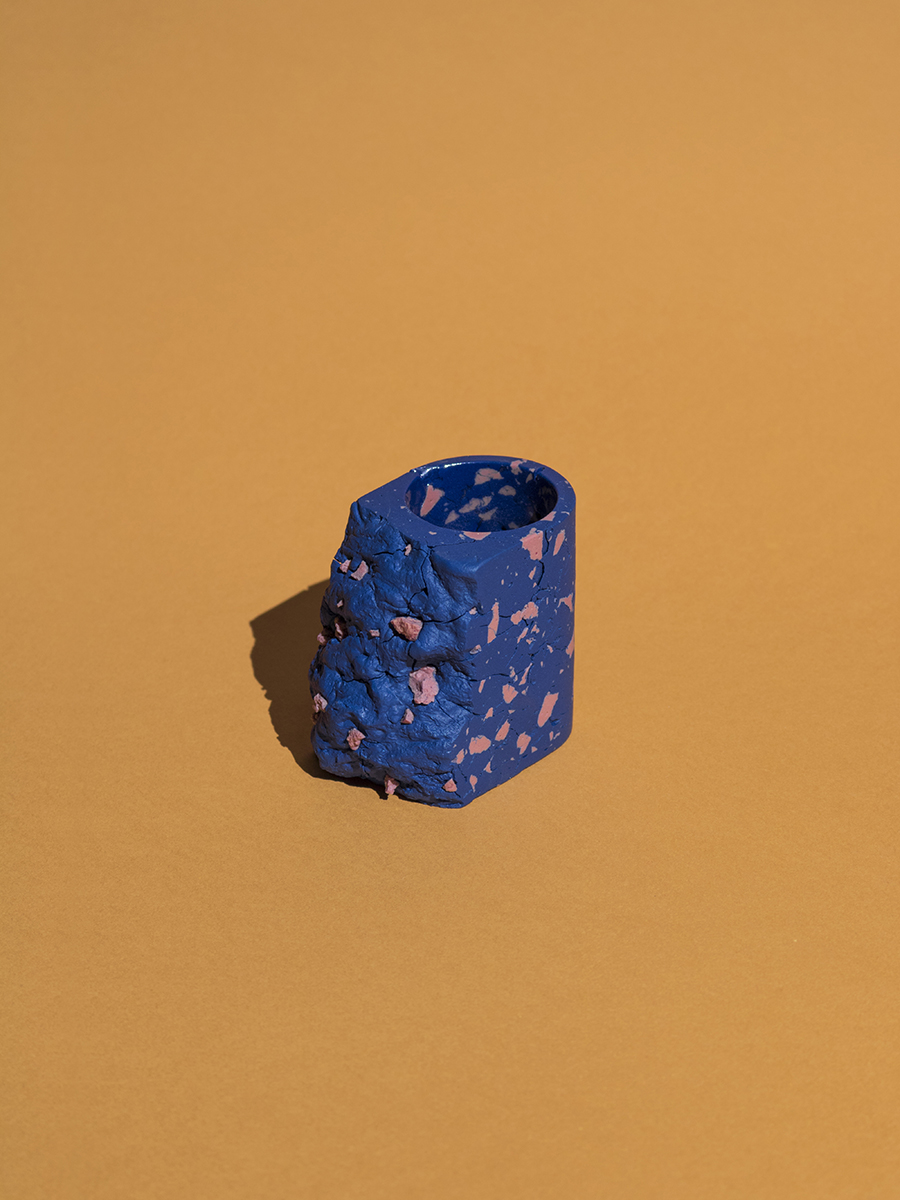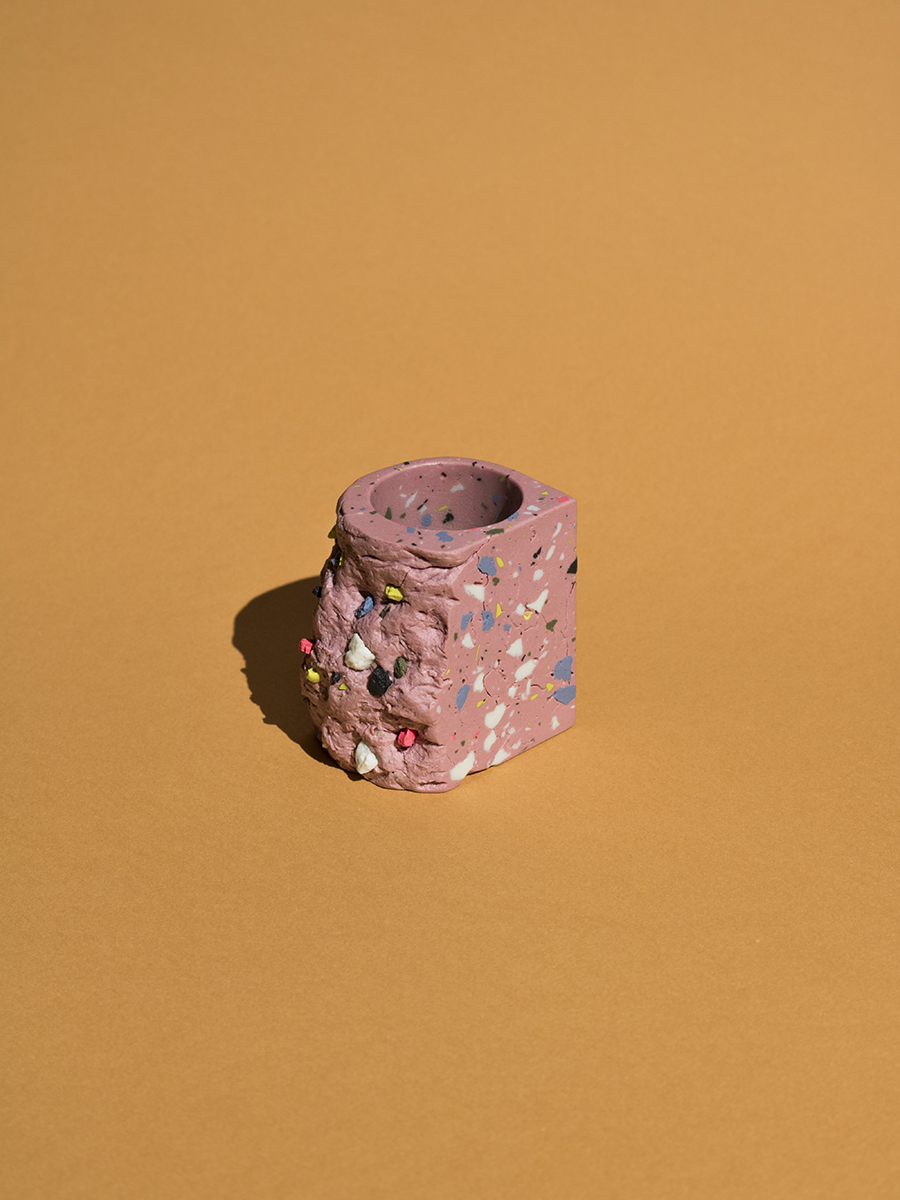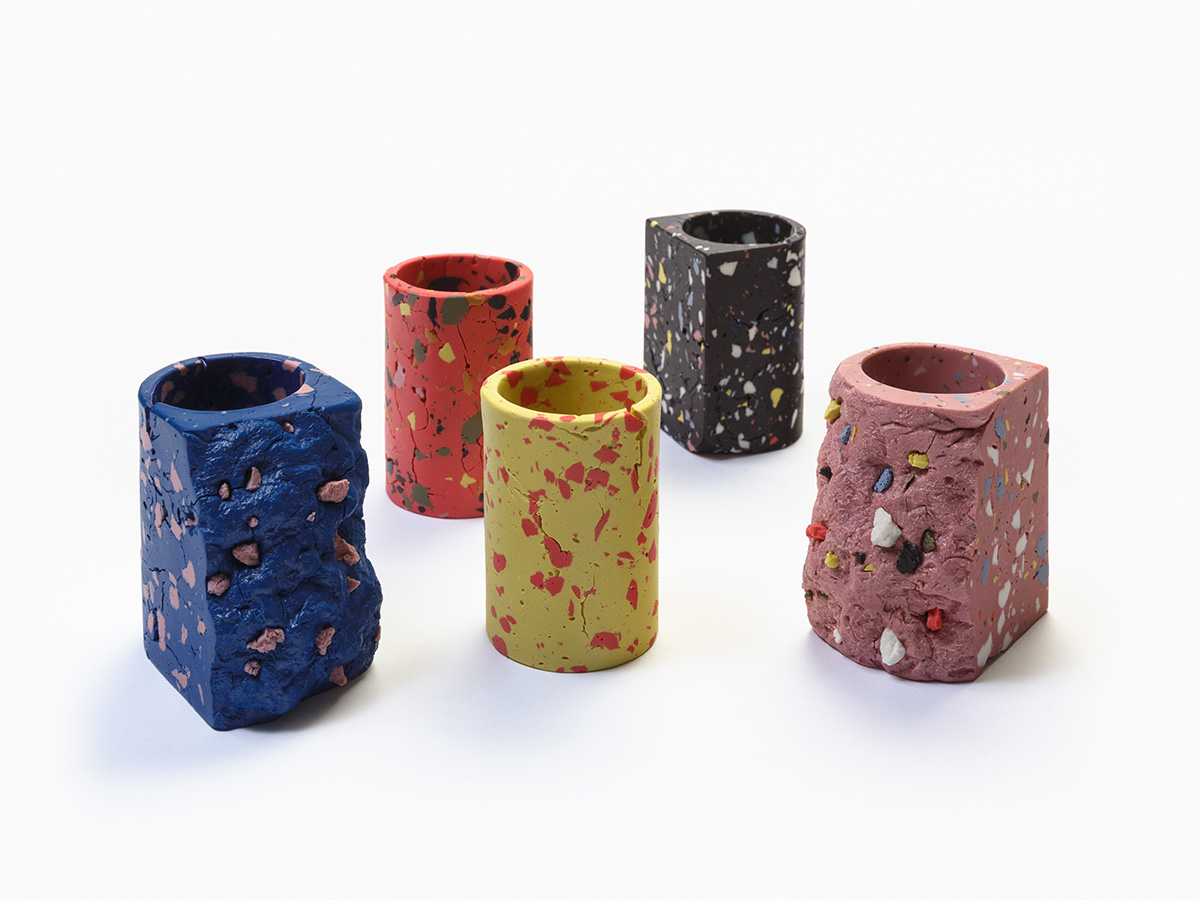 Solis' Conglomerate Series project began with a reevaluation of traditional ceramic processes, with the goal of creating a new, porcelain-based composite material. "This was a relatively experimental process in that all of those specks are dyed slip that the designer has crumbled up and incorporated into a clay body," says Oyler. After the pieces are fired, each one is subject to various methods of machining and boring to create different surface textures.
Ana Buitrago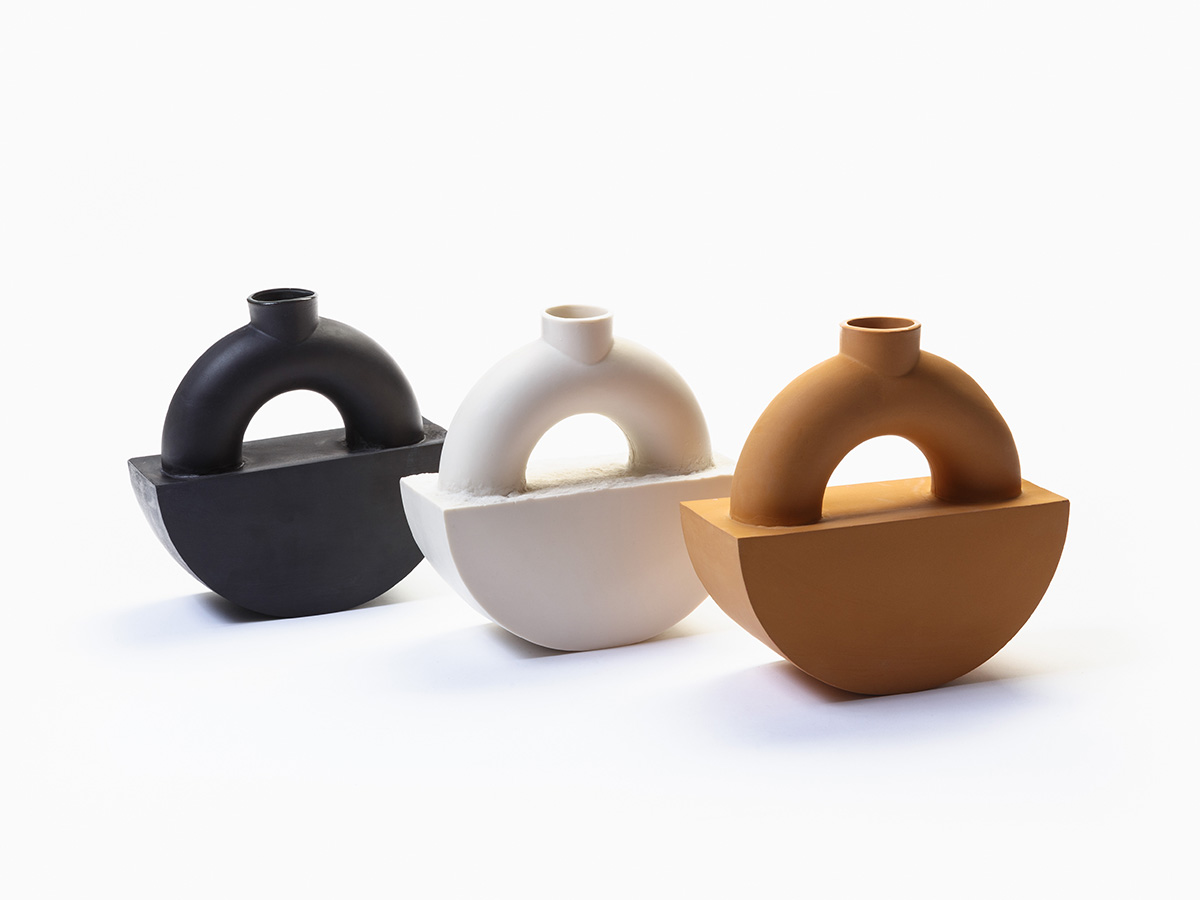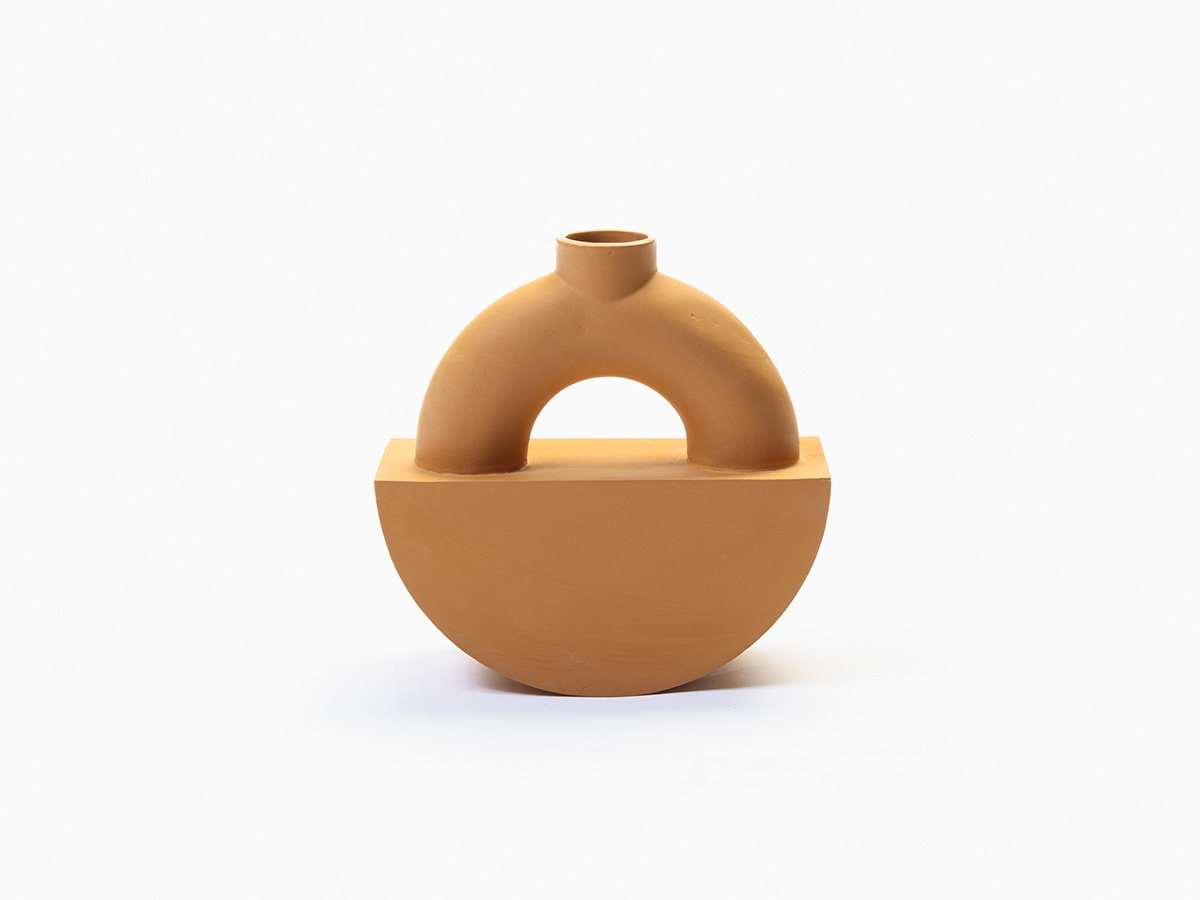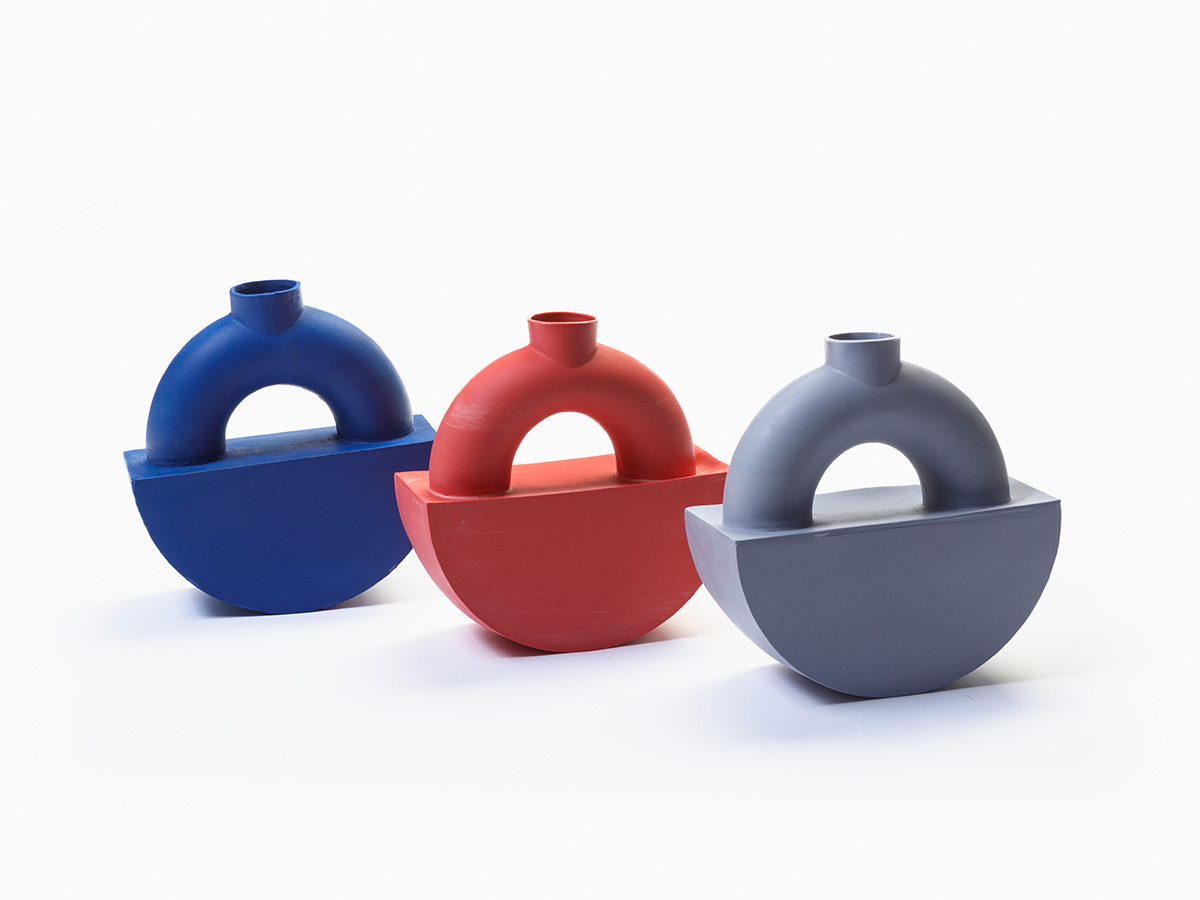 Inspired by stirrup spout vessels from pre-Columbian cultures, Ana Buitrago's In Equilibrium Vessel is a contemporary interpretation of an iconic form, with close attention being paid to geometry, proportion and balance. "She actually has a larger sculpture practice that's very focused on balance and geometry," Oyler says, "where she'll have a big thing that's balanced by like a tiny piece of asparagus."
Mingxuan Tan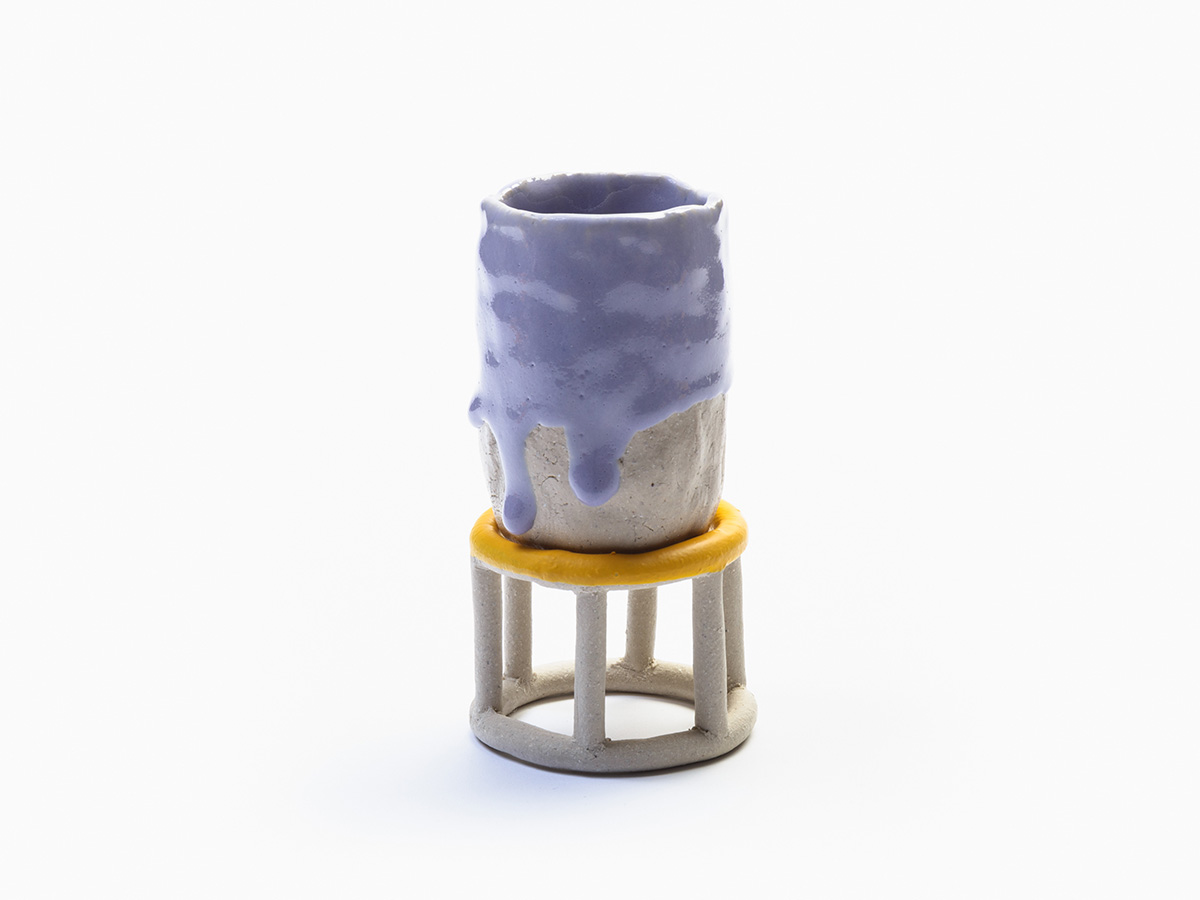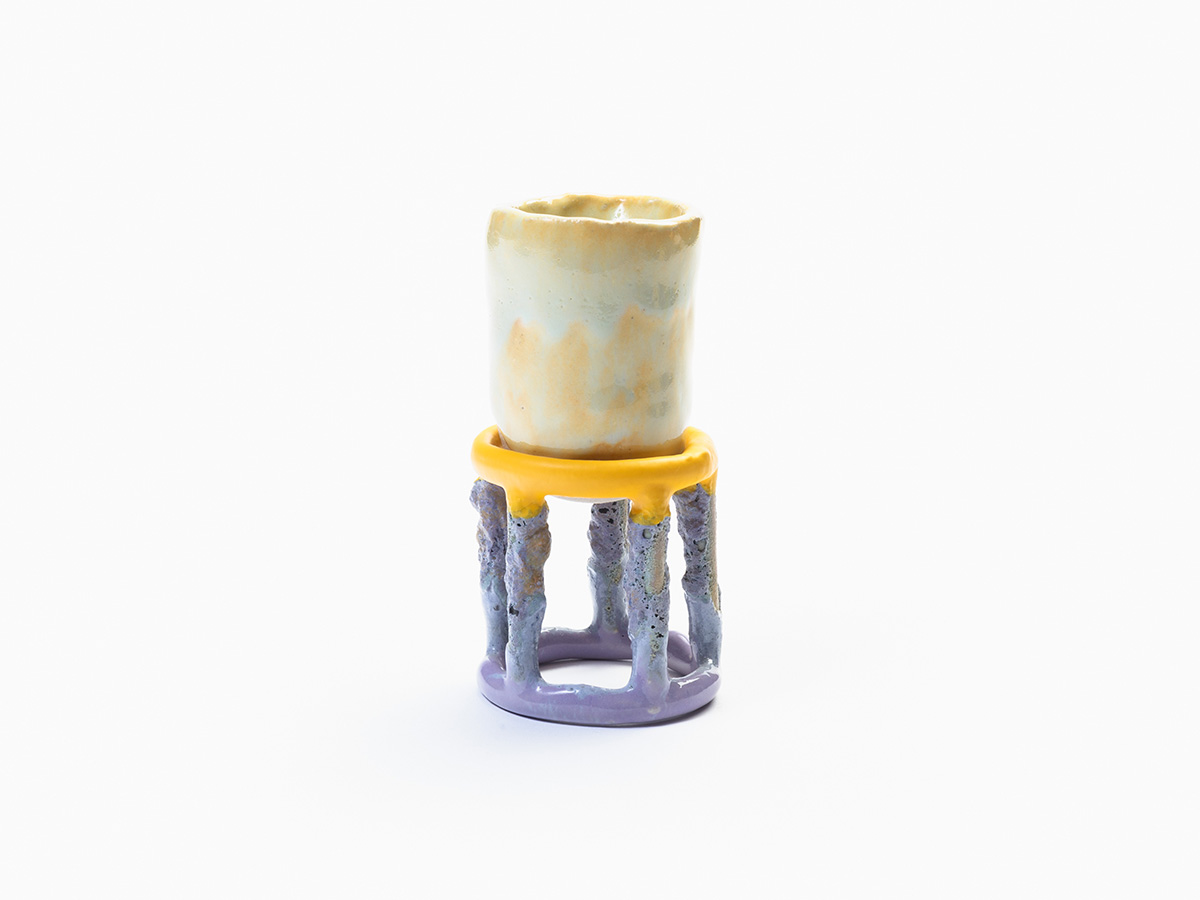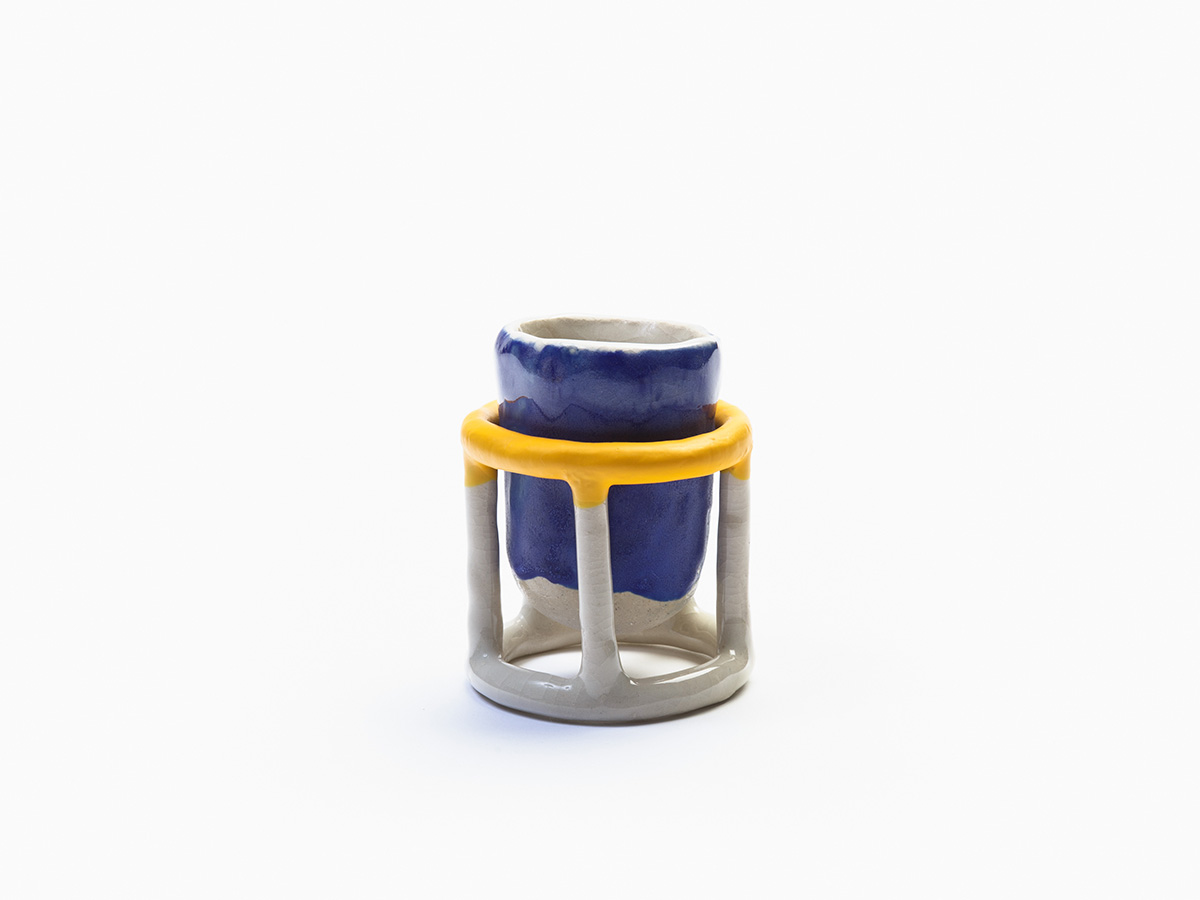 Inspired by the roly-poly toys of her childhood, Mingxuan Tan's "A Soft Egg" cups have a round bottom that creates an interdependent relationship between cup and coaster; the cup is unable to stand on its own. The hand-built pieces employ a number of glaze techniques, including lava glaze, but the yellow components are all created with Plasti-Dip, an industrial paint that's often used to soften the grips of tool handles.
Hun Seung Lee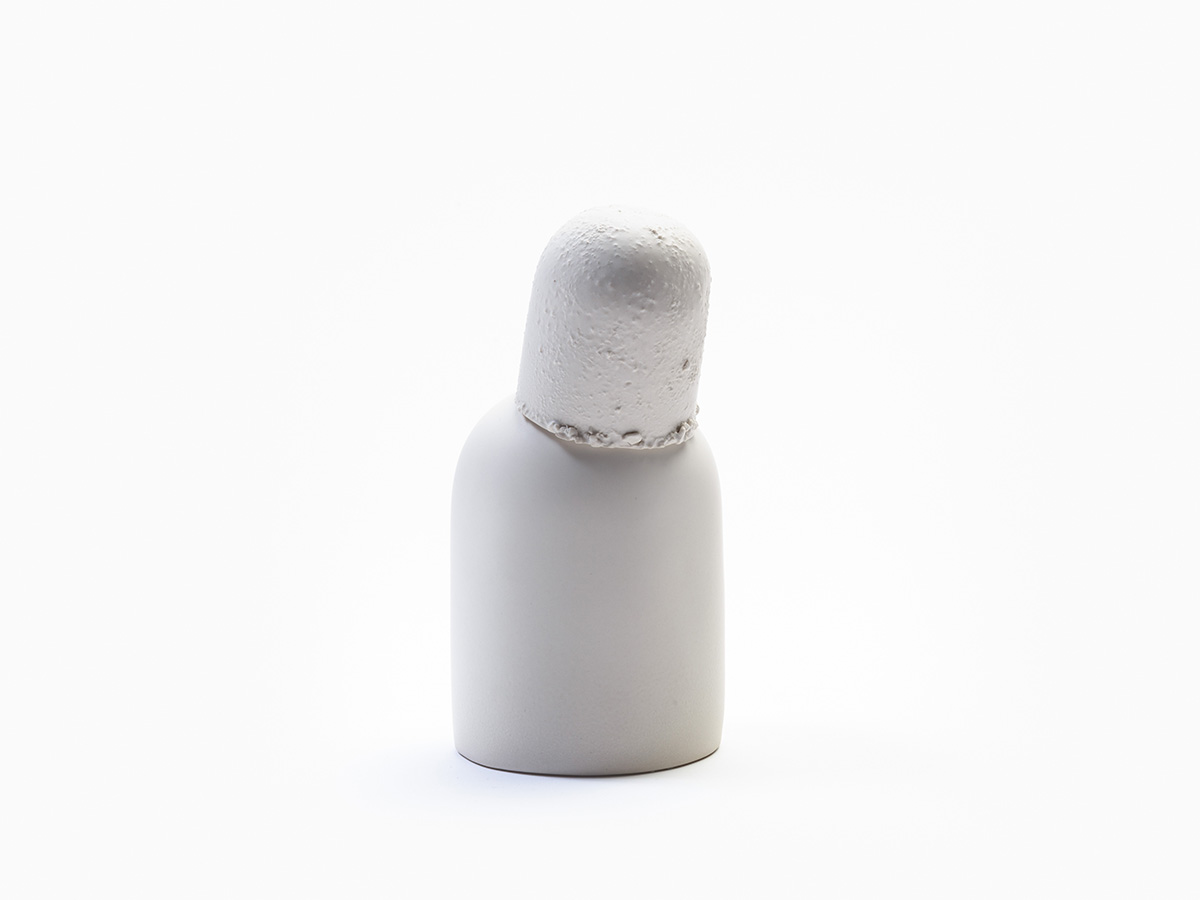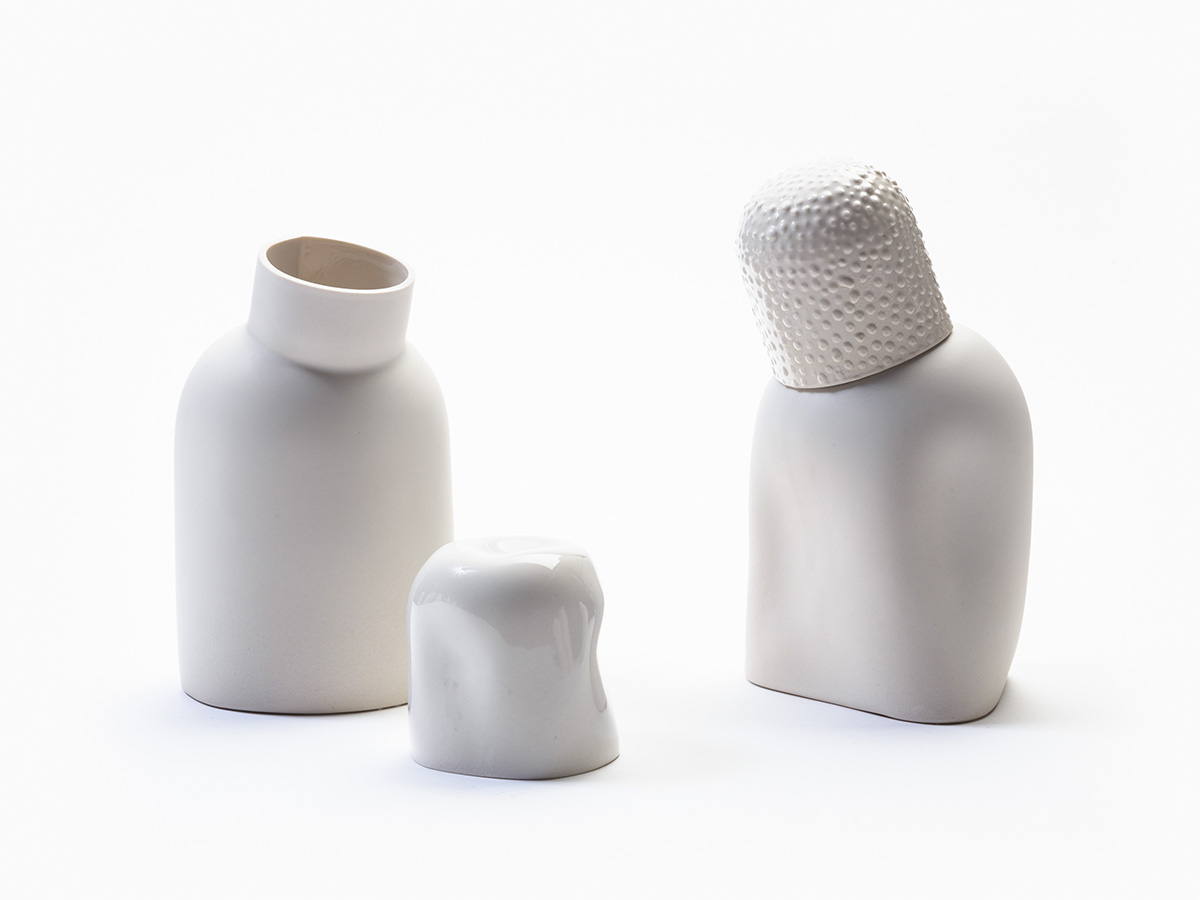 Inspired by supernatural beings from Japanese folklore, the Goblin Series is a collection of pitchers and cups that explores ideas about texture and balance. Each piece began as a molded, slip-cast porcelain form that was then modified by hand, through either hand-building, deformation, or the addition of texture — including dots that were applied one by one with a syringe. "There's a symbiotic relationship here between the pitcher and the cup," says Oyler. "The cup can't stand on its own; you'd have to drink the whole thing at once."
Ramón Jiménez Cárdenas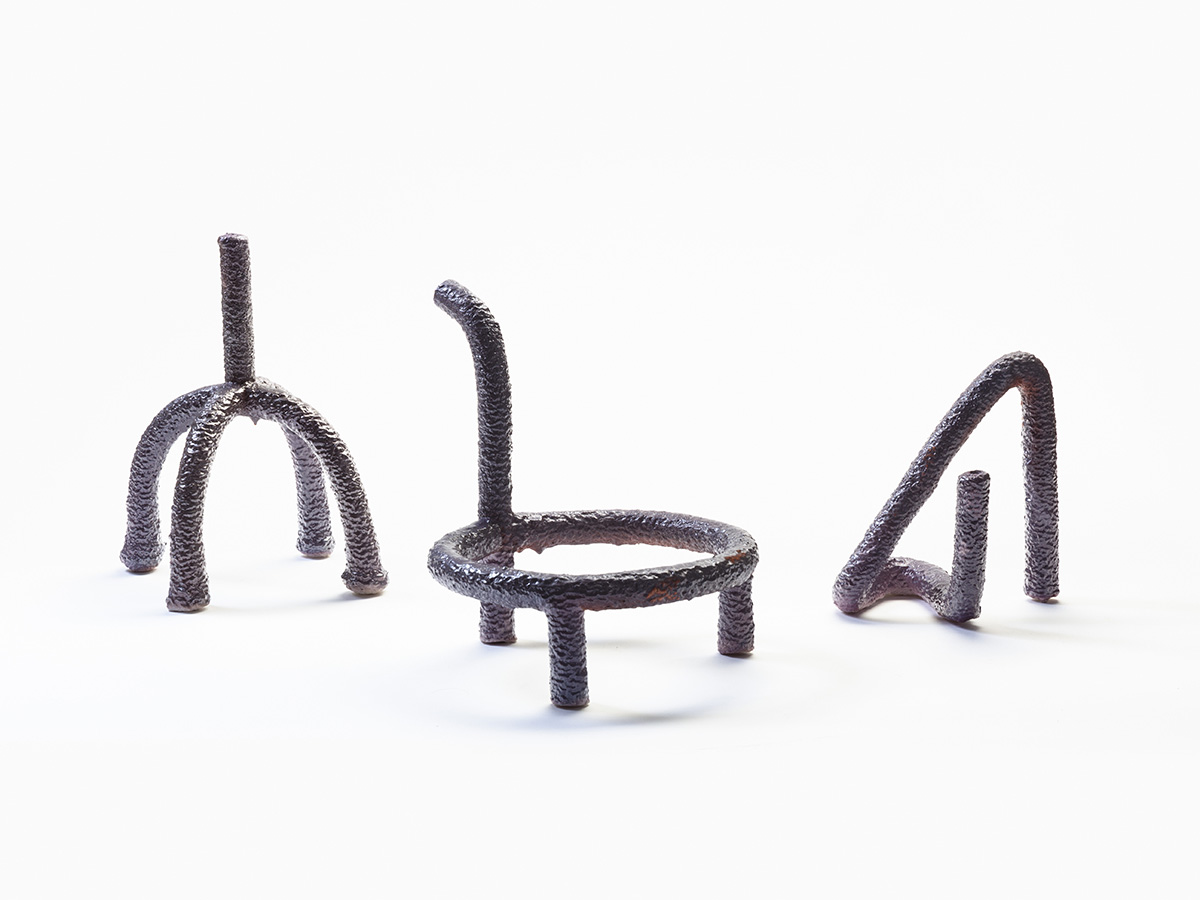 These powder-coated ceramic shells are in fact multipronged drinking straws that were inspired by the aqueduct system in Cárdenas' hometown of Oaxaca. "Over the years the aqueduct has been disrupted not only by corruption in local politics, but also by the community itself," says the designer. "Roads, staircases, and even houses have been built over and across the aquaduct. These multiple broken sites became a metaphor for how our accessibility to water may sometimes be taken for granted. This exploration and research lead to rethinking the typology of the straw as an object for storytelling."
PHOTOGRAPHY BY JONATHAN ALLEN