10.15.20
A Plywood Pioneer and Champion of Eco-Modern Design Whose Work is Ripe for Rediscovery
Even though two of Peter Danko's chair designs are in MoMA's permanent collection, many of his works were never all that commercially successful, leading him to view himself as something of an underdog. "When used in interiors, my designs fit anywhere or nowhere; it all depends on the talent and vision of the designer and if they're able to think beyond accepted styles," the Pennsylvania septuagenarian writes in his biography, implying that most of the designers he's encountered in his 40-year career have not. But for us, the first time we discovered Danko's 1980 Bodyform chair on one of our early sourcing excursions — a chair that was passed over for production by Knoll — there was no question of whether to snap it up. Not only is the Bodyform a feat of clever engineering, made out of a single uniform sheet of bent plywood that's comfortable without any cushions or stuffing, we were very drawn to its personality. Both it and and many of Danko's other designs are pieces of art and sculpture, and are ripe to be rediscovered by a generation that truly values those qualities.
To that end, we dug up a bunch of images of Danko's work from over the years, then spoke with the woodworker by phone about his background, his ideas, and his career, from his early influences (Wendell Castle, Art Nouveau) to his latest material obsession: corrugated plastic.

What first inspired your interest in making furniture?
I studied art at the University of Maryland, and I was making paintings and sculpture. After I graduated, I started working at a waterbed store. There was a cabinet shop next to the warehouse, and every time I passed it, I just kept noticing the smell. I really liked the smell. I saw what the cabinetmaker was doing, and since I had studied art and just graduated college, I showed him my work from school. The next time I came by, the couch-maker there told me they had a client looking for furniture carts for their clothing store in Georgetown. So from then on I started making furniture and started getting commissioned to do various shops within the city. There was a show at the Smithsonian museum in the Renwick Gallery that featured Wendell Castle, and that's what inspired me to start making my own furniture.
What was it about the show that you found inspiring?
I had been carving and laminating wood, and working for this store. But when I saw the show it blew my mind, it was so cool — the richness of the wood, and the fact that someone else was out there doing the same kind of work. Not until I saw that show did I know there was a whole network of people out there merging sculpture with furniture. I was doing stacked, carved laminations and Wendell was too, and a few others as well. It was beautifully made and it validated what I was doing. A couple of years later I met Wendell, and I also knew Sam Maloof. I was in the L.A. area and I just called him up and said I'm interested in woodworking, and I saw your work at the Renwick. He picked me up at the bus station and took me to his house, and I stayed for dinner. Over the years we stayed in touch.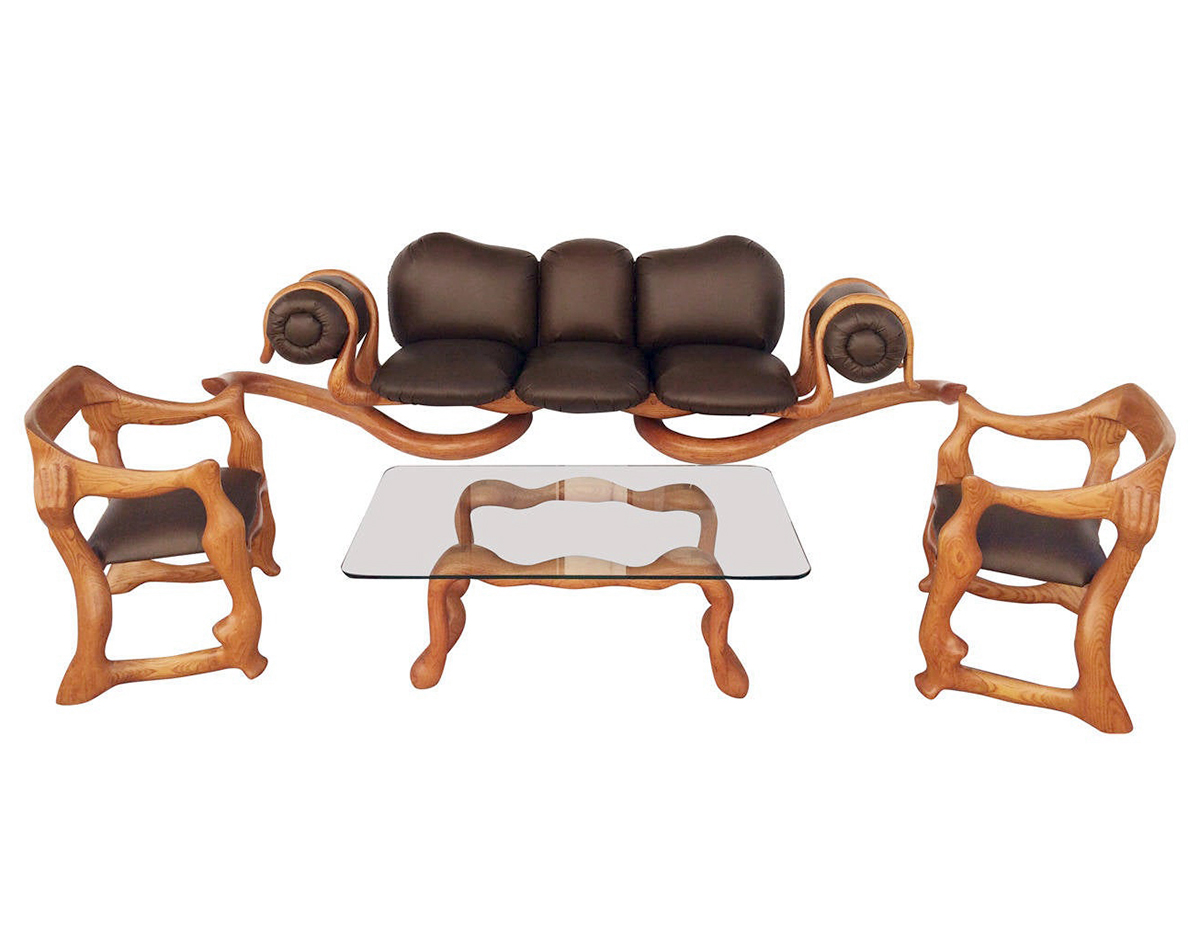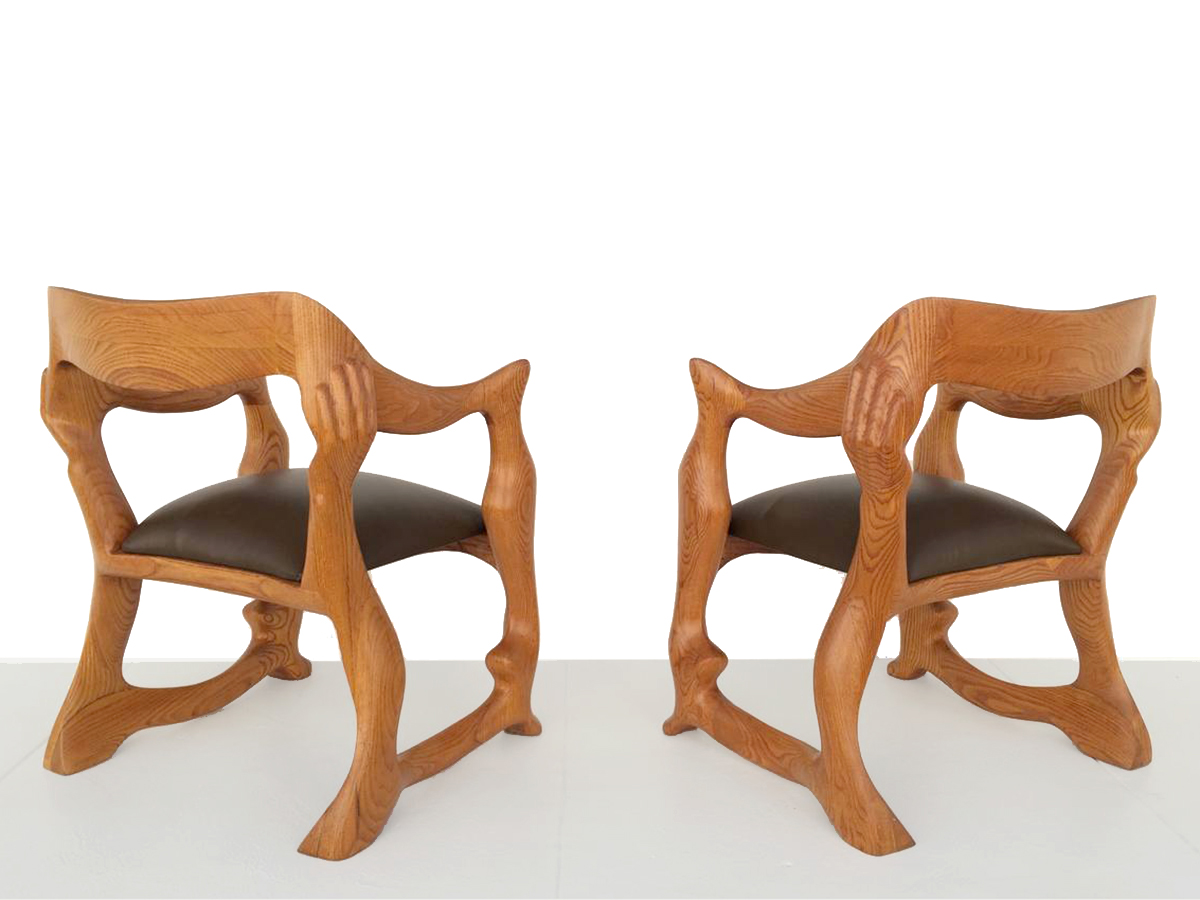 Tell us more about your 1974 sofa (above top). How did you come up with that design?
In woodworking you've got a certain set of tools, and they've been making things for thousands of years, in all these styles, and at some point it's kind of like shuffling cards — not a whole lot new is done. I wanted to do something different. That sofa is steam-bent wood that's dried out and laminated, which is weird but makes them incredibly strong. I wanted to see if I could make it cantilevered, and to see how it would behave. I have one in my living room and I still sit in it. I have parties and big people sit in it, including me, and it's held up just fine.
Wait, that sofa is crazy expressive, and you're talking about it in such matter-of-fact, practical terms! It's funny to hear.
Well, I like Art Nouveau. I was really a fan — as most college kids are, by the way. I also liked biomorphism, and I still do. Even if you look at my early molded plywood, they're all biomorphic shapes. But really I just like to work with wood, and I like designing something technical and difficult, as a challenge.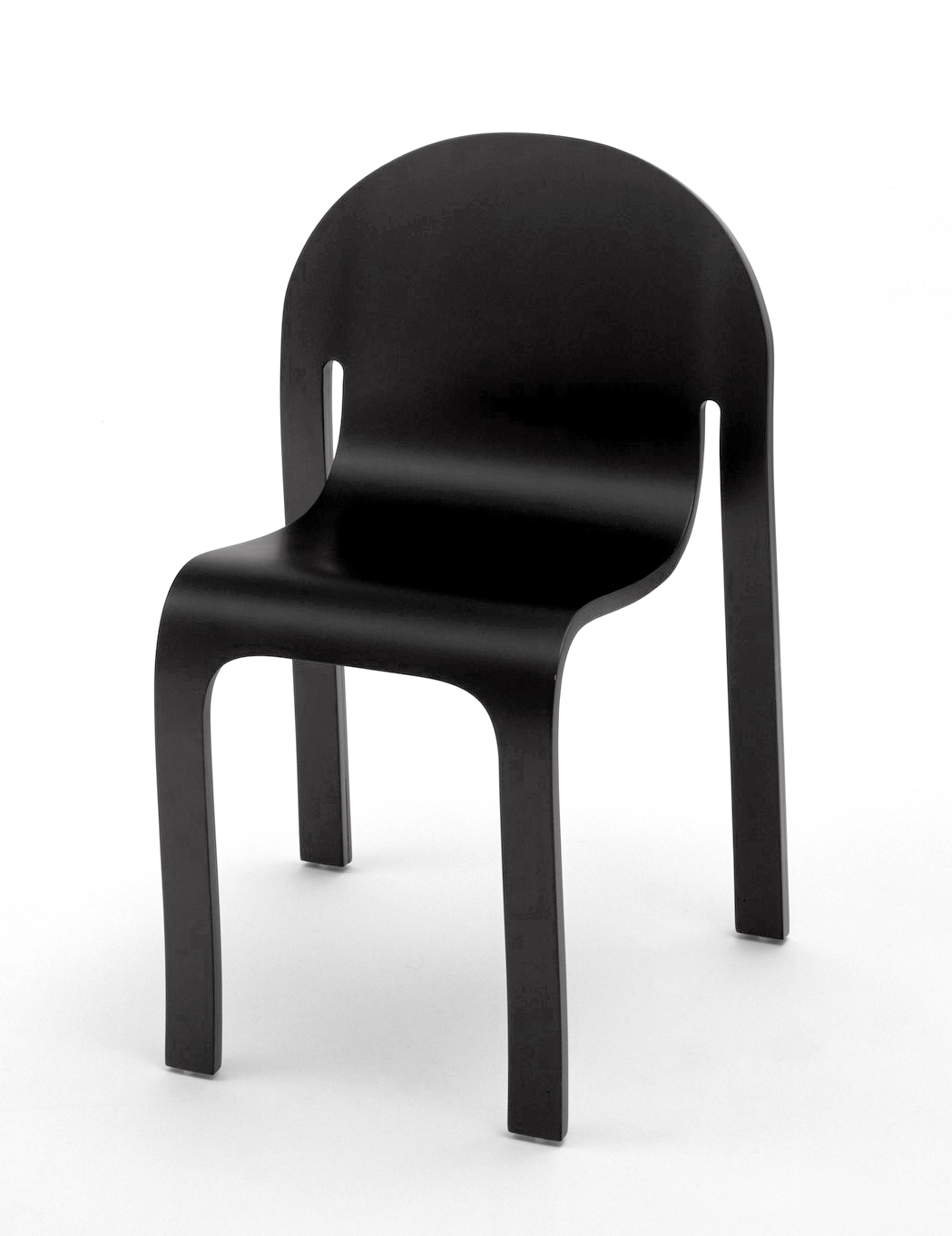 So how did that lead into your two main plywood chair designs? And how did they end up in MoMA?
I read this book on Charles Eames, who I really admired, of course. And in there he talked about molding a plywood chair out of one piece of material, and how he couldn't see a way to do it. I have a feeling I know how he approached it in his head, and the way I approached it was different. And so after reading that, I sent a picture of the original Plywood chair (above top) to Arthur Drexler, the head of the design department at MoMA at the time, on the off chance that he would like it, and he really liked it. I went up there and showed him the chair in person, and a few years later I made the Bodyform chair (above bottom), and they bought that too.
Molded plywood is a very odd process. It's very different from all other forms of woodworking; it's an art form unto itself. A lot of people don't understand it, and interior designers aren't very taken with it, but architects love it. They have a very designerly and clean and simple approach, and molded plywood I think pushes all those buttons, whereas interior designers are more decorative. In my furniture I figure the shape is the decoration, rather than applying decoration. I think my shapes are more expressive. With modernism, you have straight, curve, straight, and there's no undulating curves or flow, and I guess that bothers me a little bit.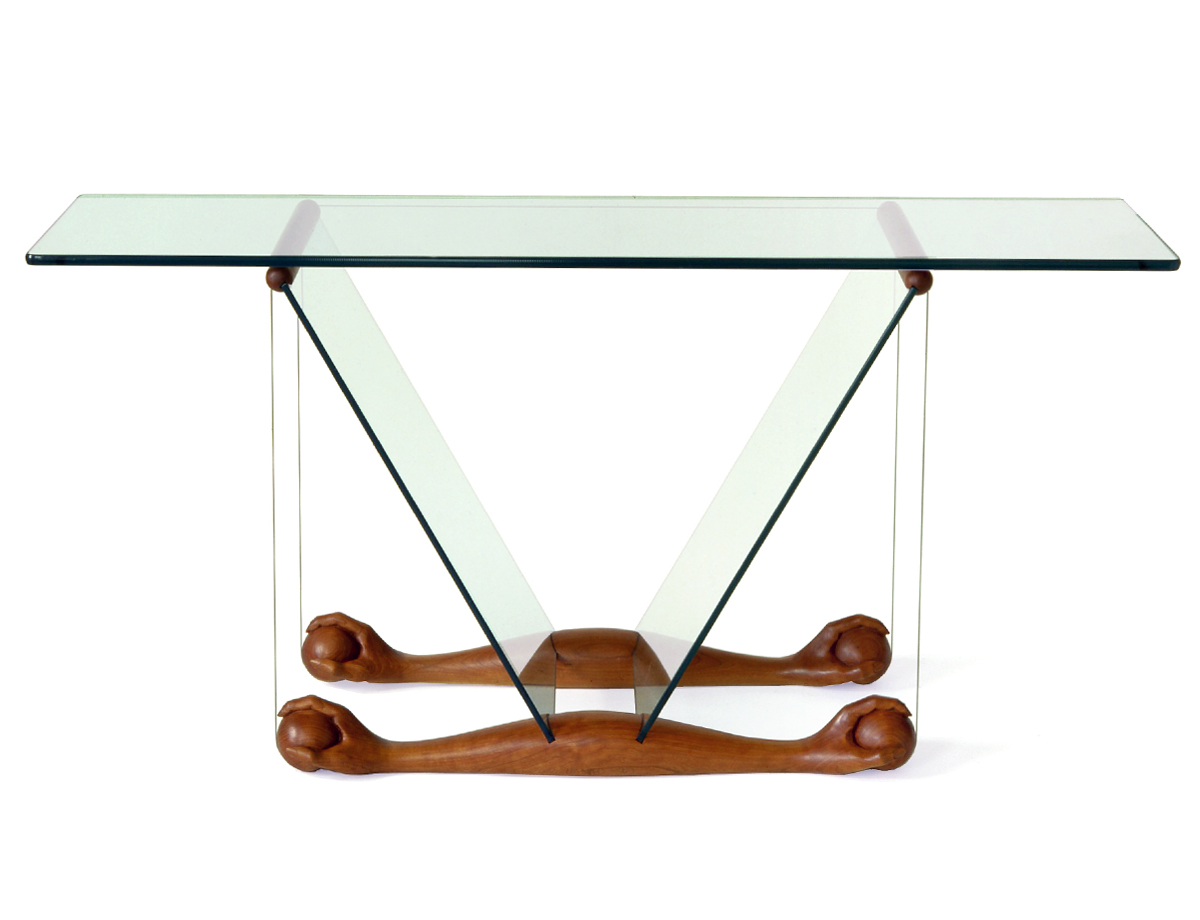 One thing that surprises us is that in the same year — 1981 — you made both the super-practical Bodyform chair as well as the totally fantastical High Tech Chippendale table (above), whose legs are in the shape of hands clutching balls.
I was in transition. I love to make things, but I also needed to make a living. The Bodyform chair I designed after I was approached by Knoll to design a chair for them. It was a few years after I did the Plywood chair, which was good but pretty labor-intensive, whereas the Bodyform was easy to make. I thought it was a good chair for Knoll, but they never made it. They went in a different direction. It was a big fight actually, where the director of design wanted one thing and the head of marketing wanted my chair, but it didn't happen. So I bought the rights back and started making them myself. A few years ago though I had to make space in my studio so I threw away the molds for both the Bodyform and the Plywood. I probably made thousands of those chairs over the years though; it's enough.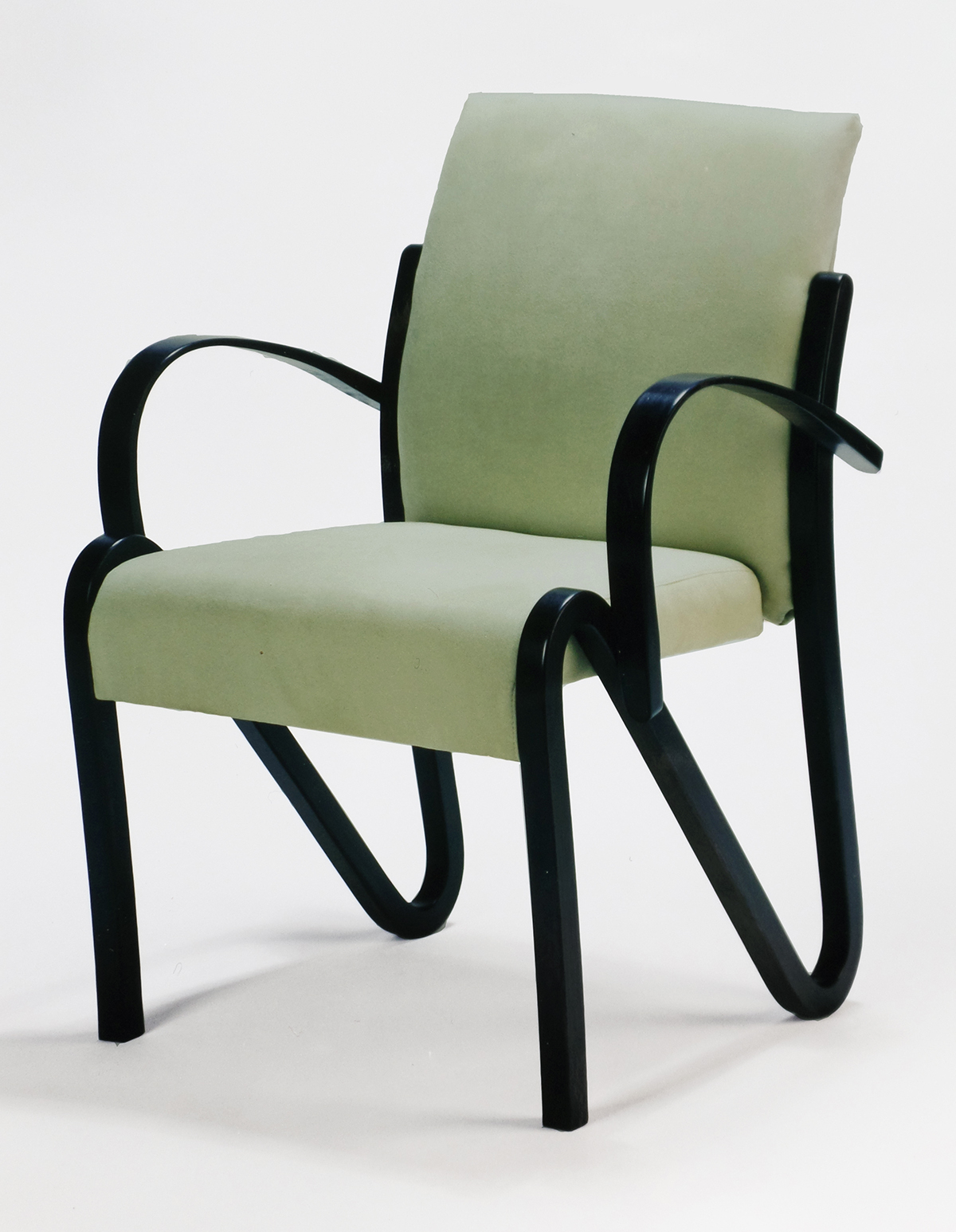 Someone should put your 1998 Wave chair (above) back into production. It looks like it could have been designed yesterday.
And you will not find a more comfortable pull-up chair on the planet. It's unbelievably comfortable. But I didn't sell a lot of them, so I stopped making them. Charles Eames always said that people buy a chair for comfort, but that's just not true. If they bought chairs for comfort, they would have bought that chair. It was just architects who I sold it to, and people who like comfortable chairs. That was my market. I sold a whole cafeteria full of them to MIT once.
What material would you see yourself working with more, if not plywood?
I hardly use plywood anymore. I guess I'm tired of it. Corrugated plastic I think is the future. I'm pretty much alone in that. I think people have a profound lack of vision though. It's THE most sustainable material. There's a traditional theory that plastic furniture is environmentally unfriendly. While this is true, all types of furniture produce a lot of environmental waste — even wood. No matter what you make, if you're making a lot of it, it's bad for the environment.
How did you end up focusing on corrugated plastic?
I read the book Cradle to Cradle and I was very inspired by it. I think along the same lines in terms of how to make furniture sustainable. My wife and I had just bought an arts and crafts house, and we wanted to redo the kitchen. I was interested in corrugated plastic because of the story behind it, and also because of Frank Gehry's work with corrugated cardboard. I wanted to build cabinets that were really beautiful and really different, and really use the material to its fullest potential.
The big problem is the hinge. You can't screw into corrugated plastic. I started trying, but there's no there there — it's basically air wrapped in these very structural, very thin walls that are less than a millimeter thick. The doors of my cabinets are measured in ounces, and a typical cabinet board is measured in pounds. But it's very strong for its weight. Truly, unbelievably strong. So I started playing with magnets, and that's how I got the magnetic doors, which are astonishing (see here for a video of how they work).
I used about 20 percent of the wood that would normally be used to make the kitchen. I think it's leaps and bounds down the path towards sustainability, but I can't get anybody interested in it. It's the answer. You use so much less resources. The thing about corrugated plastics is you just shred it and recycle it. You can disassemble my whole kitchen and recycle it.
We've been enjoying your artwork on Instagram from several years ago. How has it been influenced by your design process? Was it something you've always done?
Around 2004, I was working with a company here in Pennsylvania, designing a lot of furniture the way I liked. The company didn't like it, but it was selling like crazy. It started selling so well and the company was growing fast and they didn't like that for some reason. Anyway, things didn't end well with that company, so I stopped working for them, and I started doing artwork again. My wife and I would take art classes every Saturday with this local lady and I just fell in love with art again. I draw to music. When it's fast, I draw fast, and when it's slow, I draw slow and it changes my style a little bit. It's sort of like a natural high. I feel the same about designing things now again.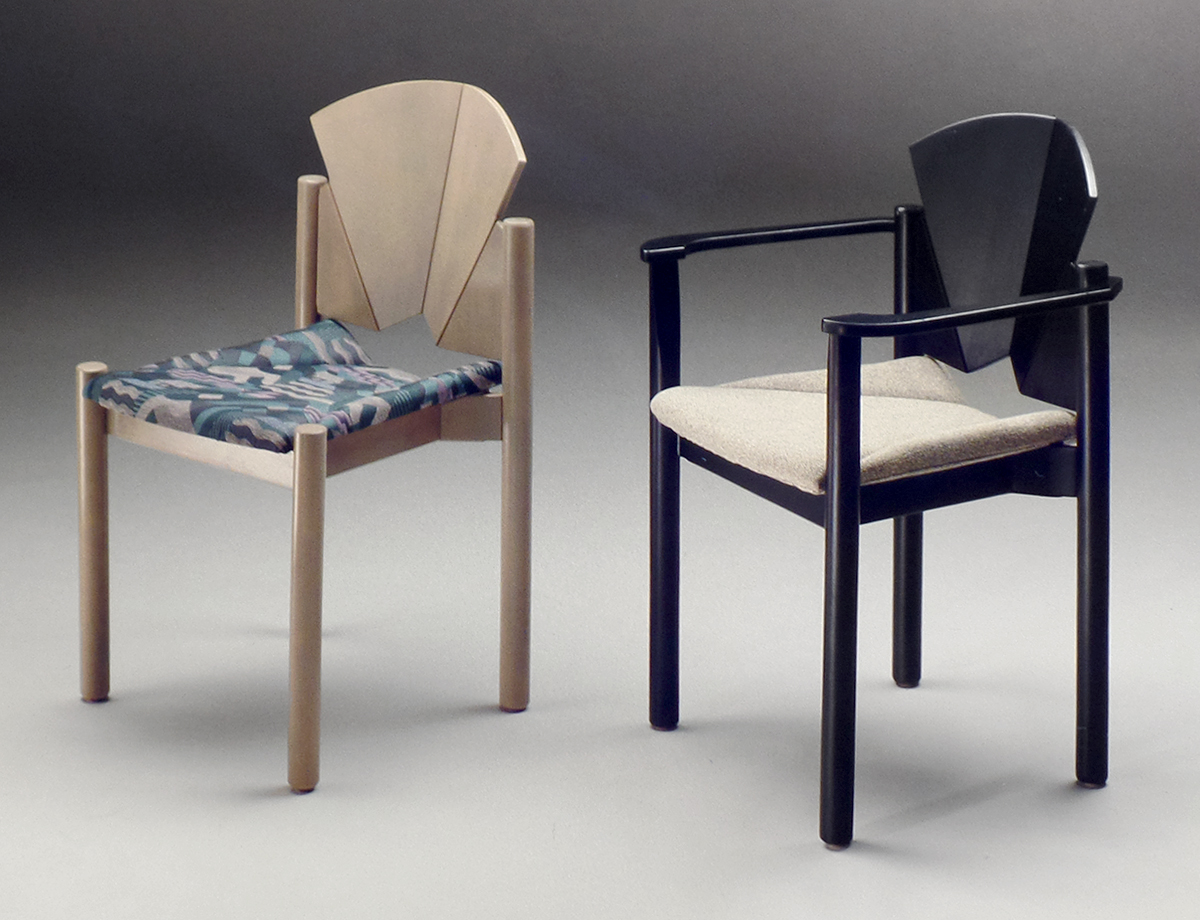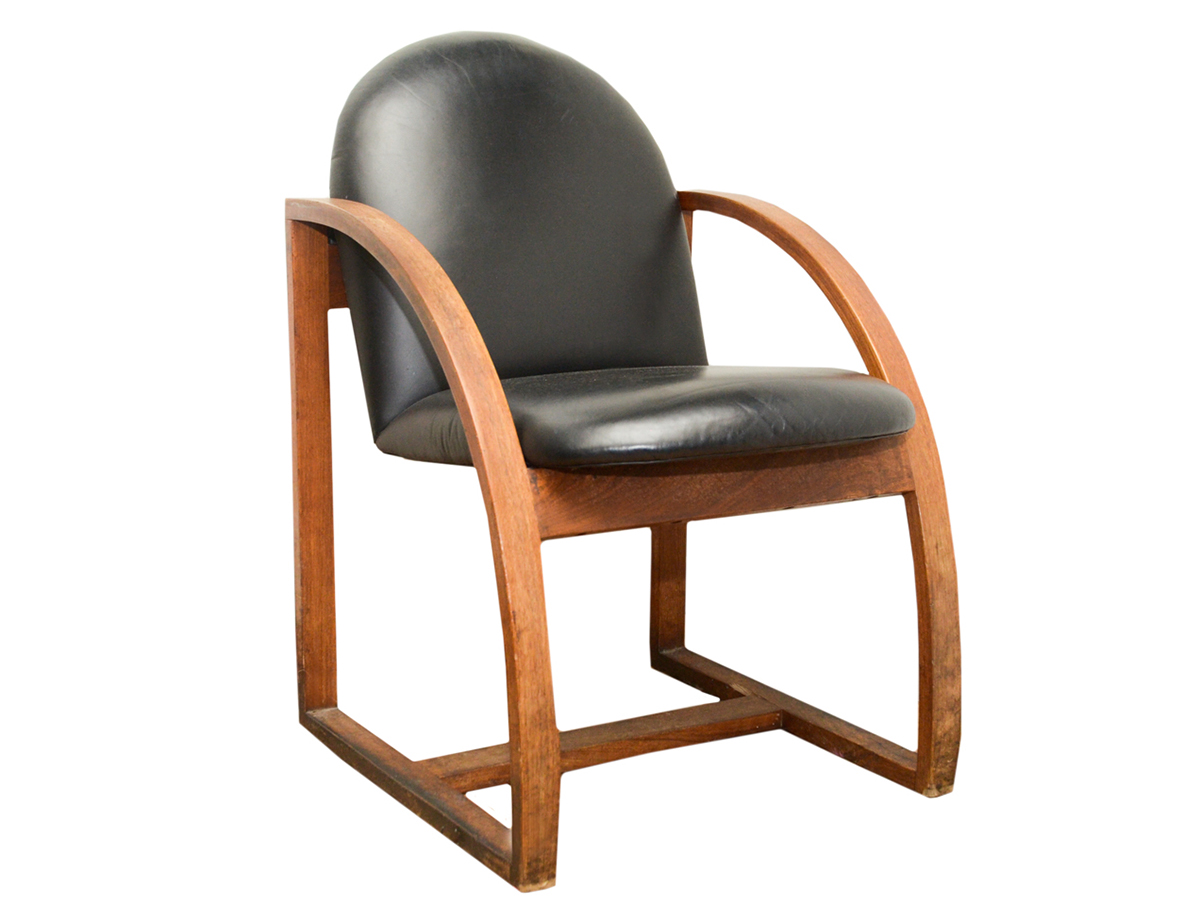 What do you think the design community has seen enough of?
Midcentury Modern (laughs). It's just basically rehashing old ideas. Can't people think of anything else for themselves? I think it's physically and environmentally dated. Same with the Bauhaus movement. I think we need to soften the lines a little bit and focus on living a little bit more with nature.
What are your thoughts on Donald Judd's designs?
I think there's this thing where The Art World over-intellectualizes things. You could draw a straight line, and an artist will have some great story about it and people will make deep philosophical considerations about it. I guess I don't buy into that. It needs to be more than that, and that's my opinion. Ergonomics aren't taken into consideration at all. I don't see the point. It's not comfortable. Judd is worse than Frank Lloyd Wright in my opinion.
What's your most essential tool at the moment?
My computer. I spend so much time drawing on my computer now. But I'm working on a thing now that I've worked on for 10 years: I've built a machine from scratch with all parts that I've made myself that helps me work with these corrugated plastics. It cuts and welds these plastic panels together.
What do you think young designers need to know to approach design for the future?
I think a lot of designers and architects design things without having proper knowledge of the materials, or only textbook knowledge. I'm one of those people who don't feel comfortable designing without using the materials. I think you have to work with materials to understand their properties and capabilities, since every material has its advantages and disadvantages. You make it work, but it also makes you work with it.