10.16.20
This Vintage Mid-Century Primer Provides the Blueprint From Which Contemporary Design Emerged
In her encyclopedic 1996 book Fifties Furniture, author Leslie Piña outlines the five styles that influenced the midcentury era: Art Deco, Bauhaus and the International Style, Machine Age Modern, Biomorphism, and Abstract Expressionism. The result, say Jared Blake and Ed Be of Lichen NYC, who chose the book as the last subject of their guest editor week, is something like "basic algebra." Fifties furniture, explains Be, is "a blueprint for a lot of the furniture that we've seen in the past twenty or thirty years in America, and things kind of haven't moved on from there. I guess we're trying to figure out what it made it so popular then, why it has resonated for so long, and why no one has moved on from it. We like it as a basis point."
The book devotes about half of its pages to the biographies of designers and makers from the era, everyone from Gilbert Rohde to Chilean designer Roberto Sebastian Matta (whose 1966 Malitte seating system, we discovered in the course of our conversation, bears a striking resemblance to Verner Panton's later Welle modular sofa.) The second half of the book is focused on examples of various archetypes, which, according to Blake, set the precedent that future designers — or even buyers and curators like themselves — could either fall in line with or diverge from in a completely radical fashion. "We don't ever want to be labeled as a mid-century design shop," says Blake. " But it helps anchor how far we want to stray."
Here, we asked Lichen to choose five of their favorite examples from the book.
Top: "Lighting is underappreciated and a bit underlooked in America. I know in Europe it's huge, and that's why aside from Sonnemen, most lighting of note is from Italy. This image shows how lighting can be sculptural. For what we want to pay for it, and what we want to distribute it for, there's been a void since the '50s of sculptural lighting. A lot of companies are living off antiquated designs. You have to know where you're coming from to know where you're going. If we were to ever approach lighting, we would have this inspiration to start from."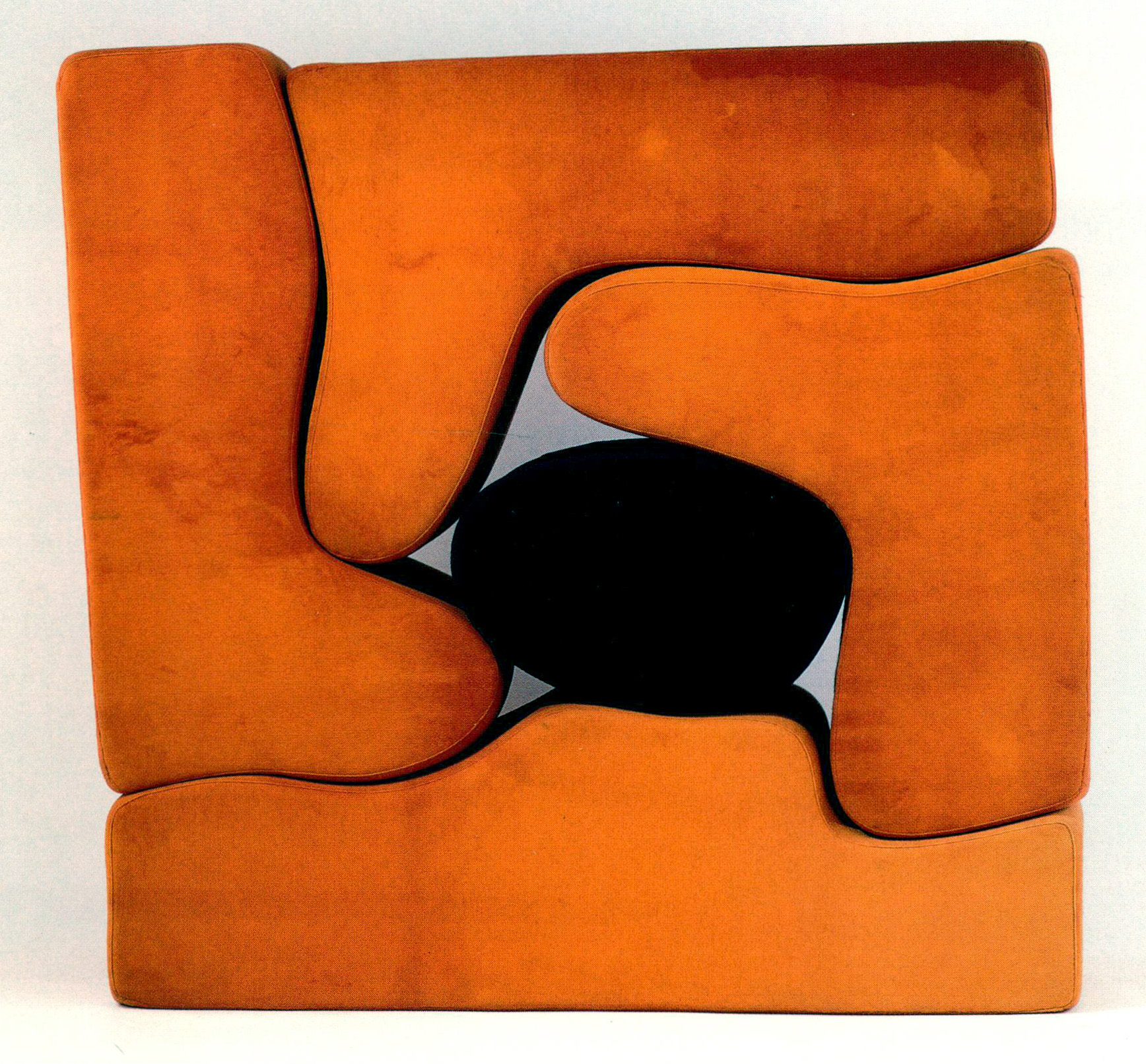 Malitte seating system by Roberto Sebastian Matta
"There's some Panton and Girard in there. It's very whimsical in comparison to everything else during this time period. It looks and feels very contemporary; I could see this now making more sense than in the 50s. Fifties furniture was very modular. A lot of architecture during that time was open, small spaces, ranch style homes — the way this piece of furniture is made is the same. It's fun how it comes together to make one piece and it can come apart and become its own thing as well. Panton was also a departure from traditional midcentury. The Panton chair is  a cantilever but instead of using chrome and having squared edges, it's almost like a Mies van der Rohe chair made of plastic."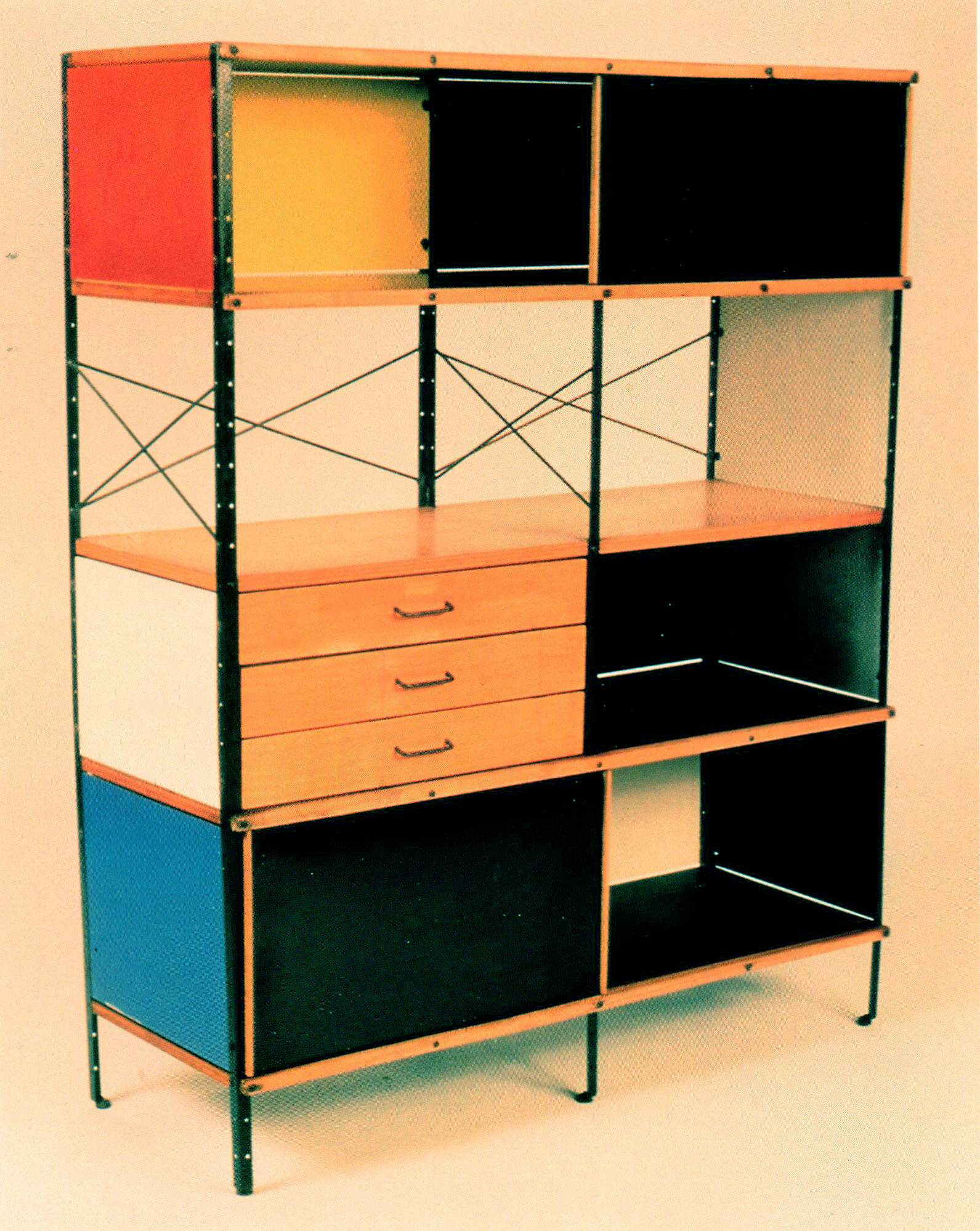 Charles and Ray Eames ESU 400 Series cabinet by Herman Miller
"We actually had a very similar one in store this past week. We were using this model for our office. It's interesting because it's such a great piece of furniture, and I think we're always taken aback by how light they are. They're both light and sturdy. So much furniture from this era is heavy; you can tell that this was cost effective. It wasn't heavy American walnut, it wasn't a great grade of ply. It's almost cheap, which makes it not precious. Especially if it's gonna be in the back office, it can't be precious because it's too functional. It's gonna ding into something, it's not for looks. It's one of those things that does both really well."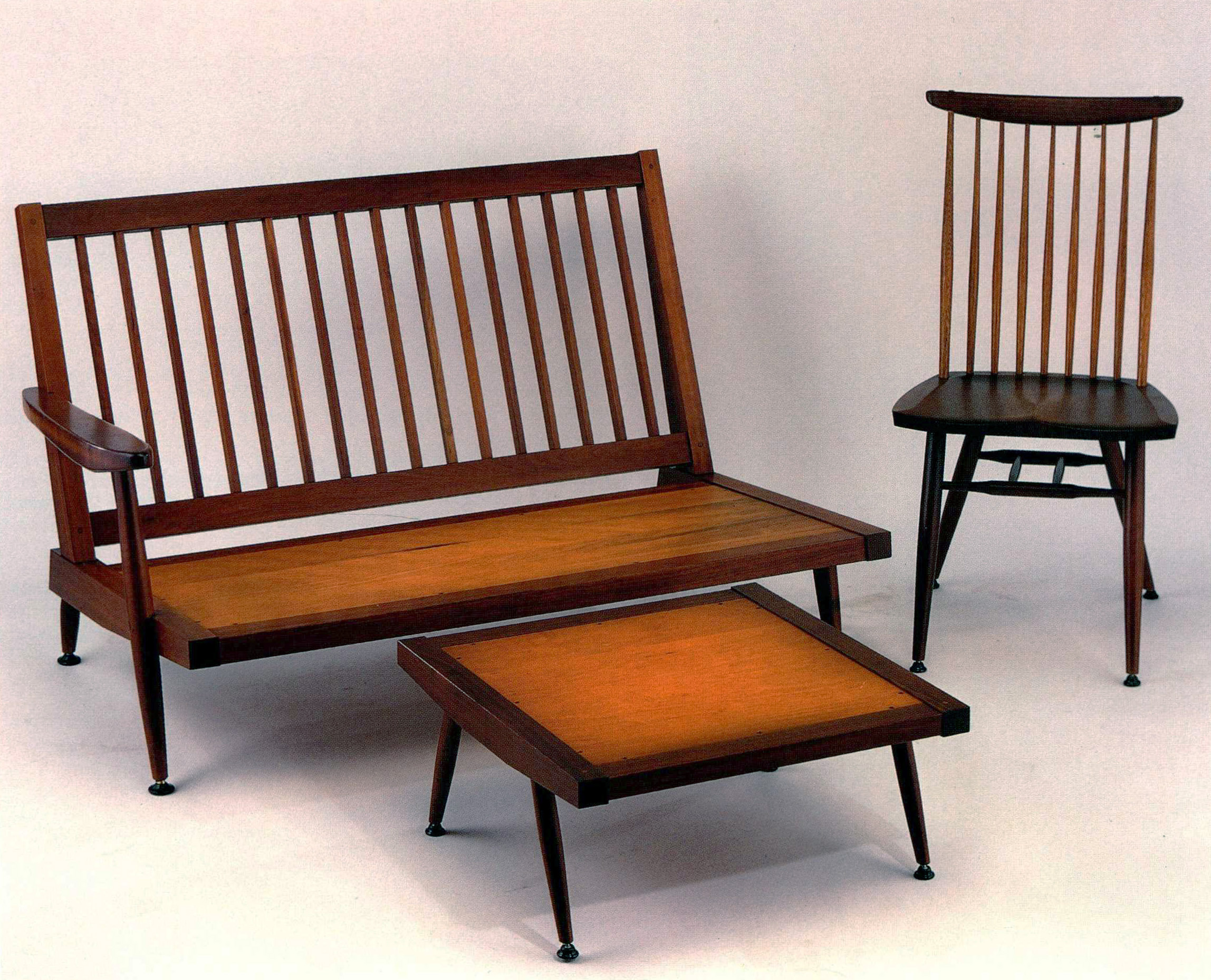 George Nakashima walnut one-armed slatted loveseat with short flaring dowel legs; Nakashima walnut ottoman with flaring dowel legs; Nakashima spindle back walnut sidechair with flaring dowel legs and saddle seat
"George Nakashima is great; I know he learned a lot of woodworking while being interned at the Japanese camp during WWII. He's often referred to as a Japanese Shaker, which is interesting. It's using those same principles but with a more contemporary lens. But I don't think it was intentional. I don't think he was trying to make anything cool or contemporary or forward thinking, I think he appreciated a lot of the Shaker and Windsor craftsmanship and incorporated his own culture into it. He has a book called Soul of a Tree which is a really good read."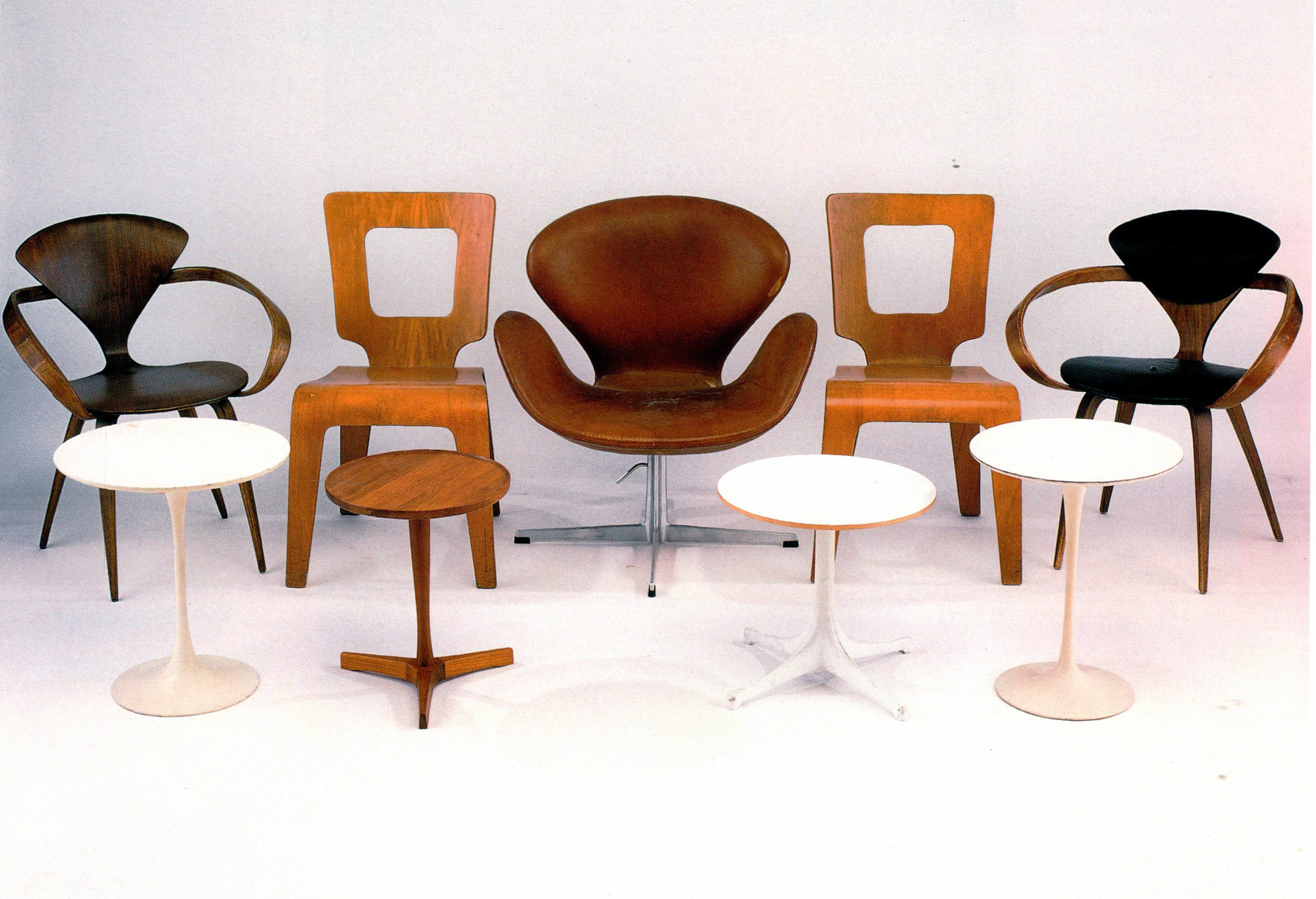 Plycraft hourglass-shaped plywood armchairs; Thadden Jordan bent plywood side chairs; Arne Jacobsen Swan Chair; Artek teak table; side table by George Nelson for Herman Miller; Tulip table by Eero Saarinen for Knoll
"If your chair has four legs, you can trace it back to this era. It really kind of allowed designers to think outside of squares, outside of a grid. Curved edges is a very contemporary design language, but it had to be unlocked at some point, it wasn't always the case – everything was boxy and then it wasn't.
"This image has a lot of things that we like and dislike. Some of these seem like the designers were bored, which is a great place to design from sometimes. (I'm not nuts about Cherner.) The bentwood Thadann Jordan chairs with the squares are really cool; if you were to put the Danko chair next to it, you could tell that they were cousins. The Cherner chair is reminiscent of George Nelson's Pretzel Chair; they're kind of a hodgepodge of each other's designs. Honestly when you go back to that time period, it's like the chicken or the egg — who came first? A lot of these guys were classmates and copying each other's homework.
"From our point of reference, that gives us a path to dig deeper. That's how we find a lot of our items, from conversations like this, and just being confused about what came first. Like after this call we gotta figure out more about Roberto Matta. We might end up finding a wealth of things under our noses. We could hang up and find one of his pieces on the Upper West Side. The search for the origin of things throws you onto so many paths. It's like with music. You get into an artist and then you hear something and you think, "This sounds just like that but older and better." Almost all music now is a sample, and often when you hear the original, it's a little more authentic."