02.23.21
Studio Sløyd's Minimalist Pine Furniture is Rehabilitating a Misunderstood Norwegian Wood
Two years ago, friends and design school students Herman Ødegaard, Mikkel Jøraandstad and Tim Knutsen walked into a karaoke bar in Oslo. As "Murder on the Dancefloor" came on, the topic of starting a studio together came up. By the end of the song it was decided and Studio Sløyd was established in March 2019. But it's the song "Norwegian Wood" that better describes their practice (yep, we just went there).
An abundance of pine in Norway makes it the obvious sustainable choice from which to build furniture. But its look has been deeply unfashionable in the country since an overkill of pine interiors in the '70s inspired the term "furuhelvete," which translates to "pine hell." It's what Studio Sløyd ironically called their 2020 furniture collection. "We wanted to challenge this misconception by creating a collection of furniture where each piece utilized distinctive methods and contemporary shapes to demonstrate the versatility and consequently the value the wood still has," the trio says.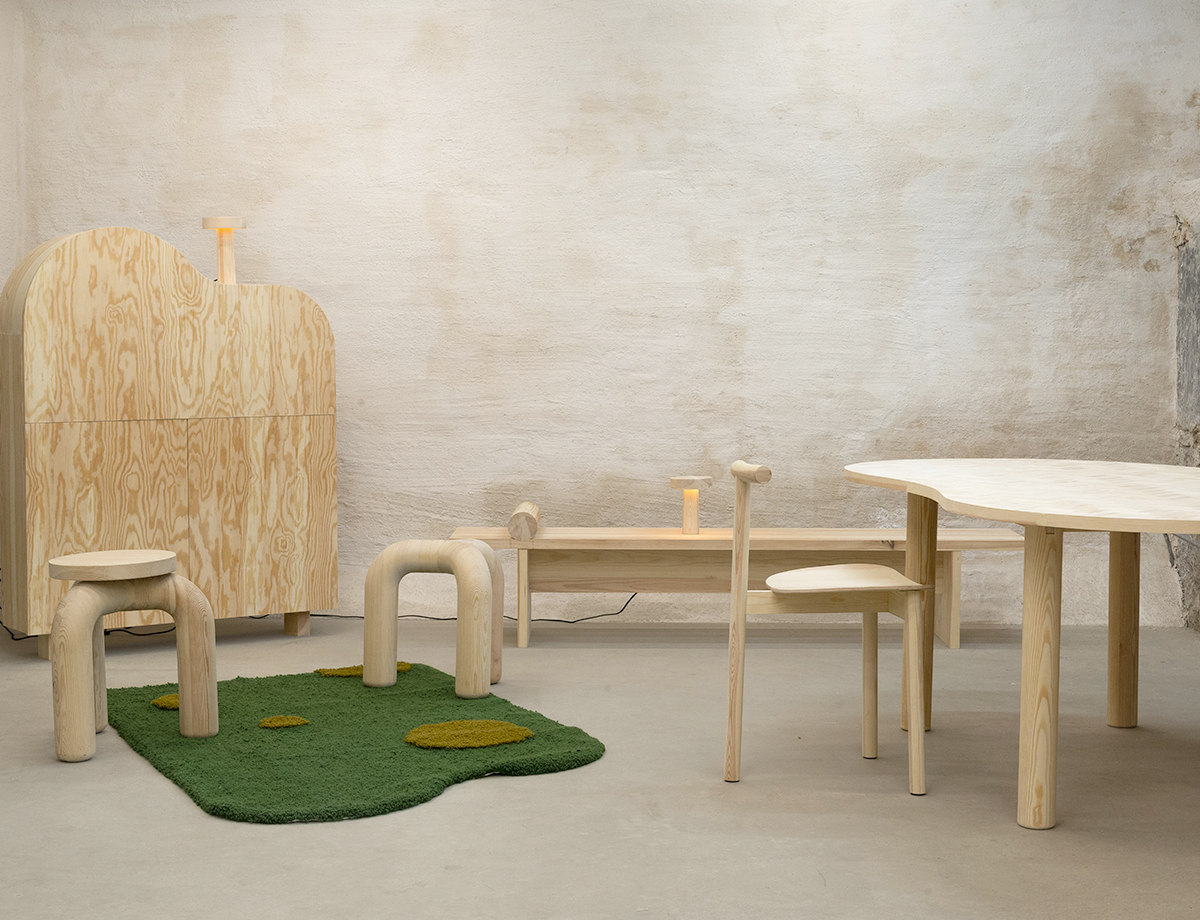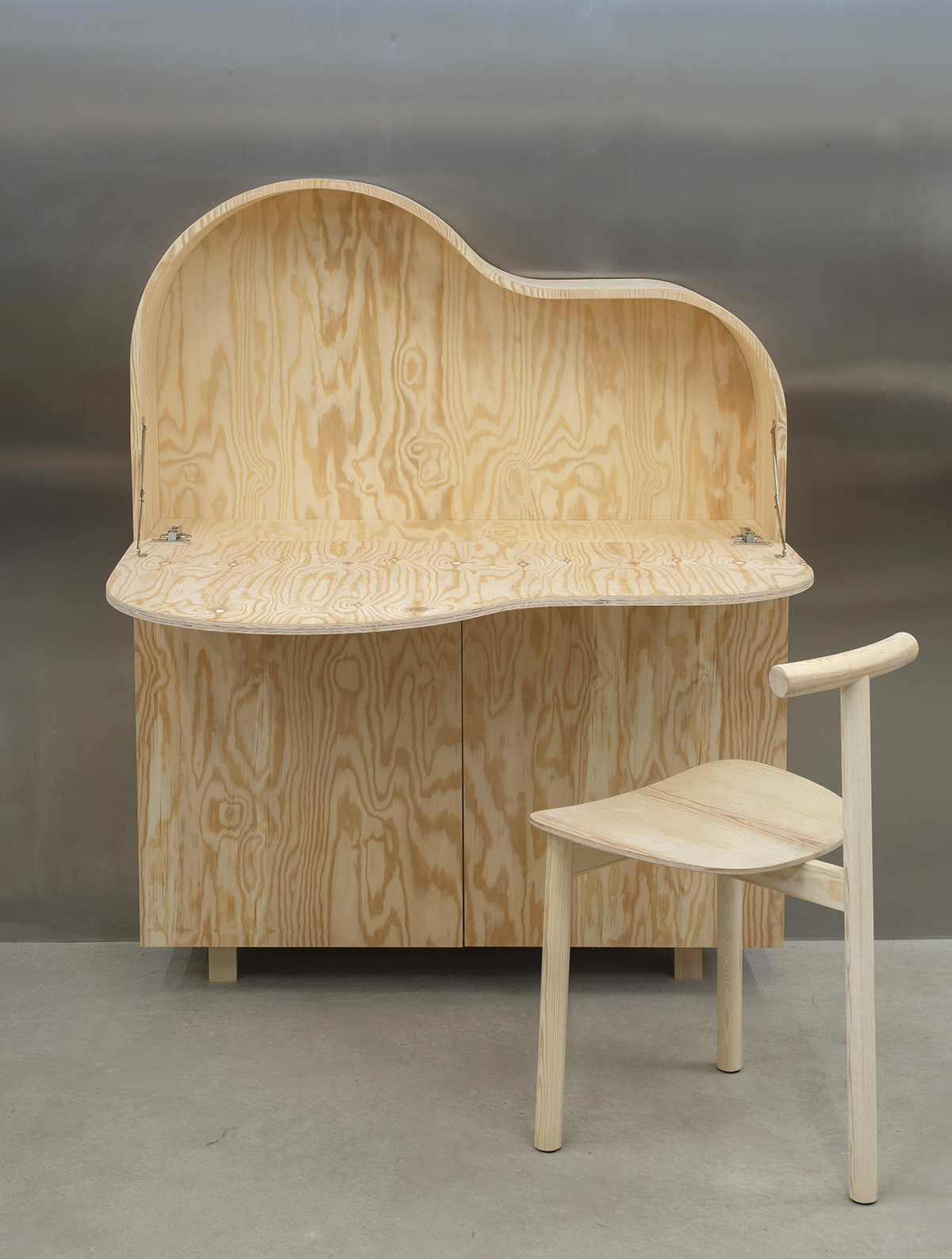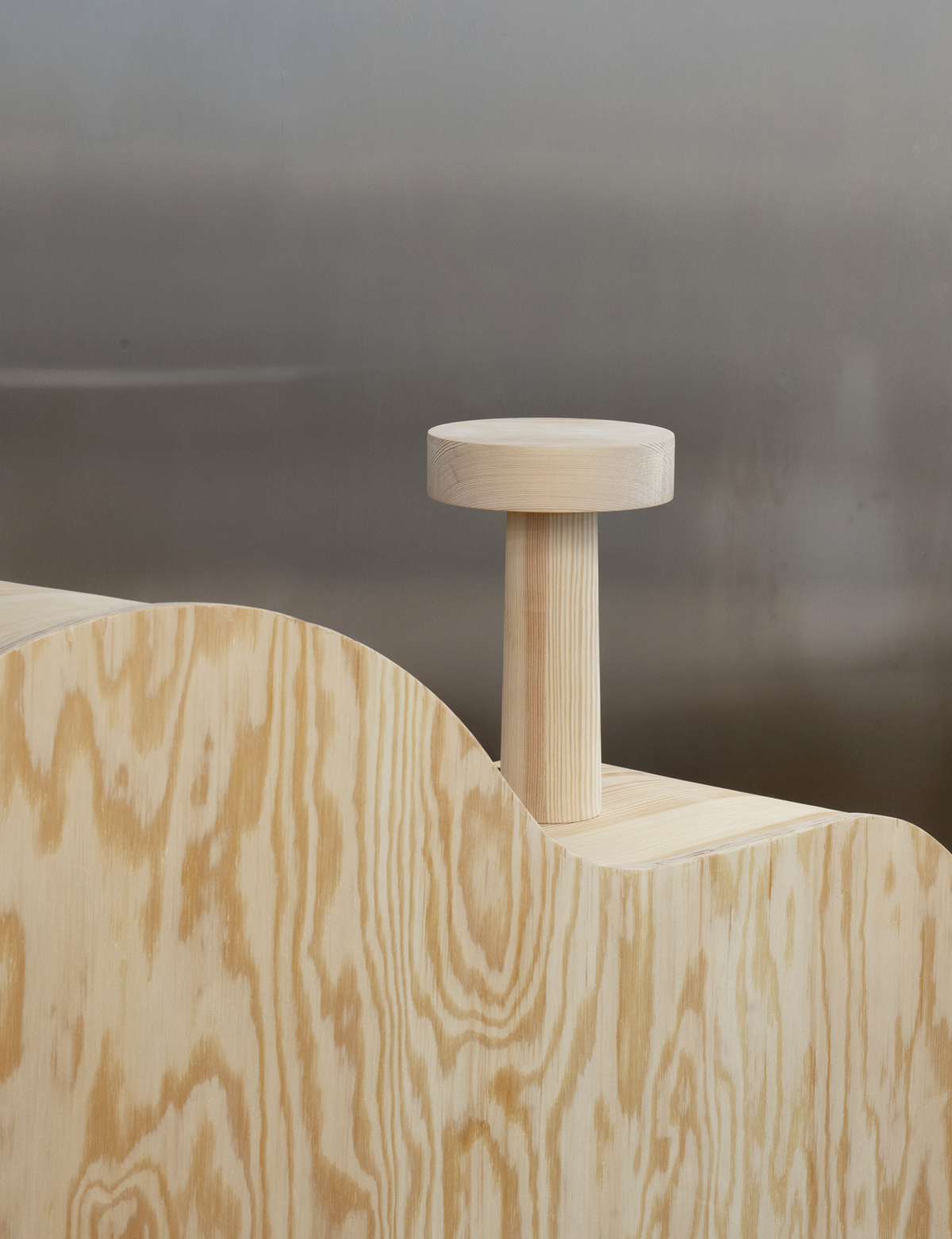 The group are hands-on in the workshop; the word sløyd is derived from Scandinavian workshop education and translates to handicraft. They often create new tools and develop new methods to explore their materials to their fullest potential. Working with pine, they needed to discover innovative ways to make the wood desirable again. They started, naturally, with walks in a pine forest and were inspired by what they found. The curves of the cabinet FH.06 Cabinet, for example, reference the shape of the Artist's Fungus that grows on the base of the trees; their hand-tufted rug is an abstract forest floor in the fall.
The final Furuhelvete collection, consisting of the cabinet, rug, a herringbone table and chair, a lamp, a bench and two stools, was exhibited outside in the forest "to place the pieces back where they came from."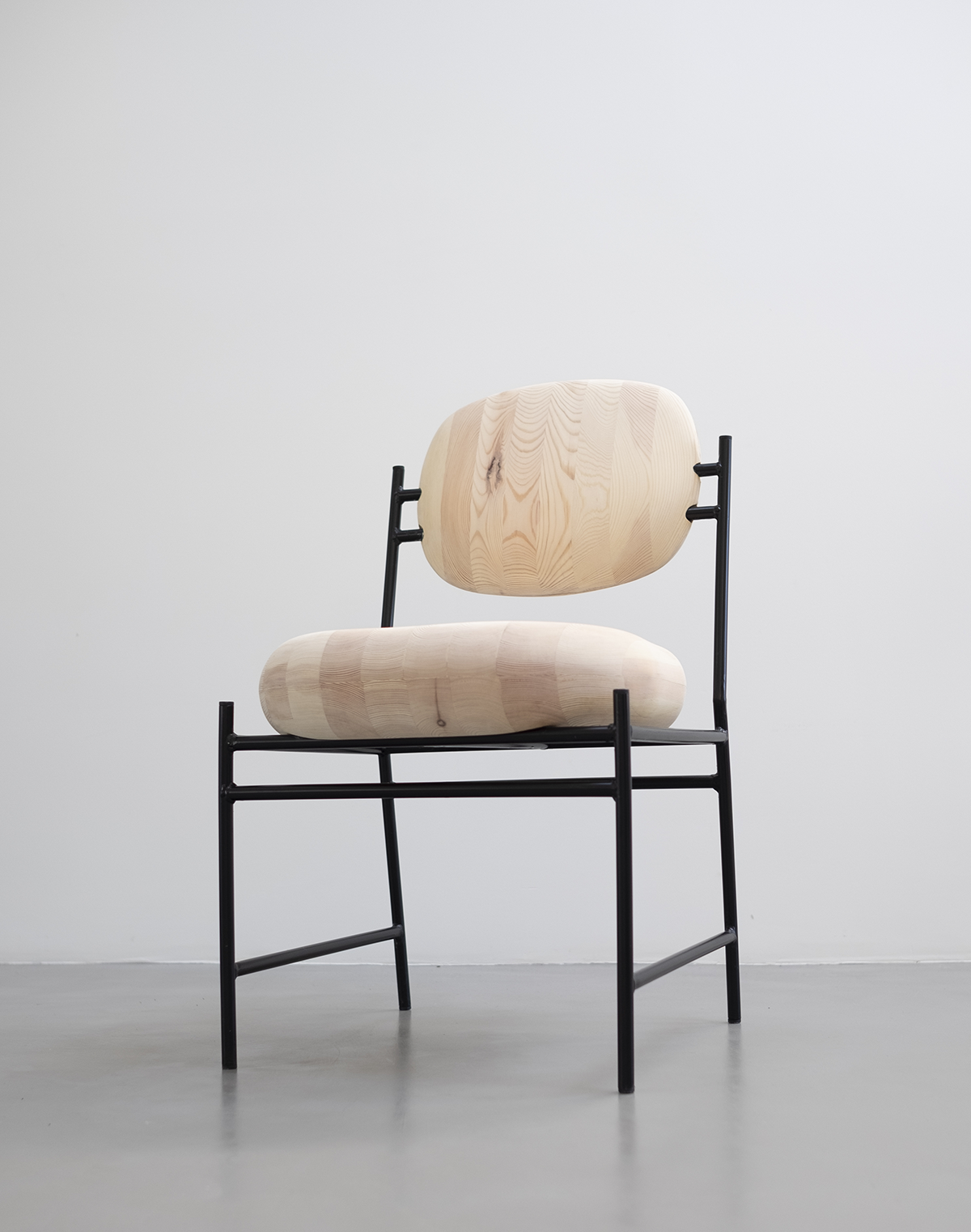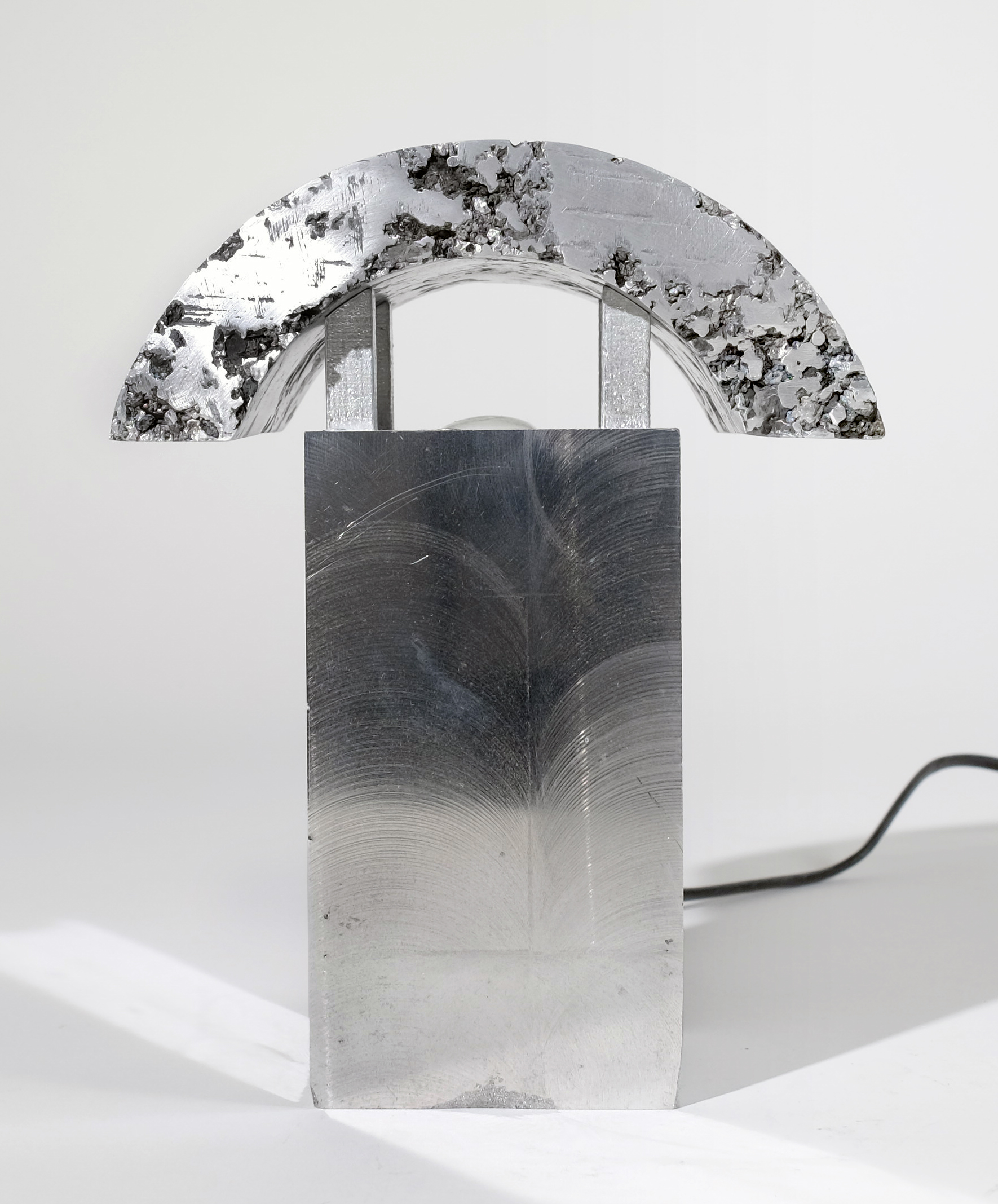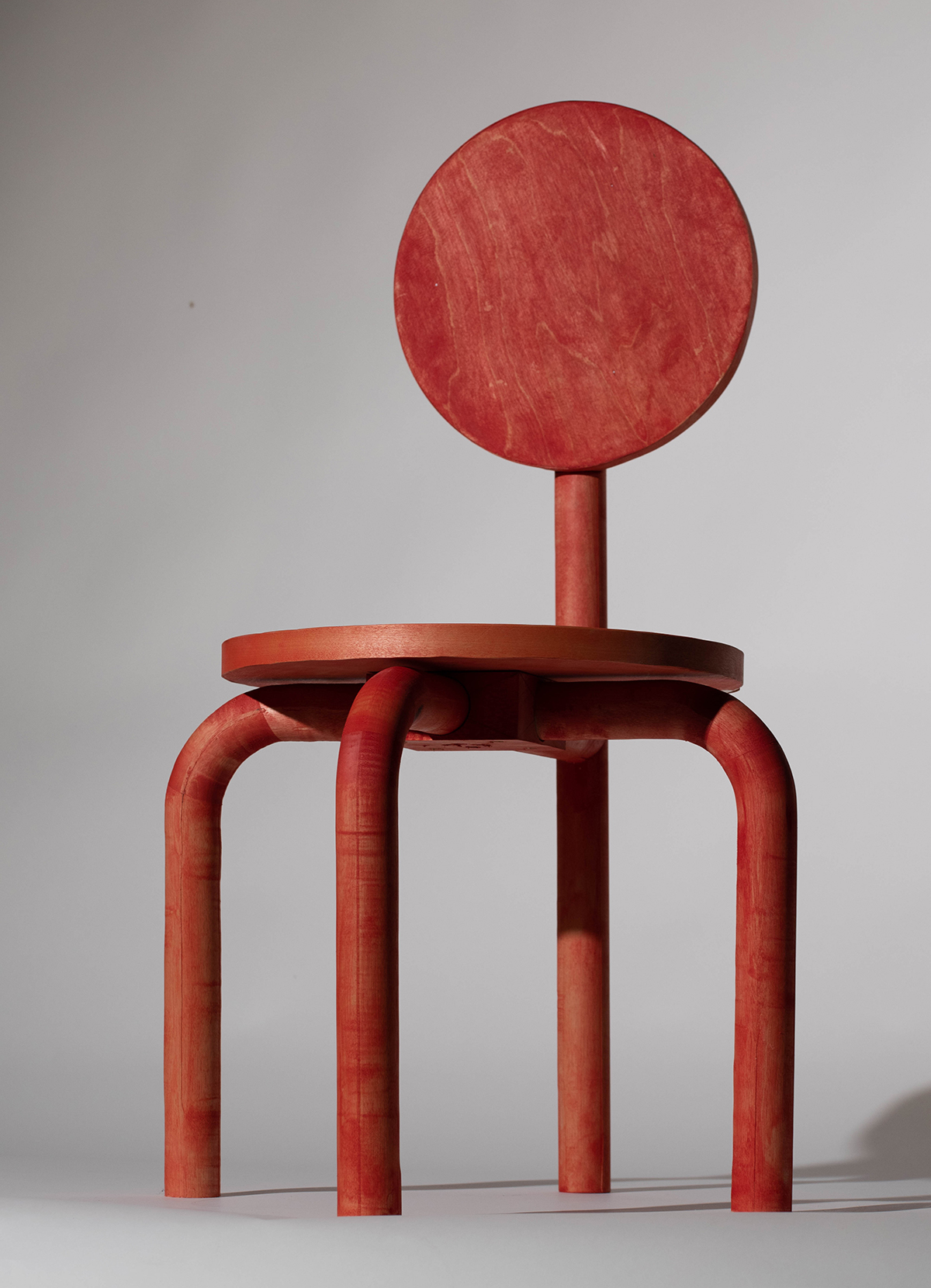 The trio, which moved into a new office in Oslo earlier this month and are now finishing up the Furuhelvete objects being prepped for production this spring, are working on several new projects including a carpet collection and a soft seating project. Studio Sløyd say that the conceptual furniture scene in Oslo is really strong while the furniture industry is still very conventional. "We would like to see those worlds merge a bit more," they say. Until then, we'd say these pieces do just that.