02.13.20
Our Favorite Launches From Stockholm Design Week 2020
Having spent one of my best weeks of 2019 in Stockholm for the furniture fair, I assuaged my FOMO this year, staying at home as I did, by buying exciting new fashion items for our annual pilgrimage to Milan in April and by gathering together here all of the interesting stuff we found on Instagram and in our inboxes from the recently finished Stockholm Design Week. Some of our favorite launches from the week include a duo of dream sofas — one soft and pillowy, one firm yet cozy — a lamp made from cast iron, a group of student furniture made from limestone, a curated apartment that beautifully mixed art and design, and a lamp from 1953 with — you guessed it — a ball base, in production for the first time ever. Check out all of our favorites below.
Beckmans College of Design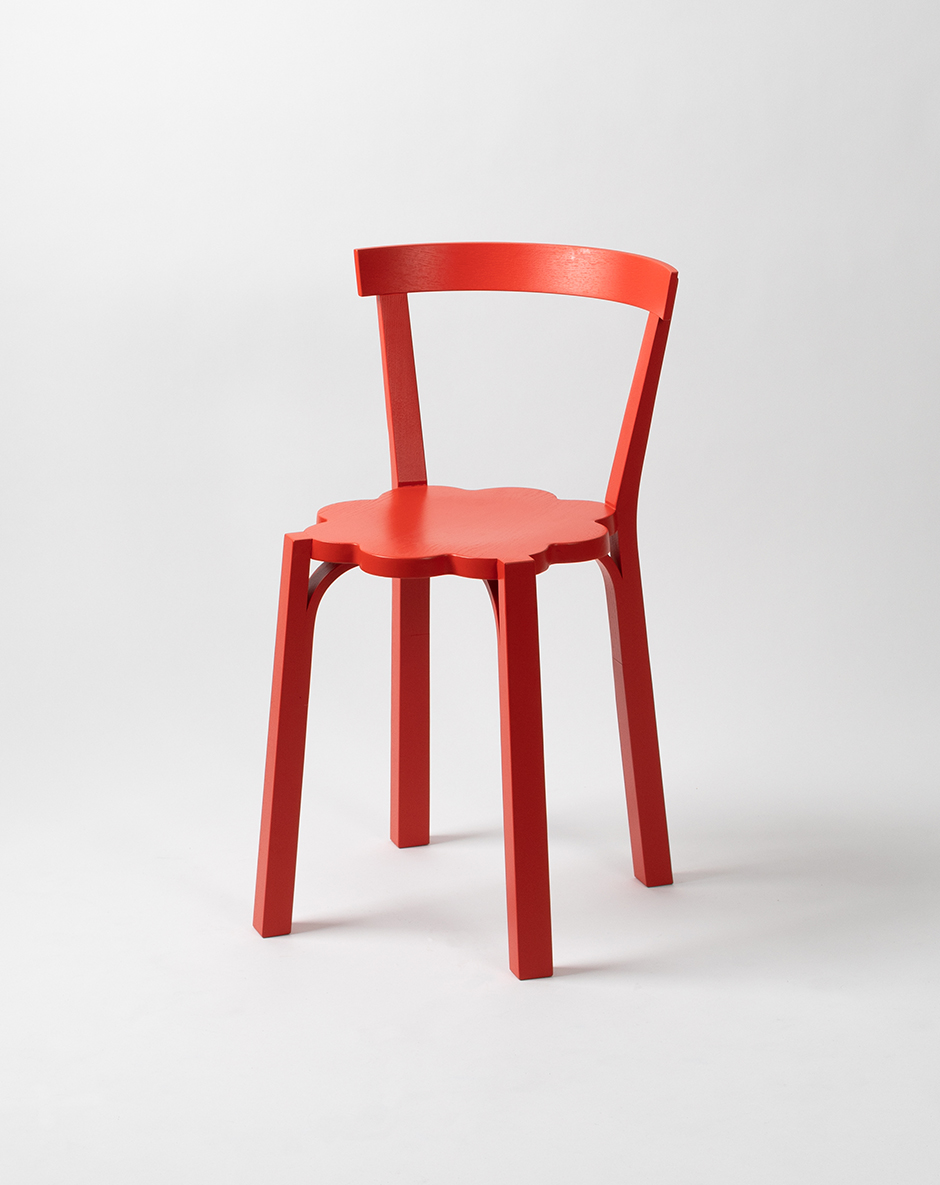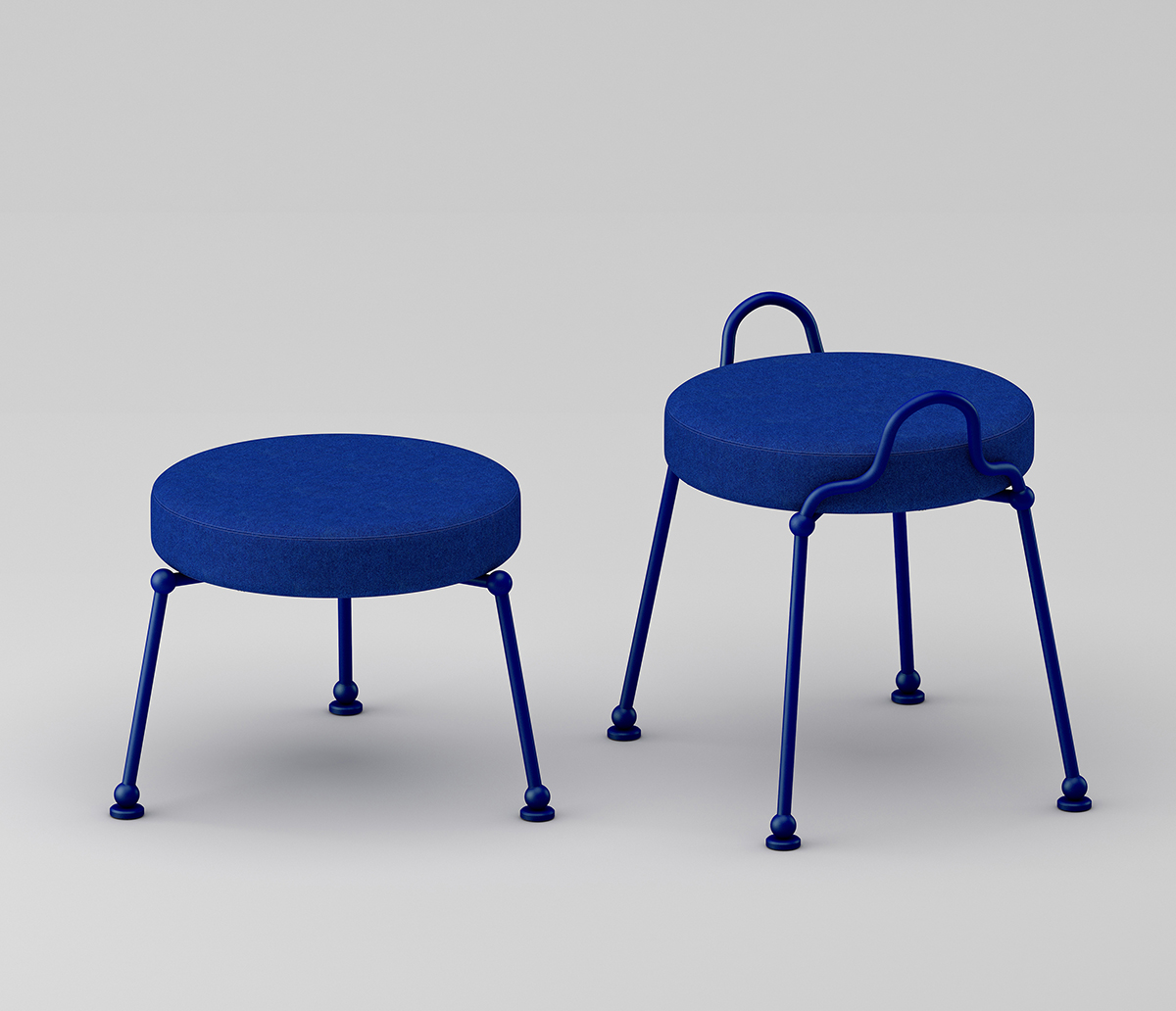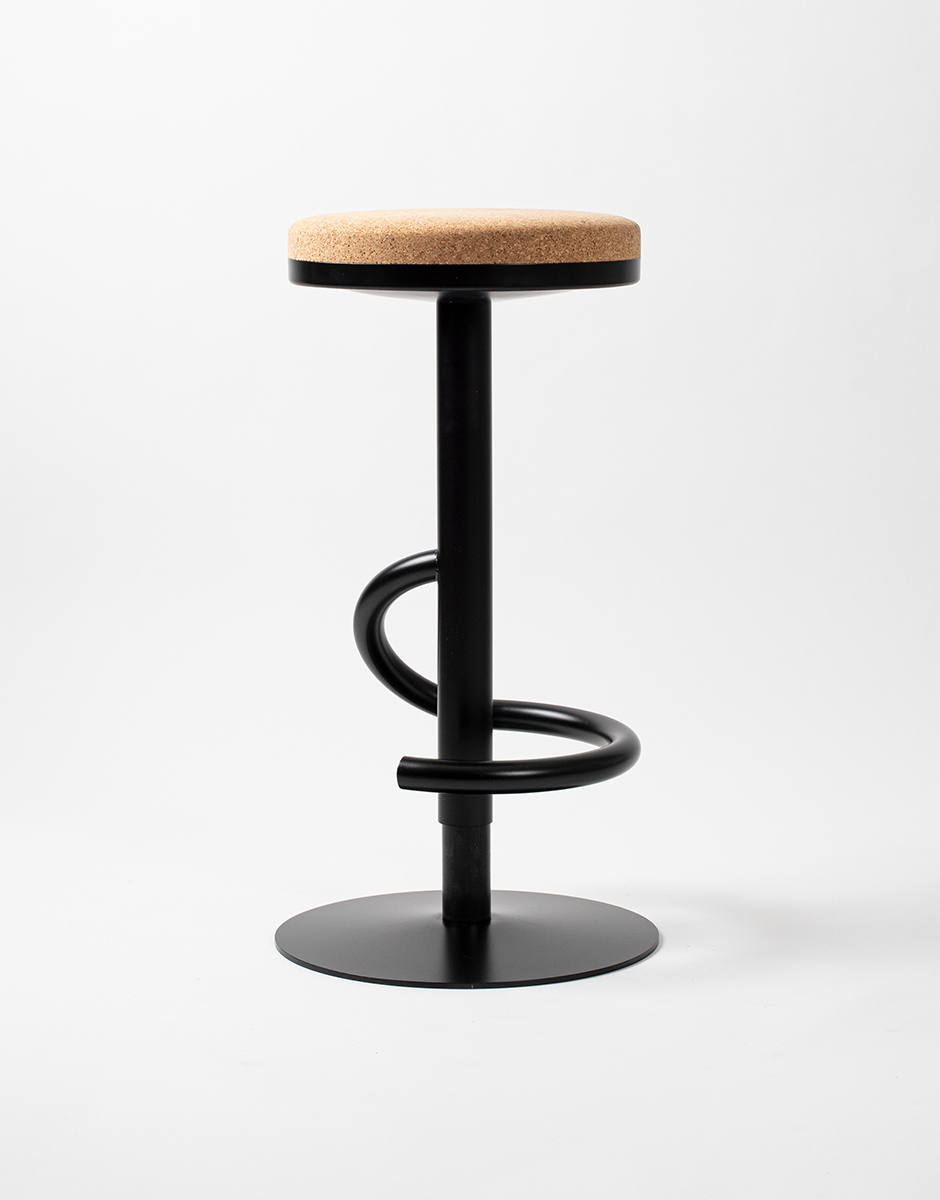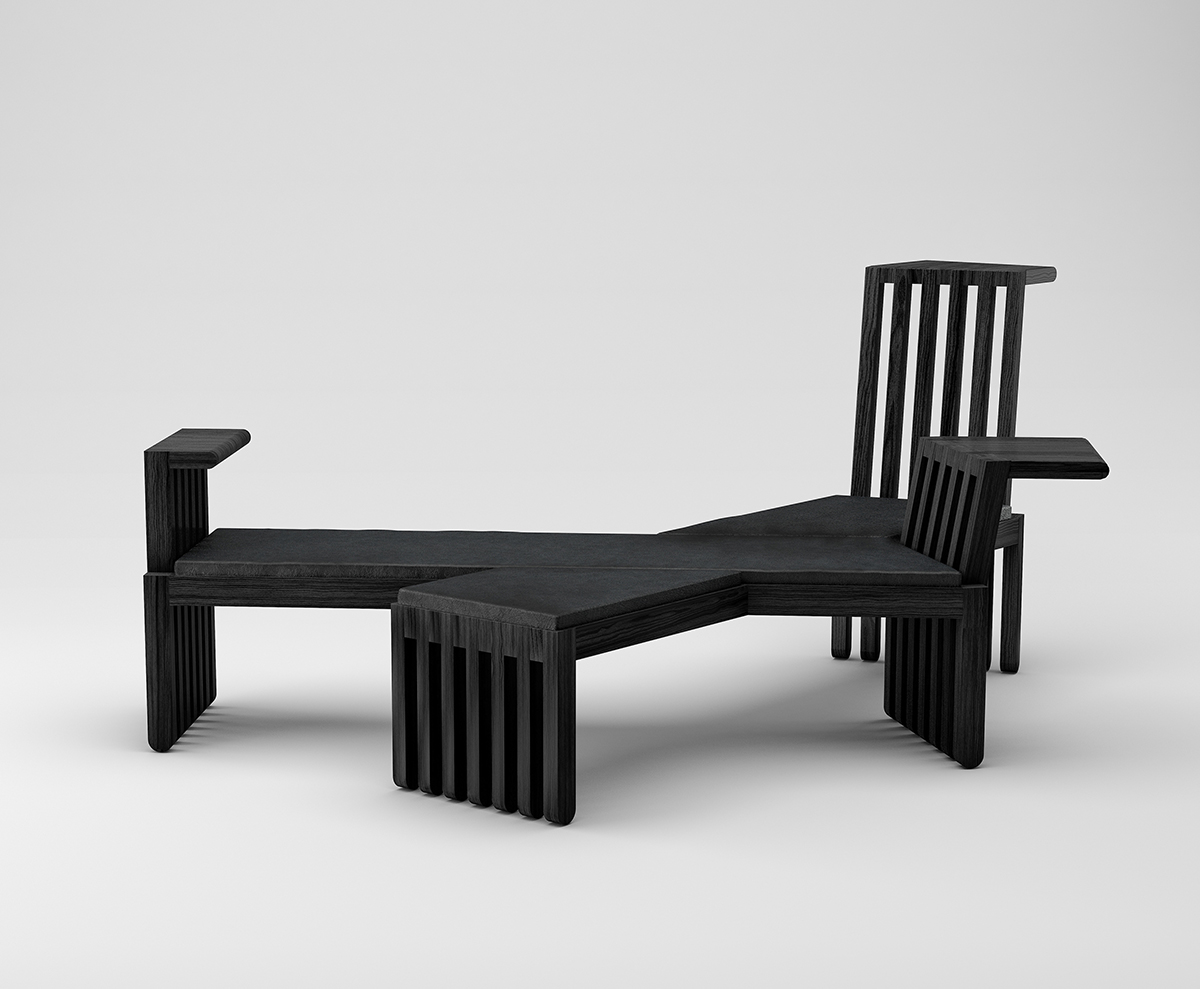 Beckmans might be the best design school to prepare its students for real life. The photography is always spot on, and this year the school paired six of its final year Product Design students with six Swedish furniture producers for a real-life sense of how things get made. The results included a wardrobe by Lovisa Sandström and Sofie Johansson with Källemo; a barstool by Alice Hägglund and Mika Lindblad with Mitab; and a stackable wooden clover-shaped seat by Joakim Zickert and Kourosh Hekmatara in collaboration with Storängen Design.
Fogia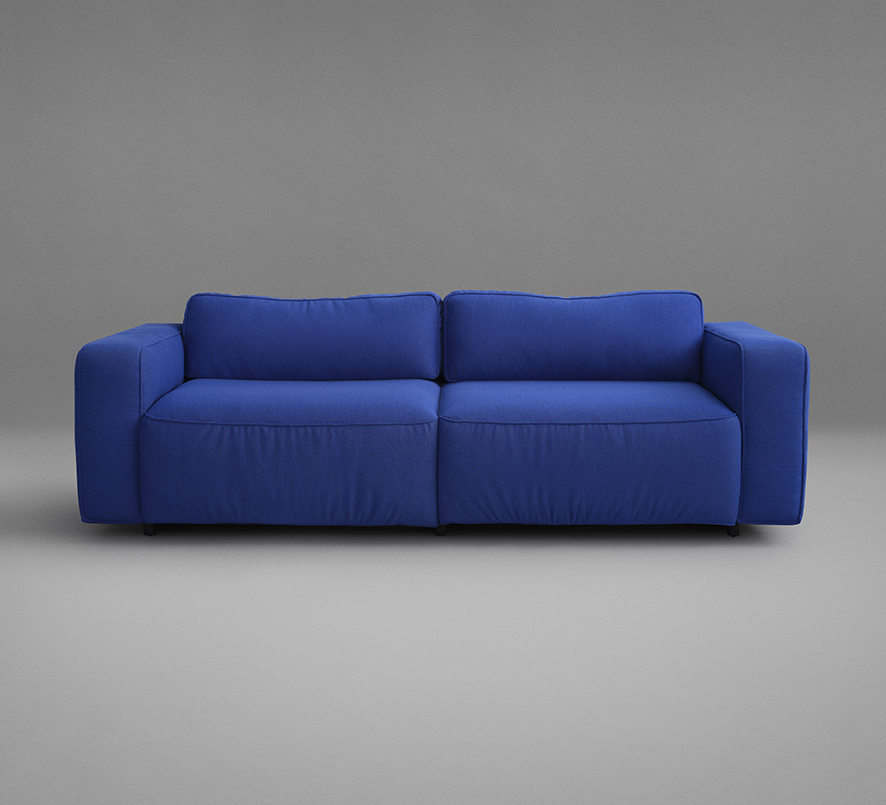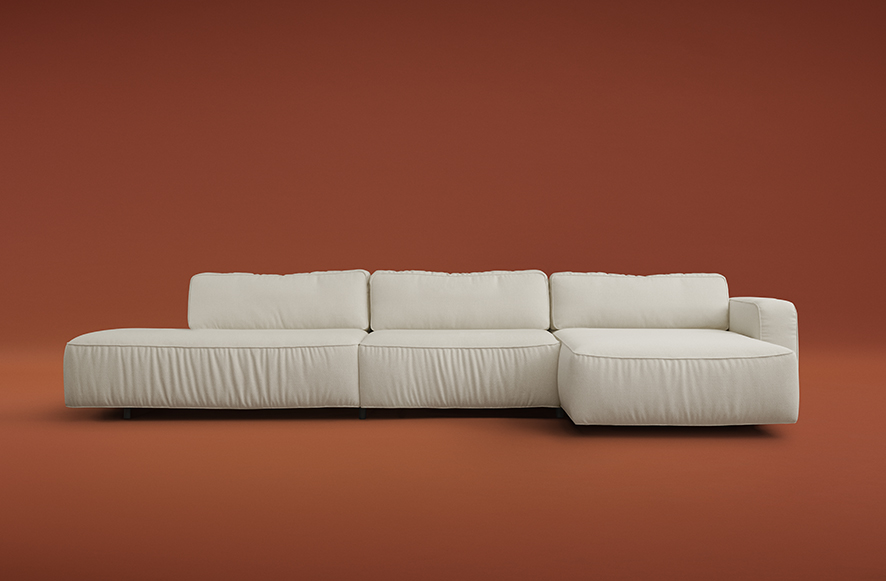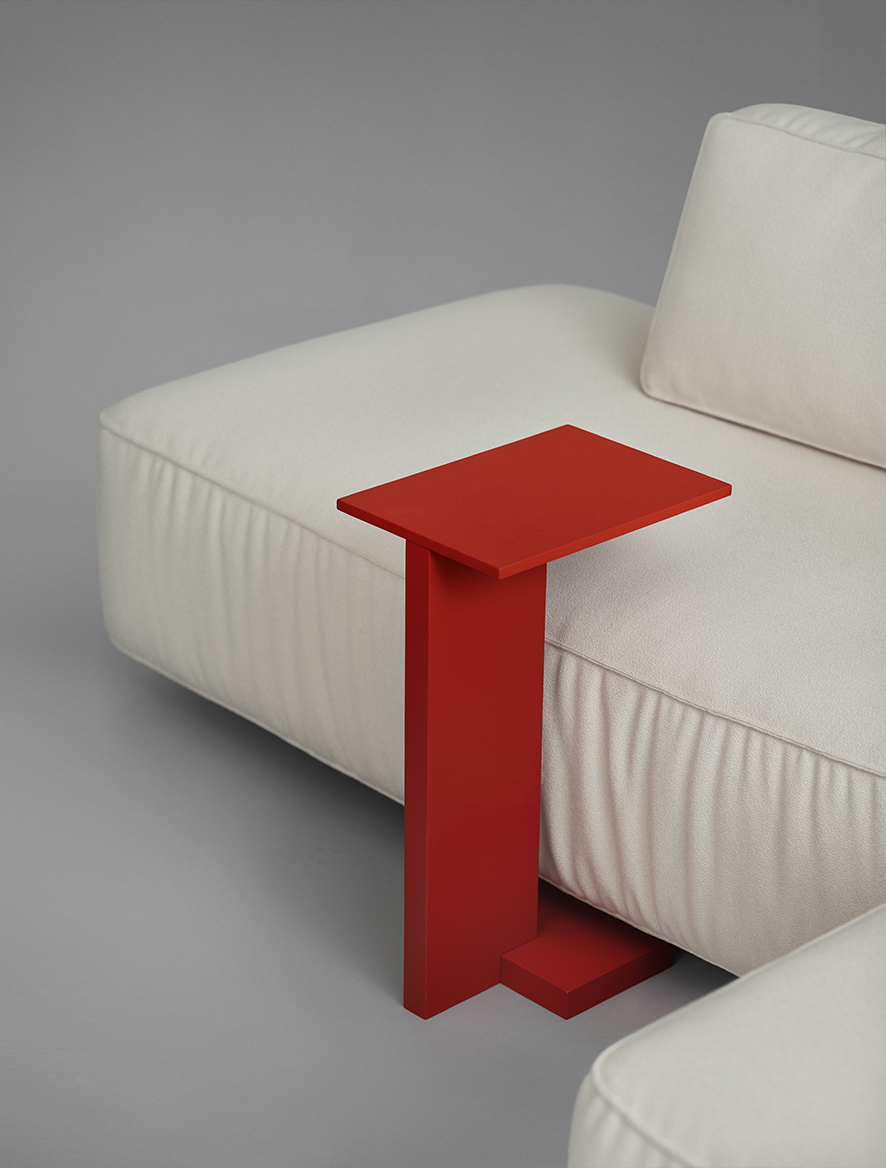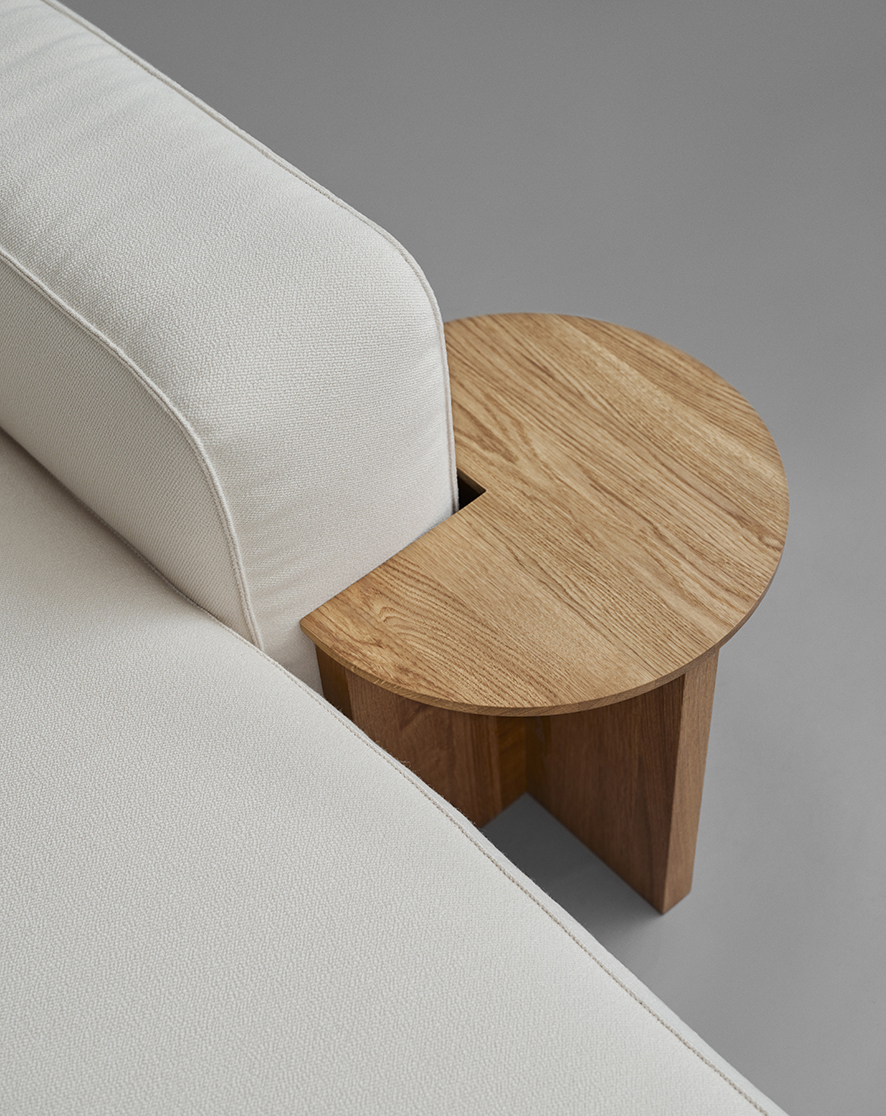 For Fogia, Note Design Studio created the Supersoft sofa in direct contrast to typically structured Scandinavian sofas.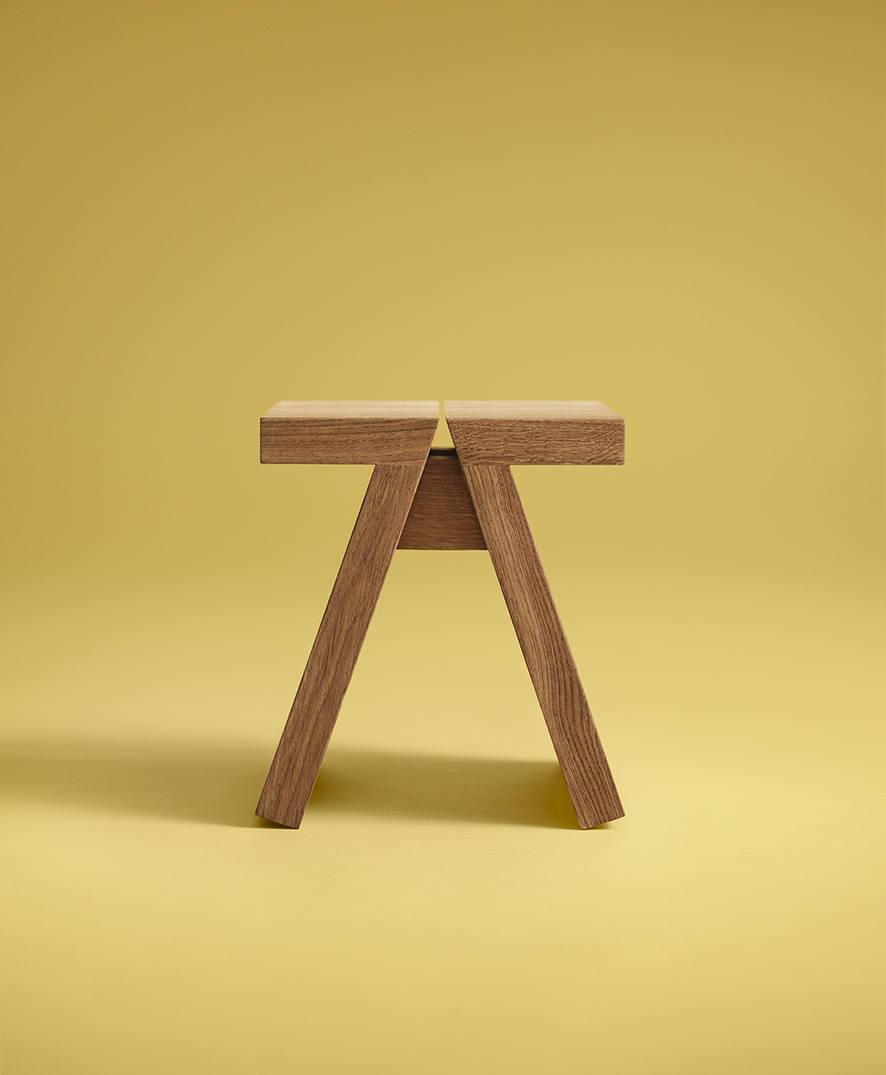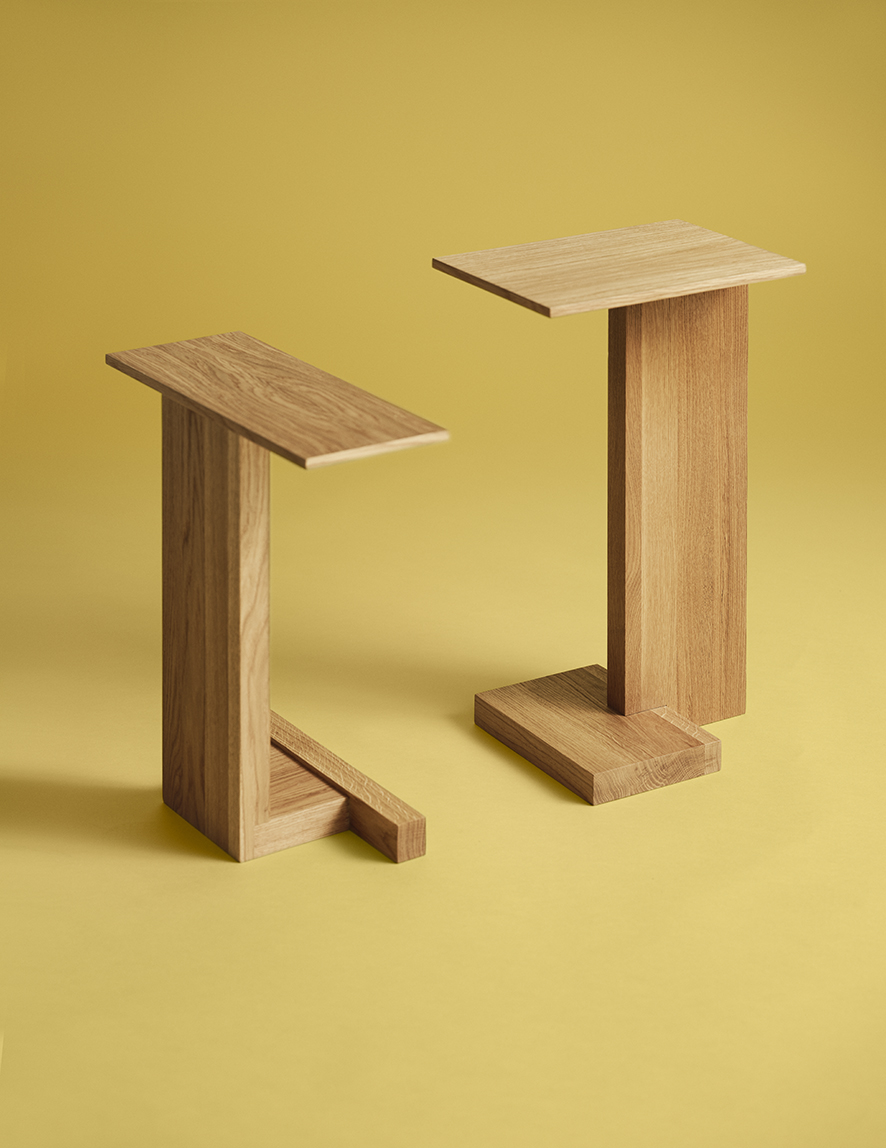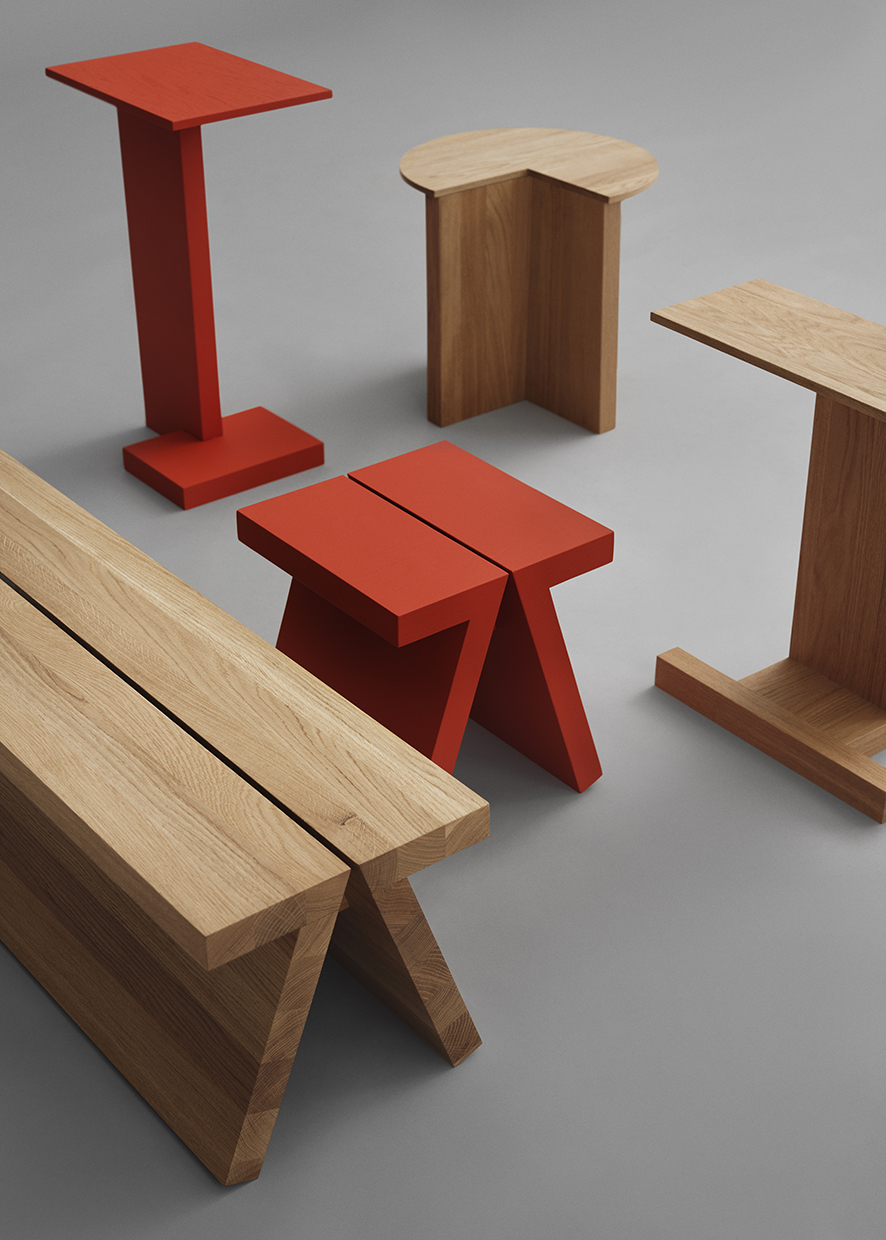 Supersolid is Note's range of geometric side tables meant to complement the shape of Supersoft.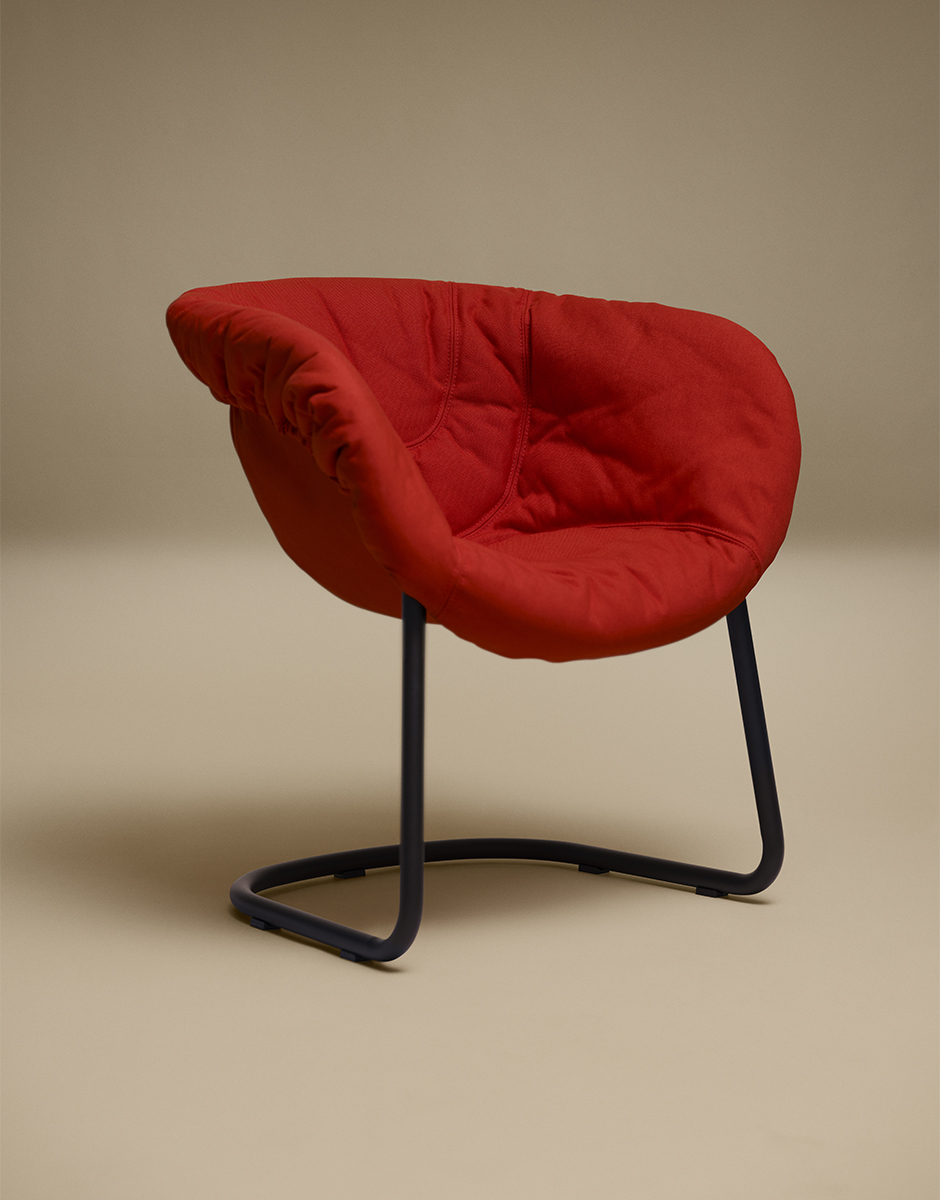 We also liked this new chair by TAF Studio for Fogia, in ever-trendier red upholstery.
Ted Space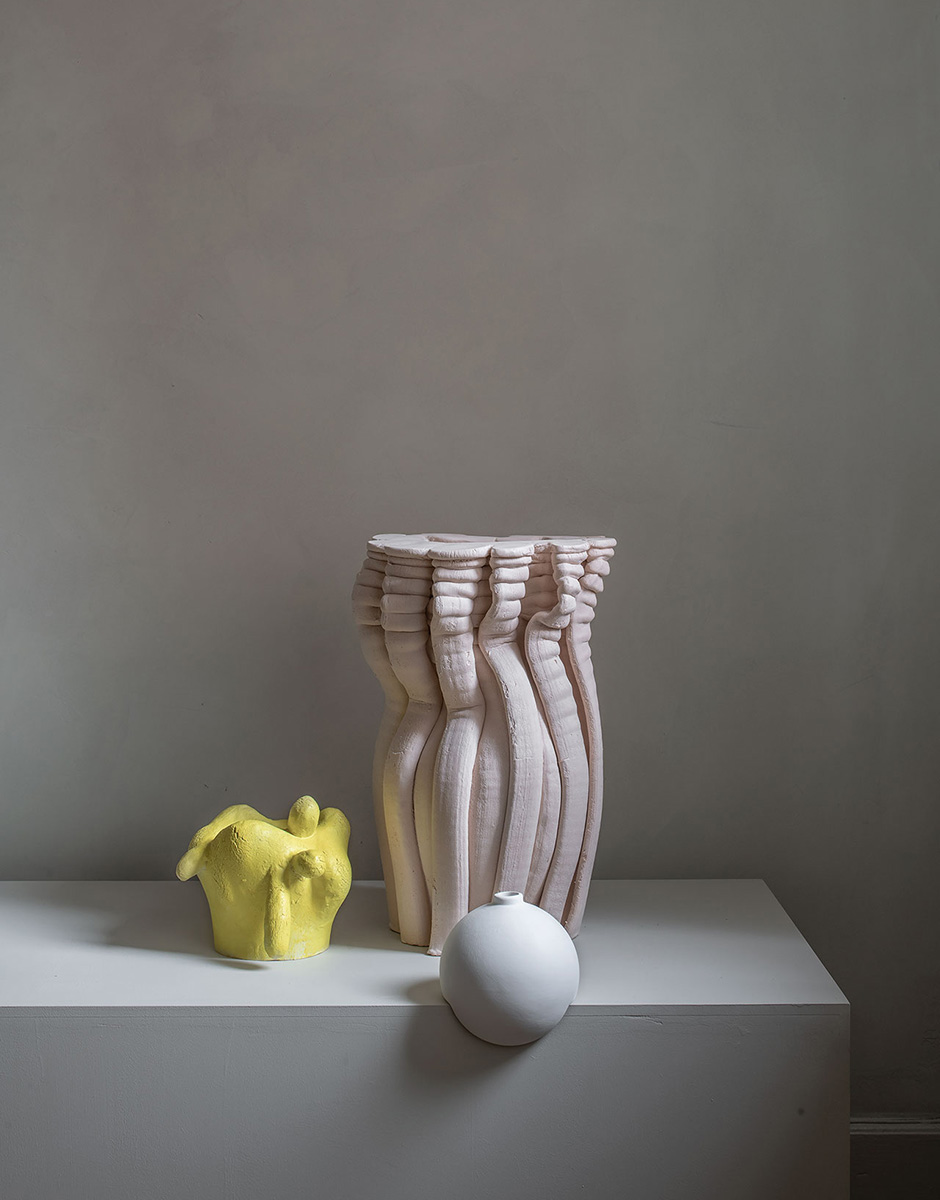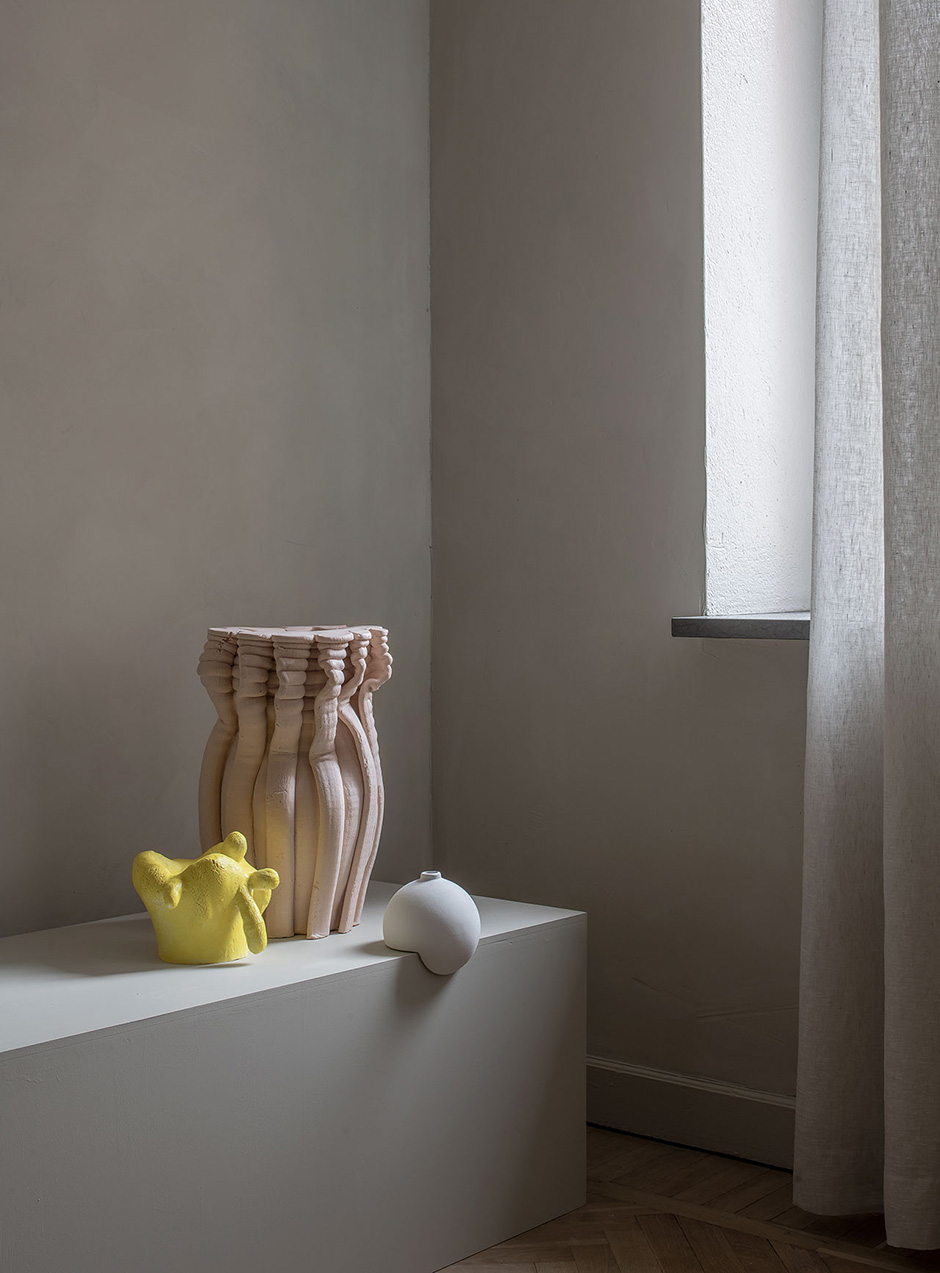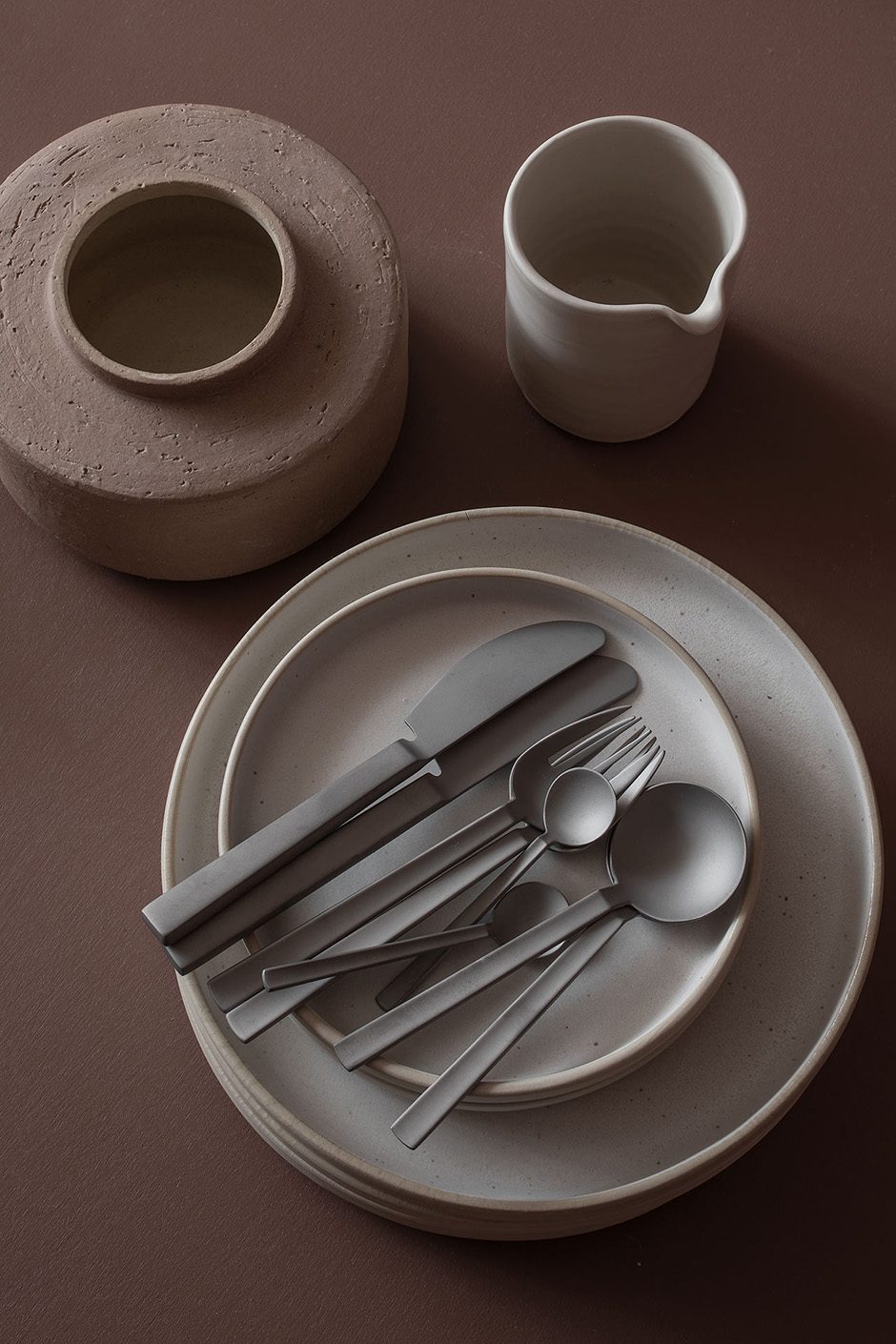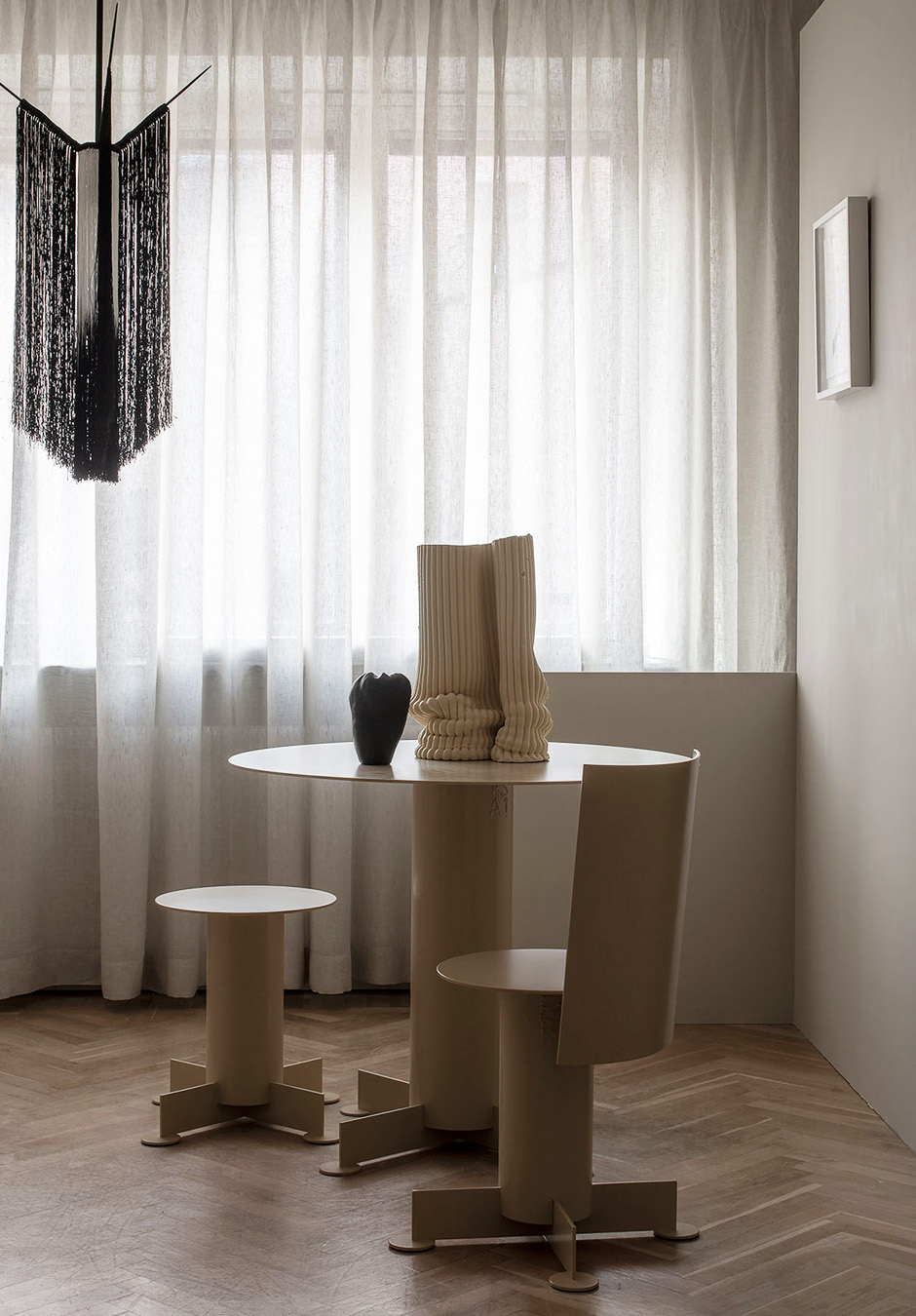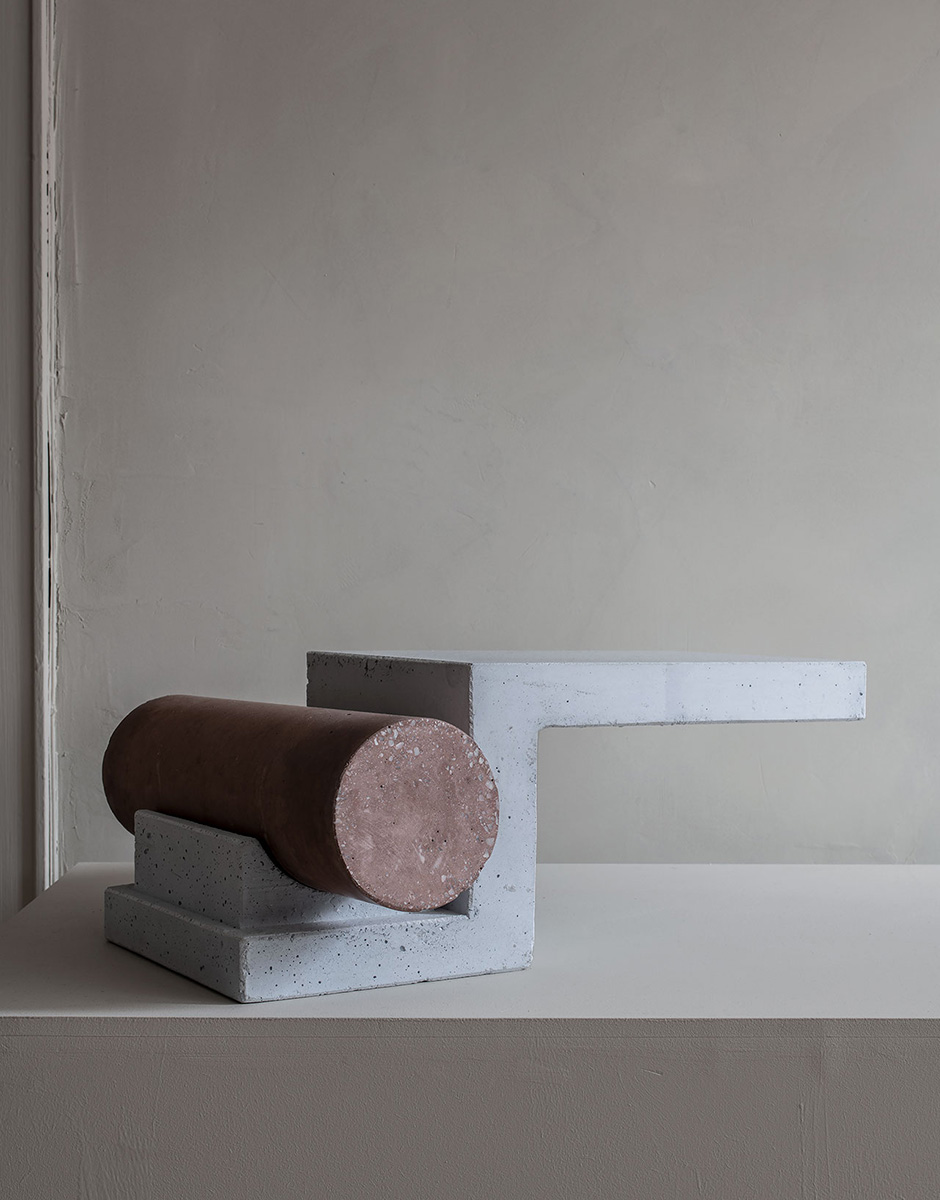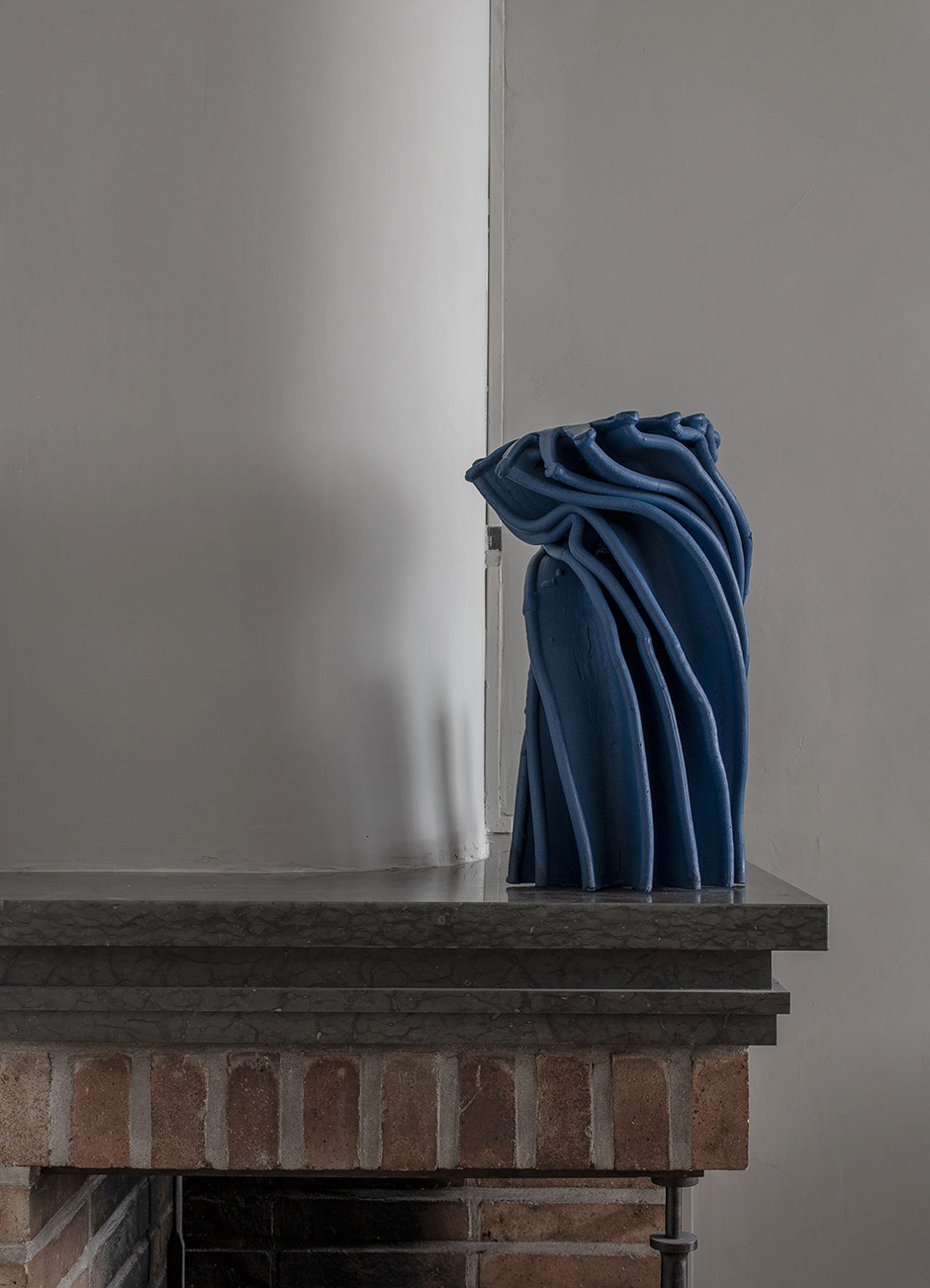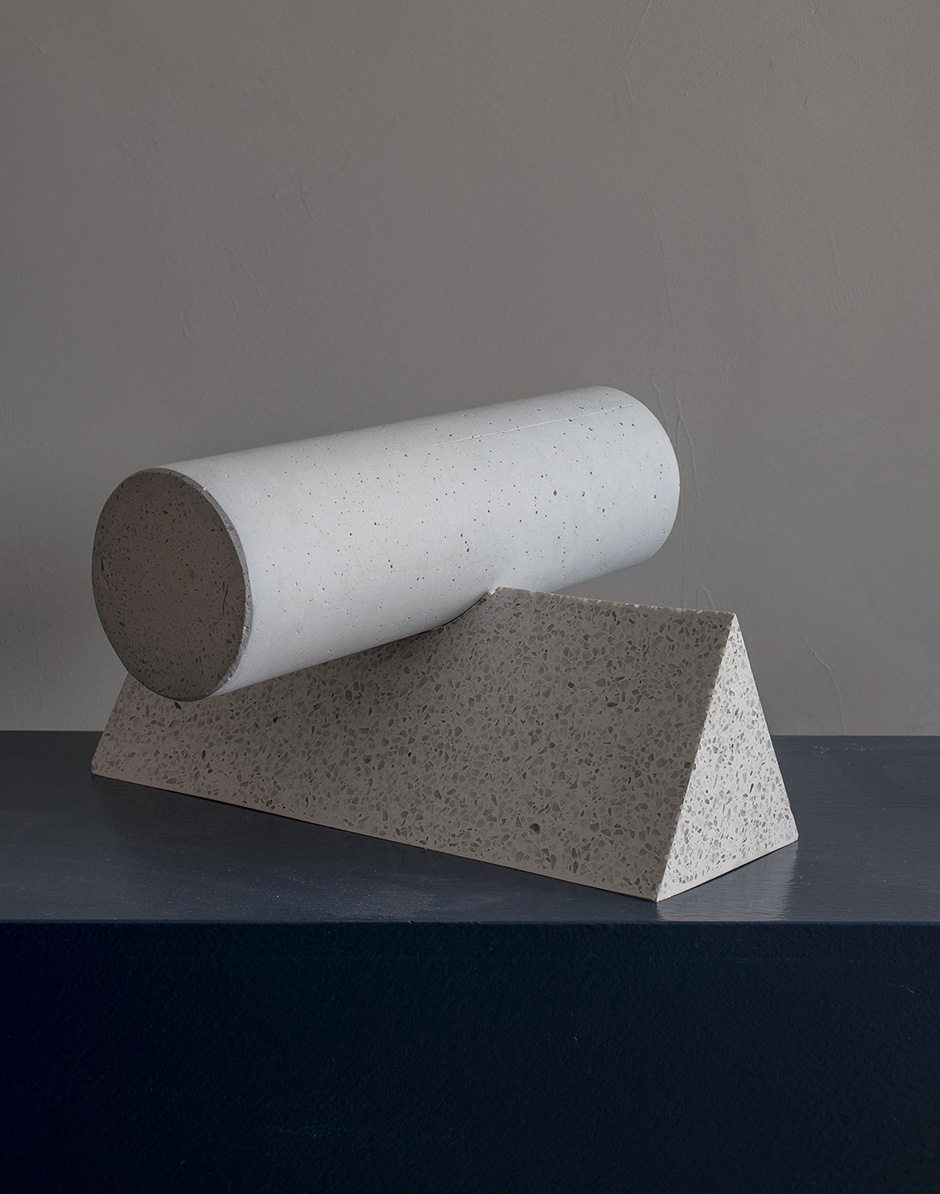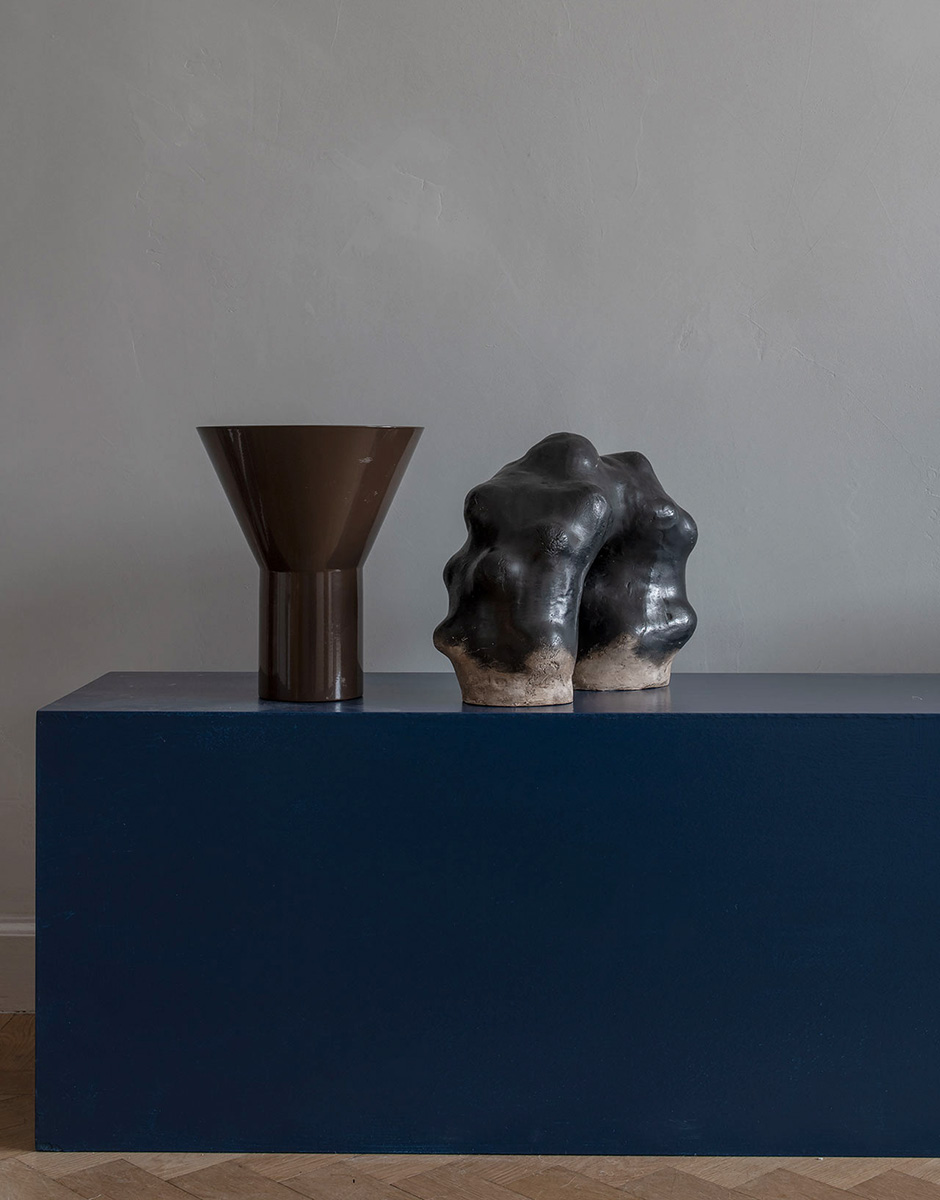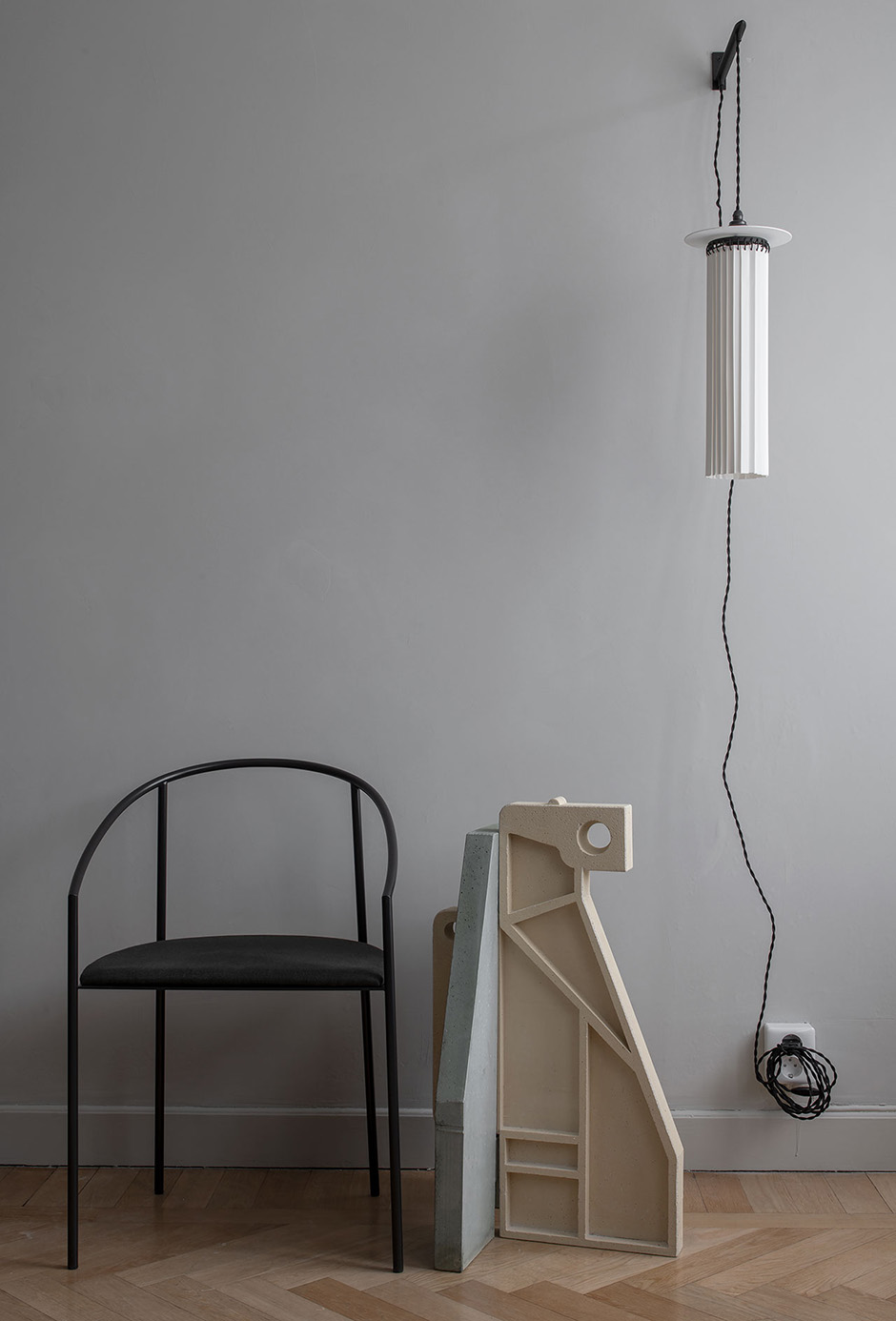 Housed in a private apartment in central Stockholm, Ted Space was curated by Hanna Nova Beatrice with set design and styling by Kråkvik & D'Orazio and furniture and objects by A part, Cappelen Dimyr, Frama, Tre Sekel, Lotta Agaton, Matti Carlson, Folkform, Anton Alvarez, Åsa Stenerhag, Evelina Kroon, Simon Anund and Jenny Nordberg. "We wanted the exhibition to be a dialogue between friends and objects, where we hand picked every item on show, instead of just filling the space with new launches," says Beatrice, who will launch Ted as a full-fledged venture in the fall.
Estonian Academy of Arts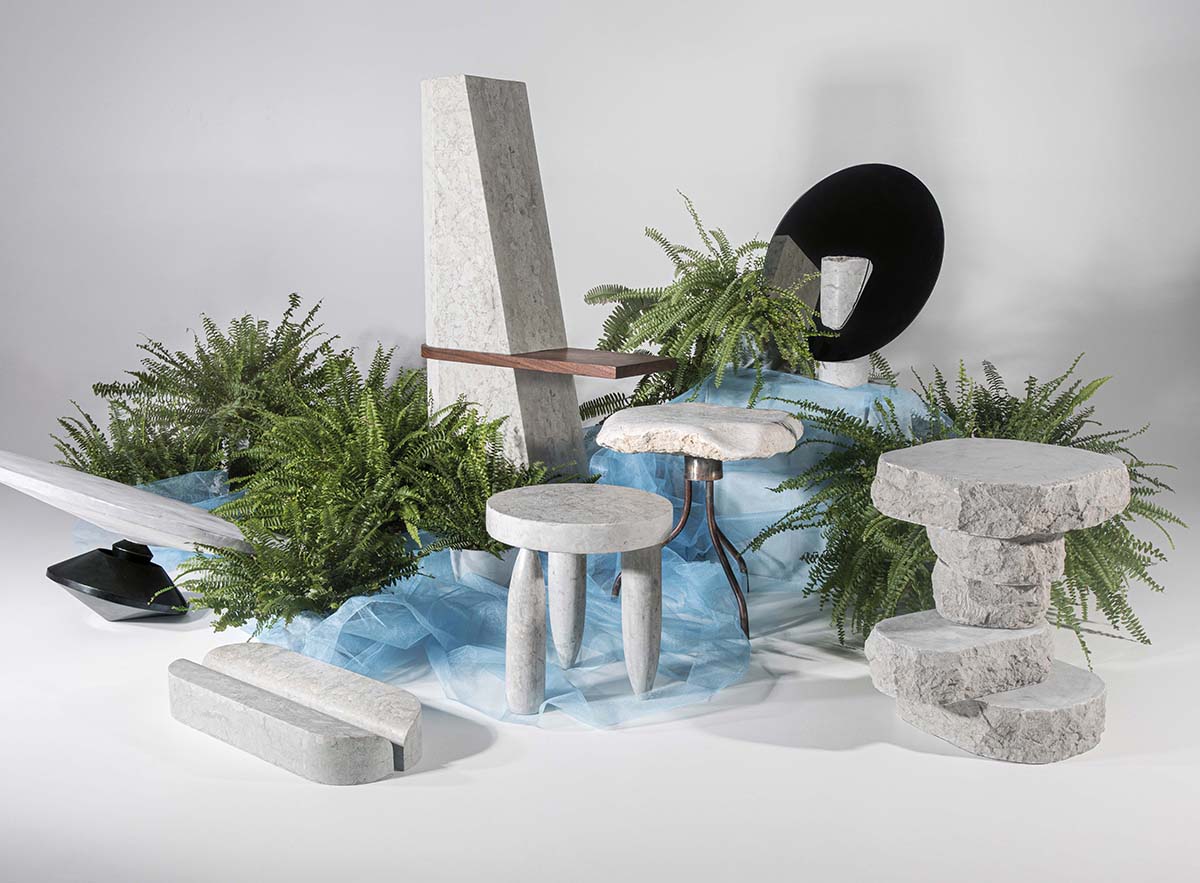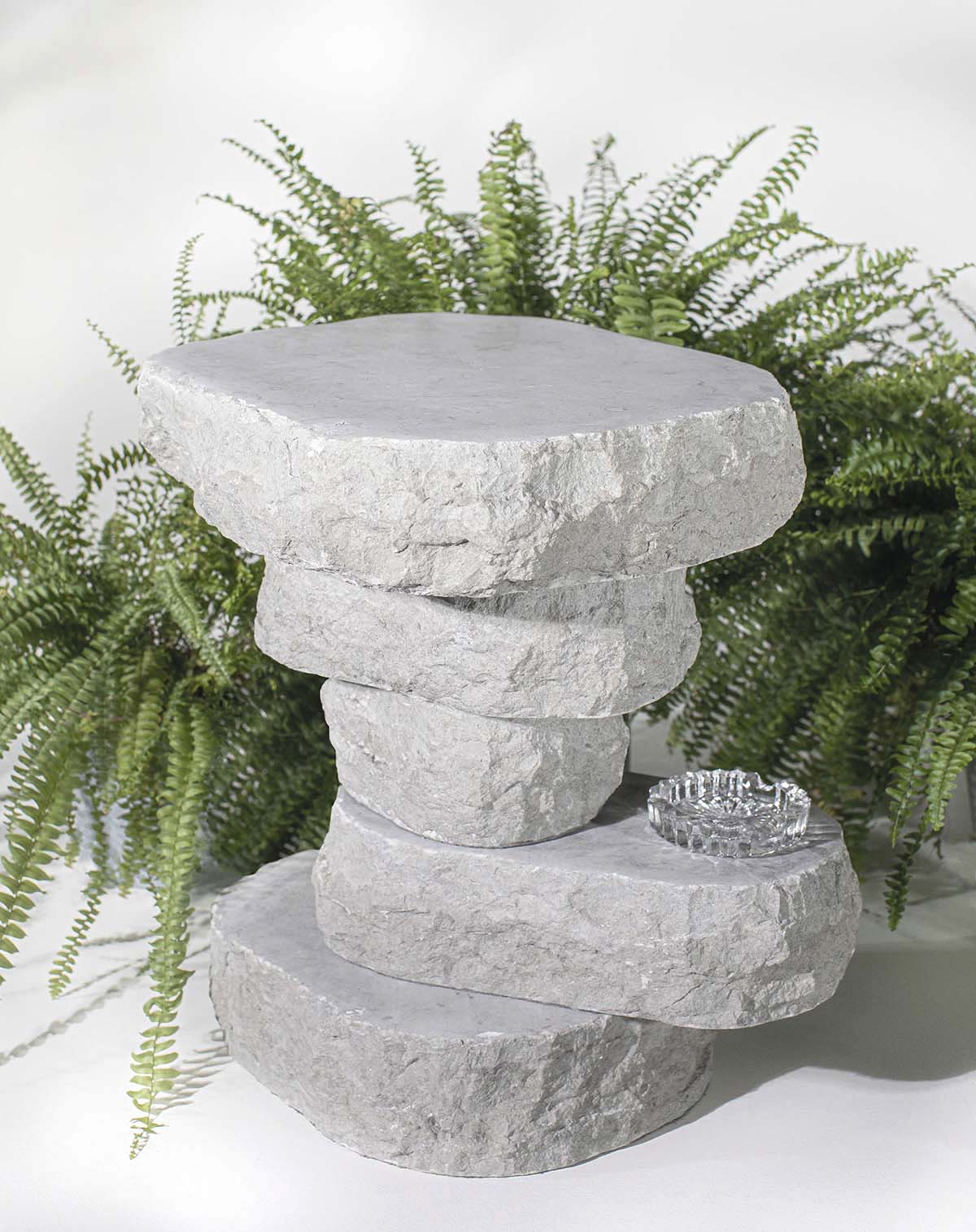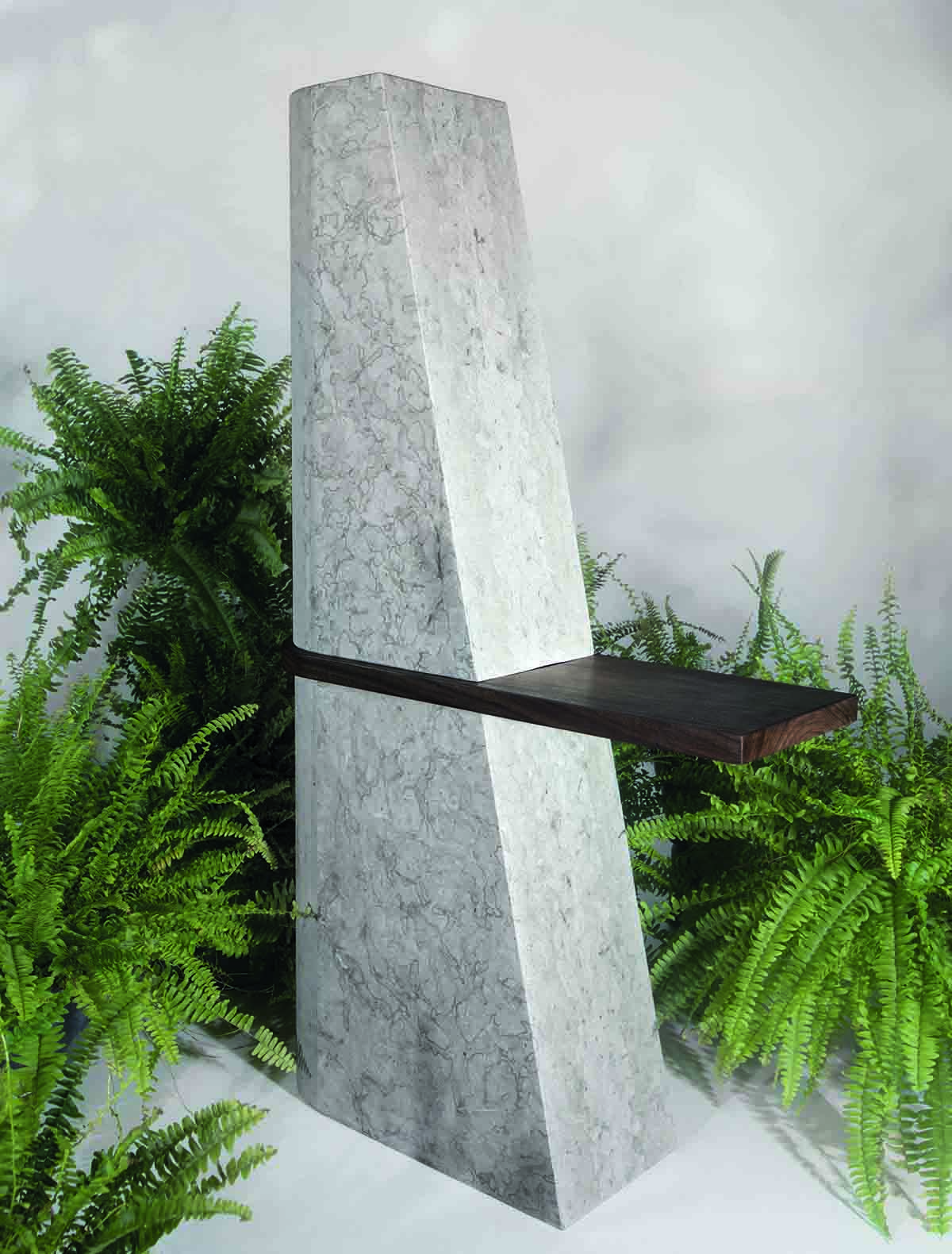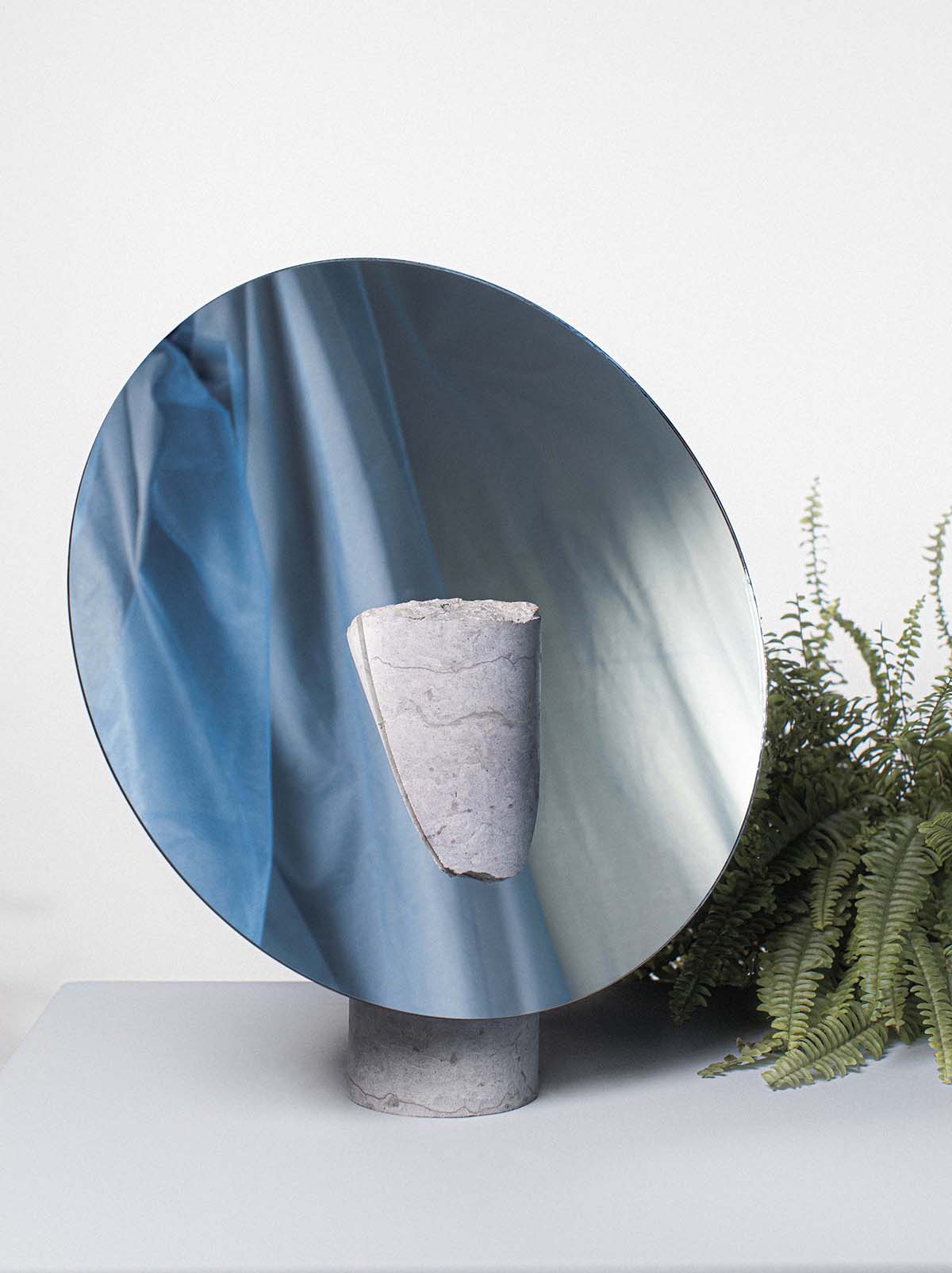 On view in the Greenhouse section of the fair was Dig Where You Stand, a project course devised and co-led by designer Nick Ross, for which students investigated the history of limestone in Estonia and each produced a single furniture design. The designers included Hanna-Liisa Haukka, Sandra Jõesaar, and Mõtus Lõmaš Kama, Oliver Kanniste, Henri Kaarel Luht, and Siim Simmermann.
Wild At Heart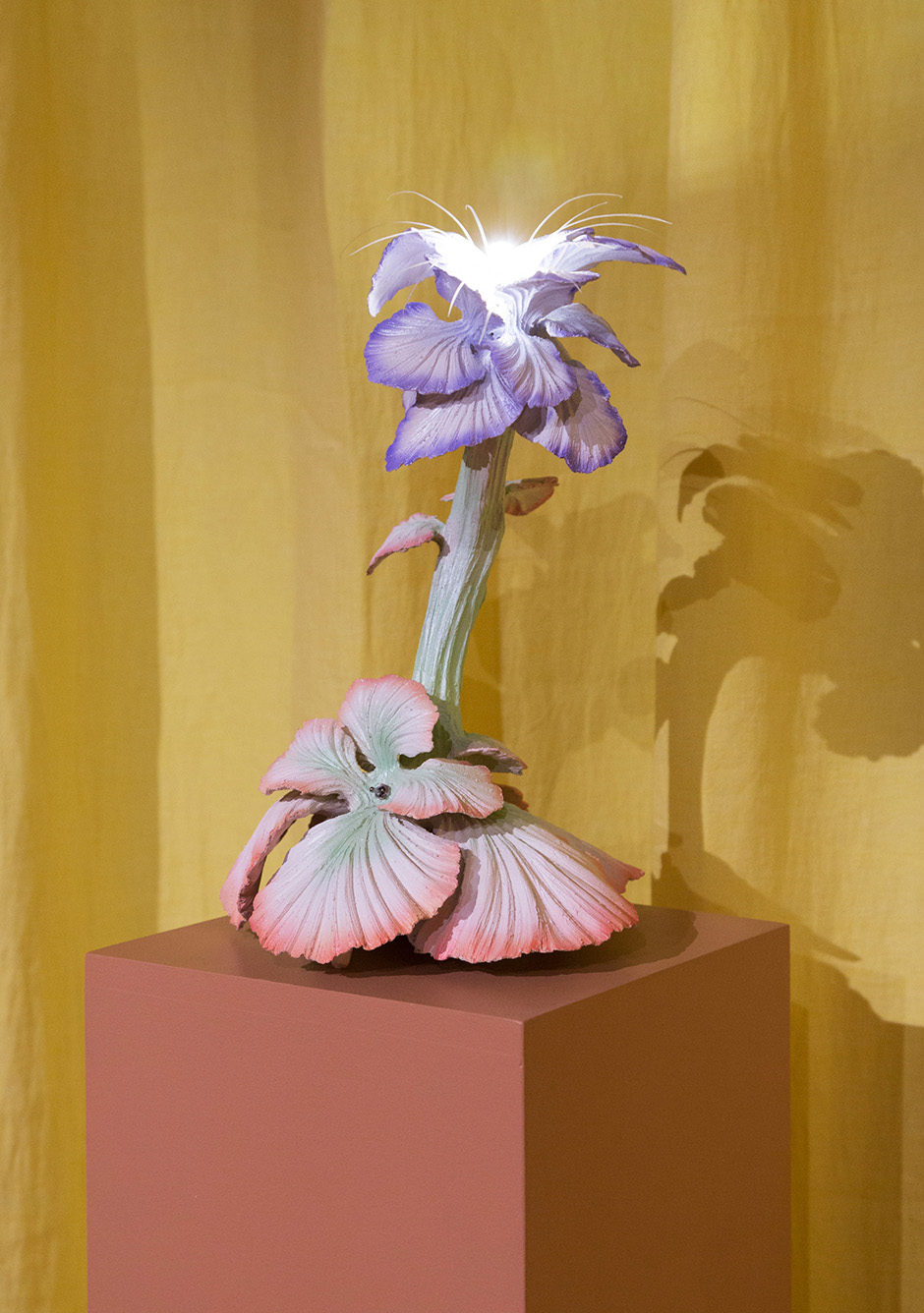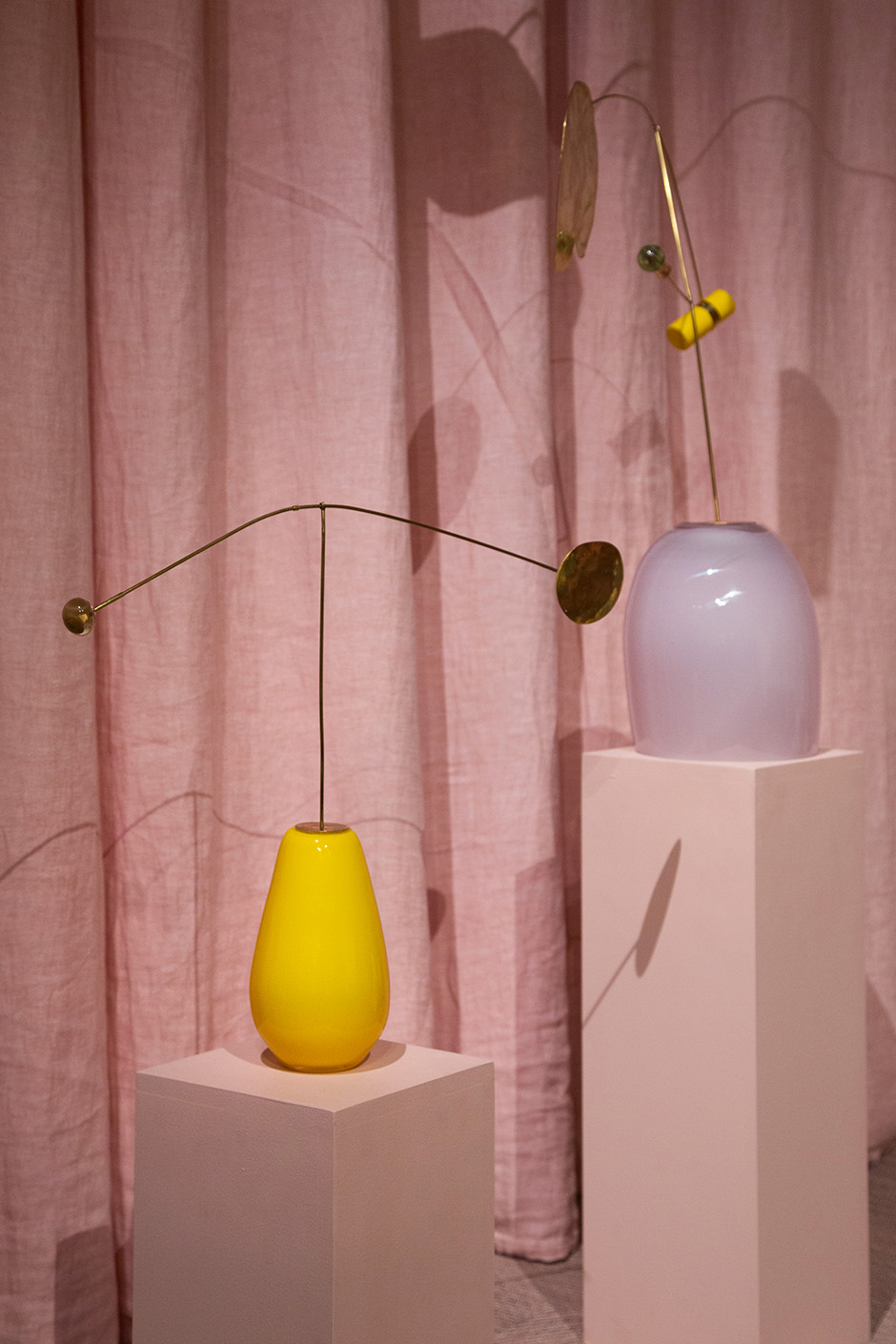 Curated by designer Tero Kuitunen, this exhibition featured modern Finnish design and art.
Design Bar by Fredrik Paulsen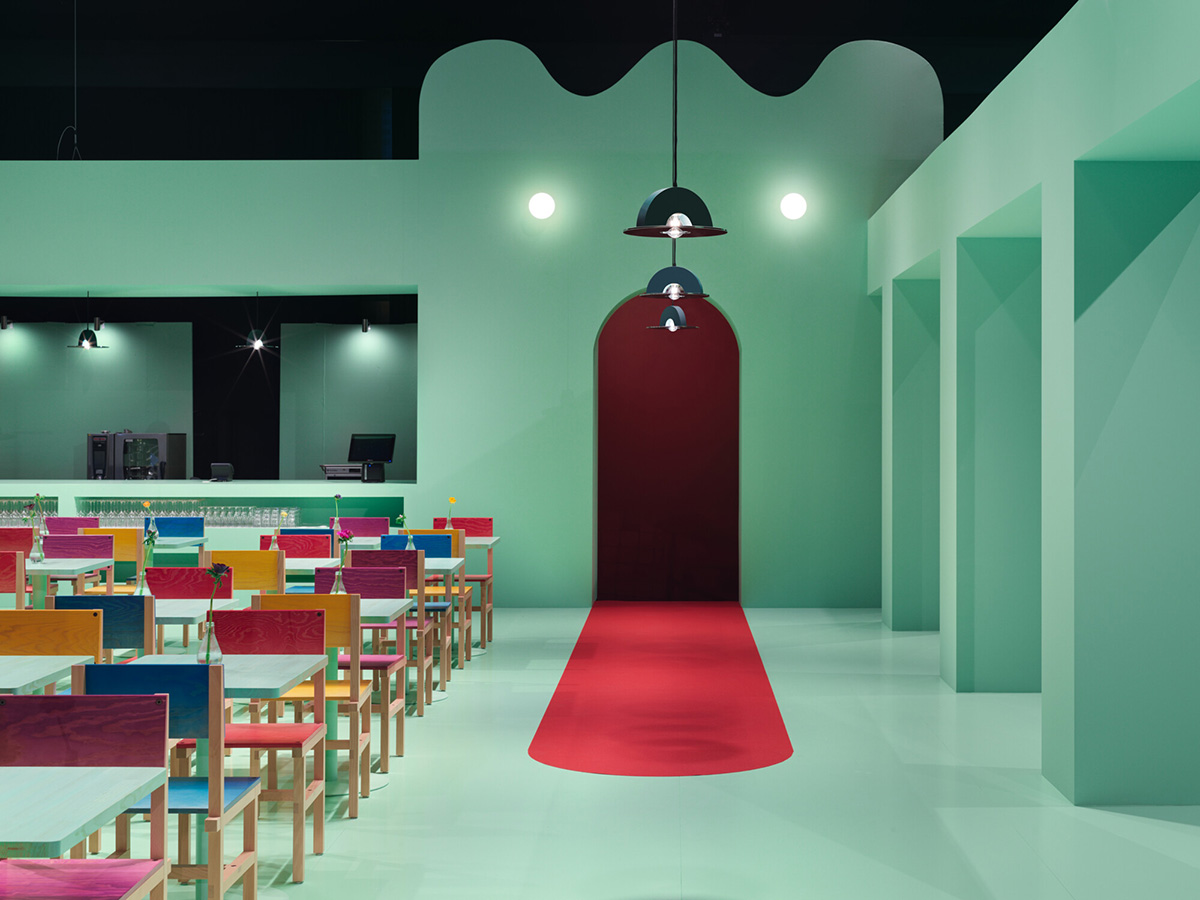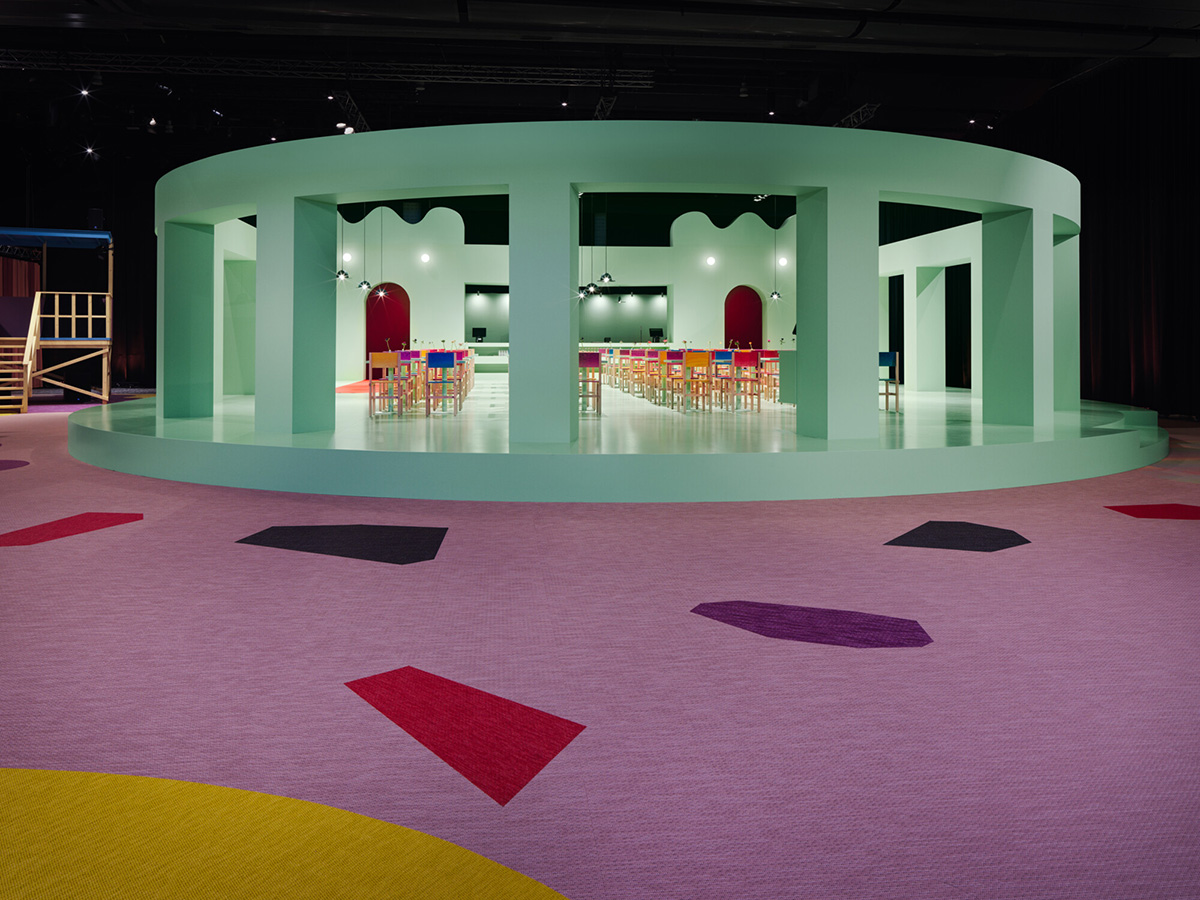 Designer Fredrik Paulsen created the Design Bar at the Stockholm Furniture Fair and was named Designer of the Year by RUM Magazine AND was honored with his very own "dad hat" by Arranging Things. Good year.
TAF for Svensk Tenn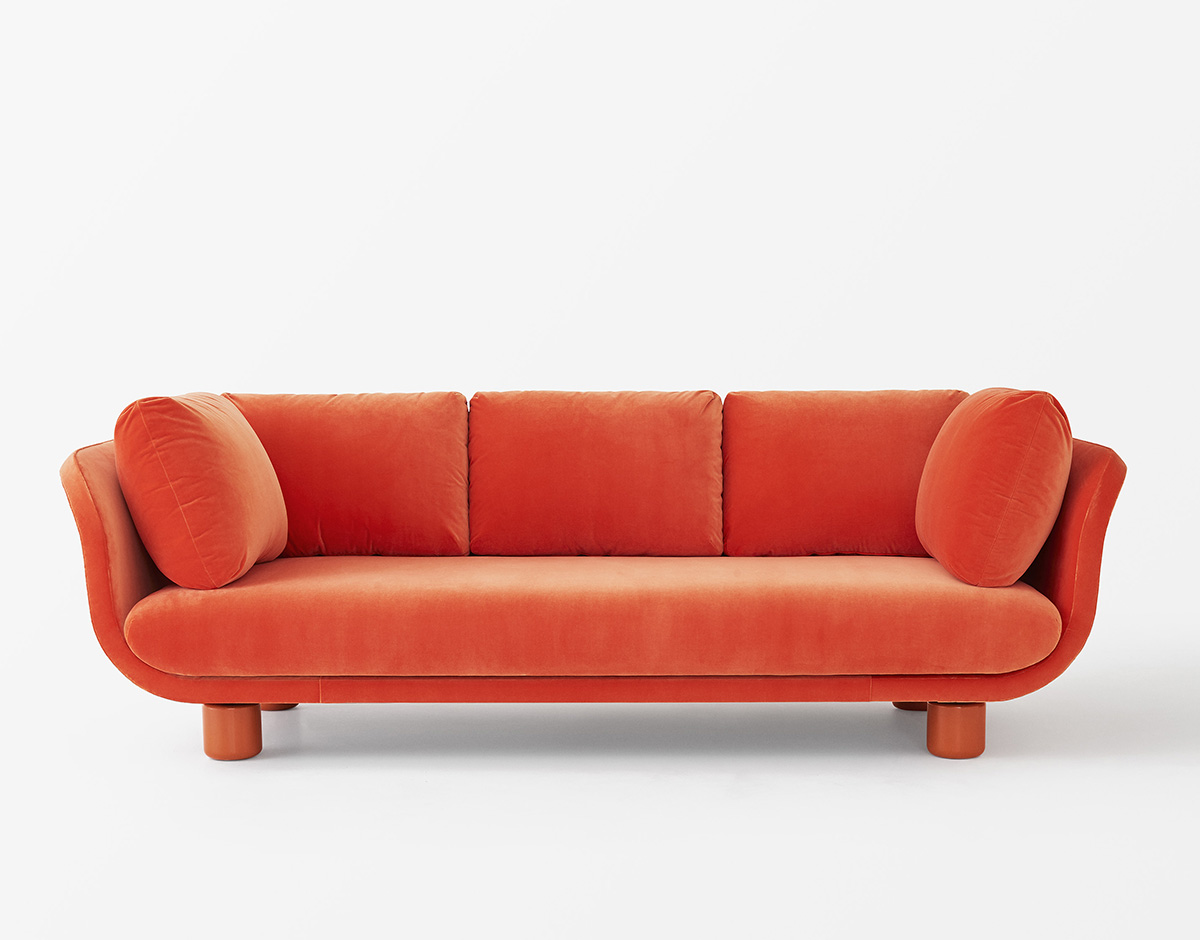 For Svensk Tenn, TAF Studio designed a sofa reminiscent of a boat hull called Famna, which translates to "embrace." Though it's available in Svensk Tenn's signature Josef Frank fabrics, we were quite taken with this tomato red velvet.
Note Design Studio for Tarkett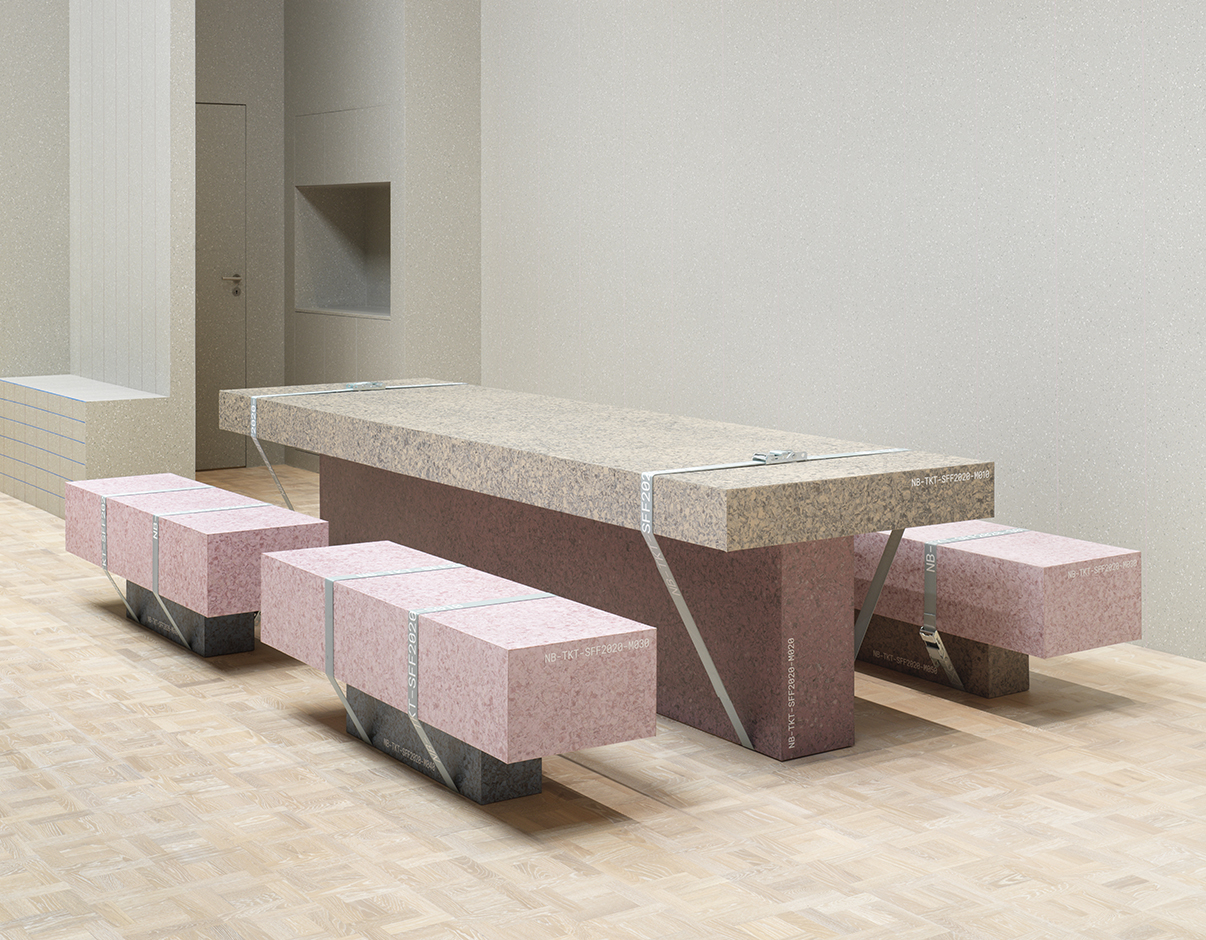 Note's Natural Bond exhibition for Tarkett featured chunky furniture made from slabs of Tarkett's recycled and recyclable iQ vinyl flooring, held together by straps.
Modern Design Review x Hem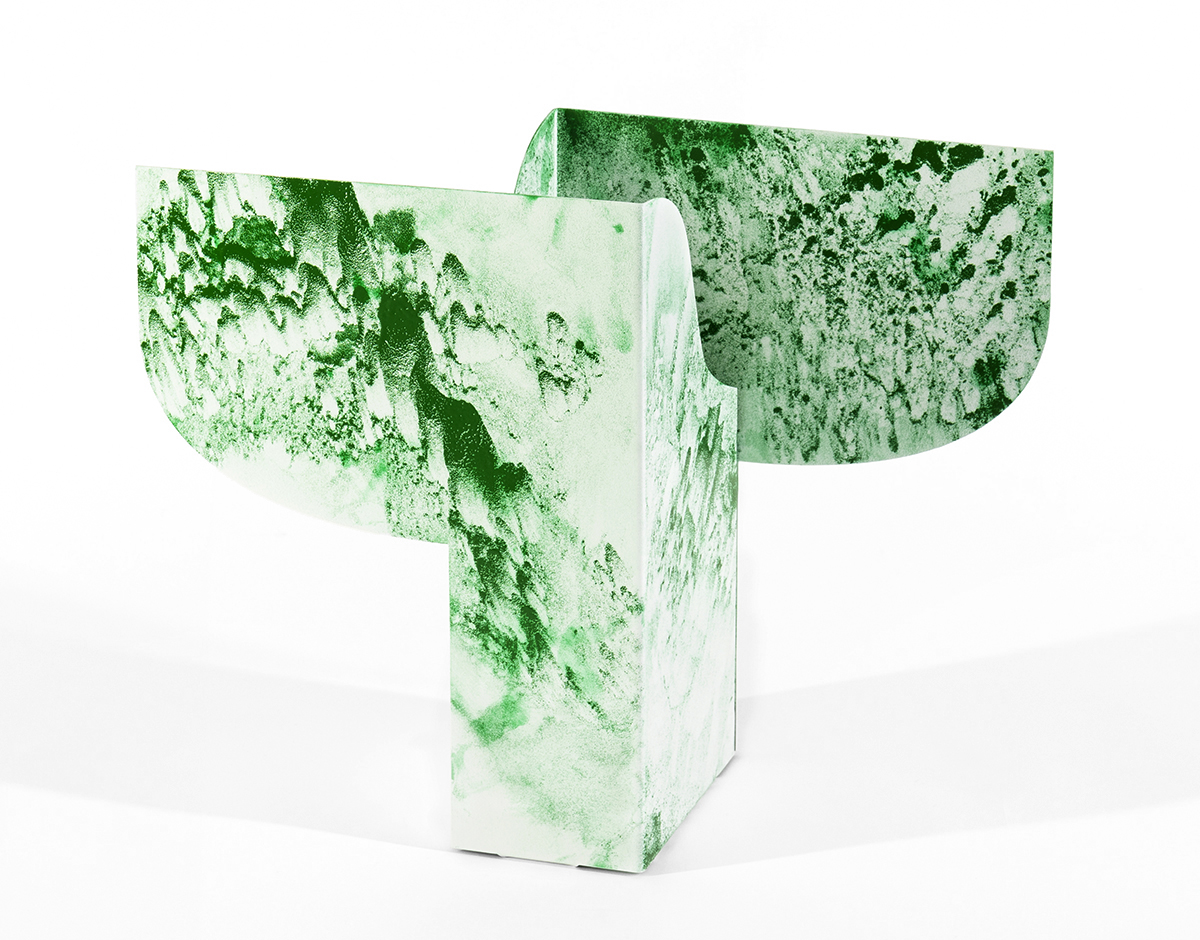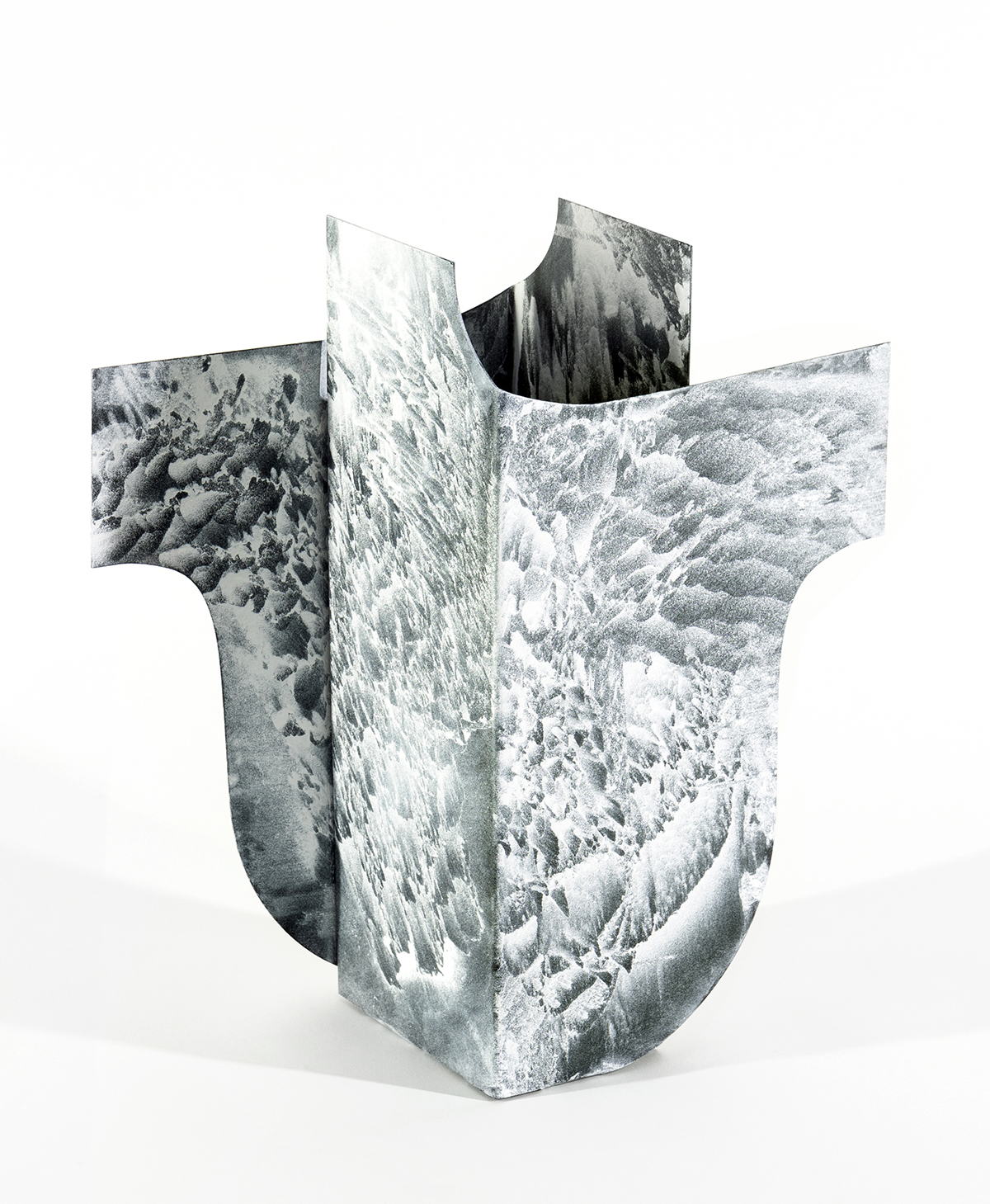 For the third annual Modern Design Review x Hem collaboration, Swedish designer Jenny Nordberg created a limited edition of 15 Powder Vases, for which she folded and welded sheets of steel, then powder-coated them in her workshop by hand. "By taking this industrial process and bringing it into her small workshop where she is free to use it as she wishes, Jenny has invented an unexpected, brutal and vivid surface treatment."
Ilse Crawford for Wästberg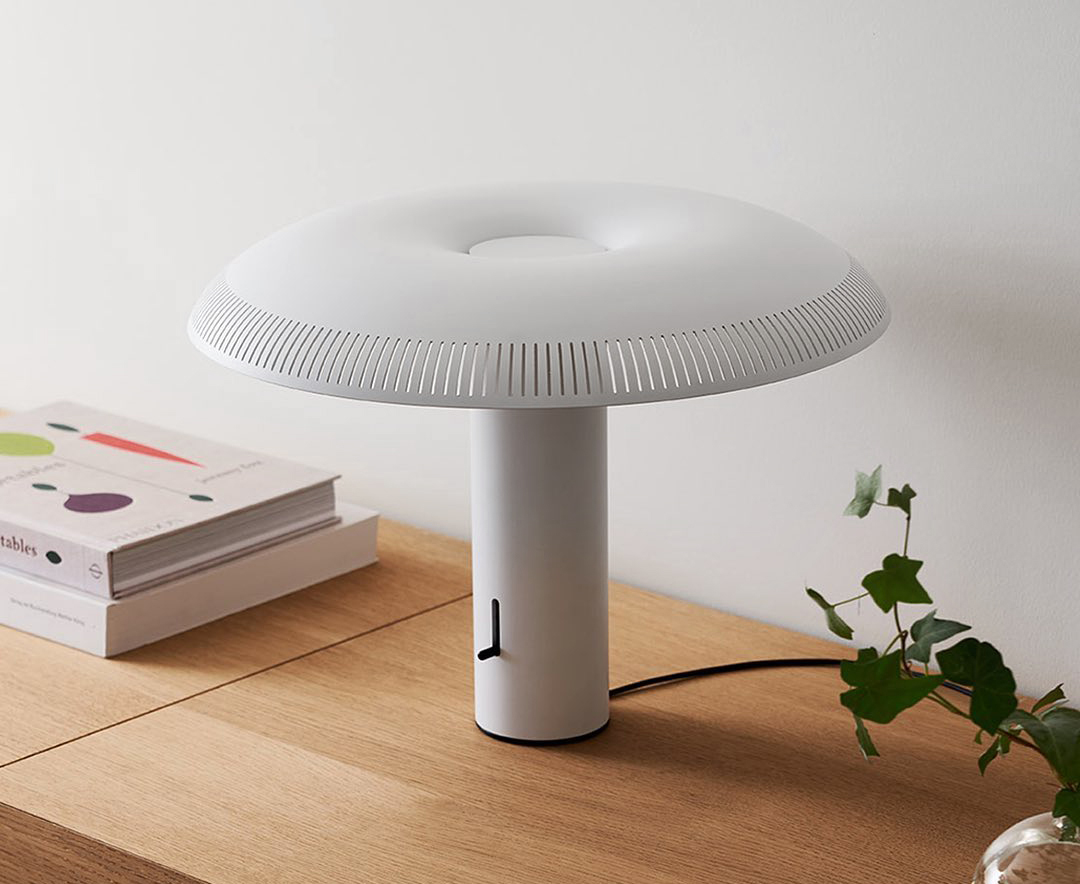 Ilse Crawford's w203 ilumina lamp for Wästberg is an update on the classical library lamp.
Lewis Power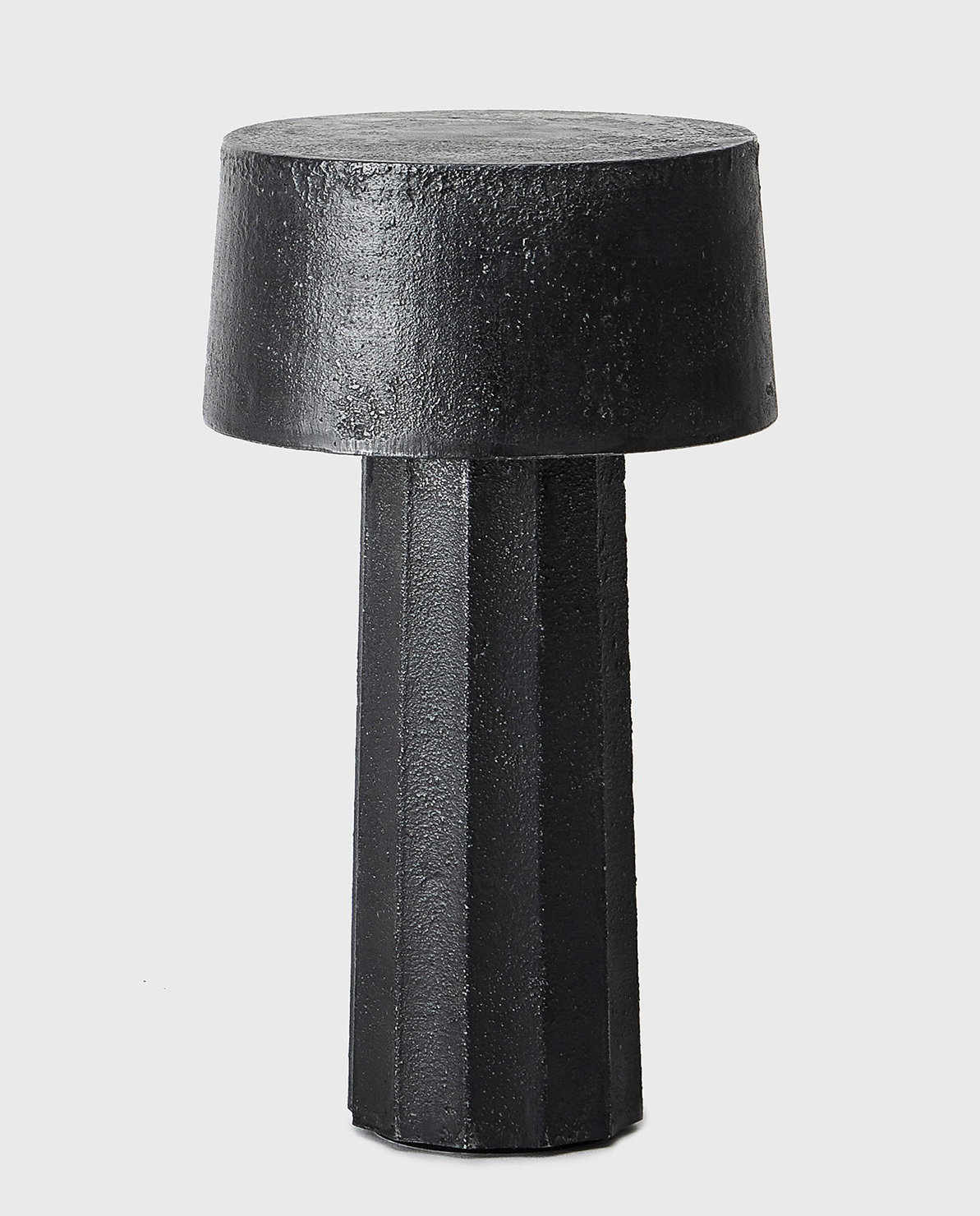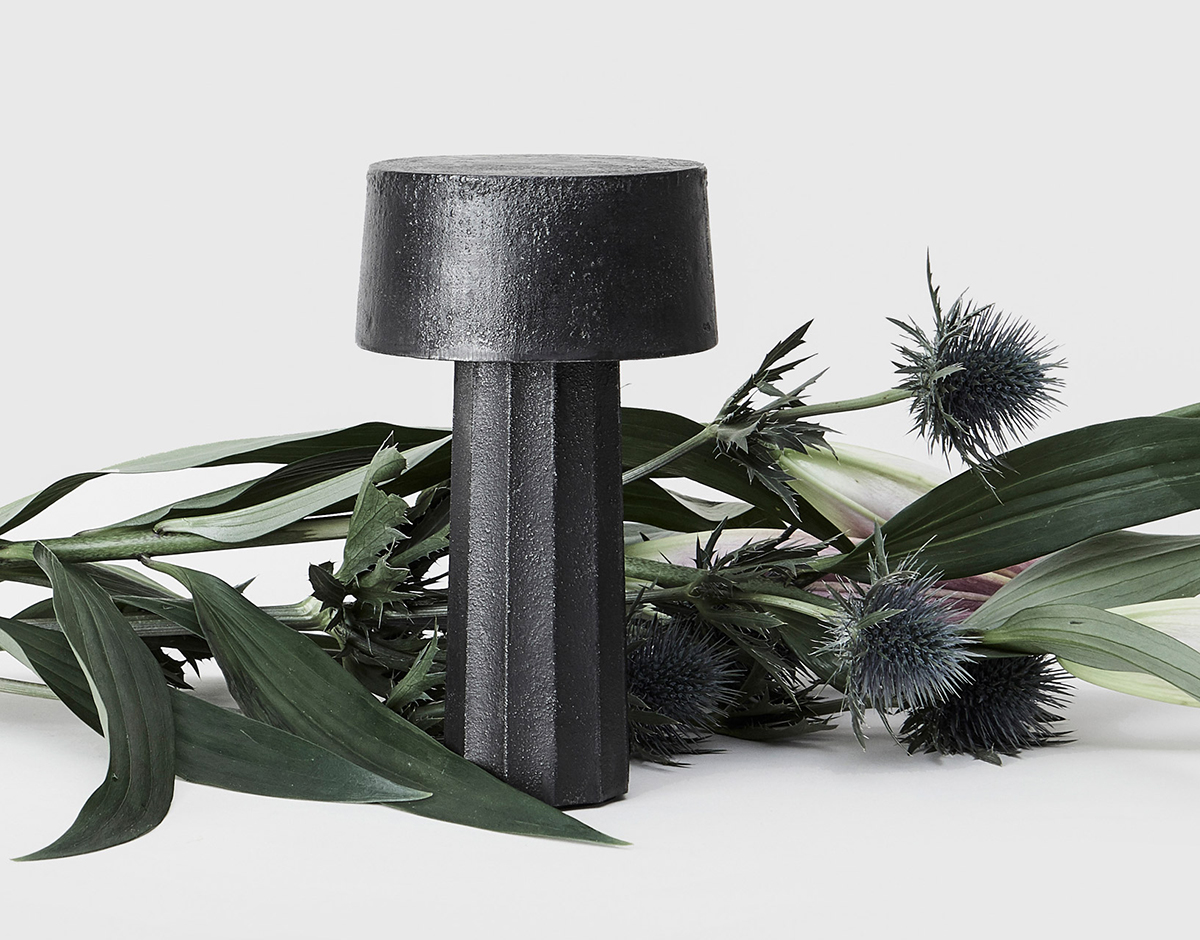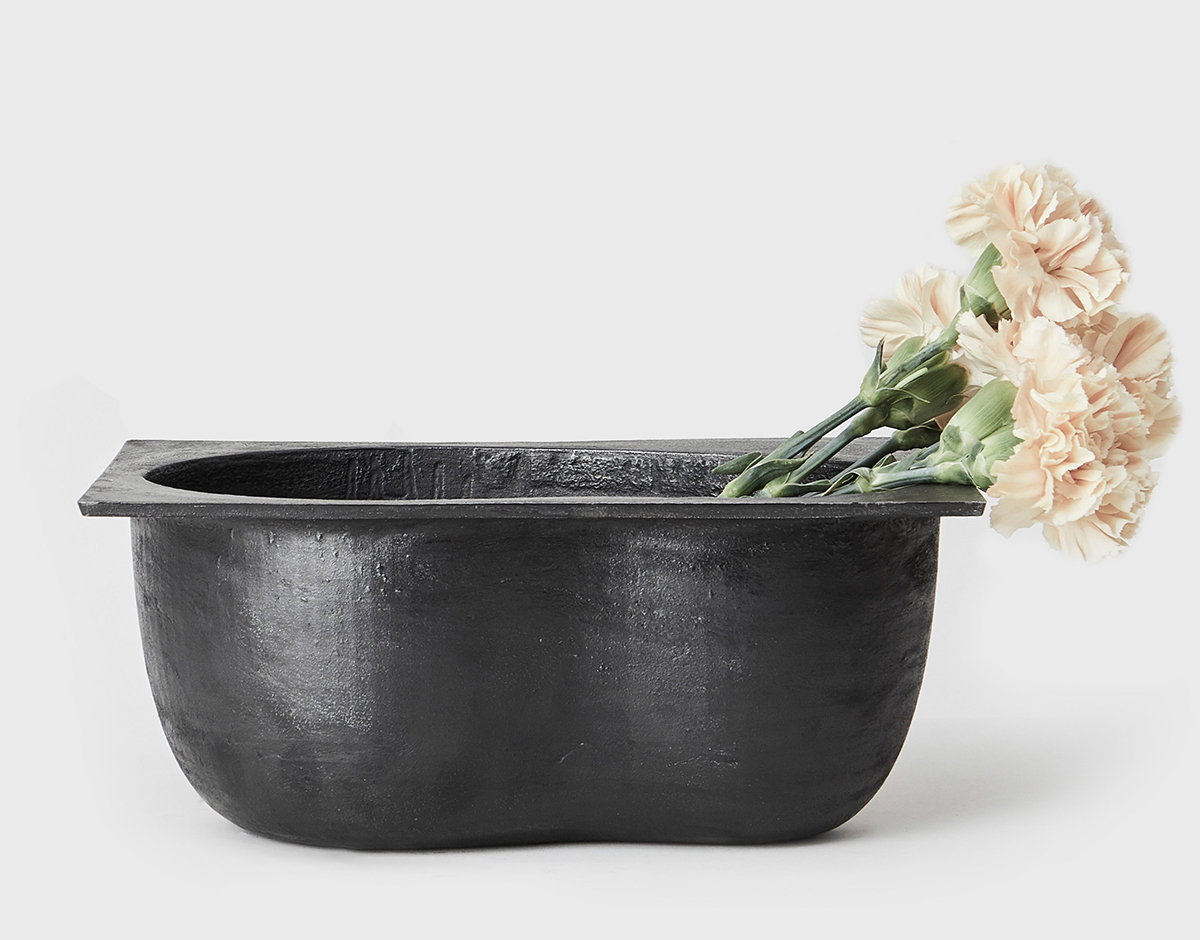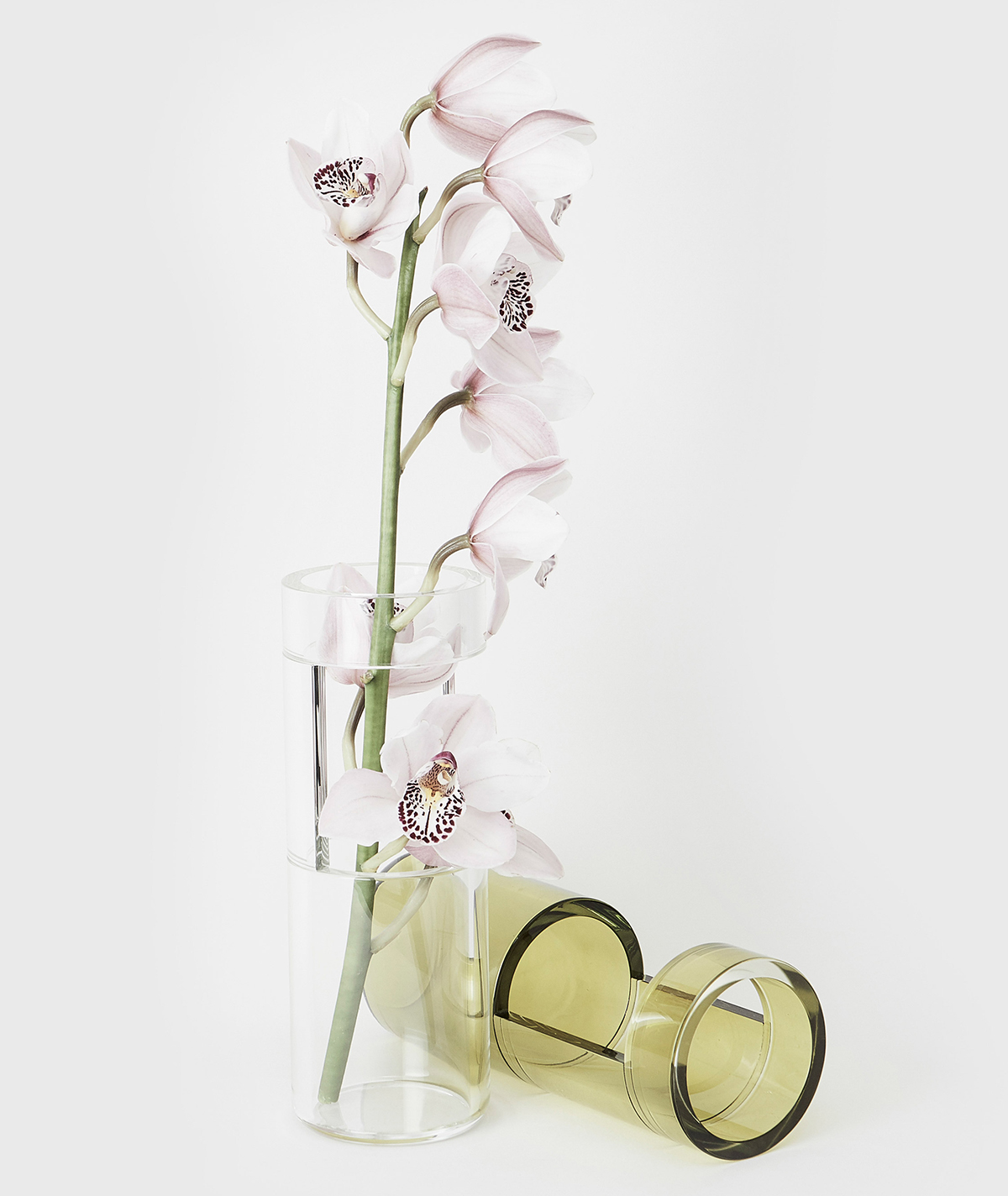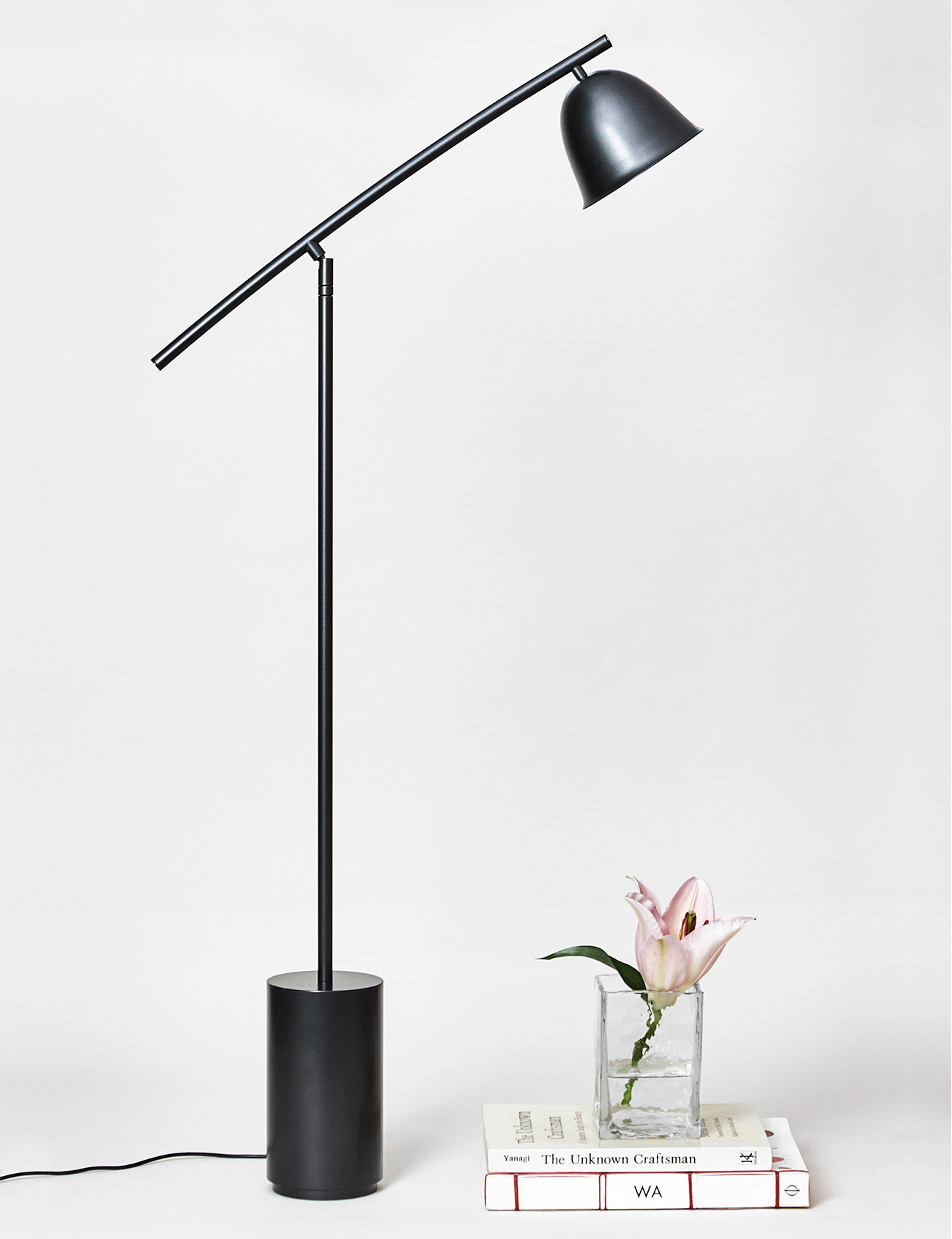 British designer Lewis Power won this year's rising star award at the fair with his Material Property series, which included four objects made from cast iron, borosilicate glass, and aluminum.
Adjectives by Note Design Studio for Bukowskis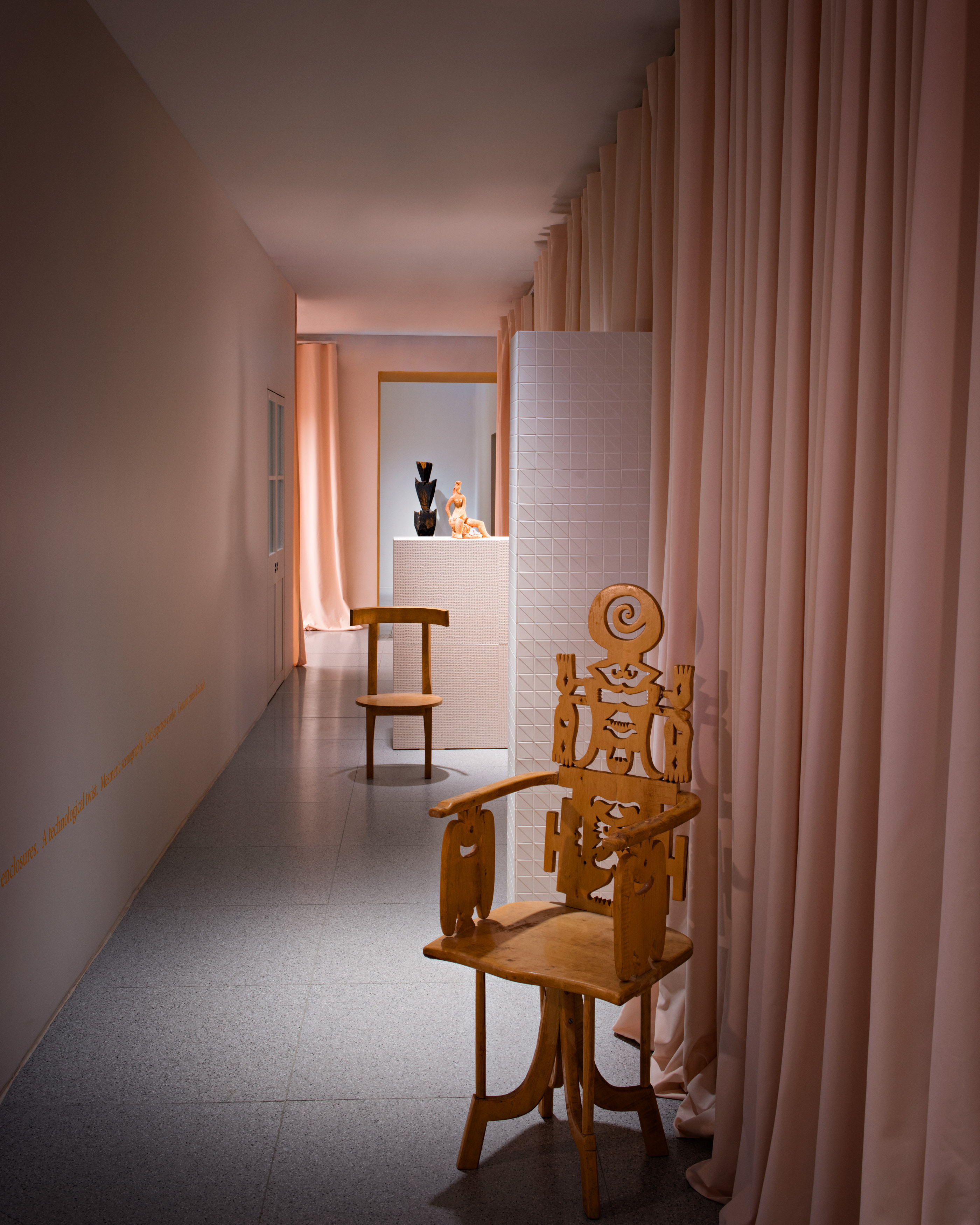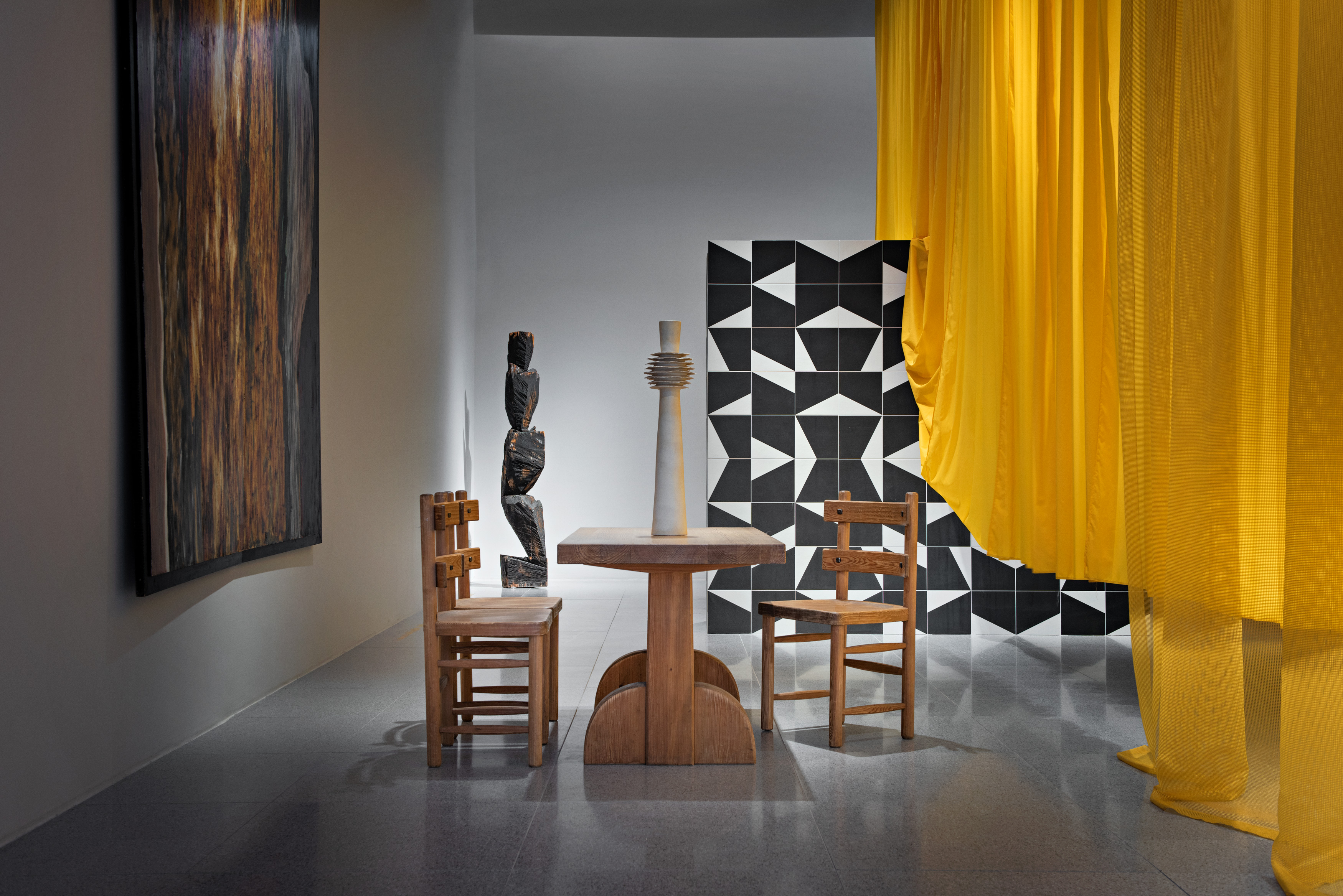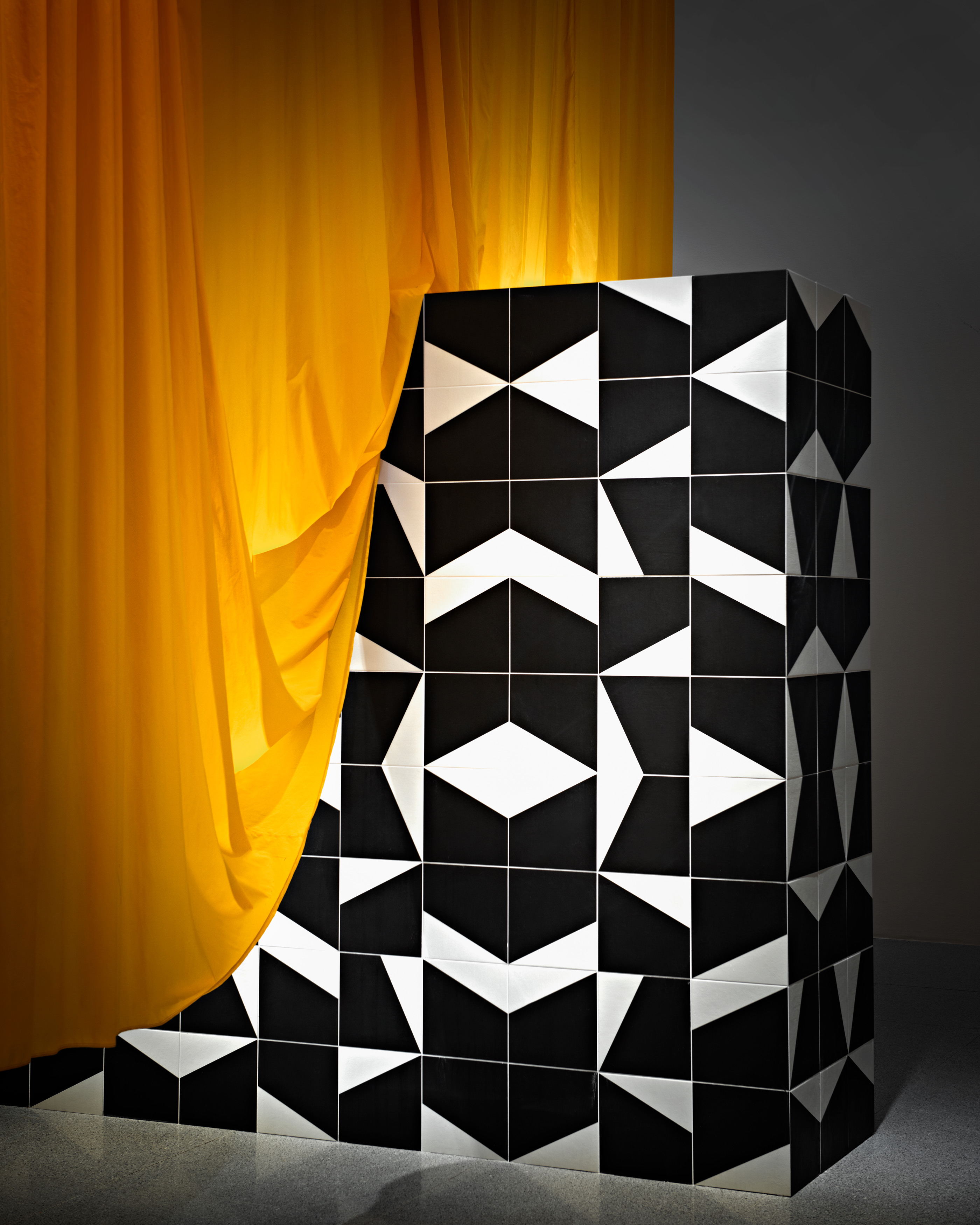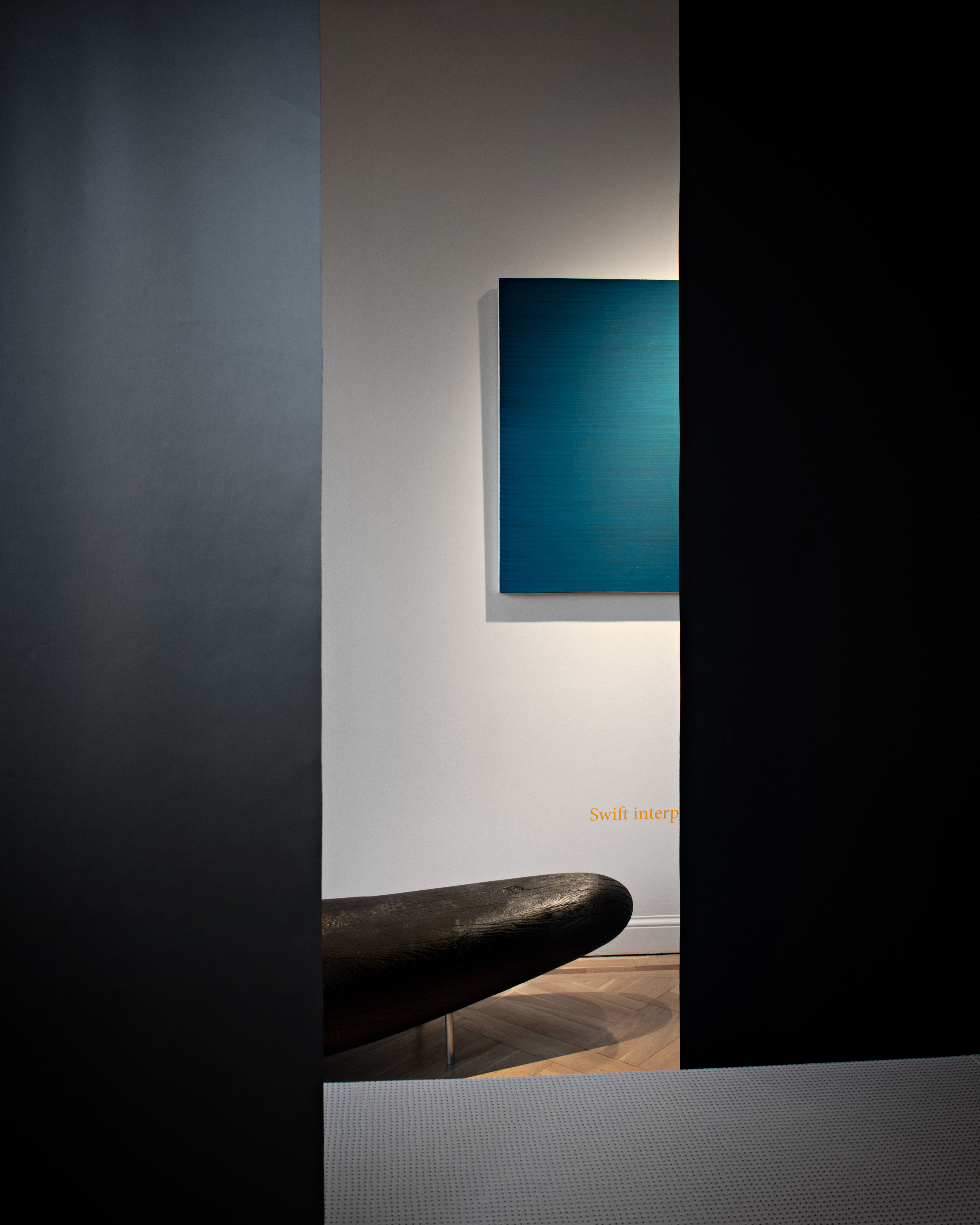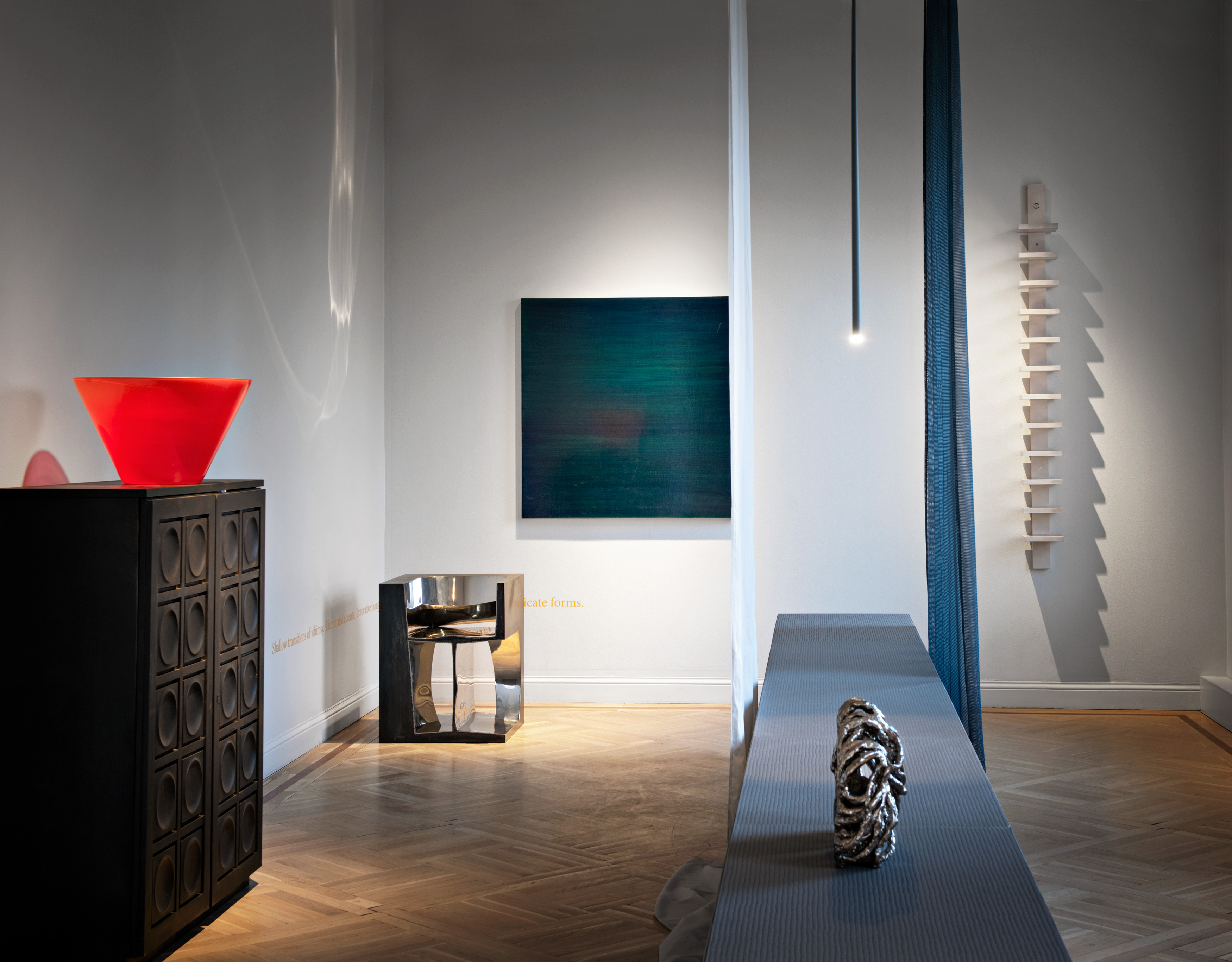 The Adjectives exhibition began as a discussion between Note and the Swedish auction house Bukowskis: How might it appear if Note was to design a physical canvas to for its art pieces, to bring a different perspective to Bukowski's curation of items from its archive?
David Thulstrup for Möbel Copenhagen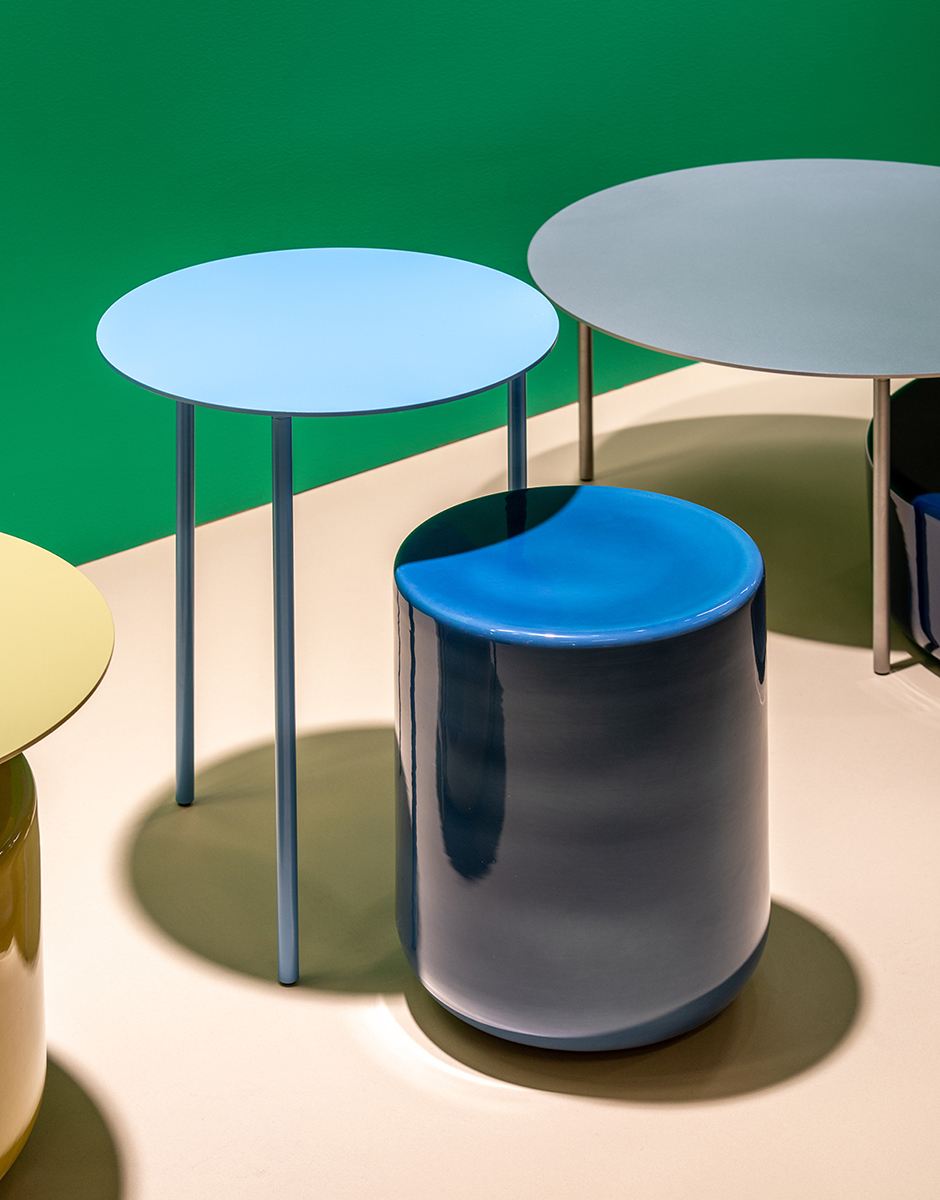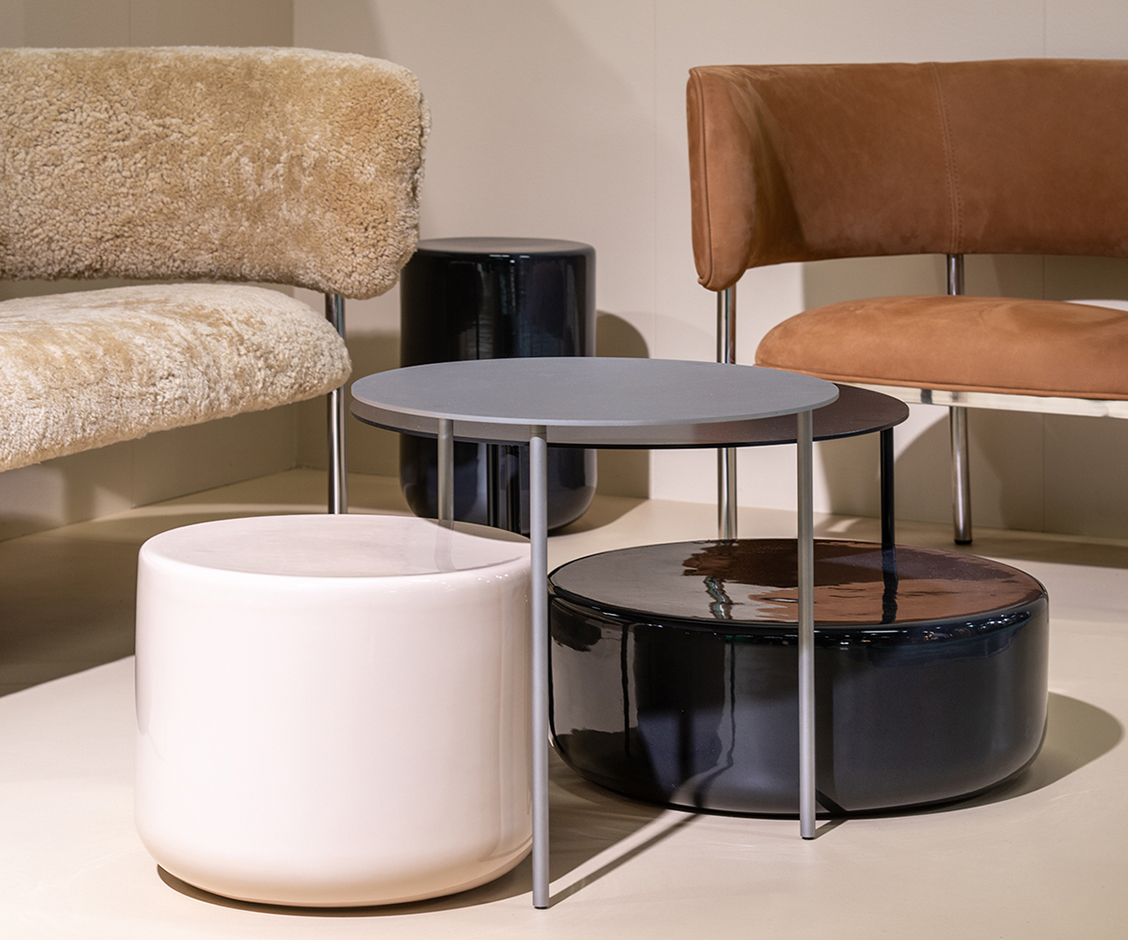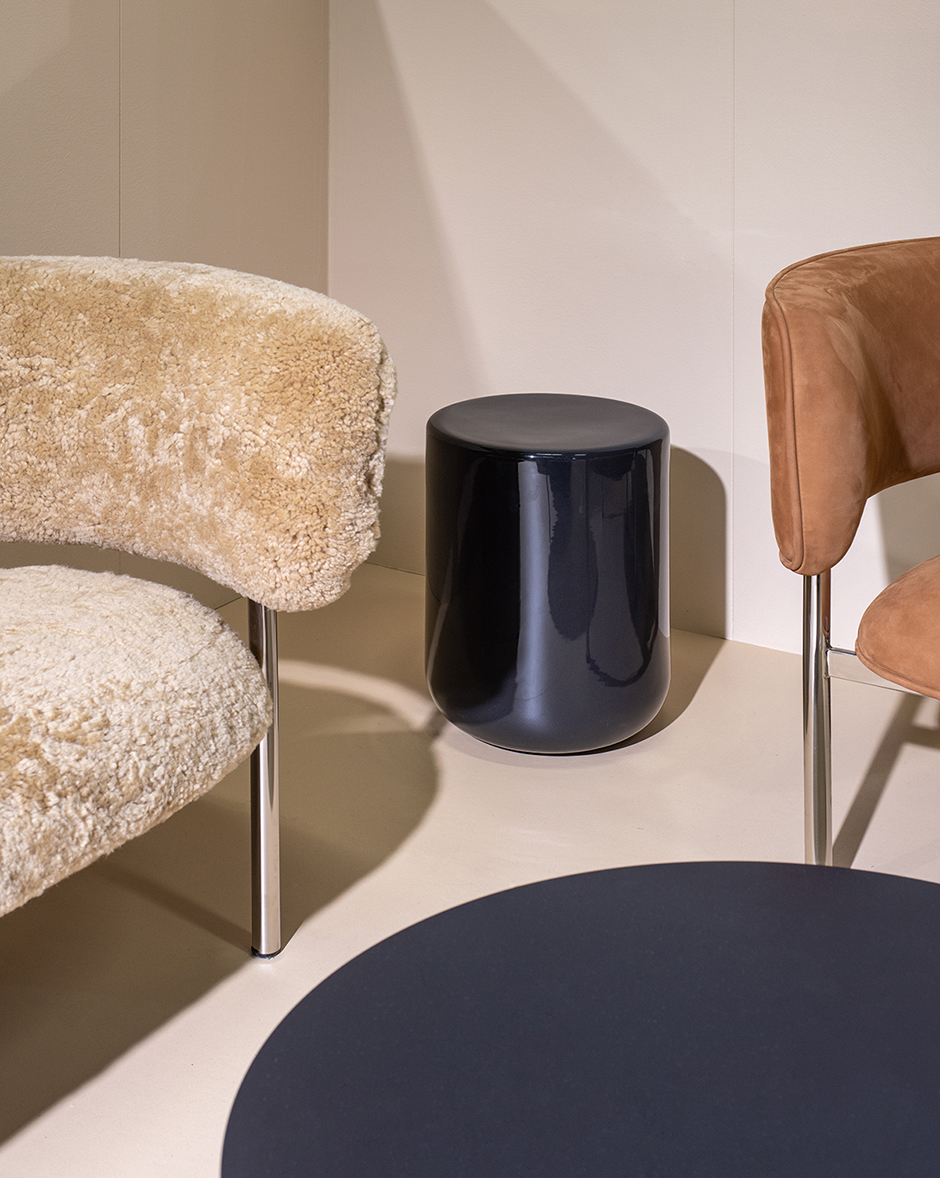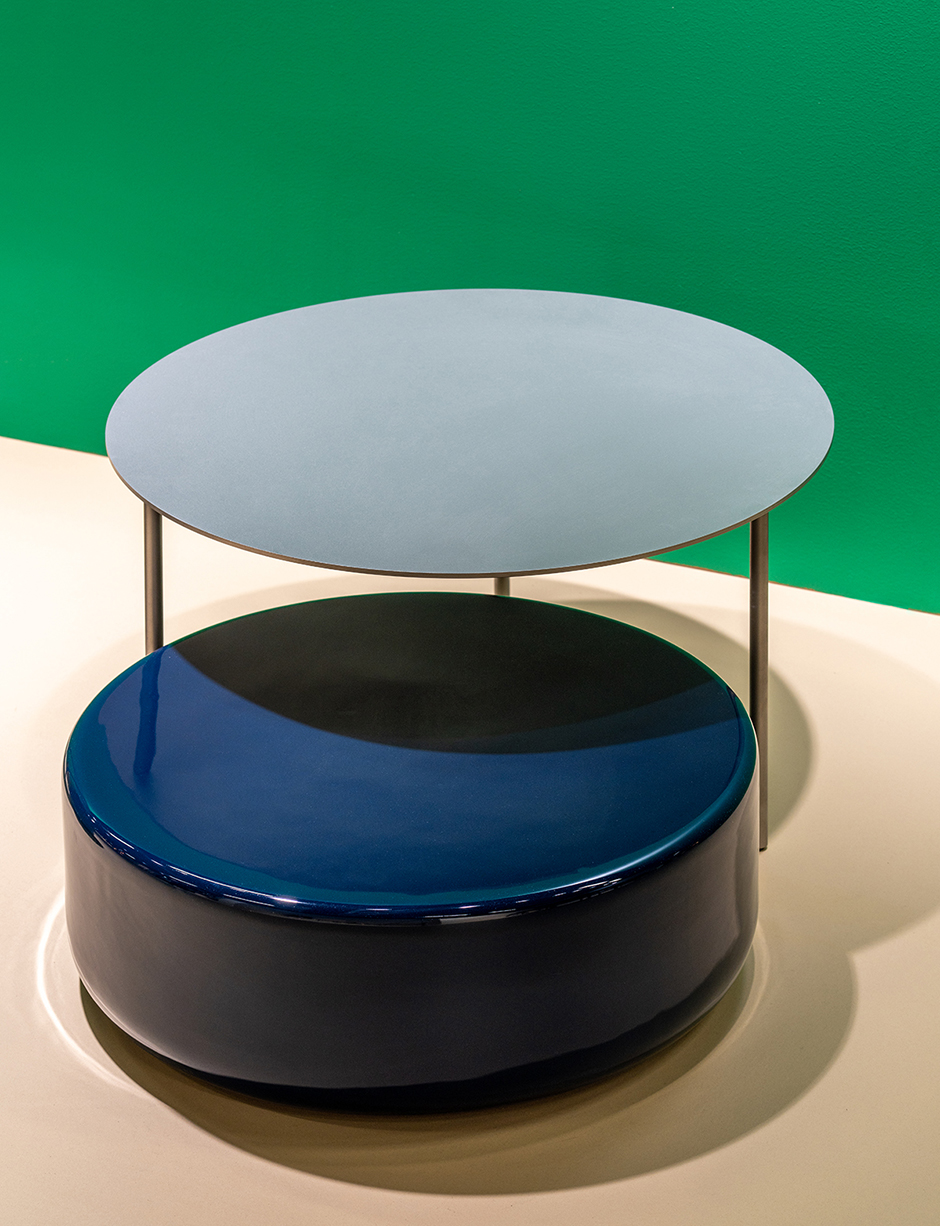 The Pair side table collection by Studio David Thulstrup consists of three variations of a pair of tables, with one table overlapping the other to create a contrast of solid materials and surfaces — the lower table in glazed ceramic, and the higher made from matte powder-coated steel.
Ronan & Erwan Bouroullec for Artek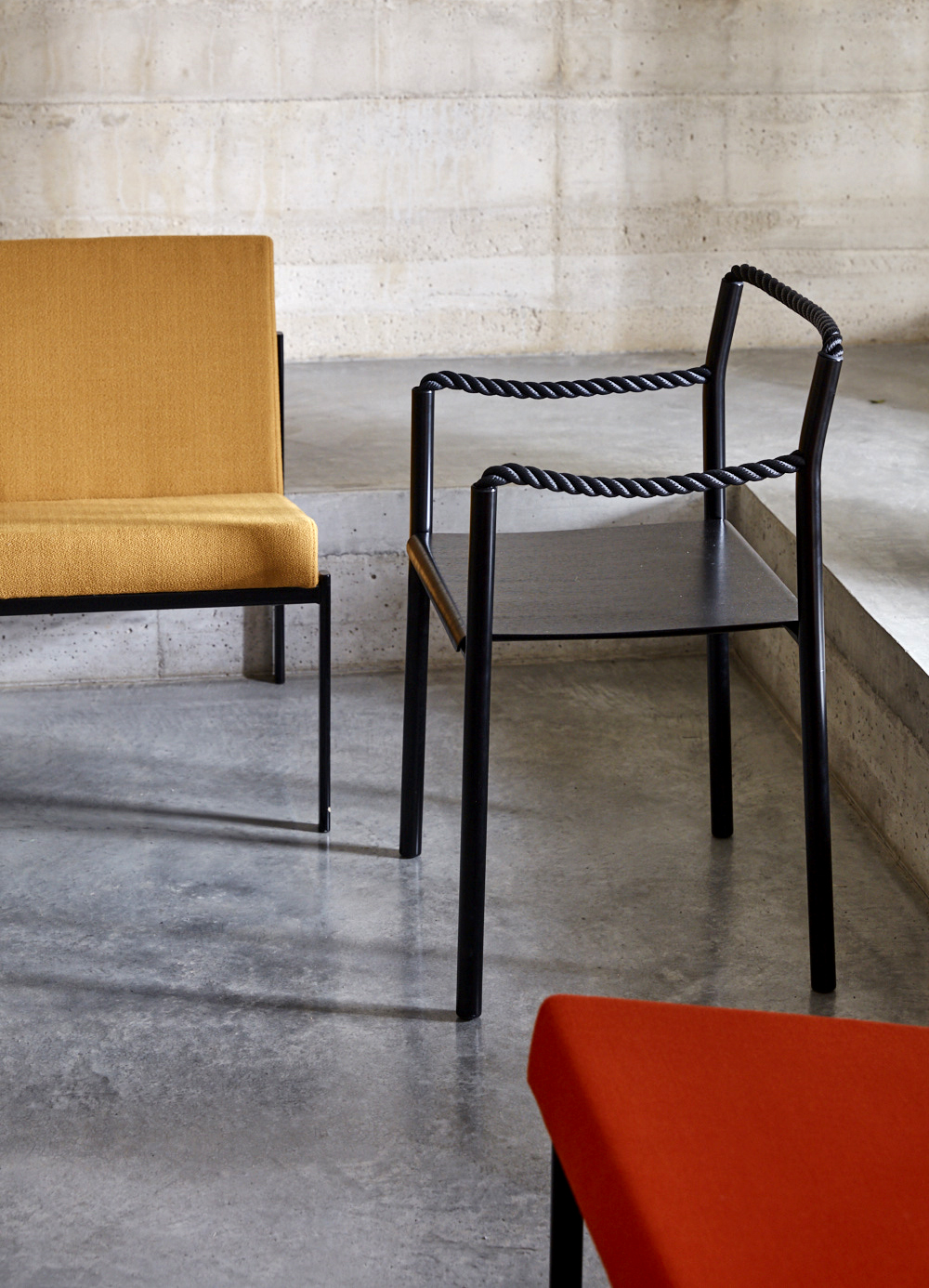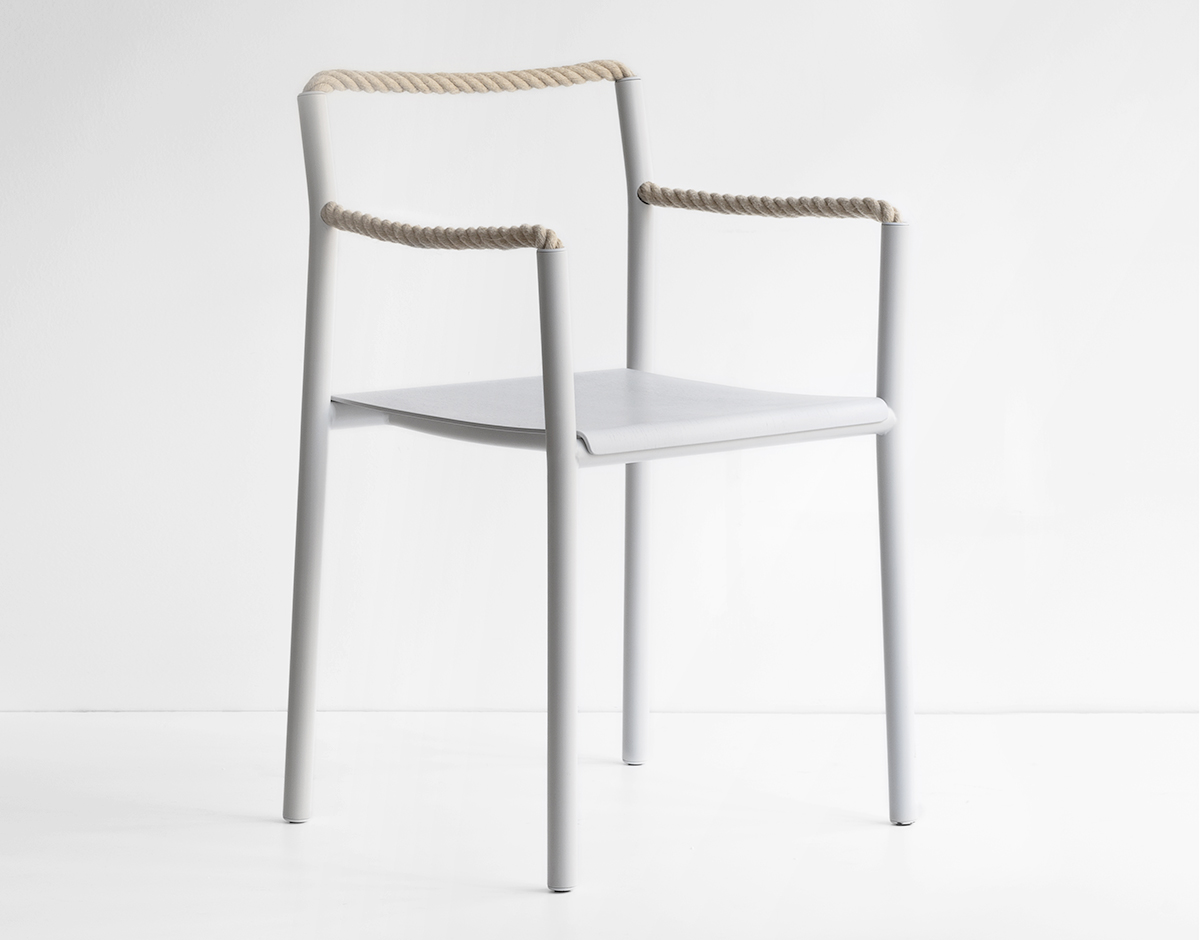 The Bouroullecs Rope Chair for Artek pairs marine-grade rope with a steel-tube frame, encouraging movement and adaptable ways of sitting.
Sloyd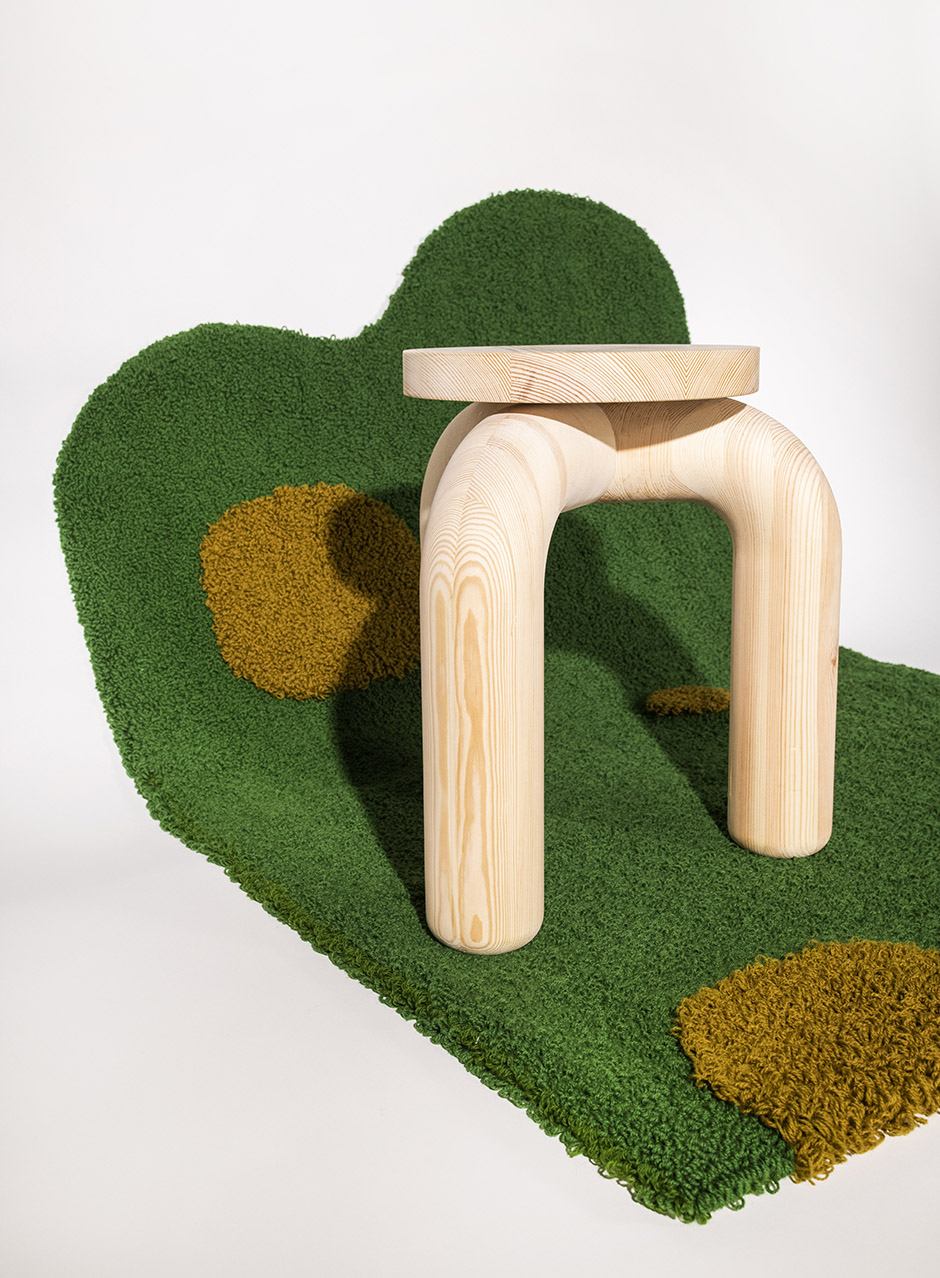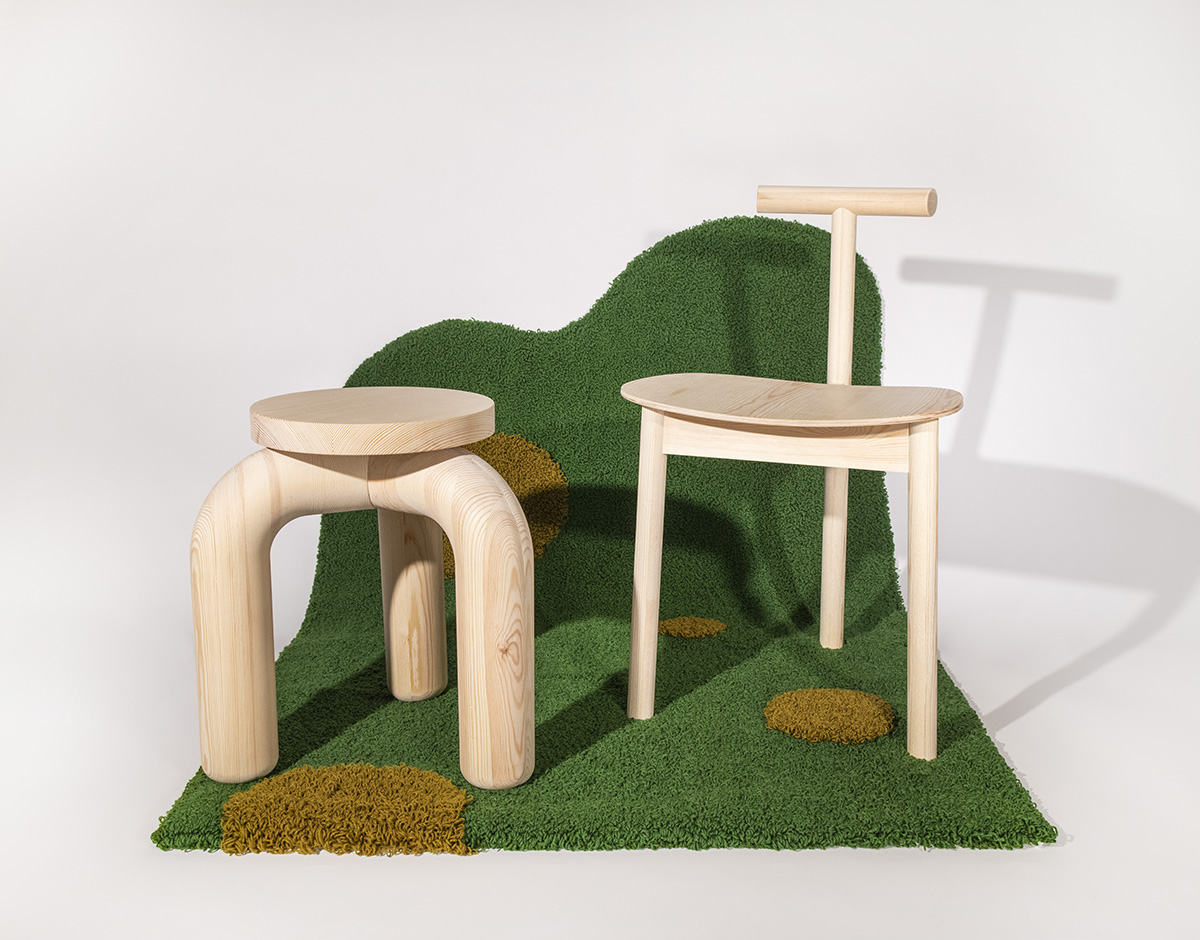 In the Greenhouse section, Oslo-based Studio Sloyd exhibited three chunky wood designs, a preview of a full collection that will launch in April at Gallery Sorgenfri in Oslo.
Swedish Ninja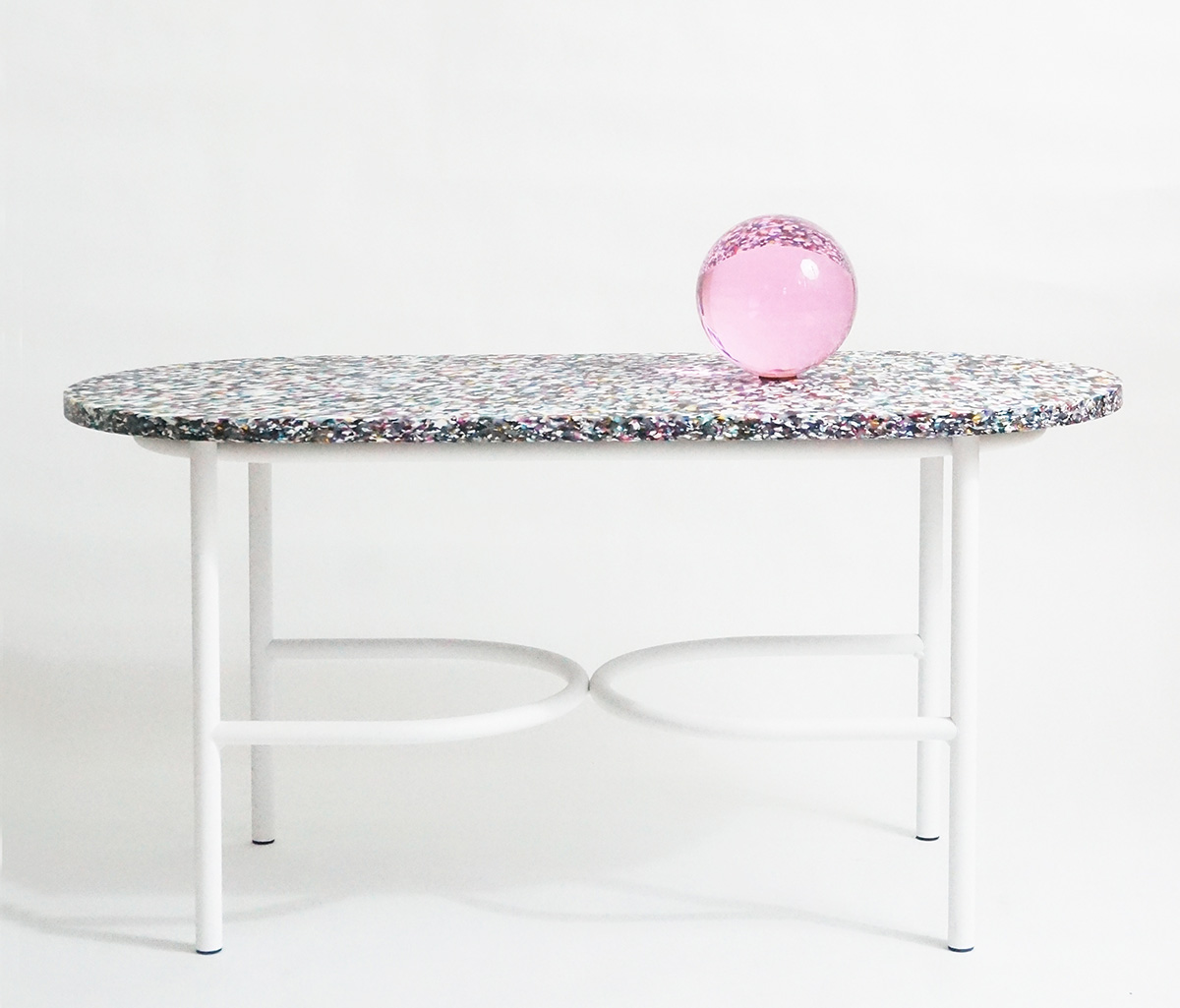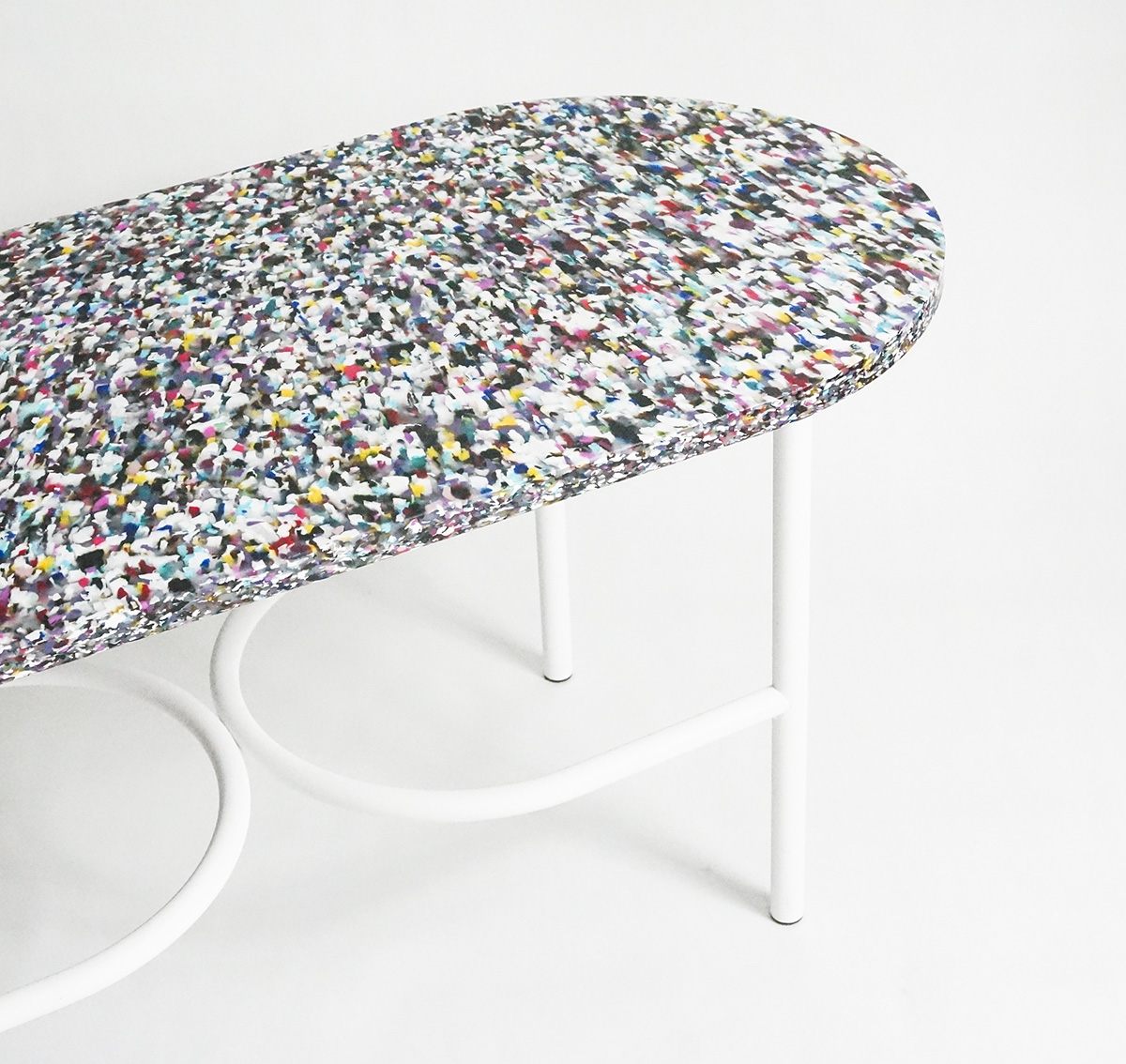 Swedish Ninja's new Eye Candy table features a top made from 100 percent recycled plastic.
Note Design Studio for Ariake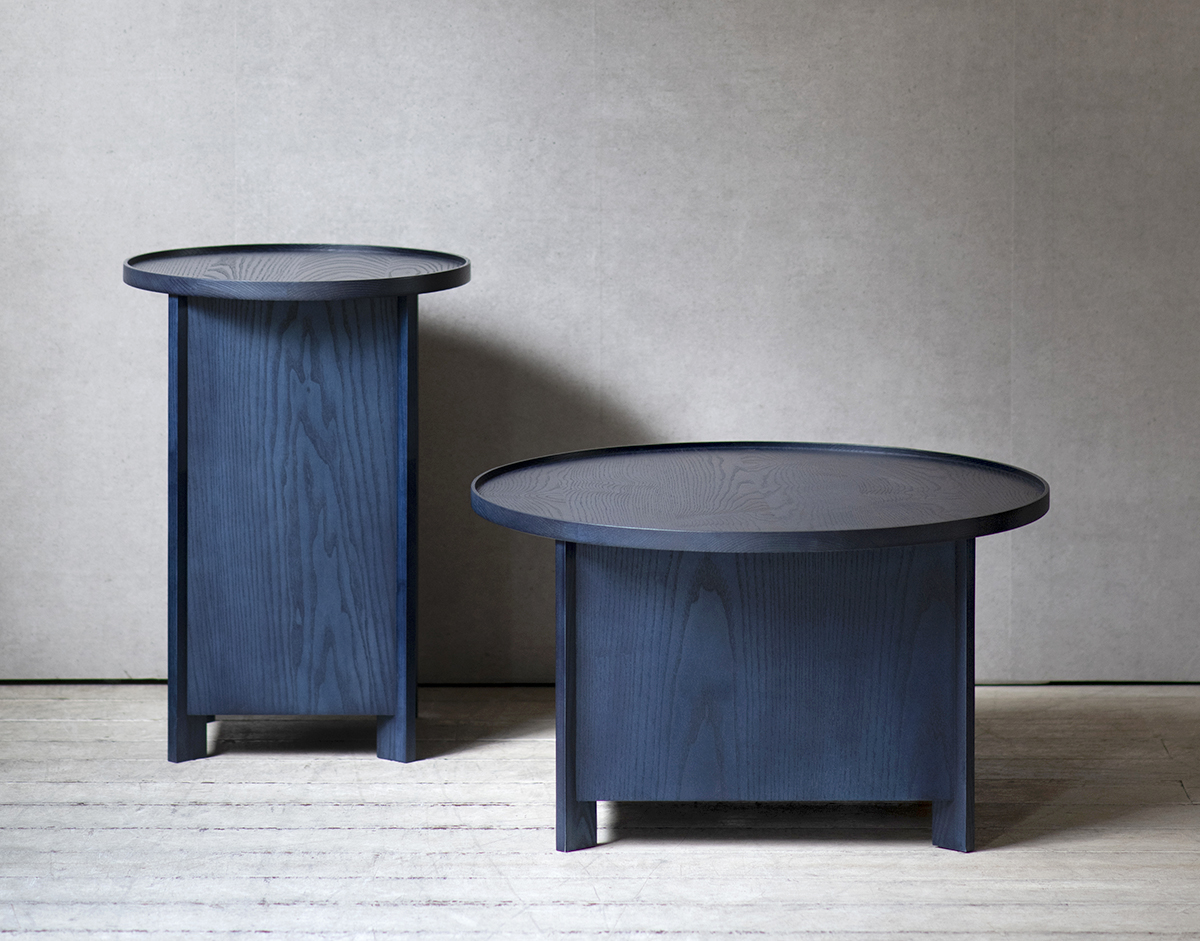 Available in four different finishes, Note's Sake tables for Ariake fulfill three functions: table, tray, and storage unit when the top is removed.
Oyyo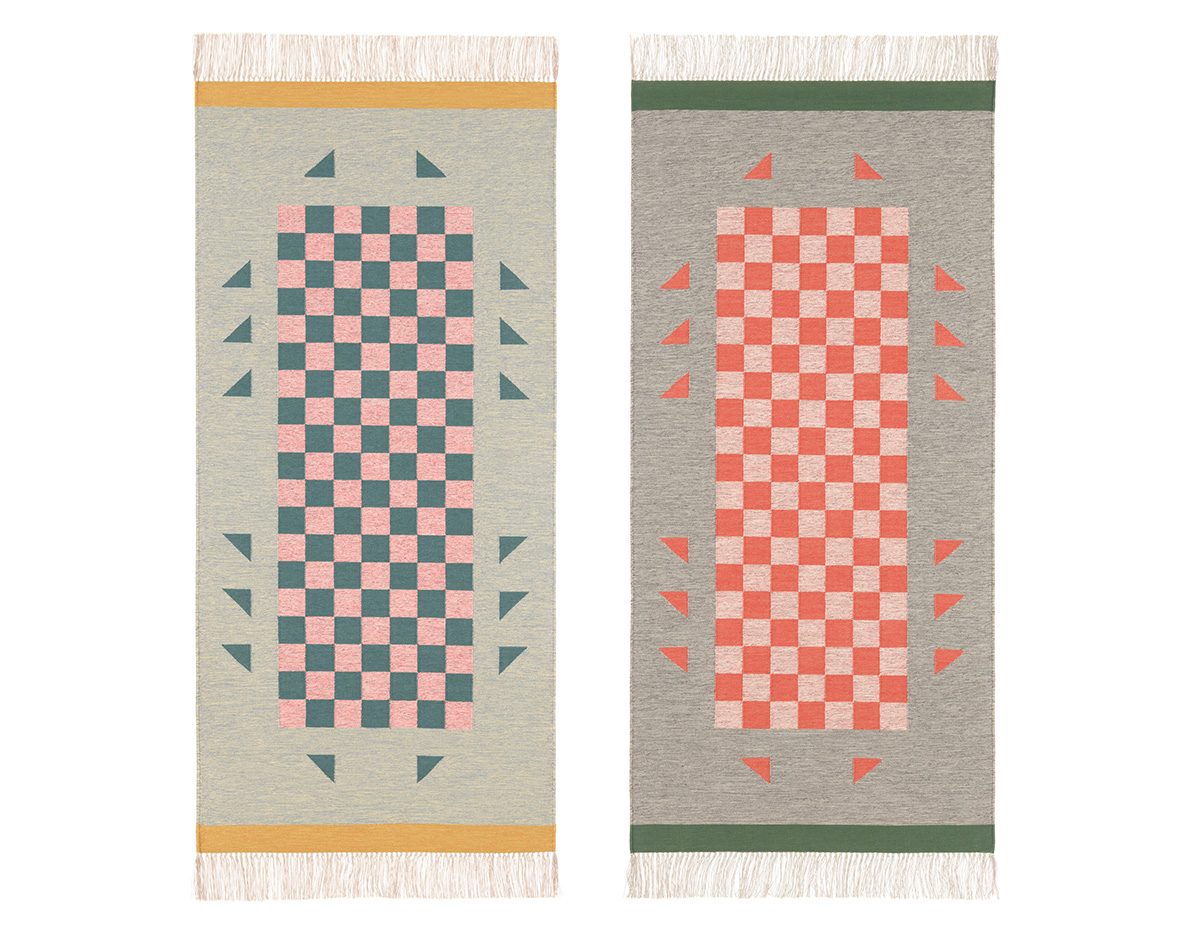 Using leftover yarns, Oyyo introduced Landing Site Irregular, a series of ethically-made one-of-a-kind cotton dhurries.
Studio EO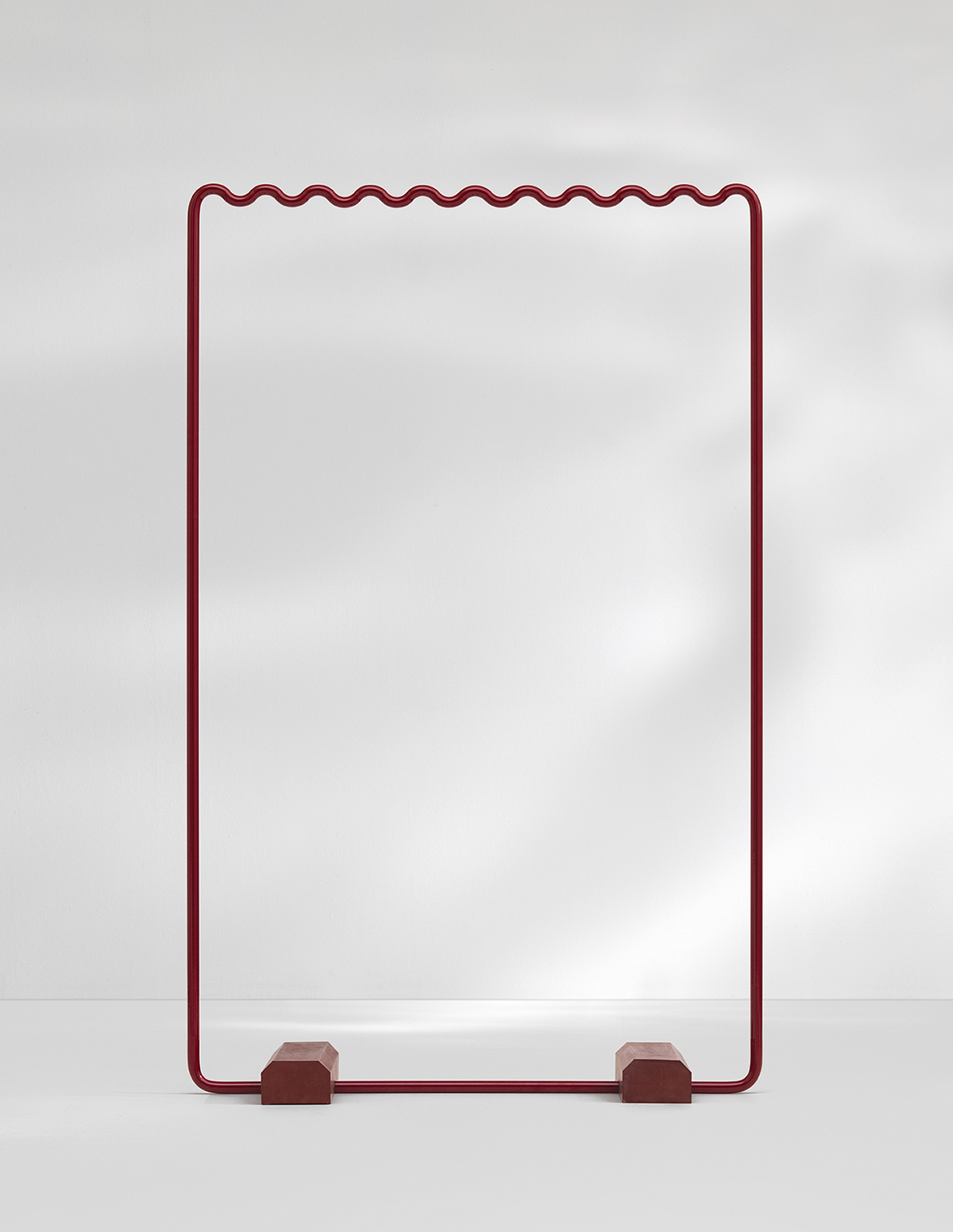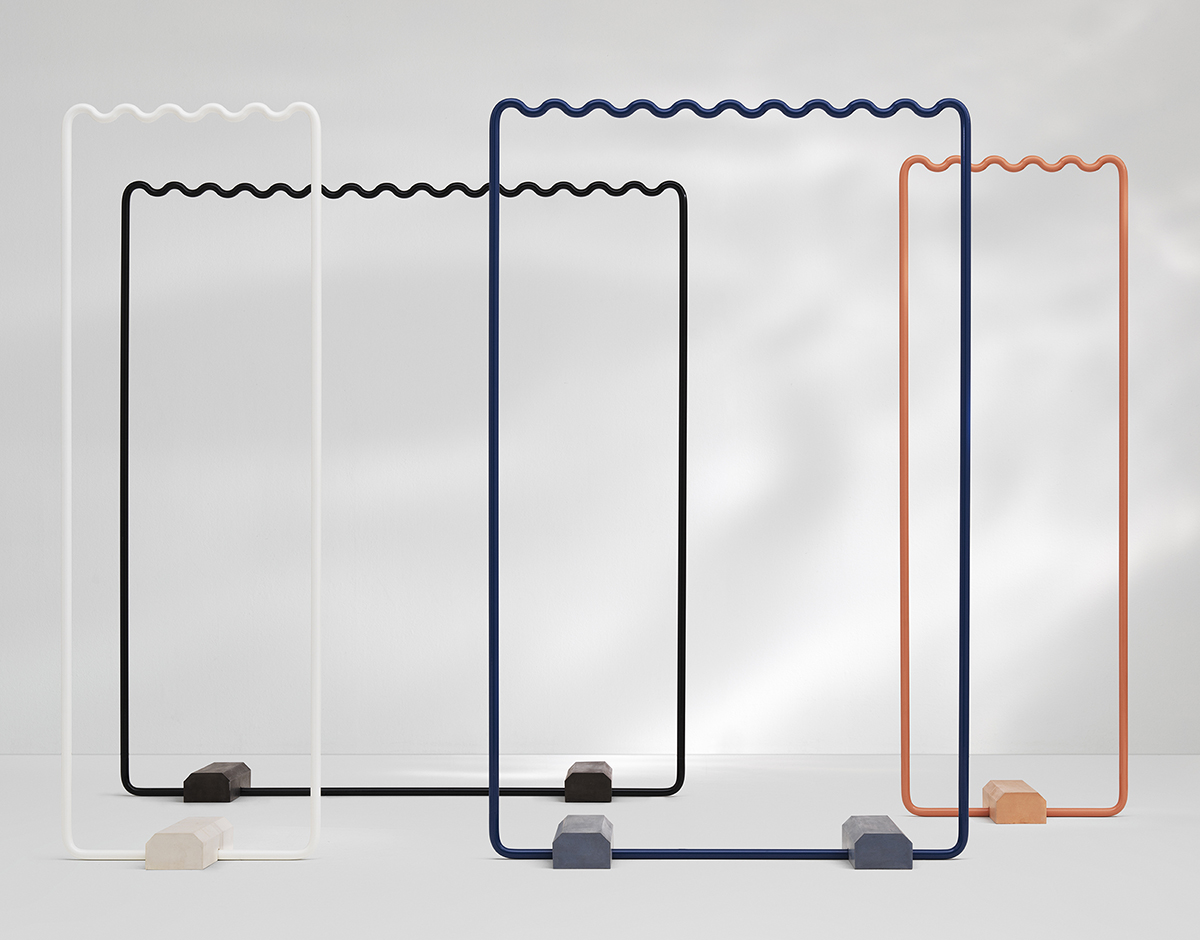 First launched in 2014, the Sine Collection was reimagined in six new colors and three sizes, with bases made in pigmented cement matching the colored aluminum racks.
&Tradition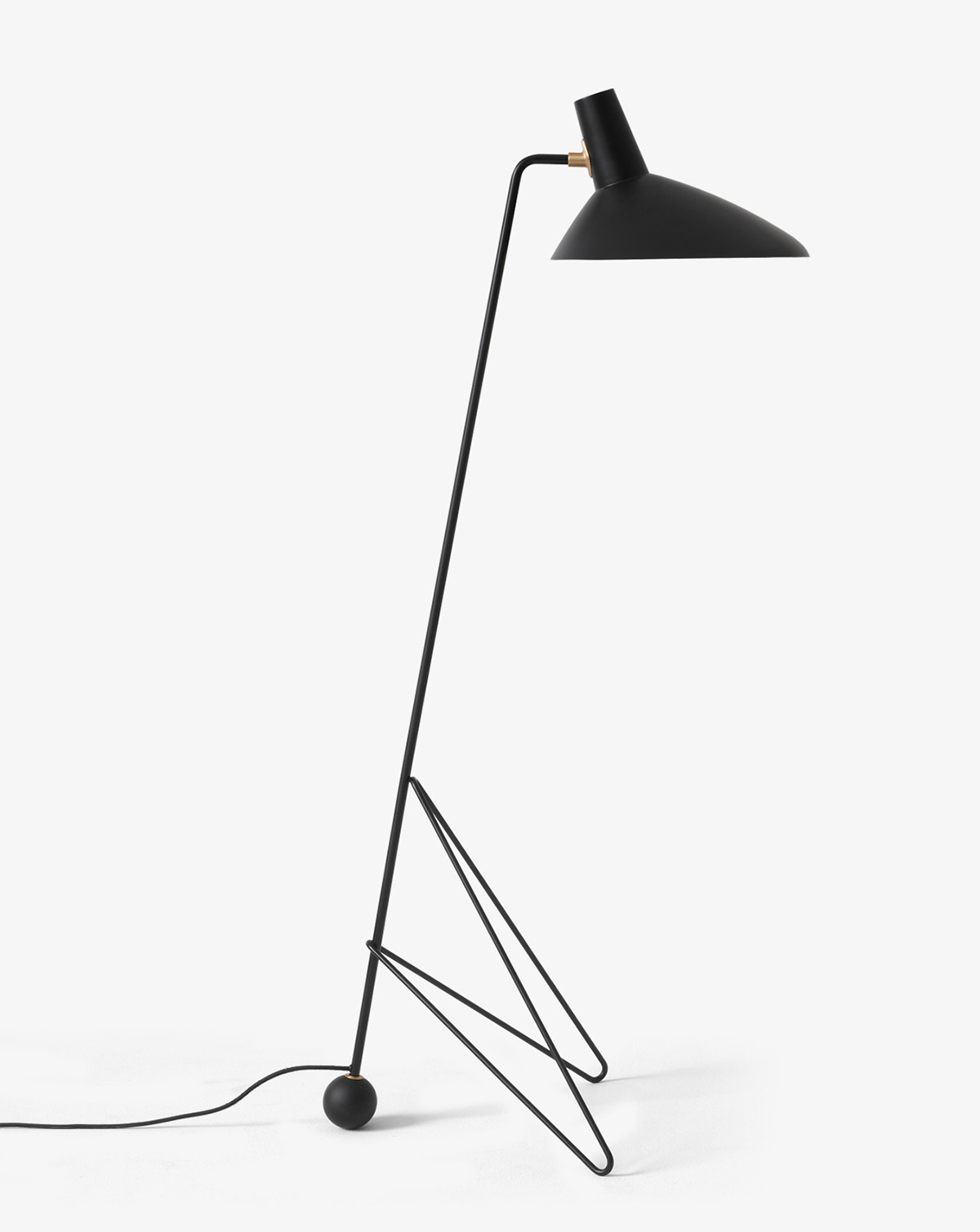 Designed in 1953, this is the first time the Tripod lamp Hvidt & Mølgaard has been in production.