05.07.15
Oslo's Camilla Løw on Her Graphic, Geometric Sculptures
There's this thing we do constantly at Sight Unseen that we don't even realize we're doing: We gravitate towards creatives who work in other disciplines, like art or fashion, only to find out they've either gone to school for or been massively inspired by design. Upon visiting, last June, the Oslo studio of sculptor Camilla Løw, whose work we'd seen on a few Tumblrs and fallen for, we quickly learned that she, too, fell into the latter camp — although she studied fine art, she spoke to us about architecture and her dreams of someday designing furniture, and showed us her prized books on Bauhaus jewelry and the work of Andrea Branzi. Some of her own pieces even function as vases or stools. But make no mistake, she is an artist, one who's shown at galleries like Jack Hanley and Andrew Kreps, fairs like Frieze, and museums like the Astrup Fearnley. Read on to learn more about her process and ideas, and how design fits into it all.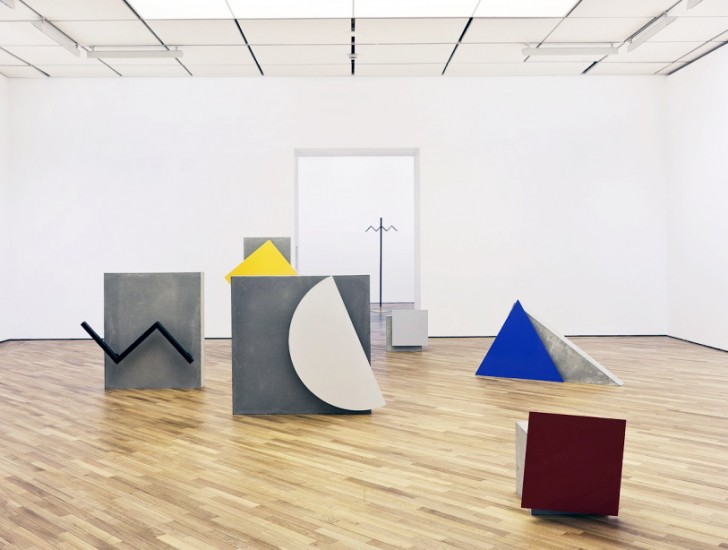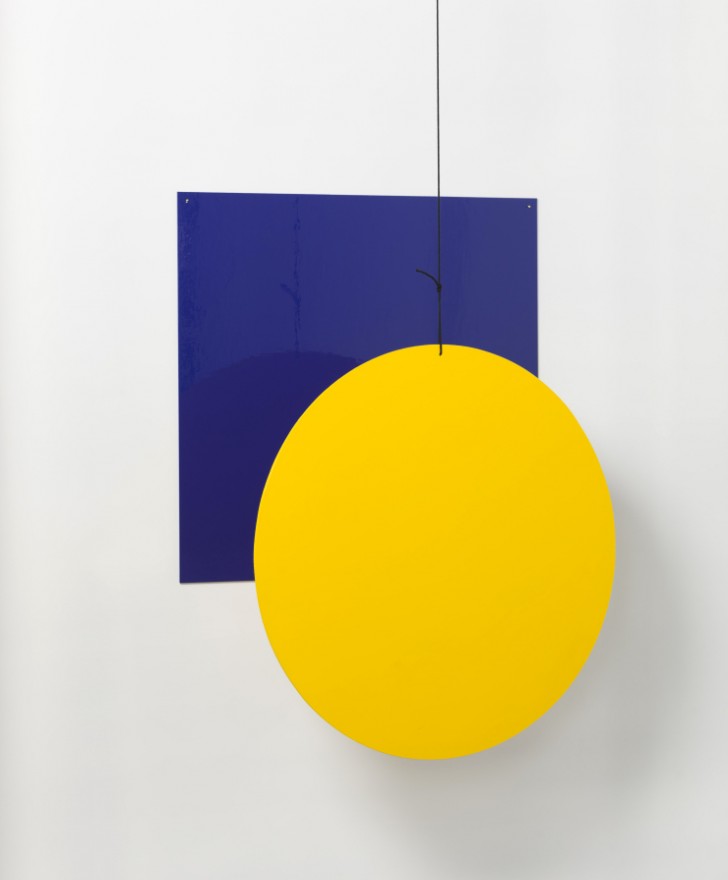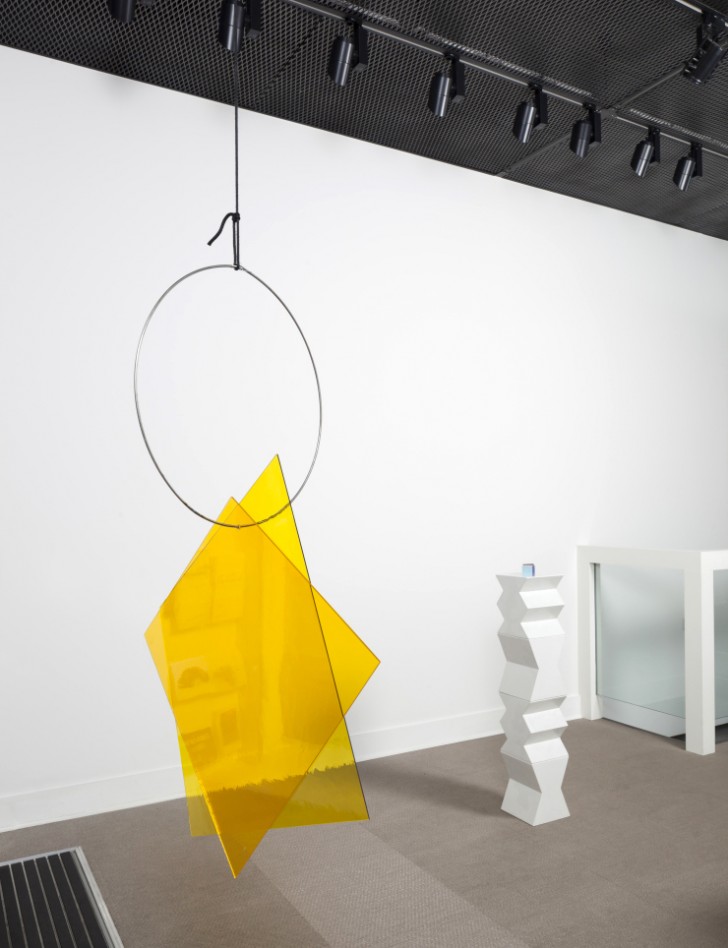 How long have you lived in Oslo?
Since 2006. I used to live in Glasgow for 8 years, and a bit in San Francisco before that. I'm actually from Oslo. We're not permanently going to stay here I don't think, but at the moment it's a good place to work. We get artists' grants. Britain's going through a bit economically, so it's quite tough living there. If Glasgow goes independent maybe we'll move back. Glasgow's great because it has this thing where art and design is one thing, and that's what I find inspiring and probably what's motivated me to do what I do.
In New York, artists can dabble in design a little bit, but people rarely associate the two.
It's a very difficult thing. Either you can go into design, or you become this handicraft thing. But then you have this whole new art scene, in Oslo anyway, which is art that's not meant to look like art. It's meant to be very casual and laid-back, but it's very strict. And it's all black and white. It's very far from the tradition I studied, where you're allowed to use colors and make organic shapes. I studied in Glasgow in a program called Sculptured Environmental Art, and the whole mantra of that course was that context is half the work — it's not just about the object, but how you place the object and how you perceive the object. That's strongly colored how I think about my works, how I make them, and how they relate to each other and sit within a space.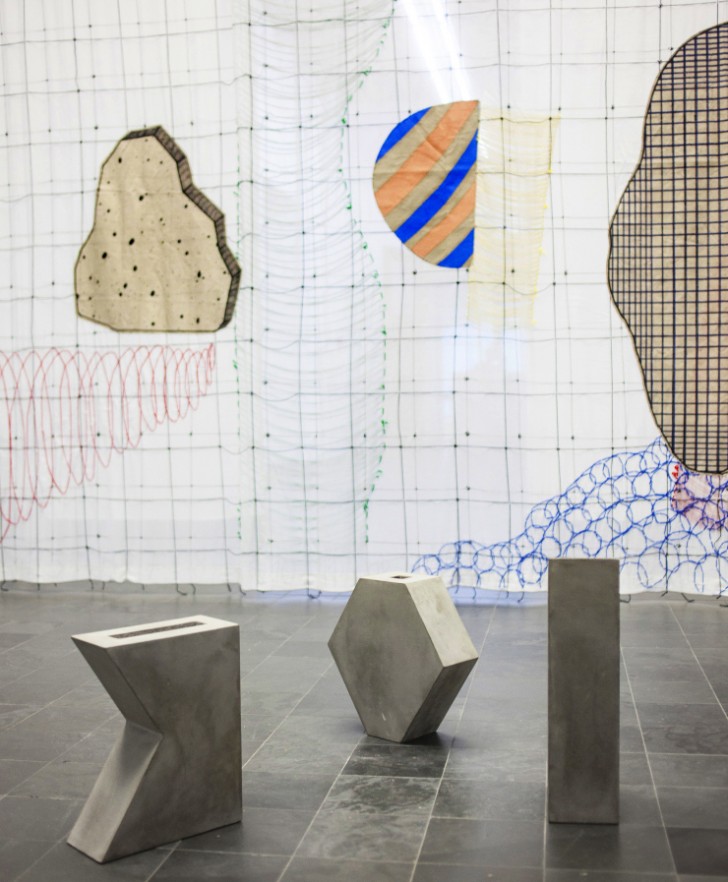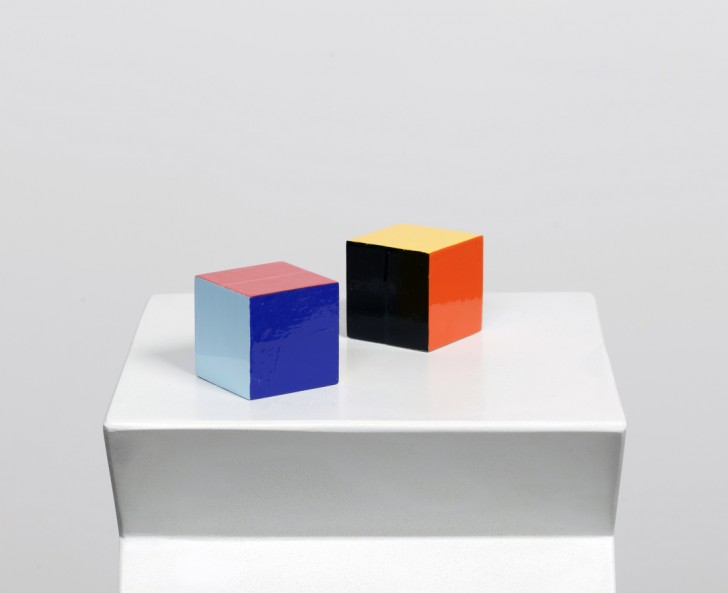 That certainly sounds like a design angle.
It does relate, thinking about how the works fit together and fit in with the architecture. But also, personally, I'm very aware of the historical tradition of sculpture and how the figure has always really had a prominent place within sculpture. The one thing that I revisit when I make work is how I can challenge that; how I can make sculpture, but it's borderline something else. Like my concrete vases (top image above) — they're sculpture but they're also functional objects as well. So it's borderline design. I've also made metal stools (bottom image above), and the idea is that they can be stacked on top of each other and become planks for displaying jewelry, or you can use them to sit on. So this is something I like to revisit, art that is aesthetically pleasing but also has more of a context around it.
You never studied any kind of design, did you?
I didn't, but I was always really interested. I was so fascinated by all the art being made in Glasgow at the time that I wanted to make art. But I also have this idea that one day I'll be probably making more furniture, and often when I've done sculptures, the biggest ones, I then take the scale down to jewelry. I've done a few editions.
So you're just playing with scale, or you like the idea that people can wear them?
I like people to wear the jewelry. That's important. But it's also important that it's handmade, and that's something I think is important for the larger work as well. Even though I get the metal pieces cut by a fabricator, I paint them by hand. You see the strokes. It's the same with the jewelry — it's not manufactured, at this stage anyway. But they it has this sort of handmade feel. Each piece is slightly unique.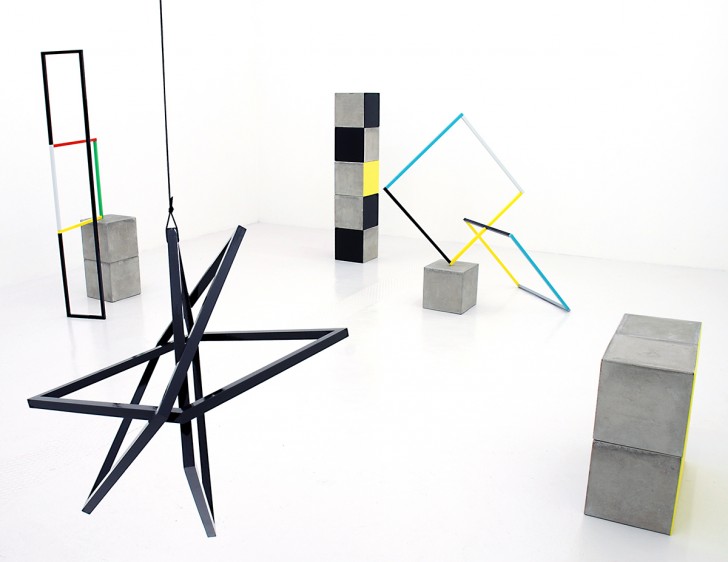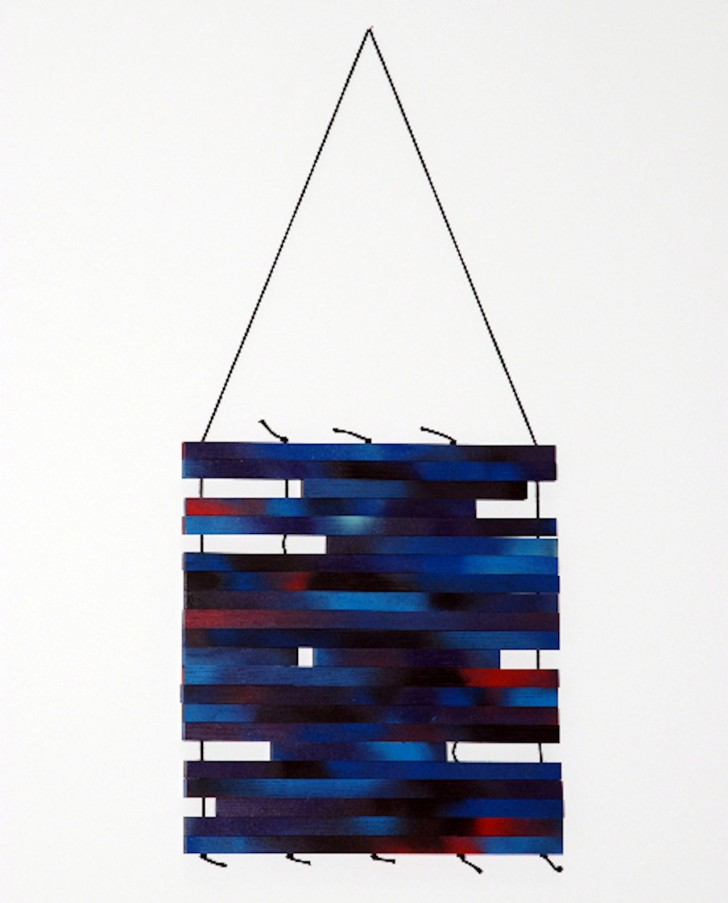 What else can you tell us about your making process?
I tend to use industrial materials that I can get from a store, but then I alter them and give them a personal touch. Part of that is giving them all individual titles, so they become characters in a larger space; I have one called Denim, and one called Joy. I also quite like when the architectural or art history relationship comes in, with the link between industrial materials and minimalism. And I like an impression of honesty in the work. The piece above, for example, is just fitted together with cord. Nothing's secret. You can see how it's very simply built up, and what hangs will hang. If a nail's sufficient, then it's sufficient.
How do you plan your colors for an installation?
I often choose them thinking about how light travels through the room during the day, and how, say, the yellow color will change from morning to evening. So I'll have two tones of yellow to emphasize an optical illusion, which is sort of my rules for how I work, though whether you see it or not, it doesn't matter. I guess like a three-dimensional painting is the idea. The colors are inspired by what I've been listening to or looking at in fashion or art at the time.
What would you say is most different about your work now from when you started, in the early 2000s?
I think it was a lot more playful, and then I went through a period, from maybe 2008 until 2010, when I got really strict. I sliced everything away. It was down to the really mathematical. Now I think it's entering into a more playful space again.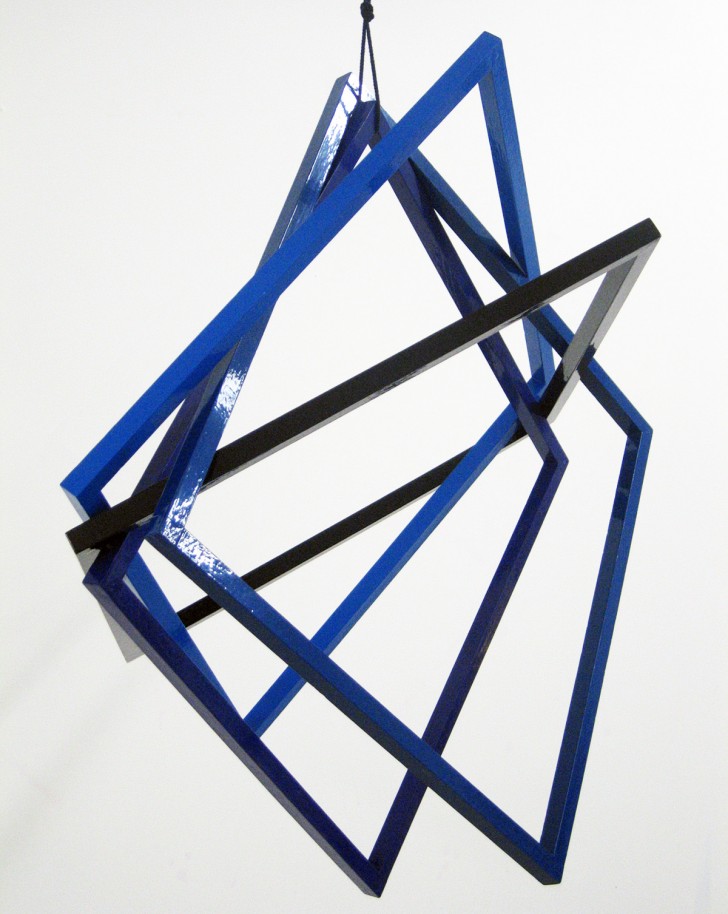 Before we finish, can you tell us more about some of your works, like the one above?
This is an older mobile that's four wooden squares leaning on each other. It's just gravity holding it up. I made the squares in oak and then hand-painted them. But you can see the joints, and I quite like that. I also like that it's nothing monumental, so you get the feeling that you can grab it and be a part of it. It's not to distance the viewer, but to build some sort of relationship.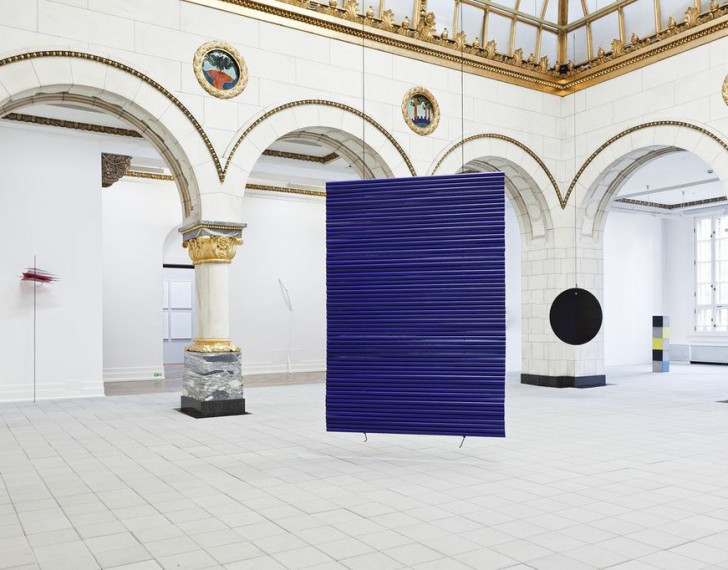 This is a photo of a show I did at Oslo's Museum of Contemporary Art in 2012. I covered the floor with tiles, and then I just used it as a sculpture park indoors. I thought about it as an outdoor scene, things you'd find in the urban cityscape, brought inside. I opened the windows; they were all covered. I looked at the space, and then I thought about how to unify it — it was a very dominated space, architecturally. It's an old bank building, so if you make minimal sculpture, it's quite an insane thing to try and place work in. So I wanted work that was present, but at the same time wouldn't overtake the space. It was a light feeling. You had to walk around the space in order to see the sculptures properly — I think of it as very much what Donald Judd said, where a cube is different from every side, even though you know it's a cube. People have seen shows in this museum year after year, but it was important to me that I helped them see the space in a different light. My work was sort of there as props to make that happen.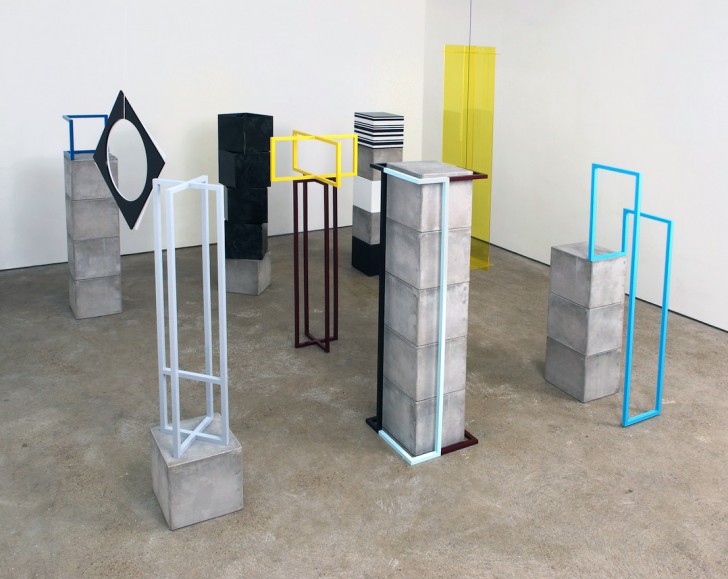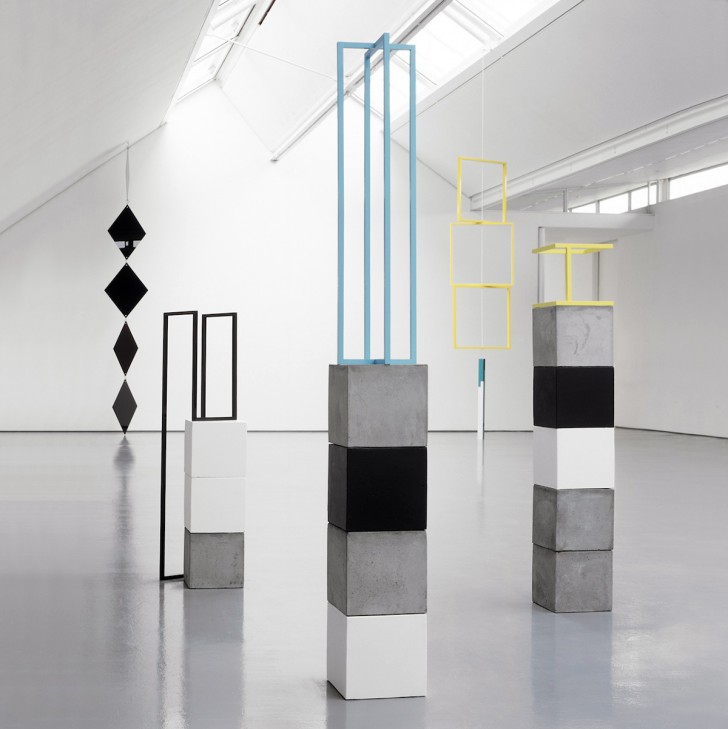 For this installation, I wanted to be able to work more intuitively with the space. So these concrete cubes came in to interact. This way I could, when I was installing, decide how large or small the pieces would be. The cubes are all 12"x12", so they became this grid system. Then there's the piece in back, which is four sheets of Plexiglas put together, and it's not directly related to jewelry, but at the same time it sort of has this idea of a pendant.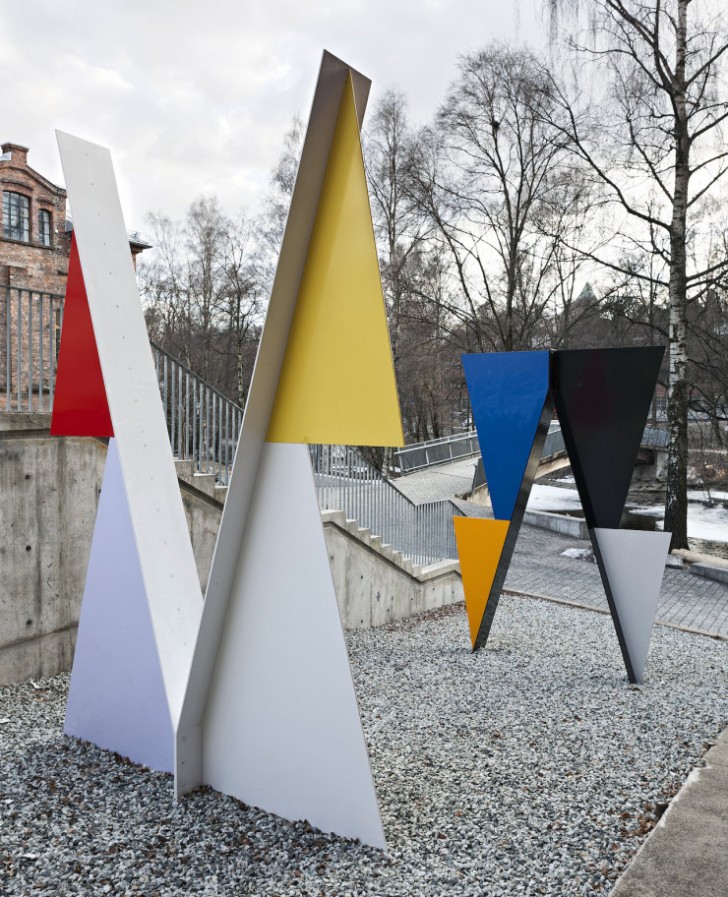 This is installed at the art school in Oslo. It's called Double Dynamic, and when you move around it, it creates this shape. But obviously this is huge, monumental work that I don't typically do. I've done three large commissions, and that's it, but it's interesting. You get the chance to work in a different scale but then go down and make these smaller, more tactile objects.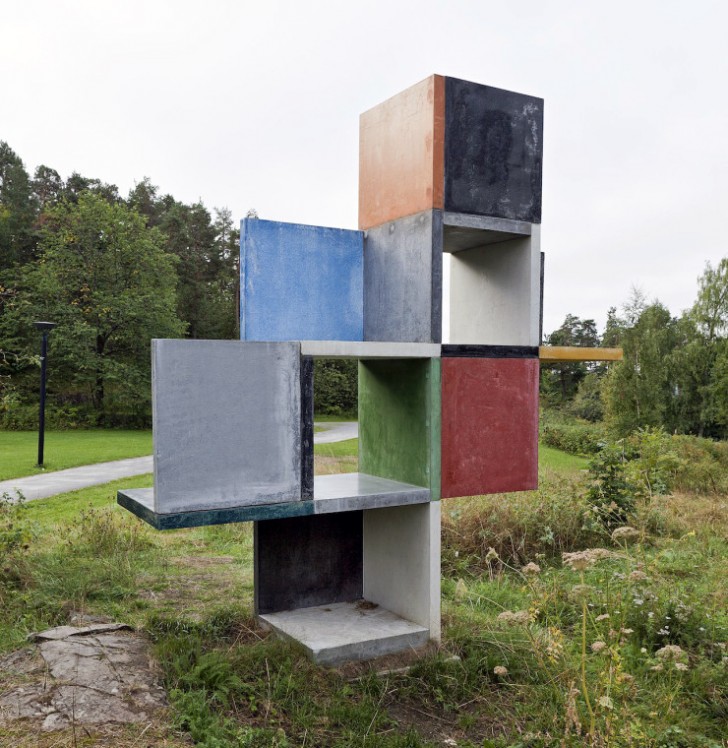 This is a public sculpture on view in a park just outside of Oslo, at the Henie-Onstad Art Centre. It's a public park, and all their sculptures are really shiny and sharp. You can't really touch any, and so I wanted to make one that kids could climb. I thought of it as a kind of organic tree. It's called Neon Winter, and it's made from cast concrete impregnated with pigment, so when it wears down it will just be more colorful. I also wanted to make something that looks like it's been there forever — it could have been some old Eastern European monument or something.