06.23.21
Quarantine Crafts? This Dutch Design Student Built a Whole Debut Collection During Our Year of Solitude
Now that we're a year out from some of the strictest COVID-19 lockdowns, we're noticing that many of the projects we're finding are a direct response to those long weeks of solitude. Whether it's finally having the time to devote to a personal project, like the lighting launch we featured earlier this month, or designers figuring out how to build and produce an entire collection without their usual team, it's been interesting to see the fruits of that solo labor.
Our latest find doesn't even have a full-fledged studio yet, still being a student at the Design Academy Eindhoven: Pepijn Fabius Clovis used his time away from campus to design and produce an entire collection for the Dutch furnishings shop Homestock. "I felt that, especially during the long periods of lockdown we experienced in The Netherlands, people started to do things that have a more instinctive nature," he explains of how the concept came about, "to enjoy themselves or to pass time. Things like crafts, working with clay, or other hands-on types of activities." The collection, a series of colorful lacquered wooden furniture rendered in wavy 2D planes — including a giant purple-framed floor mirror to add to your wish list — is assembled almost spontaneously in a way that resembles, at least to me, paper dollhouse furniture. It's also totally designed and built to order by Clovis himself. How's that for a quarantine craft? We spoke to the designer below.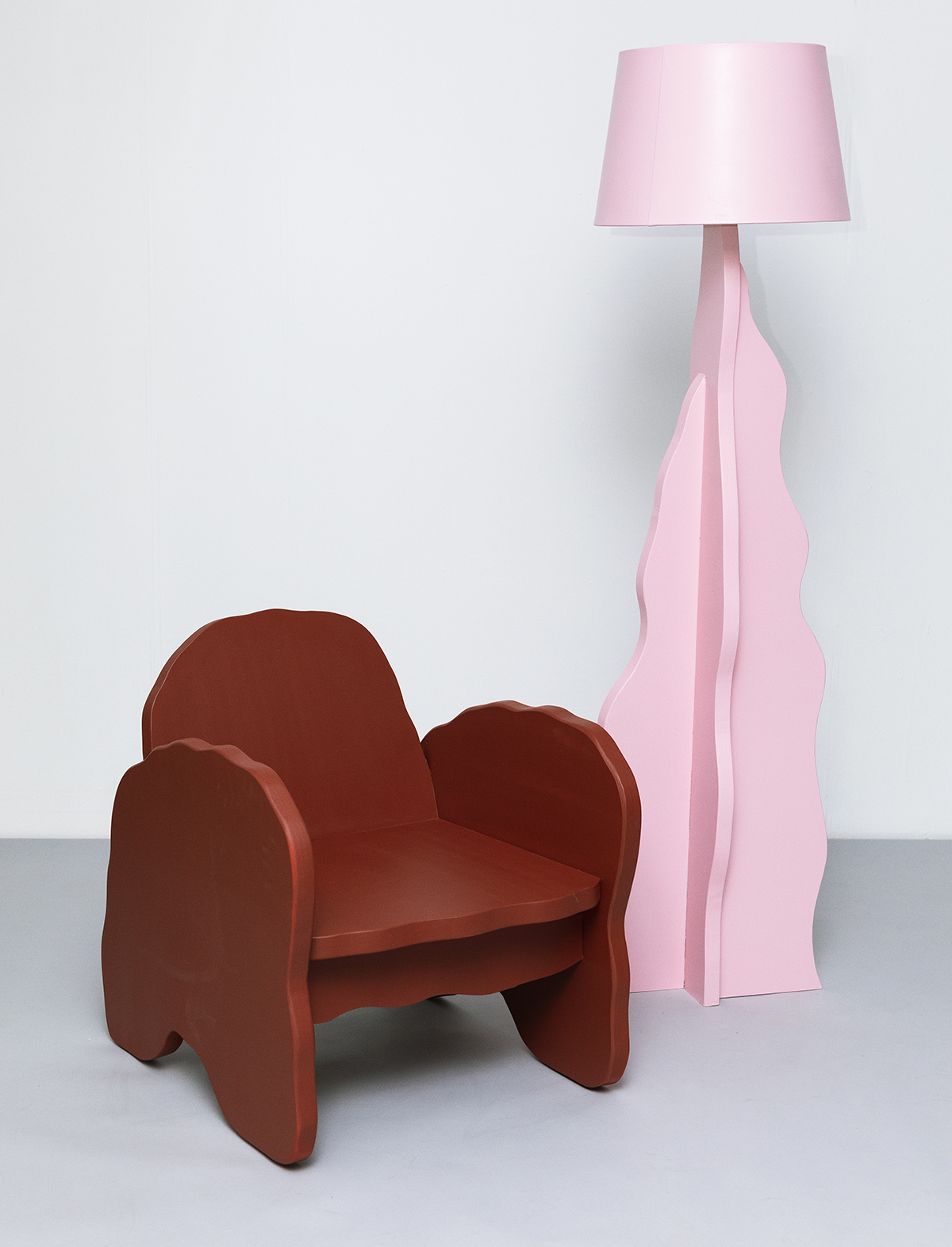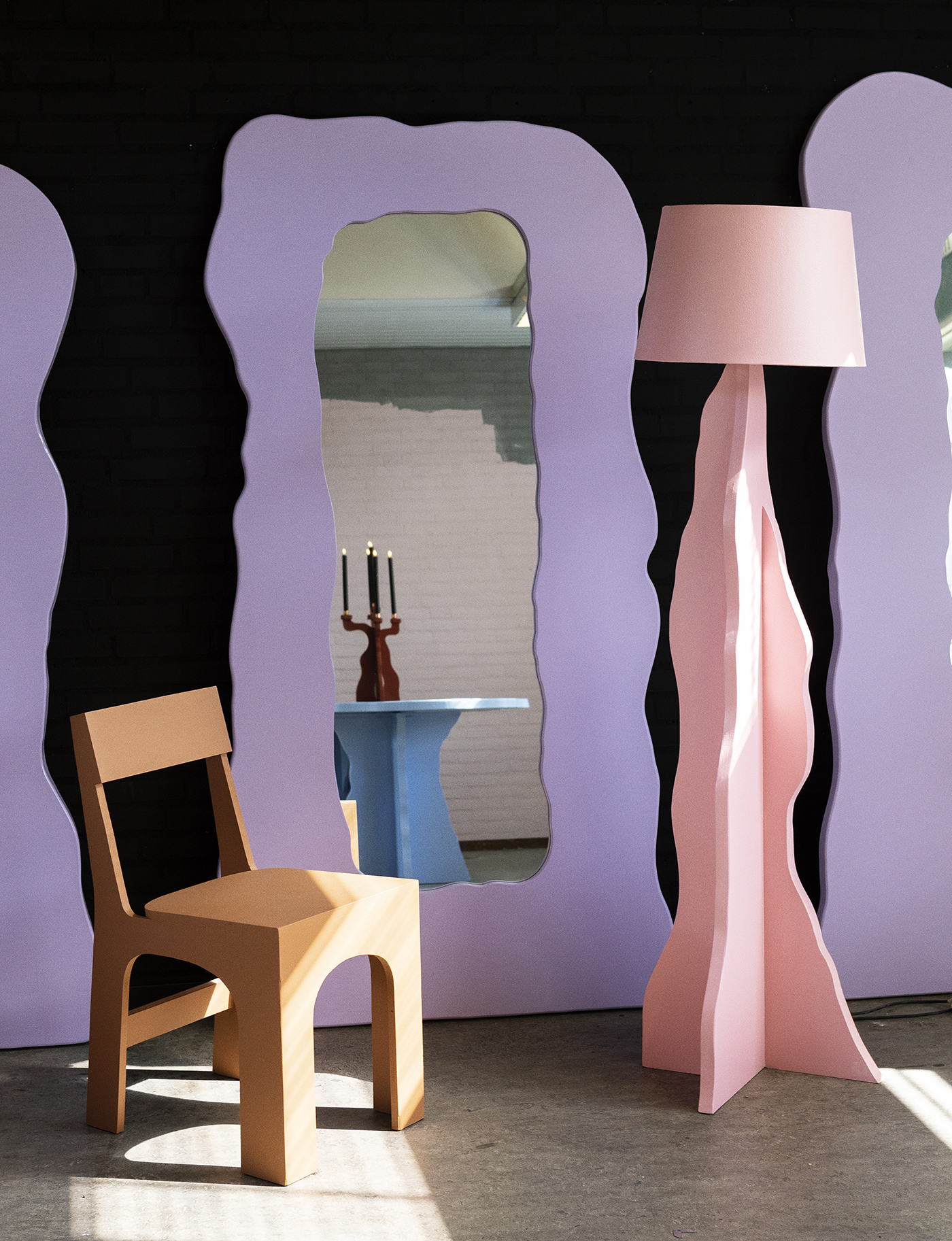 Tell us about yourself: Where do you live? What did you study?
My name is Pepijn Fabius Clovis van Otterlo. I'm 25 years old, born in Utrecht, and almost finished with my studies at Design Academy Eindhoven.
Can you explain the concept behind this collection?
I wanted to make an interior collection consisting of items that have this primal carving nature, like sculpting with stone. The first sketches, which were full-sized objects, were thick parts of wood put together and then carved with an angle grinder like actually sculpting. After the process of developing a language and refining the pieces, a collection was born.
Why did you choose the name Piecefull Intuition for your collection?
Peaceful is how I wanted the pieces to communicate, hence the softness of the colors, intuition refers back to the intuitive way of making the objects and giving the shape, and the pieces themselves should be full of this.
Tell us about your process from design to construction. Where do you start?
Designing took place by actually making the items right away. I always sketch in my head, and because I wanted to approach the prototypes as a block of stone, I put the basic shapes together and just carved the rest out. This is really an energetic performance where I intensively create the prototype, carve it all and then leave it alone. The next day I will have another look at it and I can feel right away whether it has been a good design. If so, I will find a color for it and put it on quickly. If I'm still happy then I will make it again, but this time with all the shapes cut out apart from one another, allowing me to properly make a construction. Then I can hypothetically throw it off a building without breaking. I look for the right coating and finish it. Coating the items requires a very different and more precise way of working. You can maybe imagine that making the table is much more an explosive performance than a candleholder but nevertheless, they come from the same intuition.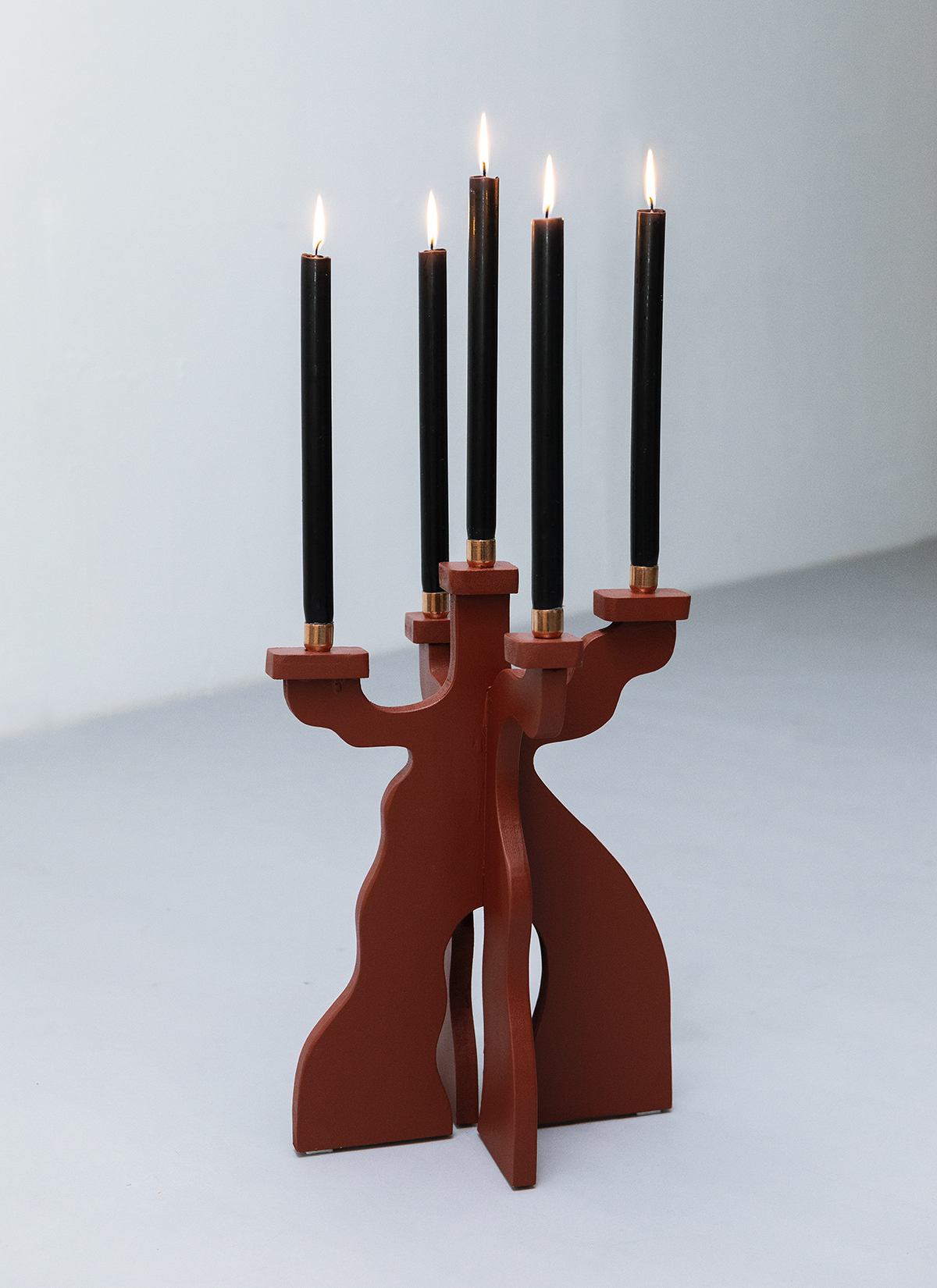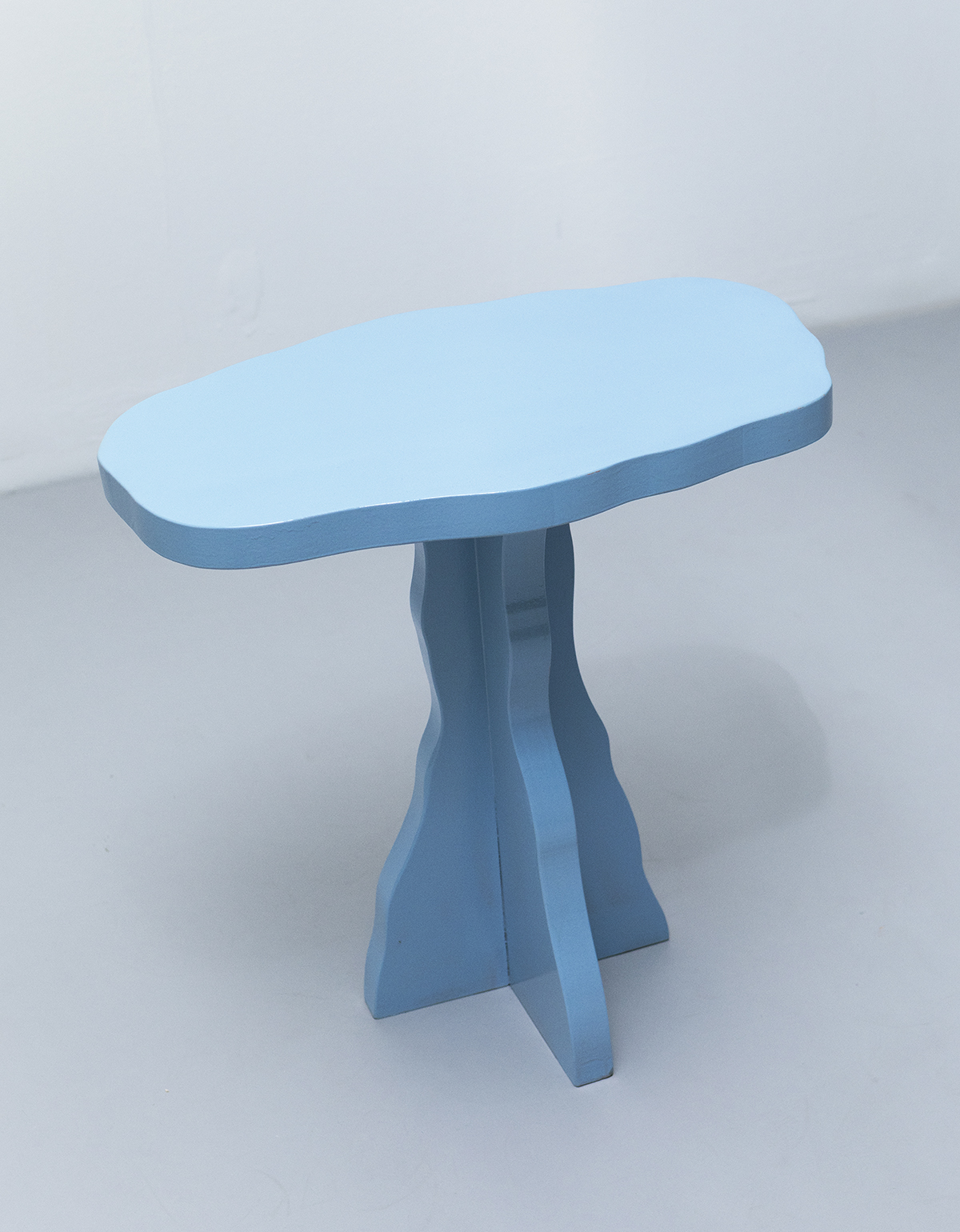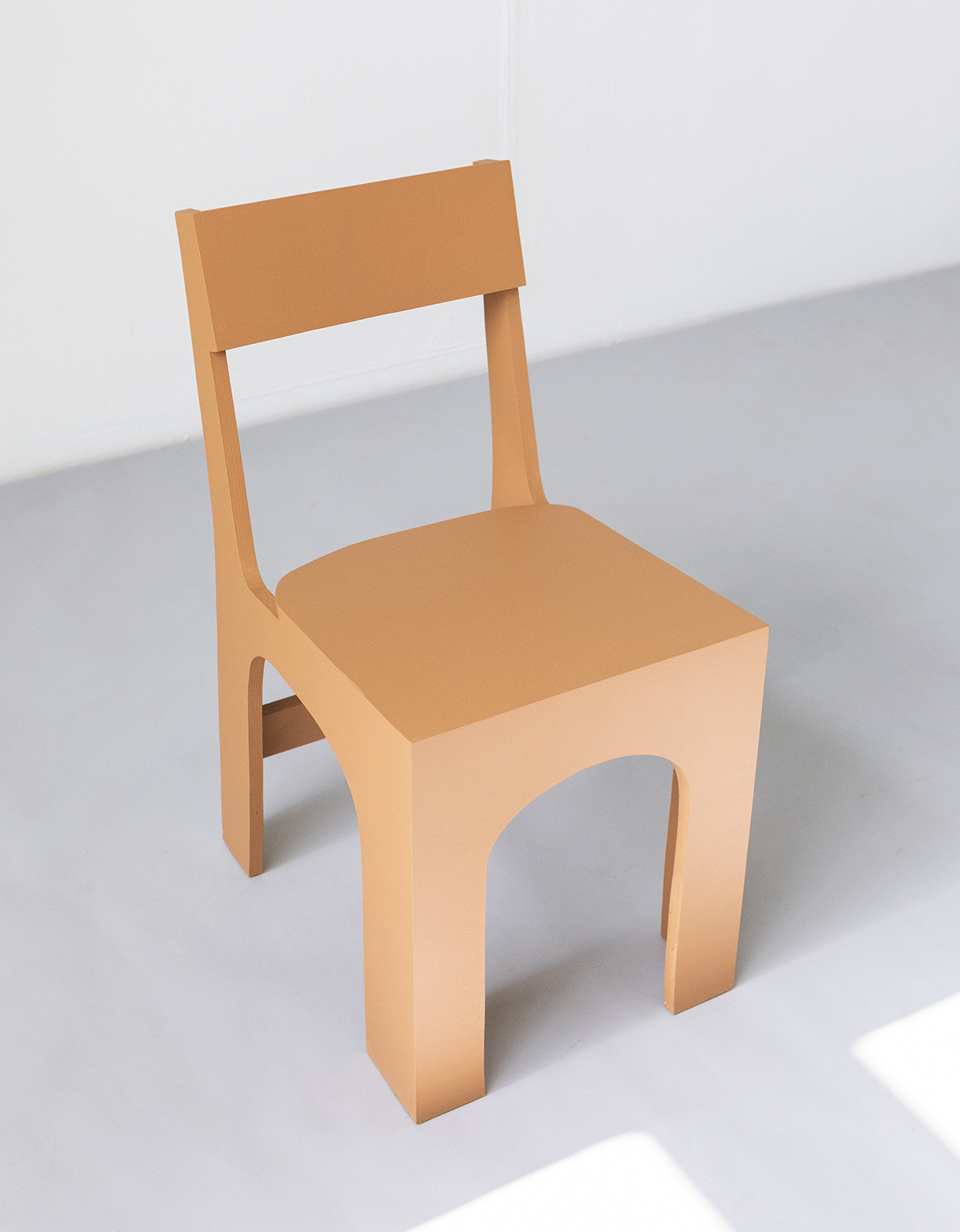 Did you have any particular inspiration? Perhaps a movement, era or designer you looked to?
I think I must have been inspired by the 70's interior design along the way, but not anything in particular. Maybe some things I learned from my internship mentor and one of my biggest inspirations, Joost van Bleiswijk. During my time there I experienced Joost's hands-on and intuitive way of making and experimenting. This energy is definitely visible in my collection as well.
The pieces remind me a bit of furniture from a paper dollhouse in that they're cut and assembled from 2D planes.
Yes, I can definitely see that, and this way of construction allowed a lot of possibilities, it is really straightforward forward and I like things that are not too forced.
Can you take us through the construction of the pieces? How do you build them?
I start with layering different types of wood, like hardwood or MDF to create the thick boards of almost 40 mm. Then I draw the outlines. Then, within the frame, I draw the shape by hand, with no stencils. I cut the different parts, then put them together and do the sanding, finishing, and coating. The starting point is almost the same for all the products but the construction and finishing are different for each item. I only use MDF; because of its dense and solid properties, carving works well with it. Then for the coating, I use the best quality possible; the tables, for example, are painted with a coating typically used on the outside of yachts. So you can imagine the durability.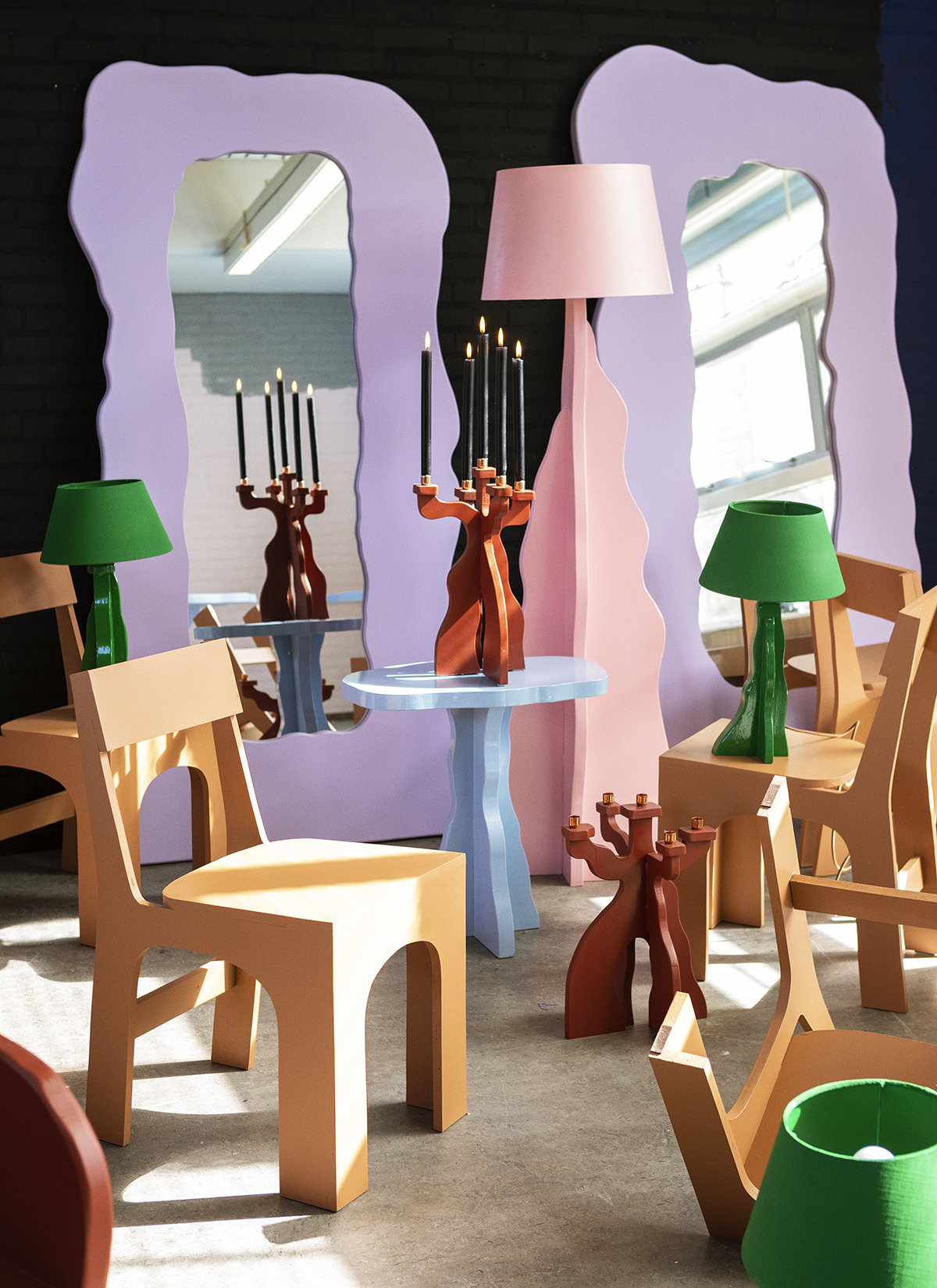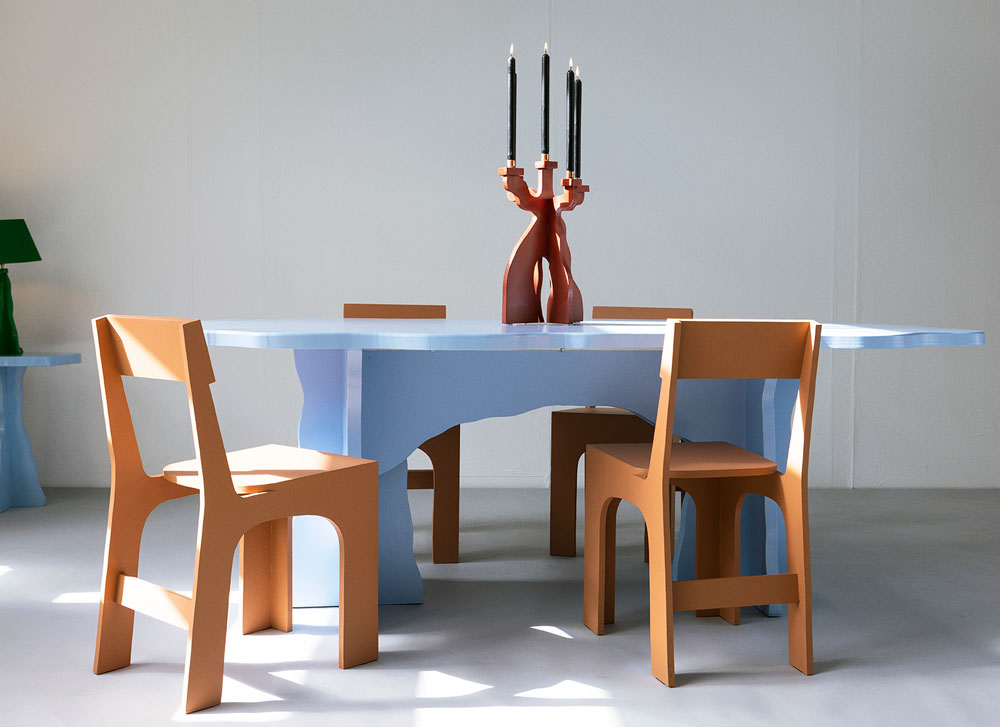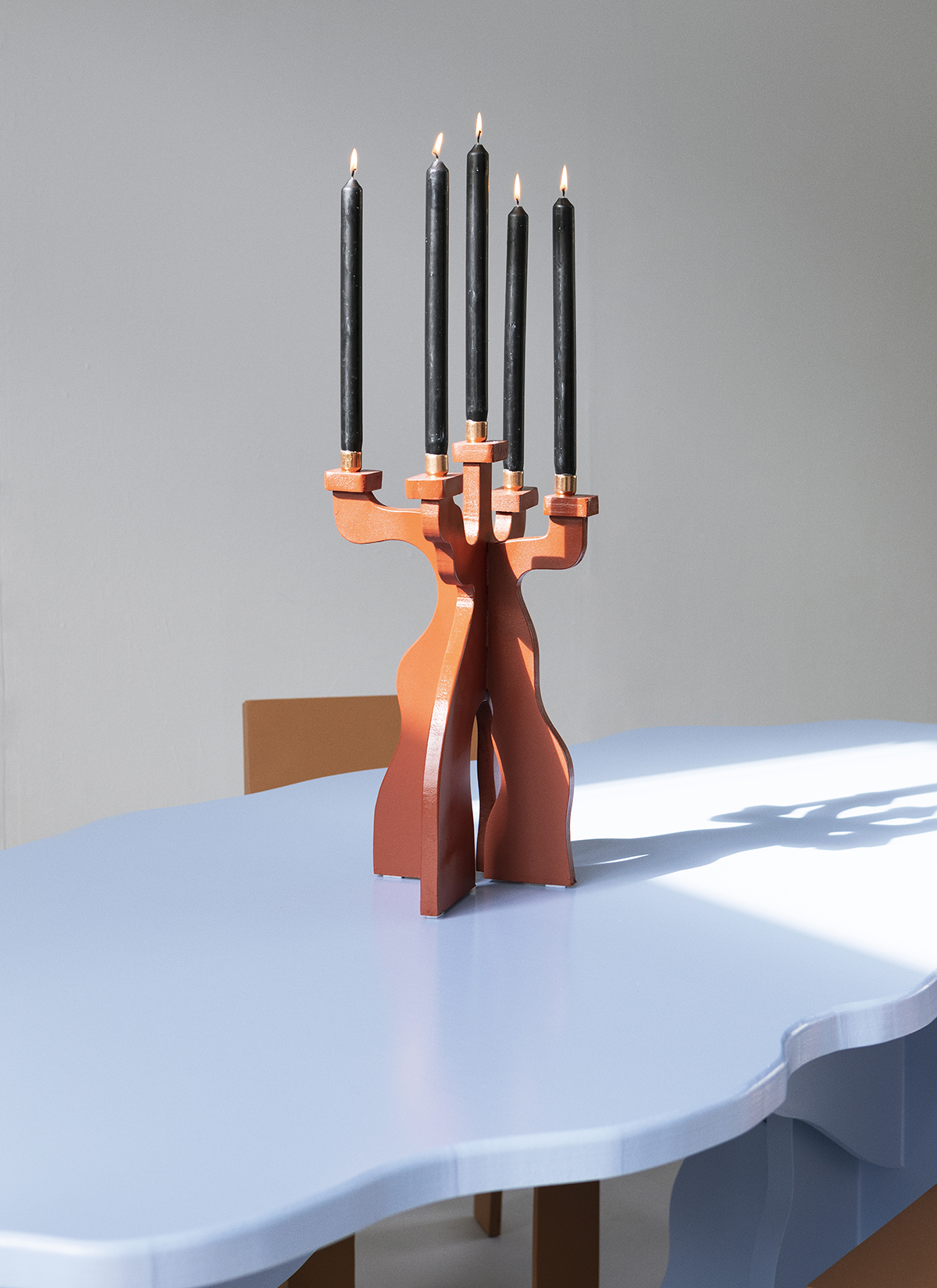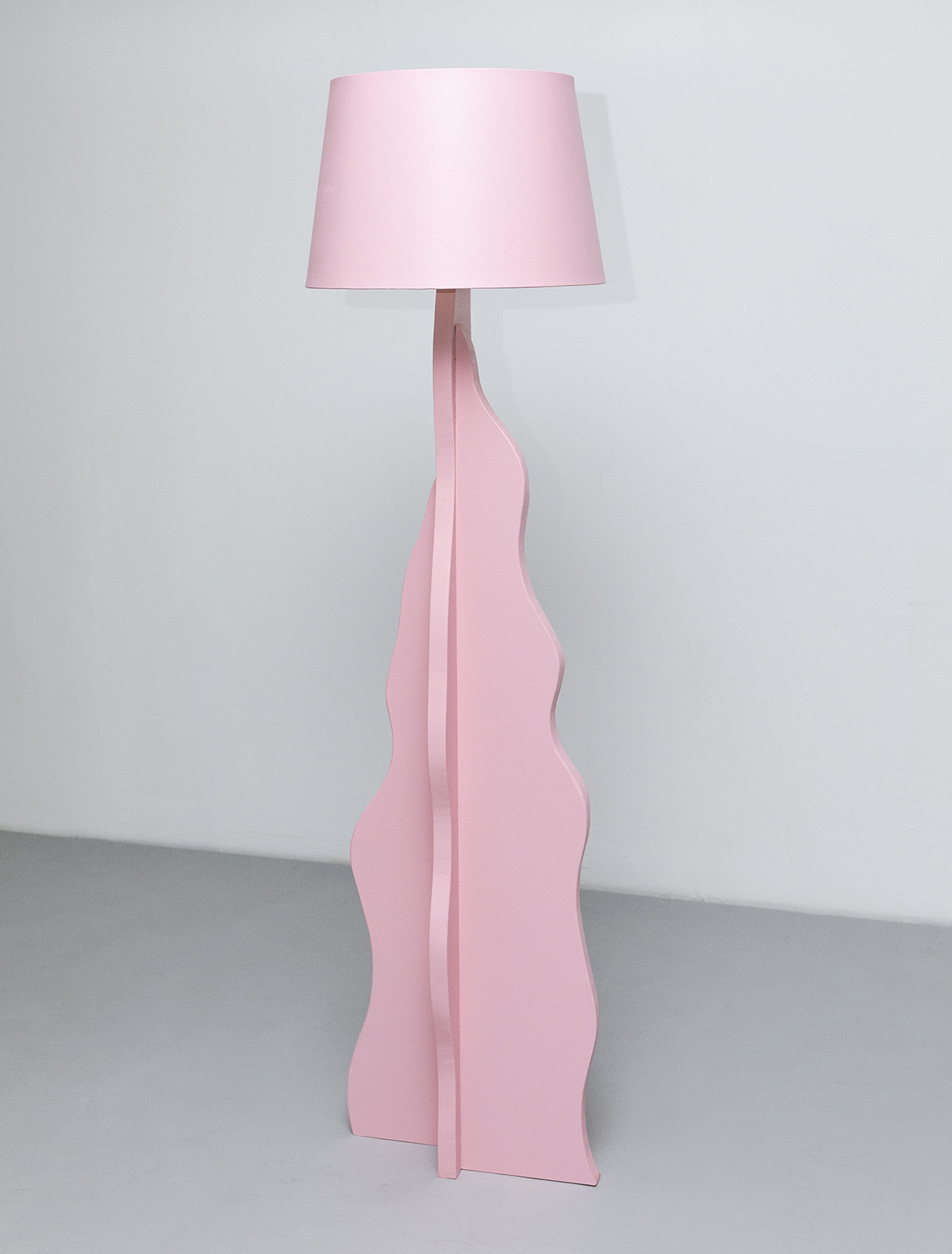 You describe the organic shape of the dining table as "allowing you to sit anywhere without a forced spot." Why was that an important aspect of the design?
This was not intentional. The table was meant to be striking in its size and shape. When I made the first one, I started to use it myself to see how it would feel, and this appeared to be a really nice feature. I often have friends and other designers over for dinner parties and everybody said that it was really relaxed to not really feel like being put in a spot within a sort of plan. If you look at the top view of an architectural drawing of a dining table, it's quite rigid and calculated. Since the shape of my table is not in any way set or even planned this allows for multiple little curves that can be a spot. So if you sit with two people, you don't feel you are at an empty eight-person table. So this was not an important aspect of the design but for me, it has become a very nice property of the table.
Research-wise, what are you interested in these days?
I'm always busy with a lot of projects. I'm really interested in unconventional connections and recycling materials. I'm building a studio that I share with Teun Zwets. There will be a lot of new things coming.
What's next for you?
Next is my graduation from Design Academy, which was postponed a little bit because of the COVID situation. Also, Milan Design Week is coming up, and of course Dutch Design Week in October. Hopefully, we can enjoy it this year and I will be presenting new work then — maybe a collaboration with my colleague Teun. We'll see!