06.22.21
A Vintage-Loving Stylist Takes Neutral Hues to a Whole New Level in This Salt Lake City Rental
Stylist Logan Reulet's hyperminimal, clean-lined, über-serene rental home in Salt Lake City is like a living piece of art, subtly infused with meaning and character. With so much purpose and intent put into his curated possessions, set against a soothing backdrop awash in natural light, it's hard not to think that this creative who works in commercial photography is somewhat of a perfectionist. "Oh I'm constantly analyzing how my eye moves around a space," he reveals. "When I first moved in, I was always changing things around trying to figure out the space. Now it's pretty settled as far as furniture layout, but being a stylist I can't help but shuffle small items around from time to time."
From the crisp ivory bed linens, to the cream Nordic Knots rug, to the miraculously pristine white furnishings — like Urbana's shapely Centipede Bench, which dominates the living room — not one surface is darker than the soft touch of ecru or the odd coffee tone. A neutral palette was always the plan, though. "My previous home was beautiful, but very dark. I knew I needed my next place to feel bright and open especially since I knew I'd be downsizing significantly," Reulet explains. "While I really enjoy colorful spaces, I have huge commitment issues when it comes to color. I just can't seem to stick with them."
In the space, every object exists on its own, creating a museum-like energy. Upon entering, your eyes instantly meet an inlaid beige fossil and white ivory stone zig zag pedestal (by Marquis Collection of Beverly Hills), and then a latte-hued vinyl 1980s armchair (by Brayton International), and later three abstract sculptures Reulet made during a ceramics class in Salt Lake, which sit upon an IKEA shelf in the living area. It's a space where composition and functionality were forefront in his mind, creating harmony and a sense of continuity, considered in realistic terms of what he needed versus what he wanted. "I'm certain most people would never look at my place and think "functional", but it is functional for the way I live and that's all that matters. I have a table for eating and working, cabinets for extra storage, a comfy chair for reading, and a bed to sleep in."
"I think because I work in 2D so much for my career, I'm attracted to objects that are more three dimensional in nature," explains Reulet. "Where a painting or photo mostly just interacts with you as the viewer, textural art and sculpture interact with you and all of their surroundings." A small portion of collected finds, hunted down over past decades can be seen in various edits, juxtaposing objects and materiality, like a pair of hand forged abstract chrome candle holders from the 1980's, alongside a pair of Bethlehem olive wood spiral candle holders. There are also vintage vessels by Haeger and Rosenthal, a Heide Warlamis 1980s Head Vase, and a supersize vintage Deco Revival plaster vase. Moments of pedigreed vintage 1980s Italian design make an appearance too, like a pair of tan leather and curved-leg stainless steel dining chairs, pulled up to a marble bistro table from CB2. Elsewhere, Reulet swapped the original Corian tops for a walnut finish on a pair of vintage 1970's Karl Springer-inspired nesting tables he found on Chairish, and in the hallway is a vintage mirror he designed and commissioned "because I needed specific dimensions to fit in such a narrow space."
Most of the smaller artwork  was made by his friends, save for a standout male portrait discovered in a thrift store in Louisville. "I was told at the time that he was an oil tycoon from Kentucky but I'm 99% sure that was made up! I had him unframed for years until designing and commissioning a custom frame for him." We recently caught up with Logan to find out more about his design aesthetic — and to ask if anyone has ever spilled wine on that carpet!
PHOTOS BY MALISSA MABEY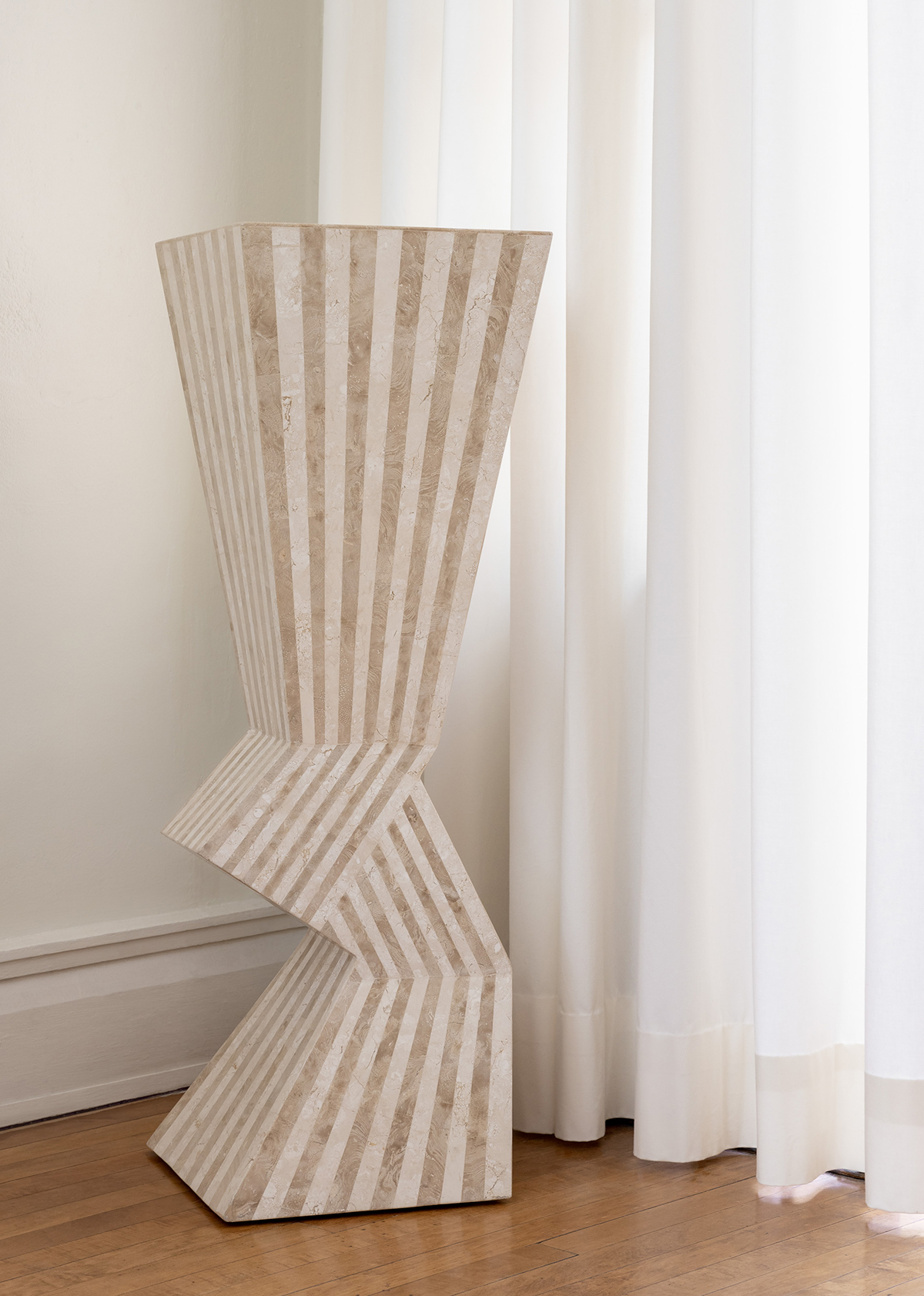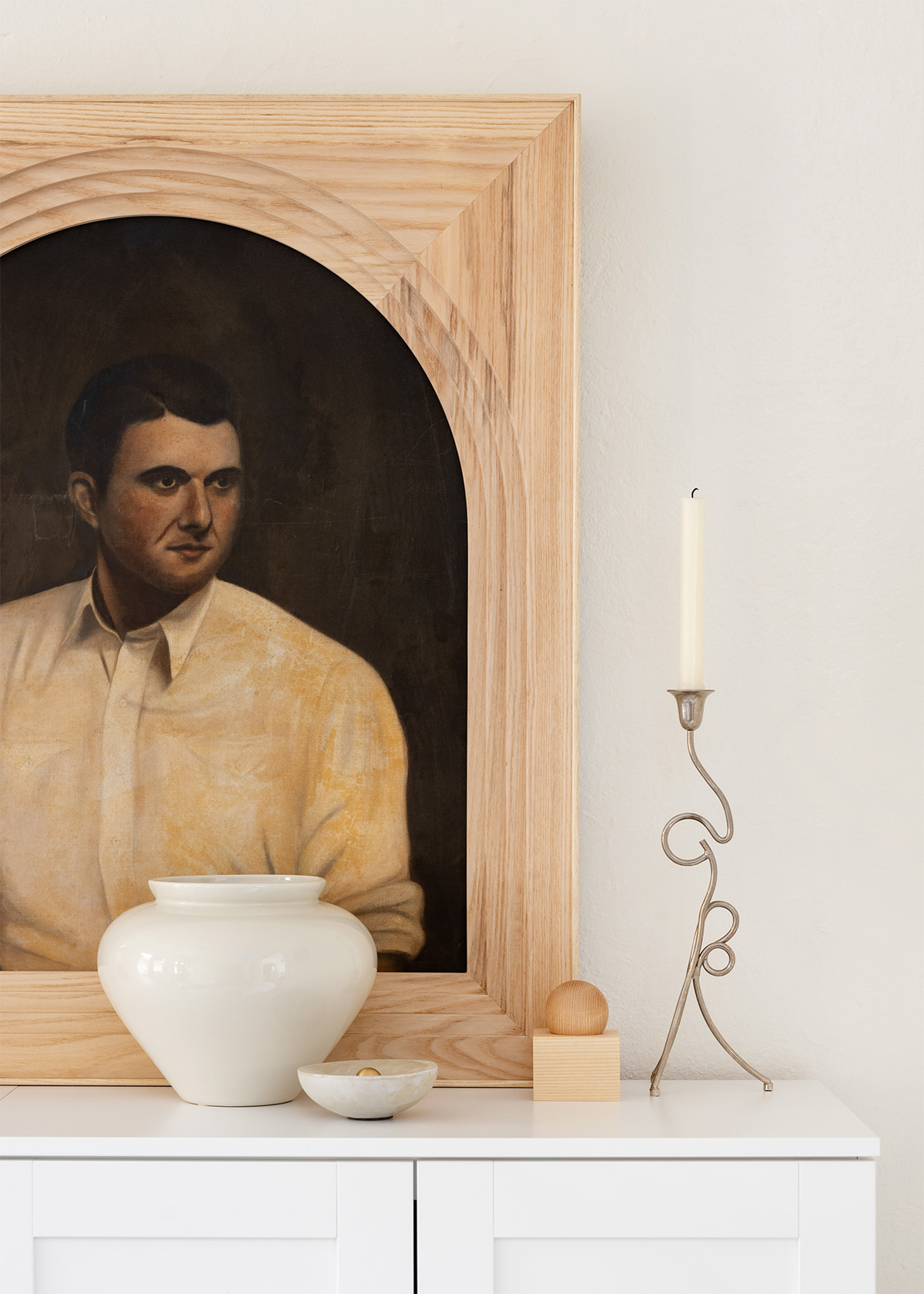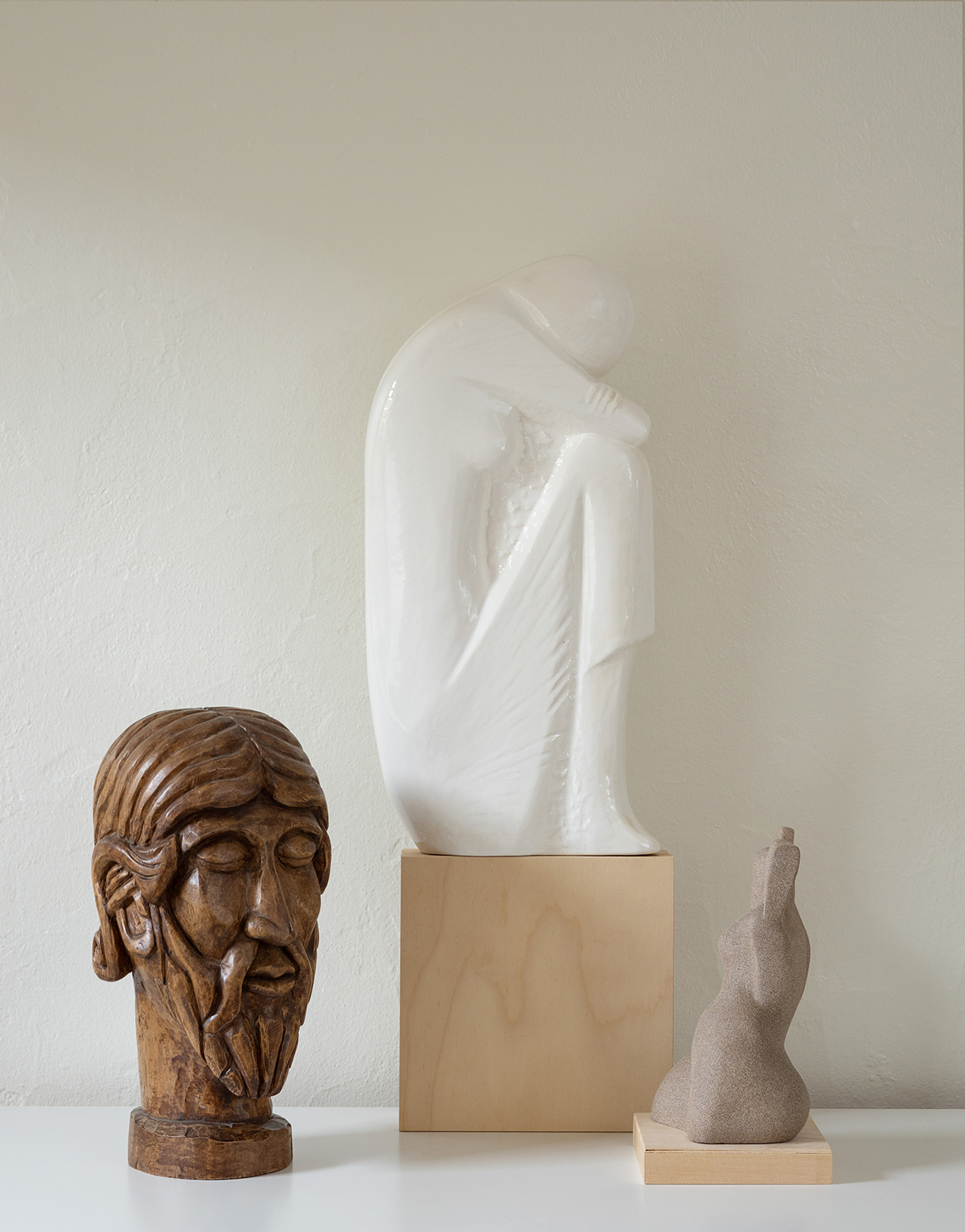 You were originally based in Louisville, so when did you move to Salt Lake City? Was the apartment partly what attracted you?
I moved to Salt Lake in August 2018 after taking a position in a commercial studio here. The apartment wasn't a factor in the relocation, but I did spot the building while researching the area and already had a huge crush on it.
What's the building like then, and also the neighborhood?
It's a Victorian Era building, built in 1908 during an urban housing boom in Salt Lake City. It's sandwiched between the outskirts and the core of downtown. Coming in as a transplant, the location has been incredible for me. Everything I need is within walking distance.
Was the space renovated at all? What was it like when you first found it?
Having seen a few other units here, it looks like the building was renovated in the 1950's — the kitchens and bathrooms with metal base cabinets, Marlite shower surrounds, etc. The windows were also updated at some point. The architecture and charm of the original apartments is predominantly intact.
Walk me through the space then. How big is the apartment, and can you describe the overall layout?
The apartment is roughly 550 square feet with tall ceilings, original doors, trim, and moldings. The layout is a simple four square with solid wood floors in the main living areas. The living room needed to be a multi-use so it has a Modernist salon feel to it. It opens up to the bedroom through a set of double pocket doors that I always leave open to let the light pass through the entire apartment. The bedroom is a more of a tranquil space, but I wanted the two rooms to still flow together to make the place feel larger. There's also a 9-foot-wide bay window with views of the mountains that I didn't want to shut off from the living space.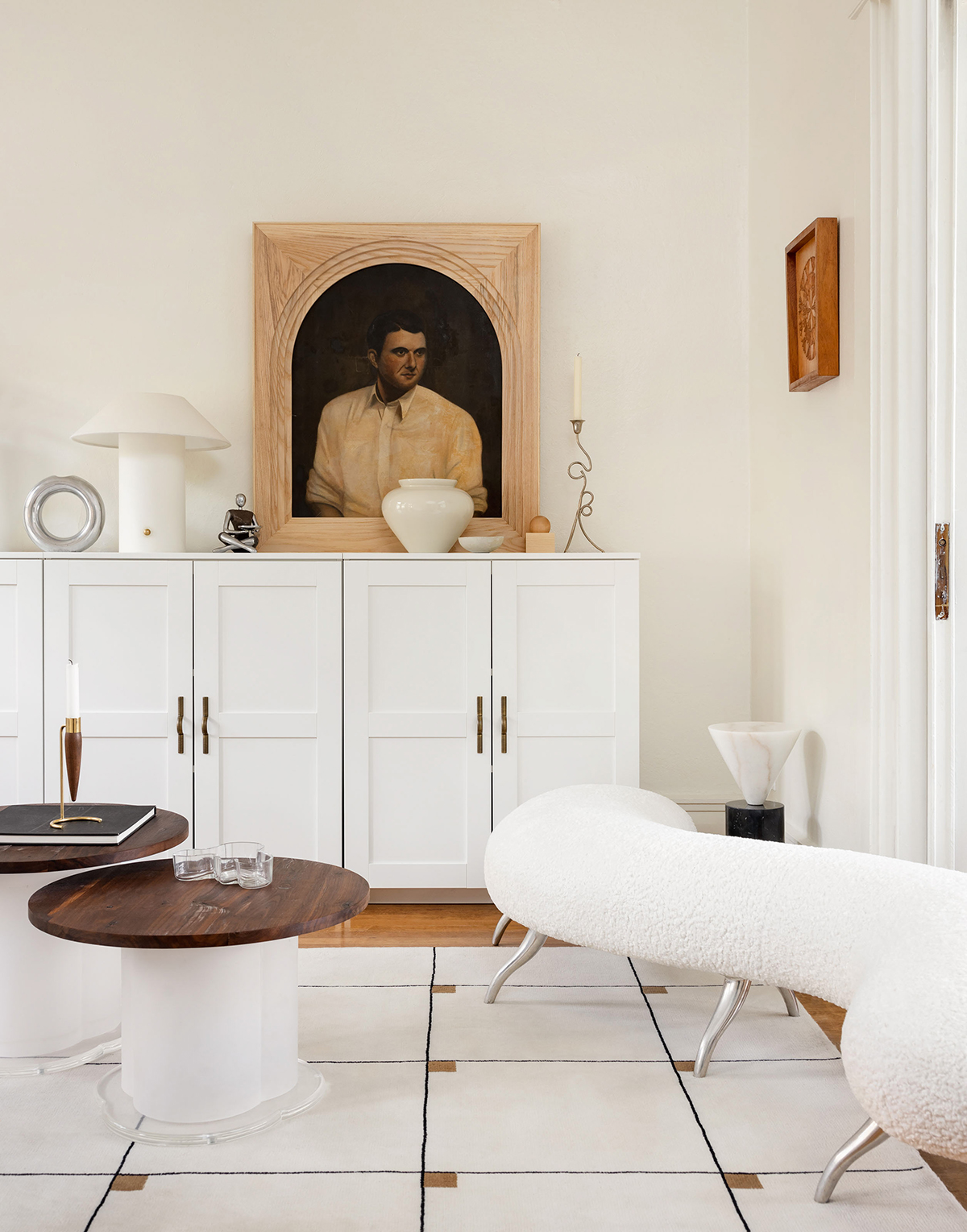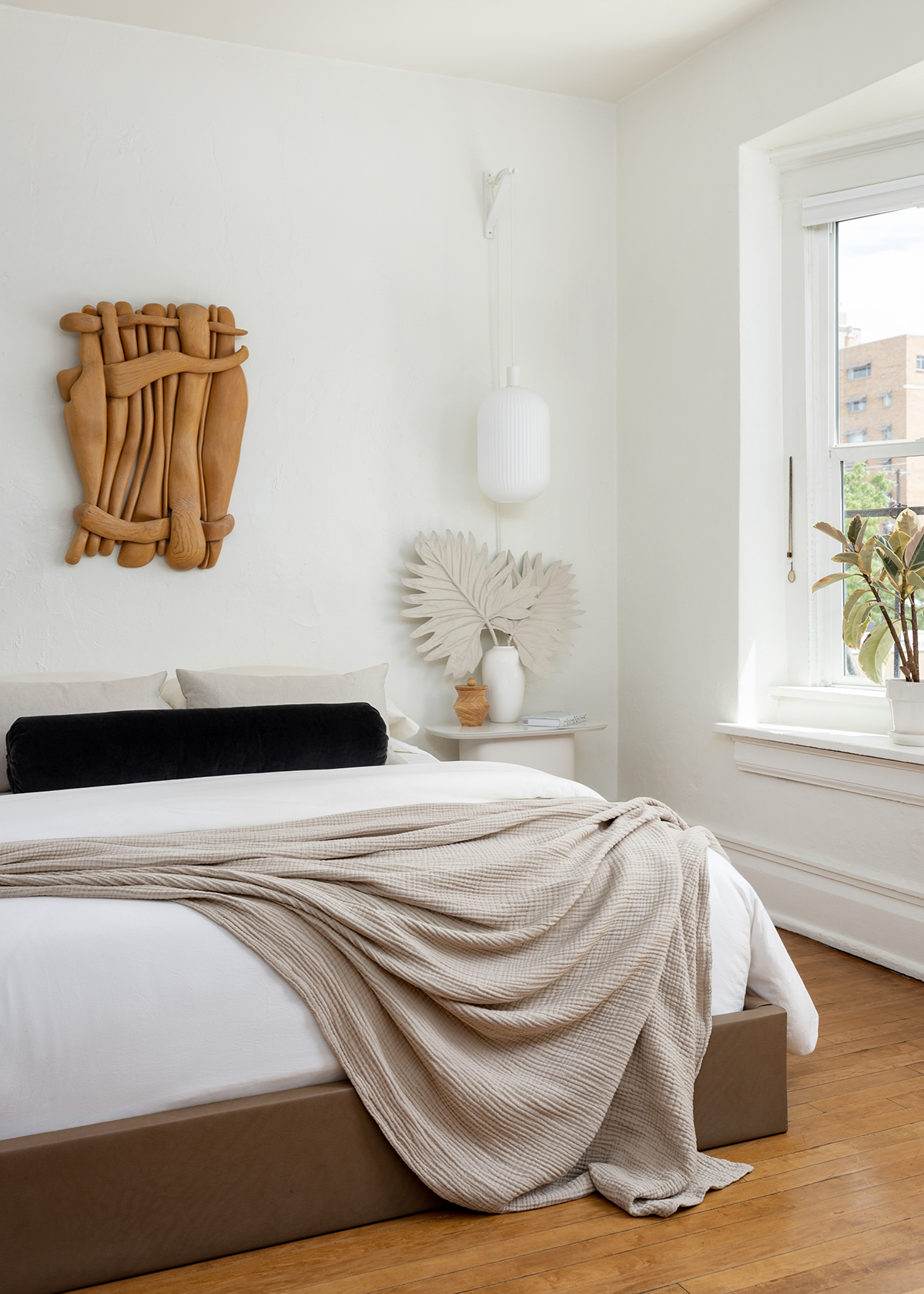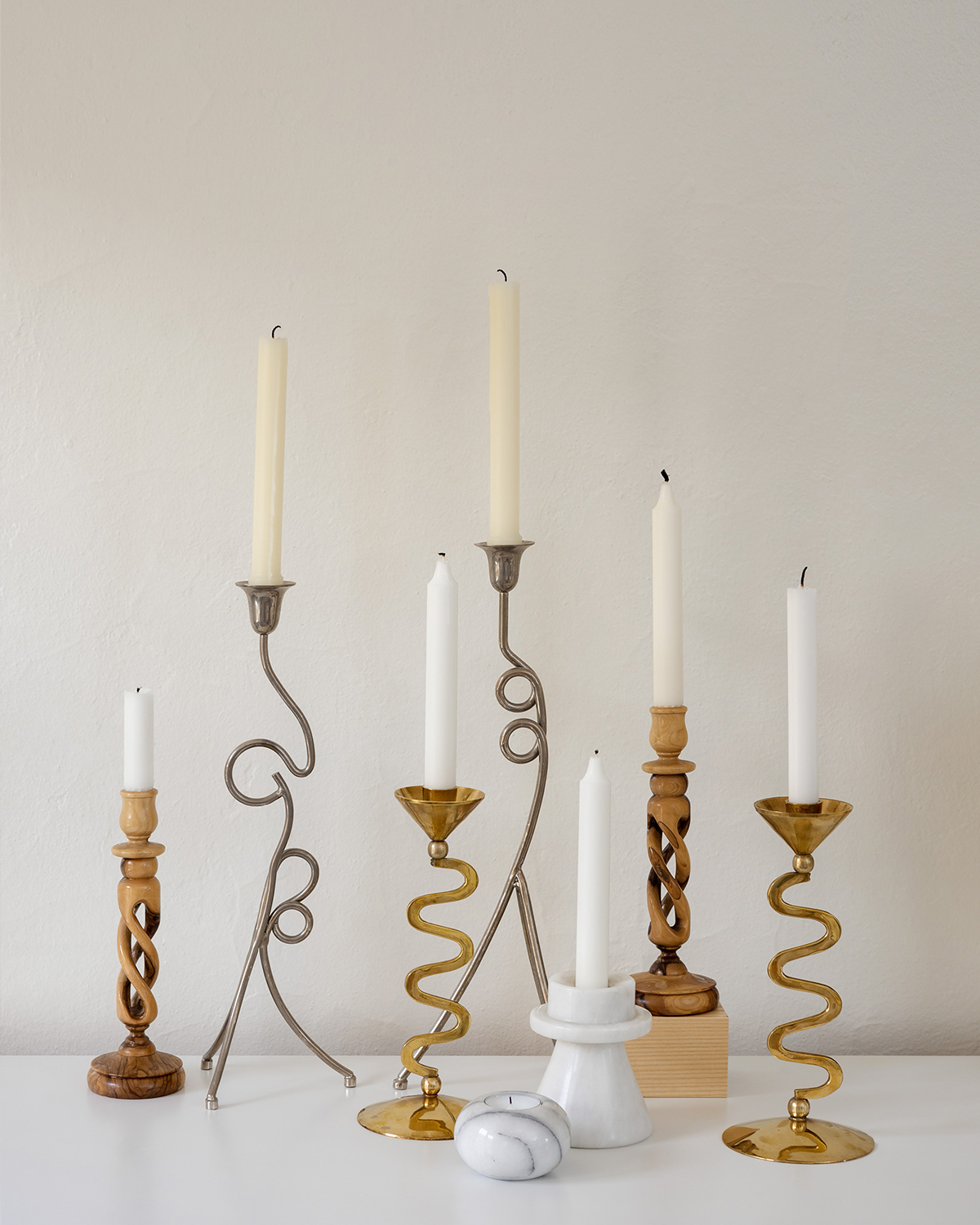 Your eclectic curation of sculptural and decorative objects reminds me a little of Brancusi's atelier in Paris! You're obviously a collector. Do you remember the first thing you ever felt compelled to acquire?
I think the zig zag pedestal was the first thing I've ever felt viscerally compelled to acquire. I hunted for one for a solid six months trying to dig one up and had multiple people on the lookout for it. I always keep my eyes peeled for interesting finds, but that was the first time I was really on a mission.
Where do you source everything from? It seems to be a beautiful mix of contemporary and vintage?
It's very much a mix. I love how contemporary pieces have the ability to set off vintage items and give them presence. The vintage market here is difficult if you're looking for anything outside of MCM so I mostly rely on online stores like Chairish or Etsy, as well as a handful of vintage sellers on Instagram.
You have such a controlled minimalist aesthetic, so how do you choose what to display? Are there any objects you treasure that have a particularly interesting backstory?
In general, my key decor and art pieces are always on display. I have small collections of vases, candle holders, decorative containers that I use for photography that move in and out of rotation constantly when restyling.
My most treasured pieces are by friends. I used to host an annual Christmas party in Louisville. It started while I was in art school then grew to include friends I had made in the photography world. We'd each make a piece of art for the party and have a Bad Santa style exchange. We all worked hard at it and I got some really great pieces over the years that I'll always treasure.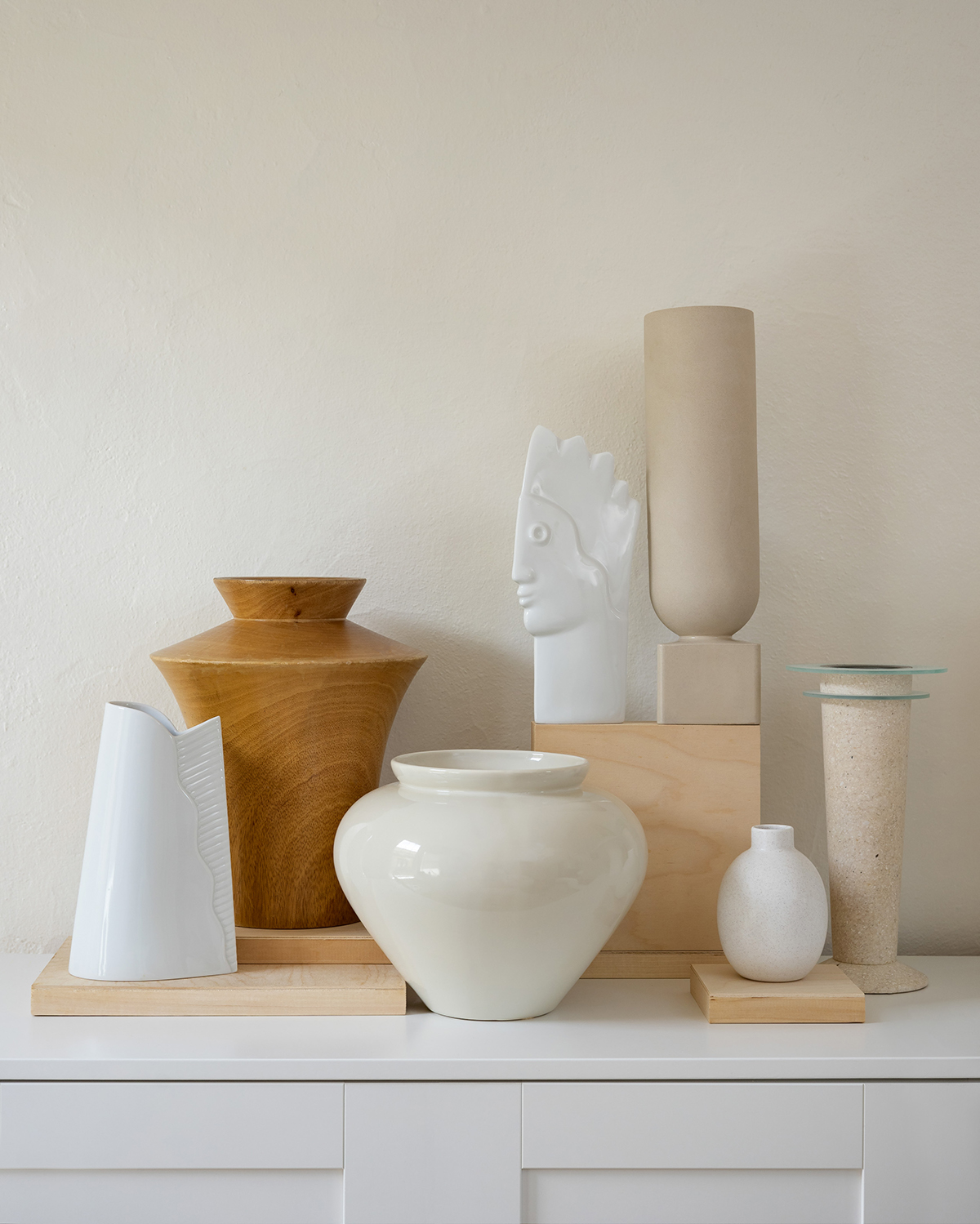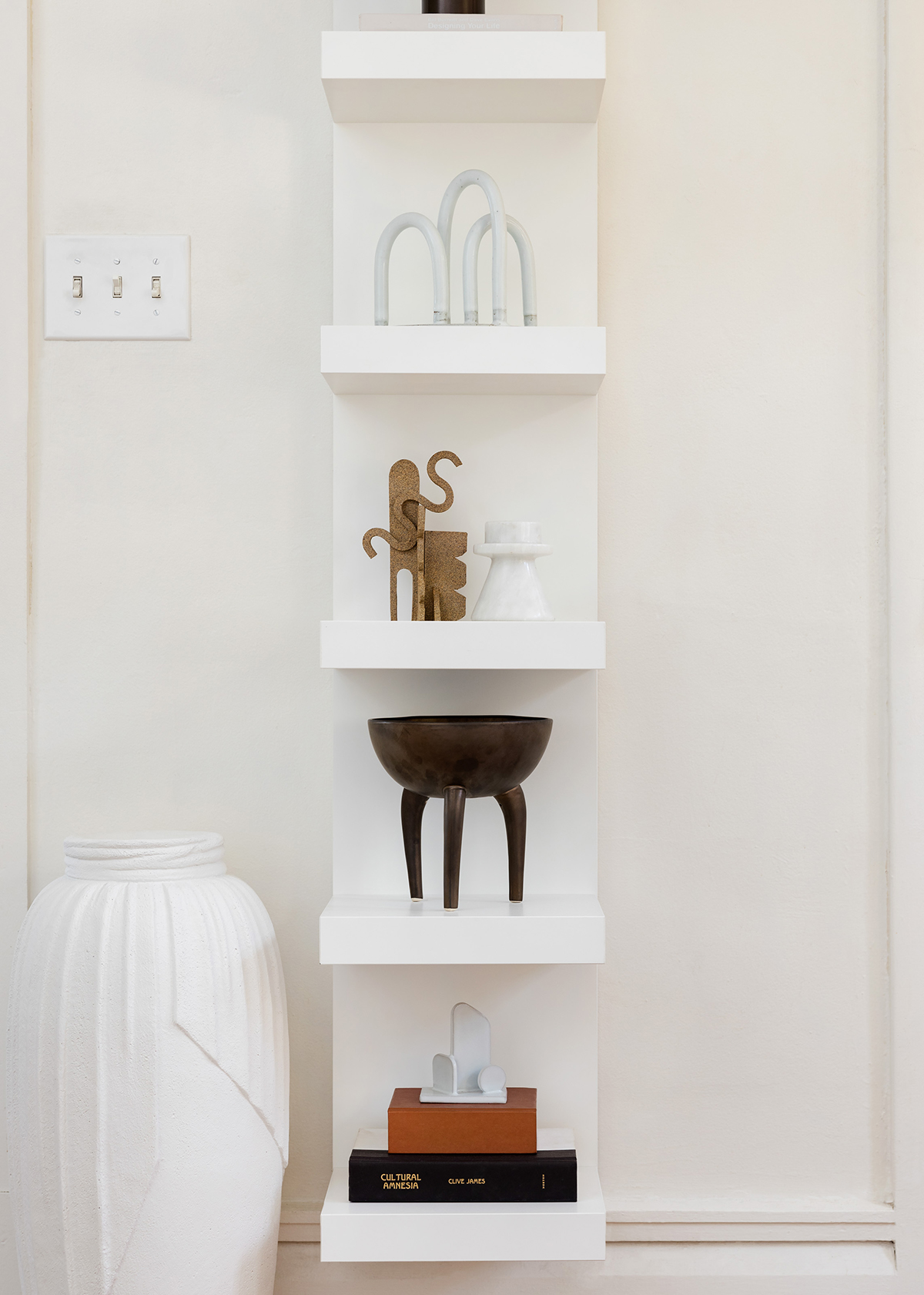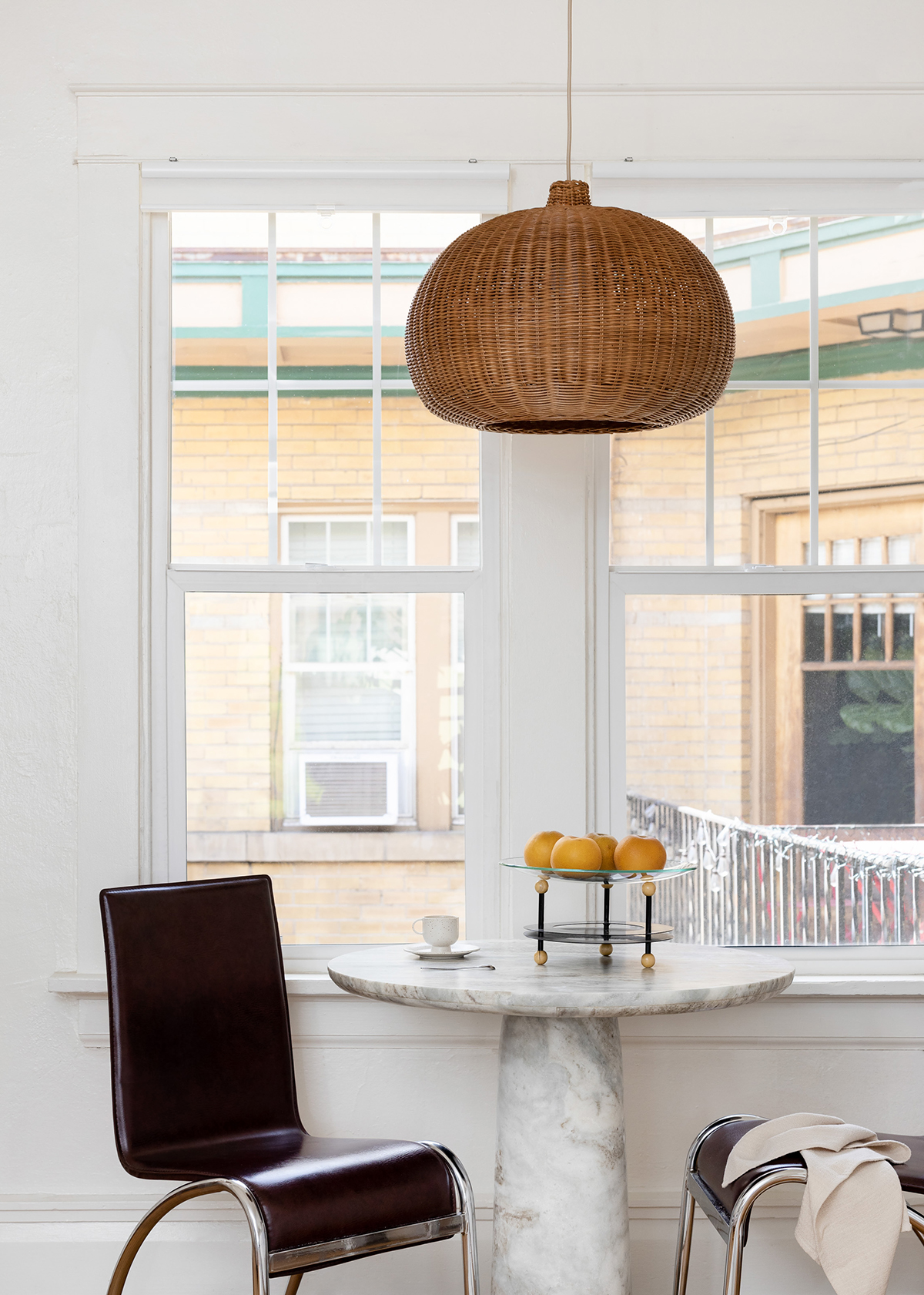 In building your collection, which design eras inspire you, and how does that translate into your interior style?
I'm inspired by pretty much everything from Art Deco onwards. A big part of why I stick to a neutral color palette is that it helps meld pieces from different eras into a cohesive space. I can focus on the lines and form of a piece without worrying about things clashing. At the moment, I'm mostly inspired by Postmodern and Memphis. They both used shape language in really interesting ways.
Talking of shape, can you tell me about that white S-shaped bench in the main living area? It's so great.
I'm obsessed with it! I lusted after it for years before running across one. It's the Centipede Bench by Urbana. They were founded in 1986, but I think the bench was produced in the late '90s.
 What other favorite pieces can you tell us about?
Right now my favorite pieces are the handmade papier-mâché leaves and a vintage sandstone bust I found. And of course, the carved wood wall sculpture above the bed.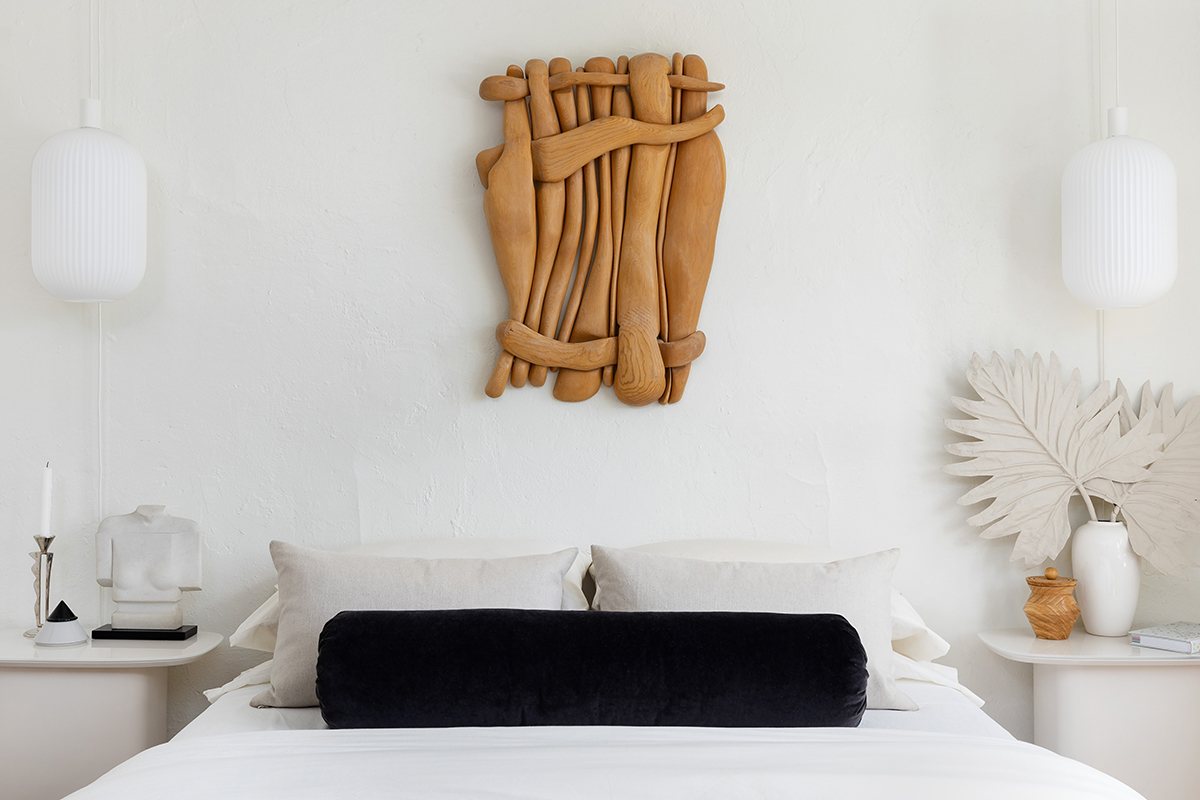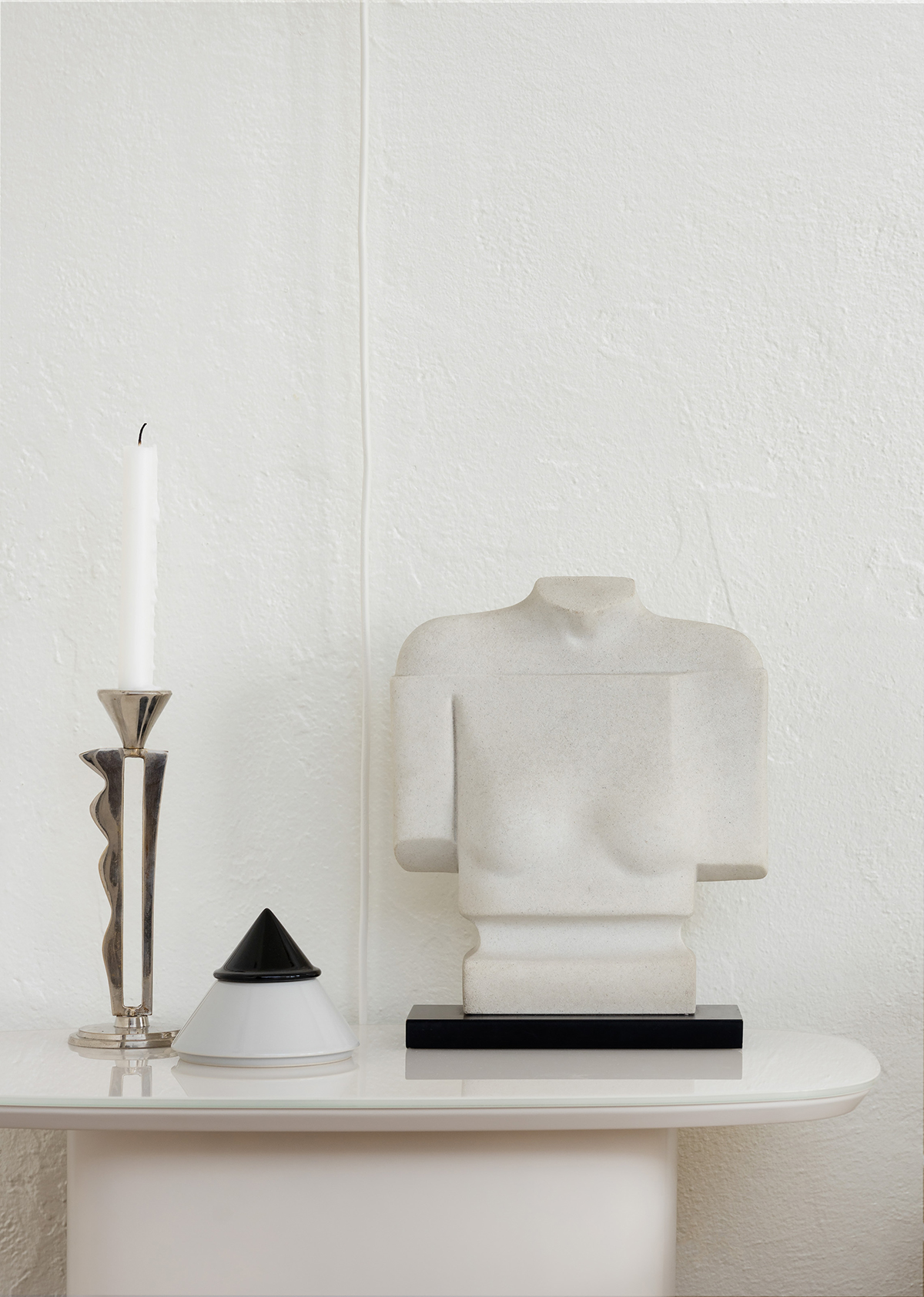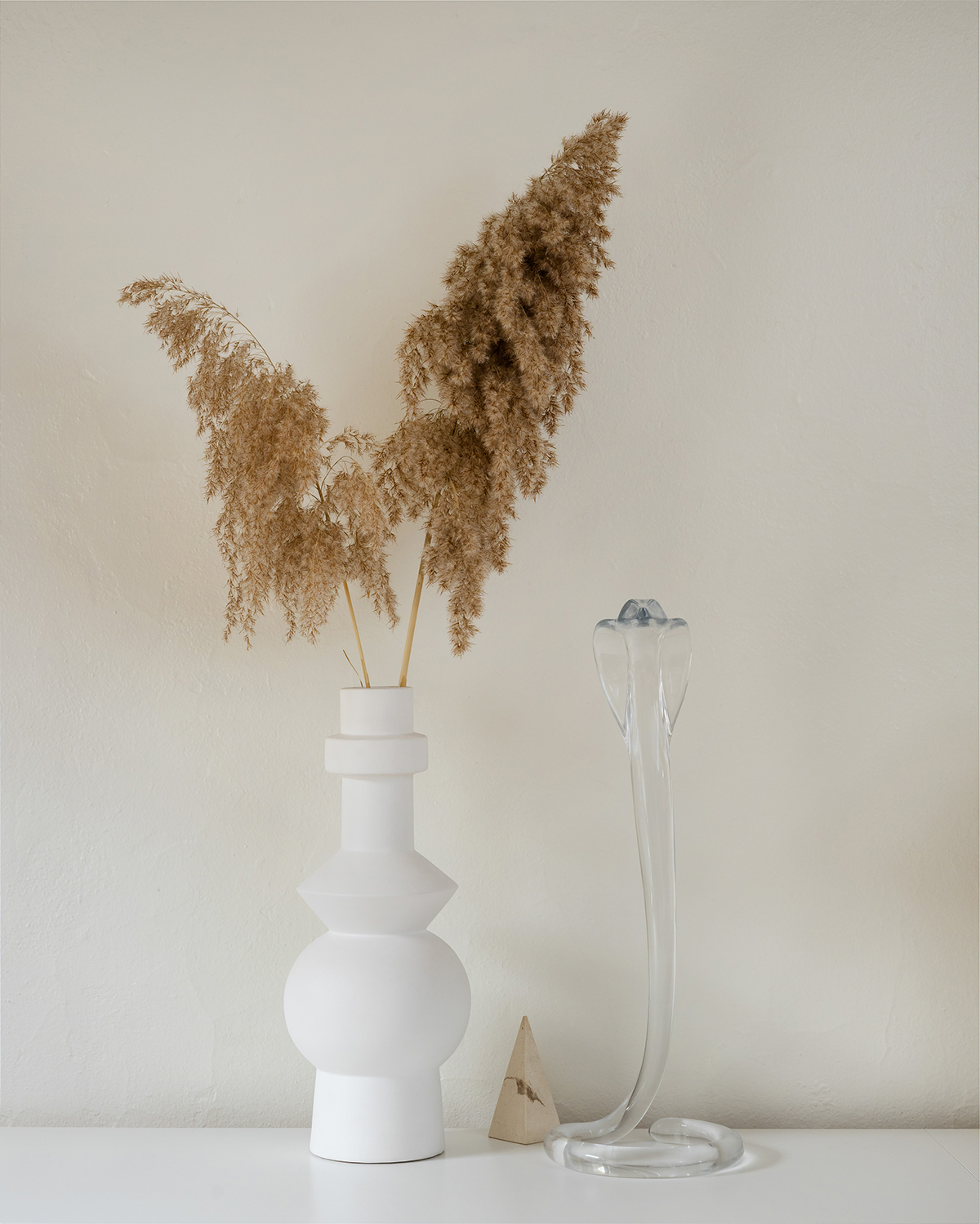 Which is your favorite room in the apartment?
The bedroom. It's such a comfortable space and the bay window faces east with a view of the mountains and daily sunrises. The matching white pendants and bedside tables kind of disappear and make it easy to restyle whenever the mood hits.
During the pandemic, when we were all changing and upgrading our interiors, what was the experience like for you?
After a couple months of working strictly from home, I made a major shift in how I viewed the space. I already had pieces that I loved, but others were just fillers that needed to go. And some, like a sofa I sat on maybe twice, just weren't working with the way I lived. Now I'm much more intentional with my purchases and what I choose to surround myself with.
You sound like you really enjoy being at home. How do you interact with the space daily, and lockdown-permitting, are you hanging out with your family or cooking or having people over?
I'm a big homebody. Most of the time I'm either at the table with my laptop and a cup of coffee or clearing of a corner of the credenza to set up small still life shoots for my personal work. I've never been much of a cook, but the place has been great for entertaining a few friends over some charcuterie.
What about red wine spillages?? With a place like yours, I would be so scared to let anyone have a drink.
It hasn't happened yet! (knock on wood). I also don't use really tall or thin stemmed glassware because they lead to more accidents in my experience.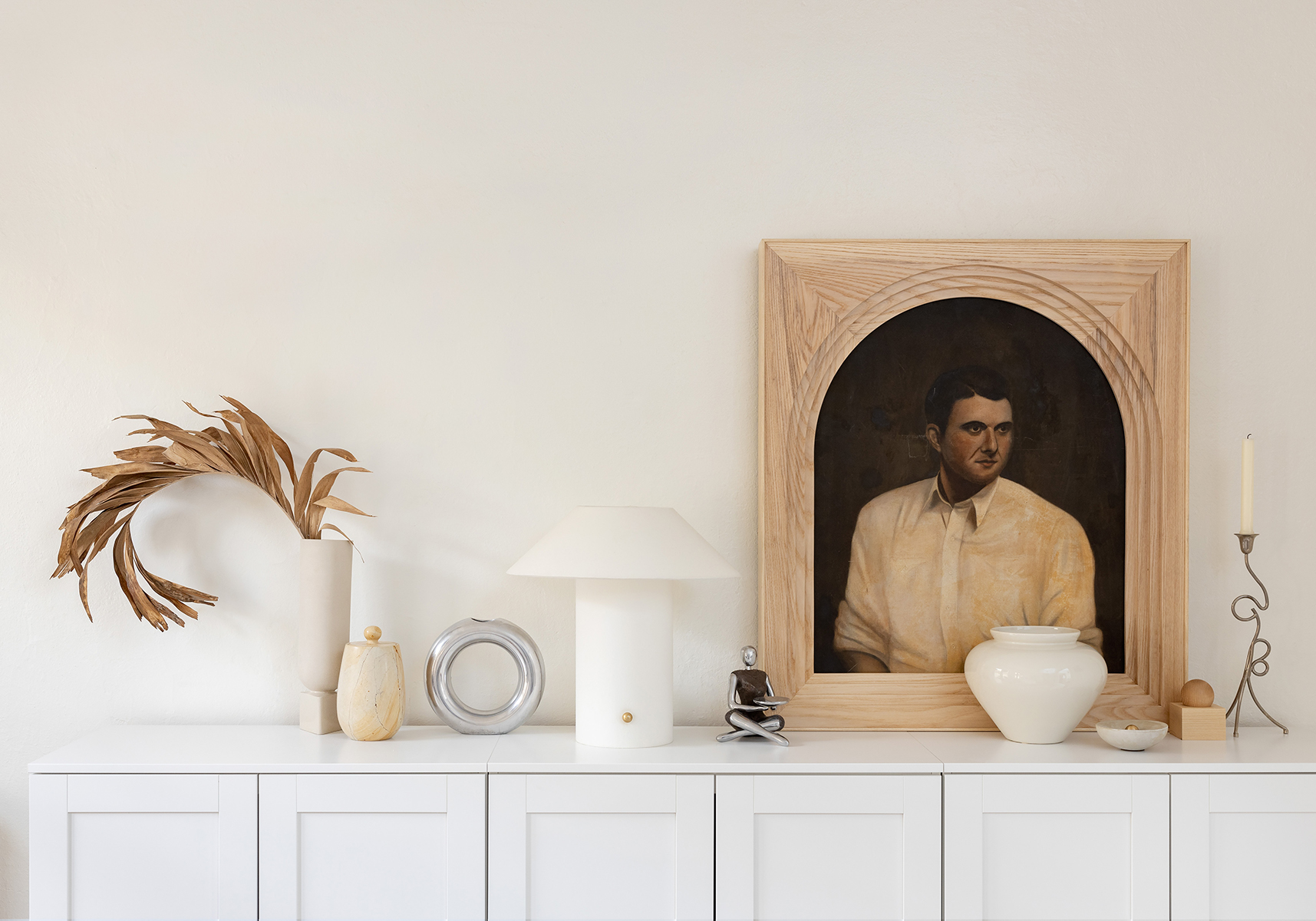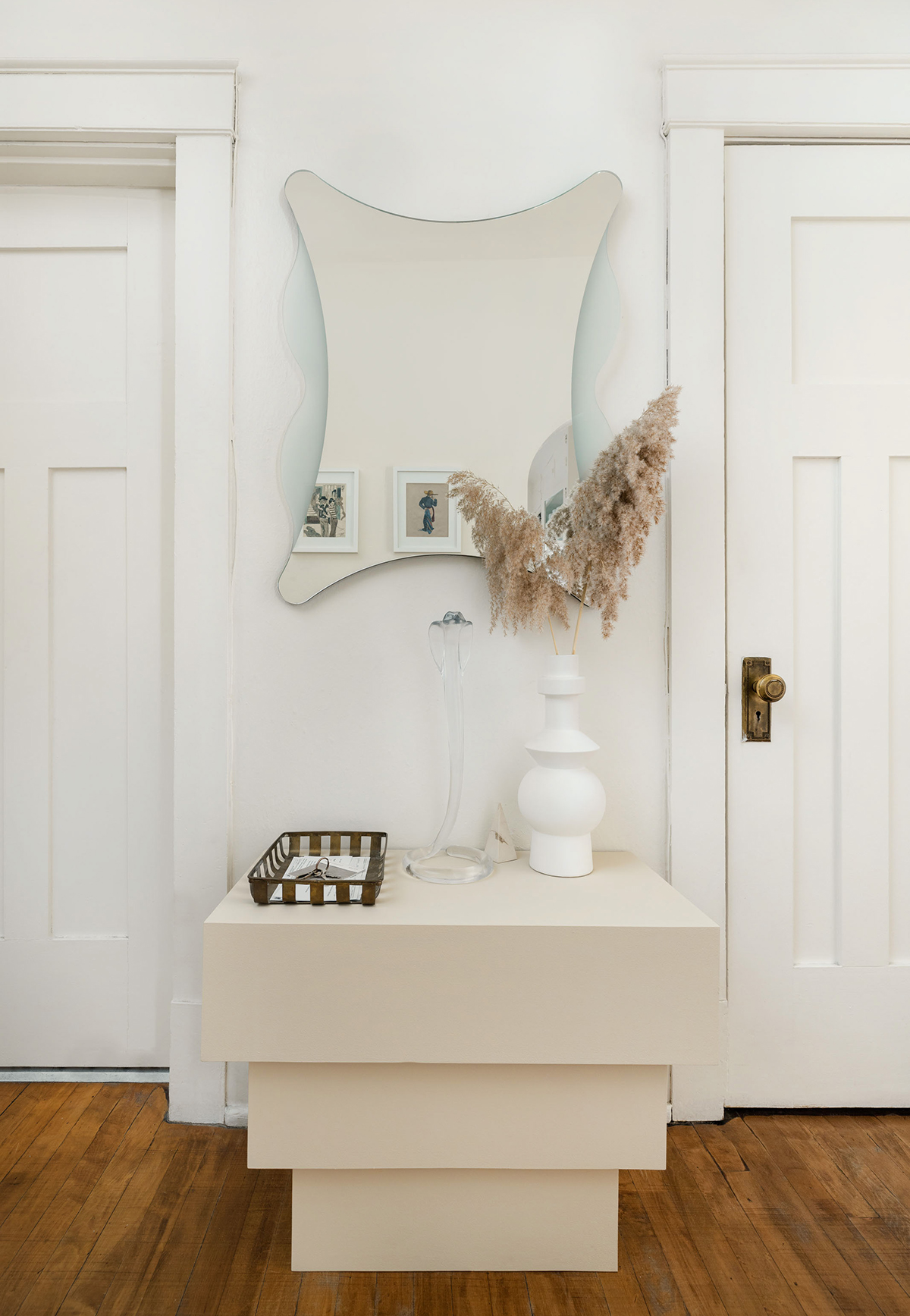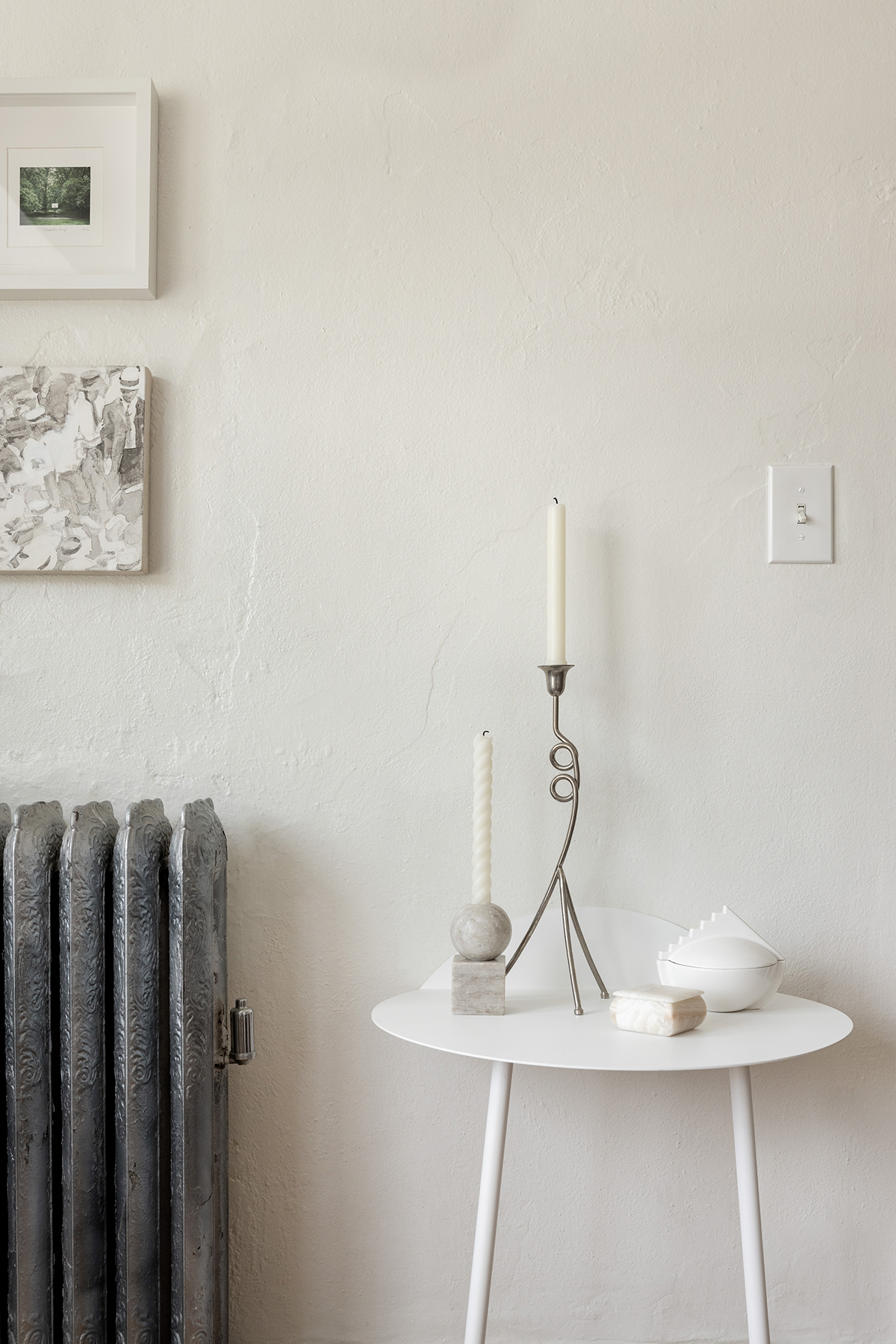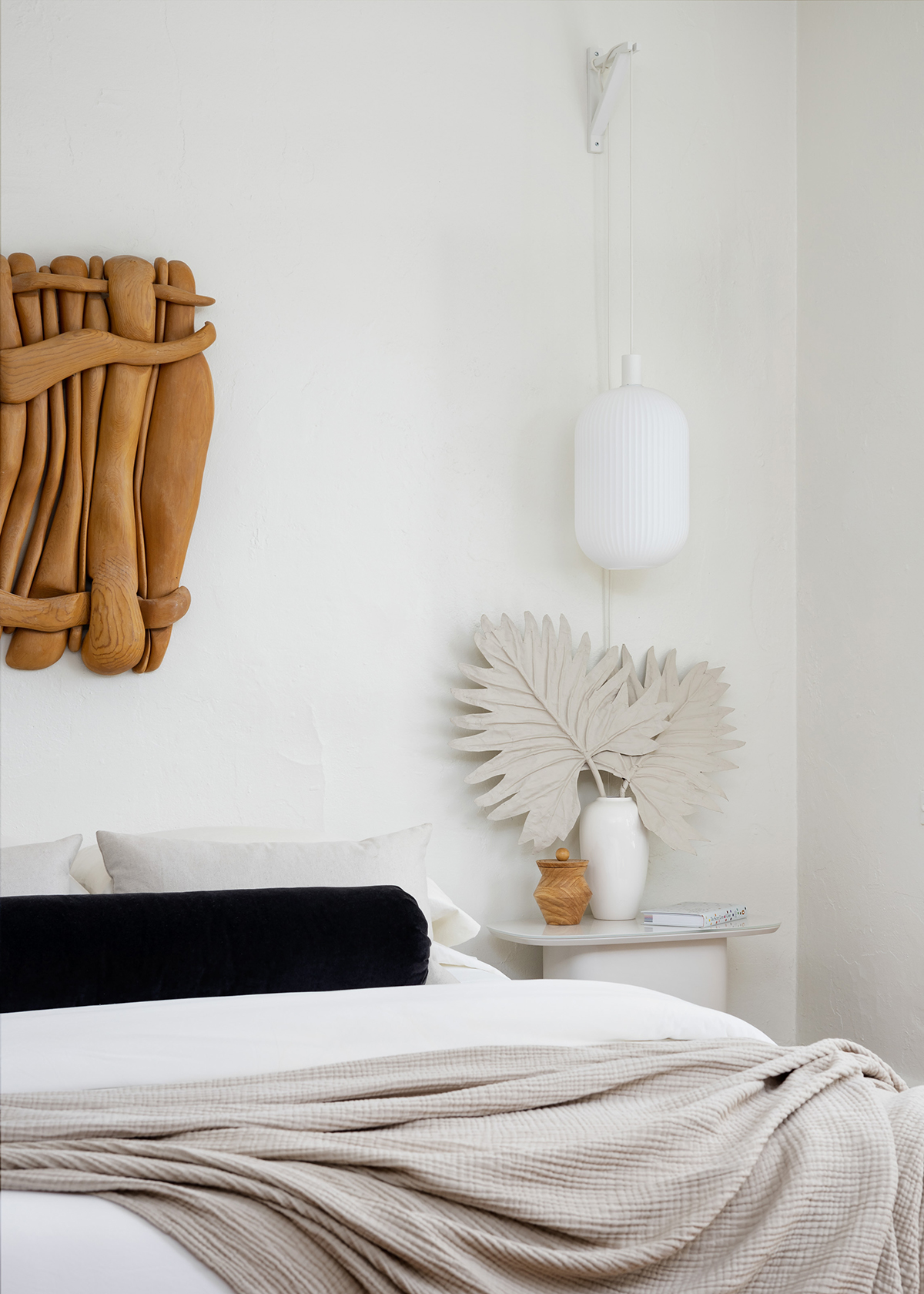 Phew, and thanks for that tip! Ok, so let's talk a bit about your work. As a stylist and art director, you're used to evolving design trends. Do any of them make it into your own place?
I try my best to avoid trends so my home is a reprieve from that world. Granted, I do fall victim to some of them occasionally. I find a lot of my personal inspiration from commercial and retail design. I think we've all had that feeling of walking into a store, restaurant or hotel and feeling like we could just live in it. Ponce Berga and The Somerset House are a couple of those places for me. I wanted my home to give me that same sort of feeling.
Are you pretty much done with designing this apartment now then? What's next?
All done with this one! I'll be relocating to Austin soon for work so I'll be starting the whole process over again soon. I'll miss this apartment, but it's always exciting to tackle a new project.