06.28.17
This Heath Ceramics Alum Just Made the Chicest Salt Lamp We've Ever Seen
A little more than a decade ago, when Christina Zamora was just an art-school grad living in the Bay Area, she landed a job that would go on to inform her life and her practice in immeasurable ways: She became a designer and, later, the design manager, for Heath Ceramics, the midcentury California pottery brand whose early-2000s revival coincided with Zamora's tenure there. "I consider Edith Heath a mentor," Zamora says. "I only met her once before she passed, but her work was so prolific, inhabiting every crevice of the factory she built, leaving behind an extensive archive of research and experimentation. I was surrounded by a matriarchal legacy, her way of thinking and working every single day. This experience had a profound impact on how I approach design."
That becomes clear from the moment you encounter the first product made by Zamora's Oakland-based studio Brave Matter, which she runs with her partner, Cathy Lo (also an experience designer at Instagram). Called Archaic Modern, the light — which debuted at last year's Sight Unseen OFFSITE — has a crinkled ceramic shade set below a hunk of geometric salt crystal. Its form seems familiar, but the clay's glazing turns it into something otherworldly — a technique that owes something of a debt to those Zamora learned at Heath. With just over a year under its belt, the studio has added two more products that, in Zamora's words, create "a bridge between intention, creation and form, utility and desire. Our collections are prefaced by an object narrative — vision of their origin, ideological construct, the journey, and the possible futures." We recently spoke with Zamora to find out more.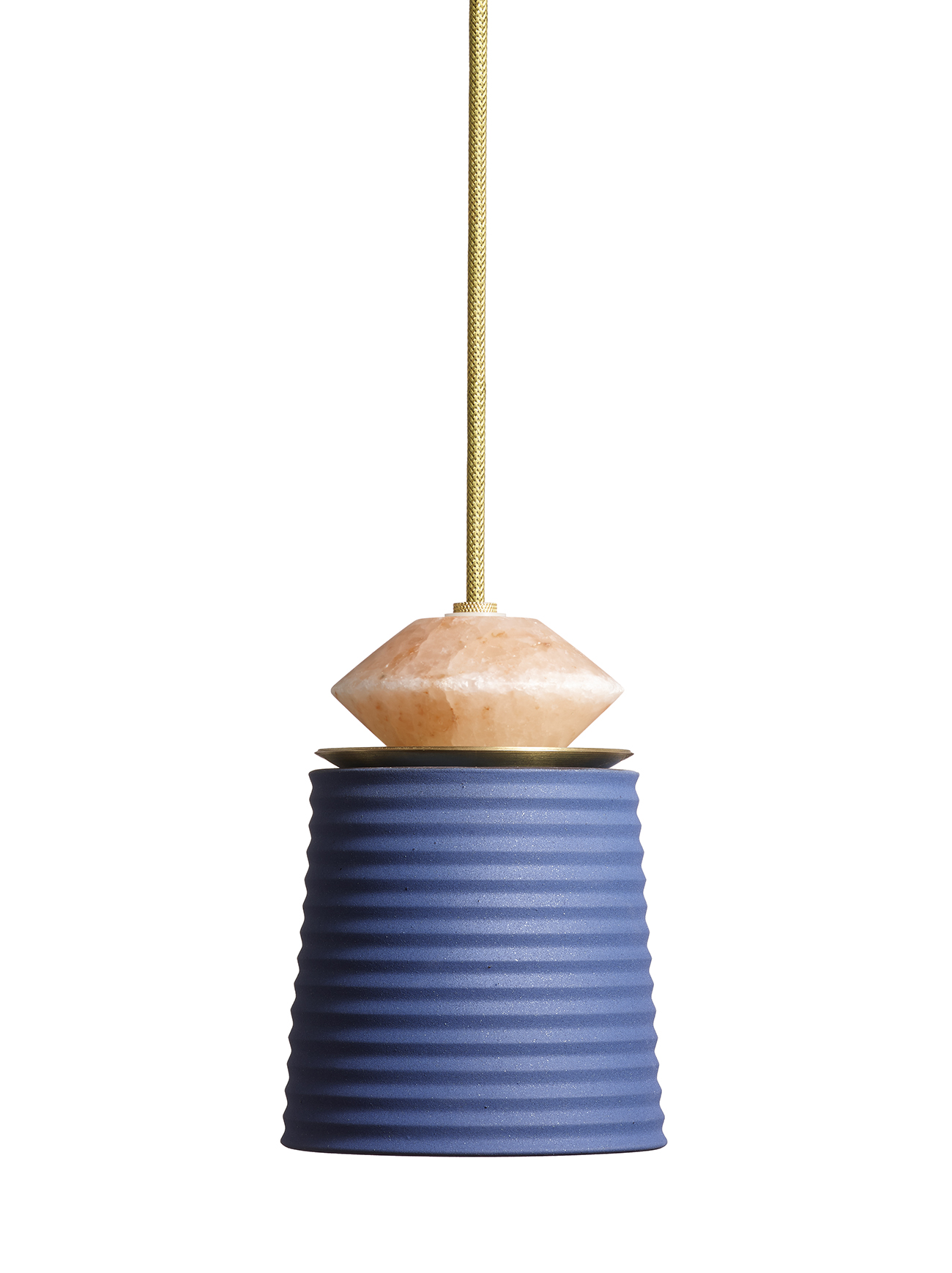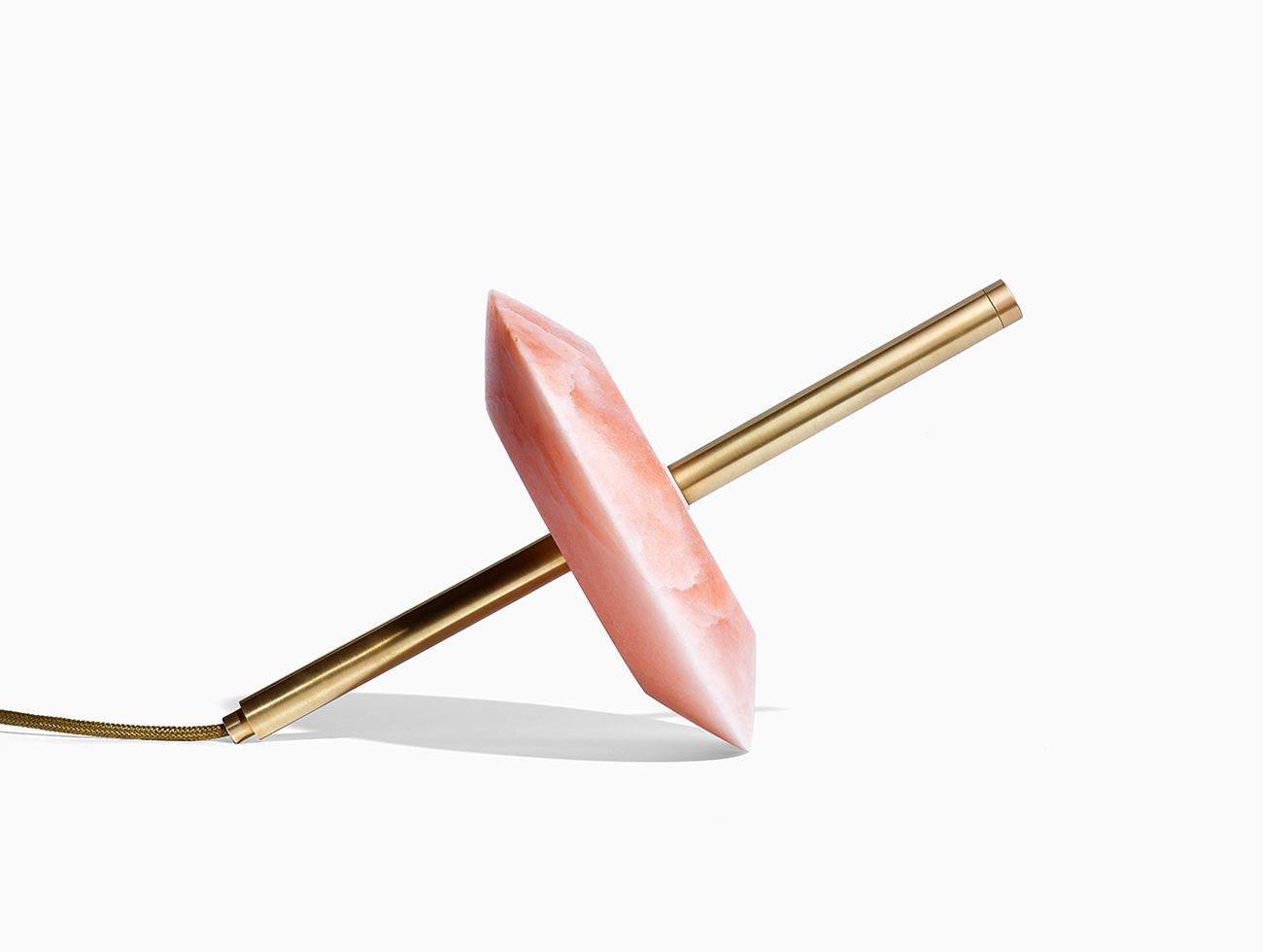 Describe your most recent project and how it was made.
Our studio debuted at Sight Unseen OFFSITE last year with a single pendant inspired by archetypes and technologies from the remote past, combining two materials with an ancient history — clay and salt. This was the genesis for our first lighting collection, Archaic Modern, and our entry point into lighting.
At the heart of this collection is the concept that there is no linear advancement from a primitive level of civilization to a more developed one in history. Meaning, we cannot assume that the past was more or less advanced, in "technological terms," than the present or future. We observe this in the mysteries surrounding ancient cities and the monumental architectural and civic achievements of their time.
I chose to use as one of the materials, Himalayan salt crystal, for its inherent light-diffusing qualities and its connection to the past — in this case, the crystallization of an ancient sea salt deposit formed millions of years ago. This crystal is thought to preserve the energy from the sun of that time period.
The idea that the material itself could harness the power of light inspired the design of Sender One, the latest addition to this collection. Sender One is constructed from a hand-lathed salt crystal pierced by a cantilevered brass rod with a distinctly diffuse light emanating from its fulcrum.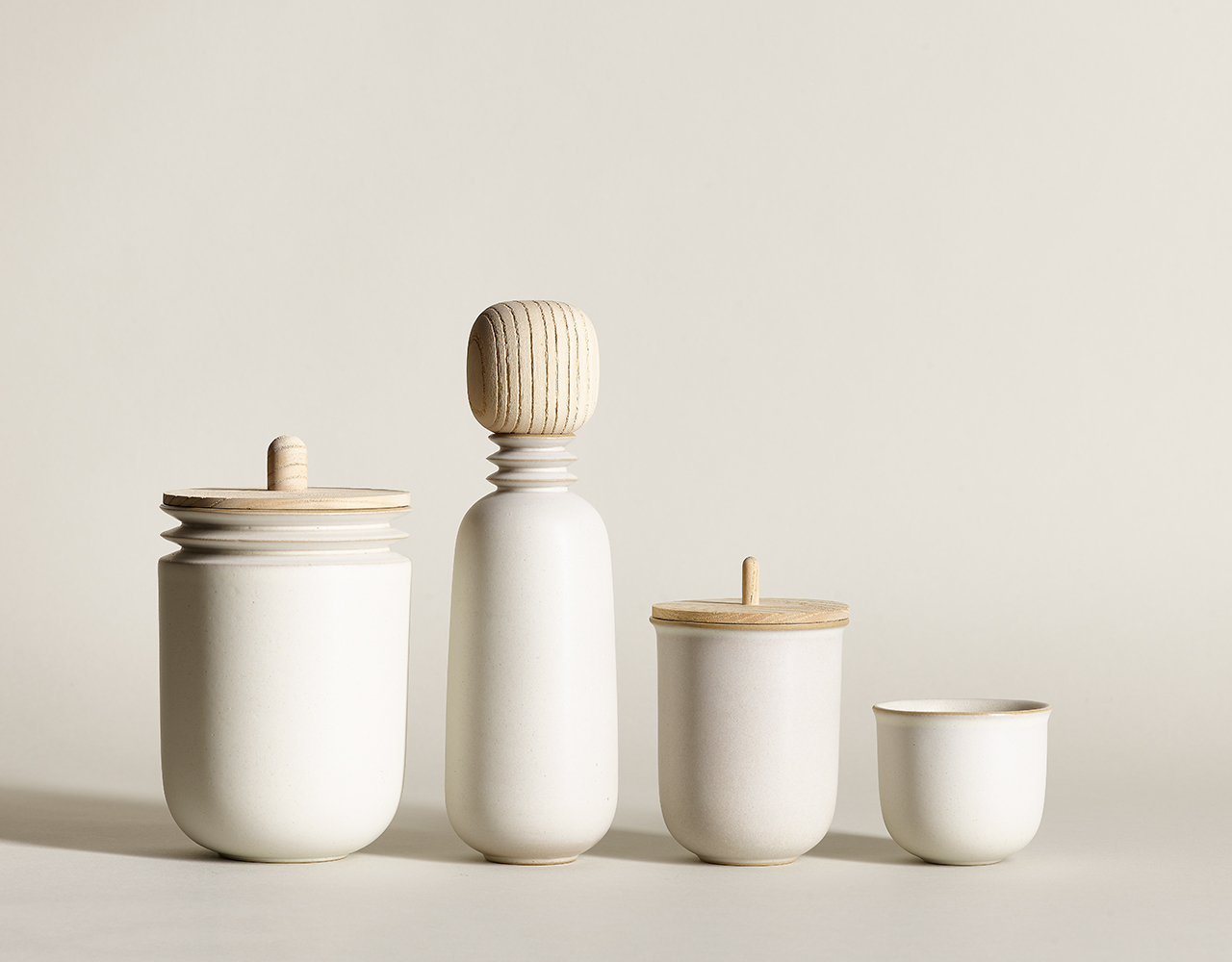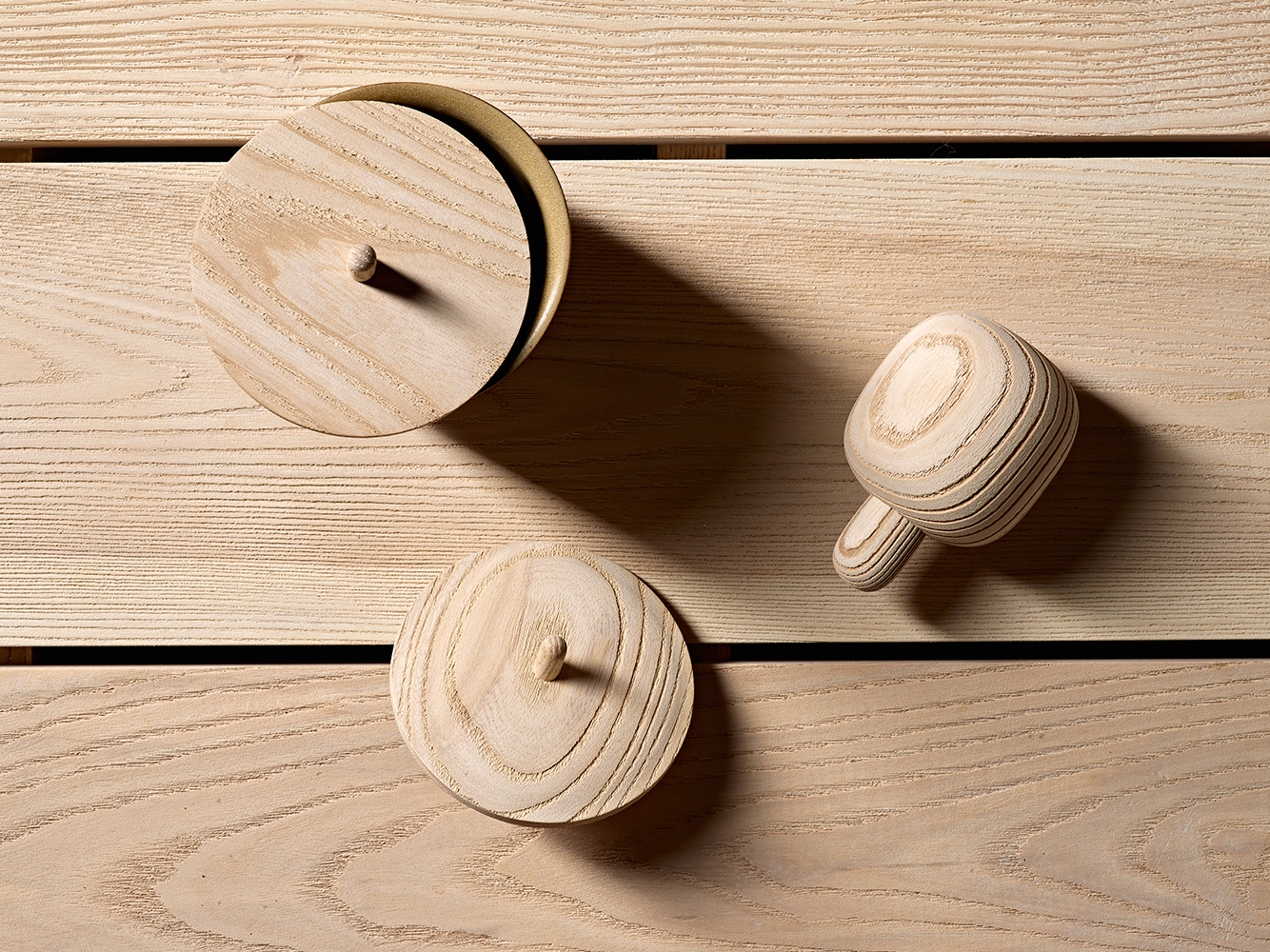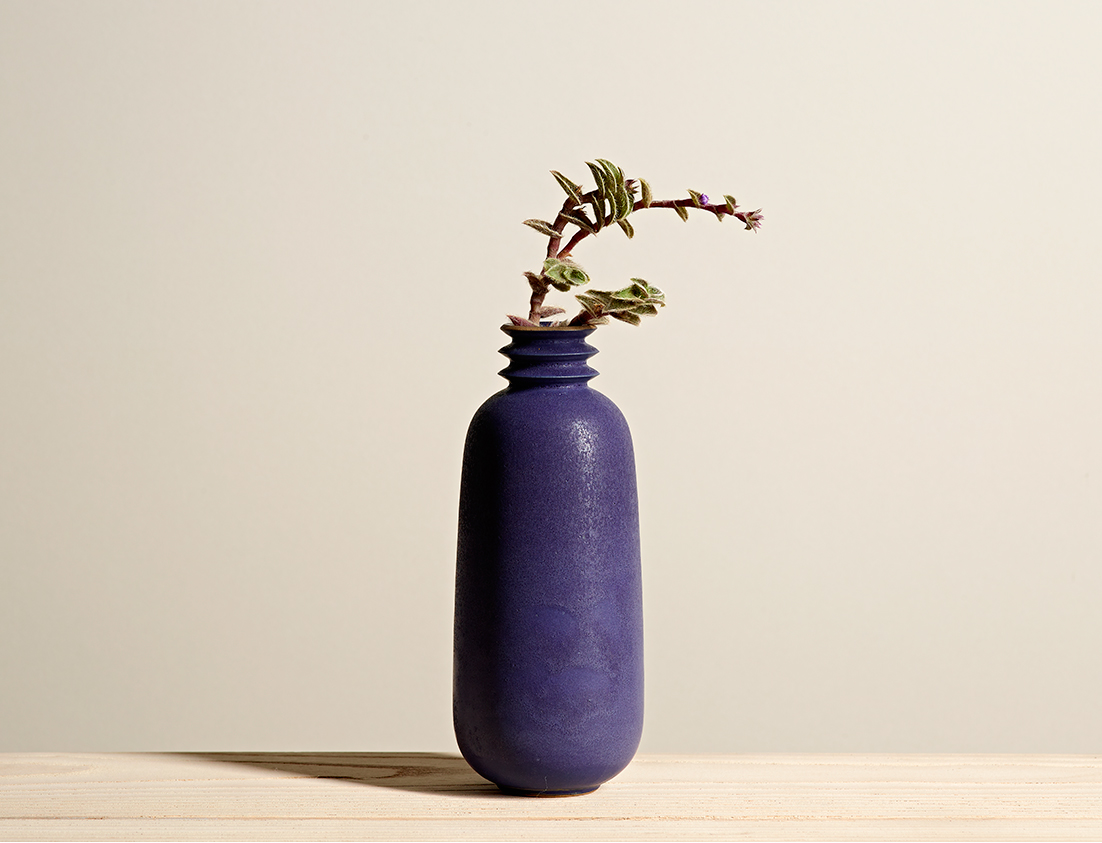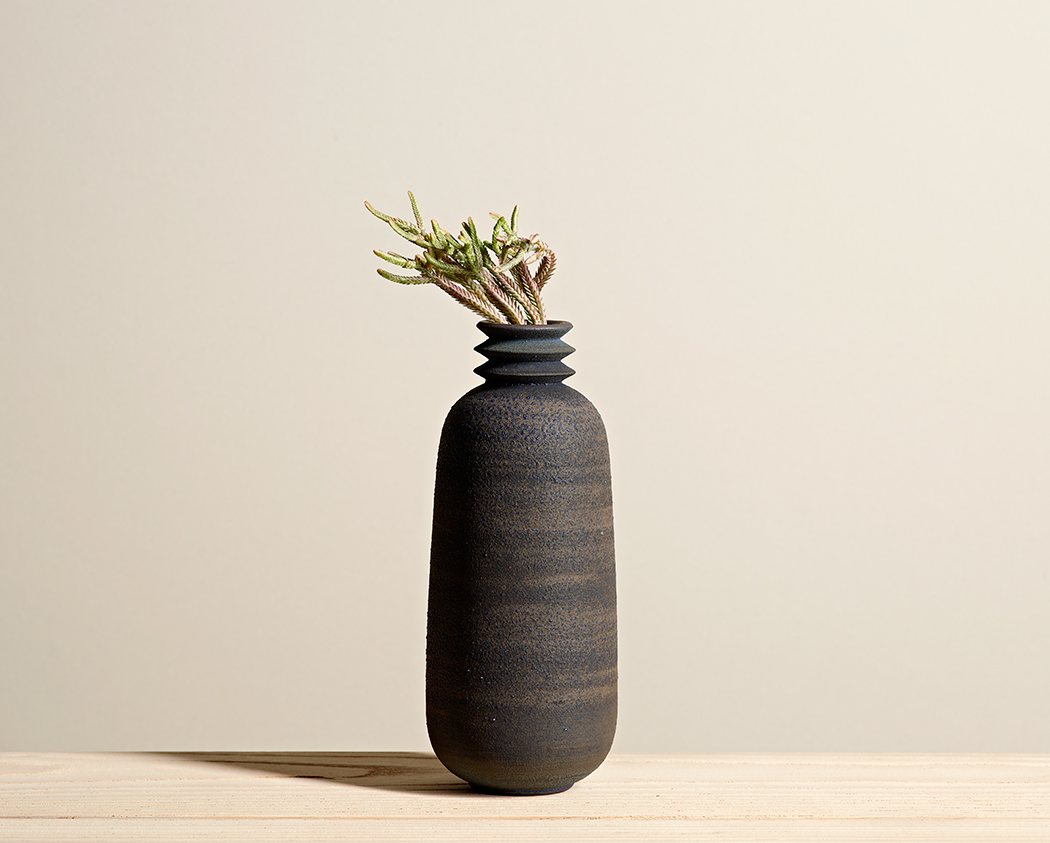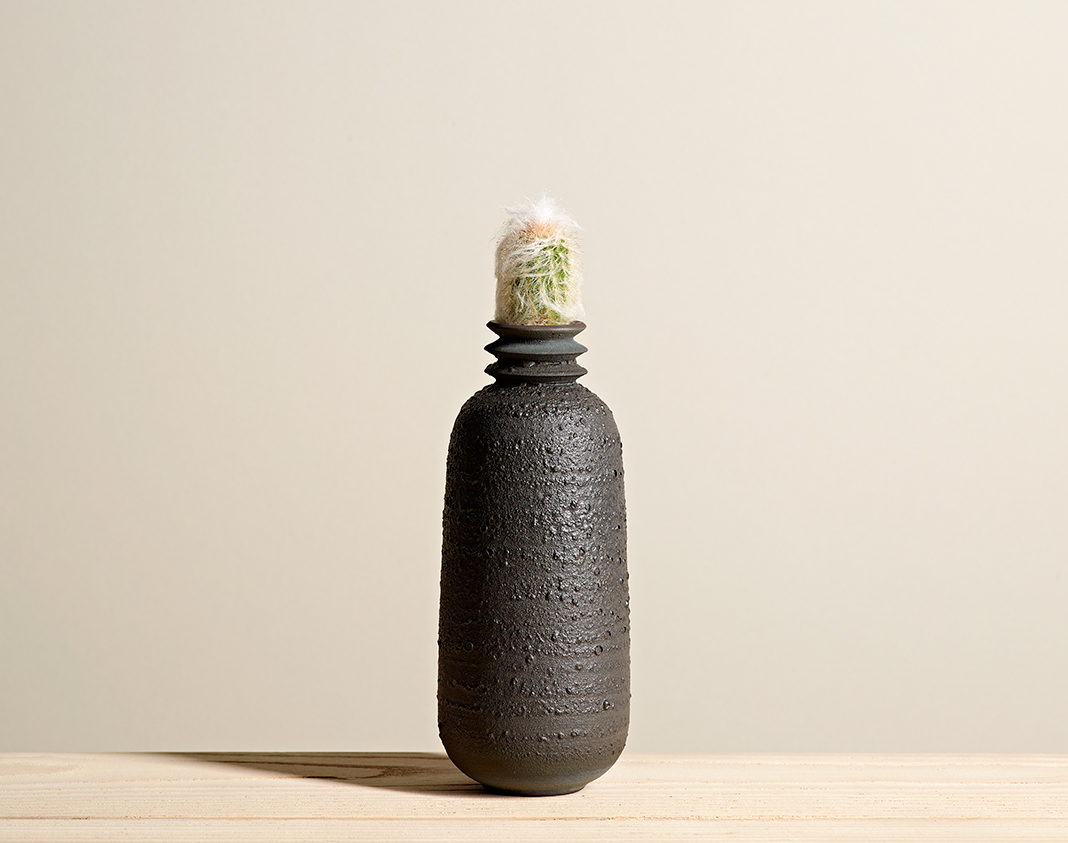 Describe your next project and how you're currently making it.
We just introduced Necessary Objects, a small collection of utilitarian vessels in ceramic and wood, inspired by the mechanisms of desire. I read once that the object of desire itself is not really what we desire. Desire is aimless. It wants without knowing what its objective is. We need something to give it direction. There's this abstract relationship between utility and desire I seem to be preoccupied with.
I prototyped and tooled all of these vessels on a wood lathe in machine wax. From there, I make plaster molds and slip cast all of the work using a commercial clay body developed in the '70s. I mix glaze recipes from raw materials and manipulate the chemistry and colors with minerals, various other clays and oxides. I learned most of these working techniques during my time designing for a mid-century California pottery. The founder's approach to design and manufacturing was directly rooted in the Bauhaus school, and has influenced and shaped much of my design thinking and how I approach my own work.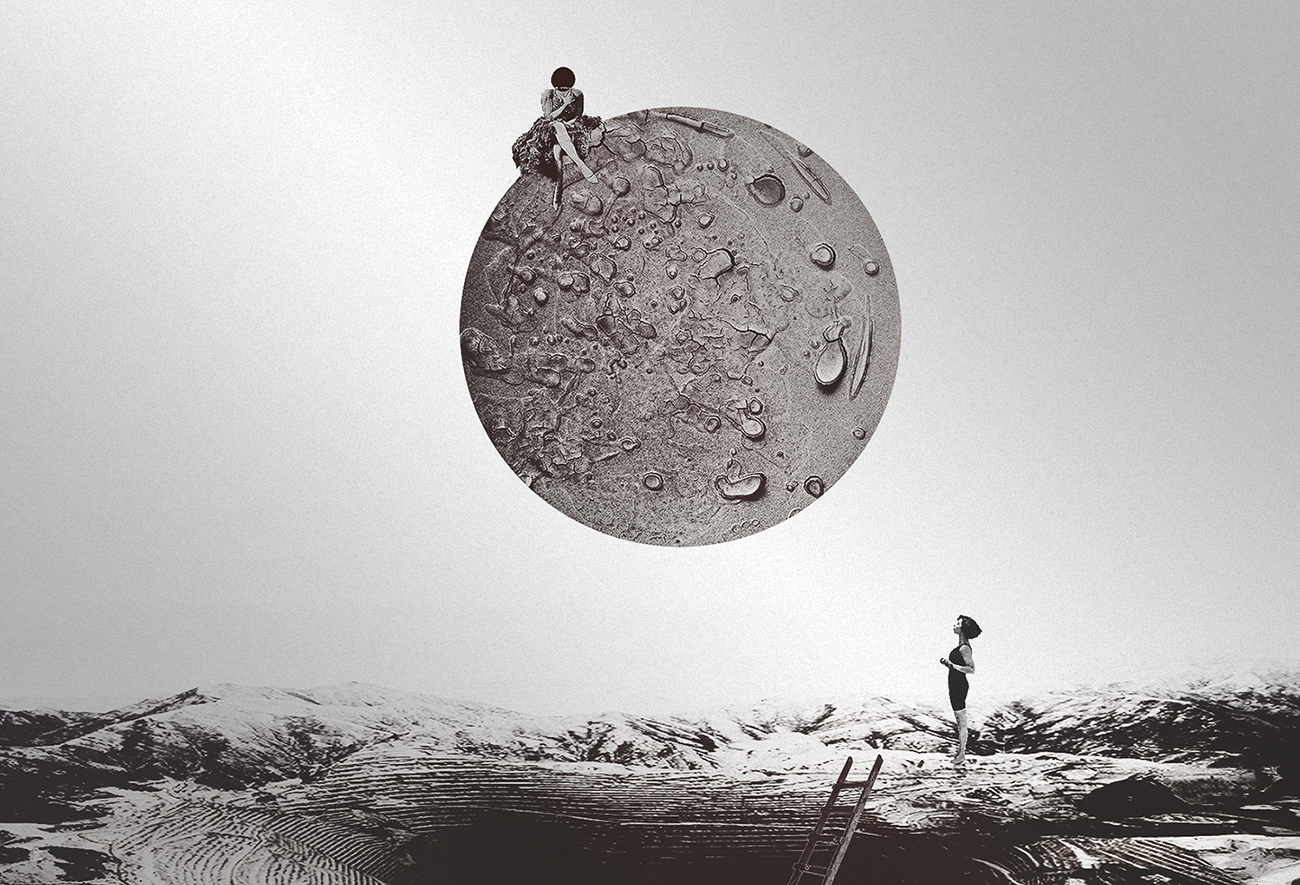 Tell us one thing that's been inspiring you lately and why.
Growing up in New Mexico I was surrounded by vast horizons, literally. There's this visceral response to these expanses of space. I think this is why I'm obsessed with manmade landscapes and the surreal nature of them. This is evident throughout our work thematically and formally. Mineral mines specifically, I find both visually stunning and disconcerting. The visual artifact left from the mining process is a reminder that all of the "natural" resources we use to make our products are non-renewable. I'm equally obsessed with the relationship between the composition of minerals we have in common to exist in our own bodies, with those required to make a ceramic vessel.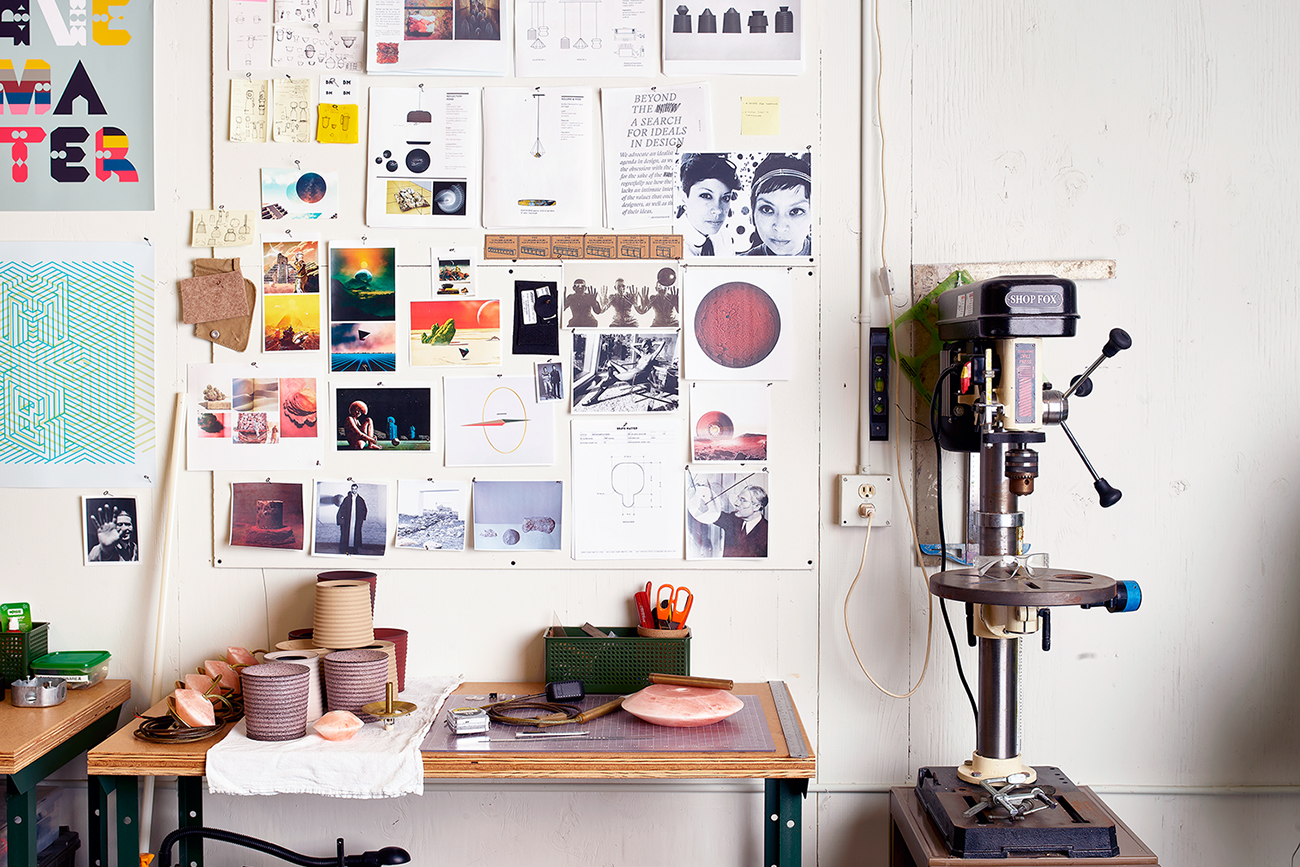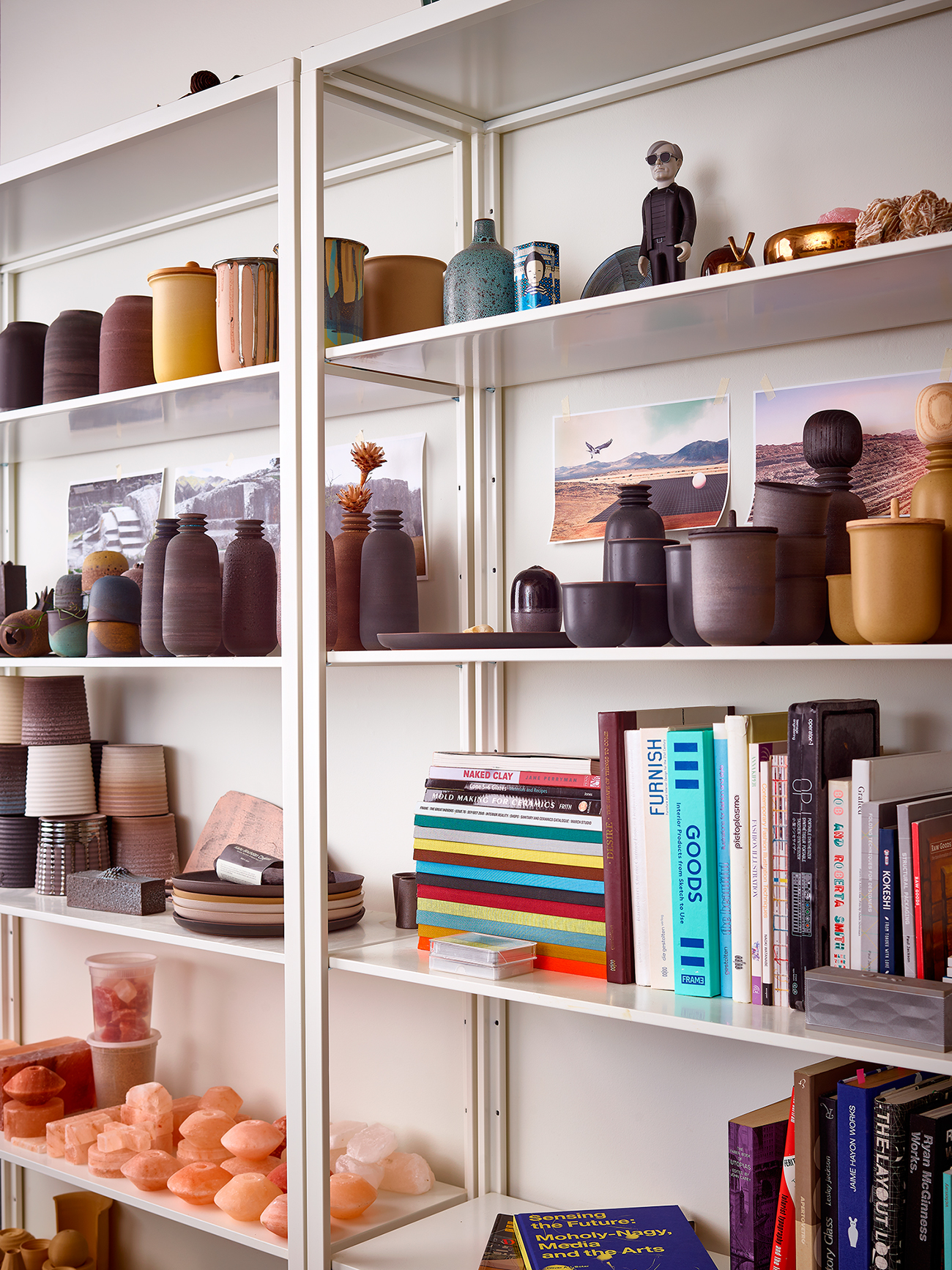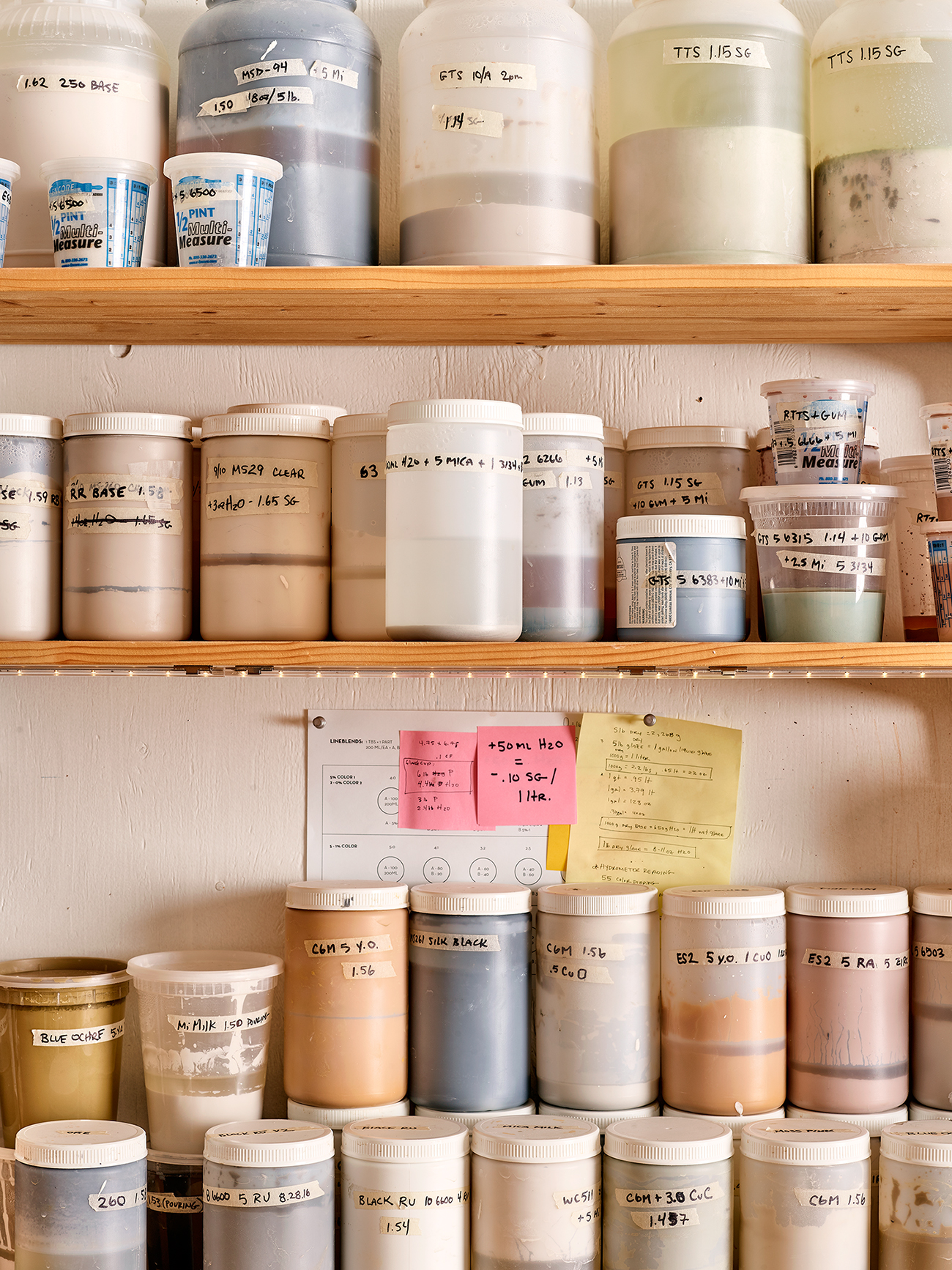 Show us your studio and tell us what you like about it.
We're currently in a warehouse space in an industrial park. We share a building with motorcycle mechanics, a harpsichord builder, a tofu manufacturer, a Chinese herb importer…a very diverse community on the fringe of the city. We're in the process of converting an old darkroom left behind by a previous tenant, into a dust-free zone for lighting and electrical assembly. One of my favorite things about the space is the layout, there's a space for every process. We research, design, prototype, develop, produce, manufacture and assemble as much as possible in-house. This way of working feels the most intuitive.