11.23.13
Week of November 18, 2013
A weekly Saturday recap to share with you our favorite links, discoveries, and events from the past seven or so days. This week: a cement-truck mural, a furniture collection about shark-hunting, a pretty way to empty your pockets, and more.
Links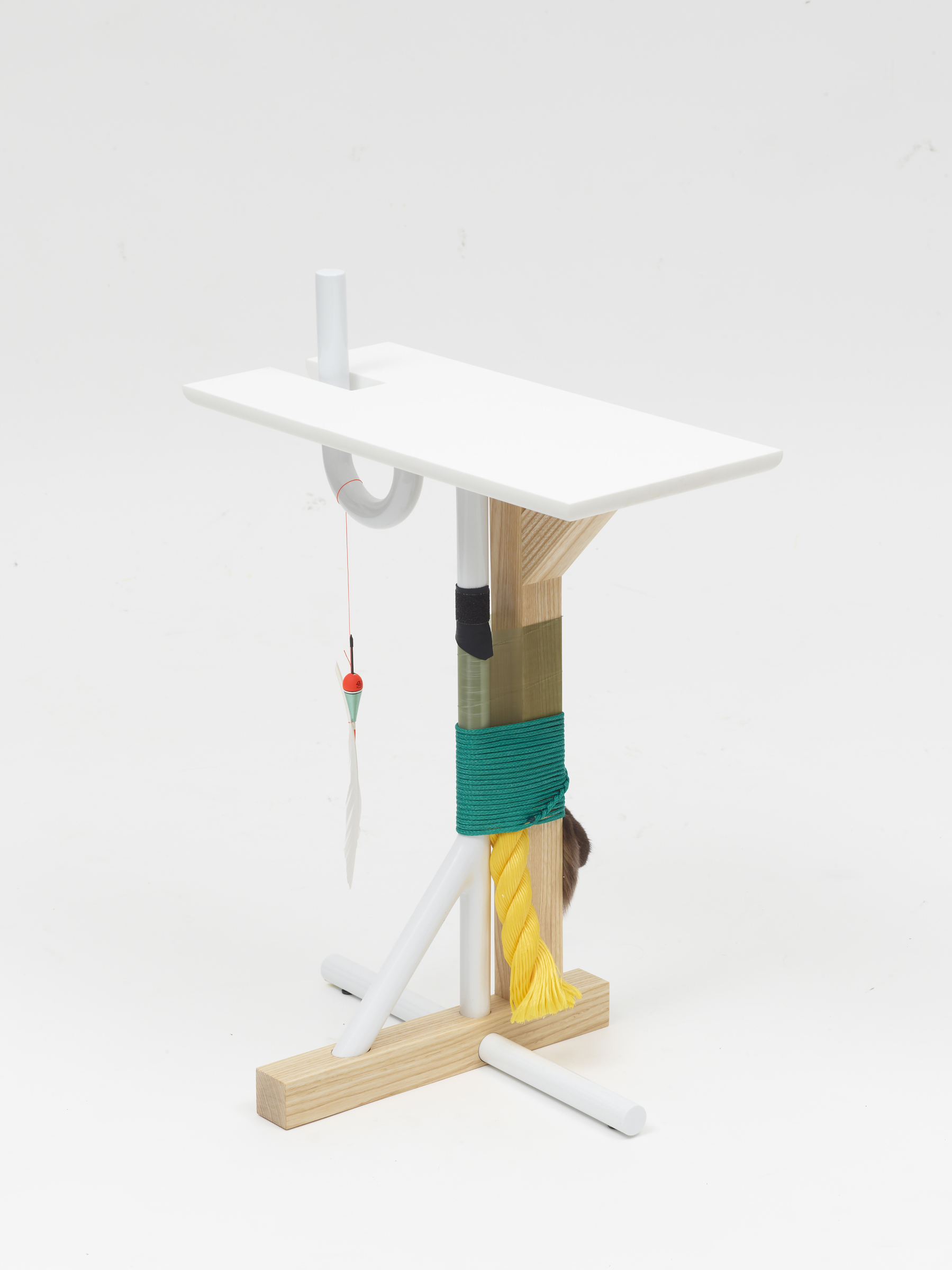 As a student at the Icelandic Academy of the Arts, Brynjar Sigurðarson spent time in the seaside town of Vopnafjörður, where he learned how to construct the nets fishermen use to hunt sharks. He adapted that technique in a collection of furniture for Galerie Kreo, featured on Disegno this week.
Discoveries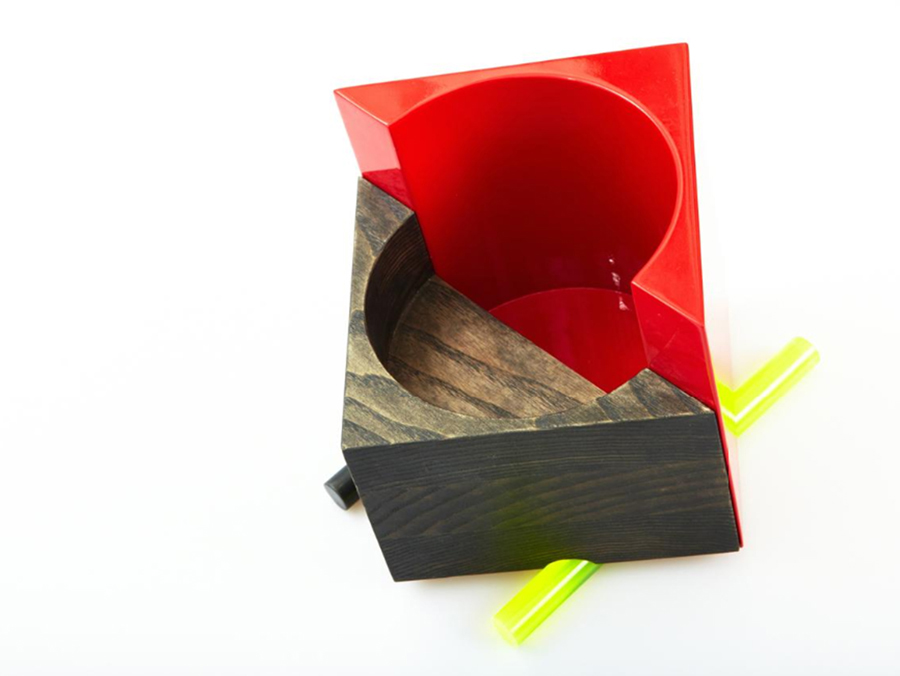 If you've been dying to incorporate that colorful Rafael de Cardenas aesthetic into your home but wondering how you're going to afford that $35,000 price tag, this is the product for you! Cultured Magazine collaborated with Artsy to commission a small object from the in-demand designer: Le Cube-All, a "valet tray used to collect change, keys, and daily miscellany." Love the mix of neon acrylic rods and car paint.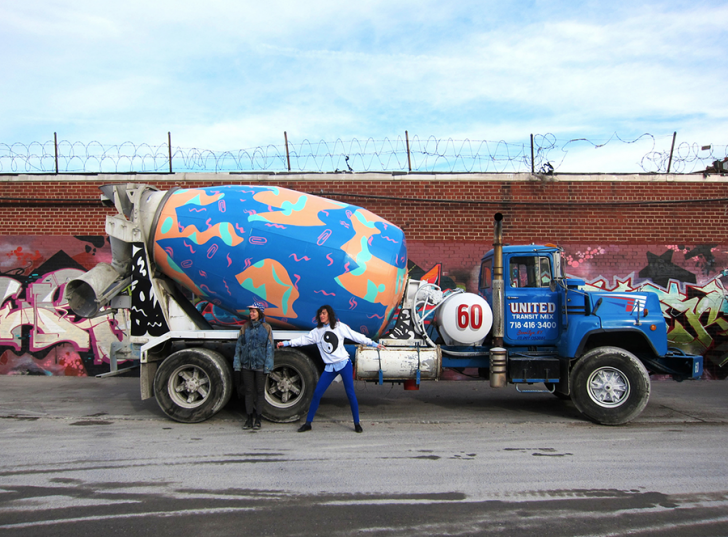 Sooooo we kind of promised ourselves a self-imposed ban on squiggles. But how can this cement-truck mural by Andrea Bergart not make you happy? See you later, squiggle-haters!
Exhibitions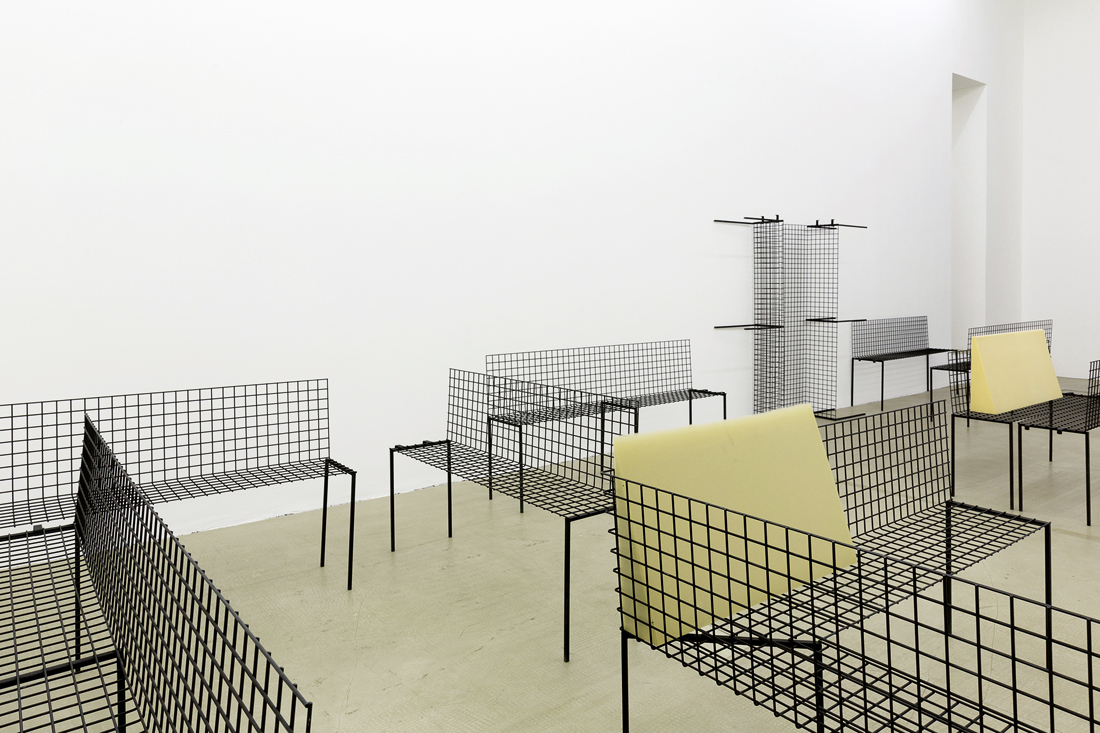 Thanks to a tip-off from PIN-UP editor Felix Burrichter, we discovered the Georgian-born Berlin-based artist Thea Djordjadze, who opened her second solo exhibition at the Milan gallery Kaufmann Repetto this week. "Using materials usually kept on the inside of sculpture – wire, plaster, foam – Djordjadze creates delicate and elegant objects that seem to retrace the narrative of their creation." Beautiful.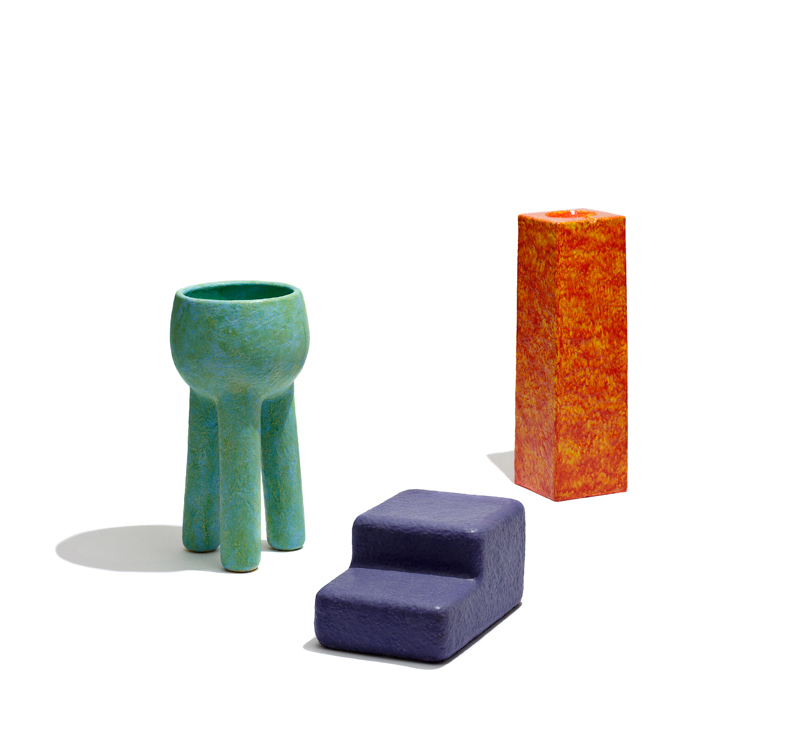 Cute new ceramic pieces by Ole Jensen and Claydies at Copenhagen Ceramics, where visitors are invited to actually play with the installed objects (like the purple "speaking podium" above).
Events
We went to Bec Brittain's packed opening at E.R. Butler during ICFF this year, but we didn't really see the lights themselves until this Monday, when the New York lighting designer opened a solo show at Matter. (It may have helped that we were among the first people to the party.) As a result, pretty much everything looked new to us, although her Twin Vise light (above) was in fact the only brand-new work on display.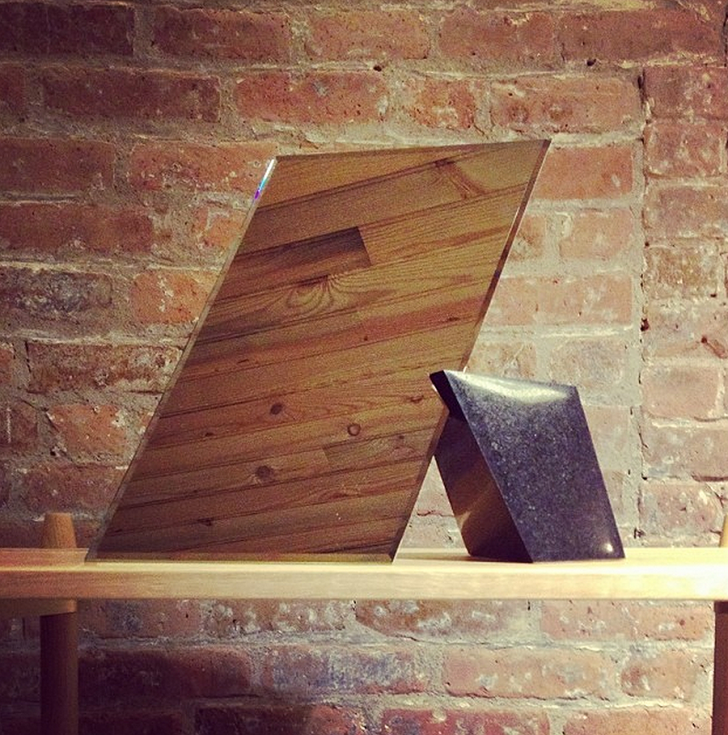 Brittain's work popped up again on Wednesday, when we went to a cocktail party for "Kickass Ladies" at the new Atelier Courbet in Nolita. That's her mirror for SCP above; the shop also carries amazing work by the up-and-comers like Anna Karlin and Souda, alongside Sevres porcelain, Saint-Louis glass, and a restored 19th century carriage.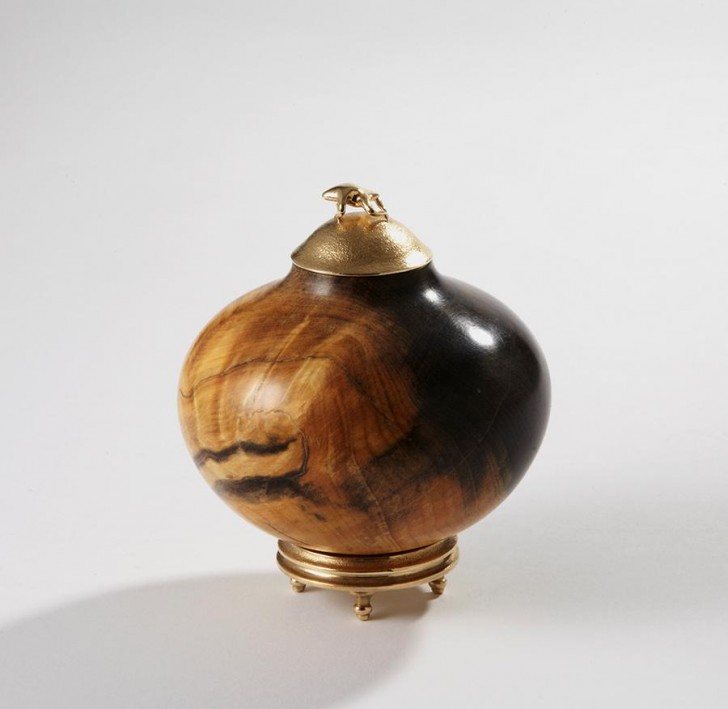 Completing our unintentional trifecta of lady power events was the first solo show by our friend Kristin Victoria Barron of Kriest Studio, who's Orchis collection was shown at Mondo Cane. We loved the Aubock-like cast-brass accessories, but the real show-stoppers were lamp bases and vessels, made from turned Aesculus burls harvested from a wood farm in Northern California.
Instagrams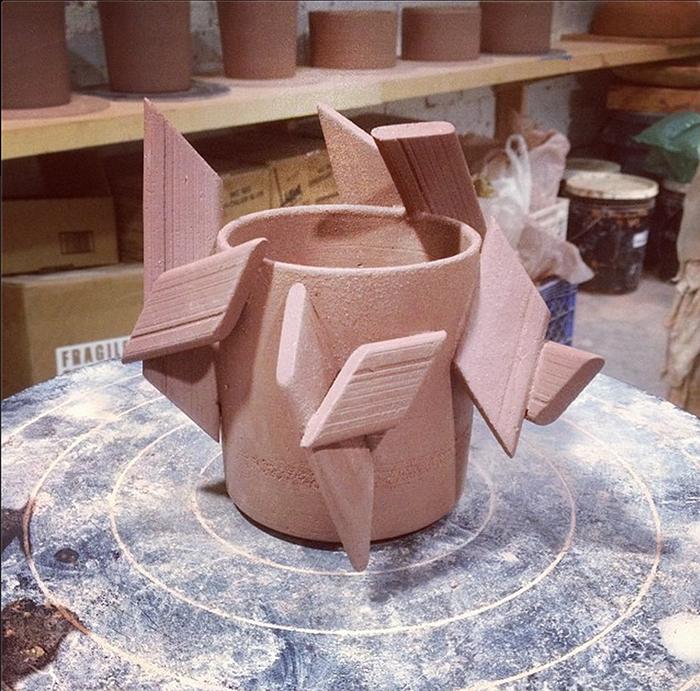 If you don't follow us on Instagram, you might not be aware of the full extent of our obsession with LA ceramicist Ben Medansky. We already bought this, we're considering this, and if the photo above is any indication of where his work is going, we're going to have to clear more space on our shelves.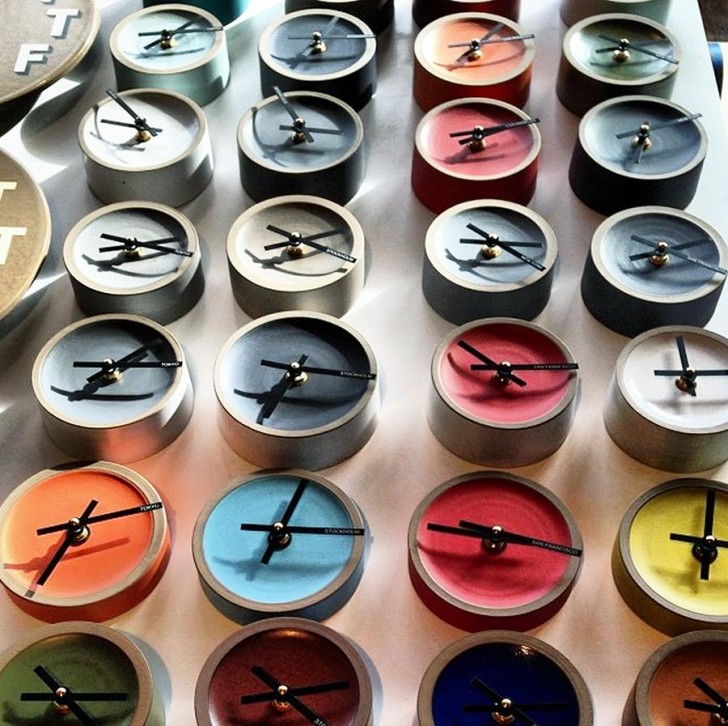 Heath Ceramics alluded to their new venture into the clock world here, but their Instagram makes it seem like they'll be here sooner rather than later (no pun intended).