11.16.13
Week of November 11, 2013
A weekly Saturday recap to share with you our favorite links, discoveries, events, and more from the past seven or so days. This week: A website all about watermelons, a $28,000 Memphis cupboard, an exhibition of non-traditional collages (including the drawer-pull piece by Jeffrey Tranchell above), and more.
Links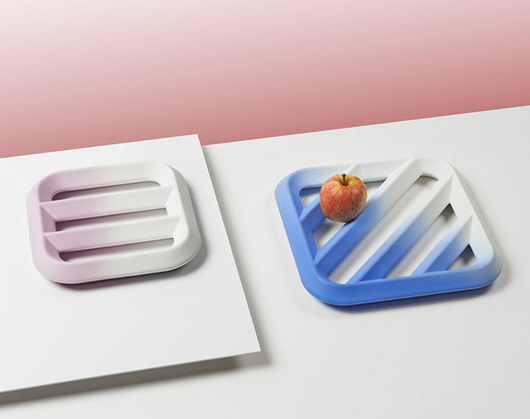 Our friends at Disegno — who, by the way, are producing some consistently kick-ass content on their daily blog — have written up the Céramique I show at the Lausanne gallery Kissthedesign, which includes avant-garde ceramics pieces like Tomas Kral's ombre fruit plate above. Follow the link to see other pieces by Nicolas Le Moigne, Matteo Zorzenoni, Chris Kabel, and more.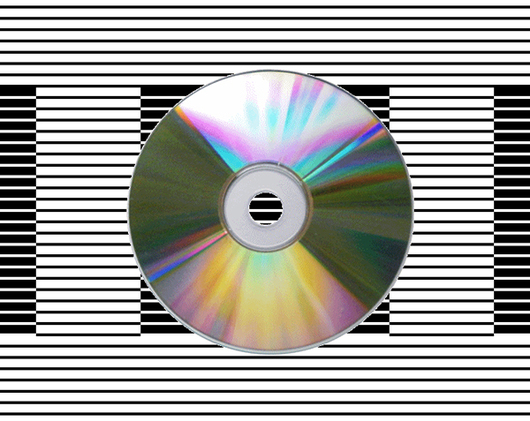 Earlier this week, Gizmodo introduced us to the ridiculousness that is Cash Monet, a curated stream of animated gifs layered on top of other animated gifs that's strangely hypnotizing, if not groundbreaking by any means. We think it has something to do with the background music. "If you have any hope of productivity over the next few hours you'll want to avoid this mesmerizing website like the plague," writes Andrew Liszewski on Gizmodo. Yup.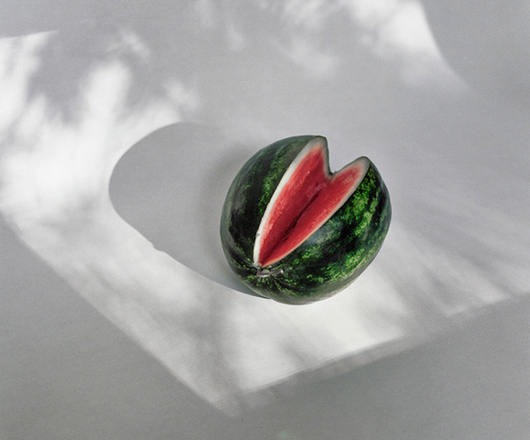 Another relatively lighthearted indulgence slash weekend time-waster: Still Life With Watermelon. It's pretty much what it sounds like, a tumblr full of artworks featuring watermelons, like this photograph by SU contributor Brian W. Ferry.
Discoveries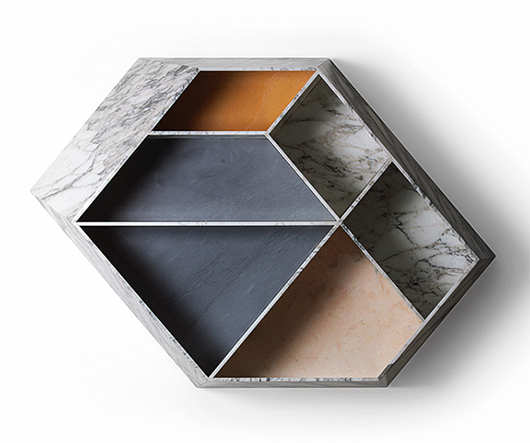 Yesterday, the Future Perfect hosted an opening celebrating some of its winter acquisitions, including some of the amazing lamps Michael Anastassiades launched in Milan this past April. We were floored to see these shelves by Patricia Urqiola among them — part of her Earthquake 5.9 collection for stone purveyor Budri, which upcycled pieces of marble slabs that were broken during an earthquake near Budri's headquarters in 2012. We must have missed them in Milan this year!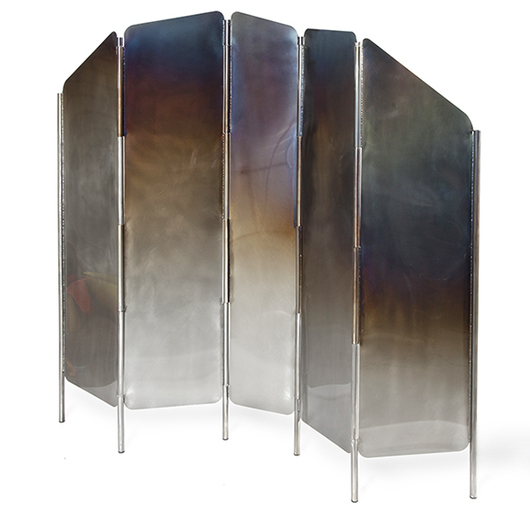 In his newsletter this week, American-born, Eindhoven-based designer Max Lipsey shared a sneak peek of his newest design for DHPH: a folding screen version of his iridescent-steel Temper chair. There's no official information yet on either his site or DHPH's, but you can click here to sign up for Lipsey's mailing list.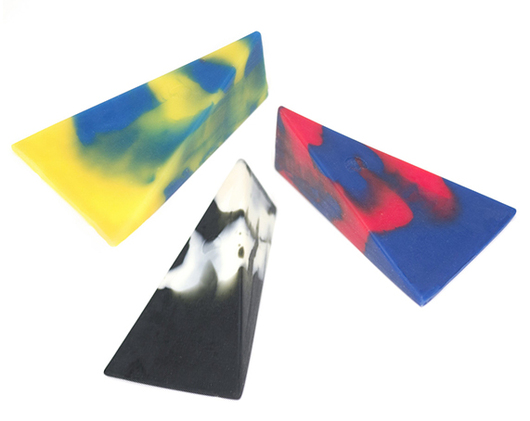 We recently fell for the handsomely simple, functional objects being produced by the Brooklyn duo behind General Manufacturing Co. — check out that jump rope! — but now the company is moving in an ever-so-slightly new direction, away from guy-friendly gear and towards "generally useful products for the home." First up are these hand-cast rubber door stops that are only $25 each.
Events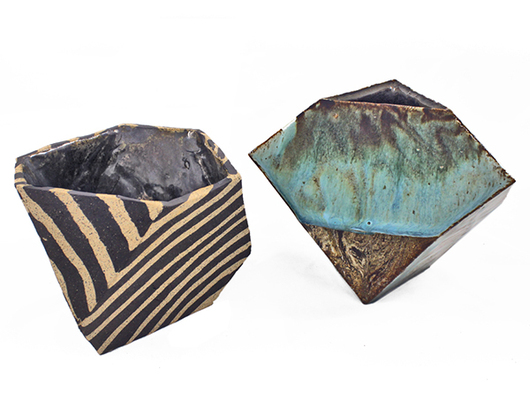 For the exhibition "Paper on Paper and Other Things" — which opened with a party on Monday night hosted by Victory Press at HillSide in Brooklyn — the artists Jonathan Cammisa, Jessica Humphrey, Isaac Nichols, Jeff Tranchell, and Cody Hoyt contributed works that are collages, but not in the traditional sense. Instead they each feature a mélange of materials and techniques, like Hoyt's layered ceramics above. The show will be up through Monday.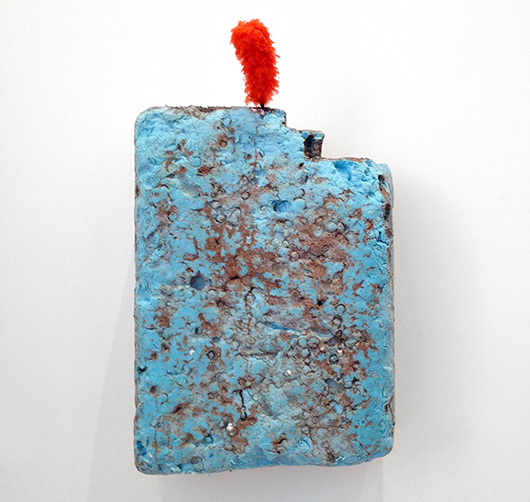 On Sunday we put on our fancy shoes, boarded a fancy shuttle bus, and spent the day at the beautiful Brant Foundation in Greenwich, Conn., for the opening of "Julian Schnabel." A retrospective featuring 50 of the titular artist's key works from the past 40 years, it's his first comprehensive U.S. exhibition since 1987. We had a great time inspecting Schnabel's sculptures and broken-plate paintings up close while eating truffled risotto balls and doing a wee bit of celeb-spotting.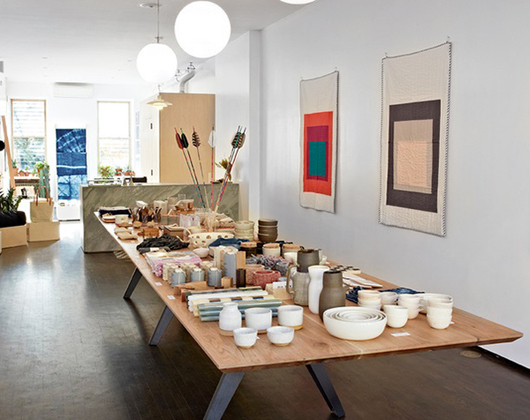 This week also saw the opening of The Primary Essentials, a new store on Atlantic Ave. in Brooklyn that carries work by quite a few designers we've worked with and/or covered: Farrah Sit, Fort Makers, Fredericks & Mae, Ben Medansky, etc. We don't even drink coffee, and we still can't stop coveting Medansky's ceramic dripper.
Pins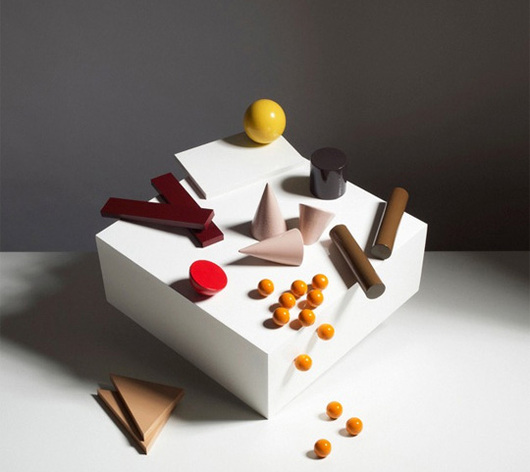 This gorgeous still life comes from one of our very favorite Pinterest accounts: the one that belongs to the London office and stationery shop Present & Correct. Unfortunately they must have forgotten to pin the permalink, because we can't locate the original on the source page, omami.ru, but maybe you'll have better luck than we did.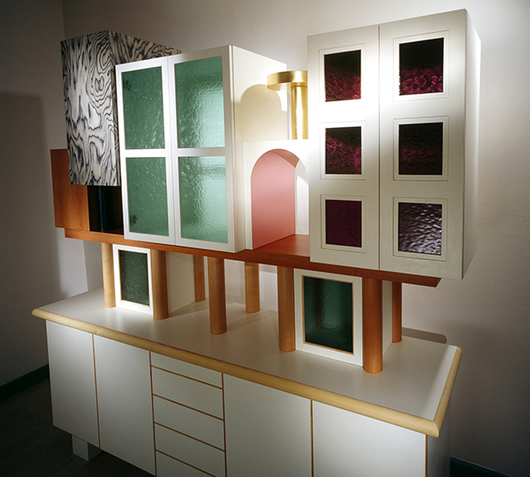 Our friend Ami Kealoha is currently working in marketing but was formerly an editor at Cool Hunting — no wonder she has such good taste! She pinned this insane Altro Destino cupboard designed by Ettore Sottsass in 1992, which is now for sale on L'Arcobaleno for a cool $28k.