11.15.13
David Altmejd, from Studio Life by Sarah Trigg
Sarah Trigg spent more than two years photographing the ateliers of 100 artists around the country for her new book Studio Life: Rituals, Collections, Tools, and Observations on the Artistic Process — including boldfaced names like Carol Bove, Rob Pruitt, Theaster Gates, Tauba Auerbach, and Nick Cave. And yet you won't see any of their actual artwork in its pages (we've added our own to the excerpt below), nor will you see any overall depictions of their spaces. That's because Trigg, an artist herself, took inspiration from the most important elements of her own Brooklyn studio and decided to exclusively zoom in on any residue, mascots, collected objects, rituals, makeshift tools, and architectural details she found during her visits. "I placed a lens on daily studio life without expecting artists to defend or explain their work," she writes of her process. "It was crucial, therefore, not to overshadow the results with portraits, artwork, or depictions of the overall grandeur of the studios — all of which have established venues for exposure elsewhere."
In other words, if you want to see the workspaces of creatives comprehensively documented, with detailed investigations into process and inspiration, keep on visiting Sight Unseen every day. But if you're interested in experiencing the minutiae of your favorites artists' practices from Trigg's unique point of view, check out our excerpt of her visit with the amazing New York sculptor David Altmejd below, then go here to purchase your own copy of Studio Life.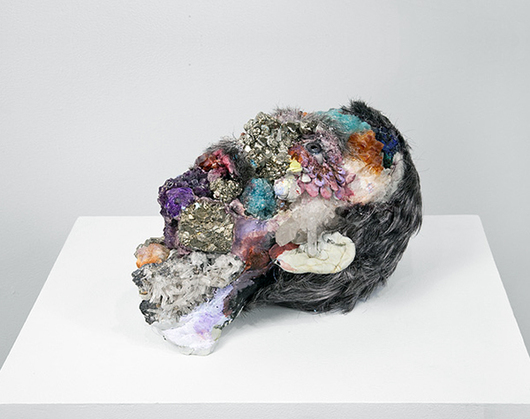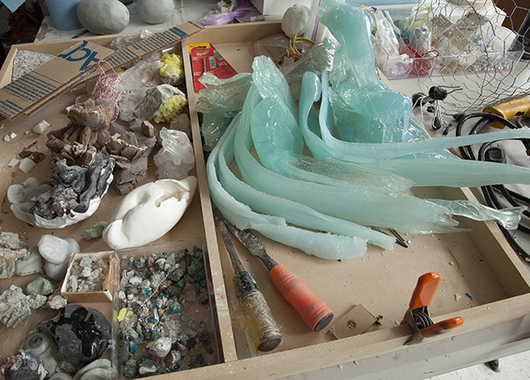 Text by Sarah Trigg
I visited David Altmejd in his expansive sculpture studio in the Queens neighborhood of Long Island City. Altmejd's figurative works are like anatomical models, but with human flesh replaced by constellations of animal, geological, and plant matter. Feathers, birds, sand, horsehair, pinecones, whole conifers, foam, burlap, ants, quartz, wood, resin, chipmunks, and fruit come together in crystalline patterns to create human-size creatures and twelve-foot giants. Some of his figures have a fantastical werewolf or woolly-mammoth presence. Organ-like matter is painted in fleshy pastels and dirty greens and browns from the natural world. Moss sprouts on feet. Crystals might grow out of thighs and knees. A mirrored stairwell reveals a miniature world circling within one figure's ribs.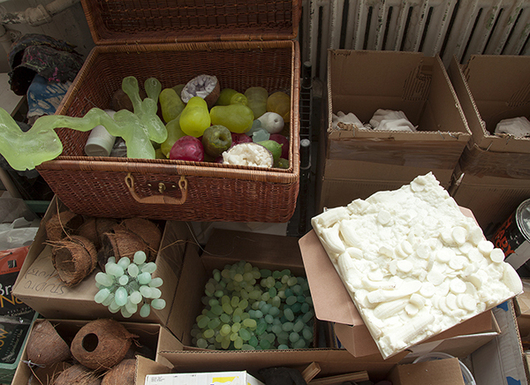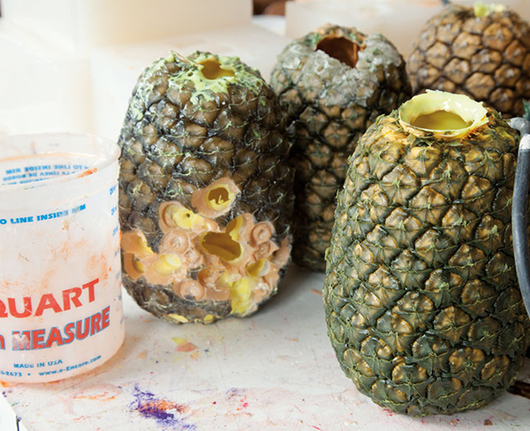 When we met, Altmejd was molding dozens of different fruits. "Every day I invent tools." He showed me a mold for a pineapple, which he had cast hollow. The round edges of the mold allowed him to roll it and evenly resin-coat the inside.
Almost all of his sculpted fruits are modeled from real ones. Sometimes he casts a piece of fruit whole, but in many cases he customizes his source, cutting and breaking it open to engineer the perfect chunk. On top of a pedestal were some melons about to undergo dissection.
In the center of the room was a stage-like platform where he constructs his large sculptures. "The height of that ceiling has determined the height of my biggest sculpture. I'm sure that throughout history, the shape of sculpture has been determined by things as simple as the sizes of doorways and stairs and elevators."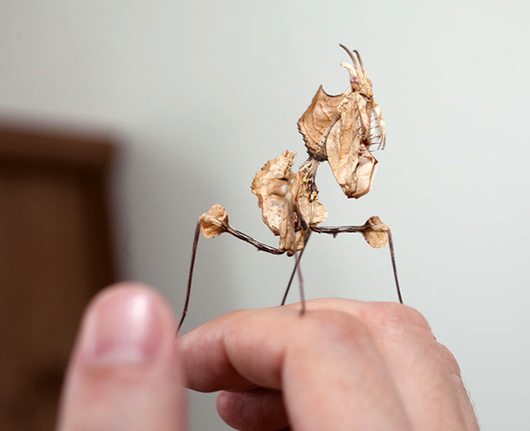 Altmejd took me to the real spiritual command center of the studio — a small room with a wall of tiny cages and plastic containers. "They're both mascots and rituals," said Altmejd as he opened a cage door. A praying mantis willingly climbed onto his hand. Another beauty was more reserved, inspecting me from afar (opposite, middle right). "That's my queen."
Inside the screened mantis condos, all fashioned by Altmejd, was an array of different species. He had two adults, which will live for around a year, and the rest were babies. They create their own residue, shedding exoskeletons periodically. Each of the hanging cocoons will release two hundred newborns. Altmejd needs to perform daily feeding rituals to raise live food for the insects' meaty diet — flightless fruit flies and houseflies that are fed honey and pollen. The regal one at top is an Idolomantis diabolica. When mature, it will ward off predators by raising its arms over its head to sport a large, threatening face pattern of brilliant colors.
His leafier creatures are referred to as "ghosts" for their camouflage. "I think that I'm really into sculpture for the exact same reason that I'm into science and biology. I'm fascinated with microscopic things and transformation. The praying mantises are the spirit of studio. I think of them as the heart and the brain of the space."