11.14.13
Knauf & Brown, furniture designers
Formafantasma, Ladies & Gentlemen, Rich Brilliant Willing: The list of design partnerships that began in art school is pretty endless. But rare is the pair who knew and liked each other enough to not only register at the same university at the same time but also to enroll in all of the same classes, "to keep each other on our toes." That's Calen Knauf and Conrad Brown of the emerging Vancouver-based design studio Knauf & Brown talking; the two met through skateboarding more than a decade ago. Brown was a photographer and Knauf a graphic designer, and once they graduated from their industrial design program at Emily Carr, the natural thing to do was to go into business together. "It's a good partnership," they say, "because we both have different strengths, but fairly similar aesthetics." What exactly defines that aesthetic is still a bit up in the air, considering that the two graduated only last year. But what's emerged so far has shown an emphasis on simple and honest natural materials, like ash and marble, as well as a healthy sense of humor that occasionally surfaces in the form of performance art. For "despite how much of our lives we dedicate to design and our studio, we still place a high priority on having as much fun as possible," they say. "We both still skateboard, and regularly get up to no good." Read on for a deeper look into their brand-new practice.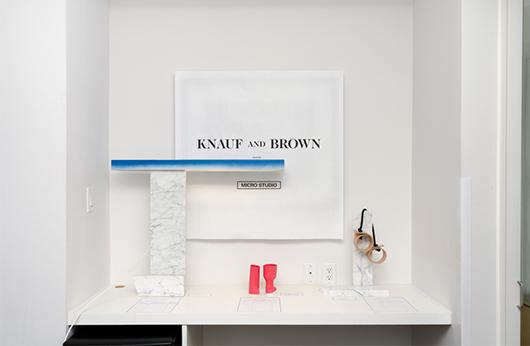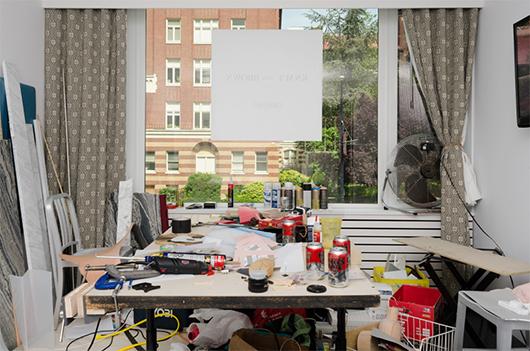 1. Describe your most recent project and how it was made
"We just finished polishing up the images and video from a really cool event that resulted in one of our more interesting projects to date: Microstudio. The party was huge and it took over the entire Burrard Hotel in Vancouver. The hotel was renovated over the last several years, with a nice old motel vibe to it. There were skateboard ramps built in the underground parking lot onto which you could look from the courtyard above. There were bands, DJs, and 24 hotel rooms given to artists and performers to do with what they pleased. We were lucky enough to be offered one of the rooms."
"We didn't want to do something normal, like an installation, or to furnish the room with our pieces. We wanted it to be exciting and strange: to have people walk in and see something they'd never seen before, and to walk out with something. What we decided to do was move as much of our studio into the hotel room as possible, along with as many fine offcuts and scraps as we could find, then design and make objects all night long."
"Before we started, we were pretty cocky, thinking that we would make around 12-15 things. After about an hour, we realized that wasn't going to happen, since we were spending much of our time interacting with the audience, explaining what we do. The whole thing was an experiment in design and spontaneity. Normally we go through sketches, models, prototypes — countless iterations of the same thing with slight changes to detail until the object is just right. With this scenario, we started drawing, and as soon as we thought,"Yeah that works," we stopped and moved on to modeling with the final materials."
"As well as an exercise in spontaneity, it was an exploration into constraints. At first it might seem that with a project like this there are none, since we could make whatever we wanted. But we didn't have any large power tools — just Dremels, handsaws, and small tools — so we were breaking marble over our knees and chipping away at it with a hammer. We could only manipulate materials in very minimal ways, fastening parts together with adhesives or even knots."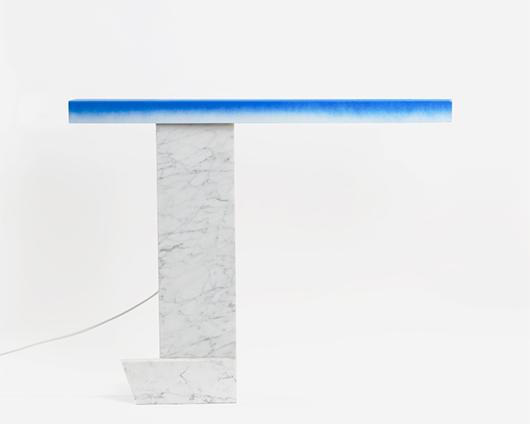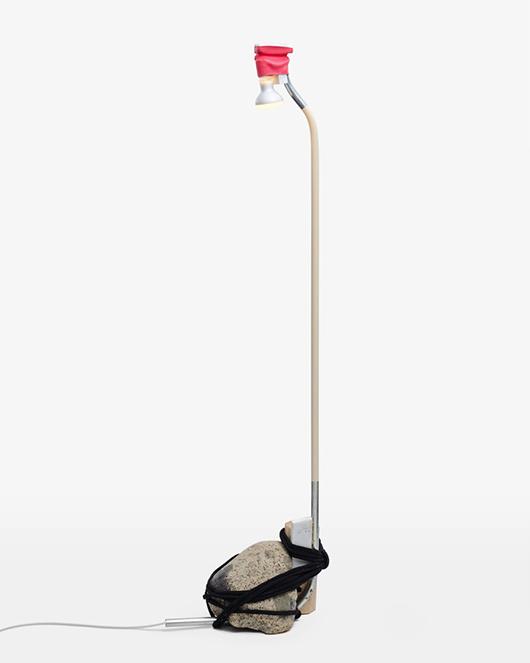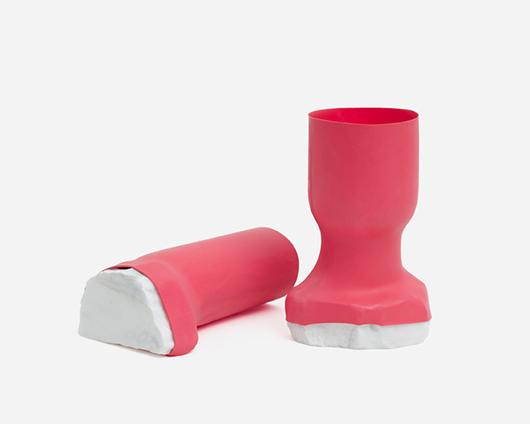 "We wanted the objects in the end to have a professional, clean aesthetic language. We didn't want the objects to look like something from a craft tent. Our intention was to create finished fine objects that were real, usable and attractive, but still subtly reflected their origin—conceived in a hotel room during a wild party. This evidence is in every piece, from the table lamp's hand-painted ombré/gradient, to the rough-hewn bases of the Vessels, and the not-so-subtle bondage cues found in the jewelry stand (topmost story photo)."
"As a performance, only the crowd can say if it was entertaining. It must have been, for at one point around 1:30AM the room was jammed with strangers chanting 'Knauf and Brown' while one of us was wrapping the rope around the stone base of the floor lamp and the other spun it around. We were pretty possessed. We never left the room from noon till 2:30AM. We only got tastes of the party as bits of it floated in the room. We were putting the final touches on the floor lamp at 2:30AM as they were kicking us out of the hotel."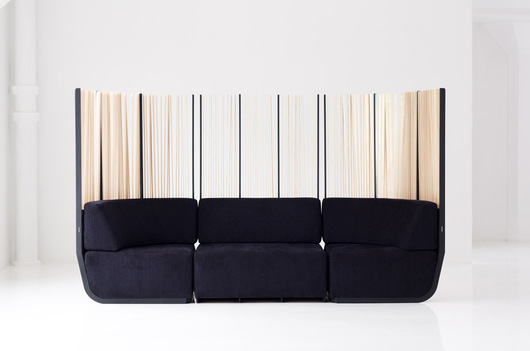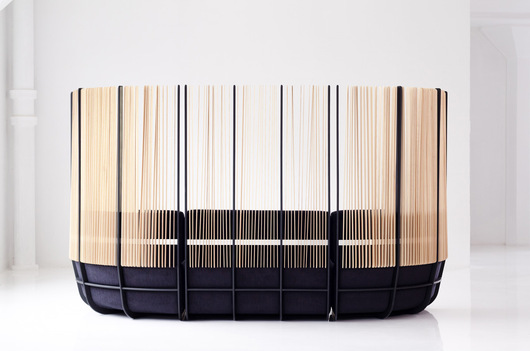 2. Describe your next project and how you're currently making it
"Our next task is to publish our thesis projects, which we've been working on since September 2012. Since they were done for university, we were required to have certain deliverables done for a school timeline. But because the guidelines were so open-ended, we both ended up making projects that were really involved, and only barely finished our prototypes in time for graduation. Marketing is not something that Emily Carr teaches, so we spent the summer doing all of the things we didn't have time to do in school: photo shoots, videos, literature, branding, etc."
"Calen's project, Standard Collection, is a series of products for the home, aimed at the luxury market. The products themselves are designed with enjoyment of use in mind, rather than simply ease of use, so we wanted to create photos that reflected their unusual nature. Instead of the classic "product on a white seamless" look, we took every thing to the beach, twice, for what is now the most arduous shoot we've ever done. Nothing about the beach is conducive to making photos! The light is constantly changing, the wind is ruthless, it's so bright that you can't see anything, and sand, well, you can imagine. But it was totally worth it! (Though the project isn't ready for press yet.)"
"Conrad's project (above) is Hull Sofa, a large sectional seating system for common areas, so it was actually quite a challenge to find a place to shoot it. We were very fortunate to have the owner of Inform Interiors, a luxury furniture retailer in Vancouver, offer us the use of their contract showroom for a photo shoot. We couldn't have asked for a nicer spot! It was a huge, open, old converted warehouse in Vancouver's Railtown district, with everything painted white."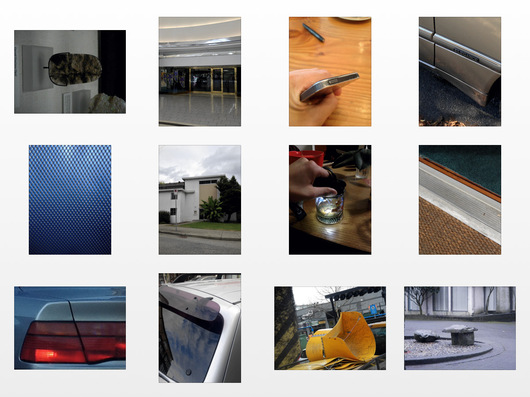 3. Tell us one thing that's been inspiring you lately and why
Ever since we started working together, even before university, we've always been doing both art and design. For us they're inseparable. So we spend a lot of time in both worlds, and the space where they cross over. This means we spend just as much time looking at commercial products and spaces as we do looking at other artists' works. In a way, this has made us keep our eyes open pretty much wherever we go, because if something doesn't inspire your next photo or sculpture, it might inspire your next lamp or sofa. The best place to find inspiration is from outside the discipline in which you're working, because that's how you can bring something new to the table. So we both keep point and shoot cameras on us all the time, just to record any form, texture, or colour that might inspire us, either natural or man-made.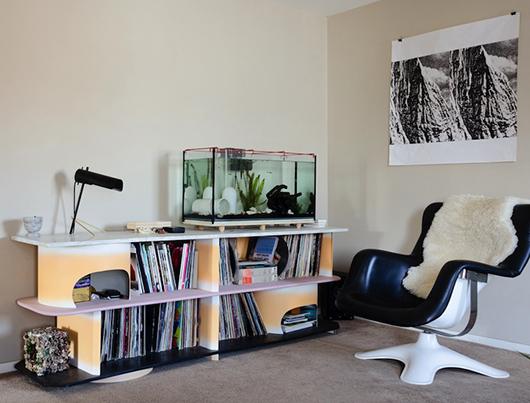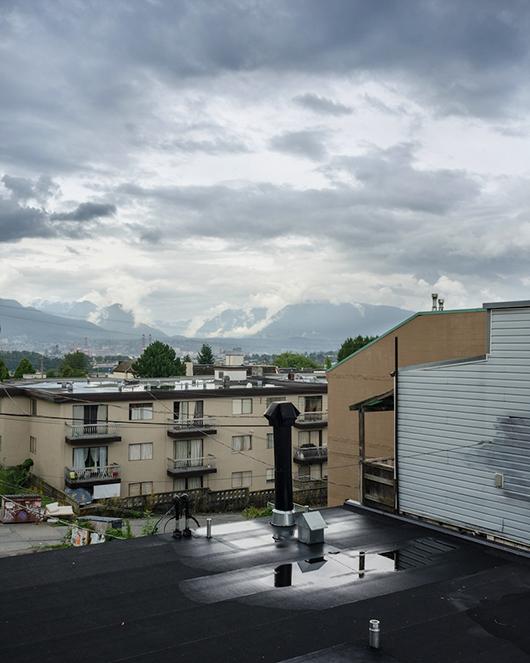 4. Show us your studio and tell us what you like about it
"The studio is on East Broadway and Fraser, which is pretty busy intersection with lots of cheap things to eat around it, including about a thousand Vietnamese restaurants, and Matchstick cafe a few blocks away, which has really good coffee. It's a home studio, which has its ups and downs. On one hand, the studio/office itself is pretty small, maybe 100 square feet. It's big enough for a table, a desk and all our hand tools. We both love an organized space, so most of the time the studio is pretty spic and span when we're not modeling something."
"On the other hand, since it's in Calen's house, it has all the amenities of a home. When we take breaks, Calen makes cappuccinos and we get to chill on a Bouroullec brothers sofa to watch cartoons on a big screen. No one complains if we blast music at 2 in the morning. The office itself has a really pretty view of the north shore mountains (shown here) and the back patio is even better."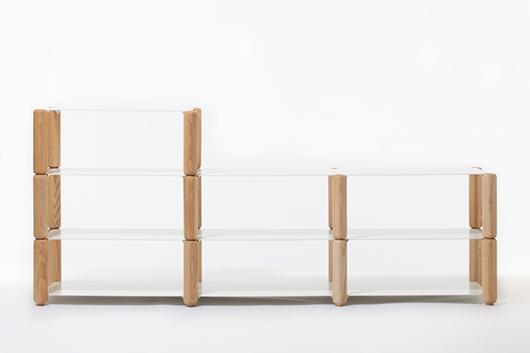 Knauf & Brown's Heavystock shelving system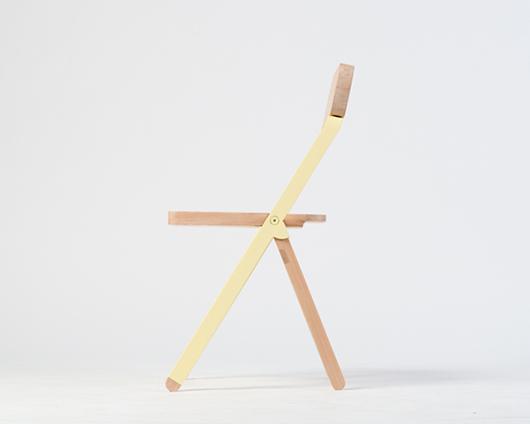 Profile Chair