10.15.18
In a New York Apartment, Dimes Co-Founder Sabrina De Sousa Lives With What She Makes
Sabrina De Sousa has a habit of insisting that she's "not a designer," and it's true that the majority of the world doesn't think of her as one — she's most commonly known as the co-founder of the experimental Lower East Side restaurant Dimes. But although she never went to design school, De Sousa has done more than enough to earn the honorary label, masterminding the interiors of Dimes and Dimes Deli and designing a great deal of their furnishings — and in the process creating an aesthetic that's been copied endlessly since: the blond wood, the colorful laminate furniture, the eccentric floral arrangements. Even her impeccably appointed Chinatown apartment is filled with objects she created herself, which is why we've been begging her for ages to photograph it — a feat we've finally pulled off thanks to our editorial collaboration with Sonos. We've teamed up with the smart speaker brand for a new storytelling series called Creative Women at Home, in which we'll visit the homes of four influential women and find out how they live, work, relax, and listen.
For De Sousa, life in her apartment isn't all that distinct from her life at Dimes, which she and her partner, Alissa Wagner, always intended to function less like a restaurant than a surrogate living room for their friends and neighbors. Design is the thread that ties them together. "Even though I don't consider myself a designer, I like to make sure that my whole life — Dimes, my apartment, and whatever projects the future may bring — is an embodiment of the things that I really love. Creating inspiring spaces is so important to me. I'm also a homebody, so I think that's why Dimes, where I spend most of my time, is a reflection of home for me."
PHOTOS BY BRIAN W. FERRY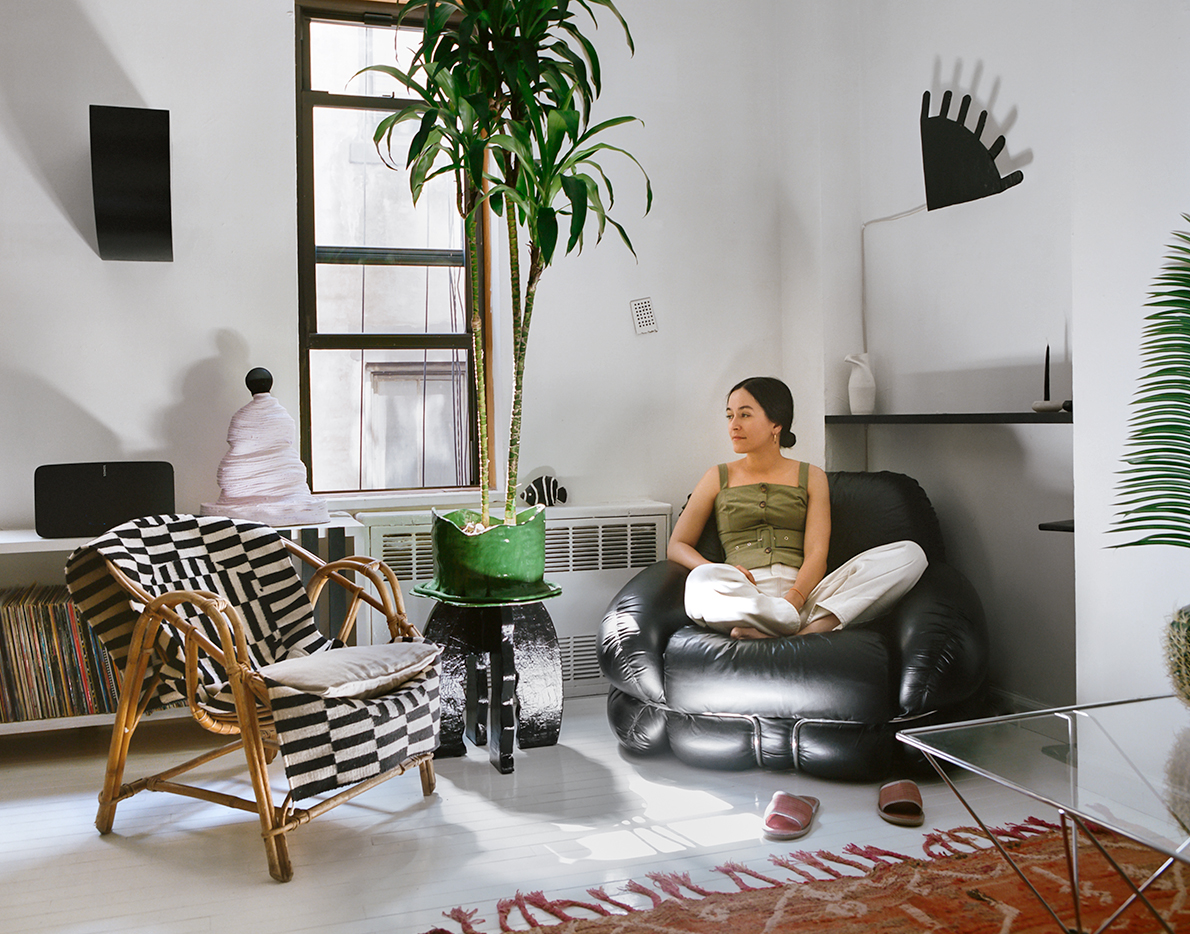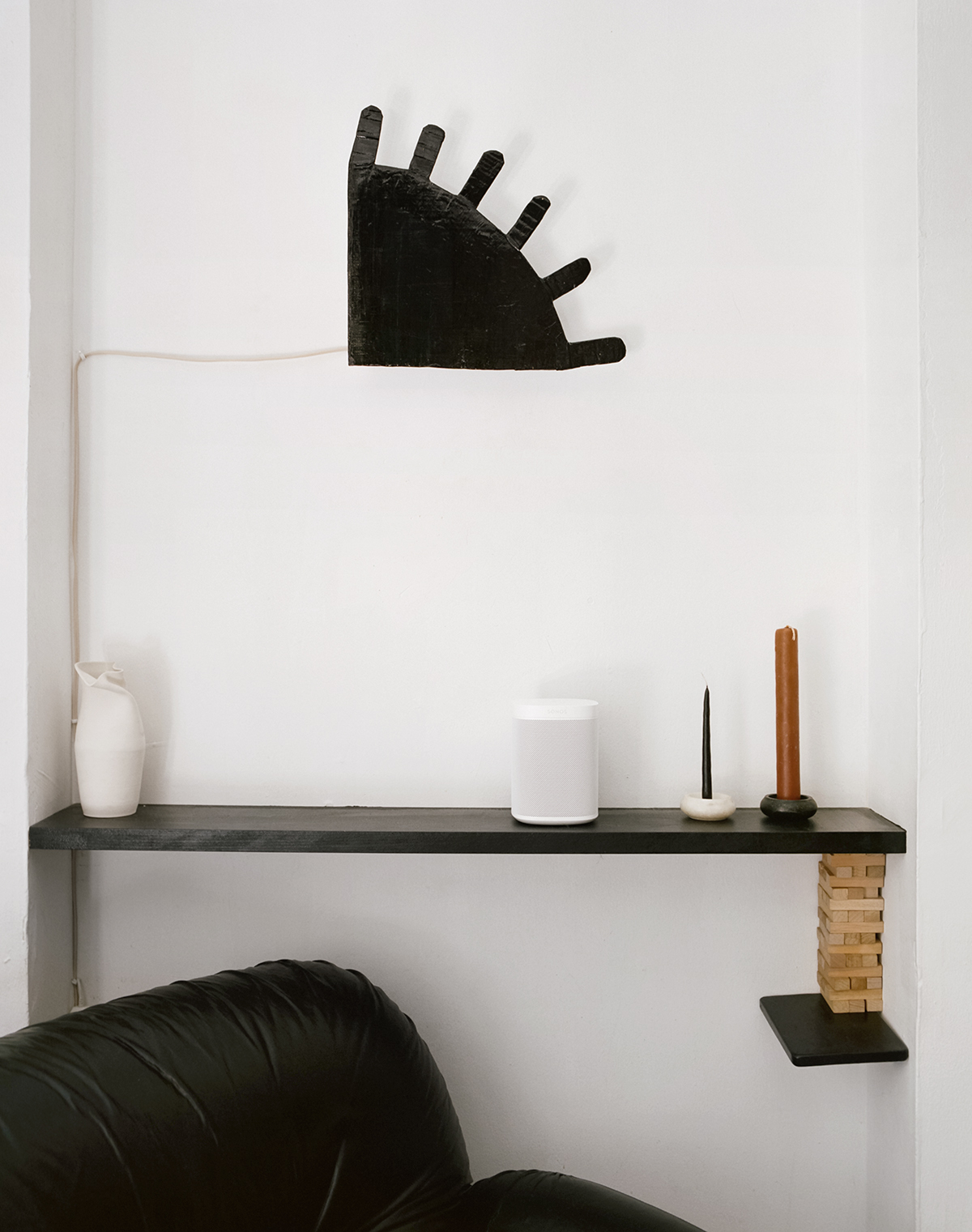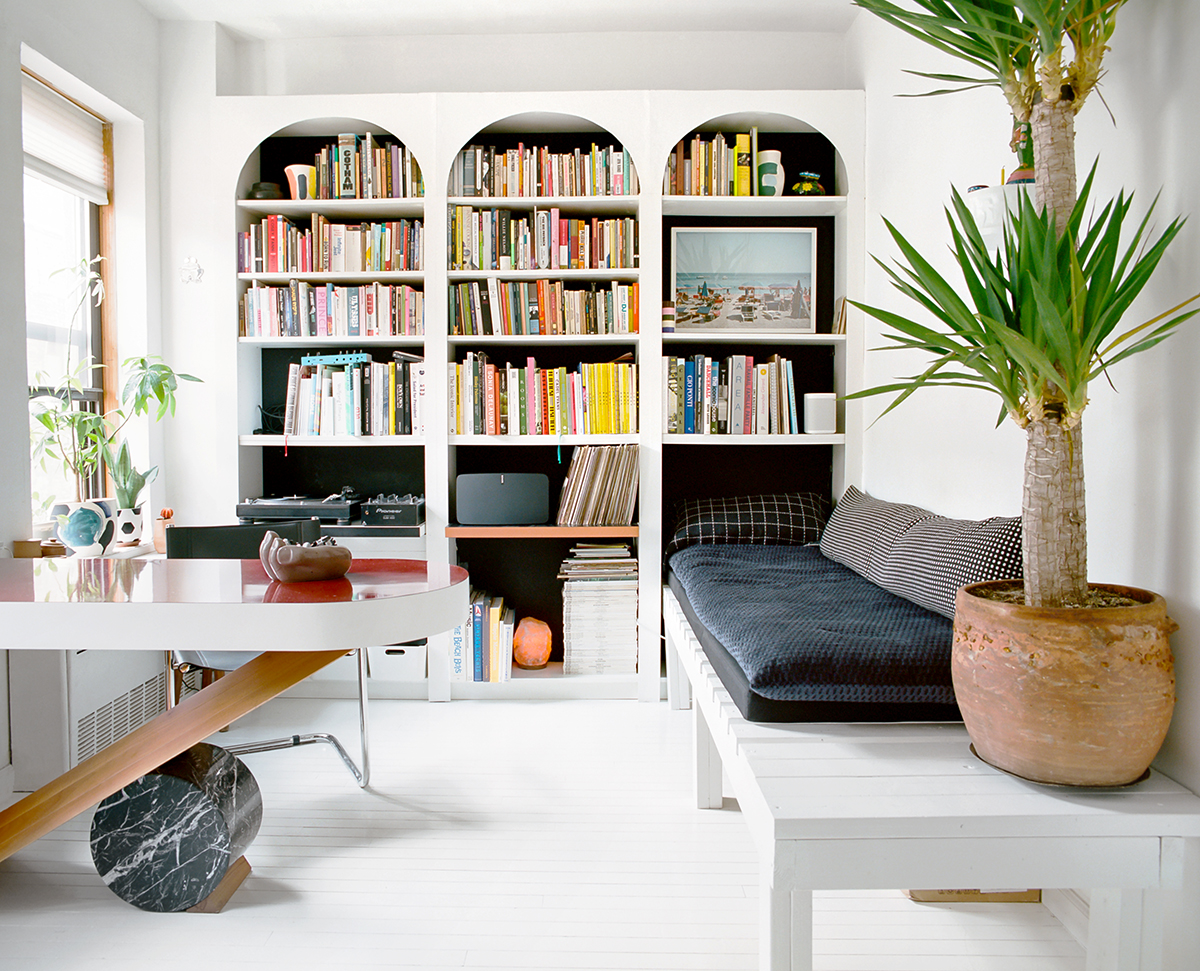 Can you tell us the backstory of your apartment, and how you ended up there?
In 2013, I was looking to move from one block in Chinatown to another — I have to stay close to Dimes, which was especially true when we first started it — and I called a broker off Craigslist. When I first saw the apartment I was like, what? A proper suburban two-bedroom on Henry Street for this much?? So I took it and I moved in with an ex-boyfriend at the time. We broke up, then a really good friend of mine broke up with her boyfriend and asked to crash here, and it was like heartbreak hotel for awhile. It was pretty fun. Now I share the space with my current boyfriend, Glen. It's one of those tenement buildings in Chinatown. It's full of Chinese families, and they've lived here forever, and it's so warming and sweet.
Besides being near Dimes, what else do you love about the neighborhood?
I love how you can feel anonymous in this neighborhood. Once you're within a two-block radius of Dimes, it turns into more of a Sesame Street village situation where you're waving hi to everyone you see, which is really wonderful — and what makes it so unique to New York — but there's also the complete opposite, where you can keep to yourself. I just really love the Chinese neighborhood so much. I've lived in it for so long that I've come to appreciate all of it: All of the grit, all of the amazing food and the culture that it brings.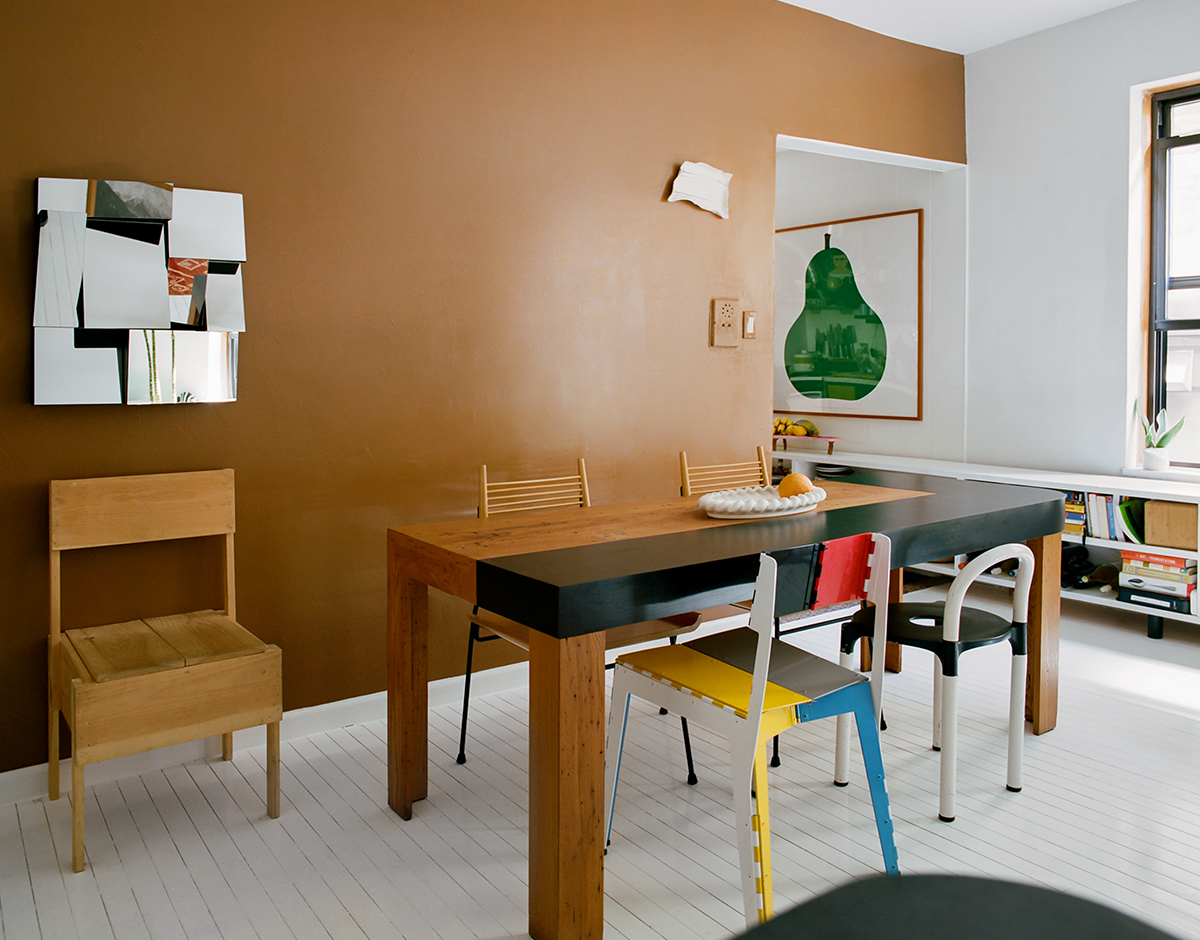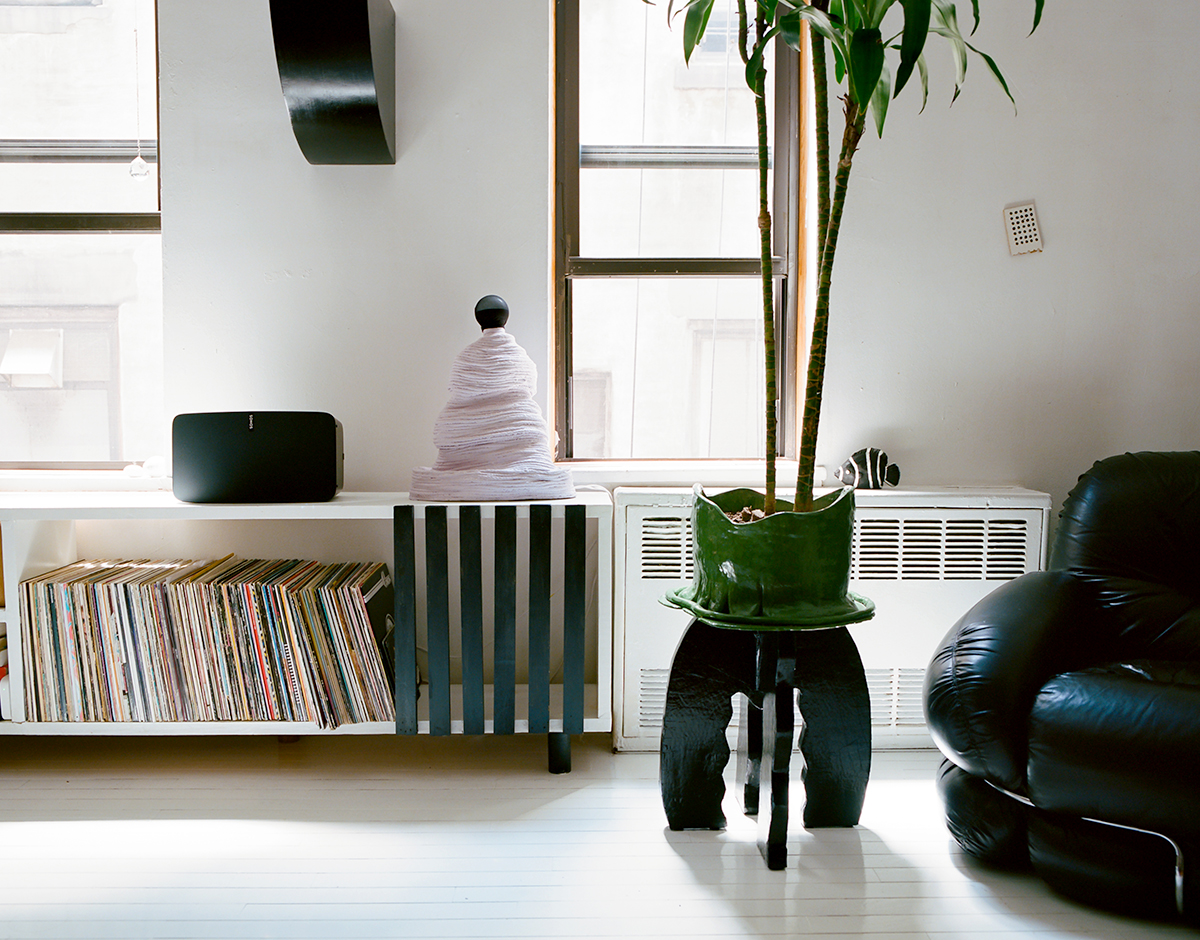 When you first moved into the place and started decorating it, what was the initial vibe?
The first idea was, let's build a huge shelf / bench against the kitchen that runs into the living room to store books and dishes on. I love how it lets me mix things together even though they clearly belong in two different rooms. The second thing I did was to remove all of the terrible, generic, fake kitchen cabinetry. Then the bathroom had drop-down ceiling tiles, like the kind in an office building, so I painted it a smurf blue. I also had a console I was using as a dining room table, but I realized it made no sense because I'd try to have a dinner party on it and you couldn't even fit two plates across from each other. So I had someone come and extend it to make it a bit bigger, because the wood is really beautiful. That's still there.
So essentially the table was one of the first things you designed. Are there other objects in the apartment that you custom-made?
Yes, like the partition when you first walk through the door. It's pretty reminiscent of some of the detail work that I put into Dimes, where you can still see through each space, but it's divided. I think it's really nice to walk into a space and have it welcome you but still have different phases. Otherwise you'd be opening up the door to our apartment and basically be touching the sofa. I also made some of the objects in the living room, after the 2016 presidential election — I was feeling totally introverted and not sure how to act in social situations, so I stayed at home and papier-mâchéd my ass off. I made all sorts of things, including the black eyelash object in the corner of the living room that I turned into a lamp, and the black stand that the plant is on in front of it, and the lilac lamp in front of that. Papier-mâché everywhere.
There's also the silver lamp stand on the other side of the room that I got at an auction — I definitely didn't need another lamp in the apartment so I took it apart and put it back together and added these papier-mâché shapes in between. Now it stands there in the corner with a Dimes chair.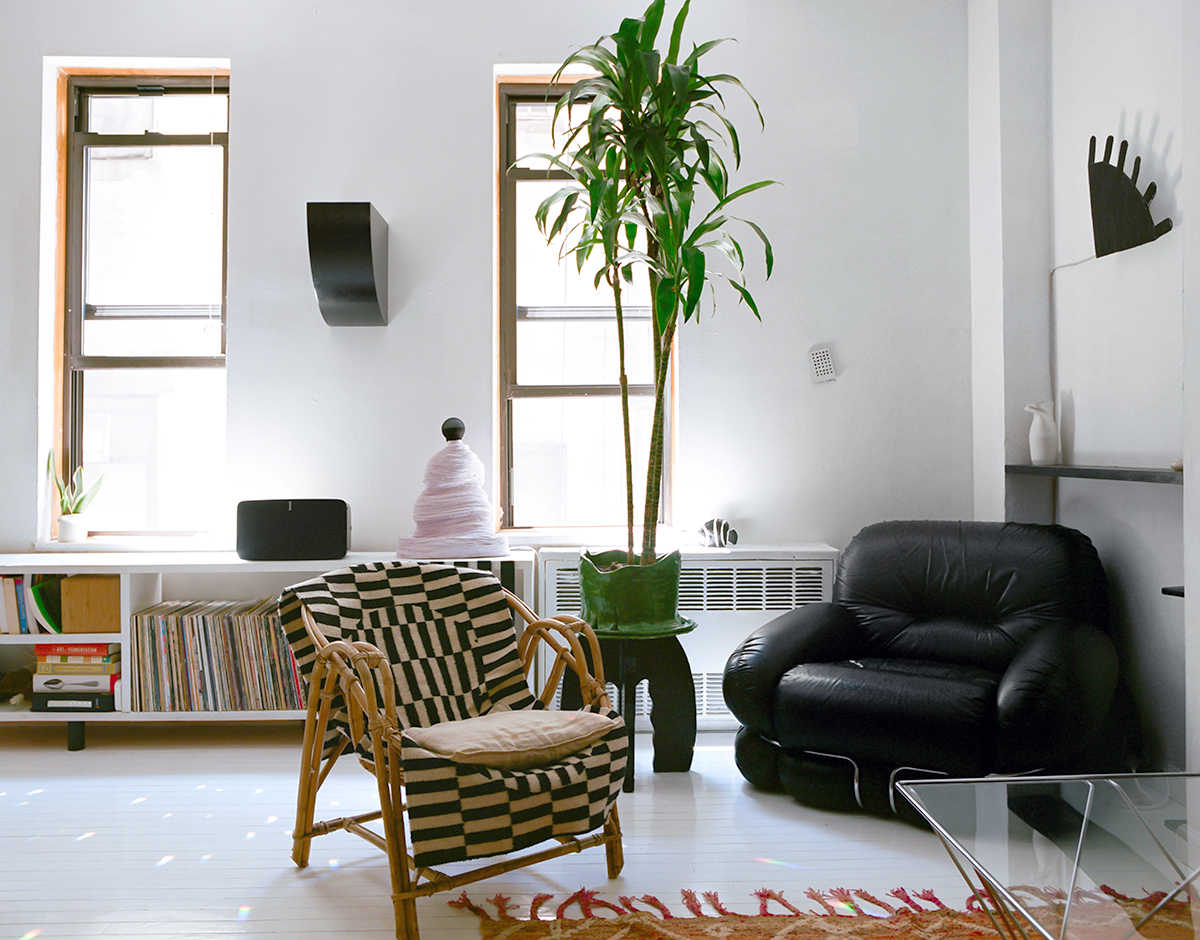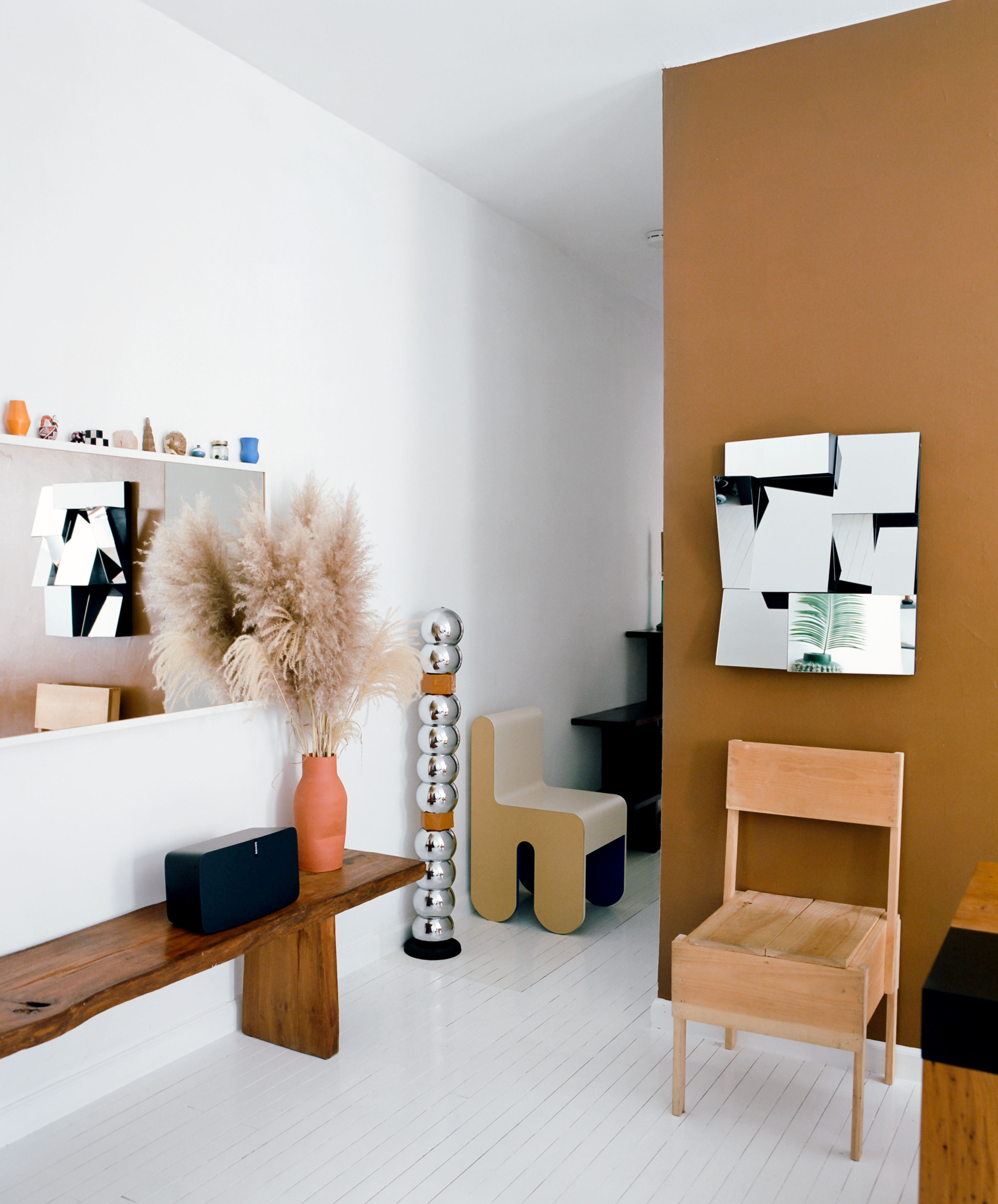 Right, the one you designed with Sam Stewart. How did that collaboration come about?
Originally I had the idea of making irregularly shaped tables for the restaurant, and I commissioned him to make those. I had the vision for what I wanted them to be, and Sam referenced certain artists and shapes, and we went with it. We hit it off really well, and found we had a really fun shared design language and relationship. He taught me so much, and I was super shy to ask him to collaborate with me on the chair, but he was into it. We spent a lot of time going to art shows and really thinking about what its ergonomics and the shape would be, and also how it would fit into the ethos of Dimes. He did such an amazing job. That's really the spirit of Dimes — letting other people express themselves and do the things they love through our platform.
You also designed the pepper mill we put on the cover of our OFFSITE magazine in 2017. Is that something you want to do more of — actually creating objects?
Yeah, definitely. I really like to go thrifting and lately I've been finding all of these amazing lamps, but there's always one thing wrong with them that would prevent you from putting them in your house. So it's funny to say but, I took a stained-glass class in the Jersey Shore, and I've been working on these stained-glass lampshades that use the thrift store lamps as bases. They're very abstract and cool. It's not like "Sabrina is now a lamp designer," though, it's more like figuring out what I can do with certain materials, and then putting the results out there and seeing what happens.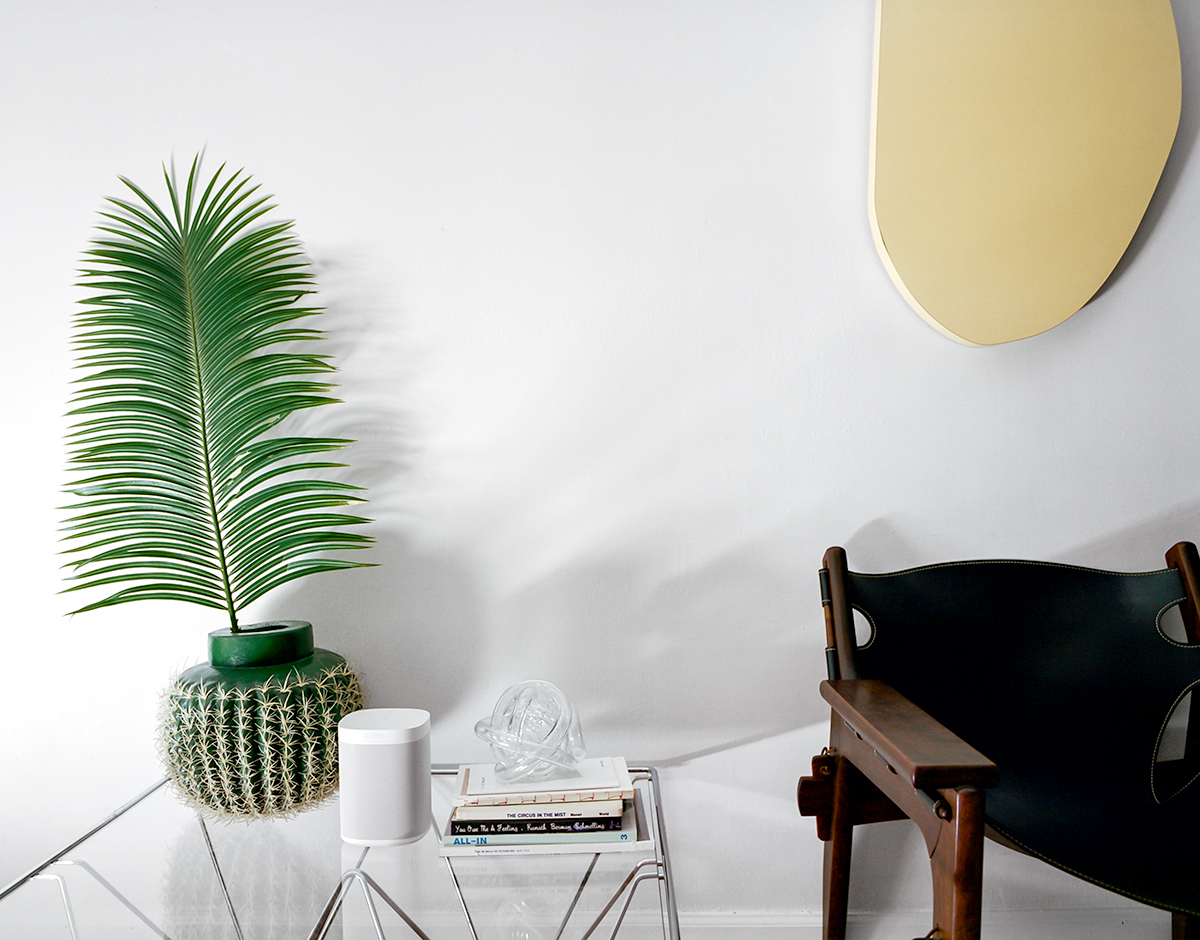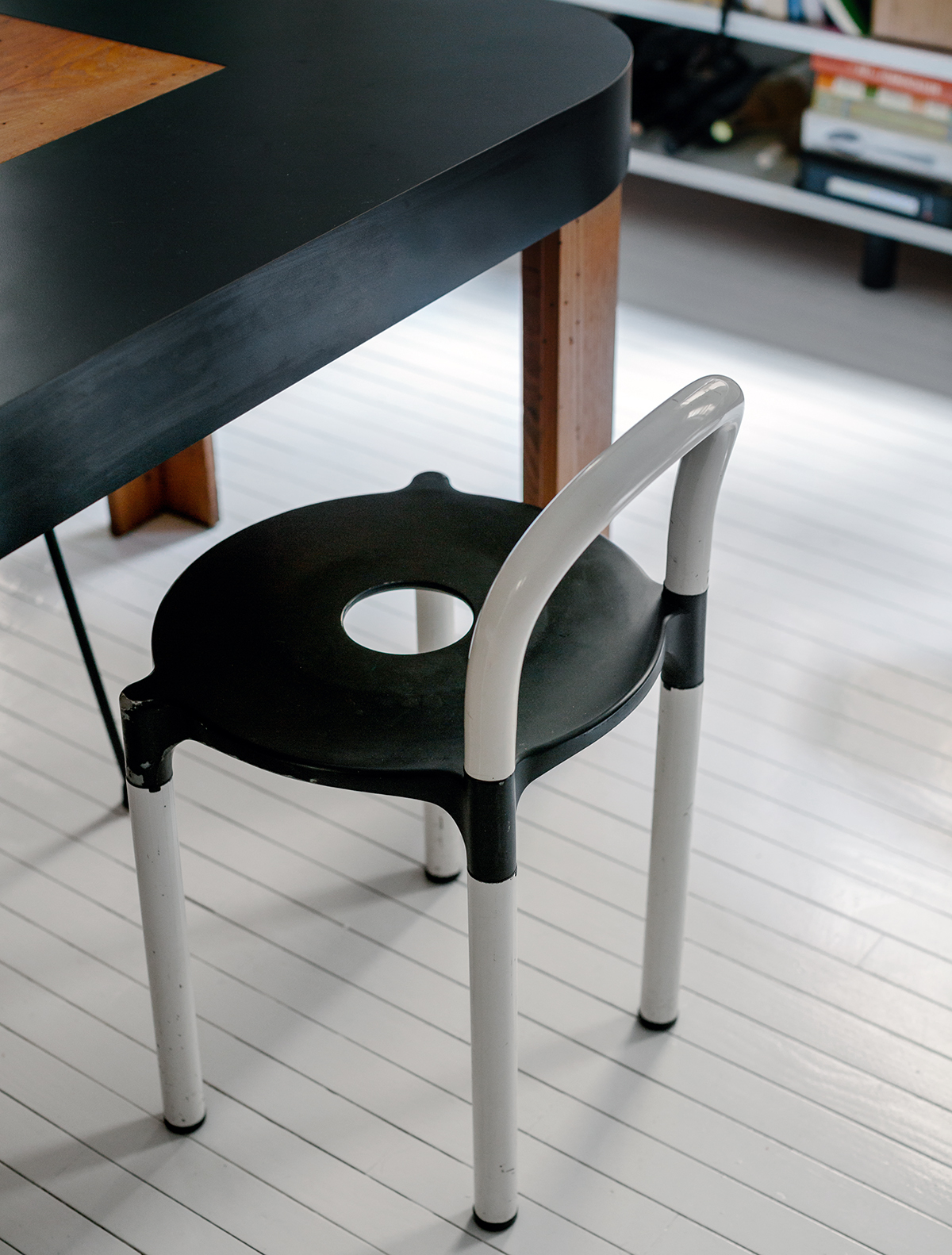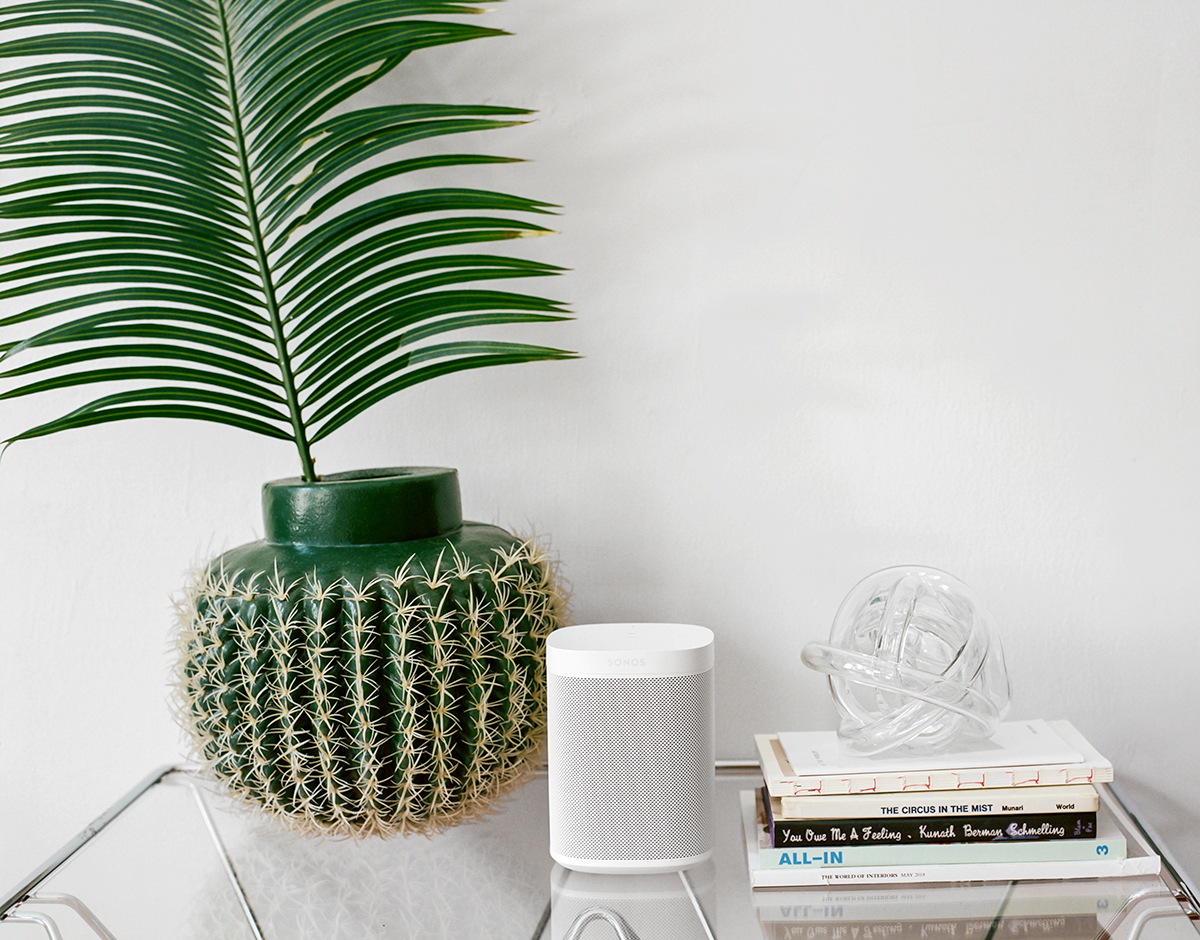 What are some of your other key pieces in the apartment?
Definitely the Sergio Rodrigues chair. He's one of my absolute favorites. He's the reason I really fell in love with furniture design. My family is originally from Brazil, and I have so much pride in Brazilian design.
One of the first pieces I bought was the Prouvé chair. I remember when Moss was still open and I saved all this money to buy something there, and I ended up buying that chair. I was very young and so that was my first real designer chair, which is pretty funny because it's pretty Design 101. I also have an Enzo Mari chair, and the Stitch chair by Adam Goodrum for Cappellini. I found it on eBay for a really nice price and brought it into the restaurant, but it broke. So I got it fixed and I brought it home.
I actually get all of hand-me-downs from the restaurant — things I know are about to break down, because restaurant use is the worst thing for really nice furniture. Right when I know it's about to fall apart, I'll rescue it and take it home. I have two Paul McCobb chairs we got when we first opened the second location — one of the rods fell off after four or five months. I knew it wasn't going to survive.
I remember you told me awhile ago that you actually "collect" chairs. Why chairs?
They're compact, and I really love how you can have a row of chairs and it's like a family. They're like little people that exist in your world, and they're all so different, which is really sweet. I wish that in school, in addition to learning to read and write, everyone had to design a chair, because the things that you would see come out of it would just be so wonderful. I think everyone is capable of designing a chair.
You said something in your earlier answer that we should probably go back to, which is that Sergio Rodrigues made you fall in love with design. How so?
Well, I was really curious about Brazilian architecture and design for many reasons. Brazil is one of the hierarchies of architecture in the world, and I really started to think about all of my memories going there every summer as a child: There's a church that Niemeyer designed and built that's on the Pampulha lake in Belo Horizonte where my family is from. I remember always waiting to catch it with my eye when we turned the curve on the lake, and always thinking of the Jetsons and smiling. It's so small but it has so much character and fluidity, very much in the vein of Corbusier. Seeing it and smelling the dense air on the way from the airport to my grandmother's house always made me feel like, I'm in Brazil.
And then Sergio Rodrigues is just one of the most iconic Brazilian designers, the way he uses indigenous materials and how the furniture is so beautiful and yet also funny; it's like all these little characters. He's my all-time favorite, and then there's Lina Bo Bardi — I'm obsessed with her glass house — and of course Roberto Burle Marx who made wonderful landscape designs and interior spaces.
I think there are elements to my apartment that represent my love of Brazilian design, in a way. Even the brown walls make me think a lot of my grandmother's house, and different parts of Brazil and its textures. You could be in Bahia on the coast, or in the mountains. Parts of my home also remind me of Rio, in terms of the plants and how they're used as sculpture.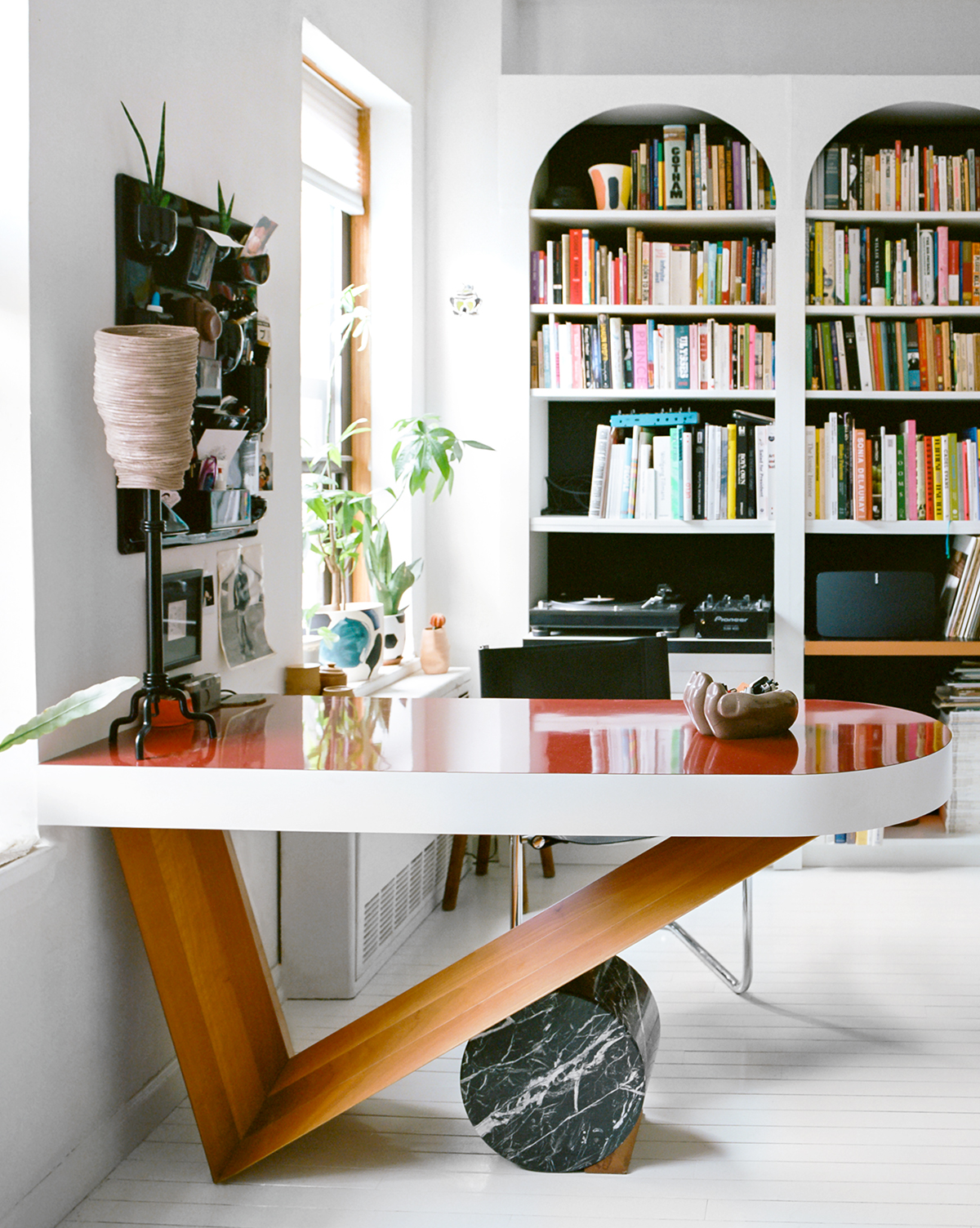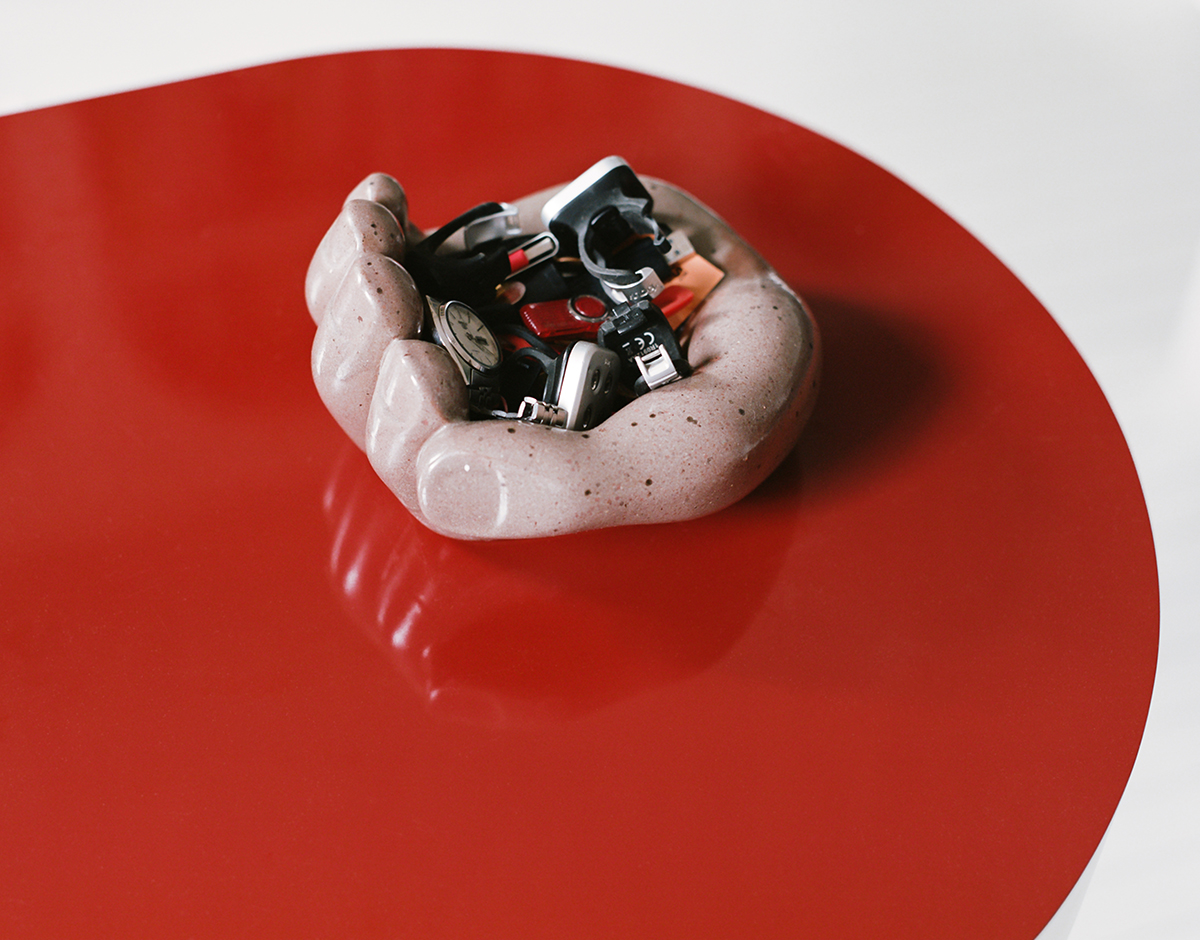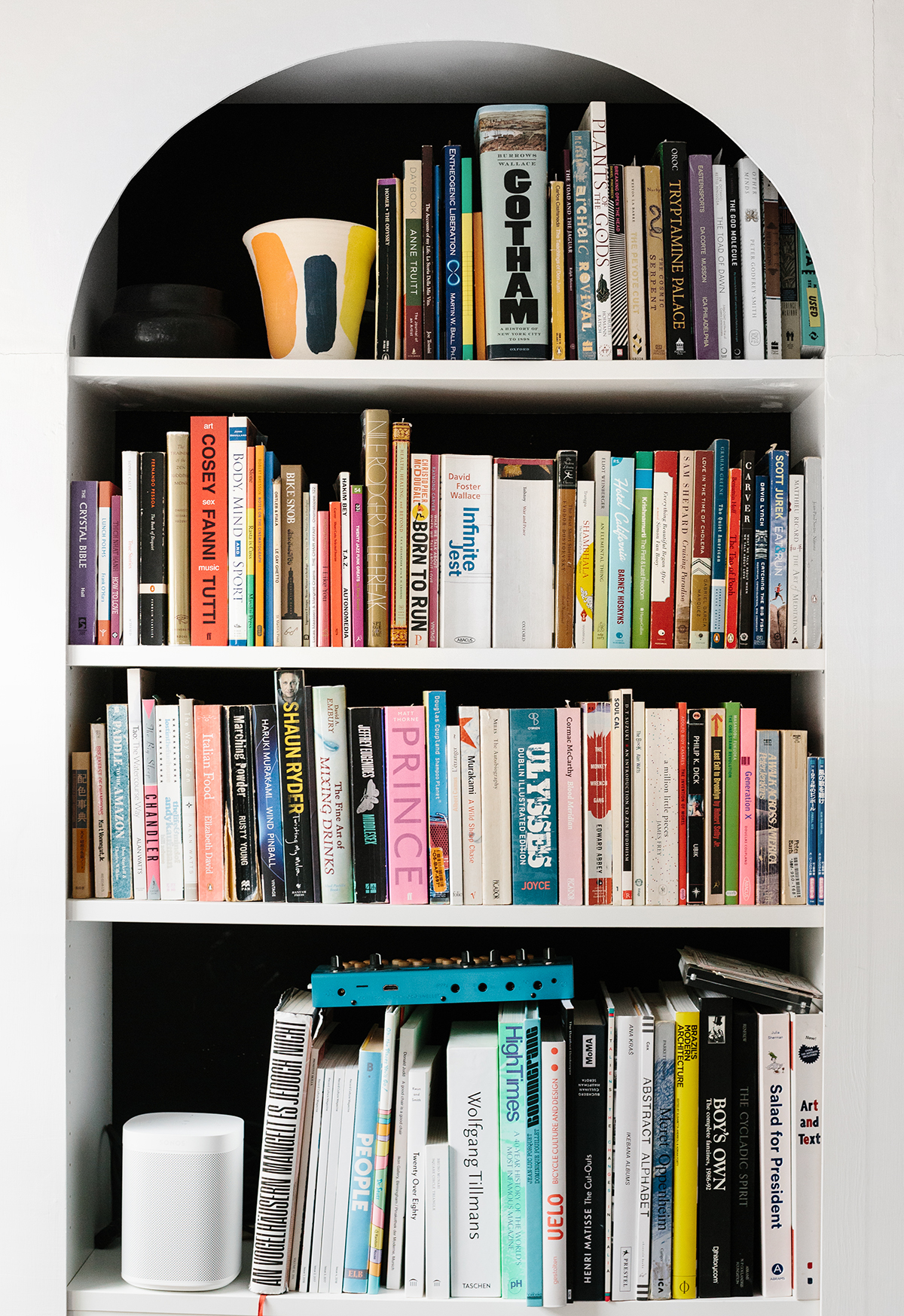 I have to ask about the room with the arched bookshelves, and that amazing desk.
That's our study, and those are just IKEA shelves we added arches to. And the desk, I found that bottom piece an auction in Pennsylvania, and no one wanted it because the glass top was cracked. But I didn't want the glass top — I had the red top fabricated for it instead. Lifting that marble base up four flights of stairs was awful, but it's so cool, I love it so much.
Switching gears for a moment, do you entertain in your apartment, or are you sort of like, I do that at the restaurant, and then when I come home I don't want to do it anymore.
No, I love to entertain. My mom was in town recently from Brazil, and I invited a bunch of my close friends over, and she cooked my favorite dish, a shrimp stew. We went to Jersey where I grew up and we went to the Brazilian supermarket and bought all of the ingredients together, and it was so nostalgic for me but also so special to share it will all of my close friends. My mom was like the wise woman in the kitchen, sharing stories with everyone. I'll never forget it. But yeah, I love to entertain.
Are there certain albums or types of music that you associate with cooking or sharing food?
I think more ambient music is a nice way to start a dinner party. It's relaxing and easy to converse to. It can go anywhere from there. When I'm cooking it's like muscle memory — once I get the knives out in the kitchen, I have to play music. I've actually been going back to the Brazilian music that my mom used to play, when we were cleaning the house or when she was cooking, and it's been really nice to go back in time. Records like Gal Costa's "India," and Maria Bethania's "Alibi," and Tim Maia's eponymous album. I used to hate it when my mom played this stuff, but now I think it's so beautiful.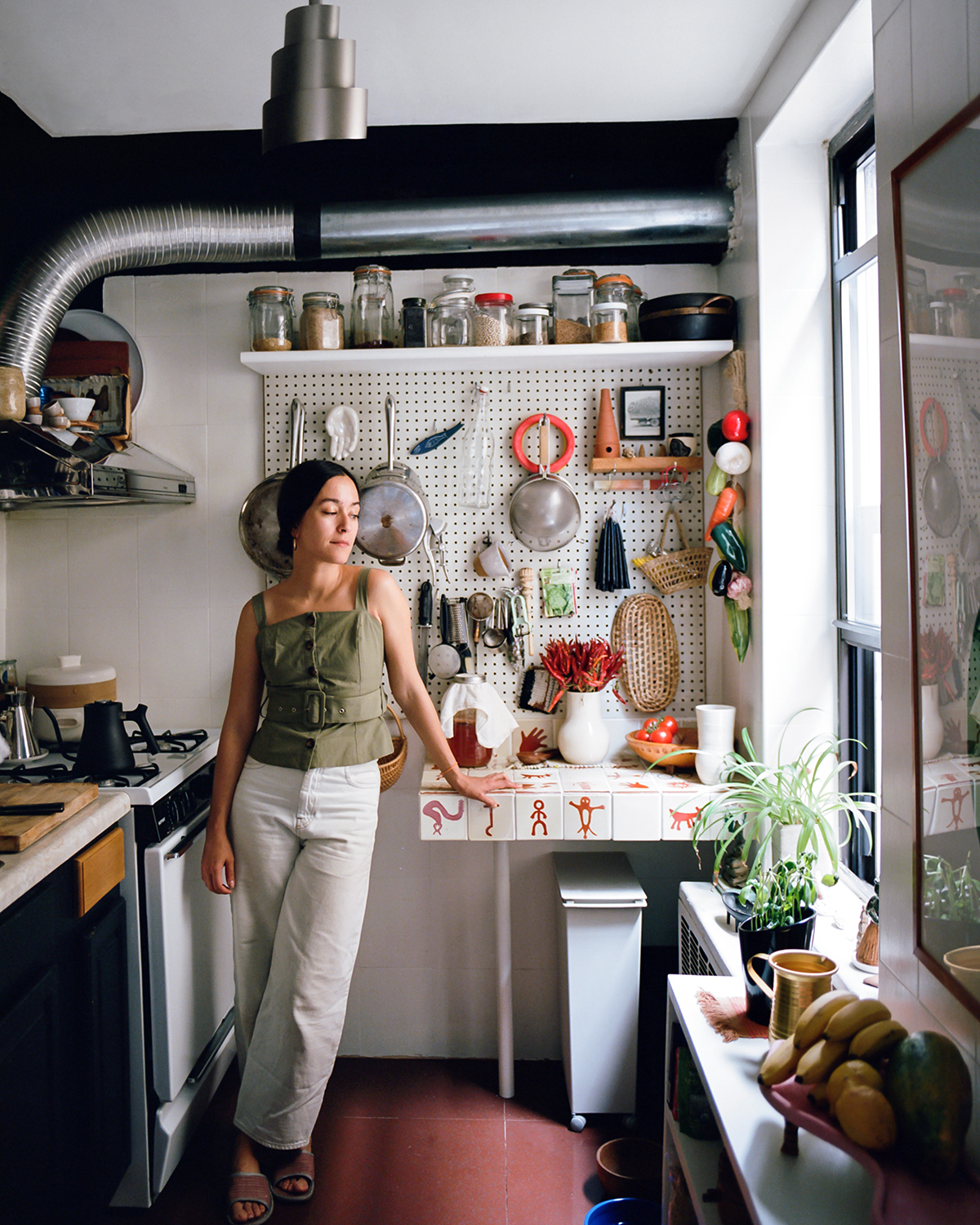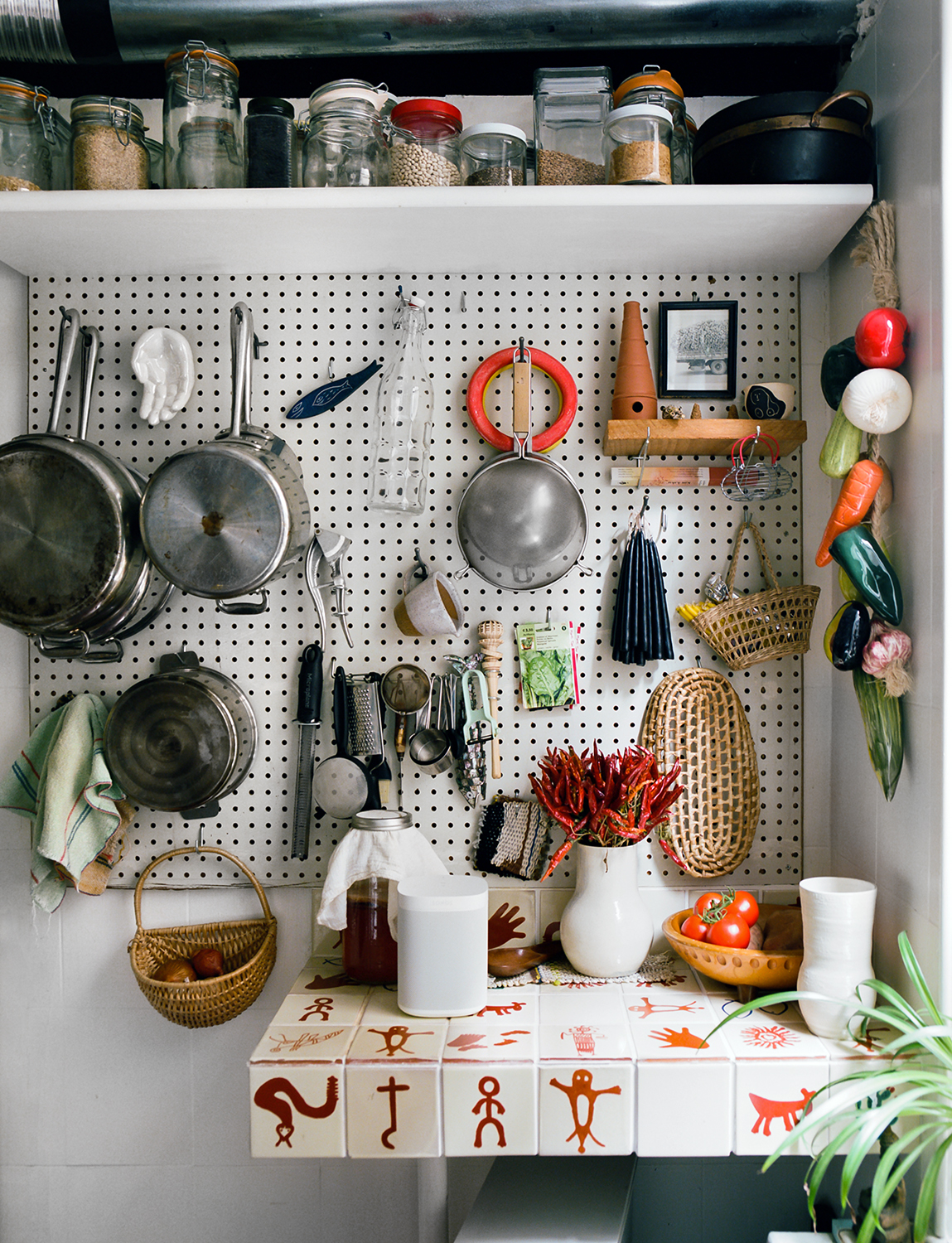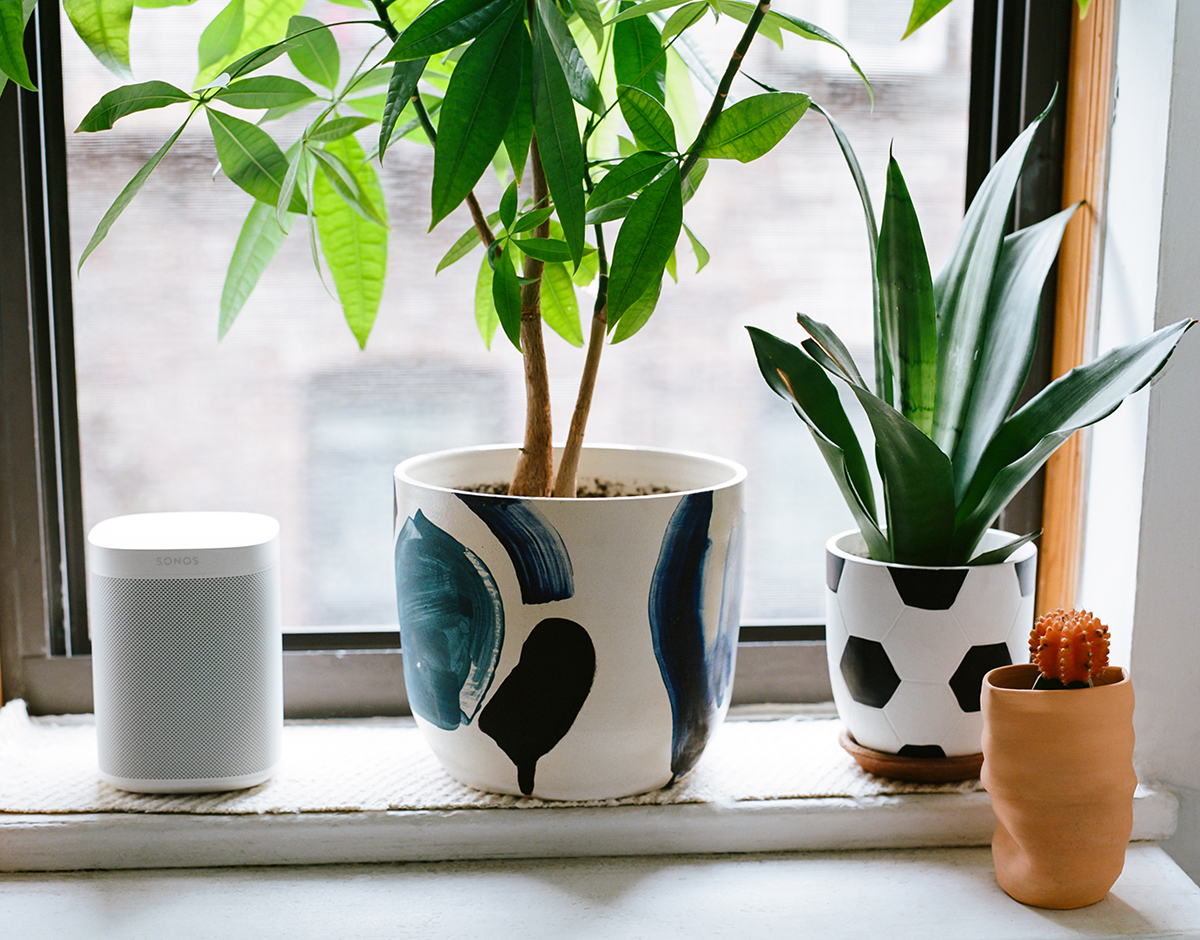 What do you listen to while you're doing work or being creative?
When I'm working at home I'm usually catching up on emails, and honestly I play NPR all the time. I've got to know what's going on. When I'm writing though, I can't really listen to words because it distracts me, and so then ambient music is perfect. It's mindless yet mindful, you know. This is going to sound crazy but recently I was listening to a nine-hour singing bowl video on YouTube — it was just what I needed.
How do you and Glen listen to music in the space in general? Is it always on? Do you sit down and consciously listen to it?
Glen works in music, he does A&R and also DJs for fun, so it's usually his domain. But yes, there's always music playing. With our Sonos we can move around from room to room with whatever album we're listening to, or even an audio book. And Glen has a ton of records — we hooked our record player up to our Sonos system — so there's always something new to listen to and search for. But I really love SoundCloud. I've been listening to a lot of mixes on there lately. If you just find four or five artists you really love, it's easier to navigate it that way.
Are you also a big vinyl person now?
Definitely I am. The only thing is that the records take up a lot of space, but I really have come to terms with it. We have this one shelf in the hallway that's his-and-hers: his end is all records and my end is all shoes. But it's a symbiotic relationship and it works nicely. Also I think we take for granted all of the work that goes into making a record. It's nice to have this tangible thing with artwork and songs — it's archaic but touching. So I like having records in the house. It's a nice way to relate to the artist and connect with them. And the texture of the music — you can't fake that.
Are there certain albums you love that you return to over and over?
I always go back to Yo La Tengo's "Then Nothing Turned Itself Inside Out." Brian Eno's "Ambient 2" always sounds a little different when I play it every few years. And Slowdive's "Pygmalion" makes me feel like I can always learn from my mistakes.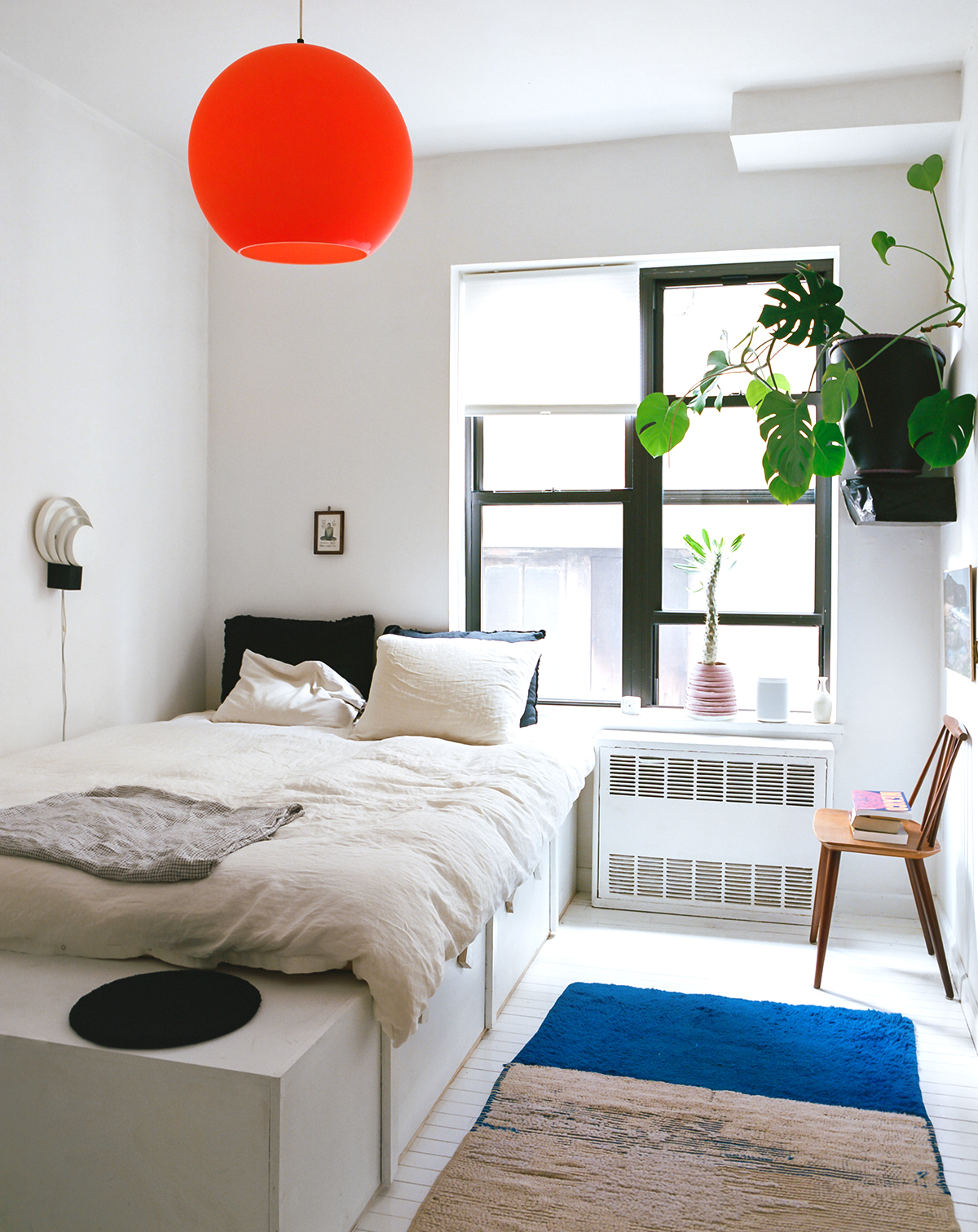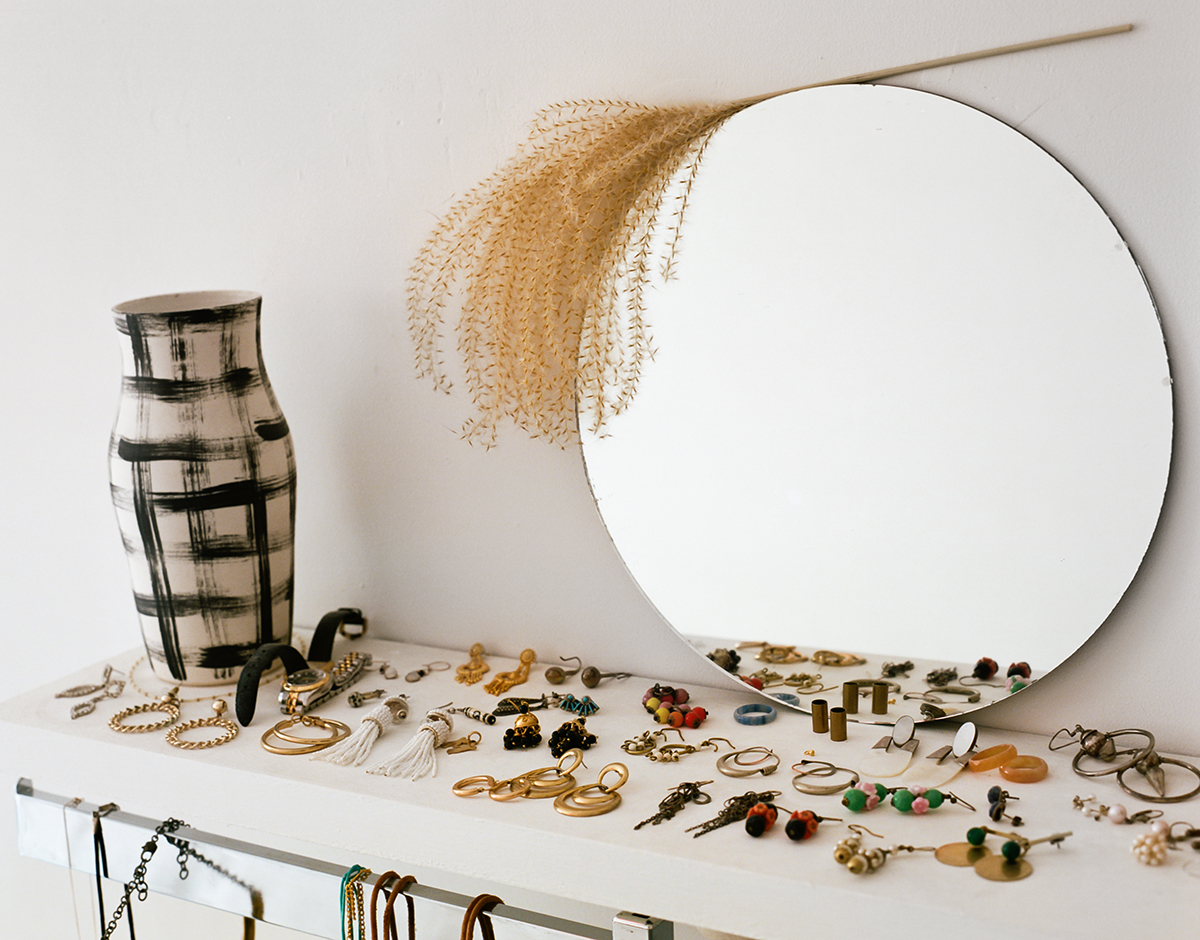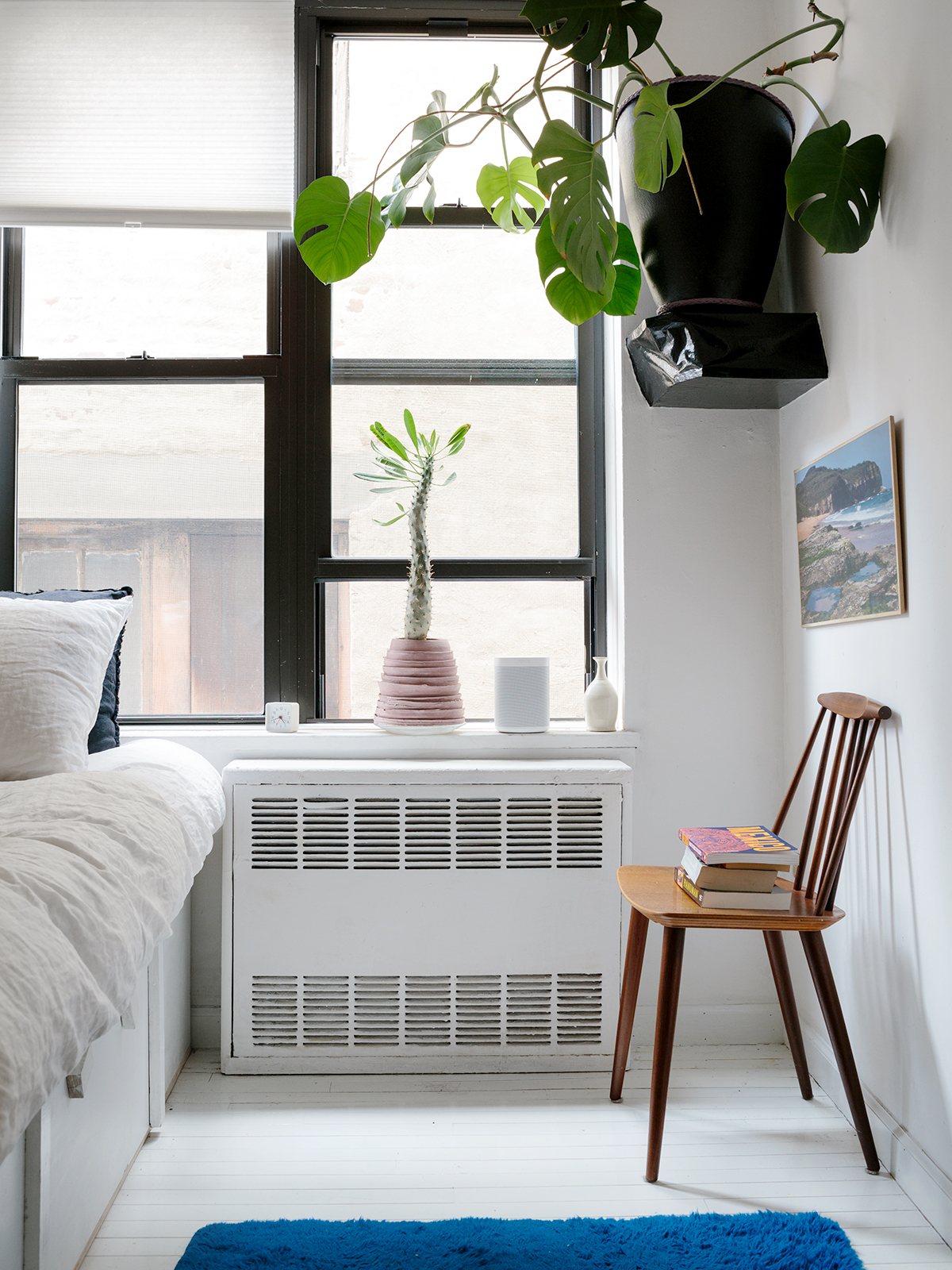 Besides the stained glass lamps, what's your next creative project?
I've been doing a lot of book research, for a potential cookbook — looking at cookbooks and art books and thinking about their graphic design. We don't want to just pump out another cookbook, so we've really been taking our time with it and trying to figure out how we can have fun telling our story. I'm happy that we're taking our time, because the book could've existed a few years ago, but we have more of a story to tell at this point.
In terms of my research, Bruno Munari was always a huge reference for me, his playfulness and timelessness, even before the idea to do a book came. It's so profound and energizing. I've also been looking back at old issues of the magazine Nest, which I've had for a long time. They were all about people, and I think that's a nice element to keep in mind. I also like looking at old cookbooks, which were just mom and dad teaching you how to cook, whereas cookbooks now are very technical. That's not really the way that we cook at Dimes.
Oh and, Glen and I just got a house upstate, so that's our new personal project. I'm really excited to think about the landscape, like how I can bring a little bit of Roberto Burle Marx to freezing New York! I've also been spending way too much time on the internet researching earth homes for our property. Me and some close friends are seriously considering taking a course at CalEarth early next year. Superadobes, collecting chairs, and beekeeping — that's basically what's on my radar.
This post was sponsored by Sonos, but all thoughts and editorial content are our own. Like everything at Sight Unseen, our partner content is carefully curated to make sure it's of the utmost relevance to our readers. Thank you for supporting the brands that support Sight Unseen.