08.16.16
Surprise, Surprise: The Brooklyn Home of Dimes's Chef is As Gorgeous As Her Food
PHOTOS BY BRIAN W. FERRY
If you're not quite sure how a chef like Alissa Wagner fits into Sight Unseen's usual focus on design and visual art, then you've probably never been to Dimes, the restaurant she opened with her longtime friend Sabrina De Sousa in 2013. The pioneer of a new apex of cool on East Canal Street in Manhattan, Dimes sells Cassie Griffin pottery and edible fragrances by Regime des Fleurs, and serves diners bowls of rainbow-colored food on tables inspired by Matisse cut-outs. Some people go because it's a scene, and because the design vibe is right, but most go because those bowls — filled with things like kale gomae, wild sumac stems, and mejadra — are visual art in just about any sense of the word. (Click here and here if you don't believe us.)
This is unsurprising, considering Wagner left behind the dream of a painting career to create them. She spent her formative years making intaglio prints and abstract portraits — through college, her first job at an art gallery, and her subsequent studies at the Natural Gourmet Institute in Chelsea — before giving it all up for Dimes, where she channels her instincts for color and composition directly into her food. We had a hunch that the same sensibility might be at play in her home, which we visited recently for our series with SONOS on the city's most interesting creatives. From her Breuer chairs to her pottery collection, it's safe to say we were correct.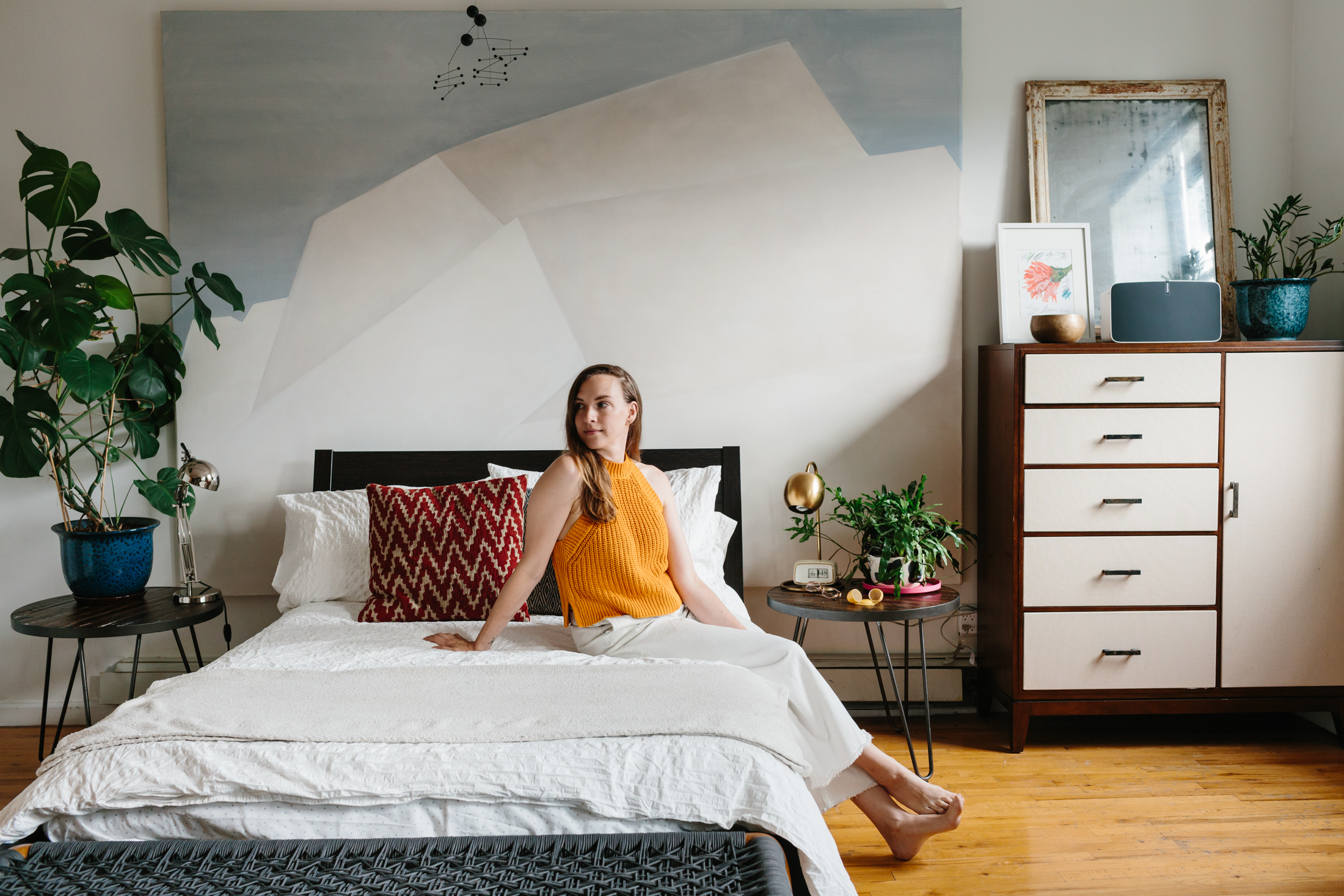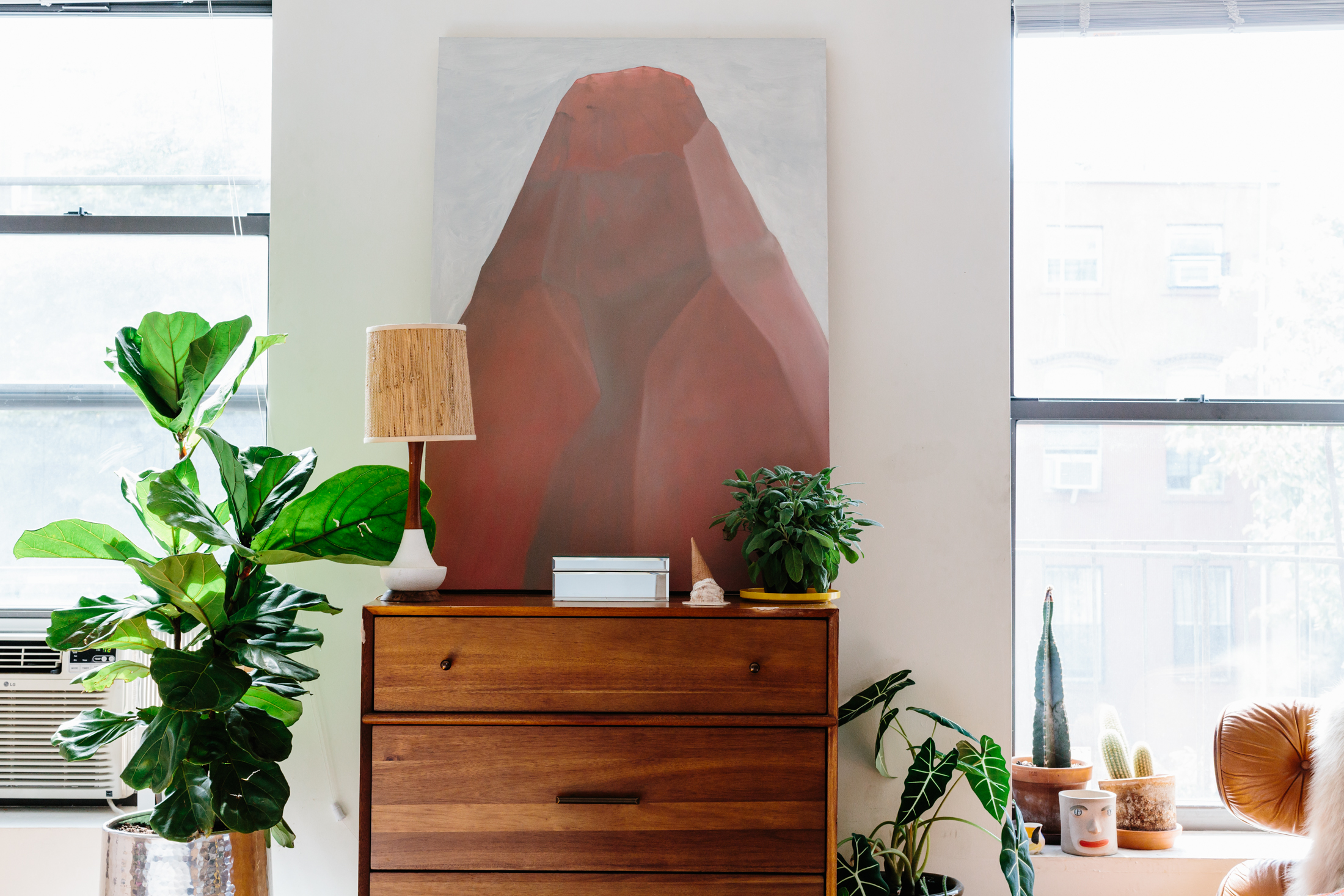 Tell us about your background before Dimes — what did you study?
I went to SUNY Purchase to study painting and printmaking. When I moved to New York, I worked for a gallery for four years, then left to go back to working in restaurants (which I've done since I was 15) and painting in my studio. But I missed doing something more creative for my job, more hands-on, and I was becoming more interested in wellness, so I found out about the Natural Gourmet Institute and decided to study there. A year later, Sabrina started talking about opening a juice bar, and wanted a menu along with it, so I offered to do the food. As we talked through everything we wanted to do, it developed into something much bigger, which ended up becoming Dimes.
What did those larger ambitions encompass?
We wanted to create more of a home away from home for our friends. The concept was always bigger than just food — it was meant as a gathering place, and we'd both always been interested in art and traveling and wanted it to represent all the paths that had gotten us to where we were. That aspect has really been fleshed out with the opening of the market and deli, where we can do things like sell the chairs Sabrina designed, and sell our friend Cassie Griffin's pottery.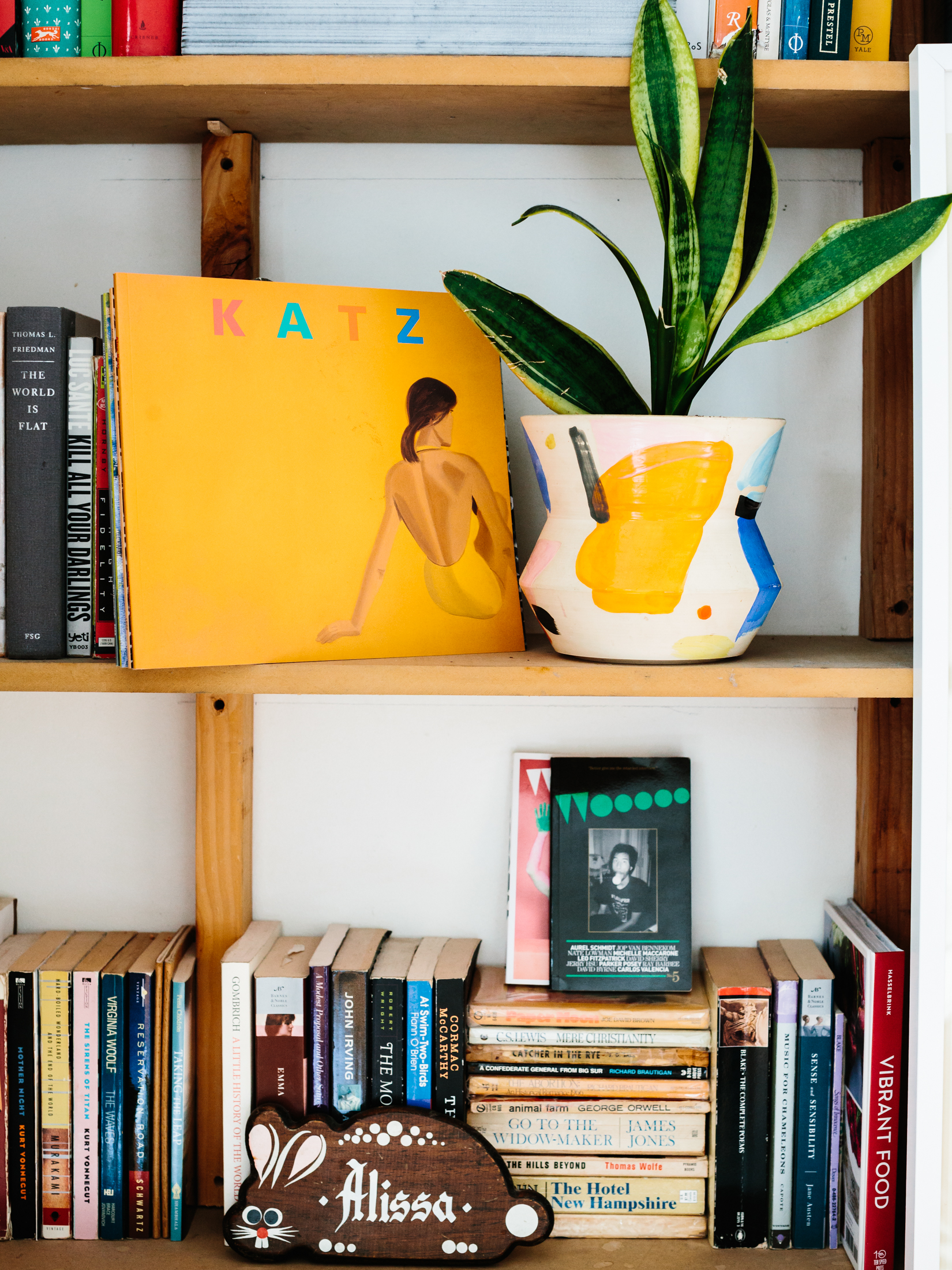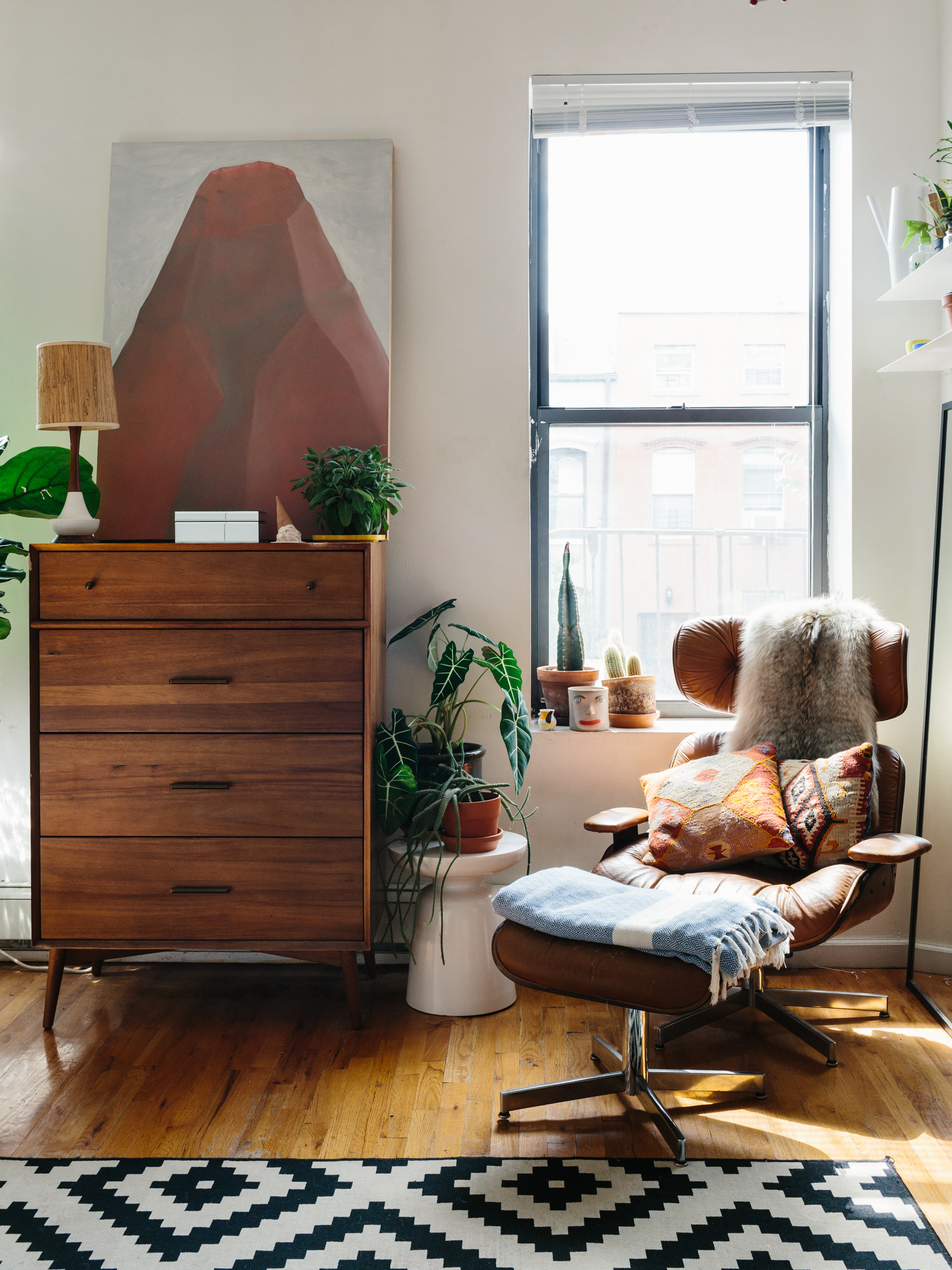 Do you sell any of your own artwork there?
I don't really paint anymore — I don't have time. But my husband, Graham Macbeth, is a painter, so I live vicariously through him.
Back when you were making art, what was it like?
When I was doing printmaking, I used to do a lot of intaglio etchings, a lot of soft-ground imprints of textiles that were very colorful and geometric. My paintings were pretty different, large-scale ink and graphite abstract portraits. Initially I really wanted an art career — when I left the gallery it was partly because I found it hard to be working there while also focusing on my own work. It felt like a conflict of interest. So I left to pursue my art, but for me it was always very frustrating. I could never produce something I was really happy with. I would always start and quit, start and quit, then get really frustrated. Food was almost less emotional for me, though I could still bring in all the elements of color and composition; when I work with food, it's in a very similar way that I would work with paint. And the result for me is a little more definite. It's like you're creating this beautiful plate that also has to really taste good, and be successful in that way. I found more success on the plate than I did on the canvas.
I do have a fantasy of being able to start painting again and having a studio and being able to focus on that, but I'm not sure how that's going to happen, because I'm so busy with the restaurant.
What's your role in the restaurant these days? Do you ever actually get to cook?
I'm not really cooking much anymore, no. At this point I spend most of my time doing menu development and running the catering end of our business. Mostly now I'm only cooking when I'm doing menu changes and testing recipes. Or if our catering schedule is super busy, sometimes I'll be in the kitchen. If you're on the line every day you can't focus on the bigger picture. I didn't cook at home for a while either, when I was on the line, because I would get home and not want to deal with it. But once I got off the line, I started cooking much more for my husband, and now my baby.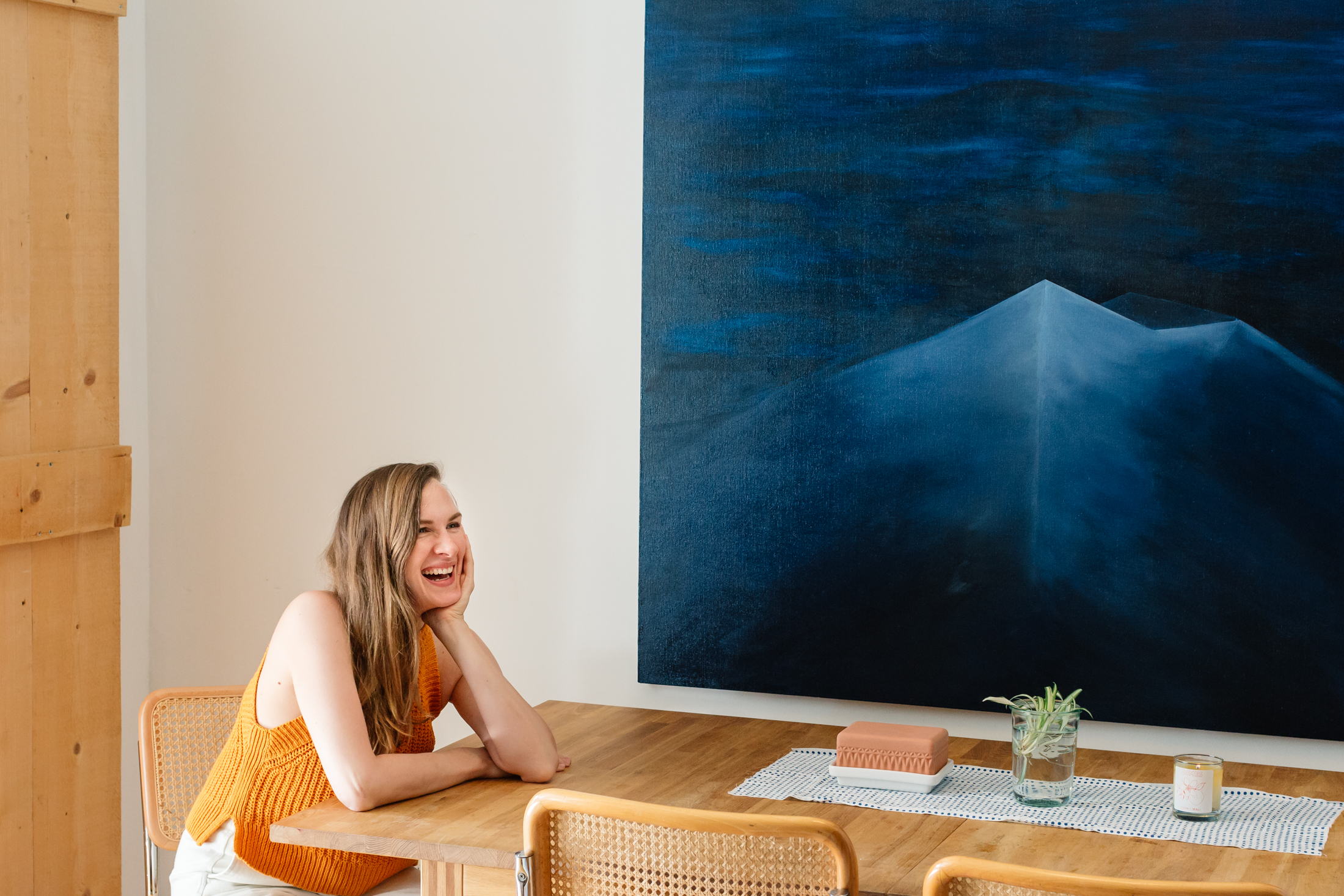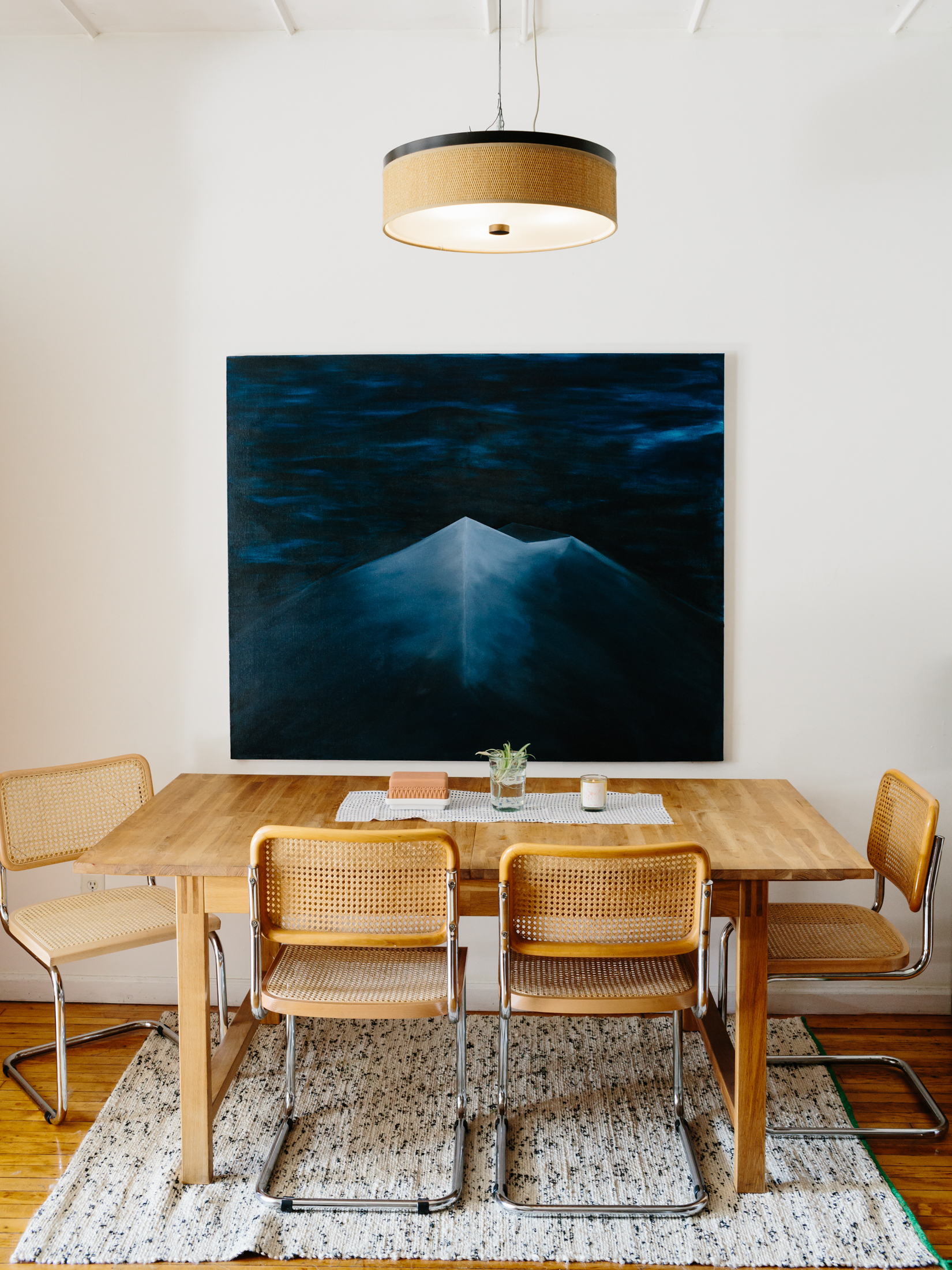 In terms of menu development, how often do you change things up at Dimes as your tastes shift?
We're constantly looking to try new things. Recently we've found all these new ingredients and brands we're working with at the market, and it's been fun to pull some of their products into our menu, like herbs by Daphnis and Chloe. The core aesthetic and palette we've created for Dimes, we're always going to stay true to that. But we like keeping it fresh with new ingredients and new styles. We also just started doing a whole line of snacks for the deli, like flavored popcorns and dried veggie mixes.
What is that core aesthetic, and how does it relate to your personal artistic aesthetic? You mentioned using a similar sense of color and composition.
I've said this a million times, but people eat with their eyes first. It's so important that a plate looks really beautiful when it comes out. After that, it has to have really great texture and taste really good, and has to make you feel good after eating it. It's important to us that people walk away feeling refreshed after eating our food, not weighed down and heavy and intense. I think I do cook from an art perspective, in terms of bringing in different textures and contrasts, making sure that when you bite into a dish, there's a crunch that's balanced with a softness. Every dish I do has to have an interesting microgreen. I'll use apple blossoms, which are super beautiful and unusual, and finish it with a wheatgrass oil. Finishing techniques in general are important to me: having an interesting oil, an interesting microgreen, an interesting spice that's adding not only a layer of color but a layer of flavor. It's also about having one unexpected ingredient people may not have heard of, like a traditional burrata dish or panzanella with something on it, like nigella, that people wouldn't expect. Or I'll use chamomile on certain dishes, which doesn't necessarily have a super strong flavor, but is a really beautiful element that you can add for aesthetics.
I feel like we're always using the word "Dimes-y" around here — there's an aesthetic we've created and we always find ourselves saying "That's not Dimes-y enough, make it more Dimes-y."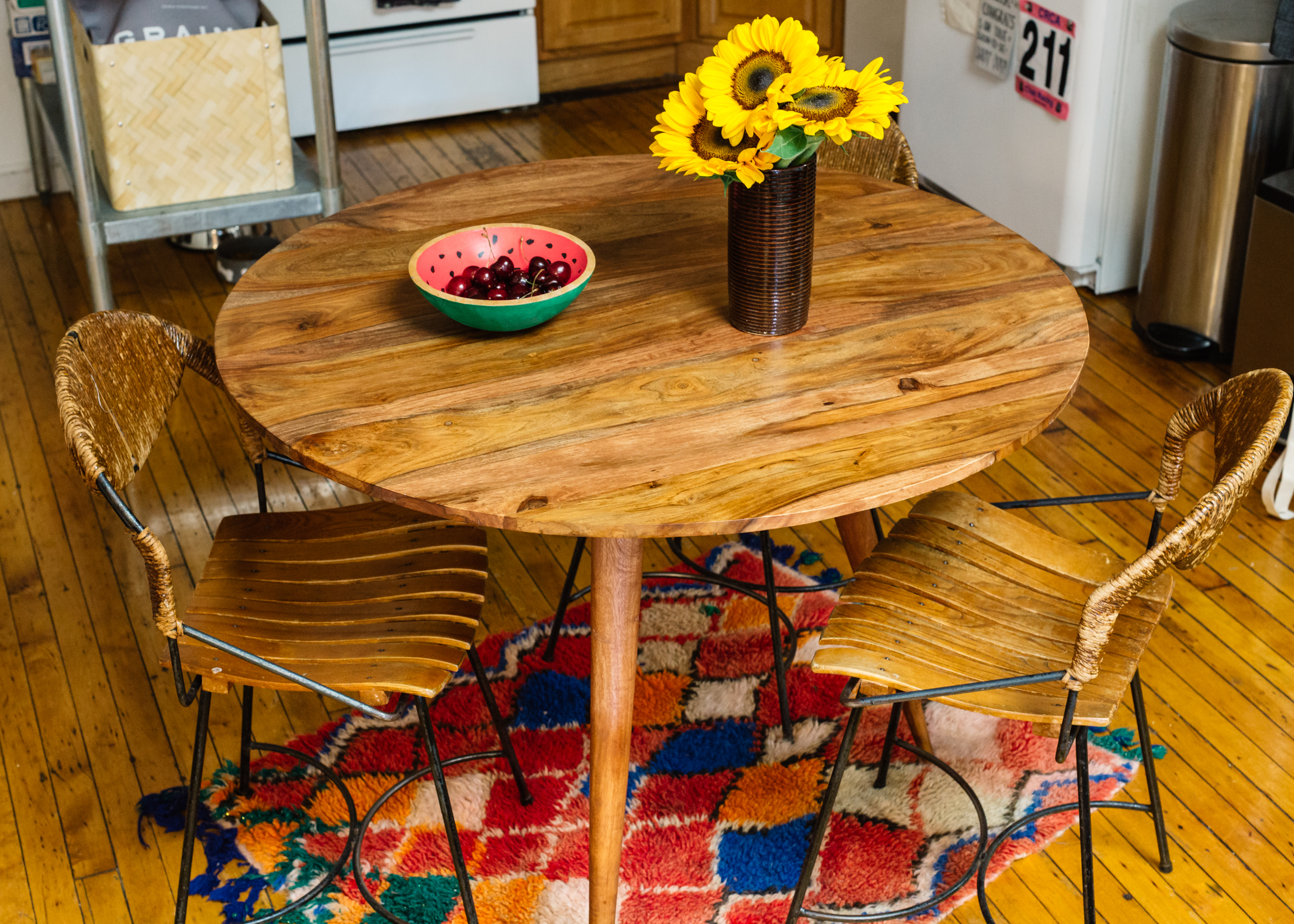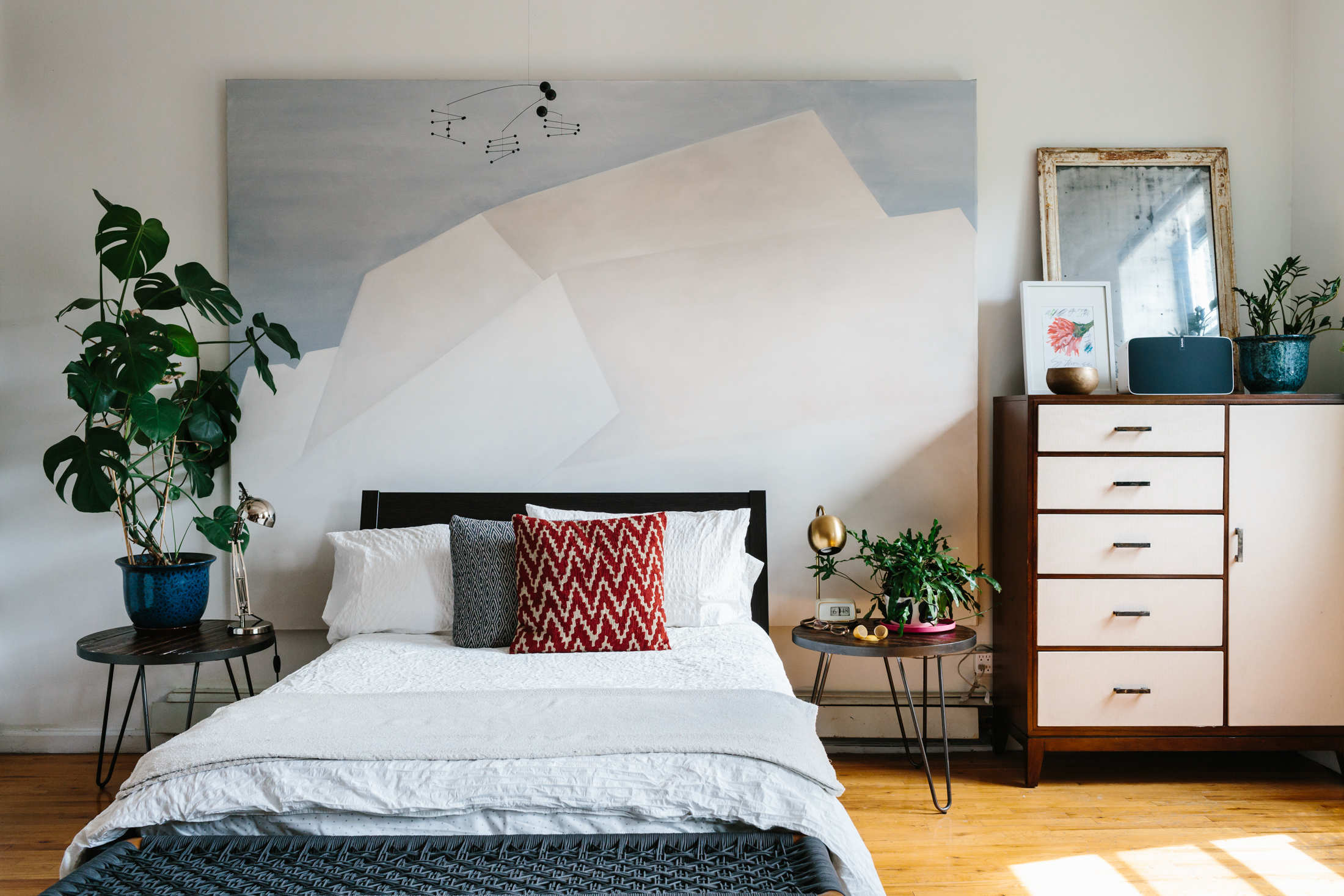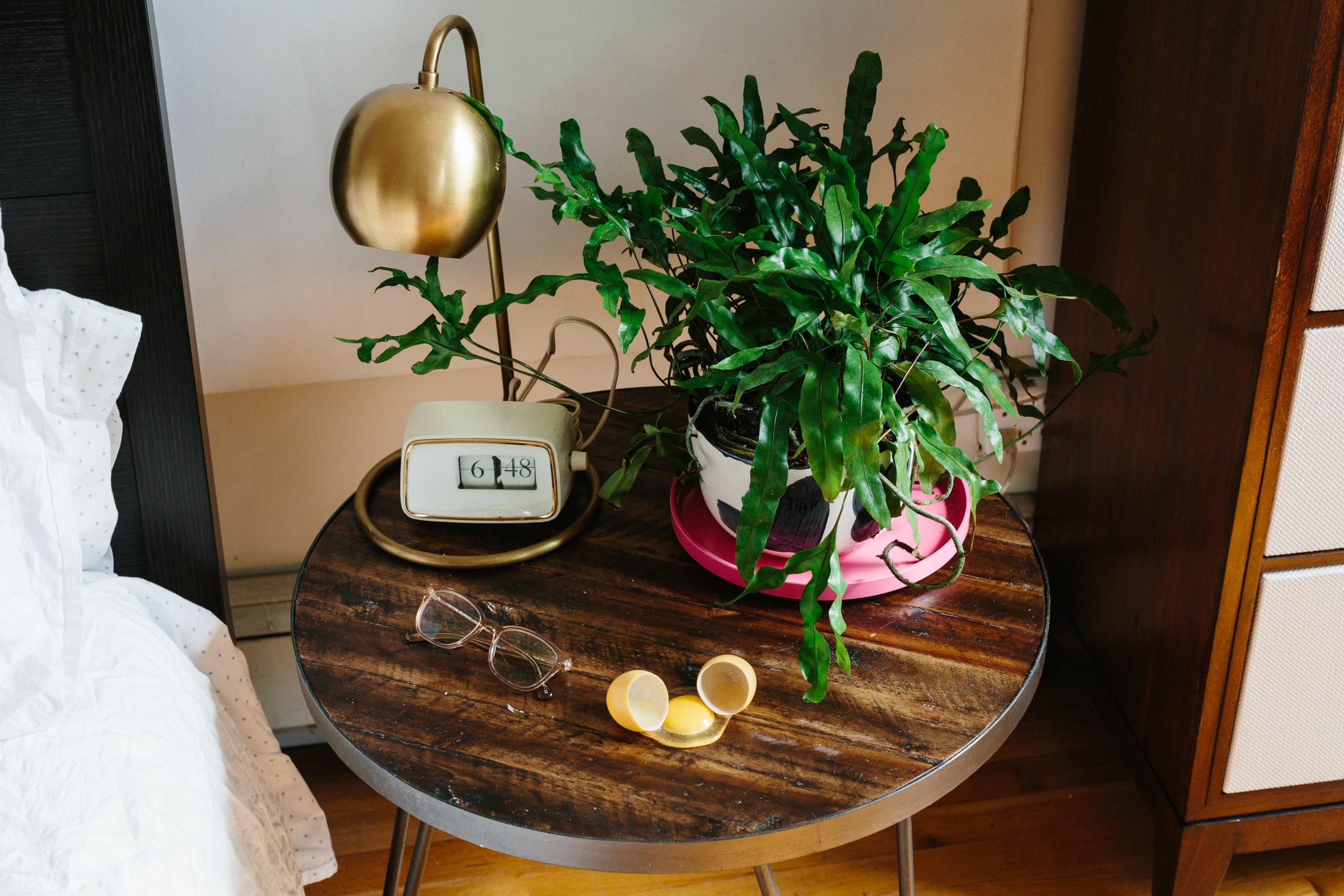 I think one of the biggest signatures of Dimes is what it's done to the neighborhood — you guys have created this apex of cool in Chinatown. Sabrina lives near the restaurant but you recently relocated to Clinton Hill. What's that been like?
I did live in Chinatown until this past year, but I moved into my now-husband's apartment in Clinton Hill, where he's lived for 10 years. I moved in with him shortly after we found out we were having a baby. It's great because it's so much bigger. My apartment in Chinatown was a 400 square-foot, one-bedroom, fifth-floor walkup, and moving to his place, which is 1,500 square feet, was a little wild. Until now, space for me had always been a big restriction on what I could and couldn't have — the first Chinatown apartment I lived in, for 5 years, was only 200 square feet — but now I have the opposite problem, of trying to fill this massive apartment. Before I moved in, my husband was a typical guy; he didn't have that much stuff. So I moved in and brought all my stuff, but it's still not enough, and I still feel like I have lot of work to do. Sometimes I don't even know where to begin. The good thing is that a lot of my husband's paintings are really large, like the big one behind the bed, which takes up the whole wall.
How would you describe your interior decorating style? And does it have anything to do with how you were raised?
My mom was a total neat freak. I don't think the design aesthetic itself is from my childhood, but I think there's a sense of clean almost minimalism. There was never clutter around the house that I grew up in, and I've brought that into my daily life. I hate looking at a lot of extraneous stuff. It makes me anxious. My work is so crazy — restaurants are fast-paced and chaotic; you're dealing with a lot of people and a lot of noise — that when I'm at home, I want it to feel as calm and peaceful as possible. Having a lot of light and air is important to me. I like things to be easy and bright, with a lot of plants. I'm a very outdoorsy person so I like bringing as much of that into my life as I can. I also really like bright colors, and '70s colors, like oranges and yellows and browns.
My design aesthetic I think I developed through reading and traveling and collecting things. Because I have a more sparse sensibility, all of the things I do have in my life are very personal. A lot come from friends and trips and things like that. The cracked egg and ice cream cone in my bedroom, for example, were gifts from a friend of mine who collects fake food. They're so funny and fun. I made the Muppet with that same friend at FAO Schwartz a few years ago.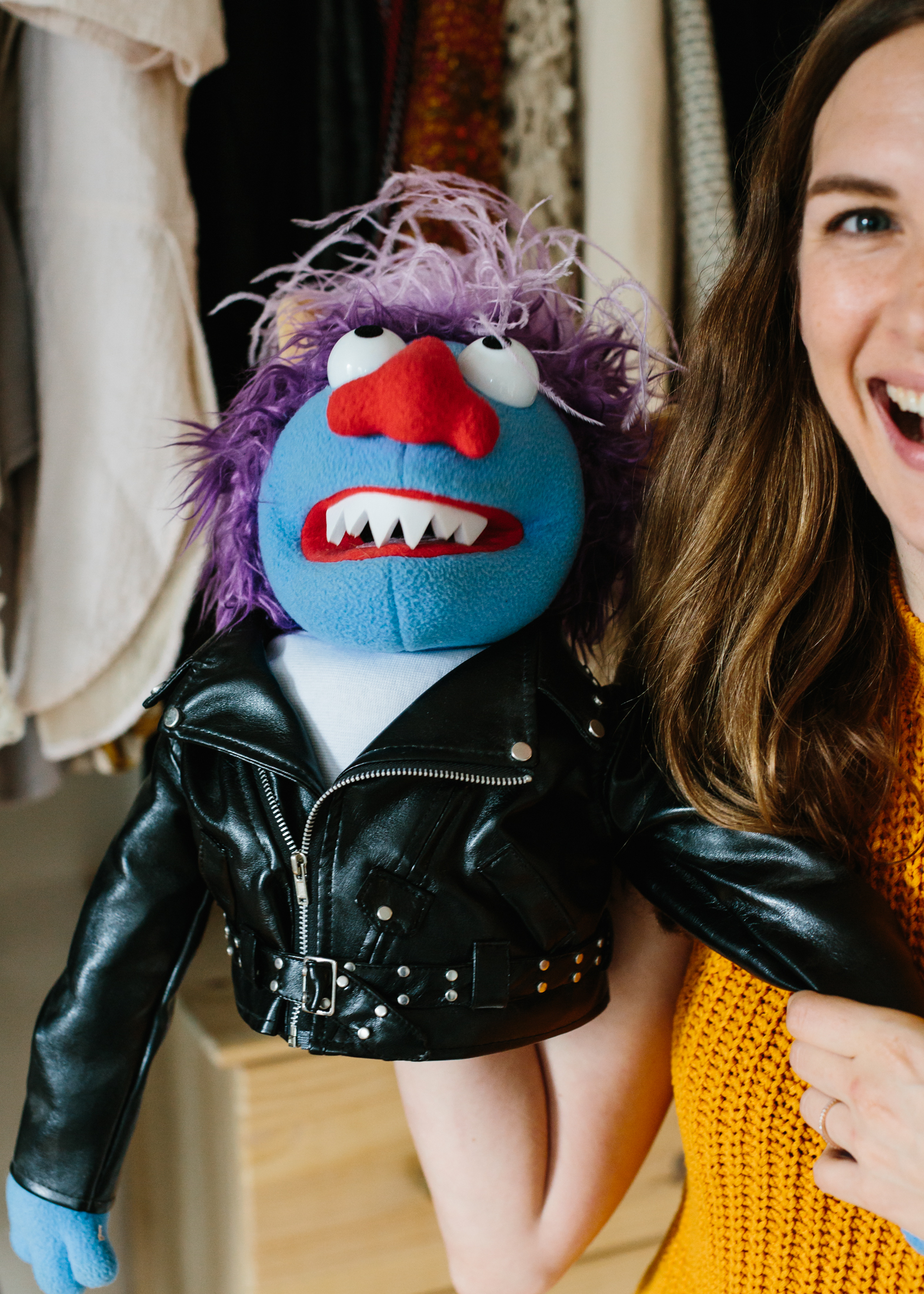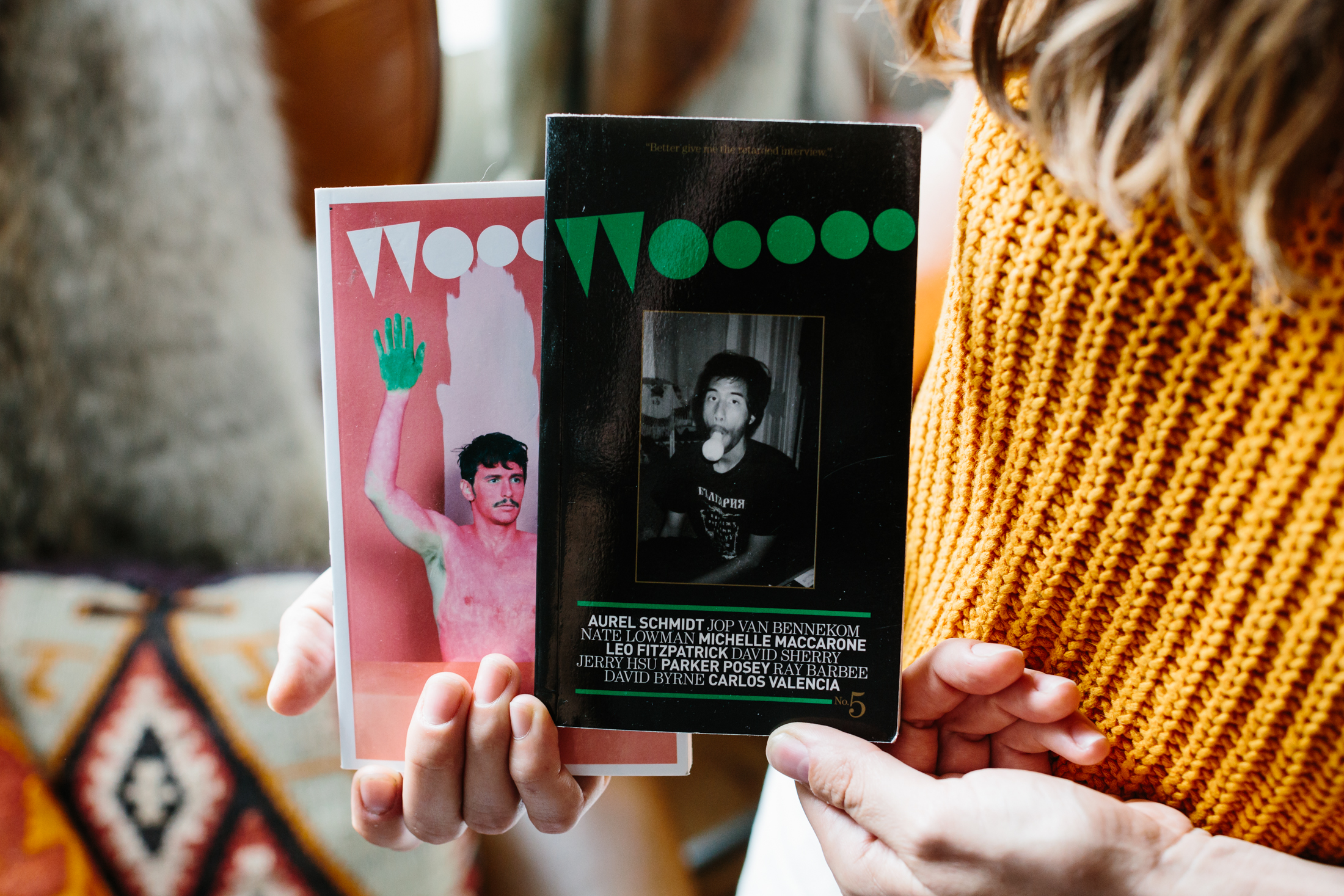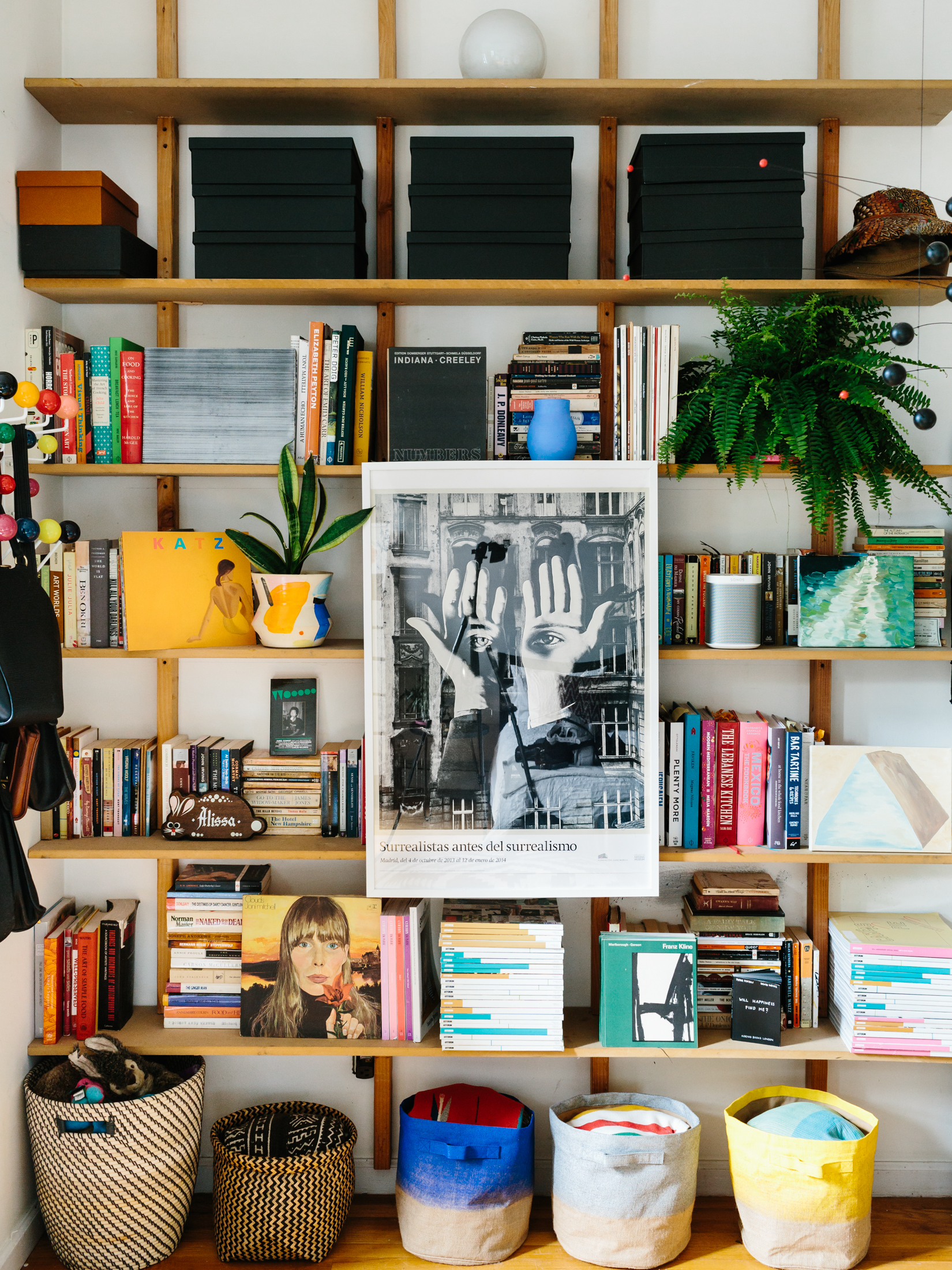 You also have a vase by Cassie Griffin on your living room shelf. How did you two meet, and what drew you to her work?
I met her working at the restaurant Lovely Day around 8 years ago (which is also where I met Sabrina a few years before that). We've been close friends ever since, and it's cool because we both sort of found our paths together. It's really awesome to be able to sell and represent her pottery at Dimes because we all kind of grew up together, in a way. I think I love Cassie's pottery because it's so playful — you can see her personality in her work, she's very funny and warm. She has this incredible energy, and you can tell she's really having fun with it. We've been stocking it since we opened Dimes.
Do you have any of your own art in your apartment?
I don't have any of my own art anymore, no. I did a scorched-earth clean sweep. I thought if I ever started making work again I wanted it to be really fresh. So it's all gone – I destroyed it. I have photographs of some of it, but the rest is gone. That's totally my personality, I keep things that are really sentimental and then get rid of everything else. The bunny with my name on it in my bedroom is representative of my childhood, and when I look at it, I can raise my childhood bedroom from the dead. I can totally picture it, I can smell it, and I can feel what it was like to be there. Same with grandmother's lamp that's on my dresser in these photos, which was in my mother's room in the house I grew up in.
The singing bowl, which is also on top of my dresser, sums up a trip I took to Patagonia with Sabrina a few years ago. We were staying in this amazing house and the guy offered me a singing bowl massage, which was an amazing experience. I'm always going to remember that trip – Sabrina and I were away for a month, thinking about what we wanted to do, and it's what Dimes came out of. The massage I got on the last day of the trip, and then we came back to America the next day and started writing our business plan.
As you're a chef, we should probably ask about your kitchen.
My kitchen is very functional. I feel like I have the sort of kitchen you'd expect a chef to have in the way that it's a lot of countertop space, and not a lot of extraneous stuff. I feel like there's literally five things you need in a kitchen and that's it — a good chef's knife, a Vitamix, a good food processor — and then beyond that it's just personal stuff. The rug under the kitchen table Sabrina brought me from Morocco. The watermelon bowl I got on a trip with my husband to Massachusetts for a wedding. The Calvin Klein poster of Marky Mark has been in every apartment I've had for the past 10 years. My husband hates it. I like to set a really colorful table, so the Heller plates are really fun. I use them for other things too, like as drip catchers under plants, and as great-looking plates my kid isn't going to break. That pink chair was a castoff from the Dimes office. The Umanoff chairs used to be in the restaurant.
Did you have any hand in decorating the restaurant, or was that all Sabrina?
She spearheaded it, but we make all of our decisions together. I found the plastic globe lamps for the restaurant that are now at the deli — a Japanese designer made them for a modern art show in the '60s. Everything else we either found together or Sabrina found. Sabrina has been very inspiring to me in that area. She has a great design sensibility, and when you're working together and feeding off of each other, you're bound to take some of that home with you.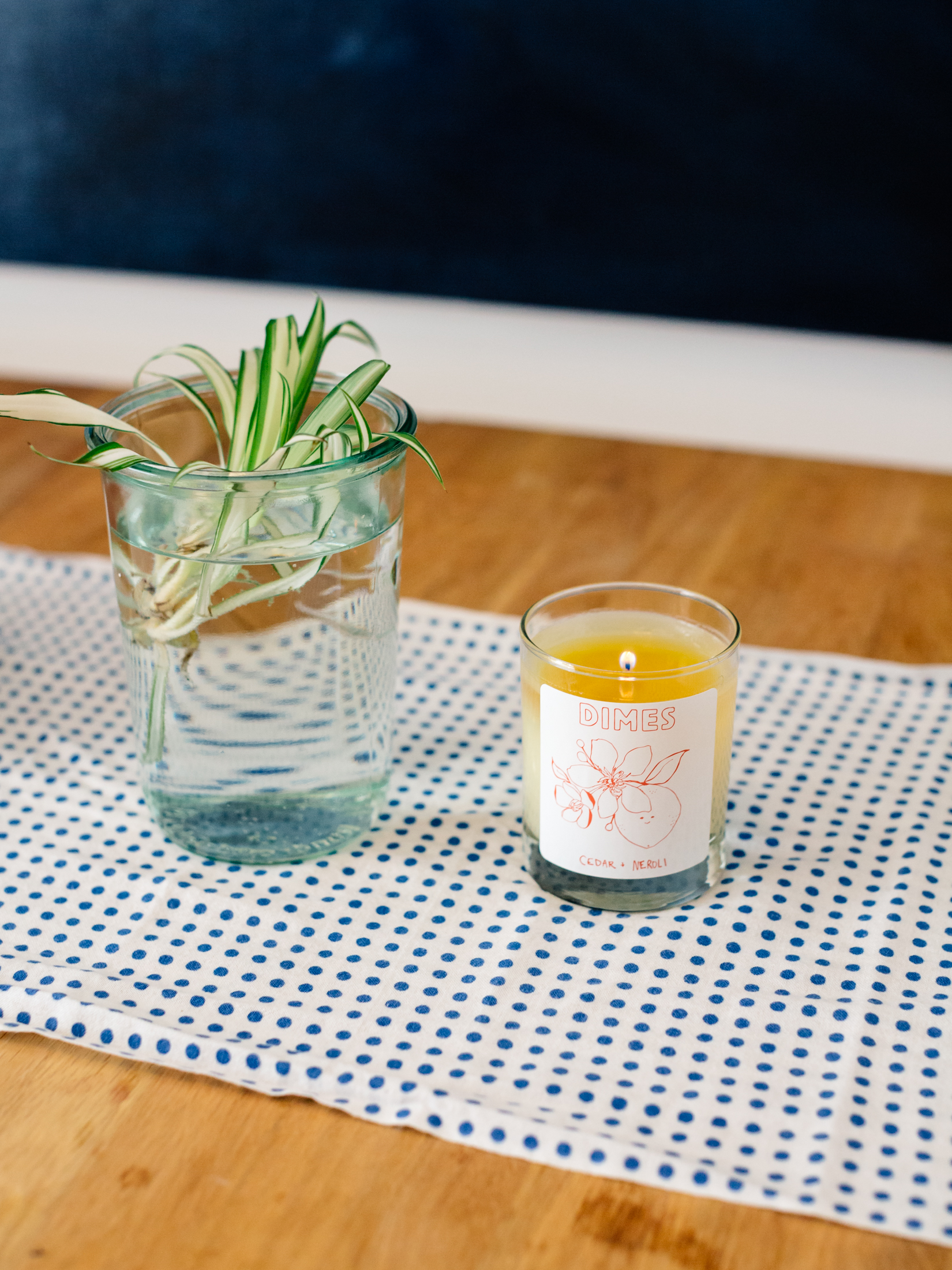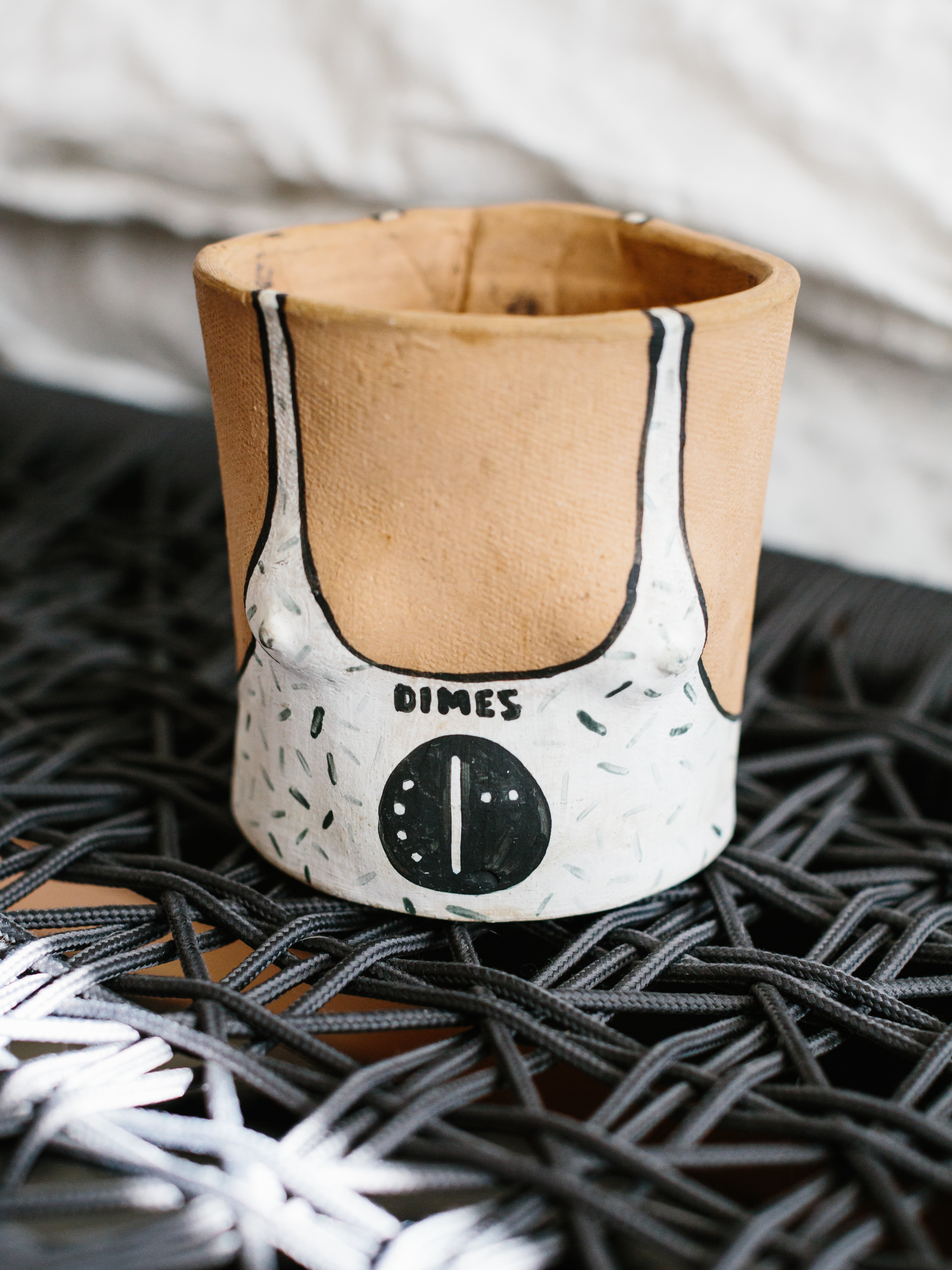 Click on the player above to listen to the SONOS Listening Room podcast, hosted by Jonah Bayer, where Alissa reveals her personal soundtrack to New York City. Then visit SONOS' first-ever flagship at 101 Greene Street in New York for the full SONOS listening experience.

The third in our series on the homes of New York City creatives, this post was sponsored by SONOS, but all thoughts and editorial content are our own. Like everything at Sight Unseen, our partner content is carefully curated to make sure it's of the utmost relevance to our readers.