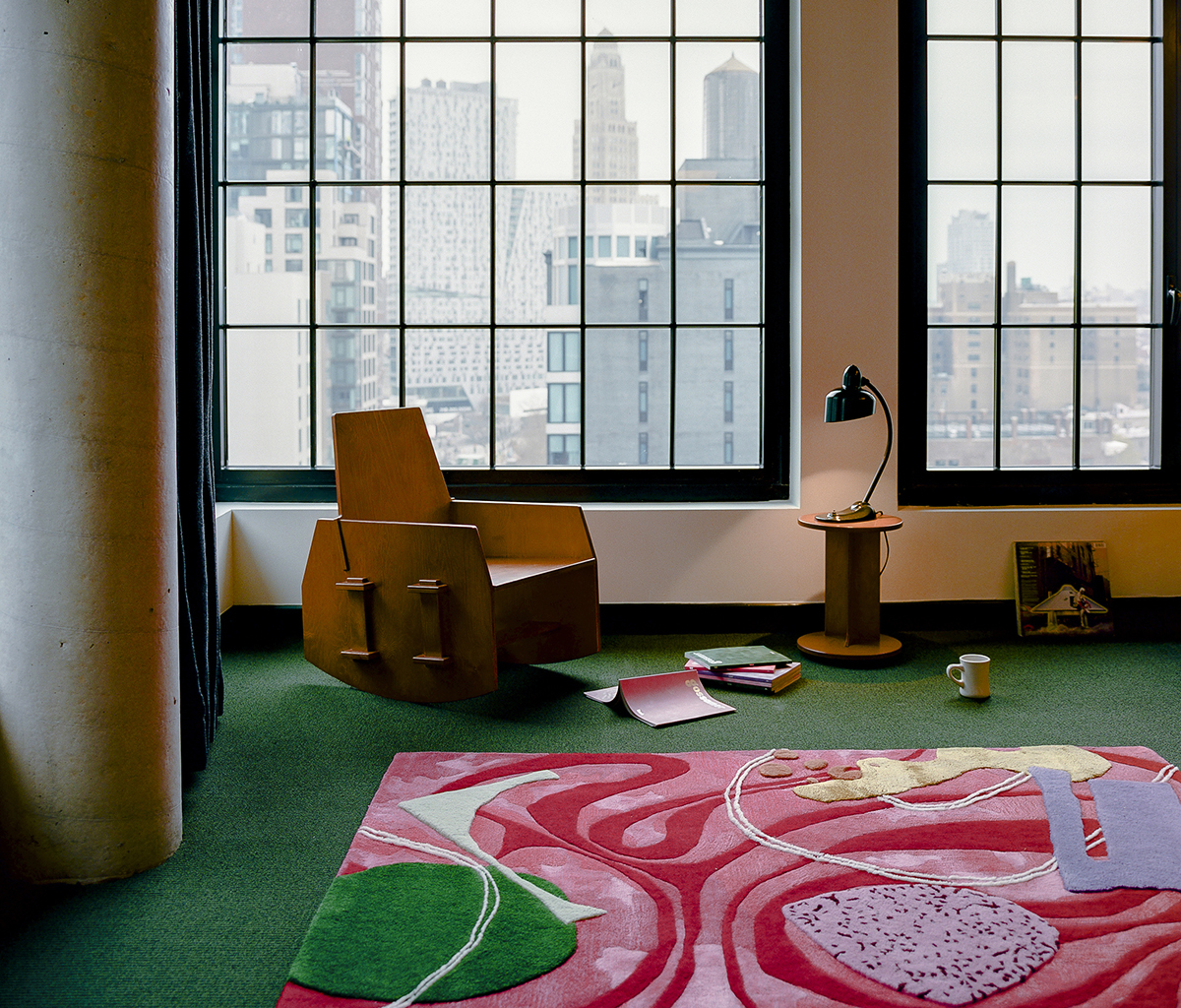 A weekly Saturday recap to share with you our favorite links, discoveries, exhibitions, and more from the past seven days. This week: Gossamer x Studio Proba make psychedelic rugs to sink into, Irish favorites Orior scale down with their limited-edition line of small homewares, and a Flamin' Hot Cheetos–inspired furniture collection, made from waste polystyrene, is on show in Australia.  
Exhibitions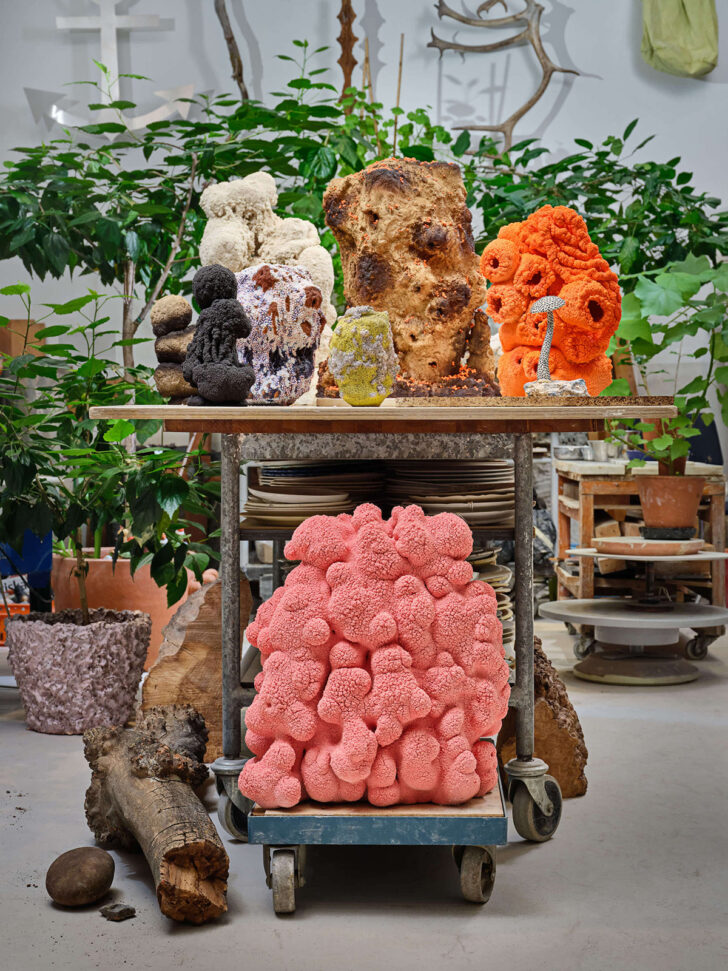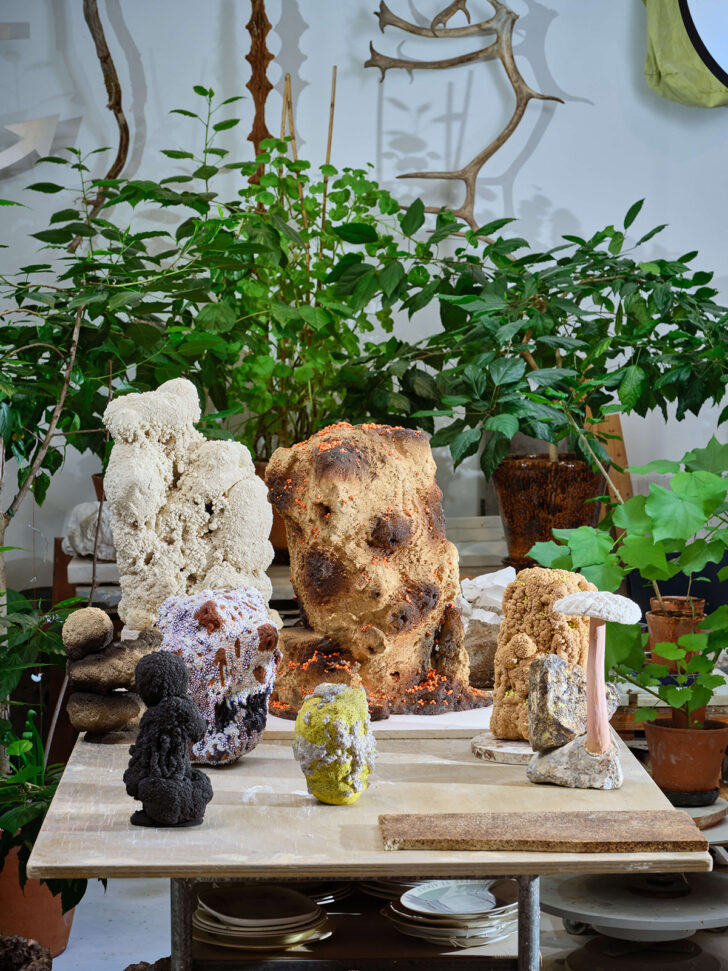 Per B Sundberg's first solo show in seven years is now on at Andréhn-Schiptjenko in Stockholm. His radical pieces look as if they've been formed by nature, similar to coral, crystal, or moss, but in fact they're the result of pushing his materials to their extremes. Presented together they create a wild landscape of knobbly shapes, illusory textures, and hallucinatory color.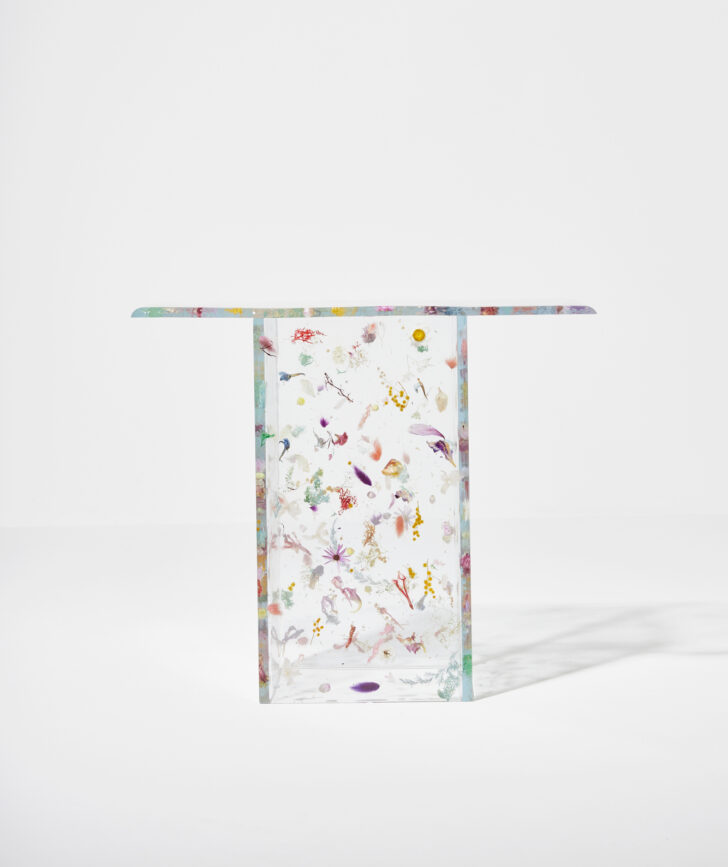 U CAN'T TOUCH THIS is a group show at Arden Asbæk Gallery in Copenhagen. Part of their PLATFORM exhibition concept to showcase emerging talents, the show features work by Thilde Maria Haukohl Kristensen, Signe Emdal and Aya Simone Bækhøj Schmidt. Furry, fluffy or glossy, the works tempt visitors to reach out and touch them. A stand out piece is The Sea Table by Thilde Maria Haukohl Kristensen (AKA Poppykalas) which traps a flurry of tiny hand-picked flowers and frilly oceanic moss in its clear polished epoxy.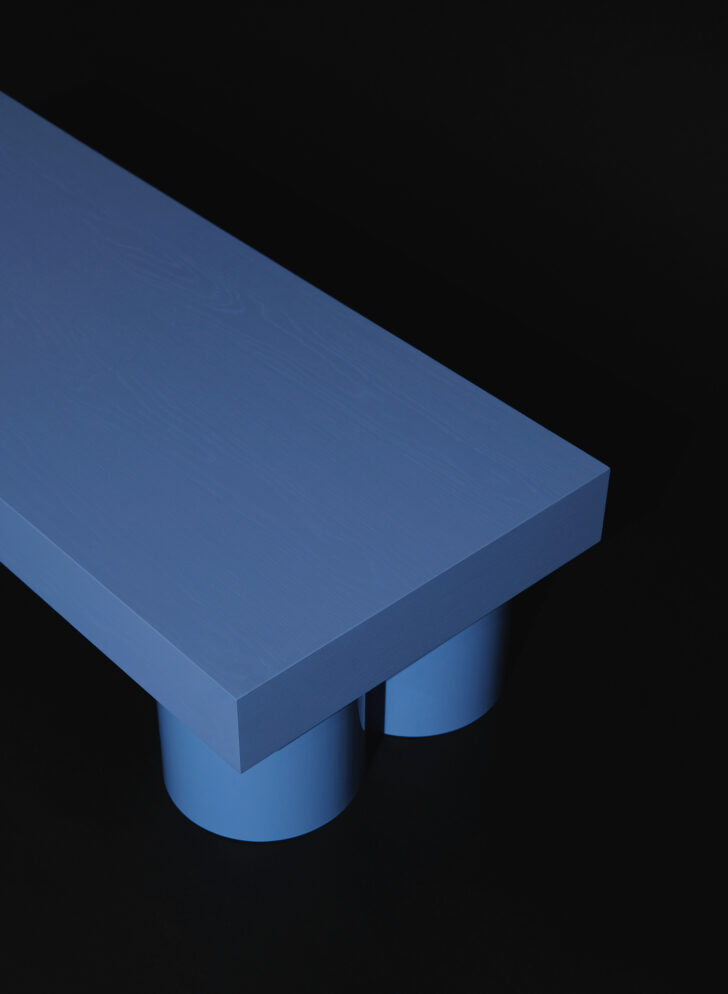 Design studio DANIEL EMMA (Daniel To and Emma Aiston) present a solo exhibition, Shrine Time, at Sophie Gannon Gallery in Melbourne, which opened this week. The conceptual pieces explore the making and preservation of memory; collective memory and cultural and personal identity; and how we deal with grief, loss, and reflection. The minimalist shrines are vessels to house tributes or memories to be reflected on or celebrated. Softly lit with LED lights, they encourage contemplation and can act as reminders of people, places or moments in time. The exhibition also includes some furniture pieces and everyday objects carved from wood and hand-painted: fruit, milk bottles, and eggs.  
Discoveries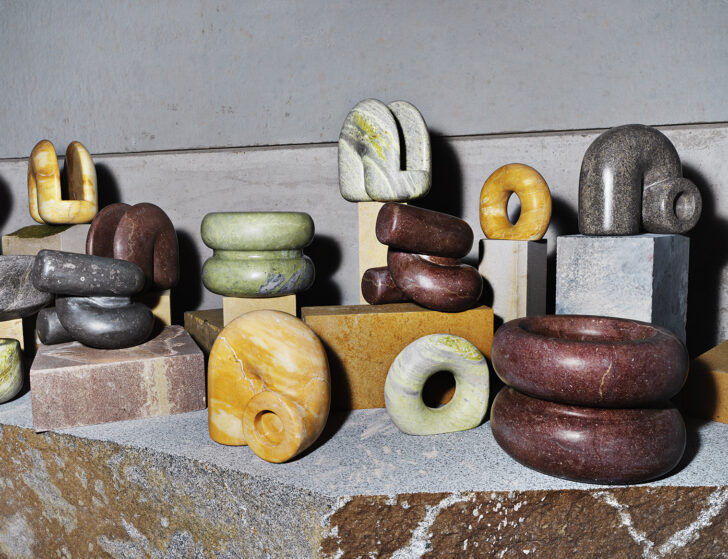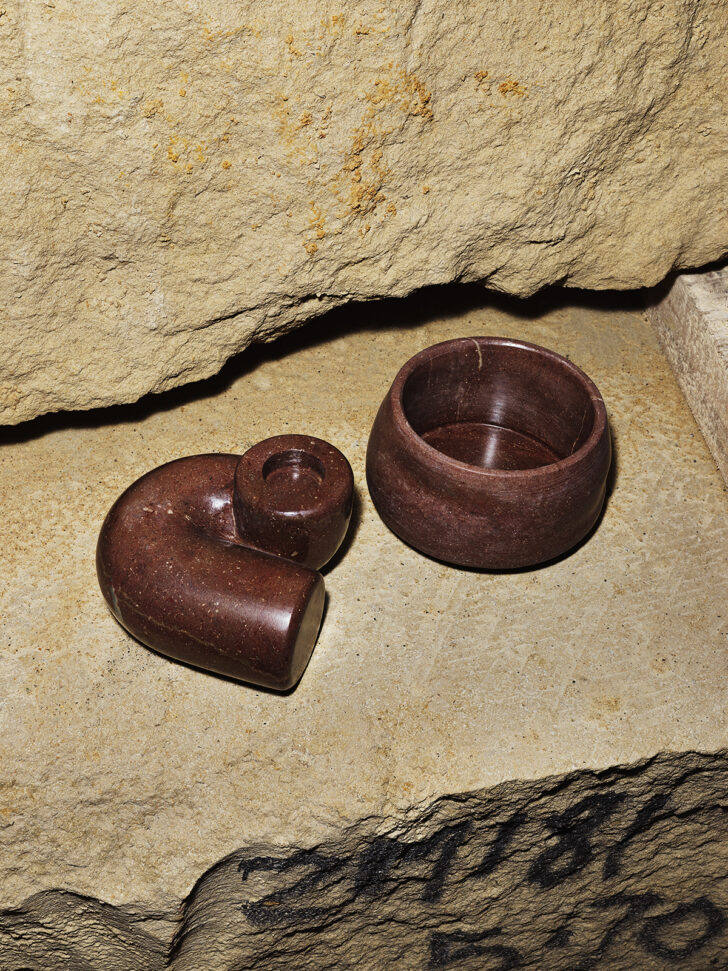 Irish furniture brand Orior have made their smallest pieces ever, with big appeal. Inspired by the organic silhouettes of their furniture, their new luxurious line, Objects, includes a magazine holder, a bowl, a candle holder, a vase, bookends and a small tabletop sculpture all shaped from offcut stone and marble leftover from production. New territory for the brand, the small forms serve as prototypes with the potential to evolve into future furniture collections.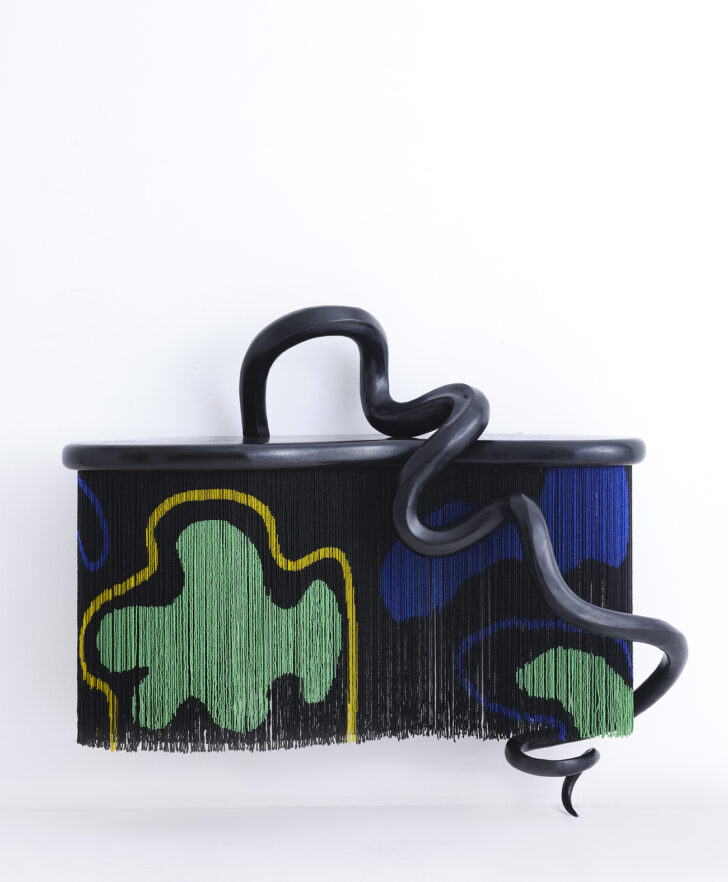 Celebrated South African fashion designer Rich Mnisi's first solo exhibition of collectible furniture recently closed at Southern Guild but the impression left by his striking pieces lingers on. This is the menacing Nyoka (meaning "snake") wall-hung console, made from darkly patinated bronze. The body of a snake writhes over the top and danger lurks beneath the glittering glass bead curtain painstakingly made over two months by four artisans at beading collective Monkeybiz. Photographs by Christof van der Walt for Southern Guild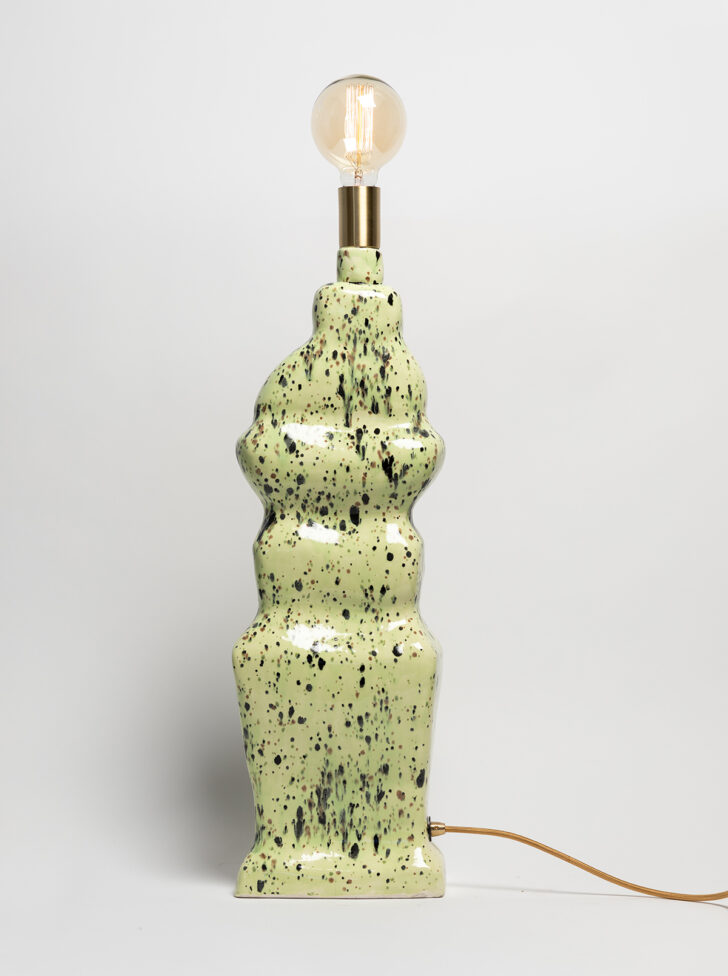 Eva Shuman's unusual ceramic art objects can be found in acid colors, hand-squelched textures or drippy glaze. True to her signature style are these shadeless lamps, hand-built in irregular shapes with a splattered finish. Her brand, Eva Makes Ceramics, is based in Cape Town where exceptional ceramic art is being produced by a number of imaginative makers. Photography by Paige Fiddes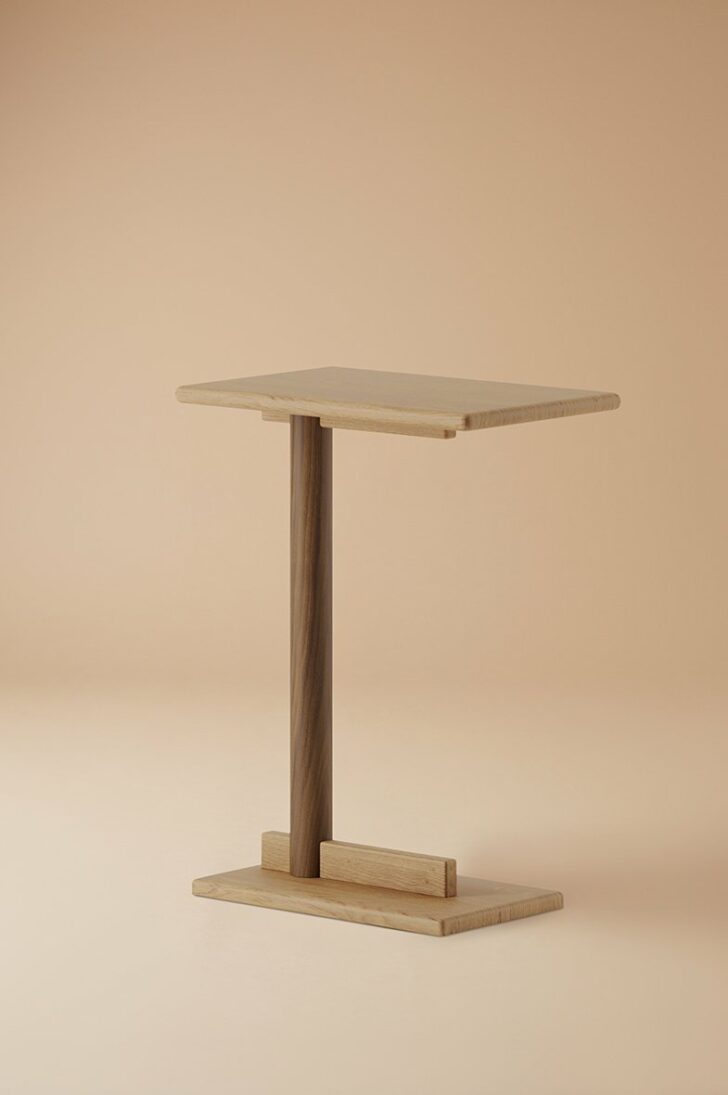 The Ting Ting table designed by Master Studio's Yaniv Chen for Lemon is a slim, unassuming wooden side table designed to slot seamlessly into your lifestyle and living room. Perfect for a laptop, the point of this super smart piece is to move with you as you find the most comfortable spot to work from home (the couch) while proving practical can still be aesthetic.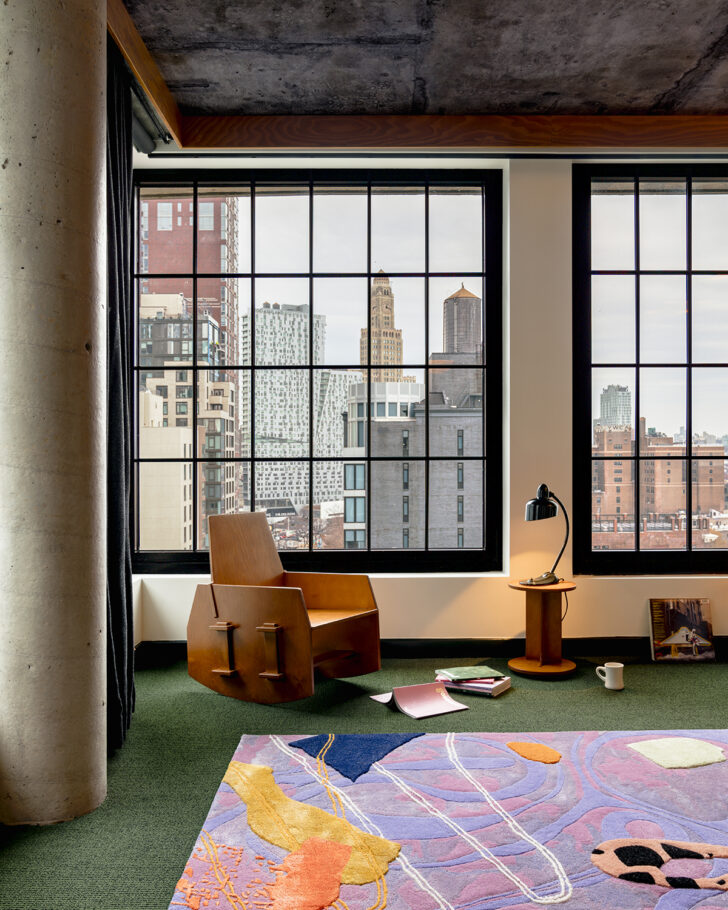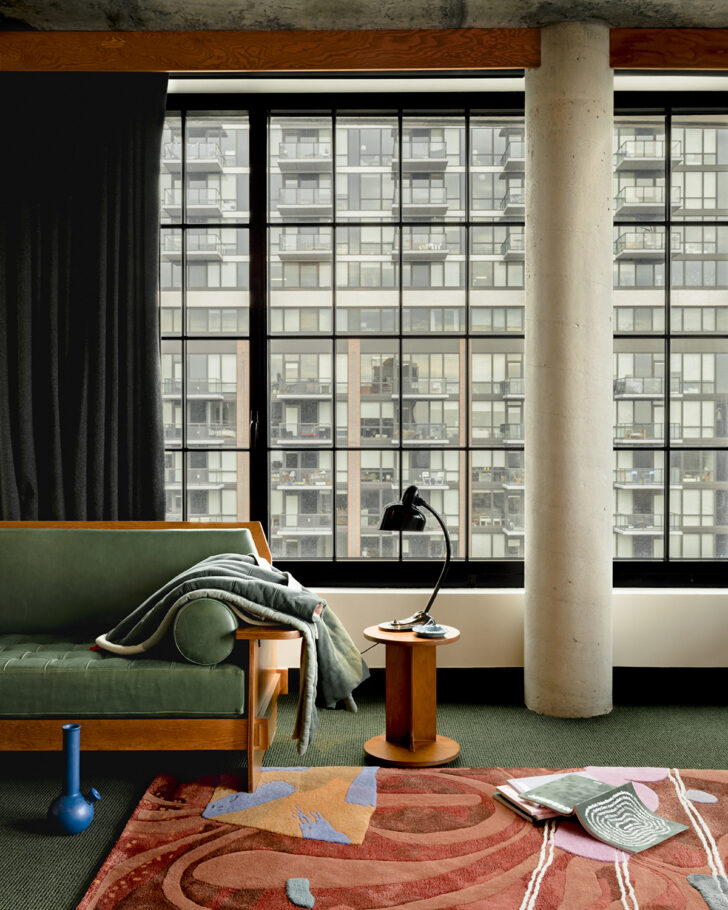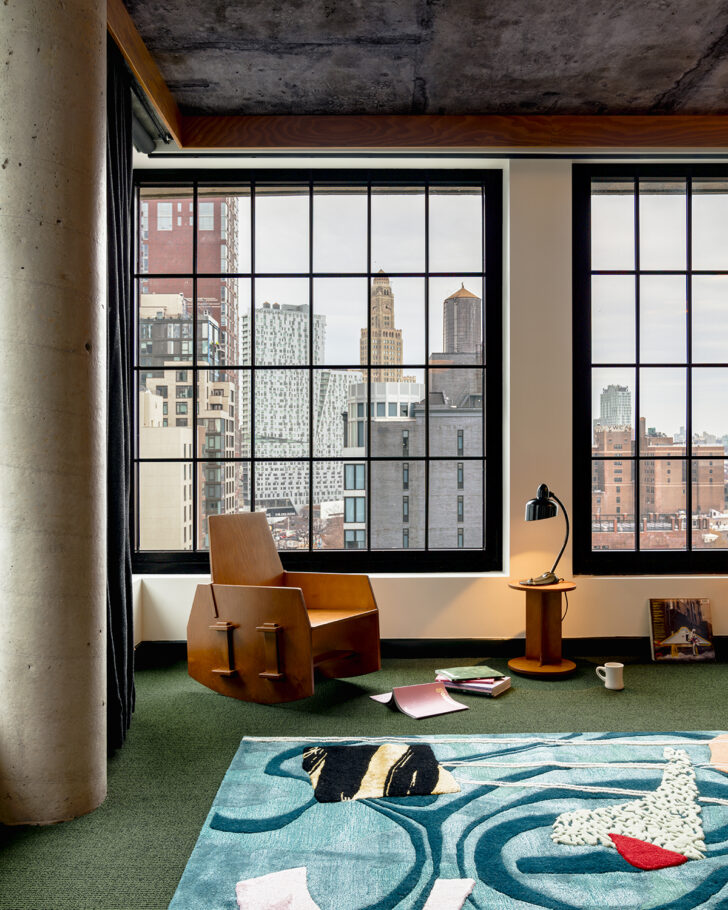 Considering who's behind this collaboration, these rugs were definitely made for stretching out on, and sinking into. A project by Gossamer — a cannabis lifestyle brand and the magazine for people who also smoke weed — and artist Alex Proba, the plush rugs were designed in saturated color and swirling shapes. "We've added a smoky, psychedelic wave pattern as a subtle nod to Gossamer's perspective and took cues from their typography, which is never just linear," Proba says. The strokable, hand-tufted rugs were inspired by the textured covers of Gossamer's Touch issue. Photos by Sean Davidson at the Ace Hotel, Brooklyn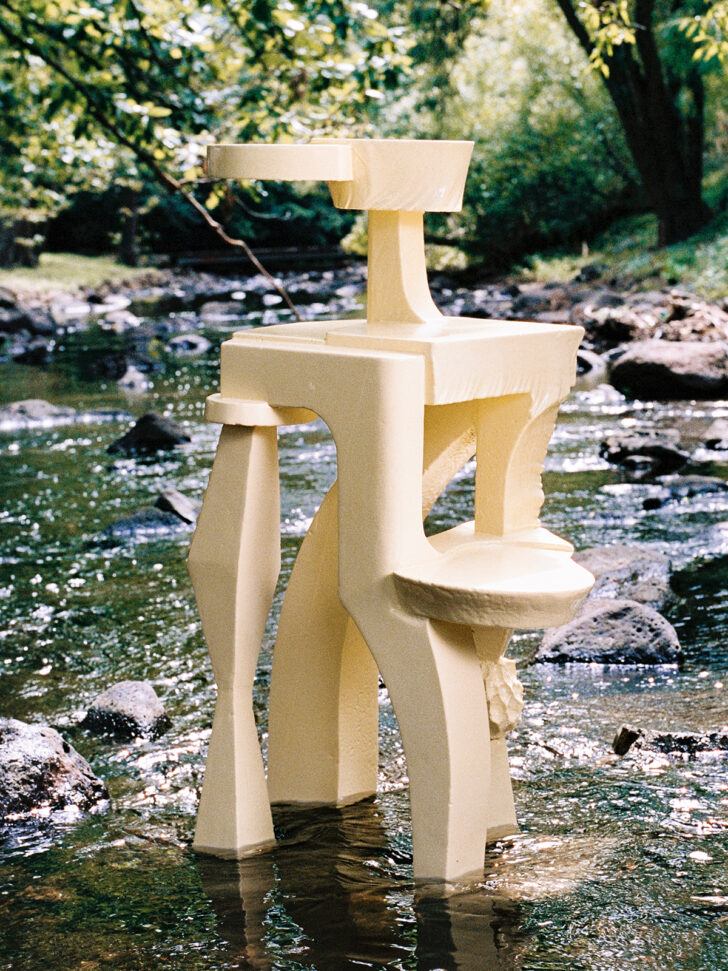 New Assemblage in Melbourne was founded to promote inclusivity and diversity within the contemporary art, craft, and design scene in Australia. For Melbourne Design Week, they present Showcase, a group show at Oigall Projects from 10 – 27 March. Exhibited is multidisciplinary artist Drew Abrahamson's intriguing Hot Cheeto Pony, a side table/pedestal/sculpture made from salvaged materials weirdly inspired by the story behind the flamin' snack. The story goes: In the late 1980s a janitor working at the Frito-Lay Factory in California had an idea about what to do with the manufacturing waste from unflavoured Cheetos. With a touch of spice and a pinch of this and that, he conceived of the insatiable gourmet delicacy that is Flamin' Hot Cheetos. Or so he said… Hot Cheeto Pony is the centerpiece of Abrahamson's body of work using polystyrene offcuts collected from waste bins at his work for a creative production company. The design is reinforced with a steel frame and coated in a polyurethane membrane. It was initially butter colored, but later editions have received a spray tan to be more Cheetos-hued. Photos by Jerome Williams and Annika Kafcaloudis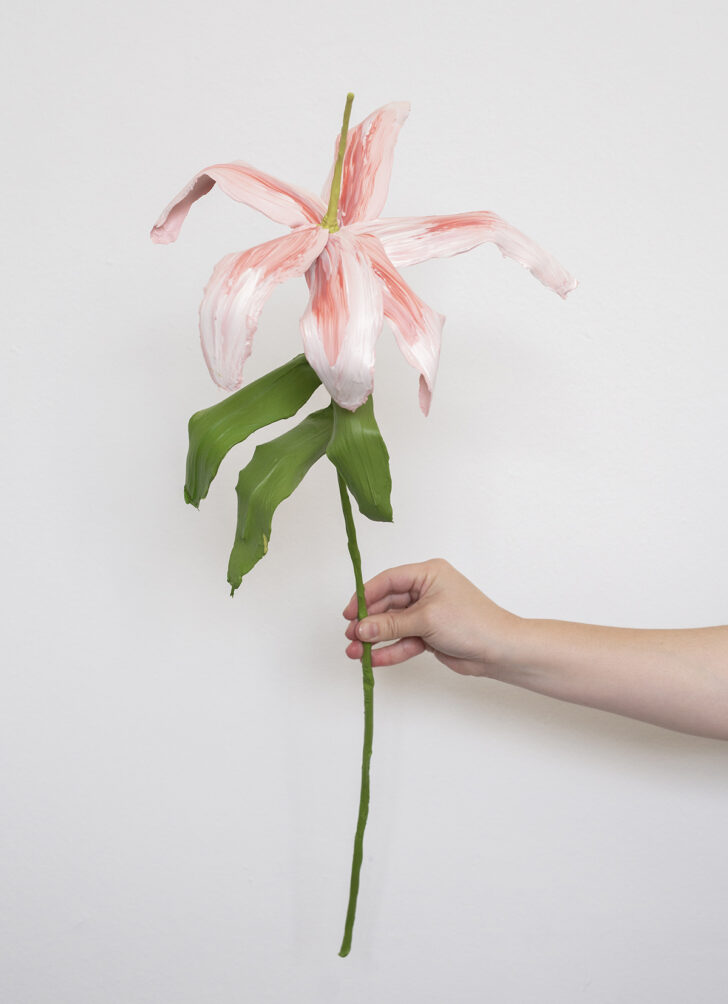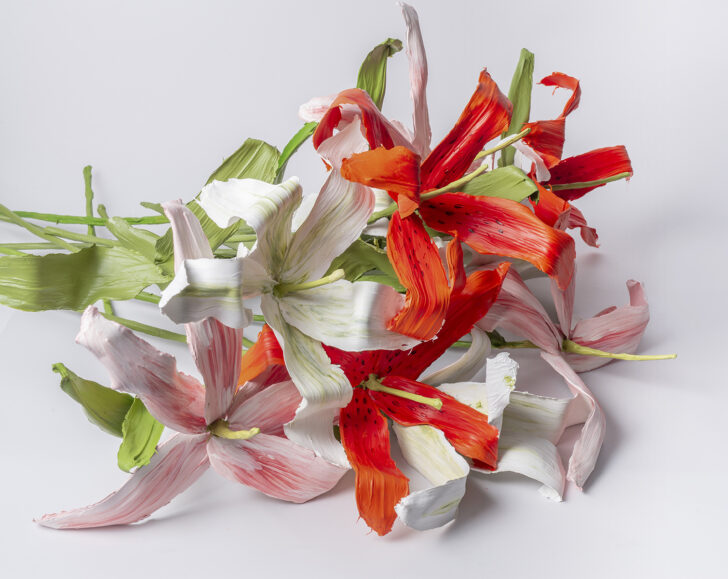 Gabrielle Kruger is a South African artist who makes large-scale sculptural paintings using dried paint in completely original ways. With the leftover strips and ribbons, she started experimenting with making objects. Under the design brand Gabi (after her nickname), she released a limited run of delicate paint flowers hand-made with acrylic paint and steel wiring. With every petal essentially a brushstroke, she's still unsure whether to call them paintings. Photos by SAD Studios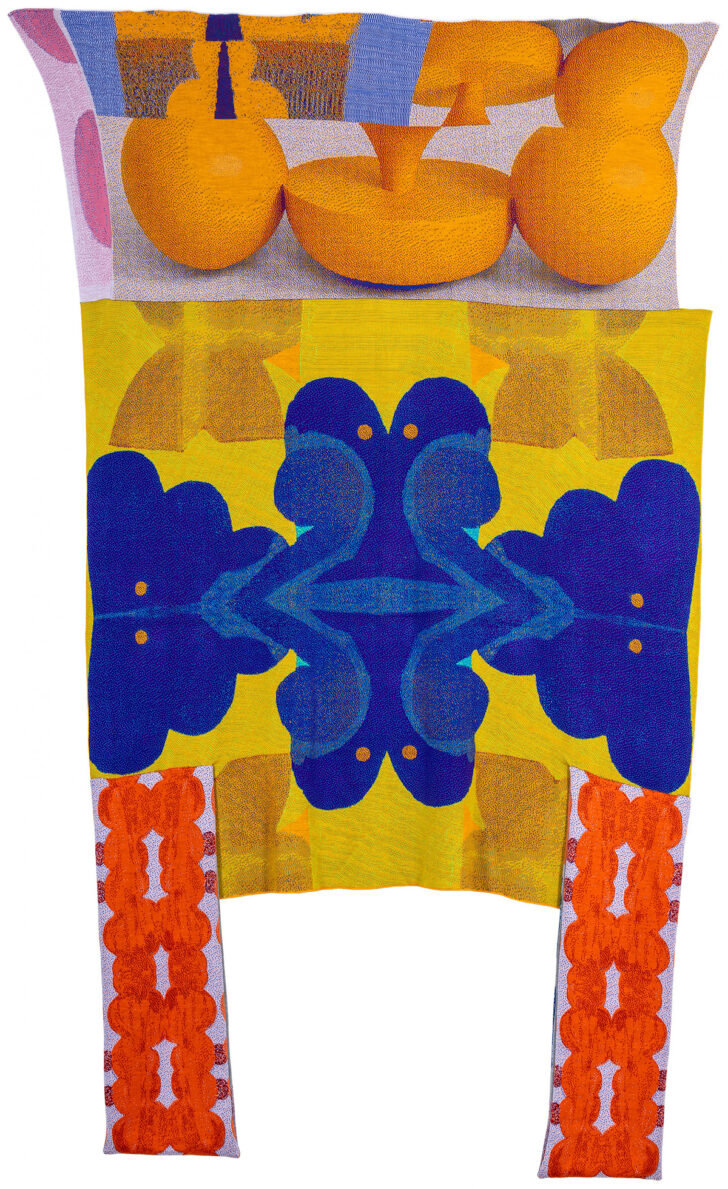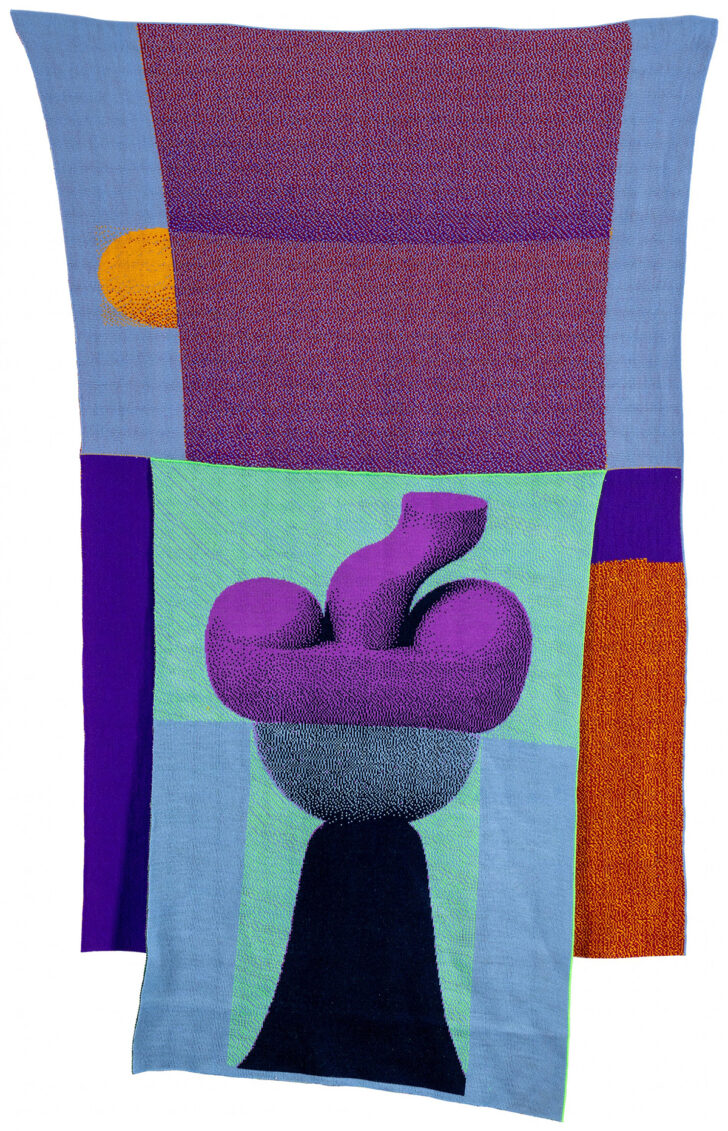 Maja Behrmann is a young German artist who creates intensely colored and oddly shaped objects and tapestries, aka "knitting pictures," that clash with pattern and repetition. When her textiles are exhibited, seemingly unrelated pieces are hung together overlapping and creating a bigger story. She's the kind of artist whose visual language slips right into the design world and they could chat all day.