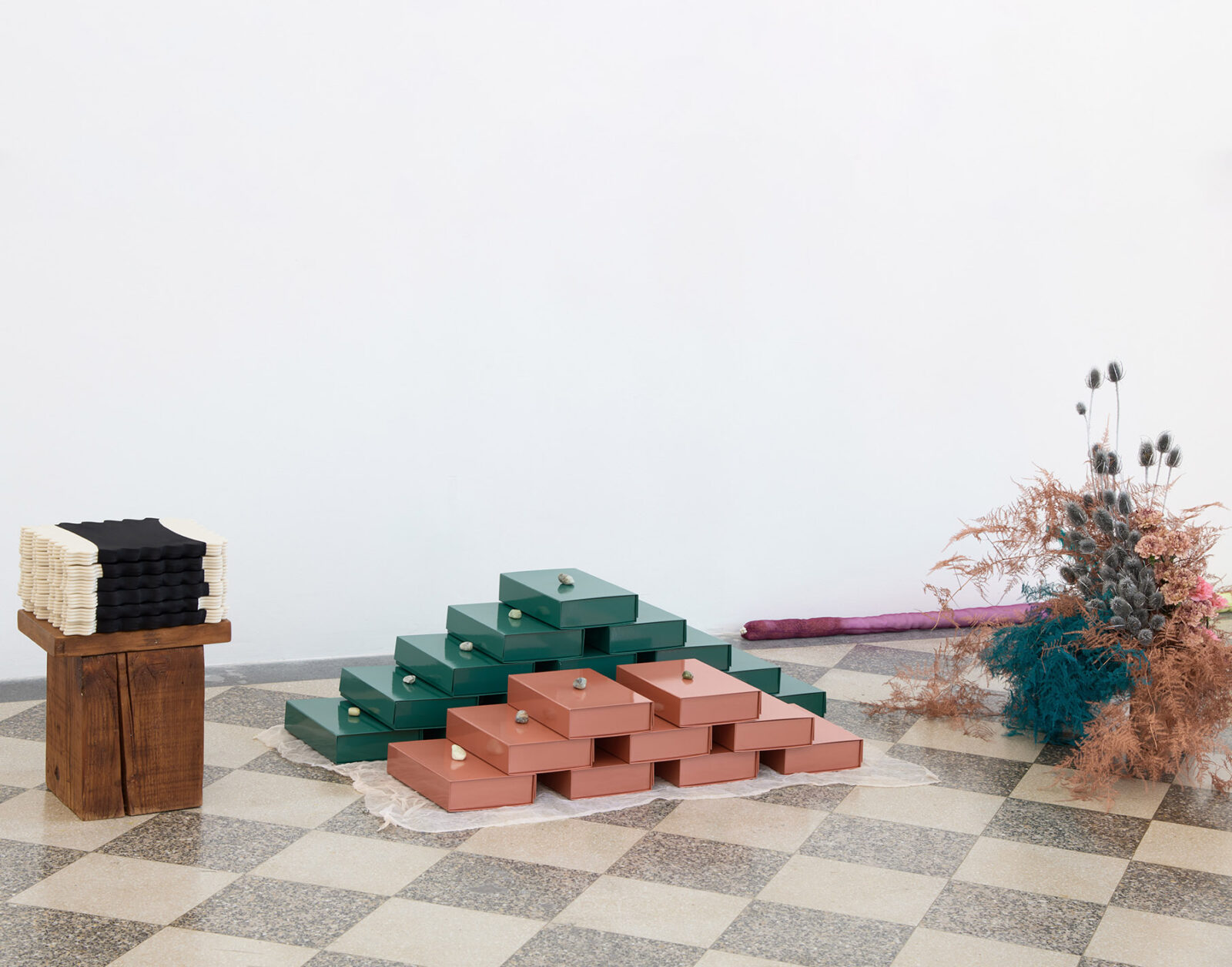 A weekly Saturday recap to share with you our favorite links, discoveries, exhibitions, and more from the past seven days. This week, dinner party hosting as an extreme sport, exquisite new vessels by Shio Kusaka, and an excellent new exhibition exclusively focused on female and nonbinary woodworkers. 
Exhibitions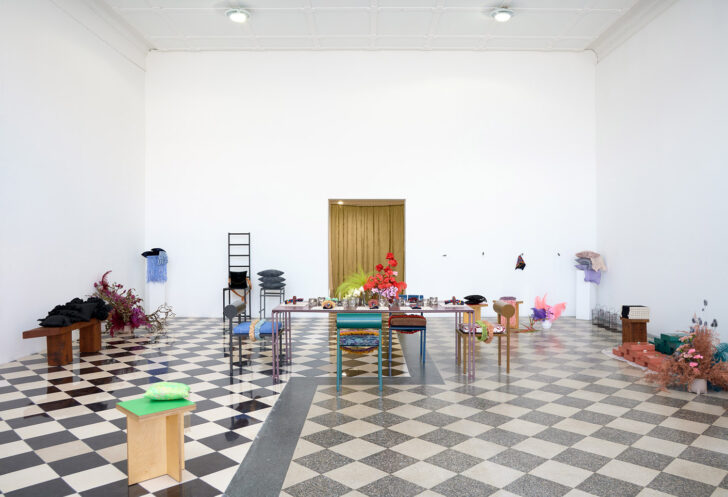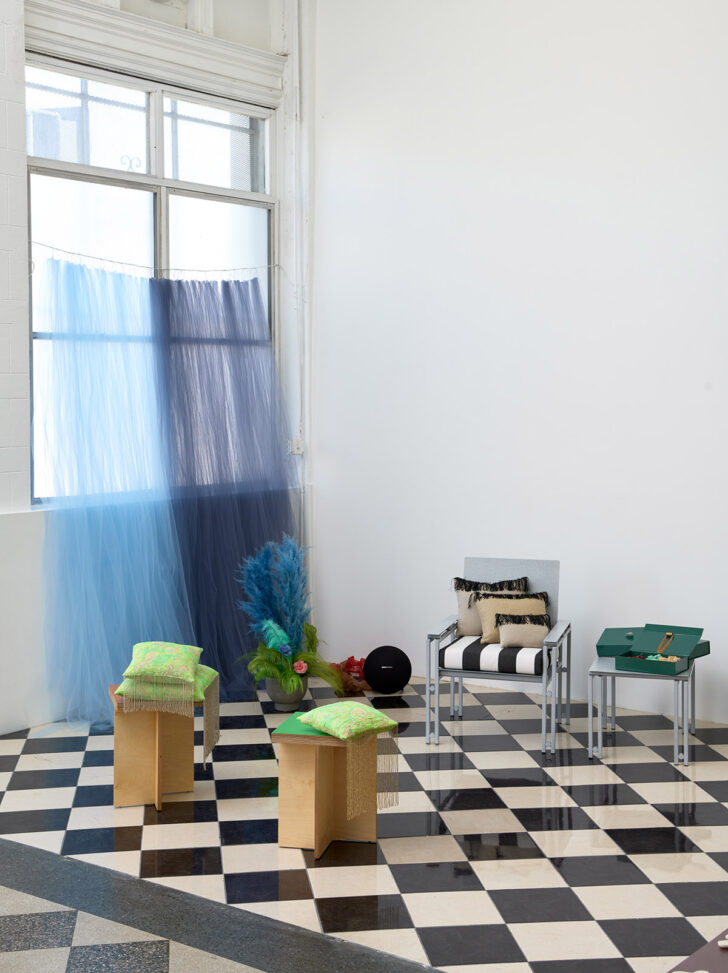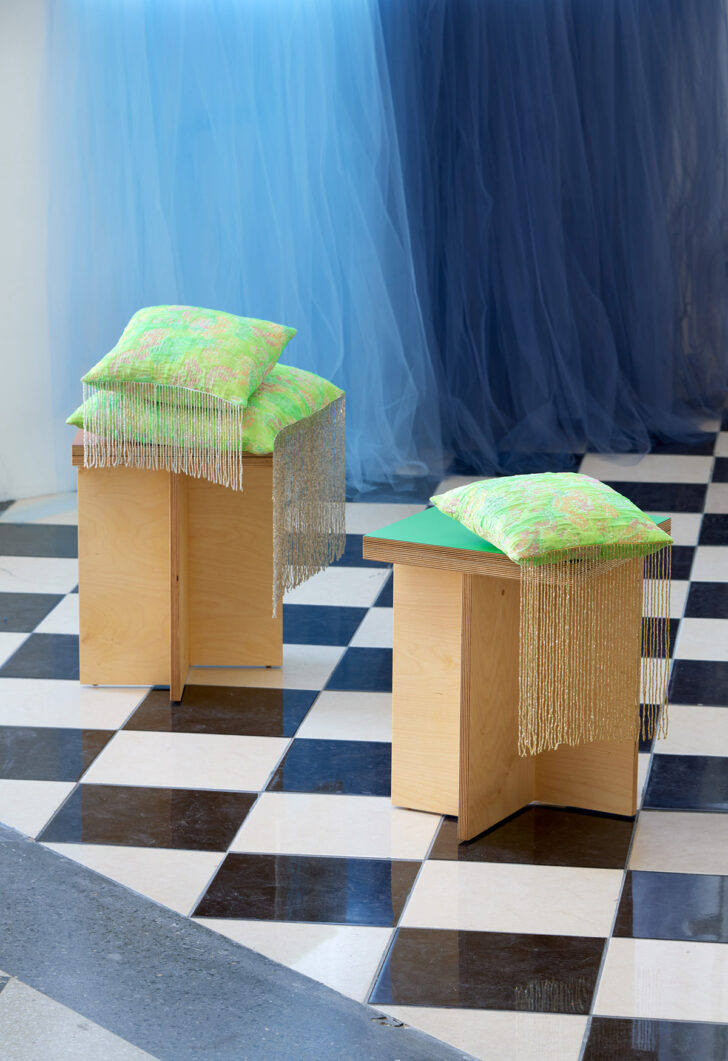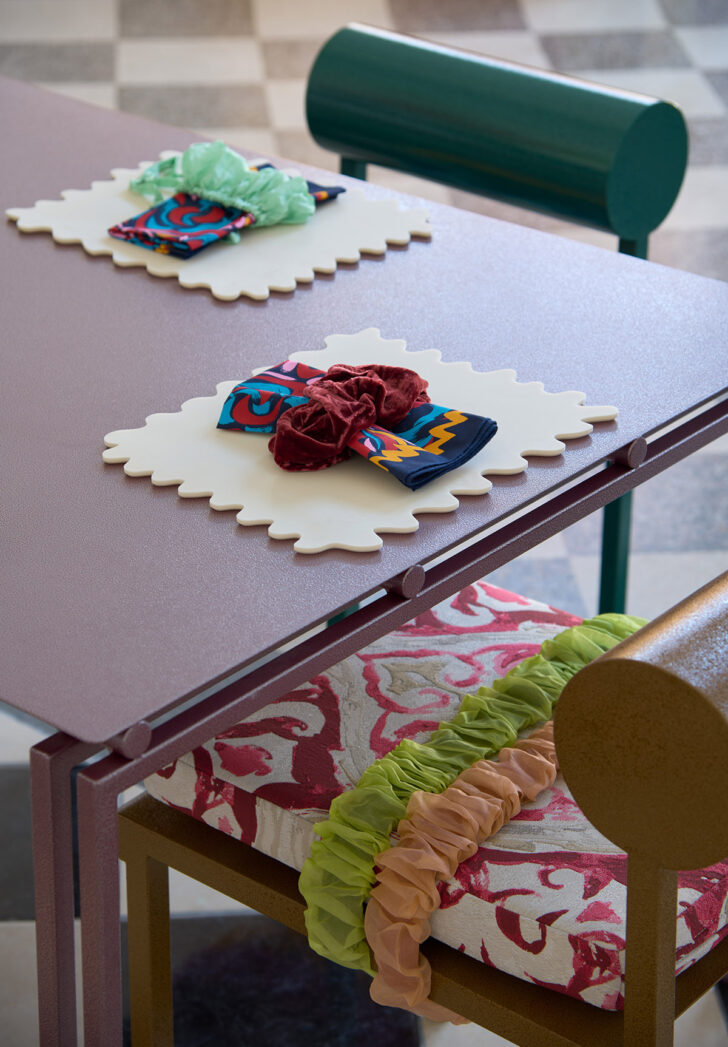 Scroll through enough stylized dinner parties on Instagram and you get the sense that hosting has become an extreme sport. At the recent Xtreme Guest show at Kristina Kite gallery in Los Angeles, Kristin Dickson-Okuda, of Iko Iko and Rowena Sartin, and artist Alex Olson dug into this idea. They considered themes of hospitality, domesticity, generosity, and the ways that artifice, atmosphere, and ritual can heighten the everyday. Their collaboration includes place settings of four napkins and four scrunchie-like napkin rings, along with limited edition sets additional placemats that can also serve as trays. Dickson-Okuda and Olson staged their work with furniture by Waka Waka, flowers by Brrch, and Iko Iko's pillows, curtains, and tabletop accessories.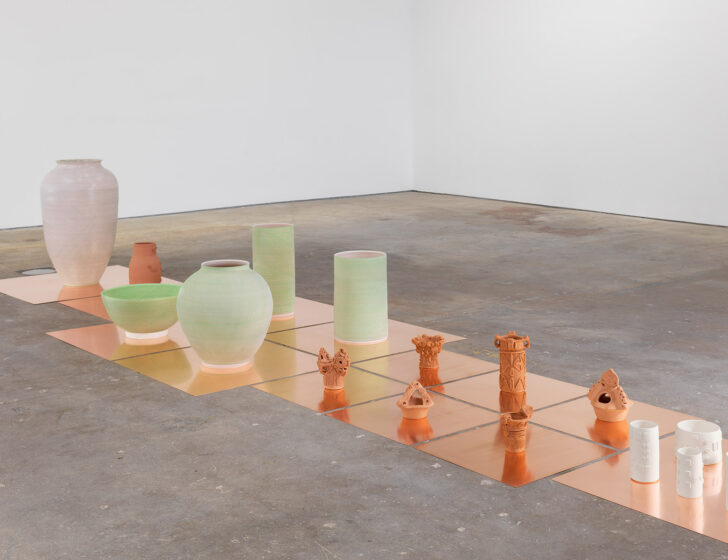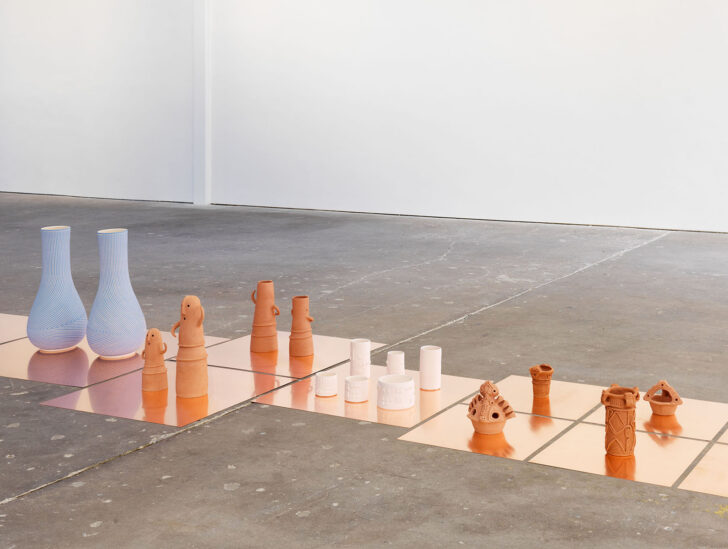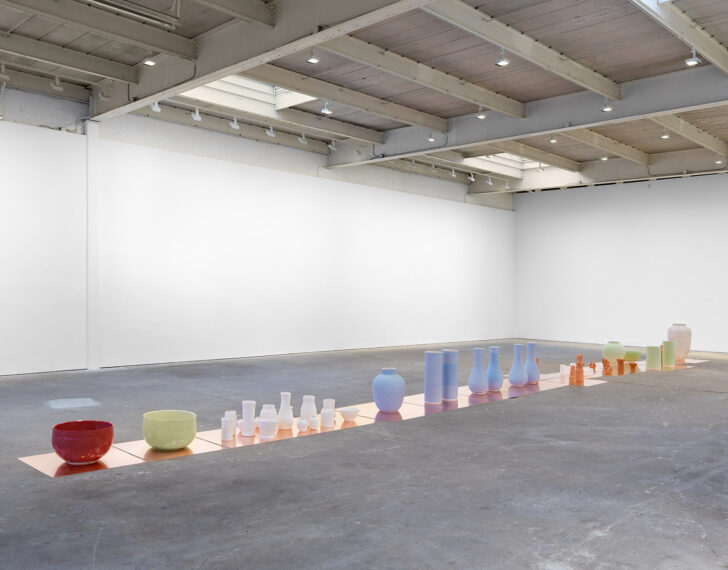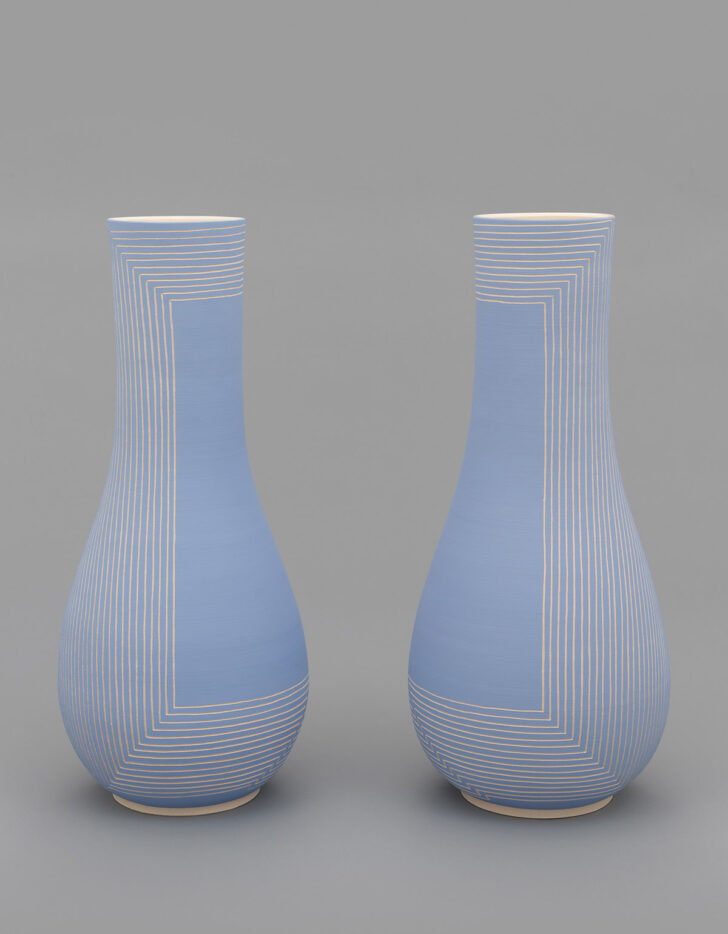 Shio Kusaka's light blue vessels practically glow and levitate above the copper sheets they're displayed on, with patterns of concentric lines whose subtle differences emerge through their repetition. They're among Kusaka's new stoneware and clay works, on view in her "One Light Year" show at David Zwirner in New York through the end of April. Alongside her sleek and contemporary pieces are "studies" of ancient ceramics that Kusaka developed upon examining artifacts of the Yayoi period (c.300BC–AD300), and the Jomon (c.10,500–300BC) and Kofun periods (c.AD300–552) in Japan.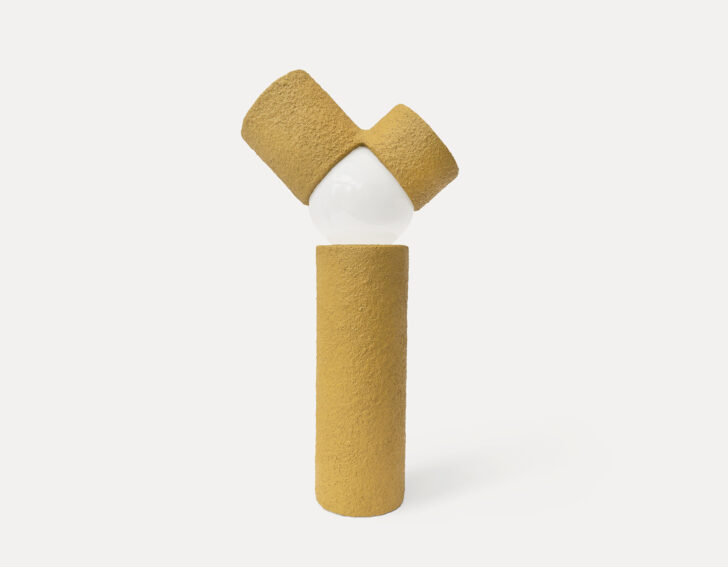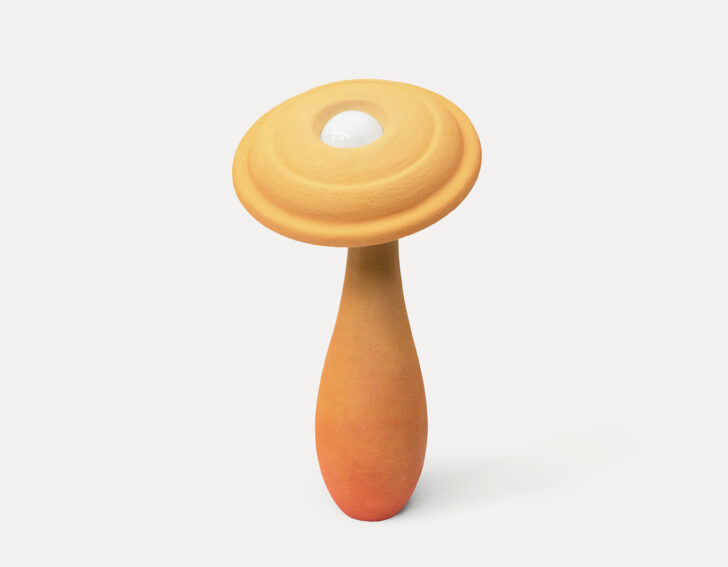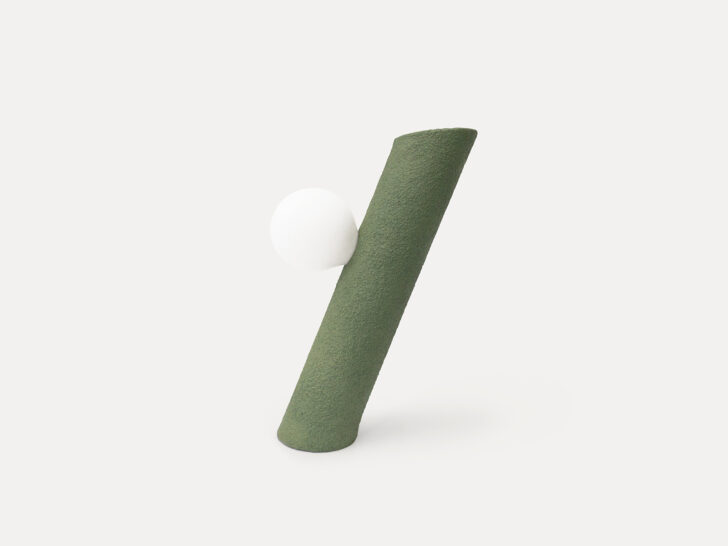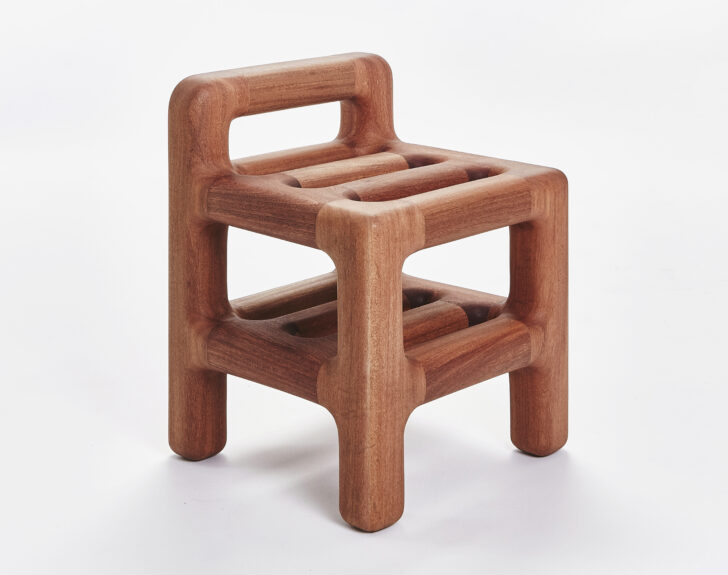 At the appointment-only London design space Seeds, owner Nathalie Assi has put together a number of pieces under the rubric Seeds of Spring. Works include a cutaway vase by Soft Baroque, pillows from Studio Proba, Studio Furthermore ceramics, as well as Nicola Cecutti's angled green Bloom lamp, ochre, textured Kokeshi lamp, and his yellow Diva lamp, which calls to mind both toadstools and stage spotlights. Rounding out the is collection is Thomas Wheller's friendly-looking, chunky sapele Primary stool.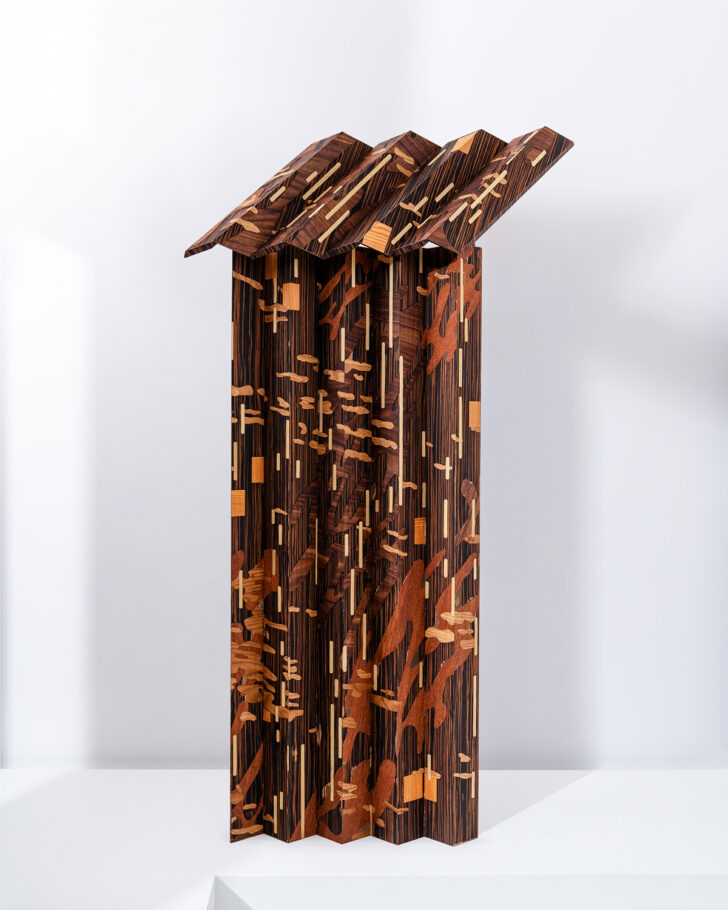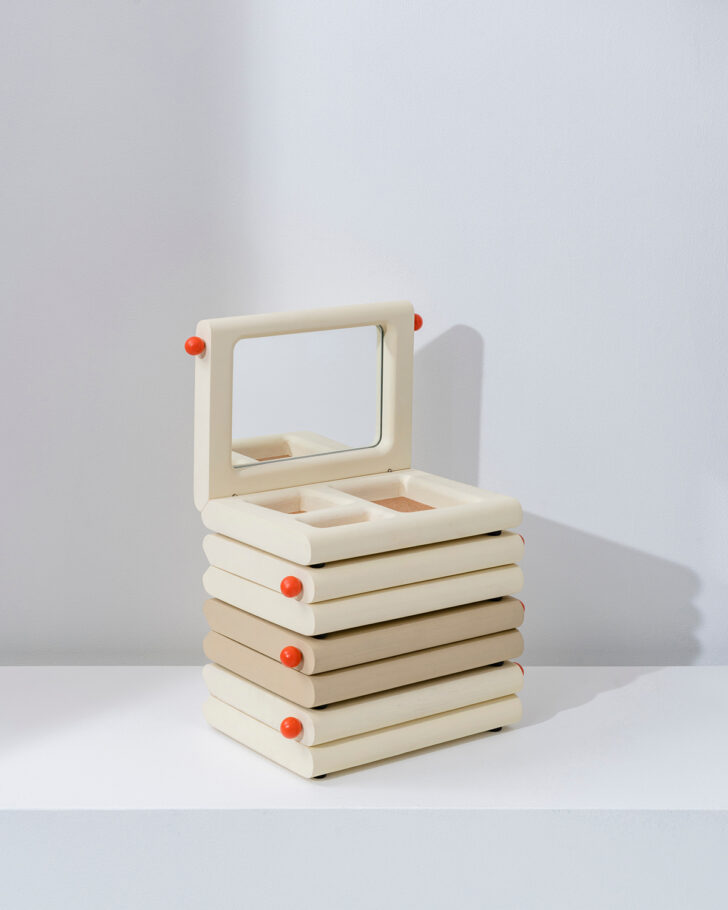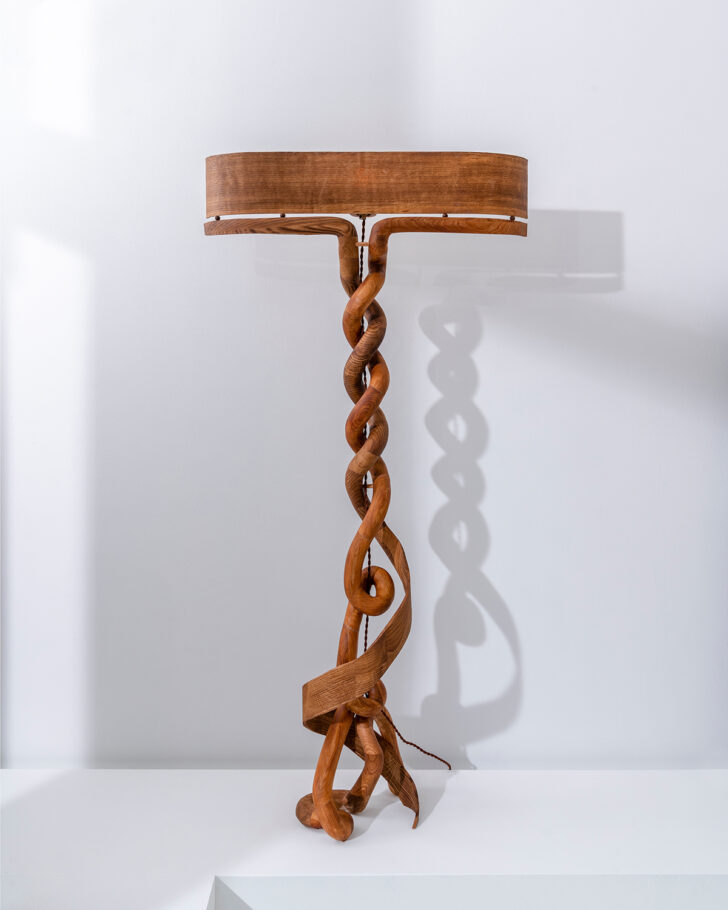 The current group show at Superhouse Vitrine in New York, Ingrained, consists of all-new works by six women and non-binary artists who practice woodworking. Pieces include Shaina Tabak's incredibly detailed floor lamps, Sarah Burns' birch boxes, Myriam Simard-Parent's rolling "basket" (which holds carved apples) made of a poplar and cherry wood checkerboard, and Nifemi Ogunro's (named in Sight Unseen's 2021 American Design Hot List) hand-carved birch stool. In showcasing these rising talents, the exhibition aims to bring to light the challenges that women and non-binary woodworkers have typically faced — and continue to face — in the field. (Photos by Sean Davidson)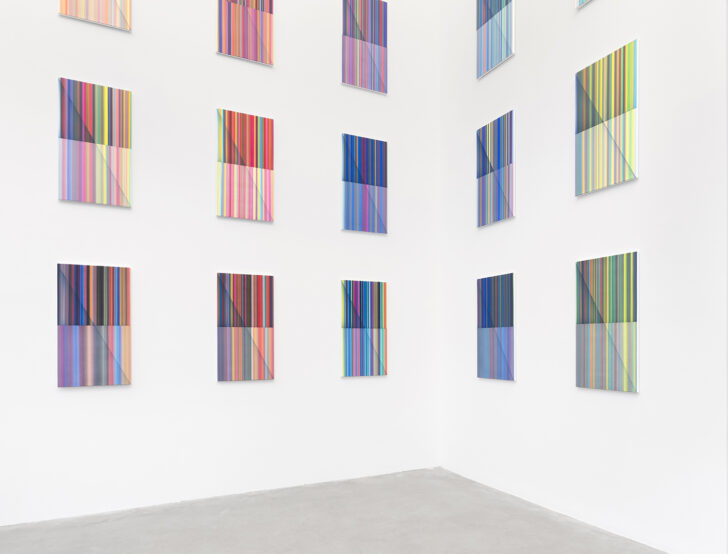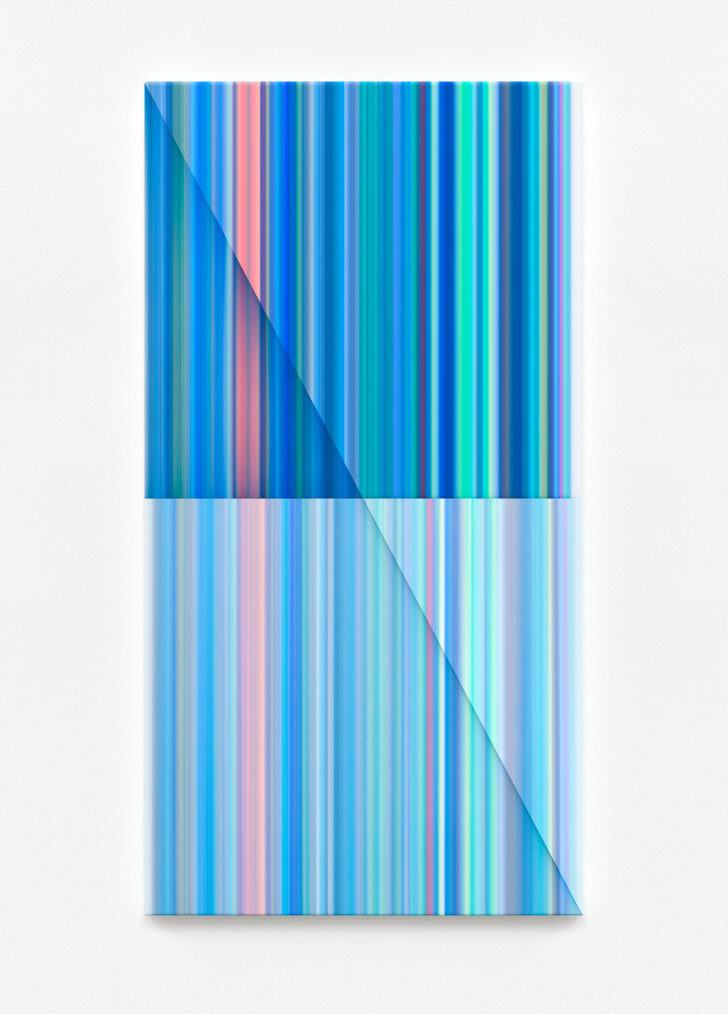 Color is Jonas Weichsel's preoccupation in Interstellar Paintings, an exhibition of twenty works at Galerie Thomas Schulte in Berlin. The Frankfurt artist is interested in how colors interact with each other and, in turn, with the viewer moving through the gallery. Weichsel entwines digital and analog approaches to raise questions related to distance, intimacy, and the time it takes for the paintings to reveal their depths. Together, the paintings form a shifting color gradient across the space, while each painting consists of its own gradients, producing a full-spectrum experience.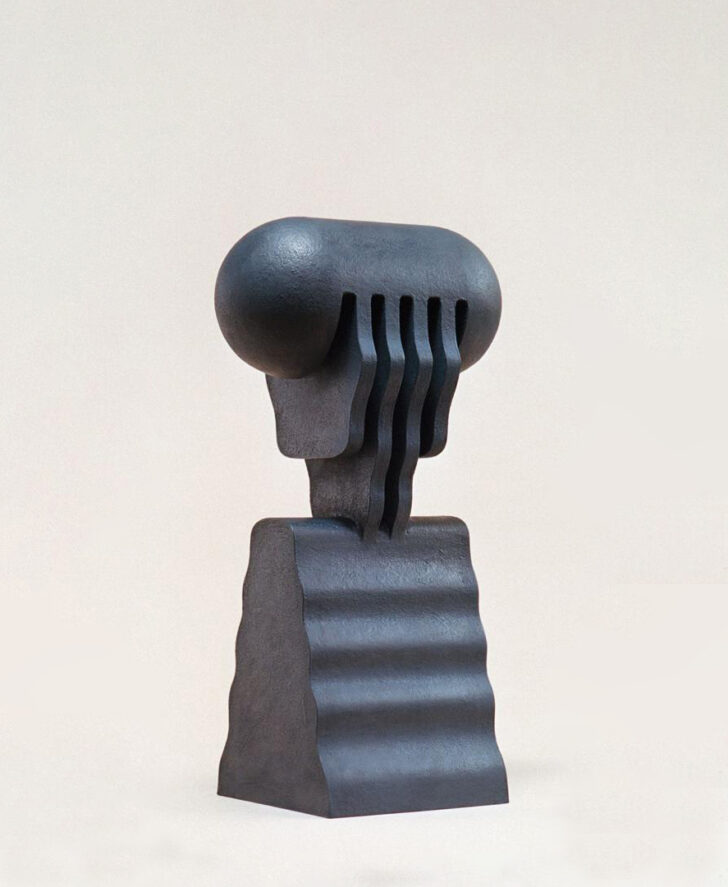 Curated by Samantha Ozer for Mexico City's Base Agency, The Beyond group show in Los Angeles recently explored the notion of what lies just at the edge of view: a promise of future possibility and refreshed perspective that also acknowledges the present (and all its problems). Tracing the concept of "the beyond" through psychological, spiritual, and socio-political realms, the young Mexican artists gathered here work in ceramics, glass, neon light, and video. Pictured above: Carlo H. Matos's Bust.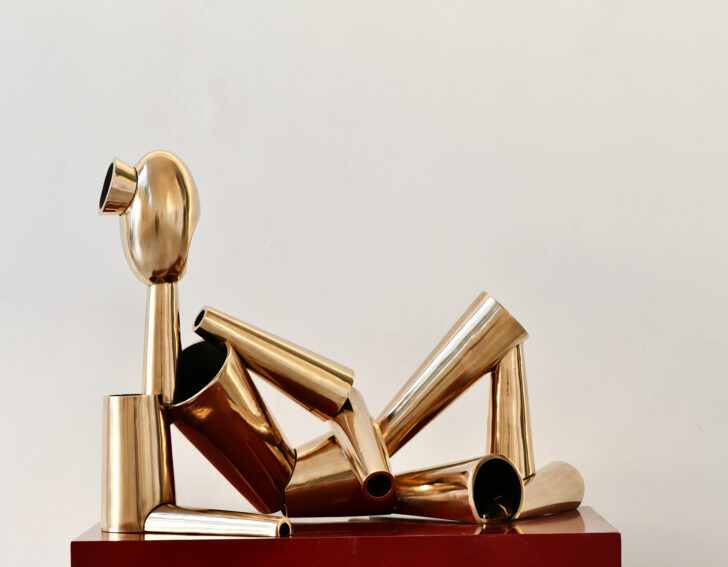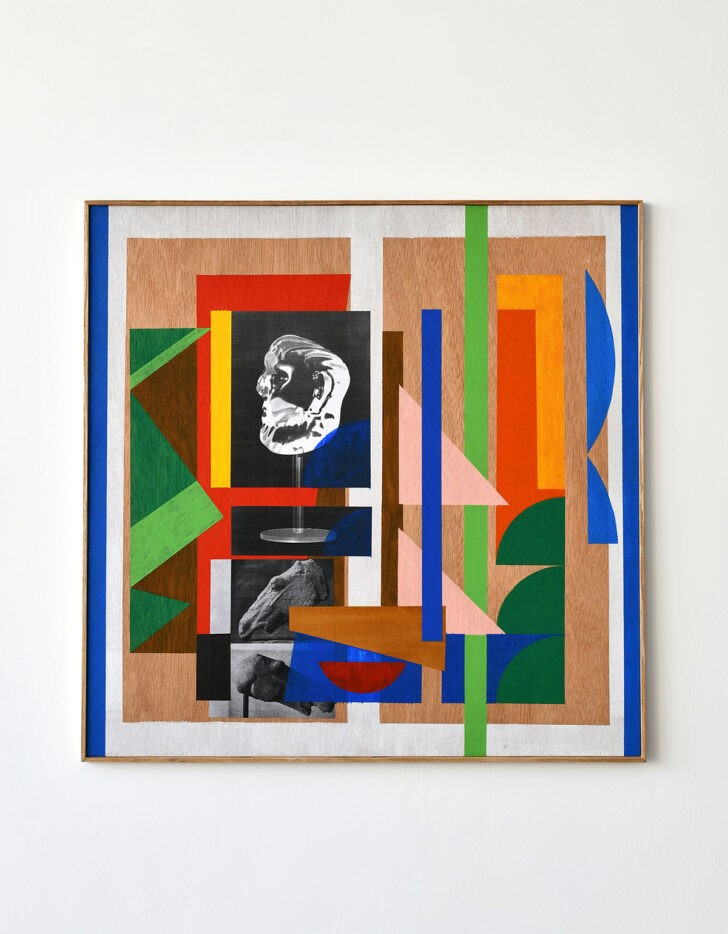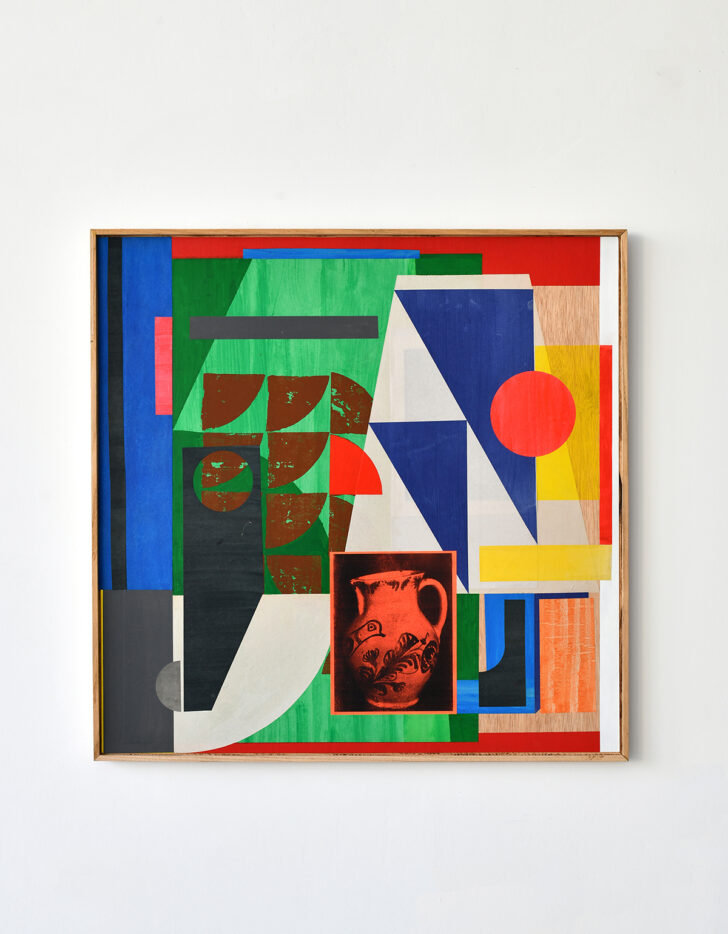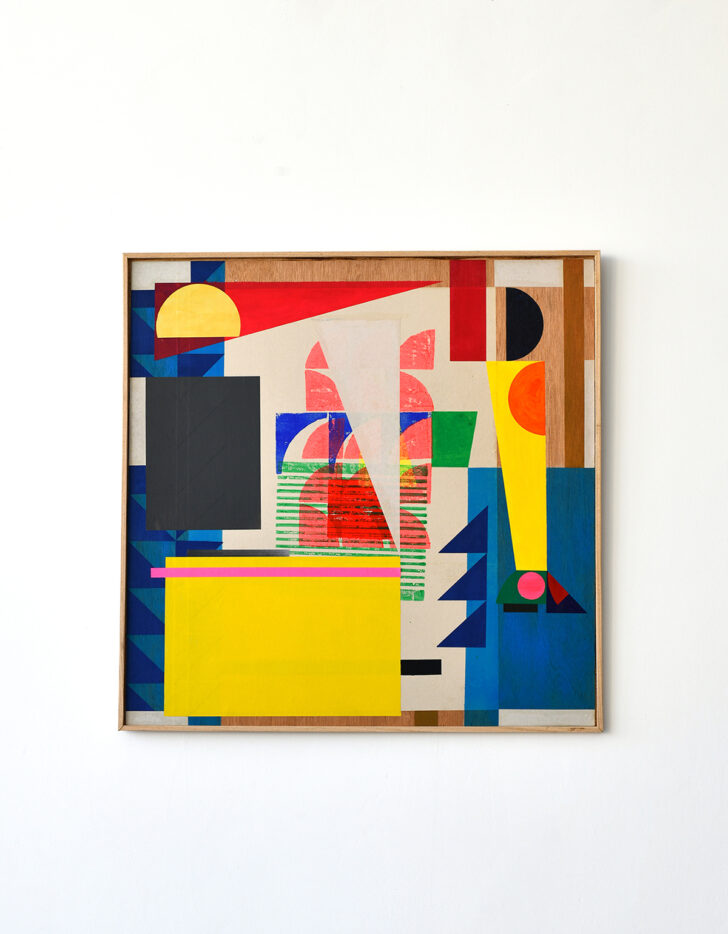 Generator, a solo show by Israeli-born, Brooklyn-based artist Ohad Meromi features sculpture, collages, paintings, and works that blur the lines between these forms: quasi-abstract painted collages on wooden panels in engaging, saturated colors; a shiny bronze reclining figure titled Popova (evoking Lyubov Popova, the early twentieth century Russian Suprematist painter); and aluminum humanoid figures that feel super-current even as they reference machine-age Cubist and Bauhaus-like shapes. At the Gordon Gallery in Jerusalem through April 23rd.
Discoveries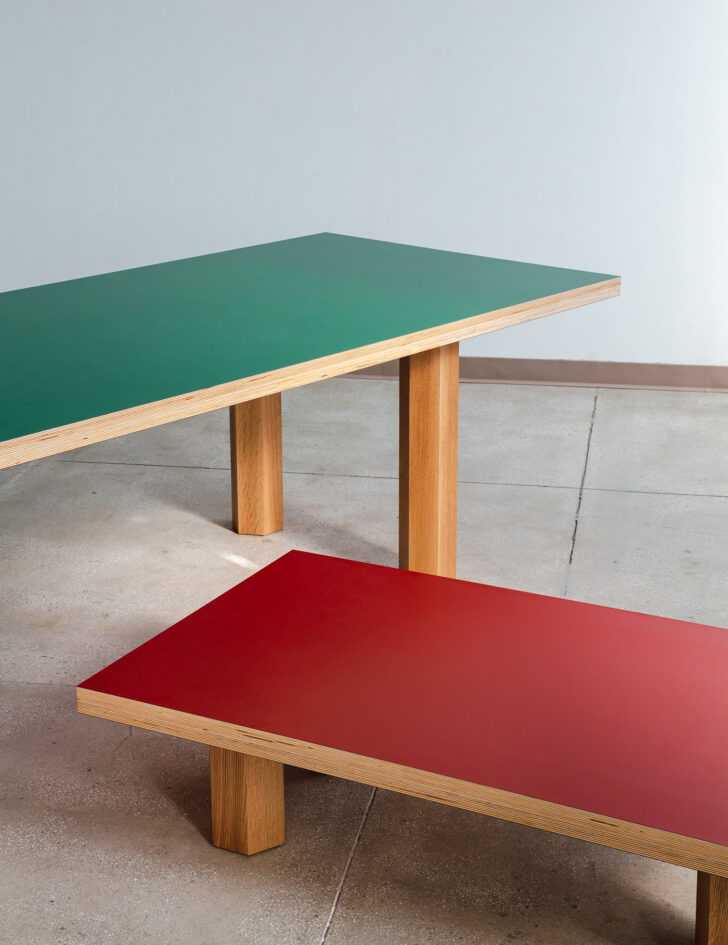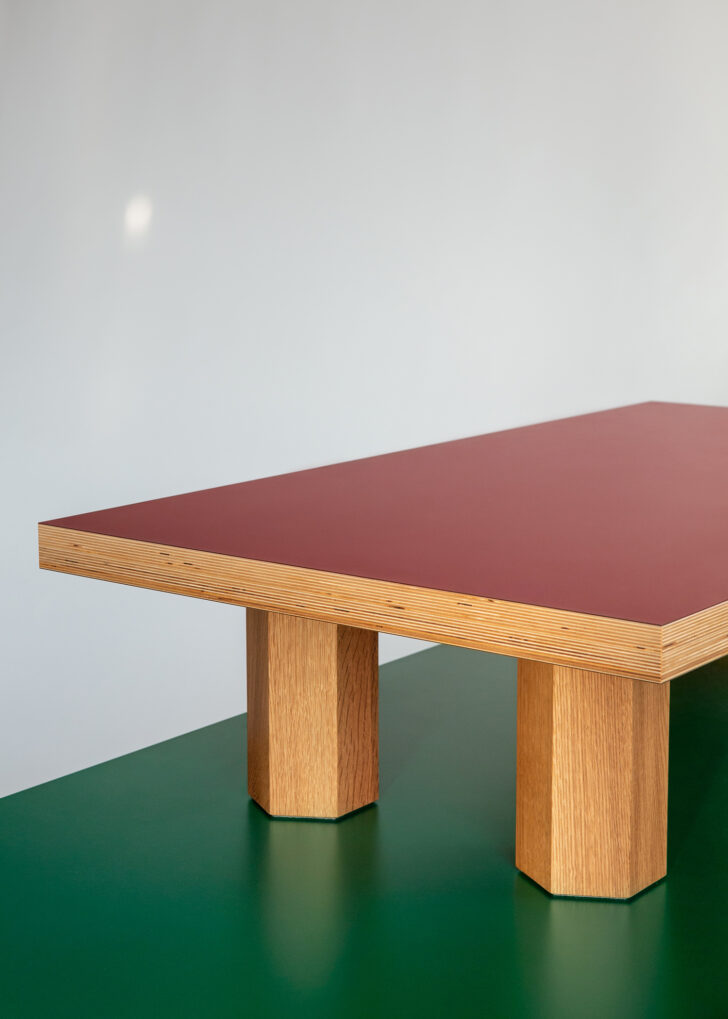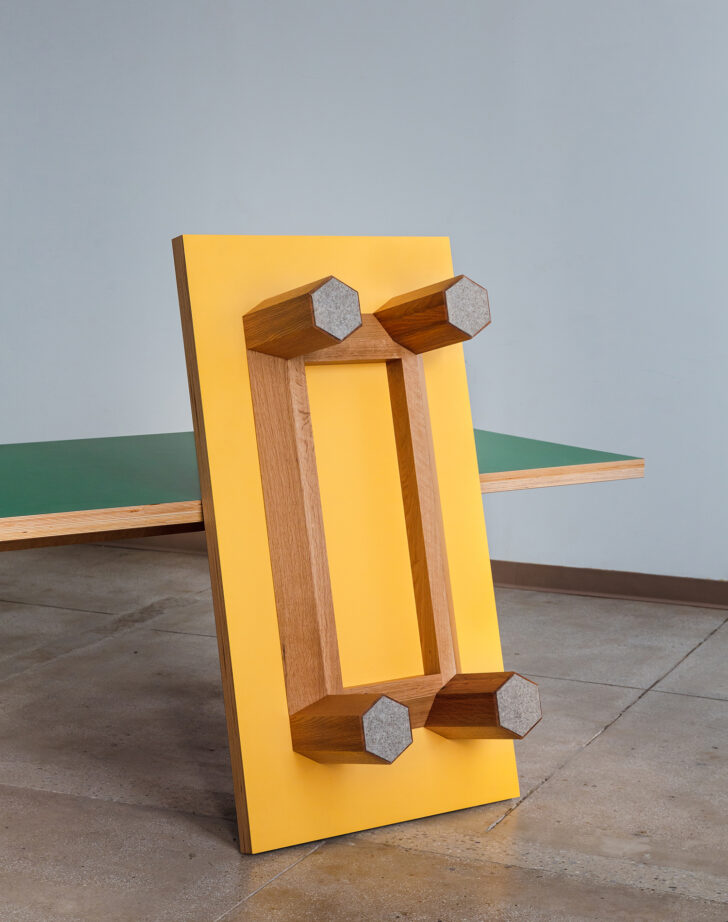 Brooklyn architecture and design firm GRT Architects combine the warmth of wood, the precision of geometry, blocky hexagonal legs, and bold color in this trio of dining, side, and coffee tables. The Poole tables, which initially sprang from GRT's renovation of an early 20th-century building designed by Thomas Henry Poole, are constructed from simple materials – white oak, plywood, and laminate – with tops ranging from dark red matte to a glossy apple green.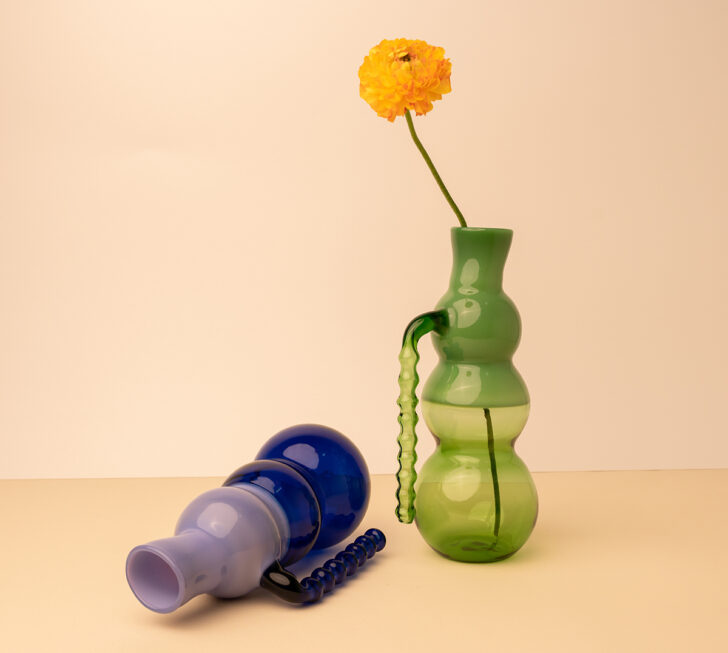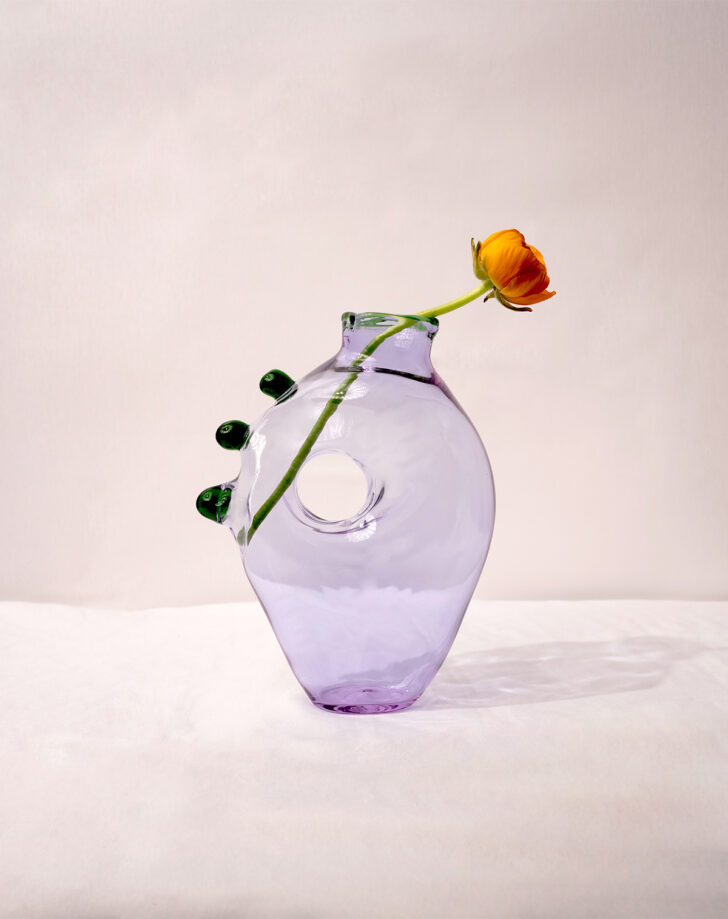 True to its name, the "Dreamlike" collection of glassware from Jerusalem-based designer Lameice Abu Aker is startling and ethereal, marked by a shapeshifting quality. Abu Aker has worked with Palestinian glassblowers to craft rippling wine glasses, tumblers, vases, bowls, and pitchers in color combos of cobalt and lilac or smoky amber and bottle green. Her transparent glass pieces have a floaty lightness that contrasts with the substantiality of the cloudy pastel glass she also uses.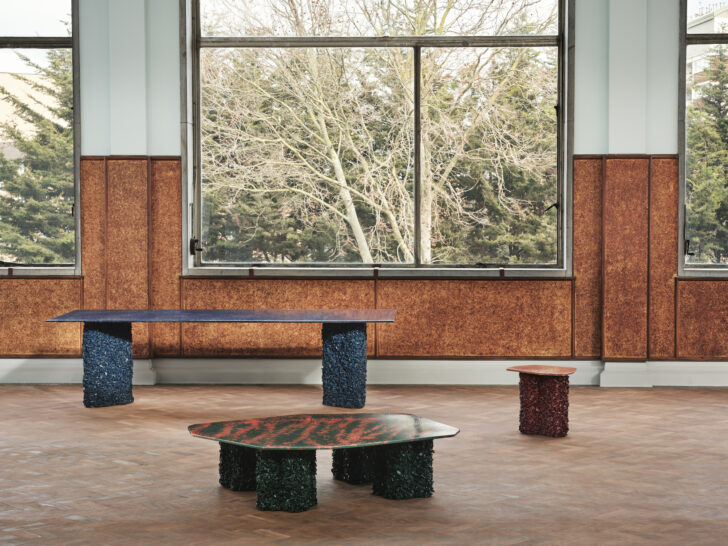 The London-based architecture studio CAN has also come up with a family of tables (dining, coffee, and side) but their "Liquid Geology" pieces hail from a different planet — or maybe just the more remote and mysterious depths of our own. The recycled rubber chips and resin that comprise the bases of the tables conjure deep-sea rock formations or craggy moonscapes. And the enamel-coated tabletops look volcanic while giving off a wavy, undulating, even Impressionistic effect.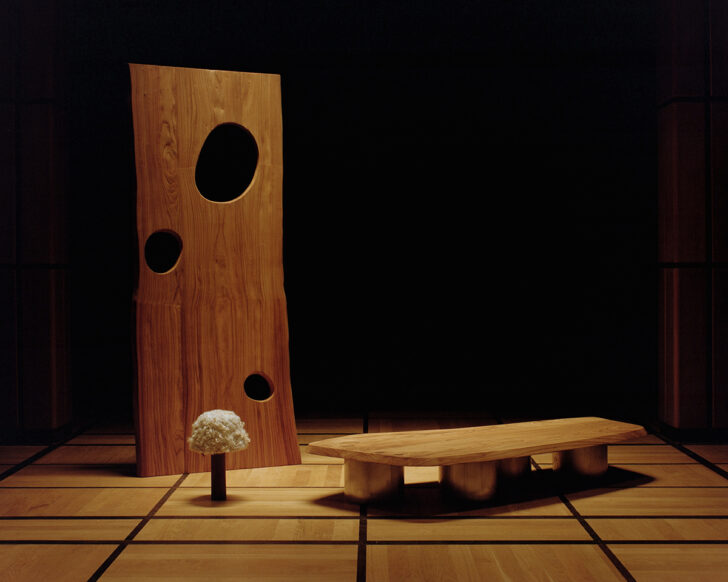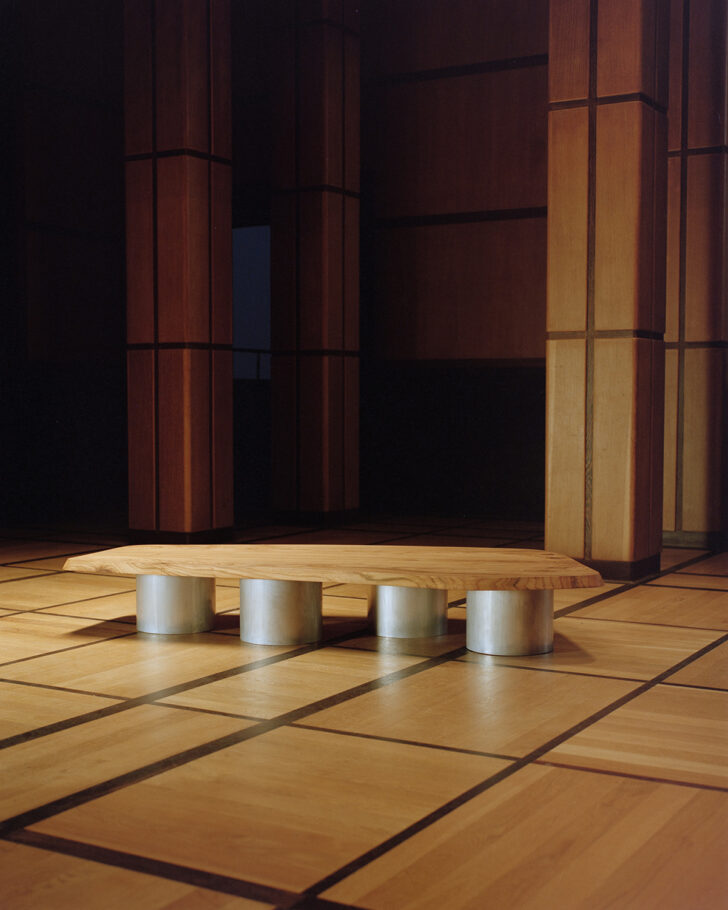 For the first collection from Atelier Constant – an Amsterdam furniture design studio founded by Nina and Pierre Constant – the duo has drawn on their Dutch (Nina) and French (Pierre) backgrounds to create six lively sculptural pieces that play with proportion, function, and expectation. A massive seven-and-a-half-foot elm slab, with cutouts, doubles as an art object and a useful spot to hang your coat; a table lamp with a shade made from untreated wool is somehow both shaggy and elegant; and a set of circular brushed aluminum legs provide the sturdy base for a coffee table with a solid elm top whose wonderfully skewed shape makes it almost animate.
Reissues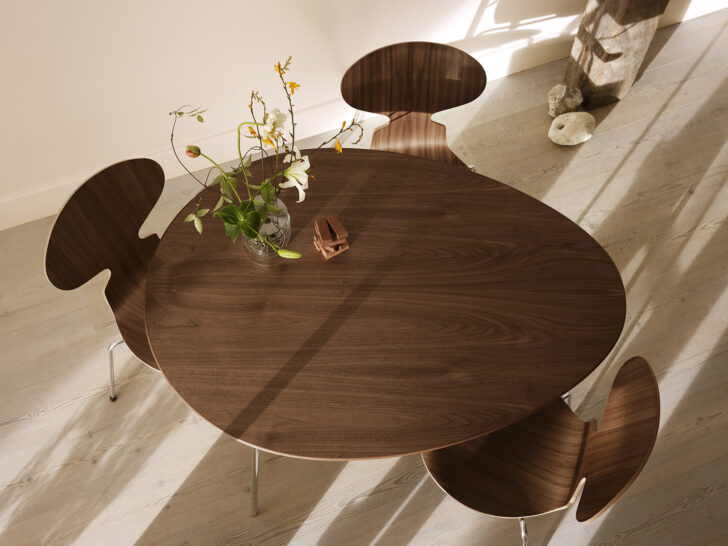 What's more egalitarian than a round table? Maybe an ovoid one, where everyone seated can look to one another but no one directly faces anyone and no one holds a privileged position. Such is the vibe of Arne Jacobsen's 1952 curving Egg table, which the architect and icon of Danish modern design created to accompany his classic Ant chairs. Sixty-two years after the original first went out of production, manufacturer Fritz Hansen has now brought it back, with a couple of updates; initially crafted in teak and rosewood, the reissue is available in walnut veneer with polished chrome legs. Calling all fans of streamlined, midcentury looks.