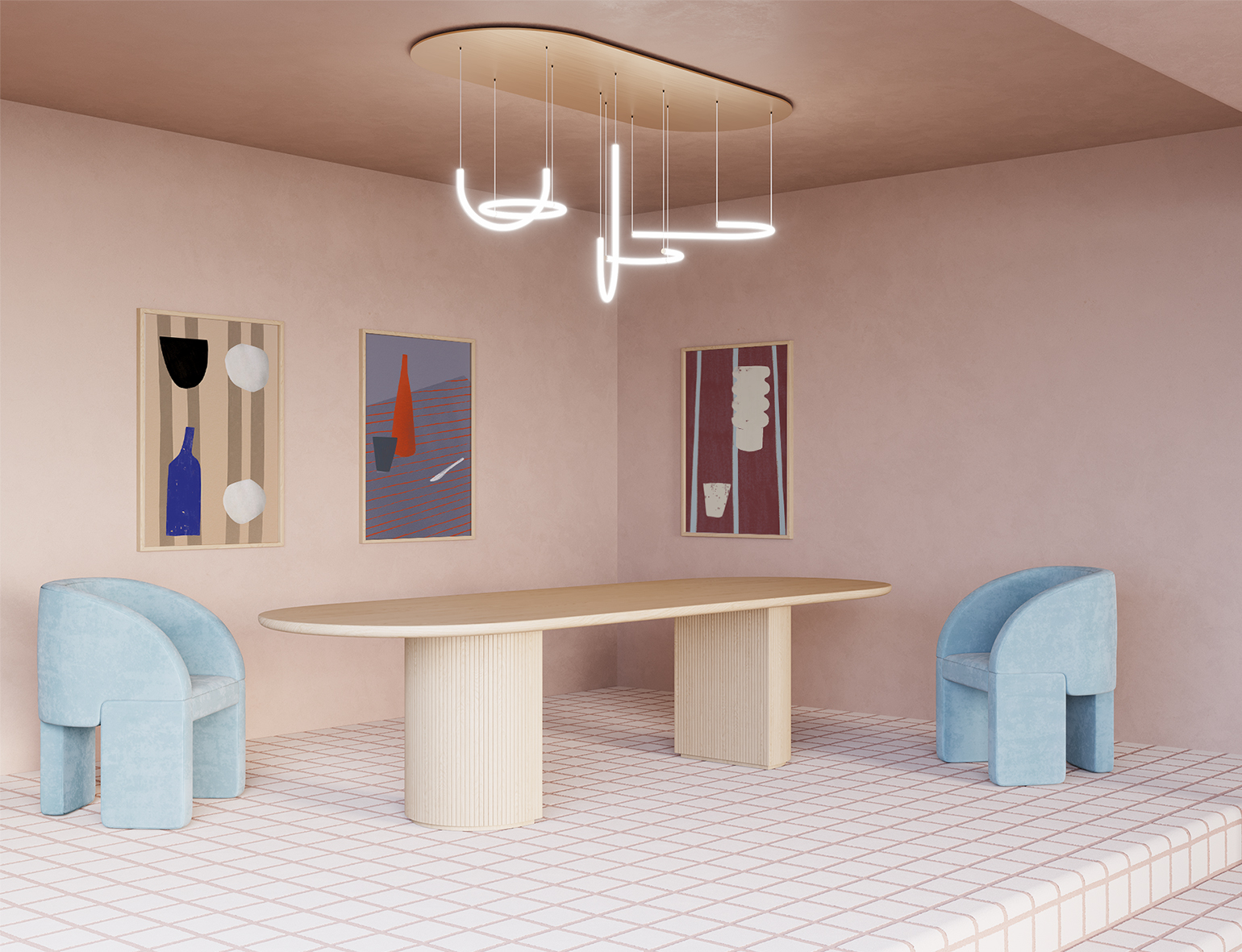 A weekly Saturday recap to share with you our favorite links, discoveries, exhibitions, and more from the past seven days. This week: a must-have print collab between Studiopepe and The Paper Collective (above), a tulip-shaped table that's got us nostalgic for our childhoods (wait, are tulips trending??), and a few greatest hits from the this month's 3 Days of Design in Copenhagen.
3 Days of Design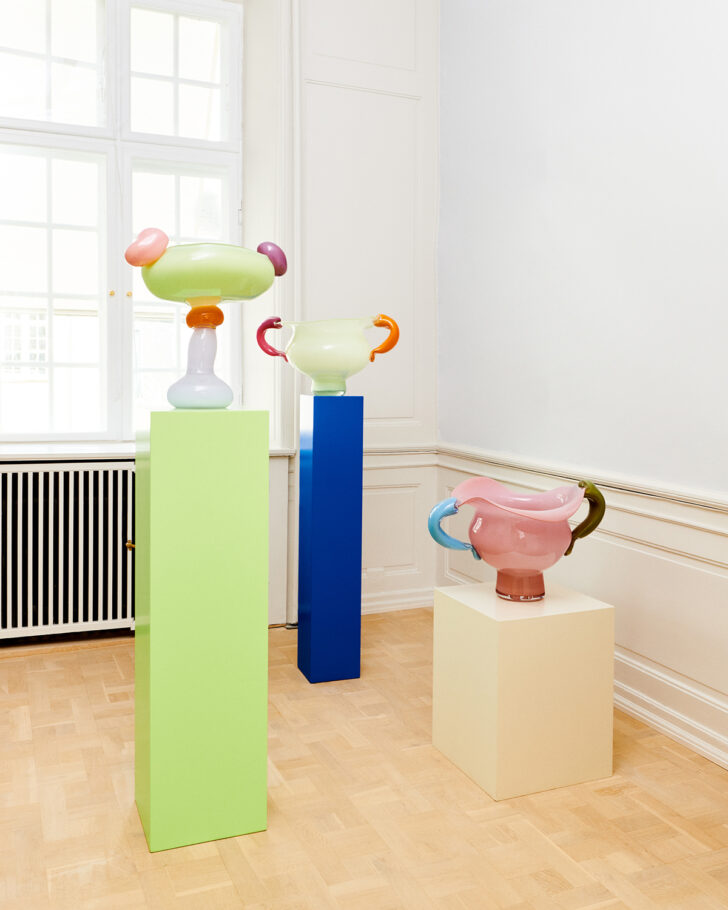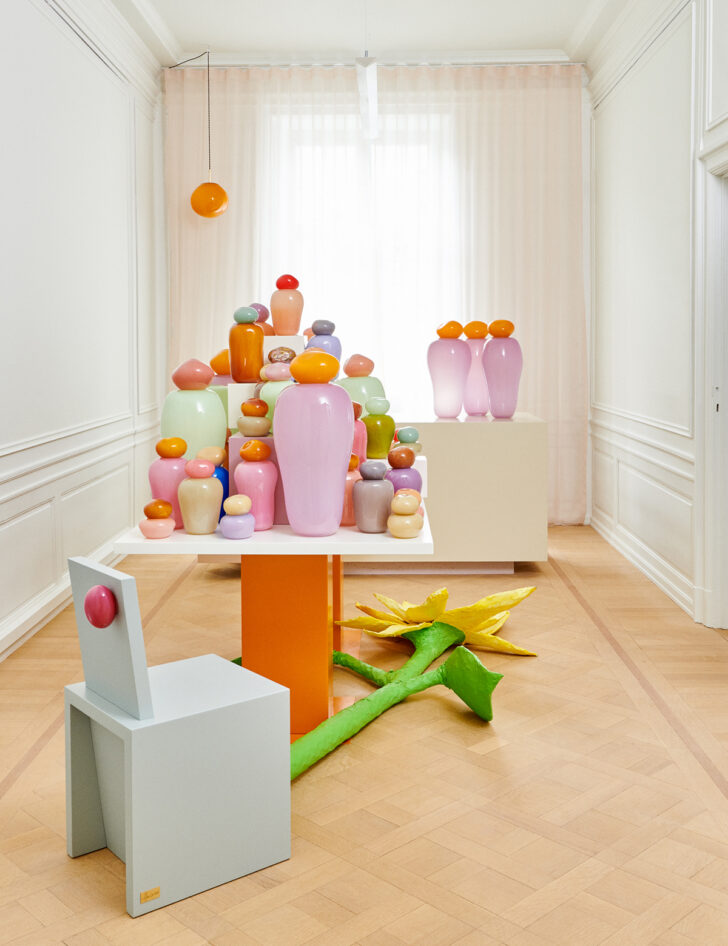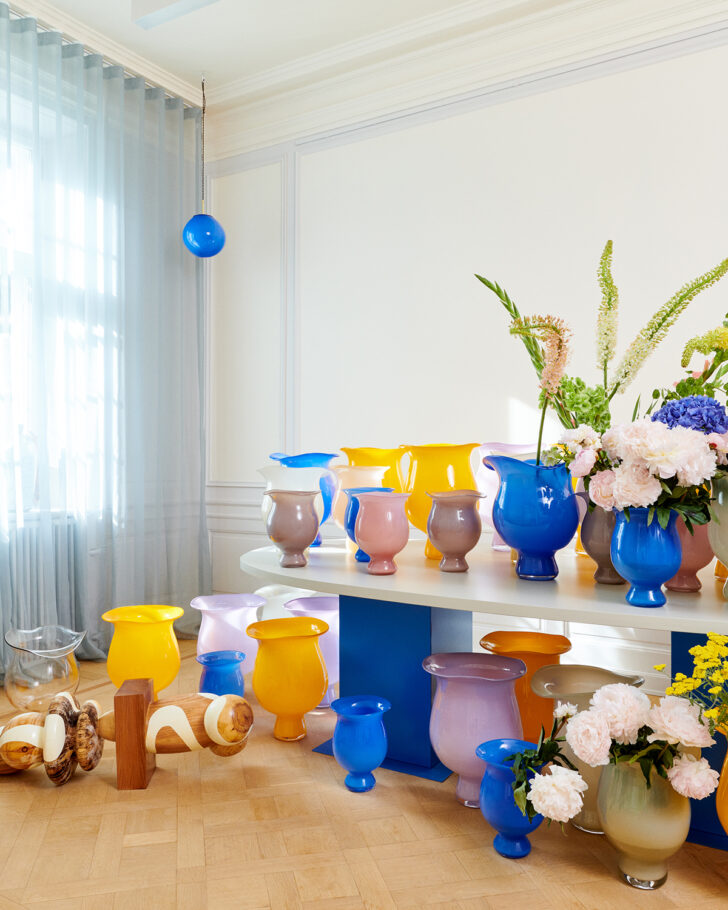 There was a lot to love at the 3 Days of Design festival in Copenhagen earlier this month. We were especially taken with the gorgeous, candy-colored glass works of Helle Mardahl. The Danish designer's "Sweet Illusion" collection is inspired by Alice in Wonderland and Charlie and the Chocolate Factory.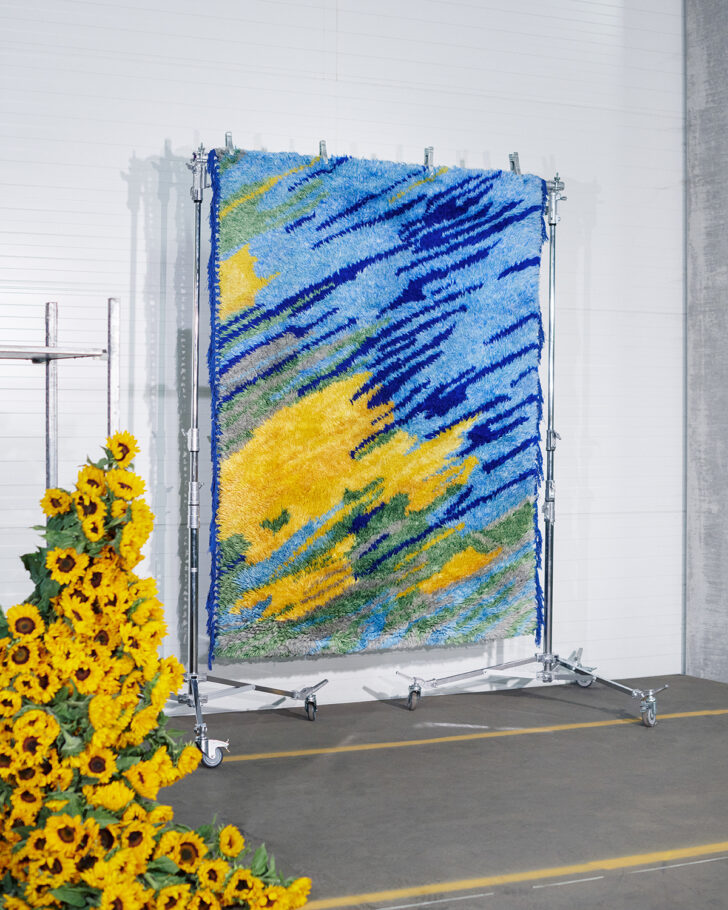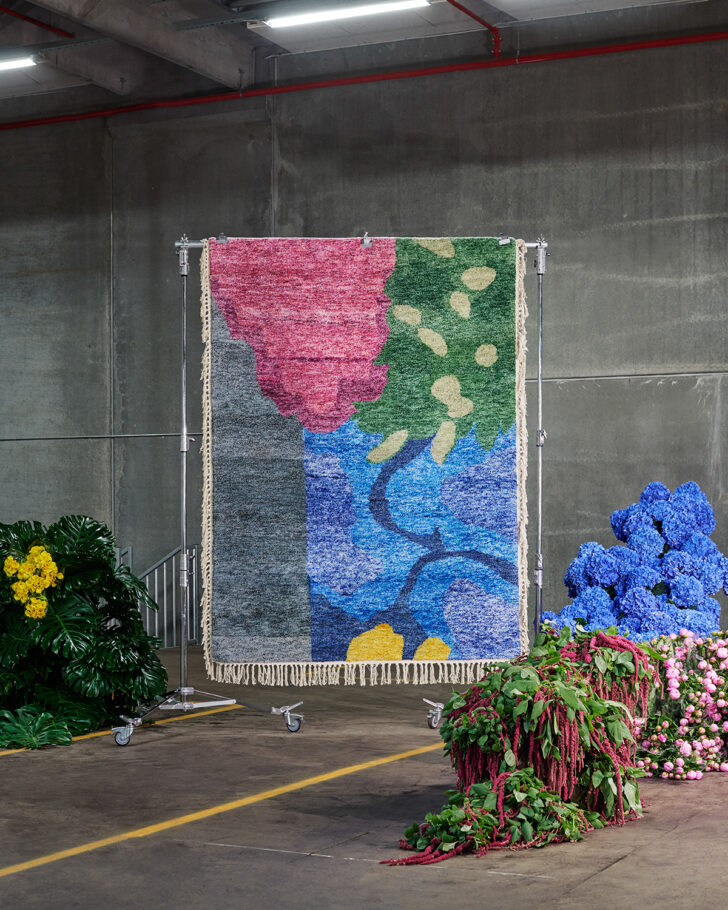 We also always look forward to Nordic Knots' limited-edition collaborations with Tableau, the Danish studio and concept store known for its over-the-top floral installations. Two new color-saturated, fringed rugs — Blur and Noise — were created from distorted pictures of flower arrangements.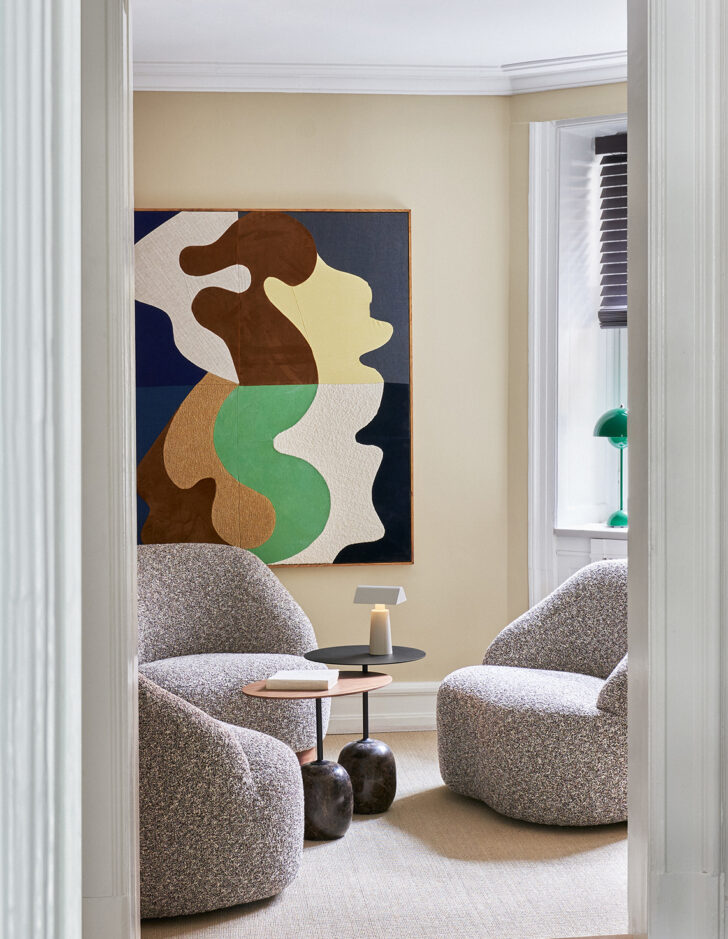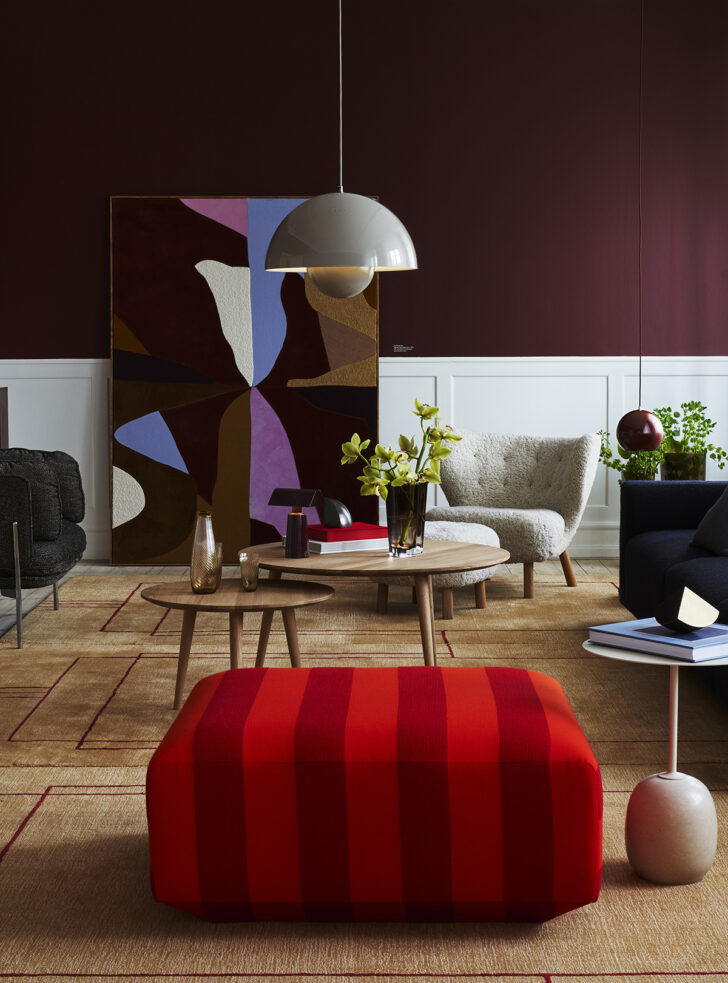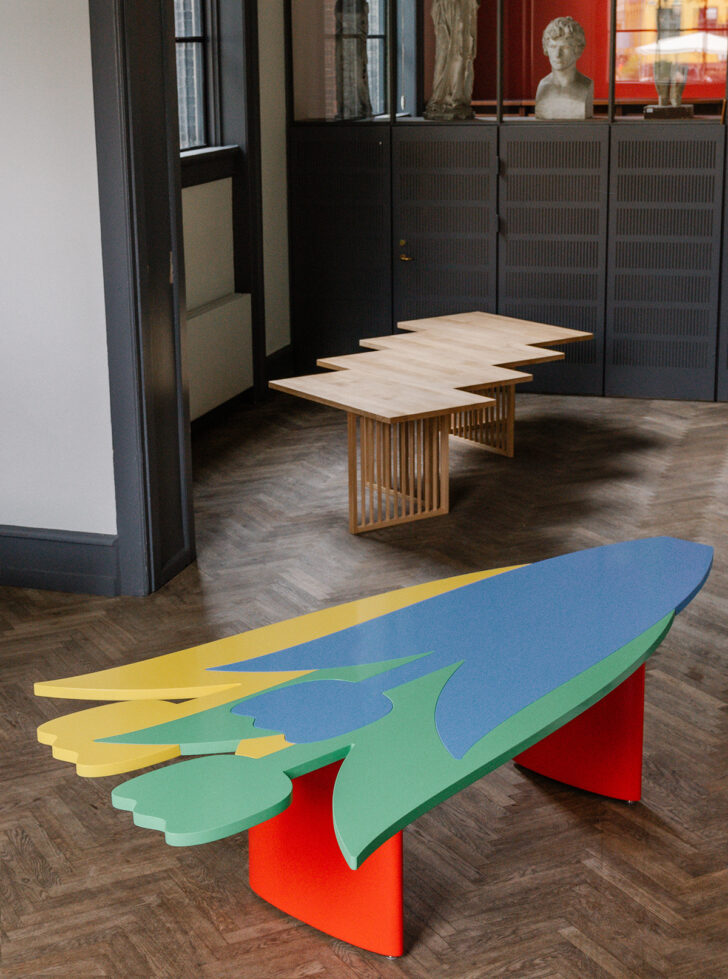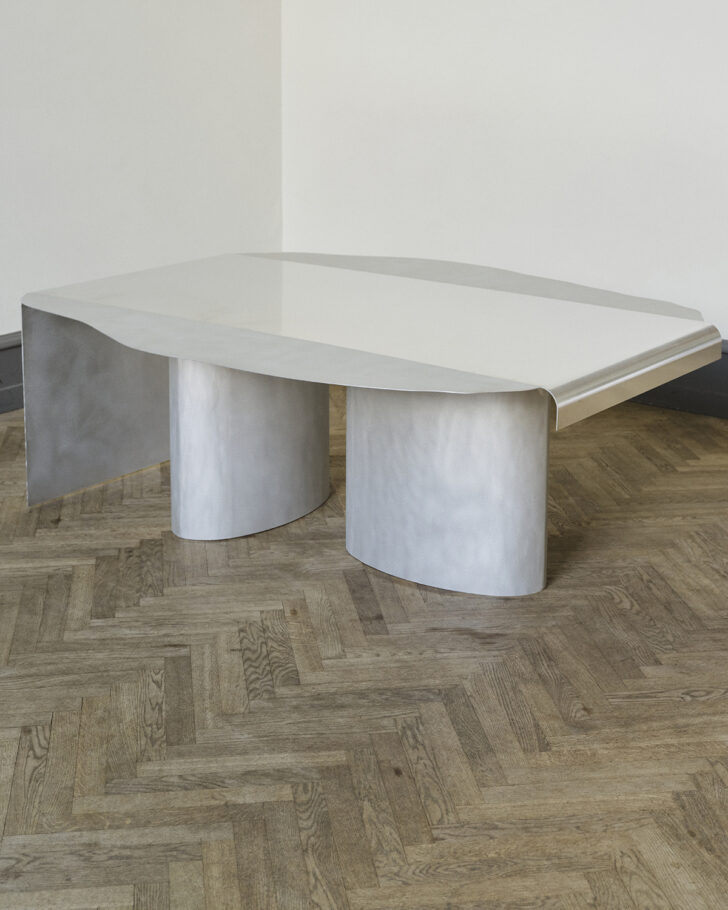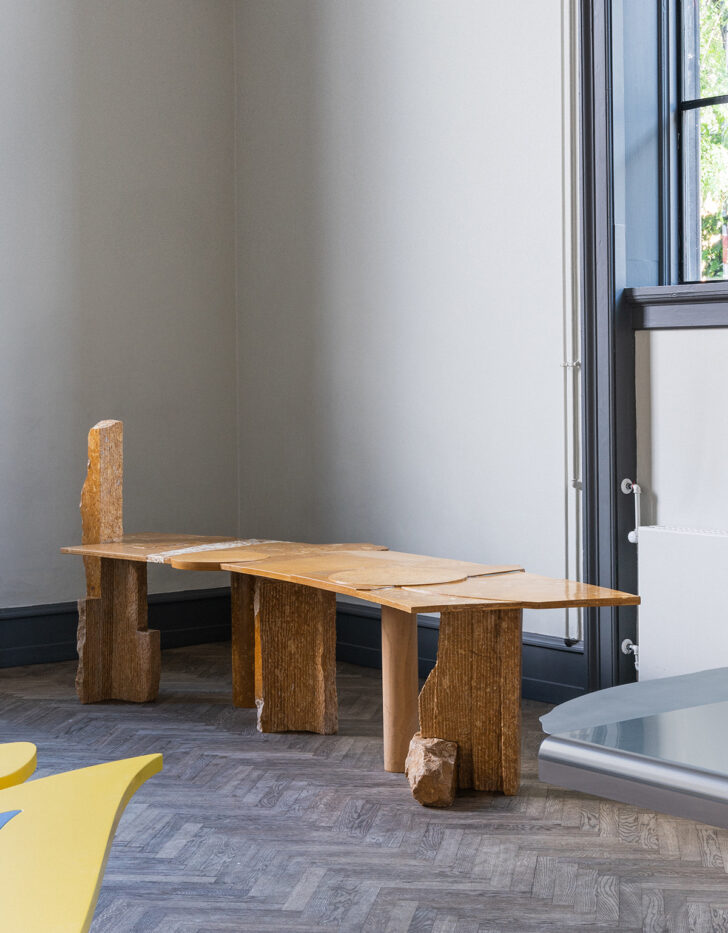 &Tradition had a splashy 3 Days of Design, launching first an apartment of sorts, designed in collaboration with Italian design studio Studioutte, and then an exhibition at Apollo Kantine called "Studies of a Table." Our favorites were, from top, the Tulip Table by Spiritual Objects, the multidisciplinary design studio of Los Angeles–based Luc Fuller, which reminds us of the Marimekko sheets of our childhood; Table Cloth by All the Way to Paris, which seems to depict a table covering in aluminum; and Khokhar by Studio Raw Material, a table made from Dune Yellow marble peppered with prehistoric fossilized shells and sea creatures.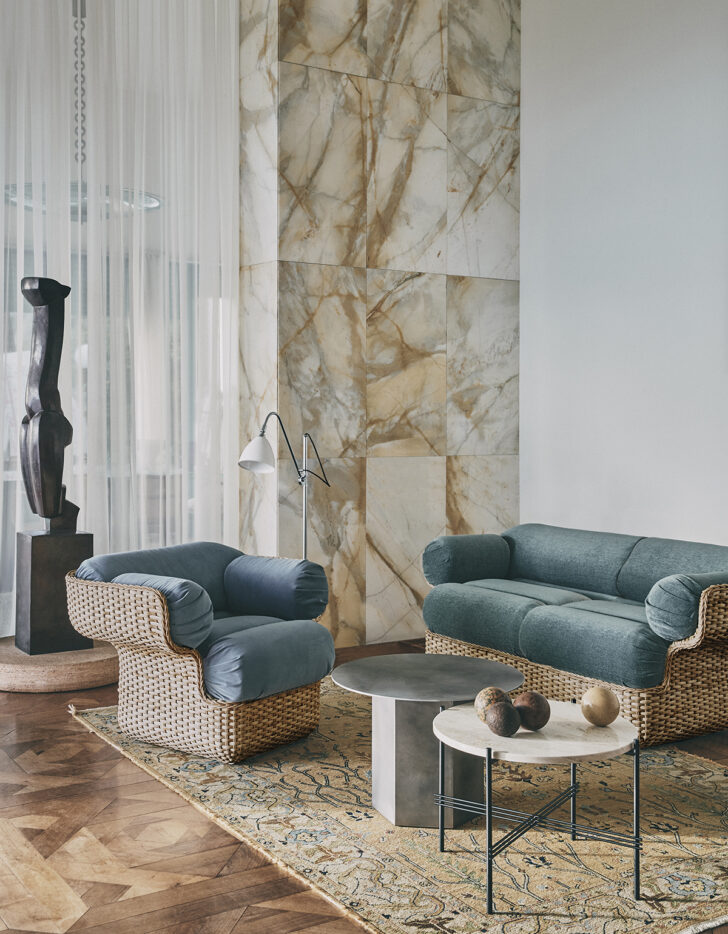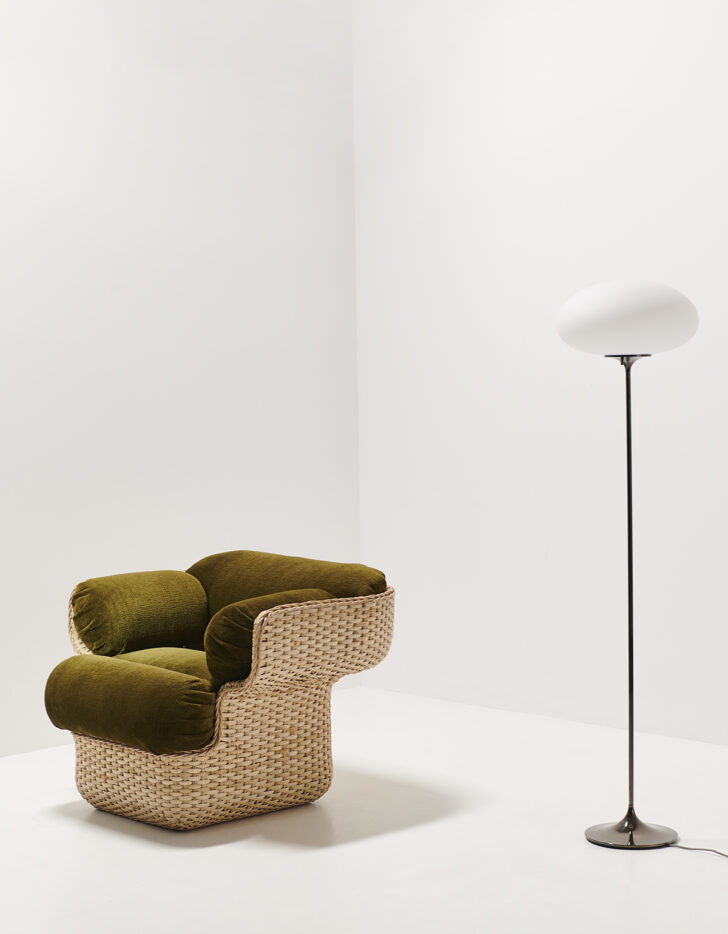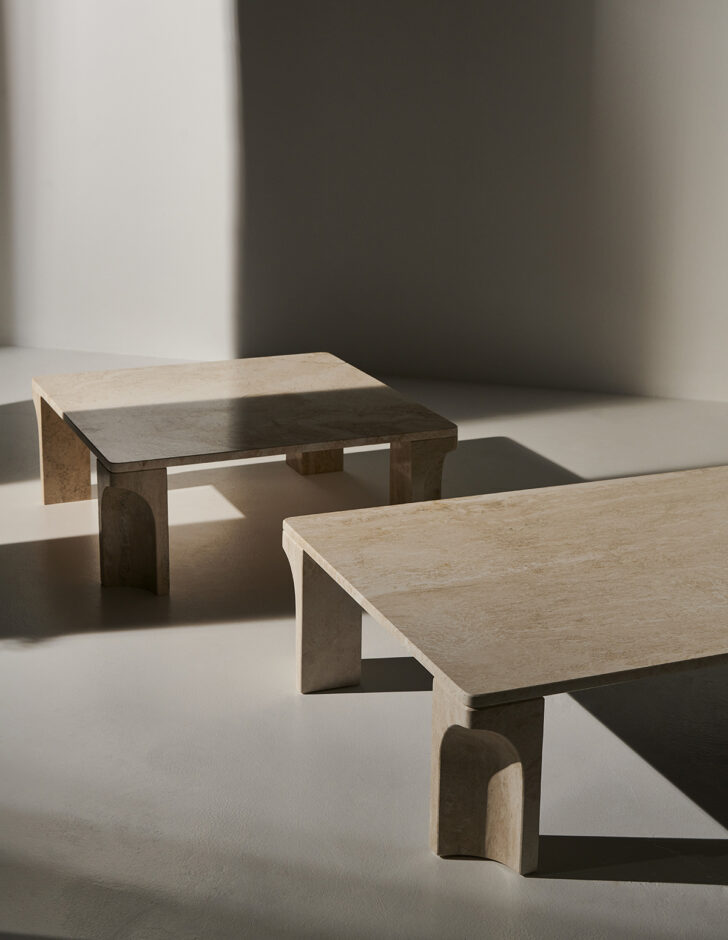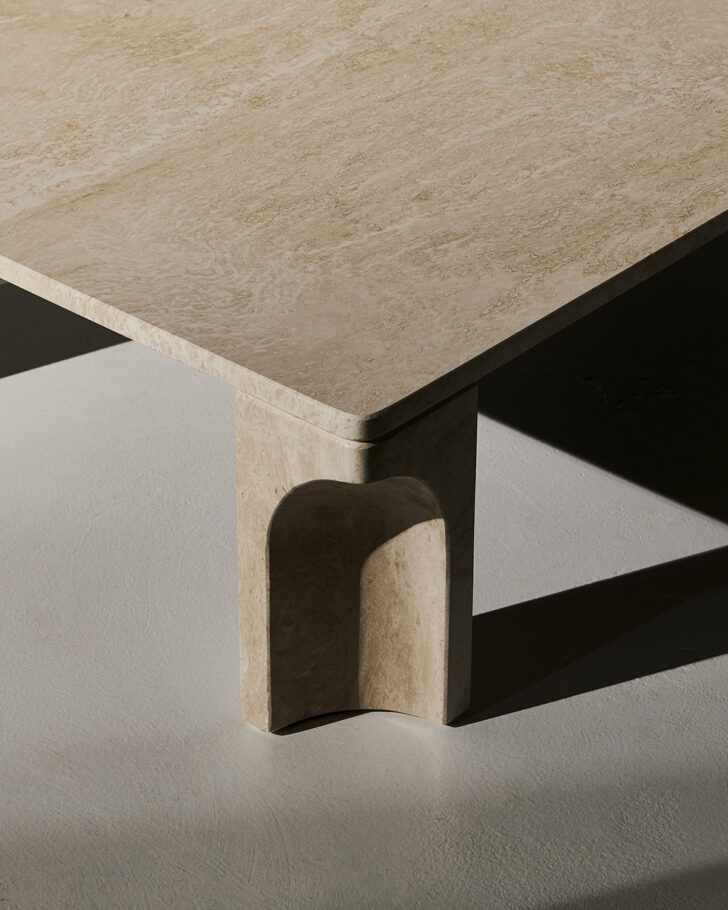 GUBI displayed a relaunch of Joe Colombo's Basket Collection from the late '60s, featuring three-seat and two-seat sofas and a lounge chair whose bases are covered with hand-woven rattan — somewhat of a departure for the late Italian designer whose futuristic pieces often favored shiny plastics. Also for GUBI: the Doric coffee tables, in travertine or limestone, by Danish-Italian duo GamFratesi. The curving legs of the stone tables echo the fluting of Ancient Greek Doric columns.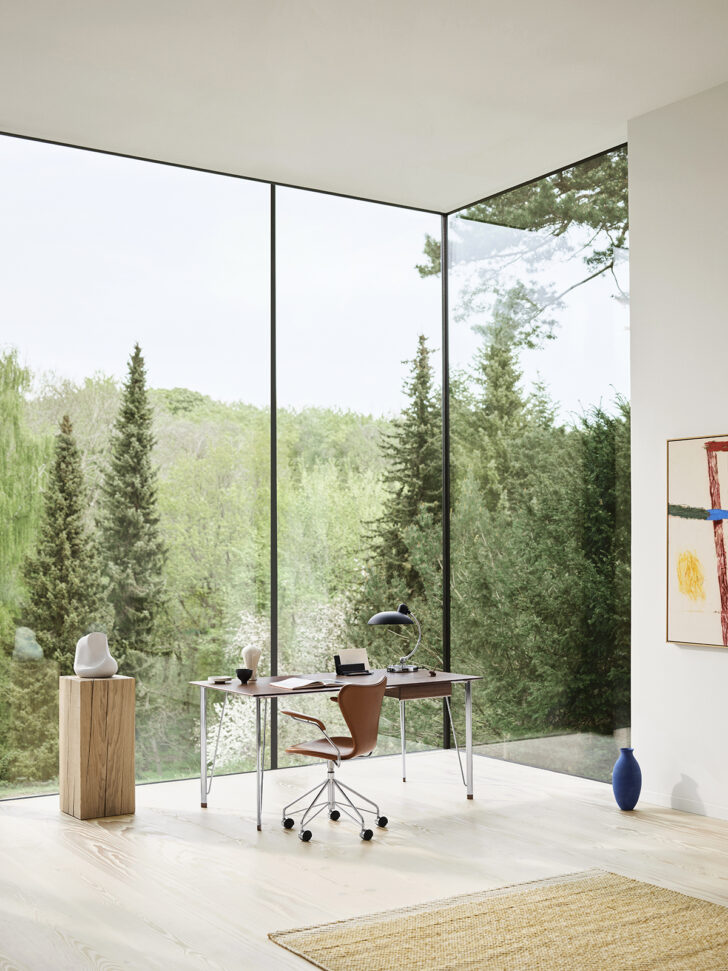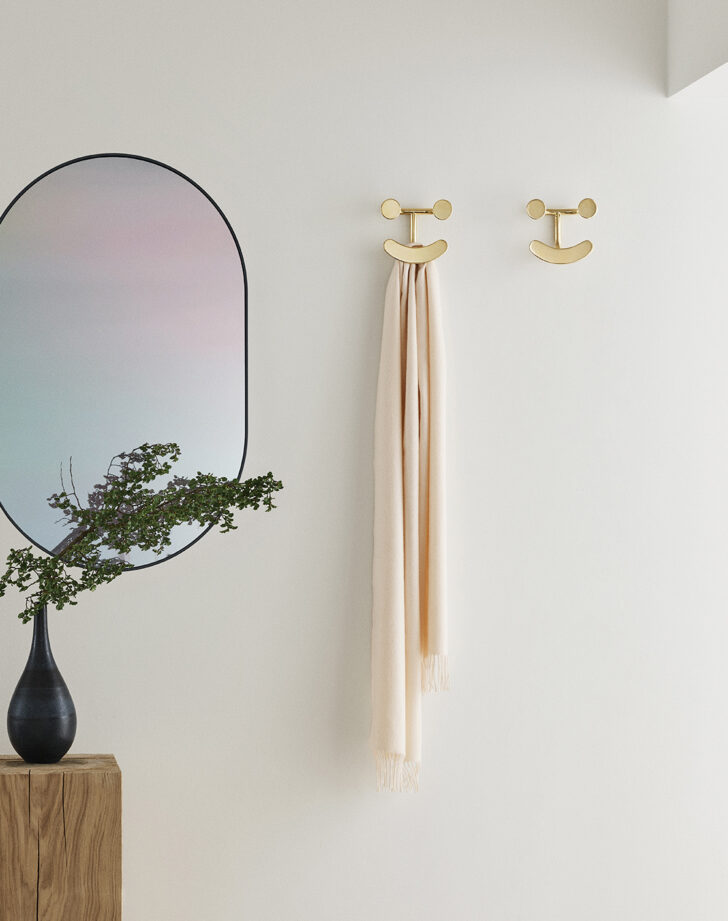 Fritz Hansen exhibited their reissue of Arne Jacobsen's 1955 FH3605 desk, topped in walnut or black stained ash, as well as the polished brass, smiling Happy Hook by Spanish designer Jaime Hayon, which cheers up just about any wall.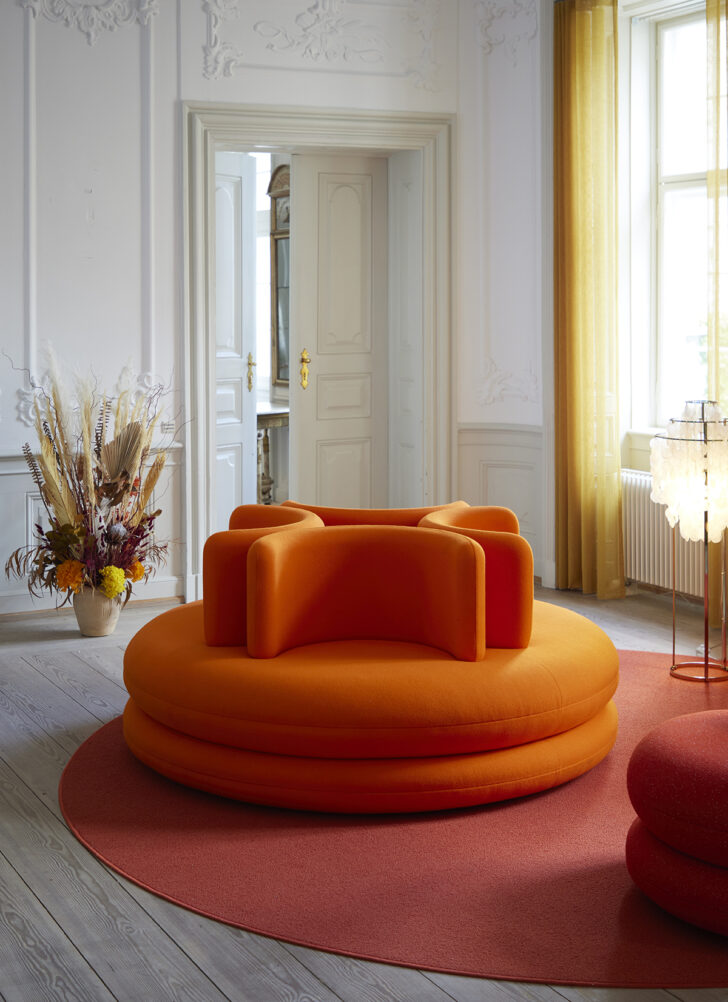 And the historic 18th century Lindencrone Mansion became the backdrop for Verner Panton's '60s-futurism, including the Danish designer's bright orange 1964 Easy Sofa, a circular four-seater newly reintroduced by Verpan.
Exhibitions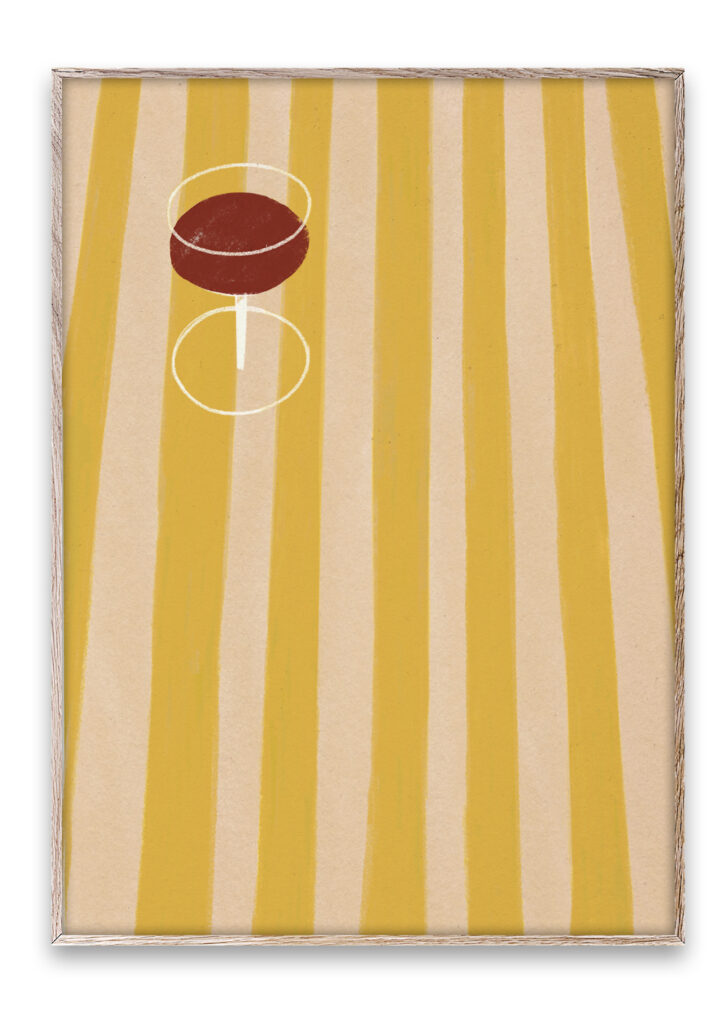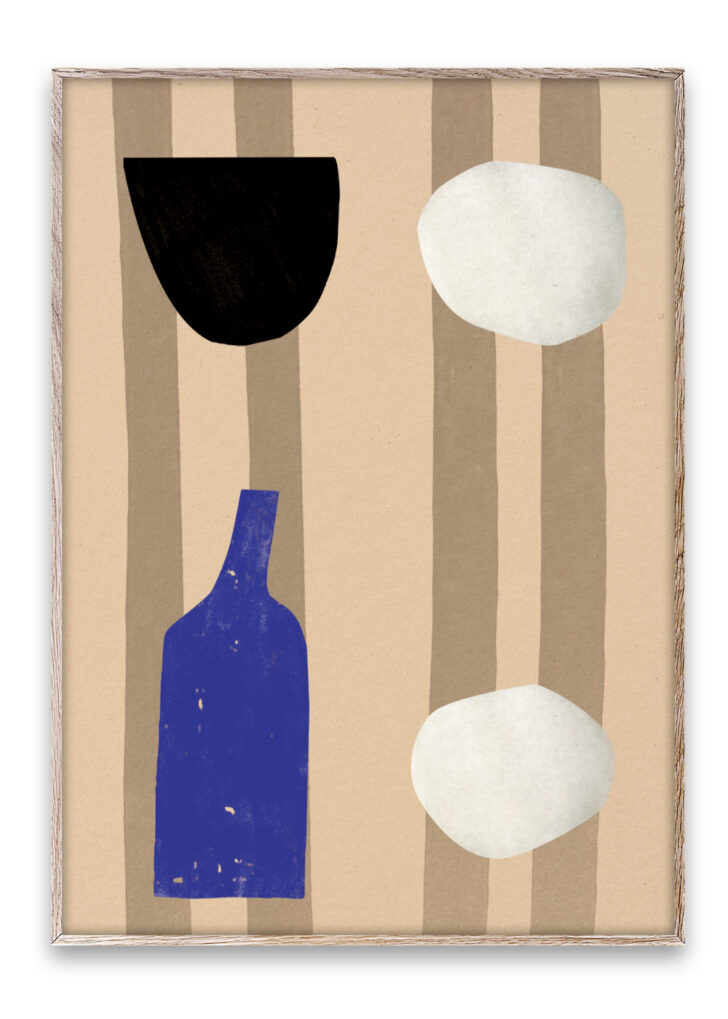 To showcase their new series of prints, Italian creative agency Studiopepe produced an immersive environment in the Copenhagen exhibition space of Paper Collective, up through August. Studiopepe's prints for Paper Collective are composed of tabletop images inspired by the classifications that cultural theorist Jean Baudrillard came up with in his book The System of Objects, which applies semiotics to home furnishing and interior design.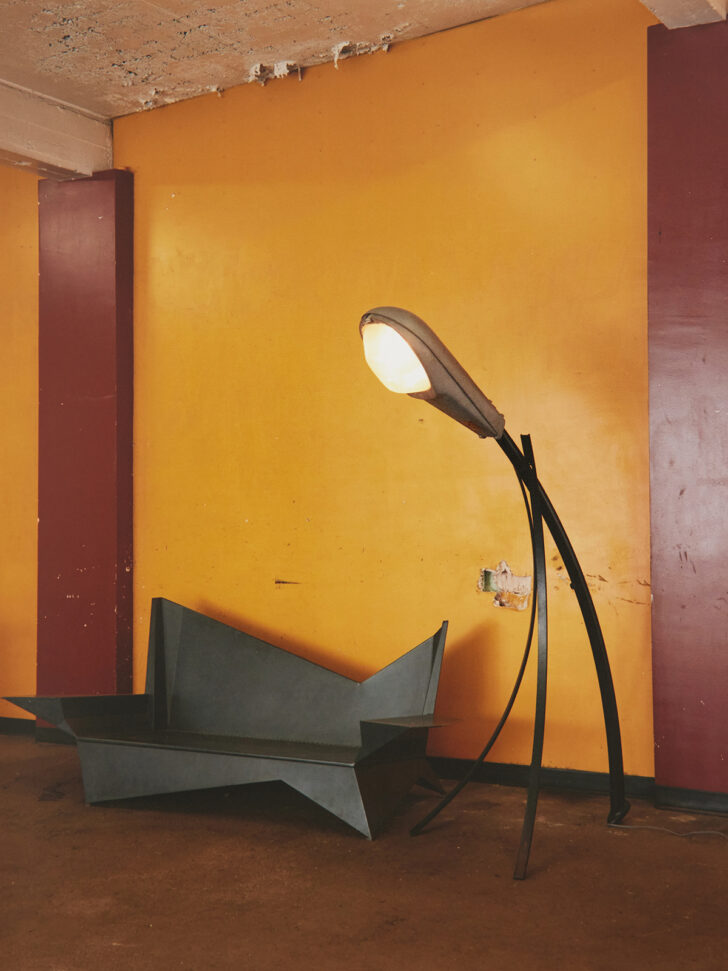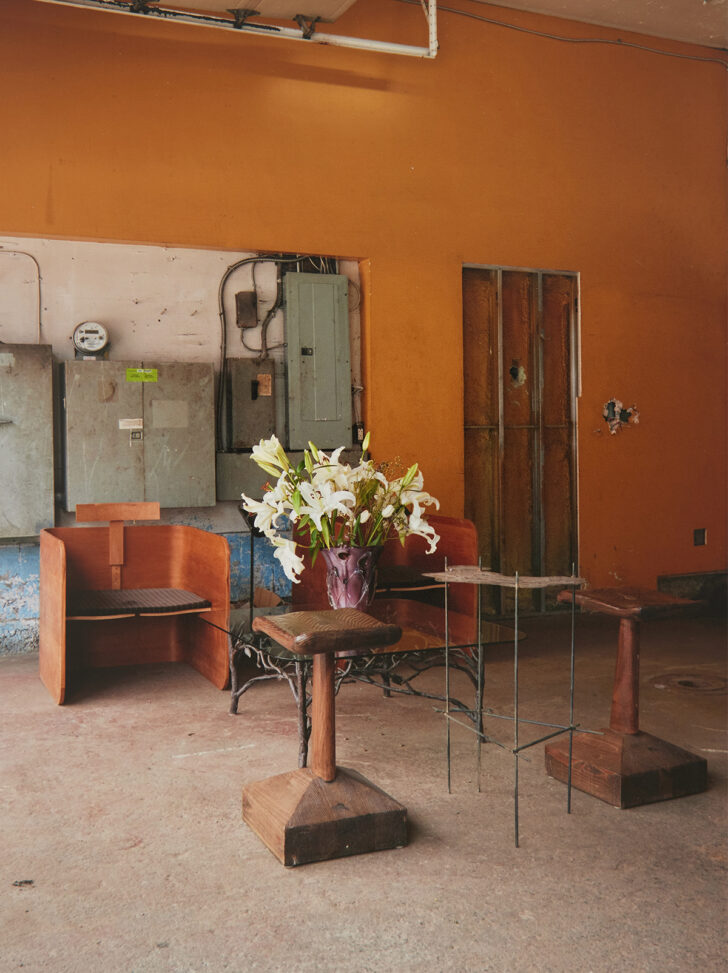 For a new grouping of furniture at Bruises Gallery, Montreal curators Isaac Larose-Farmer and Florence Provencher-Proulx have gathered another collection of vintage and contemporary pieces with P ostmodern vibes: wrought iron twisted into shapes that owe a debt to Diego Giacometti, artisanal wooden chairs that form a cube and pull apart into two functional seats, ceramic vessels covered in shells and barnacles. Titled "La nature a horreur du vide" (nature abhors a vacuum), the exhibition has a darkly romantic cast to it, evoking cyclical patterns of growth and decay, and unexpected but welcome excess.
Discoveries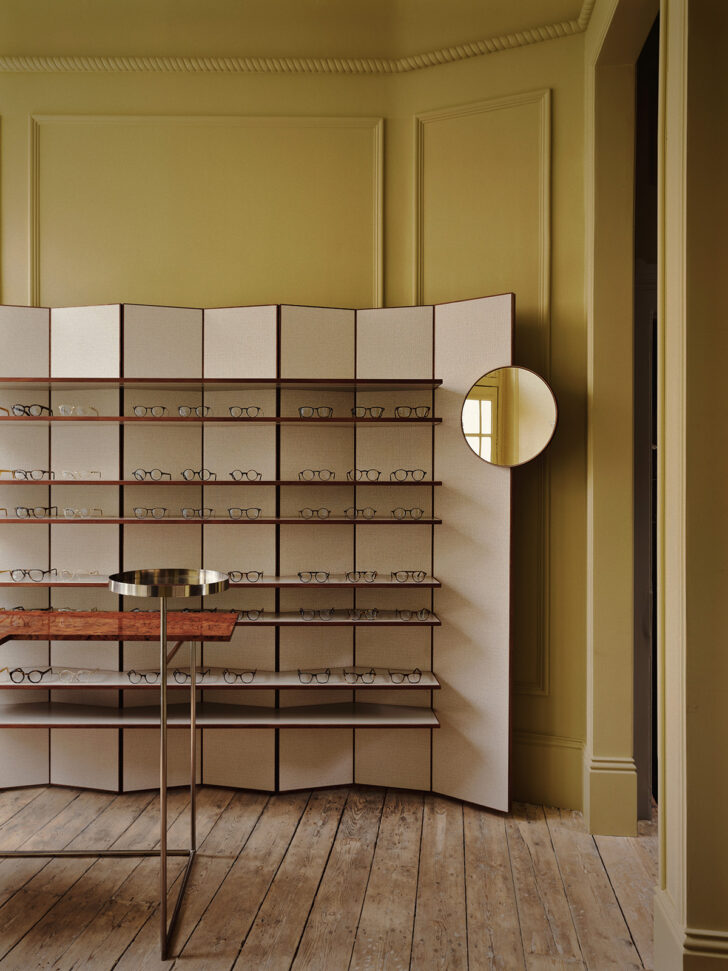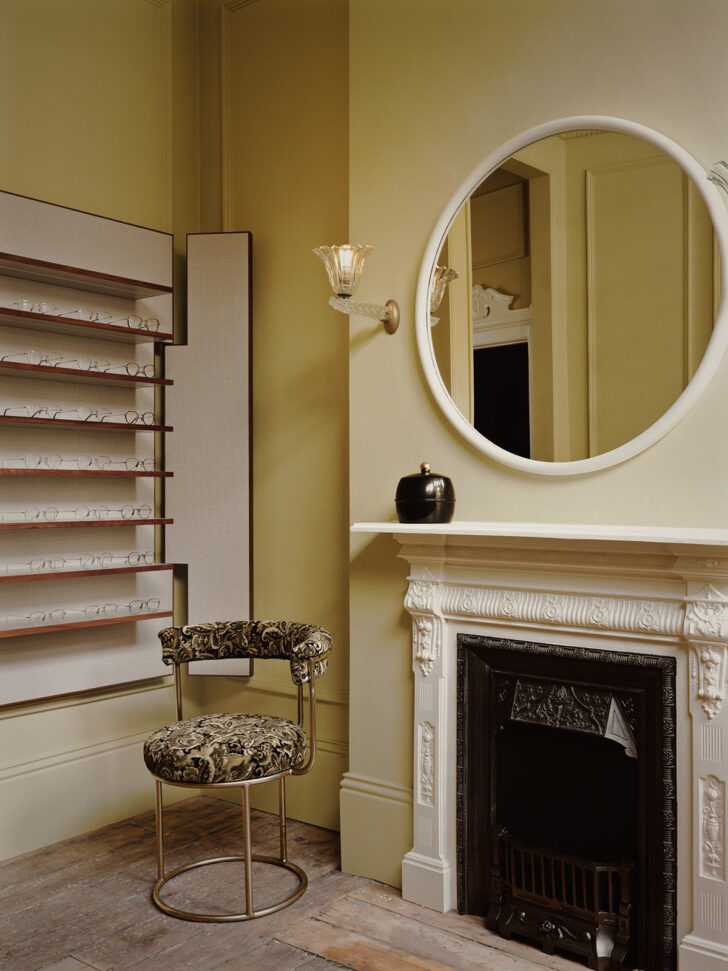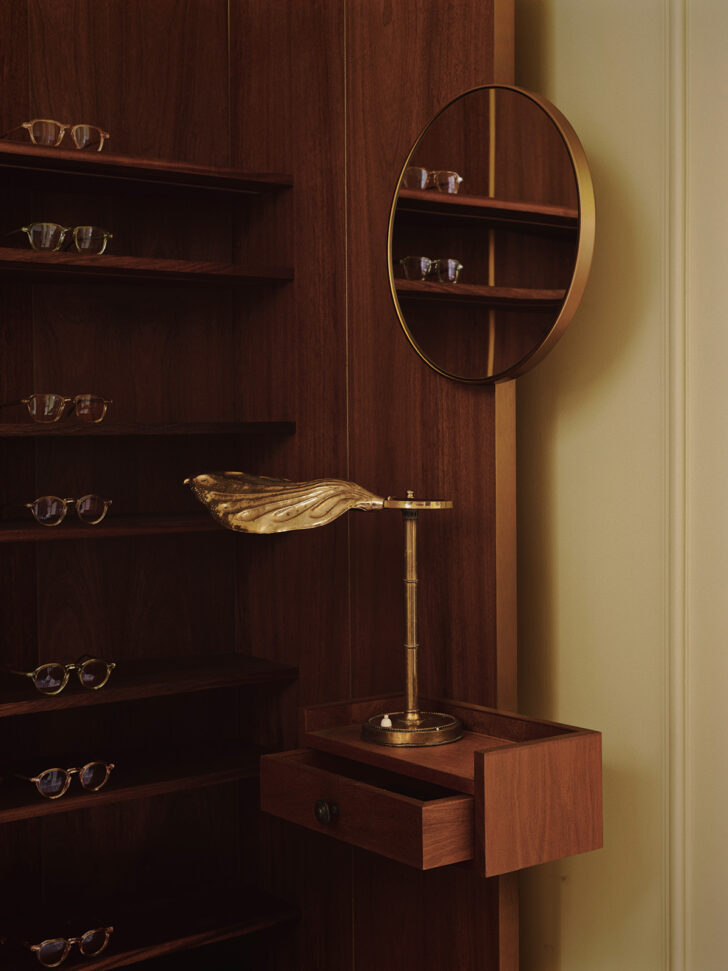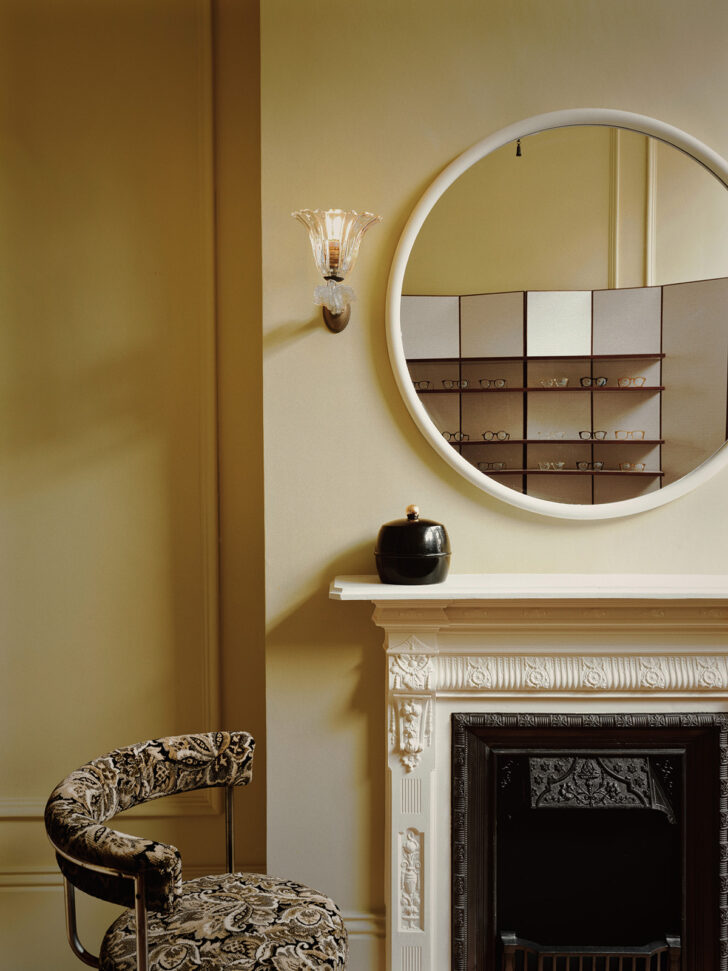 London's Child Studio envisioned the latest interiors for a Cubitts eyewear shop occupying the ground floor and basement of a Georgian townhouse in Belgravia. Combining traditional details with Art Deco and Modernist touches, the designers gave this retail space the domestic feeling of a well-appointed living room, outfitted with furnishings particularly inspired by Eileen Gray and Gray's own table lamp for Jumo.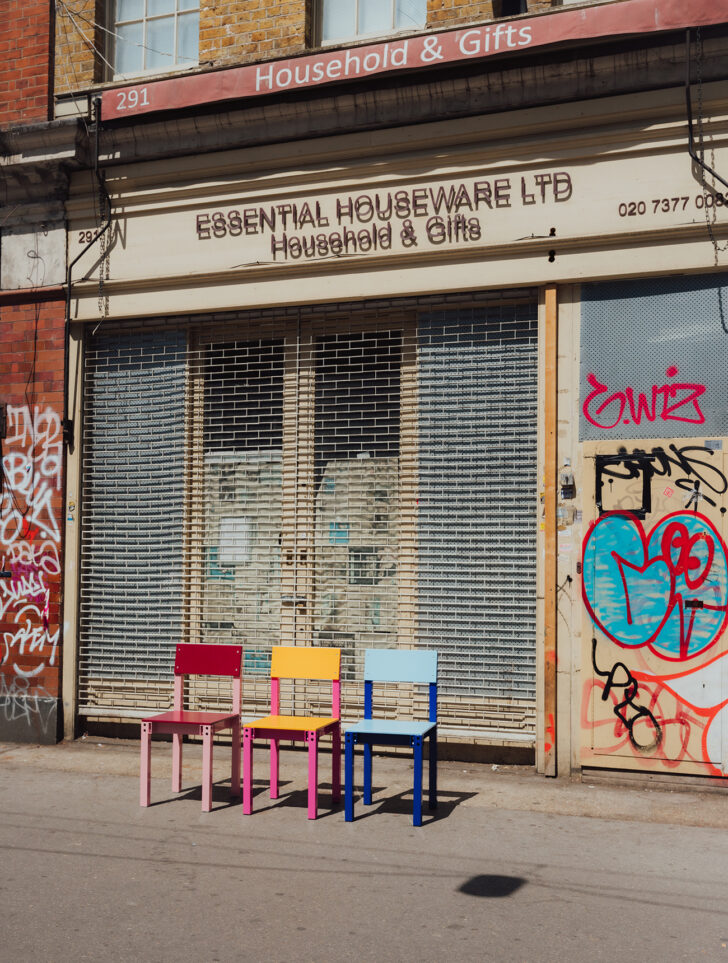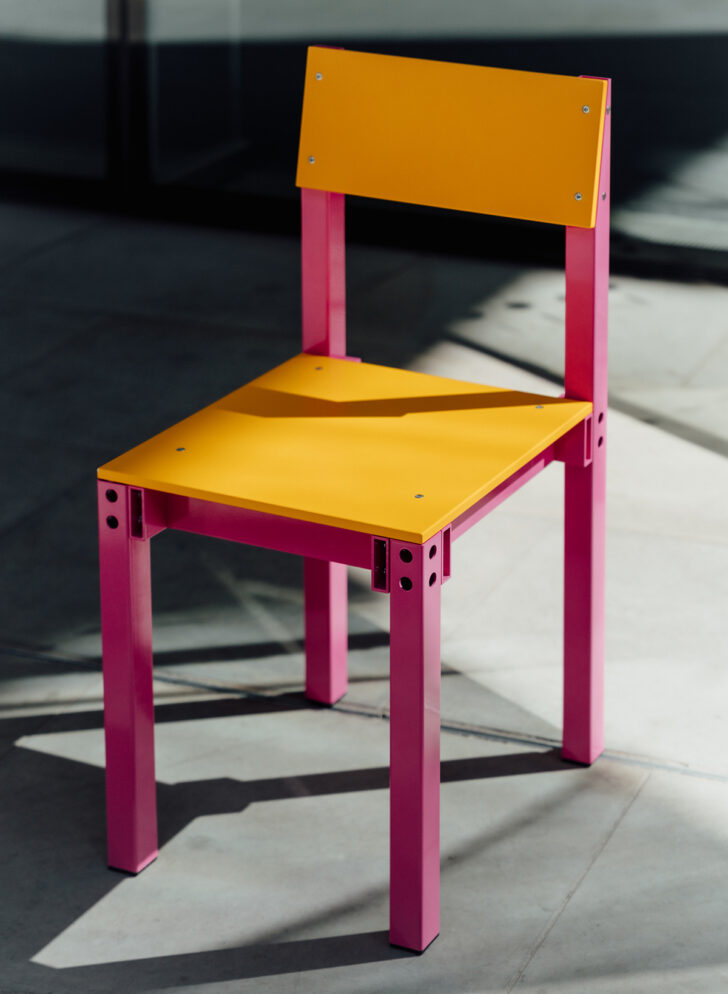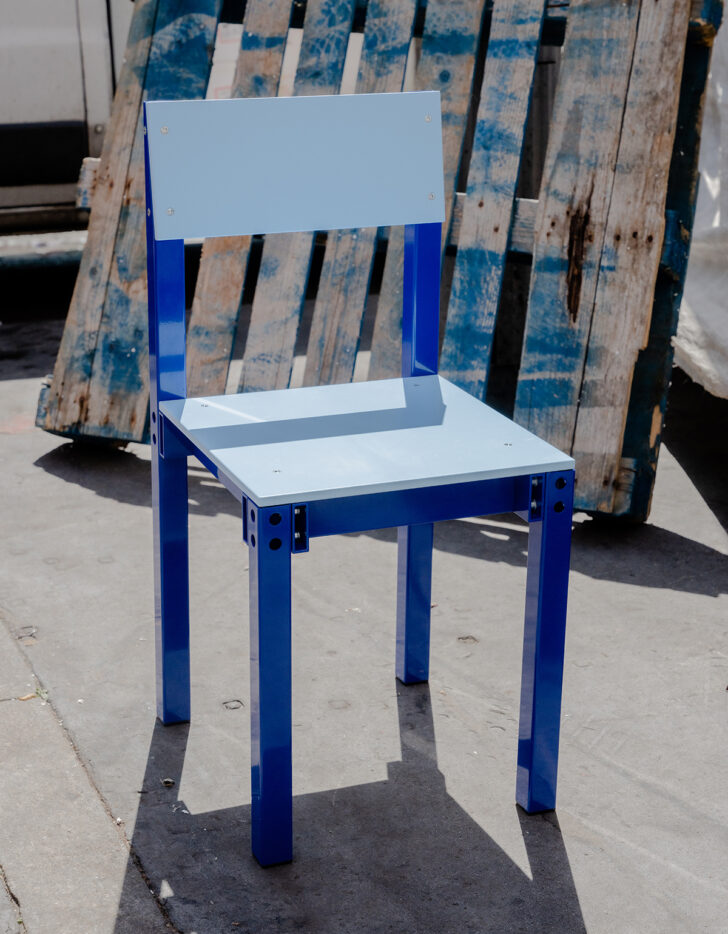 Stockholm-based designer Fredrik Paulsen recently launched his new line of furnishings and home goods, fittingly named JOY. Chair One, the first release, is an anti-depressant in the form of seating. Even the names of the colorways have a certain oomph: Klein and Little Wave; Pizzazz and Honey; Cotton Candy and Wine.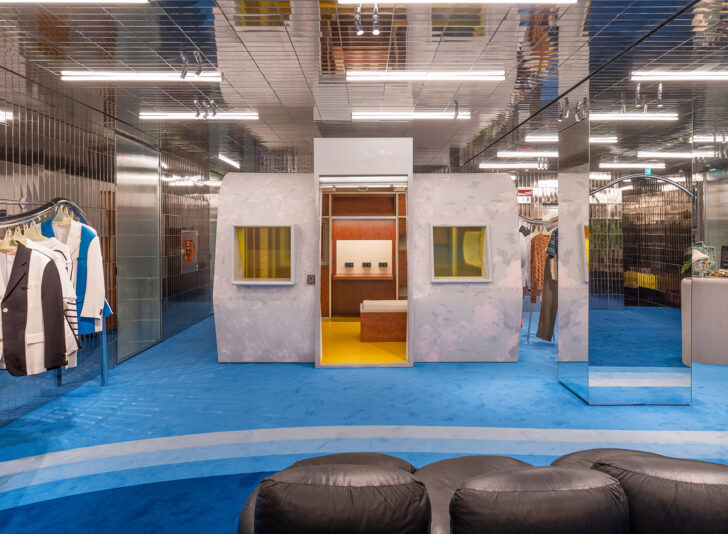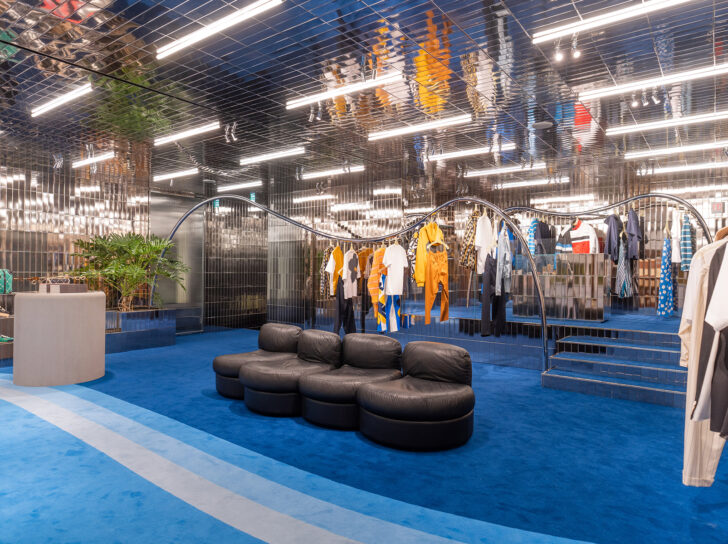 For Marni's new Milan flagship in via Montenapoleone, creative director Francesco Risso and Marni's in-house architecture team have dreamed up an interior with a very 7'0s, space-age lounge feel: wall-to-wall carpet with retro stripes, mirrored columns, step-up levels, and an installation space designed by the Wilson Brothers and Brinkworth that will be periodically offered as a creative studio space.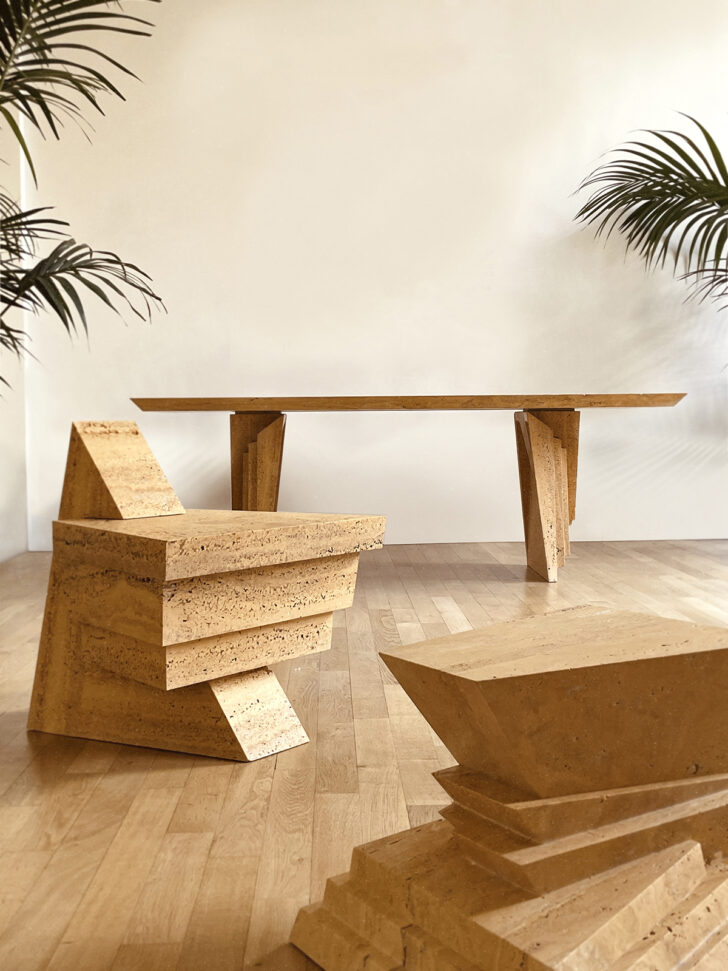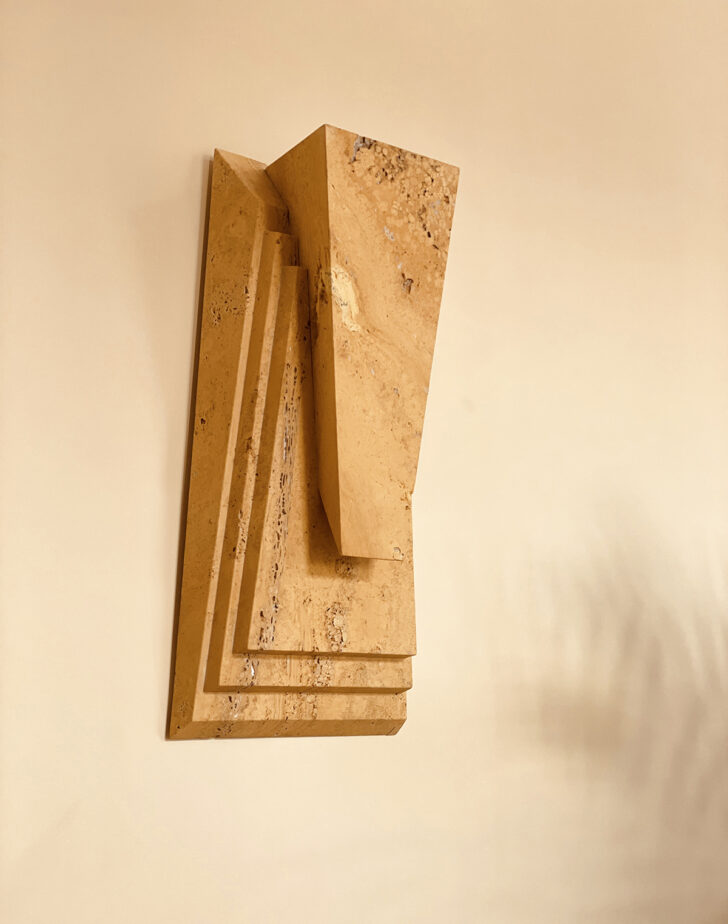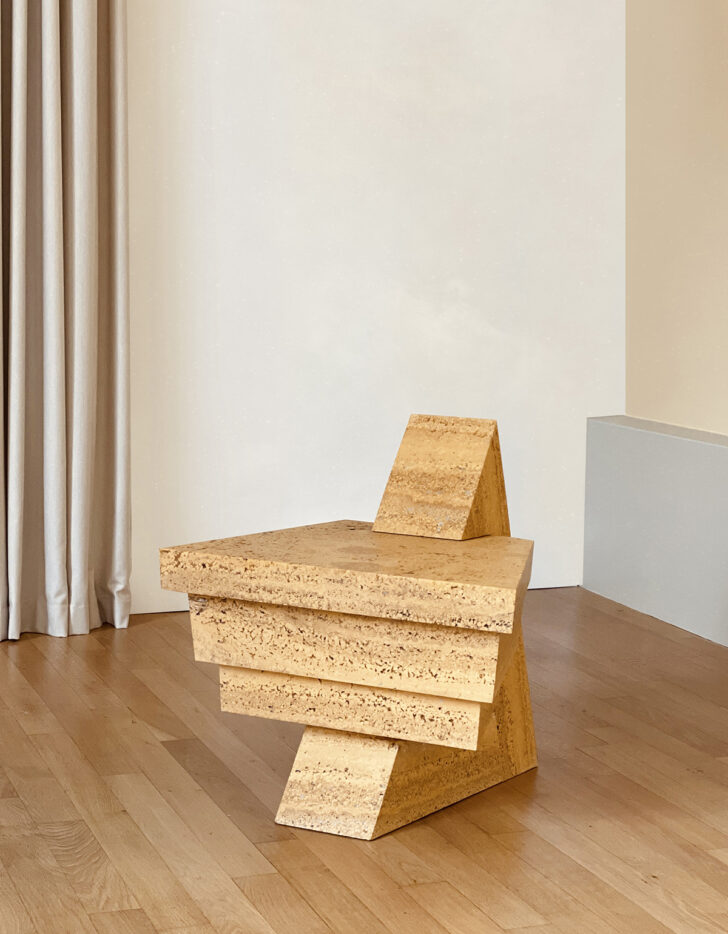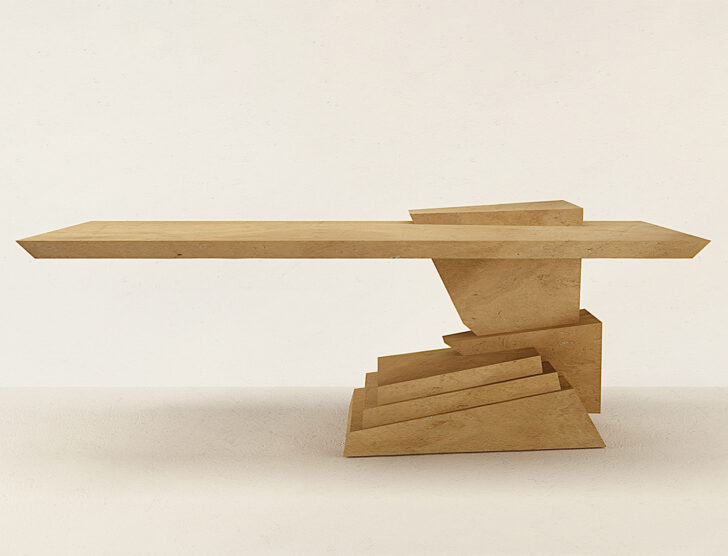 At the Kolkhoze Gallery in Paris, Franco-Mexican architect and interior designer Hugo Toro recently showed his first collection of furniture (chairs, wall lights, a table and desk). Called "Amenecer" (dawn, in Spanish) the limited-edition travertine pieces have an angular, monumental spirit that references pre-Columbian architecture.
This month Vitra relaunched Jean Prouvé's 1948 Fauteuil Kangarou (Kangaroo chair) in a limited edition of 150 pieces and treated it like a Supreme drop: Fabricated in Bleu Marcoule, a deep cobalt for the bouclé upholstery and metal legs, it's offset by a natural oak frame. The quickly sold-out design is a testament to Prouvé's genius as an engineer who prized functionality in his work: the chair's wooden sides are widest where the greatest stress is and, like its marsupial namesake, the weight falls on its hind legs. This fall, Vitra will also be reissuing Prouvé's Abat-Jour Conique lampshade (1947), two Tabouret stools, and the Rayonnage Mural, a wall-mounted shelving unit he designed in 1936.