09.10.22
Week of September 5, 2022
A weekly Saturday recap to share with you our favorite links, discoveries, exhibitions, and more from the past seven days. This week: a posh, velvet-filled, Boston-adjacent restaurant, an exhibition in a handmade home in New Jersey, a new showroom that shows off its Hamptons location to a T, and an office that makes work-from-home a distant dream.
Interiors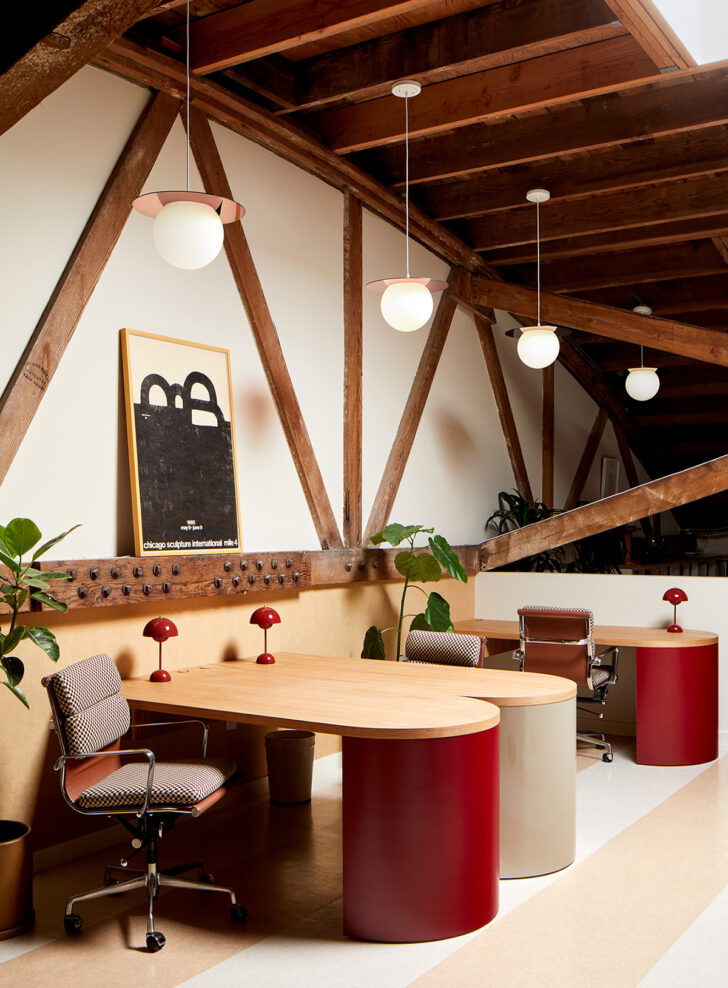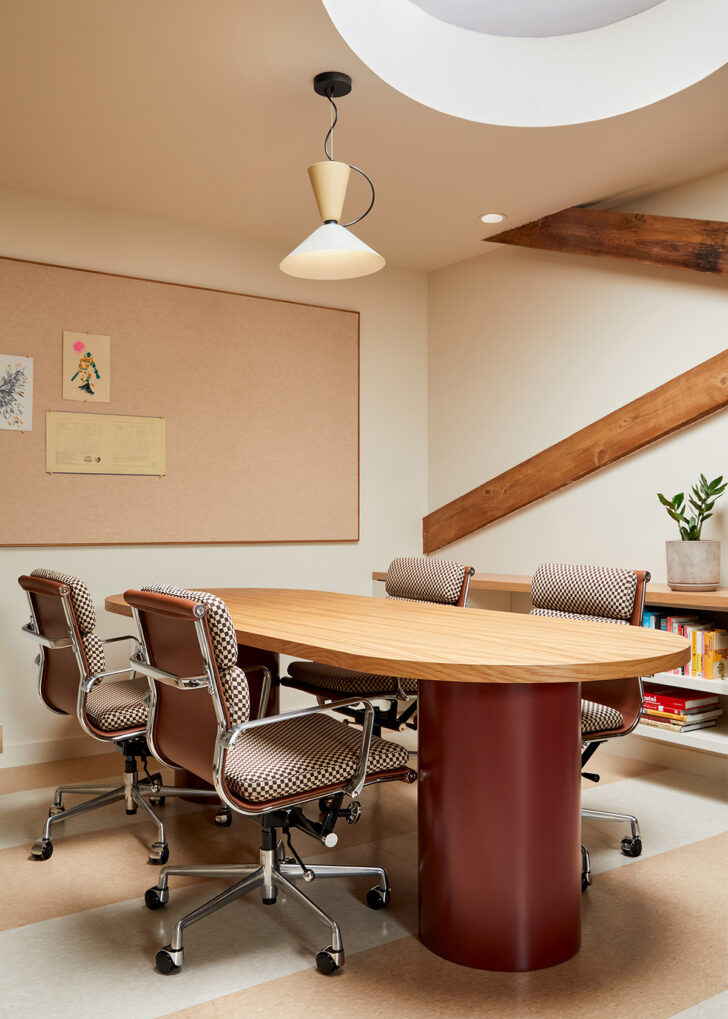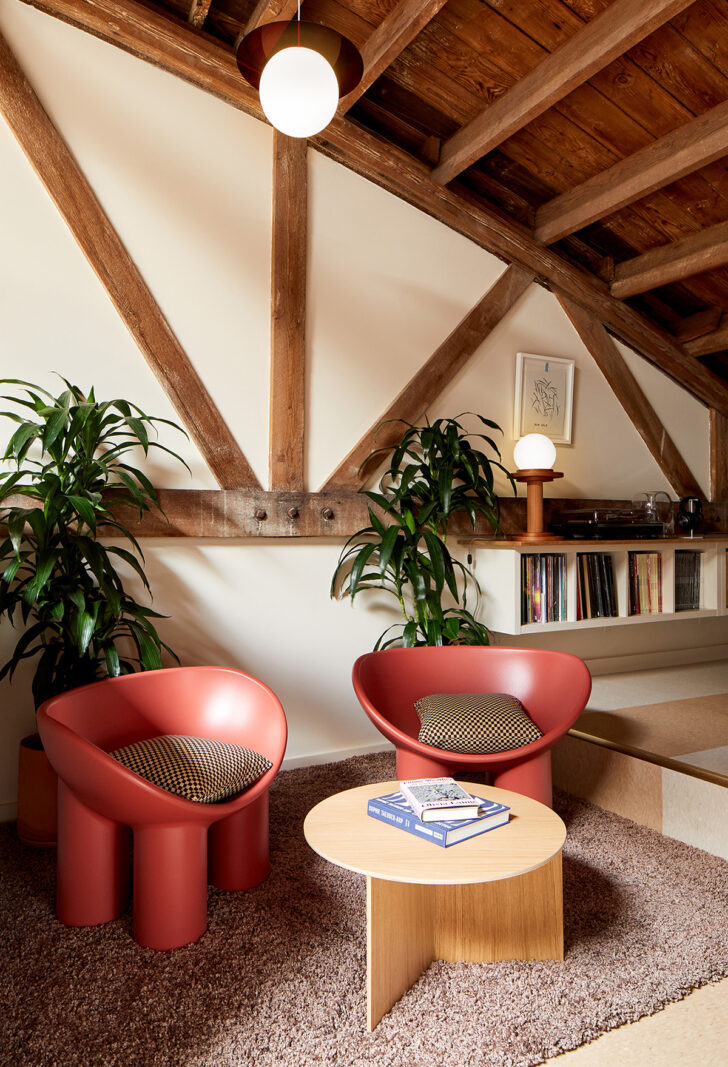 If you're ambivalent about going back to in-person office life this fall, this situation — Adi Goodrich's redesign of the LA headquarters of creative production company iam8bit — would definitely make the return so much more appealing. Goodrich, of Sing-Sing studio, transformed a two-level former storage area into a functional and playful space meant to foster collaboration, including rounded desks designed by Goodrich and constructed by Caleb Engstrom of Rest Energy, set amid wood beams and accents and a pleasing '70s palette of brown, cream, and brick red.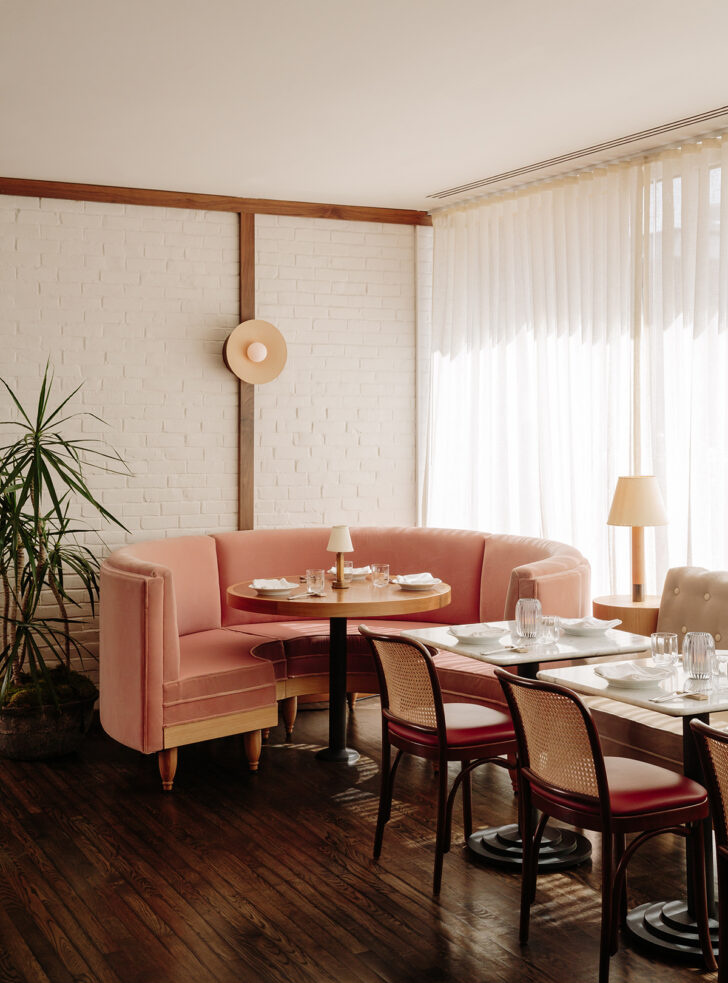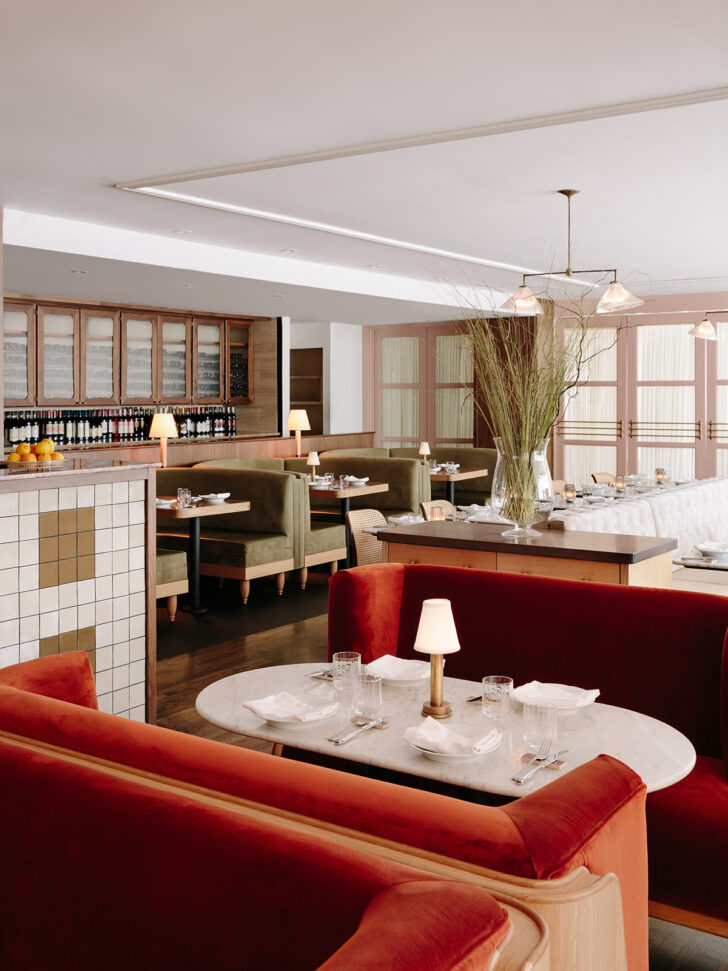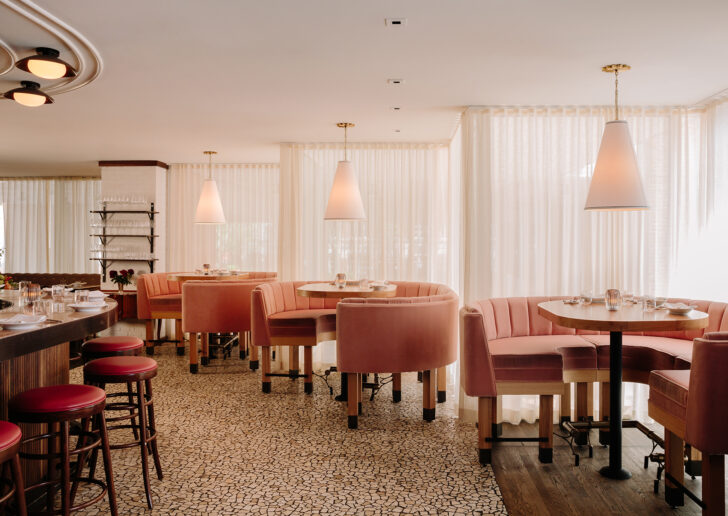 It should come as no surprise that Brooklyn-based Home Studios has created another inviting hospitality space. This time around, their ingenious tile moments and color-blocking lighten up the room at Bar Enza, an Italian restaurant helmed by Michelin-starred chef Mark Ladner at the Charles Hotel in Cambridge, Massachusetts. Banquettes and booths upholstered in muted shades of velvet draw you in, and the details — wood cladding, textured glass, honed Breccia Pernice marble, and brass hardware — make you want to linger.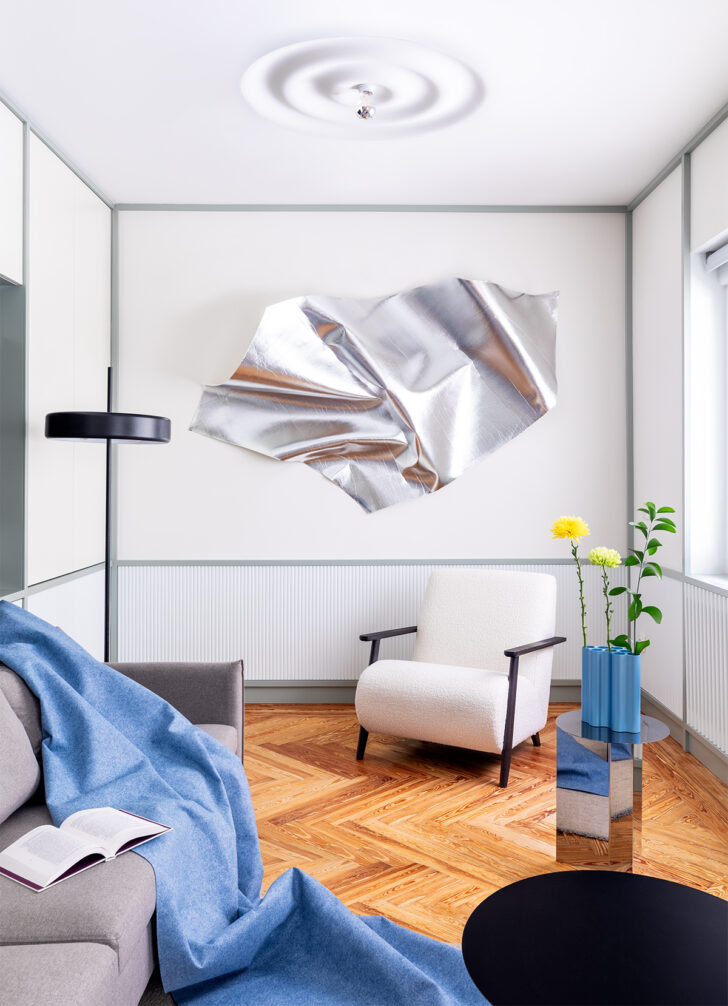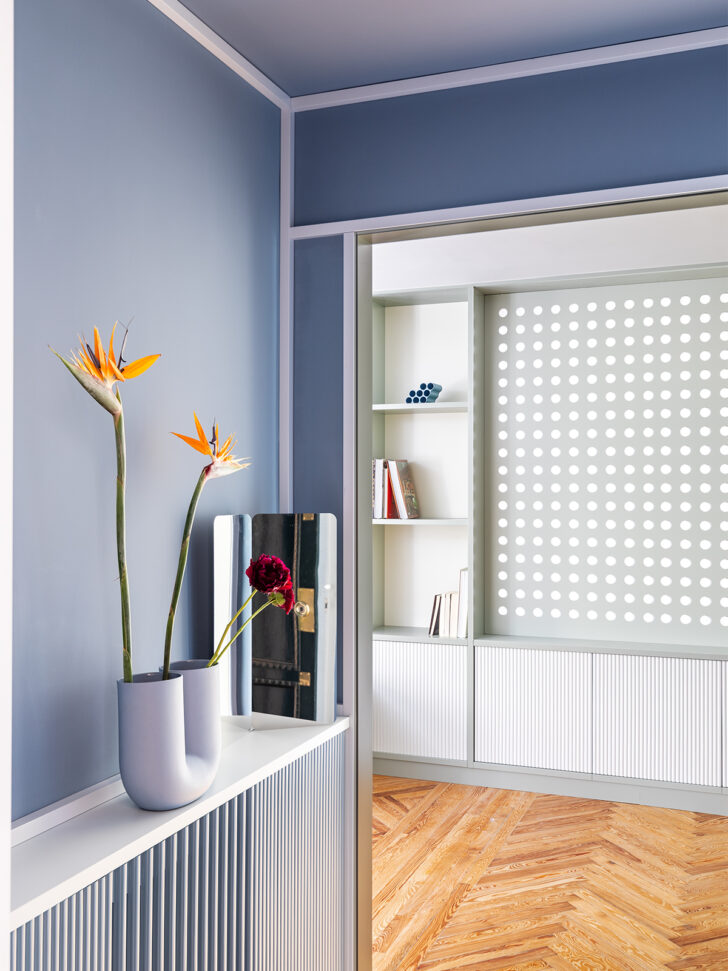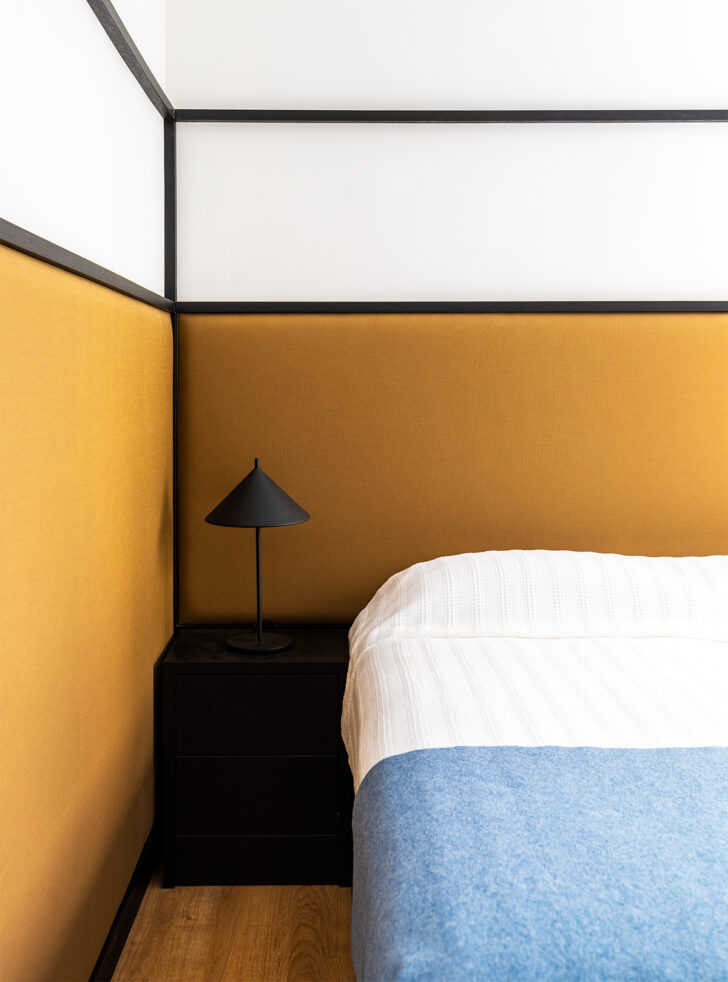 We can't stop looking at the dusky blues and violets in this apartment in Salamanca, Madrid, redesigned by Studio Noju. Founded in 2020 by Antonio Mora and Eduardo Tazón, Noju is a truncated mashup of "Not Just" – a nod to expansiveness in their outlook. They breathed new life into this residence while adhering to the original layout, which separates the common areas from the interior, courtyard-facing bedrooms. Mora and Tazón incorporated lacquered wood paneling and custom moldings throughout. They went for those deeper tones in the kitchen, hallway, and guest bathroom, to contrast with the airiness of the whites and light grays used in the more sunlit rooms. A Jonathan Prestwich Essens dining table, Fritz Hansen chairs, and Bouroullec Brothers Nuage vases add to the décor, as does a black Eames House Bird.
Exhibitions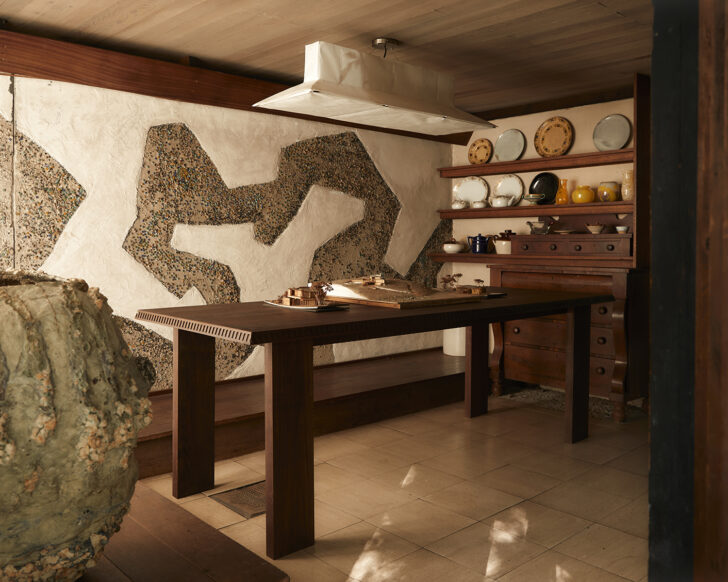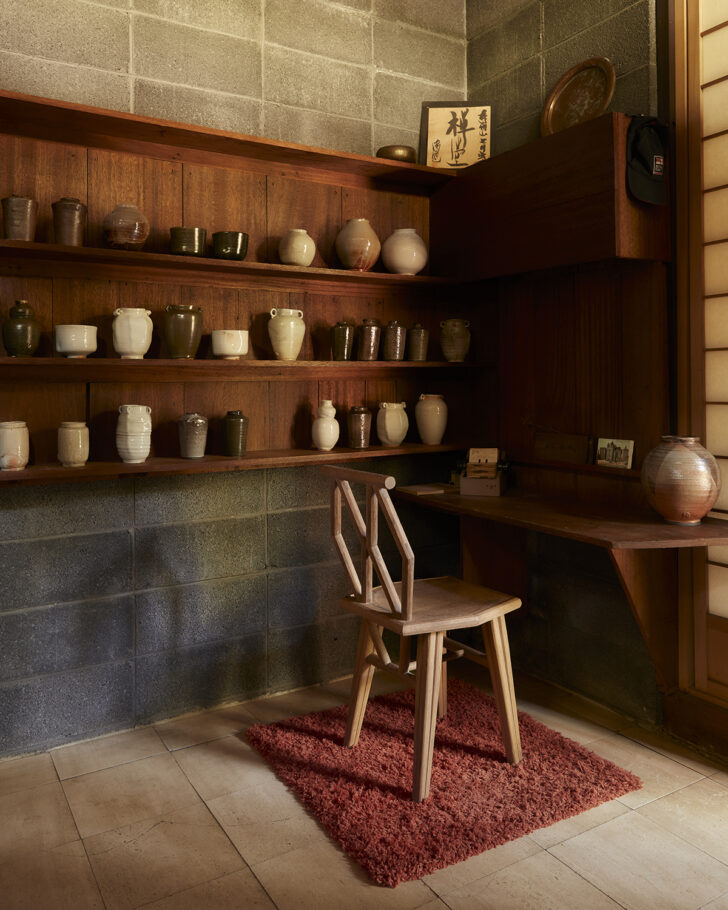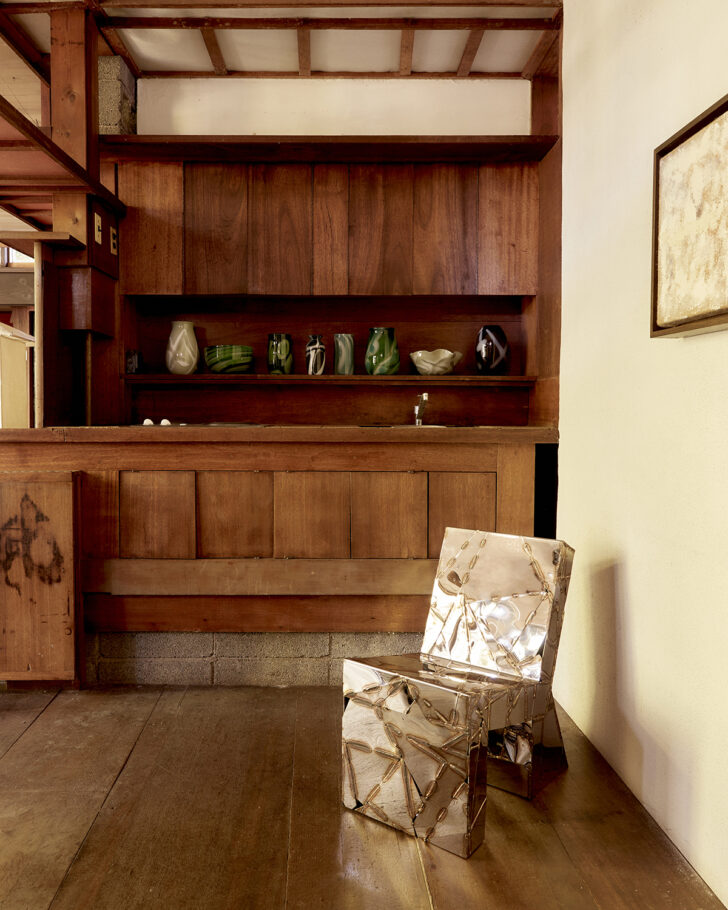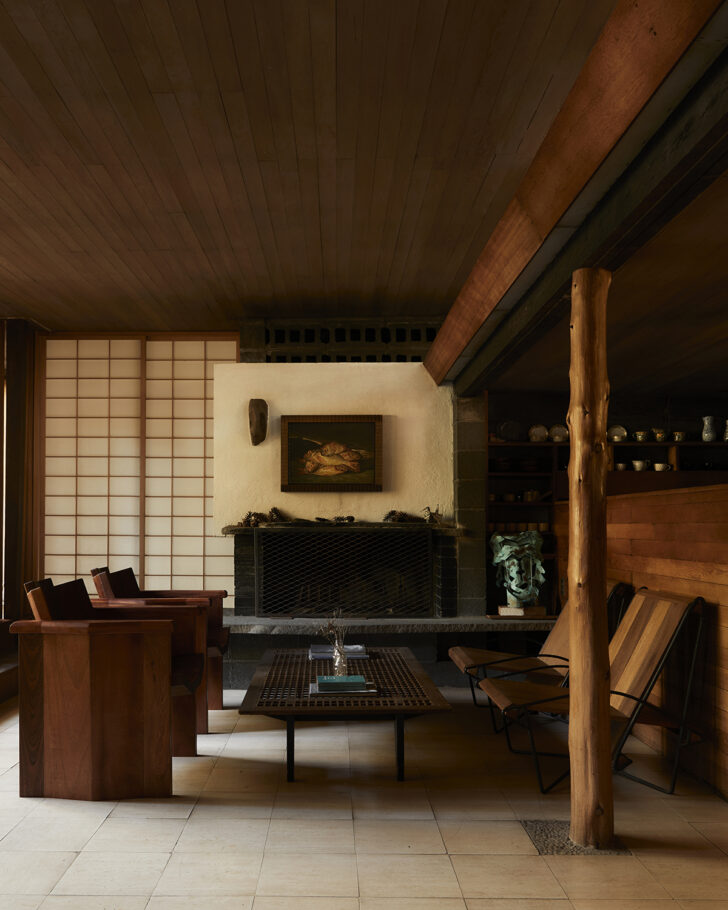 For the past few years, Object + Thing has been curating roving art fairs of object-based works, joining with galleries and studios to create site-specific exhibitions within the historic homes of artists and architects. Their latest, with New York–based Green River Project LLC, takes place in the hand-built former home of landscape architect James Rose in Ridgewood, New Jersey (now maintained by the non-profit foundation James Rose Center). The tranquility and hushed atmosphere (Rose became a Zen Buddhist, which his home design reflects) proves so conducive for this show, which features new furniture from Green River set among works by icons like Charles and Ray Eames, Anne Truitt, and Nancy Holt, as well as a host of contemporary artists and designers: leather Adirondack chairs by Hugh Hayden, micaceous pots by Johnny Ortiz-Concha, and textile works by Kiva Motnyk, as well as a limited selection of clothing from Bode, all created or chosen specifically for this space. Up through October 2.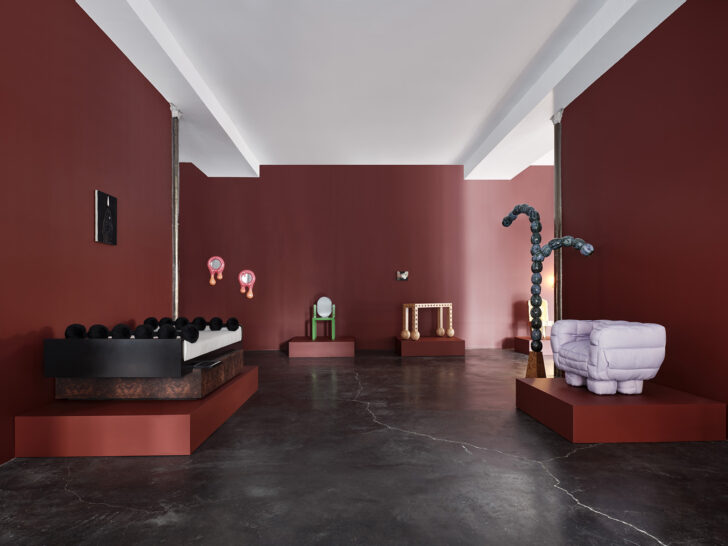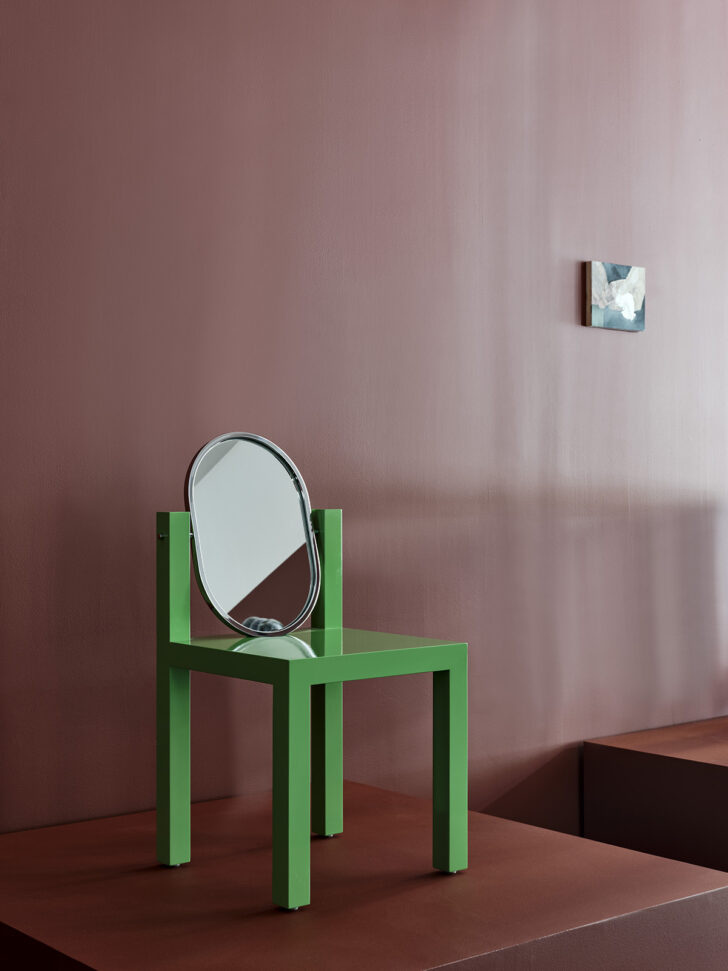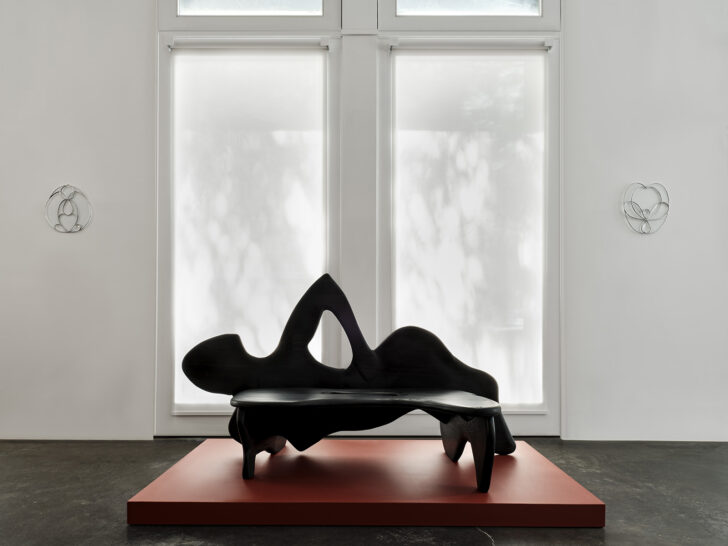 The "Sexy" show, curated by artist Eny Lee Parker at Objective Gallery's New York location, is just that: a little louche and a lot irresistible. The exhibition includes art and design from a number of our favorites: A-G Studio, Anuar Maauad, Bloop Bloop, Chen Chen & Kai Williams, Chuch Estudio, Collina Strada, Dina Nur Satti, Dong-Ping Wong, Emma G. Boomkamp, Gustavo Barroso, Jinyeong Yeon, Love House, Minjae Kim, Nicholas Devlin, Otherside Objects, PLAYLAB INC, Soren Ferguson, and Studio POA, whose bench with womanly curves is shown above. Closing on October 7.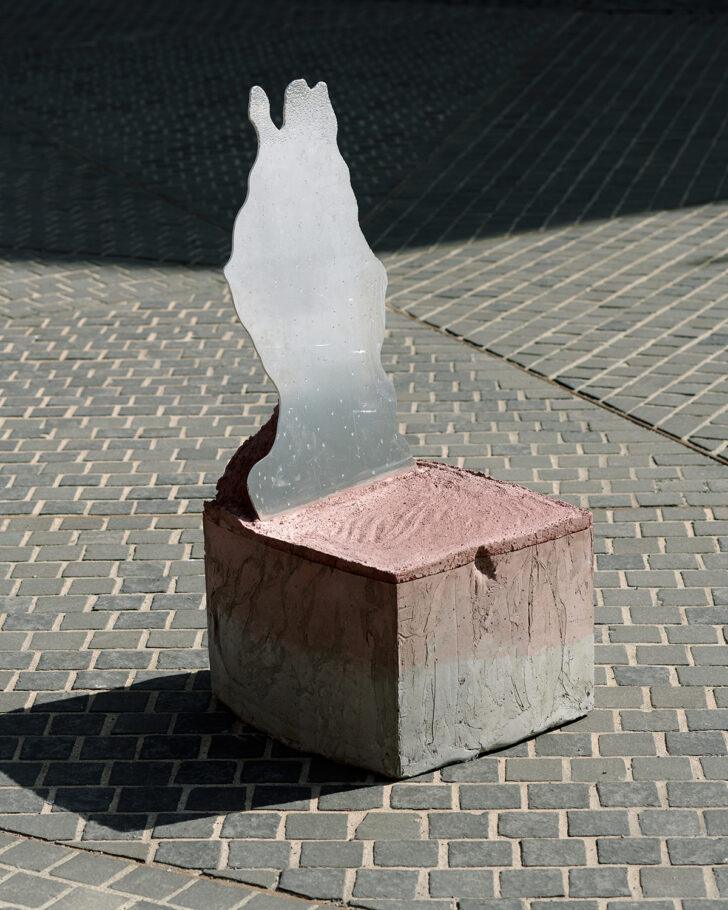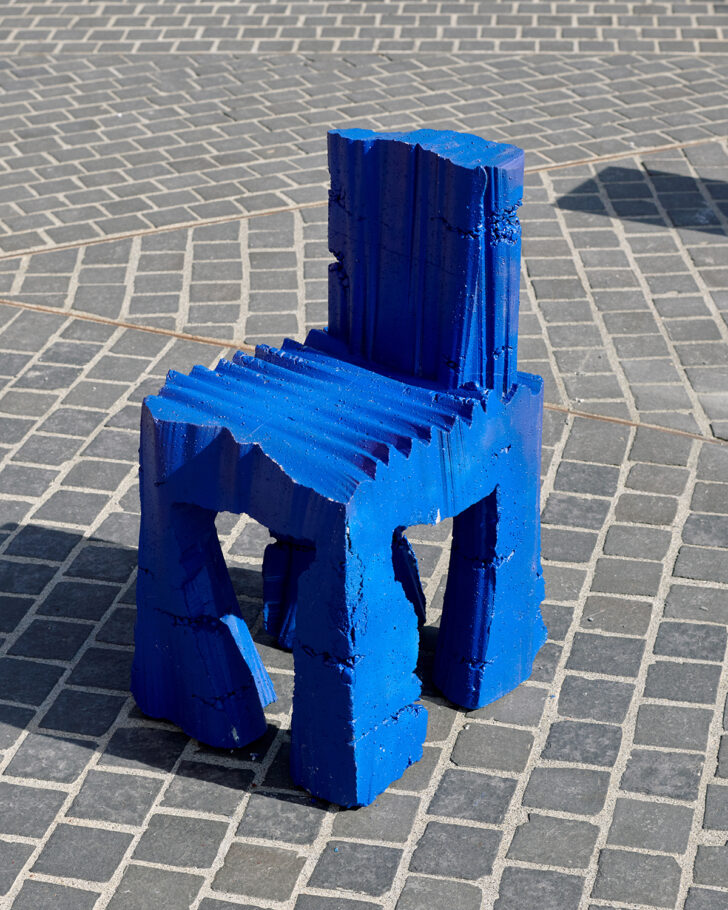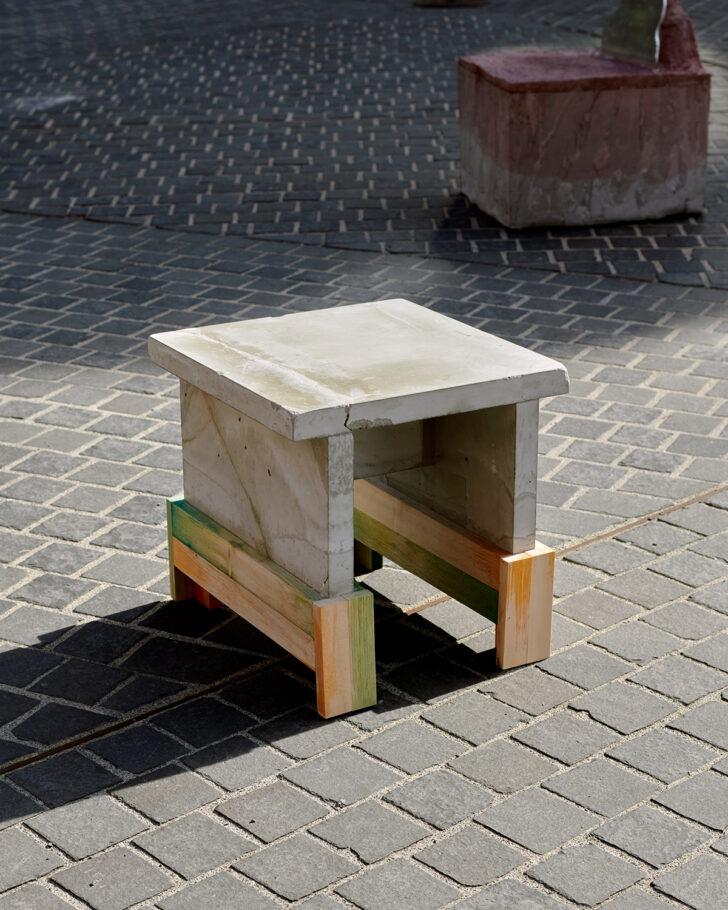 Sitting down in a busy public space often has a curious effect: allowing you some sense of privacy and creating a boundary even as you're in full view of whomever might pass by. With this in mind, Ali Shah Gallefosse of Oslo Runway issued a challenge to a group of artists, designers, and architects: create a chair – or an "interpretation" of a chair that would live in a public area. The result is Mixed Seats, an outdoor group show in Oslo, curated with Norwegian exhibition space Pyton, that includes, among others, a chunky four-legged chair in Yves Klein blue by Tron Meyer, a gear-shaped piece by Christophe Boulmer, a stool of balanced concrete cones by Bjørn van den Berg, and a kind of footed hassock by Jonas Løland, beat-up but friendly-looking.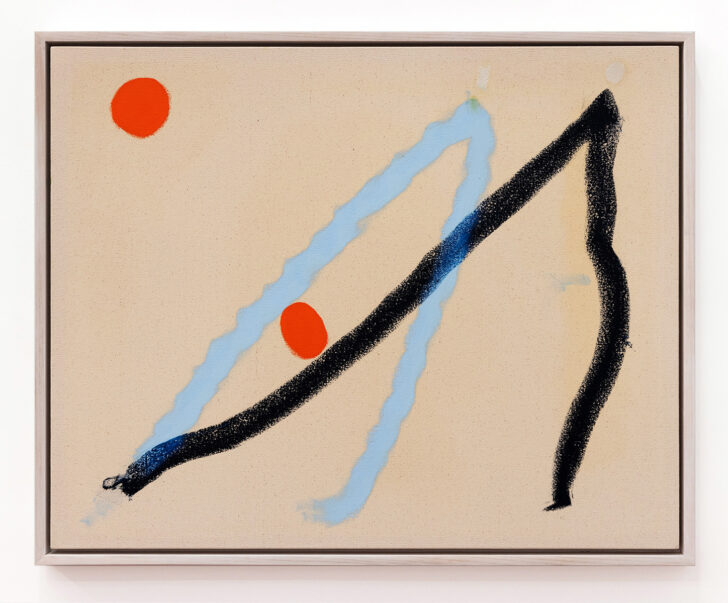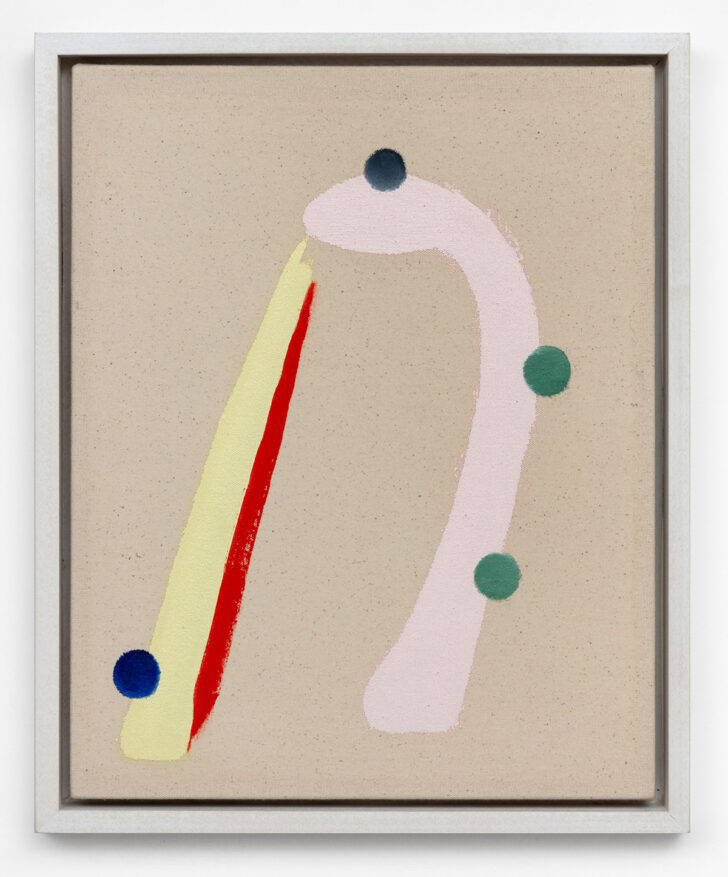 Astral Mute, an exhibition of paintings by Brooklyn-based artist Mason Saltarrelli, at Chicago's Devening Projects, is aptly named. Saltarrelli's abstract, oil on canvas works have an air of quiet mystery about them, an energy that's both calming and compelling in their combinations of line and color. On view through October 15.
Discoveries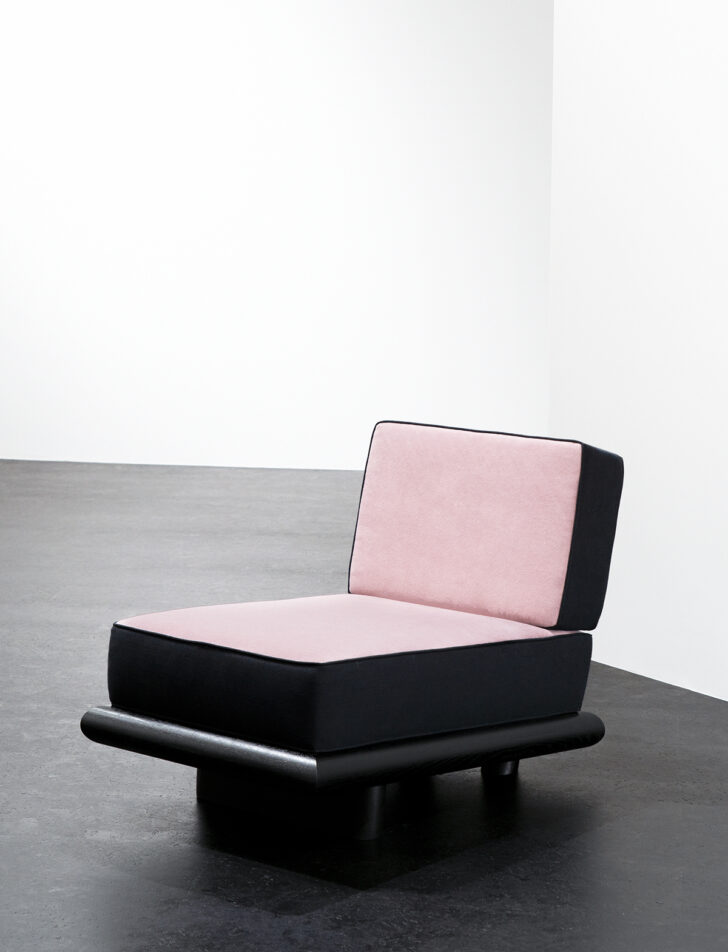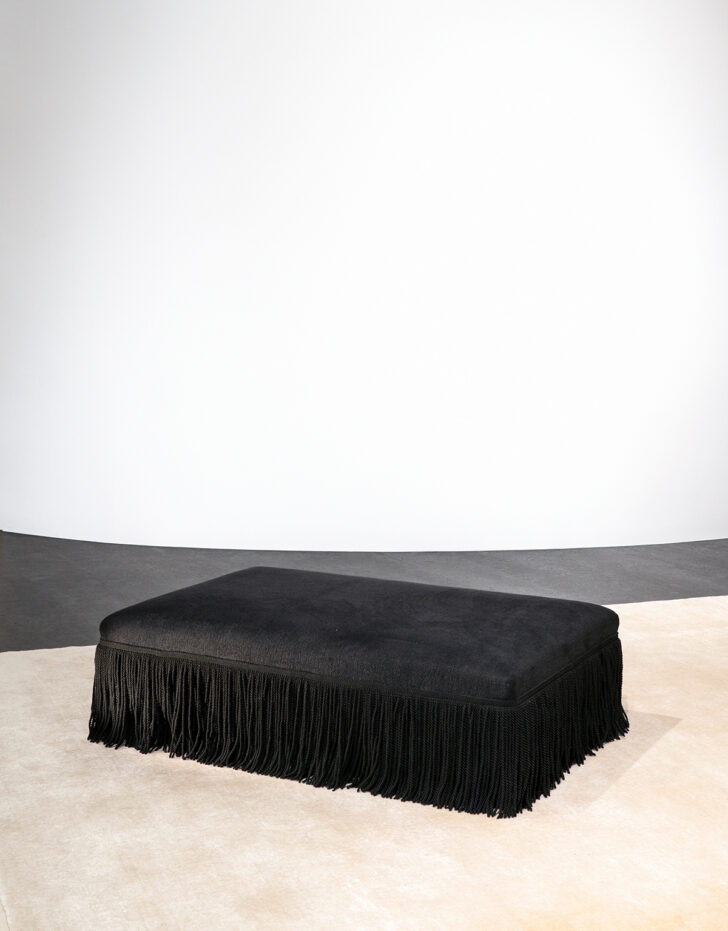 After leaving her eponymous label in 2013, Ann Demeulemeester has continued to bring her design sense to realms other than fashion, working with Belgian manufacturer Serax since 2019, on tableware, glassware, cutlery, and lighting collections. Now comes a move into furniture, conceived of with her long-time partner and collaborator Patrick Robyn. The pieces for Serax are defined by contrasts – angular geometries that intersect with curves, black edges against planes of off-white or bright orange against natural oak, solid woods combined with fabrics like linen, wool, velvet, or canvas. It all results in a look that's both tailored and relaxed, like the lounge-y sophistication of this fringed, low-lying sofa and ottoman.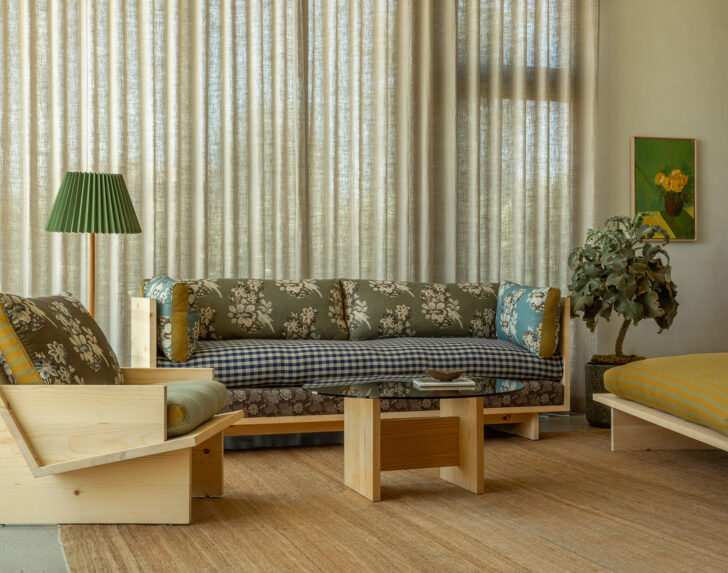 Los Angeles-based Kalon has teamed up with Reath Studio for a limited release of their Rugosa furniture collection, redone in a selection of homey, nostalgic fabrics – florals and stripes drawn from the catalogs of Alexander Girard, Rose Cumming, and the Warner Textile Archive – that soften the sleek, smooth Minimalist edges of the sugar pine chairs, sofas, and daybeds.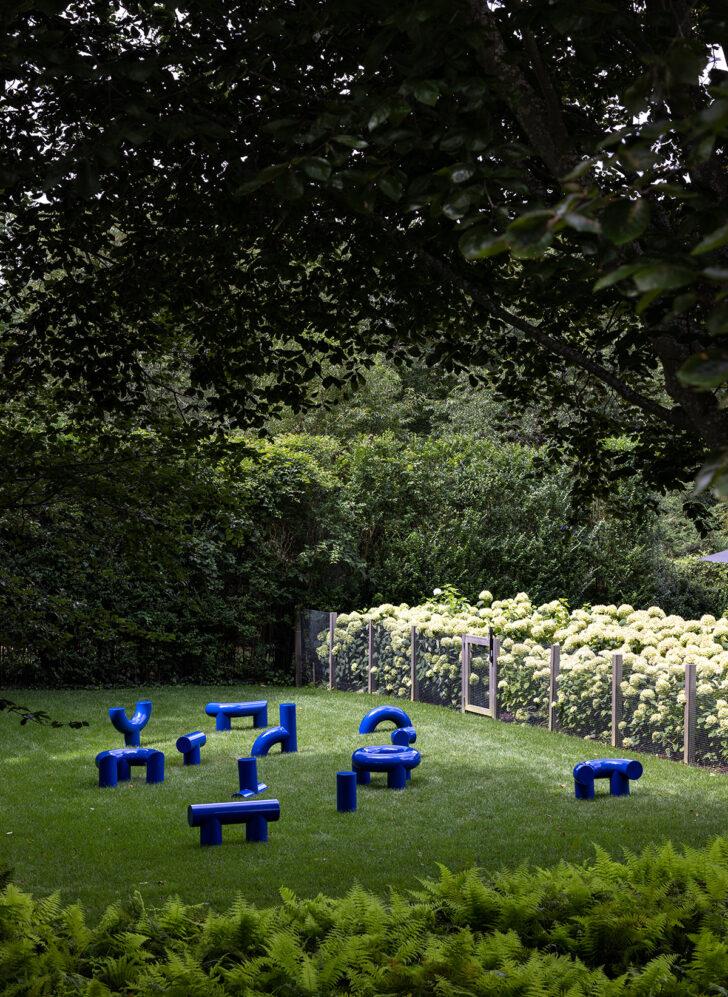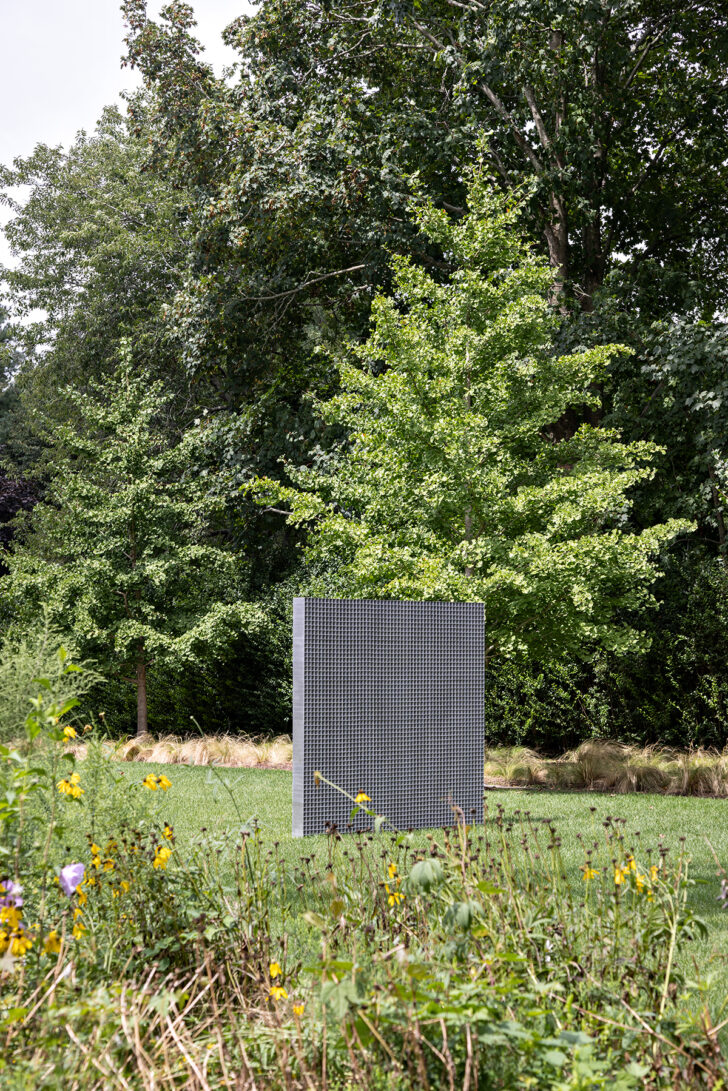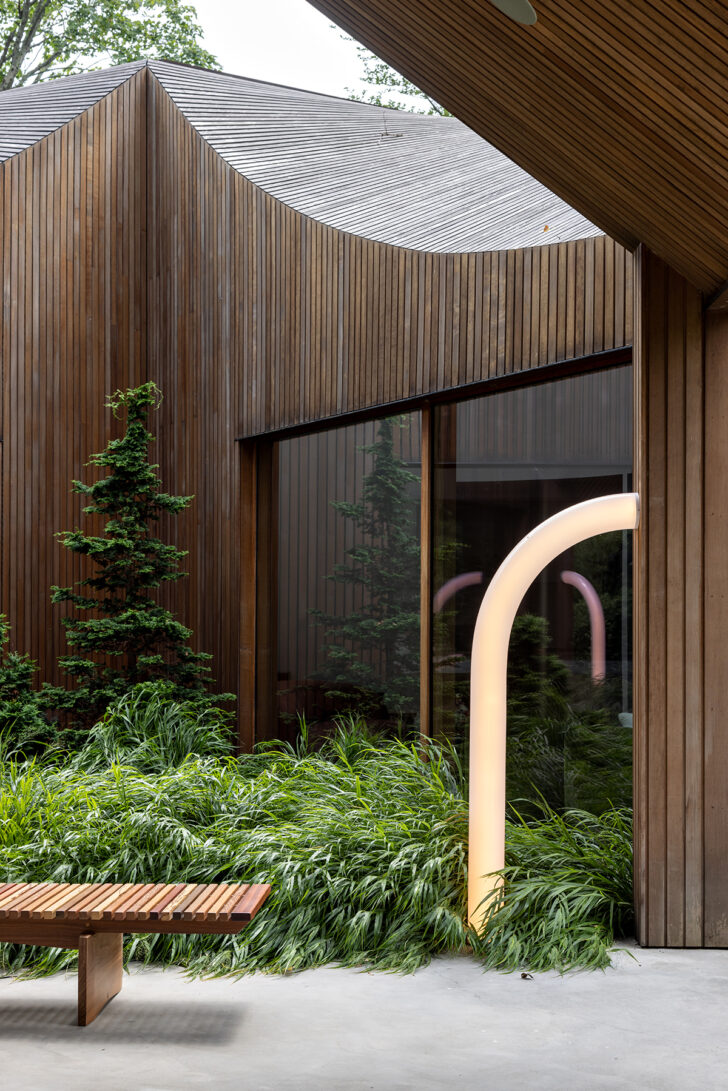 Verso, a new luxury interiors company, is aiming to make showrooms more of an event and a destination. Verso's founders, Amauri Aguiar and architect Bryan Young, have brought their first collection to the Six Square House (designed by Young's architecture firm) in Bridgehampton, New York, with future plans for Miami, Los Angeles, and José Ignacio, Uruguay. The launch includes one-of-a-kind works like a light sculpture by Lambert et Fils, ceramics by Fernanda Pompermeyer, furniture by Kiko Lopez and Yongjin Han, and textiles by Sagarika Sundaram. Also presented: limited edition and open series pieces by Italian duo Studio Zaven, Objects of Common Interest, Maya Leroy, and Aldo Bakker for Karakter. The Bridgehampton showroom is open by appointment through October.
The Lyndon chair, designed by Aleiya Olu of From Us to You, is a perfect balance of juxtapositions and convergences. Named for a street on Detroit's west side, the Lyndon is meant to connect the mid-century modernism that flourished in that area of Michigan (think Cranbrook) to the city's current-day energy. While the chair has the proportions of a throne – it's kind of regal and weighty (not to mention ergonomically correct) – it's also squiggly and fun, hand-assembled in cherry oak with a satin finish that practically makes it glow.