09.14.22
Berlin Startup Raus Is Building Designer Cabins in the Woods that Let Tired City-Dwellers Become One With Nature
In July, I spent two nights inside a tiny, 170 square-foot solar-powered cabin in the countryside about an hour from Berlin. Setting-wise, it wasn't terribly different from the woodsy homes I'd rented over the years in upstate New York, whenever I wanted to flee civilization and my stressful city life for a few days. But there was one significant difference. Unlike the rustic vacation homes and country bungalows I was used to, this cabin — designed by the Danish-born, Berlin-based architect Sigurd Larsen for the new-ish German startup Raus — was entirely oriented around a wraparound floor-to-ceiling window, pushed right up against the bed, that made it feel like I was sleeping directly in the empty meadow that stretched out in front of it. I spent one entire day under the sheets reading and staring at that view, feeling at once like I was in a hip boutique hotel room yet completely immersed in nature.
If you happen to have seen photos of one of Raus's 10 rentable cabins on Instagram, you'll know that feeling is precisely the point — the company's founders wanted to package the wow factor of leaving the craziness of the city behind to experience being separated from endless trees and sky by a mere sliver of glass (without giving up the comforts of a proper mattress and shower). Longtime friends Dr. Christopher Eilers, Johann Ahlers, and Julian Trautwein designed the first few cabins themselves, negotiating deals with farmers outside Berlin to park the off-the-grid structures on their land, then commissioned Larsen — who's designed shelves for New Tendency, a kitchen for Reform, and a treehouse hotel in Denmark — to envision model 2.0, which debuted this past spring. Larsen traded the original bare plywood walls for a blackened interior with a fancy kitchen and skylights. "We packed the whole program onto one side, so the other side remained free, using the full height of the space," says Larsen. "The bed, the seating area, the bunk bed and the bathroom are all niches in an inhabited wall, so it feels more like a sort of cave, and you have the full open view in all the other directions, inviting the surroundings in."
The concept of a tiny modernist dwelling immersed in nature isn't rocket science — and reminds us a bit of a cross between Den Outdoors and the Juvet Landscape Hotel in Norway — but it's been a massive success for Raus. After securing several million dollars in funding, the company has a long wait list of would-be guests, and is aiming to build 30-40 more cabins around Germany by end of this year. I had a chat with co-founder Julian Trautwein to hear more about the project, including its impact on local farmers, its design ambitions, and its alpaca-cuddling opportunities.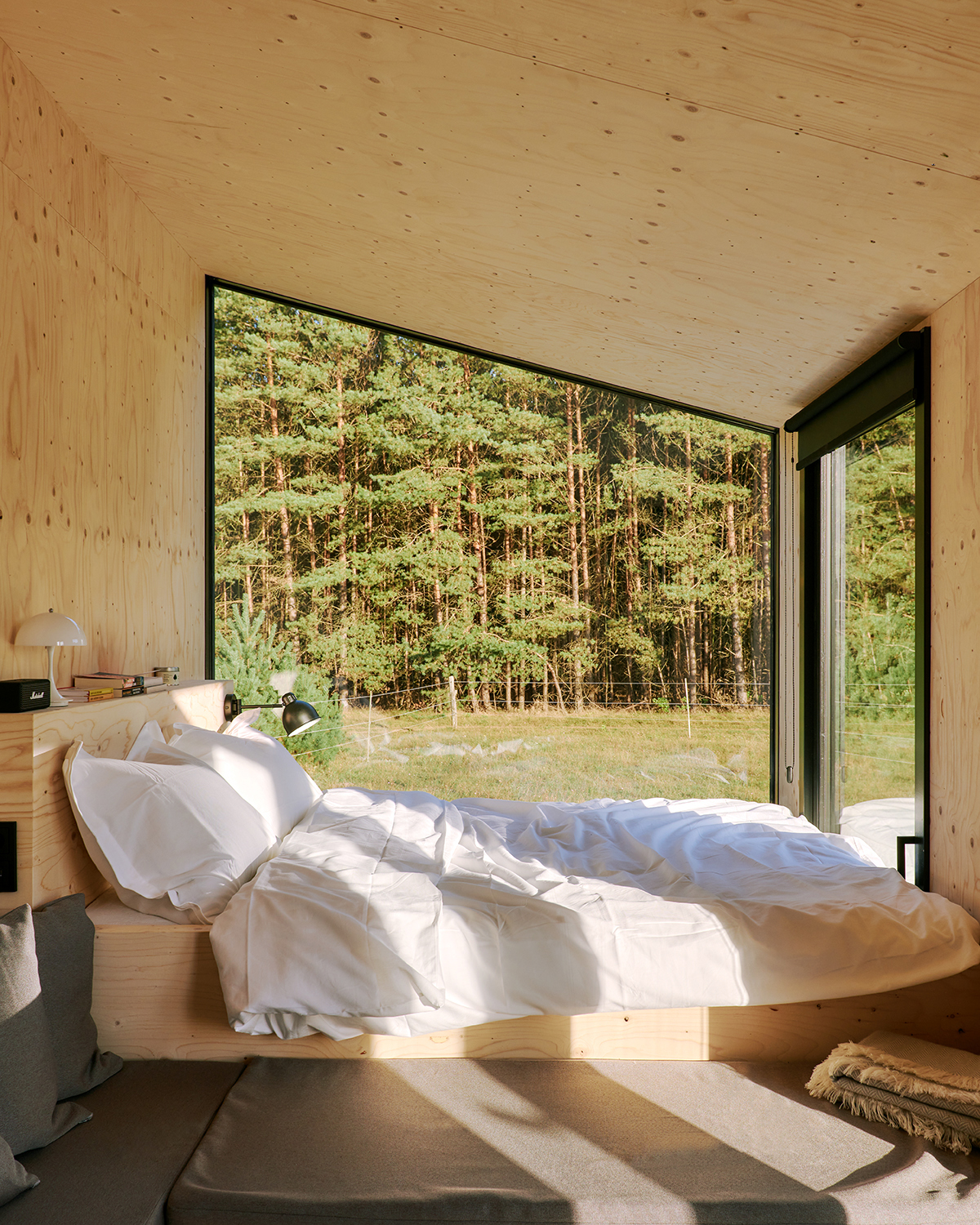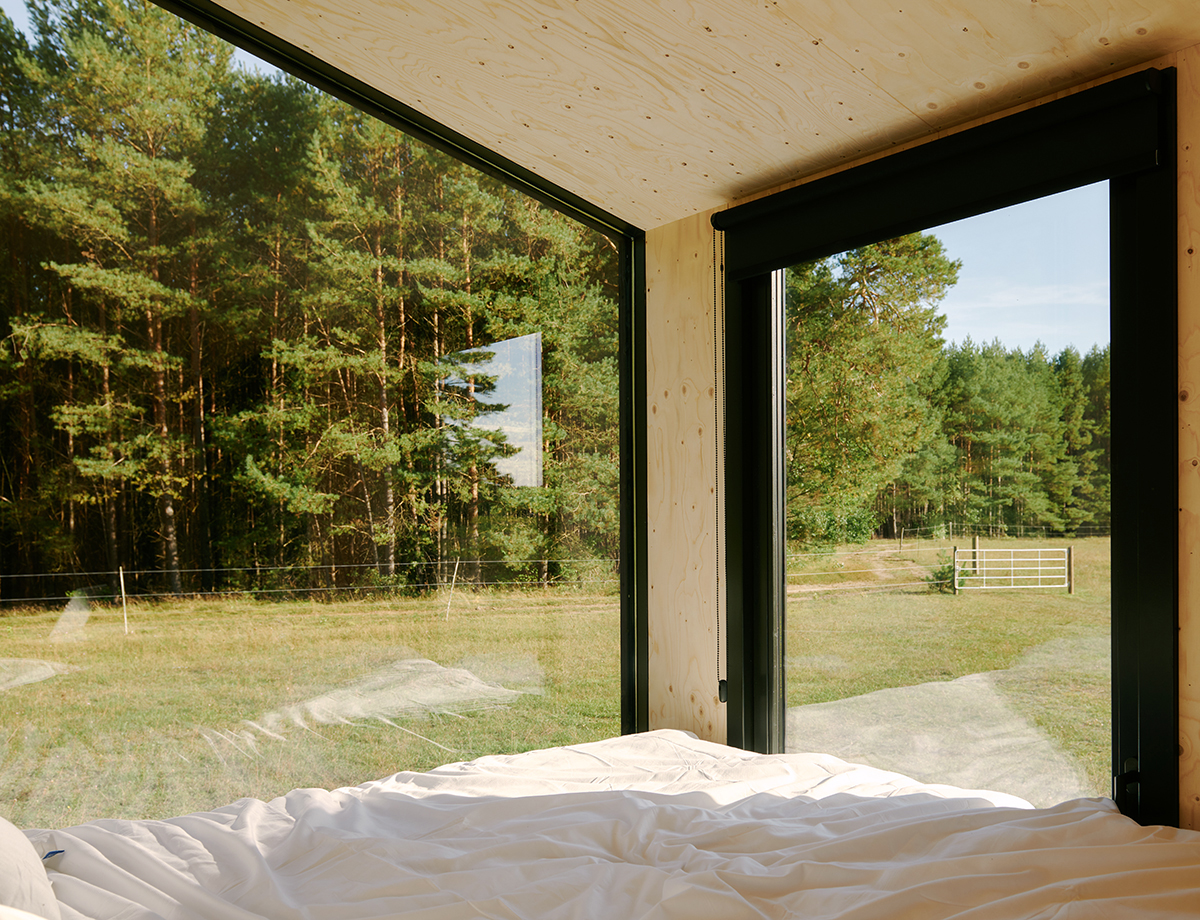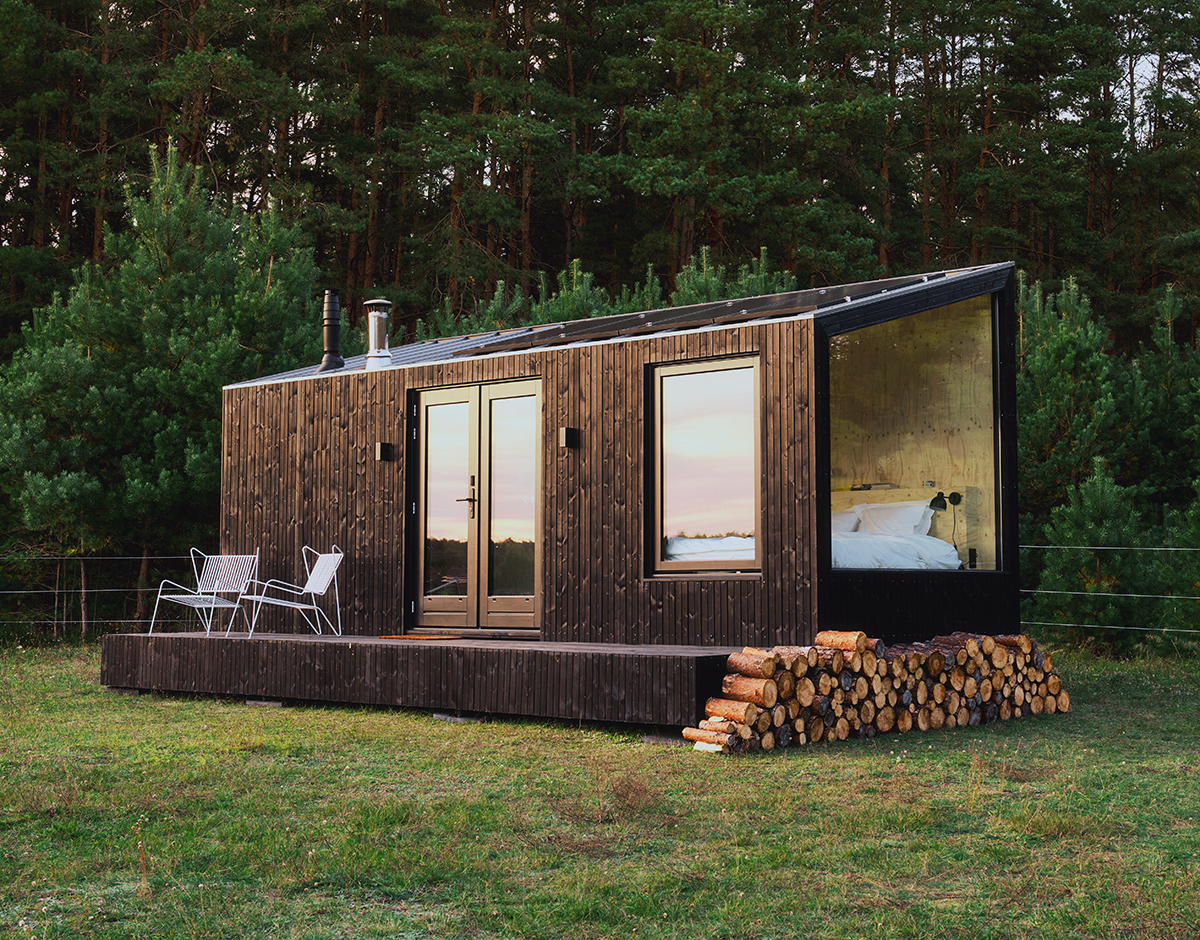 Can you tell us the origin story of Raus? How did the idea first come about?
Chris, Johan, and I were friends from college. We all ventured into different careers in different industries, but two years ago, we all had this moment where we wanted to leave our jobs. Chris was in finance and banking, and he quit his job because he couldn't handle the banking-ness. Johan was in real estate and had burnout. I was working for another travel startup, and when COVID hit, it had to let go of a lot of people. So we were all in jobs that were pretty hard working, and we realized that the way we were living our lives in the city, it was hard to find a way to recharge our batteries. We couldn't escape from the to-do lists and the pressure — even social pressure. Your phone is buzzing all the time. We love living in a city, but it was hard to find balance.
Our initial idea came for Raus from the notion of creating spaces for people to find time to do things they really like, and we were all strong believers that nature has the power to ground you. You don't need fancy yoga studios and apps — it helps just to take a walk in the woods. But at the same time we felt we were too old to go camping. We all like a nice bed and good sheets; the comfort of a nice hotel room. So it was like, can we have the amenities, comfort, and design of a nice boutique hotel room, but bring it directly into nature? Off the grid? With everything you need, but nothing you don't need? That's what Raus became for us. We couldn't find what we were looking for, so we said fuck it, we're just going to do it ourselves.
Who designed the original cabin?
We sat down with drinks and a piece of paper and sketched out how we thought the place could look. At the time we weren't even sure we were going to do cabins, but eventually it got optimized with a full kitchen, shower, and bathroom. Once we had a vision of what it could look like, we tried to find someone who could build it, but they all said that's not going to work — trying to have a fully functioning boutique hotel room but mobile, in the woods, and without any connection to infrastructure. But finally we found this crazy guy in the Netherlands who dared to build a first prototype for us. We aren't trained architects or designers, but the first one we designed more or less ourselves, though we did have some people in hospitality help us a bit with curating the interior.
Now, though, our new cabin is the first we did with a trained architect, and you can see there's a difference, in the way great architects think and innovate in a small space. That's the beauty but also the challenge of what we've built — it's just a 170 square-foot room, but we wanted it to have everything a normal house has. We're going to continue to work with great designers and architects who can bring innovation and help us create the ultimate experience for guests.
Were you watching a bunch of tiny house videos for inspiration?
Actually initially we thought, why don't we buy a tiny house, off the shelf. But we couldn't find anything that, from a design perspective, would work for someone just spending a couple of days inside it. Most of what's being produced in the tiny house space is focused on people who want to live there full-time, whereas we're trying to be hospitality focused. Our cabin was meant to be a place you'd go to get something you don't have at home. It shouldn't feel like your apartment, it should be more of an experience. I love being in our cabin for a couple of days, but I wouldn't want to move in with my family. It's really focused on this big view outside — on making you feel like you're becoming part of the outdoors. It wasn't built so that it's super smart, where you can store your laundry and spend hours working at your fold-up desk. Our focus was on providing maximum comfort in a room that feels like it's something different. You lie in the bed and stare at the view and feel like you're in the meadow. That's the experience we're trying to provide.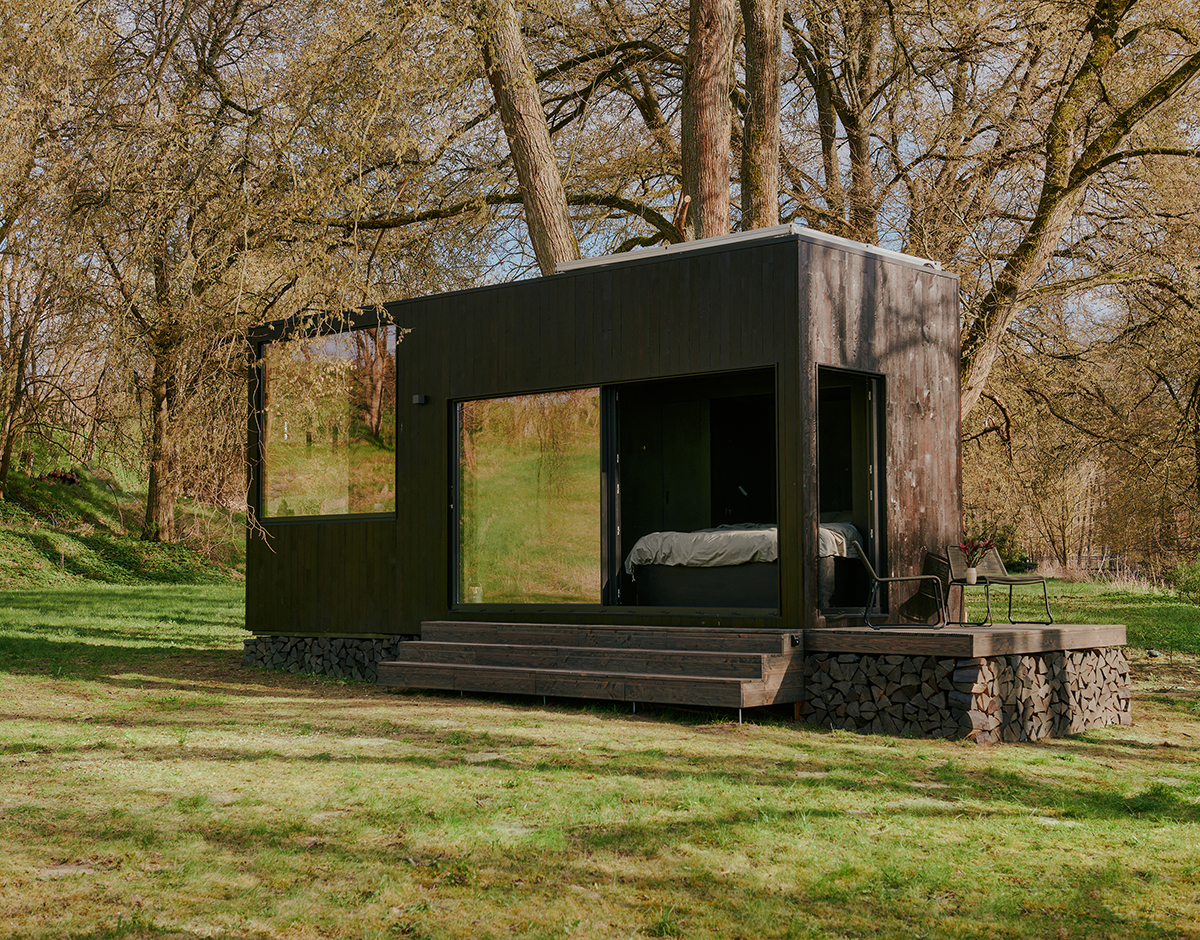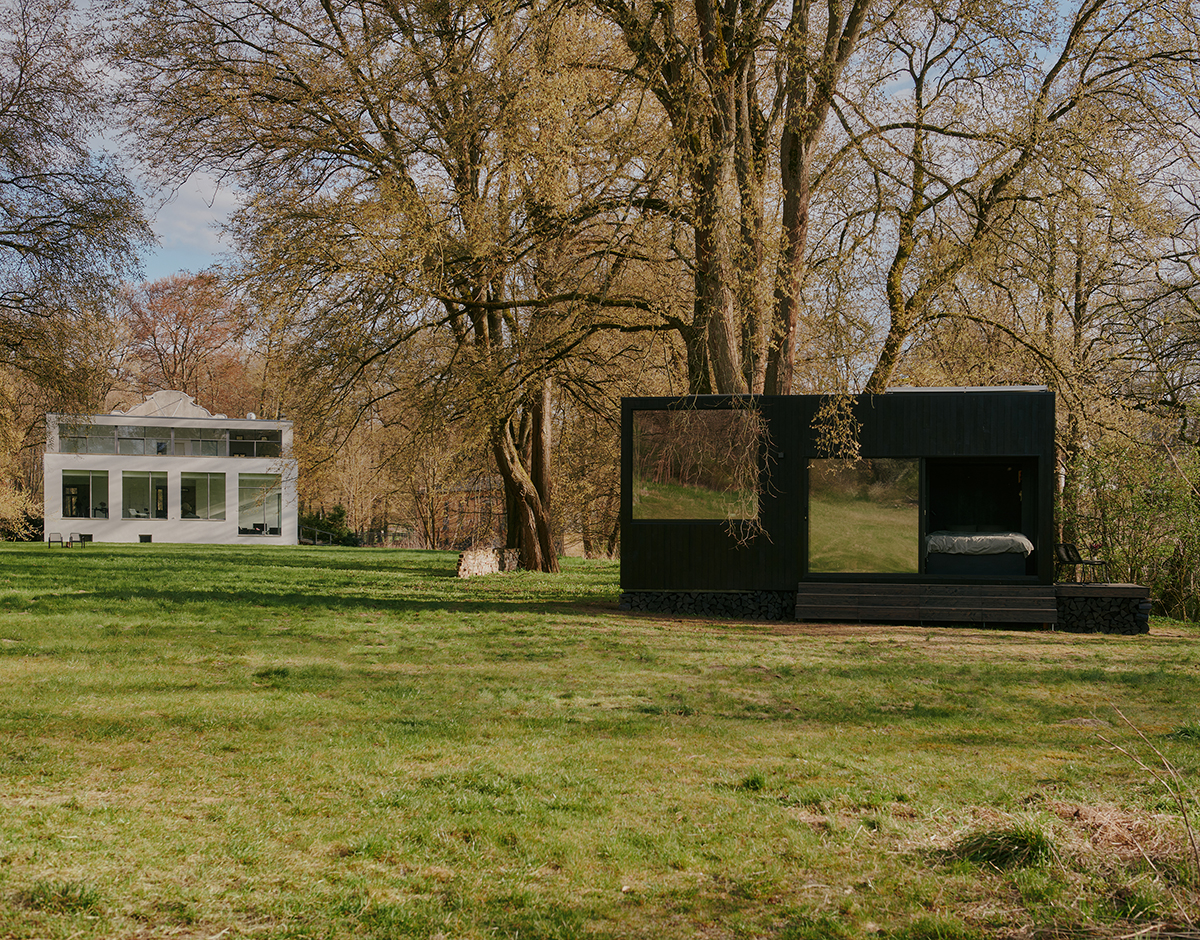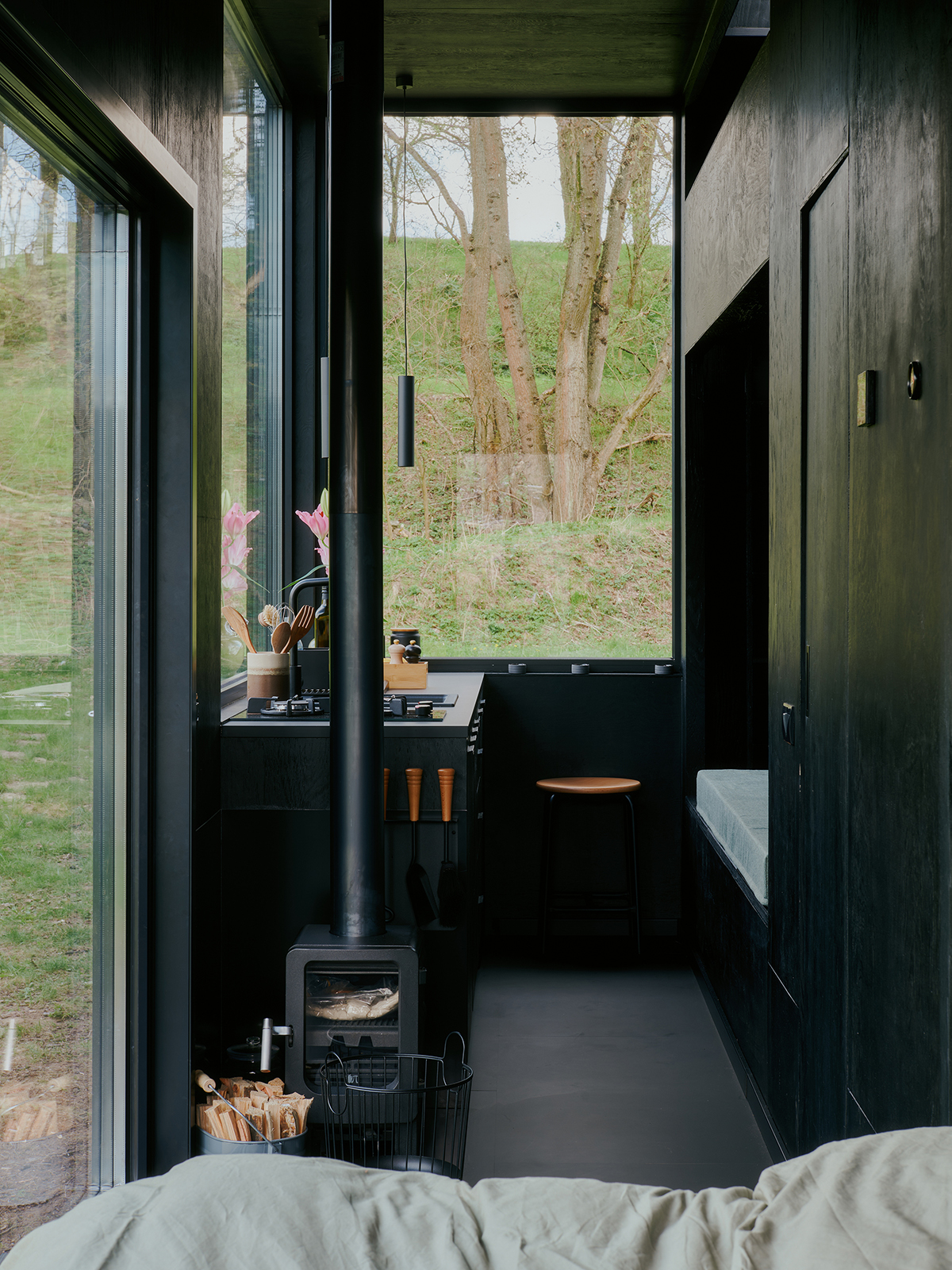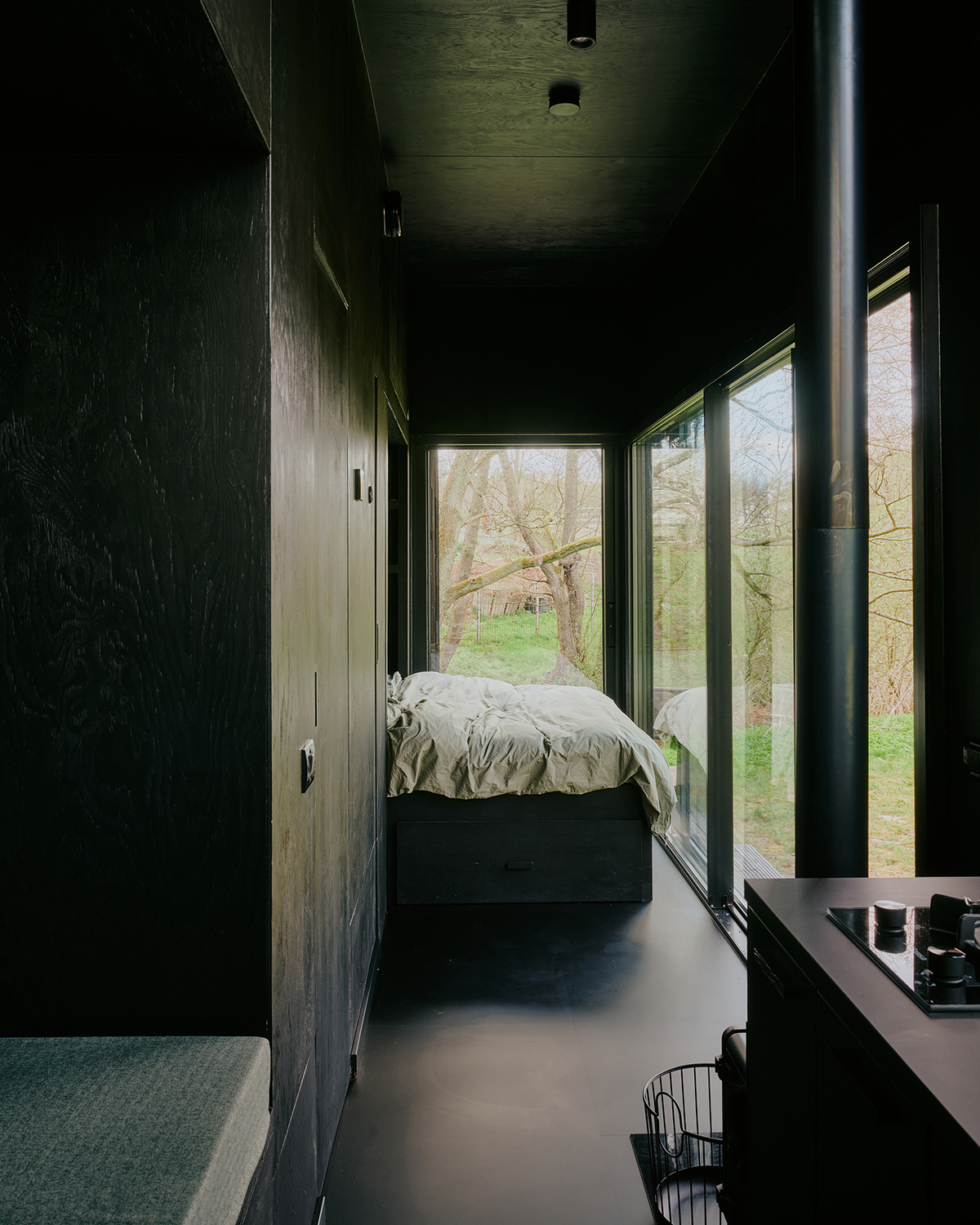 How did the approach change from the first cabin model to Sigurd's new design (above)?
The first one, we literally just sketched it out on paper, but what I really loved about it was the signature big window, with this beautiful view into the sky and into the woods. Sigurd's new design has a very different setup. His concept was to build it like a cave — everything is black inside, and everything is on one side of the cabin against a wall, with a wraparound view through these big windows in front. His idea was that making it black inside, and facing it towards the outdoors, would create an even more immersive experience. You're blending in with the back of the cabin into the surroundings, and then your full view can focus on the outside. My favorite part is being in the kitchen facing these big windows — it's a very nice spot to cook. When you're in the kitchen and you look outside and sip a glass of wine, you're immediately relaxed.
The new cabin has this additional bunk bed that the first model didn't have, so it can sleep more people, even though it's the same square footage as the first model. The skylights are a novelty, too: The first model has a tilted roof, and this model has a straight roof, which allowed us to integrate skylights above the bunk bed and shower. Sigurd tried to make the space feel as open as possible, and he tried to maximize the height as well, which was a challenge considering all of the restrictions you face with a moveable home that sits on a trailer with wheels.
We've also integrated and tested some interesting technology in this model. We have floor heating, and a ventilation system which isn't an air conditioner, but sucks humidity out of the air, making sure that even in winter, the windows don't steam up. We can also track the cabin's level of water consumption and energy consumption, and eventually we're going to tell guests their footprint after their stay. In the city you open the tap and water flows, but in our case we have locations where there's just a 450 L water tank. If you run out we'll fill it up again, but we want to help people be mindful of their resources while staying in nature. There aren't any TV screens in the cabin, though — that doesn't really fit what we're trying to build.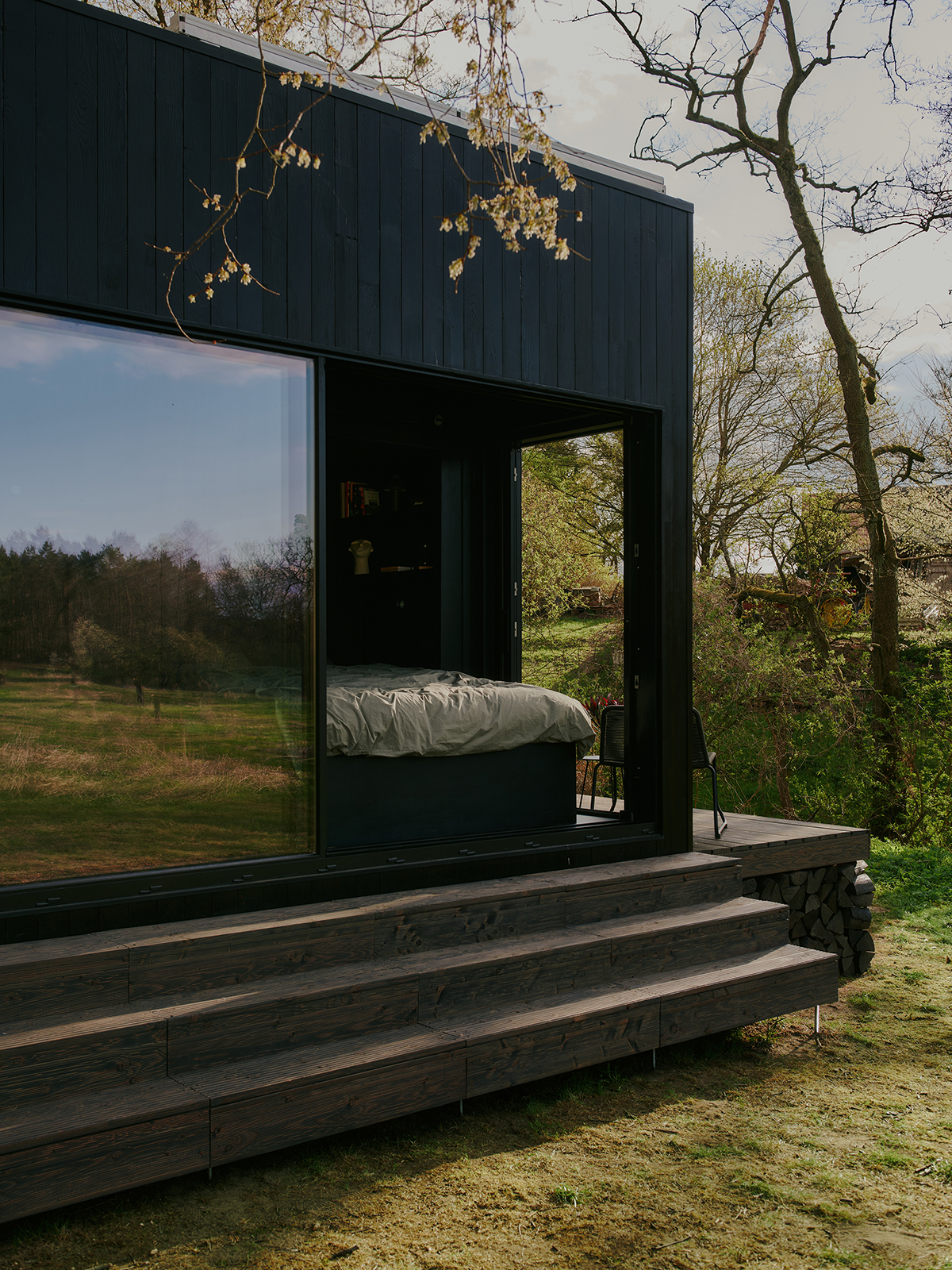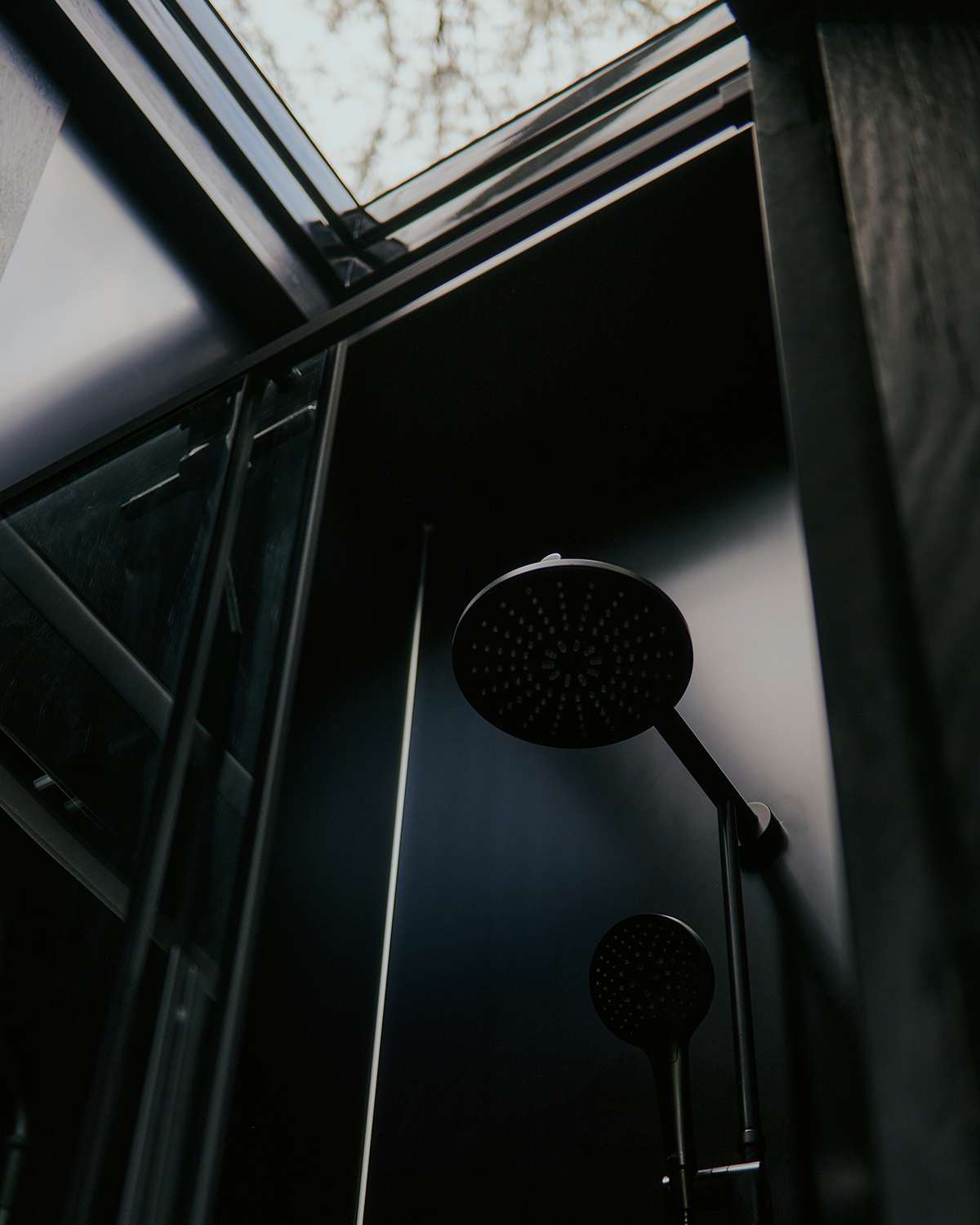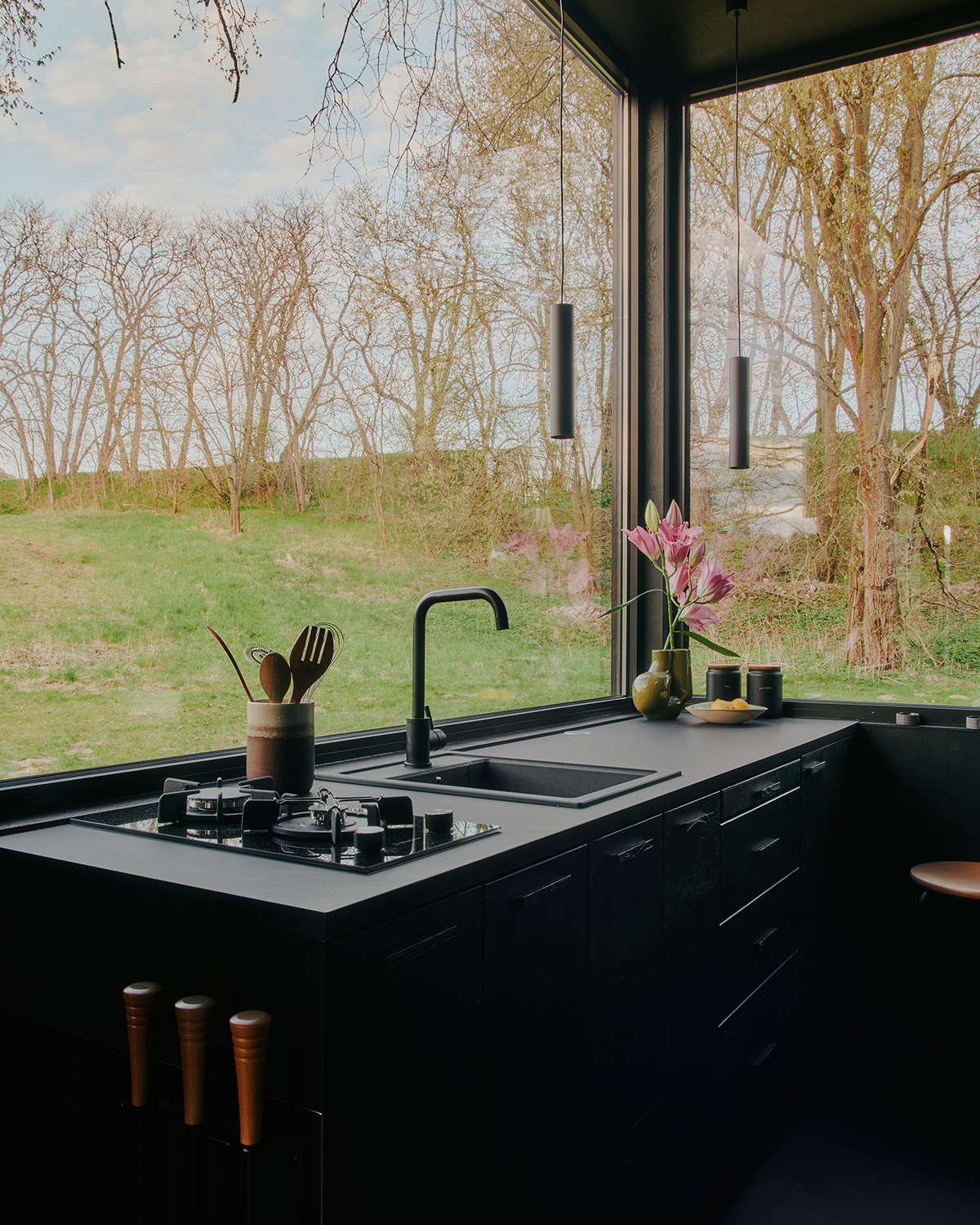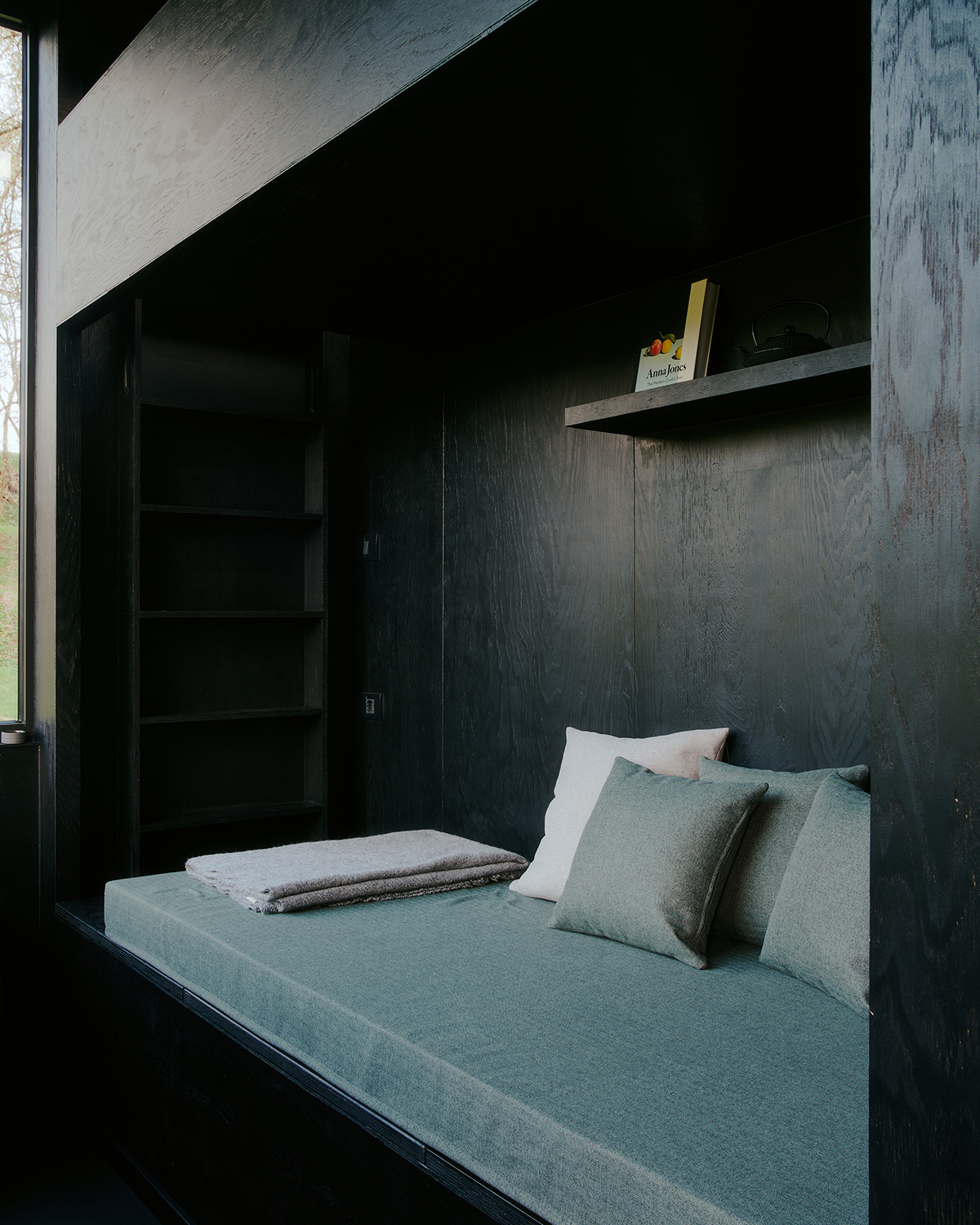 The cabins do have wi-fi though, so you aren't demanding that people stay offline, which personally I like.
We really thought about, do we need to tell you what to do when you're there? Or is it just a space to go if you want to spend the weekend in bed and just look out the window? Cook something and get back in bed again? Or do you want to go there to write your novel and be creative? The intention is to offer a space where there's no to-do list and no one tells you what to do. You spend the time how you want to spend it, whether it's with yourself, your significant other, or three bottles of wine. You don't have to be at the breakfast buffet at 9AM. We can give you guidance — you can book a meditation offering through us, or we can give you a food and beverage package from a local restaurant — but if you want to go there and sleep that's fine too. We don't want to be an authority that tells you to be offline or not use your phone. If you want to go there and work on your business plan while you're inspired by the surroundings, be our guest. Go there and do that.
What other activities does Raus offer?
We now have a cabin close to an alpaca farm, so you can meet and feed alpacas and cuddle with them. We're also launching something where you can pick and collect mushrooms in the woods with a forester, and make your own tea with herbs you found outside. These kinds of things, that are very different from what you would do in the city, can help you relax.
Can you explain the model of placing the cabins on existing farms?
Most of our cabins are placed on farmers' land. And most of those farmers are the ones who produce what we love in the city, our organic vegetables at our farm-to-table restaurants. But in our case your table is literally on the farm. We're always looking for an opportunity to give our guests access to the farmers' products and services, which let you immerse a bit deeper and understand a bit better the work they're doing. We weren't really aware when we started that this would become such a big part of the business. Every second guest is adding additional services to their stay, because they want to understand the farm, or ride horses if it's a horse farm.
It's a great way to connect the more rural areas with urban areas, so we can appreciate the work of the farmers. They're under such intense economic pressure, because in Germany we like to pay very little for our food, and through our concept we're giving them additional income that helps them run their businesses, without them needing to invest capital to build a vacation rental on their land. The farmers get a revenue share and become part of the business, and they feel appreciated for all the work they do so that we in the city get to live our glamorous life with our organic carrots. I'm overstating it, but we didn't have it on our minds when we started, and it's becoming clear that it's a super important revenue stream in those more rural areas.
How and why did you end up working with Sigurd on the new cabins?
We worked together in the past when I worked at a creative agency. He's one of the nicest people on Earth. And he designed the Treetop Hotel in Denmark, where the rooms are built into trees, so he already had experience creating spaces that immerse into the outdoors. We speak a similar design language. I appreciate how his designs are highly functional yet feel so natural and authentic. His design language is more minimal, but he has this ability to — just within a couple of square meters — still give you a comfortable space. You don't feel like you're locked in. It still feels really open. We also appreciate his way of working with sustainable and local materials, which is important to our nature-focused model. We really found common ground with him on that.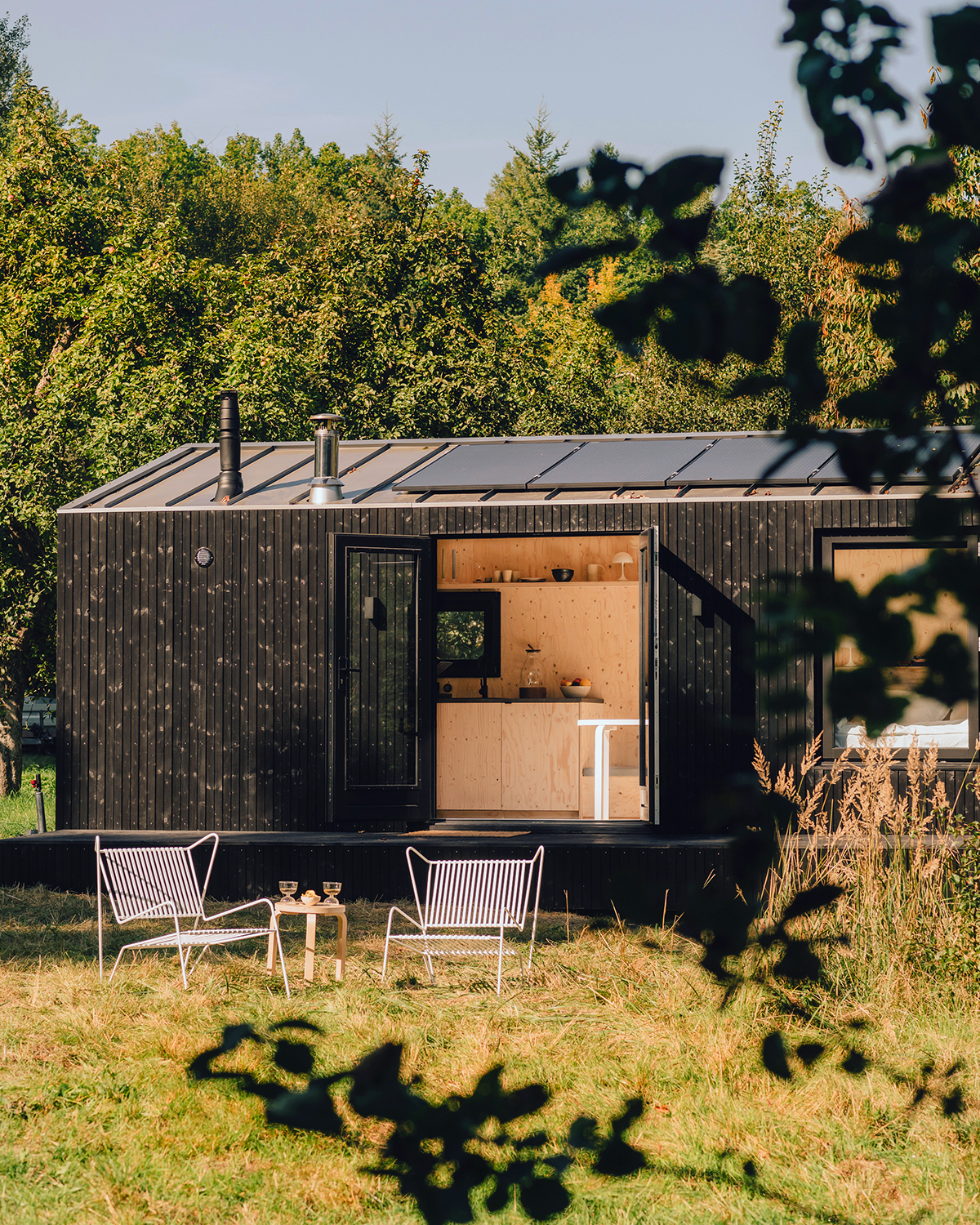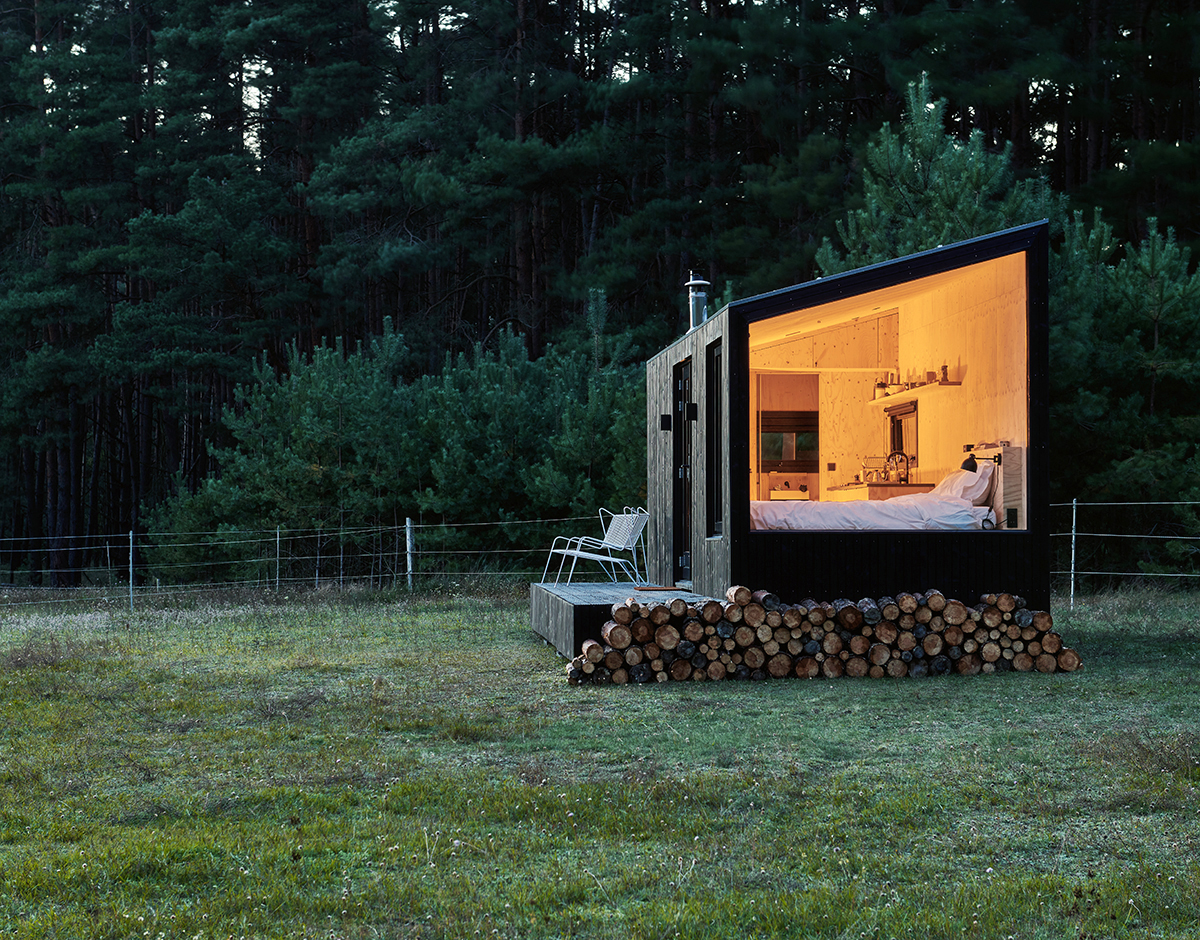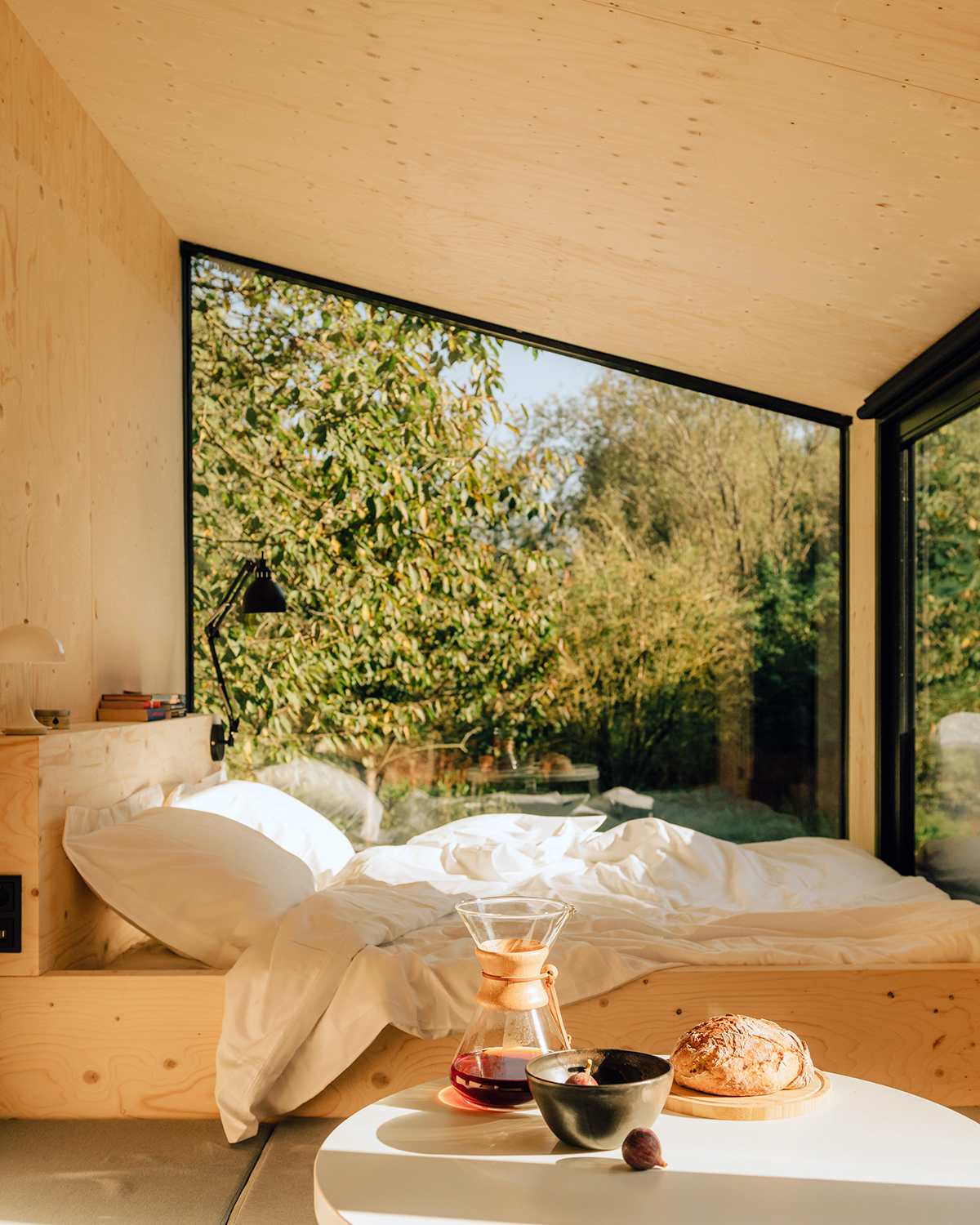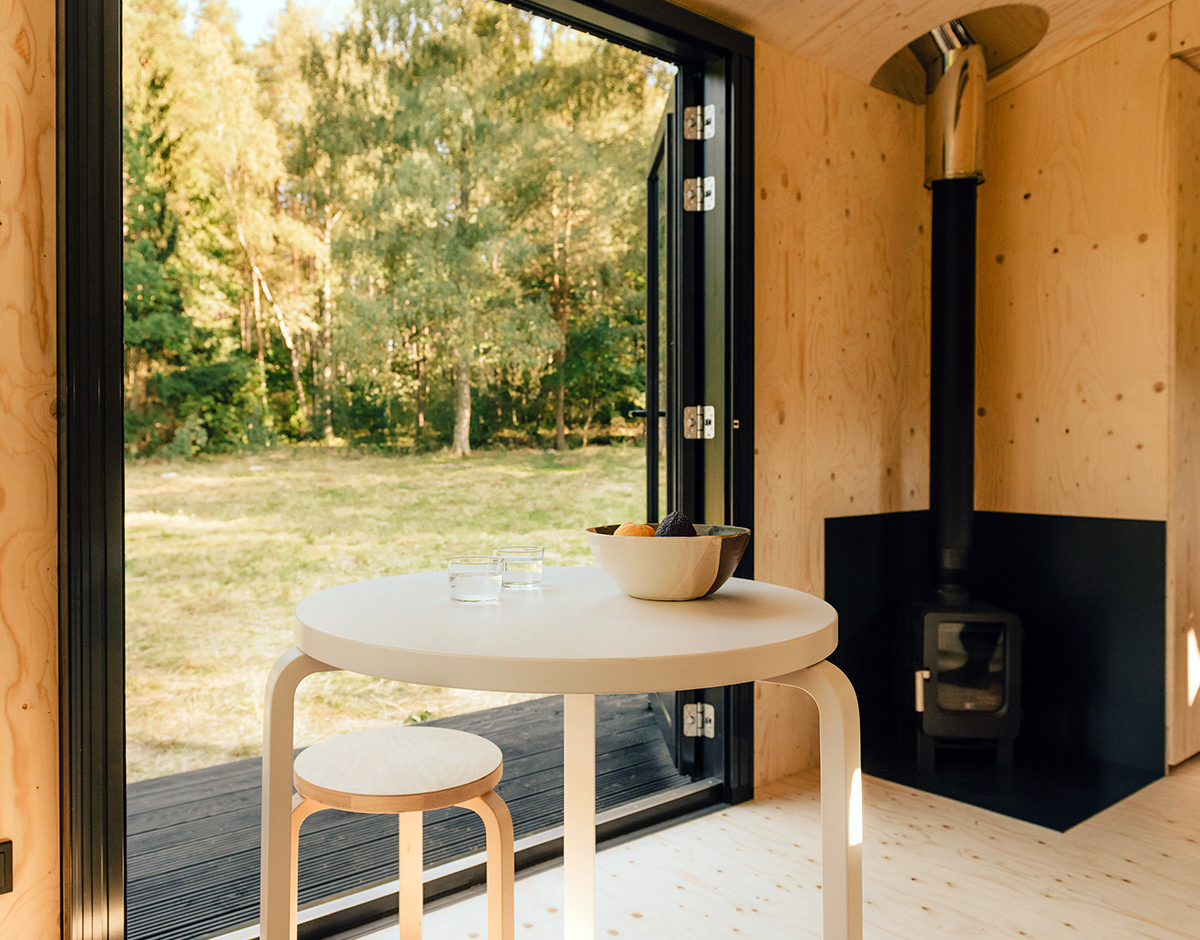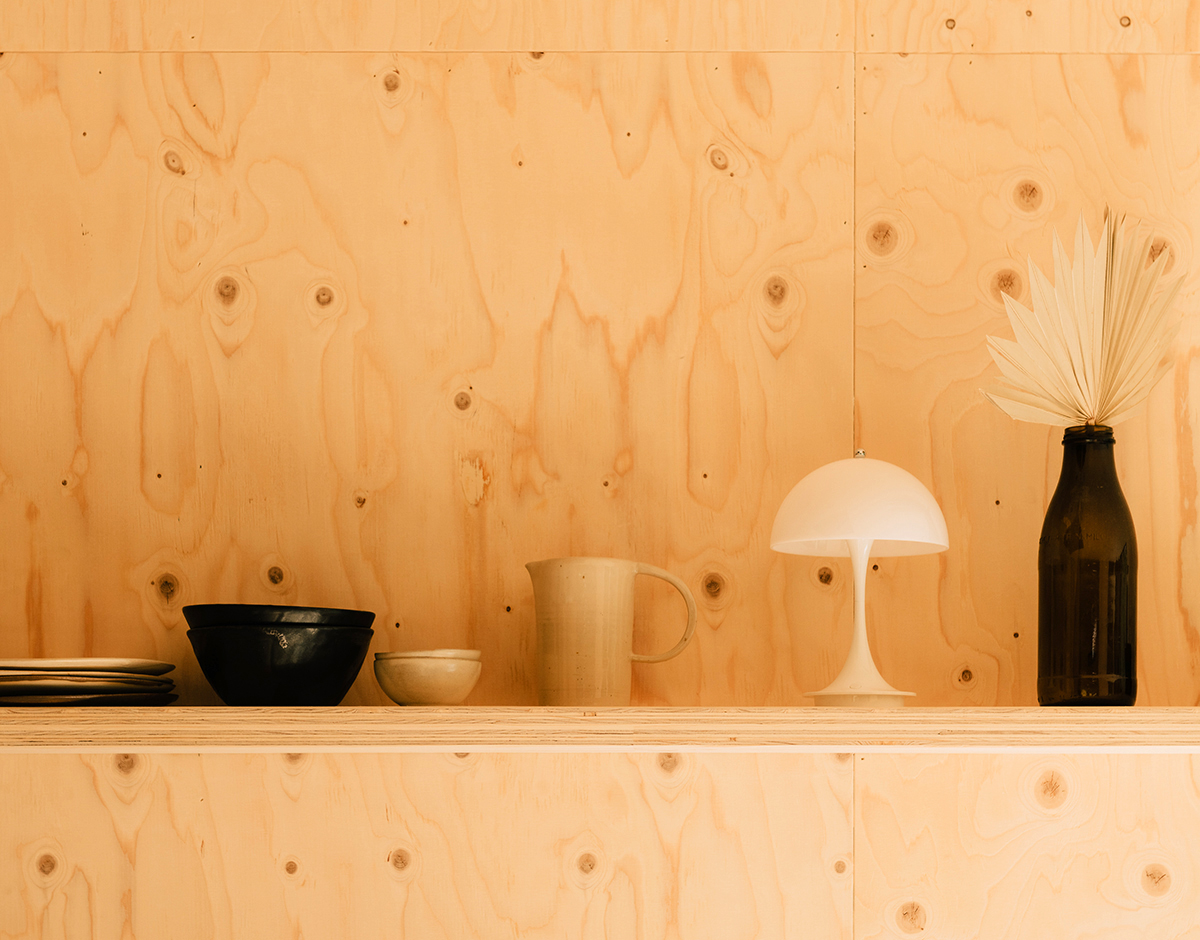 Does that model extend to the interior design of the cabins as well?
We're trying to use sustainable materials without compromising on design. So for instance the ceramics we have in the cabin, the plates and dishes, they're by a very small Berlin brand called good Play Sunshine, run by two women who make everything by hand only using renewable energy for their machines. It's a good example of where we're trying to find curated brands and products that are as local and sustainable as possible, and not mass-market. I wanted guests to feel when they're in there that we've thought about every single item they'll touch, from the spoons to the linen. It should never become a vacation rental apartment, something that feels standardized. Now let's see if we're able to scale that. We're trying to scale individuality, which is tricky.
But the moment this becomes ordinary, when it becomes like any other room you can book, then it won't flourish. People really book with us because they want to have an experience rather than just a room. One thing I saw at Airbnb, where I previously worked, was that it has this category of quirky accommodations — like tiny houses, earth caves, or floating homes — and those listings were always the ones that got booked out and were saved on wish lists. It's because they weren't standard. They were thinking about hospitality as an experience. Sleeping in a treehouse is an amazing experience, and that's why you want to do it. That's what we're trying to do.
What's next for Raus?
We'll keep working with like-minded creative people and brands. The first collaboration we did with Sigurd was amazing. And while we're not going to do a new architect collaboration this year, I see us next year launching something in partnership with someone else.
Another goal is to create a standard cabin model. We're working on a third model now, because we've learned a lot from the first two how people interact with it and what they've asked for during their stay. Even with the first model, from the first one we built to the 8th or 9th version, there were already a lot of improvements — the first one had very cool flooring in a more open-pore wood, and after the third guest, it looked like shit. It wasn't meant for hospitality usage. We were super naïve. The next version we fixed that. For future models we'd like to find producers who can build at scale — 15-20 houses per month, if need be — but still let us maintain the flexibility to do crazy stuff. So we can create something that delights and surprises people. I hate when you go to a hotel and it looks exactly the same regardless of whether you're in Istanbul, Berlin, or London. That's something I'd never want to have in Raus. I want to take into consideration the local environment, where if we scale the project to Portugal, we'd have to reconsider a dark wood cabin, for example. It's great if you can expect a certain standard level of quality, but it's more fun if you can come back and try something completely different from your previous experience.
Also, we happen to have built a couple of beautiful houses, but in the future it's going to be about unique experiences that we can provide. It might be in an amazing cabin, or in a beautiful tree house, or on a house boat. We're looking for other ways we can connect you with the outdoors again. ◆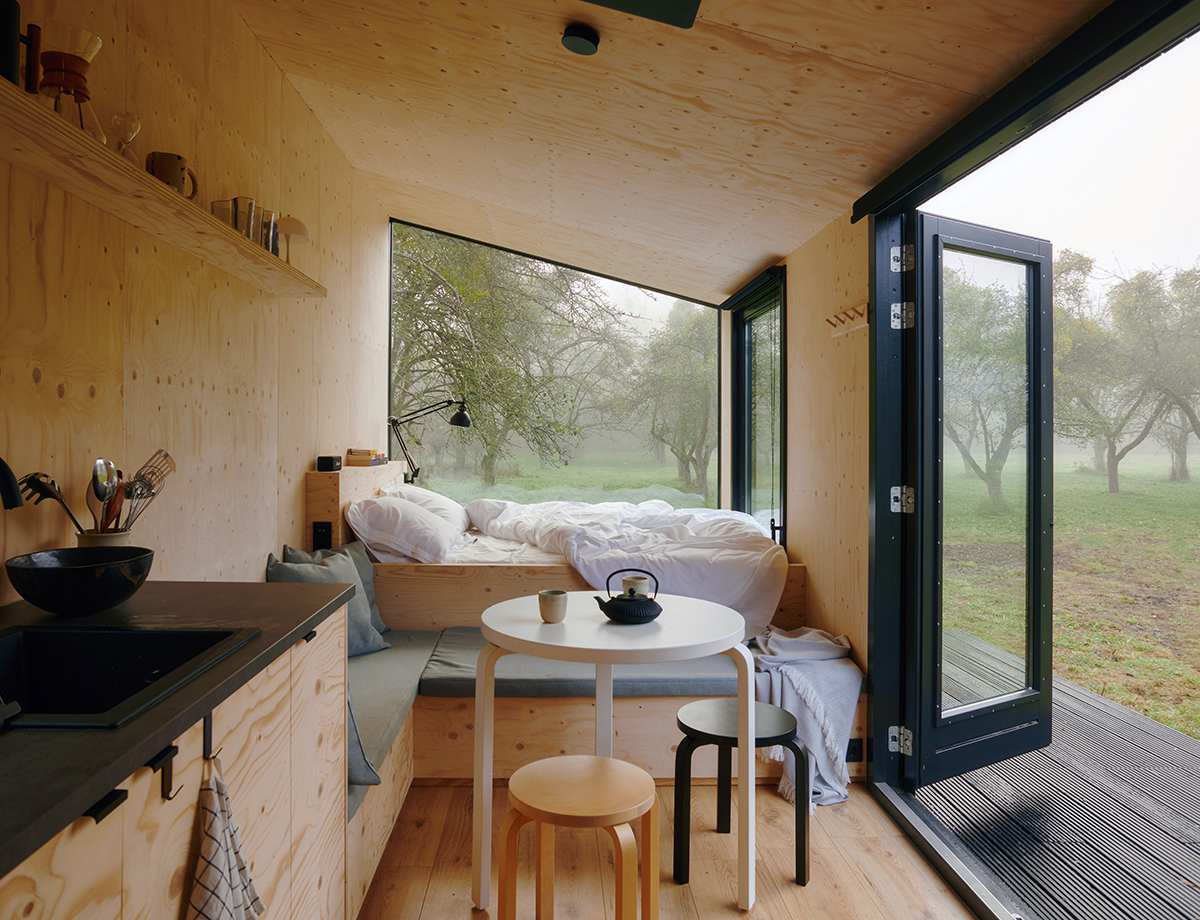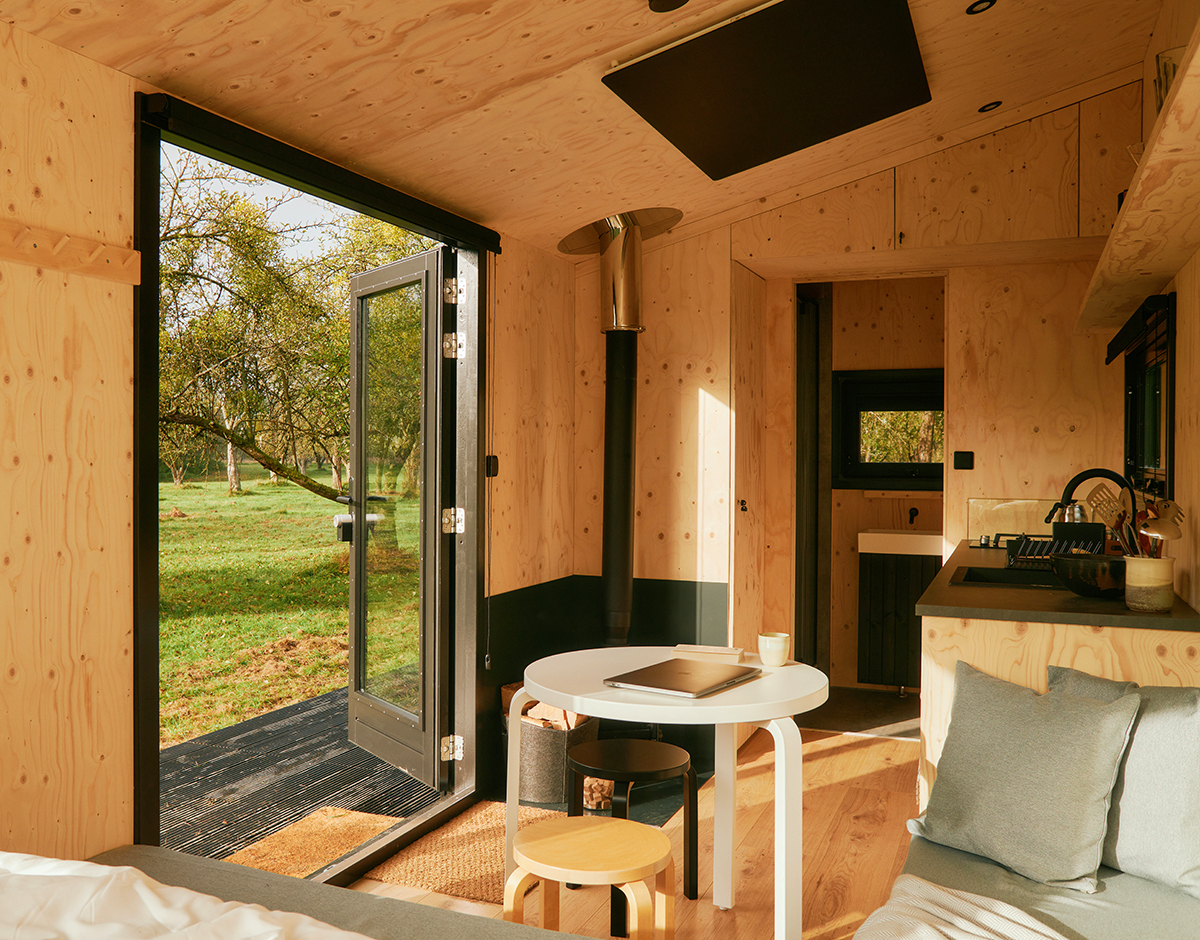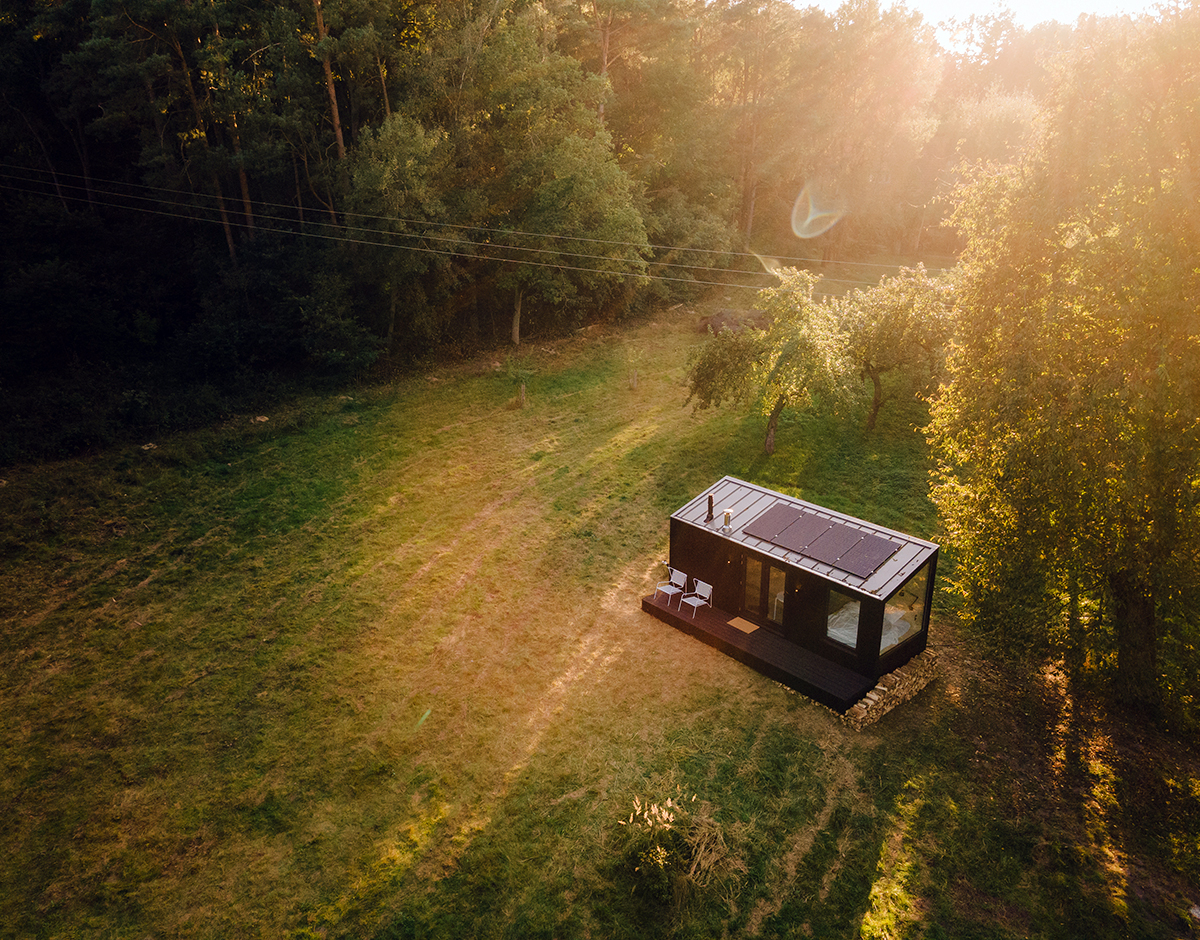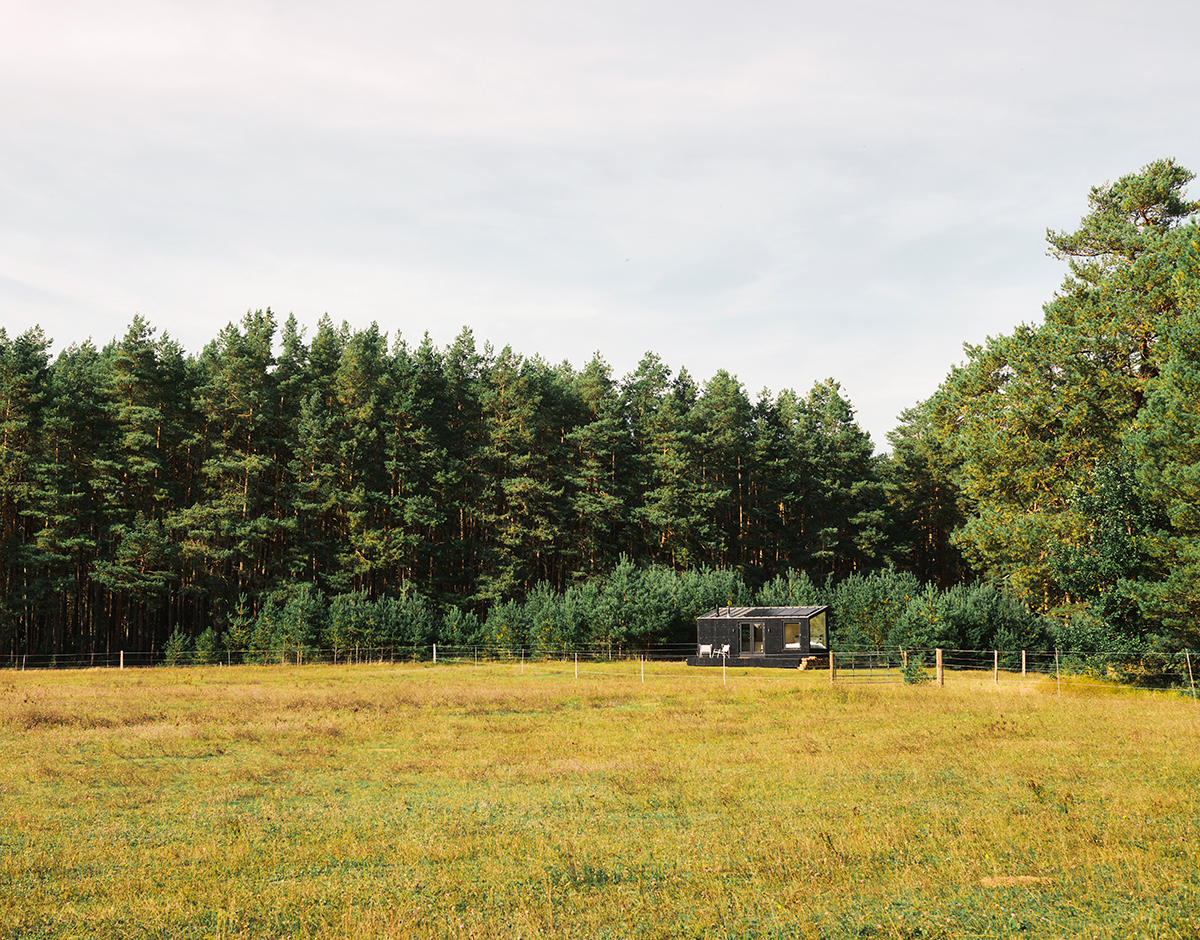 Sigurd Larsen cabin photos by Noel Richter