10.21.21
Tour "The Bae," A 250 Square-Foot Airbnb Whose Functions Are Hidden in Its Walls
Before they had a child, architect couple Alex Nielsen and Liz Walsh were restless jet-setters, traveling around the globe and only periodically returning to their home base of Hobart, Tasmania. The more they traveled, the more they became used to — and fond of — living in small apartments, particularly when those apartments were thoughtfully designed. So having already turned a 650 square-foot barn in Hobart into a successful designer Airbnb property, they decided to experiment with an even smaller footprint, purchasing a 250 square-foot apartment in 2017 and rebuilding it into their vision of a perfect "micro-luxury" home. Their intent was to create something amazing enough that it could set an example for small-space living, and by renting it out on Airbnb, help open other people's eyes to its possibilities.
The apartment ultimately became "The Bae" — a play on its view of Hobart's main beach, Sandy Bay, as well as its diminutive size — and guests who enter it are often nervous at first about its small footprint (but later fall in love). It's essentially the size of a bedroom, with a bed that folds up into the wall to clear additional living space. The bathroom and kitchen also lie behind doors that are flush with the back wall, so that when both are closed up, the space appears even less like a functioning home. But those elements, plus strategies like extending the ceiling into the roof and adding skylights, or lining the entire room in plywood, actually increased the home's functionality, while making it a relaxing place to live and entertain. So much so that The Bae won an award from the Australian Institute of Architects, and was the country's Apartment of the Year in 2019. We recently spoke with Walsh about how they transformed the property, and what the experience is like for the guests who get to stay in it. If their story inspires you to become an Airbnb host yourself, visit this link to get started!
How did the Bae project begin?
We had just come back to Hobart after living in New York City and doing a bit of traveling, and as we planned to do more traveling, we were interested in this idea of having 'just enough.' We wanted to explore the challenge of a small space, and how a tiny studio apartment could hold two people and still have the flexibility of a home. At first we were looking for a small apartment for ourselves, to rent, and then we realized the market was really a monoculture of three-bedroom standalone homes on a lot. There wasn't a strong typology for small-space living, or even just apartment living, but it was something we were excited about. We also thought buying our own small space might be a quick, fun experiment that wasn't too expensive to execute — we could rent it on Airbnb whenever we traveled, and use it as our base in Tasmania whenever we came back.
We found this apartment in 2017 and essentially bought it sight unseen. It was listed on the market, and they were having an open house on Saturday, but we went early, went up the stairs, and sat on the balcony and looked out on the view. We had no key to get in, but decided we wanted to make an offer before anyone else. We put in an offer on Friday night, and it was accepted. It was a bit of a gamble, but we wanted to do the project and we loved the location.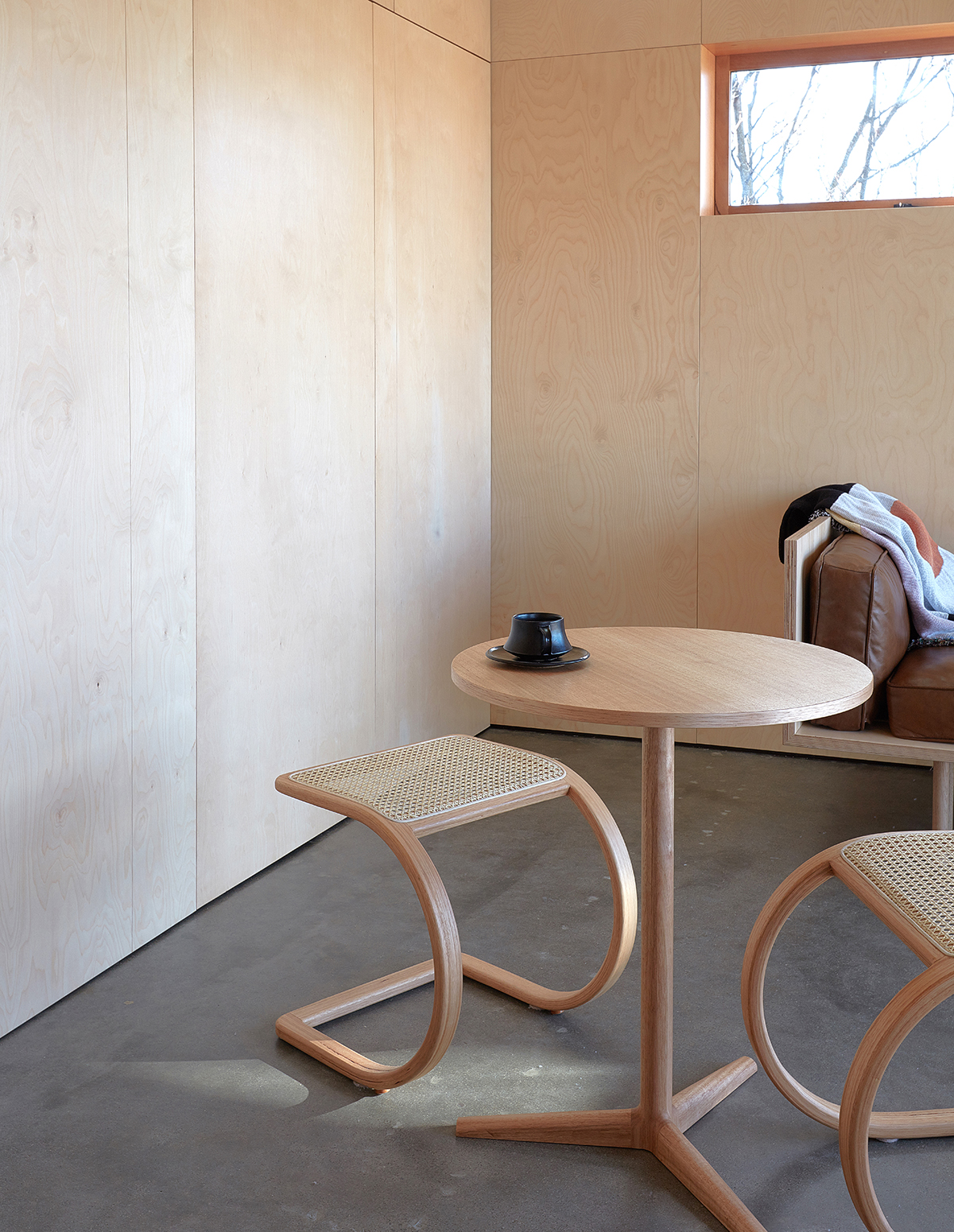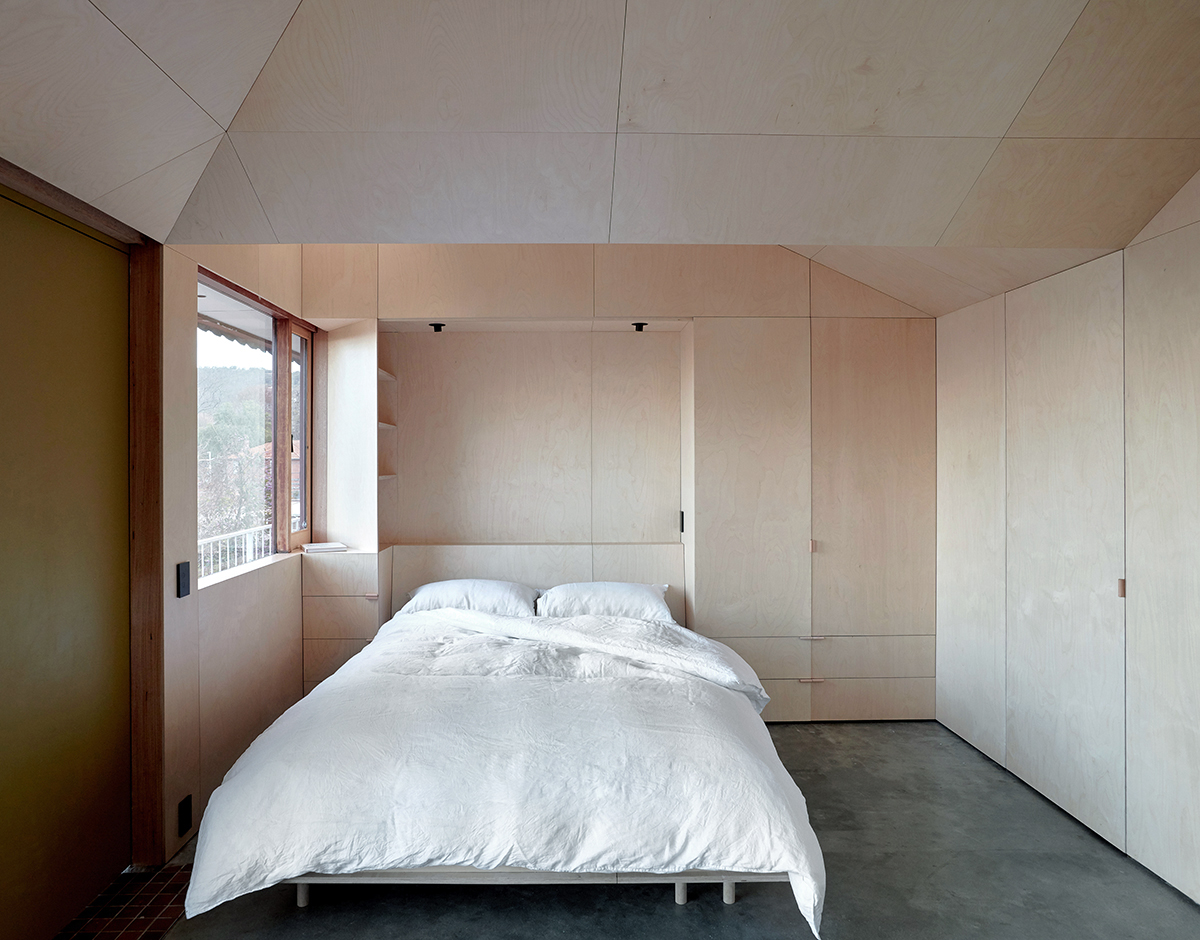 As you mentioned, it was quite unusual to find an apartment this small in Hobart, right? How did it come about?
The building was built in 1973, and we don't know much about the history. Its floor plan is split in two; the apartments facing the water are all 250 square feet, and the ones in the back are slightly bigger, with separate rooms. The building is quite close to the University of Tasmania, and I think the layout had something to do with it being university housing, or even ladies' college housing. Our apartment was a bedsit, and that was part of the challenge: How can you live in a bedsit without always sitting on your bed. How can we add flexibility so you can fold the bed up and still have a living space.
Hobart's a bit like a big country town. But it's changing, because houses are becoming expensive, and the Australian dream of the single house is unreachable for a lot of people. Even a spacious apartment is becoming unreachable, so we were thinking about how we can still have dignity in smaller spaces.
Was your motivation that you wanted to promote this type of offering in your portfolio and your practice moving forward? Or just that you were curious and wanted to experiment?
We were more interested in it as a project. We bought the flat itself at just over 200,000 AUD, and renovation was about 50,000 AUD, so in terms of a project that we could really hone our skills on, it was very accessible. And in architecture, the learning journey is typically very slow — residential projects can take two years, and commercial ones up to four years. In terms of gaining skills and getting onsite faster, we felt like this was a great test case.
We also really wanted to challenge what we thought was wrong with the Australian market at the time: That people feel like they can't live in a small space well. The first residential rental project we worked on together — a home called The Barn, which is also on Airbnb — was slightly bigger at 650 square feet, but still represented a similar challenge of how to fit your everyday life into spaces that previously had a different purpose.
What did the Bae apartment look like when you got it, and what were the changes you made?
It was very obviously from the '70s — the walls were all Besser block concrete blocks that were painted. There was wooden wall paneling, and an uninspiring blue, office-y carpet. The floorplan was completely different, and it had a flat ceiling. It was just very boxy and felt very small and hemmed in. It did have this beautiful view, but the windows didn't go all the way up to the ceiling; there was a strip of wood paneling above them that made them feel smaller. Our main design strategy was trying to add height to make the space feel bigger, and to change the ceiling line to give it variation and volume. Because it was the top floor and the building had a very thick roof space, we were able to put chamfered skylights in, gain ceiling height, and add a layer of storage above the kitchen and the bed. We also pulled the ceiling panels down so it really framed the view and made the front of the apartment more of a picture window.
For us the original kitchen and bathroom felt inefficient, so we reduced the kitchen and bath area in the space by 10% and pushed it to the back wall. We made the area longer and linear, which gave us a larger living area and enough space for the bed to fold up and down. We were interested in this idea of a cabinet of curiosities or a hidden world — we didn't want it to be immediately obvious when you entered that it was an apartment. We wanted to create a space that could fold away its domesticity and open it back up when you needed it, rather than just installing an island bench. All the things that a normal house has, we didn't want it to have those.
Were you inspired at all by the tiny house movement?
I think the tiny house movement can be a bit gimmicky, where everything's folding out, everything's folding in, and actually the space is just too tiny for all the things that are going on. We kept those moments to a minimum, where it was really just about the bed not being in the living space all the time. For us — in our late 20s and early 30s at the time — it was the idea that when you've lived in share houses for however many years, and you finally have your own apartment, you don't really want people to be sitting on your bed anymore, to be entertaining on your bed. So that mechanism was the most akin to the tiny house movement. But apart from that, it was about using architectural and spatial strategies rather than foldaway gimmicks.
It was probably more inspired by Japanese architecture in the bathroom layout. The bathroom is very skinny and has a toilet at one end and shower at the other, but the beautiful thing about it is that at the end of the shower, you have this slit skylight that sits above you, so you're getting showered in light as well as water. We used the same gloss tile on the walls, floor, and ceiling, so it reflects and creates an optical illusion. Another architectural trick we used is, there's a mirrored backsplash in the kitchen, so when you're cooking, you can see the water view behind you.
When we were in New York, we were experiencing a lot of small spaces, and that was inspiring as well. We learned that it's nice to compartmentalize things. In small-space living, it's not about an open plan where everything's on show, it's about everything having its place, and when you need it you open it up. The kitchen is there, but if you don't want to look at dirty dishes while having wine with friends, you can close it. The fridge is hidden. It's about offering flexibility in the way you inhabit the space. The shelving above the bench is the only area that actually has space for display — Alex and I both love ceramics and objects, so we wanted somewhere to frame those things.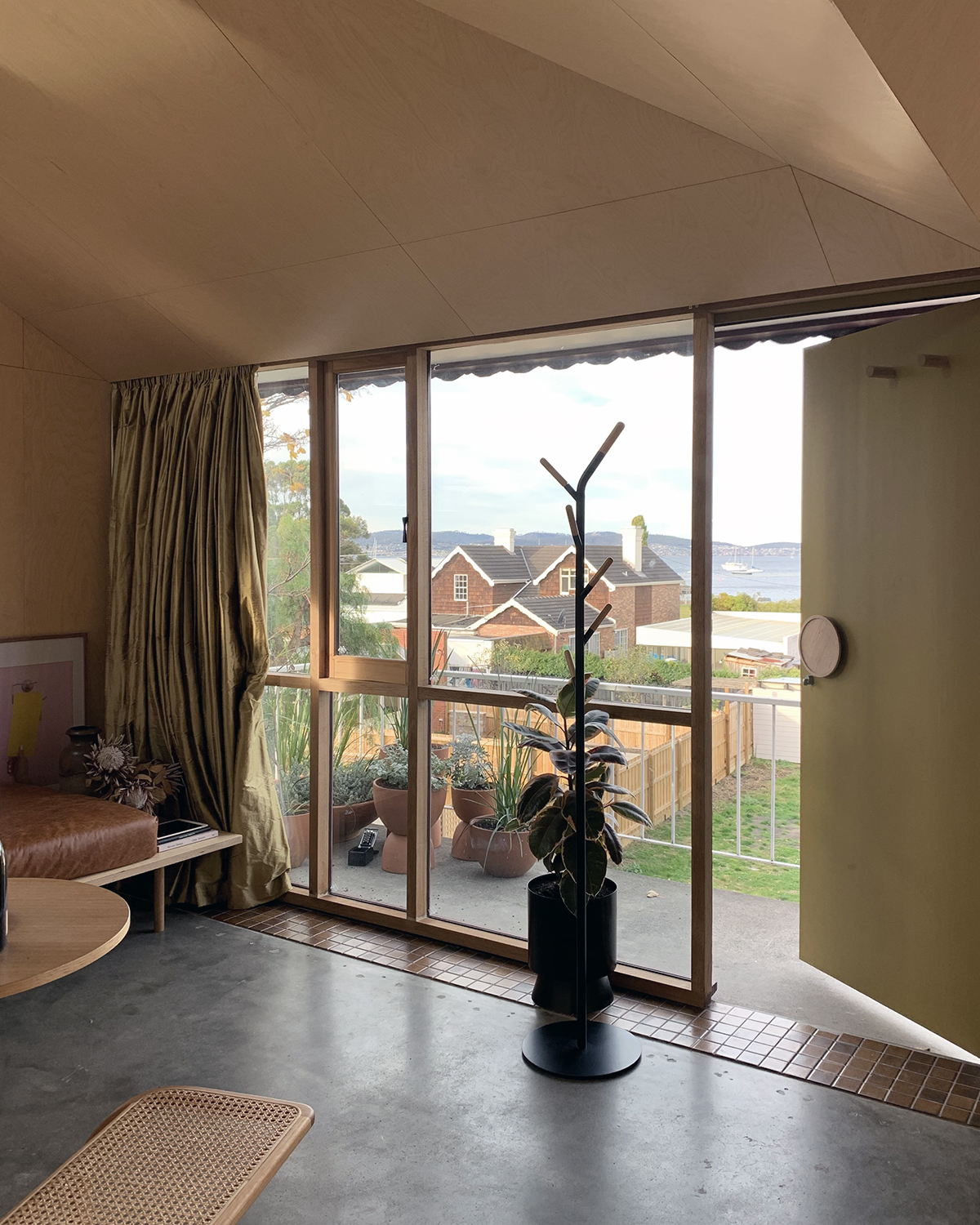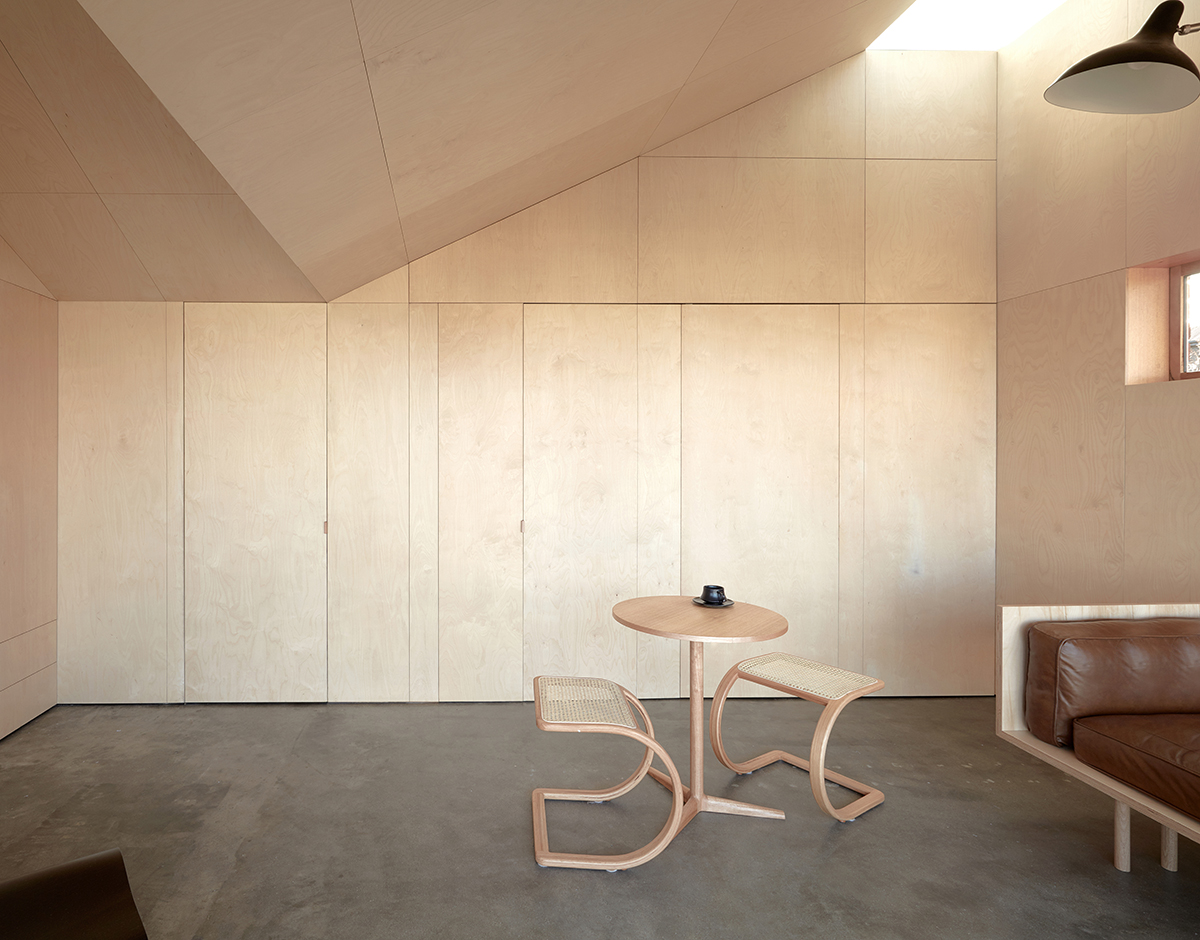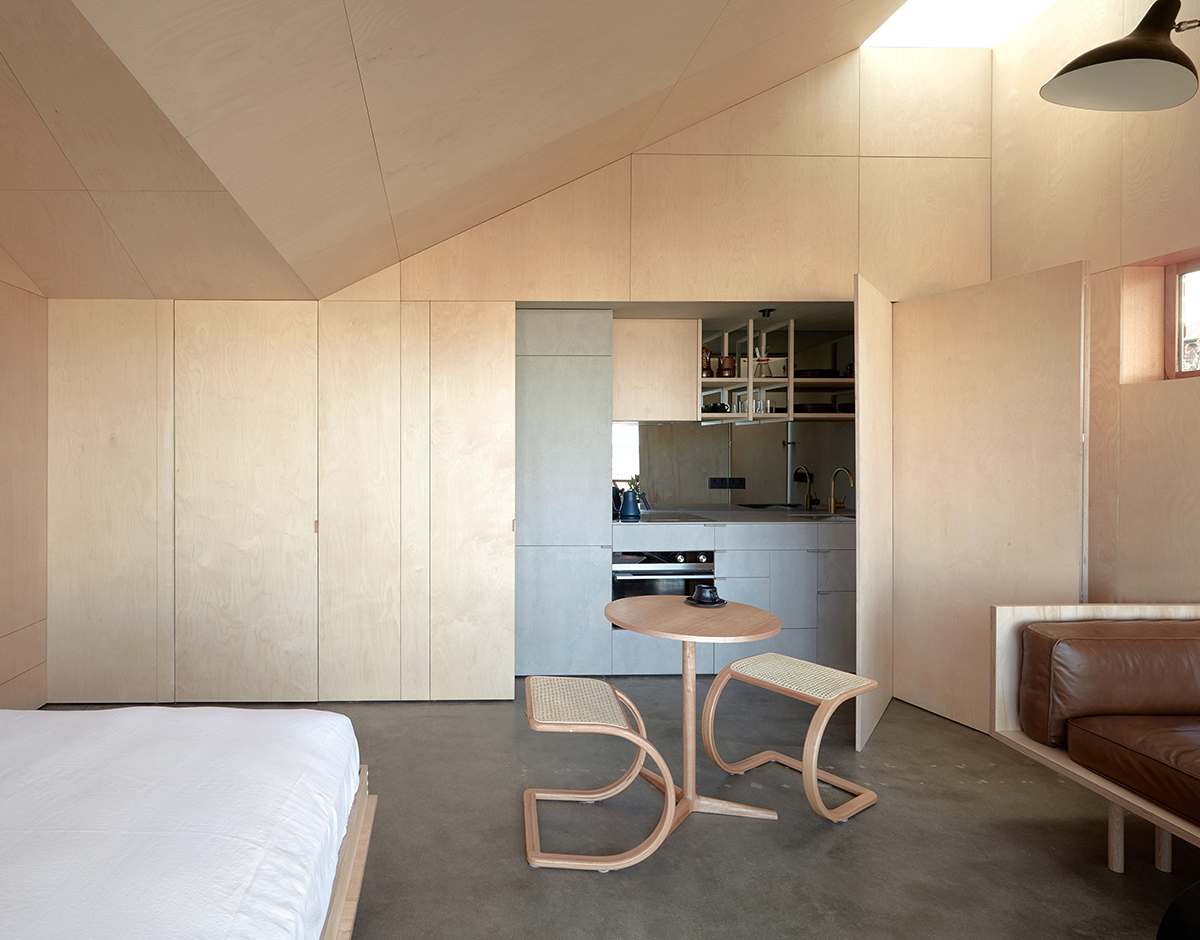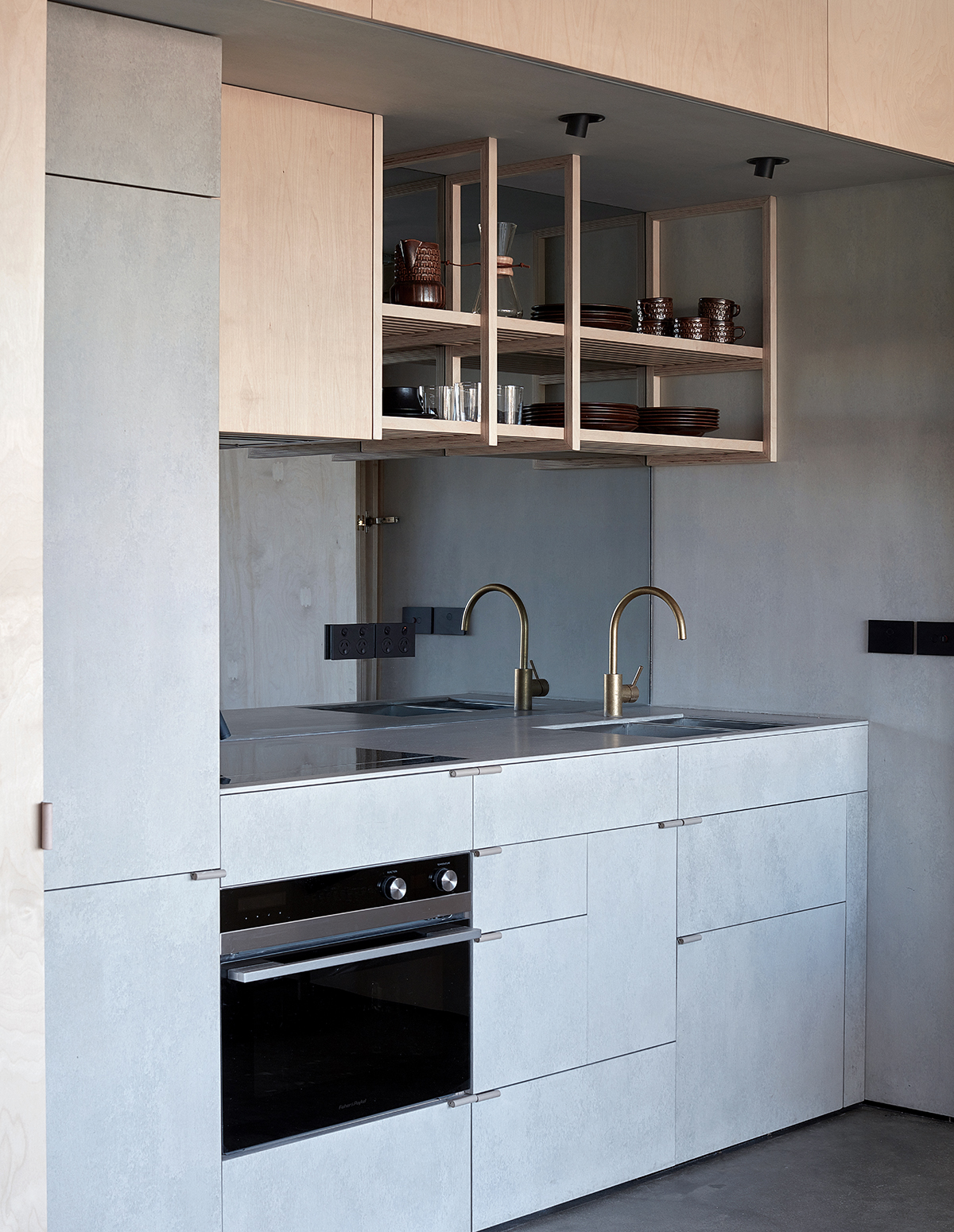 Why did you choose to line the apartment in plywood?
Alex and I early on were interested in using a material that wouldn't differentiate between the walls, ceilings, and cabinetry. When you have a material that changes throughout the space, or changes in texture, it can become visually busy very quickly. You read the different objects and architectural elements, whereas if you have a continuous scheme, you only read the volume and spatial configuration, rather than the materials that make it up. In the kitchen, we used a utilitarian material, cement sheet, and in the bathroom just the singular tile, so in the entire apartment there's only four finishes, with the concrete floor.
How do you think all of these choices ultimately contribute to the experience that your Airbnb guests have when they stay there?
The overarching experience that people get is the experience of the framed views of the water, and the framed views of the sky. There are two vaulted ceilings: one that goes up to the skylight over the bed, and one goes up to the skylight over the living space. When you're lying in bed in night, you can look at the stars. That's something our guests really connect with and often photograph and post about.
People also just love the surprise of the space — entering it and not really understanding what it is, then finding the bed and the bathroom and all of these hidden spaces, and realizing there are all these parts to it. Our guests often say that when they first walk into the apartment it looks so small that they're not sure they want to stay there, but after a week, they're totally happy and comfortable.
I don't know if it's something about the color of the birch ply, or the very good acoustics and sound insulation we added, but it feels really calming. Just to be there and be able to look out over the water. It has a very special quality I think; that's the feedback we've gotten on Airbnb.
Well, presumably they're choosing the Bae because they're open to something different, right?
When it comes to accommodation options in Hobart, you have hotel rooms, and you have houses on Airbnb that have a paint job and a renovation but don't challenge anything or give you a new experience. Whereas Alex and I wanted to challenge type and ask, is there such a thing as micro-luxury? Can you have a luxurious space that's only 250 square feet? Obviously our apartment is kind of niche, but the people that choose to stay there love that. They're looking for an experience outside the three-bedroom house, which is what we were looking for when we bought it as well. Our intention was to live in it a little while, go traveling, and use it as a base we could come back to, but then I got pregnant and ultimately you have to call it, when it's just too small. It wasn't going to work for us, but it was always intended to be on Airbnb in some capacity.
As an architecture studio, having guests staying in one of your projects and giving you real-time feedback must also be interesting.
Having this way of engaging with people in a space we've made has definitely been incredible for us. When you're doing projects for yourself you get to test all these things you might not get to test otherwise, and it's always so heartening to have people try it out and love it. Architects rarely get post-occupancy feedback. Or you might get feedback every couple of years.
It's also important that we've been able to watch the apartment influence people's thinking. As much as this project was originally about making a space for us, it was also about questioning the way we're living in Australia. One thing we've found through both our houses on Airbnb is that, as architects, people would never let you build these types of spaces for them, but they love experiencing them. If you drew a plan of the Bae for someone, they'd say no, it's not for me, but when they get a chance to stay in it and experience it, it does have an impact. They're not sure at first, and then they love it.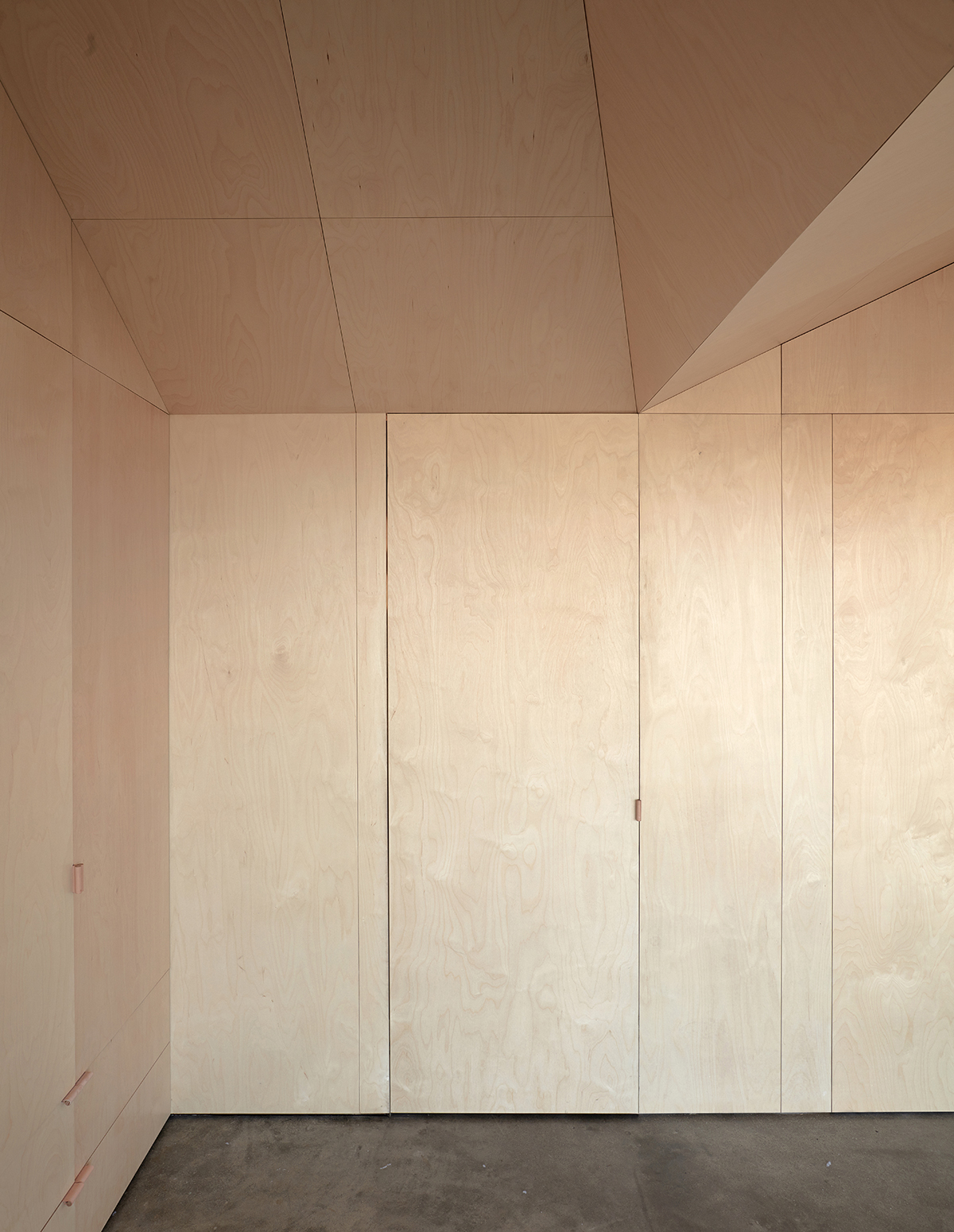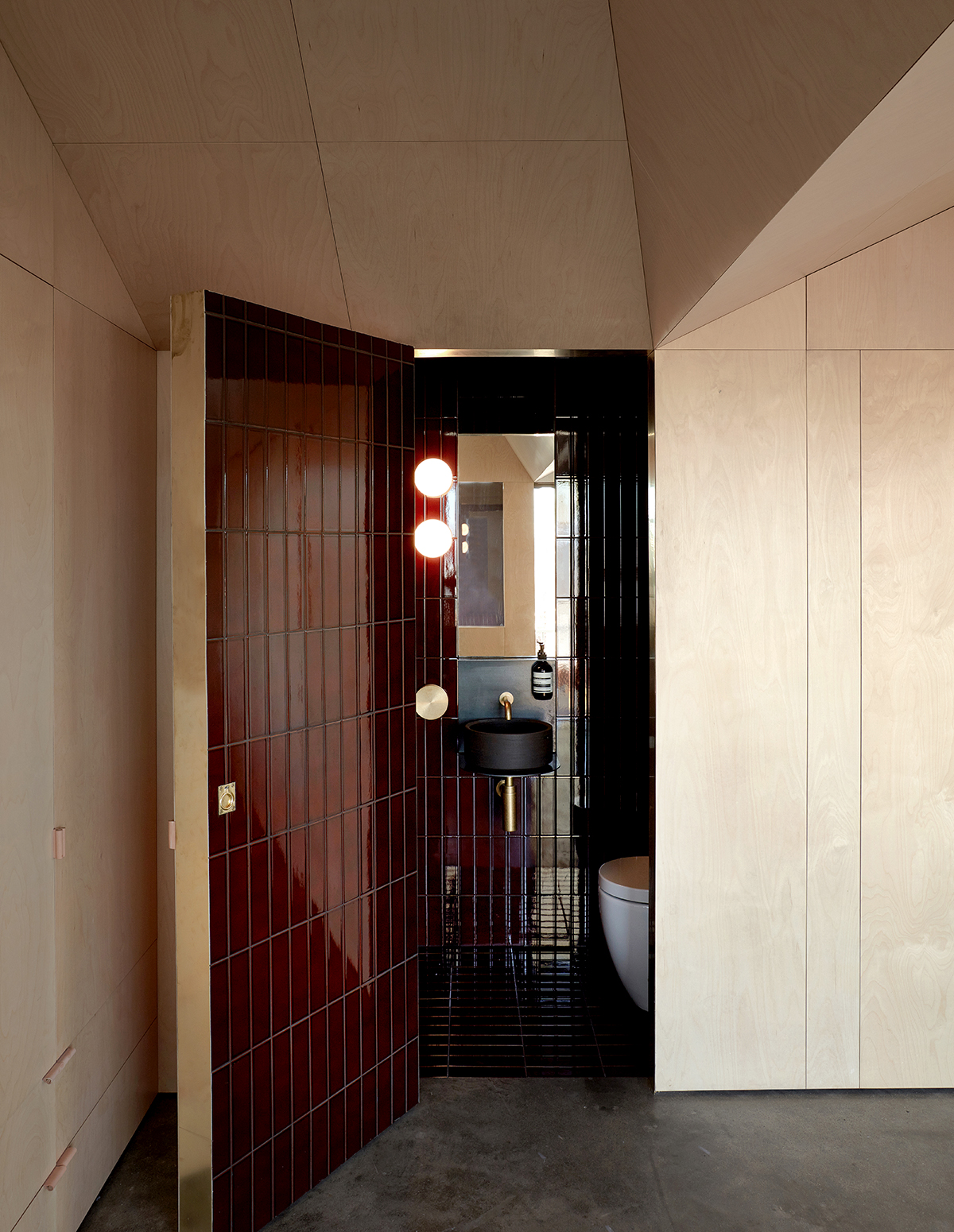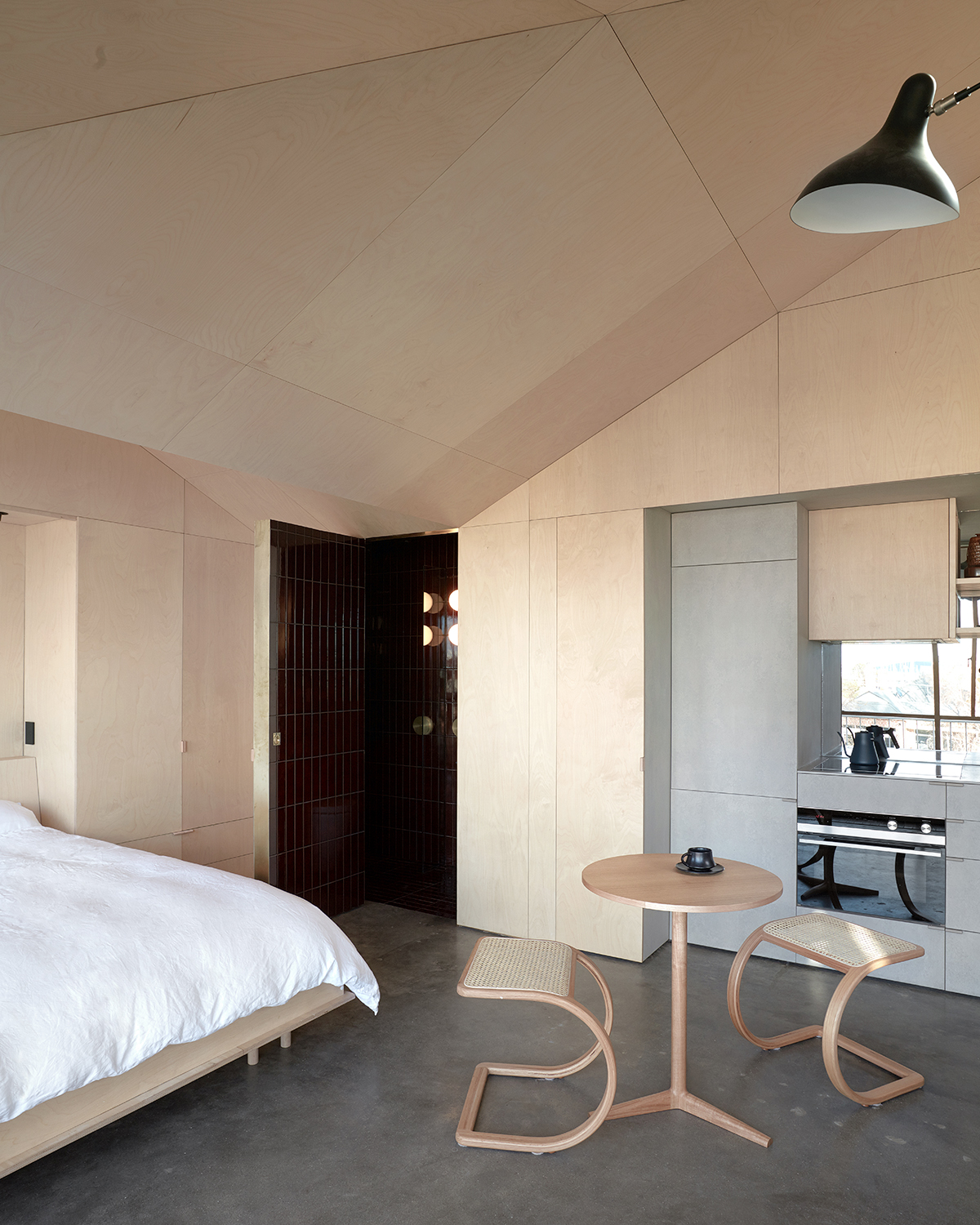 What has been your approach to hosting guests? How do you contribute to them having that great experience?
We're passionately Tasmanian, and when we started Airbnb-ing we were young and culturally aware, so from the beginning we always provided our guests with our own guide to Hobart — where we'd eat, where we'd shop, where we'd buy wine. Even things like where's a really great organic grocer, or where can you get a good almond milk. That's the number one thing people respond to the most. In general we try to tailor the experience to how we would like it. Because it's a small space we can't have lots of flowers, but we always try to have one sculptural flower in the space that makes it feel like there's life in there. And at the moment we also have a beautiful monstera taking over the space. All of our crockery is Wedgwood from the '70s, and because we're architects, we have architecture books in the space.
We specifically furnished it so you could sit comfortably with a group of people, with two people on the couch, one person in the arm chair, and two at the table. It may look sparse, but if you have four people you can still sit without being jammed together or all in a row. That was important to make people feel comfortable in the space. We also spent quite a lot of money at the end of our build on a custom-made silk curtain that runs across the large window, so you can be in complete privacy.
Well speaking of how you've outfitted the space, that's one thing that I think really sets the Bae above the norm — that you have proper designer furniture, which is rare for Airbnbs. Since I guess there's always the fear that you'll invest in something and then a guest will damage it.
Alex and I have a rule that we don't put anything in our rentals that we wouldn't have in our own home. For the Bae, we wanted everything to be made locally, made by us, or made by someone we want to support. The daybed was designed by us. It's wide, so it can fit two people watching TV together, and intentionally short so you can put books and plants at the end. Our table was designed by our friend Matt Prince, and the chairs were made by a company in Melbourne. The sink in the bathroom was designed by our friend who's a ceramicist, Lindsey Wherett, and sits on a special bracket so it can hover in the bathroom. The tap is eco-brass, with no finish on it, that's designed to patina with touch over time. I think these choices are so much a part of the experience of the apartment. Our other Airbnb, the Barn, has been listed since 2015, and in there we have lots of expensive objects — a chair by Hay, nice rugs, and lots of Tom Dixon glassware, and not once have we had any major damage. People are so respectful and enthusiastic and complementary about the effort we've made in terms of designing and furnishing our space.
Some people spend so much on their house and then pick shitty furniture. The trend of going to the cheap furniture store and buying cheap furniture, we're the opposite of that. Actually curating furniture is tricky, and it takes a long time, especially when everything needs to be shipped to an island like Tasmania. But ultimately it's worth it, and makes the experience better. ◆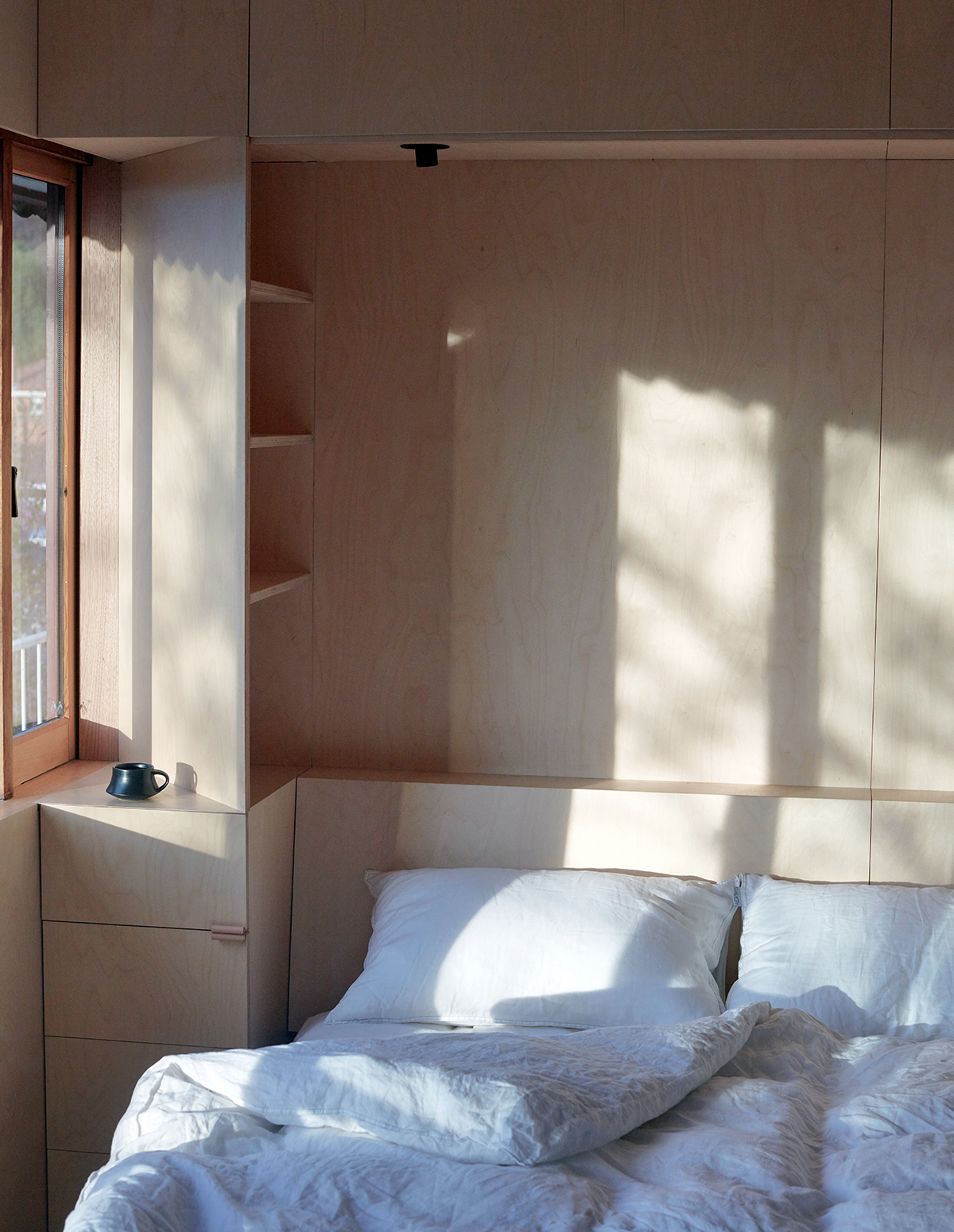 This post was sponsored by Airbnb, but all thoughts and editorial content are our own. Like everything at Sight Unseen, our partner content is carefully curated to make sure it's of the utmost relevance to our readers. Thank you for supporting the brands that support Sight Unseen.