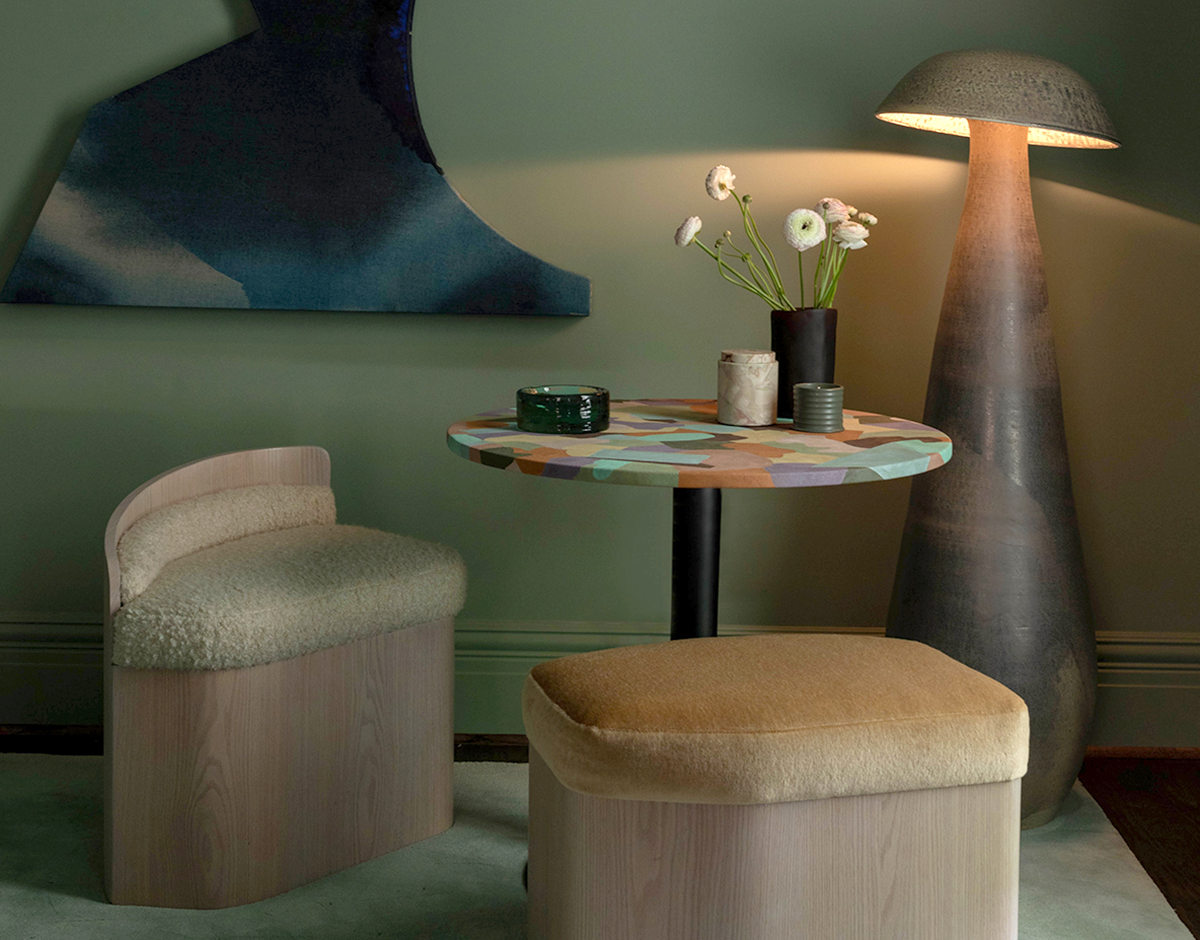 A weekly Saturday recap to share with you our favorite links, discoveries, exhibitions, and more from the past seven days. This week: an affordable(ish) amorphous plaster mirror, new chairs by Moroccan Renaissance woman LRNCE, lamps that are like little paintings, and a dreamy Kips Bay room by Michael Hilal (above).
Interiors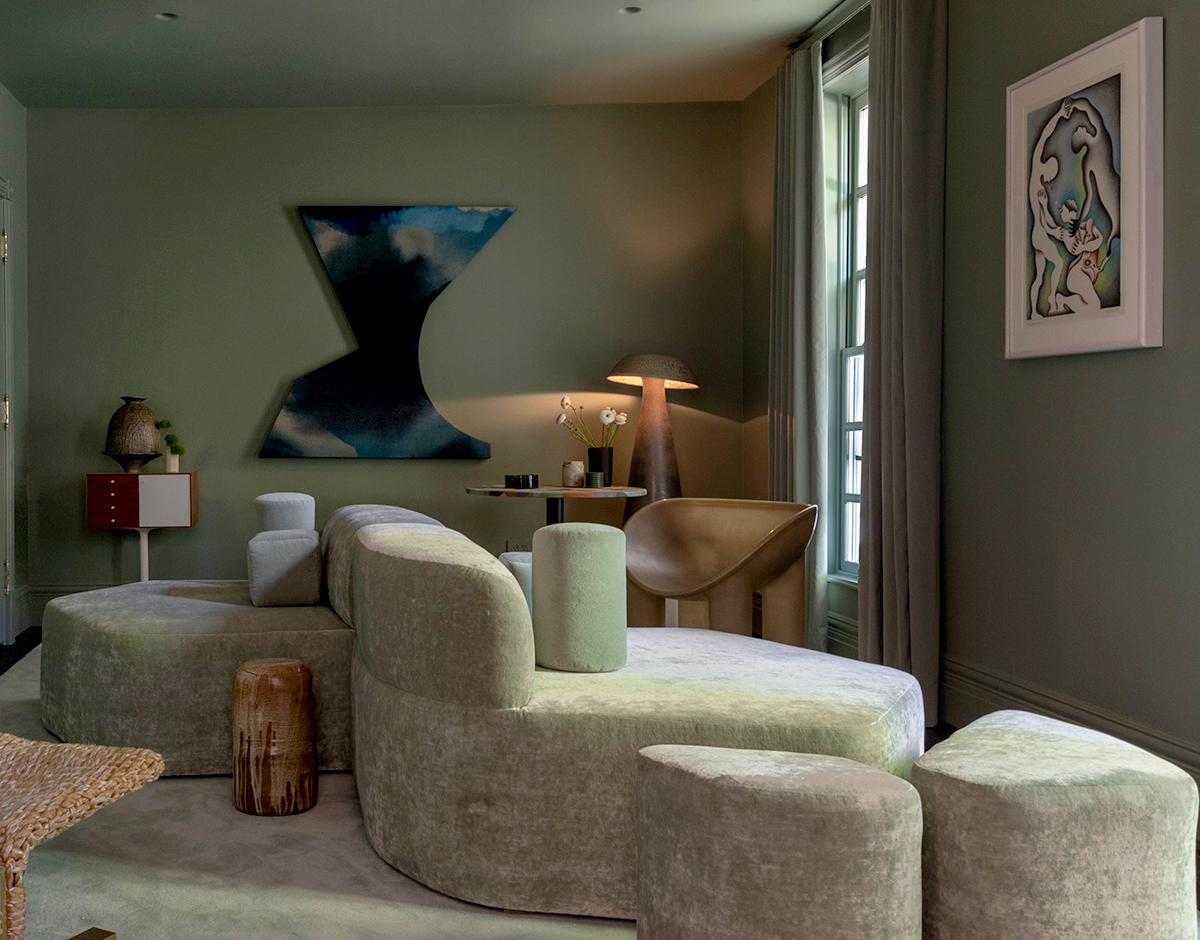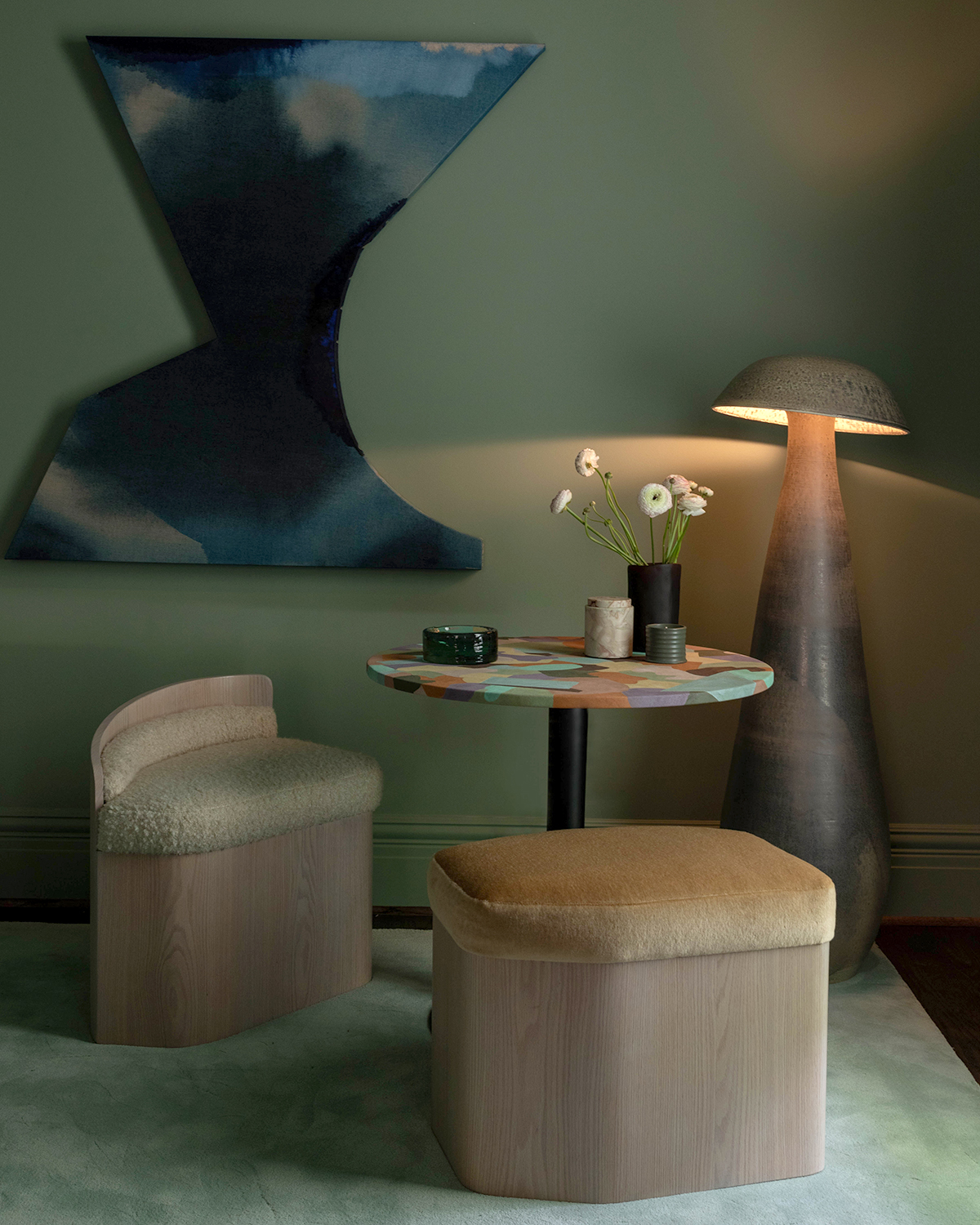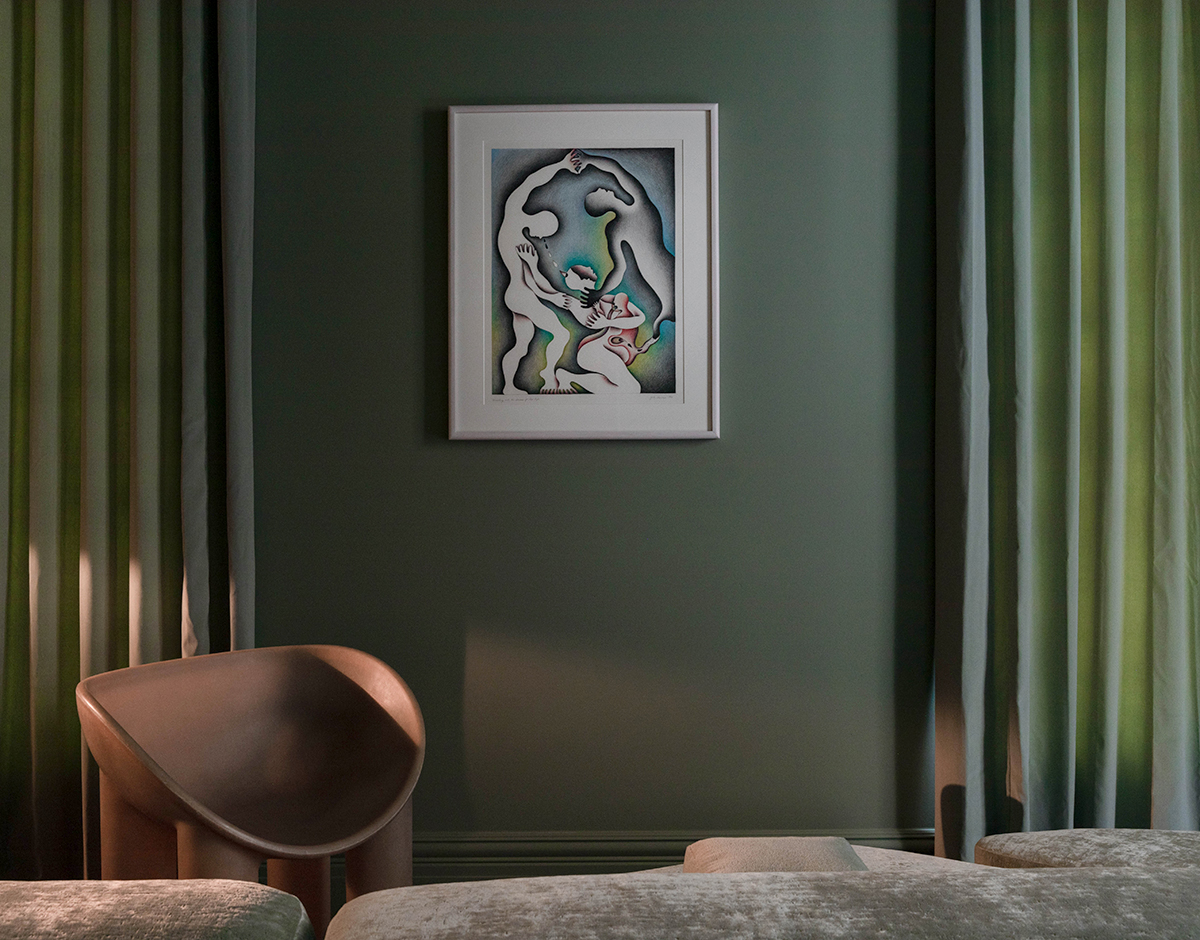 It's rare that we find a show-house room that we'd move into, like, tomorrow, but Michael Hilal's mossy green study for Kips Bay is one of them. Hilal made the sofas and stools himself, but partnered with a raft of fabricators, makers, and art galleries to realize the rest of his vision for a soothing vintage-Southwest-inspired space, including Nicholas Bijan Pourfard, who made the Mushroom floor lamp in the corner; Nicole Strickland Botto, who painted colorful blobs onto the suede table beside it; March SF, who lent the Faye Toogood Roly Poly chair; and Pamela Jorden, who provided the cool, misshapen dark-sky painting via her gallery, Romer Young.
Discoveries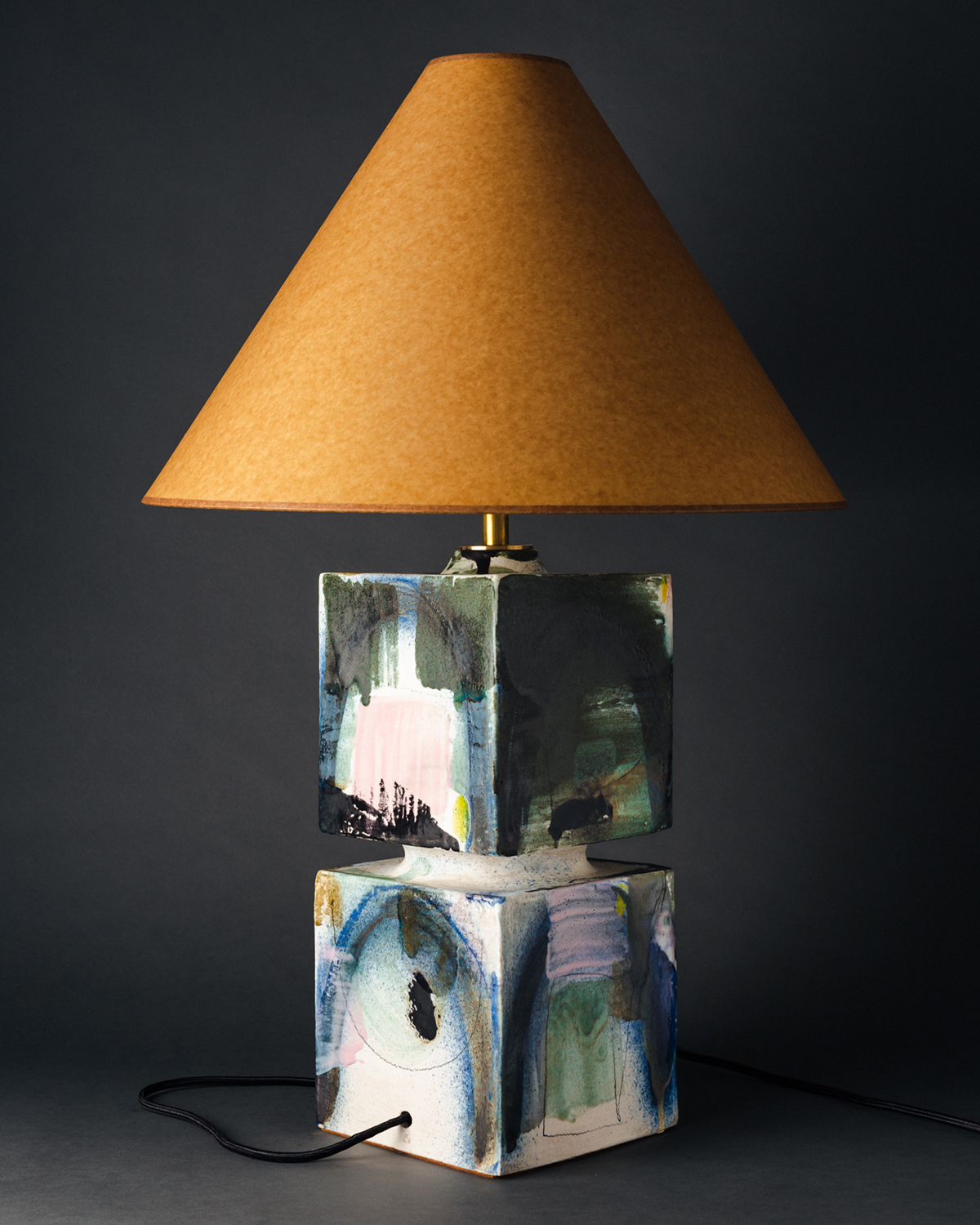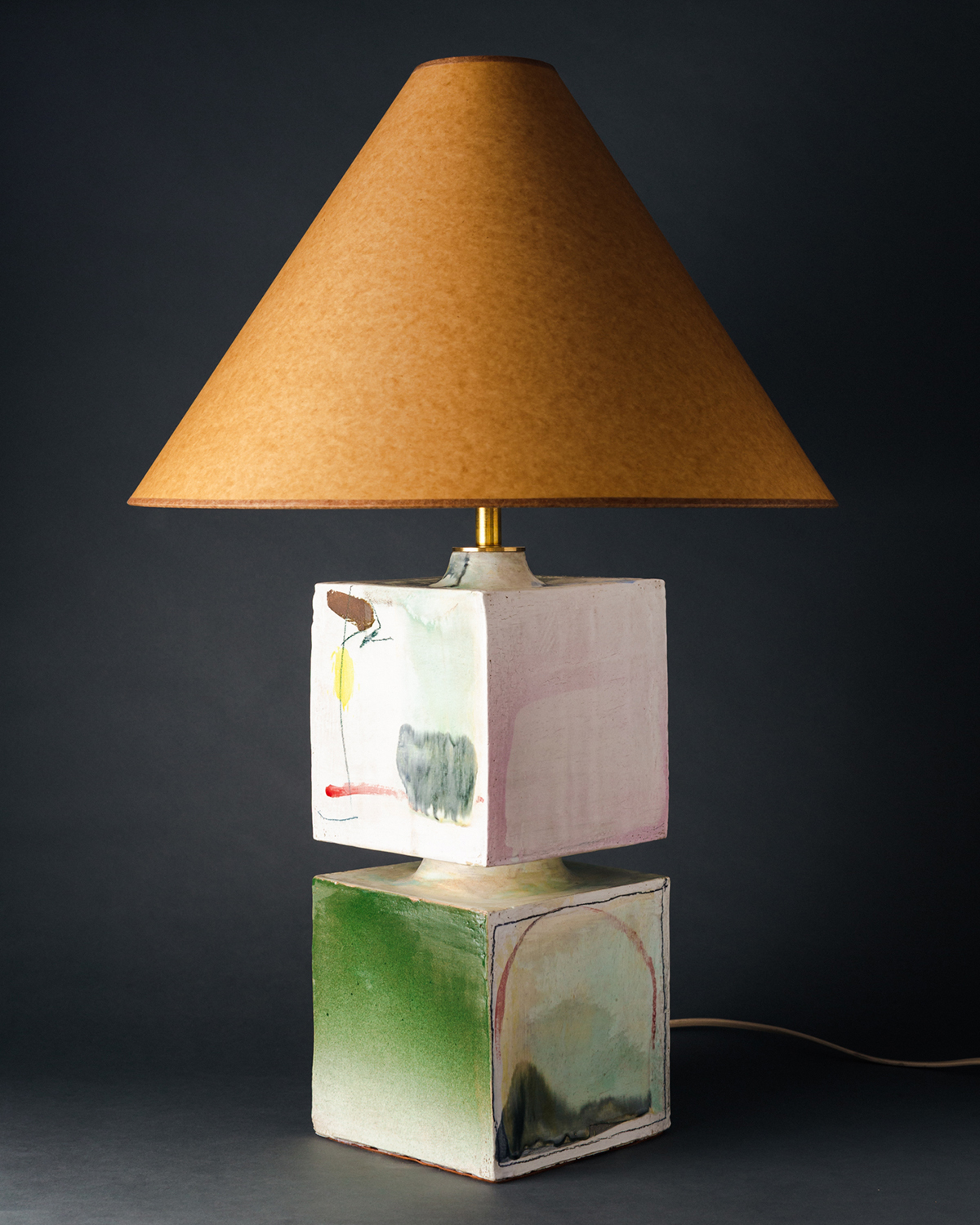 New York ceramicist Danny Kaplan just launched a limited-edition series of 10 lamps hand-formed by him and hand-painted by his friend Bruno Grizzo, with each square its own little work of art. Kaplan created the double-cube shape specifically to serve that purpose: "The Talis lamp allowed [Grizzo] to work on many facets, as if each one was its own universe," he said. We aren't sure if any of the 10 are still available for sale, but you can inquire here.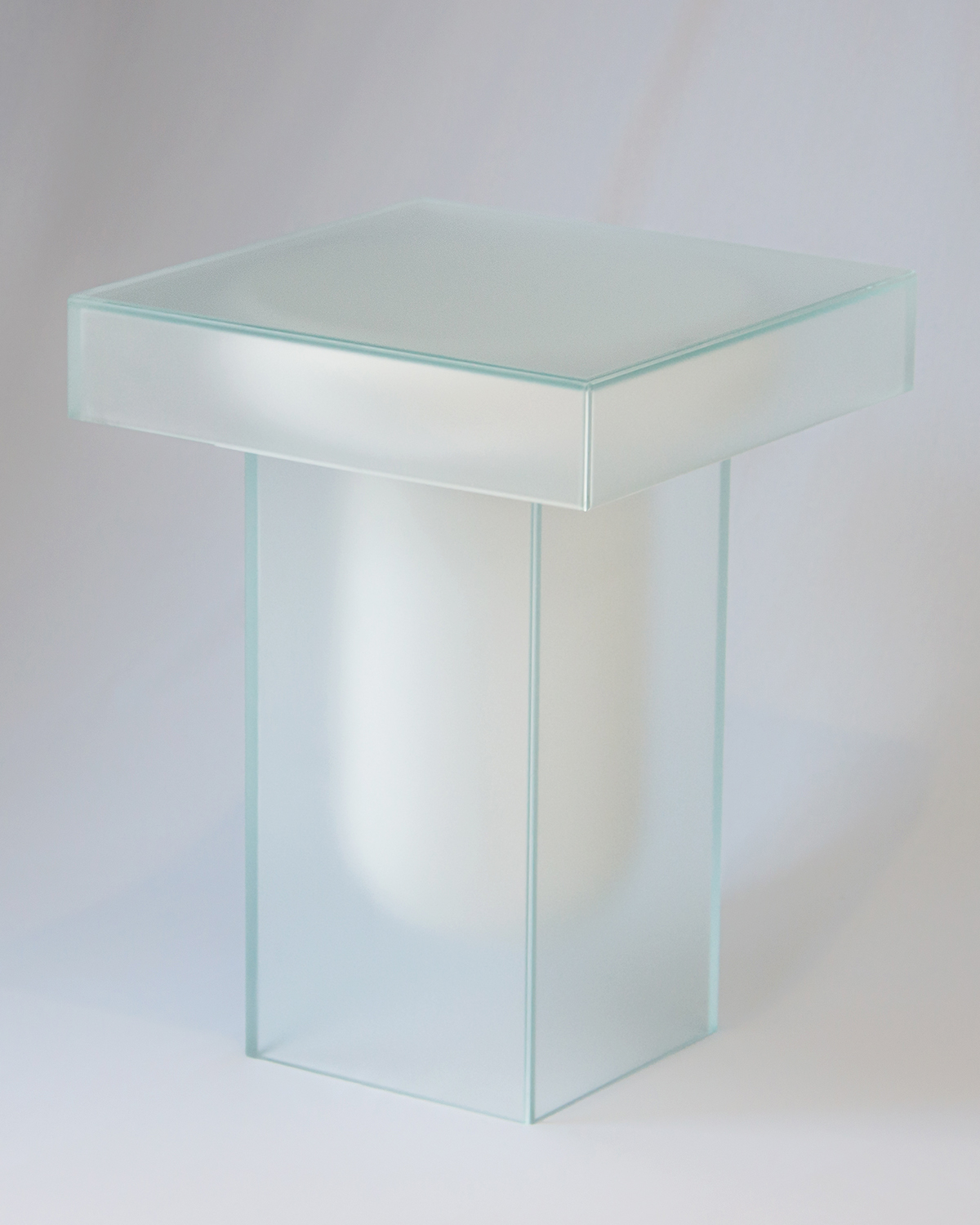 For Melbourne's Craft Contemporary festival, which ends this weekend, fave Aussie design gallery Modern Times put together a collection of new craft-based work by five local designers, including Nicole Lawrence, Ash Fischer, Zac Frankel, Real Non-Real, and Dean Norton, whose Containa tables were the highlight for us. The tables pair various colors of frosted glass with various colors of a turned-wood element suspended inside it. They're now available on Modern Times's site for about $3k USD.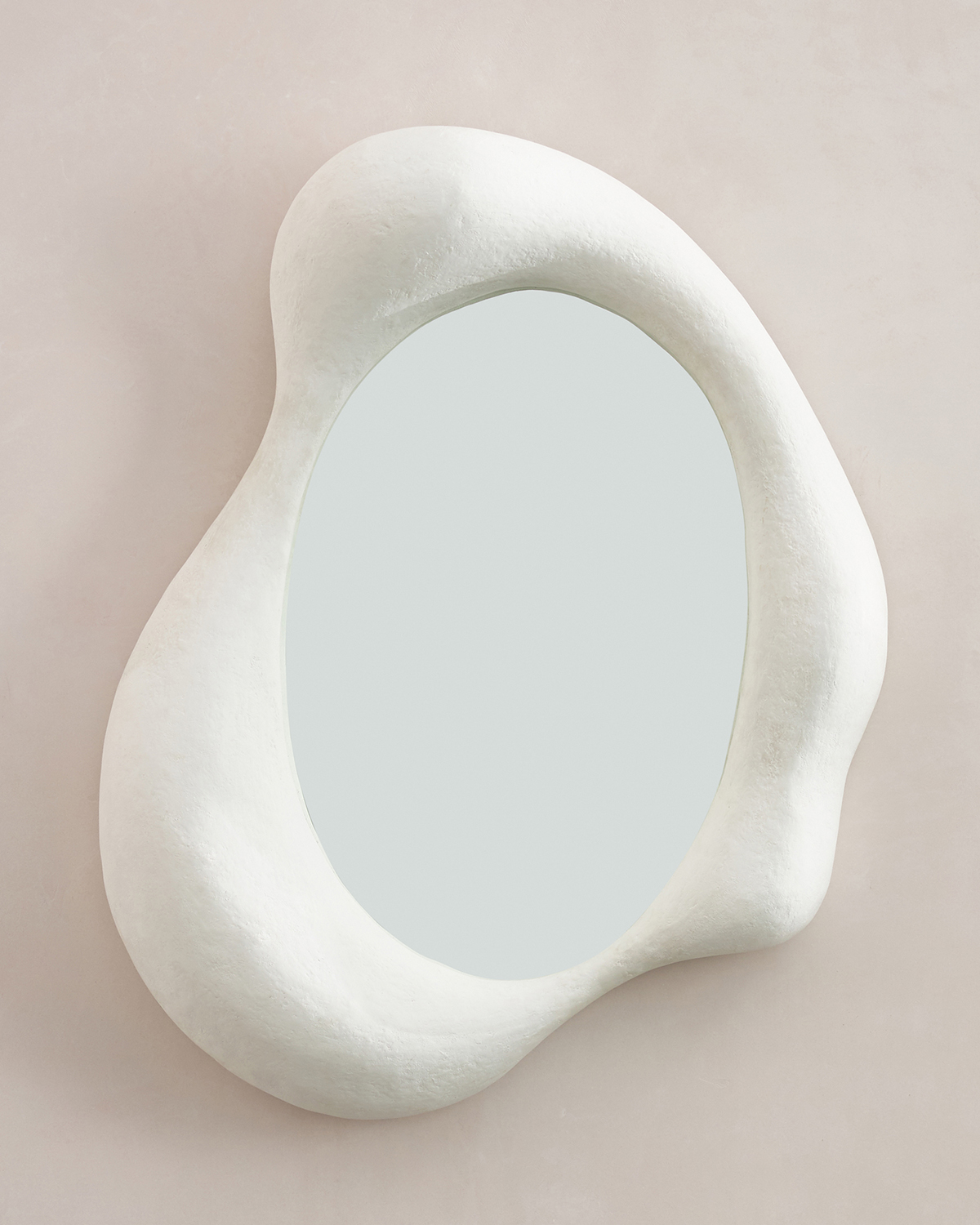 Ready to jump on the blobby mirror bandwagon? Here's a very easy — and good-looking — way to do it: Christiane Lemieux has collaborated with Anthropologie to create this three-foot-tall version in plaster for just under $700, which you can scope out here.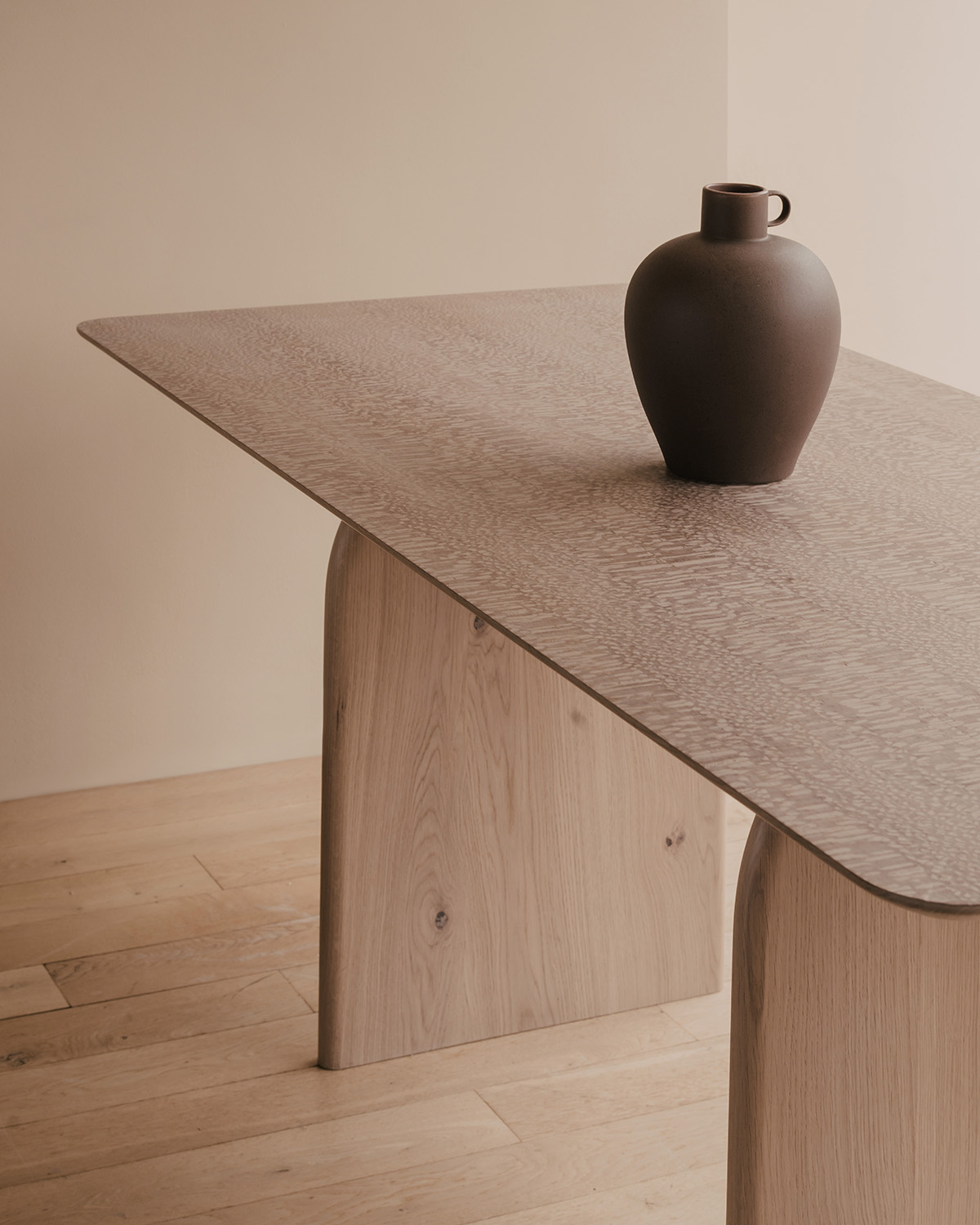 As we've learned from our time being a dealer on 1stdibs, everyone's constantly on the lookout for a nice, simple dining table that offers maximum legroom for those post-COVID dinner parties. Sella Concept's Pontem table fits the bill, with two arched-oak legs that are inset enough to accommodate two chairs on either side, and thin enough to offer minimum interference in the middle. The table also has a subtle textured veneer surface on top.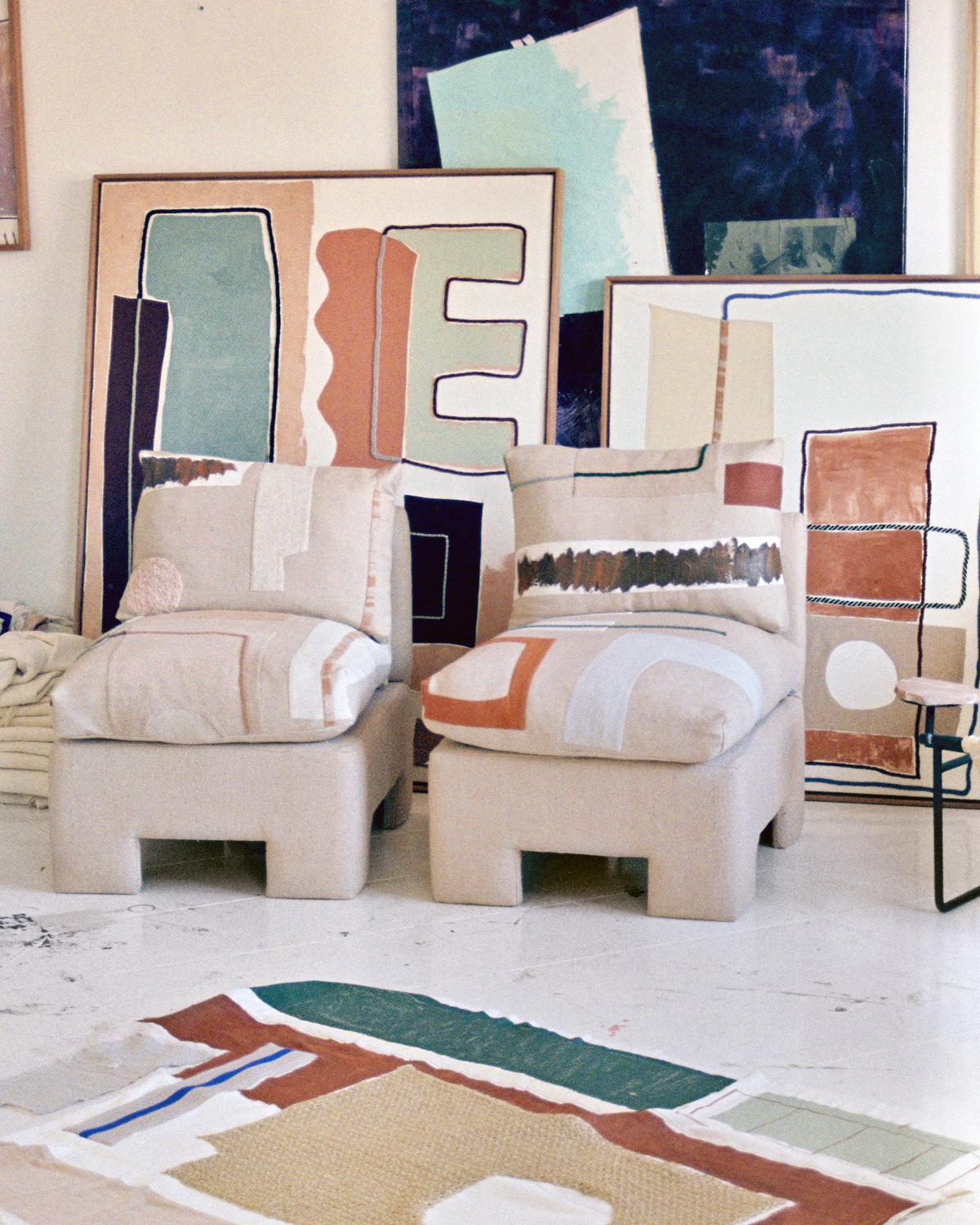 Morocco-based artist and designer Laurence Leenaert (aka LRNCE) works across a staggering number of typologies, from mirrors to lamps to mugs to tiles to blankets. She's made chairs before, out of sculpted wire, but her new foray into seating is more bespoke: having hand-painted a huge mural onto a 20-foot-long length of fabric, she cut it up and transformed it into cushions for seats destined for a residential project she's working on. Whether she'll make them for anyone else remains to be seen, but here's her contact page just in case!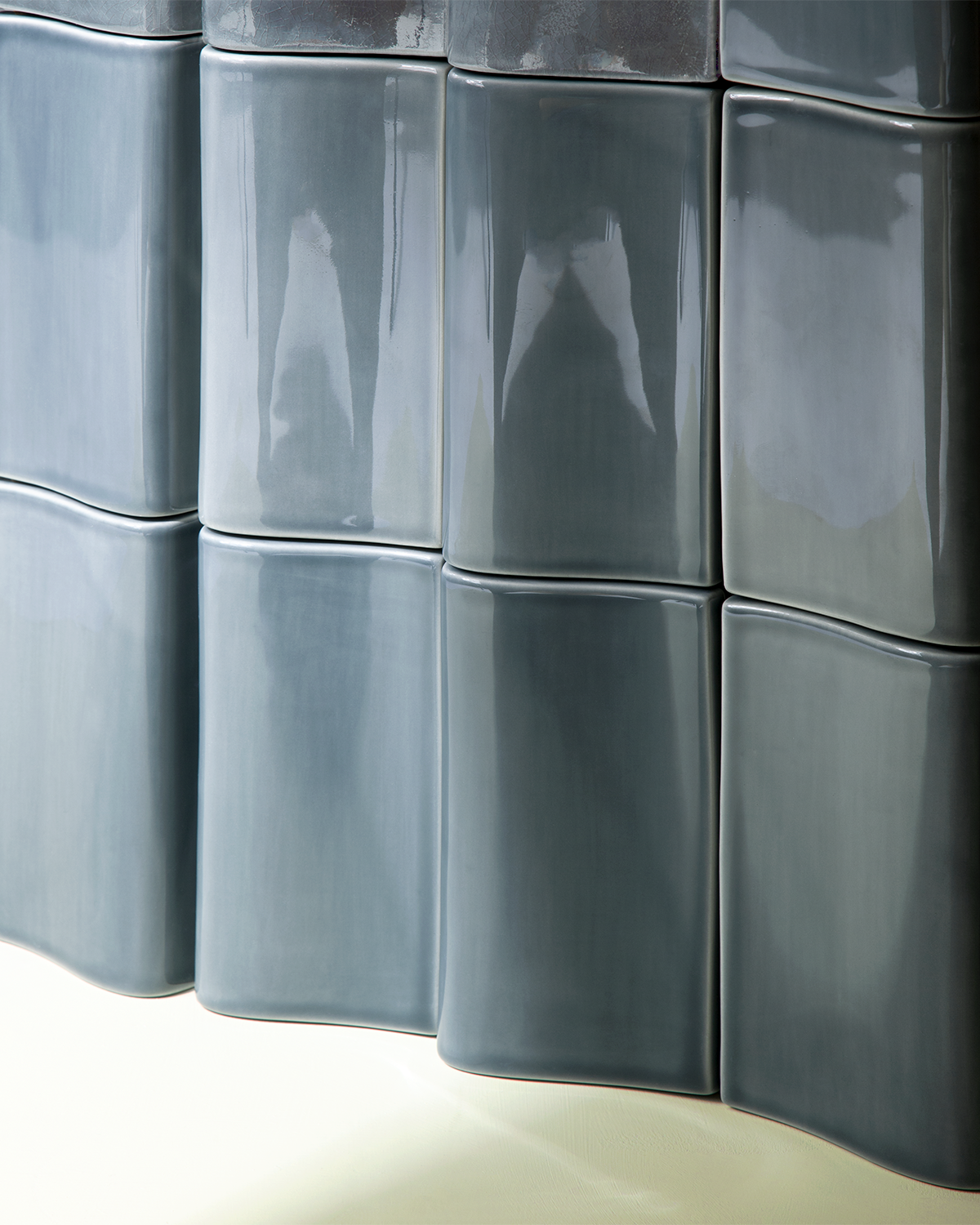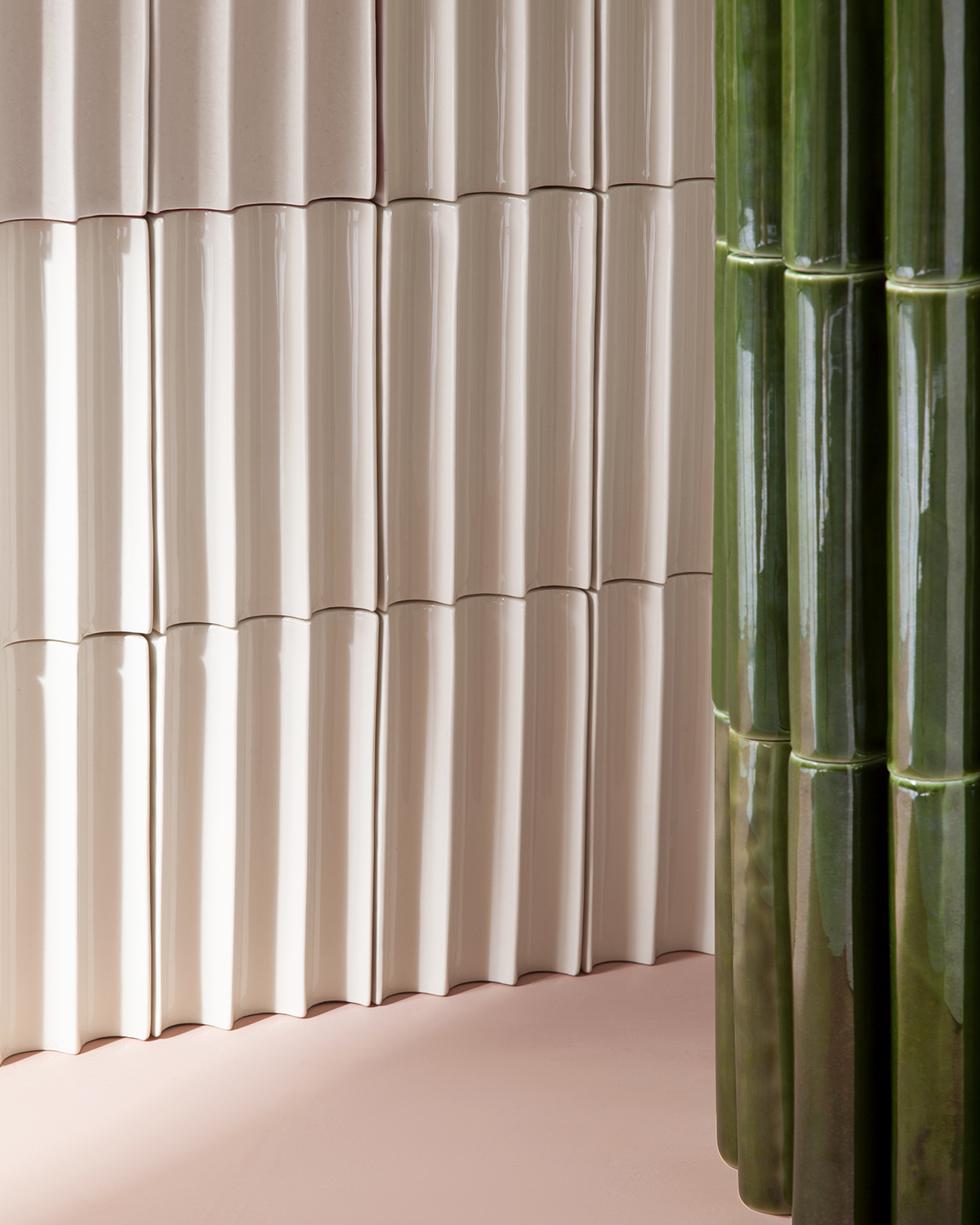 Are you suffering from zellige fatigue? If so, may we suggest these new ceramic tiles designed by Studiopepe for Theia? They come in three curvy profiles and add their own kind of texture and interest to walls. Guessing they're a little bit more low-maintenance, too.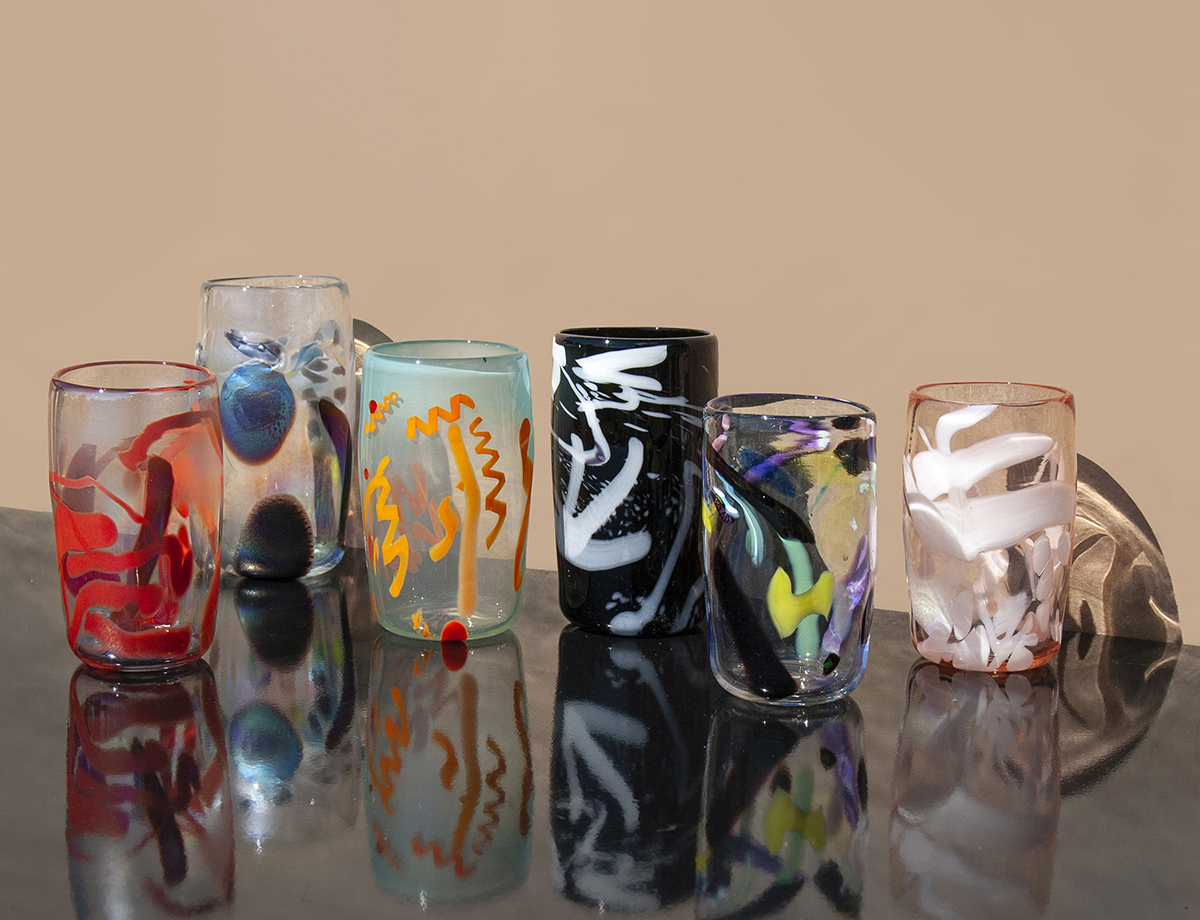 Sharing this image apropos of nothing, because we just found it and it captures so well the Nassau line of cups we love from Sirius Glassworks. Well, not totally nothing — the studio is currently celebrating its 45th anniversary at the moment and the glassmaker's daughter and business partner just launched a cool IG for archival art-glass, where she's been unearthing some major gems. Follow here.
Textiles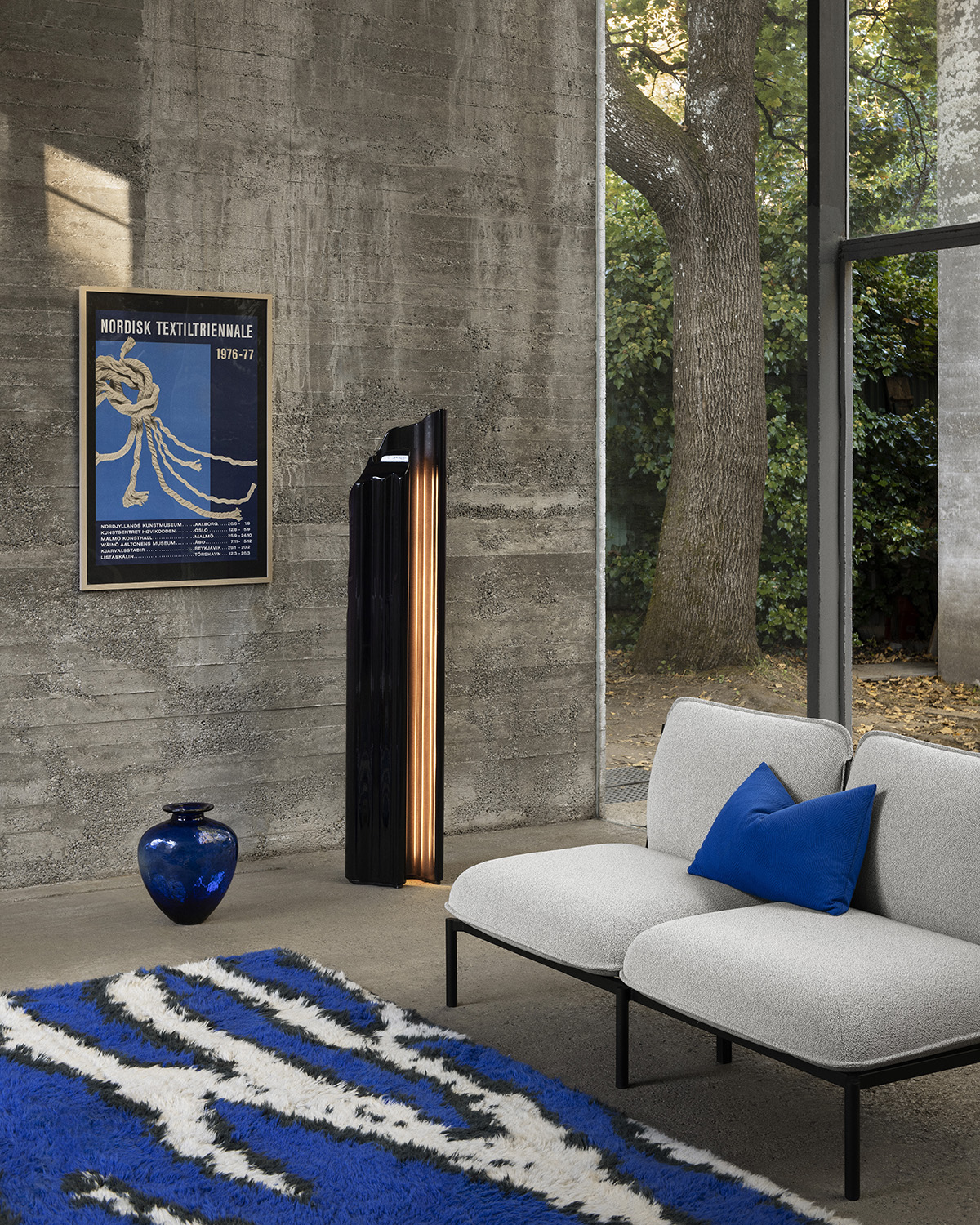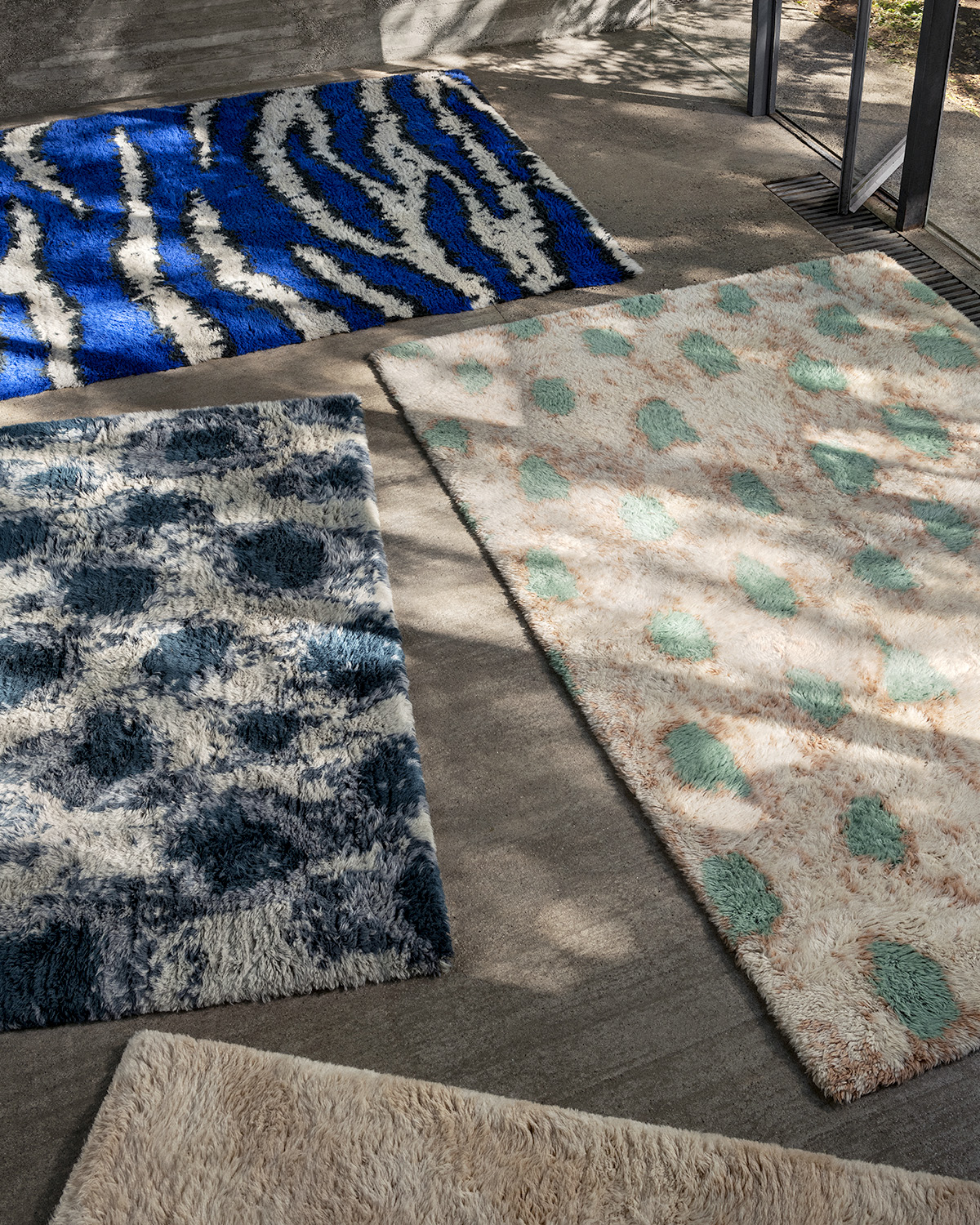 I generally take the position that rugs should be paintings for your floor, so the wilder the better for me. Which is why I'm happy to see that Hem went full-tilt this month with the new Monster series by Swedish artist and illustrator Siri Carlén that includes a legit bright-blue tiger stripe shag — not sure anyone will actually buy it but we really hope so. It looks really good in the modernist home the brand shot it in! Photos by Erik Lefvander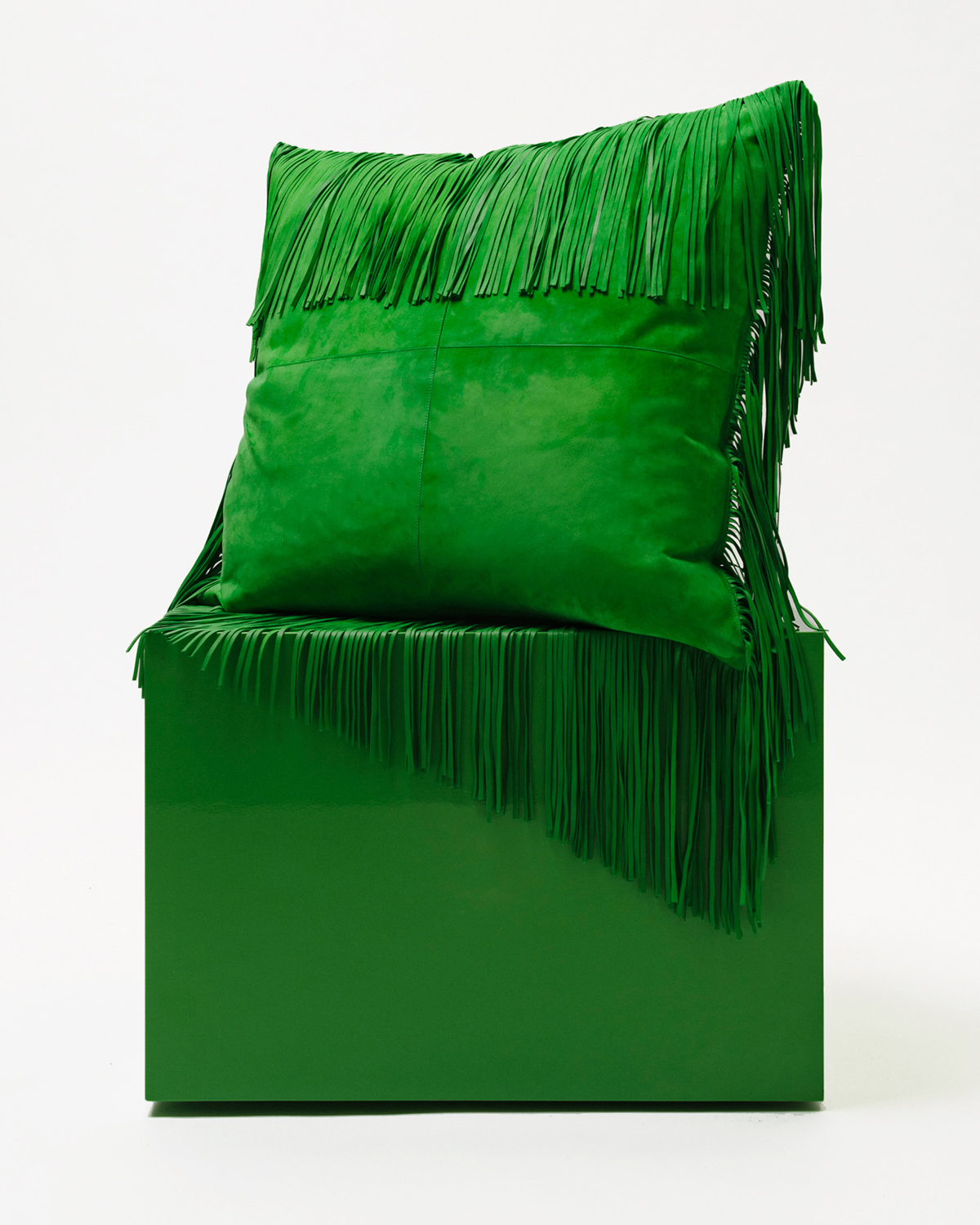 Jonathan Saunders may have made a name for himself in fashion, but he studied furniture design before he made clothes (and designed his own line of shelves and tables in 2020). Now he's launched a line of home goods that includes blankets, candles, and colorful fringed-suede cushions like the one above.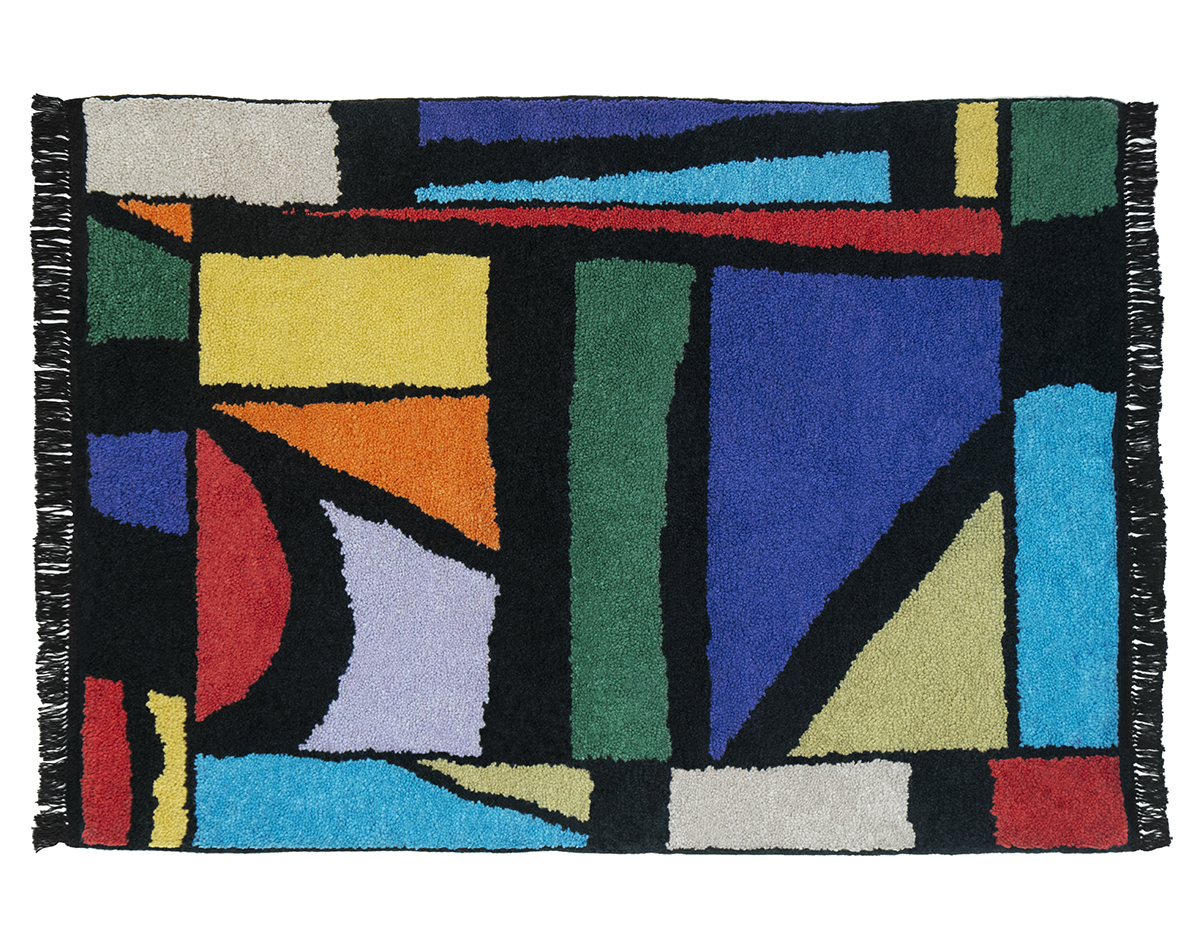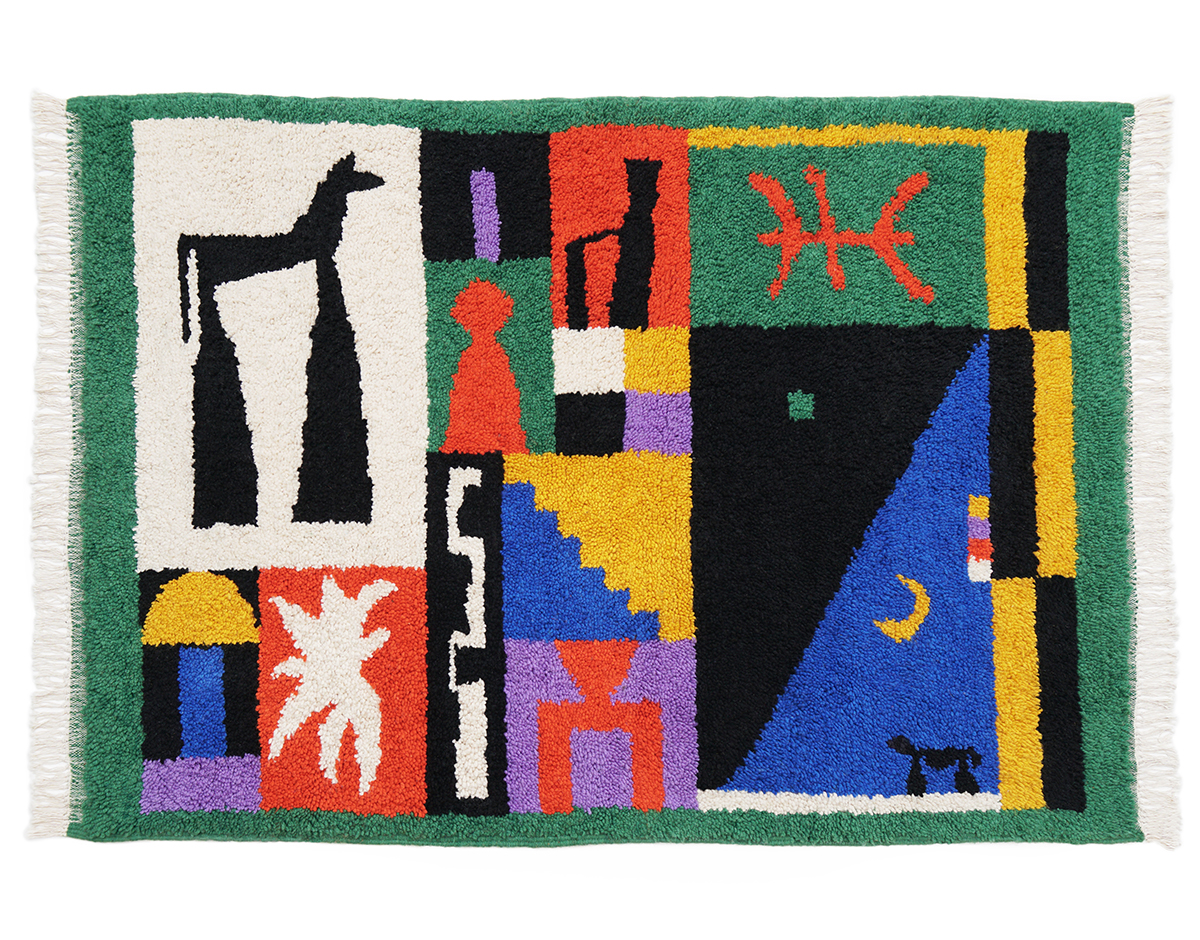 Proto Proto is a truly multi-cultural operation: founded by an Australian designer, based in northern Sweden, and creating limited-edition products by pairing creatives from places like Berlin, Belgrade, and Bucharest with artisans in places like Nairobi and Morocco. The latter was the setting of their latest project, a series of rugs made by the women's coop Tiglmalmin and designed by the artist duos Sobekcis (top) and Zebu (bottom). Proto Proto are the only middlemen in these collaborations, which allows them to return a much bigger percentage of each sale to the artisans than industry standard — in this case 40%. They're launching their ecomm next week but in the meantime, you can DM them to inquire about purchasing.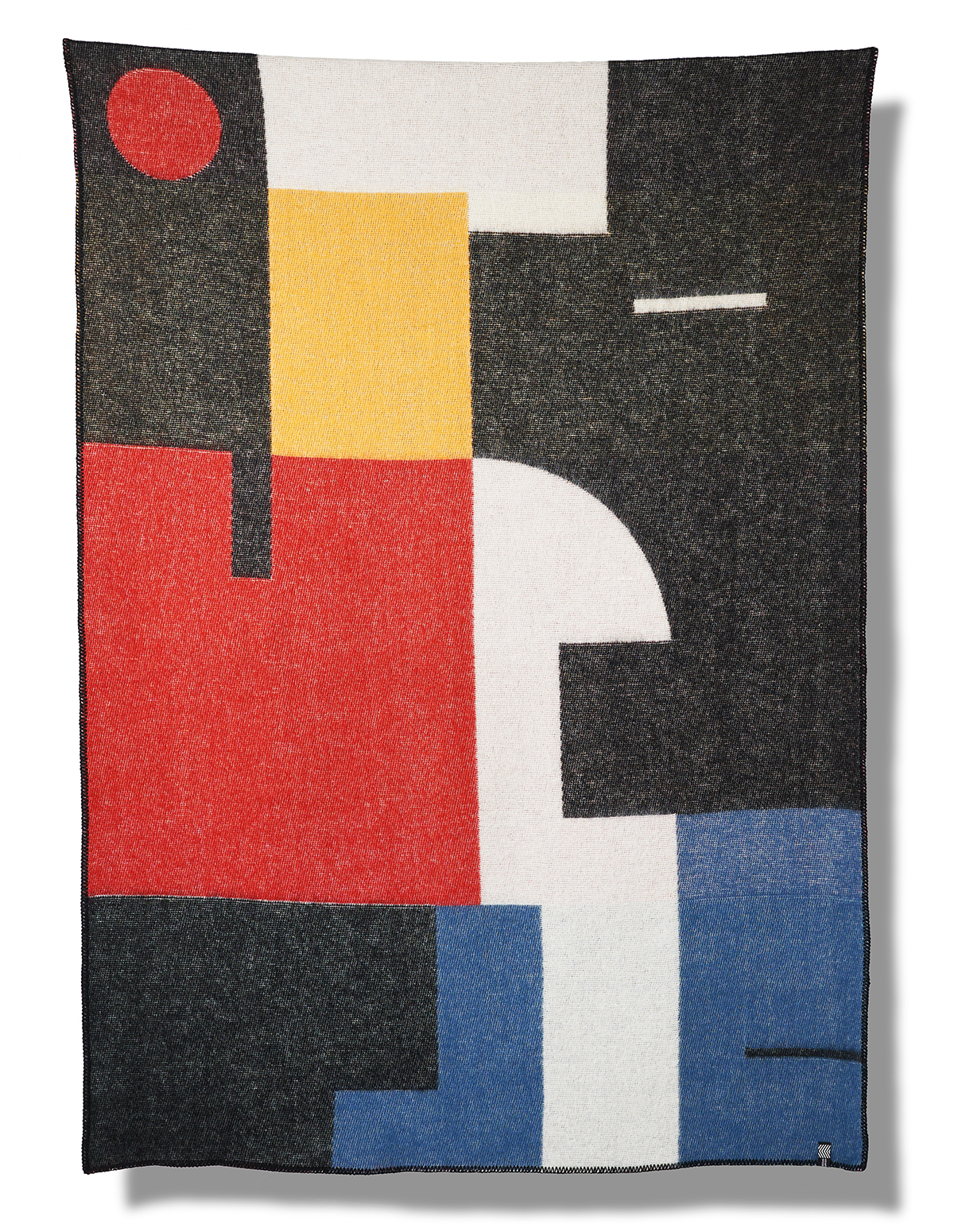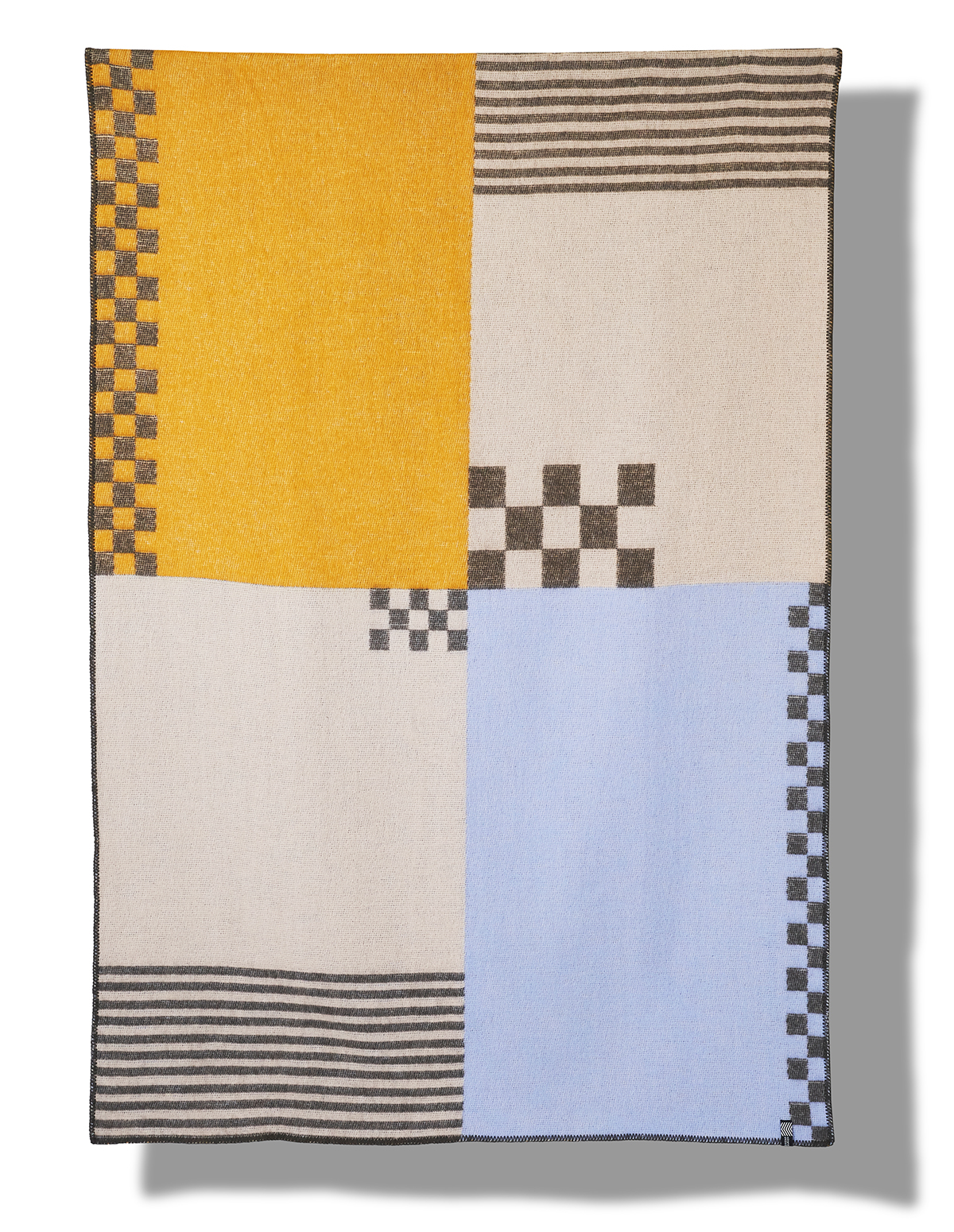 Wanted to quickly call out two winners in ZigZagZurich's most recent collection of artist-designed blankets: the Bauhaus homage above top by French textile designer Celine Cornu, and the *lightly* checkered design above bottom by illustrator Senem Oezdogan.
Exhibitions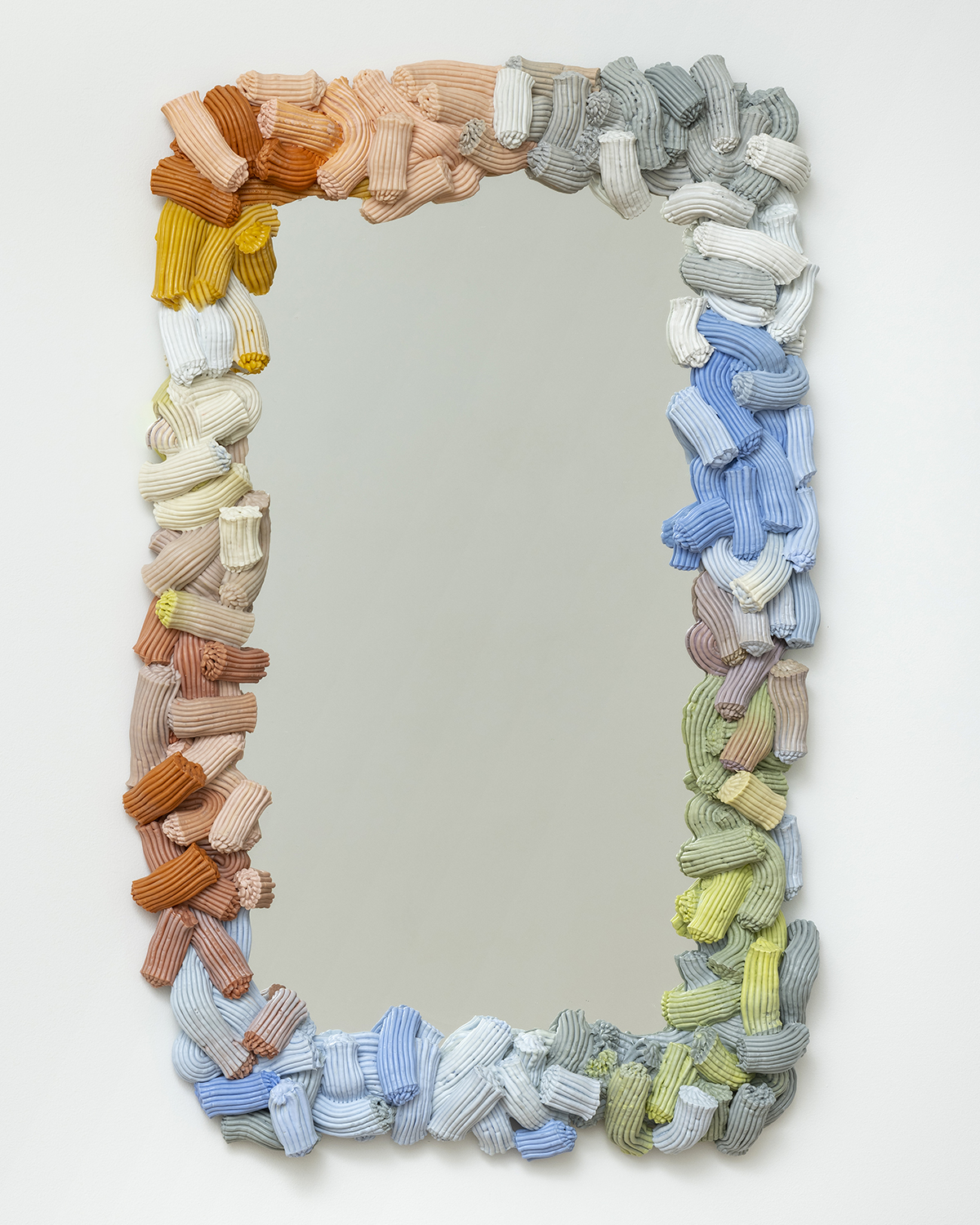 Stop us if we're posting too much James Shaw goodness? This mirror was the designer's latest extruded-plastic creation, part of Seeds gallery's Joy exhibition during the London Design Festival last month. Did you read our interview with Shaw back in March? If not, you should.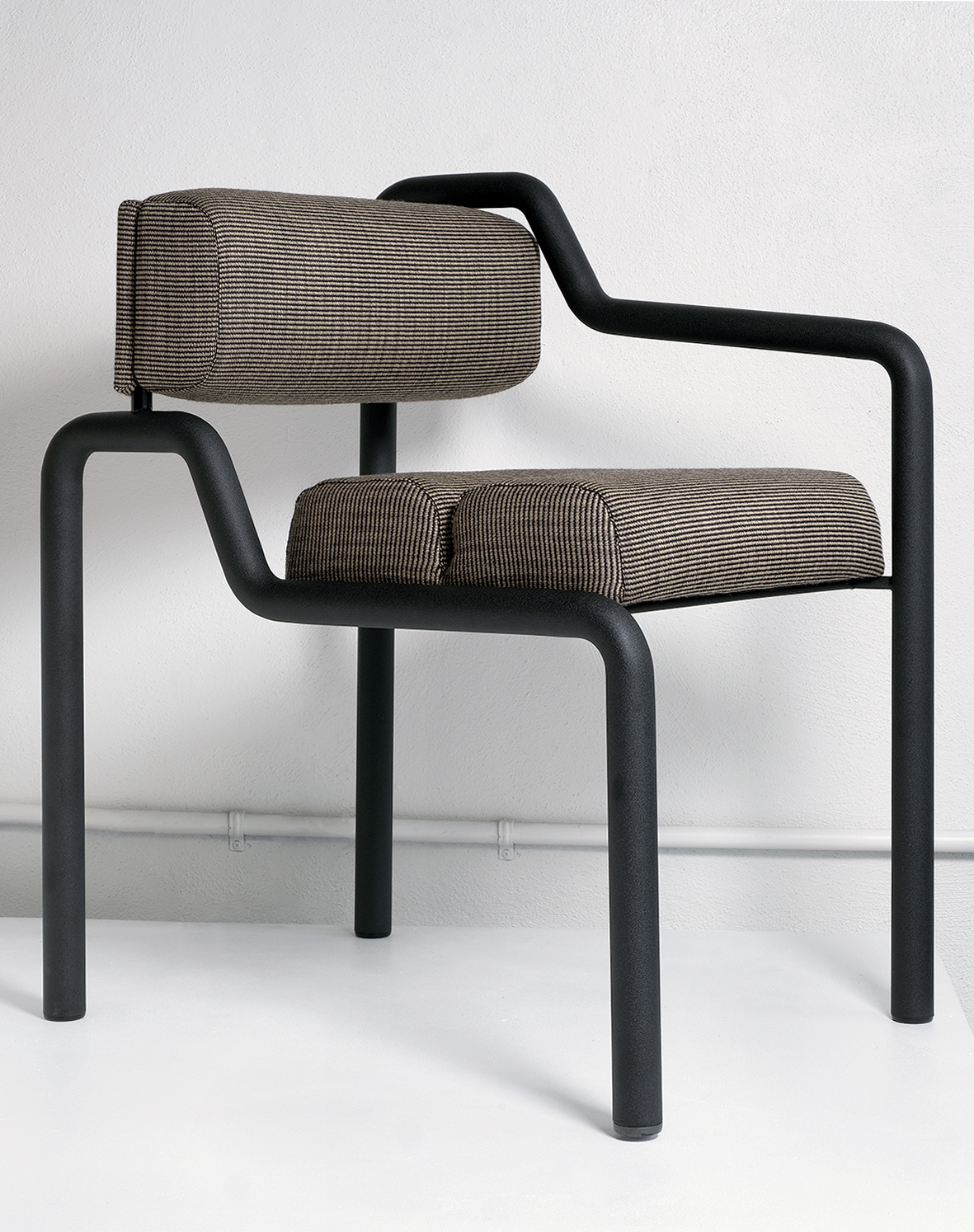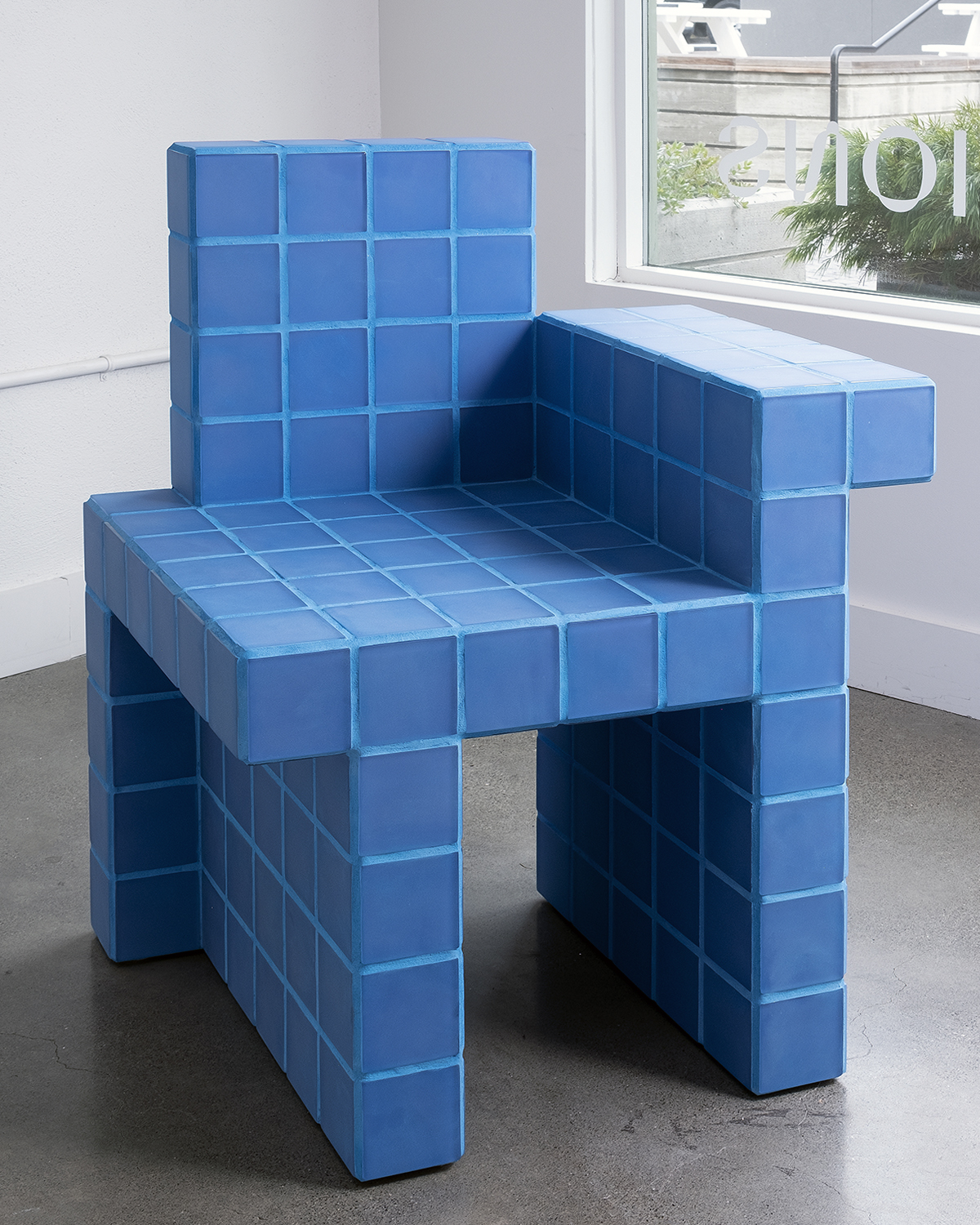 Right now in San Francisco you can visit a pop-up exhibition of work by 12 Bay Area designers called Temporarily Available, put together by the duo behind the new spatial experience studio Aditions. The participants include Kate Greenberg, who made the black tubular chair above, and a  chair lined in bright blue, handmade matte-glass tiles by Othrspace. Photos by Sahra Jajarmikhayat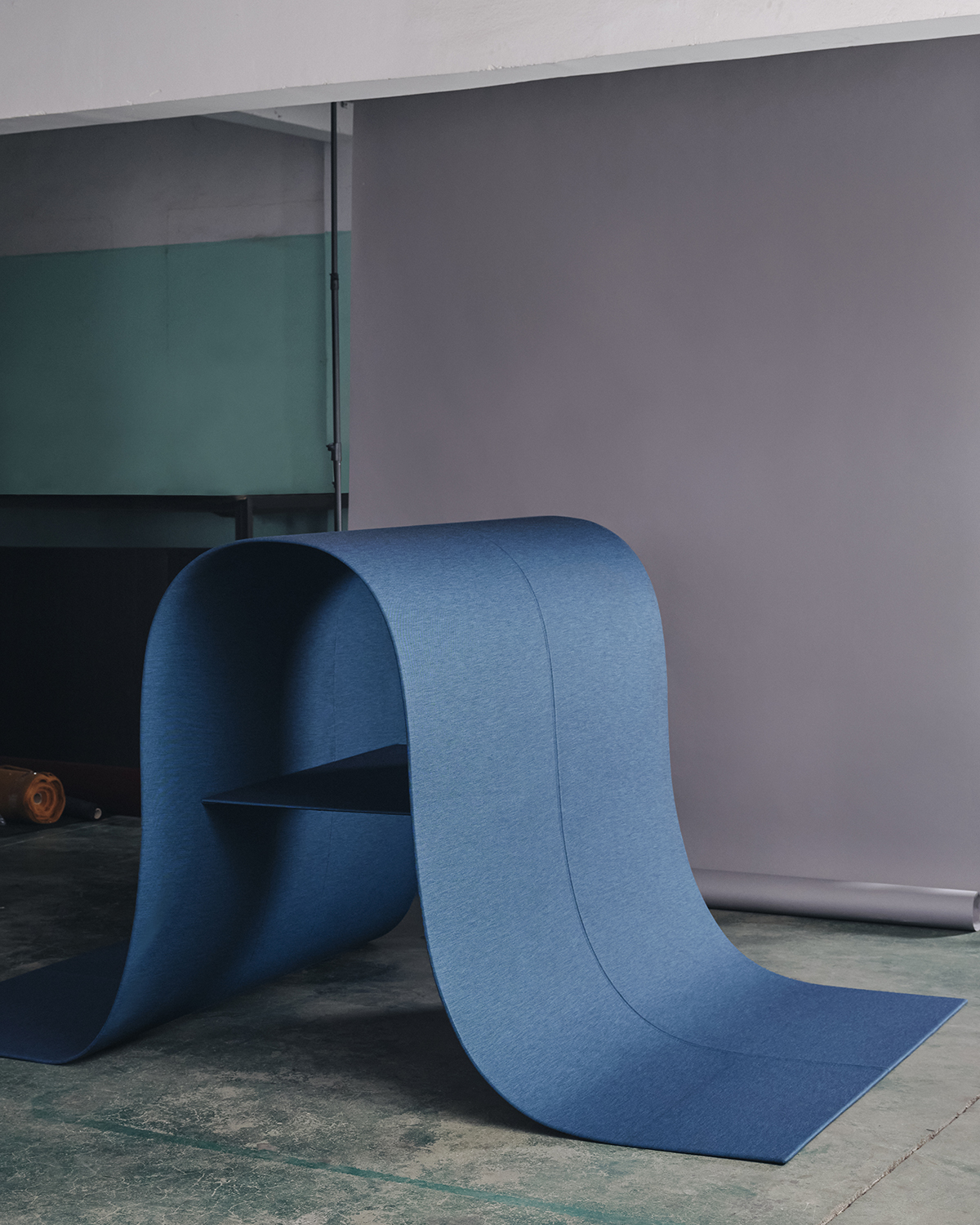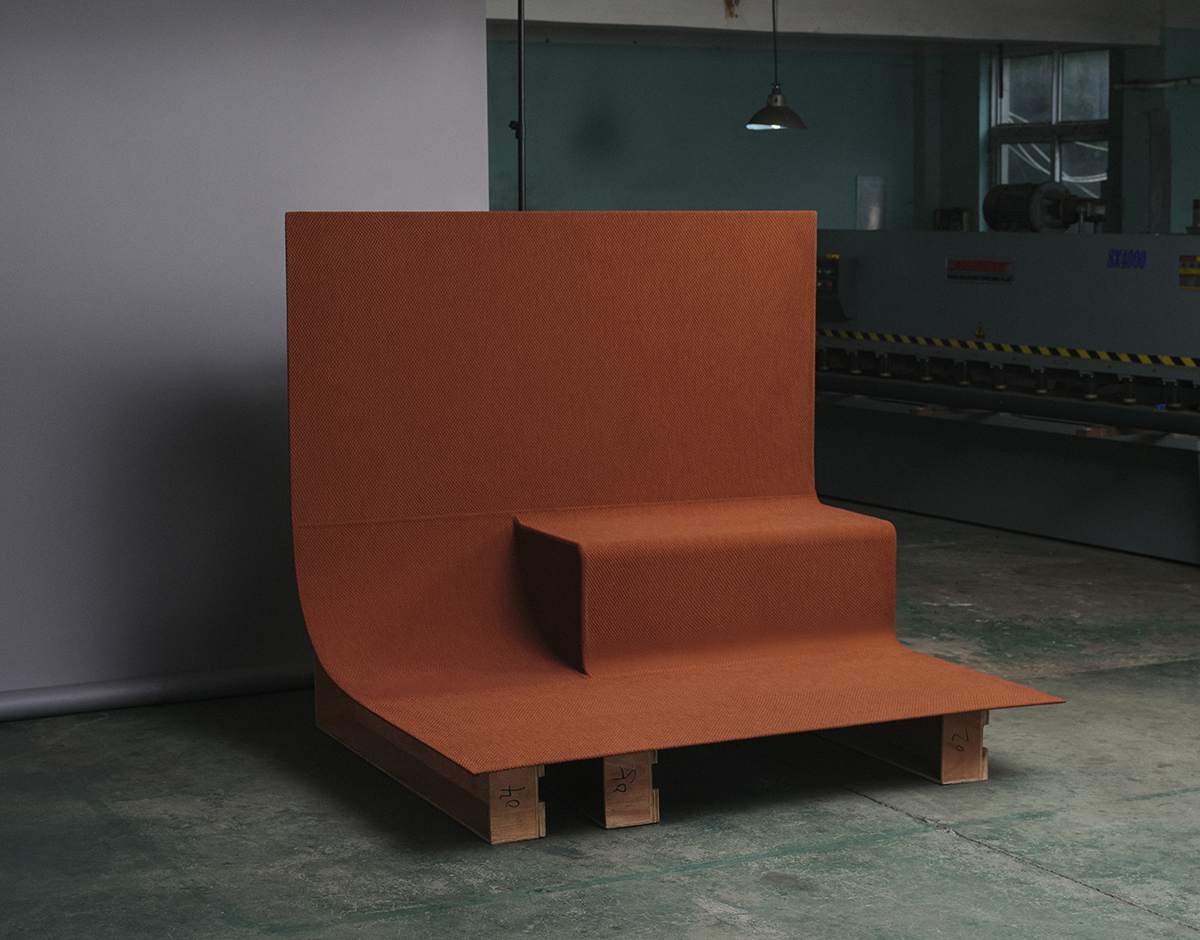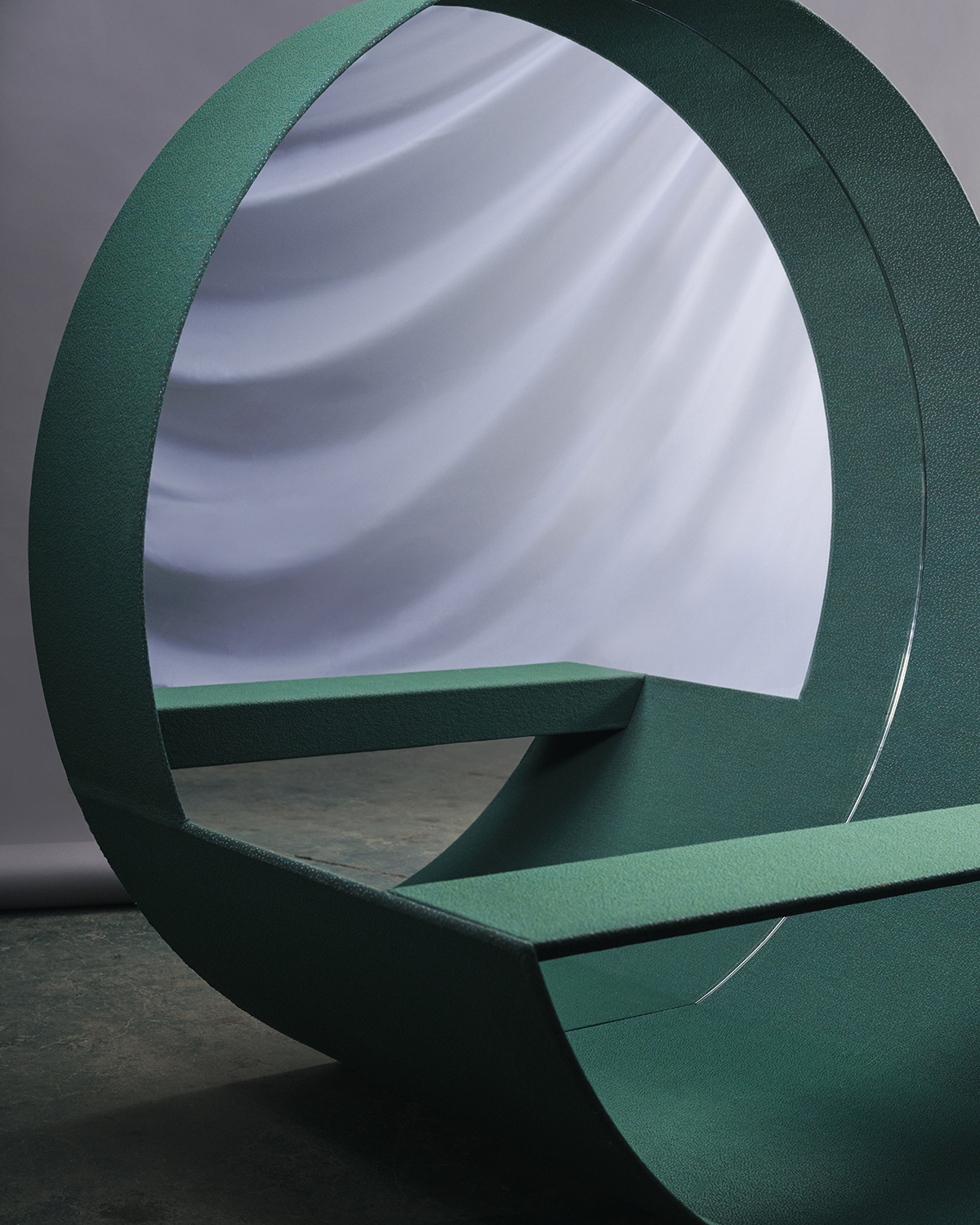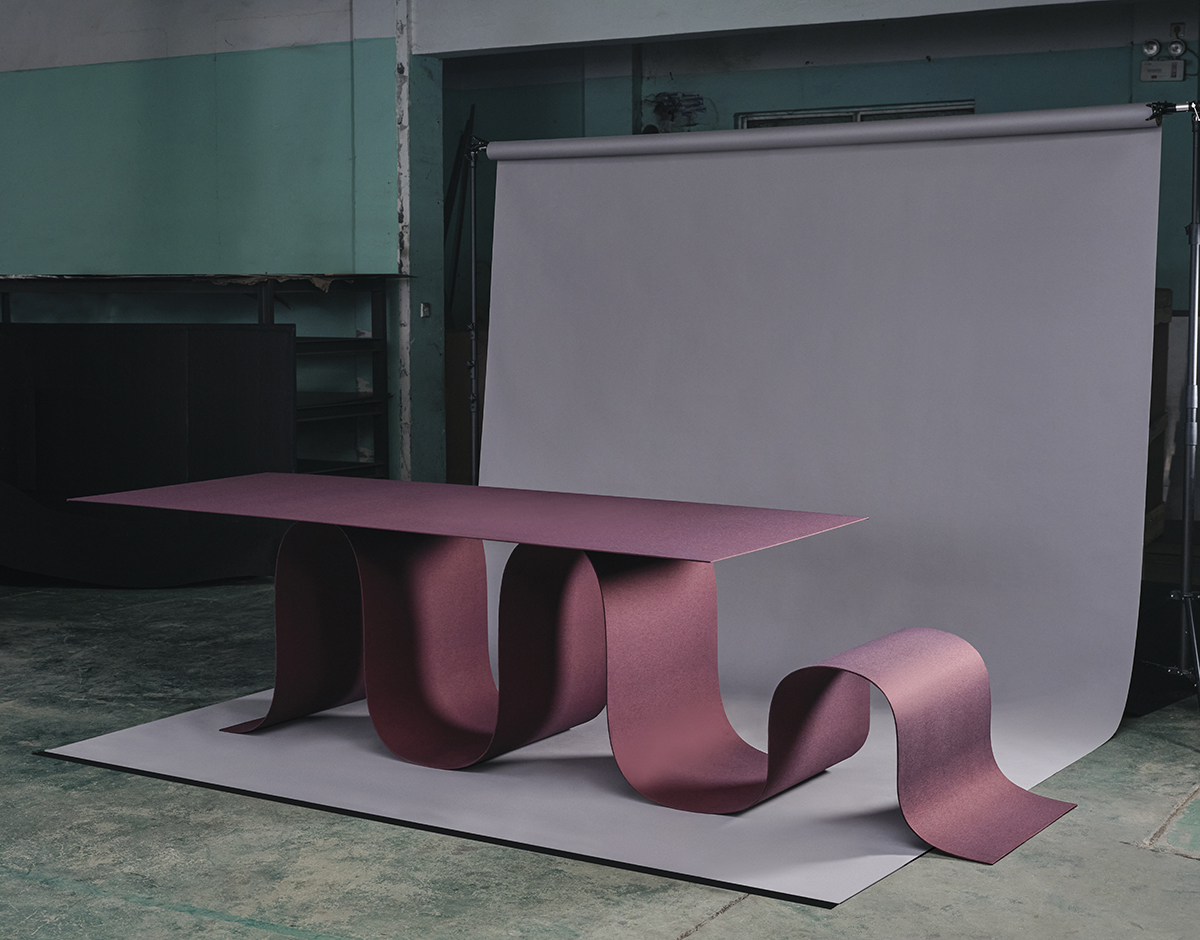 Imagining our furniture 50 years from now could be, at the moment, a bit of a terrifying thought — will it be designed to shield us from hurricanes or radiation, or to survive water damage if our homes are submerged? Chinese designer Ximi Li did just that for a recent project, but came up with a different conceit: that our furniture will be more free-flowing and conducive to our spiritual well-being. Regardless of which scenario turns out to be more accurate, the textile-based pieces Li made — in collaboration with Kvadrat — are quite beautiful.