04.08.21
How This Abandoned House Became a Rentable Desert Oasis With a Painted Pool
Before it was a designer desert retreat renting for upwards of $700 a night on Airbnb, the West and Wild house in California's Yucca Valley — nestled between Joshua Tree and Palm Springs — was a broken-down foreclosure being sold for peanuts. Neglected for years and basically uninhabitable, the home popped up on an auction website in 2018 when it caught the eye of three friends in LA who were casually scanning for properties; a mere 24 hours later, they were the proud owners of the place, and set to work transforming it. They restored and painted the swimming pool, renovated the dramatic loft area perched above the living room, gave it a gourmet kitchen, and filled it with art by the likes of Kristen Giorgi and Robbie Simon.
The trio's aim in buying the house was twofold: First, they simply wanted a desert getaway they could hang out and entertain friends in. Second, they wanted to monetize their existing West and Wild Instagram account — which had 50K followers, and until then had simply been an inspiration feed — by using it to advertise the house as a rental, showcasing all of the design elements they'd invested so much time and money in. The project has been a huge success, with the house set to pay for itself in another year or so, and the three partners able to use the income to buy back their time for other creative projects, like a natural wine company and a landscape-design practice. We spoke with one of them, Eric Bach, to learn more about the process of turning it from dump to dream house. If this story inspires you to start renting your own space, visit this link to get started!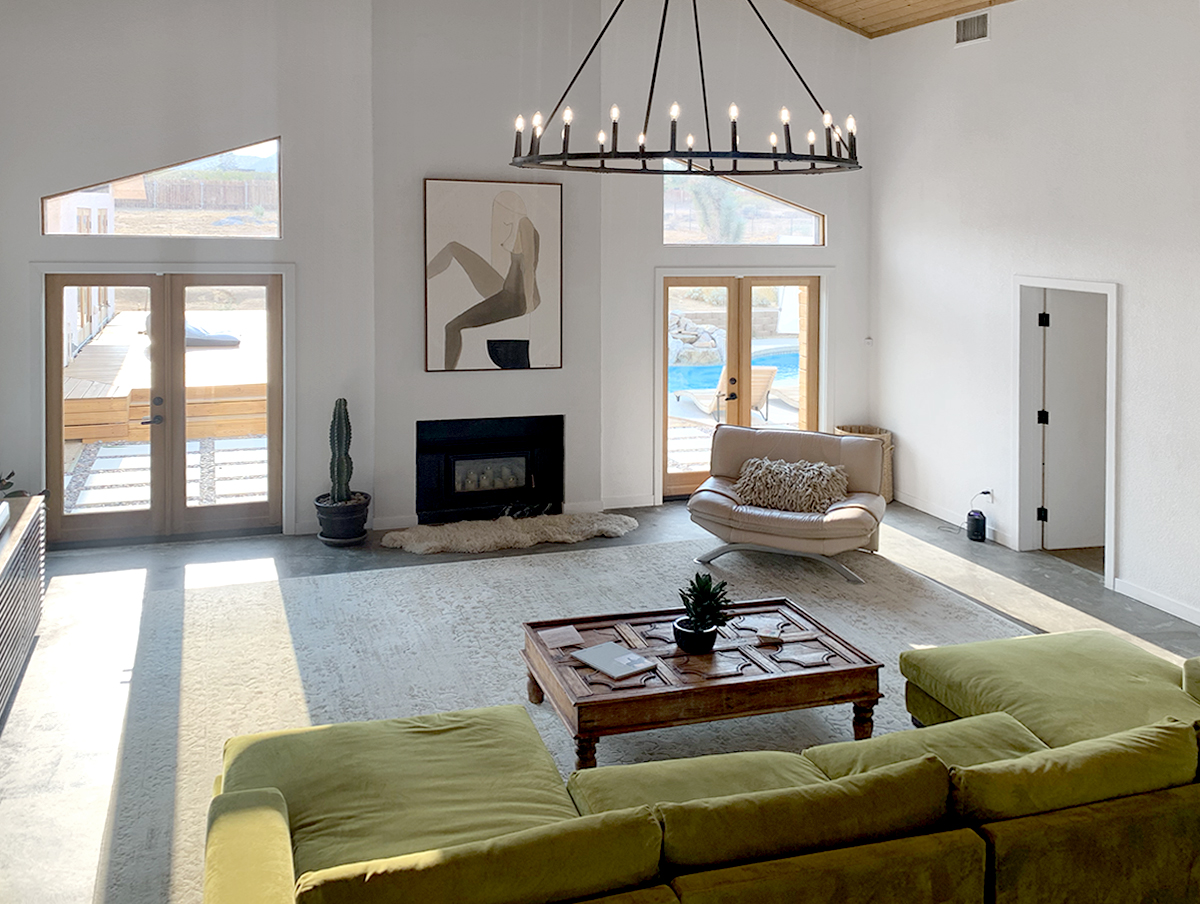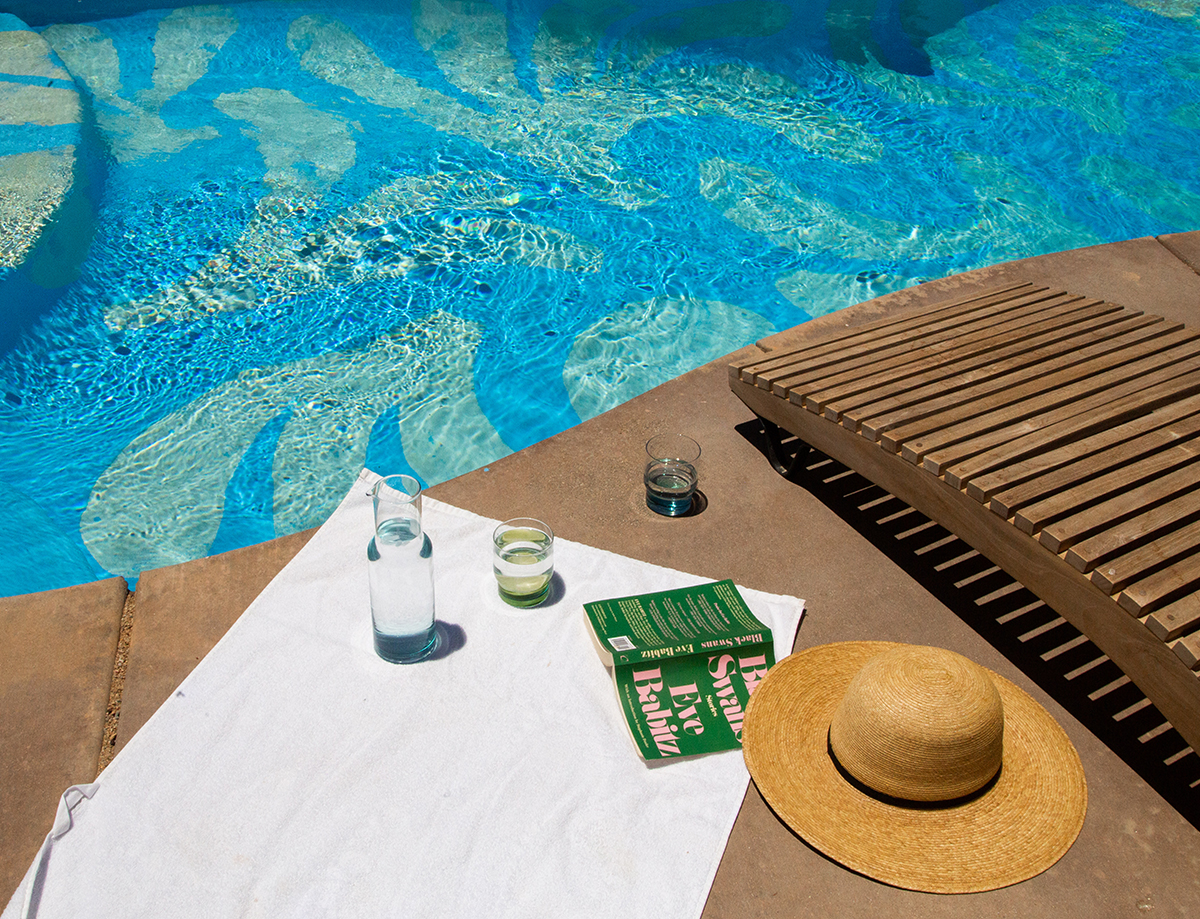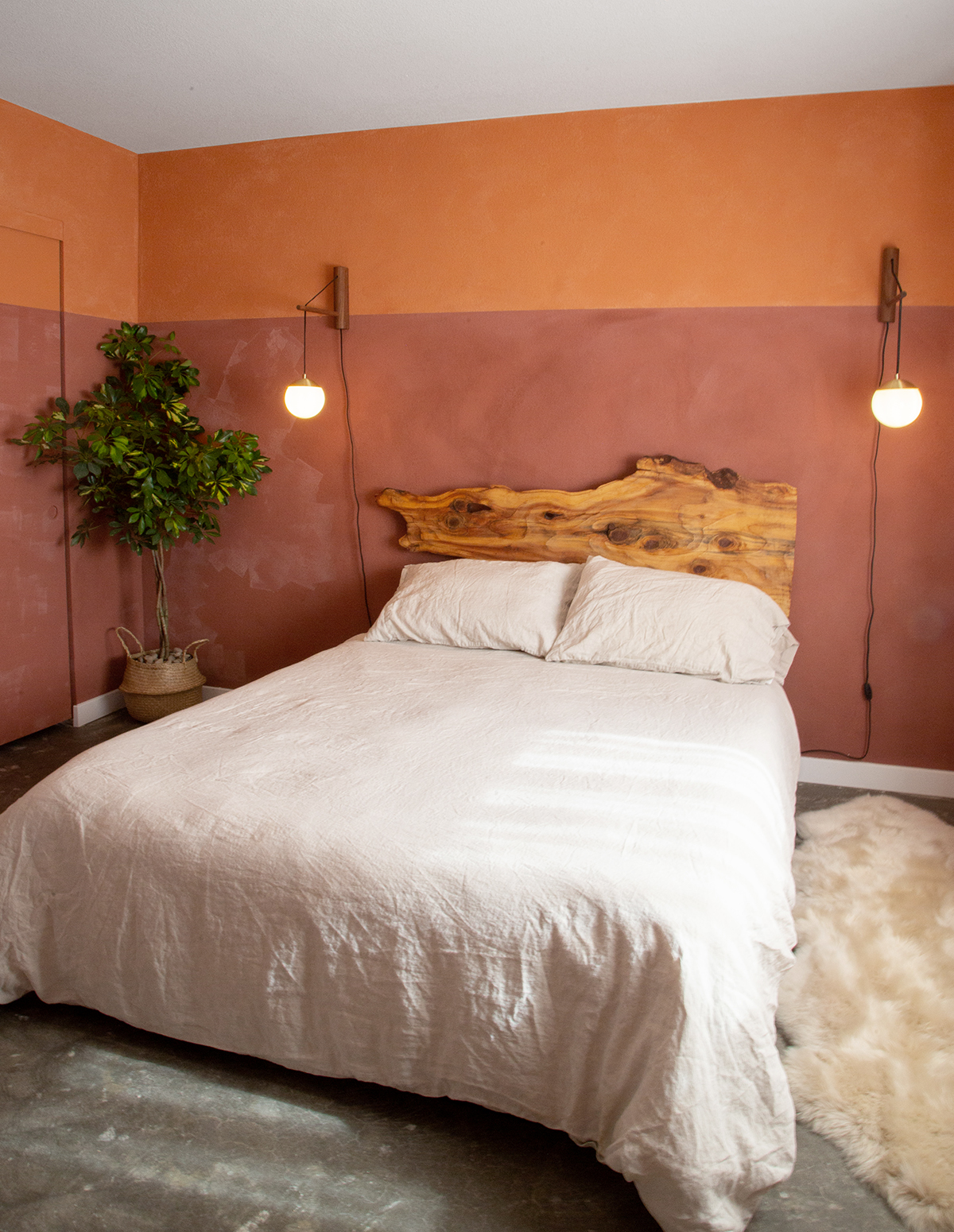 How did the three of you become Airbnb hosts, and what were each of you doing before that?
I am a multi-entrepreneur. I have a natural wine company called Goodboy, and for the past few years I've been doing experiential design and strategy, creating innovative experiences that connect to my values. I moved to LA four years ago from San Francisco, and one of my close friends there, Max Ostrove, produces challenges for big TV shows — everything from a BBQ competition show to Fear Factor. I had co-founded a website for booking camping experiences, and he had founded a company offering luxury pop-up camping, so that's how we initially connected. His fiancee, Alexandra Piotrowski, was going to school for landscape design and was also a digital marketing whiz, and she was running this Instagram account called West and Wild that was essentially a curated inspiration board for cool architecture and landscaping. She'd built it up to over 50,000 followers, but didn't really have any plans for doing anything with it. The three of us had started talking about doing a project together, but we weren't sure what it would be.
At the time, I'd been going out to the desert for years, because I loved the music scene and had artist friends from LA who were moving out there because you get so much more land. We started lightly searching there for homes — before it exploded and became the number one Airbnb destination in the US — and were checking these bank-owned foreclosure auction websites. We saw this house pop up, and there were only 24 hours left to make a bid, and it had to be in all-cash. There were only a couple crappy photos of the house, and none of the interior, but it was really cheap, and just from looking at it I thought, this maybe has high ceilings and could be kind of cool. And it was big — we really wanted something that could be a place for gathering and entertaining. So in the middle of the workday, I cruised out there and snuck into the house, because you weren't supposed to see it before buying it. I noticed it had 30-foot ceilings that had beautiful warm wood paneling, and a really cool giant loft that overlooked the whole living room, and a pool that we didn't see in the photos, and a casita. It was on almost 2 acres. Granted it was shitty, and had been neglected, and needed so much work. It wasn't even inhabitable. But it had great bones and interesting features that we could work with as a blank palette.
We decided to place a bid, and we won it. There were some challenges, like a solar lien that we had to deal with, but it was crazy cheap. Then we went to work. Alex started putting design boards together and modeling the renovation. We wanted it to feel really grand and open, and to take a lot of what Alex was inspired by on her Instagram account and incorporate it into the home. It's really hard to do, and expensive! We were lucky to be able to leverage our social media followings to get a few partnerships: Some of the artwork, the sofa, the appliances, and some of the lighting were all acquired through partnerships. It's a shit-ton of work because you're having to deliver assets and do posts on certain dates, but it was worth it.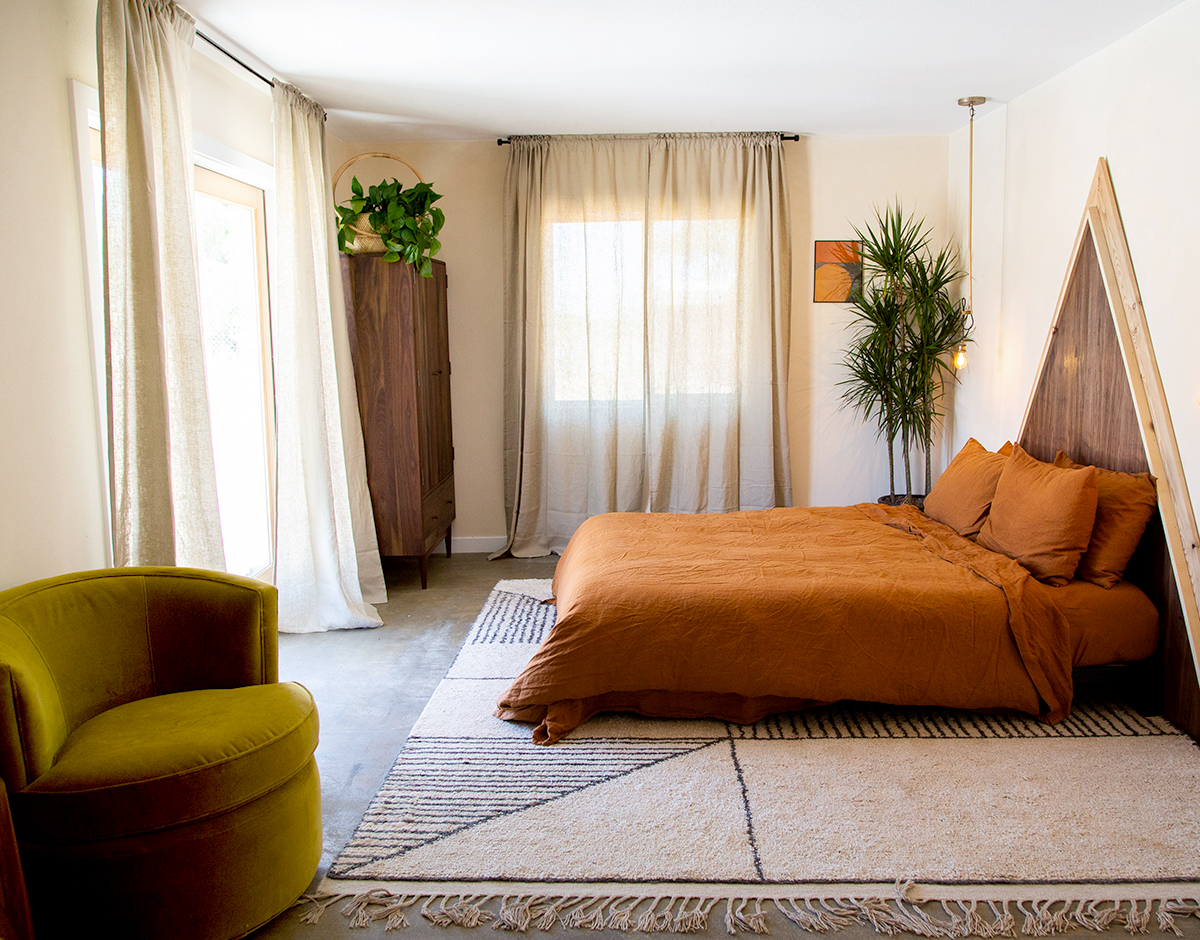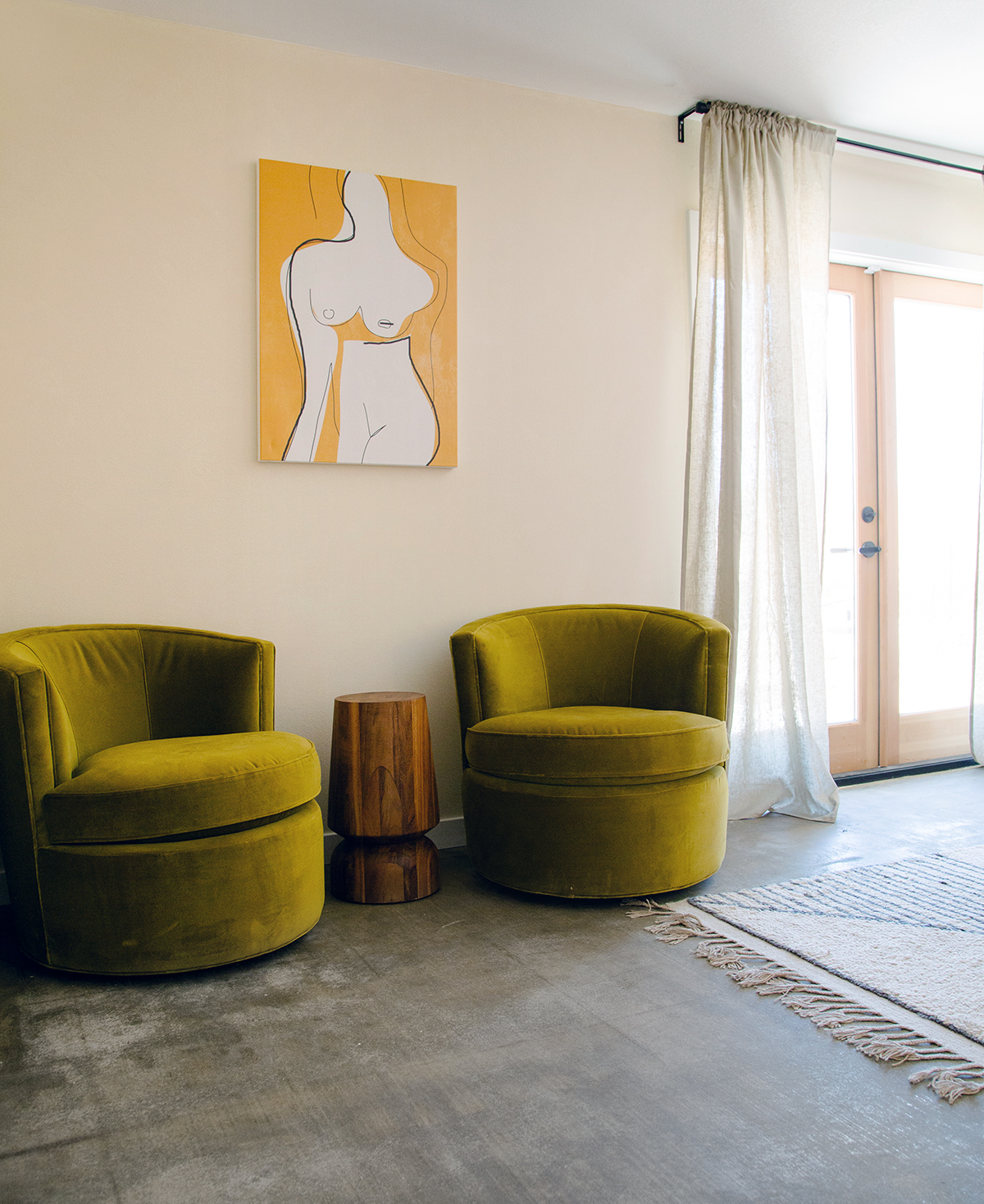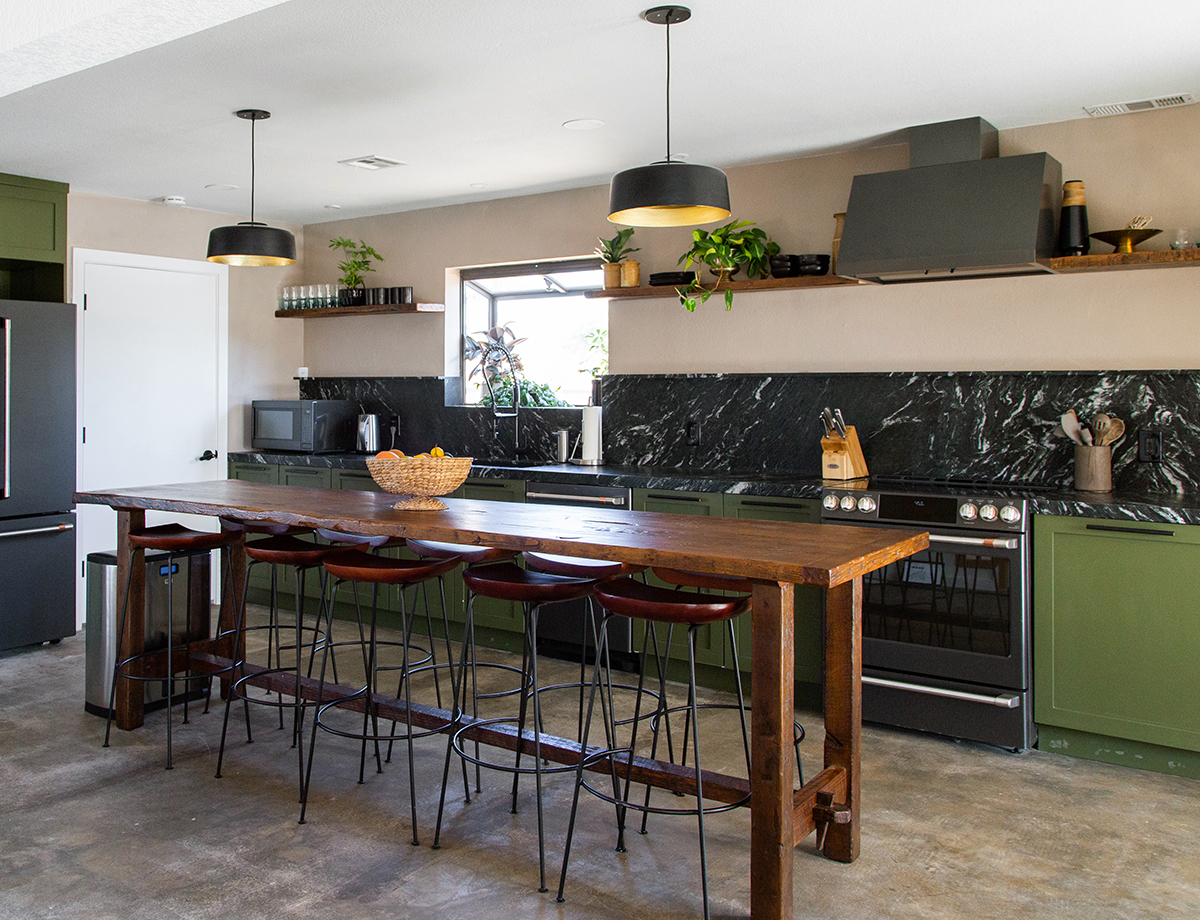 Did you specifically design the renovation and the interiors around the idea of it being a rental property?
Yes, quite a bit. As I mentioned, we had wanted it to be a place where we could all gather and have a good time and invite our friends and family over, but ultimately we knew it would be first and foremost be a rental. If you look at our loft, for example, which is has the feel of almost this modern opium den, we wanted to create these WOW moments in the home. So everything from that, to the chandelier we chose, to having our buddy Tai Williams paint the pool when it was still empty — obviously inspired by Hockney and other artists who painted pools — we did with renting the house in mind. Because if you want to set yourself apart on Airbnb, you want to do things that are a little bit more spectacular, and take some risks you wouldn't take with your own home. That was our thinking.
The rental market in desert around Joshua Tree and Palm Springs is pretty crowded now — were you strategic in other ways about standing out from the competition?
We knew it was a crowded market, so we looked at statistics around the area and thought, okay, the majority of the homes are three-bedrooms, so we want a bigger space because there's less competition there. So we converted our house from three bedrooms to four. We didn't really look at other Airbnbs for design inspiration, though; we just trusted our gut, and were more interested in all the designers and artists we loved that we could incorporate into the home. I don't think you want to do something that feels completely out of place for a certain area, but at the same time we knew this would be much more elevated than a lot of what exists in the desert. With it being so close to LA, and us knowing how the rental market was evolving, we were willing to take that chance to do a more elevated design, and we were confident it would get booked. Rather than doing the whole light birch wood, white walls, and earth tones look that's so common in the desert now, we thought, we're going to do our own thing, and have pops of color and other aesthetic risks, and we think there's enough people like us who will appreciate it. It's aesthetically pleasing and it's comfortable, but it's also true to our own vision.
Can you tell us more about your approach to the interiors, and how that vision came together?
I'm all about camping experiences and the outdoors, and the experiential world. Max is as well, so with Alex's help, we put a lot of that mentality into the design for the house. A few of the rooms were all about having a big, central statement piece. The living room is giant and has those 30-foot ceilings, so it was a challenging space to fill. The statement piece there is this really big ,comfy velvet sectional by Joybird. We also wanted to get away from just having plain white walls, without putting up cheesy tapestries or something, so we used lime-wash paint in a lot of the rooms, which is much more challenging to apply but has a great chalky, textured finish. On some walls we also used what they call Roman clay, which is applied like plaster, to add texture.
Max and I personally built the whole upstairs loft area. We had no idea how to do any plasterwork, so we made it up. We built a frame out of 2x4s and drywall, and then covered it with joint compound and a plaster-type material. It didn't turn out perfect, and you can tell it wasn't professionally done, but the imperfections are what makes it interesting. They make it more rustic and more opium den–esque. The kitchen's big statement comes from the big farmhouse-style table we had custom made out of actual boards from a farm, plus the counter tops that are made from a type of stone that almost feels like dragon skin when you run your hand over it, which goes back to that concept of using unique, somewhat conflicting textures. Another unique design element is, in the main living room where the fireplace is, if I sent you before photos of that space you'd be like holy crap – it was this dark wall with two tiny circular windows. We opened it up and put in French doors that lead to the pool, and put in trippy triangular windows above each door, knowing the golden light of sunset would hit those triangular windows perfectly and create triangular golden shapes in the living room. That was an entirely planned moment.
The design was definitely a challenge in some ways, though, because for me, I always want to go bigger and bolder, but because it's a short-term rental, we had to make some tough decisions around what we could and couldn't do based on having a set budget and not going completely crazy.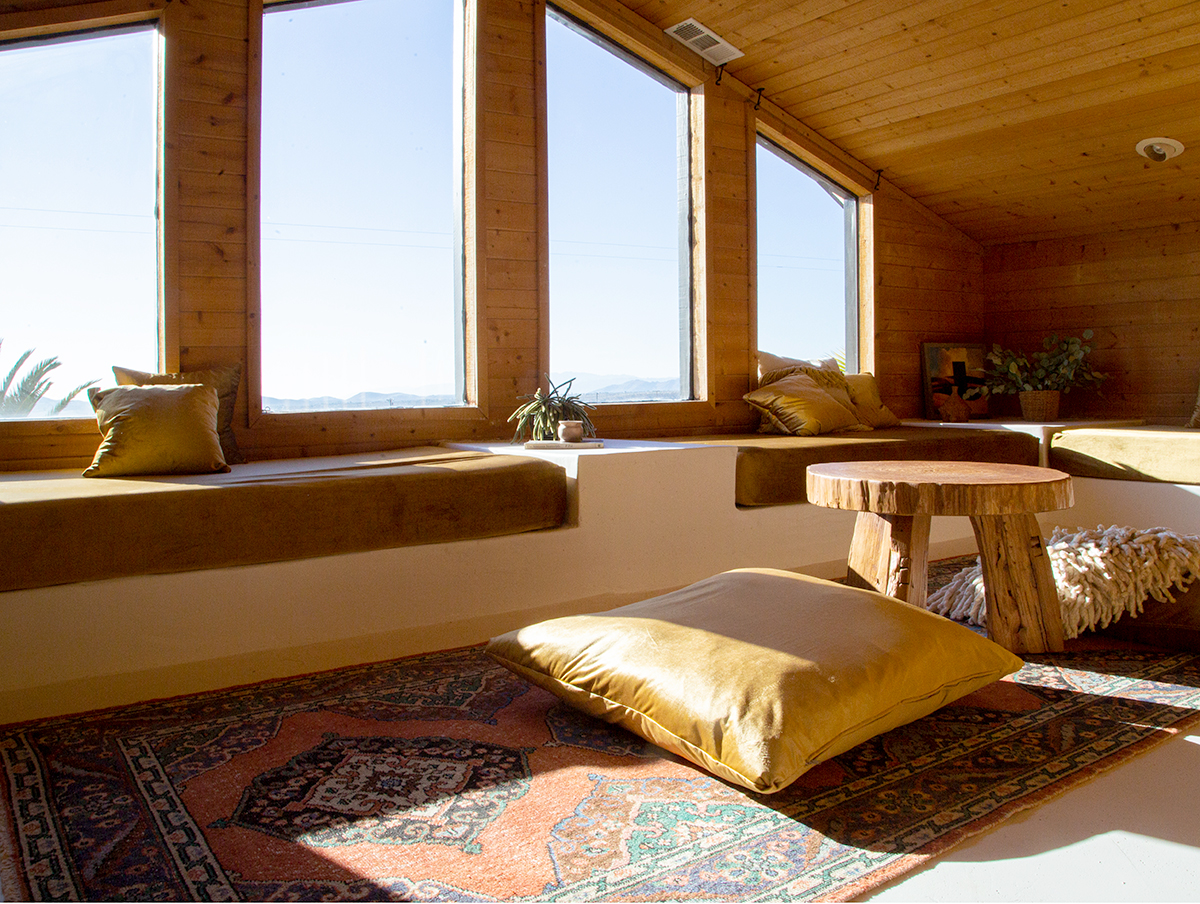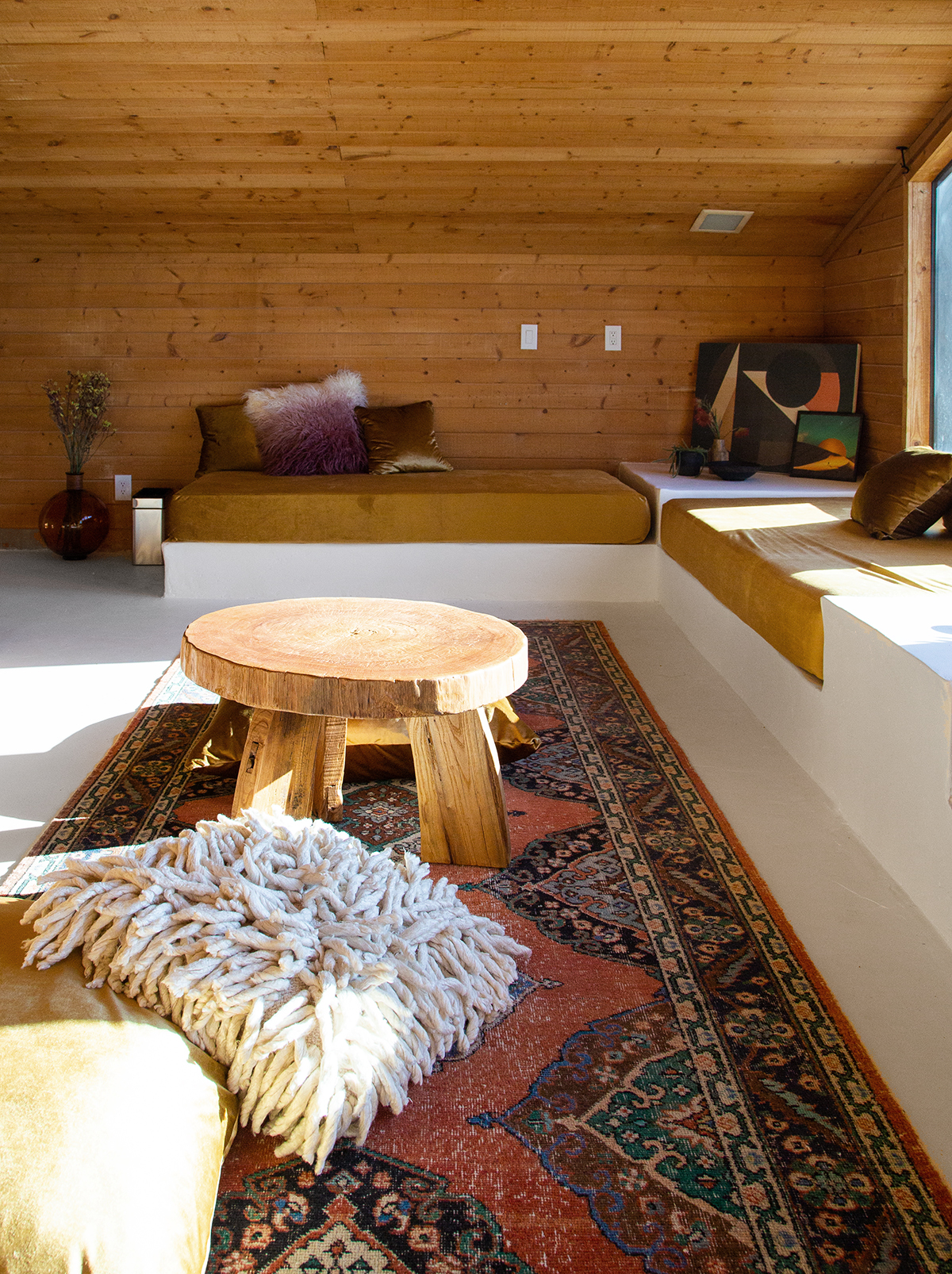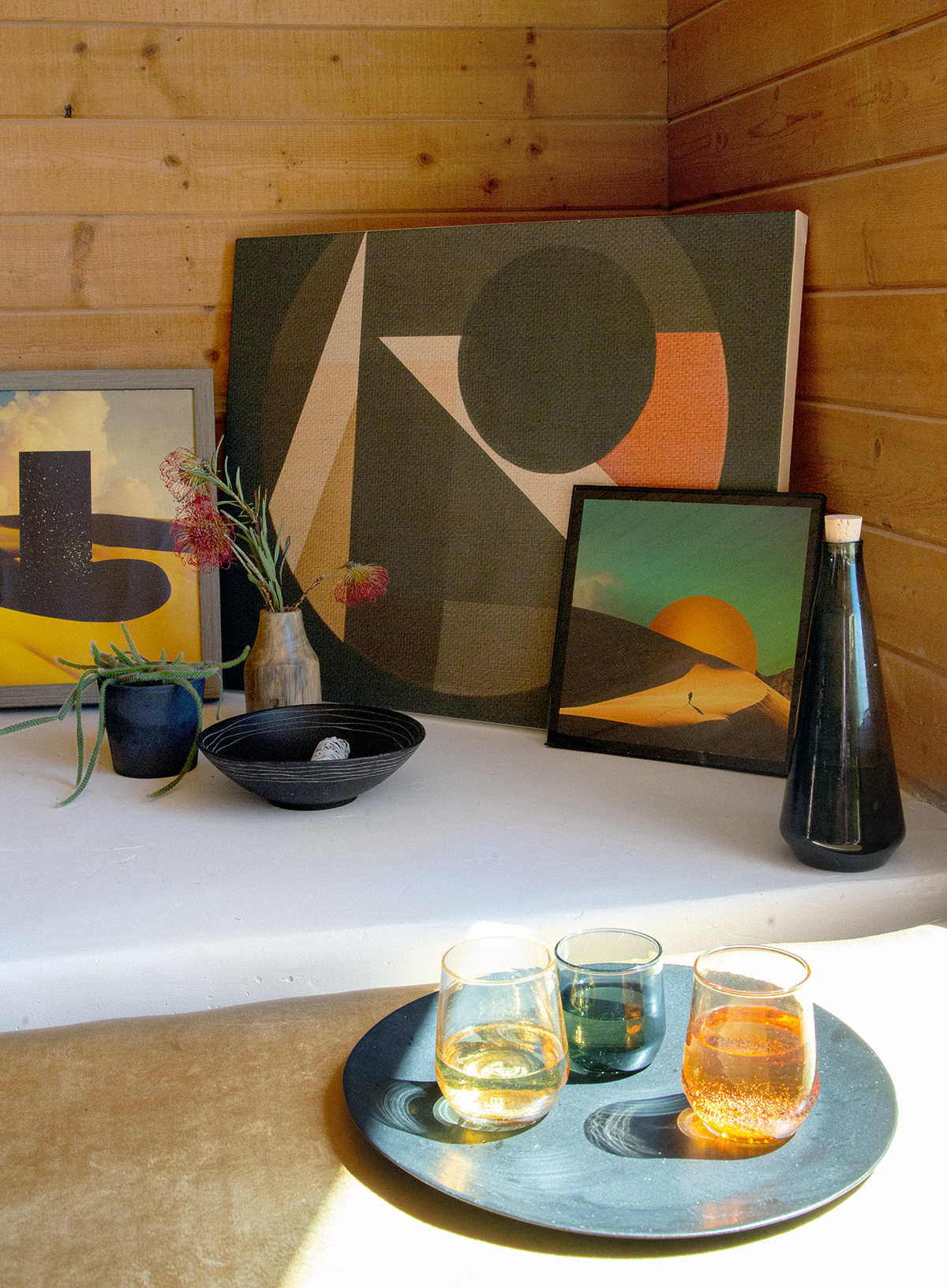 Are there any other touches you added specifically for your guests?
In the spring we'll pick flowers from the desert and put them on the beds. Also we leave them wine from my natural wine company in the fridge, and have gourmet LA-made Canyon Coffee available for them. We're constantly learning about hosting as we go and applying it to the listing. Everything from having a basket with rolled-up pool towels ready to go, to making sure our lighting is all dimmable and can set a vibe, to getting really nice Leesa mattresses and Coyuchi linens. We added more gathering spaces outdoors around the fire pit – we used these beautiful old milled tree trunks so you can sit 14 people comfortably around the fire. We have this one giant, gorgeous Joshua tree on the property, and we installed solar lighting to uplight that, so it's a bit of a surprise at night. We don't have a heated pool, so we got a lot of requests for a hot tub, which we added. People also wanted comfortable pool seating.
The kitchen is another big thing, because it's a gourmet kitchen. We love cooking, so we wanted to do it right. We got nice shit, like Café appliances and Scanpan pans. When you go to an Airbnb and get some crappy nonstick pan that's way overused and you can't even cook eggs in it, that's the worst. In general our house is built for entertaining. We have a great stereo system with a huge vinyl selection, and multiple opportunities to connect to Bluetooth whether you're outside or inside.
One thing that I think makes the house stand out from other rentals is the artwork. How did you approach that element?
There's an amazing artist named Kristen Giorgi, and she's a friend of mine, so the huge piece of artwork you see in the living room is hers. We have several of her pieces, and a piece by Robbie Simon, and a photo by the LA photographer David Black. And then honestly a lot of the other ones were just from Society6, which works with a bunch of artists and prints their work on canvas. I wanted to have great art in the house because it's important to me personally — I collect a lot of art in my own home, and I'm starting to have some overflow. So this was also a place to put some of it. I also like having unique art on the walls and then having beautiful coffee table books where our guests can learn more about the artists whose work they're looking at. It's all part of telling the story, and making people feel connected and comfortable. And exposing them to great art that they wouldn't get in most Airbnb experiences.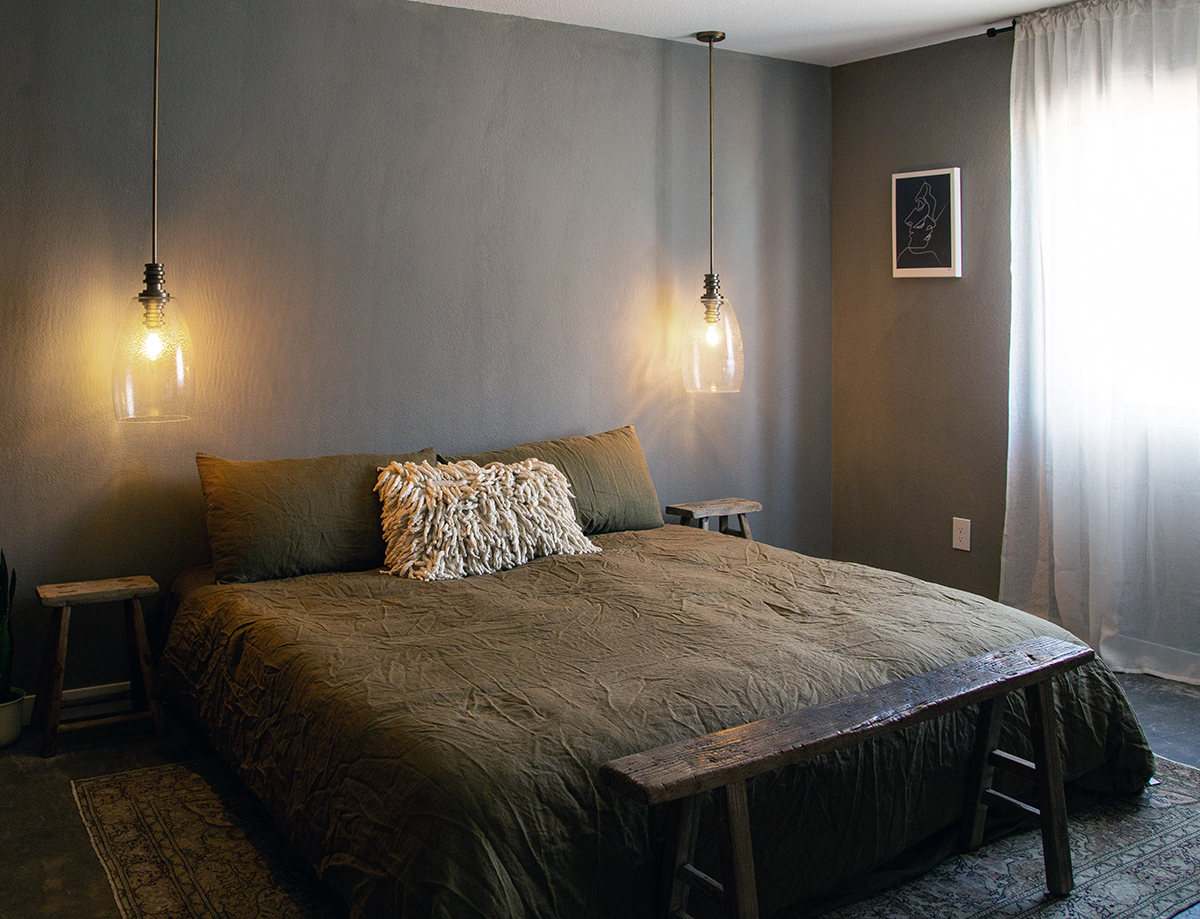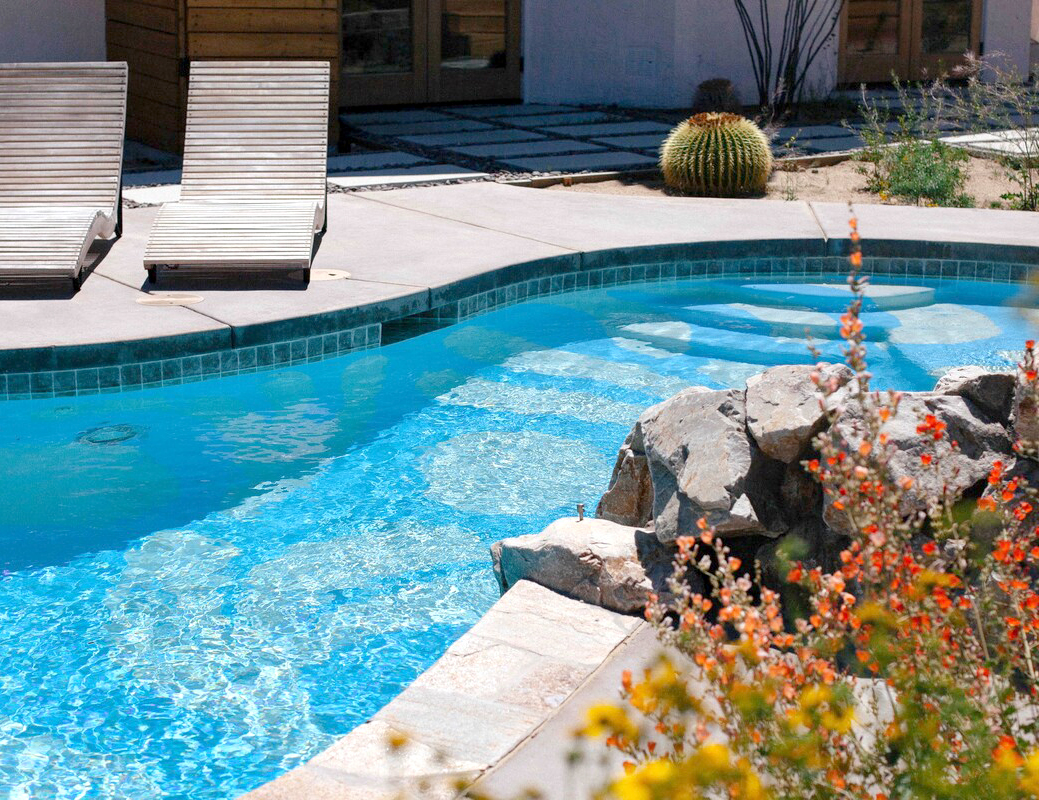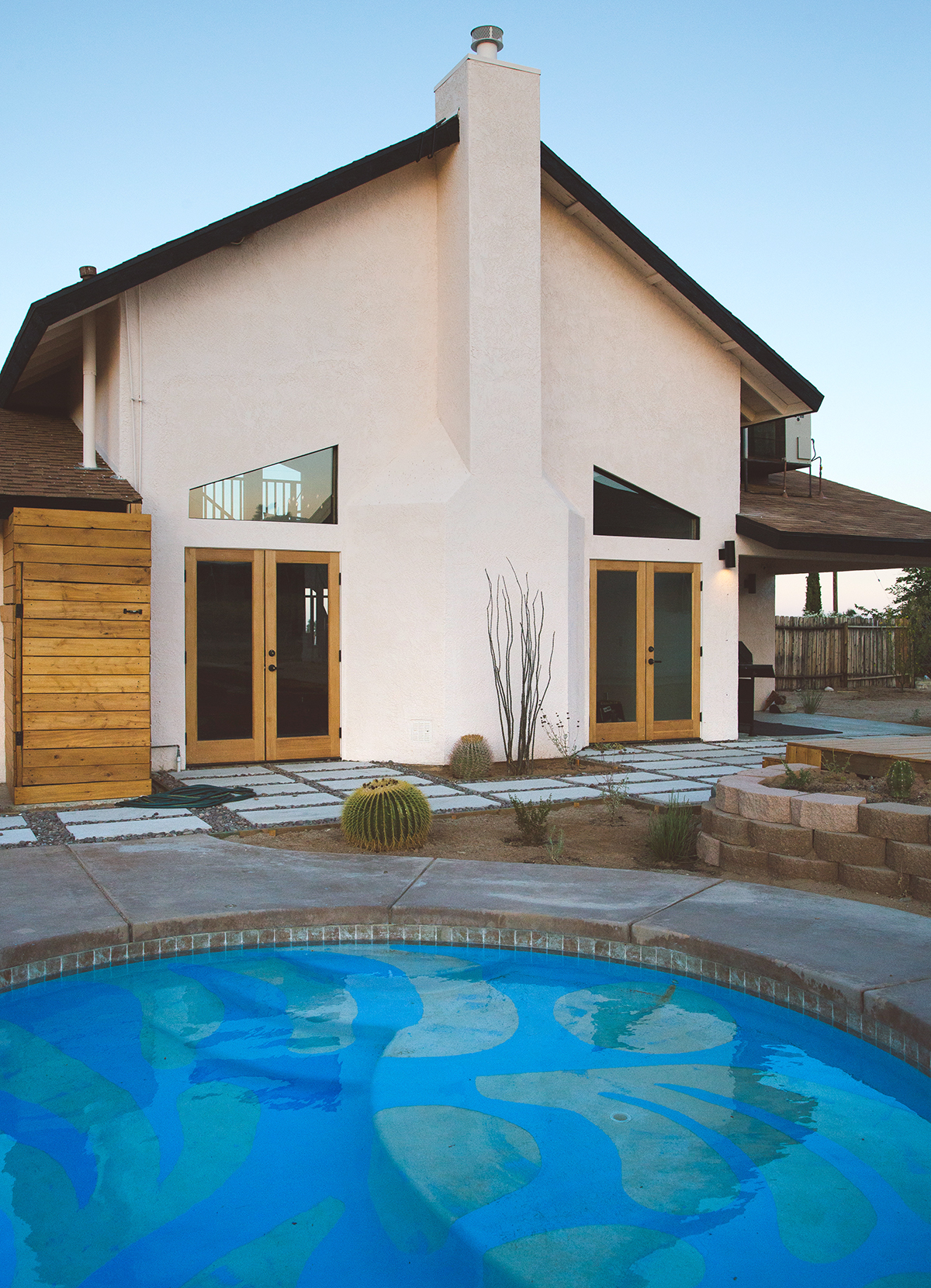 How has hosting a successful Airbnb property impacted your life and your other work?
Having a stable income from it has given us more freedom to do other creative projects. For instance it's allowed me to make more wine, and grow that business of mine. I was also able to start one small other LLC, called Camper Co, where we're renovating two different Sprinter vans with a super-elevated design — taking a lot of the principles we used for West and Wild, but applying them to vans. I'm also working with an architect friend designing a few modular cabins with glass fronts that can almost be stacked together like Legos, with the goal to buy a big beautiful natural property in the next year and put a bunch of them on it. West and Wild has inspired me and given me the means to do more creative projects, for sure.
Do you have any advice for others who might be thinking of hosting their own spaces on Airbnb?
It's a really incredible opportunity, especially if you love creating unique spaces that people can enjoy, and seeing them enjoy it truly brings you joy. In some ways it's easier when it's not your personal home, because you can design it in a different way, and create a different experience than you would in your own home. If you have the means to do it, I would suggest that. I'm all about not going with the status quo — take risks, do something you think is going to stand out. Think about what those wow moments are that are really going to resonate with people and give them a new perspective. It's a great opportunity and I think if you follow your gut and are willing to take some risks and have fun with it, it can provide a great income, which really is just more time for you to work on things that bring you happiness.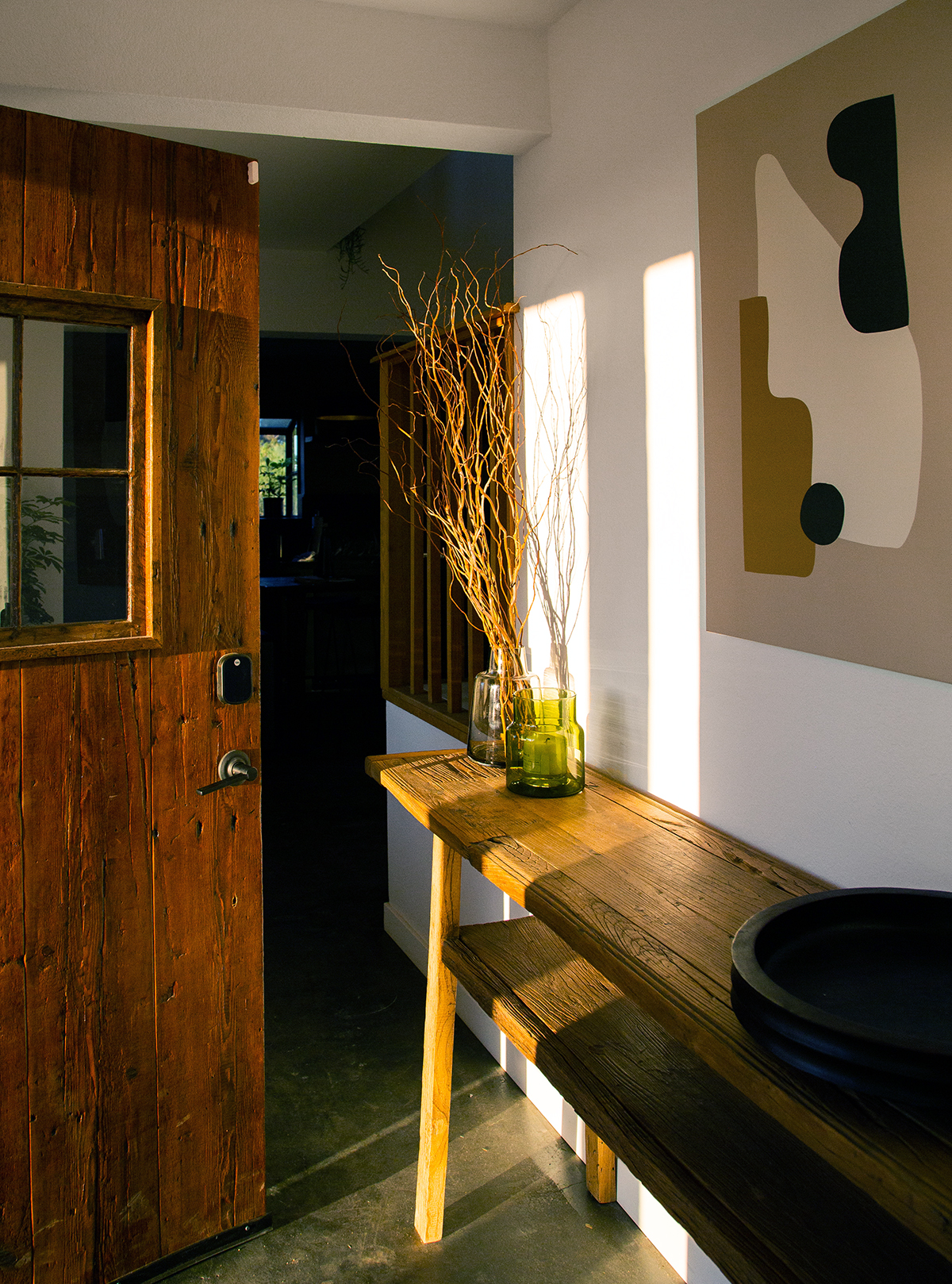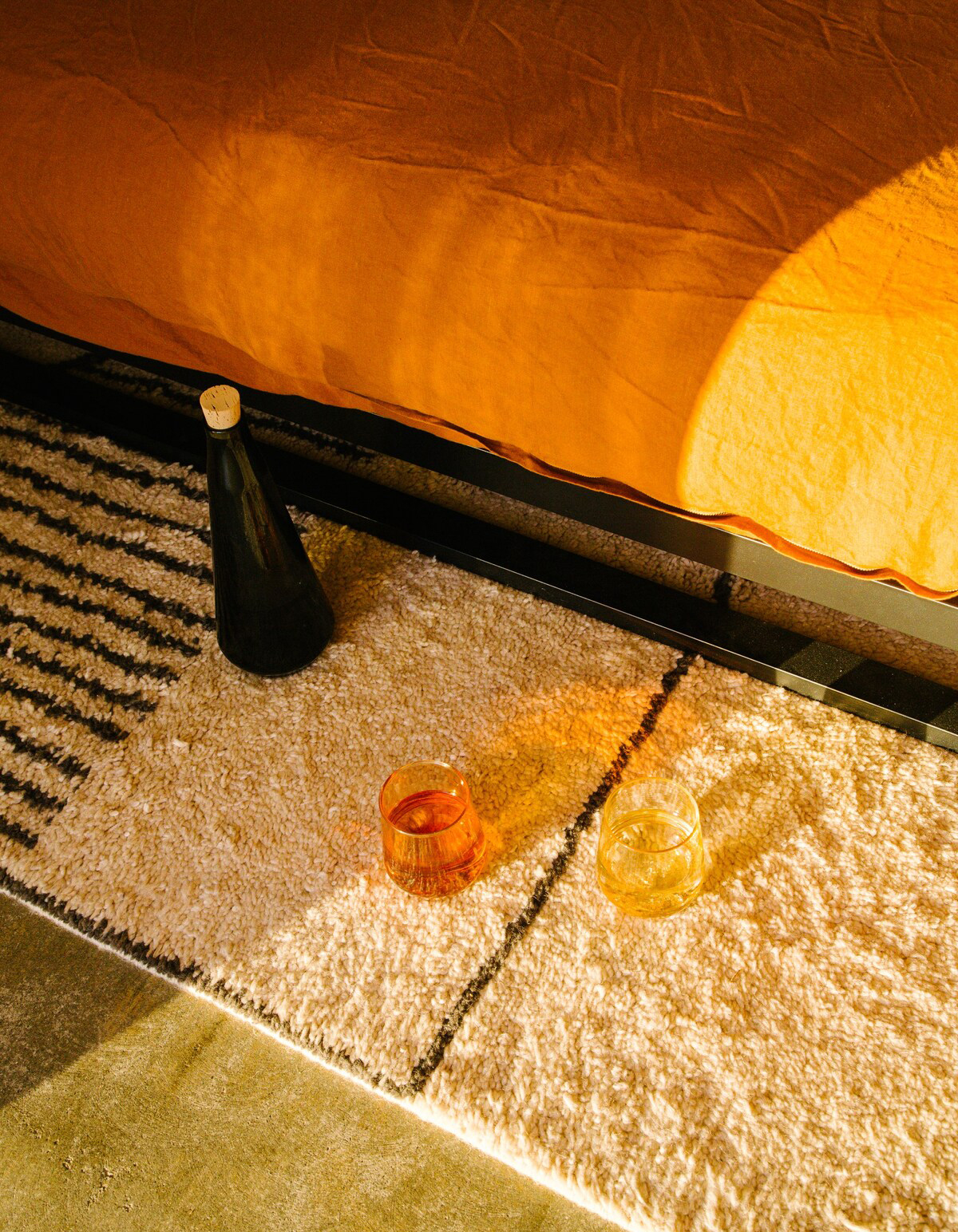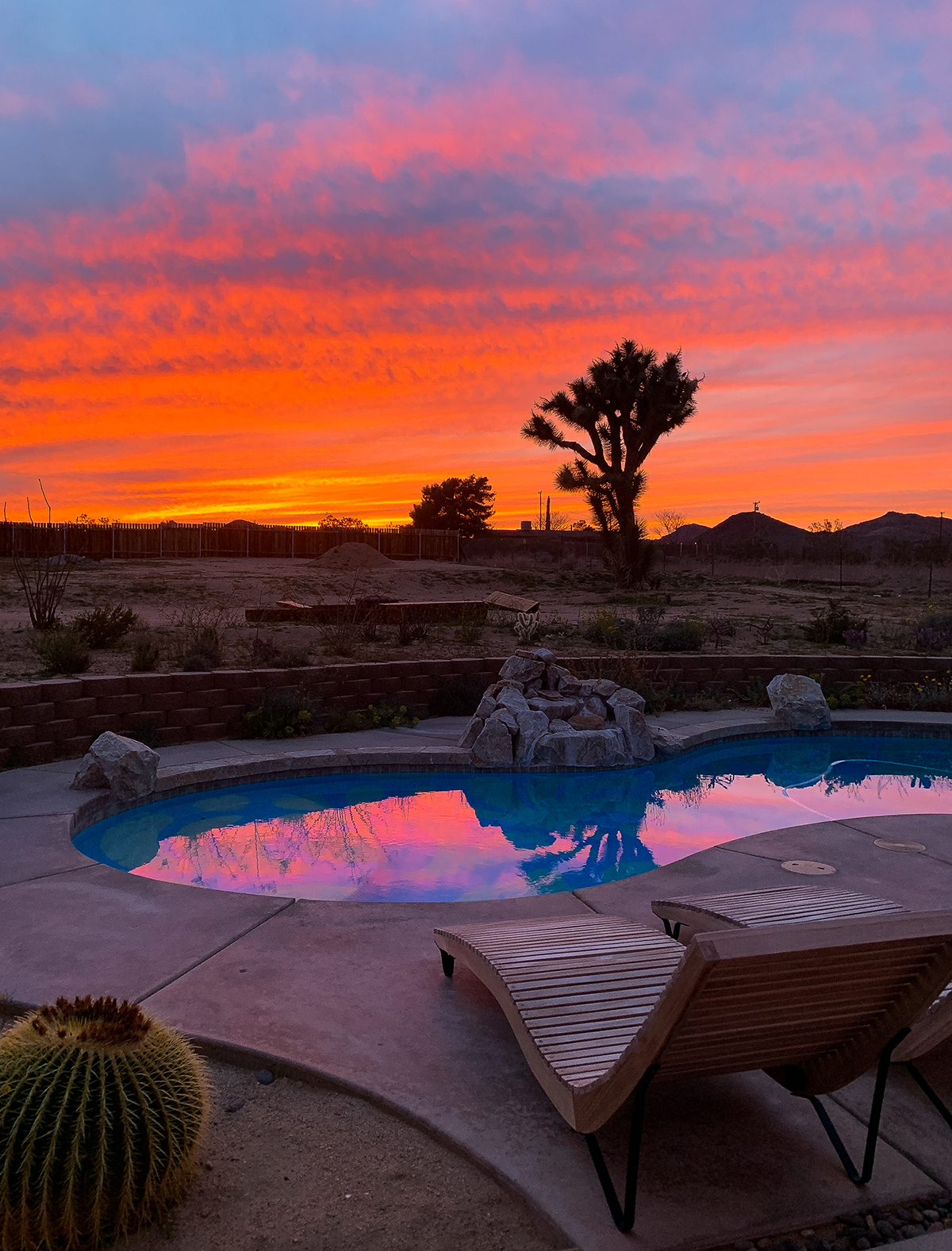 This post was sponsored by Airbnb, but all thoughts and editorial content are our own. Like everything at Sight Unseen, our partner content is carefully curated to make sure it's of the utmost relevance to our readers. Thank you for supporting the brands that support Sight Unseen.