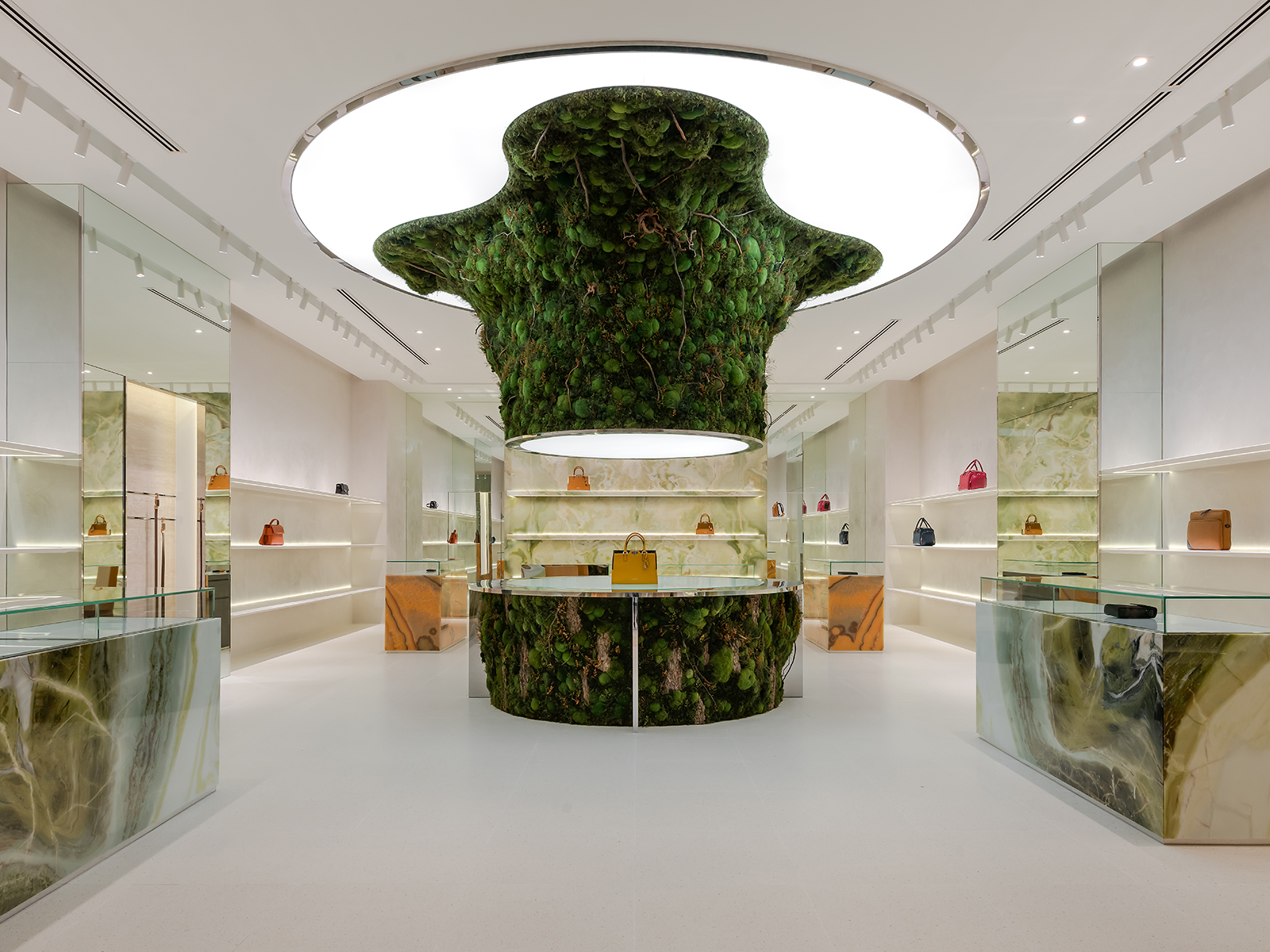 A weekly Saturday recap to share with you our favorite links, discoveries, exhibitions, and more from the past seven days. This week: an afternoon tea tray cast using blocks found on Mexico City streets, conveyor-belt chairs, "moldy marble," and a heavenly collaboration between Lalique and James Turrell.
Exhibitions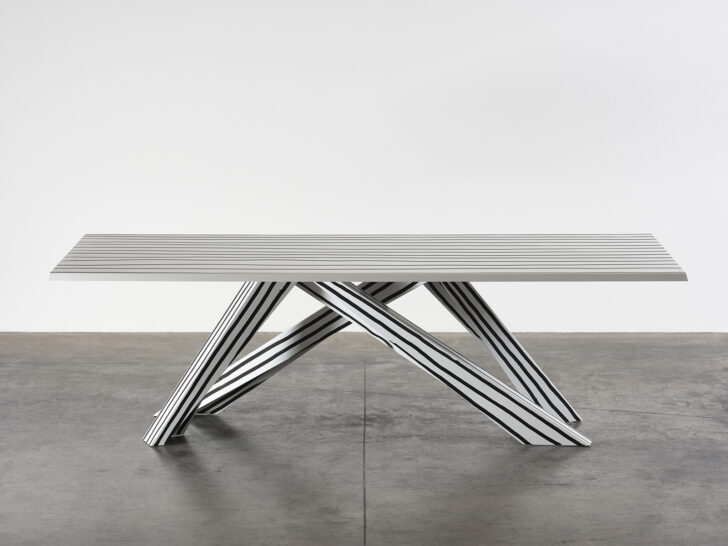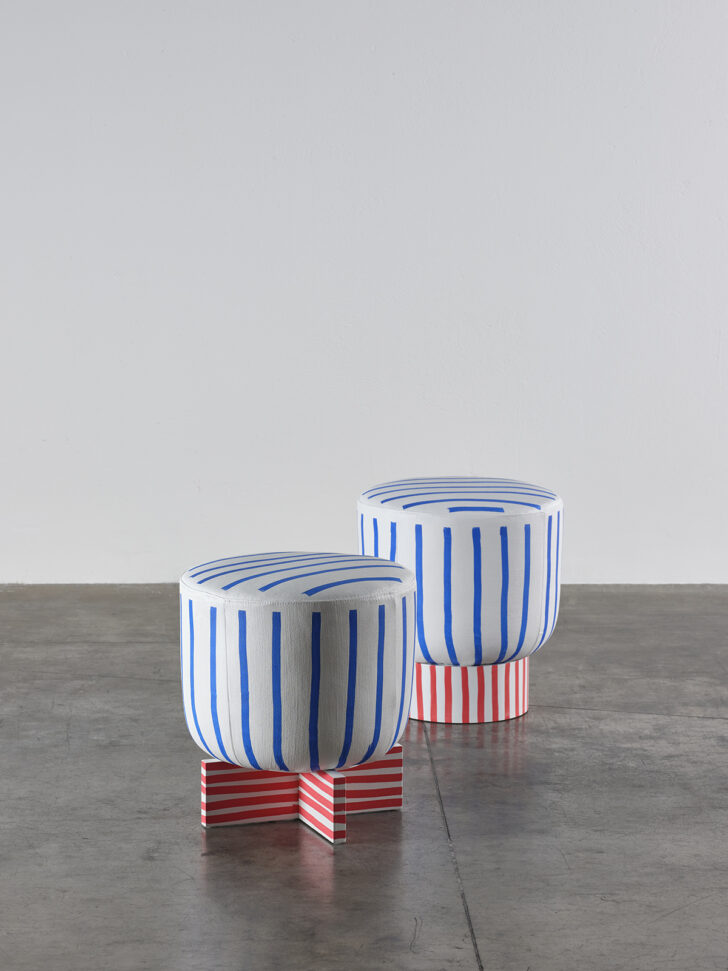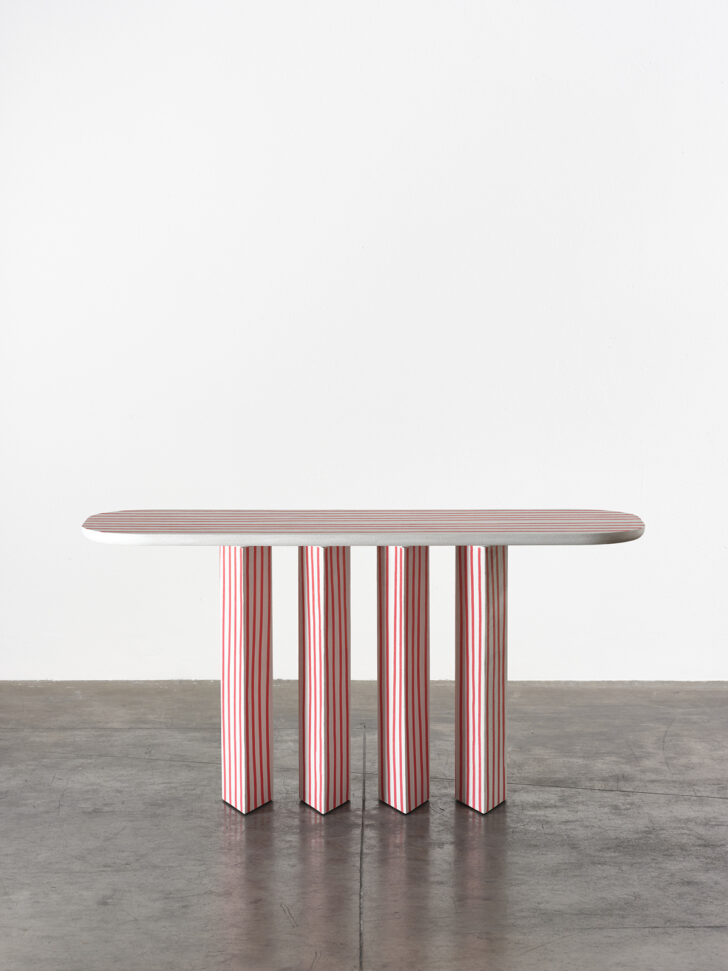 Hand-drawn stripes have appeared in a few furniture and home collections so far this year, and they've popped up again in this range designed by Alain Gilles for the Lyon Biennial of Contemporary Art, currently taking place in the French city. As part of an installation titled Fragility and Materiality, created in collaboration with Bonaldo and RBC, Gilles has applied line sketches to a variety of white pieces, intended to represent blank sheets of paper onto which initial ideas are applied. The one-off designs include a dining table with criss-crossed angled legs, a console supported by four vertical pillars, and pairs of small tables and stools, all to be auctioned at the end of the show. Lyon Biennial of Contemporary Art runs until November 18.
Discoveries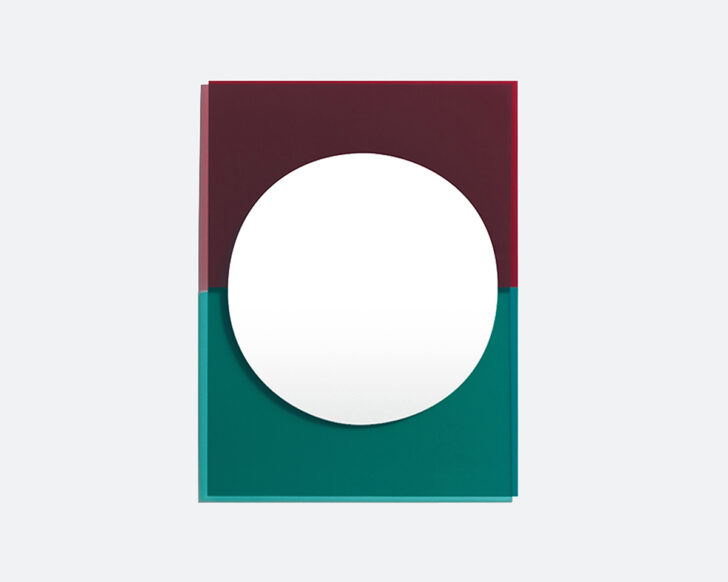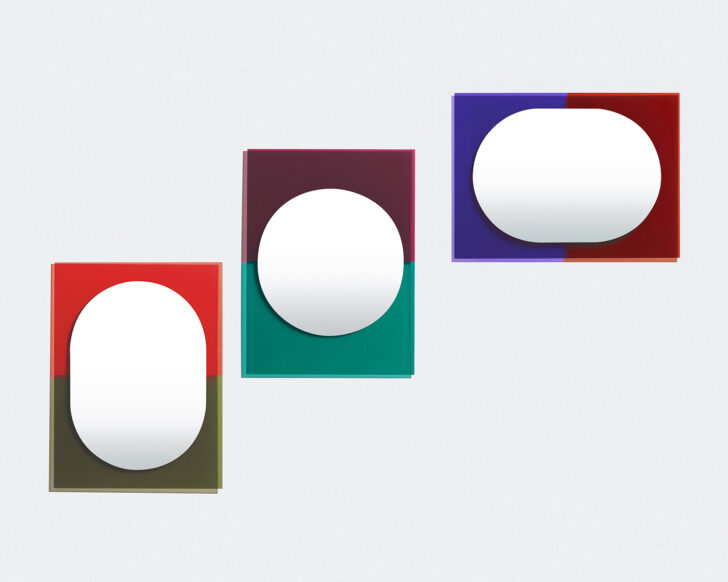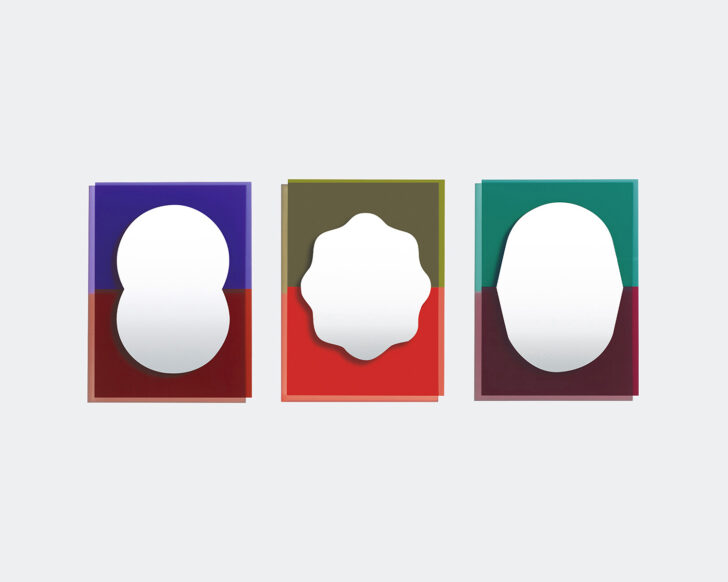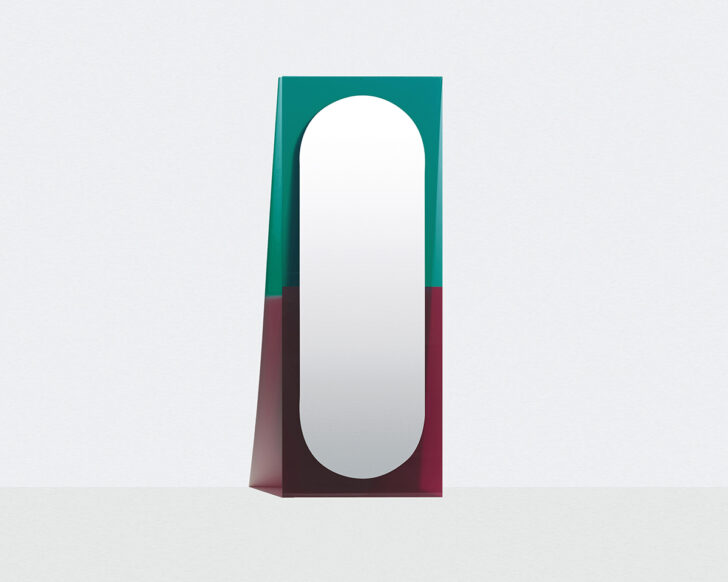 "A window to another world" is what French studio AC/AL was aiming to create with this collection of graphic mirrors designed during the first COVID lockdown, when many of us were trying to mentally escape to somewhere else. Named Wander, their translucent rectangular frames pair joyful colors in three combinations, and surround six different options of reflective panels shaped like cookie cutters. The resulting set of wall objects appear like abstract paintings, and would no doubt brighten any interior space.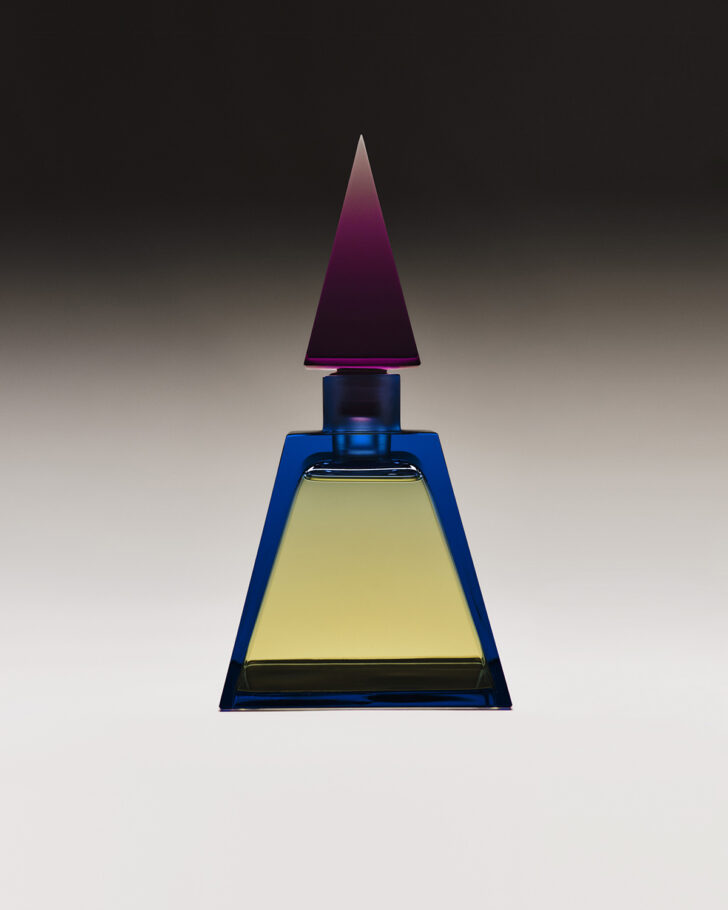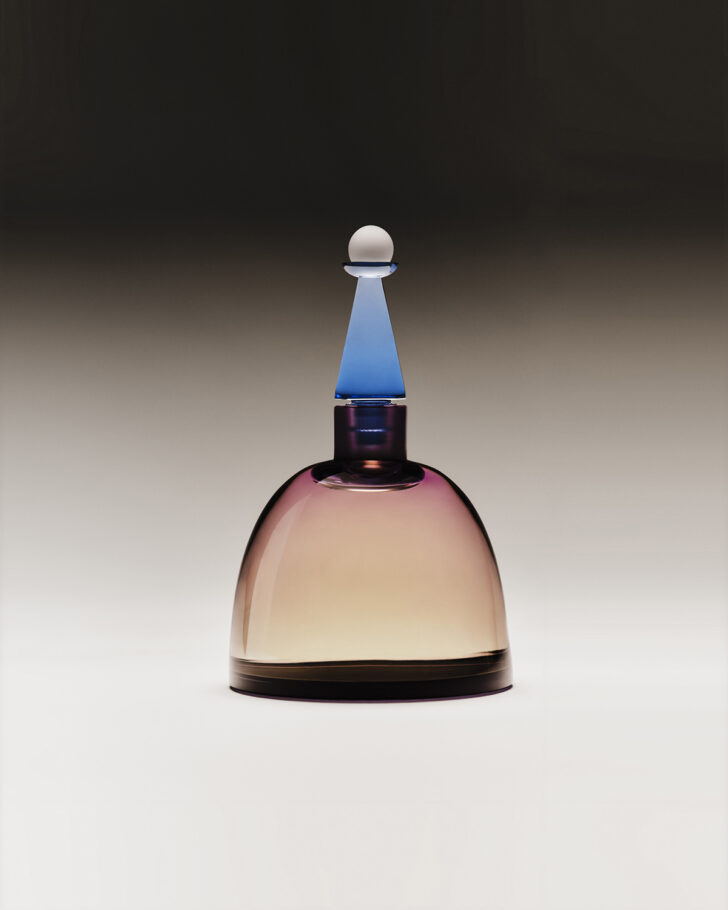 When you think of James Turrell, his skyspaces probably come to mind: sculptural experiments in light, space, and form on a large scale. But in a new collaboration with French glassware brand and perfumer Lalique, he's focusing on the small – distilling some of his artistic concerns, especially his interest in sensory perception, into the form of two polished crystal bottles each filled with a scent redolent of the Colorado Plateau in the American Southwest. Monumental in shape and prismatic in the way they interact with light, there are just 100 bottles of each perfume, Range Rider and Purple Sage. In addition to the vessels, Turrell created 42 light panels, made of crystal, that almost appear to vibrate and play with dimensionality, referencing the works of his Aten Reign installation at the Guggenheim.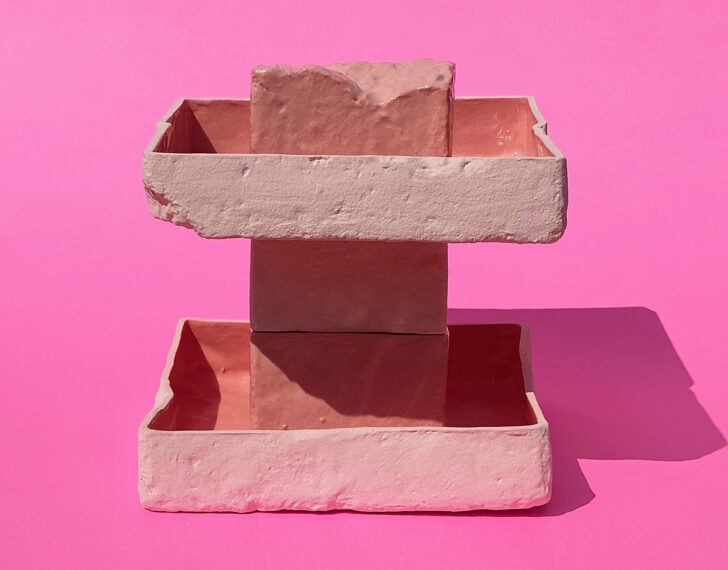 What to do with bricks and broken concrete found on the streets of Mexico City? Use them to cast a series of ceramic trays and vessels, duh! This utterly charming project by MT Objects has produced flowerpots, teapots, and bowls, with the latest being a two-tier afternoon tea tray, colored in two tones of pink to reflect a common way to decorate houses in CDMX.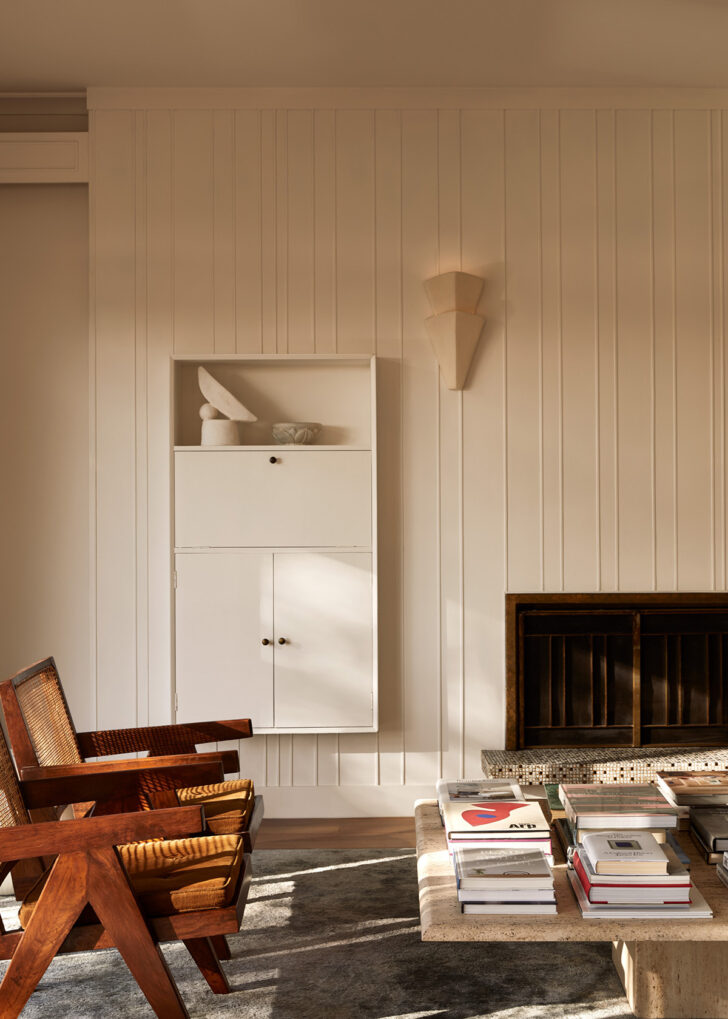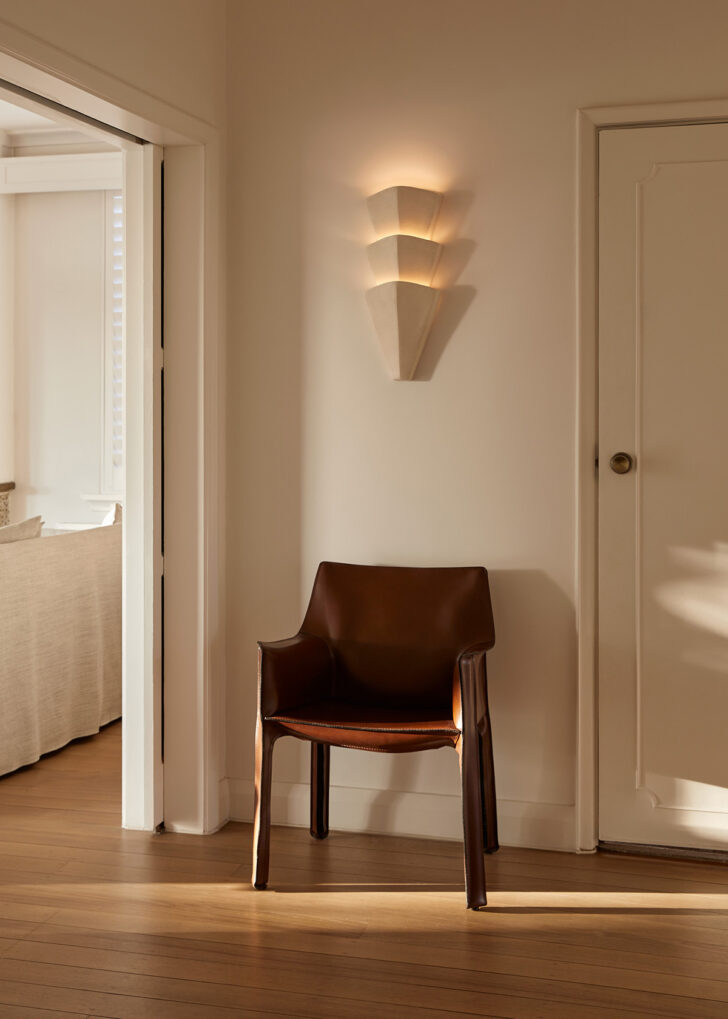 The Gothic/Art Deco Manchester Unity Building in Melbourne was the inspiration for this tiered wall sconce by Australian designer Sarah Nedovic, who took the terracotta-clad building's exaggerated shape and pared it down to a series of simple V-shaped modules. Available in four variations, each with one more V than the previous, the design is made to order in natural white, amber brown, black and terracotta. New colors are coming next year, too.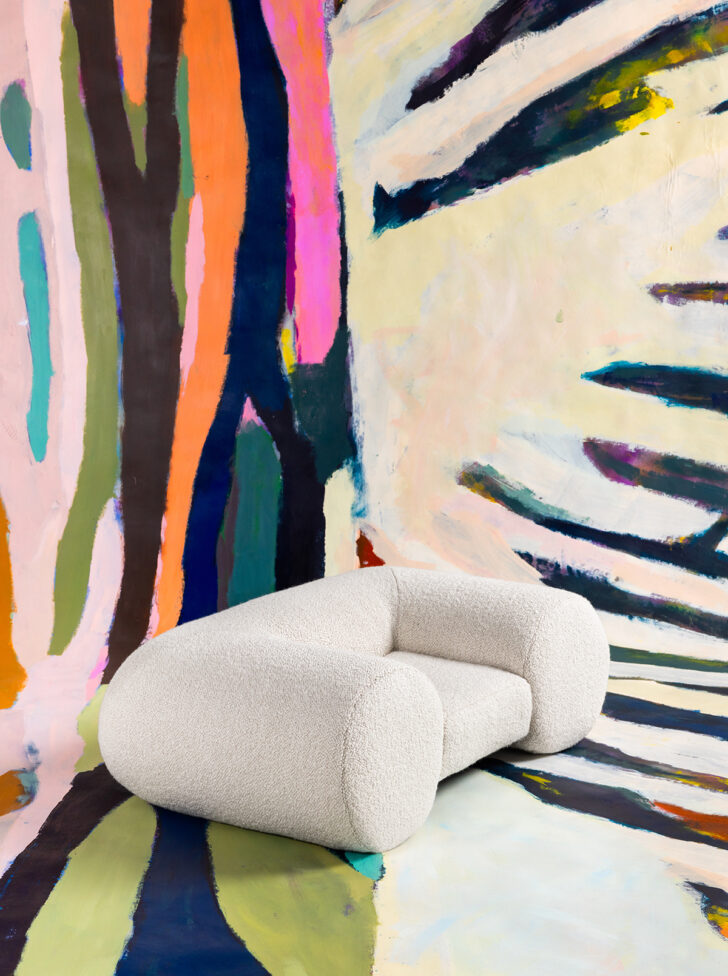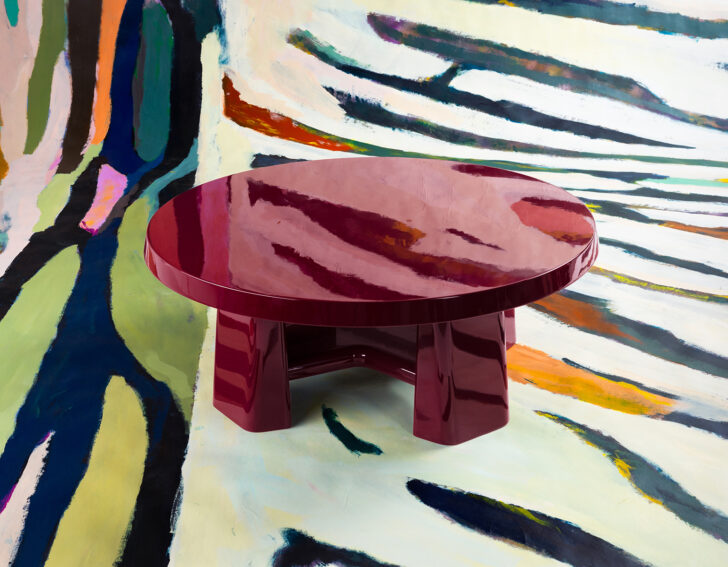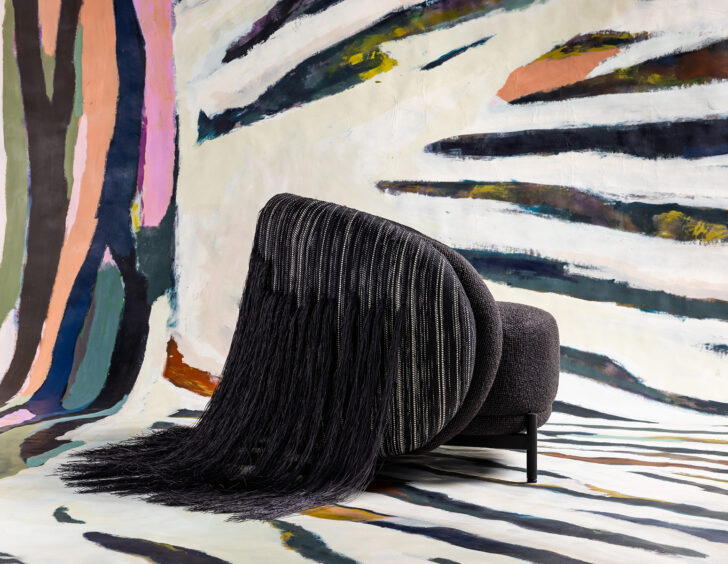 We couldn't get enough of Studio Paolo Ferrari's Editions 04 collection, which we published in first-look images shot among the industrial surrounds of Skylight Steelworks earlier this week, so here it is again, this time with artworks by Lucas Biagini as a backdrop. The shapes and materials of Ferrari's soft upholstered seating and a high-gloss lacquered table really sing against the Toronto artist's colorful stripes, proving that the pieces hold their own in a variety of different environments.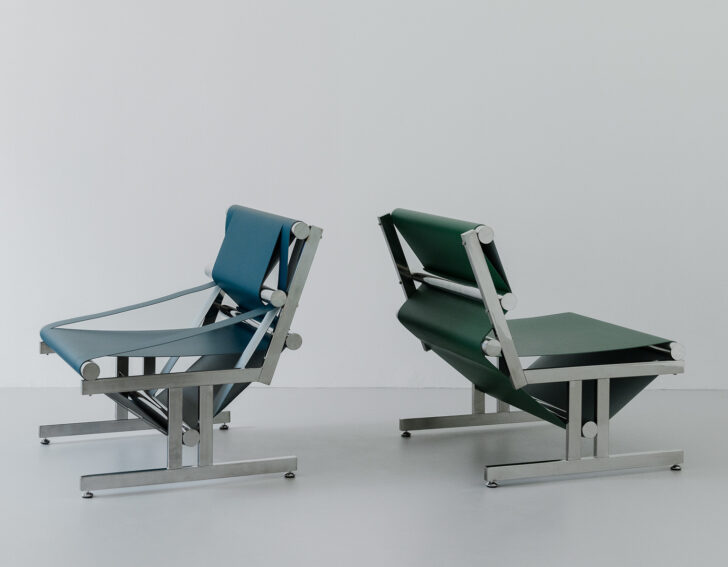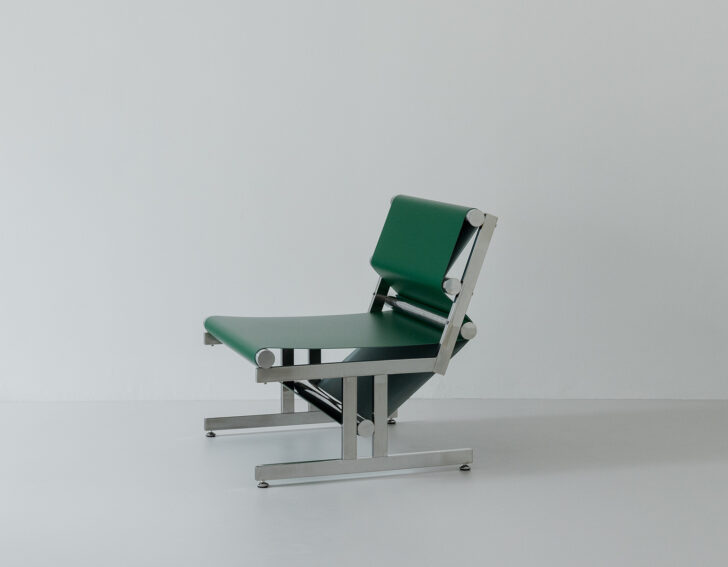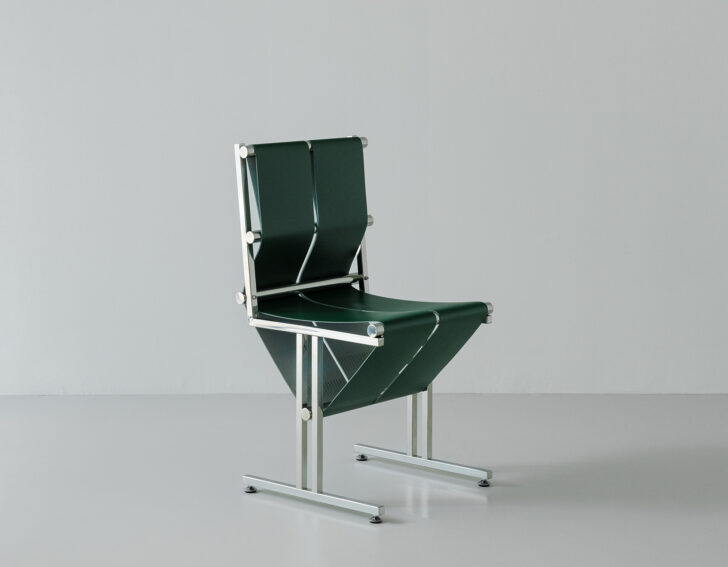 Conveyor belts informed this series of chairs by Woojin Park, which replicate the same tensile properties created by material stretched around cylindrical rollers. The strips of blue and green are wrapped around industrial-looking metal frames to form seats, backs and armrests that flow into one another in seemingly endless loops. In some cases, the same frame is utilized differently by simply reconfiguring the course of the material. Genius.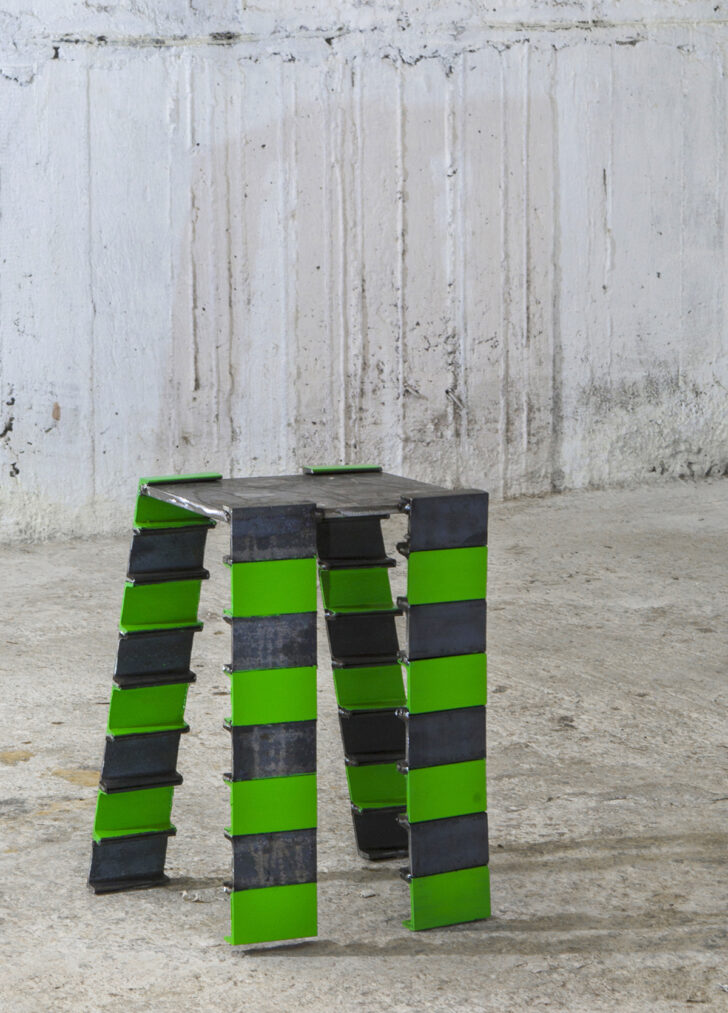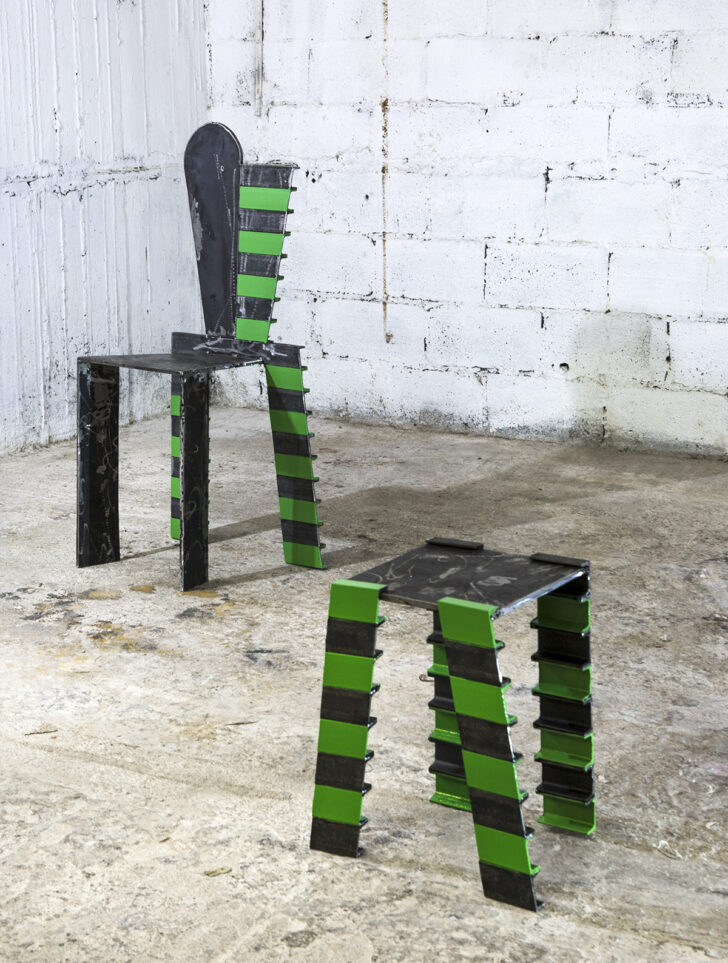 A lot of stripes this week! These next ones come from Greek-born, Brooklyn-based architect and designer Kiki Goti, who has added bands of fluorescent green while welding together thin steel U-beams into a chair and a stool. The painted sections boldly contrast the raw metal of the folded planes.
Interiors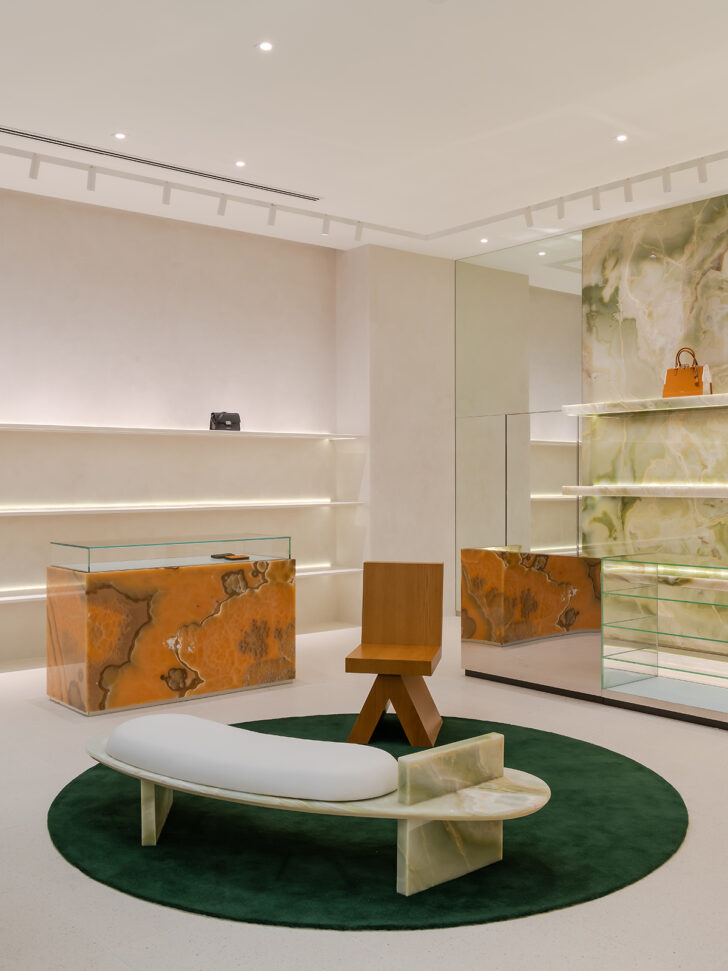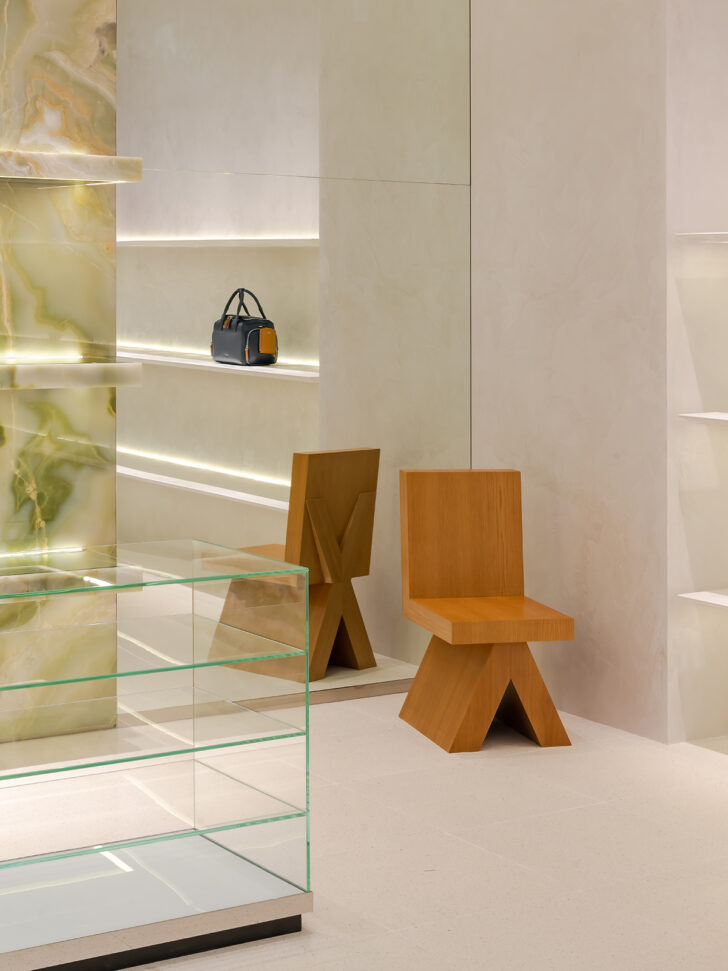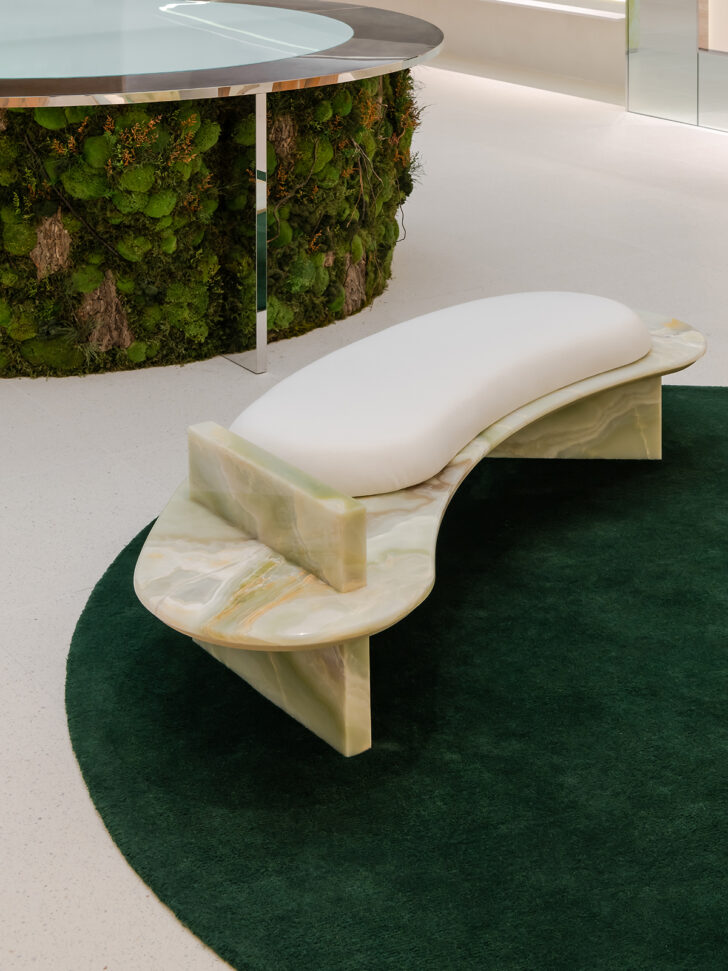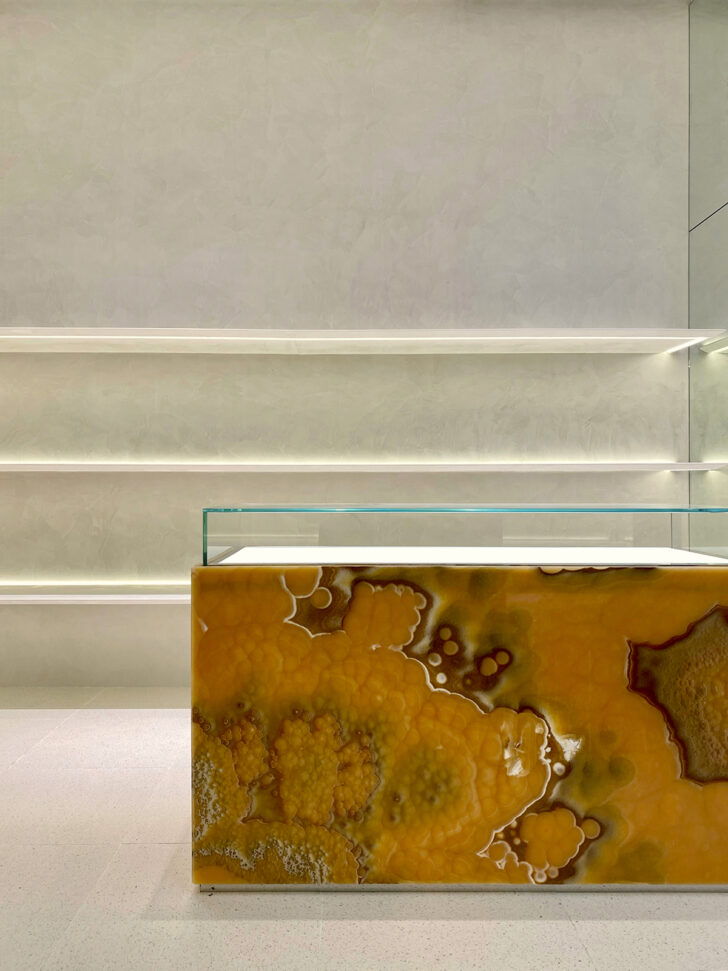 I honestly never thought that I'd write the phrase "moldy marble," let alone use it to describe something so beautiful, but here we are. The material in question appears in a flagship store designed by Spaceman Studio for leather accessories brand Braun Buffel, in the Malaysian city of Putrajaya. Their theme was Urban Bloom, which is weirdly accurate considering the giant moss-covered installation suspended from the ceiling above the registers, and the marble and onyx display stands whose coloring makes them appear to be cultivating lichen and fungal growths. These striking surfaces stand out against neutral tones, and plenty of glass and mirrors, together forming a "maximal minimalist" aesthetic.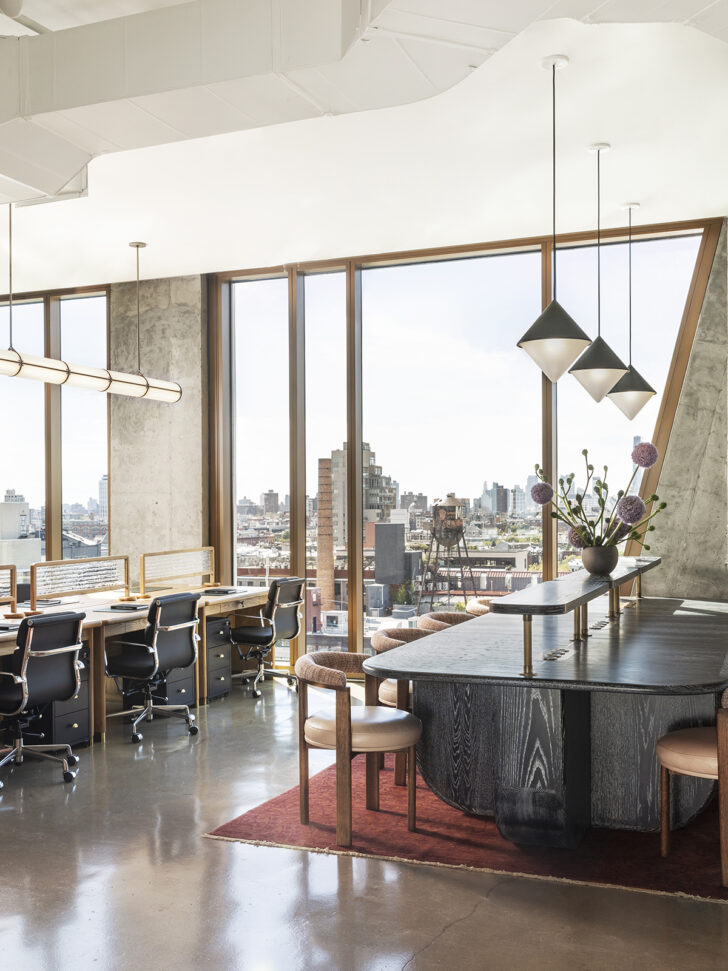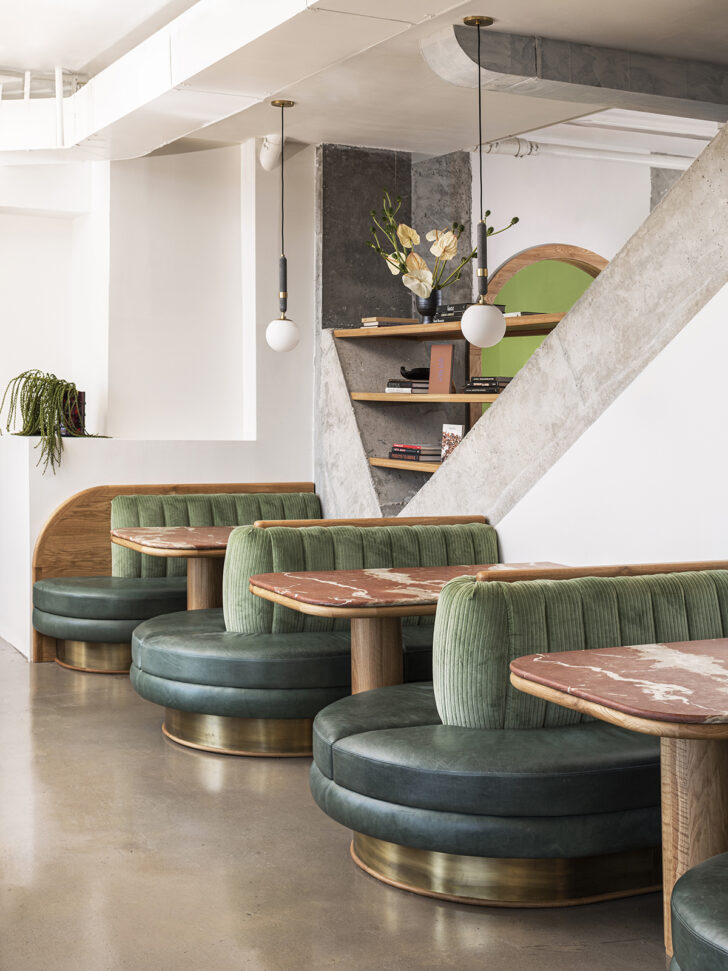 When The Malin opened its shared workspace in Soho a year ago, it quickly became the new spot for creatives to bring their laptops, lounge on the Orior furniture, and photograph themselves doing so. Building on this success, the brand has opened a second outpost in Brooklyn with equally chic interiors, as well as enviable views from its lofty spot in The William Vale hotel.