12.15.22
Sarah Sherman Samuel Moved to "Furniture City" and — Lo and Behold — Self-Produced a Furniture Collection
Moving back to Michigan from Los Angeles four years ago might've been the best decision Sarah Sherman Samuel ever made. As well as offering her family heaps more room, the in-demand interior designer — who has shot to fame over the last few years with high-profile interiors for the likes of Mandy Moore, Vanessa Carlton, and Garance Doré (we swear this Domino cover is what set off our intense collective lust for Ray Wilkes's Chiclet collection) — has been able to set up a new office and showroom in Grand Rapids, nicknamed Furniture City for the amount of manufacturers based there, and reconnect with her childhood nostalgia of exploring the woods and lake shore. Returning to this landscape was also the driving force behind the SSS Atelier collection, the first that her studio has both designed and produced in-house, now that she has the space and resources to do so.
Among the collection's nature-influenced pieces is a set of tables with wood or stone tops shaped after flat, rounded skimming stones, supported by cylindrical bases. Able to nest or be placed separately are two side tables and a very large coffee table. "I feel like a common design mistake is to have too small of a coffee table in a room," Sherman Samuel says. "I like a coffee table that serves a space and makes a room feel cozier and more grounded, and gives you space for books and things."
Although imbued with the same warmth that the designer is renowned for, this collection was very different from those she's created in the past for brands like Lulu and Georgia or West Elm, which are often dictated by attaining a particular price point. Treating it more like collectible design, Sherman Samuel was able to source the highest-quality materials and tap into the deep knowledge of craft available to her in Furniture City to fabricate the pieces locally.
We caught up with her recently about how her homecoming has helped her work to grow and develop, and resulted in this exciting new step for her studio.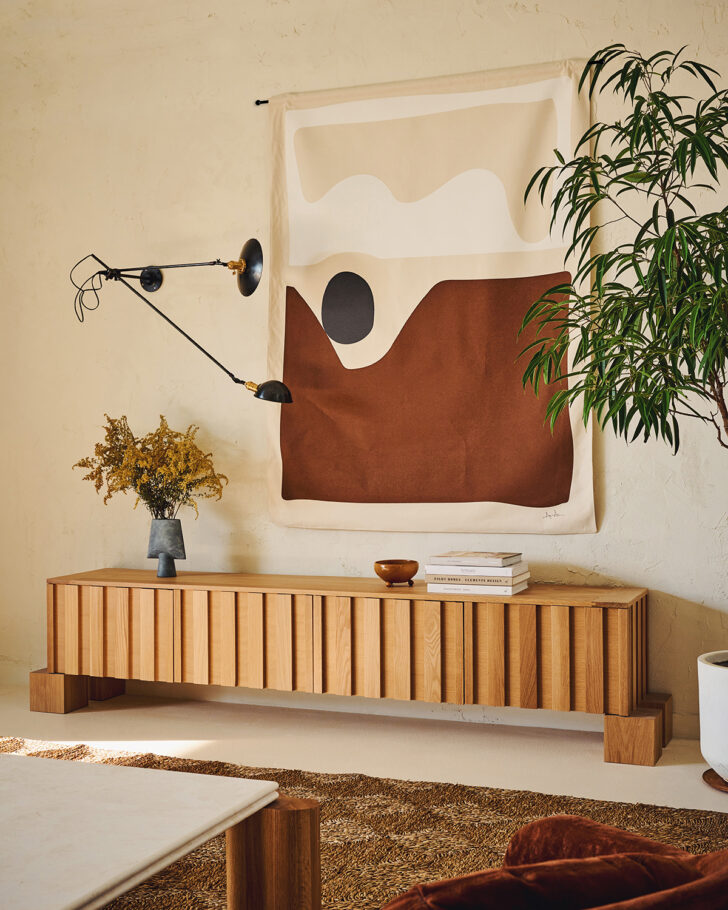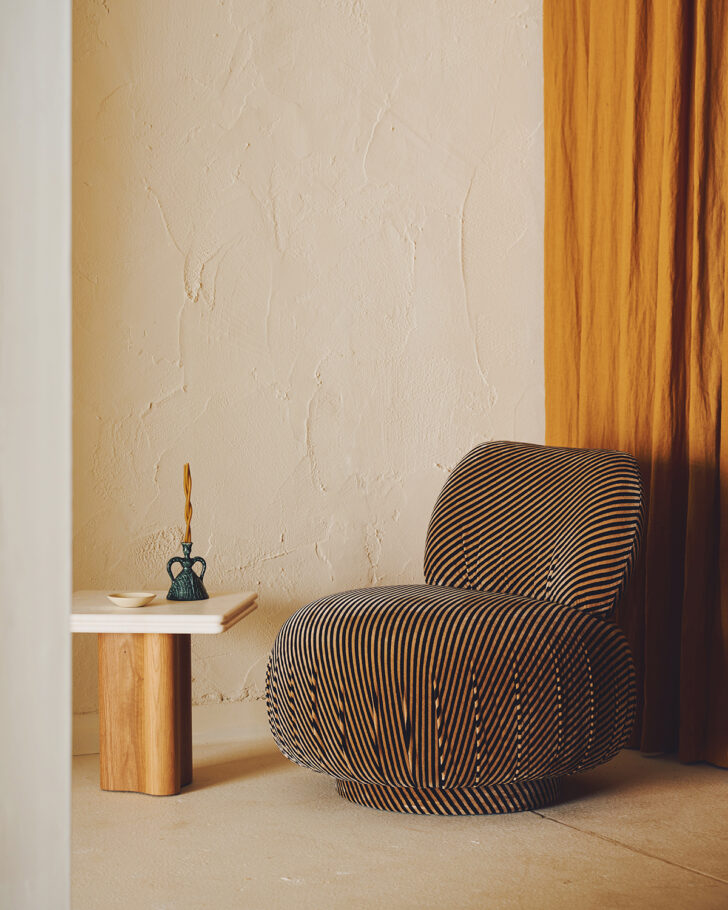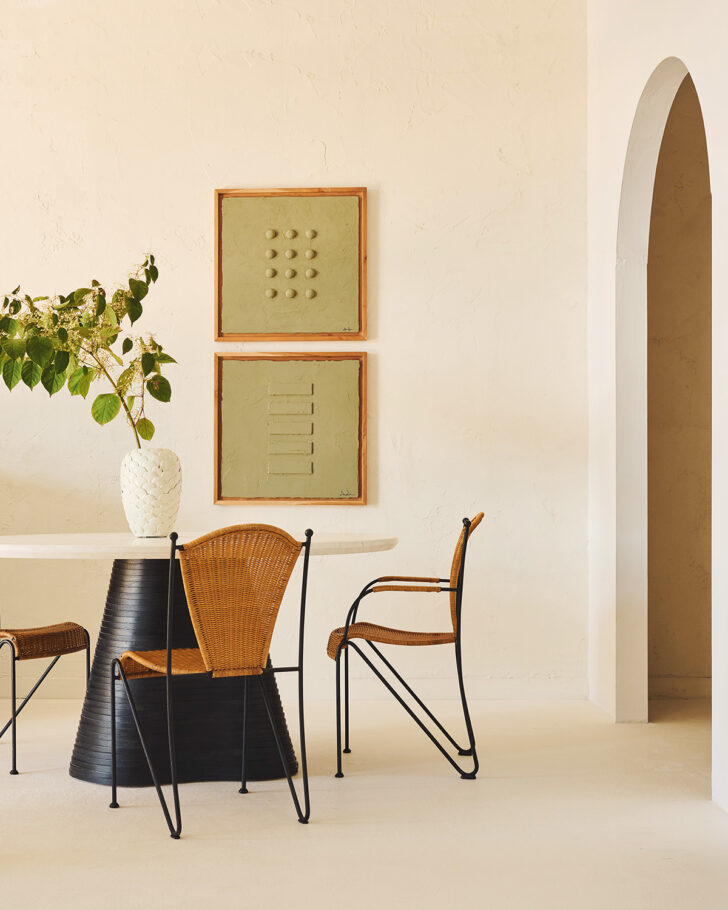 You recently launched your very first SSS Atelier furniture collection. Congrats! How did it come about?
The collection was inspired by nature, first and foremost, and not just nature in general, but the land that I grew up in. I grew up in Michigan, but moved to Los Angeles right out of college and was there for about 15 years; it's where I started my design studio. Then we had kids, and I was like, I really need life to not be hard. And we weren't taking advantage of living in LA, so we figured we may as well move to the woods. So that's what we did. That was about four years ago, now. We moved 35 minutes away from where I grew up, to the city of Grand Rapids, which was very much considered "the big city" when I was younger and we rarely visited, so it felt like a new city when we arrived.
I grew up on the lake shore, so I spent my entire childhood roaming the sand and the shores of Lake Michigan, which made me such an outdoor person. Coming back, I realized just how much these surroundings and being in nature influenced my whole upbringing. Seeing the same landscapes again after being gone for so long was super inspiring. I really enjoyed the nostalgia of all these patterns and shapes and forms that I was used to growing up. So that is where the collection came from: the dunes, the ripples of the sand, the trees and everything around.
What about this collection is particularly important to you?
I've previously designed furniture and products with other brands. But this is the first time I was able to take control of all the manufacturing, working with the highest-quality materials and working with craftsmen and tapping into this community.
Grand Rapids was once known as Furniture City, USA. There's Herman Miller, Steelcase, Haworth — all these furniture companies that still operate from here. So there's this lineage of furniture makers we were able to tap into, and celebrate the craft of this area. I wanted the collection to be made in Michigan, so everything is fabricated in and around the land I grew up in, by the people from this land.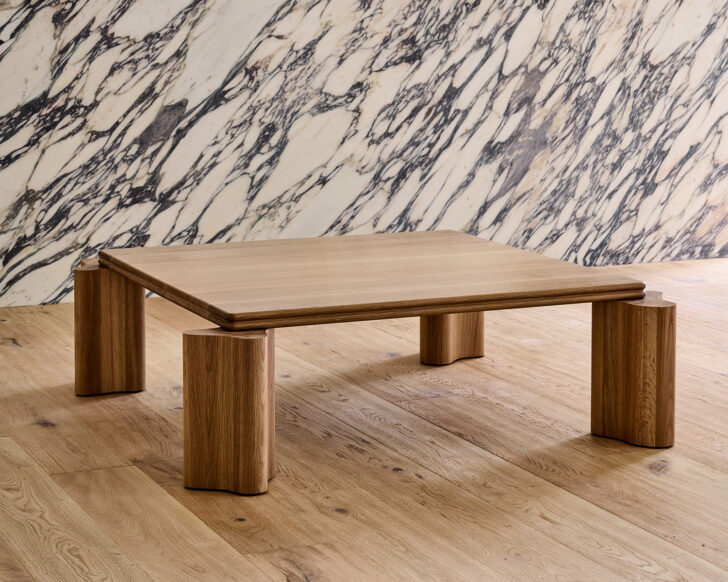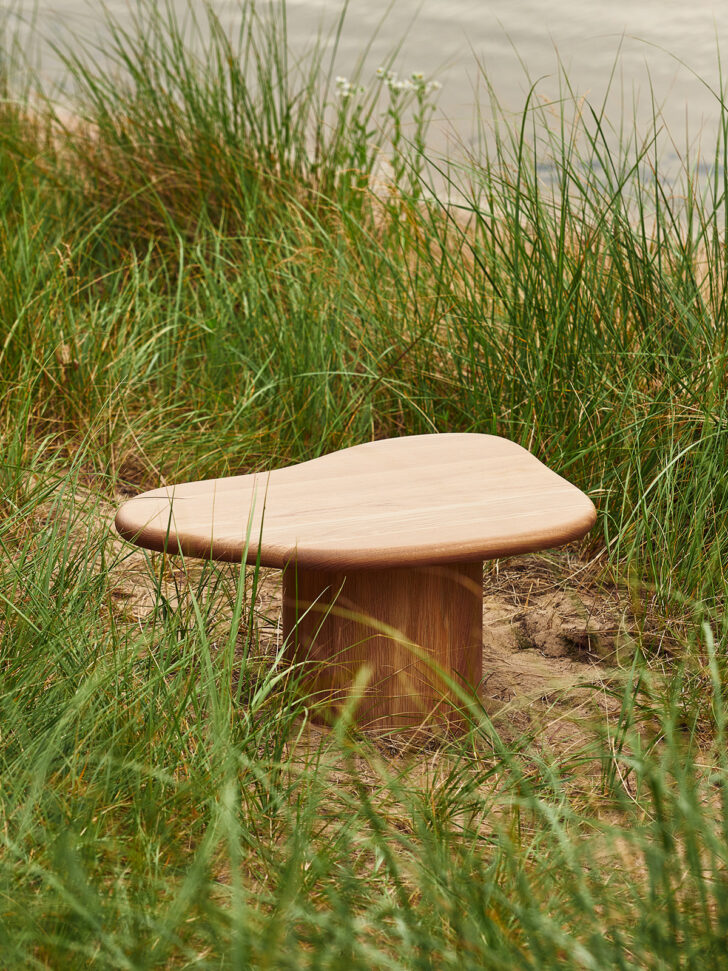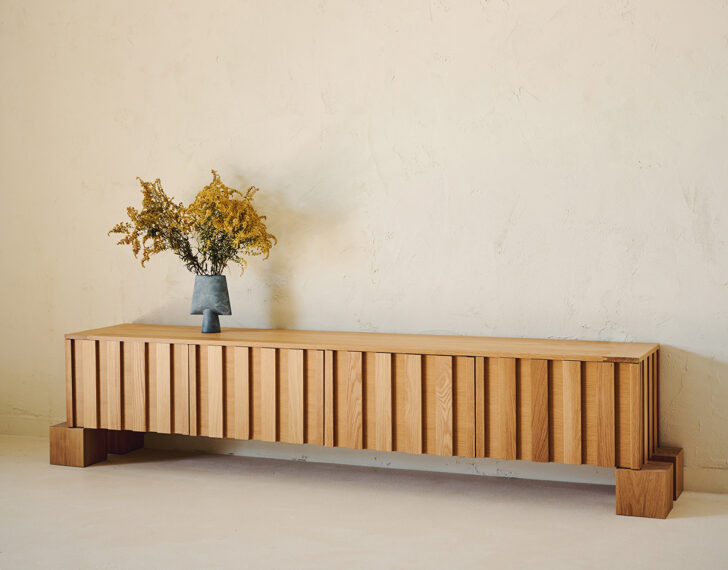 How did you approach this collection differently compared to those that you've done for other companies or brands? Did you find it more empowering, and feel like you could really experiment?
I think a lot of it was about the materials. Working with brands like Lulu and Georgia, they have a lot of access and can do things that I couldn't necessarily do because they're able to buy materials in such large quantities. They're also aiming for a certain price point, which means they wouldn't necessarily be able to work with the stones that I wanted to work with. 
I should mention that my partnership with Lulu and Georgia is very different from the typical designer line with a brand. They give me complete free reign on design. I feel like sometimes, people will simply pick things out or put their name on a collection, but this is not the case at all. It's me designing — I give them the design files, and they produce and merchandise my designs. But there is a limitation, because there's searching for a certain price point. And I wanted to do a collection without any limitation, more like collectible design. More bespoke, with the highest level of materials and the highest level of craft that I wouldn't necessarily get to work with in collaborative projects.
Another thing that I couldn't do with my partnerships is customization, which is so important because the collection is so much more geared towards trade and to fellow interior designers.
Can you describe some of your favorite pieces in the collection, and speak about the stories behind them?
I have the Skimming Stone Collection, which is a collection of tables. They come in three sizes and are inspired by the river rocks and the shapes you look for when you're trying to find the flattest, smoothest stones for skimming. They have a very thick bullnose edge, with obviously flat tops made of either stone or wood. I'm very big on mixing materials, so there's two wood finishes and four marble finishes. The availability for customization is there, in a very simple way, but there's so many different versions that you can do. The stones that we picked are very unique. We have a green, a violet, a red, and a cream that's the most neutral. They're sourced from Italy and Turkey, and then locally fabricated.
The tables are designed so that they can nest together, or be used separately. There's two sided tables and one very large coffee table, and they each have a smooth, wooden, cylindrical leg  and that skimming stone organically shaped top.
I love really large coffee tables. I feel like a common design mistake is to have too small of a coffee table in a room. I like a coffee table that serves a space and makes a room feel cozier and more grounded, and gives you space for books and things.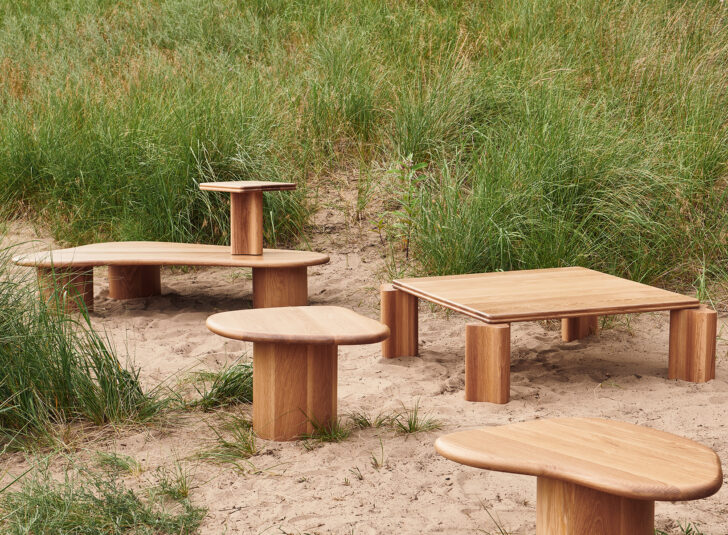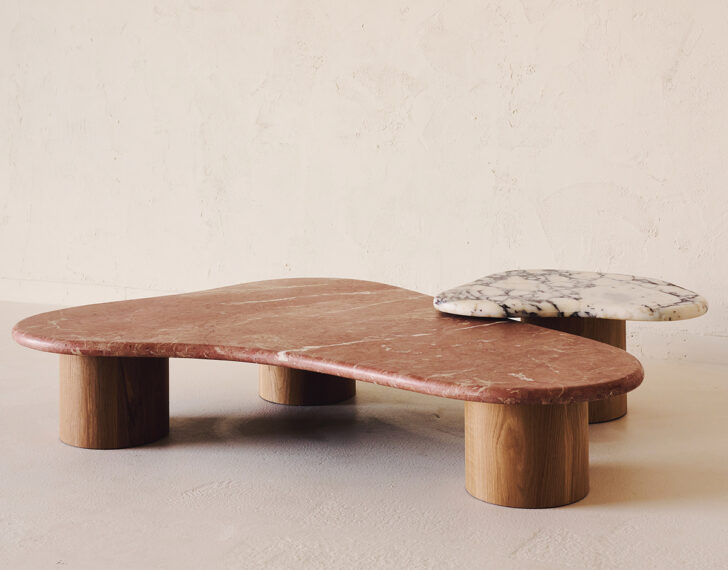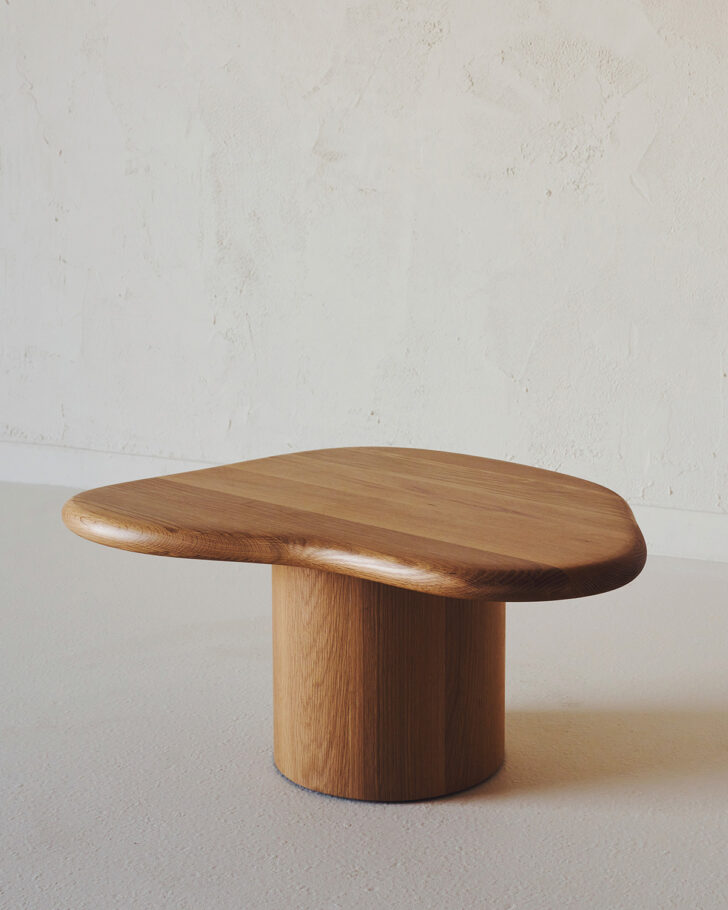 I'm now looking at my tiny coffee table and realizing you're right. Are there any other pieces from the collection that you'd like to highlight?
The Movement table was one of the first pieces, if not the first one, that I designed for the collection. It has 37 layers of wood that make up the base, which is inspired by ripples in the sand and also has an organic shape. Then there's the Ledge tables, which feature sculptural legs that have the same repeated form, but are each turned a different angle.
In which types of spaces and environments do you think these pieces work best?
Thinking about clients' homes that I've placed them in, or will soon place them in… One of the things I love is that the forms are quite simple and organic but they have a level of detail too. So I was able to place them in a very modern new build, but then I also have the same set of Skimming Stone Tables going into an old Spanish Colonial–style house. So I think they have a versatility that is really nice, which is also thanks to the neutrality of the natural materials, allowing them to adapt to or complement a variety of different settings as well.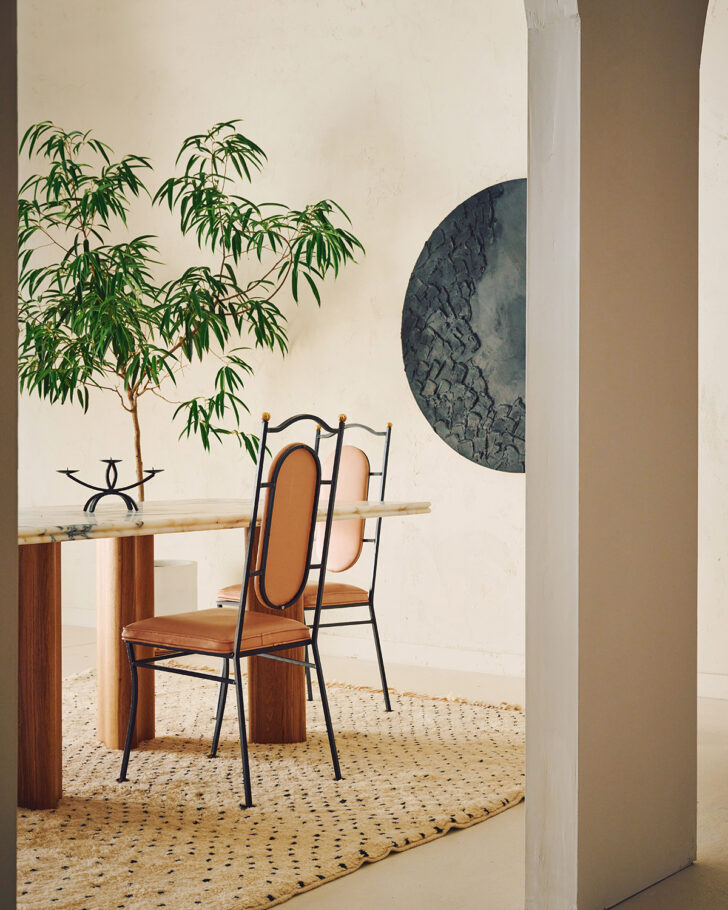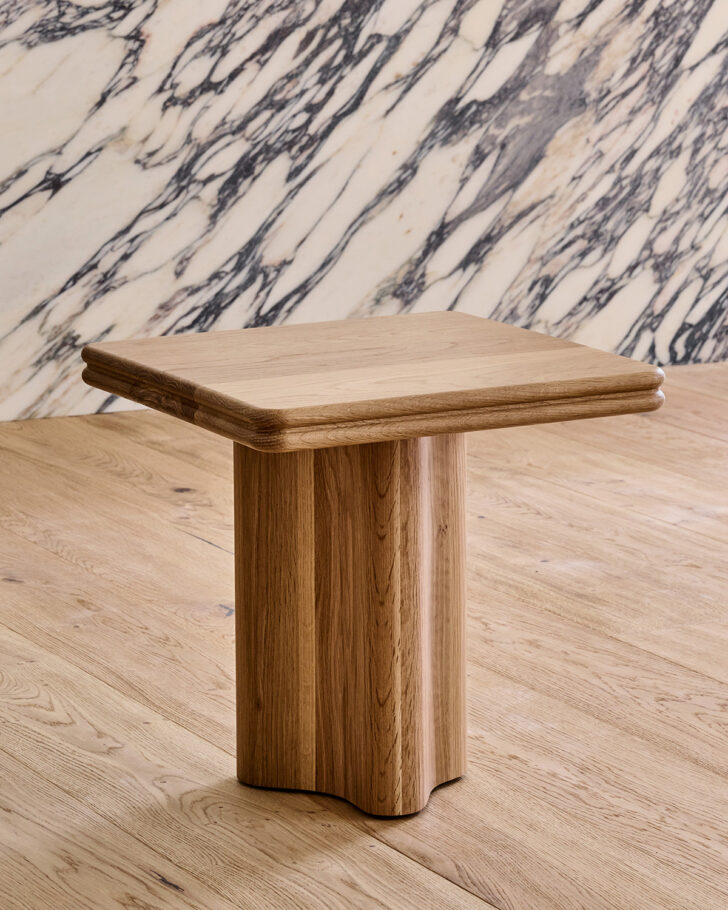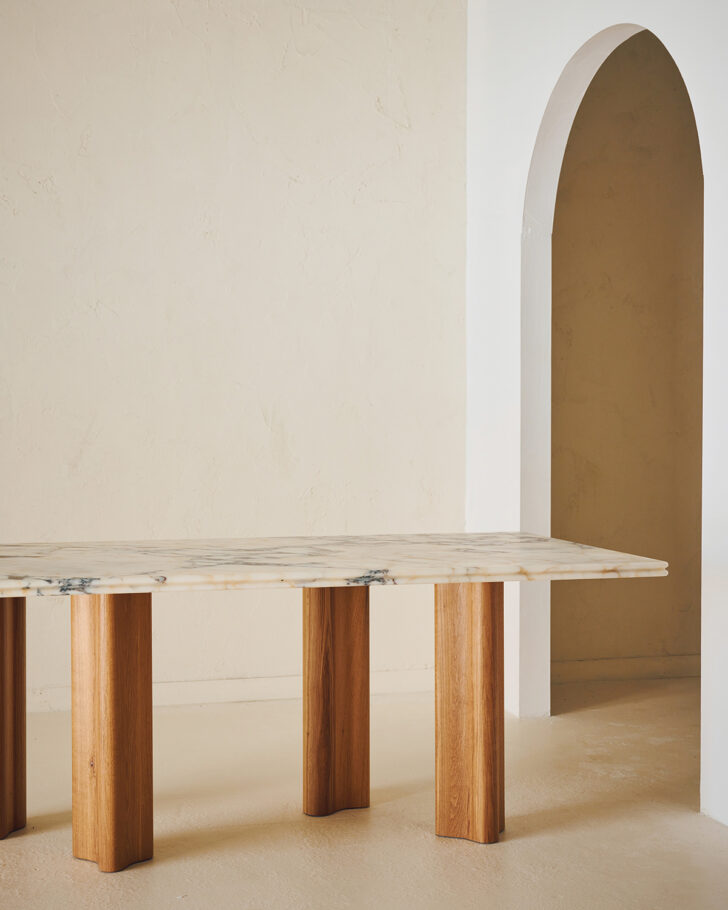 Does designing interiors influence or impact how you think about your furniture pieces, and vice versa? What's your process like when going back and forth between the two?
Often, the two inform each other in several ways. The Skimming Stones first came out of me designing an interior project and wanting a table that I couldn't find anywhere. And the design came from that space, once I had already picked out quite a few of the pieces for the room already. Then with the Ledge dining table, with the sculptural legs and flat top with the double bullnosel edge, I ended up designing a whole room knowing I was going to use that table in it, which was cool. I'm almost always designing bespoke furniture for client projects. So I think it was natural for me to create my own collection, having so many different options that can be mixed and matched.
Do you have any of the pieces in your own home?
I have the Fort credenza in my own home and a side table right now. We've also just moved into a new office space in a warehouse that includes a showroom, which is almost completed. We did a big build-out in there, we just have to hang curtains and the shelves. So soon we'll have the whole collection on display in our new showroom, where we also have stock of the different items.
You spoke about how returning to Michigan influenced your designs. But has it also affected the way you work?
Definitely having more space and the ability to spread out has made such a huge change to my work. In LA, I was working out of our converted two-car garage. Of course, it was big compared to New York. But in Michigan, we bought a house that's 5,000 square feet, and we built an office, and we're on almost two acres of land. So having space to have artwork and prototypes out, not having to put stuff away for such a visual person is really helpful, because then I'm able to do iteration after iteration, and sit with something for a long time. Ruminating when you're passing by, even if you're not thinking about it consciously, when you see something over and over and revisit it. My brain doesn't shut off, and I'm always designing, always working constantly. Keeping the stuff out and around just helps move things along. And it's more fun that way. It's less laborious.
I touch so many different types of work in one day, across so many different mediums. And they all kind of inform each other. If I'm feeling stuck on a client project, I just walk away from it and I can do something like work on this piece of furniture — something that excites me in that moment. I get so much inspiration from doing different things, and having the space to do so I think has made my work better and allowed me to stretch and grow.