12.16.22
In Her Object-Filled Mexico City Home, Su Wu Surrounds Herself With Gifts, Mexican Crafts, and Contemporary Design
It's hard to overemphasize the connection we feel to Su Wu when it comes to objects. A writer and curator, she rose to prominence as founder of the influential blog I'm Revolting, which unearthed unusual and often anonymous designs — and which inspired us to invite her to create a pop-up featuring the work of up-and-coming ceramicists at our first Sight Unseen Offsite show, in 2014. That shop channeled everything we felt drawn to (and sympatico with) about Wu, from her incredible network of creative friends and collaborators, to her willingness to take on a huge job by herself in the name of providing makers an opportunity to make, to how unique her curatorial eye was, to how obvious it was that she was deeply in love with every single thing on her shop tables. Even though her home has since become, in our circles, one of the most well-known stops on the Mexico City circuit of cool, it felt inevitable that we should include it in our book, both to commemorate our long professional relationship and to acknowledge that when you're talking about the beauty and power of objects, hers is a voice that deserves to be part of the conversation.
Wu is a staunch champion of the local Mexican design scene, using her home — which she shares with her husband, the artist Alma Allen, and their two children — as a place to co-curate exhibitions and showcase her ever-growing collection of gifts, Mexican crafts, and contemporary art and design. She also occasionally opens its doors to shoppers, under a project she calls Casa Ahorita. Built in the 1920s and formerly a community theater, it's still not fully renovated, so the photos in our book represent only the finished, more public parts of the home, but they still do a great job capturing what it's like in Wu's world, where every surface offers the chance to display a curiosity or an artifact from the project she's done, and the friends she's made along the way.
The following represent our favorite photos from Wu's home, featured in our book, How to Live With Objects.
PHOTOS BY CHARLIE SCHUCK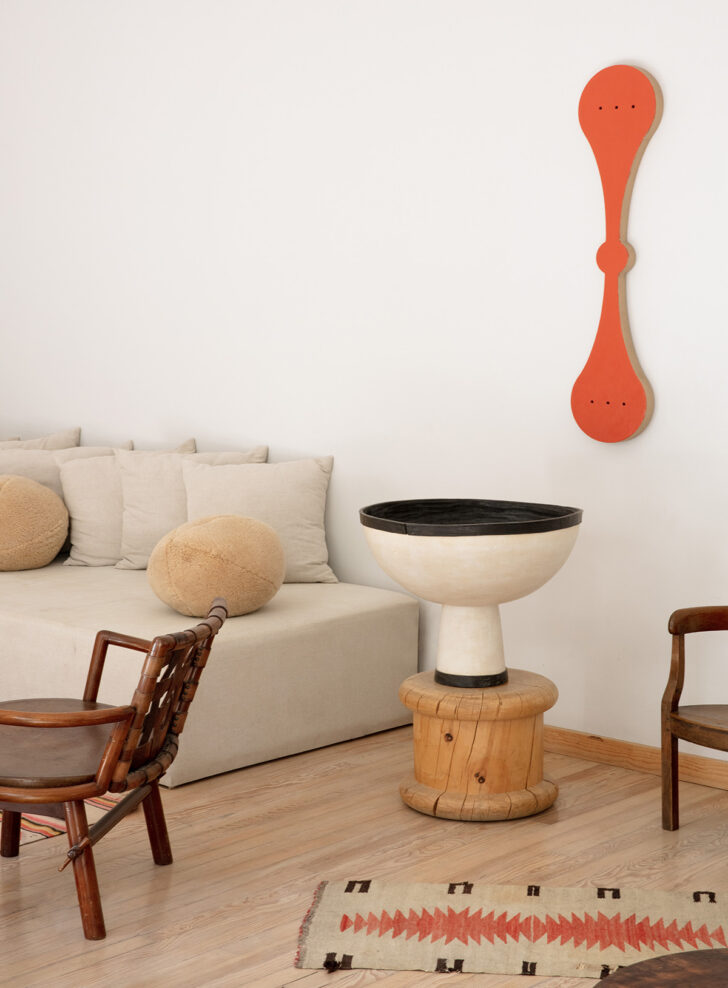 "The huge ceramic chalice under the red Michael Rey sculpture is by Kathleen Ryan. I bought it at a ceramics sale, and then two years later, she happened to visit Alma's studio. She was like, 'Oh my gosh, where did this piece come from? That's the first piece I ever sold.' Now she makes these big fruits that look like they're rotting, with semiprecious stones covering them. Her work is interested in this idea of luxury, and what an amazing life we have that we can let fruit rot and go to waste. But this was part of an early series. At the show, there was a wine fountain pouring into it."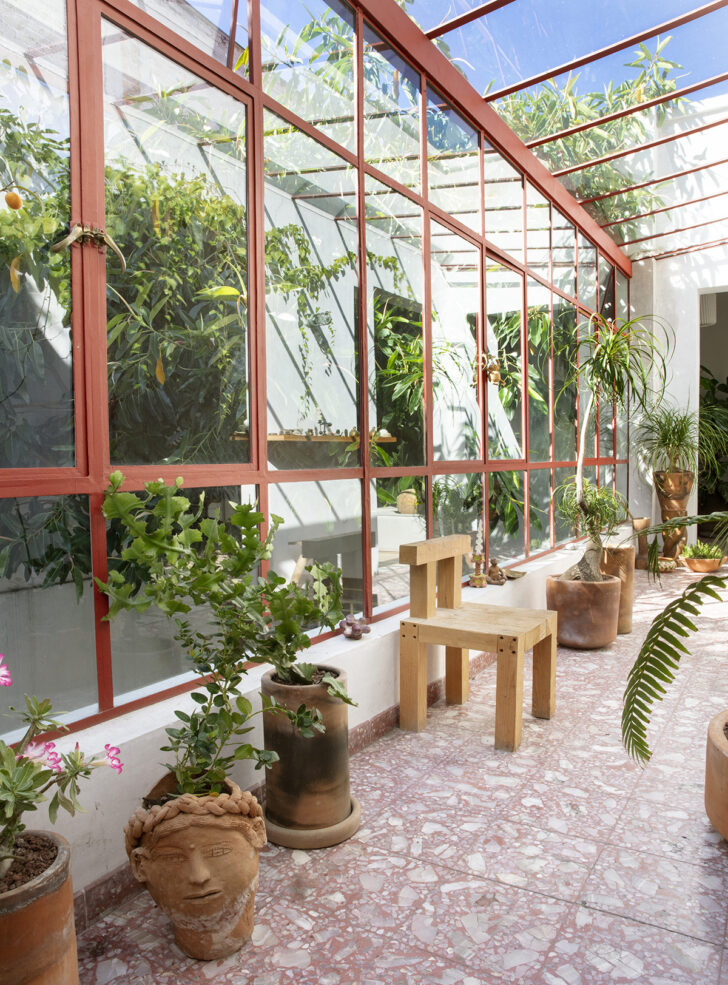 "Everything in my home is something that's from a friend or that I found with a friend or that I associate with a story of a friend. The little wooden chair in the atrium is by Jardín, which is two designers from Mexico City, Roberto Michelsen and Carmen Cantu Artigas. It was a gift from them, which was very sweet. What I love about prototypes or gifts is that they really embody a certain freedom. I think some designers and artists struggle with wanting to make work for themselves without having to be overly concerned about the audience. These things are made for just one person."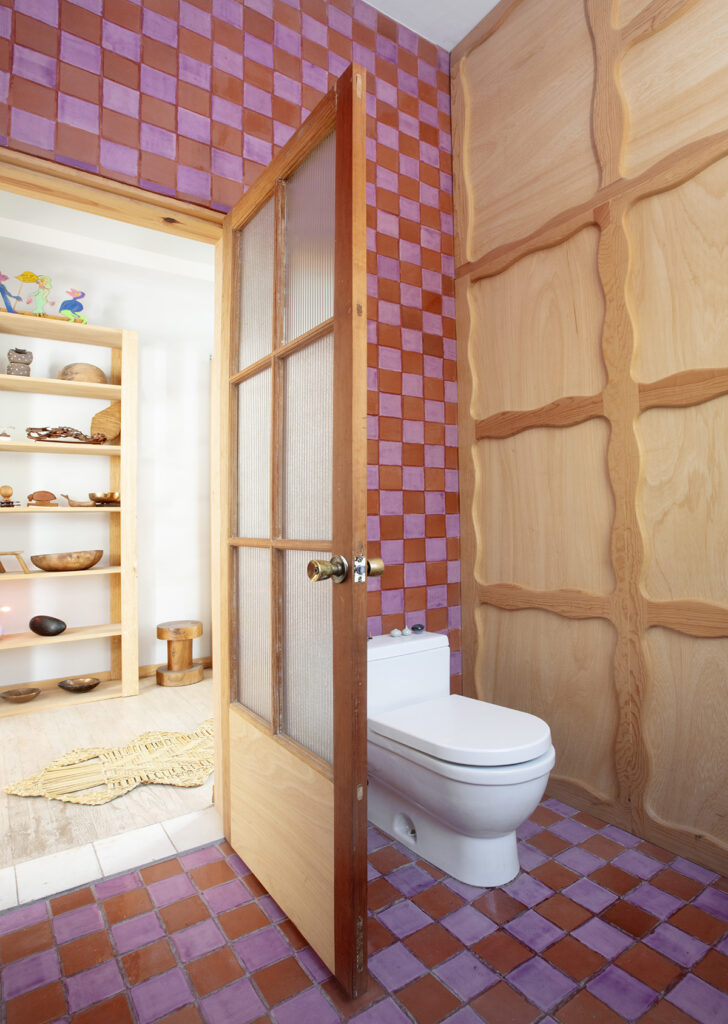 "The bathroom wall was entirely designed by our carpenter. I wanted something that felt a little bit more traditionally Mexican, and this is what he came up with — which, I was like, huh, okay. There's actually a gigantic vent hiding behind it that goes to the ceiling, because we thought, for a moment, that we might open up a restaurant in the space. The tile was just me going to the tile shop and being that weird person who's there for way too long laying things out. It's traditional Mexican Talavera tile."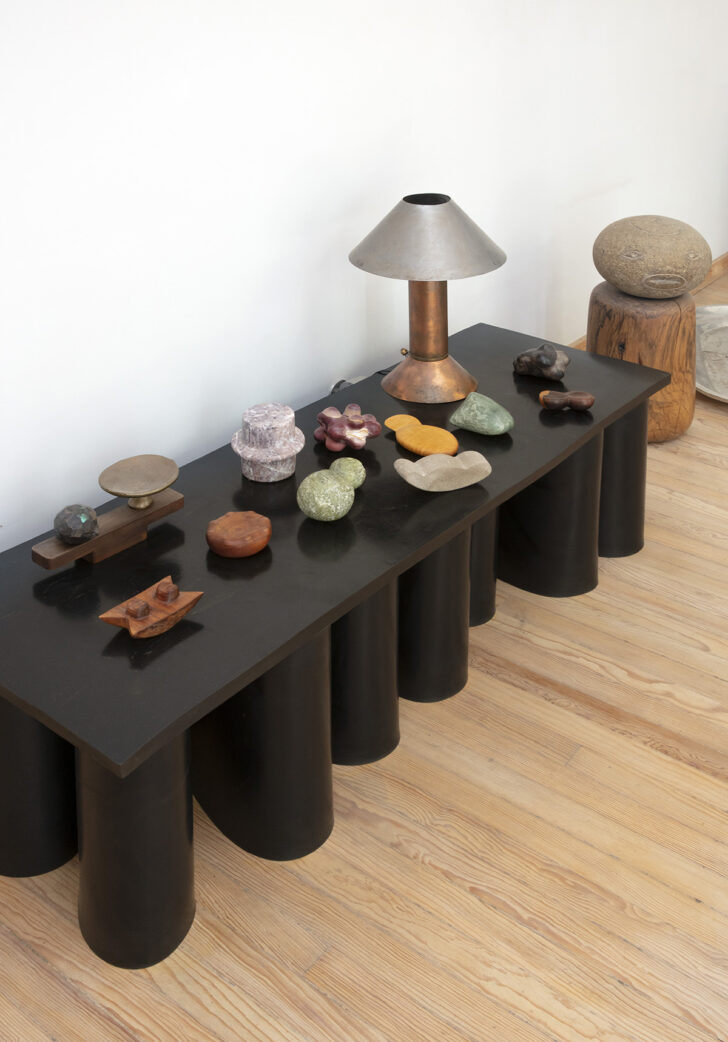 "Everything on the table is by Alma except the lamp, which is by Ron Rezek. The rubber table is by Brian Thoreen, a really good friend. I don't know if it was a gift. We did a Masa Galeriá show here, and this piece was in it, and it sort of just stayed. I don't want to call it a gift and have Brian be like, 'No, it's not!' There's absolutely no hardware, so it's held together entirely by the weight of its own material. It's perfect."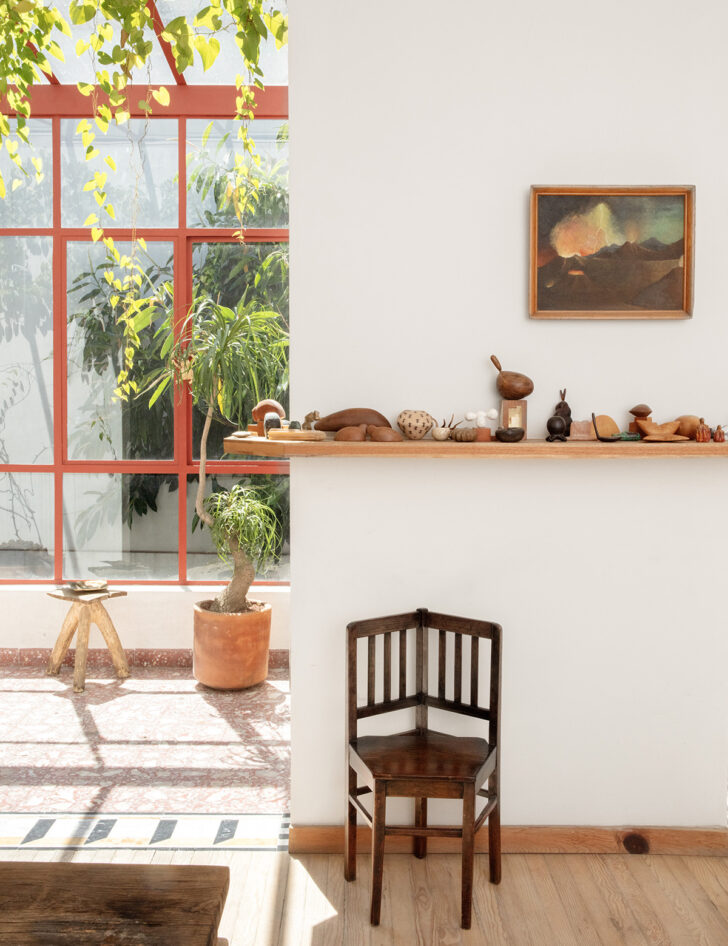 "On the right side of this shelf, there are two little flaming figures. I first saw them in the house of the photographer Graciela Iturbide. They're lost souls in purgatory, on fire, and I loved how the representation of fire is so hilarious and interpretive. I looked and looked for them, and I finally found them one day at this antique shop. As I was going to pay for them, the guy started yelling, 'Get out!' I felt like I had offended him, but then I realized there was an earthquake siren going off. I ran out and never went back for them. Years later, I was having lunch with my friend Dung Ngo, and he told me he'd stopped at this antique shop on the way here. I told him the story, and then was like, 'What did you get?' He said, 'Oh my god, I got the souls in purgatory.' I really did feel a pang! But he sensed it, and he gave them to me, which was the sweetest thing. It takes a special person to realize how important things will be to you."
"I'm drawn to things that feel like they have a lot of experiment in their making — like the person was working through something or figuring something out. For example, the chair at the end of the entry hall is by José Pérez Garza, a young carpenter from Monterrey. He tried to make a Shaker chair having never seen one! In general, I'm really interested in how non-European, non-US designers interpret European and American design tropes. It's the reverse of Modernist appropriation, and I feel like it's an indication of a new shift in thinking, power dynamics, and privilege, and who gets to play around with ideas."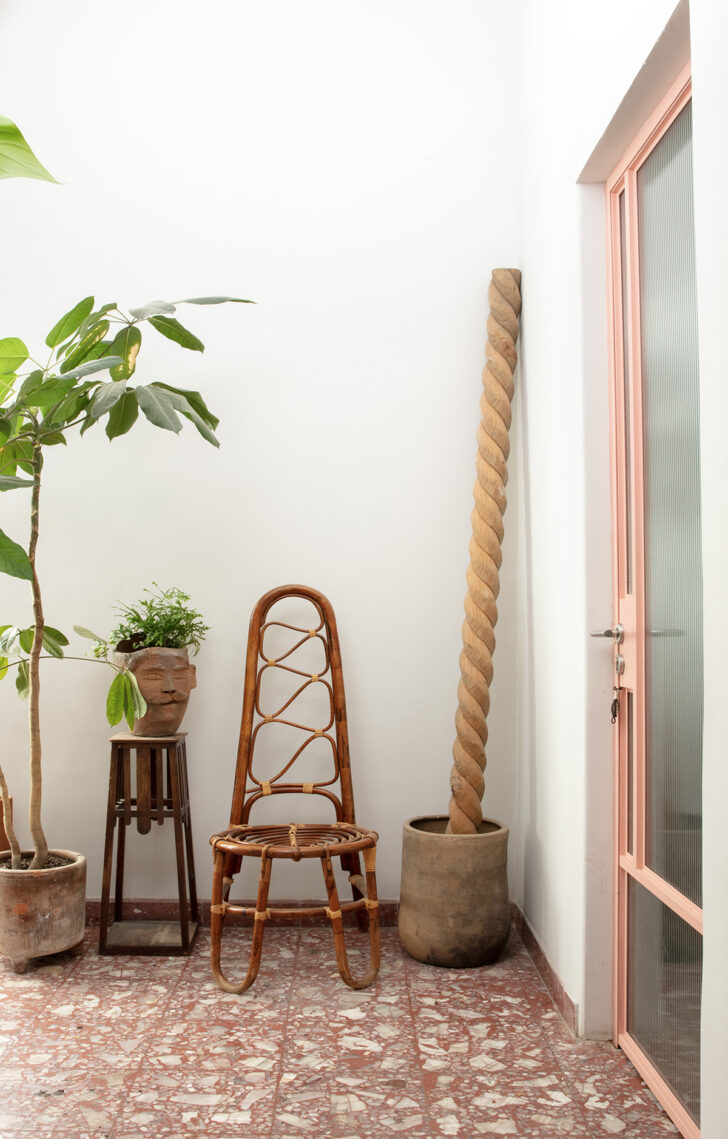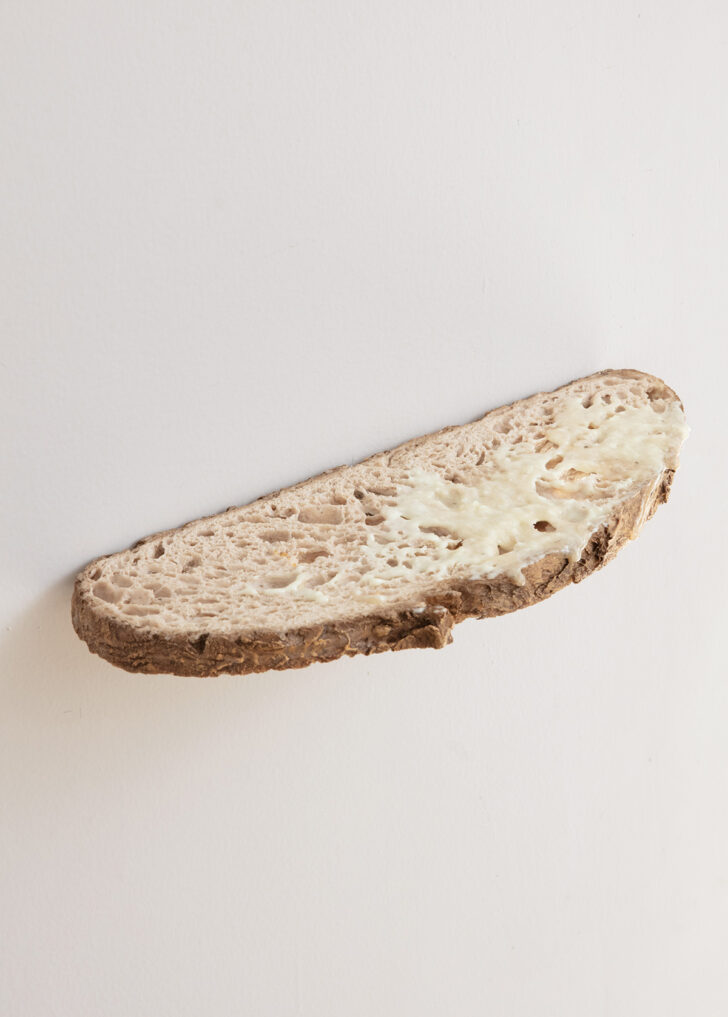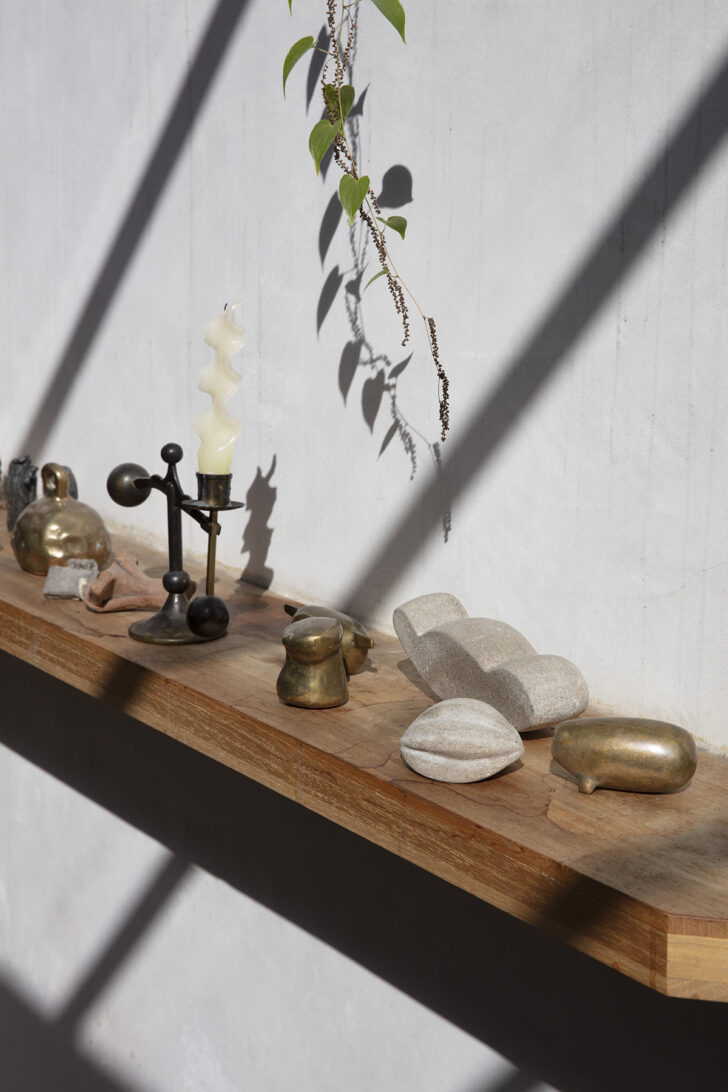 "I'm lucky because we have a lot of things that were made by Alma — early pieces that he made while he was figuring out his voice and his style. This has become a joke between Alma and me —  that we have what no one else would buy. He's always like, 'You need to stop bringing home the first thing that a person ever made,' but that, apparently, is what I'm really drawn to."