01.10.23
For West Elm's Design Challenge, We Show You How to Personalize Your Living Room With Objects, Sight Unseen-Style
When West Elm approached us last fall to participate in their ongoing Design Challenge series — in which subjects start with a blank canvas and create a room entirely from scratch — we immediately said yes. After all, what better way to show people how to live with objects than to demonstrate it ourselves? The project would have a twofold effect: It would bring to life some of the big ideas from our recently published book, and it would give us the opportunity to flex our design muscles, which we don't always get the chance to do. The result is a four-minute video, shown below and on the West Elm site, that delves into our philosophy of objects, and how they can bring a major dose of personality to any interior.
To start, we knew that the best place to show off some of our object-styling principles would be in a living room, where there could be multiple surfaces and heights to play with. Pulling from a grab bag of references, we devised the basic building blocks: an extended curtain wall for texture and drama, a tonal color palette that would highlight neutral furnishings without competing against the objects, and a statement-making custom shelving unit where we could spotlight some of our favorite vintage and West Elm objects. Our book proposes that anyone can create a beautiful interior by simply surrounding themselves with the things they love, so we wanted to make sure those basic building blocks were ideas people could easily replicate in their own homes, even in a rental.
For the objects themselves, we scoured West Elm's catalog for the pieces that felt most like us: graphic sculptures, furniture with strong lines and a not-too-contemporary vibe, and decorative objects that are timeless, almost like they could pass for vintage. We then borrowed actual vintage objects from some of our favorite dealers and designers — thank you Hovey Design, Unnecessary Projects at Dobbin Street Co-op, and Odd Eye! — and managed to sneak in one of our favorite Sophie Lou Jacobsen vases, too. For a final blast of color and something unexpected, we borrowed art from Naomi Clark and Devon Reina. Over the course of a three-day shoot at West Elm's studios in November, we put it all together, playing with proportions and colors to find balance, letting standout pieces breathe on their own on pedestals, and switching out more books than we can count.
Watch our video below, or hop on over to West Elm to see how we put it all together.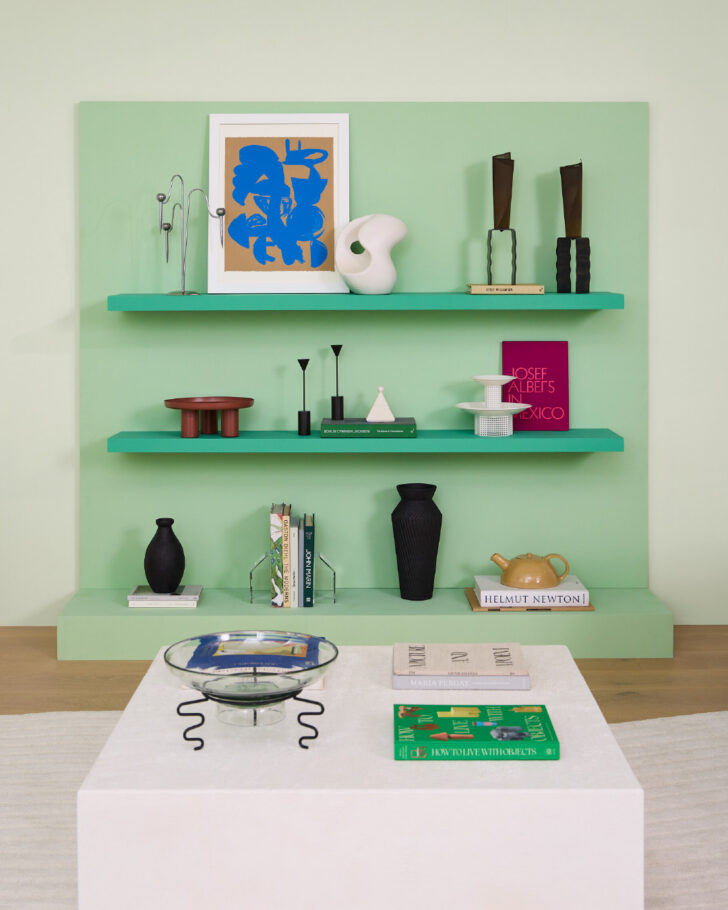 Top shelf: Vintage candelabra courtesy of Hovey Design, print by Naomi Clark, West Elm Alba Ceramic Sculptural Object, Brutalist candle totems courtesy of Hovey Design
Middle shelf: West Elm x Plant Kween Metal Plant Stand, West Elm Hammond Antique Bronze Taper Holders, vintage pyramid courtesy of Odd Eye, vintage objects courtesy of Unnecessary Projects
Bottom Shelf: West Elm Form Studies Ceramic Vase, vintage bookends, West Elm Asher Ceramic Vase, vintage teapot courtesy of Hovey Design
West Elm Kumari Coffee Table, West Elm Foundations Glass Decorative Bowl, bowl stand courtesy of Odd Eye, West Elm Waves Rug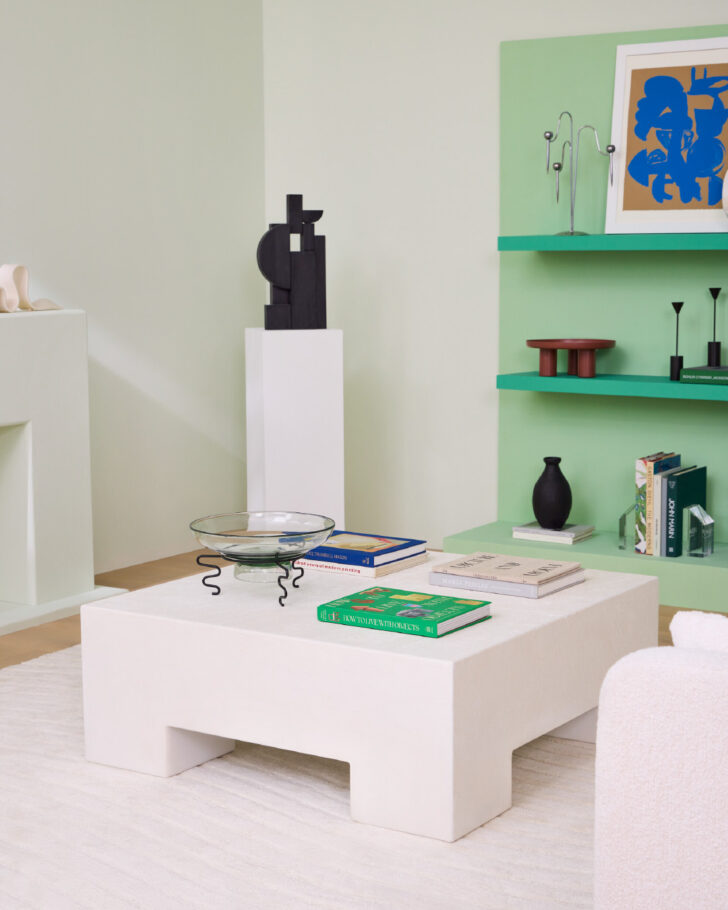 On pedestal: West Elm Diego Olivero Floor Sculpture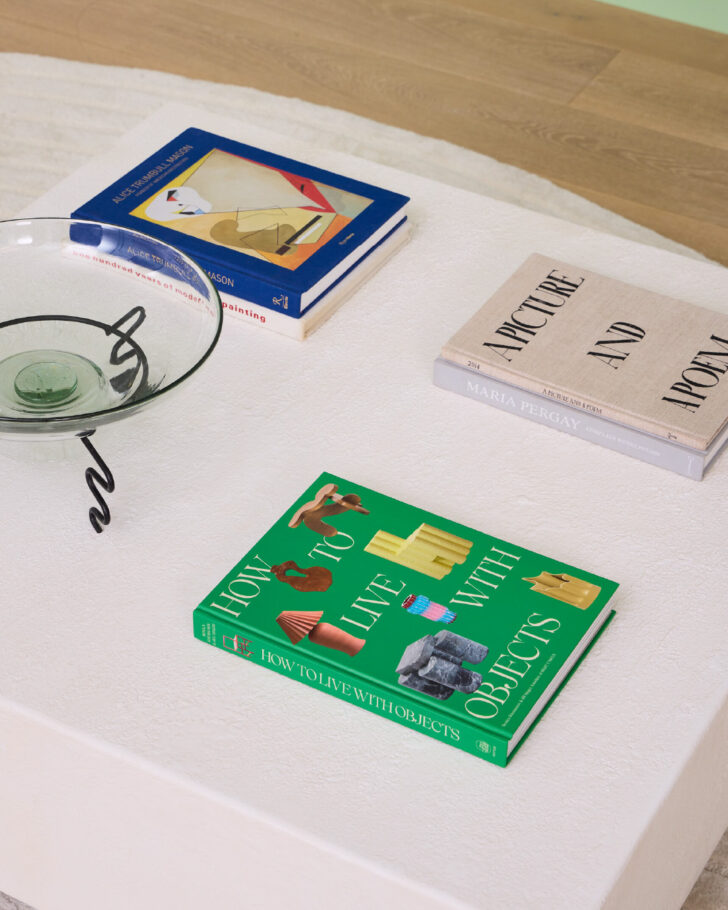 West Elm Foundations Glass Decorative Bowl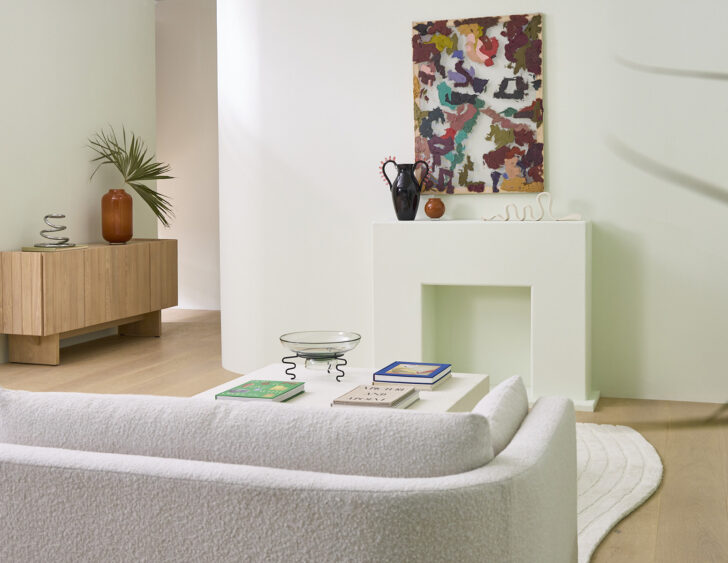 On console: vintage lamp courtesy of Odd Eye, West Elm Mari Glass Vase
Above fireplace: Sophie Lou Jacobsen vase, West Elm Mari Glass Vase, West Elm SIN Weylan Candelabra, painting by Devon Reina
West Elm Foundations Glass Decorative Bowl, West Elm Bacall Curved Sofa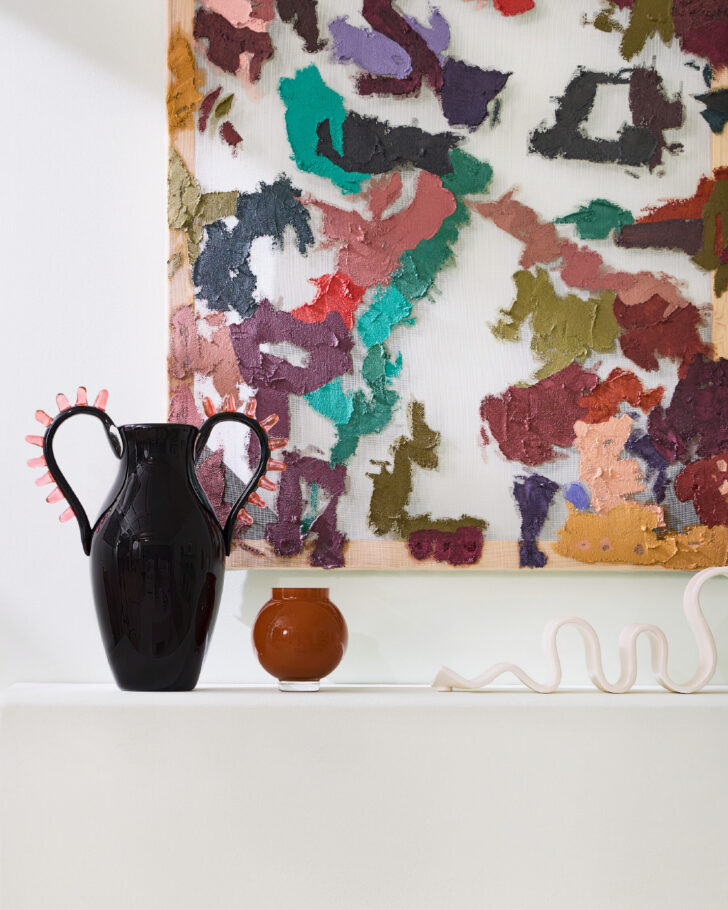 Sophie Lou Jacobsen vase, West Elm Mari Glass Vase, West Elm SIN Weylan Candelabra, painting by Devon Reina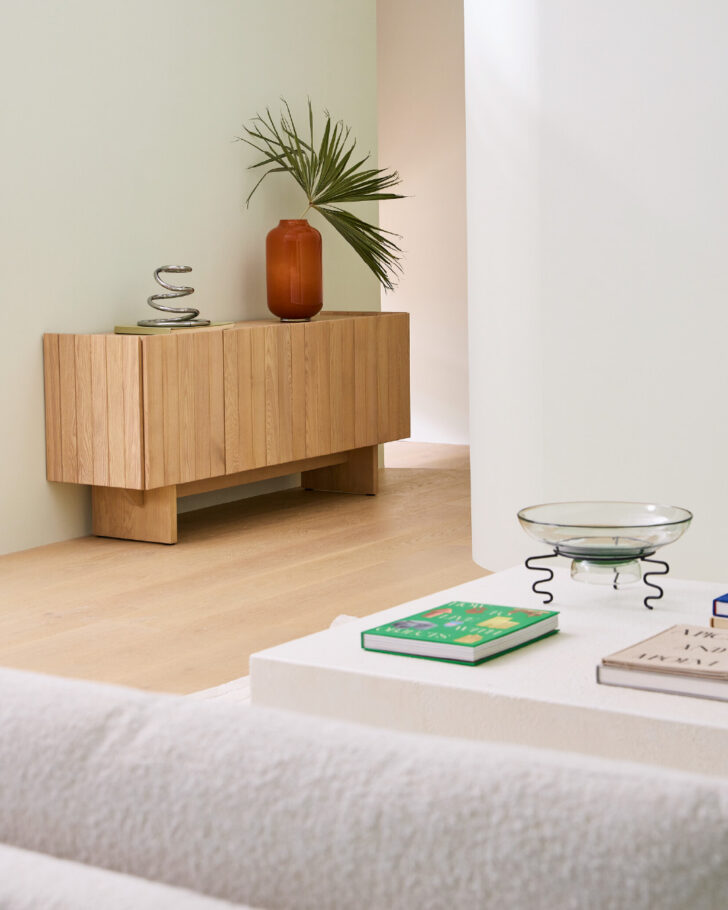 Vintage lamp courtesy of Odd Eye, West Elm Mari Glass Vase, West Elm Foundations Glass Decorative Bowl, West Elm Bacall Curved Sofa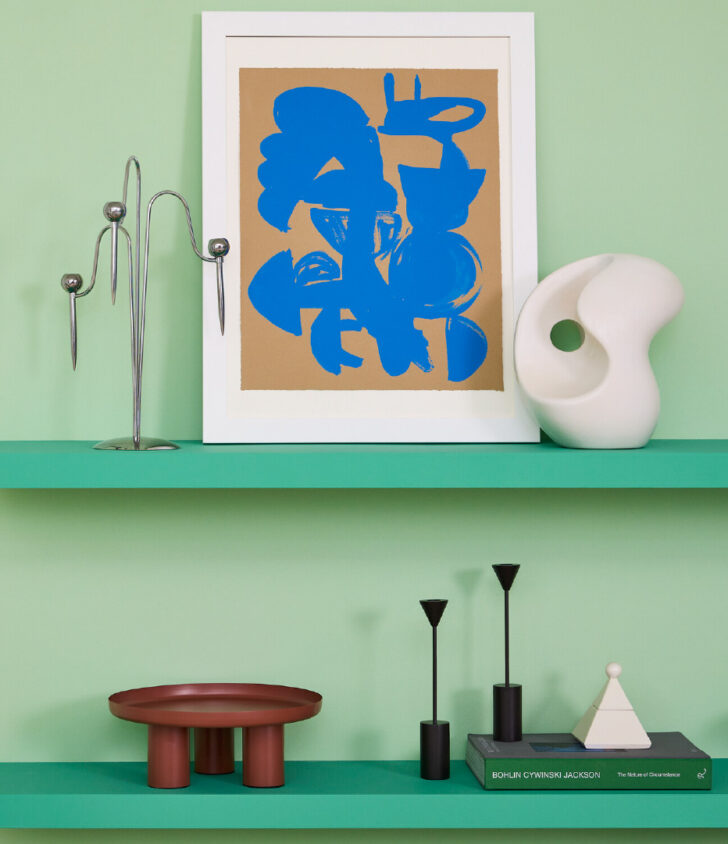 Top shelf: Vintage candelabra courtesy of Hovey Design, print by Naomi Clark, West Elm Alba Ceramic Sculptural Object, 
Middle shelf: West Elm x Plant Kween Metal Plant Stand, West Elm Hammond Antique Bronze Taper Holders, vintage pyramid courtesy of Odd Eye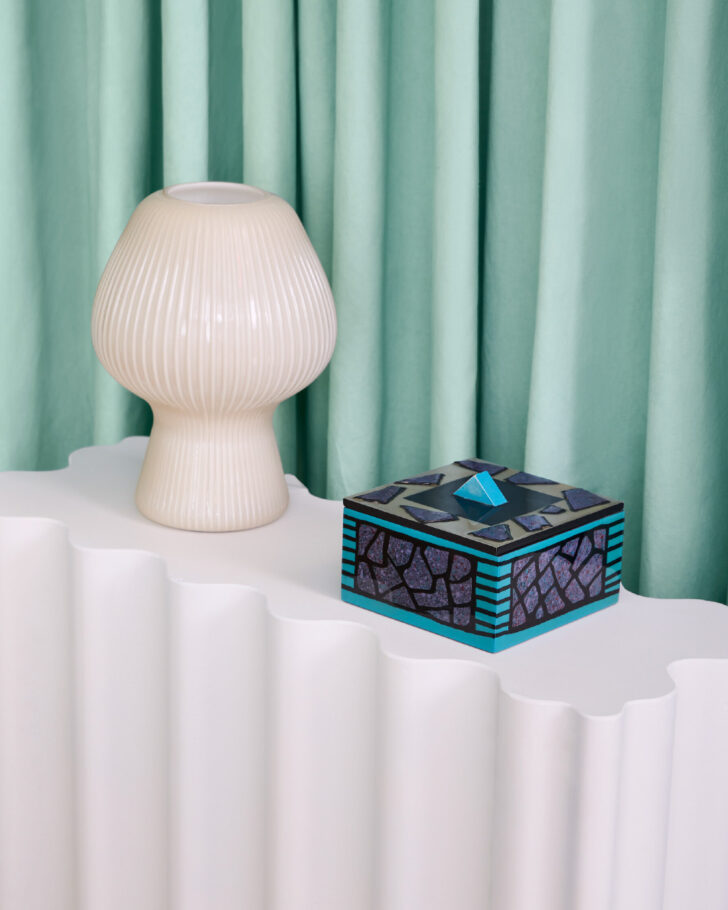 West Elm Ribbed Glass Kids Table Lamp, vintage catchall courtesy of Unnecessary Projects, West Elm Patrick Cain Designs Cloud Entryway Table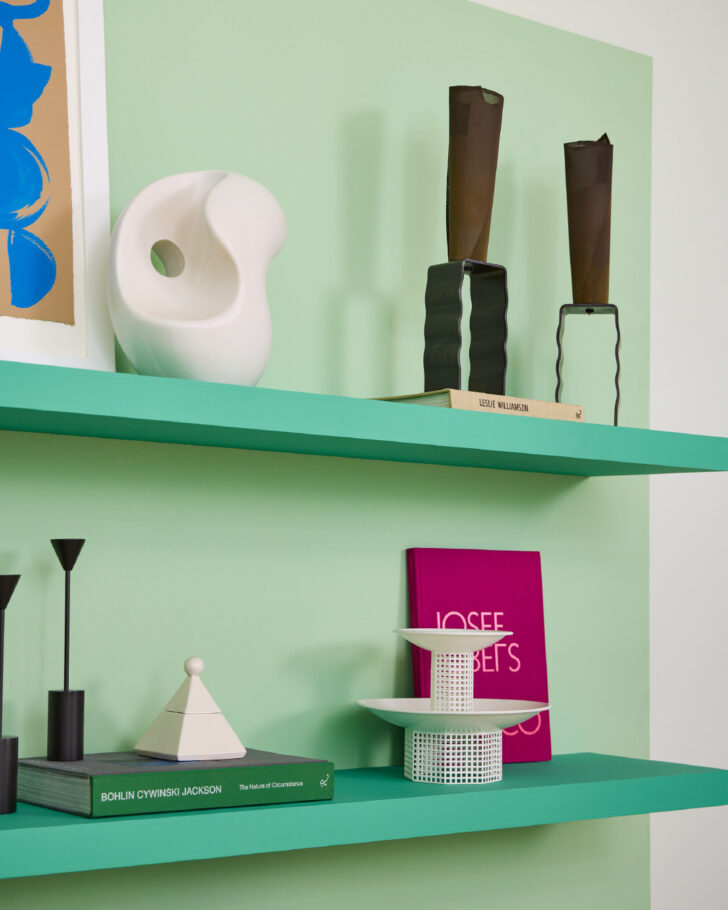 Top shelf: West Elm Alba Ceramic Sculptural Object, Brutalist candle totems courtesy of Hovey Design
Middle shelf: West Elm Hammond Antique Bronze Taper Holders, vintage pyramid courtesy of Odd Eye, vintage objects courtesy of Unnecessary Projects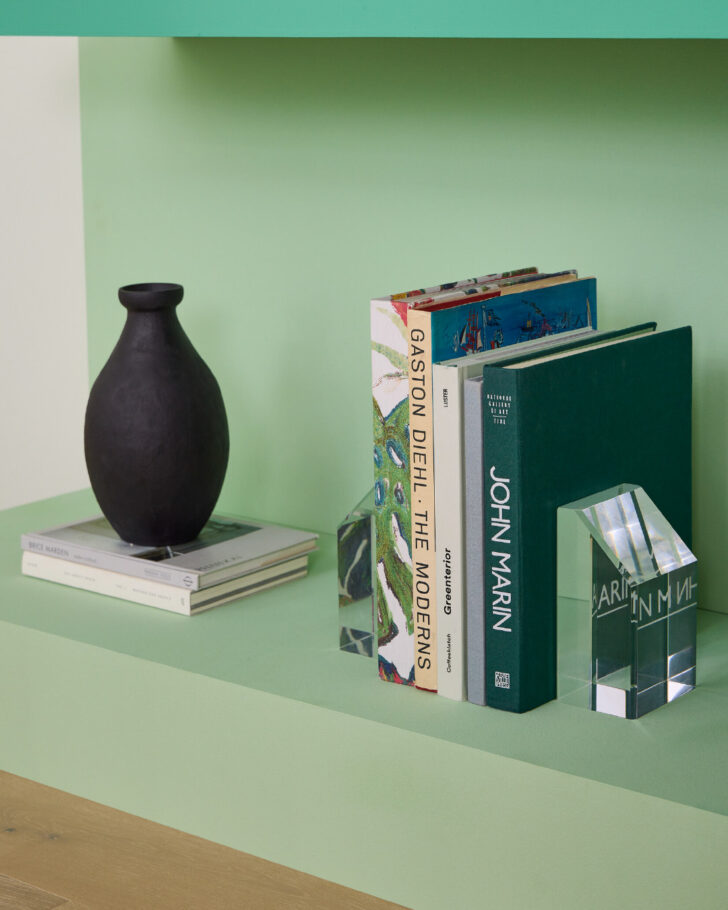 West Elm Form Studies Ceramic Vase, vintage bookends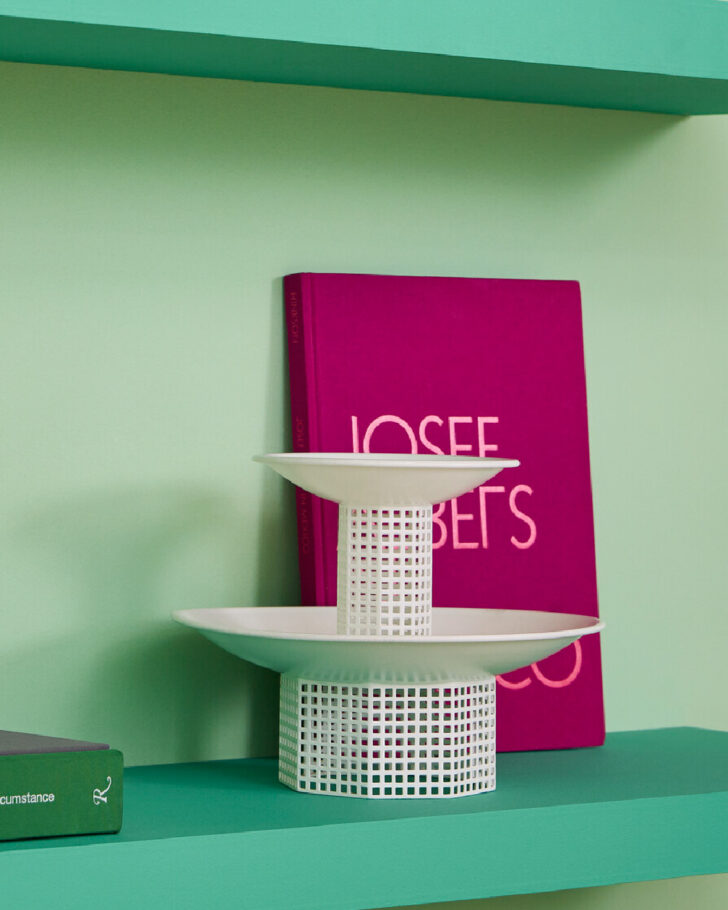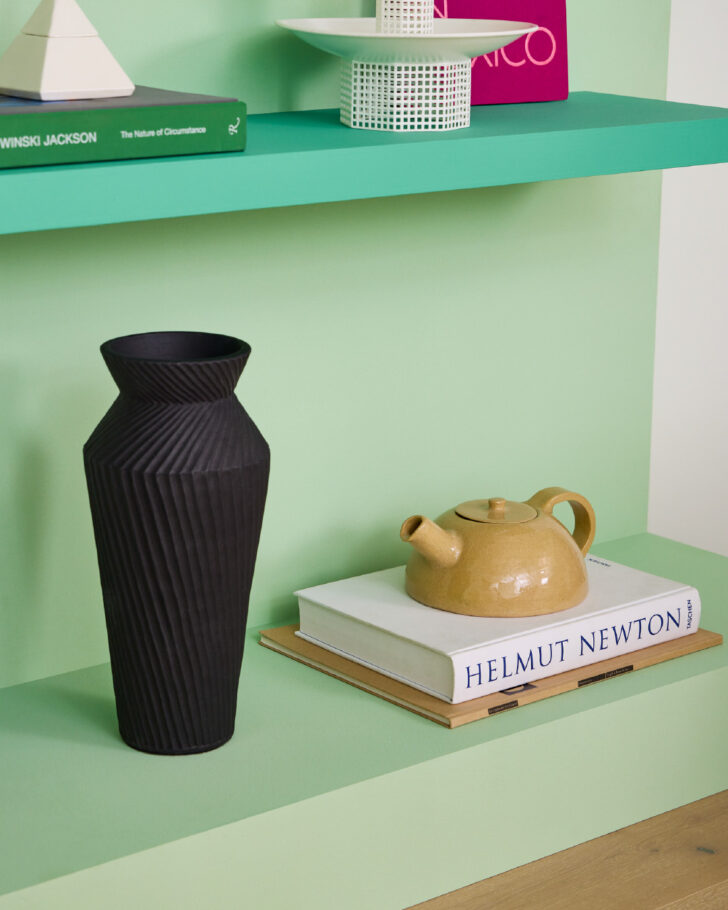 West Elm Asher Ceramic Vase, vintage teapot courtesy of Hovey Design