09.19.23
This Chicago Showroom is an Under-the-Radar Gem for Sourcing High-End Vintage Furniture Finds
The collection of furniture, objects, and art at Beth Berke's Chicago vintage furniture emporium South Loop Loft is both wonderfully eclectic and satisfyingly cohesive. While Berke is often drawn to iconic classics by recognizable names, she's developed a keen eye for the unusual, too, which in a way reflects her curious path to the design world. Berke began as an aid worker in Afghanistan and then a social worker in Chicago, helping women and children in crisis; $30,000 sofas were not exactly top of mind. But a stint in San Francisco "on a social worker's budget," she says, led her to estate sales and Craigslist, as well as a burgeoning passion for vintage furniture. Moving back to Chicago and disillusioned with the bureaucratic red tape in her field — "I didn't feel like I was helping kids anymore" — she started buying and refinishing furniture. She lived in a historic loft with a 20-foot balcony, where she'd take pieces outside, learn techniques from YouTube, and get to work. She started selling on Etsy and Chairish, and within three months she had a warehouse space open to the public on weekends. "I love the thrill of the hunt and that's why it was easy to just start pushing things into the direction of a career."
As far apart as social worker and design dealer may appear, Berke sees a connection. "A lot of what we do at South Loop Loft is about intuition. Previously my position required a high level of empathy and understanding and listening to people and observing their needs. I apply that now, just in a different way. I really do think that design can change someone's quality of life. And I know that what I'm doing now is a luxury industry, but I have seen it bring great joy to people. I think that's remarkable."
Berke is self-taught, and, as such, her taste and knowledge have evolved with time. Sourcing began with road trips around the US and then, about five years ago, she took an eight-day exploratory trip to Europe. "You learn by doing. There's absolutely no rule book for this… now it feels like I've been sourcing in Europe for a lifetime, but truly every trip I'm still learning something, going to new cities, new brocantes, new places, meeting new vendors. I'm so inspired by the people that I buy from, they have amazing eyes, they know… I'm always educated here. For me that's a source of energy." Cumulatively, Burke spends about four months of the year traveling on sourcing trips, primarily to France, Italy, Spain, and Belgium.
Materiality, scale, and shape guide her choices. "Good materials never go out of style," she says. There's an ineffable quality, too: "I think, because I'm self-taught, I've gravitated, and still do, to things that evokeemotion." Of course, she's also gained an understanding of design history. "Now we have this Venn diagram in our collection. There are pieces with provenance that we specifically seek out for our clients, pieces that will grow in value because of who designed it, and then there's a lot of things in our collection with no name that are interesting and have amazing craftsmanship. The quality of these items is going to endure another 50 to 100 years."
Curation, of course, requires balancing the needs and desires of clients with her own tastes and sometimes involves acquiring pieces that don't immediately find a new home, like Gaetano Pesce Cannareggio sofas (first image, below): "They're very postmodern Italian; they're wild and they're in their original fabric, which is three different colors. It's a little Miami Vice." Berke knew they were scarce and collectible though not an easy sell. "It might not be the most economical decision, but I think it's part of educating people about what's available if you look at different eras of design. I really want to inspire people, for them to see things they don't normally see every day. It's exciting to show people what's possible." Then there are the pieces she can't help but keep for herself, like the very first Aubusson tapestry she ever found, which is still on her wall at home.
Increasingly, South Loop Loft is involved with contemporary artists and designers, featuring and selling their work. "The furniture we normally sell, the designers are long gone. There's something very life-giving about having a community of people who care about design and beauty and that we're working with and supporting. So, we're continuing to build our contemporary programming, both with art and slowly with furniture." At the same time, Berke is conceiving of a South Loop Loft capsule collection and looking forward to one day having an additional location. "I would really love to have a house in Europe that I renovate to represent South Loop Loft — a place of design inspiration where clients could come and stay and get a taste of the culture of our company." For now, with about half her clients in New York and Los Angeles, Chicago is home. "It's a nice place to do business because we have a lot of local talent. The team I have now are incredible people and I don't think I would've found them somewhere else."
Berke recently shared some of her favorite finds with us, from a Gae Aulenti Jumbo coffee table to a fire-engine red fiberglass coatrack to a Roger Tallon Helicoid staircase to Mario Botta lamps and much, much more.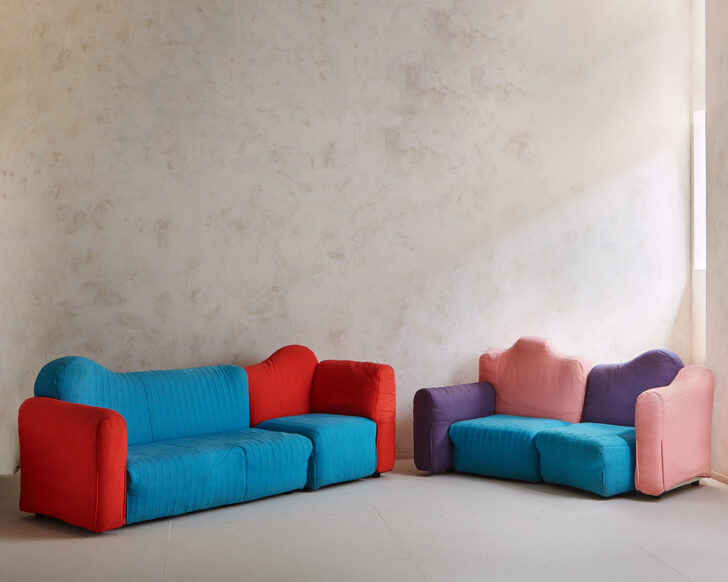 The aforementioned Gaetano Pesce Cannareggio sofas!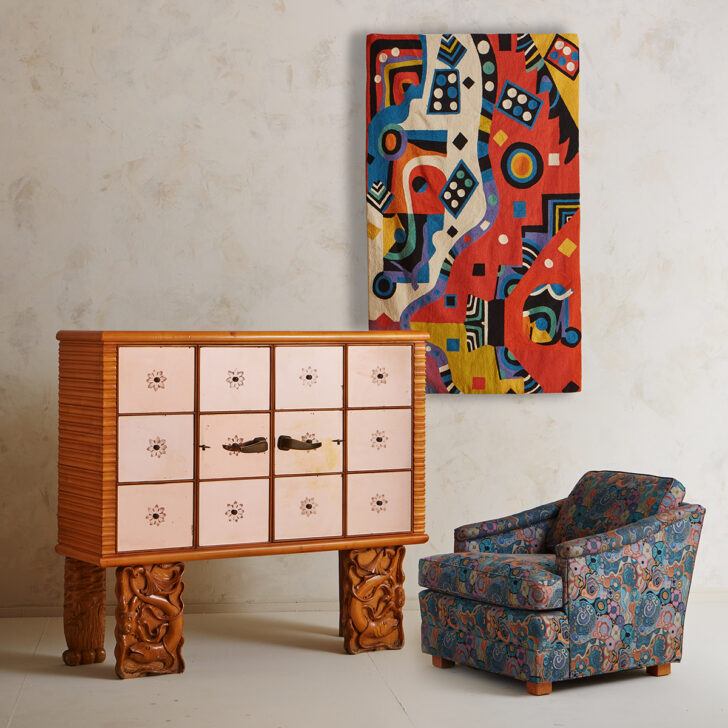 (LEFT) "This 1930's Pear Wood + Rose Glass Bar Cabinet is by Osvaldo Borsani; the whimsical doors open to reveal a mirrored tile interior. This piece came to us directly from a homeowner who entrusted us with its care and finding its next home. After some diligent research, we found this piece documented in two pieces of literature — Osvaldo Borsani by Gramigna and Irace as well as Il Mobile Italiano Degli Anni '40 e '50 by Guttry and Maino."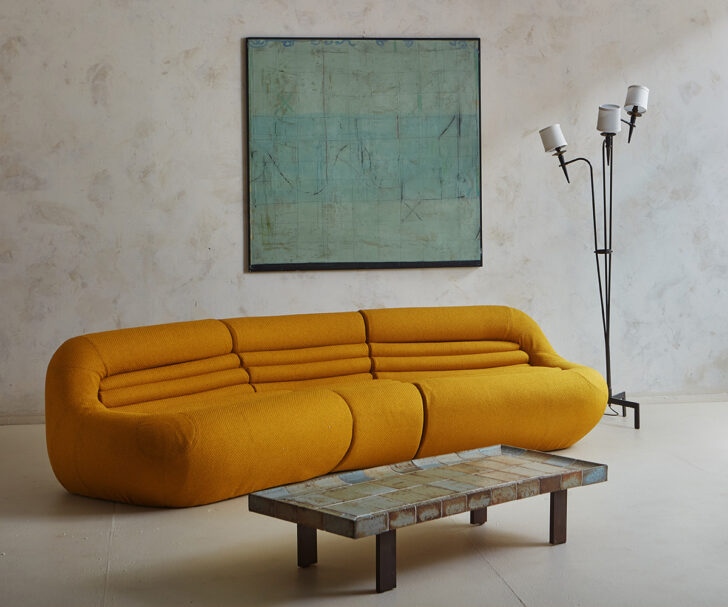 "This rare Cuvette tiled coffee table by Roger Capron I found at an auction house in the far west of France. It was a feat getting it picked up and delivered from the small town, but it was worth it. The rare Carrera sofa — designed by Jonathan De Pas, Donato D'Urbino, and Paolo Lomazzi for BBB Bonacina Italia in 1969, was found in a warehouse outside of Milan. I consider this the new Camaleonda. I love this model so much, the first Carrera I found a year earlier, I immediately kept for myself. The artwork is by a living artist in central Italy who painted this about 20+ years ago. I was introduced to him by a mutual dealer friend. His works sold quickly and we have a few more on the way."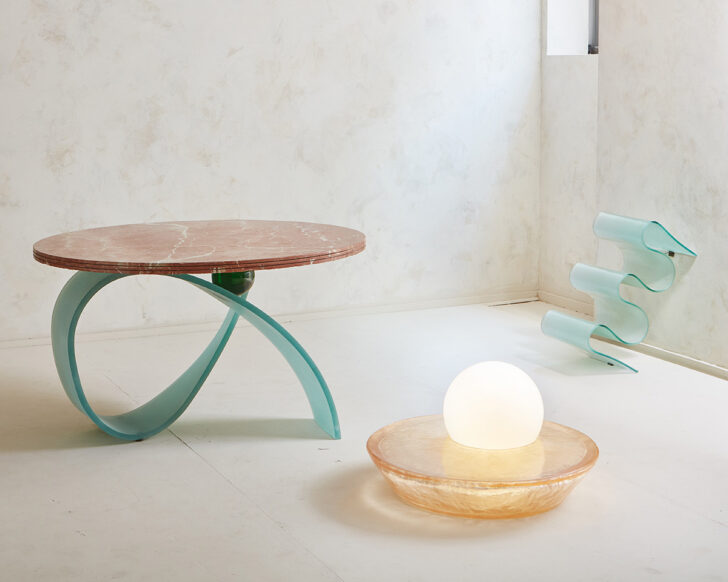 "The large marble table I found at the equivalent of an antique mall in the south of France. I'm pretty sure the top was added at a later date. The glass base is truly amazing — structurally and aesthetically. I can't wait to see where this piece ends up. The amber-hued resin coffee table was found in Italy -– it has old wiring from the 80's and we're pretty sure it was a prototype. It's long sold but I've never seen anything like it since. The darling Squiggle table was found in Switzerland — it can be used upright as a side table or horizontally as a book holder or as a coffee table."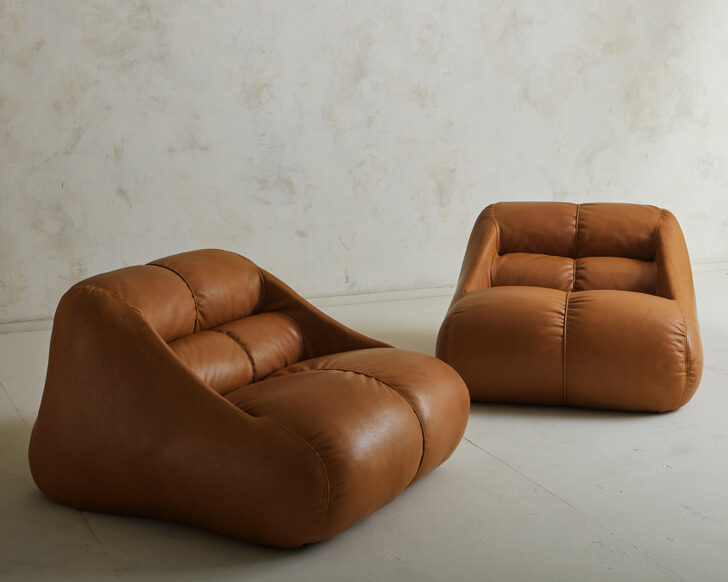 "This pair of Cuingam Lounge Chairs by De Pas, D'Urbino + Lomazzi for BBB Bonacina were designed in 1976. I purchased these in Italy at a large flea market early in the morning. The dealer had just unloaded them from the truck and the moving blankets were not even off the chairs when excitedly jumped to buy them. The original leather is in incredible condition and this is really one of those finds you rarely come across. It pays to wake up — and it certainly helps when you know what you're looking at (even if it's still wrapped in a moving blanket)."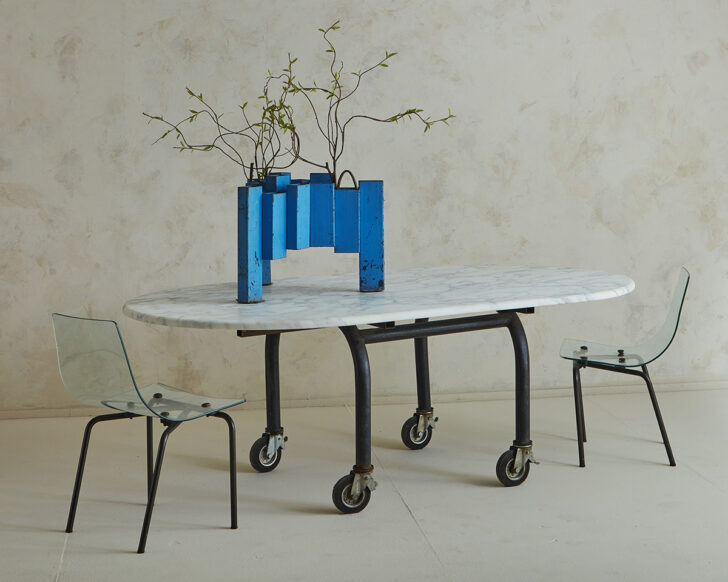 "This tabletop sculpture is actually from a ski lodge in France that was sold and the original owner was selling the furnishings. It's placed on top of an industrial marble table that I came across while visiting a fellow dealer in Italy — it was buried under boxes and chairs. I love the rounded marble edge and the proportions of the legs; seems like something an architect's office held meetings at."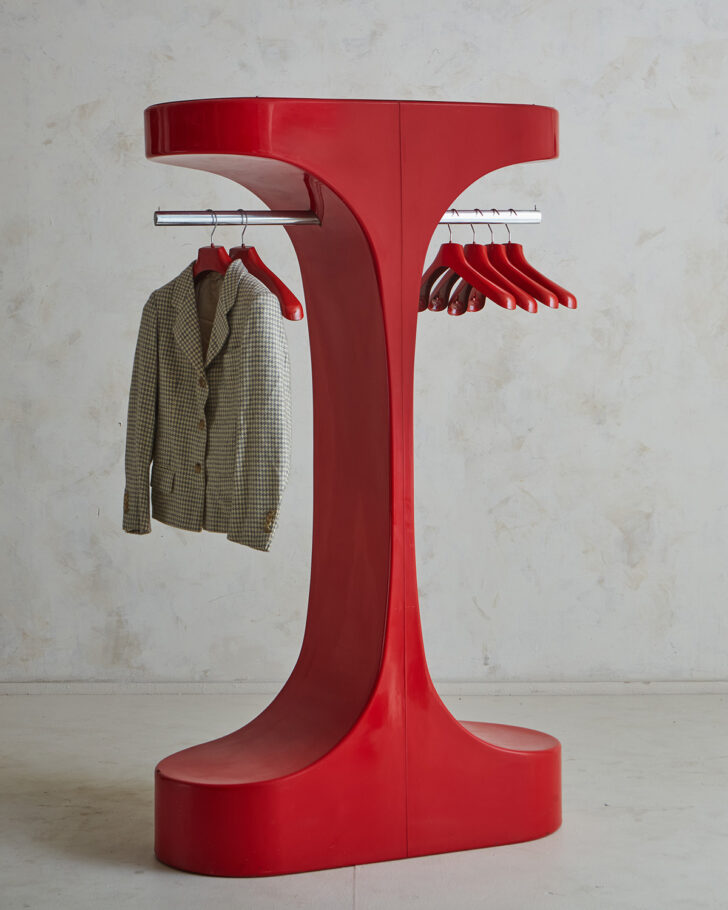 "Dare I say, fiberglass is BACK, and I'm here for it. I've been collecting Space Age/fiberglass pieces for the last year and this one is my favorite. I found this in a warehouse in southwest France; it was surrounded by Jean Prouvé and Charlotte Perriand case pieces and of course, I was drawn to the most obscure piece there, a red coatrack designed in 1973 by Valerique Douebrovinskes for Intexal-Rodier stores."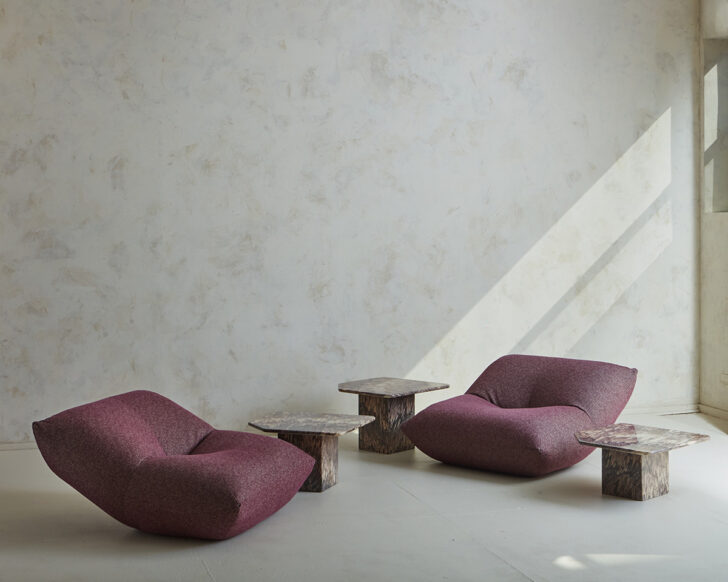 "These amazing Chiclet-esque chairs, by Guido Rosati for Giovannetti, I found in a house in Tuscany. Everything in the home was fantastic but these chairs were the highlight. We restored them in a fun purple wool fabric and they are paired here with a trio of 1970's purple marble coffee tables I found in central France."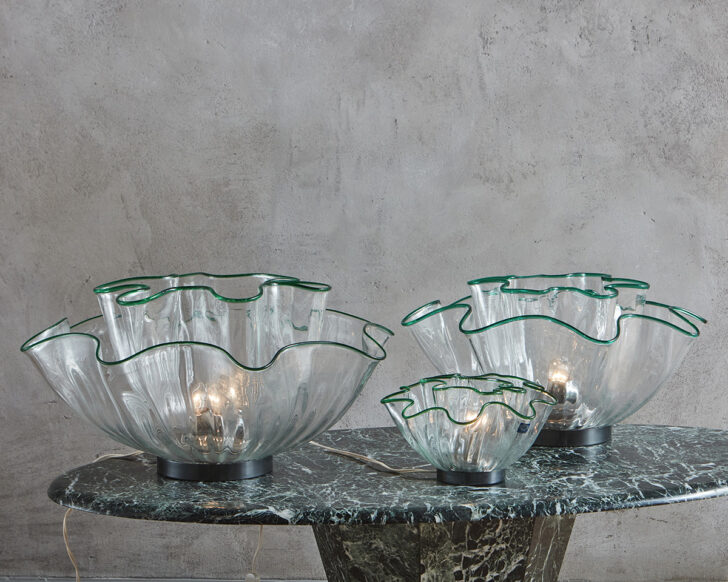 "These Galea Lamps were designed by Adalberto Dal Lago for Vistosi in 1968. I found them in their original boxes with the labels from Murano, Italy. They were unopened old stock in a warehouse of a lighting dealer who specialized in Italian lighting. I bought the entire collection of them!"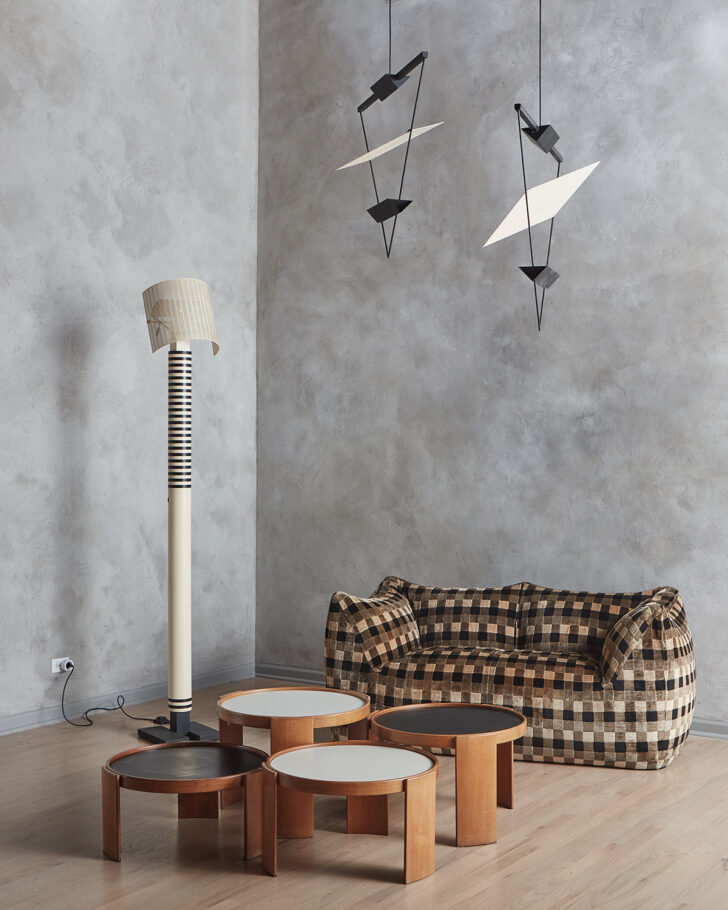 "I have been a longtime fan of Mario Botta, and I'm always hunting for more of these Shogun floor lamps. The scale and design are incredible when you see them up close and the perforated metal casts a very ambient glow. Botta designed these for Artemide and finding an original is not an easy task — I found this one in Brussels at a small shop. The Mario Bellini Bambole sofa was sent to me by a fellow dealer in Rome, who I am on a daily texting basis with. The Cassina tables were found outside of Rome on the last day of a small design exhibition – they sold immediately and I'm already on the hunt for more."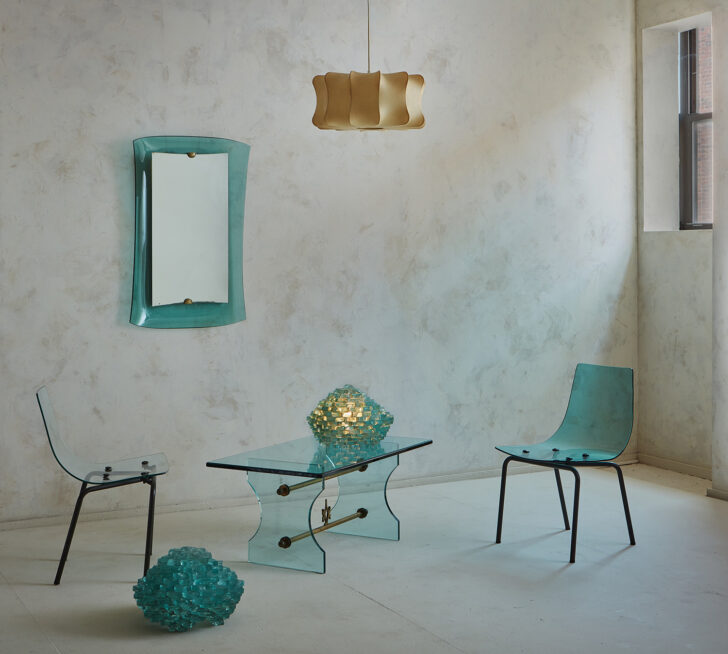 "This gorgeous Fontana Arte mirror was sourced at a market in Italy – I'm always drawn to this hued glass; I think it's timeless and fresh feeling; not too heavy in a room and pretty. The lights were found in a discotheque in Italy – they weigh about 30lbs each and we've fitted them to be both table lamps or a flush mount or sconce. The coffee table was found in a 3-story warehouse in a very small town in northern Italy and the glass chairs I found early one morning at a market in France. Since this photo was taken, we've sourced a remnant of seafoam green snakeskin vinyl to make coordinating loose cushions. The cocoon pendant was found at a small roadside antique shop while I was on a road trip near Pisa, Italy."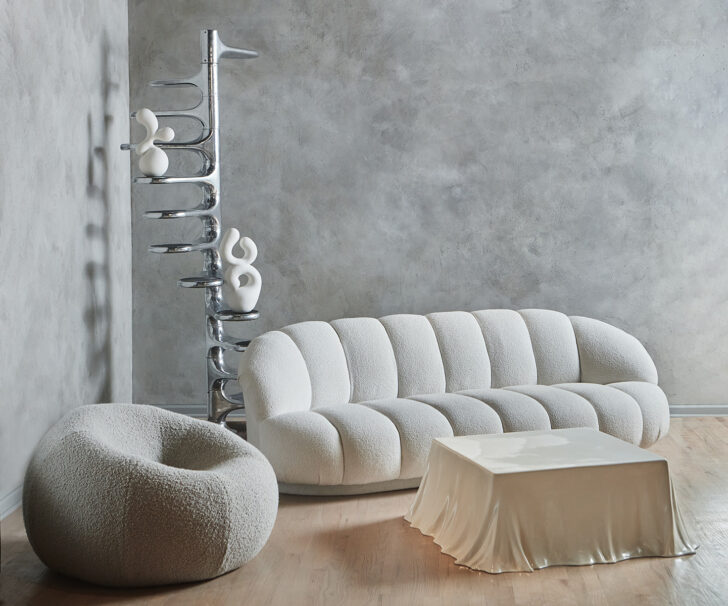 "One of my all-time favorite finds is this original Roger Tallon Helicoid staircase. I dream of keeping it for my loft apartment but for the moment it's gracing the floor of our showroom. The sofa I sourced on the East Coast and had it entirely restored in a Belgian bouclé. It's paired here with one of my all-time favorite coffee tables, the Tovaglia table, which means tablecloth in Italian. This was designed for Studio Tetrarch by Alberto Bazzini and is molded fiberglass. Stendig imported a few of these into the USA and I found this particular one at an estate in Florida. Both the Tovaglia table and the UP1 chair by Gaetano Pesce next to it are featured pieces in the MOMA collection (and both designed in 1969 – what a good year!)"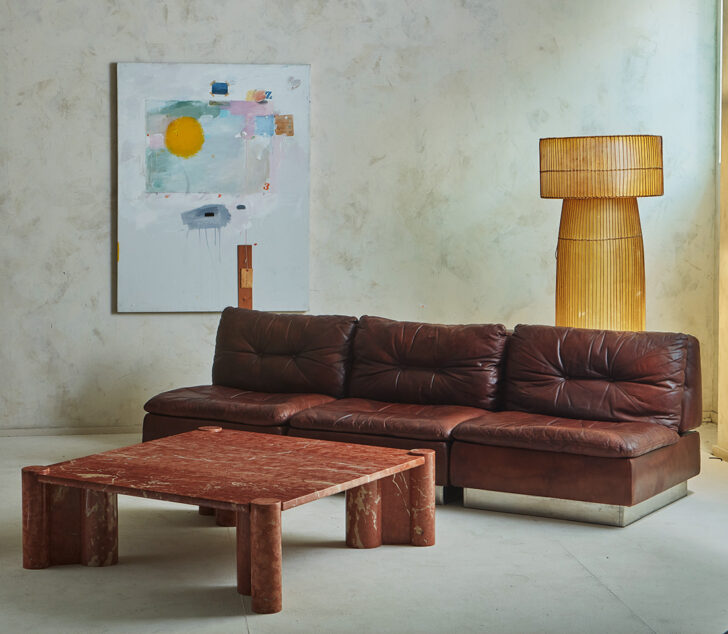 "The past year I've been collecting works by Gae Aulenti, one of my favorite female trailblazers in post war design. Aulenti was a prolific Italian architect, art director, and product designer renowned for her post-war style and industrial designs. She was the art director of FontanaArte and designed a range of modern, innovative pieces. Aulenti was one of few women in the field at the time and is regarded as one of the most iconic figures in Italian design and architecture. This large JUMBO coffee table is one of Aulenti's designs for Knoll, and I found this in Italy, just as it was being unloaded off a truck.
"The sofa is from a small shop in Paris (also female-owned), from a lovely woman I've known for over 5 years. The wild floor lamp I found in the south of France and it was my first purchase of the morning at a flea market. I ran in, spotted it, and immediately called dibs on this beauty, before even really touching the material. The abstract art is by Maxine Snider, a furniture designer and artist in Chicago; and her pieces have layers of soul. I met Maxine through our showroom manager, who has known Maxine for years. I was so honored when Maxine reached out about showcasing her works in our showroom."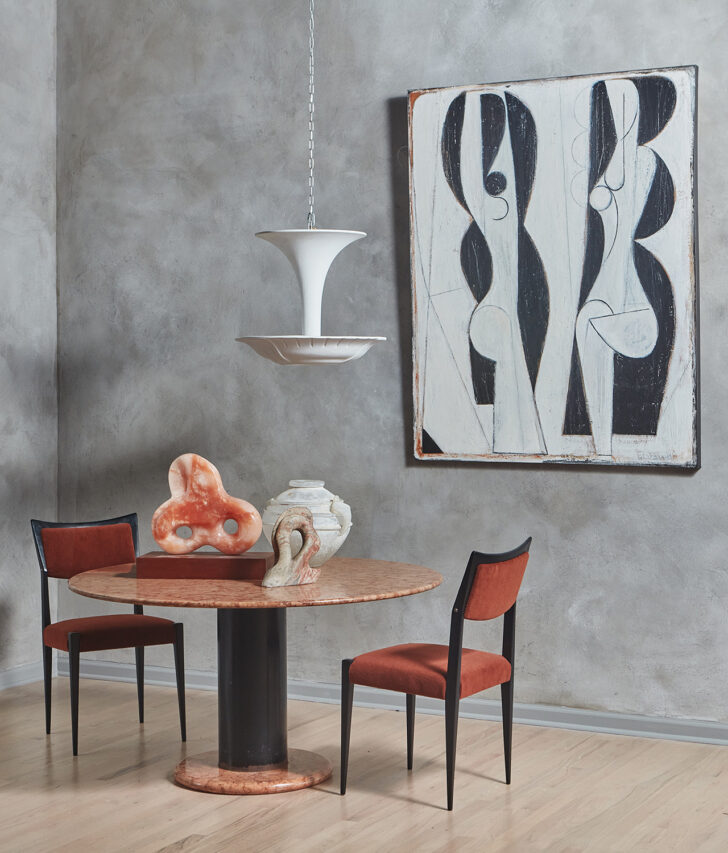 "The large figural abstract is by a local Chicago artist, Karen Parisian, who is the mother of a summer intern, who later worked for us for three years. Parisian is an art therapist whose work has a spiritual and feminine leaning.  The marble table was found in Italy and the sculpture on the tabletop was found at a local flea market in Chicago – it was from a female sculptor who had a small collection in the 70's – 90's and I bought the entire collection."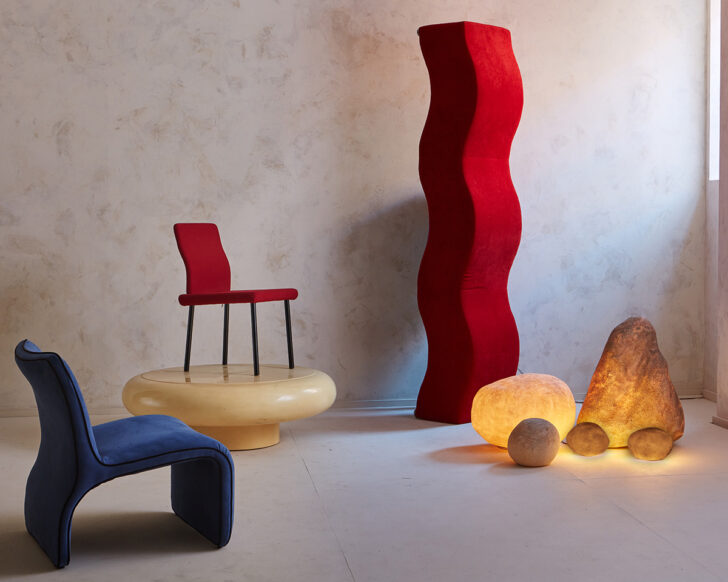 "These French rock lamps by André Cazenave I sourced over the course of a two-month buying trip. I found them in different small markets throughout France and was thrilled to see them as a grouping; they are amazing on a living room floor to give a soft glow in a dark corner."
THE MUCH, MUCH MORE & SOME OTHER FAVORITES…