09.01.21
The Vintage Furniture Dealer Whose Aesthetic Runs From Bauhaus to Beetlejuice
Gennaro Leone, who runs the vintage furniture shop Spazio Leone in London, is clearly devoted to the cult of '70s and '80s Italian design. But he's also drawn to pieces that seem to exist in a dream-zone where Art Deco–meets-Postmodernism and Surrealist motifs, along with a hint of Delia Deetz (that's Catherine O'Hara's sculptor stepmom in Beetlejuice, for anyone who needs a refresher). In the short time that Leone's been up and running (he opened last November) the dealer has developed an aesthetic that could even be described — as he himself puts it — as "WTF is this? I'm trying to find a balance between crazy shapes and comfortable things. The Italians did that very well. I'm trying to follow that, with a mix of design classics and one-off pieces." While he tends to work with dealers he knows in Italy as well as auction houses, he'll also hit large antique markets, like Paul Bert Serpette just outside of Paris, or even take a drive to middle-of-nowhere France on the off-chance of acquiring a Metafora table by Vignelli (and find himself in a collector's paradise, among an astounding assortment of Philippe Starck, Gae Aulenti, and Carlo Scarpa pieces).
Originally from Naples, Leone has lived in London for eight years and spent his career working in music. He was ready for a change, he says, and when furloughed from his job by the pandemic, he went home to Naples for a while. There, he found that friends had opened furniture shops in town, which rekindled his own interest in design and visual culture. He drove all over Italy, to auction houses and private markets. And he trained his eye by reading old editions of Domus (the architecture and design magazine founded by Gio Ponti) that his father had collected, cementing his appreciation for "how many beautiful things were made back in the day. From the '50s to the late '80s, Italy was key for design," he notes. Eventually, he bought 20 pieces, returned to London, and rented a corner in the Stoke Newington space he now shares with fellow vintage purveyors Committee of Taste.
Motivated by discovery, Leone sees this as a growing, elastic endeavor. Ideally, he envisions Spazio Leone as a guesthouse in Naples, furnished with his finds, and where his obsessions with design, food, art, and music can exist under one roof. For now, the brick-and-mortar shop is open, and an Instagram presence has helped him build an international clientele, from Miami to Glasgow to Shanghai. To get the details of his past and recent purchases, we caught up with him while he was traveling through Europe — on a vacation combined, of course, with an extended buying trip.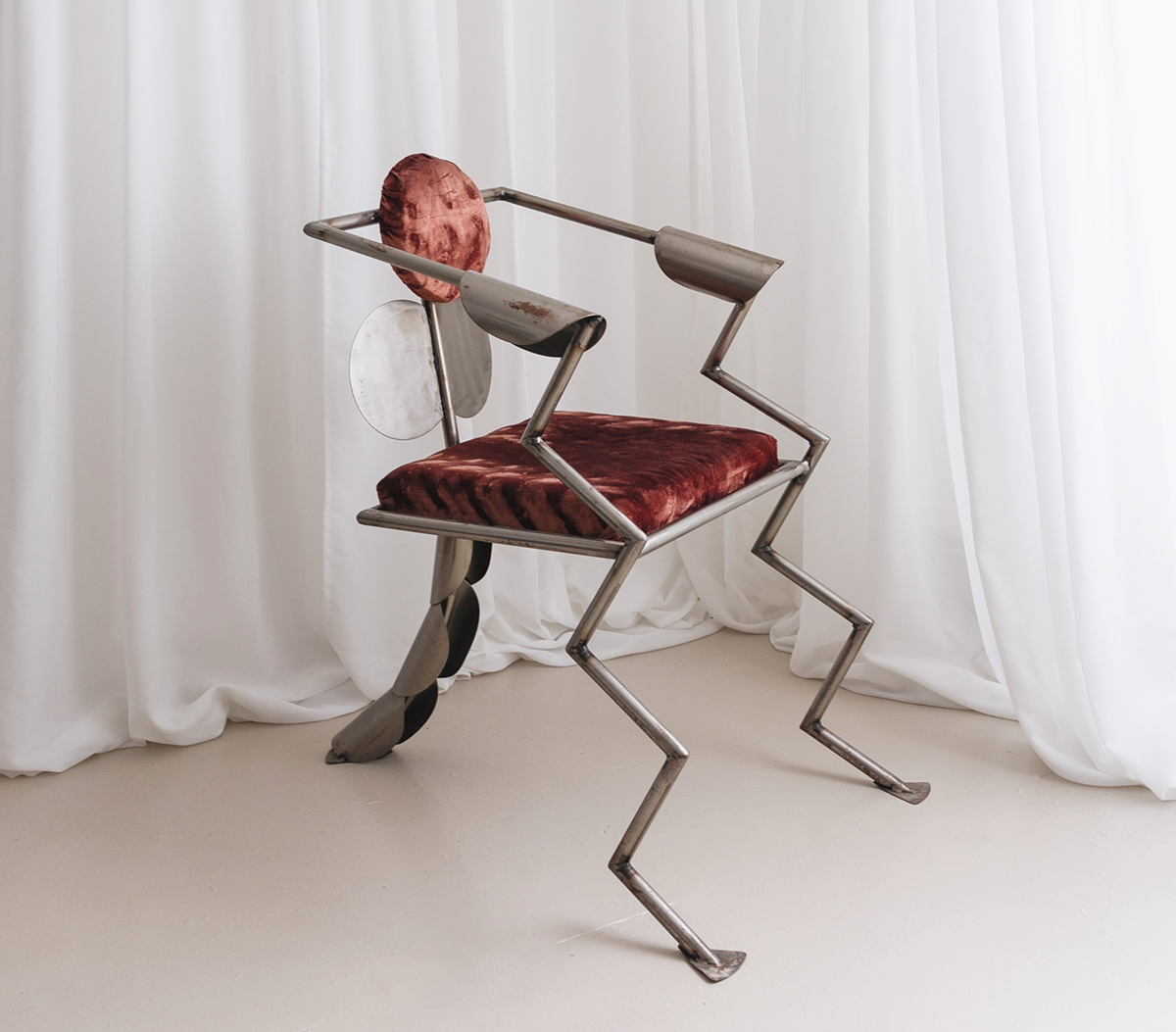 The only details currently known about this incredible (and according to Leone, very comfortable) chair are the year and possible place of manufacture, found underneath: 1991, Berlin. Bought from an Italian dealer, Leone is still researching the item, which is now sold. The fabric is original to the chair, as far as he knows. Though he'll repair and occasionally rework pieces, he prefers to buy ones that he can keep as they are, especially when it comes to upholstery.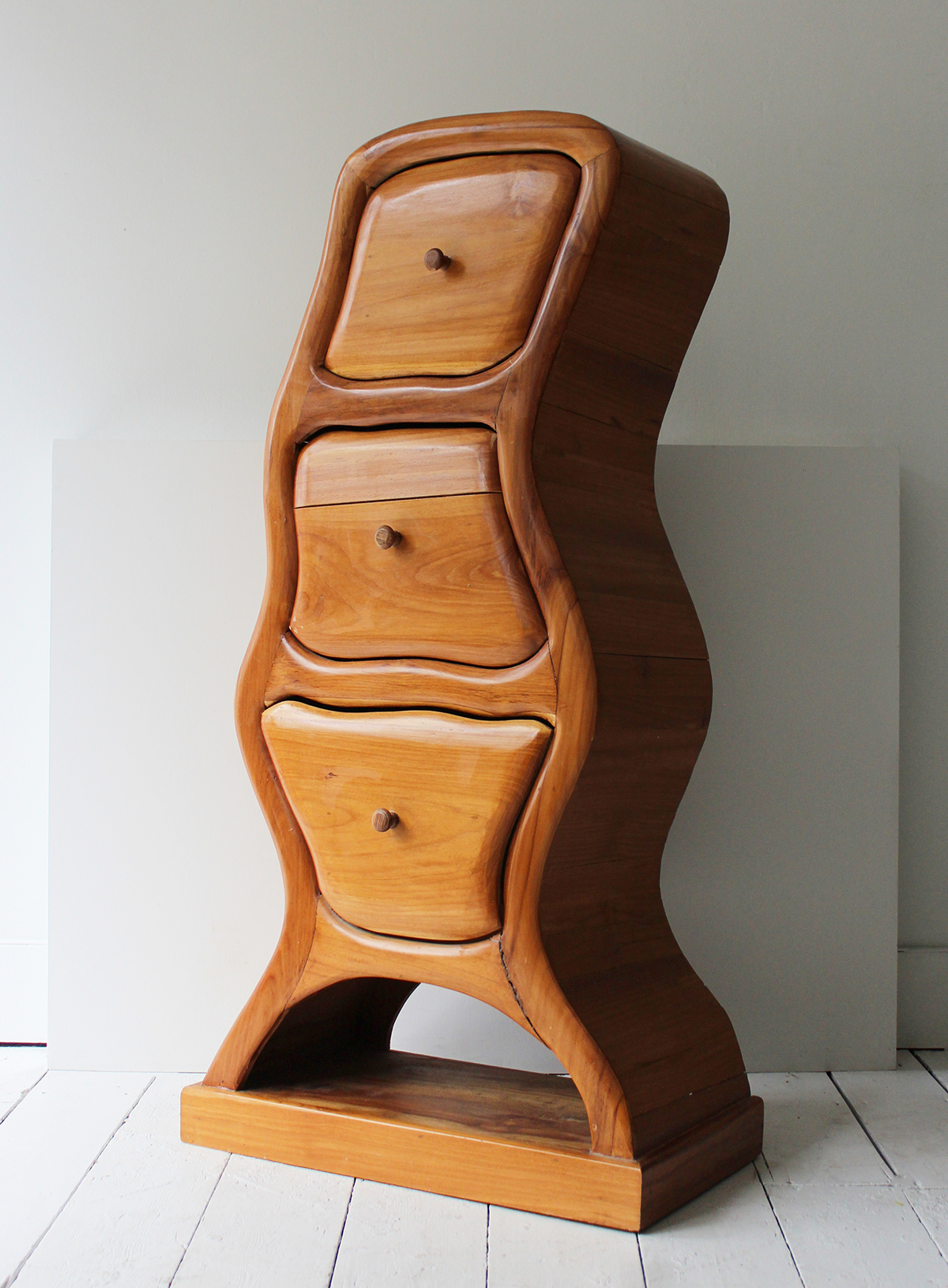 Leone found this one-of-a-kind wavy, wooden chest of drawers (thought to be handmade) at a workshop in Bologna, Italy. (Personally, it reminds us of Pucci de Rossi!)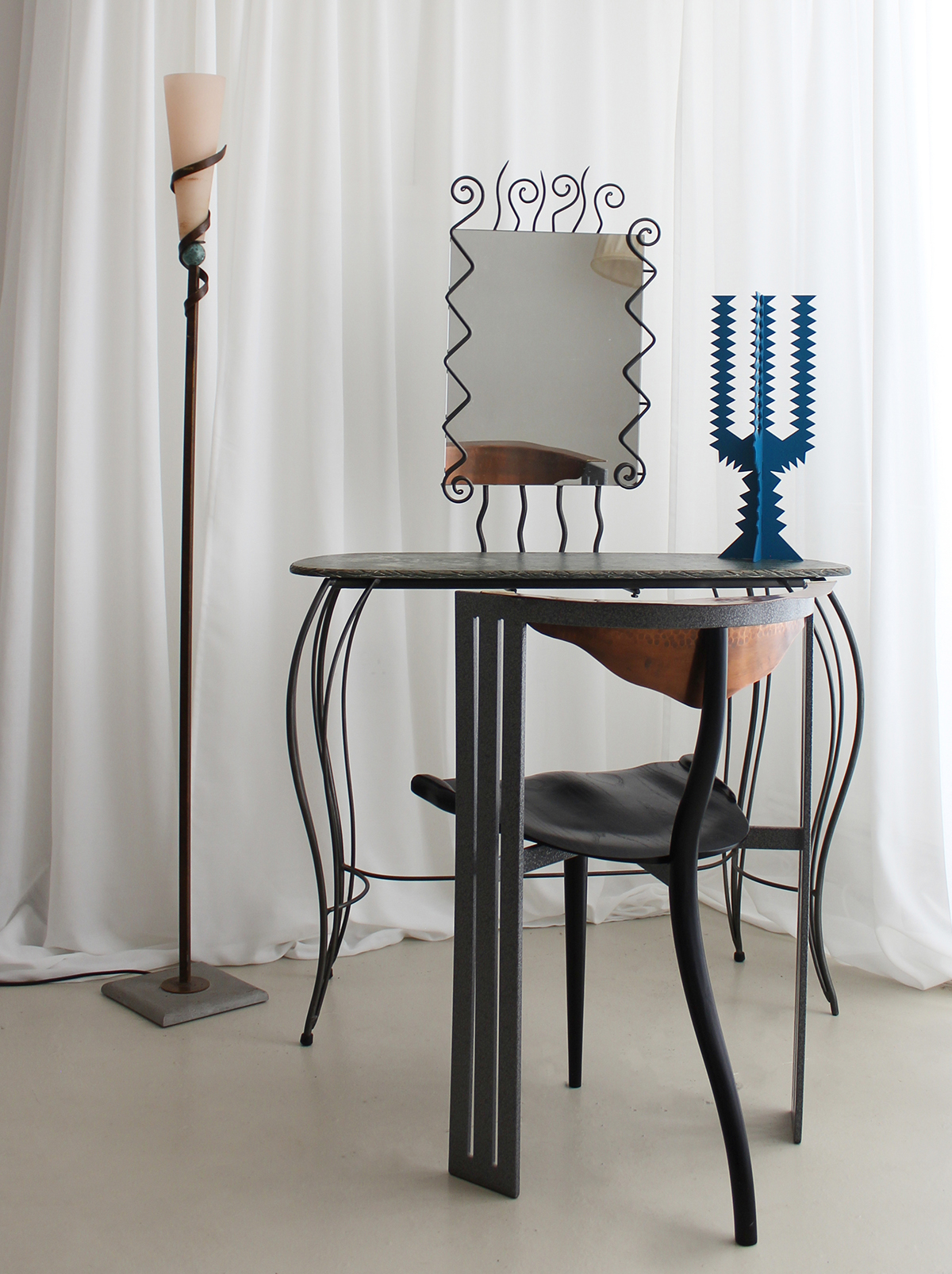 Leone had two of these wood and copper Ota Otanek chairs designed by Borek Sipek for Vitra in the shop, but not for long. The console, with the mirror attached, he found in a market in France. And Leone made the blue cactus-like object himself, an homage to the futurist flowers of artist Giacomo Balla.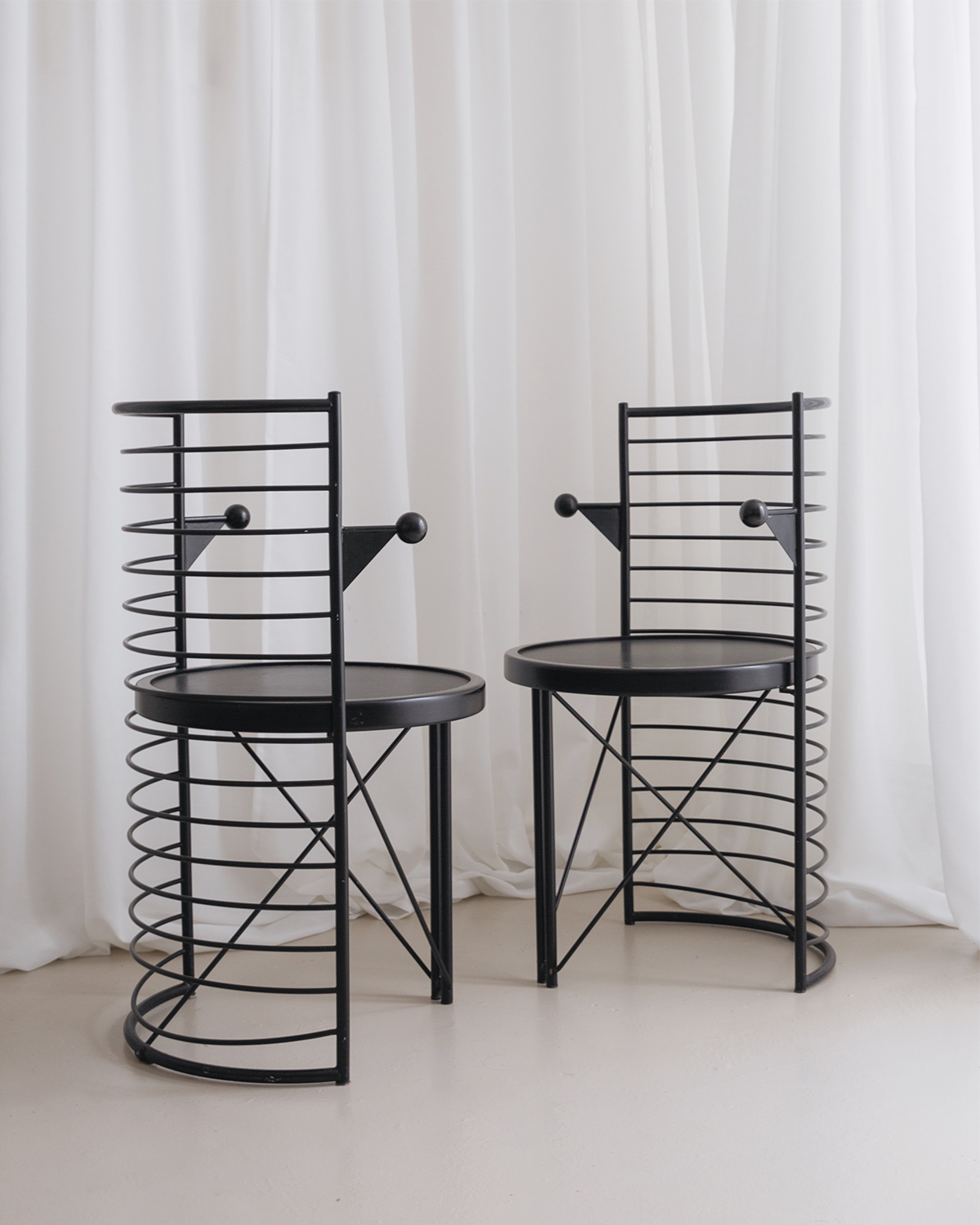 Leone bought these tubular metal chairs at a kringloopwinkel, or second-hand store, in Holland, where his girlfriend is from. Designer and provenance unknown. They've since sold.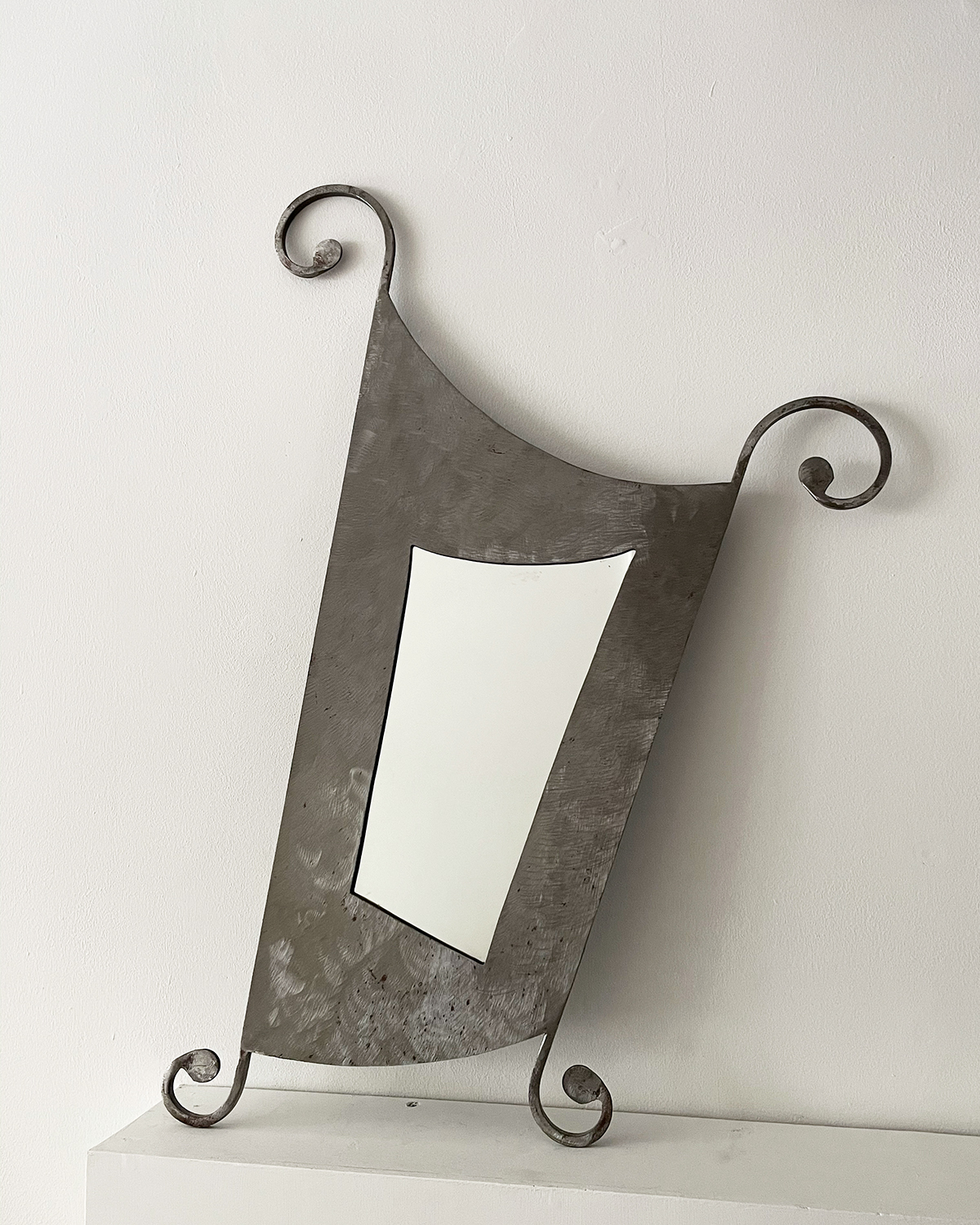 Though he doesn't love scouring eBay — "It's like gambling, you get very tired," he says — Leone has had decent luck on the site, where he found this brushed steel Italian piece when looking for hand-forged mirrors. "You tend to find artisanal pieces because metal is easier and cheaper to manipulate, easier to work with, than wood or other materials."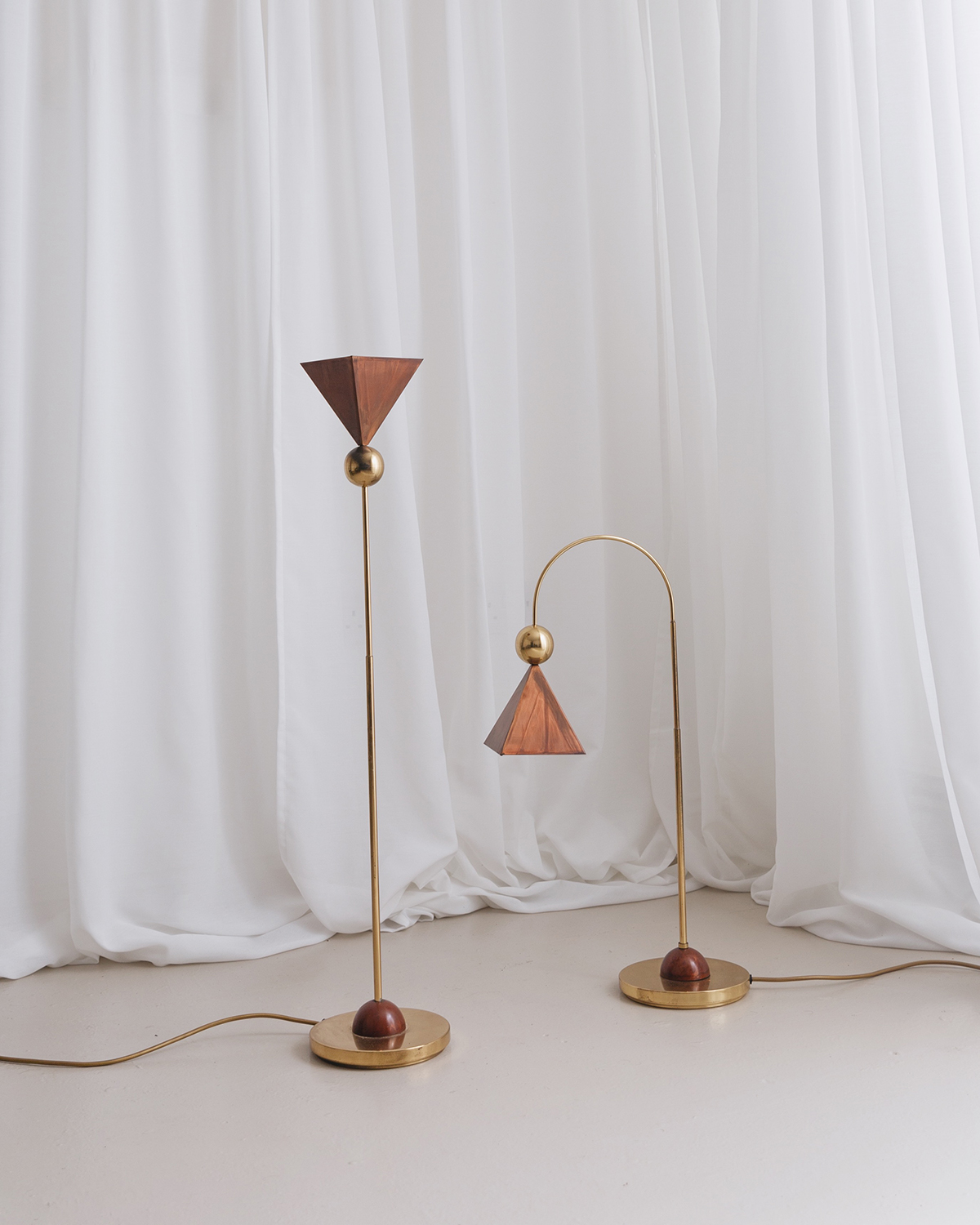 These brass lamps were another eBay find that Leone had to pick up in the south of Germany. Between courier costs and other expenses, he made no money on them. Still, no regrets. "If you see something you like, if you don't buy it right away, someone else will." Buying and selling has come with a learning curve that involves figuring out how to rely on his own instincts, while being flexible enough to shift his taste to satisfy clients. "Not everyone likes wavy cabinets or zigzag chairs."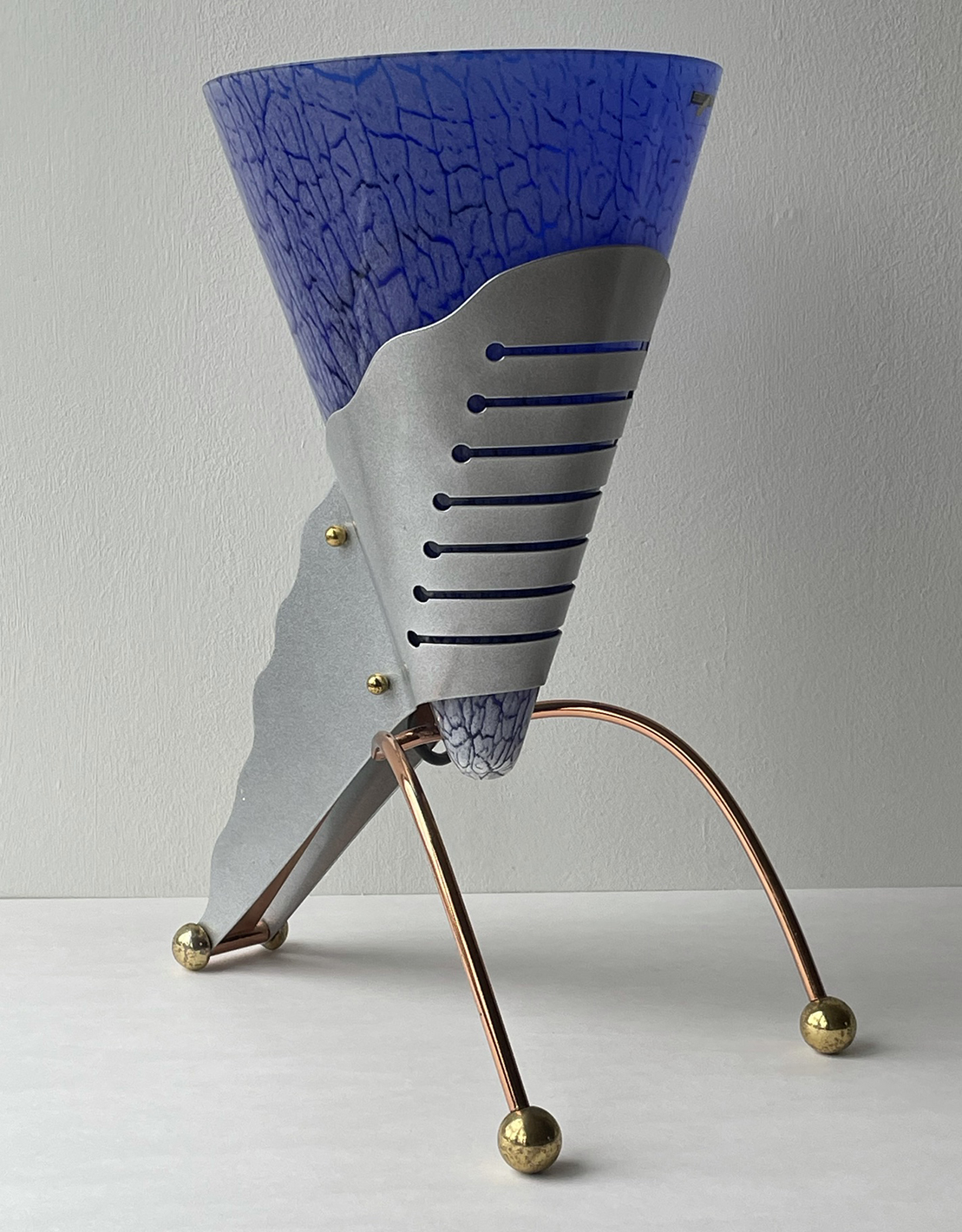 A lamp by Relco Milano. The cobalt blue shade is hand blown Murano glass. "It has an amazing light," says Leone.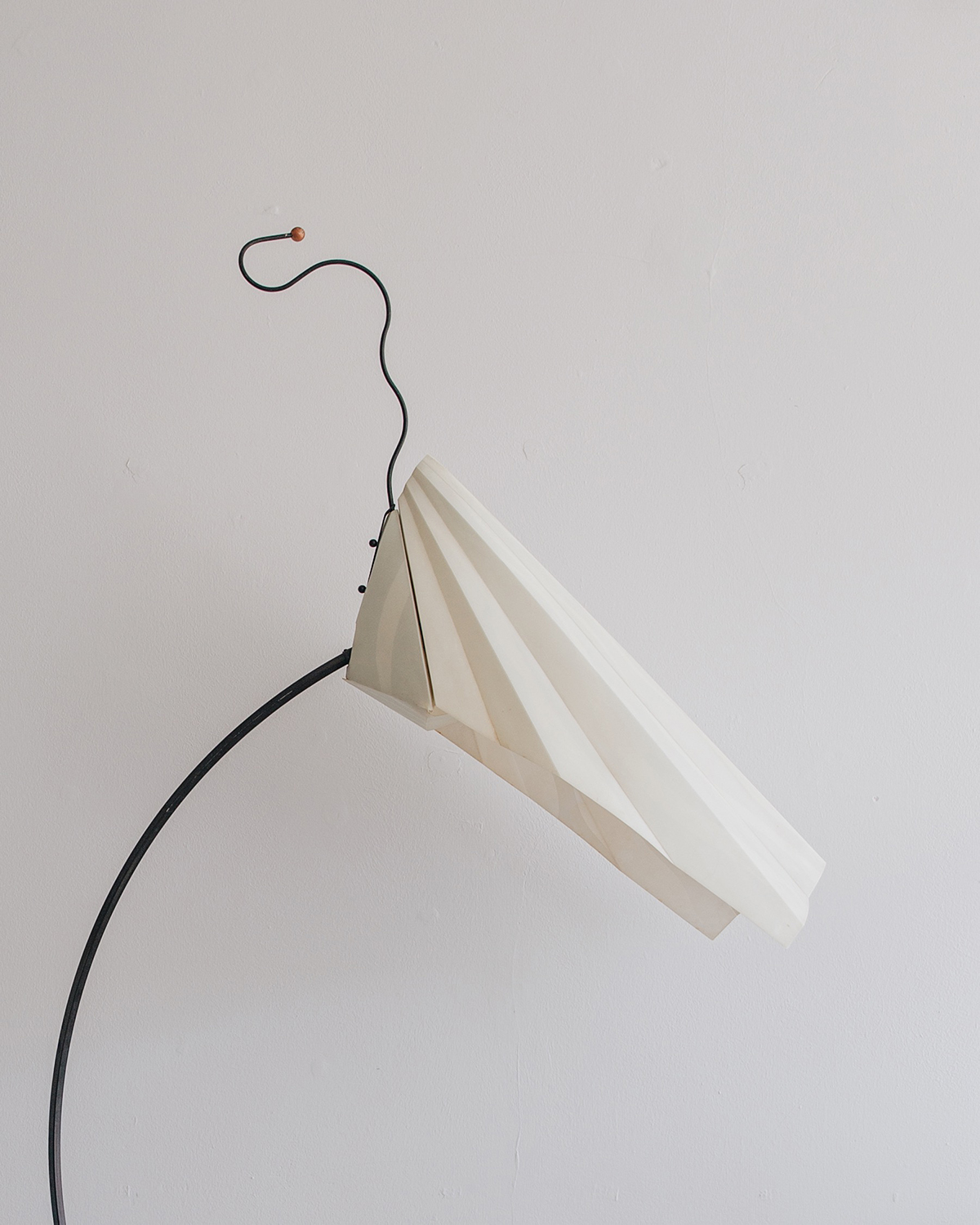 In Italy, Leone found a pair of these 1980s metal and fiberglass "Sister" floor lamps by Riccardo Dalisi for Oluce (also seen at the top of this post). Dalisi, who has lived in Naples (and who designed the Neapolitan Coffee Maker for Alessi in 1979) was one of the first designers Leone "really got interested in." And these lamps checked all the boxes: "I like wavy things with triangles, and balls, and zig zags."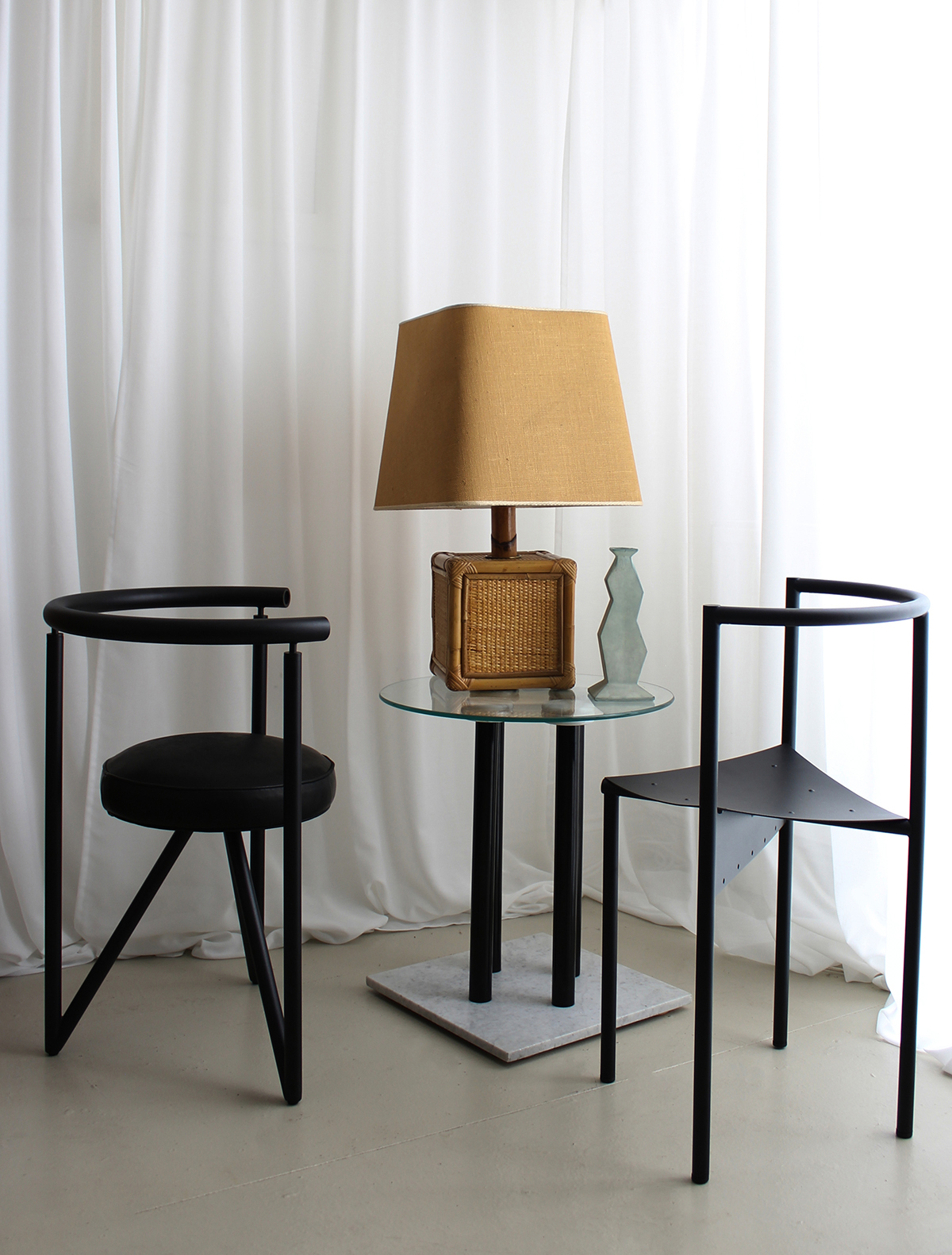 Leone bought these Philippe Starck chairs (the Miss Dorn model on the left, the Wendy Wright, right) from an Italian auction house. They needed work but were too good to pass up. He also acquired (and sold) three of these rattan lamps in Italy.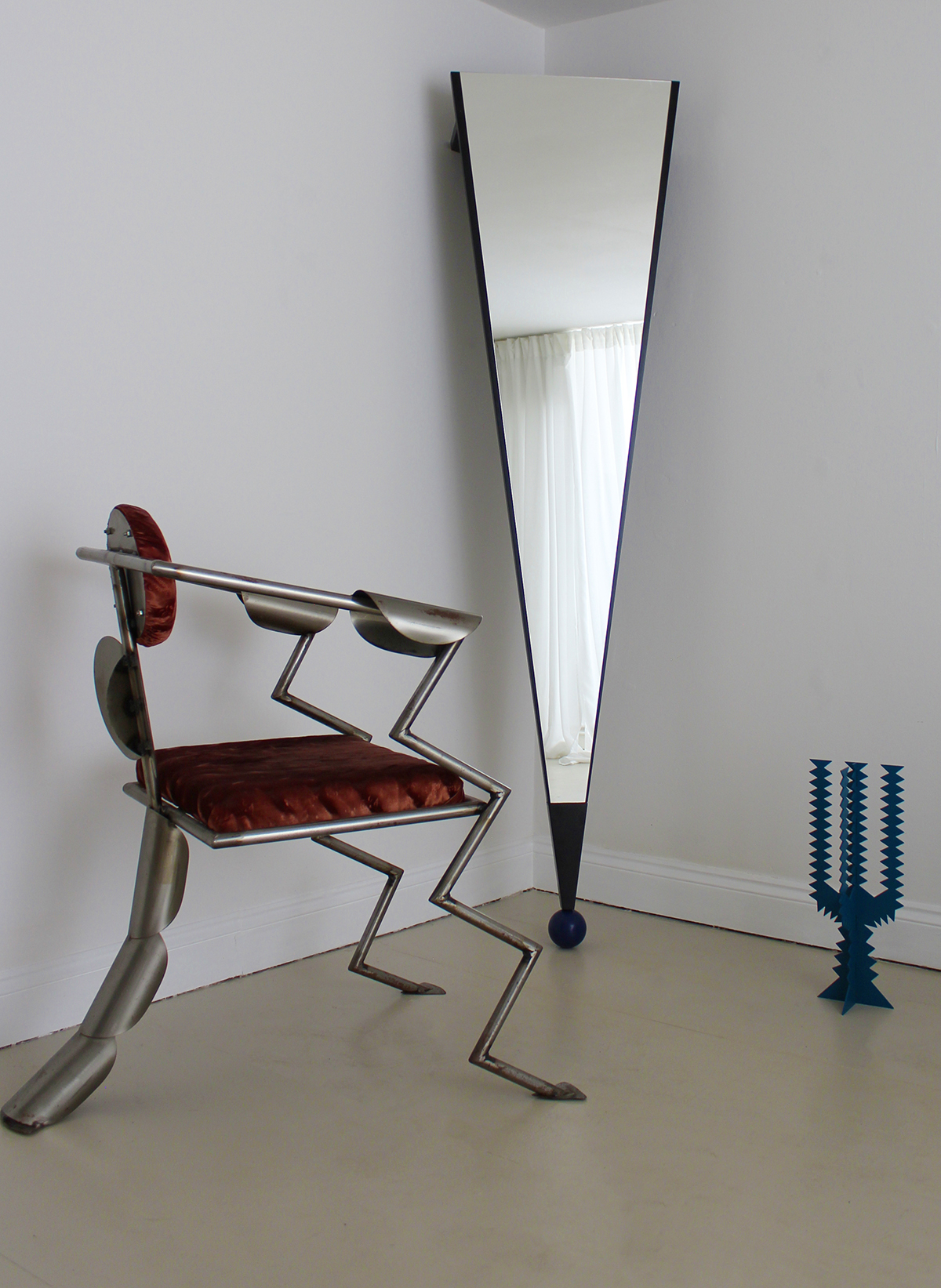 This mirror was one of the first items Leone bought in Italy. It's a one-off that he just loved and wanted to keep in the shop.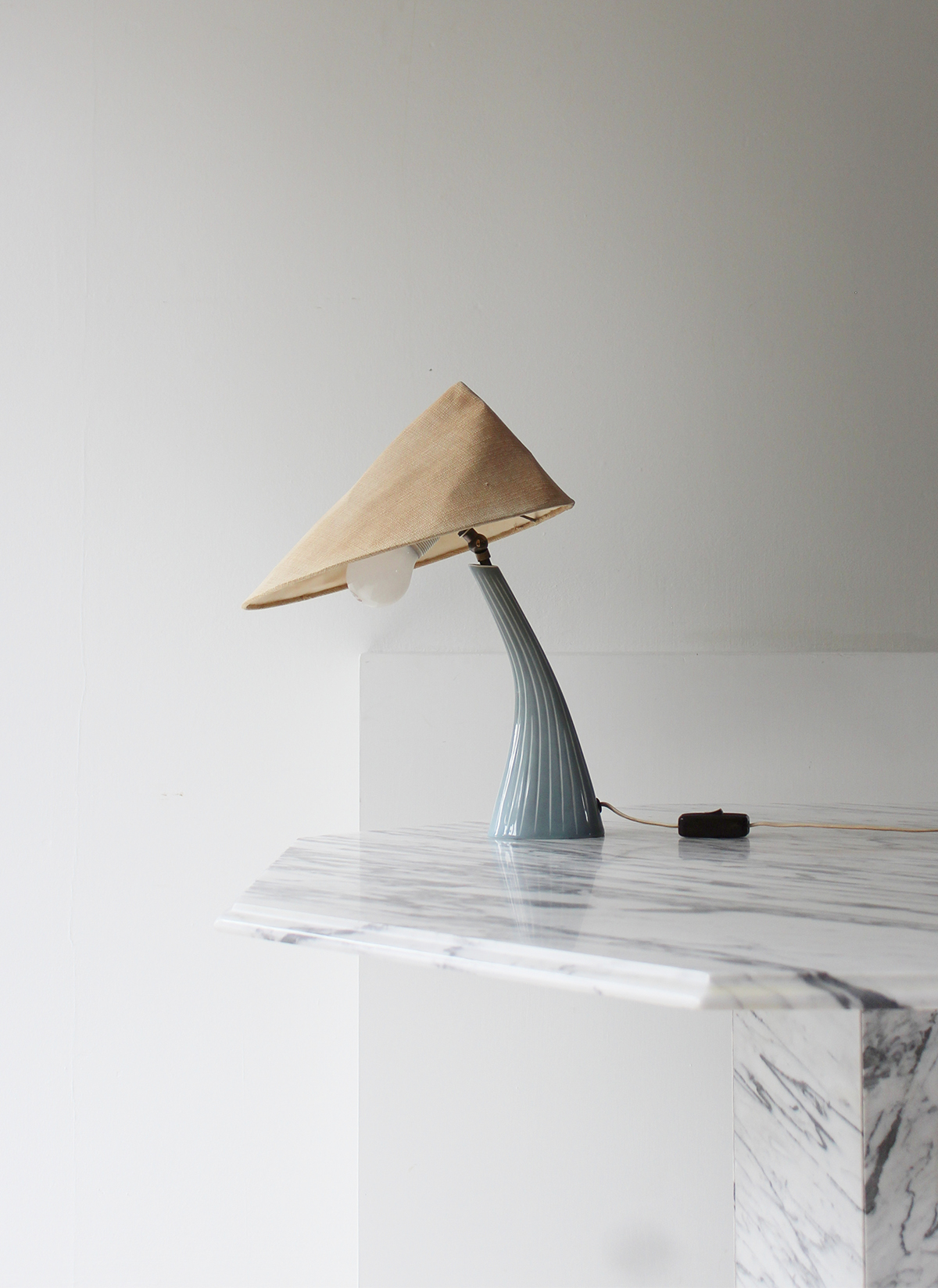 A ceramic Rosenthal lamp from the 1950s Leone acquired from an Italian auction house. He liked the looks of it and didn't know what it was until he received it and saw the label underneath.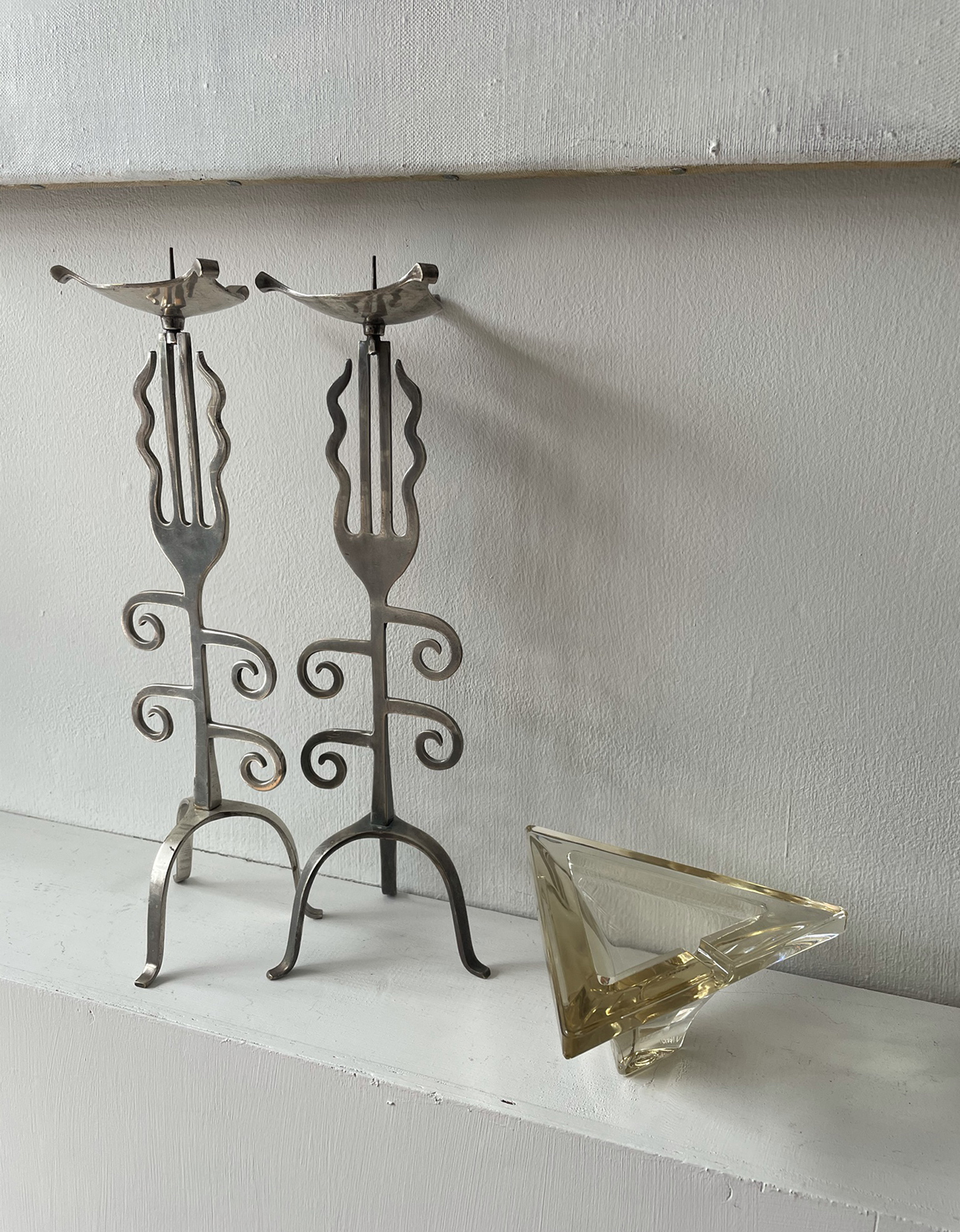 Murano glass ashtray and a pair of candlesticks Leone bought from a seller in the U.S.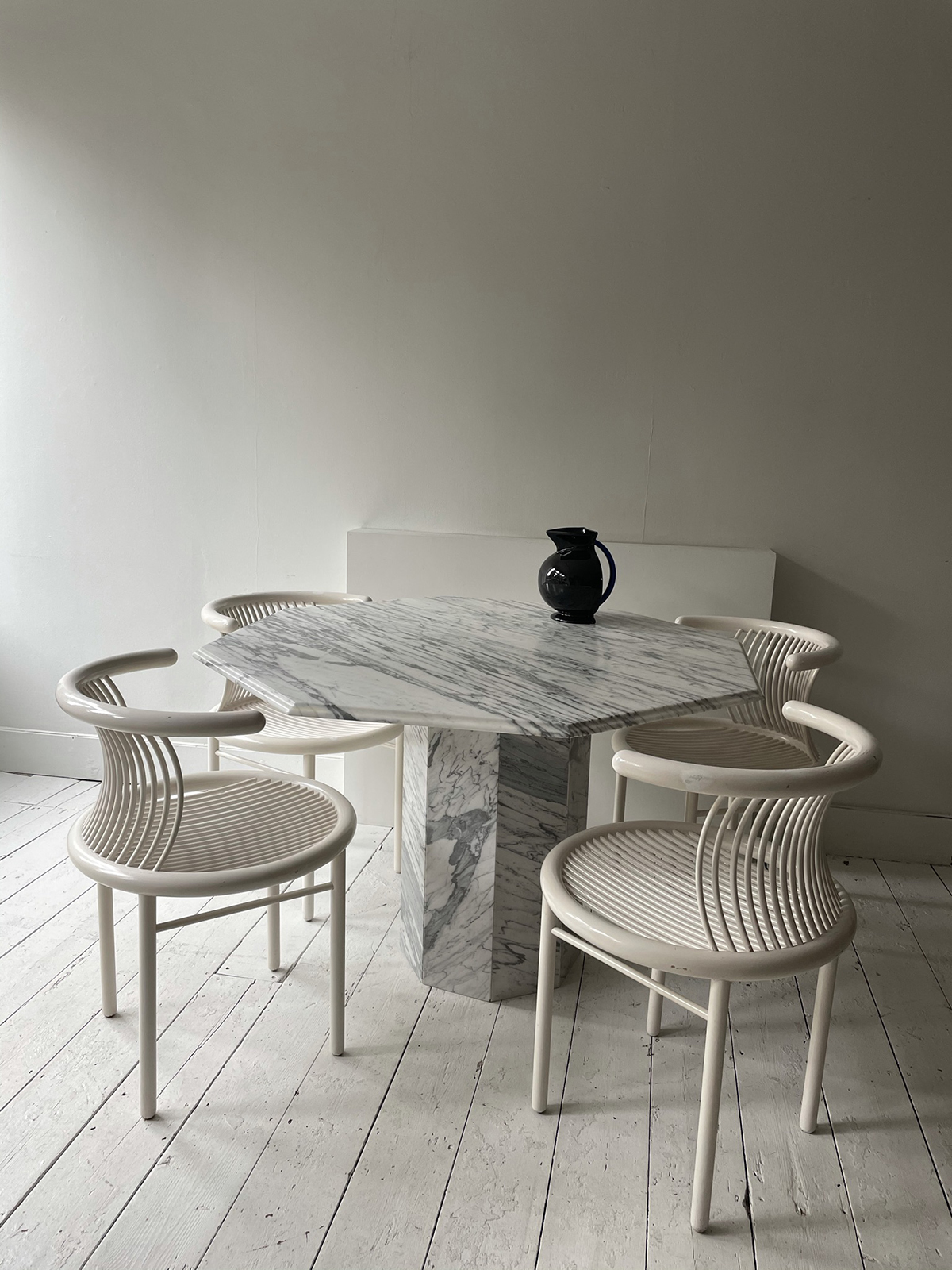 "If you want marble, Carrara is the one," he says of this table, which he acquired (and then sold) with the Helmut Lubke chairs. "They had a home and needed another home together." The black pitcher was designed by Memphis member Marco Zanini as part of the "Hollywood Collection" for Flavia Montelupo.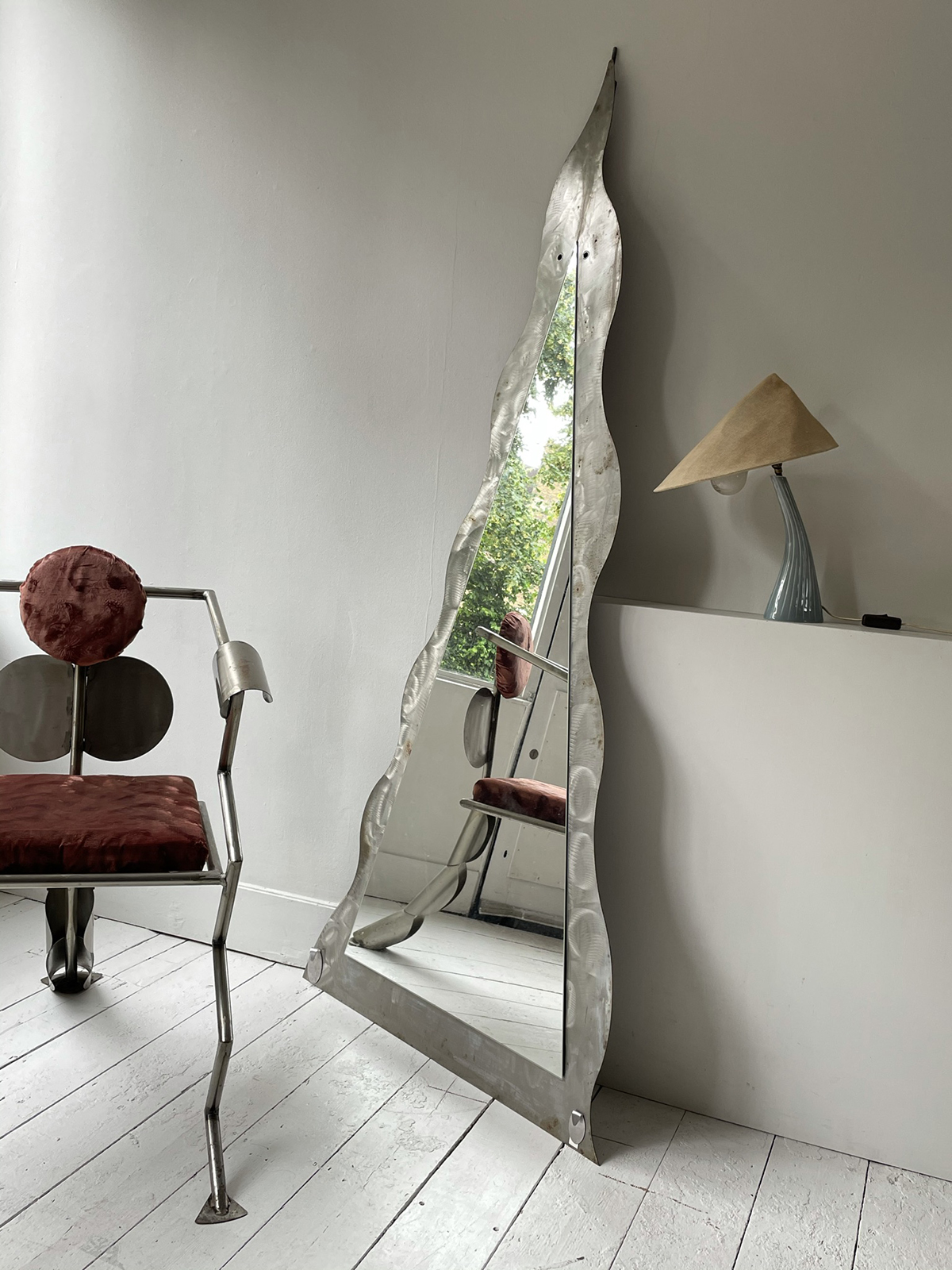 "I love that piece so much," says Leone of this wavy metal mirror that he bought in Germany and has since sold.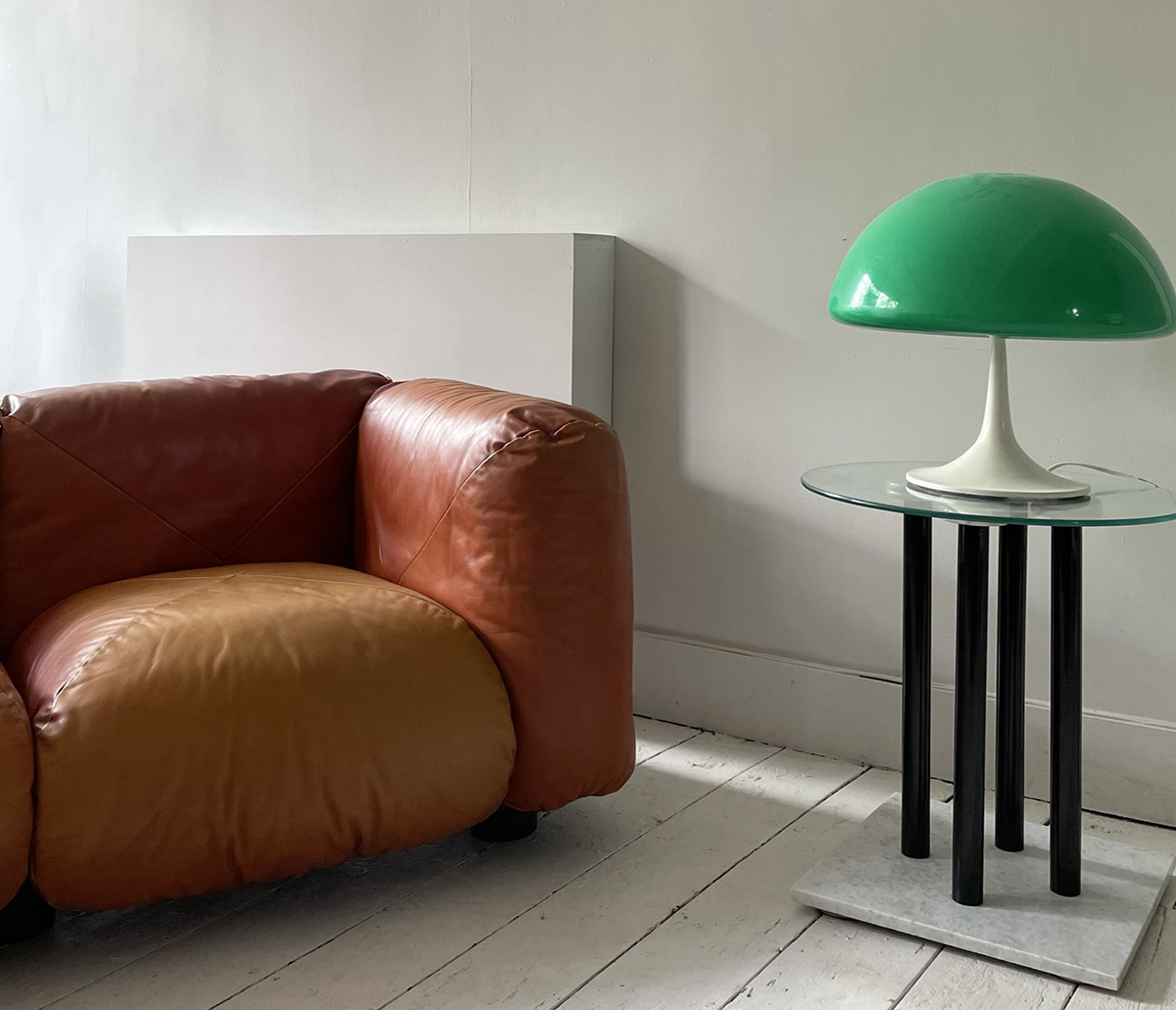 The sofa is Mario Marenco for Arflex that Leone got from a dealer in Milan. The mushroom table lamp is a limited-edition Luigi Massoni for Harvey Guzzini from 1968. Leone bought it from his uncle — and wasn't allowed to sell it until his uncle was ready to fully part with it.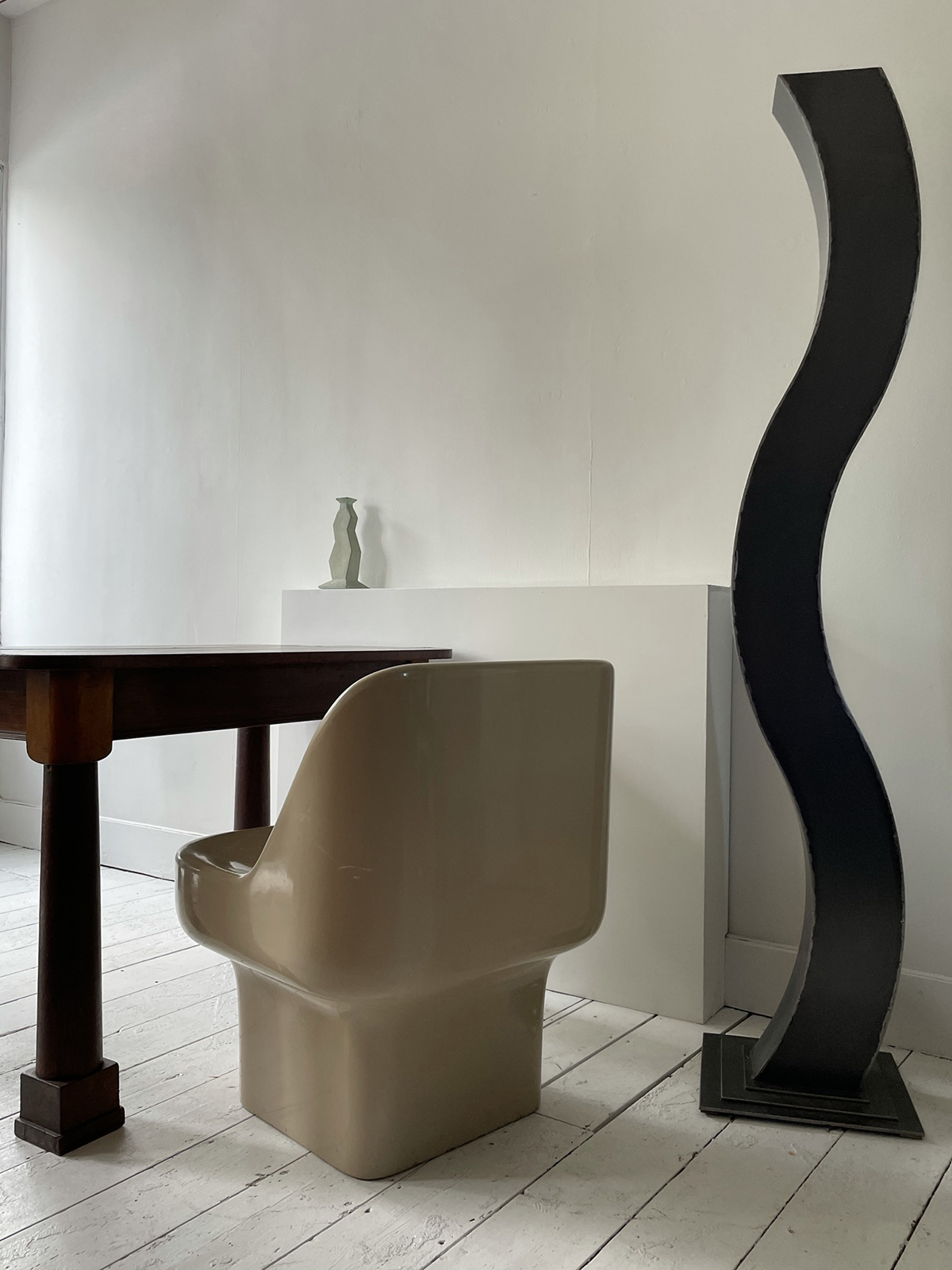 The wooden table reminds Leone of Michael Graves' style and now belongs to a London client. The Douglas Deeds fiberglass chair found a new home in America. And the tall, curving metal sculpture is actually a reworked CD tower.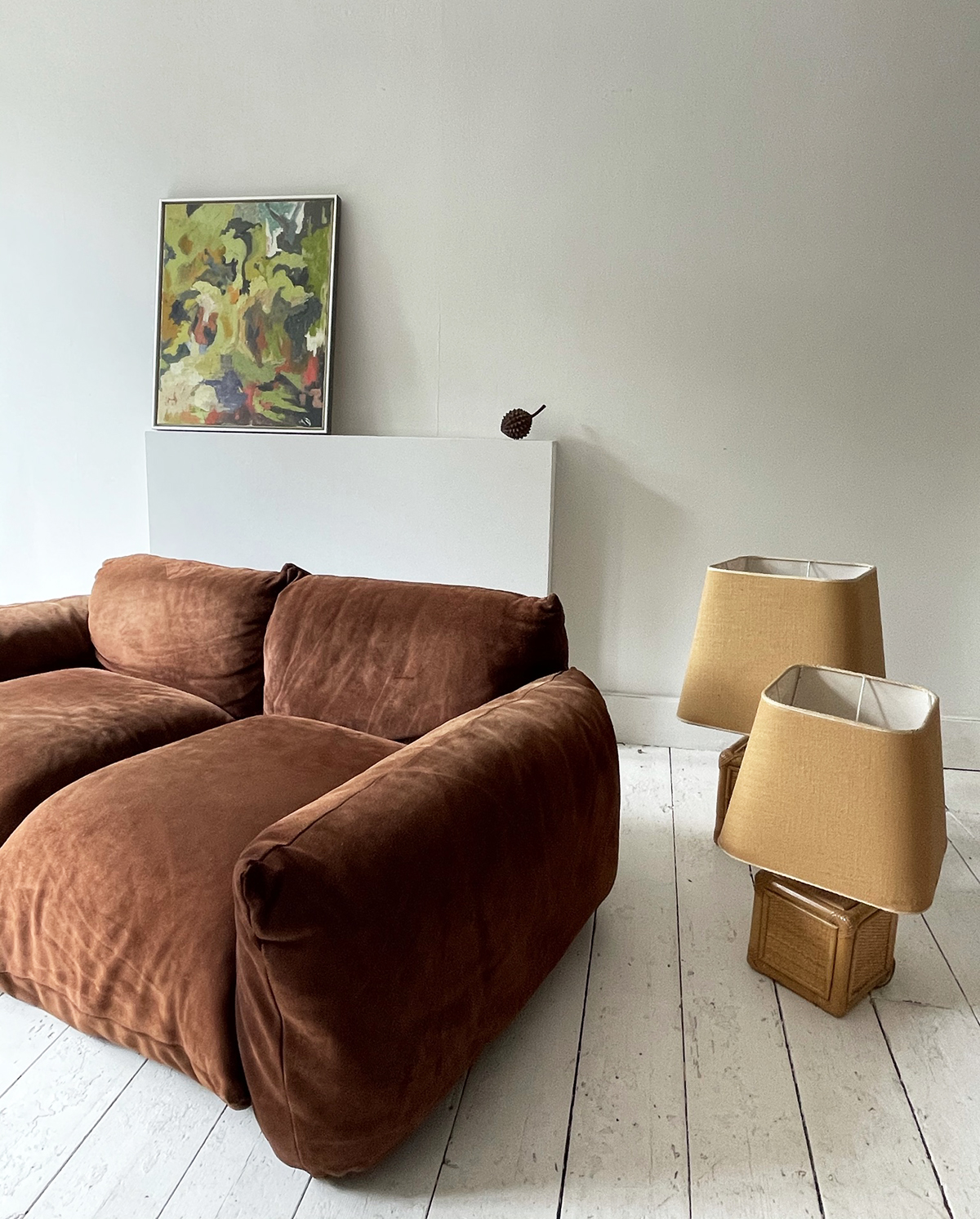 Another Mario Marenco sofa, in suede, that Leone sourced for a friend. It's one of the most comfortable sofas, he says, and the pillows can be removed from the frame, which makes it convenient for getting in and out of narrow London doorways and up the stairs.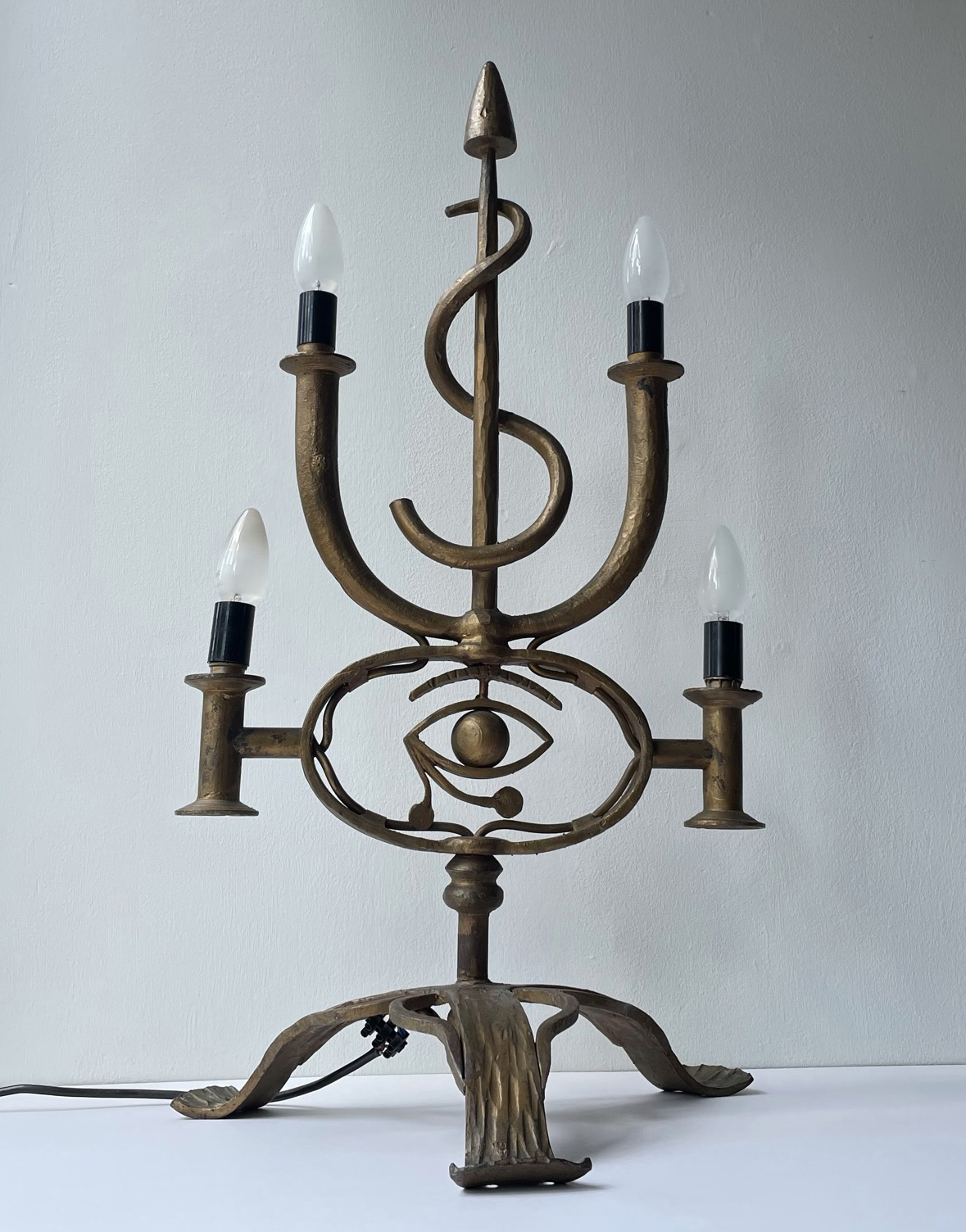 Leone figures this table lamp, with its Masonic-looking eye, is a one-off. It went to a client in New York.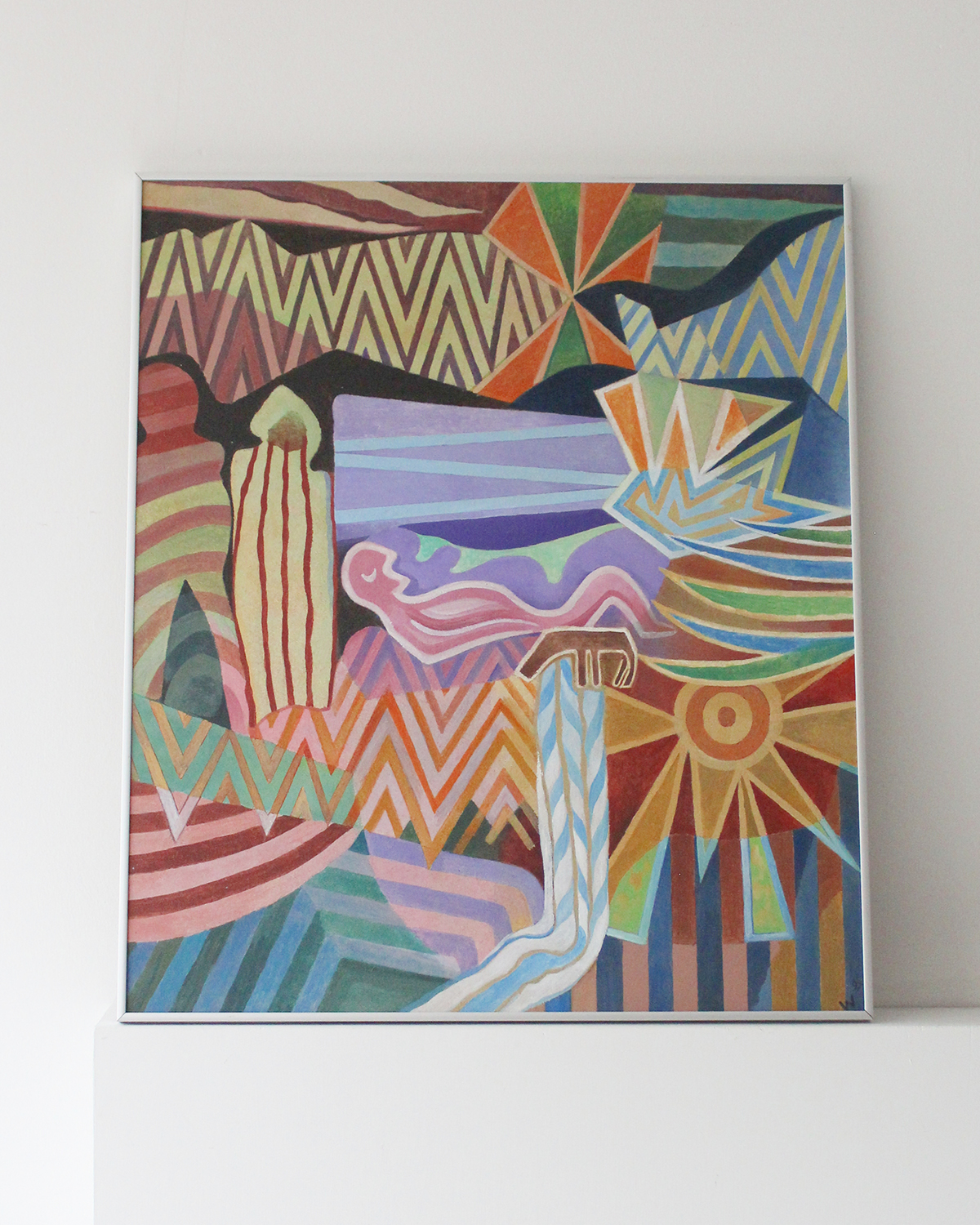 This unsigned, abstract painting came from an auction house in Madrid and was sold to a client in Glasgow. "It would look amazing in my living room," he says, noting that for his own place, a small apartment in London, "everything needs to be calm and organic, gentle, nothing too crazy."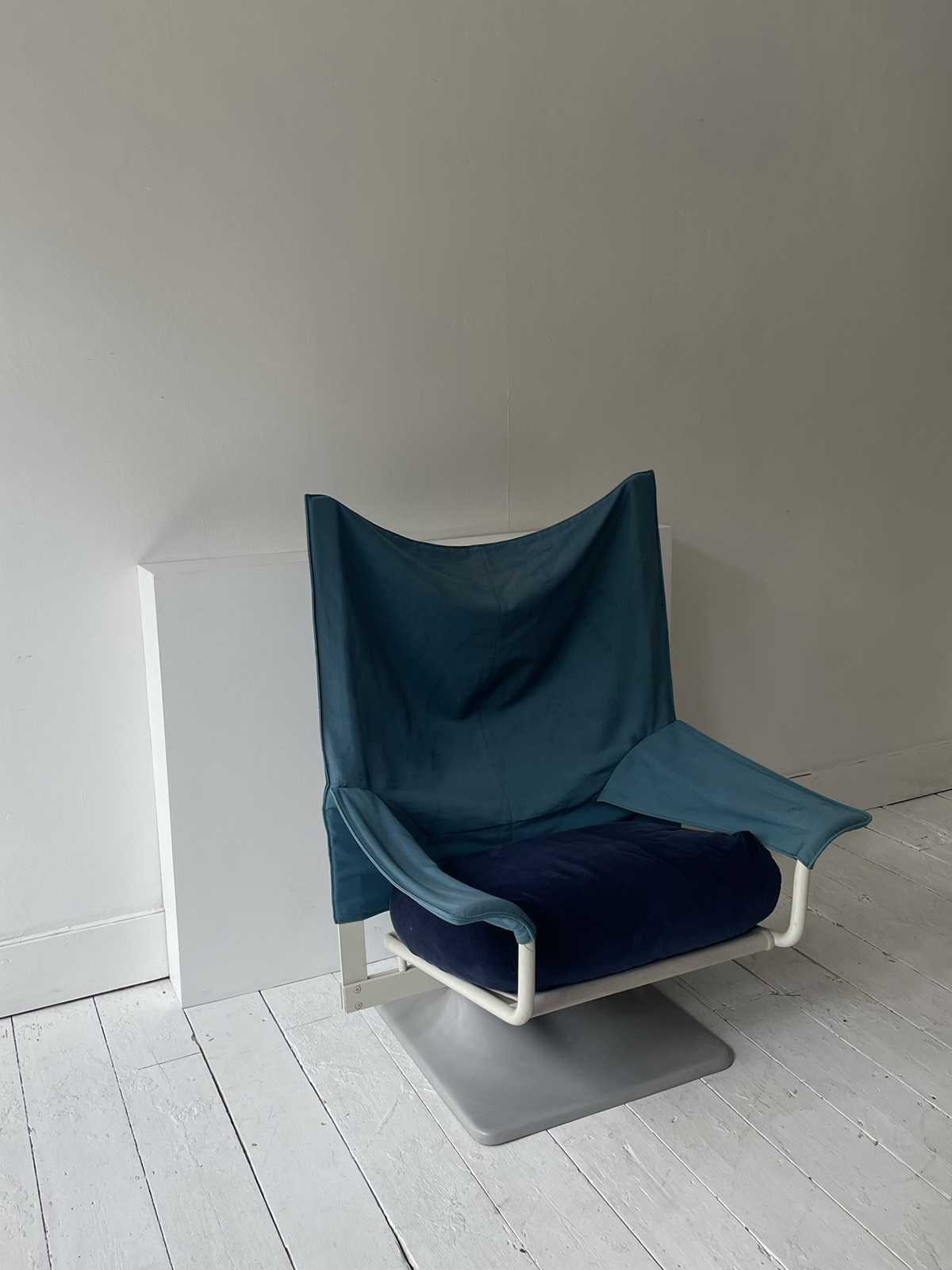 The Archizoom design studio made for this lounge chair for Cassina in the '70s. It's got a plastic molded base with a removable, washable covering.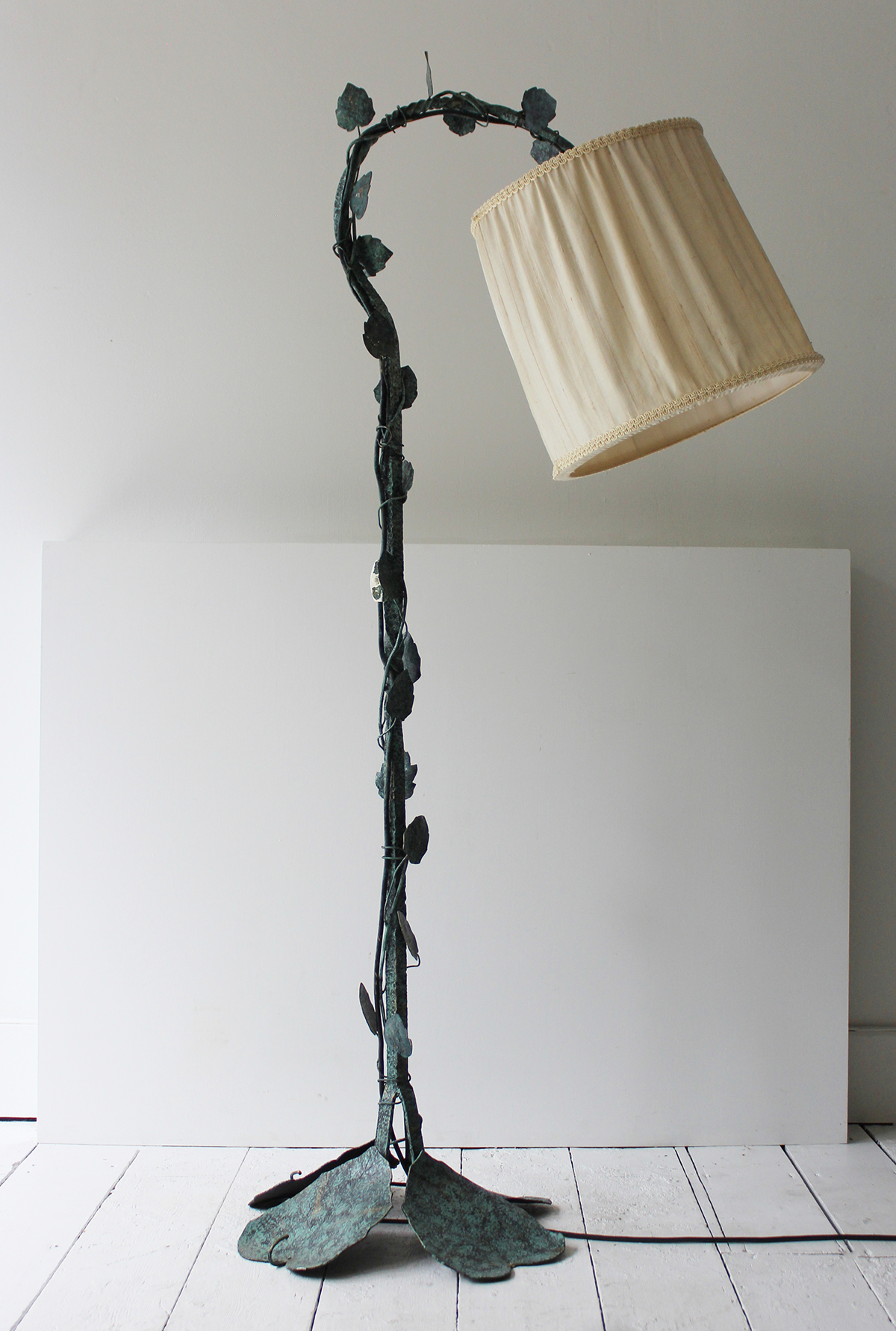 This lamp and shade (designer unknown) reminds Leone of the old dryer chairs in salons. "I grew up in my mom's hair salon and I remember sitting in those armchairs with those things [overhead], sitting there with a lot of women looking at me."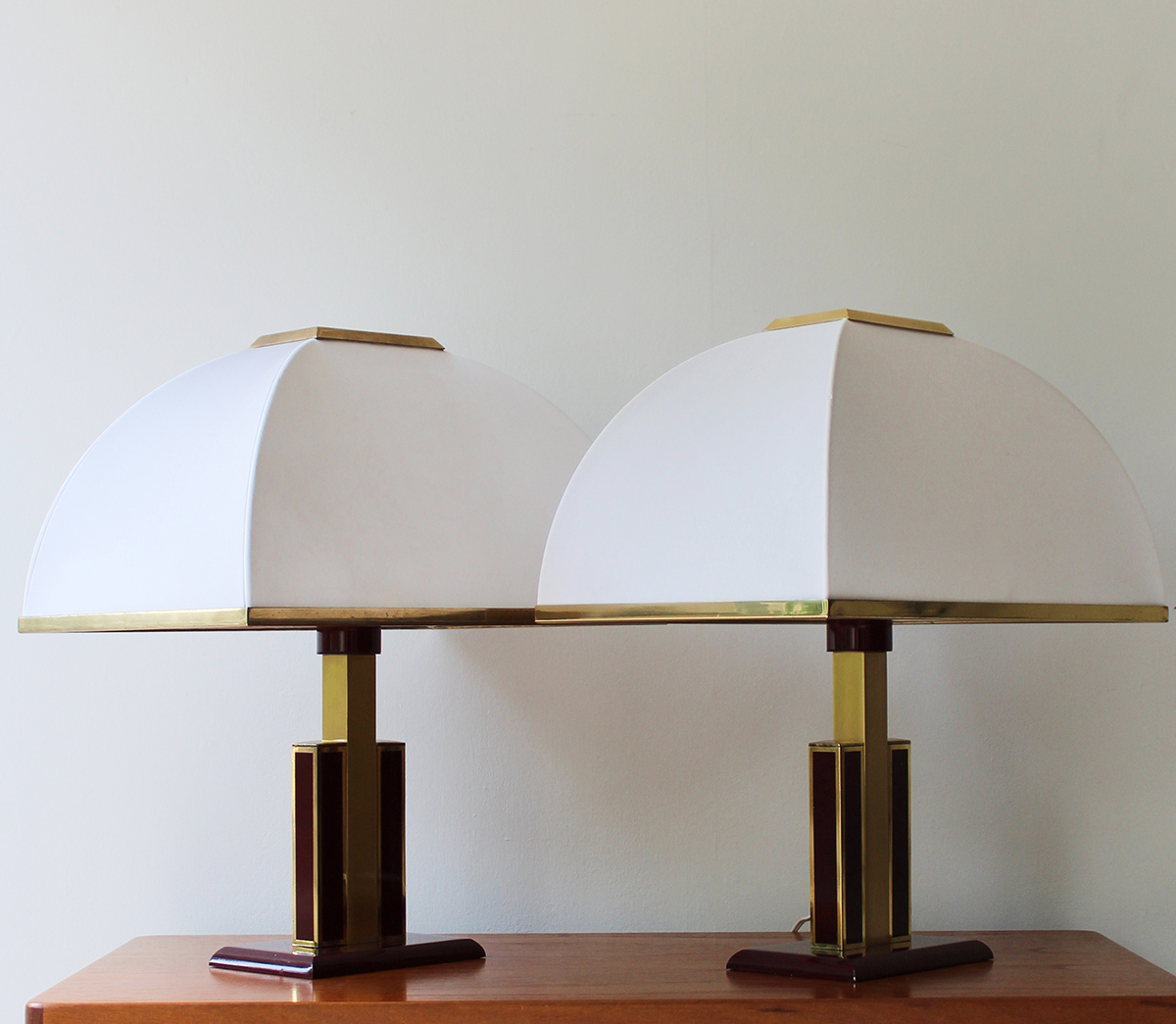 Leone was looking for something Hollywood Regency on eBay and came across this pair of Willy Rizzo lamps. "They're very chic," he says, adding that something "a bit kitsch, a bit trashy, sometimes, in the right place, is nice."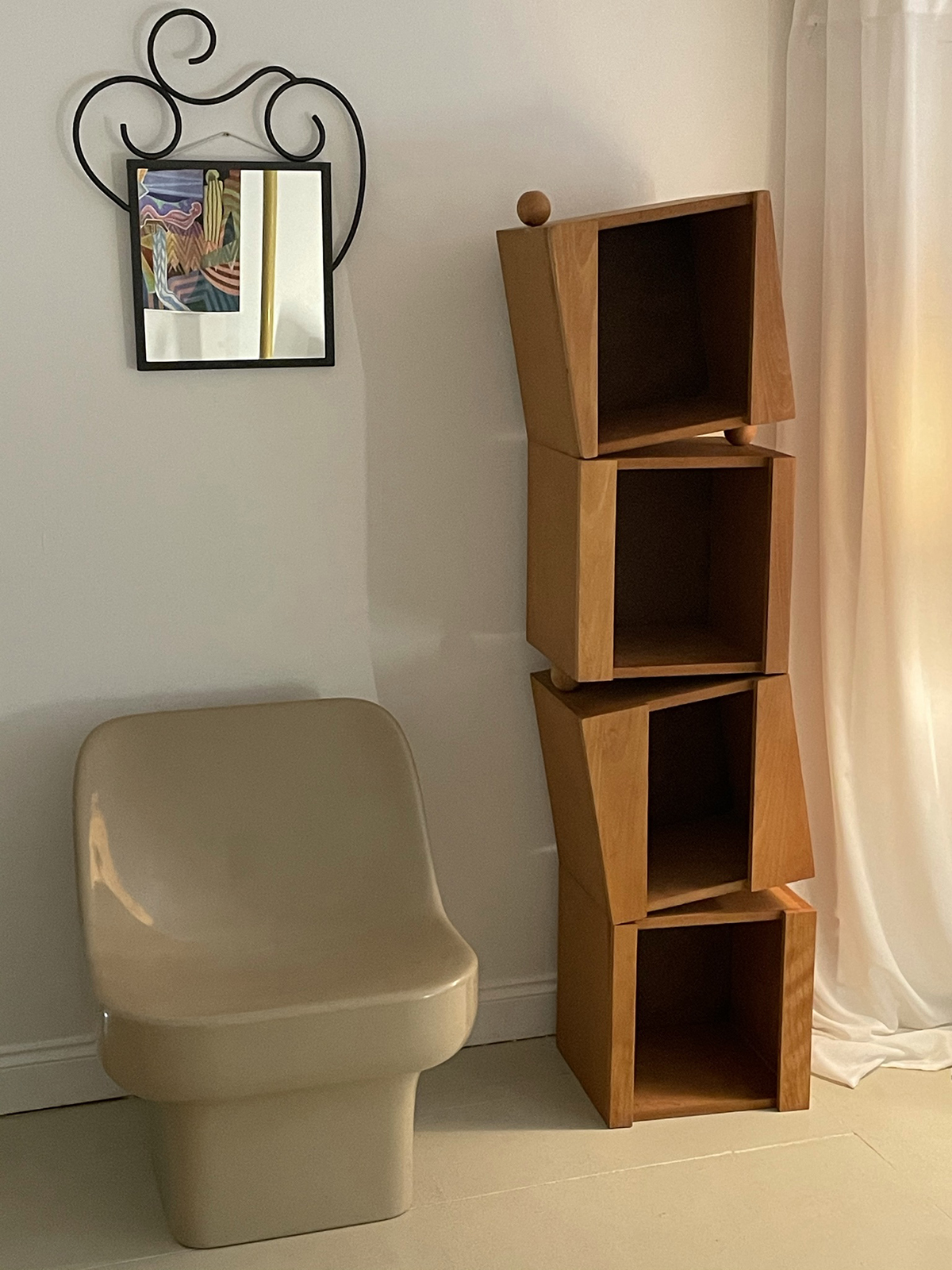 The units of this bookshelf come apart and can be rearranged. Leone doesn't know designer but thinks it's from the 80s. It's one of those pieces, he says, that looks even better in real life. "It's difficult to translate the beauty through internet photos. That's why having a shop is so important."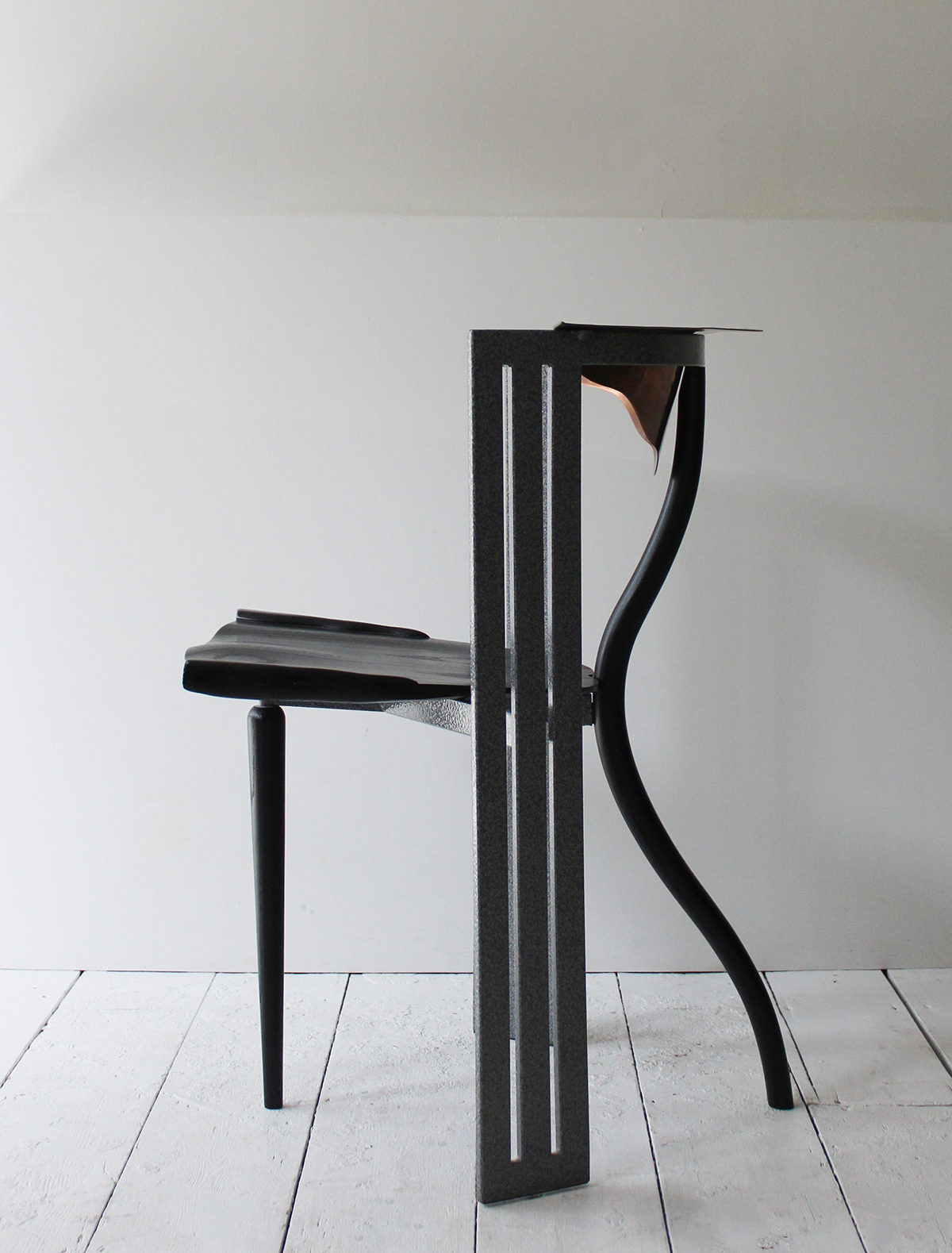 Borek Sipek chair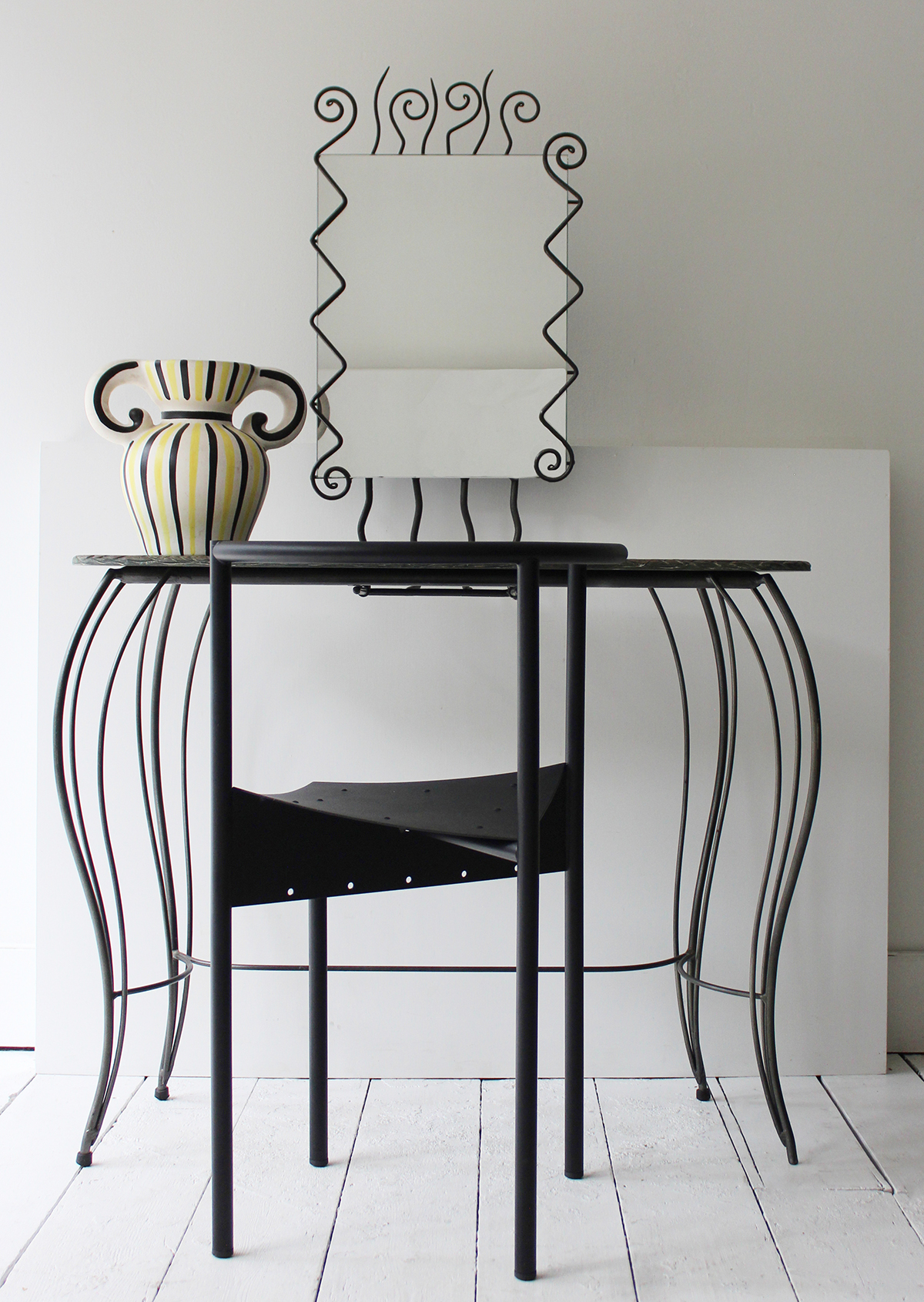 A better look at that console, plus a yellow and black vase Leone purchased from a French dealer at a market in London, dated 1978. Thank you for sharing your space, Gennaro!