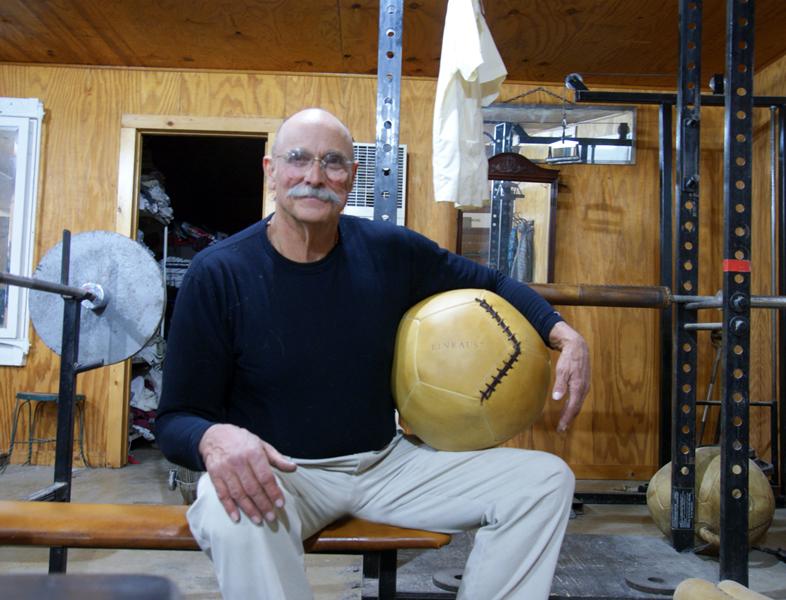 Lineaus Hooper Lorette makes $650 leather medicine balls in a workshop just outside the desert art mecca of Marfa, Texas. He sells the balls to college athletic departments and "very rich men," many of whom admire them for their old-school charm. (Mick Jagger once bought four.) But Lorette isn't a hipster, nor is he an artist. He's a radical leftist accountant in his 60s with a fanciful white mustache, a large collection of political art, and a local reputation for muckraking. He's running for county judge. He thinks he might actually have a shot at winning this time, despite his avowed Communist leanings. Of his side business, Lineaus Athletic Company, he says: "At this point in my life it's my craft. All CPAs want to do something honest for a living."
Lorette began teaching himself how to make medicine balls in the early '80s, after knee injuries prevented him from running, his favored form of exercise. The director of the local YMCA introduced him to the classic training tool, typically thrown back and forth by football and baseball players in order to improve quickness and grip strength, but he wasn't able to find any nice ones at the sporting goods stores. Rubber balls were too hard to catch — they chafed your hands something fierce — while leather balls were either flimsy and prone to breakage, or filled with sand and thus too dense to be comfortable.
By 1986, he'd perfected his own fabrication methods enough to start a company, through which he sold not only the balls, but also leather training bags and medicine bars, all made by hand. "For five or six years they didn't sell at all, and then the internet happened and people could find me," Lorette says. But his products are so high-quality — lasting at least 30 years, if not forever — that he makes very few resales. "I almost went out of business several times," he admits. Each time, the coaches who swear by his products stepped in to save him.
Lorette still operates out of the same long, narrow corrugated metal shed stationed behind the desert home his parents built, the main house being the place where he keeps the bulk of his art collection. It's filled with Maoist figurines and other propaganda, plus wacky light sculptures and masks made by local artists. His late mother, Richey Hooper Lorette, was a painter, and her work is displayed there, too. But Lorette himself makes nothing besides his prized sporting goods. He took a break from campaigning to show us his studio, and to explain why Lineaus medicine balls are considered the world's best.